Why Adding Balustrades is Ideal For Home Safety
The term balustrade refers to the combination of balusters, skirting boards, and handrails that enclose one or both sides of a staircase or terrace. Balustrades have a railing system compounded by posts, stair wedges, skirting boards, handrails, and banisters.
It is a vertical post that gives ladders on balconies better support and stability. They come in different shapes and are attached to a rail for extra security.
Balustrades are made up of several evenly spaced and interconnected balusters that form a decorative railing. A baluster is one piece, and a balustrade is a group of balusters.
The main function of balustrades is to support a frame, ensuring that the structure on railings and stairs remains immobile. In other words, balustrades allow people to walk safely, avoiding the risk of falls and accidents.
History
From the Renaissance onwards, classical stone balustrades became popular, featuring balusters with short abacus stems, a base, and one or two ringed bulbs with intertwined concave and convex moldings.
As balustrades evolved, it was common to see the vasiform baluster, which was similar to a wide and narrow-necked vase. On the other hand, it was the symmetrical baluster, which had symmetrical upper and lower railings. Other countries like the United States carved wood balustrades that were elegant but simple.
Types of balustrades
Metallic balustrades
If you're looking for durability, strength, and low maintenance, you'll probably have to consider metallic balustrades. These railings can be painted to match the colors and design of the household, however, they are typically used in contemporary home styles as well.
Some metallic balustrades are simple and unadorned, while others can be pre-molded into various designs.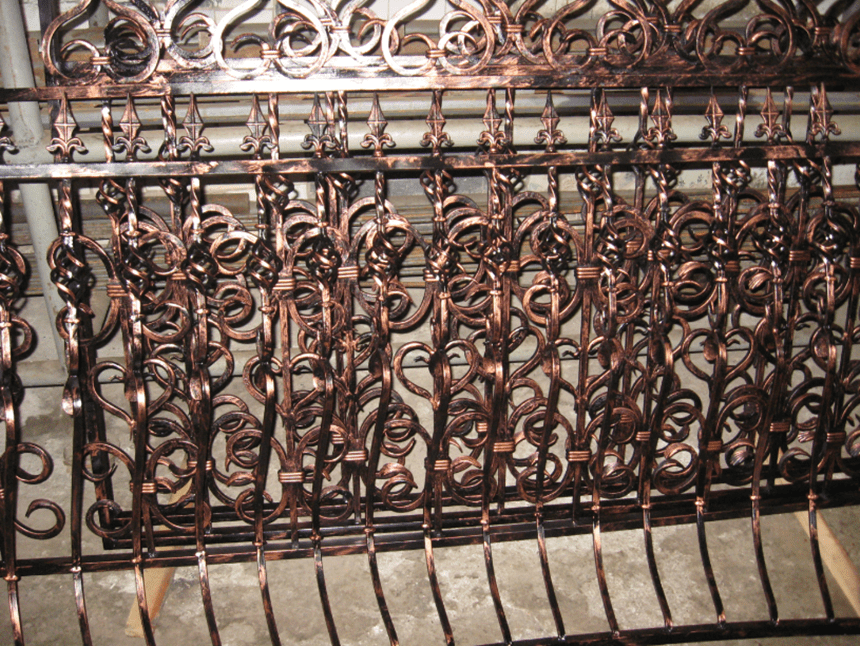 Wire balustrade
As its name suggests, a wire balustrade is made of aluminum and usually goes with glass or resistant plastic. It is a quite linear design that can be used as a railing or office partition. It is also a good option for outdoors and terraces.
Stone balustrades
The most classic look of railings will naturally be made of concrete or natural stone. Stone balustrades do not need maintenance.
Glass balustrades
The best type of glass for internal balustrades and railings is tempered laminated glass with a minimum thickness of 21.5mm or 27/32 inches.
Tempered and laminated glass, also known as safety glass, is made in such a way that if a glass banister breaks, it crumbles into tiny pieces that do not spread too far from the railings.
If your glass balustrade is supported by posts and handrails, the glass panel is non-structural and is at least 0.45 inches or 11.5 mm thick.
Installation 
Balustrades are helpful in renovation works. Not only do they finish off the parapet of a terrace or balcony, but they also help in spacing or decoration. Prior to the installation process, it is important that you mark the fence lines and panels. You just need a tape measure or a ruler to get your measurements properly. Below are the steps to install balustrades:
Prepare the ground
A good foundation is essential for most home projects. Dig a trench and place a support footing filled with concrete. In this way, you can rest assured that the structure will gain resistance.
Place the base
Once the formwork has dried, prepare an adhesive layer. You can use the same concrete or cement you used for the formwork for the base section.
Put the balusters
For the placement of balusters, it is necessary to apply a tile of adhesive cement around the corrugated rod. It's okay if you add a lot of cement. You will clean it anyway.
Build the top of your balustrade
Wait until the adhesive in the lower area has set before going for the top of your balustrade. Otherwise, it will be moving and won't be letting you work.
Railing
Place a steel bar crosswise to the entire construction. You can weld the vertical rods to the longitudinal rod to gain solidity.
Waterproofing
Once the construction is done, protect it against the weather. One option is to apply a water-repellent product to the balustrade for rain protection.
Features
Balustrades have several characteristics, some of which are mentioned:
They are decorative elements supported by an upper and a lower element.
They are located at waist level.
They can be found in buildings like churches and palaces.
There are wooden and stone balustrades, although it is also possible to find metal designs.
It is a vertical structure supported by rails.
Balusters are separated from each other by the same measurement.
You can use a lathe to carve wooden balusters.
Not only are balustrades focused on renovating buildings, but they are also focused on decorating places that are geometrically different by adding lightness and elegance. Plus, they add firmness to high-traffic places.