Interior Experts Advice for Decorating the Perfect Living Room
You've probably heard this too many times, but yes, we are like saying it- the living room is the heart of ANY home. Usually, the living room is the space in our home we want to look the most visually appealing, as it is where we spend quality family time and entertain guests.
Are your guests are always in a hurry to leave? Maybe it's time for a makeover! Whether your style is contemporary, traditional, relaxed, or formal, you can always find inspiration to help you turn your living room into an aesthetically pleasing, yet functional space.
While there is so much interior experts' advice for decorating the perfect living room, spending long hours surfing the internet for the best living room decorating tips can be quite daunting. Also, you can't really incorporate all these ideas into one room. But don't fret! we've done the filtering for you! Here are the best living room decor tips from interior experts.
Create a great layout
This is one is the most crucial steps when styling a living room! Whether you are redesigning, remodeling, or refurbishing, the best way to optimize your space is by creating a layout. Work out the best angle for placing each piece of furniture. Make sure you have enough legroom to move around so your living room doesn't feel cramped. Read on for tips from Luxury Interior Designer- Jessica Hatcher that should help you get started.
Visualizer: Federico Cedrone
Luxury Interior Designer- Jessica Hatcher
"First things first, you need to get your arrangement right with the space you have. The best place to start with this is by looking at your existing pieces of furniture. Are they just shoved up against walls because the room is too small for the furniture? Have you tried moving or angling some key pieces? The easiest way you can make your living room more sociable is by having the sofas facing each other. Now that may sound shocking if you're not used to it or haven't tried it, but I can promise you that it creates the perfect dynamic. Normally people default into having their sofas next to each other (one rotated 90 degrees) but that's one of the most unsociable ways you can arrange your furniture."
Work with your room size
Whether you have a large space or a small room, you can always create a stunning living room by being creative. Besides, there are many tricks to make a small room appear bigger. Here is an article that we put together specifically to help you style a small living room. Here are some tips from Interior Designer Rebecca Wakefield that would help you maximize your space.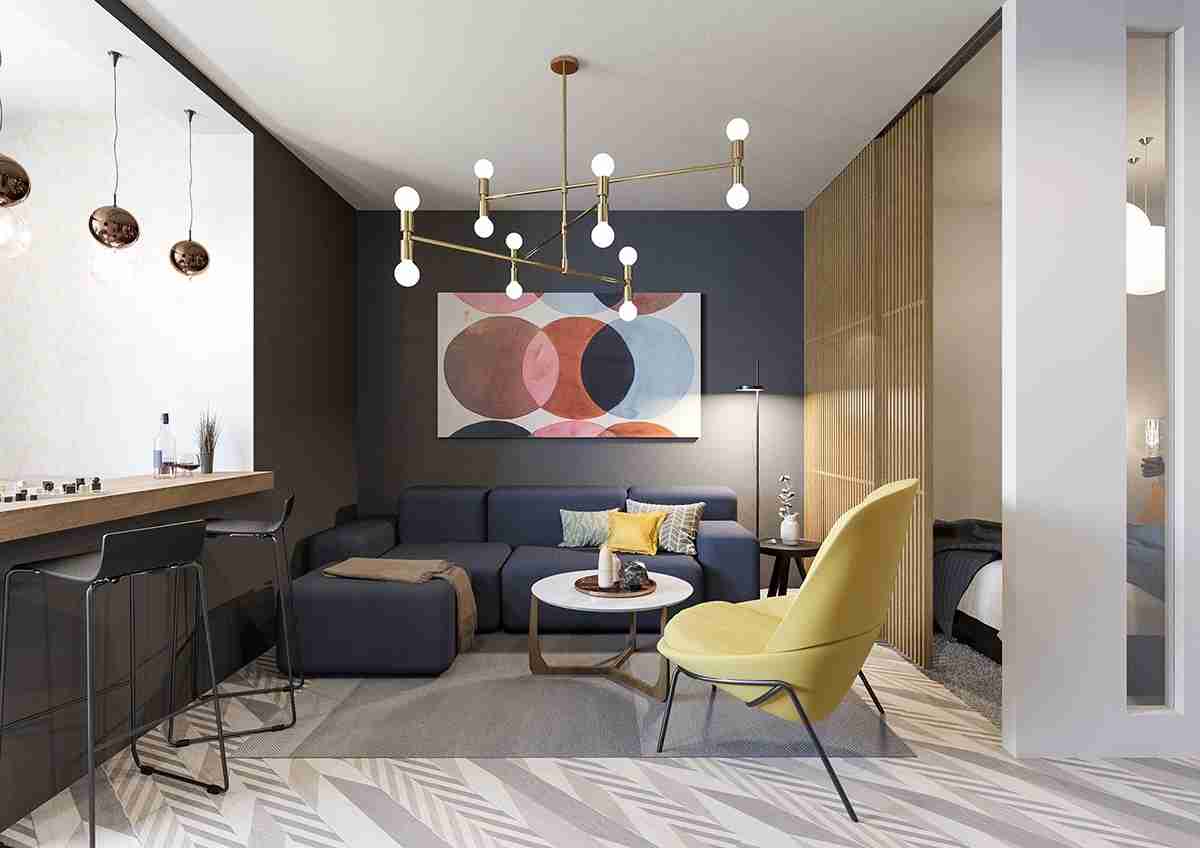 Visualizer: Maria Fadeeva
Interior Designer – Rebecca Wakefield
"If you have a large room, don't be afraid to buy an oversized sofa and armchairs – you can often get away with much bigger pieces than you think. It will look underdressed if you scrimp on small furniture. You can add more delicate elements with lamps and side tables. With a small space, it's the opposite: you often have to downscale more than you think to create the illusion of an open, airy space. Get a sofa that is less deep but as wide as the room can take, placing it against the wall. Armchairs should be smaller too, but if you don't have room for any, don't force it as it will overpower the space. Interior Designer."
Make the most out of the light
Lighting can make a huge difference in your living room. It is important to get this right! Are you finding it difficult to layer the lighting in your living room? Don't fret! There are so many ways to brighten your living room and make the most of the light. Here is what Interior Blogger- Jen Stanbrook has to say.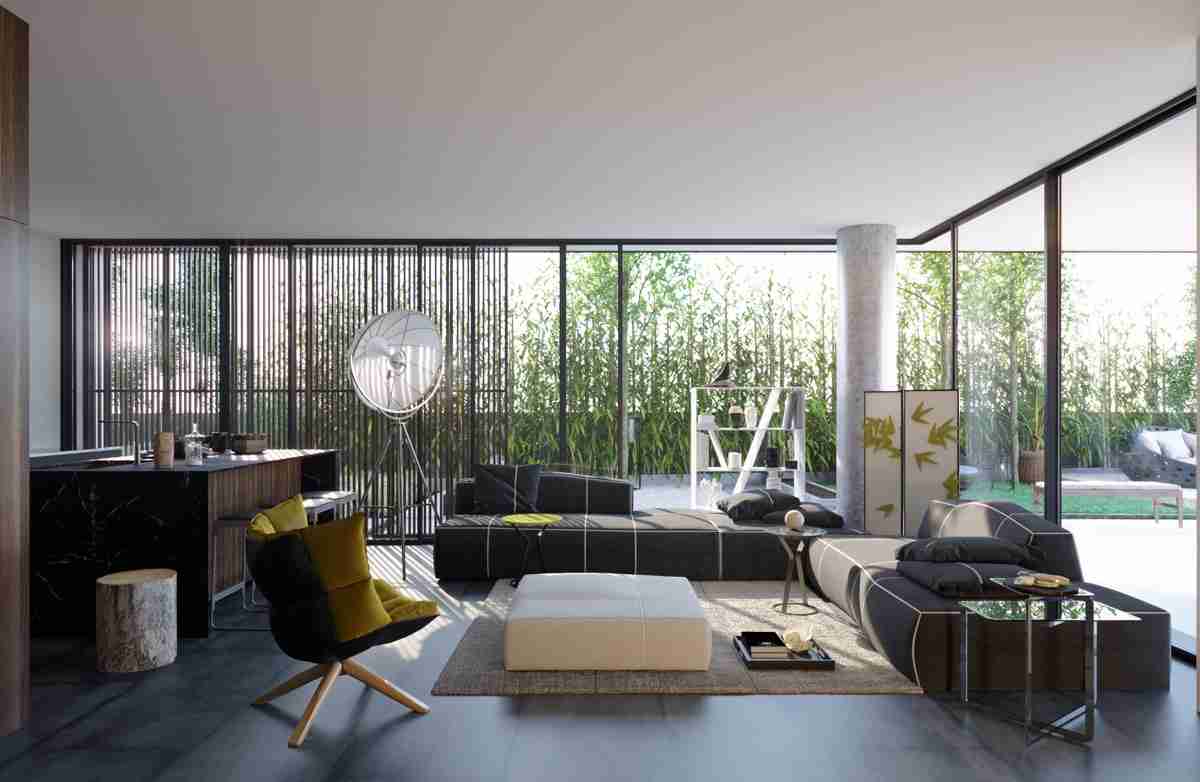 Visualizer: Kaer Architects
Interior Writer & Blogger- Jen Stanbrook
"You can do this in several ways. If you have large windows allow as much light to flood into the room as possible, but if you aren't blessed with such features, you need to trick the space into feeling lighter. Use light reflecting paints, gloss surfaces or glass and perspex furniture. Remember to add a mirror, opposite the window if you can to help bounce light around the room. And if you can remove a door, or create a walkway through to the next room this will also help."
Pick Your Color Palette
Don't be scared of colors and patterns, they can totally transform your living room. An artwork, cushions, or rug is a great way to add color to any room. Read on for an interior expert's advice for decorating your living room perfectly. Interior Writer- Ashley Knierim.
Visualizer: Olga Podgornaja
Interior Writer- Ashley Knierim
"Whether you are into a monochromatic style or you want to tie in a few complementary colors, your color scheme is a key feature to cultivating a seamless living room aesthetic. This eye-catching living room from by nest_twenty_eight starts with a base of white and black and adds a hint of mustard yellow and neutral birch to keep the look harmonious."
Keep it Simple
Now, I know I said add some colors, but don't go overboard with it. Except it's totally your style and preference. Otherwise too many colors are just an eyesore as they never look great. Keep it simple with your furniture, ornaments, and wall display. If you have too many belongings that don't BELONG, maybe its time to declutter! Here is what Lifestyle Blogger- Hardy Squibb has to say.
Visualizer: Ace of Space
Lifestyle Blogger- Hardy Squibb
"Whatever you do stay simple. Stick to 2-3 colors in the room if you can, don't overcrowd the shelves and try to hide cables in a tidy place. There are many ways to create a stunning home design without creating clutter in the home and it really will make all the difference to your living room in the long term!"
Memphis Styling
Memphis Style, the design style pioneered by the 1980s Memphis Group, seems to be making a comeback. If minimalism isn't for, then maybe Memphis styling is! Here is what Veteran Decor and Lifestyle Expert- Naveed has to say about Memphis styling in the living room.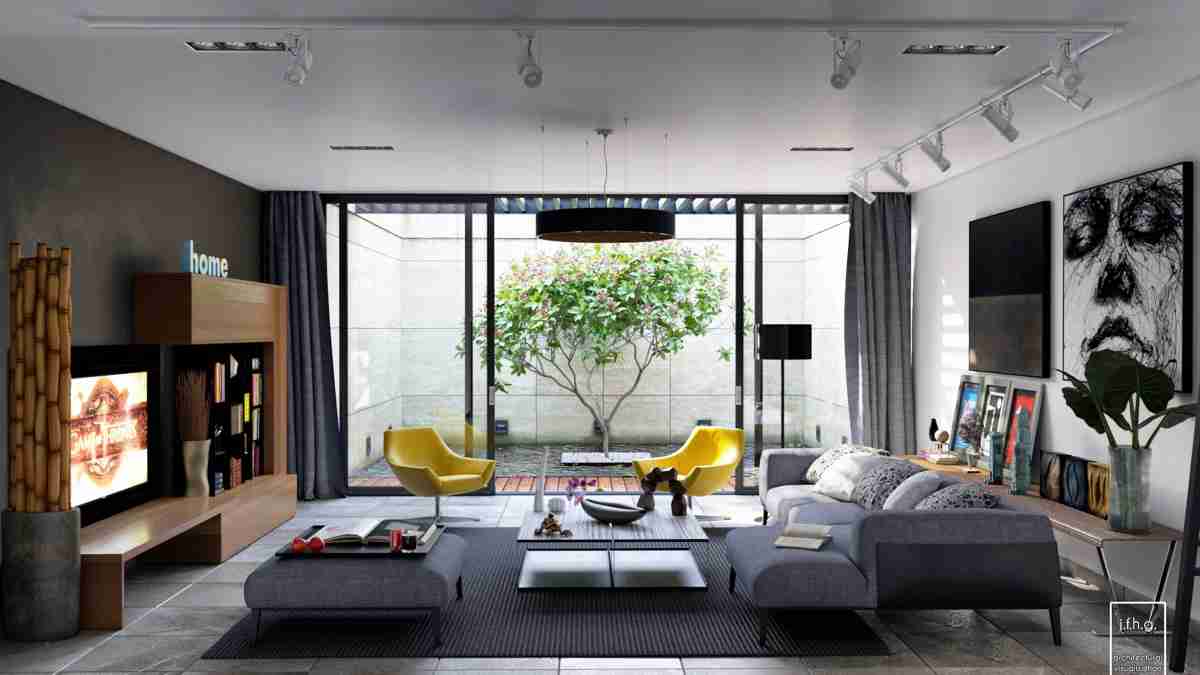 Visualizer: Wottan
Veteran Décor and Lifestyle Expert- Naveed
"Add a sense of warm maximalism in your living room design by taking cues from the forever-charming Memphis era design movement made popular during the heyday of 80's maximalism. Think playful silhouettes, exaggerated color, and abstract prints and patterns in small doses to conjure a similar mood and sense of play. Just remember to keep it as modern and stripped down as you can to avoid your living room coming off as inspired by a Taco Bell".
Throw in some curves for inclusiveness and comfort
Curve furniture makes a stunning living room. However, curved sofas might not be ideal for you if you have a small living room. Here is an interior expert's advice for decorating a living room with curved furniture. Interior Design Writer- Karen Egly-Thompson.
Visualizer: Bocadolobo
Interior Design Writer- Karen Egly-Thompson
Curves are intuitively more inviting than rectilinear shapes. Rounded and soft, they tend to make us feel more protected and comforted. Creating a quasi circle, this pair of curved sofas fosters inclusivity. One side completes the other, so neither sofa feels cut off, making conversation more relaxed.