30 PVC False Ceiling Design Ideas
False ceilings have become a norm in contemporary homes today due to the exquisite look they give to a space. Get inspired with these PVC false ceiling design ideas!
A false ceiling, also known as a dropped ceiling, T-bar ceiling, or suspended ceiling is a type of ceiling hung underneath the main ceiling. This ceiling adds aesthetic appeal to a space while concealing unsightly electrical wires, extractor fans, and ductwork.
There are various false ceiling materials that can add a stylish flair to your home. PVC, which stands for Polyvinyl chloride, is a durable lightweight plastic often used as a cladding material for residential and commercial spaces.
It is a popular type of false ceiling that is growing increasingly in demand. PVC ceilings are more affordable than most false ceiling materials. There are several benefits of PVC false ceilings, they are very sturdy, easy to install, low maintenance, and not brittle. Plus, since plastic is a non-hygroscopic material, it does not absorb water, making it ideal for steamy and wet places like the bathroom.
If you're looking for ideas to create a unique ceiling design feature with PVC, then, check out these 30 PVC false ceiling design ideas to revamp your interior,

1. Go for a Simple Modern PVC False Ceiling Design
A modern simple false ceiling design can make a laid-back yet impactful statement. Choose a design that is the perfect blend of modernity and minimalism.
Approach this by choosing a PVC ceiling color that is neutral such as white, creme, and beige as they are easy on the eyes. Then opt for a design that gives the space a minimalistic decorative flair and sophistication.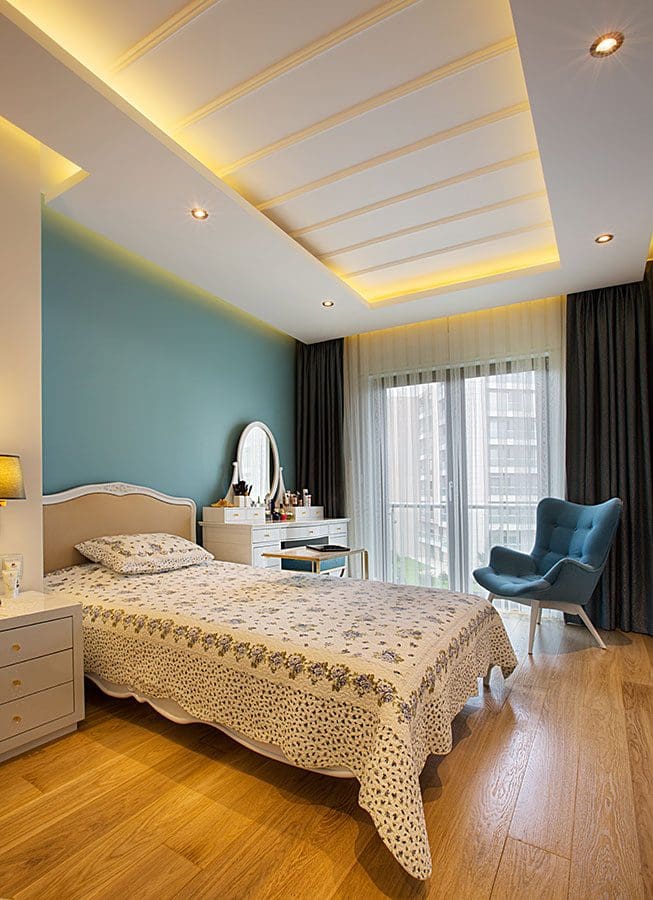 2. Make it More Defined with Wood Tone Trims
To add architectural interest to your space, use white PVC panels paired with a couple or more square wood-tone trims. This helps to bring in a warm accent and add a spectacular element to the ceiling. A hint of brown can add a stylistic advantage to a space without it.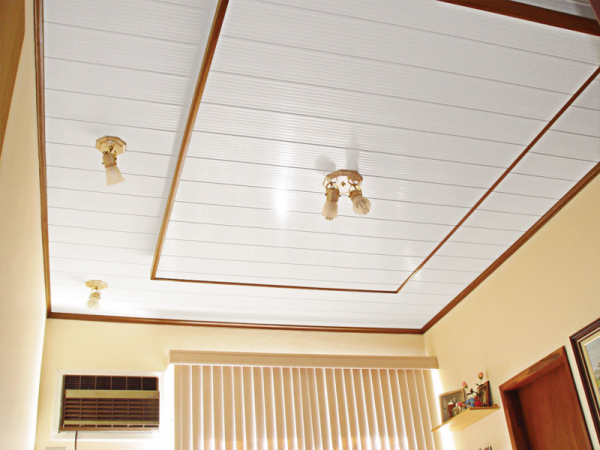 3. Use Varying Neutral Colors
Most ceiling designs nowadays have neutral color ceilings, particularly white. Why use one neutral hue in your PVC false ceiling design when you can combine several to maximize interest? Combining white, then and a hint is brown is the way to go for a statement-making design!

4. Go All Brown
Conventional white ceilings are overly used. To make your home stand out from the crowd, use brown PVC panels for your interior ceiling. This will add eye-catching contrast and depth to the space. Plus, it will also enhance the coziness 0f the space.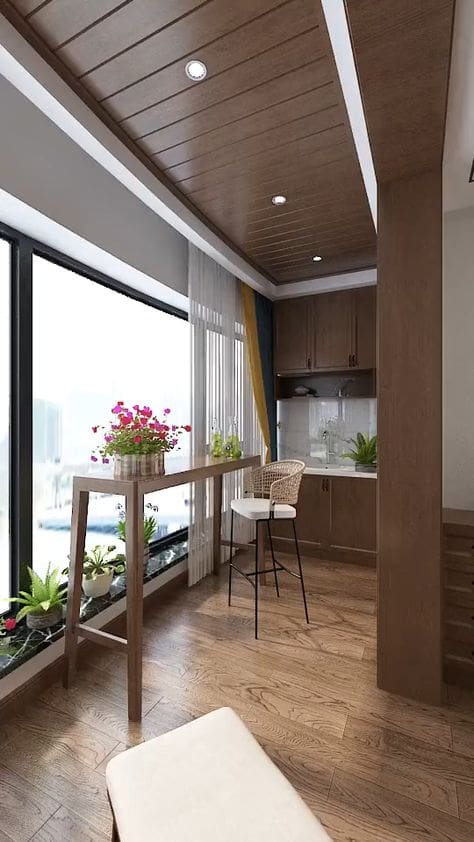 5. White and Red Chestnut PVC Ceiling
Looking for a more dramatic approach, then a neutral paired with a warm statement hue like red chestnut may be ideal for your PVC false ceiling design.
A red chestnut is a medium reddish shade of brown that belongs to the red family. It is an interior wood stain color that can create a cutting-edge look when used as a false ceiling, especially when paired with crisp white.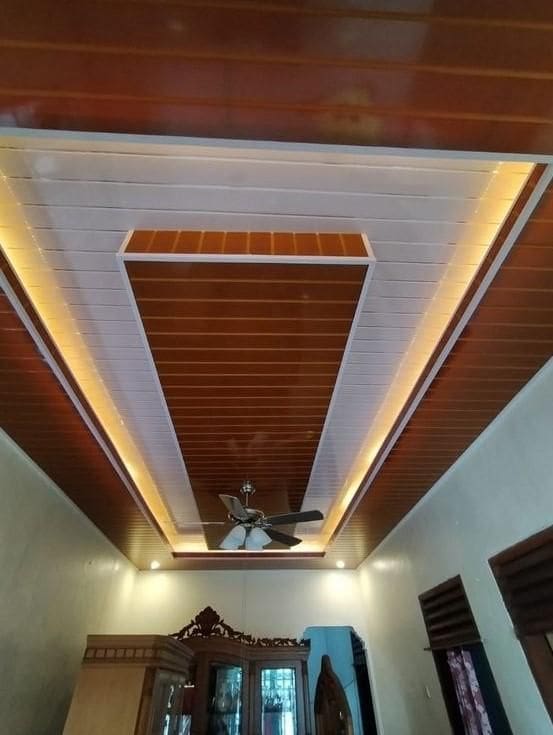 6. Wood-Effect PVC Ceiling
If you want to natural vibe and wood accent that wood provides, but also the durability of PVC material, then invest in a PVC false ceiling design that has been painted to have a wood-like look. They have less sheen than the typical plastic finish which makes them look like the real deal.
7. Use a Tan and White Combination
Tan and white are both classic neutrals that are popularly used in interior spaces. What makes combining them better than using one or the other is that they create a subtle feeling of warmth and a visual sense of calm in a space.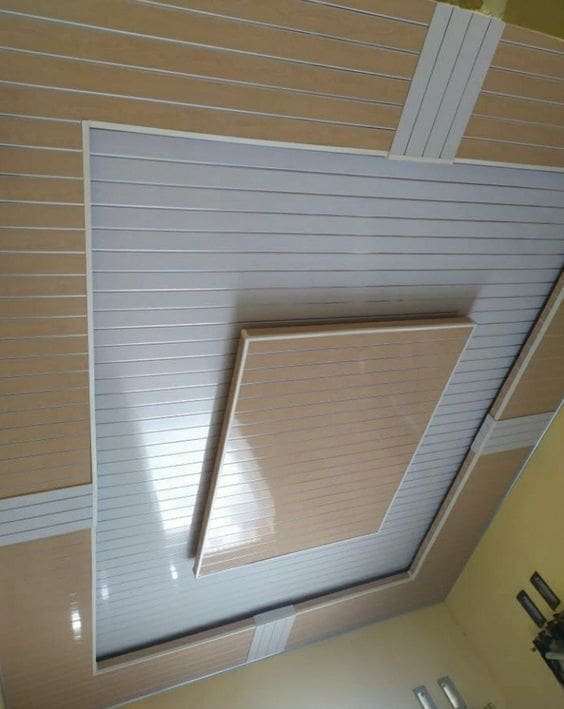 8. Black and White PVC Ceiling Design
Just like Yin and Yang, black and white bring a cohesive and harmonious look to a space. This PVC false ceiling design combination is a great way to introduce character and add a sophisticated aesthetic to a room.
9. High Gloss PVC False Ceiling Design
There are several finishes to consider when choosing a design for your PVC false ceiling. High gloss is a type of finish popularly known for its sheen and reflective qualities. It gives a mirror-like look that can make a space feel bigger. A high gloss finish leans more toward the traditional side of design.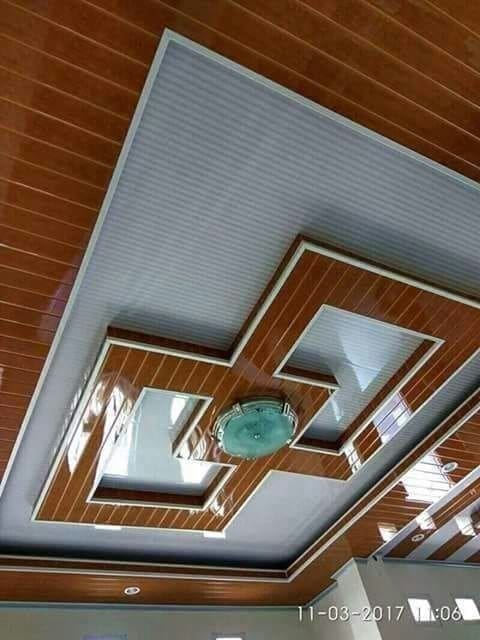 10. Semi-Gloss PVC Ceiling
A semi-gloss is a less glossy finish that gives a laid-back sheen. It brings a hint of sleekness and character to the otherwise minimalist scheme. This type of finish showcases a ceiling's architectural details without stealing too much attention.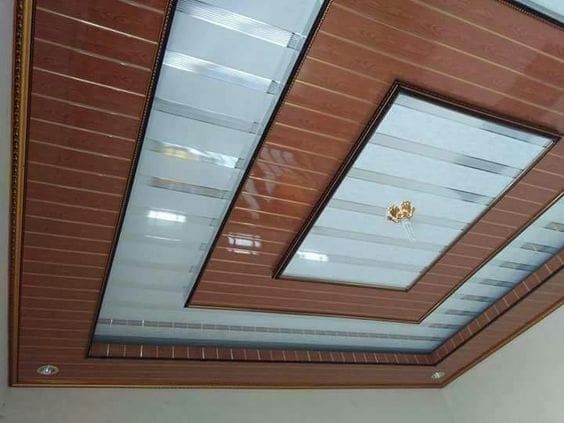 11. Matt PVC False Ceiling Design
A matt finish is more prominent in contemporary interior design. It has low reflective qualities and a significantly lesser sheen than the high gloss and semi-gloss finish.
Matt is known to add richness and a beautiful chalky finish to a space. It should be on your radar if you're looking for a PVC false ceiling finish that amplifies the room's overall aesthetics.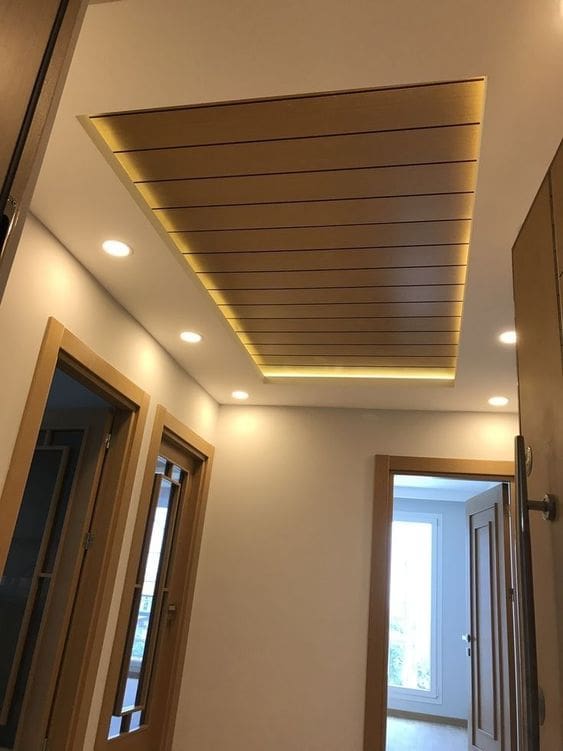 12. Square and Rhombus PVC False Ceiling Design
A great way to introduce character and make a statement in a room is to create a false design that conveys a strong sense of style. An easy way to do this is by creating a square-shaped design and a rhombus shape inside the square.
Be sure to use contrasting hues to define the shapes. This serves as the perfect backdrop to your lighting fixture.
13. Square and Triple Rhombus PVC Ceiling
What is better than one rhombus false ceiling centerpiece? Three rhombus ceiling centerpieces staggered across each other. This adds a unique element and makes a strong style statement. As mentioned earlier, use contrasting PVC panel colors to define each element.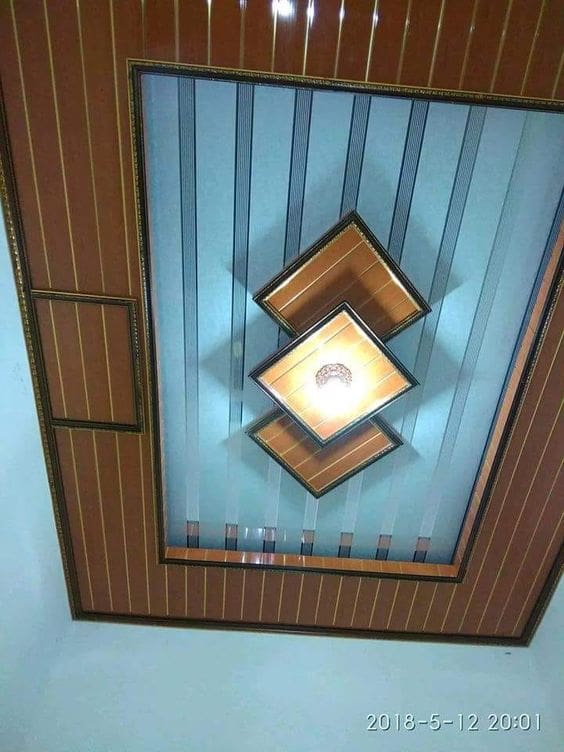 14. PVC and Wood False Ceiling Design
Wood adds warmth and a rustic feel to rustic feel to interior spaces. It makes a great pair with PVC ceiling panels. So, if you're looking to add a cozy factor and natural feel to a room, consider combining these two materials.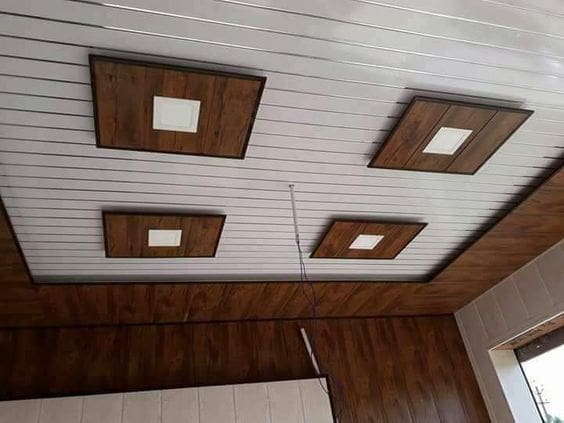 15. PVC and Marble False Ceiling Design
Marble is a material cherished for its elegance and understated beauty.  This element can bring sophistication and a strong sense of style to a room when combined with PVC false ceiling panels. Plus, marble is a powerful, tactile material that is also infused with sentiment and cultural significance.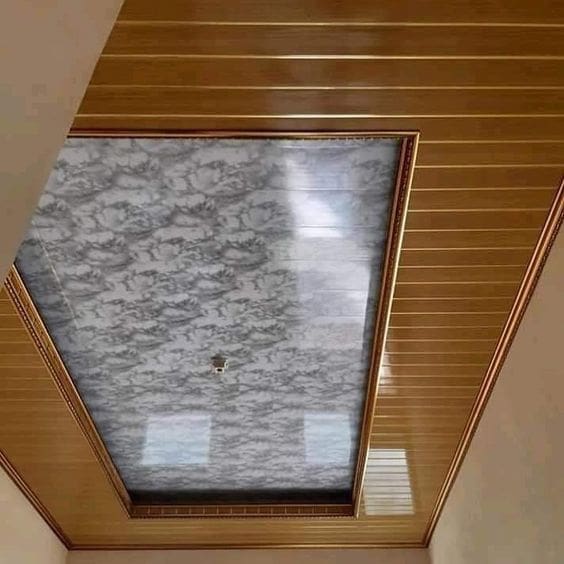 16. Modern PVC Ceiling with LED Lighting
LED lighting is a popular addition to contemporary false ceilings. Not only are they ideal for illuminating the space, but they also help to highlight the architectural beauty of the PVC false ceiling design.
17. PVC Ceiling Paneling
PVC panels are also a great way to incorporate false ceilings into your home. This is a refreshingly contemporary twist to improve your ceiling aesthetics. You can also create a floor to ceiling aesthetics with this design.
18. One-Sided PVC False Ceiling Design
PVC ceilings can also be used to define a specific area in the room. This is a simple, polished, and modern aesthetic that's not boring. It is sure to demand attention but not steal it.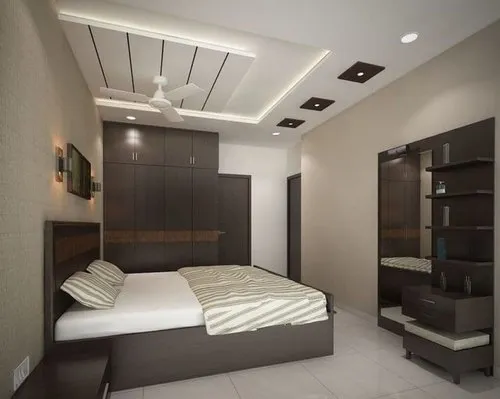 19. Red Oak Wood and White PVC Ceiling
Red oak wood can be used in a number of settings because of its irresistible aesthetic appeal, usability, and stability. It is a great element to use hand in hand with a PVC ceiling. Red oak wood can be used to elevate an otherwise minimalist scheme.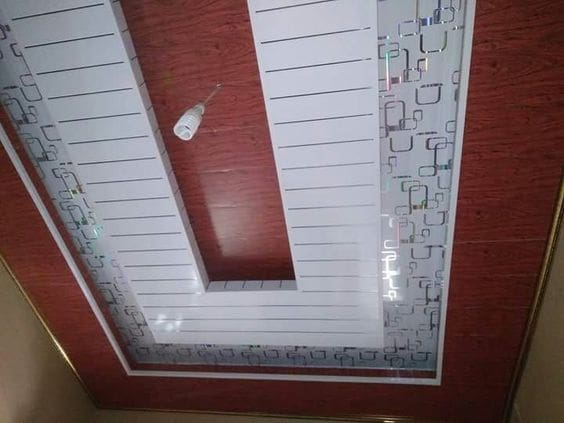 20. Vertical and Horizontal PVC False Ceiling Design
Usually., PVC false ceiling panels are either placed vertically or horizontally but combining both placements can add extra pizzazz to the overall aesthetics. It is a clever way to reignite a boring space.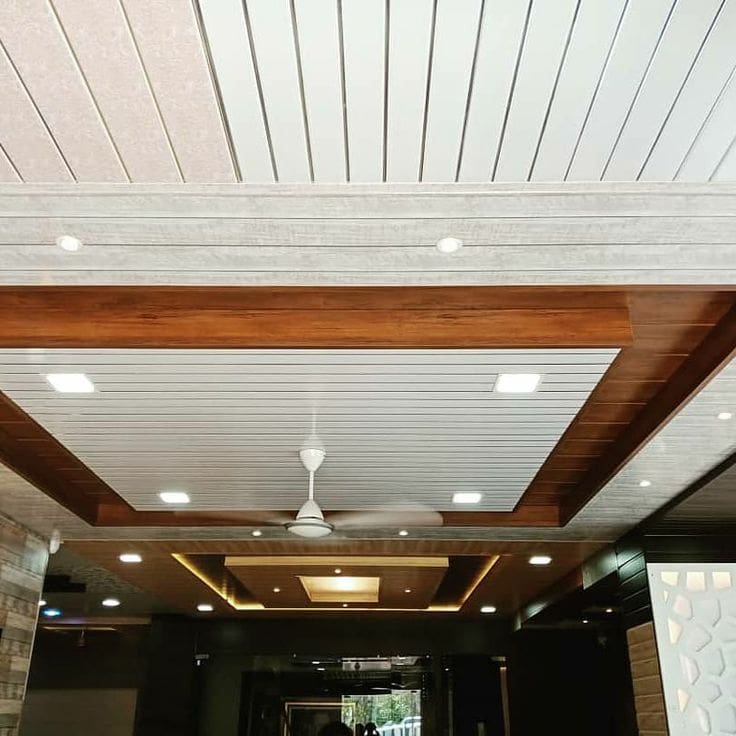 21. Coffered PVC Ceiling
Coffered is a popular sunken panels type of ceiling used to create depth and serve as a decorative detail in a room. Other than their aesthetic qualities, they also create an illusion of more space and height. Interestingly, they were used also used way back in time in ancient Roman buildings.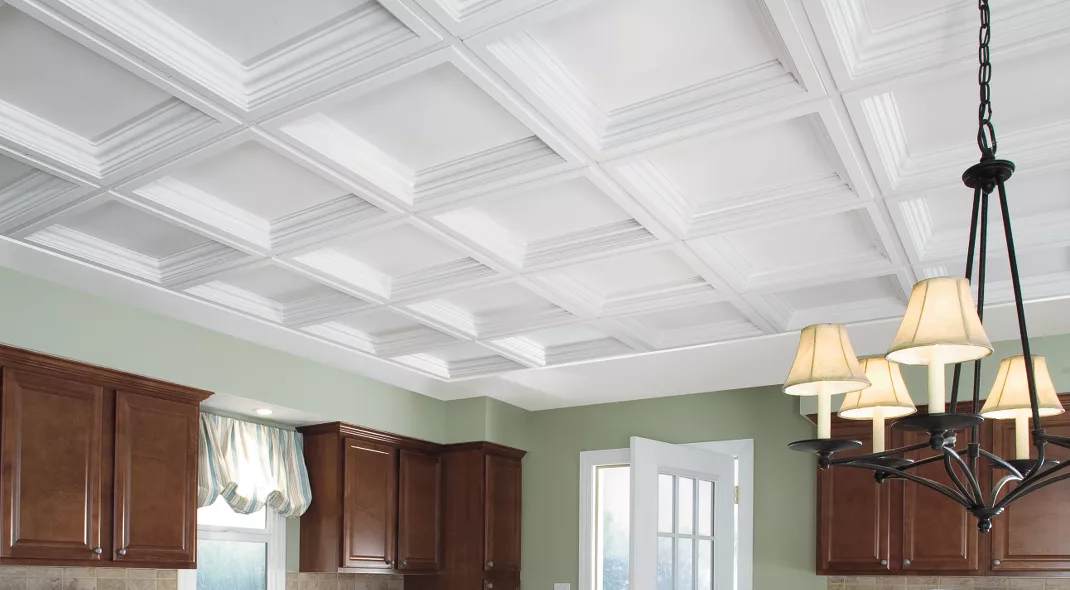 22. Varying Size PVC False Ceiling Panels
To break consistency and create a visually intriguing design, consider using PVC panels of varying sizes. This creates a sense of style and modernity while adding a bit of whimsy into the equation.
23. Statement Ceiling With PVC Crown Molding
A crown molding is a type of cornice made from decorative molding that is mounted on top of an interior wall. PVC panels are also popularly used as crown molding.
A statement ceiling creates the perfect focal point for a space lacking one. PVC panels can either be used as a statement ceiling or as crown molding to add zing to the statement ceiling.
24. Kite PVC False Ceiling Design
A uniquely shape PVC ceiling like a kite or diamond can serve as the room's show-stopping centerpiece. This element can make the room pop like never before. It is a clever technique to add a dramatic flair to a space.
25. Translucent PVC False Ceiling Design
Unlike solid PVC, translucent PVC is semi-transparent and allows some light to pass through it. It adds effortless beauty, texture, and softness to a design. Plus, a translucent PVC false ceiling design makes a space feel open and airy.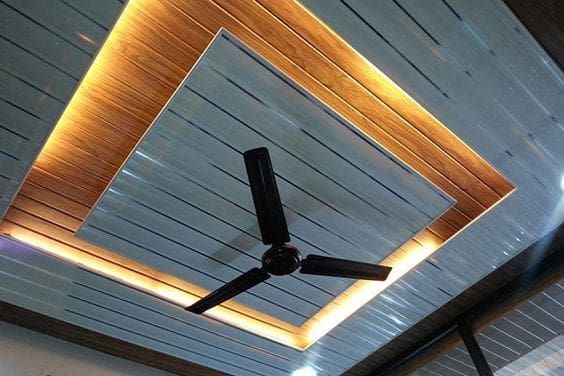 26. PVC false Ceiling with Multi-Colored Lighting
Rather than using one-tone ceiling light, consider using varying tones. Not only do these lighting illuminate the space but they also add warmth and accent to the space.
27. Dropped PVC False Ceiling
The dropped technique introduces a dynamic element to a space. This is essentially creating another layer of PVC false ceiling underneath the first false ceiling.
This adds architectural beauty to the space. The extra layer creates the appearance of a low roof. Plus, it creates better acoustics within a room.

28. PVC Layered Octagon Ceiling
A layered octagon is a go-to design for depth and visual appeal. Another benefit of this design is that it adds a perceived sense of height to the room.
A technique to experiment with the adaptable medium is through the layers. A multi-layered ceiling in the middle of larger spaces can make the best statement.
29. Glamous PVC False Ceiling Design
For a touch of elegance, glamour, and sophistication choose a design that conveys these such shiny, glittering patterns and elements. Gold is a shiny metallic finish that is a great decorative addition for glamorous spaces — it can add a depth of warmth like no other.
30. Bridge PVC False Ceiling Design
Contemporary minimalism is all about finding the right balance between too little and too much. There are simple ways to make an impact with a PVC false ceiling. A bridge-style PVC false ceiling can also bring glamor and enliven an otherwise neutral space.