10 Inviting Enclosed Patio Ideas
The pandemic has taken quite a sledgehammer to many old interior design trends, elevating new ones in its place. One trend that was already happening but got boosted to new heights by the pandemic was merging indoor and outdoor spaces together.
One cool way you can capitalize on this trend is to create an enclosed patio space. That way, you can enjoy being outside without dealing with the ill effects of weather, bugs, and other nuisances.
Not sure where to get started? Our guide will show you 10 amazing enclosed patio ideas that you can use to revitalize your porches this year.
1. Make It Multi-Functional and Multi-Seasonal
Investing money into your patio makes no sense if you're only going to use it on the rare occasions when you have company over. Or worse, if you're only able to use it for half of the year.
Ideally, your enclosed patio should serve more than one purpose. It shouldn't be just your greenhouse or just where you have your family barbecues. It should be able to host your garden and your parties.
That's why the best enclosed patio designs work with lighting, shade, and sound.
Your enclosed patio needs shade to protect it from the heat and proper lighting so you can enjoy it even when daylight hours become scarce during the winter. For extra multi-seasonal functionality, incorporate a fire pit into your design so you have warmth on demand when you need it.
2. Mix Elements of Old and New, Travel and Comfort
For years and years, people touted Scandinavian style decor and furniture as the way of the future. Indoors, outdoors, it didn't matter. Clean lines, stark colors, and little to no clutter dominated all the trends.
Now, after a few years at home, people want more from their homes and backyards. So, there's been a major pendulum swing towards older, more antique pieces. Unique pieces and little personal bits of clutter make a space feel comfortable and lived in.
Plus, artisanal or antique pieces of furniture and decor can give a space a sense of age and its owner a well-traveled air. So, if you want to hop on to one of the best 2022 patio trends, give your thrift shop and antique stores a visit for some outdoor furniture and vessels.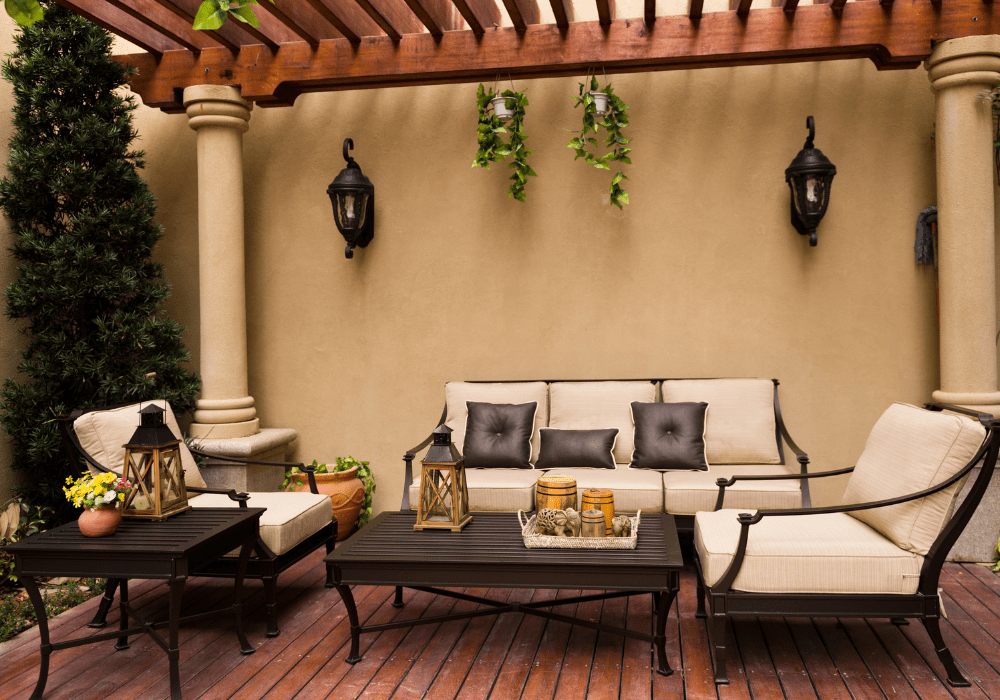 3. Give Your Windows and Screens Curtains
Enclosed patios are an amazing way to blend the outdoors and indoors. However, that doesn't mean that you want to leave your windows or screens on the patio bare. Unless you're really into the industrial look, it will just make your patio look unfinished.
So, one of the best enclosed patio ideas we can recommend is to include curtains in your design. If you want more privacy, you can use a thicker fabric. Or, if you prefer a translucent veil covering your view of the outside world, thin curtains can do the trick.
The best part about curtains? You can swap them out, depending on the season. Thinner curtains can prevent the patio from holding too much heat in the summer, while thicker curtains can keep the cold out during the winter.
4. Outdoor Dining Areas Are a Great Investment
If you're wondering what to expect from 2022 patio trends, outdoor dining will remain popular for years to come. Outdoor gatherings were one of the few safe ways to have social time with friends during the pandemic, and people found that they enjoyed the experience.
Plus, eating outdoors has a different vibe from eating indoors. It can make even mundane meals feel like picnics or barbecues. Whether you have company over or want to enjoy a meal on your own with a view of the backyard, an outdoor dining area is a great investment.
5. Open Your Space With Easy-Access Doors
If you're going to have an enclosed patio, you need the right doors to get to it. Some people like having a complete separation of their home from the front or back yard. However, the most recent trend has been to create a seamless flow from inside to outside.
As such, people tend to choose sliding and french doors to lead from their homes to their patios. Especially doors made from glass or surrounded by plenty of windows.
Having nice, open-feeling doors to your enclosed patio creates flow in your floor plan. However, it also addresses some practical concerns. It's a lot easier to keep an eye on children playing on the patio or in the backyard from inside the house if it's connected by a glass sliding door.
6. Can't Wall It Up? Try Using a Fence Instead
So, let's say that you love closed-off patio designs. However, walling off the space is completely out of your budget. Do you then have to forgo having an enclosed patio for the sake of your wallet?
Nay, say we. If you can't wall up your patio, you can use fencing materials instead. With the right choice of material, you can have a similar amount of protection from the elements as you would with walls up.
You can create your fence wall with wooden planks, latticework, chicken wire, or even plant material. It all depends on the vibe that you're going for.
7. Welcome a Taste of the Tropics to Your Patio
Bringing a taste of a beach vacation to your home is one of the most enduring enclosed patio trends. After all, if you can't afford to take a vacation to Hawaii, you can channel those decor vibes into your patio for far less money.
How so? Well, a tropical patio aesthetic is about more than big, cozy, swinging hammocks. (Though those do go a long way towards selling the idea of a home-based tropical vacation.)
Using wooden blinds or thatching can help convey the idea of a beach hut. Add to that a well-stocked outdoor bar, and you can get ready to spend your weekend wasting away in Margaritaville.
8. Turn Your Patio Into a Greenhouse
Do you need some home design inspiration that plays nice with the environment? If so, then you need to go with one of the most popular 2022 enclosed patio ideas and turn that space into a functional greenhouse.
What do we mean when we say a "functional" greenhouse? Well, plenty of people use their enclosed patios (especially if they have glass windows) for growing pretty flowers and leafy plants. However, while those are beautiful, their practical impact on the environment can seem limited.
Instead, make your glass-enclosed patio into a place where you grow herbs, fruit trees, vegetable patches, and other garden staples. This can help reduce your family's impact on the environment, teach important life skills, and yes, surround yourself with beautiful greenery and lush smells.
9. Play Around With Colors and Shapes
Remember when we mentioned the Scandi design style, and how simple lines and basic, monochrome neutrals characterized it? People are tired of that, so many new patio ideas for 2022 involve playing around with both shapes and colors.
Art deco has come swinging back into style with its sharp geometric shapes and unique patterns. People love giving the furniture on their patio more interesting designs to showcase.
Plus, as chic as monochrome neutrals are, it's time for them to go. Color is back in after years of getting sent to the sidelines.
This isn't to say that you should turn your enclosed patio into a neon-highlighted warzone. Rather, embrace the chance to accentuate your space with color via an accent wall or unique flooring.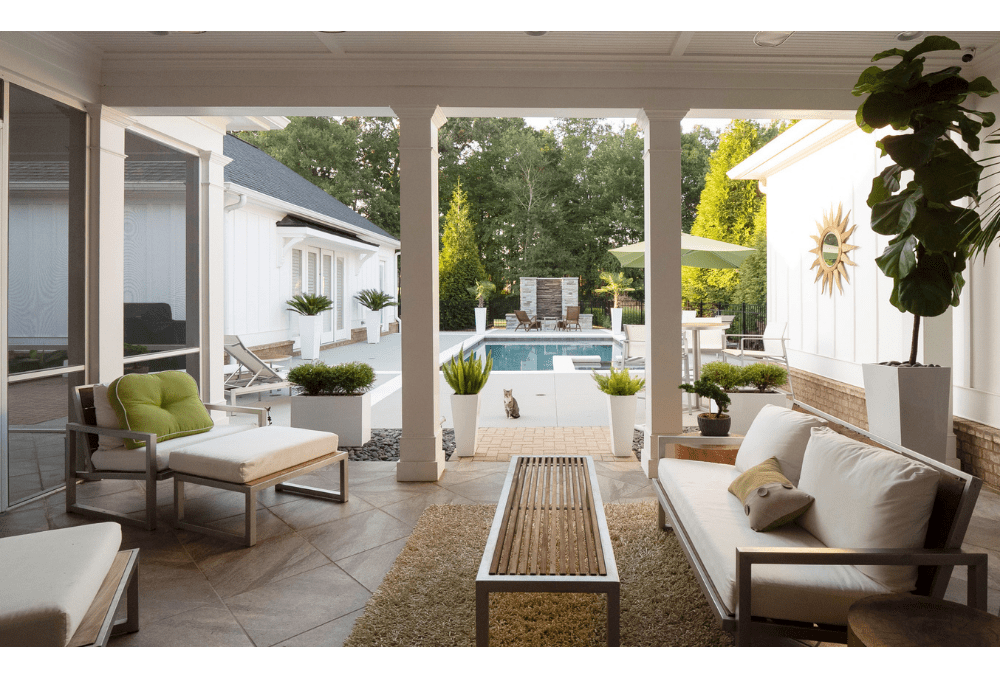 10. The Backyard Is the Place for Bohemian Chic
Bohemian style is one of those things that tends to fade in and out of the limelight while never truly becoming dated. That's why, if you're looking for enclosed patio ideas, many of the sets and pictures you see online will incorporate elements from boho chic.
When you want to blend outdoors and indoors, the natural tones and textures brought by bohemian furniture and decor work nicely. Plus, as more and more consumers demand ethical furniture, wicker and weave pieces from artisans have become more desirable.
Another important thing to note: Many boho chic furniture companies focus on using eco-friendly materials to reduce their environmental impact. Materials like bamboo, raffia, and rattan are great examples of this principle in motion
Looking for More Awesome Enclosed Patio Ideas?
We hope that our guide to 10 of the most popular enclosed patio ideas for 2022 gave you some inspiration for your own space. Ultimately, it's up to you whether you want to follow the trends or defy them.
However, if this guide wasn't enough for you, and you need to look up more patio designs to bring your home to the next level, why not check out our blog? We update the Design & Decor section each day with more great home improvement inspiration articles like this one!