A Complete Greenhouse Buyer's Guide
A greenhouse is a great asset to any garden. Planning on investing in one? This greenhouse buyer's guide will help you make the right choice!
A greenhouse is a gardening structure made of glass or translucent plastic. It is ideal for growing overwintering tender plants and seedlings. If you've ever tried gardening in the UK's unpredictable weather, then you know how some crops fight so hard to live past winter.
A greenhouse enables gardeners to make the most of the sun and extend the growing season. Plus, a greenhouse can be used as a hobby to enjoy and appreciate nature's gifts without having to spend a lot of money.
Greenhouses have a long history, tracing back to the 1st century AD when the first one was built in Rome. Although the Romans didn't use this for the purpose of gardening but rather as a sunny retreat. It was later in the 16th century that gardeners started using this structure to grow plants.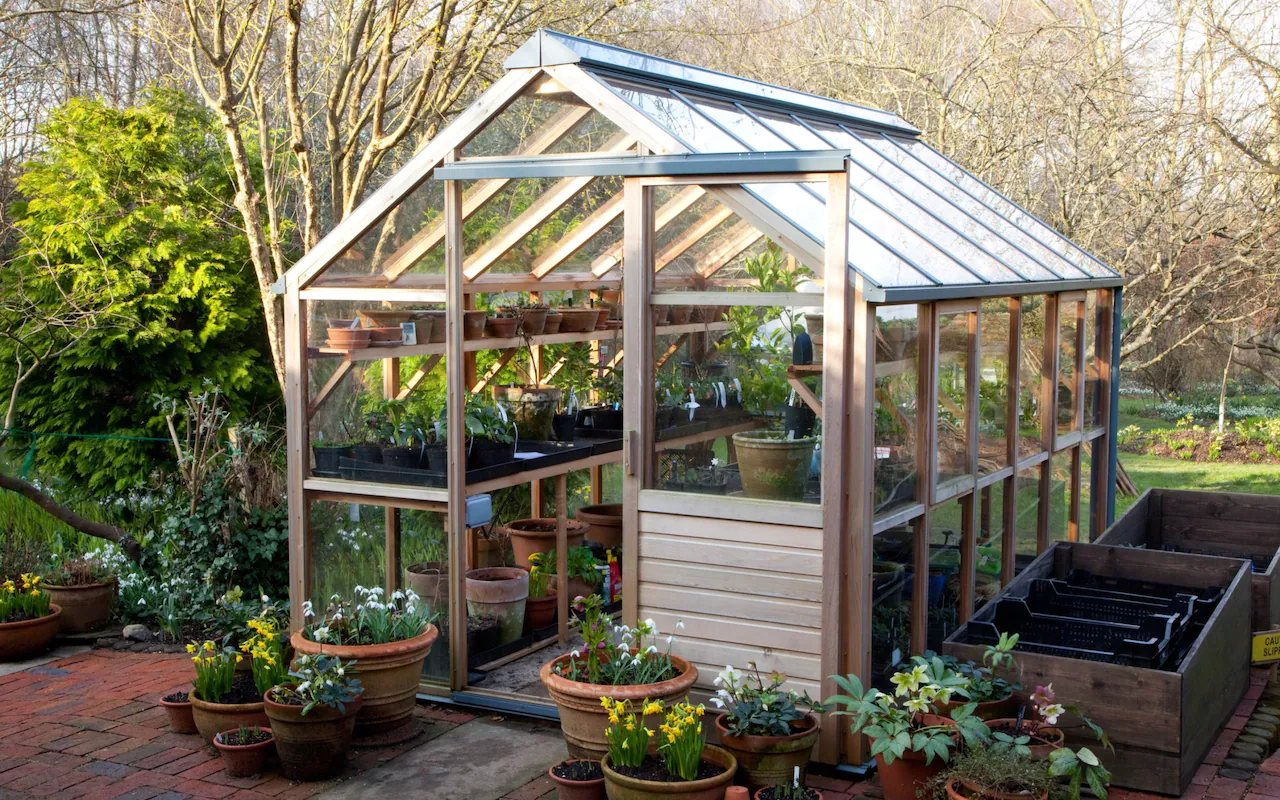 Greenhouses come in varying shapes and sizes to fit any garden. There is a significant difference between gardening in a  greenhouse and gardening outdoors. The warmer soil and consistent temperature in a greenhouse will result in stronger seedlings. All you have to do is to water it and your harvest will be bountiful.
There is a number you things to put into consideration before investing in a greenhouse. Some of these factors are size, type, location, and the material. Aside from these, the area you have available and your budget will be the two key considerations in the greenhouse you ultimately select.
Here is a comprehensive greenhouse buyer's guide to help you make an informed decision.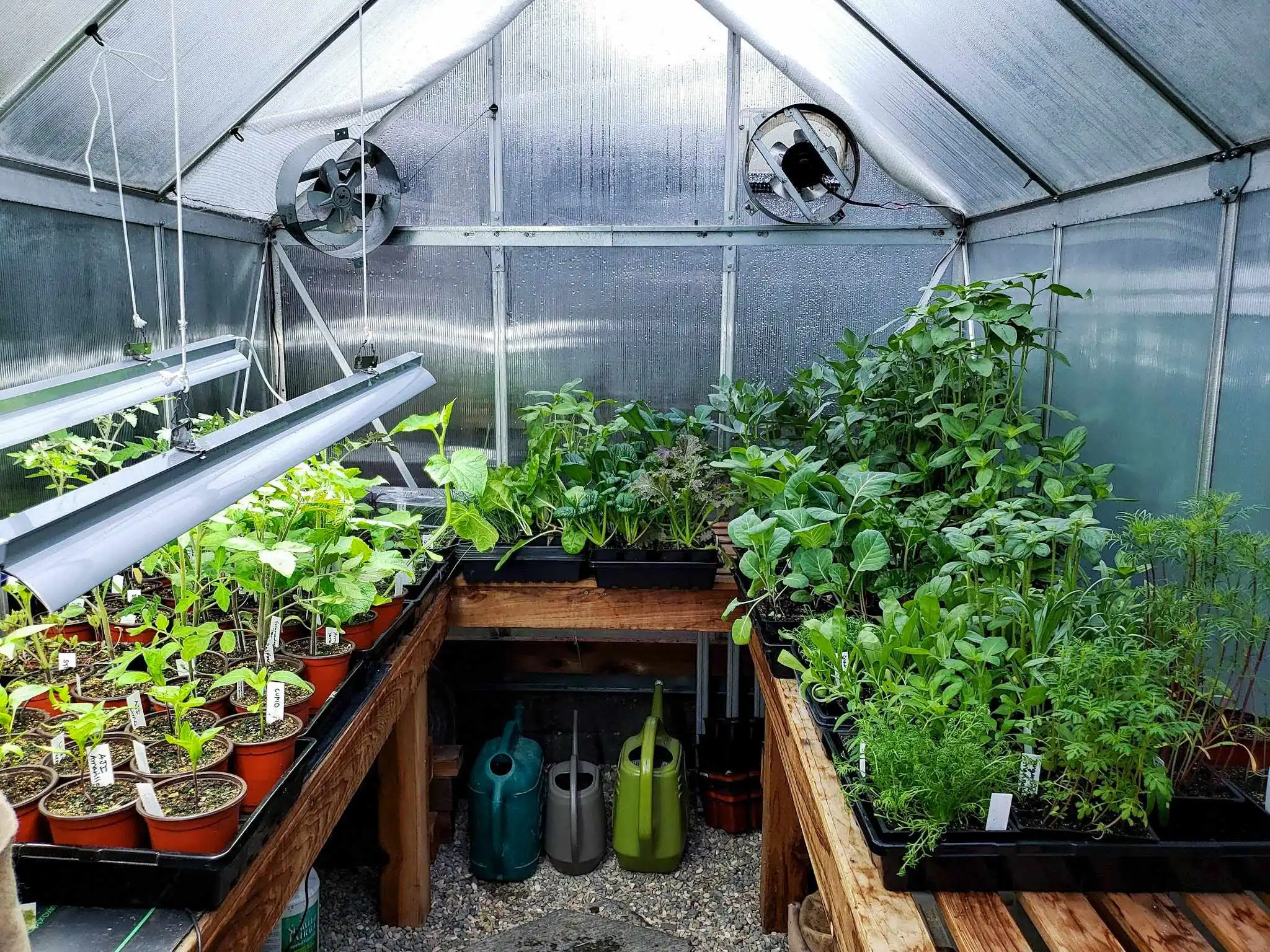 Where to Site a Greenhouse
Before buying a greenhouse, you will need to decide on where to site it as this can determine your growing success or failure. You'll need a location with plenty of natural light and sunshine, away from icy breezes and frosty pockets.
Avoid placing the greenhouse directly under tall trees as they can block or restrict sunlight from reaching your plants. Avoid being tempted to squeeze a quart into a pint pot when measuring your site! Remember to leave extra space around the perimeter (at least 1 meter) so you can have access to clean and maintain it.
If you set up the greenhouse inches from a wall, you'll subsequently regret your choice when the glass begins to get grimy and green algae begins to grow and you are unable to clean it.
You'll also need to decide if you want to construct the foundations and build the greenhouse yourself or hire a professional to do it for you.
Greenhouse Glazing Options
When you're buying a greenhouse, you should always check the quality of glazing options available. Glass greenhouses will usually come with the option of either horticultural or toughened glass.
Horticultural is best for the lowest price (but does shatter into dangerous pieces), but toughened is the safest but more costly option (it breaks into tiny pieces instead). South West Greenhouses recommends toughened glass if it's located in public areas or around children.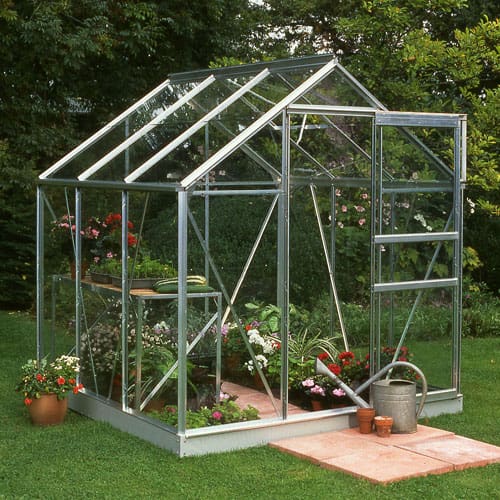 (Glass Greenhouse from
swgreenhouses.co.uk)
Greenhouse Sizes
Greenhouses come in a range many sizes. The size of your space and your preference will determine the ideal greenhouse size. A hobby greenhouse can be as little as 6'x4′ and as large as 10'x20′.
Generally, 6' x 8' is a common size greenhouse size for amateur gardeners. Gardeners that need a considerably larger growing area could choose a 10'x 14′ large greenhouse. However, if you are not limited by room or money, the options are endless.
Types of Greenhouses
There are various options to consider when buying a greenhouse. Here are the most common types of greenhouses.
●    Lean-To Greenhouse
This a type of greenhouse that leans against the side of a building, or a wall. The convenience of having power, water, and heating sources nearby is the main benefit of constructing a greenhouse next to your home.
With lean-to greenhouses, you can save on construction material as you just have to cover the roof and three or two sides with greenhouse sheeting material to create a complete enclosure.
●    Freestanding Greenhouse
Unlike the lean-to-greenhouse, the freestanding greenhouse is not attached to any building. They can be set up anywhere that has level ground, excellent lighting, and is accessible in the winter.
●    Gothic Arch Greenhouse
A Gothic arch greenhouse will immediately come to mind if you think of any Gothic building you have ever seen. Its uniquely pointed roof contributes to removing the requirement for trusses in the greenhouse structure.
●   Polycarbonate Greenhouses
A twin-walled polycarbonate greenhouse transmits less sunlight than glass with 83% glazing, but, unlike glass, it isn't easy to break. It also has extra points when it comes to retaining heat better. However, since polycarbonate is vulnerable to wind damage, ensure that it's protected against strong winds.
●   Vertical Greenhouses
A vertical greenhouse is another type of greenhouse that allows growing plants at various levels, so they can be tended more easily. It's also an excellent option if you want to learn how to grow your own cabbage and other vegetables in places where there's no natural or less light available. Typically, such greenhouses have slats on the sides and open on the top.
●   Space Greenhouses
This kind of greenhouse is made to capture a whole ecosystem inside it. When compared to other greenhouses, a space greenhouse comes with a planetarium-style design that enables plants to thrive in a natural environment, so you can enjoy them without the need to worry about your plants.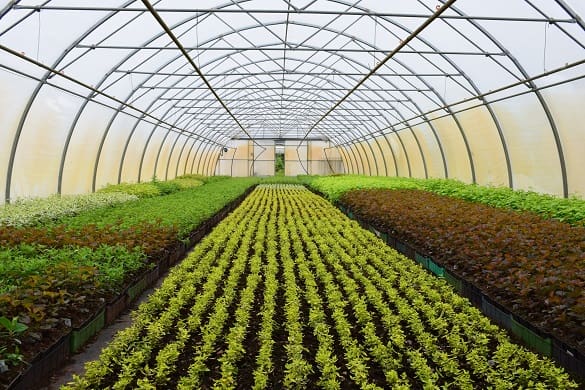 Things To Consider When Buying A Greenhouse
When it comes to greenhouses, there are many things to consider, and these include the following:
●   Materials
A greenhouse is often made from either wood or aluminum frames. The element is silver, but it can be painted into colors like green. Aluminum frames are known for being sturdy and much cheaper than wooden frames.
Greenhouses with wooden frames are suited for most kinds of gardens because of their natural look. However, they'll need treatment every few years to keep them in good condition and look fresh. Also, they're much easier to insulate.
●   Ventilation System
Many greenhouses typically have roof windows for ventilation. Depending on your preferred provider, a greenhouse may have a simple expanding tube that can be fitted to the roof ventilators to shut and open automatically.
An effective kind of ventilator is the controlled extractor fan. It's cheap to run and easy to install, reducing condensation and providing continuous air movement. It's normally fitted to the greenhouse's gable end.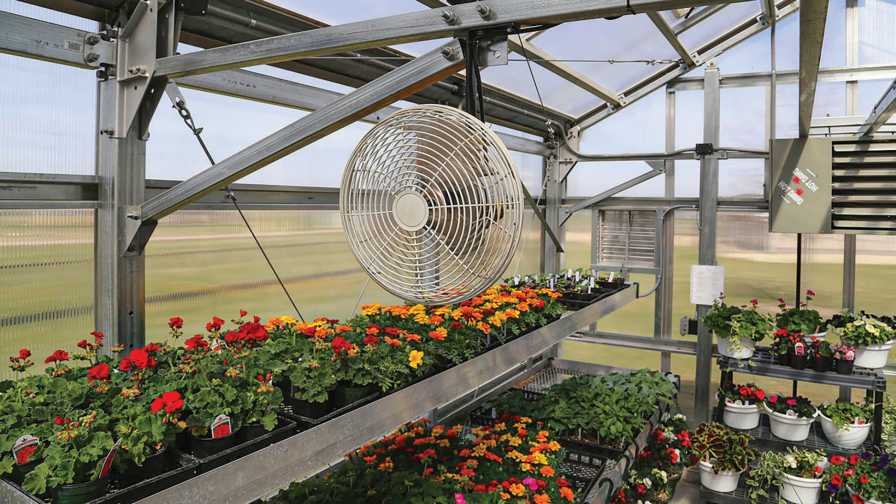 ●   Cloche
A cloche may come in a variety of sizes and shapes to protect rows of plants or individual plants from harsh weather, to keep out pests, and to extend the growing season. When selecting a cloche to consider, ensure that it has ventilation. Several cloches take the form of glass tents, which serve as a safety hazard.
●   Visual Appearance
Another thing to consider when buying a greenhouse is its visual appearance. This is especially important if you want your greenhouse to blend into your existing garden landscape. Fortunately, there are various options to choose from when it comes to the aesthetics of greenhouses.
The typical color finish for greenhouses is plain silver. But, other providers offer greenhouses in a range of attractive colors that'll improve your new greenhouse's visual appeal. At present, green is a popular choice for many customers.
●   Accessories
No matter how much a greenhouse costs, a variety of accessories is always great to consider. Shelving and staging are the most common accessories as they provide greenhouses with more rooms and levels to plant more. For example, a greenhouse heater is useful when heating greenhouses during the winter once you start moving your plants inside to protect them from colder temperatures and frost.
●   Watering
Proper watering of plants is a difficult thing to achieve in greenhouses. If you lack mobility or strength in your arms, but you have to water manually, select a light plastic greenhouse can with long spouts. Tying the end of the hose to the broom handle or cane or using lance attachments will extend the reach.
Don't try squirting the water by pinching the hose as it may result in serious erosion of compost from the plant pots and inconsistent watering. Also, it tends to knock over the dry pots.
There are some self-watering systems available that are either semi-automatic or fully automatic. One of the most efficient forms of watering is through a capillary method where the seed trays and pots stand on a sand bed or special matting.
Another watering method is trickle irrigation, which is supplying water directly to the pots or plants at predetermined rates. A spaghetti tubing system is a popular form in which the supply pipes have a big number of small tubes leading off of them so that every pot gets a dripped supply constantly.
Depending on the method you prefer for watering, take note that the plants nearest to the windows may dry out faster than the ones near the center of professional-quality greenhouses. They're also the pots that are challenging to reach and might get neglected during hand watering.
●   Supplemental Lighting
Depending on your location, you may need to consider supplemental lighting when looking for a greenhouse. Keep in mind that clouds may reduce the amount of light that reaches your vegetables and plants, especially during winter days. When it happens, your seedlings and daylight-sensitive plants may end up hungry for sufficient lighting and can benefit from the LED lights installed.
Bottom Line
There you have it! Whether it's your first time or you want to upgrade your current greenhouse, buying one can be stressful and challenging because there are various things you need to consider.
With the guide above, you can be assured that you'll make a well-informed decision and choose the right greenhouse perfect for your unique needs or personal preferences.
Pin for later!