How to Decorate Your Bed with Throw Pillows
As soon as you enter a bedroom, the focal point that grabs your attention is the bed. A bed with a suitable size according to the width of the room beautifies a bedroom and gives it a sense of completion. But it doesn't mean that you ought to throw hundreds of pillows on it to attain that beauty level. So how do you decorate your bed with throw pillows?
A bed needs to be comfortable more than being classy. A bed full of pillows of different sizes will not leave enough space for you to relax and have a comfortable sleep on it. So, you need to be specific and logical in terms of decorating your bed with throw pillows.
What is a Throw Pillow?
A throw pillow also called a toss pillow is a pillow of small size made for decoration purposes. A throw pillow is a soft cushion made of different textiles and filled with different materials. There is a variety of throw pillows available in the market.
In the beginning, the throw pillows were made for sofas, couches, garden swings, and armchairs to provide a comfortable sitting position. Some of the throw pillows of large sizes were also used as the floor cushions to make floor sitting comfortable. Later on, people started using these throw pillows on the beds to give them a new and stylish look and it served the purpose well.
Types of Throw Pillows
As mentioned earlier, there are different kinds of throw pillows in terms of sizes, textures, filling materials, etc.
Pillow Case Texture
The textures of the pillow covers in which throw pillows usually come and preferred are:
●      Cotton
●      Silk
●      Velvet
●      Chenille
●      Leather
●      Linen
●      Jersey
Fill Material
The same is the case with the filling material. Throw pillows come with a variety of filling materials depending upon the requirement of the customer. Some common fillings of a throw pillow are:
●      Cotton
●      Wool
●      Memory Foam
●      Polyfill
●      Down Alternative
●      Feather
●      Buckwheat
And many more…
Sizes
Different people like to use different-sized throw pillows depending upon the sizes of their beds. The most common sizes available for the throw pillows are:
●      18"x 18"
●      20"x 20"
●      22"x 22"
●      24"x 24"
How to decorate a bed with throw pillows?
Now comes the most interesting part where all your aesthetic senses related to home décor and interior designing will get tested. No way will be considered wrong in terms of decorating your bed with throw pillows. Just keep in mind not to build a mountain on your bed with stuffed throw pillows. A good symmetry in the items used in a bedroom makes it a sleep-friendly bedroom and ideal for everyone.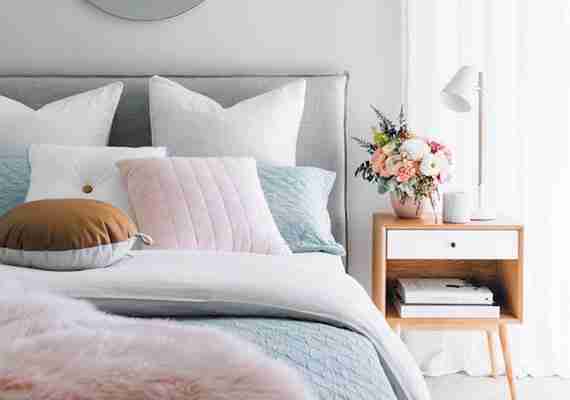 The following are some of the precious tips that you can use to get a sophisticated, decent, and classic décor for your bed with throw pillows.
●      Always use the pillows in an odd number while decorating your bed. It gives a systematic look to the bed at a glance.
●      Place the pillows that take 1/5th part of the bed size and do not exceed this limit. It will leave enough space to lay down, relax, and sleep.
●      Always put the throw pillows in the third or fourth row depending upon the number of pillows being used.
●      The throw pillows of sizes 22"x 22" and 24"x 24" should be used singly. More than one throw pillow of these sizes will create a mess on the bed.
●      The throw pillow with sizes 20" or less can be used as 3 or even more. These are the small pillows that can adjust easily on the bed without taking too much space.
●      Use three pillows on a twin-bed. One standard-sized pillow, one euro pillow, and one throw pillow.
●      Put 5 to 7 pillows on a Queen-size bed. 2 Queen pillows, 2 euro pillows, 2 standard-size pillows, and one throw pillow.
●      You can put 7 or even 9 pillows on a King-size bed. It will include 2 King pillows, 2 0r 3 euro pillows, 2 standard pillows, and 1 or 3 throw pillows.
●      Always look for the color combination. The color of the throw pillow must be in contrast with the wall color, curtain color scheme, and the bed covers or pull-overs being used.
●      Use a plain, one-colored throw pillow with a printed anti-microbial bed sheet and pillowcases. The pillow covers can be the same as the bedsheet but the throw pillow should be different to look prominent.
●      Patterned throw pillows only look great against plain bedsheets of one color. Here you can play with colors. With a plain white bedsheet, you can use any color combination to use for a throw pillow as a contrast.
●      Always select a throw pillow according to the headboard size. If the headboard of your bed is high, go for a bigger throw pillow of 24". If the headboard is low, remain in contact with the low profile throw pillows of 18".
●      The height of the throw pillow should be two-third of the size of the headboard, leaving one-third of its top exposed.
●      Use fewer pillows with a headboard with cushioning. More throw pillows will be needed with a headboard without cushioning.
●      If you are a lamp lover and use them on the bedside tables, then you should also look for lampshade colors. Plain lampshades will look good with every kind of throw pillow but a printed one will require you to make some changes.
●      It looks nice to put a throw pillow with the same texture as the quilt or the pull-over. It creates a great symmetry and synchronization between the items used on the bed.
We hope that this guide has helped you understand the new ways to use throw pillows on your bed and make your bedroom more classy and a bit more relaxing.