How to Style a Small Modern Living Room
The living room is a multi-functional space in a home where we spend most of our time and even entertain visitors, so it needs a lot of space or flexibility. Decorating a small modern living room can be very tricky and requires the strategic placing of furniture and decorative pieces. However, there are so many ways to turn your small space into a stylish and elegant space.
Simplicity and minimalism are key in modern design. When your living room is clustered and clamped, it looks even smaller than it is, but by strategically styling your living room, you can achieve that simple and chic look.
You can draw inspirations from our gallery with lots of living room designs that might be suitable for your own living room's constraints. Here are five styling tips to help you make the most out of your small living room.
Stick to white/neutral walls
To achieve a modern look, It is advisable to style your living room with white/neutral (beige, cream, gray) walls. It is an effective trick for making a room look spacious, it will also make your living space look bright and stylish. Even though changing your interior walls can be inexpensive sometimes, it is time-consuming and requires a lot of work, so make sure you choose the right wall color or pattern.
Stay away from dark color walls as will make your living room look smaller and even darker. White walls are also best when decorating a new room as it is the easiest to work with.
Choose the right size of furniture
When decorating a small living space, you need to scale down on your furniture. it is important that you go for a sofa size that is right for your space (see tips when buying sofas here). Opt for sofas or chairs that don't take too much space. Using a sofa without arms or with exposed legs like loveseats and ottomans is a great trick for making a room look smaller.
When styling a small living room, make sure you leave spaces between your furniture and the wall to avoid a clamped and unwelcoming look. Place your coffee table 14–18 inches from seating to give room to create walking space. Go for small glass or Lucite coffee table with open legs as see-through tables make the room look more spacious.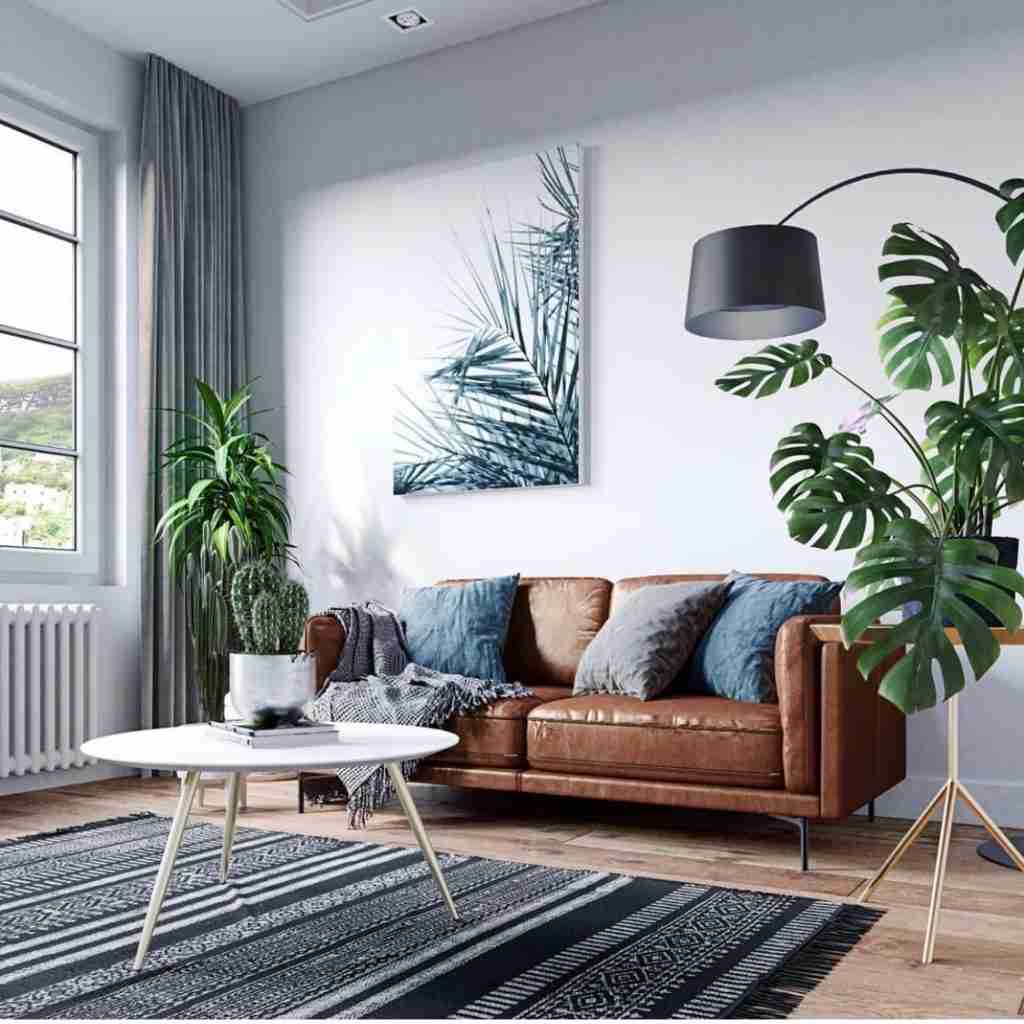 Image Source- Luxo Living
A modern living room should be bright and simple, dark corners will make your space feel dreary and small. Let the natural light in, window blinds are great for making a small room look spacious as opposed to curtains, but if you go for curtains, they should have a neutral color and be light and airy.
It is important to position your light fixtures strategically as it will bounce illumination throughout the room. Layering the lightings in your living room will enhance the ambiance, accent artwork, and wall texture. Go for thin and simple floor lamps and avoid bulky floor lamps as they take up space. Wall sconces are great for illuminating your living space.
Too many smalls objects are bound to make your living room look smaller. Depending on your budget, I suggest you take advantage of a bright color built-in storage to control clutter and keep the room organized.
If a built-in storage is not an option for you, get creative by using a small size shelve or bookcase that can be placed on a wall. Built-In storage or bookshelves are great for storing, pictures, books, DVD's or artworks but keep it simple and do not overload it.
Image Source- Undecorated Home Design
Go minimal yet stylish with your décor
When decorating a small modern living room, avoid having too many decorations. Go minimal or neutral with your décor. Keep the design as simple as you can, remove items you don't need or don't fit in the rest of the theme.
Add a pop of color and draw attention with statement pieces but don't go overboard. A canvas painting adds a modern feel to a living room, consider using a simple artwork framed with a subdue color but make sure to get the right size for a room and leave some walls bare to keep the room simple and spacious.
Accent your living room with throw pillows and blankets. Throw in simple plants in your space as it is a good way to bring in some color to a modern living room interior.
Use of Waterproof Sofa Protector Cover can be an add on to your interior decor. With an elevated space ambiance, you can protect your sofa and prolong its life. If you are interested to buy a Waterproof Sofa Protector Cover, you can check out our recommended sofa protector cover waterproof from Oxford Homeware.
Image Source- Quin & Perla Design