7 Steps to Styling the Perfect Bedroom
After a long day, we all just want to come home to our bed and have a good night's rest. The bedroom is the room in your home that should feel the most tranquil and comfortable. Bedroom styling designs and trends are endless and there are so many places the draw inspirations from but if you're spoiled for choice and confused on how to get started, you are in the right place! Here are seven steps to styling the perfect bedroom we've put together.
   1.  Have a plan
Being organized is very important when styling a room, think of yourself as an interior designer, you're professional and you need to keep the client (yourself) happy.
Measure the dimensions of your room, map out where you want to place your furniture such as bed, closet, couch, drawers, etc. Research properly, look for design inspiration (magazine, websites, etc.), and write down each item you need to buy.
Make sure you declutter to create space, clean out your room, get rid of furniture, or items that are outdated or unwanted. Have a well-written budget and cost estimates to avoid financial troubles. Except you're styling a new room, you don't necessarily have to replace everything in it, work out what is useable and what you need to sell or give out.
Image Source: Dmitrii Kurilov
       2.   Repaint your walls
The color and quality of wall paint or wallpaper will have a huge impact on the overall look of your room. Stay out of trends, instead get a pattern or color that is subtle and timeless. I suggest you keep it neutral with the color of your bedroom wall, as you can always add a touch of color on your beddings, curtains, furniture, decorative pieces, etc.
If you want to go with a bold color then go for it! but make sure you do it right and make sure you test before you buy, get some swatch cards and paint on board to see how it looks.
3.    Make a statement with the lighting
A beautiful and stylish lighting scheme will add a perfect feel to your bedroom design that is attractive and functional. It is important to pay attention to the details when styling your room, the details in the lighting should be simple yet modern and sophisticated.
To create atmospheric lighting in your bedroom, a central pendant or bedside lighting is a great way to make an aesthetic statement with your lighting.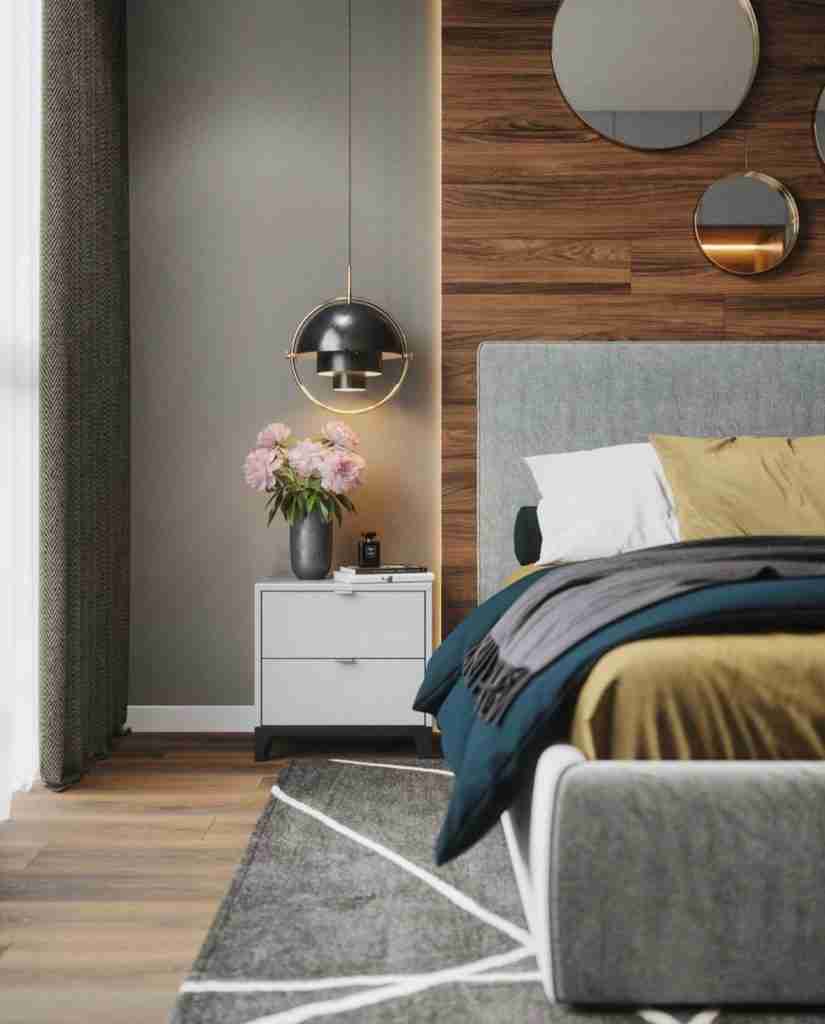 Image Source: DreamOn Design
4.    Don't be scared of colors and patterns
If your bedroom interior is minimal, don't be scared of colors and patterns. Don't go all fifty shades of beige with your décor, throw in some colorful beddings, rug, or sofa. Try to understand what color or pattern works with the rest of your room interior.
Add green plants or flowers as they can add a touch of color without making commitments. Strategically placing artwork on the wall is a good way to bring colors and personality to your room.
Image Source: Dmitrii Kurilov
5.    Enhance your room with natural scent
Open your doors and windows when it's warm enough, when it's cold open it for a few minutes to lets the fresh air in and stale air out. Scented candles are great for giving your room a fresh scent, they will also add warmth and ambiance to your room but make sure there are eco-friendly. Remember to wash your sheets often, freshen your carpets, and invest in air fresheners.
6.    Keep it simple
Overall simplicity is key, keep your ornaments simple and decoration minimal. This is an important step when styling the perfect bedroom. Too many colors, furniture, and decorative pieces are just messy. Avoid contrasting by going overboard with decorations. Get rid of your junk in your room go for a simple bed frame.
Your bedroom is not is storage, think quality and not quantity when decorating your bedroom, if it doesn't in then it shouldn't be there.
Image Source: Dmitrii Kurilov
7.    Add a personal touch
Styling the perfect bedroom that is comfortable and functional is not a hard task to take on. When decorating your room remember it needs to reflect your personal style. Take a look at several interior designs on the web for some visual resources and get some inspiration. Narrow your findings down to your personal taste and make a decision.
Image Source: Dmitrii Kurilov