28 Grey Two Colour Combination For Living Room
Grey is a favoured neutral in the design sphere and it seems like it's here to stay for the foreseeable future. Get inspired by these grey two colour combination for living room. 
In the context of interior design, colour and how it is utilized is the key factor that will make or break the finished look. Grey is one of interior designers' go-to for living rooms for good reasons. It is a muted and highly versatile hue that be thrown into literally any colour scheme.
In fact, grey sofas are the most sought-after around the world. Light grey is a tried-and-true alternative to white, while darker shades of grey will lend a cozy and cocoon effect to a room. There are more than 500 shades of grey to consider, from rusty grey to chromatic grey to the super chic greige; there is a shade for every purpose.
Since this recessive hue will complement every other colour, it comes down to your aesthetic predilections and preferences. In this article, we've curated 28 grey two colour combination for living room that will give your space a visually appealing and sophisticated edge.
1. Grey and Blue
Grey and blue is a classic combo that lends elegance and a serene flair to a room. The key to nailing this two-colour combination is to choose a shade of each with the same undertone. This means that cool blue is best paired with cool grey and warm blue with warm grey. A touch of yellow or orange can add a beautiful punch to this colour scheme.
PHOTO: SANDY OF ELLEE HOME
2. Grey and Magenta Purple
Magenta purple is a statement-making colour that will make an incredible living room accent wall. It is a mixture of magenta and pink colour. Grey is a great pair for magenta purple because it can help to keep it grounded. The most ideal accent colour that can make this really appealing scheme is blush pink or baby pink.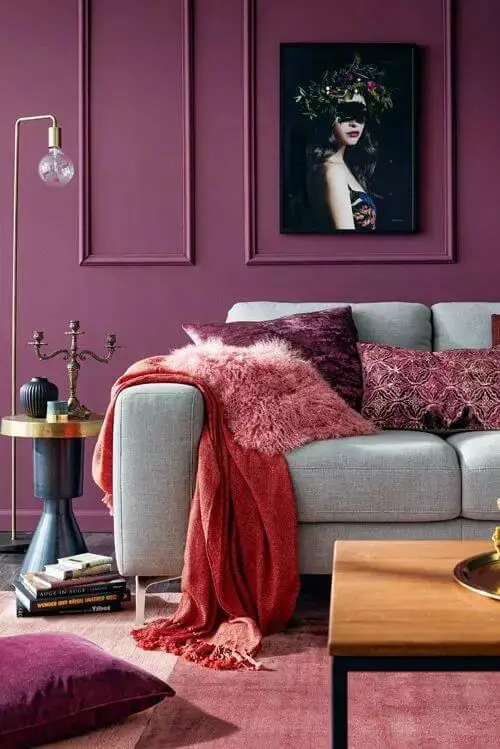 PHOTO: PINTEREST
3. Grey and Bold Green
What makes grey and bold green the perfect combination for living rooms is that they add a lot of personality to a room— especially a medium-to-dark shade of grey. Adding pops of magenta and millennial pink can instantly elevate the room's aesthetic.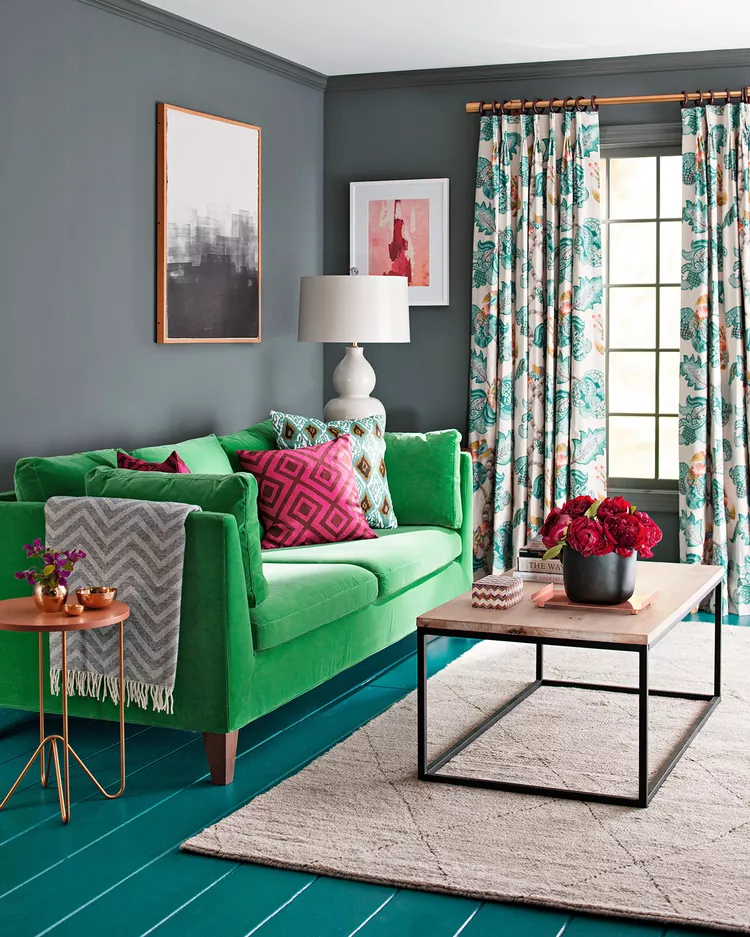 PHOTO: GREG SCHEIDEMANN
4. Grey and Maroon
A grey sofa looks great on a maroon wall and a maroon sofa will create a winning look when matched with a grey wall. This grey two colour combination is ideal for creating a dramatic sense of style and character. Hints of blush pink and yellow may give the finished look a sophisticated edge.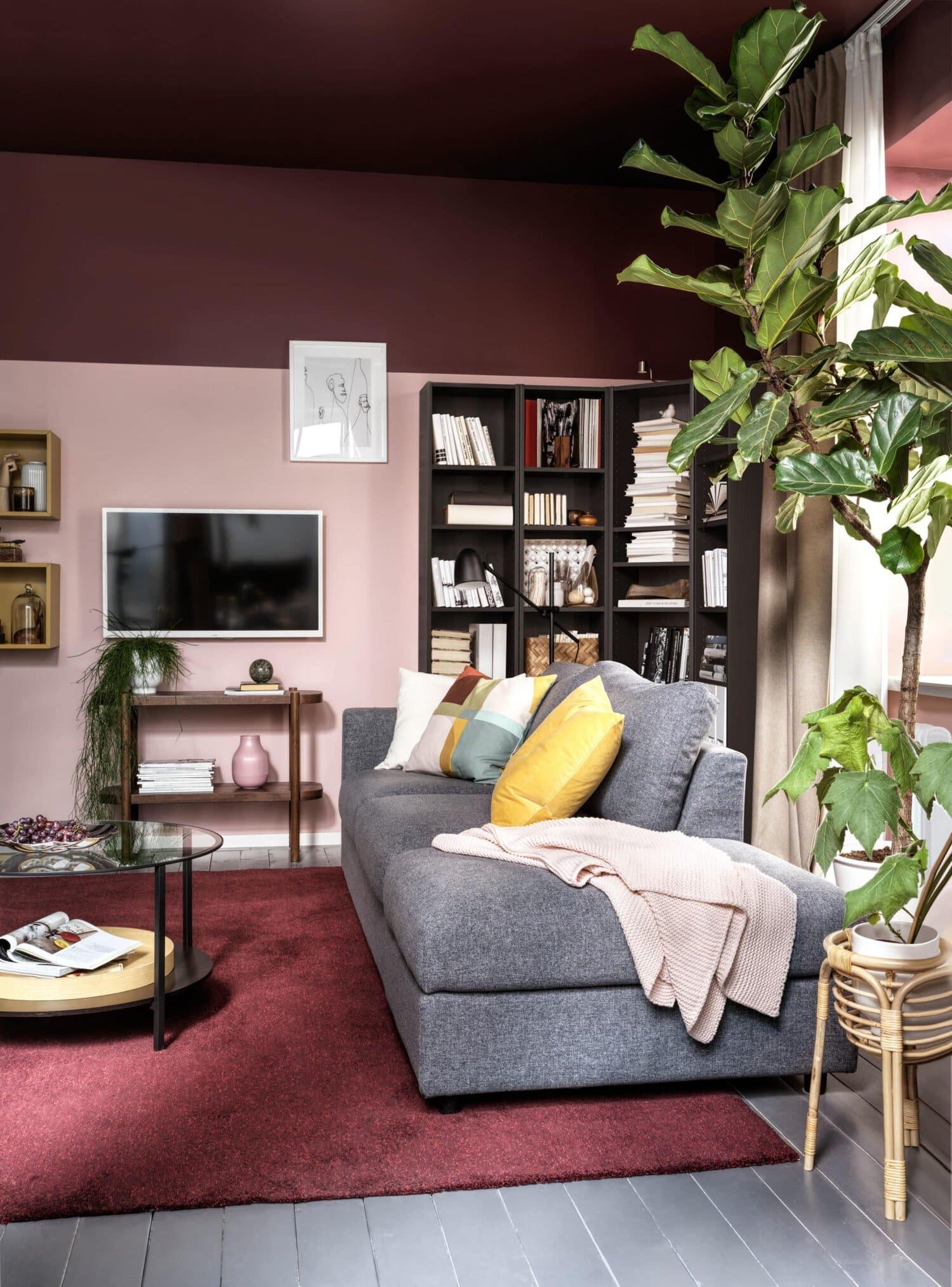 PHOTO: IKEA
5. Grey and Navy Blue
Navy blue and light-to-medium grey is possibly the strongest colour combination possible in interior design. It adds elegance and a polished aesthetic to a room. Add extra pizzazz to this scheme with pale or soft pink accents.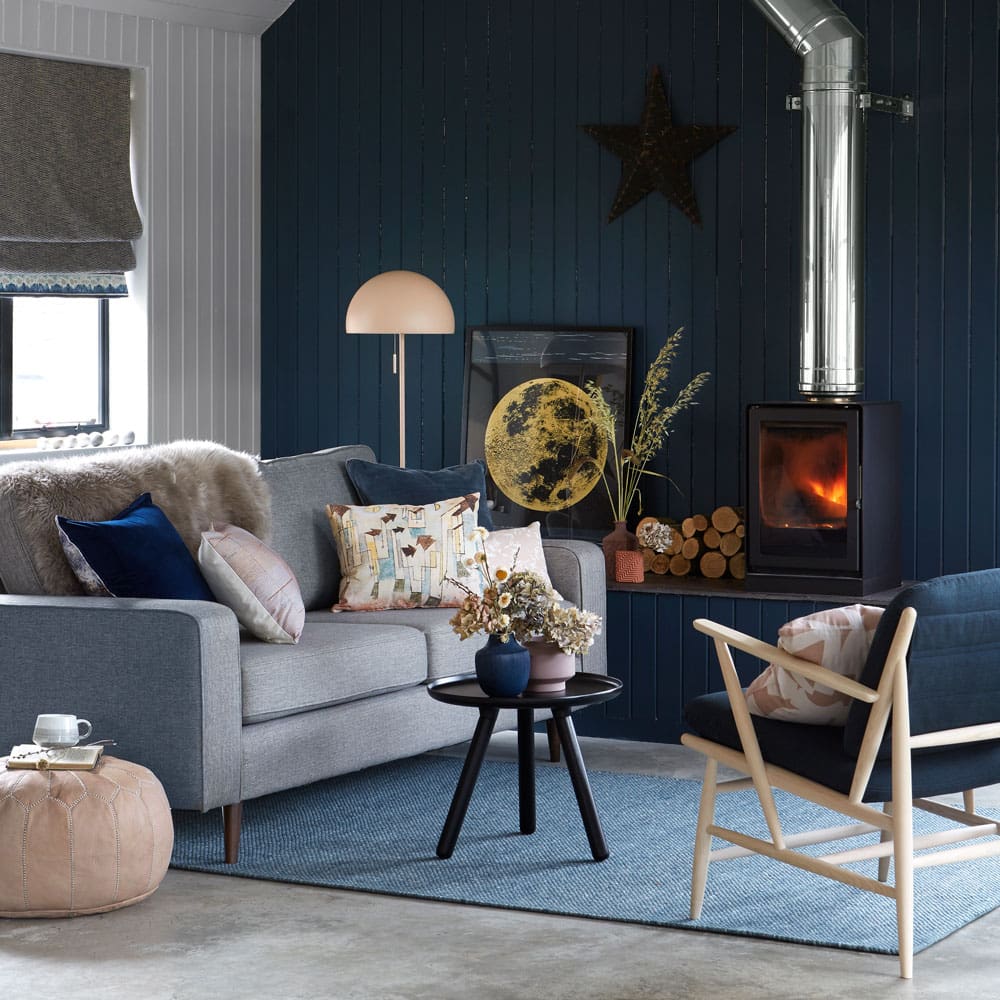 PHOTO:

FUTURE PLC/SIMON WHITMORE
6. Grey and Pastel Blue
There is a calming and soothing quality about the pastel blue and grey two colour combination for living room. This is a minimalist living room colour scheme idea that is refreshing and less intrusive yet not boring. It simply looks fresh and tranquil.
PHOTO: APARTMENT THERAPY 
7. Grey and Light Pistachio Green
Pairing light pistachio green and grey can satisfy on multiple levels. Pistachio green is associated with cleanliness, harmony, and a new beginning. It is easy on the eyes which makes it a restful shade that is also perfect for bedroom walls. A maroon accent can introduce a strong and vibrant energy to this scheme.
PHOTO: SERGEY KRASYUK
8. Grey and Red
Red has the ability to create a dramatic focal point and draw attention like no other. This vibrant and invigorating colour is often not most people's first choice when it comes to designing interior spaces but it can work for even modern minimal spaces when used in moderation or combined with grey.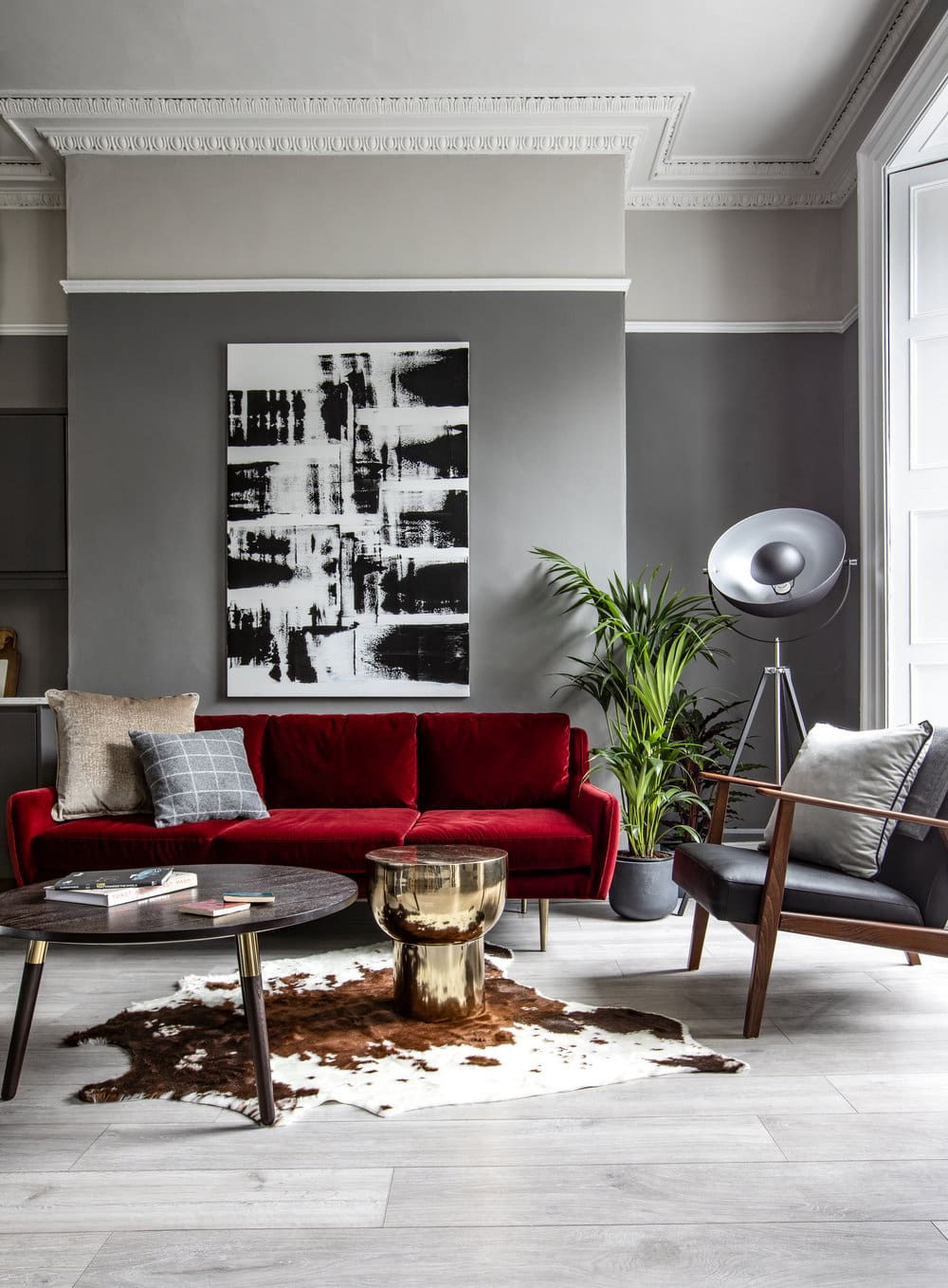 PHOTO: NORTH DESIGN 
9. Grey and Pale Mint Green
Mint green is magnificent grounding colour that lends freshness to a room. It's also a timeless colour that will instantly add elegance and a contemporary feel to a room. The pale mint green and grey two colour combination for living room adds a unique interest and character to the room.
PHOTO: ETSY
10. Grey and Pale Yellow
Yellow is one of the most popular accent colours in interior design because it has the ability to add cheer and lively sophistication to a room. A pale yellow and grey colour combination brightens up and gives an exquisite look to a room.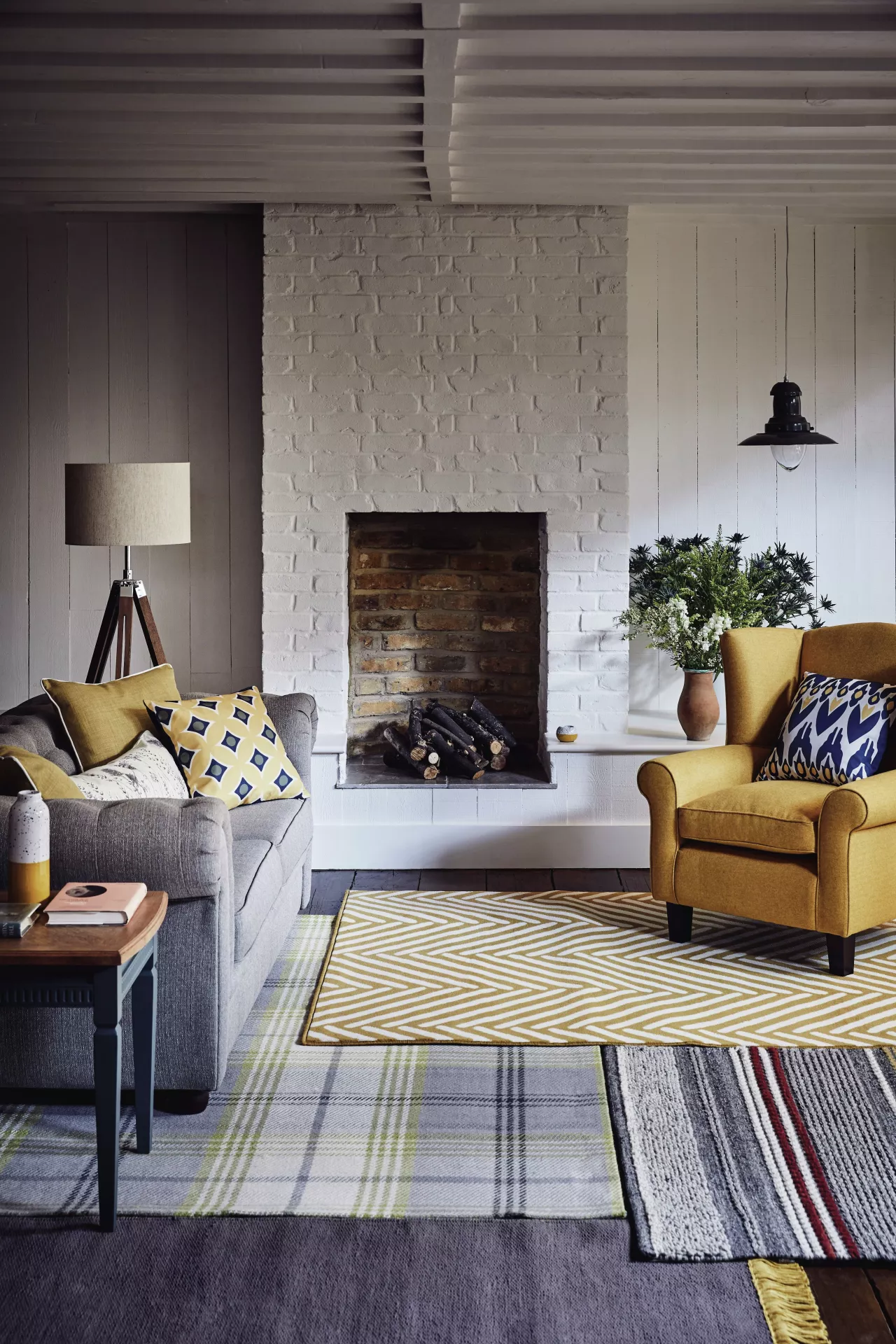 PHOTO: VERY
11. Grey and Lime Green
Lime green lends a dramatic and aesthetically pleasing look to a room. This refreshing hue can help spice up a greyish living room. If you want to try out the lime green in your living room without committing, consider decorating with a few subtle splashes throughout the room; for instance through cushions, pillows, rugs, and artwork.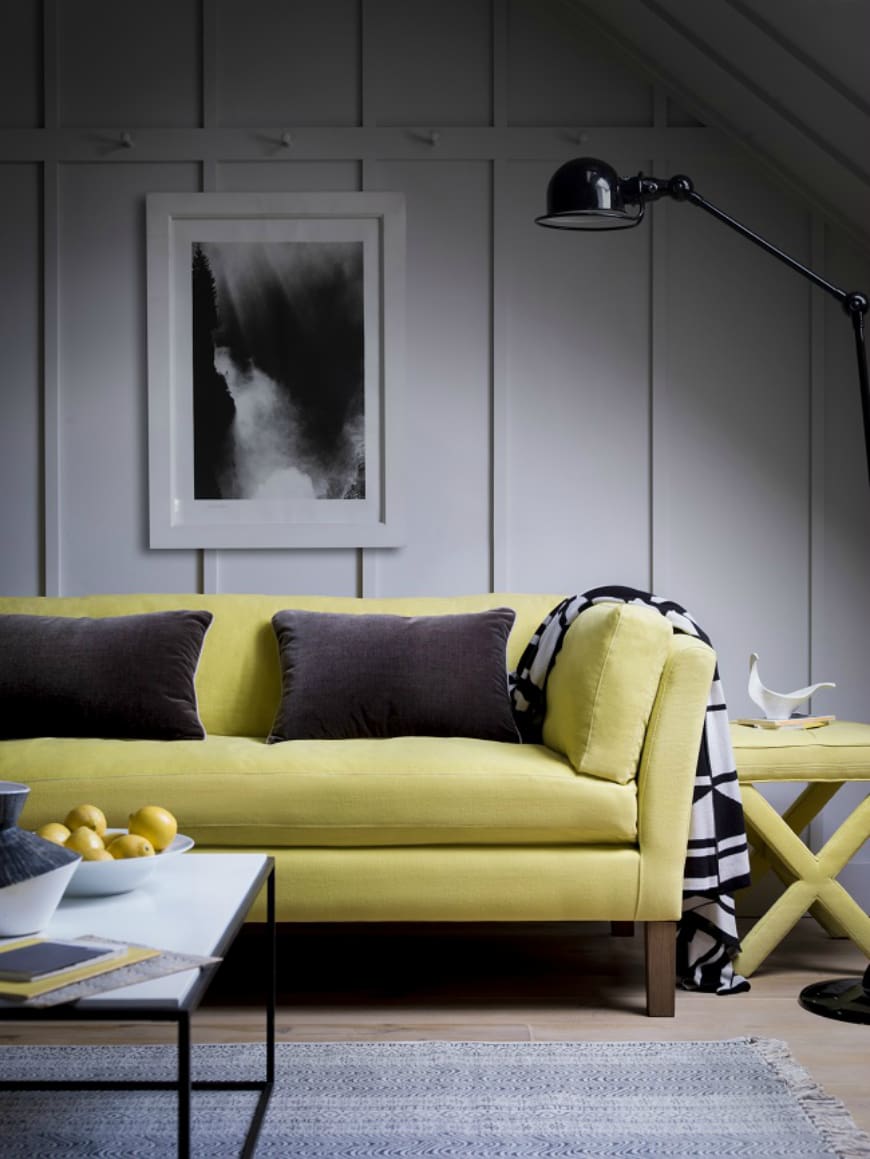 PHOTO: BRABBU
12. Grey and Burnt Orange
A burnt orange is a medium-to-dark shade of orange, just like the colour of rust. This eye-catchy colour infuses an organic warmth and comfort into a space. When paired with dark grey, it can create an elegant and modern living room design.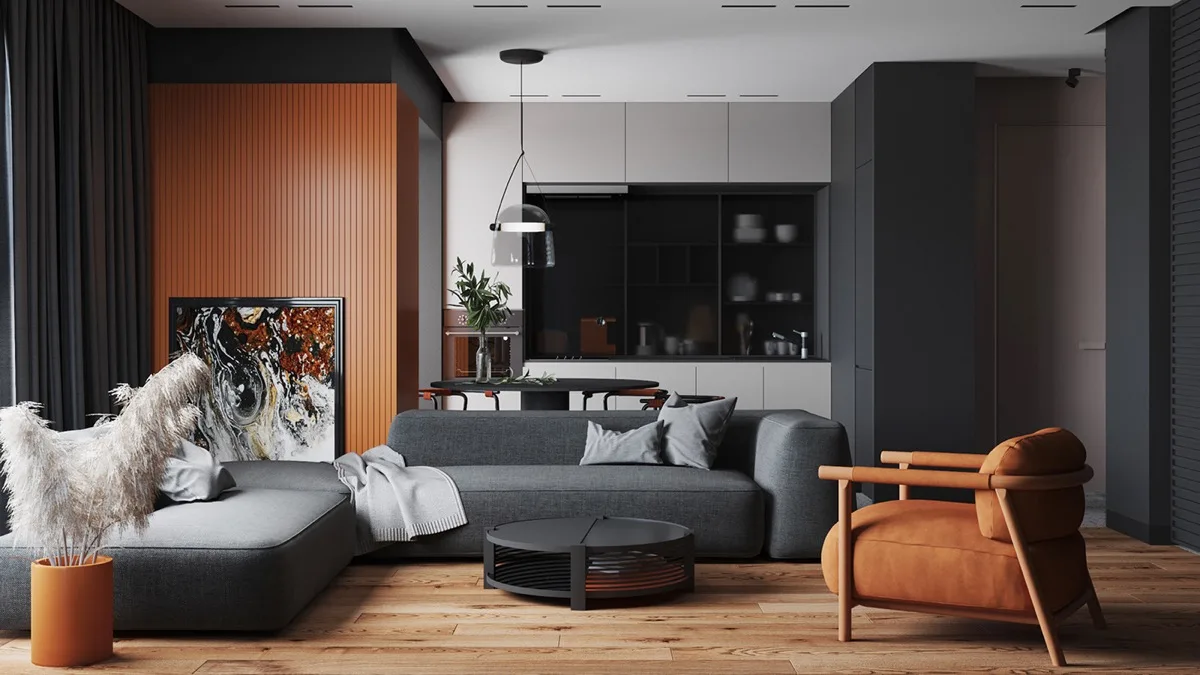 PHOTO: TINA MARTINDELCAMPO
13. Grey and Purple
You can't go wrong with a grey! The possibilities are endless when it comes to designing with grey but there is something quite unique about a purple and grey two colour combination for living room. Except you're going for a moody theme, consider using purple as an accent wall or pairing dark purple with light grey.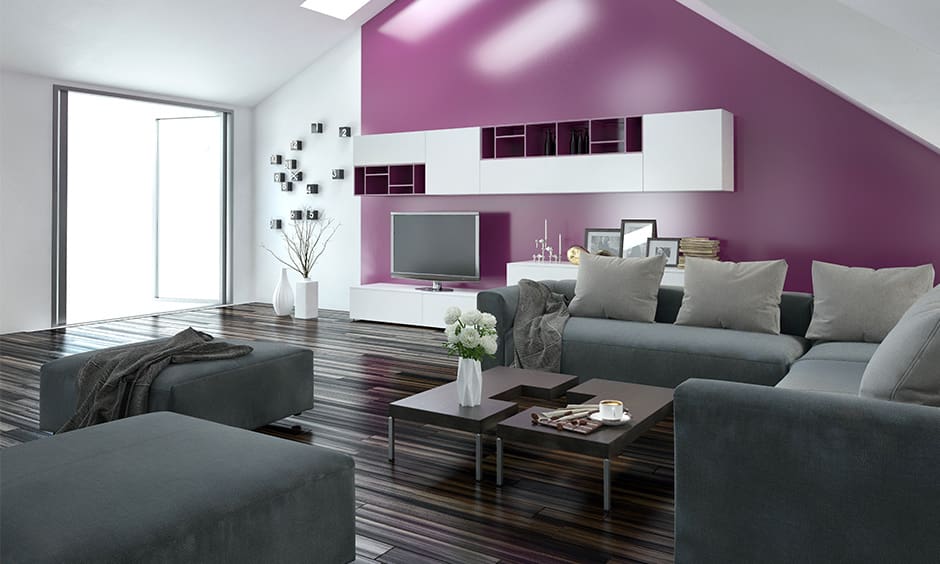 PHOTO: PINTEREST
14. Grey and Salmon
There is a pretty delicacy about salmon that makes make it feel fresh rather than kitschy. Salmon is strongly associated with positivity and warmth. If you want to create a harmonious and serene environment, then the salmon and light grey two colour combination for living room should be on your radar.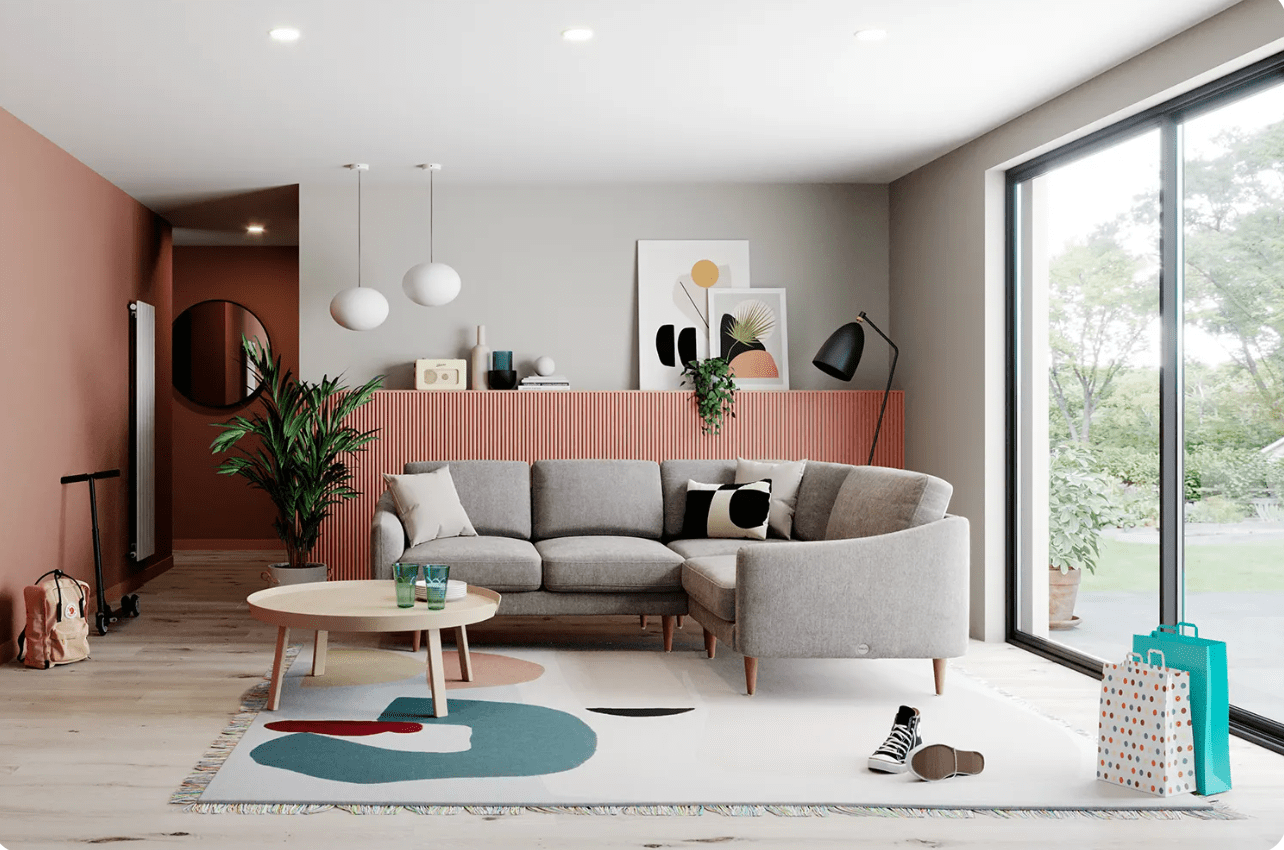 PHOTO: SNUG
15. Grey and Hunter Green
Green and grey are too versatile hues that are incredibly easy to work with but the best way to incorporate these colours is to choose a green with a tint of grey undertone, like hunter green, in other to enhance the grey.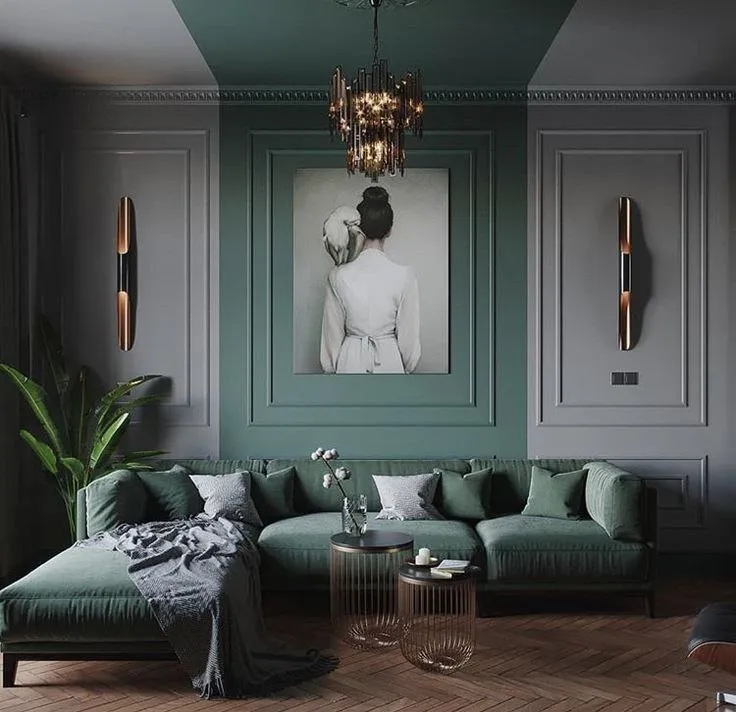 PHOTO: PINTEREST
16. Grey and Dark Blue
Grey and blue is a sophisticated combo that is easy to execute. However, some shades of each pair are better than others. For instance, light grey and dark blue or navy blue or a perfect pair. To add a punch to this scheme, use yellow accents around the room.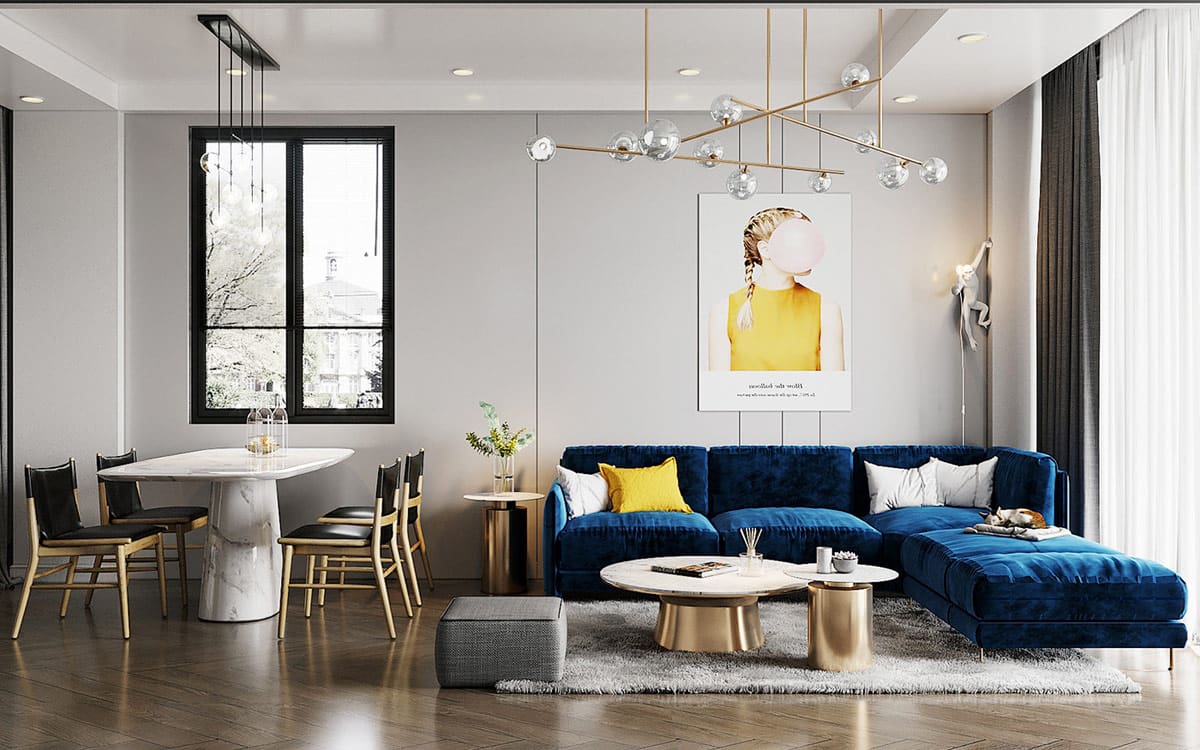 PHOTO: TRỌNG MỸ
17. Grey and Sand Yellow
Curate a contemporary statement-making design with the yellow and grey two colour combination for living room. Incorporating a blue accent colour to the scheme will amplify the room's overall aesthetics.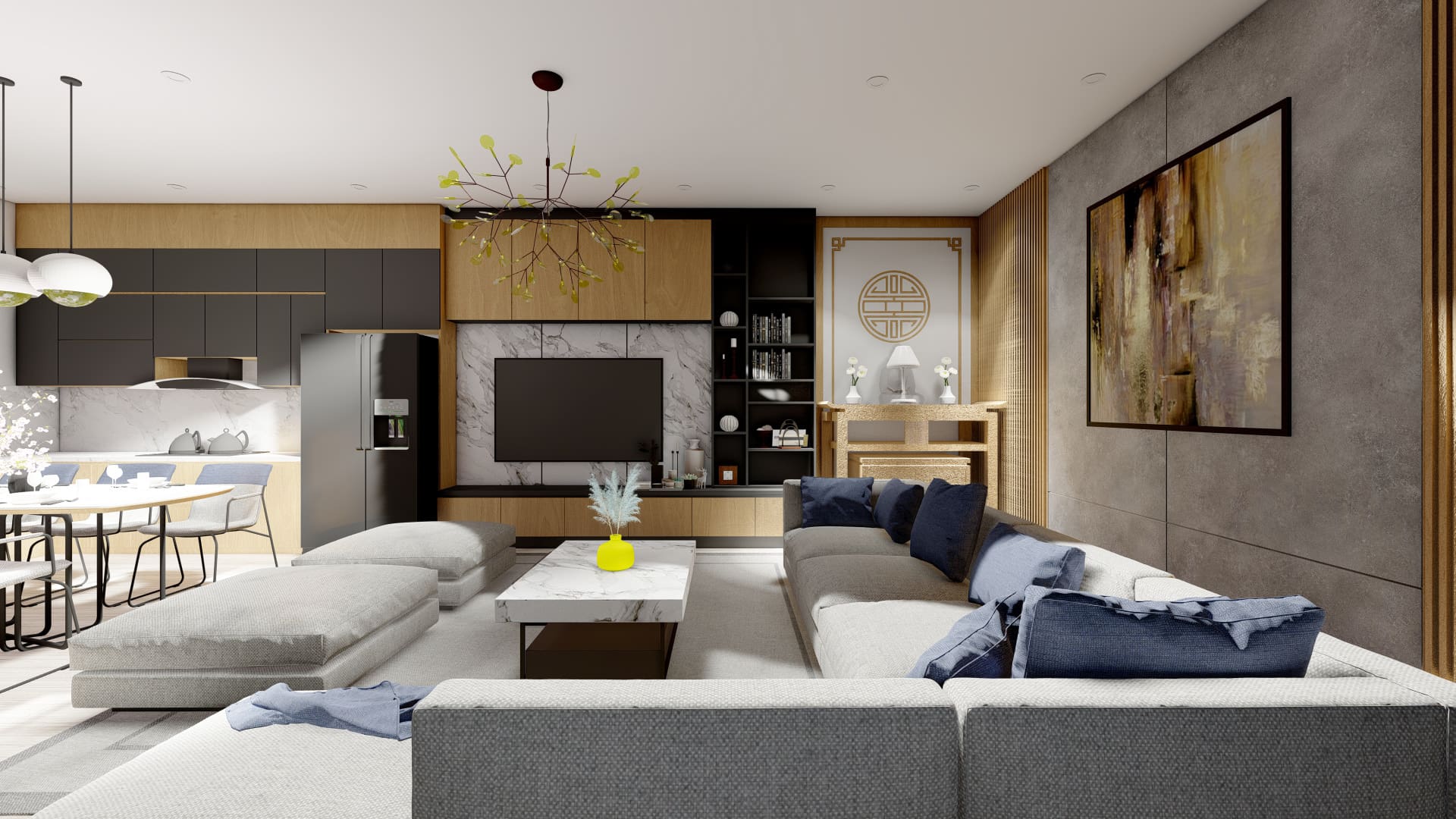 PHOTO: SAEED ASIDEH
18. Grey and Olive Green
Olive green is a versatile natural colour. It looks especially sophisticated alongside grey. Together, they give laid-back luxe aesthetics. Olive green provides a sense of calm, while light-medium grey makes a room seem loftier.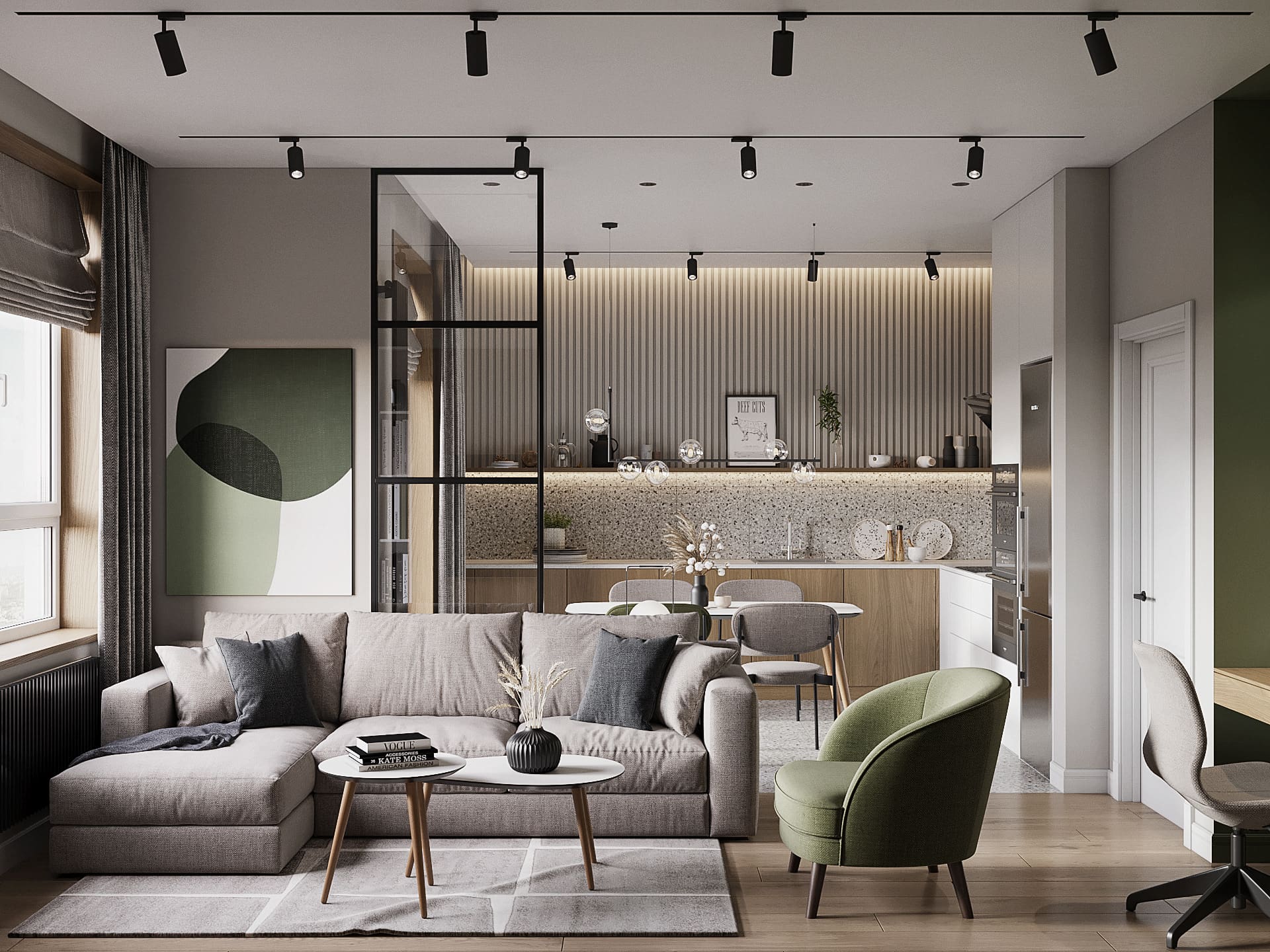 PHOTO: ALEXANDER SAVINOV
19. Grey and Bold Yellow
A bold yellow sofa or accent wall will add drama and eye-catchiness to any design scheme. If you want to create a fun and lively scheme in your living room, then look no further than grey and bold yellow. Some people consider grey to be gloomy or dull but introducing fun and cheerful colour like bold yellow can help create a balance.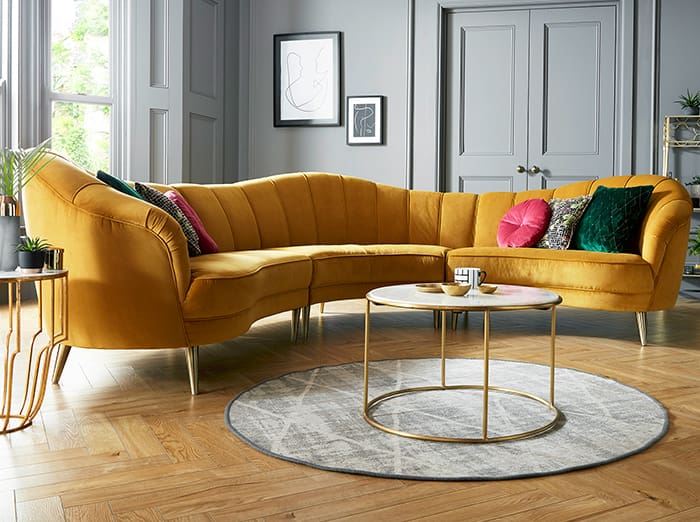 PHOTO: SOFOLOGY
20. Grey and Brown
The beautiful thing about the grey and brown colour combination is that it can work brilliantly for any interior design style. Whether you have a Scandinavian, mid-century modern, or farmhouse-style interior, grey and brown are versatile neutrals that can create a timeless look.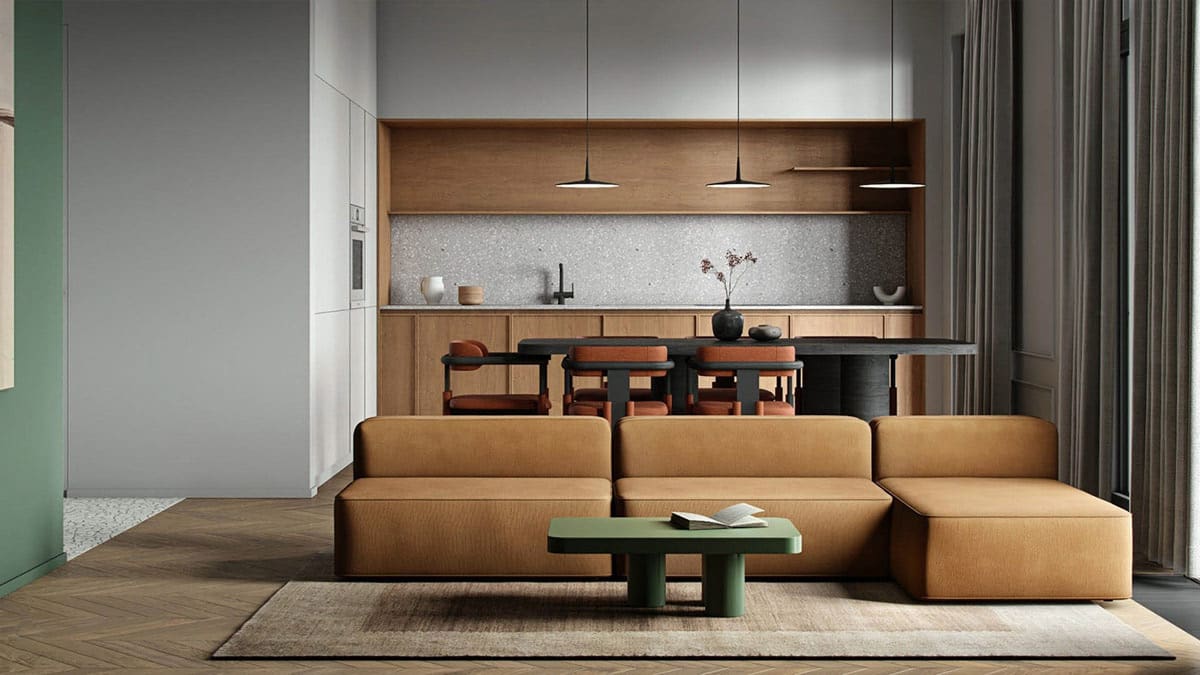 PHOTO: STUDIO VAE
21. Grey and Light Blue
Grey and light blue layer together so well, making them a frequently used colour combination for modern living rooms. The grey will predominate and blue will serve as an accent.
PHOTO: ALEXANDER SAVINOV & ALEKSEY ULJANOCHKIN
22. Grey and Beige
Grey and Beige are the two most popular neutrals used in interior design. It makes sense that they complement each other since they are both in the muted neutral family. The key to pairing grey and beige is using a warm grey.
Avoid using cool shades of grey because they have a blue or purple undertone which is unflattering for beige, whereas warm greys have a yellow and brown undertone which is naturally suited to beige.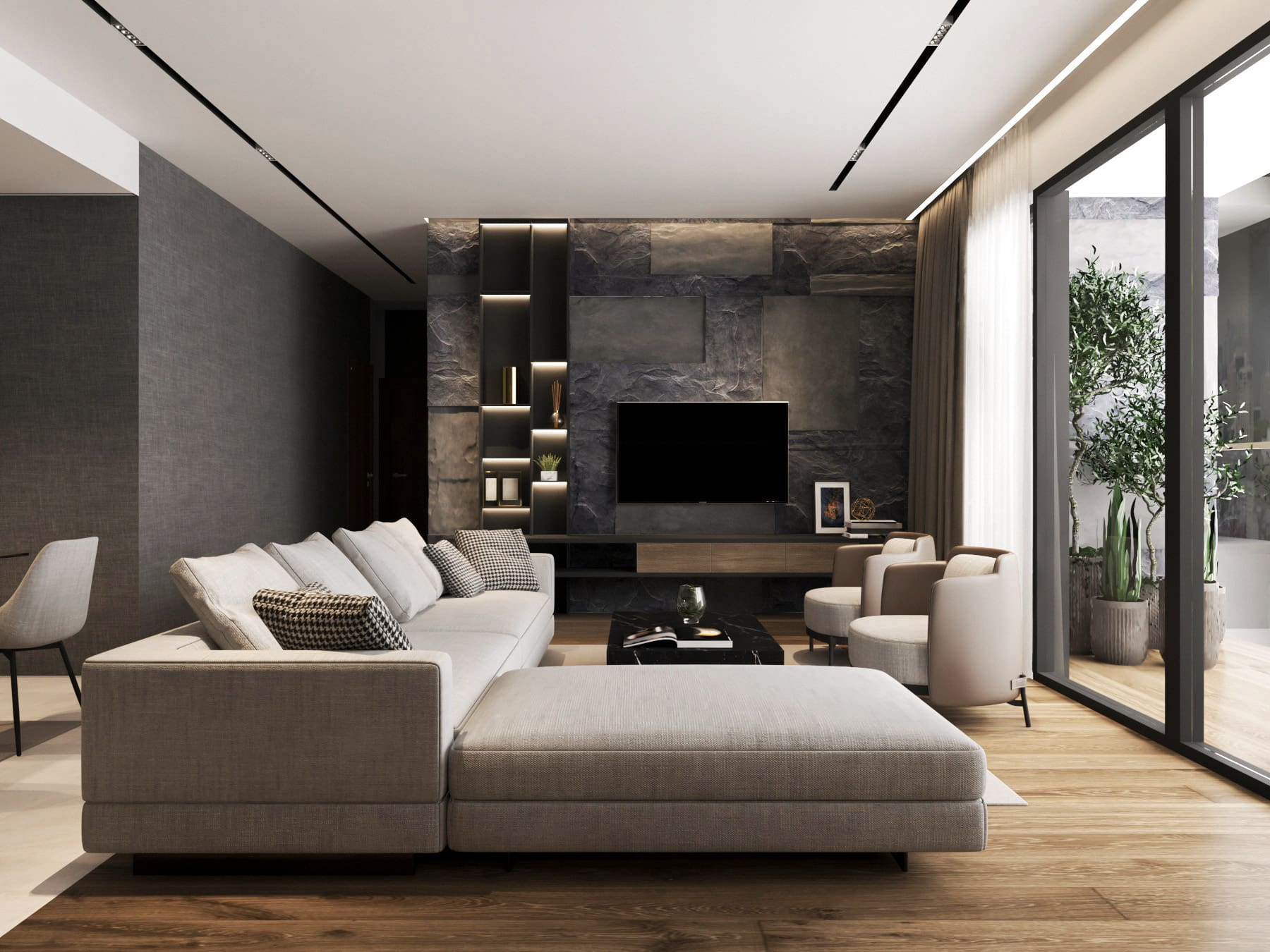 PHOTO: DIMORA INTERIORS
23. Grey and Black
Grey and black are enduring neutrals that make a classic and seamless pair. This living room colour combination gives a striking monochromatic look that helps to keep a room visually interesting. For a moody scheme, stick with dark grey, and for a bright and open space, use light or medium grey.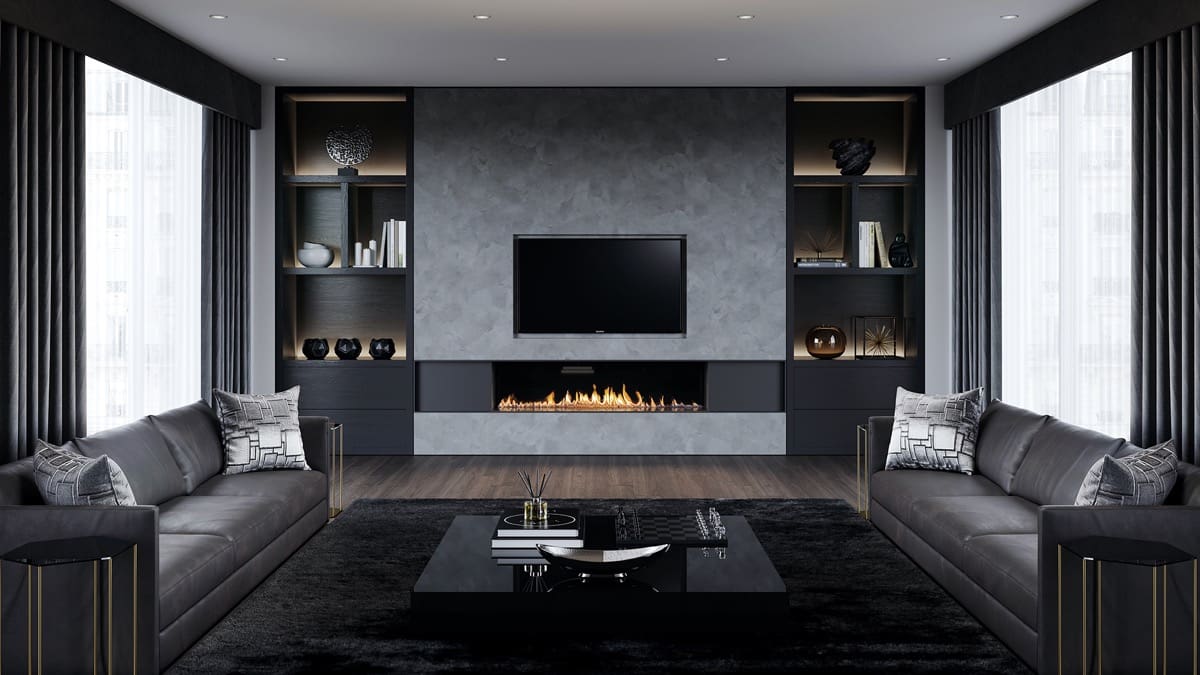 PHOTO: EDUARD CALIMAN
24. Grey and Pale Orange
There is a good reason why grey and pale orange is brand-on-trend right now. The pale orange goes so well with both black and white but it looks particularly striking when combined with grey.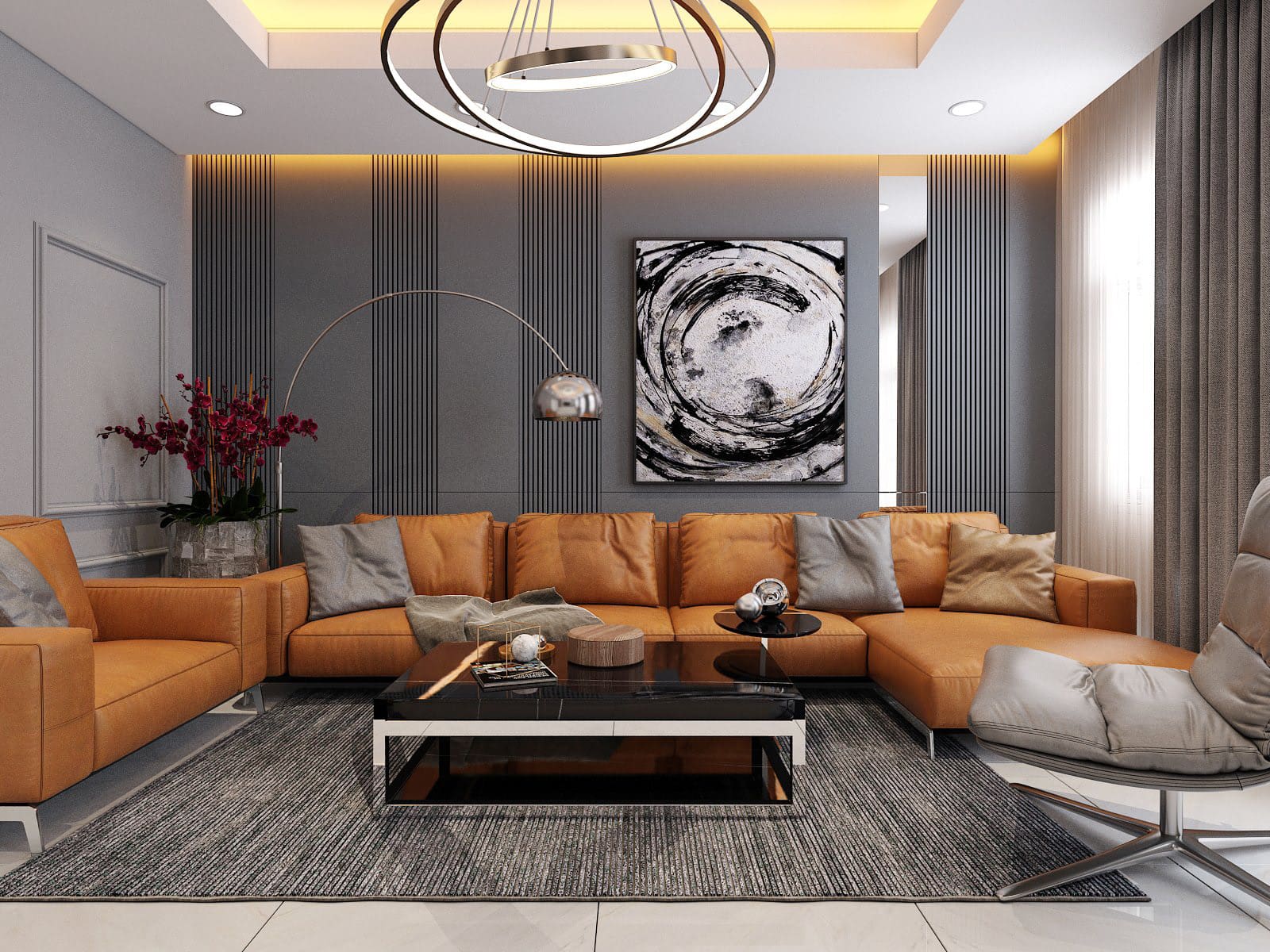 PHOTO: KHIÊM TRẦN
25. Grey and Coral
 Coral is a pinkish-orange hue that takes its name from the marine crustaceans that decorate the ocean floor. This alluring colour can introduce new energy to a grey scheme. It has a youthful, energizing, and feminine feel. Coral seems more sophisticated and mature when contrasted with grey.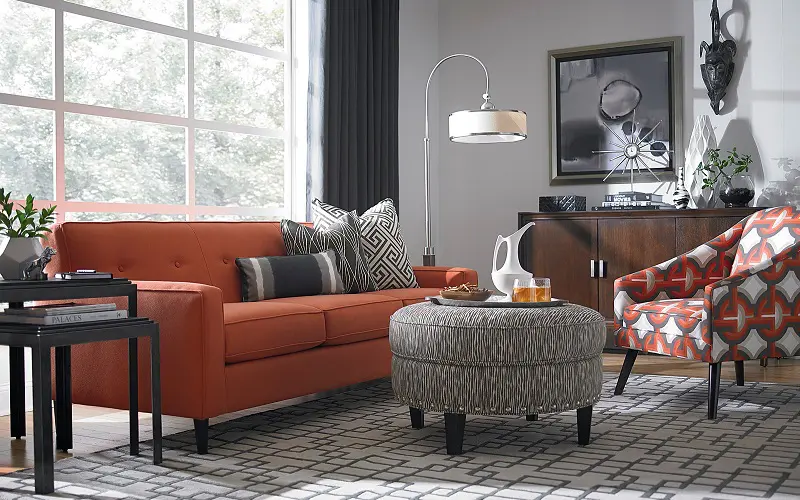 PHOTO: HOUZZ
26. Grey and Pale Pink
Pink and grey are alluring two colour combination that blends harmoniously to create a refreshing and elegant colour scheme. You can add a touch of pizzazz to the space by introducing dark blue to the colour scheme.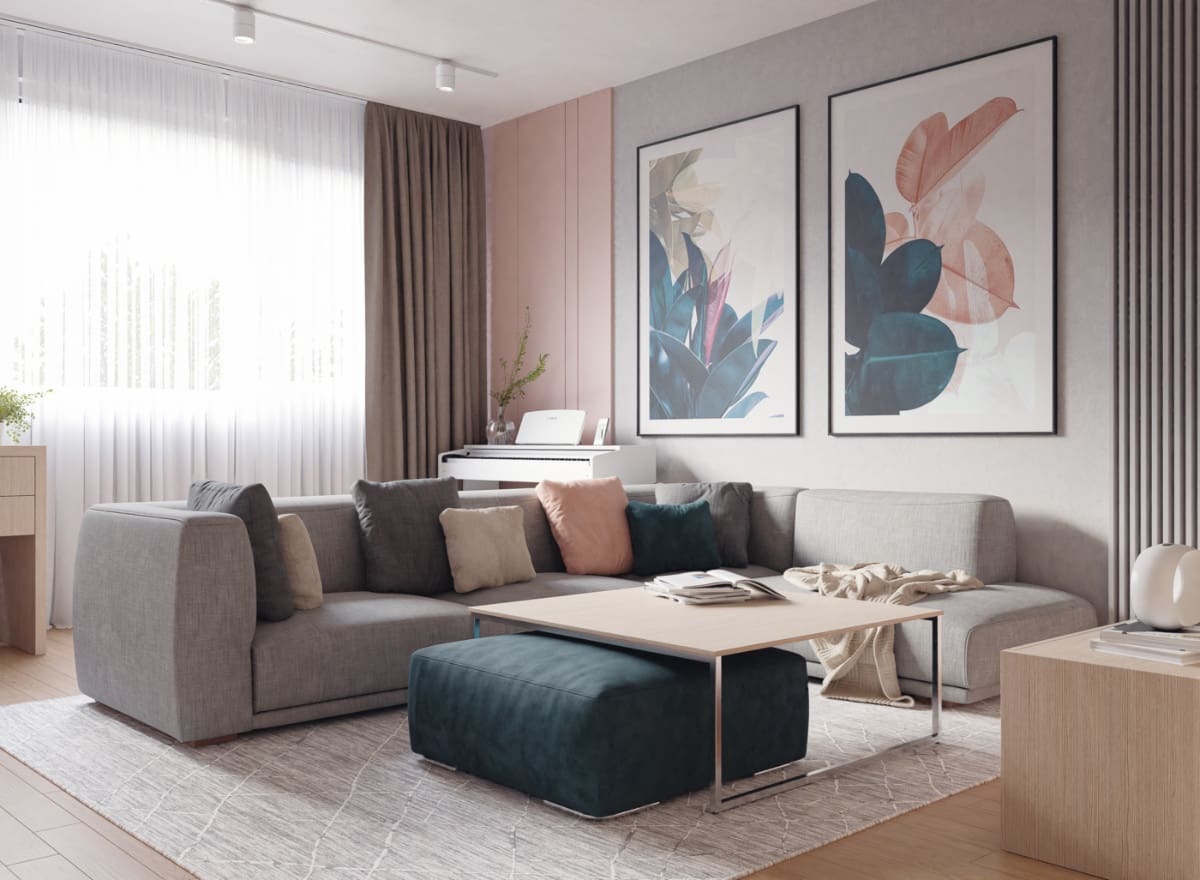 PHOTO: LEXTAV STUDIO
27. Grey and Forest Green
Forest green is a restorative and calming shade that doesn't draw attention to itself. The forest green and grey two colour combination for living room has the ability to create a space that is inviting and timeless. Use brown accents to give this colour scheme a sophisticated edge.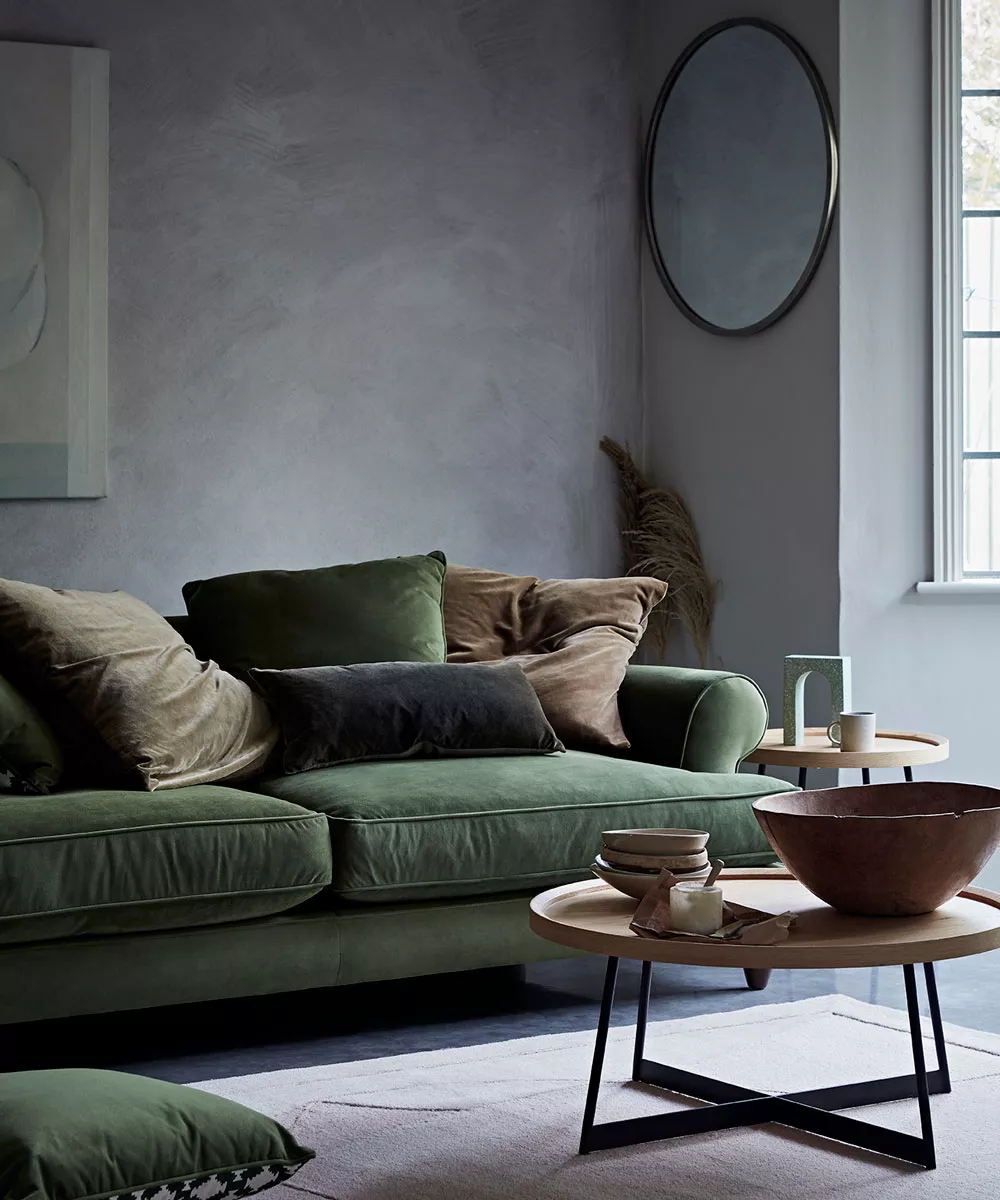 PHOTO: FURNITURE VILLAGE
28. Grey and Emerald Green
Emerald green is a color known to instantly add elegance to a space. When working with emeralds, it's best to stick with simple colours. You can't go wrong with a grey and emerald green colour scheme. The colours that work best with emerald green are peach, rose pink, burnt orange, beige, gold, grey, and wood tones.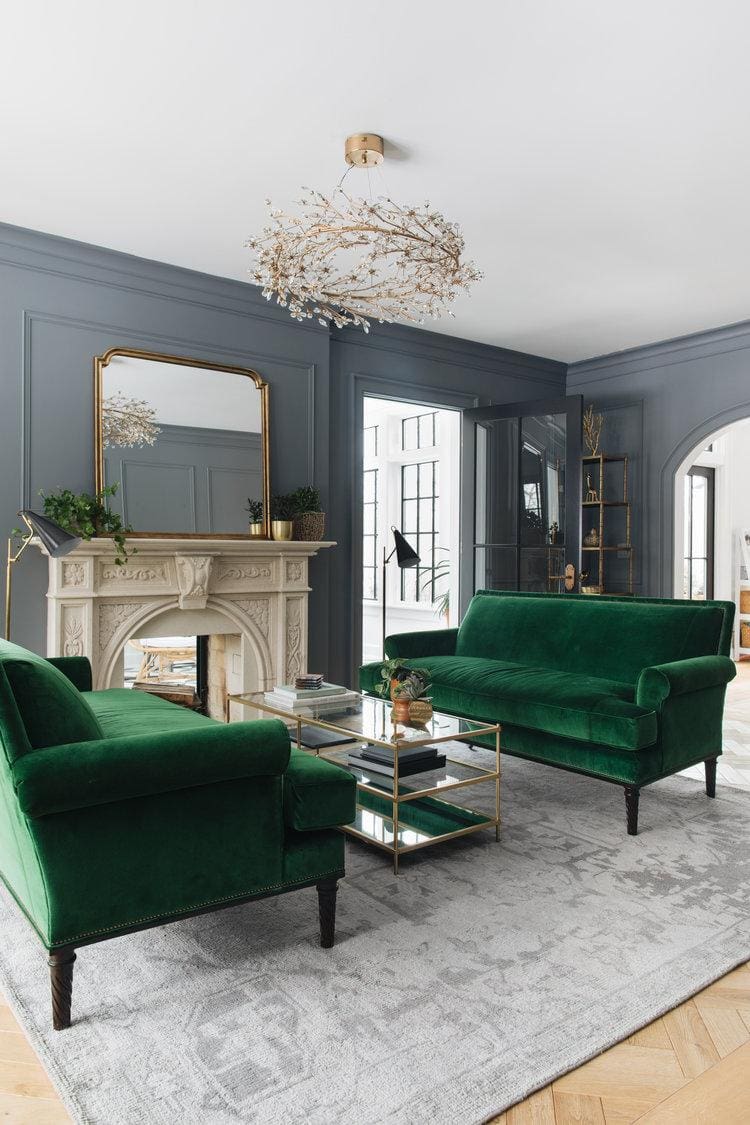 PHOTO: JEAN STOFFER DESIGN