22 Blue Two Colour Combination for Bedroom Walls
Are you ready to give your bedroom a new sophisticated look? Check out these blue two colour combination for bedroom walls. 
Colour plays a major role in any design project. Not only does it influence human emotions, but a clever use of colour can embellish the beauty of any space. A simple lick of paint can instantly transform a dull bland room.
Are you looking for a colour scheme that rises above fickle trends? If so, then blue should be on your radar. Blue is timeless and energetic colour that can serve as a refreshing backdrop or add a punch to your colour scheme.
Combining colours and tones that don't complement each other can easily throw off your design vision.
To help steer you in the right direction, we've rounded up our favourite blue two colour combination for bedroom walls. No matter the style of your home, you will find ideas here to help you create a dreamlike oasis.
1. Dark Blue and White Bedroom Wall
When in doubt, stick to white! White is the most popular interior paint colour for good reasons. It is a timeless and versatile hue that also has the ability to brighten up poorly-lit rooms. Using white for interior walls also adds a perceived sense of space. The white and blue two colour combination for bedroom walls will give any space a sophisticated edge.
PHOTO: NEXT LUXURY
2. Dark Blue and Black Bedroom Wall
As far as wall colours go, black is in a league of its own. This classic hue infuses an understated elegance and moody ambiance into a room. A black accent wall is a hip new design technique used to accentuate the luxurious feel of a space. The dark blue and black wall colour combination makes a striking duo.
PHOTO: RESENE.COM
3. Dark Blue and Mustard Yellow Bedroom Wall
Yellow is a natural complementary colour to blue. These pair simply just work perfectly well to lend a harmonious stylish flair to a room. The most impactful tones to combine are dark blue and mustard yellow. For a more laid-back aesthetic, use muted or paler shades.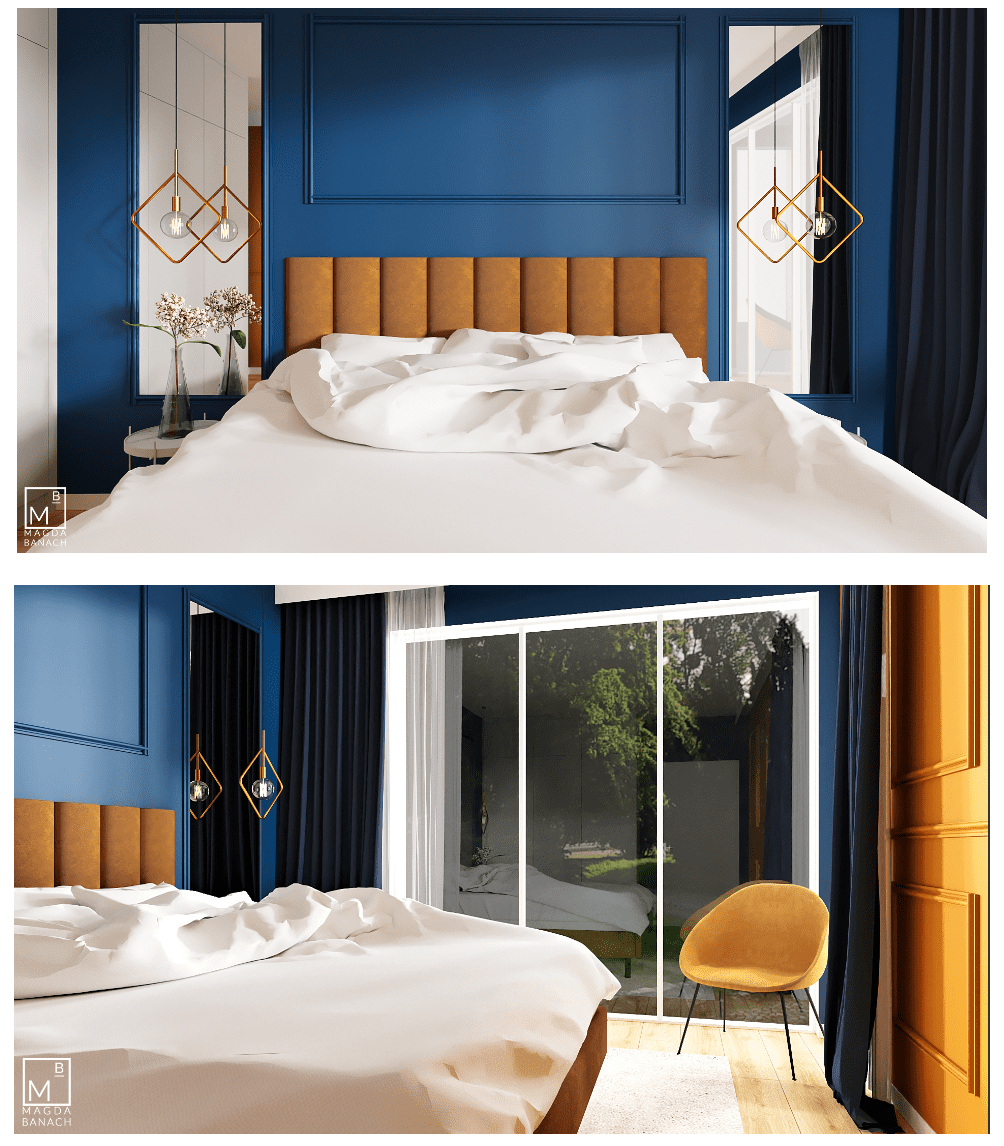 PHOTO: MAGDALENA BANACH
4. Spruce Blue and Viridian Green Bedroom Wall
The primary purpose of the bedroom is for rest and some colours like blue and green aid in promoting relaxation. These pair are nature-inspired hues and are practically cousins. The viridian green and spruce blue two colour combination for bedroom walls will create a sense of visual calm that makes it easier to unwind.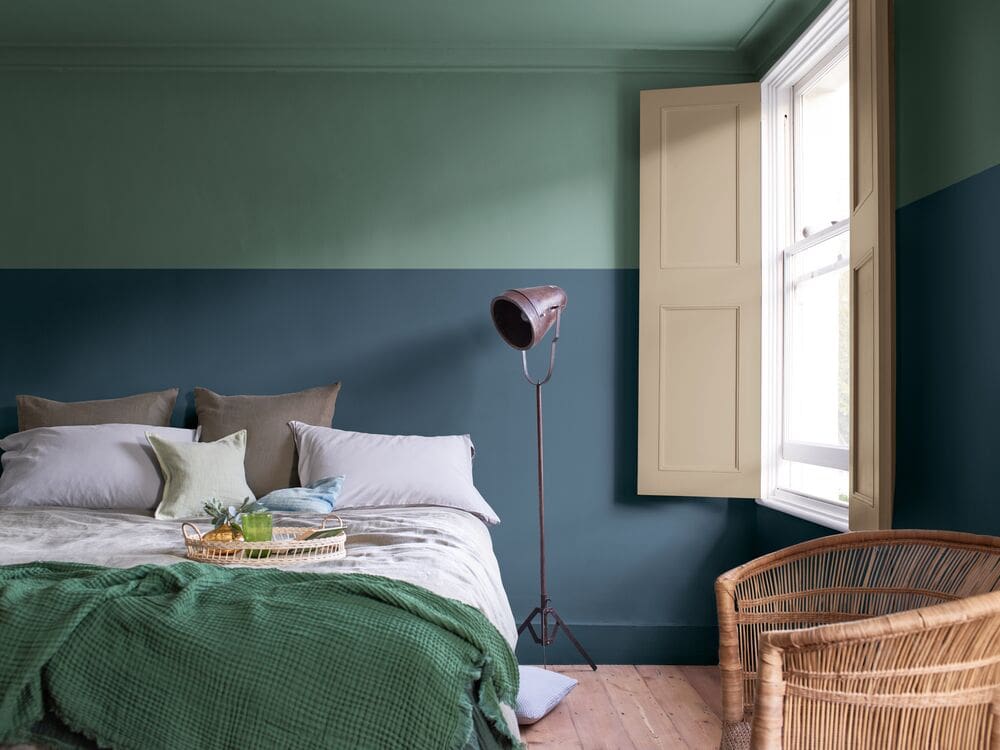 PHOTO: DULUX
5. Steel Blue and Peach Bedroom Wall
Peach is an alluring colour choice for the bedroom. A splash of peach can help to enliven and soften the overall look of steel blue. Another hue that can add visual interest to the colour scheme is orange. This colour scheme is also quite easy to execute.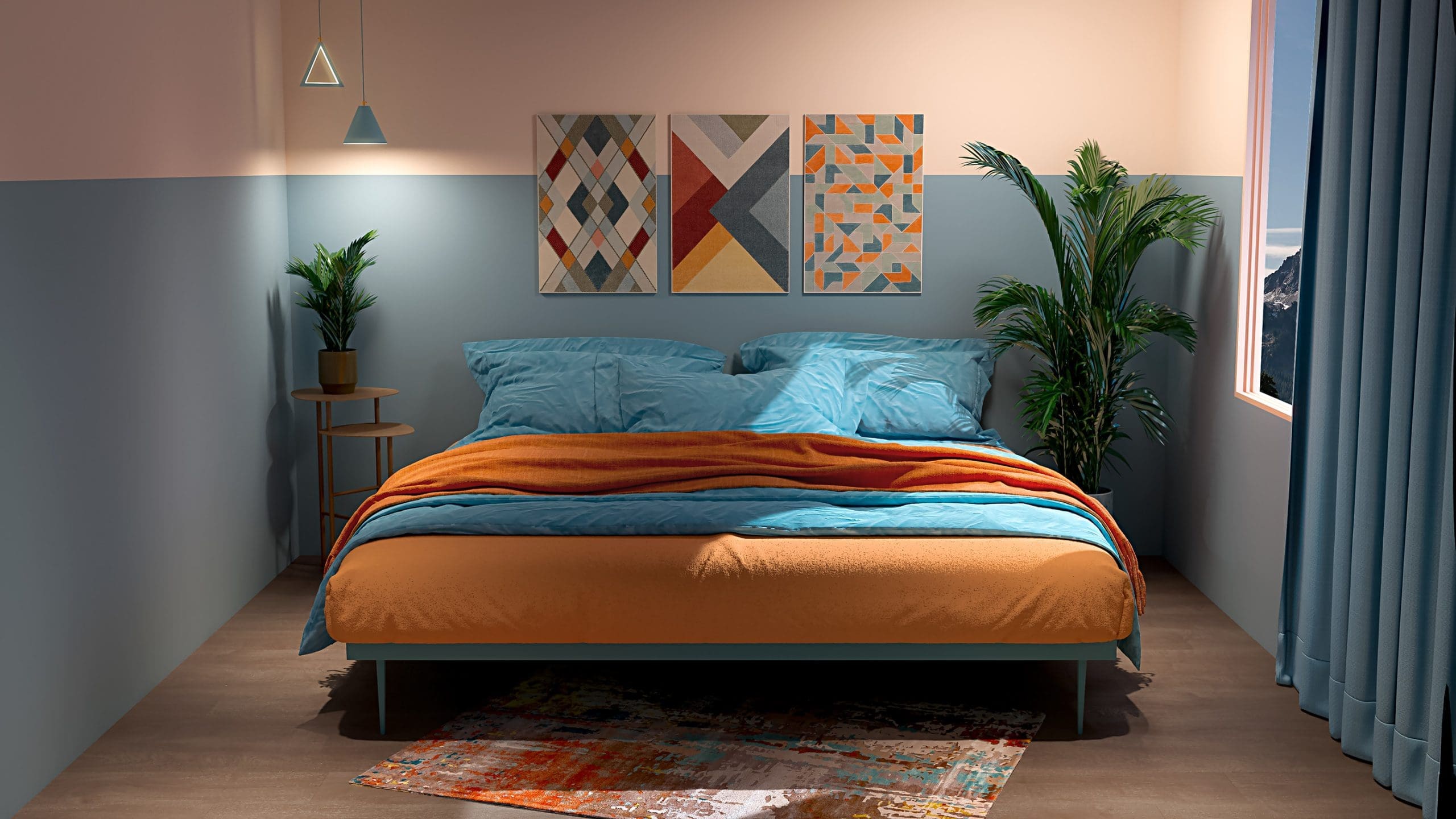 PHOTO: OLGA PARNAK
6. Steel Blue and Pale Yellow Bedroom Wall
Creating a lively and enticing space is only possible with the right colour combination. Yellow is the perfect hue to bring an array of sunshine to your bedroom. Pale yellow helps to ground dark tones like brown, steal blue and dark green. It also infuses warmth and coziness into a room.
PHOTO: DOAA AL BOUSSI
7. Powder Blue and Tan Bedroom Wall
The tan and powder blue two colour combination for bedroom walls is a duo that can satisfy on multiple levels. Tan is the perfect warm neutral with endless possibilities while powder blue is a soft and soothing shade of blue. This combination has the ability to add zing to a bedroom.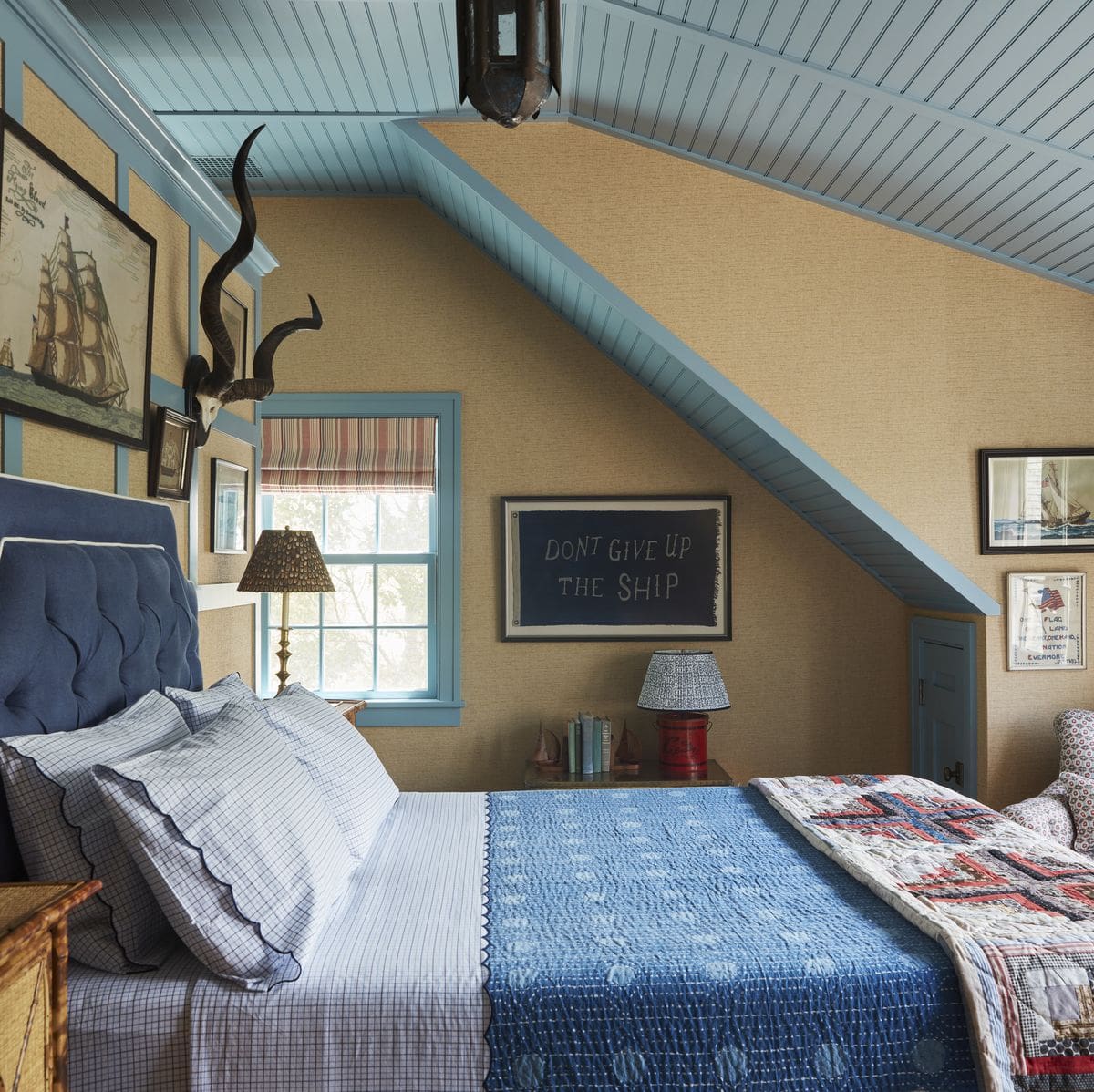 PHOTO: NGOC MINH NGO
8. Steel Blue and  Green Bedroom Wall
Steel blue and green can create a moody and elegant bedroom that will make you want to always stay in longer. This two colour combination is sleek and visually interesting. A hint of beige and brown can help to add eye-catching contrasts and depth to the room's overall aesthetics.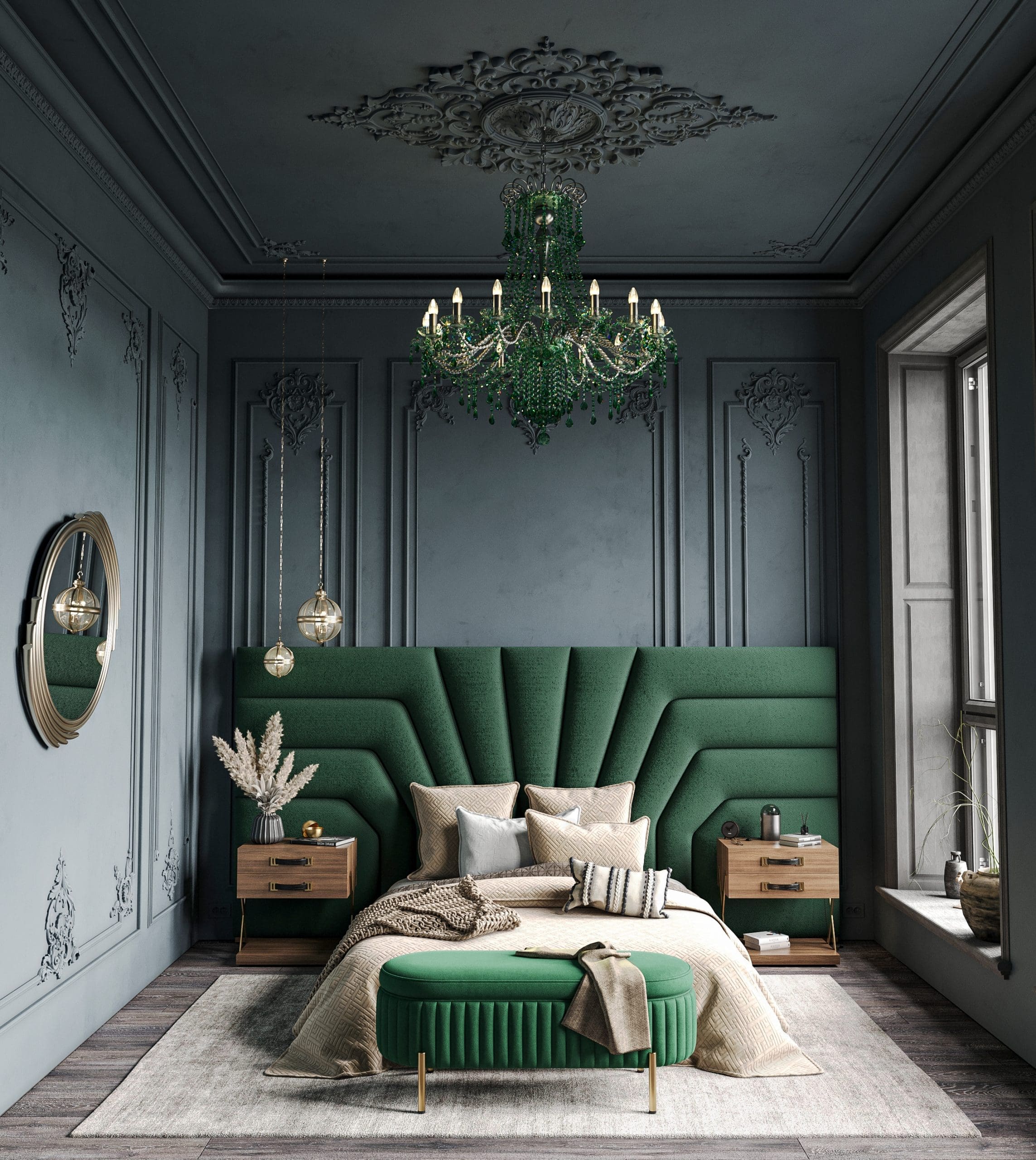 PHOTO: VLADISLAV SERDYUK
9. Cobalt Blue and Brown Bedroom Wall
Introducing some brown in any colour scheme is most likely to work because of how versatile this crowd-pleasing neutral is. This colour can bring an intimate and lived-in feel into the bedroom. Cobalt is a medium blue shade that can add richness and a beautiful accent to a room. These colours work together like red on a rose.
PHOTO: MENNA ADEL
10. Pastel Blue and Powder Bedroom Wall
For a minimalistic and monochromatic approach, use varying tones of blue such as pastel blue and powder blue. This pair communicates simplicity to the eyes. This colour scheme lends freshness and an effortlessly modern feel to a room.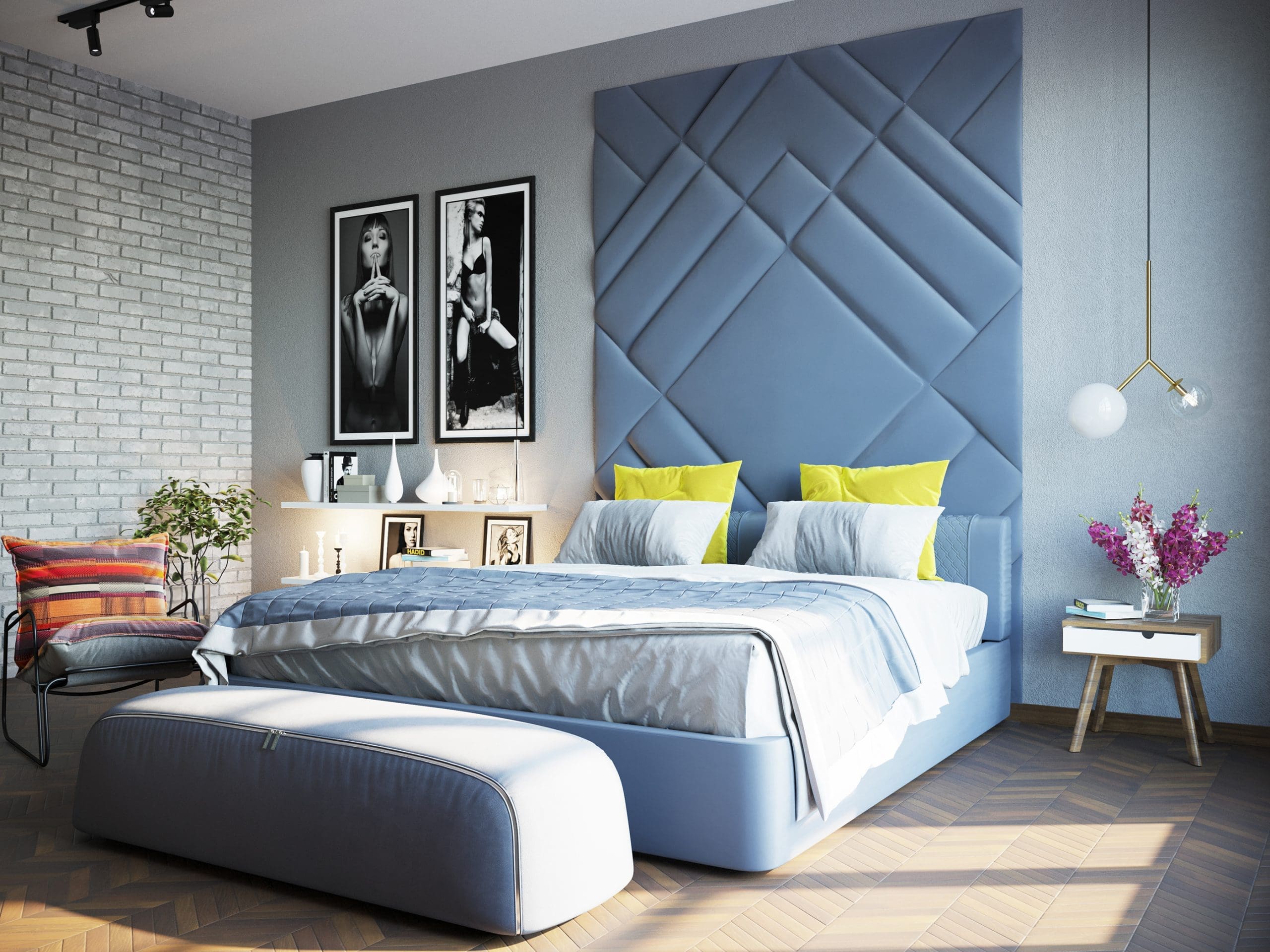 PHOTO: VARDAN GALSTYAN
11. Dark Blue and Lime Green Bedroom Wall
The lime green and dark blue two colour combination for bedroom walls makes a room feel rich, fun, and lively. Lime green is not a common choice for the bedroom because some find it overwhelming, but when paired with dark blue, it can create impact, drama, and a strong sense of style.
PHOTO: HAMADA ASHRAF
12. Dark Blue and Rose Gold Bedroom Wall
A metallic rose gold wall enhances the luxurious feel of a space. The masculine energy in dark blue helps to balance out the feminine energy that rose gold eludes. The combination gives the room an exquisite and contemporary luxury feel.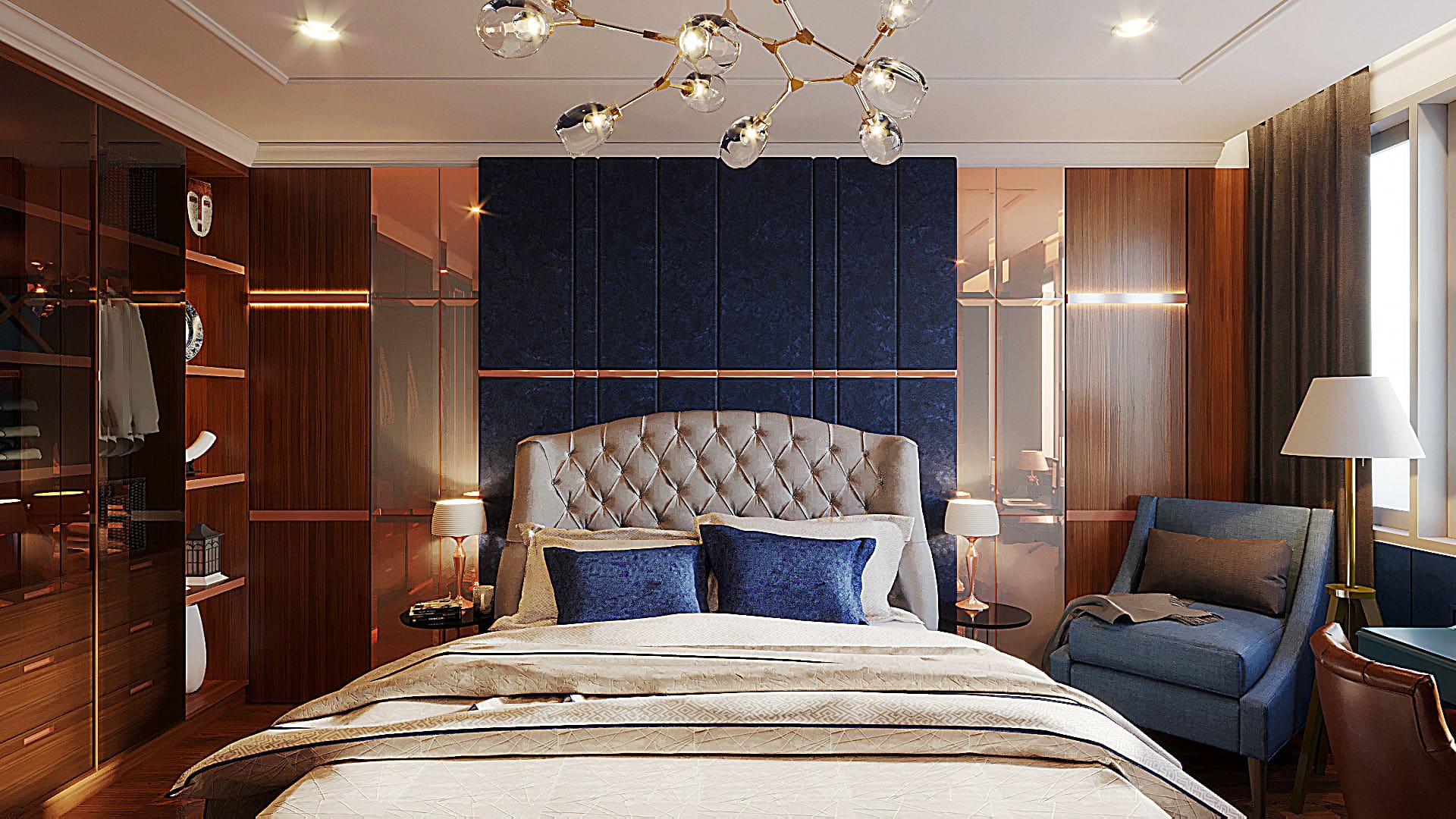 PHOTO: FAHRUL BRAJA
13. Robin Egg Blue and Light Grey Bedroom Wall
Robin egg blue is an invigorating shade of cyan that can make your bedroom feel fresh and airy. It is a great accent colour. Light grey is a popularly used base colour that works well with just about any colour under the sun. A tinge of brown can help to add more interest and character to the colour scheme.
PHOTO: KAMIL SURIA 
14. Powder Blue and Sand Bedroom Wall
The sand and powder blue two colour combination for bedroom walls is a soothing and visually interesting pair. Since they are both earthy and muted tones, they will make the room feel fresh rather than kitschy. Blush pink will make a superb addition to this colour scheme.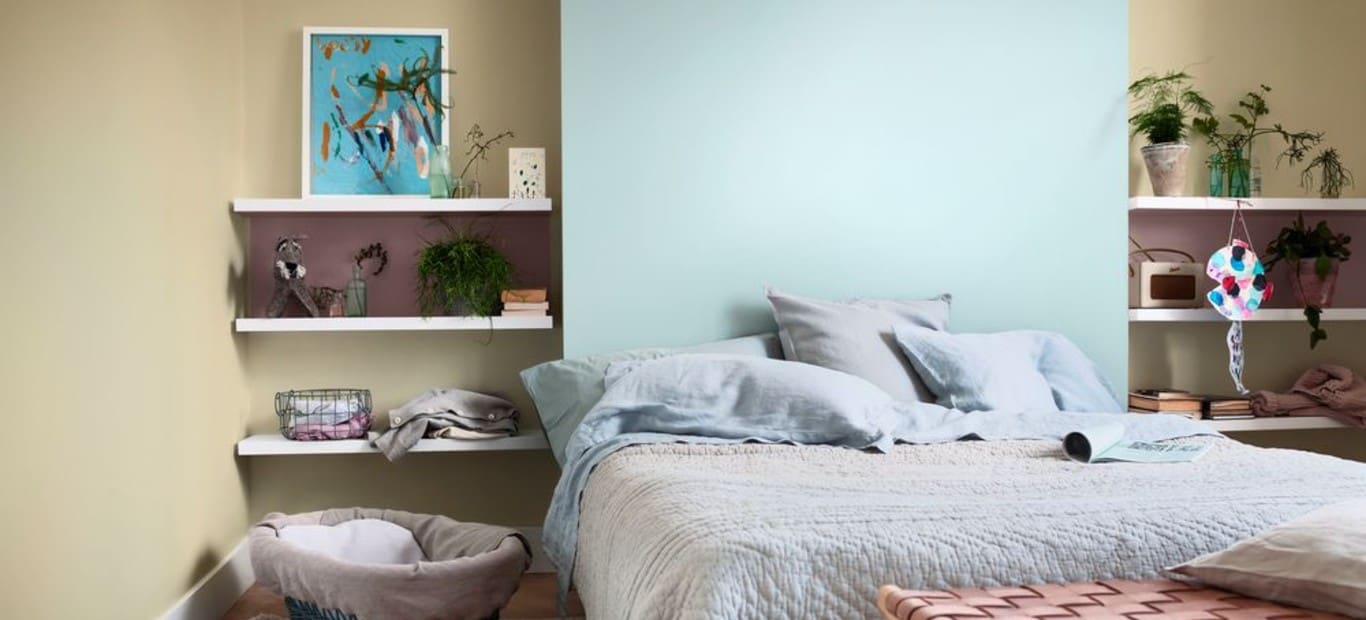 PHOTO: DULUX
15. Light Blue and Ivory Bedroom Wall
Light blue and ivory are a duo that will make one feel extremely relaxed. Ivory adds a perfect warm accent with overwhelming the space while light blue lends a sense of visual calm and a comfortably modern feel to the bedroom.
PHOTO: BEHANCE/YY SOO
16. Prussian Blue and Blush Pink Bedroom Wall
The Prussian blue and blush pink two colour combination for bedroom walls is sophisticated and eye-catching pair. This duo can help to create a classic-yet-modern aesthetic that can bring can bring dynamic design to any room.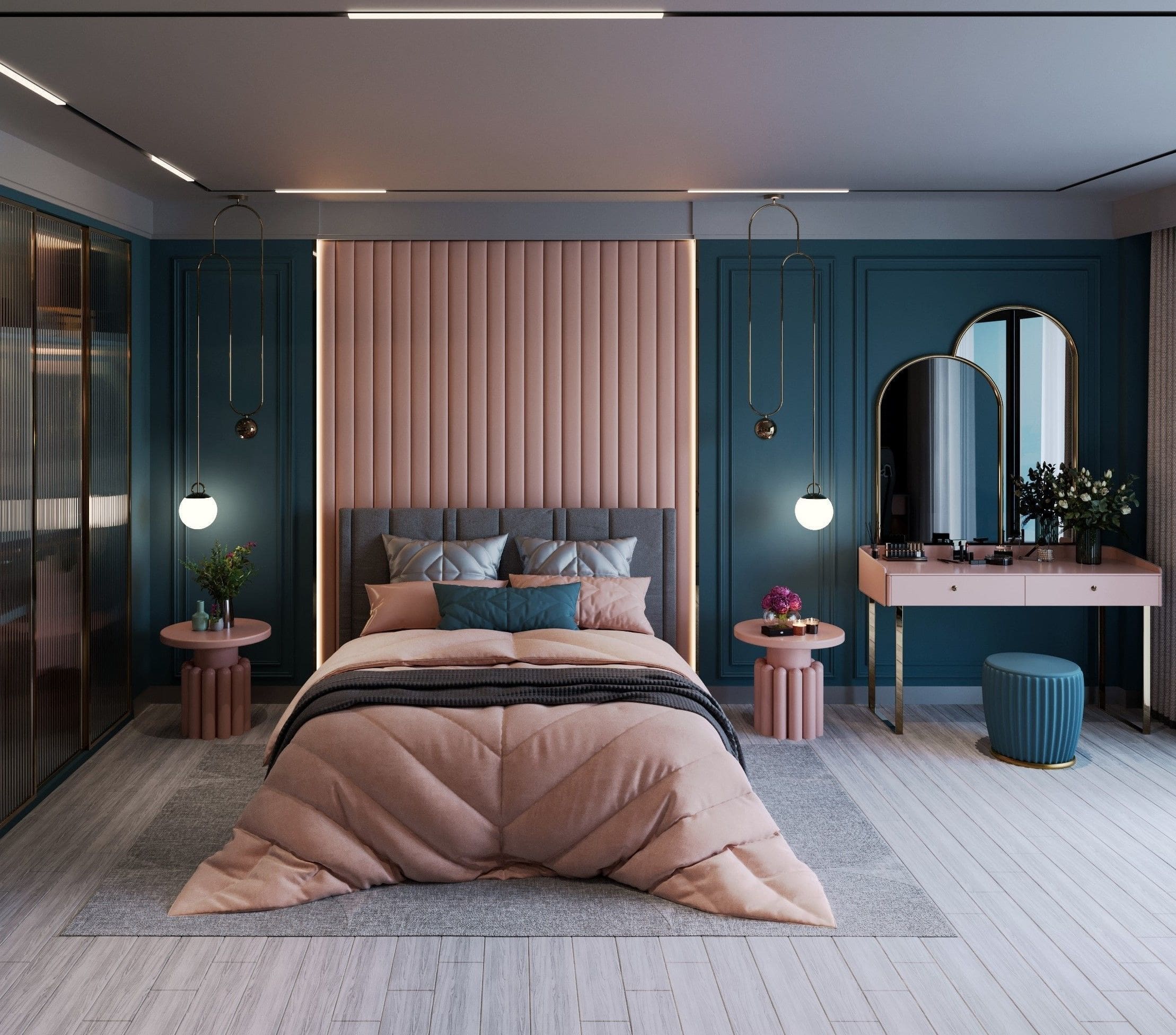 PHOTO: NEXT LUXURY
17. Teal and Rose Dawn Bedroom Wall
The teal and rose dawn wall colour combination will evoke character, charm, and personality in a bedroom. This two-colour scheme is elegant and is sure to make a striking impression in a room.
PHOTO: ANDREW MAGAD
18. Dark Blue and Beige Bedroom Wall
Since beige is a neutral that never tires, it will help to reduce the intensity of dark blue. Beige brings a sense of tranquility and warmth to a space and it is ideal for minimalistic designs. This muted colour essentially takes the back seat and helps other colours to be the star of the show.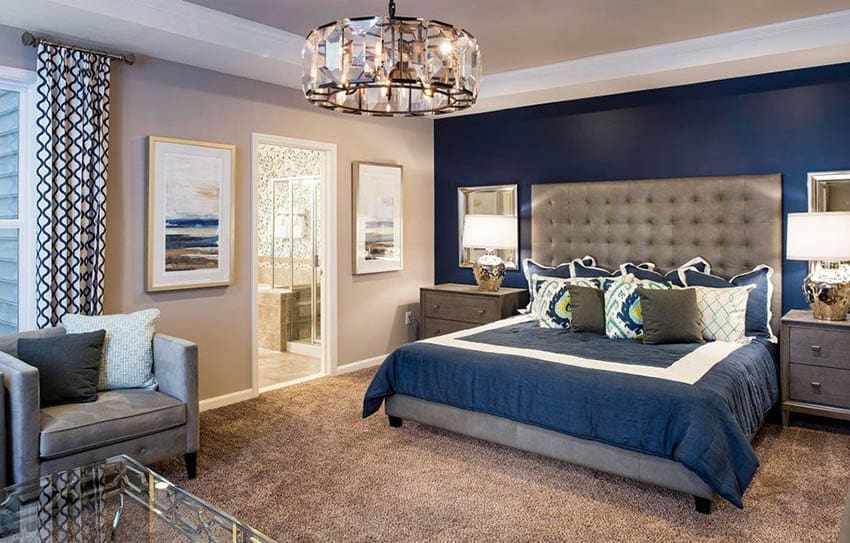 PHOTO: NEXT LUXURY
19. Powder Blue and Brown Bedroom Wall
The brown and powder blue two colour combination for bedroom walls is an unusual pair but it can make a unique style statement in the bedroom. Brown can help bring warmth to a space while powder blue can infuse freshness and a soothing ambiance.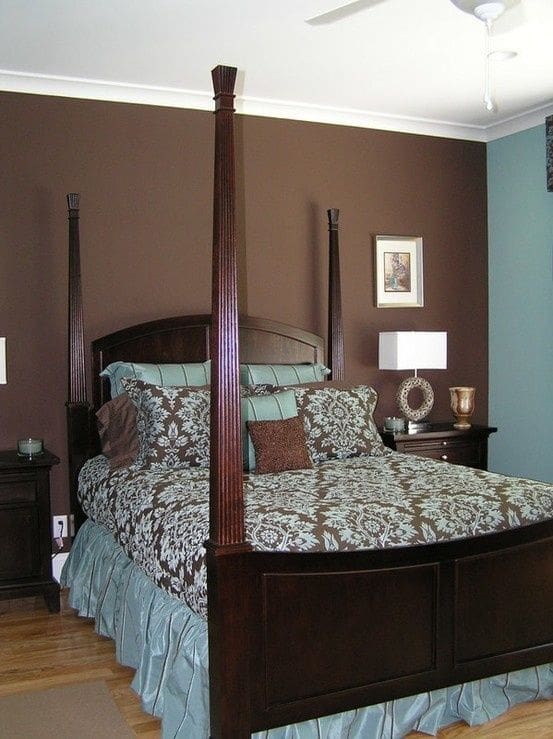 PHOTO: PINTEREST
20. Olympic Blue and Light Oak Bedroom Wall
Pale wood accents can instantly elevate the aesthetics of any space. Not only does wood add warmth and a rustic feel to a room but it is also a clever way to inject colour into the space. The Olympic blue and light oak bedroom wall colour combination radiates elegance and sophistication.
PHOTO: SAAD GAMAL DESIGNS
21. Dark Blue and Orange Bedroom Wall
Blue and orange sits directly opposite each other on the colour wheel and are therefore complementary to one another. This striking duo is aesthetically impactful when used in saturated shades such as bold orange and medium-to-dark blue.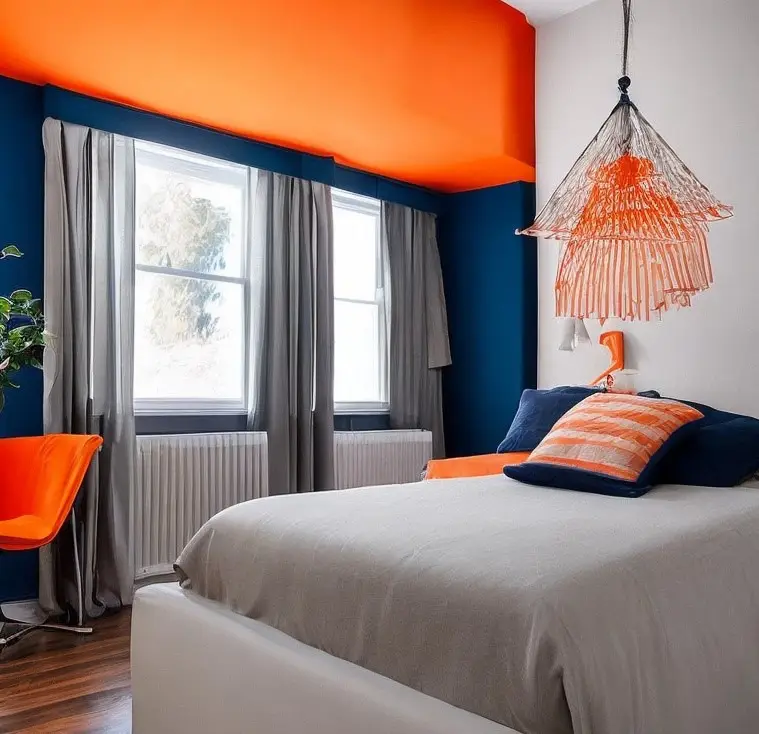 PHOTO: PINTEREST
22. Dark Blue and Tan Bedroom Wall
The tan and dark blue two colour combination for bedroom walls creates a calming feel and contrast. Tan serves as a refreshing neutral base while dark blue lends some aesthetic flair. Together, they can help to establish a mood in your bedroom.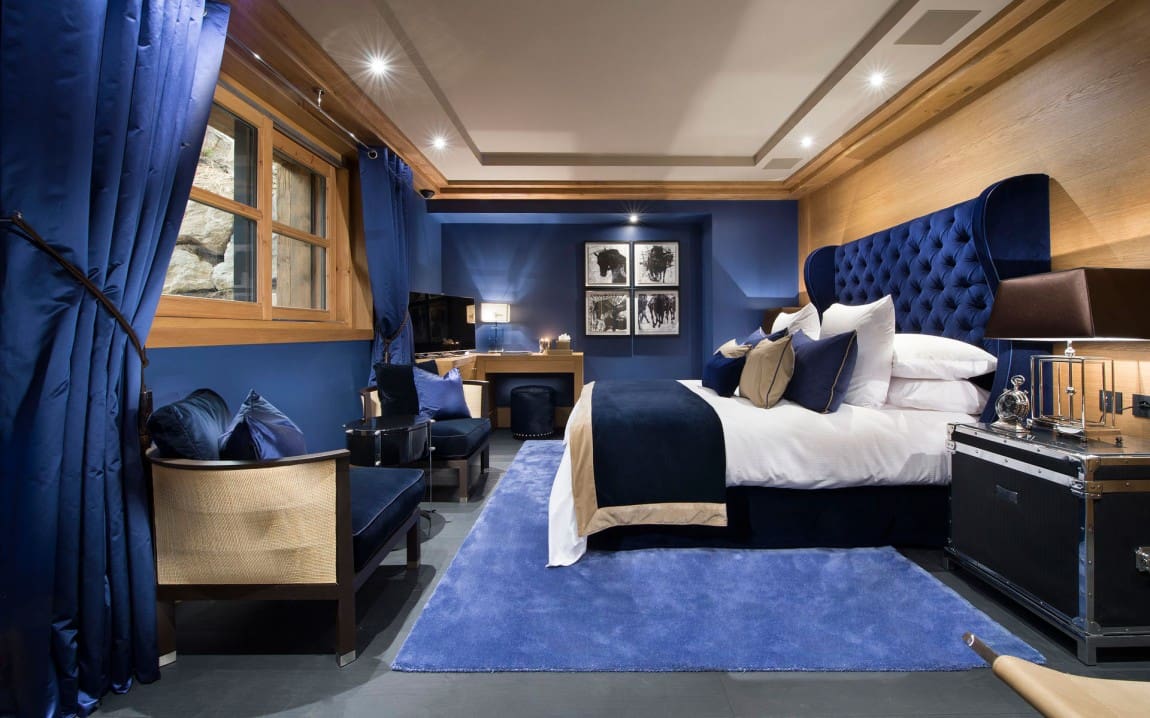 PHOTO: FIREFLY COLLECTION