18 Orange Two Colour Combination For Bedroom Walls
Are you looking for visually appealing orange two colour combination for bedroom walls? You will find the best inspiration here!
We'll be first to admit that orange isn't the easiest colour to work with when it comes to interior walls. Too much orange can overwhelm a room and make it unrestful— especially the bedroom whose primary purpose is relaxation.
There are a plethora of colours that can soften the orange hue or help flaunt the richness and eclecticism of the space. Orange is a statement-making hue that also infuses a space with warmth and a cheerful accent.
Despite its high saturation, orange can instill a sense of freshness and tranquility in the bedroom when paired with the right colour.
In this article, we've compiled 18 incredible orange two colour combination for bedroom walls that will liven up your space.
1. Orange and Velvet Yellow Bedroom Wall
Velvet is a type of soft woven tufted fabric commonly used in interior design. This fabric is often associated with royalty and luxury. In this sophisticated bedroom designed by Irem Erekinci, we love how the yellow velvet accent wall and upholstered headboard marry up harmoniously.
The varying textures add a dynamic element to the space. The blue accent lumbar throw pillows also add a punch to the colour scheme. Each colour and element, especially the arched upholstered bedframe, plays a part in making the room feel unique, rich, and textured.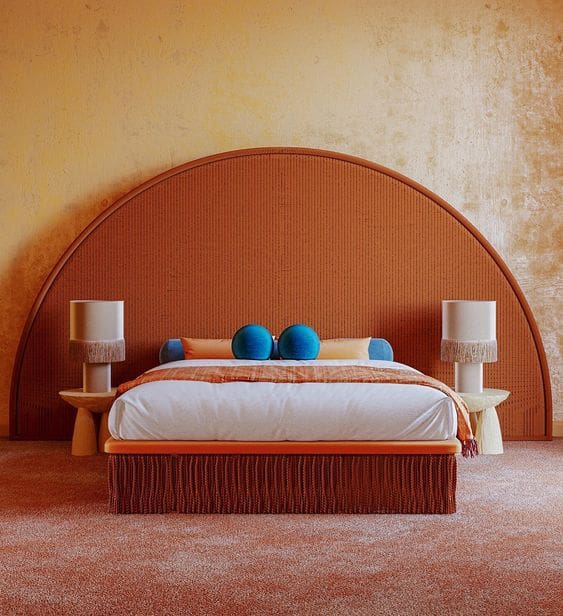 PHOTO: IREM EREKINCI
2. Orange and Sage Green Bedroom Wall
Sage green is the trending neutral that works for just about any room in the home. It is a green-gray hue that resembles that on dried sage leaves. Interior experts claim that it is the most relaxing and ideal hue for the bedroom.
Sage green is also very versatile and popularly used in contemporary interior design. There are an array of sage green bedroom ideas but did you know that they work brilliantly when combine with orange walls? This muted green can help tone down the dominance of orange.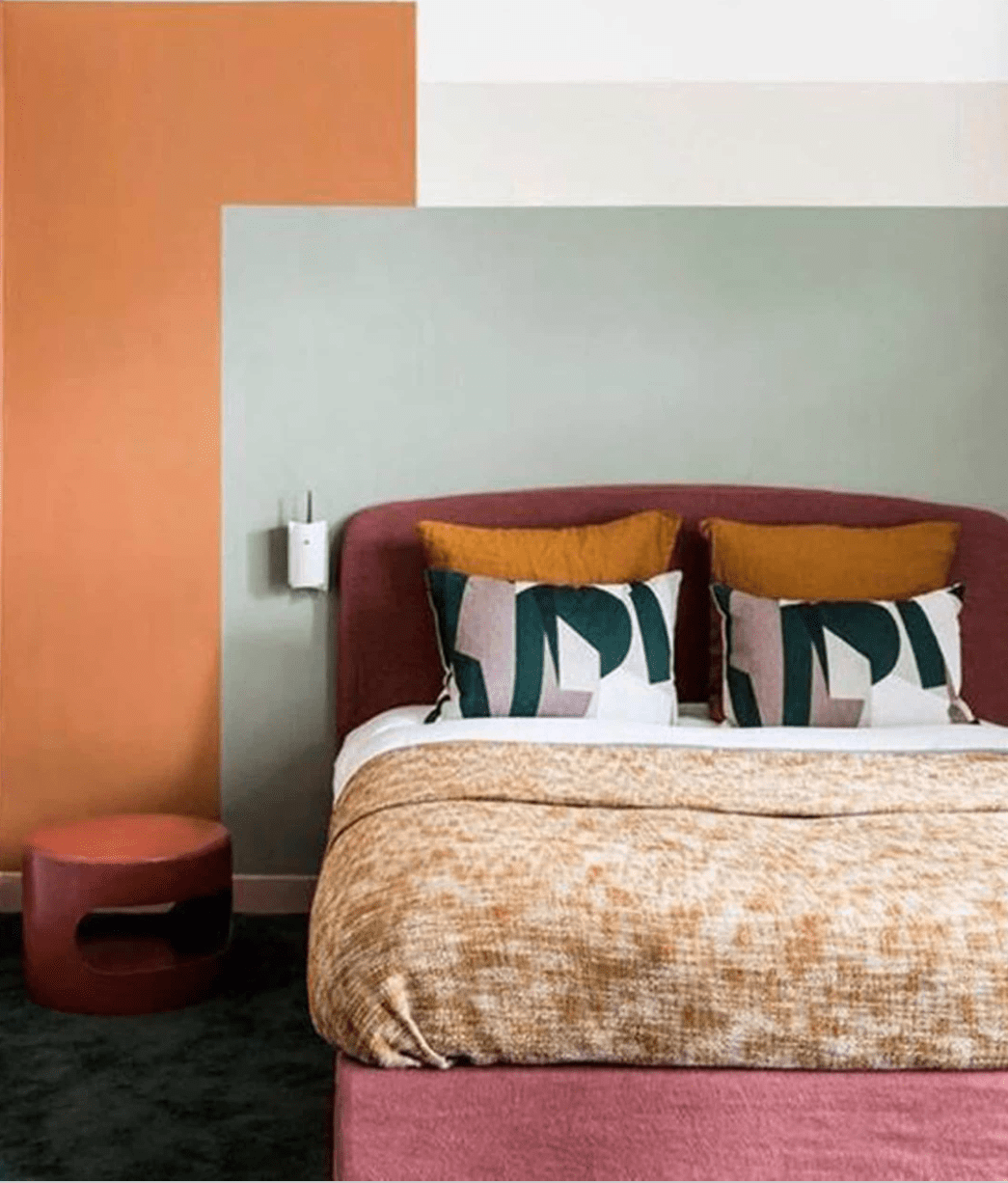 PHOTO: ELLE DECOARATION
3. Bold Orange and Yellow Bedroom Wall
Bring your dull bland bedroom to life with a wall combination of orange and yellow. Alexis Toureau designed this fun and lively bedroom with a three-colour scheme that screams richness and a refined sense of style.
As we mentioned previously, a hint of blue can add a big punch to your orange and yellow walls. In this bedroom, the yellow accent wall creates adds a fun and lively element to the space, while the blue accents add extra pizzazz to the scheme.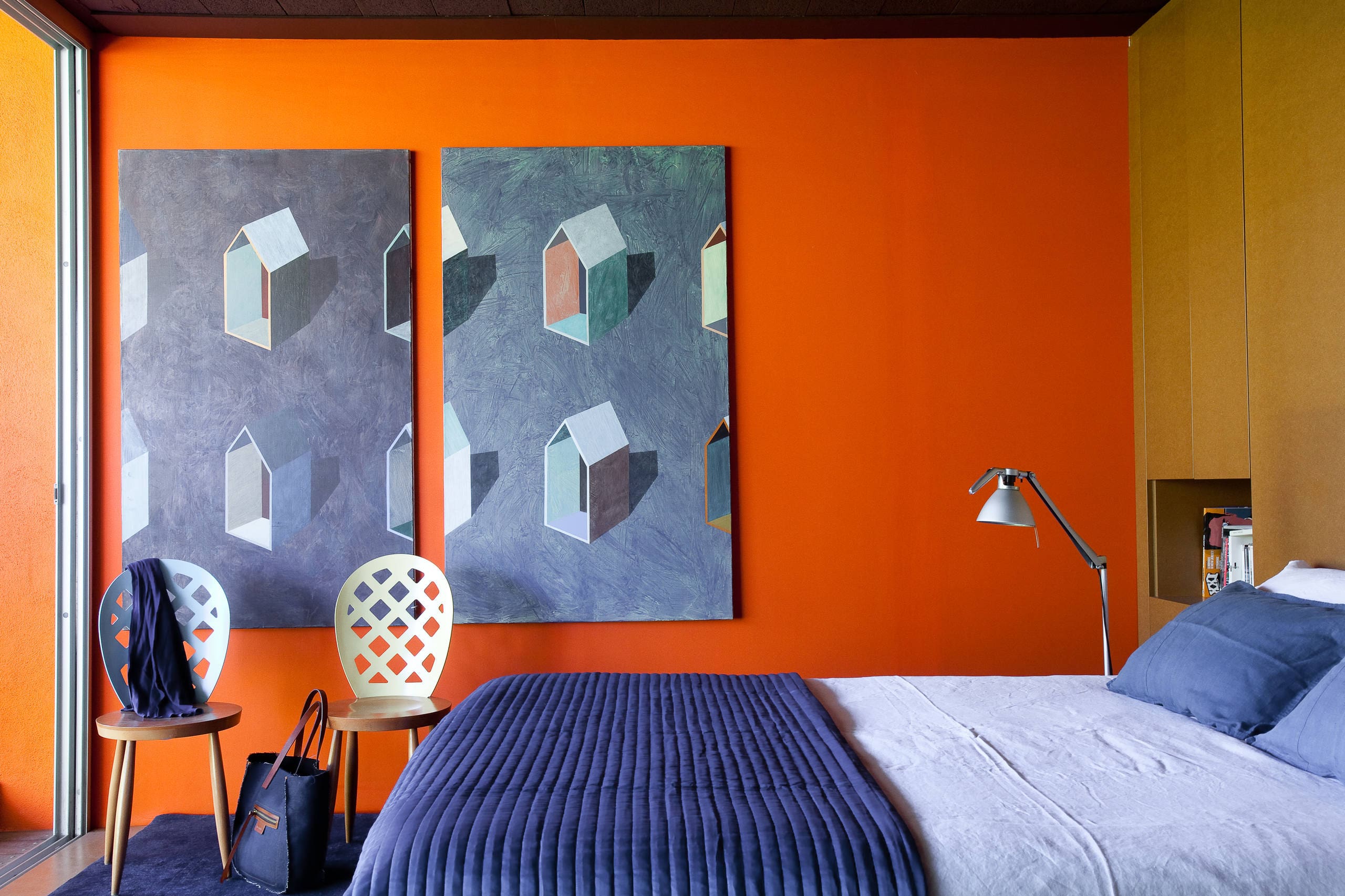 PHOTO: ALEXIS TOUREAU
4. Dark Orange and Peach Bedroom Wall
A dark orange and peach bedroom wall is the perfect combo of classic and contemporary. Peach is a mixture of orange, yellow, and white, hence, it creates a monochromatic look when paired with orange.
The neutrality of the white in the peach helps to soften the vibrancy of the orange and yellow. This a clever orange two colour combination for bedroom walls for those who lean towards the minimalistic design style.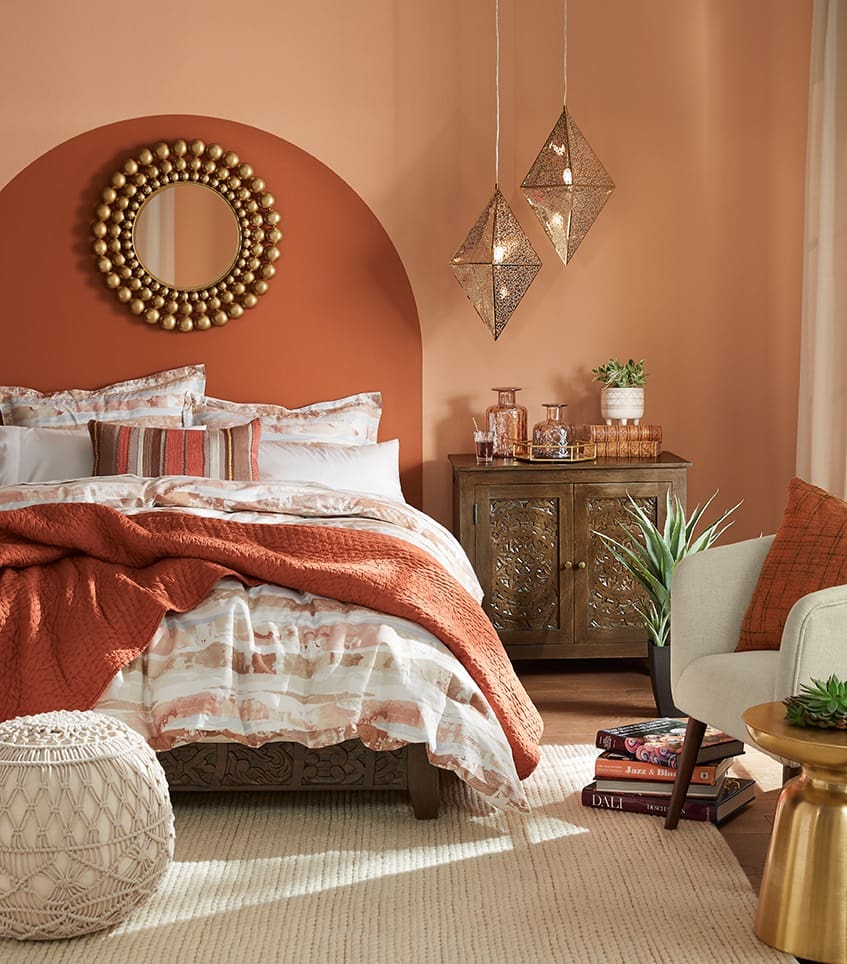 PHOTO: THE HOME DEPOT
5. Bold Orange and Bold Blue Bedroom Wall
Orange and blue sit directly opposite to each other on the colour wheel and this makes them a perfect contrast. Contrast colours naturally complement each other, especially when used in saturated shades.
Simply put, they help each other shine! This orange two colour combination for bedroom walls can infuse a unique character and warmth into your bedroom.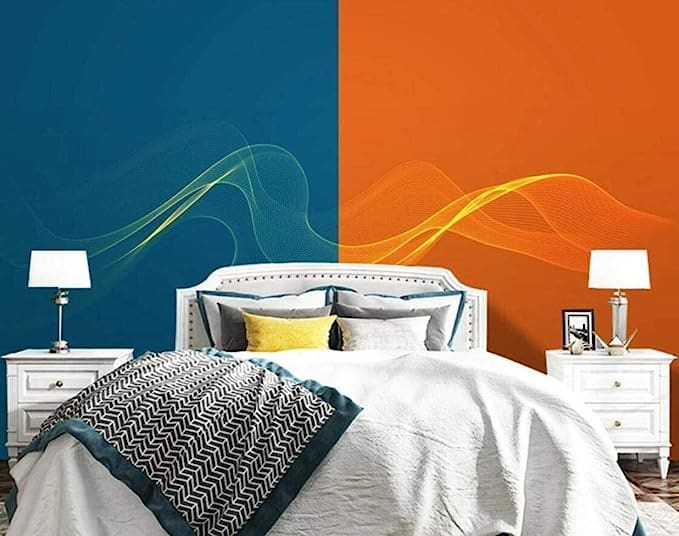 PHOTO: AMAZON
6. Burnt Orange and Mustard Yellow Bedroom
Burnt orange is a medium-dark shade of orange that is reminiscent of visions of flames. This shade of orange is often used interchangeably with terracotta and amber but burnt orange is deeper orange than these.
Mustard yellow is a dull darker shade of yellow that resembles the mustard condiment. This bedroom designed by Amanda Martinez shows how burnt orange and mustard yellow can add a relaxed, livable feel to the bedroom.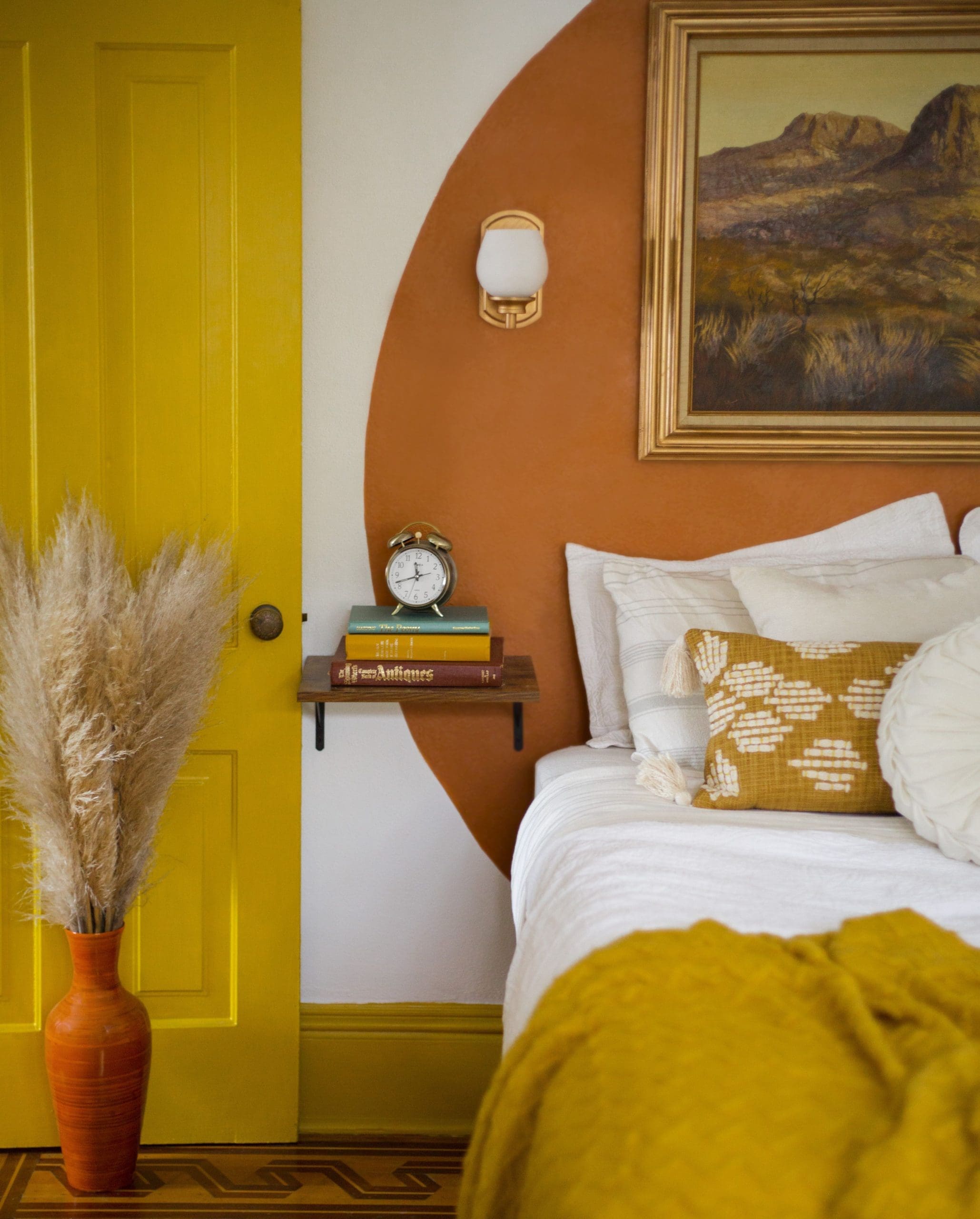 PHOTO: AMANDA MARTINEZ
7. Orange and Bold Pink Bedroom Wall
If you looking for a way to lend brightness and freshness to a poorly-lit bedroom, then orange and pink walls should be on your radar. We love an orange unexpected two colour combination for bedroom walls!
Design-wise, these hues are not usual colour combinations because they are close to each other on the colour wheel. However, this doesn't mean they can't create striking designs.
The secret to nailing this style is choosing the ideal shade of pink and orange that can balance out each other and help to define the beauty of the space.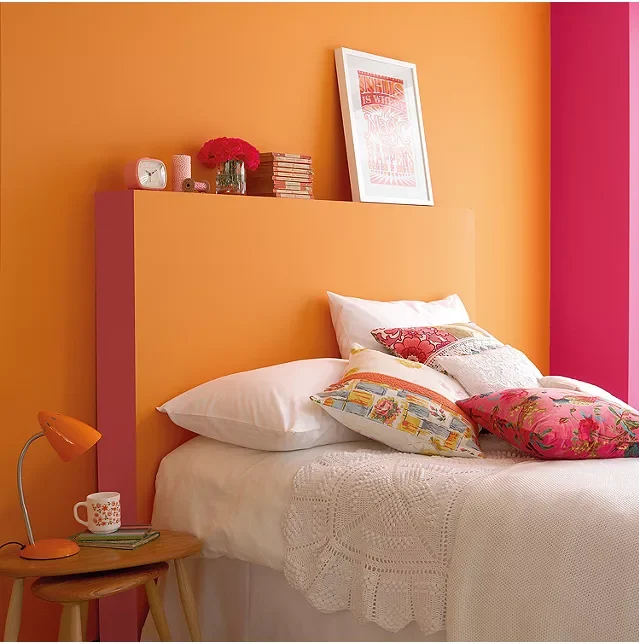 PHOTO: JOHN LEWIS
8. Orange and Dark Green Bedroom Wall
Orange and green go together like campfires & smores. Green is probably the best colour to complement orange. Almost all shades of green complement shades of orange, and vice versa.
Dark green and medium-tone yellow is a striking colour combination for the bedroom. Dark green brings a sense of calm and relaxation to the room while orange adds character and liveliness to the colour scheme.
PHOTO: INSTAGRAM @LOVINGSLANSDOWNE
9. Orange and Blush Pink Bedroom Wall
Blush can pink adds softness and delicacy to any bedroom when paired with orange. This orange and pink two colour combination for bedroom walls is simple, fresh, and bright.
The blush pink helps to ground and soften the orange. This colour will create the perfect tender and romantic bedroom. It may be also ideal for a pre-teen to teenage girl's bedroom.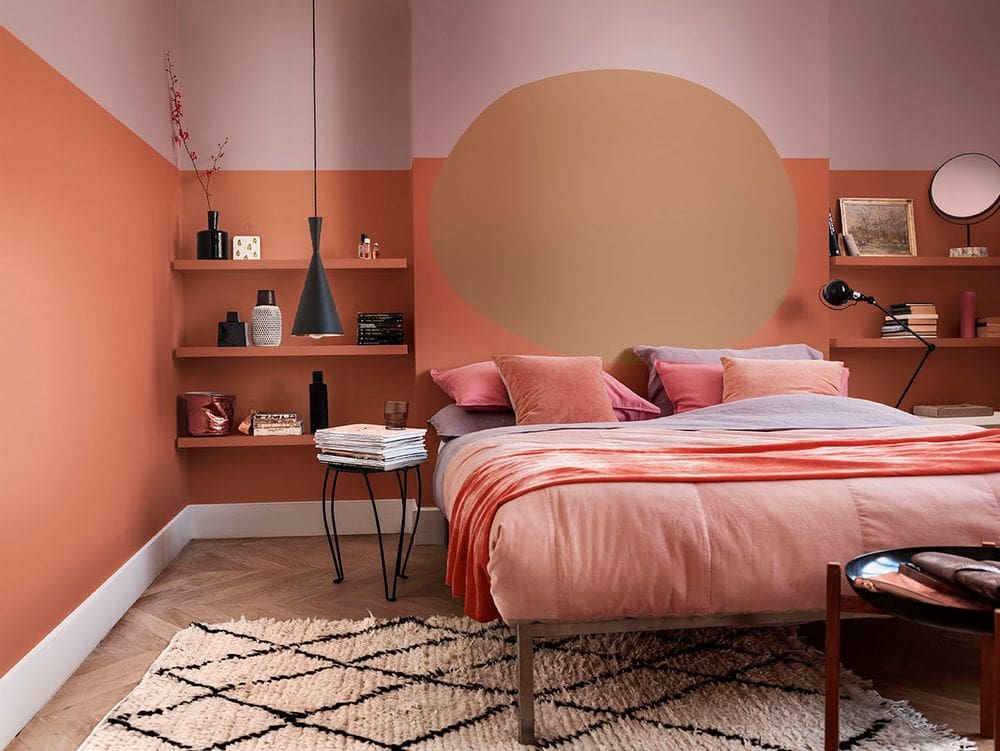 PHOTO: DULUX
10. Orange and Tan Bedroom Wall
Tan is a commonly used neutral for interior walls. It never goes out of style and can complement many any other colour. This sandy hue can be used as neutral wall background colour or as an accent colour. It gives a laid-back and organic vibe to a space.
Because of its versatile nature, it is easy to pair with orange. Tan was once considered to be dull and boring, but now, many would agree that it is really how you use it that determines whether it will appear cold and boring or curate a statement-making design.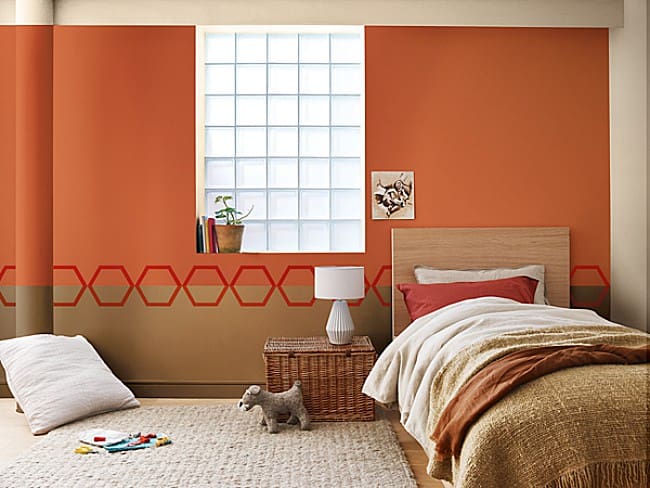 PHOTO: PINTEREST
11. Burnt Orange and Beige Bedroom Wall
Beige is crowd-pleasing neutral that works every time! It is swiftly replacing stark white walls which can appear cold and offputting. This creamy hue is perfect for the bedroom because it can promote relaxation and recuperation.
This soothing can brighten up a space just like white, but it is warmer and evokes feelings of sophistication and freshness. Biege can be combined with orange because it can help to soften the overall look. Beige is simply a superior neutral!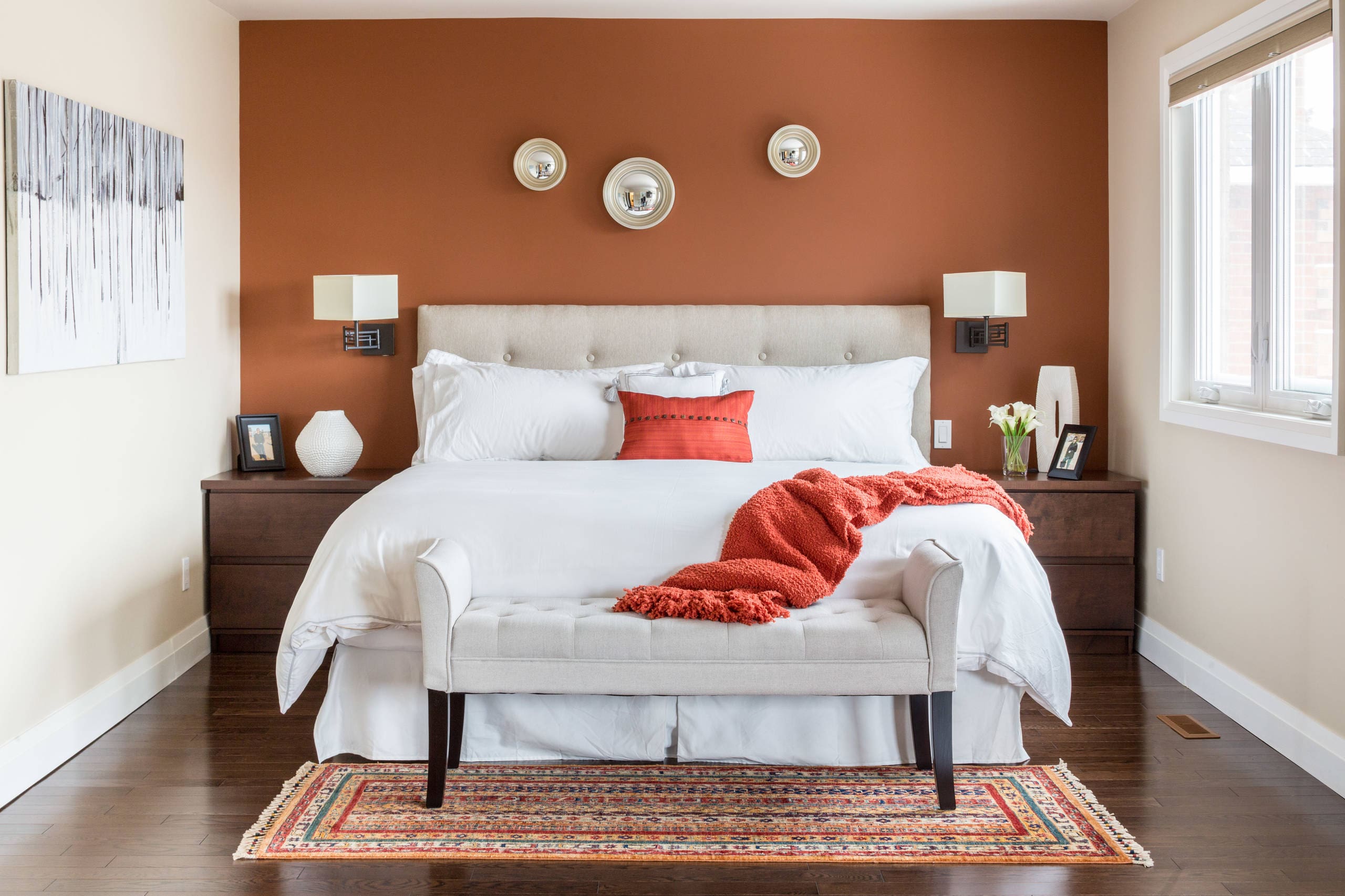 PHOTO: HOUZZ
12. Orange and Nature-Inspired Wallpaper
Looking to create a resort-like space in your bedroom? A nature-inspired wallpaper paired with an orange accent wall is the way to go.
It brings a sense of nature and greenery into your bedroom. The feeling of being surrounded by nature evokes of sense of calm, self-awareness, and emotional balance.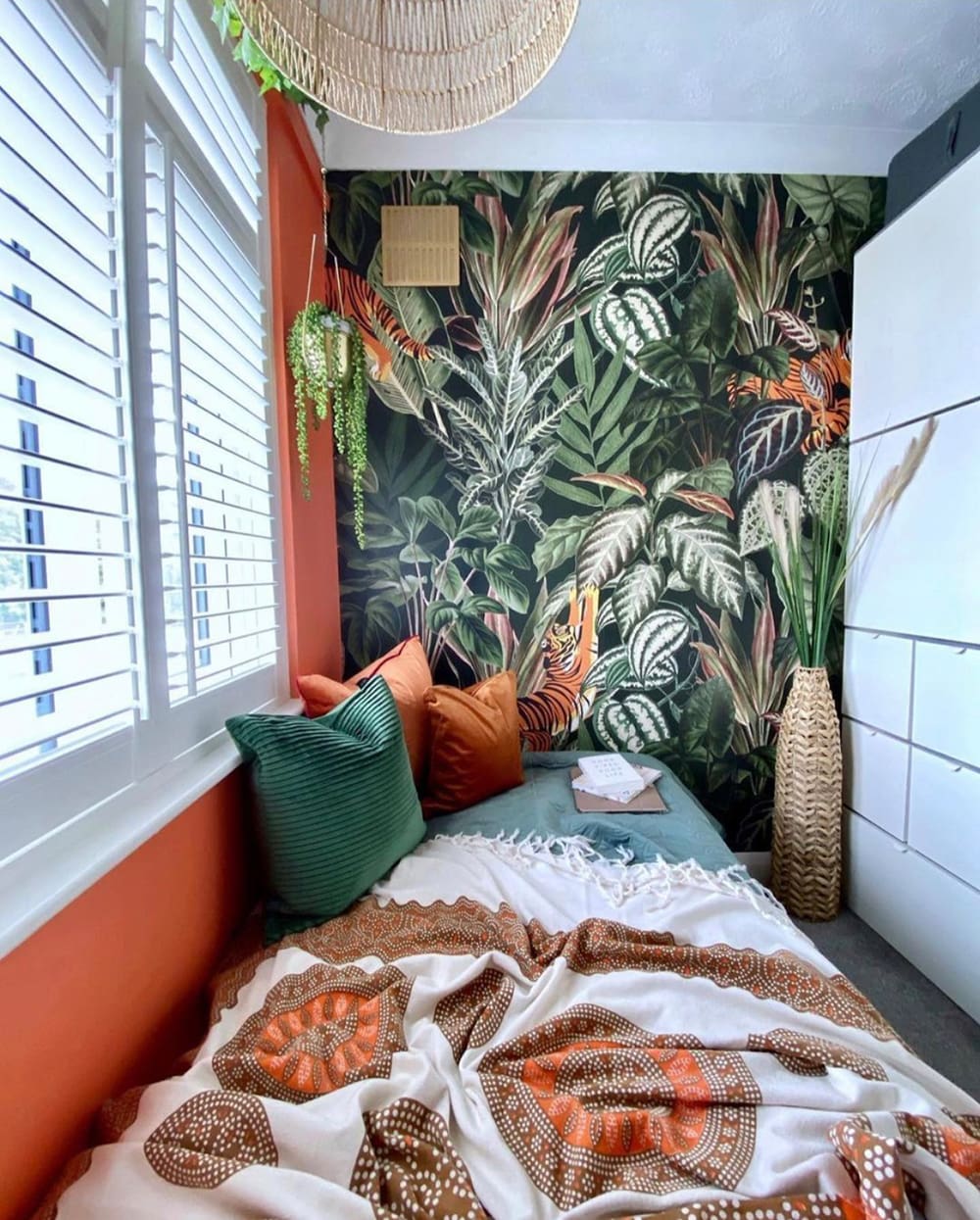 PHOTO: AUDENZA
13. Orange and Brick Tone Bedroom Wall
Exposed bricks not only inject texture and a rustic vibe into your home but also adds a punch to the colour scheme.
This is commonly used as an accent wall in interior design but is also a great way to break consistency in your orange-painted wall. Bricks come in varying hues and some are multi-coloured.
PHOTO: FM CONSTRUCTION
14. Orange and Brown Bedroom Wall
Brown and orange two colour combination for bedroom walls is a tried-and-tried pair that can add character and style to your space. Brown can be easily incorporated into any colour scheme because it is a dynamic and timeless neutral.
Orange accents can give a boost of warmth and energy to a brown space while brown can bring earthliness to the orange. Most natural wood tones are brown. So instead of using paint all around, you can opt for a wood panel accent wall to complement your orange wall.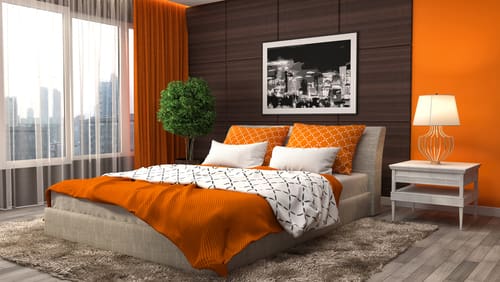 PHOTO: PINTEREST
15. Orange and Light Olive Green Bedroom Wall
Green is nature's most associable hue hence it is the most soothing shade for relaxation spaces. Olive green conveys a feeling of harmony, peace, and sophistication. Just as the name implies, it is a shade that resembles green olives.
This refreshing colour can serve both as a neutral or accent colour. Just like most shades of green, it is a brilliant pair with orange.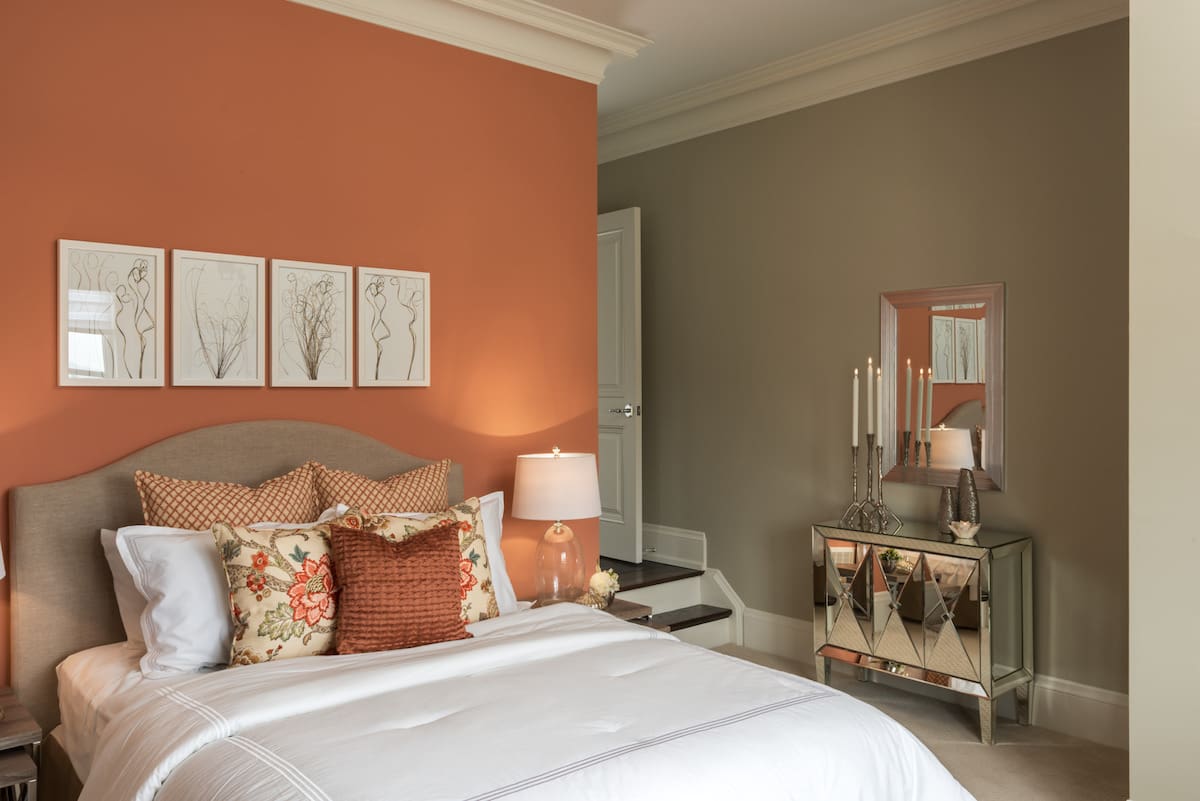 PHOTO: JANE LOCKHART DESIGN
16. Orange and Black Bedroom Wall
Black and orange two colour combination for bedroom walls is probably the most daring and characterful. It's no surprise why black interior walls are bang-on-trend in recent times. Black adds an understated elegance and gothic charm to a space.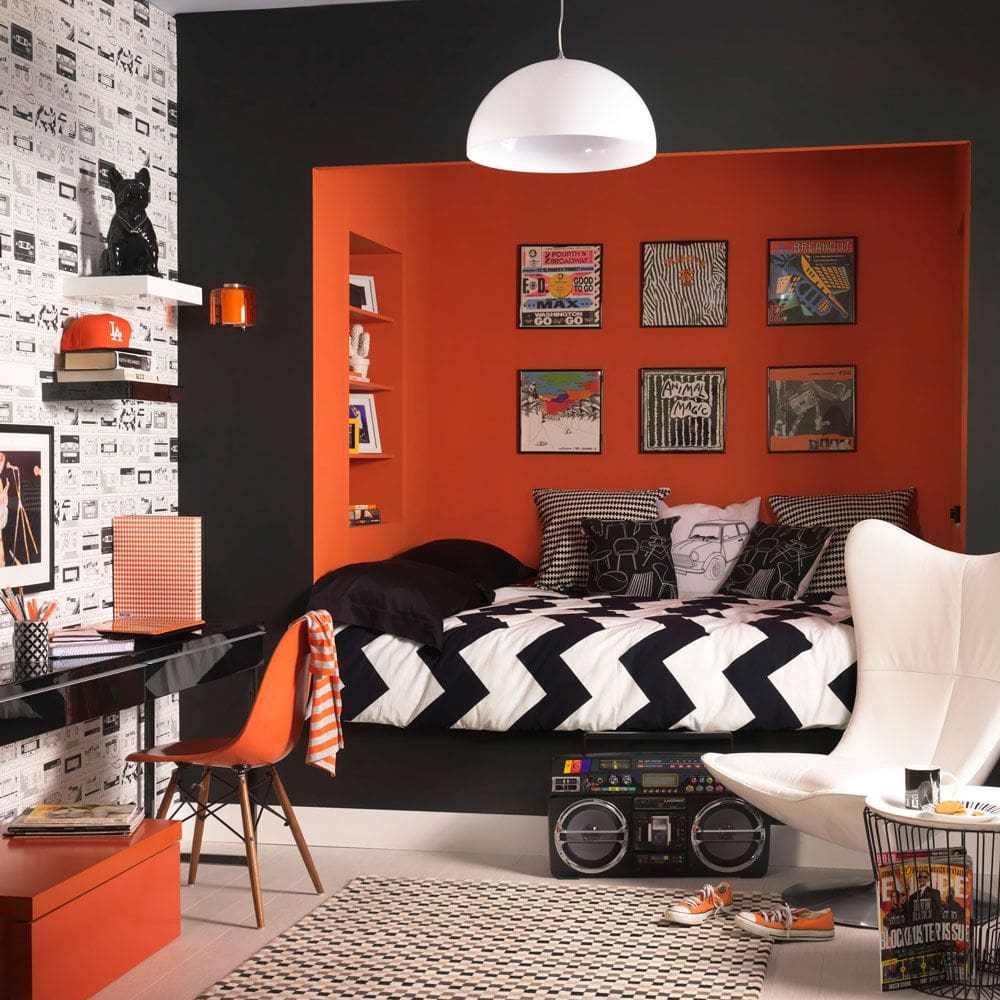 PHOTO: FUTURE PLC/SIMON WHITMORE
17. Orange and Grey Bedroom Wall
Grey is not the first thing that comes to mind when thinking of colours that complement orange. However, Grey and orange two colour combination for bedroom walls is a fusion of elegance and modernity.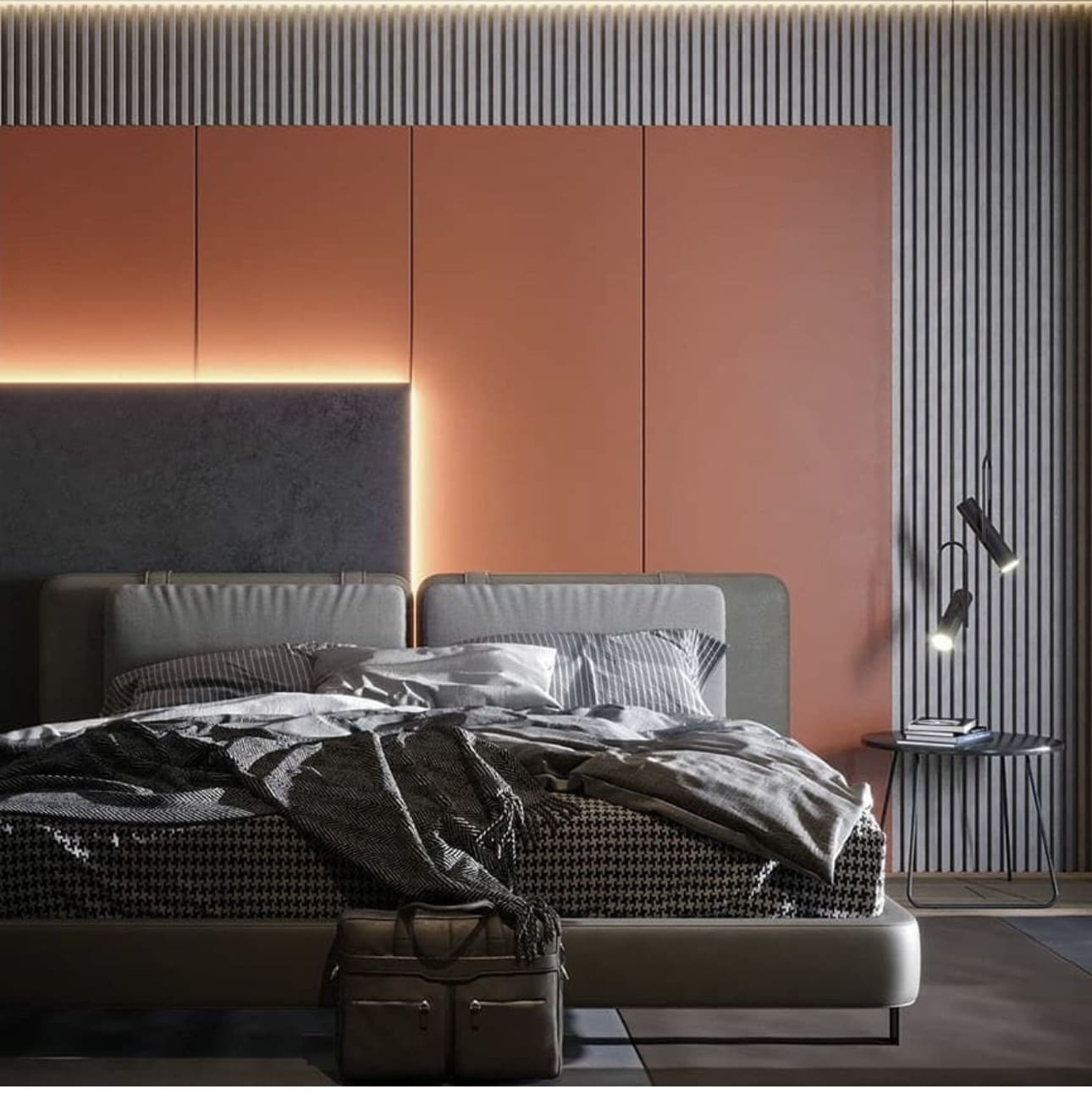 PHOTO: MC VISUALIZATION
18. Orange and Cyan Bedroom Wall
What better way to inject some mood-boosting colour into your home than cyan and orange two colour combination for bedroom walls? This pair can create a dynamic design that mid-afternoon daydreams are made of. It will keep your bedroom feeling fresh and bright even on the gloomiest winter days.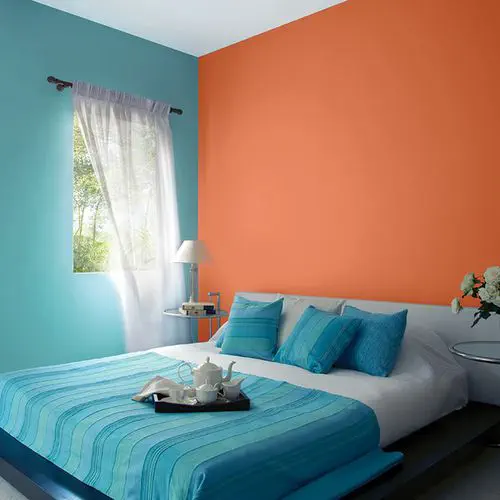 PHOTO: PINTEREST
Frequently Asked Questions
• Is orange colour good for the bedroom?
Yes, orange is a great colour choice for the bedroom. If you're colour-shy, use orange as an accent colour rather than a base colour, or consider using paler shades of orange.
Keep in mind that too much orange can overwhelm the bedroom and this can make it difficult to rest during bedtime.
• What colour matches with orange walls?
Orange is more versatile than most people assume it to be. The best colours for orange walls are green, blue, yellow, brown, black, and beige.
However, each of these colours has a variety of shades, so the key is finding the best shades that fulfill your aesthetic predilections and preferences.
• Does brown go with orange in bedroom?
 Yes, it does! Brown is an earthly and timeless neutral that complements almost every other colour, especially orange.