Purple Two Colour Combination For Bedroom Walls
Let's face it! Purple isn't the easiest colour to work with on interior walls. However, there is a plethora of purple two colour combination for bedroom walls that can instantly take a room from drab to fab. 
Purple is an eye-catchy combination of red and blue that is often associated with royalty, opulence, rarity, and wealth. This sophisticated regal hue can add richness and a refined sense of style to a bedroom lacking one.
The challenge most people face when incorporating purple into their bedroom colour scheme is finding the right colours to pair harmoniously.
In this article, we'll be sharing our favourite purple two colour combination for bedroom walls that is suitable for both adults' and kids' rooms.  Whether you want to achieve a dramatic look or a less intrusive look, you will find the best inspiration here!
1. Purple and Pale Lilac Bedroom Wall
Purple, whether light or dark, paired with pale lilac radiates laid-back elegance and sophistication. Since lilac is of the purple family, it creates a monochromatic aesthetic. The combination can instantly add more interest and character to a room.
To add a punch to this colour scheme, use hues like orange or pale pink as an accent. If decorating a kid's room, vibrant pink shades may help to add a fun and cheerful element to the room.

2. Purple and Bold Yellow Bedroom Wall
Yellow is a happy and vibrant hue that can instantly brighten up and inject life into a space. Bold yellow is not a popular shade of yellow used in the bedroom because it can be too overwhelming and unrestful for most people.
However, when used in moderation and combined with a colour like purple, it can make the space pop like never before. Plus, yellow sits opposite purple in the colour wheel and this makes them a perfect contrast pair.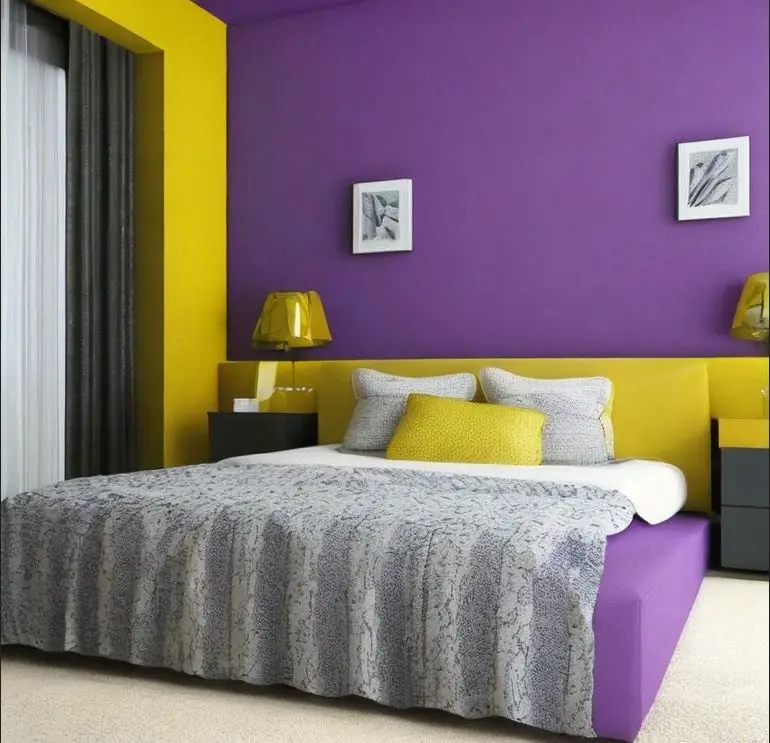 3. Purple and Light Green Bedroom Wall
Green is yet another colour that is a natural pair of purple. They go well together like a bushel & a peck. Light shades of green can help to soften deeper and darker shades of purple and brighten up the room.
There are many two colour combination for bedroom walls to consider but this one packs a punch and should be on your rader if you want something groovy for your space.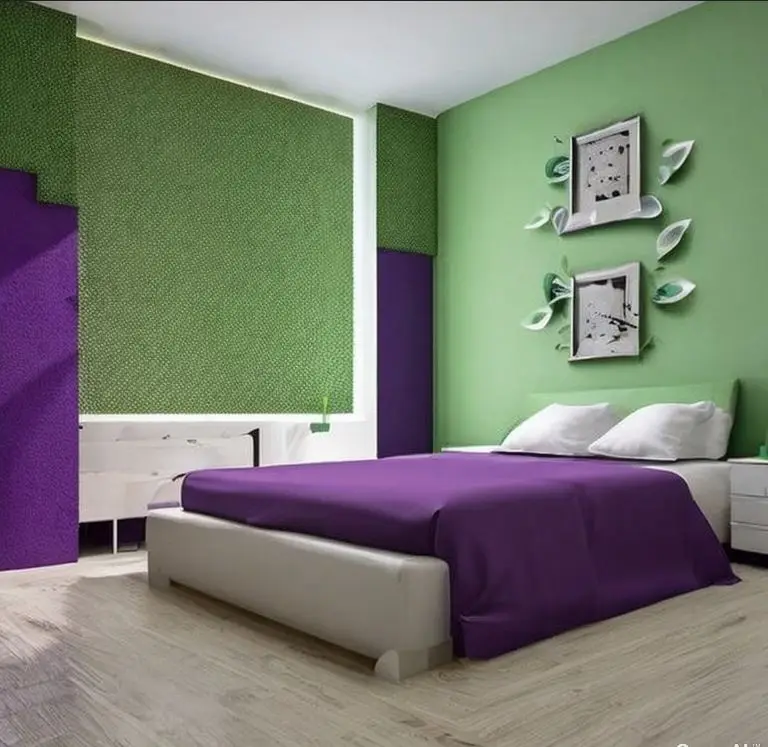 4. Purple and Pastel Lime Green Bedroom Wall
Pastel lime green can easily lend a unique character to your space. This is a tried and true accent colour for a purple bedroom. For the best outcome, use the pastel lime green sparingly— in not more than 30% of the room. This is a colour scheme well suited for both adults and kids' bedrooms.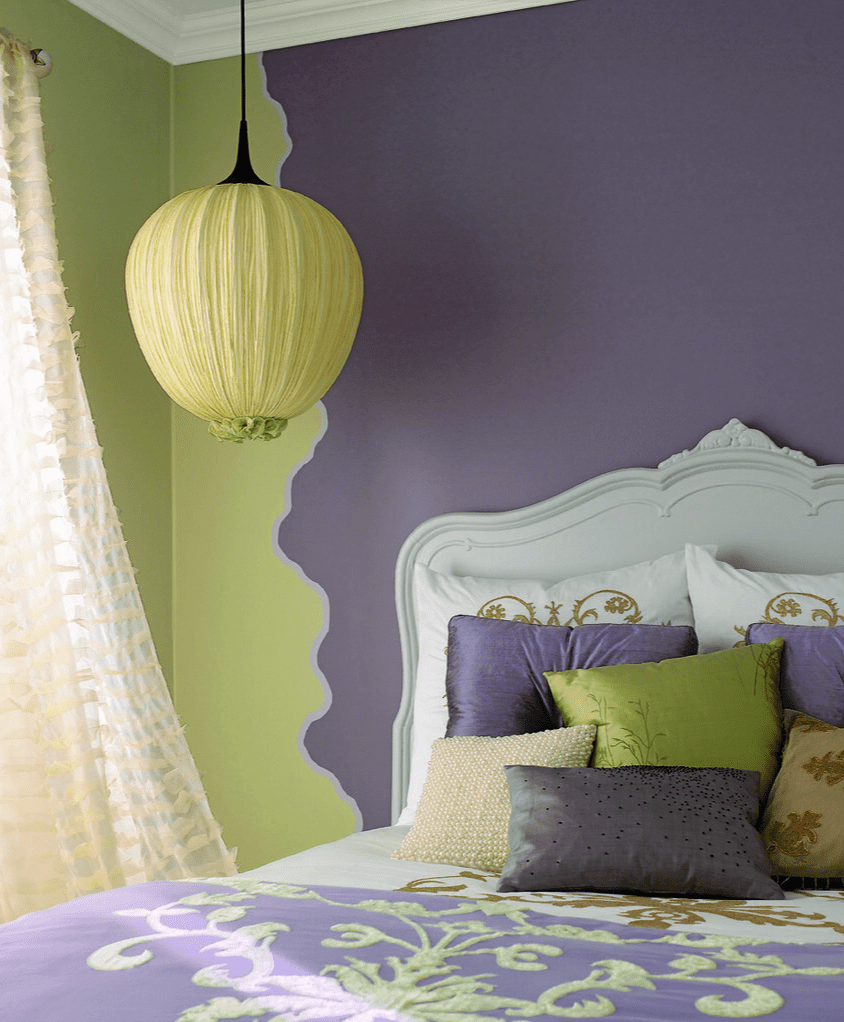 5. Purple and Light Grey Bedroom Wall
Grey is one of the most timeless and versatile neutral colour. You can throw grey in just about any colour scheme and it will deliver desirable results. This crowd-pleasing colour lends a sense of tranquility with a tone of modernity to a room.
When combined with purple, it creates an overall much calmer feel. This is one of the most easy-to-execute purple two colour combination for bedroom walls. 

6. Purple and Lime Green Bedroom Wall
The light purple and lime green colour combination is arguably the most fun, delicate, and mood-boosting colour scheme. This may be a popular colour palette for girls' rooms but it can also reignite a boring adult room. The key is finding the right shade balance between too bold and too pale.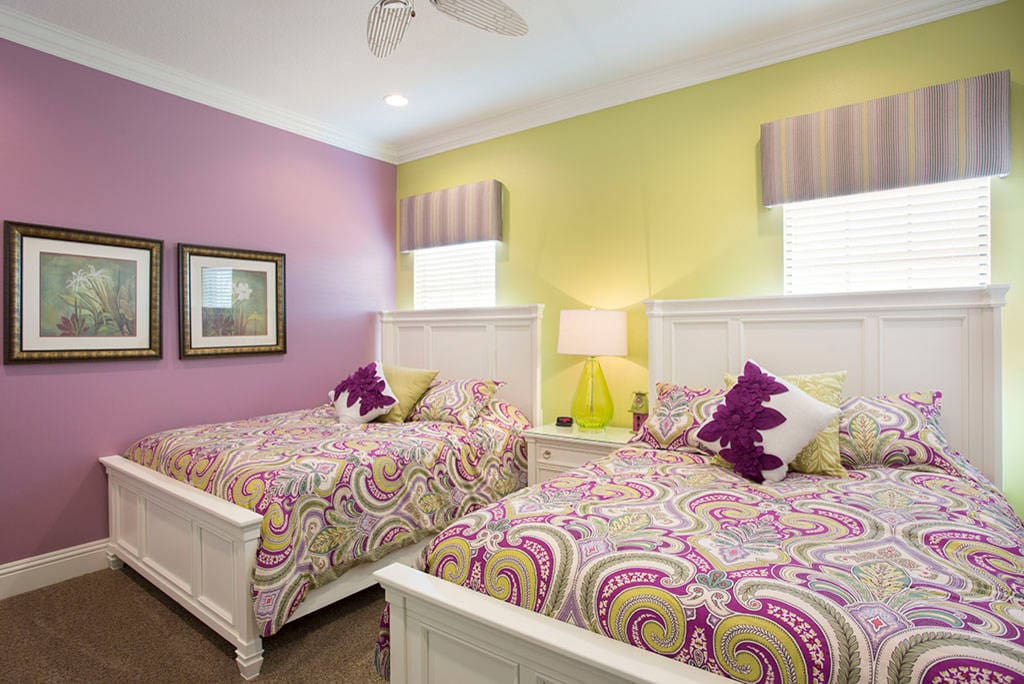 7. Purple and Light Blue Bedroom Wall
The purple and blue combination is quite an unusual pair since they practically neighbour on the colour wheel but unexpected aesthetics often make the biggest impact. The secret to nailing this style is using the same shade of each colour.
8. Purple and Beige Bedroom Wall
The beige and purple two colour combination for bedroom walls is ideal for creating a laid-back luxury space. Beige is the hottest neutral on the colour block right now and that's a title well deserved! 
Beige is great for creating a soothing ambiance while lending warmth and sophistication to a room. Deep purple and beige can instantly take a space from standard to luxurious.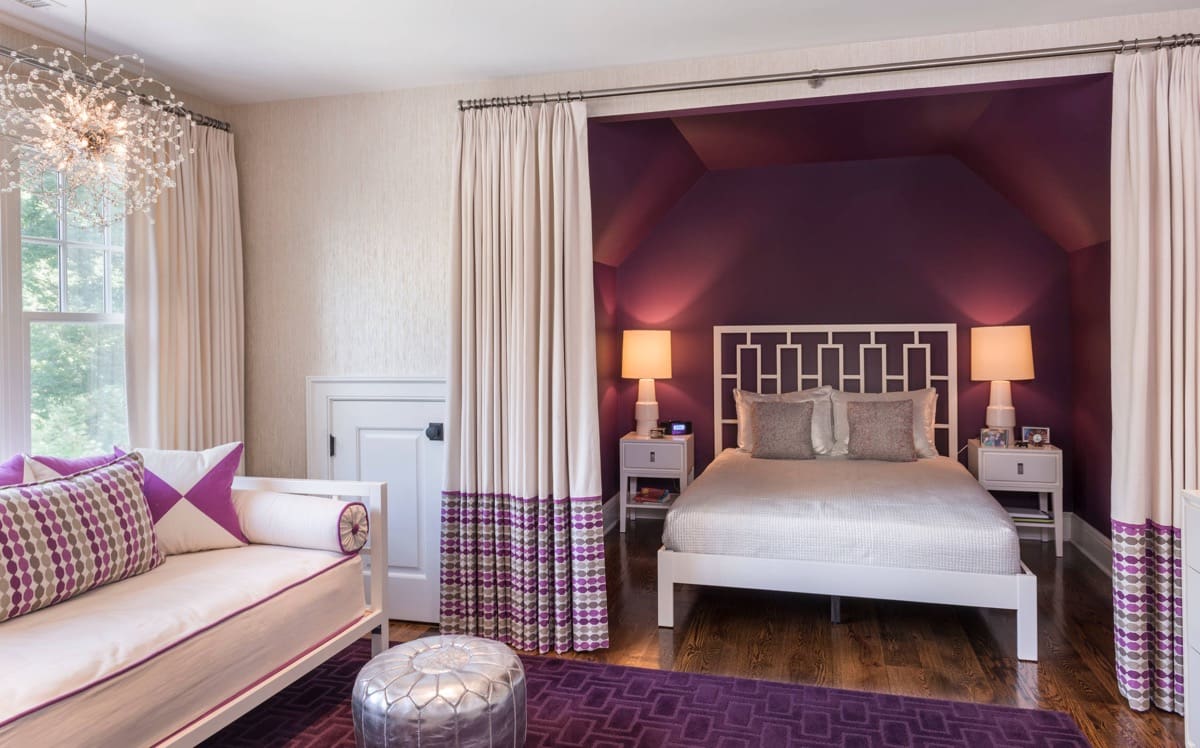 9. Purple and Black Bedroom Wall
To create an elegant moody scheme in the bedroom, consider purple and black. These are both classic hues that are sure to inject a lot of personality into your bedroom. If you're a great way to introduce character, impact, and drama to your space, then a black and purple two colour combination for bedroom walls may be perfect for you.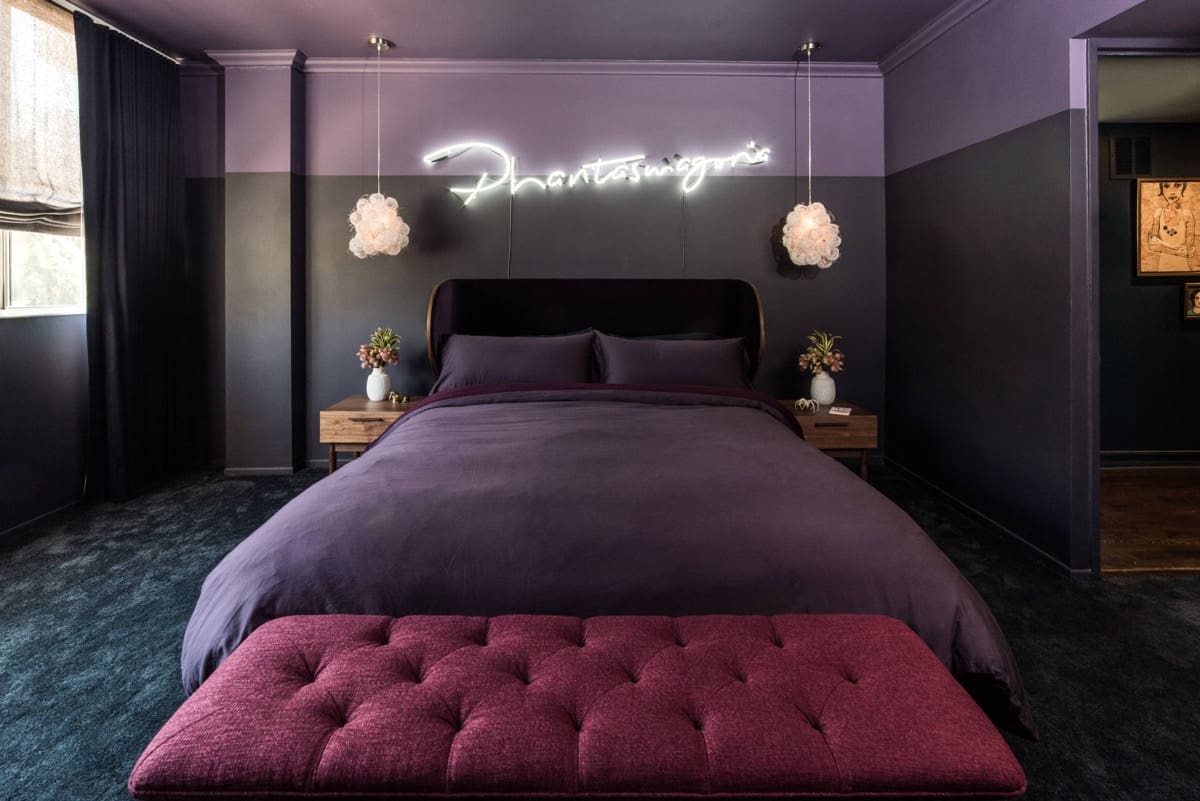 10. Purple and Red Bedroom Wall
Red is a daring colour choice for the bedroom that most people shy away from but if you want to add a dramatic flair to your bedroom, the red and purple combination can help you showcase some richness and eclecticism. So, go on and pull off a daring look with these vibrant and invigorating colours.
11. Purple and Pale Pink Bedroom Wall
A masterful way of designing a pink and purple bedroom that is appealing to adults is to use a pale shade of pink. The purple and pink two colour combination for bedroom walls can create a space that feels tremendously soothing and relaxing. This color scheme is easy on the eye and can boost relaxation.
12. Purple and Light Tan Bedroom Wall
Tan is a classic hue that lends sophistication and softness to a space. The purple and light tan combination gives a room an aesthetic that is a fusion of elegance and modernity. Plus, tan is an extremely easy color to design with.
13. Purple and Cyan Bedroom Wall
Cyan is a striking hue that can help bring purple to life. The cyan purple two colour combination for bedroom walls may not be for everyone as it is a strong pair. However, if these colors appeal to you and you want to make a unique style statement in your bedroom, then go for it!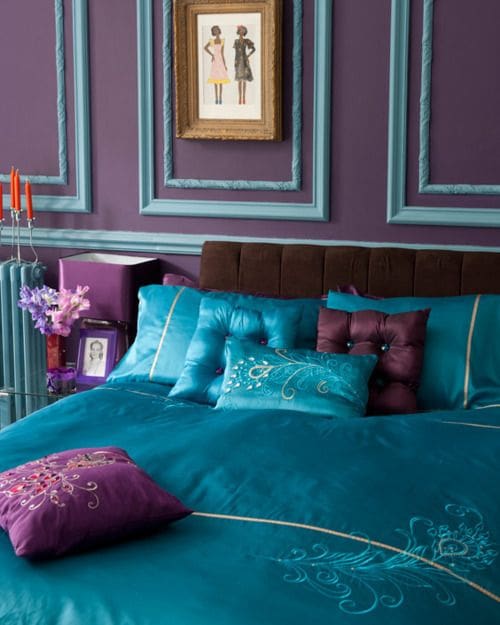 14. Purple and Blush Pink Bedroom Wall
The blush pink and purple combination can bring softness and warmth to your bedroom. There are a plethora of ways to use pink and purple for the bedroom walls. The key to executing this with desirable results is to choose the right shades and tones.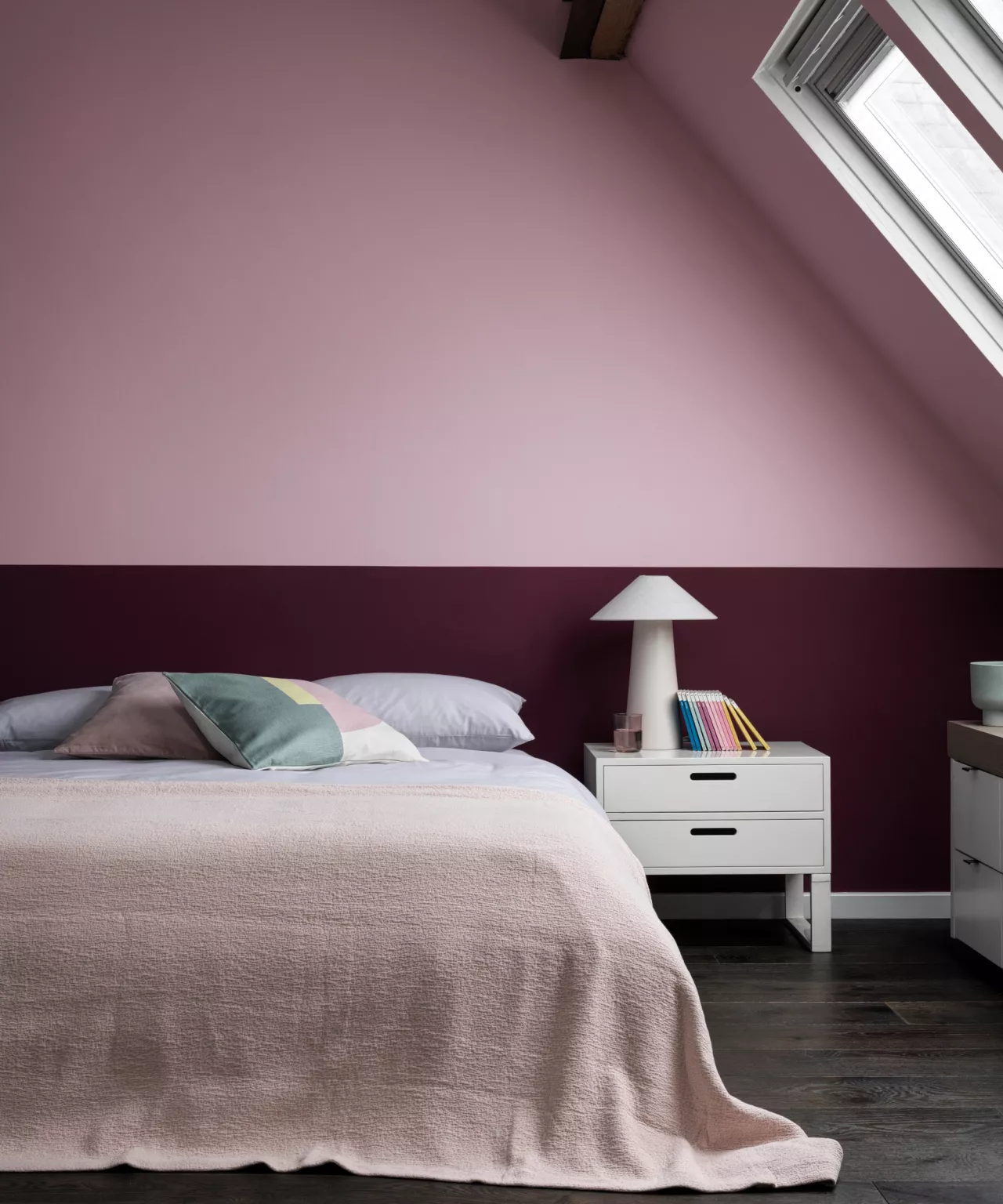 15. Purple and Baby Bedroom Wall
Baby blue is a soft shade of blue that can brighten and make a room feel fresh and airy. When combined with purple of the same shade, you may create an effortless soothing space.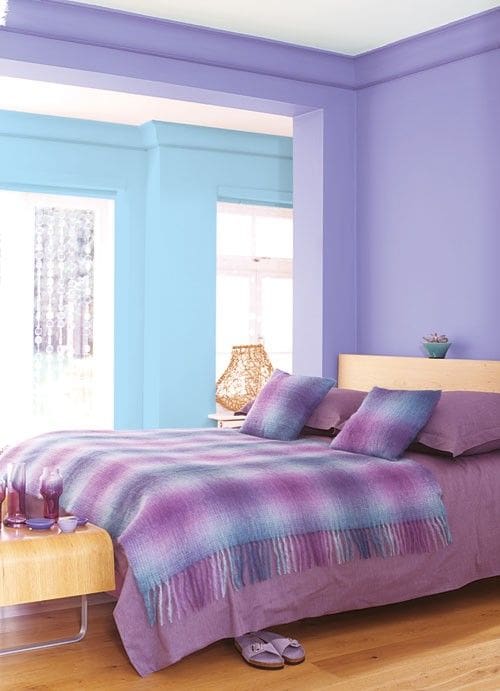 16. Purple and Pale Yellow Bedroom Wall
In interior design, yellow creates the warmth and impression of more light. Pale yellow works just like a neutral. Since yellow and purple are natural contrast, this combination is a no-brainer. Dark purple may be used to add a punch to the colour scheme.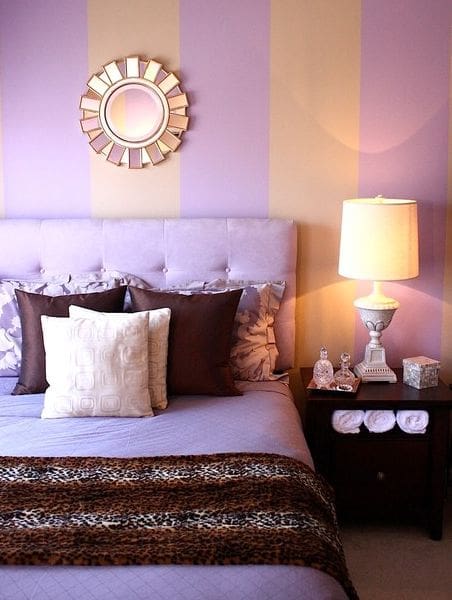 17. Purple and Orange Bedroom Wall
Purple and orange two colour combination for bedroom walls will make the biggest statement. Orange is an extremely warm hue and the coolness of purple helps to create the perfect ambiance.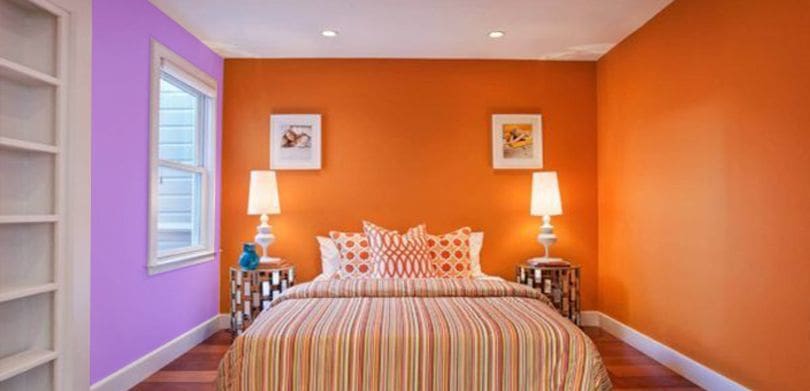 Frequently Asked Questions and Answers
What color goes with purple walls?
The best colours to match with dark purple walls are beige, yellow, pink, and green. The shades of purple and commentary colour you choose can make or break the overall look. Go for paler softer tones for a bright and airy space. While dark colours can help you achieve a cosy and moody ambiance. The combination of lighter and darker colours helps to strike a balance.
Does purple match brown?
Absolutely, brown is a great color to match with purple. The result will largely depend on the shade of brown and the purple your choose. Except you're going for a moody scheme, at least one of the shades should be light.
Is purple a good colour for a bedroom?
Yes, purple is incredible for a bedroom, especially when used in the right tones and combined the complementary colours.
Is purple a warm colour?
Purple is considered a cool colour, just like green and blue. Although some darker shades of purple may have some warmness in them from the red undertone.
Does purple match with beige?
A resounding, yes! Purple matches brilliantly well with beige because beige is a muted neutral colour that can be paired with just about any colour under the sun.