45 Color Combinations Of Green (For Any Room)
Green is one of the most ideal colors for interior spaces because of its ability to bring in a sense of nature and lend tranquility and warmth to the space. There are a plethora of color combinations of green that can help you create a stylish, cozy, and dreamlike space.
In interior design, there are no set-in-stone rules for combining colors. We've seen the most unusual colors work brilliantly together when used in the right tones. The trick to formulating a color scheme is to determine the mood you want to set for the space and use the right tones to achieve it. For instance, neutral and bright colors can be used to create bright and minimal spaces, while dark colors create a moody and cozy space.
Green is nature's most associated hue which is also very versatile and can work great in just about any room in a home. If you're looking for green color combinations that can infuse a unique character into your home, you should check out the ideas we've compiled.
In this article, we've rounded up our favorite color combinations of green that are sure to transform and elevate the beauty of any room. From bold and dramatic to laid-back and minimalism, you will find the perfect inspiration here!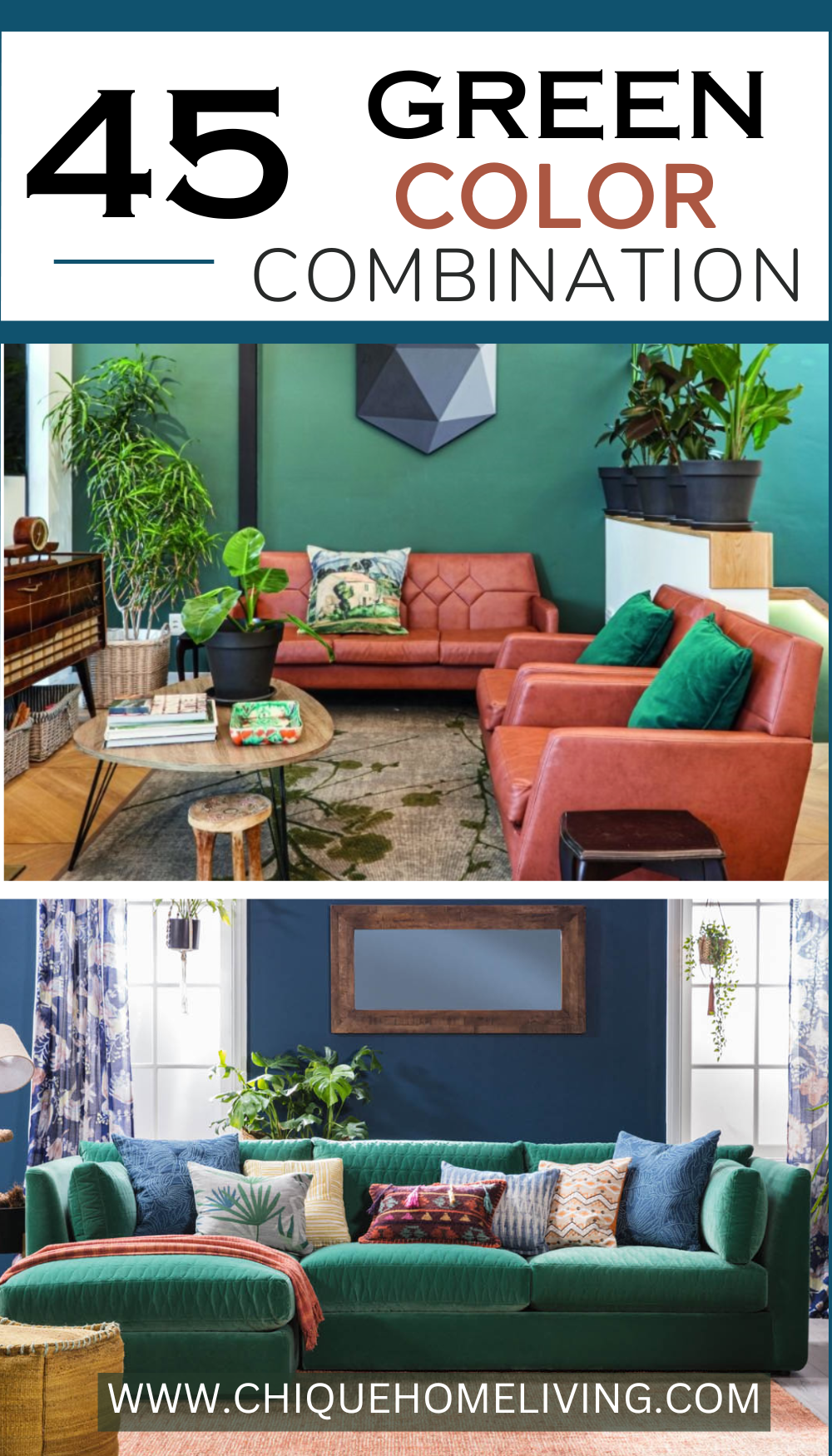 1. Green and Cobalt Blue
Green and cobalt blue is a color combination that adds a strong character to a space. A clever way to incorporate these duo is the use of the same shade of each color. There are endless ways to personalize this scheme and make it your own. Use yellow or orange accents to add a punch to the color scheme.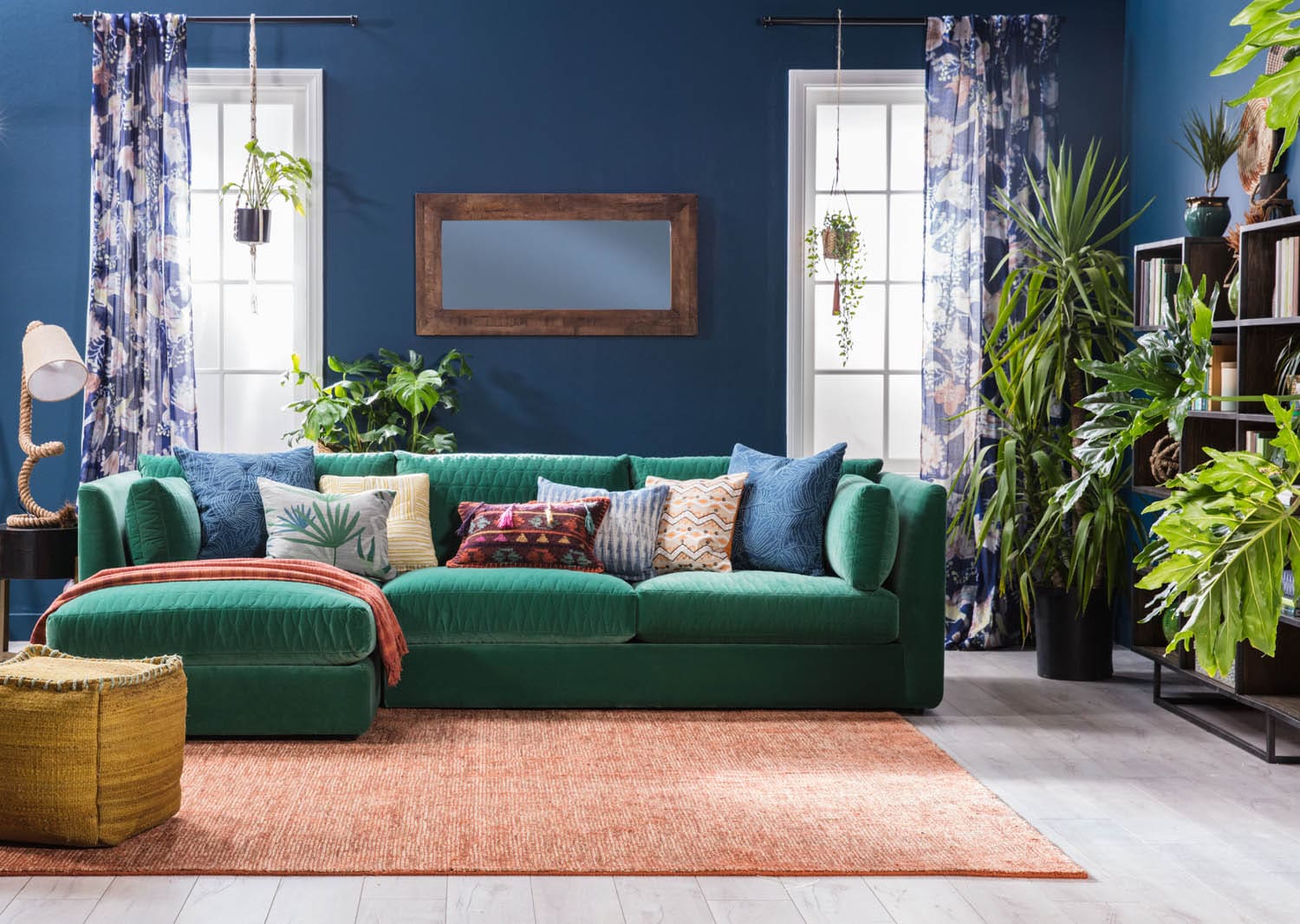 PHOTO: LITTLE GREENE
2. Green and Yellow
Green and yellow is a pair made in interior design heaven. They go hand-in-hand like dandelions & daydreams because they sit close to each other on the color wheel. This color scheme will harmonize perfectly with a hint of a red accent color.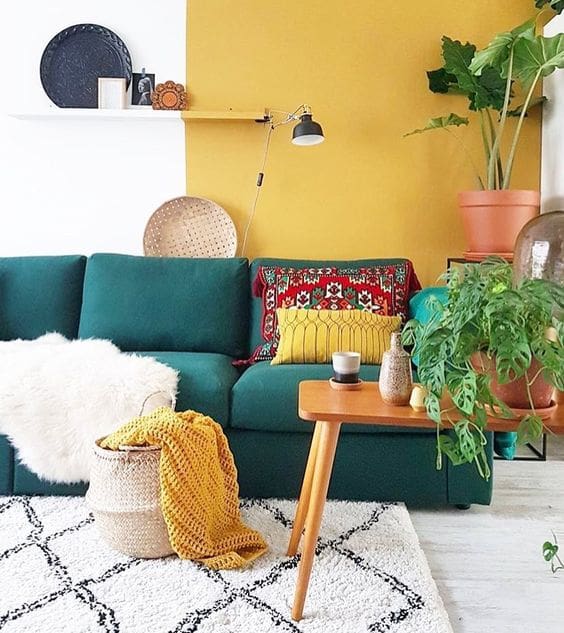 PHOTO: INSTAGRAM @AYS.STYLE
3. Green and Cherry Pink
Want a create a romantic and visually intriguing space? If so, then green and cherry pink should be on your radar. Cherry pink lends a soft and delicate feel to a space while green creates a calming feel and beautiful contrasts.
PHOTO: PINTEREST KBAC FLOORING
4. Green and Terracotta
Terracotta is a type of fired clay that looks orangey with a tinge of brown. Just like green, this color can add an organic touch to a space. The color combinations of green and terracotta are perfect for creating nature-inspired and characterful spaces.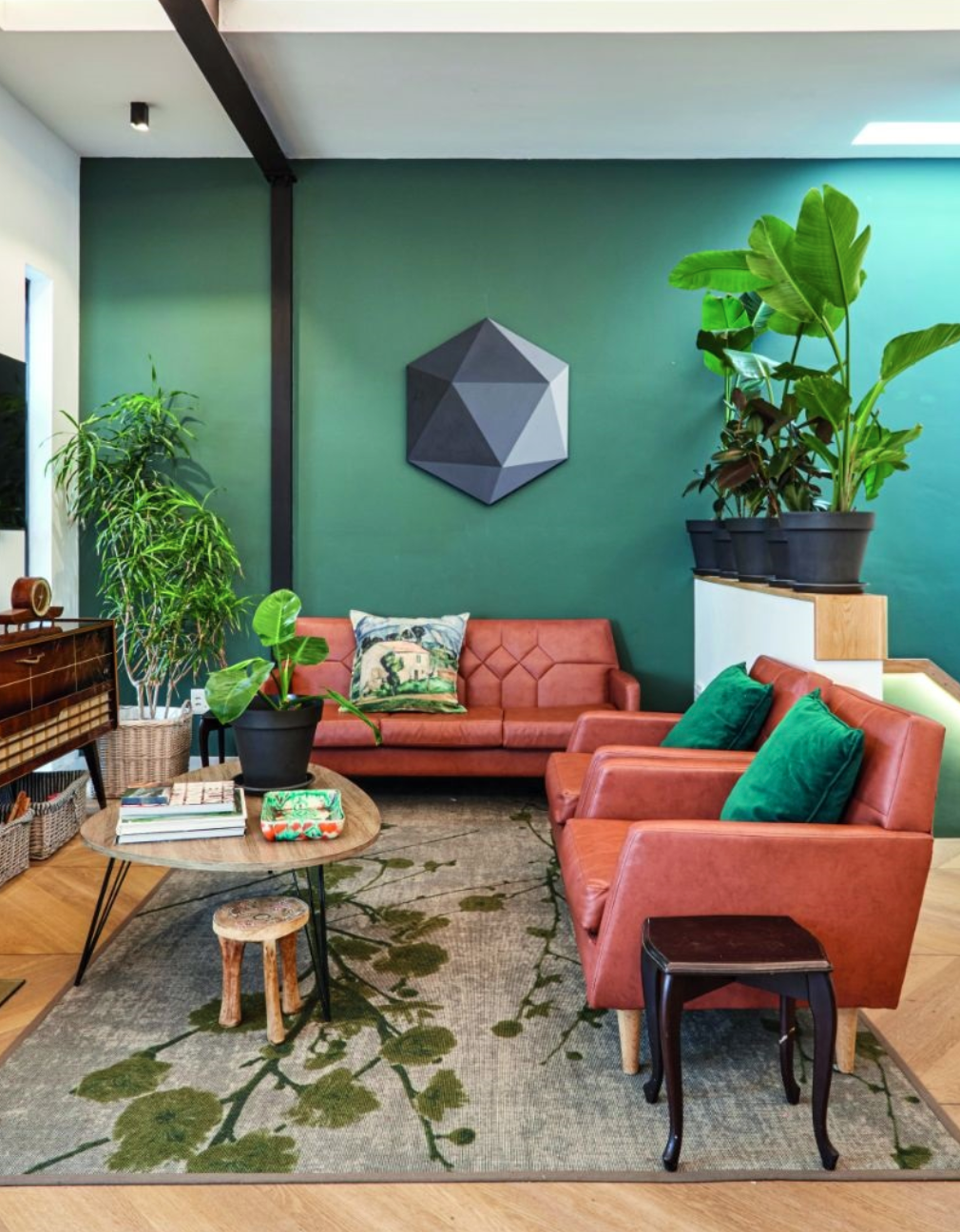 PHOTO: KBAC FLOORING
5. Dark Green and Light Blue
A dark green and light blue color scheme is the picture of charm. Light blue brings an airy, refreshing, and relaxing atmosphere to a space while dark green injects coziness and warmth into the space. For a convivial touch, use light grey or beige as an accent color to the scheme.
PHOTO: ADAIRS
6. Bold Green and Bold Pink
If you're a maximalist who emulates the richer parts of life, bold green and pink may be perfect for you. It is great for adding a sense of fun and whimsy to your home. Use evenly bold hues, and other vibrant accent colors to make the design even more striking in appearance.
PHOTO: BUTTON AND SPRUNG
7. Emerald Green and New York Pink
This color pair is sure to demand attention in any room. New pink is richer dusty pink that is commonly used as a neutral color. Emerald green is a sophisticated and timeless hue that can lend a polished aesthetic to an otherwise minimalist scheme.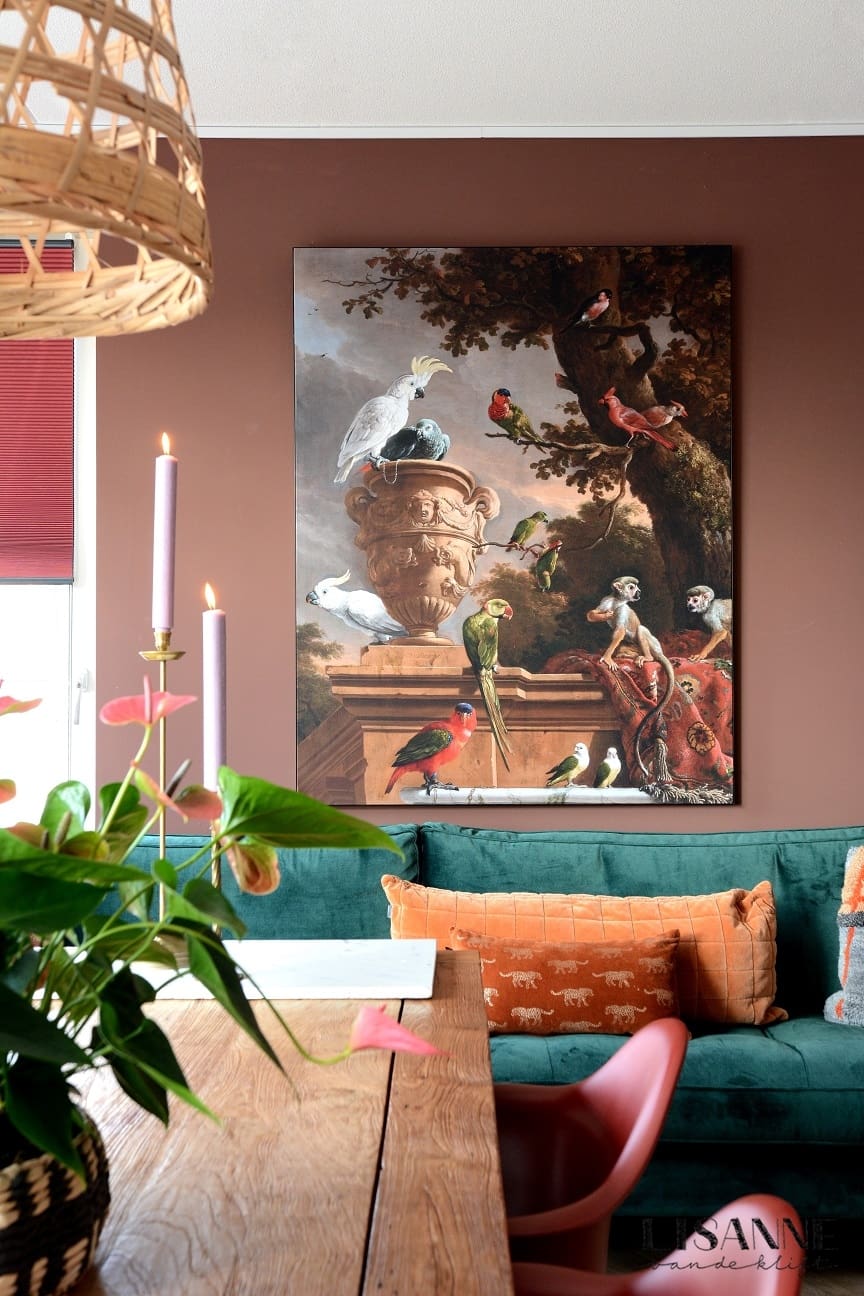 PHOTO: LISANNE VANDELIFT
8. Dark Green and Fuchsia
Fuchia is a vivid shade of pink with a purplish-red undertone. Simply put, it is a color in between pink and purple in the color wheel. This color can add a dramatic focal point to a space when paired against green. In color psychology, fuchsia is believed to convey feelings of self-confidence, assertiveness, and assurance.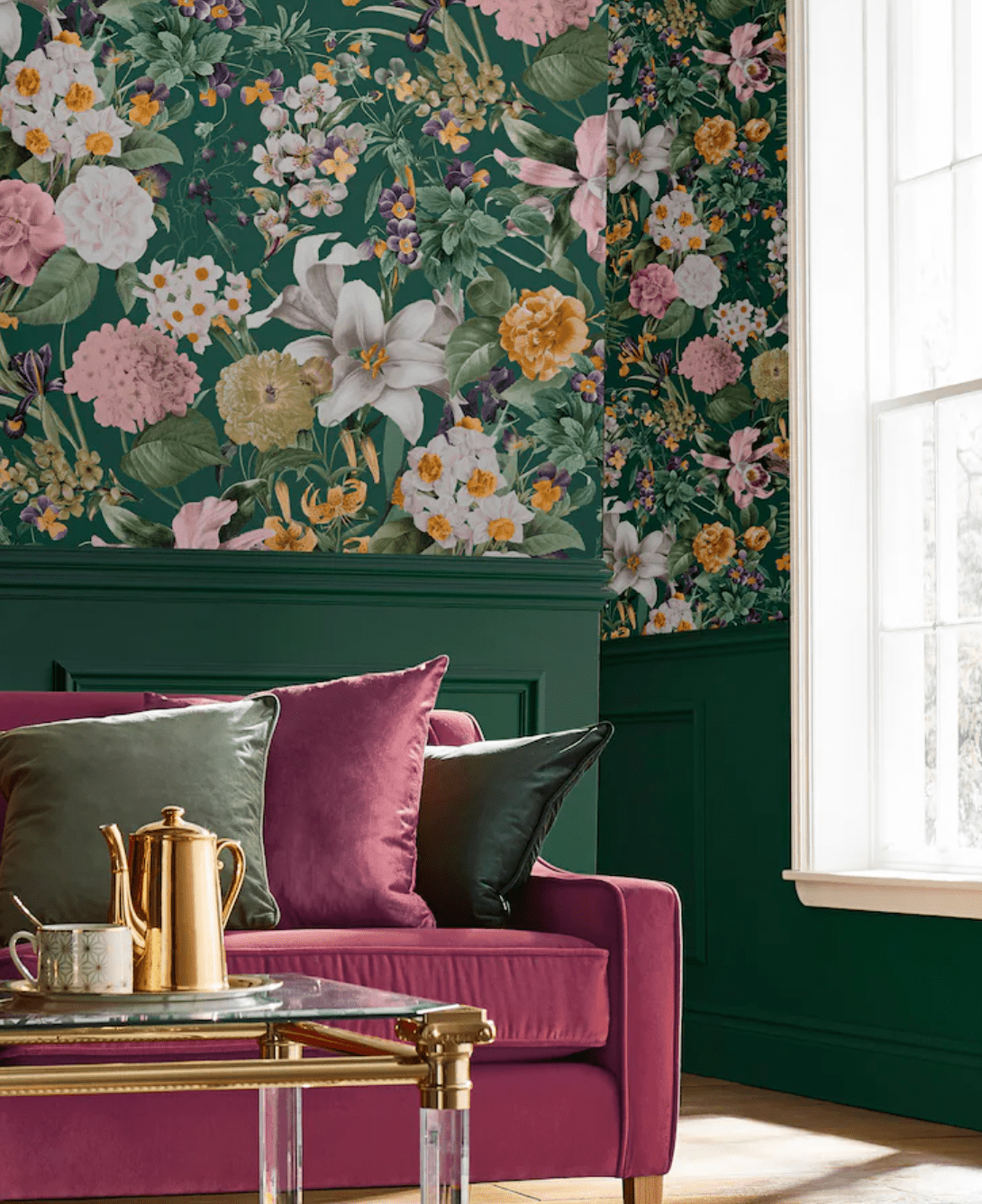 PHOTO: NEXT LUXURY
9. Green and Celadon
Celadon and green is a striking pair that does not overwhelm a space. Some unexpected color palettes like this can make the biggest statement. To add a refreshingly contemporary twist to the color scheme, use orange or yellow as a warm accent to this color scheme.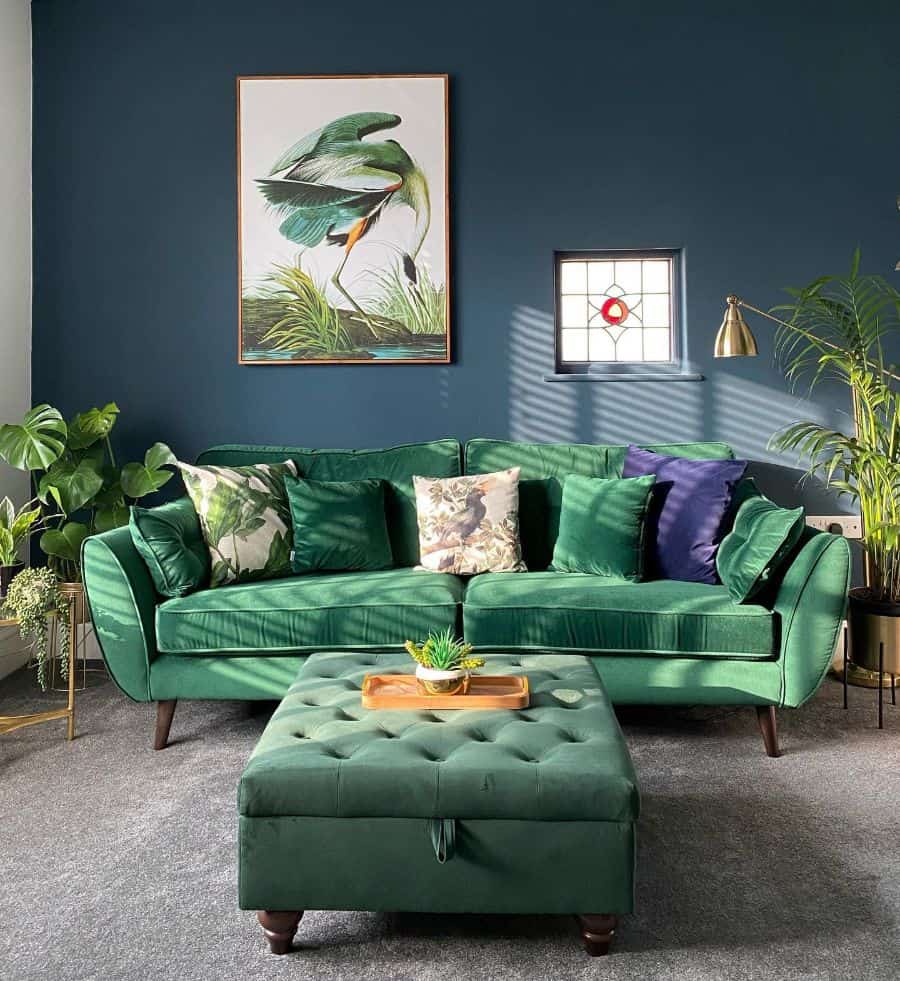 PHOTO: INSTAGRAM @SOPHIE_THE1920SBUNGALOW
10. Dark Green and Pale Yellow
We can go on and on about how versatile green is but there's something quite unique about green and yellow— particularly color combinations of green and pale yellow. This pair can create a moody yet cheerful ambiance.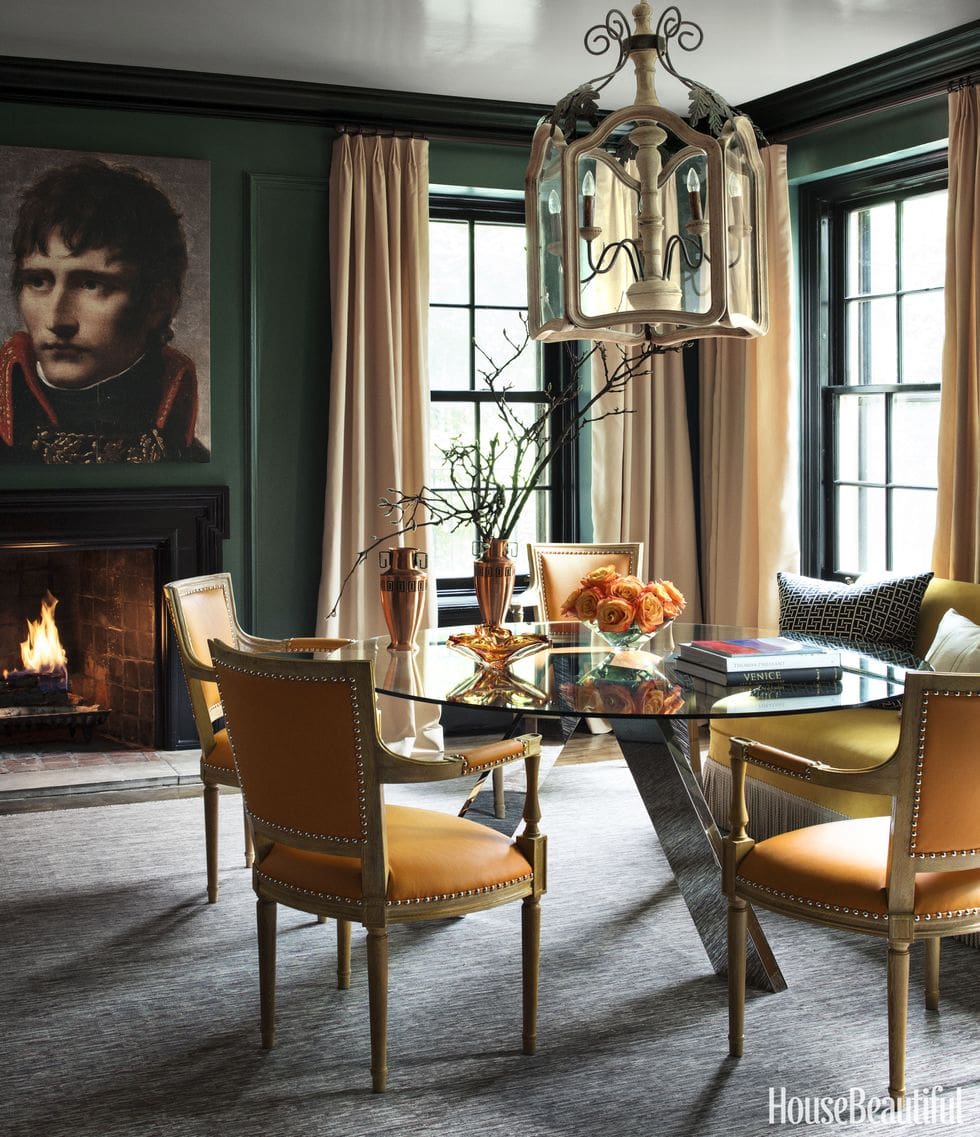 PHOTO: PAUL RAESIDE
11. Emerald Green and Pale Orange
If you're looking for a color scheme that packs a big punch without appearing tacky, the emerald green and pale orange may be ideal for your aesthetic needs. Emerald green is great for adding an instant touch of drama while pale orange can infuse warmth and charm to the space.
PHOTO: MALCOME MENZIES
12. Emerald Green and Mustard Yellow
To add dramatic flair and richness to a space, grab onto the emerald green and mustard yellow. It is bold, demure, and classy. These color combinations of green can instantly take a space from basic to luxurious.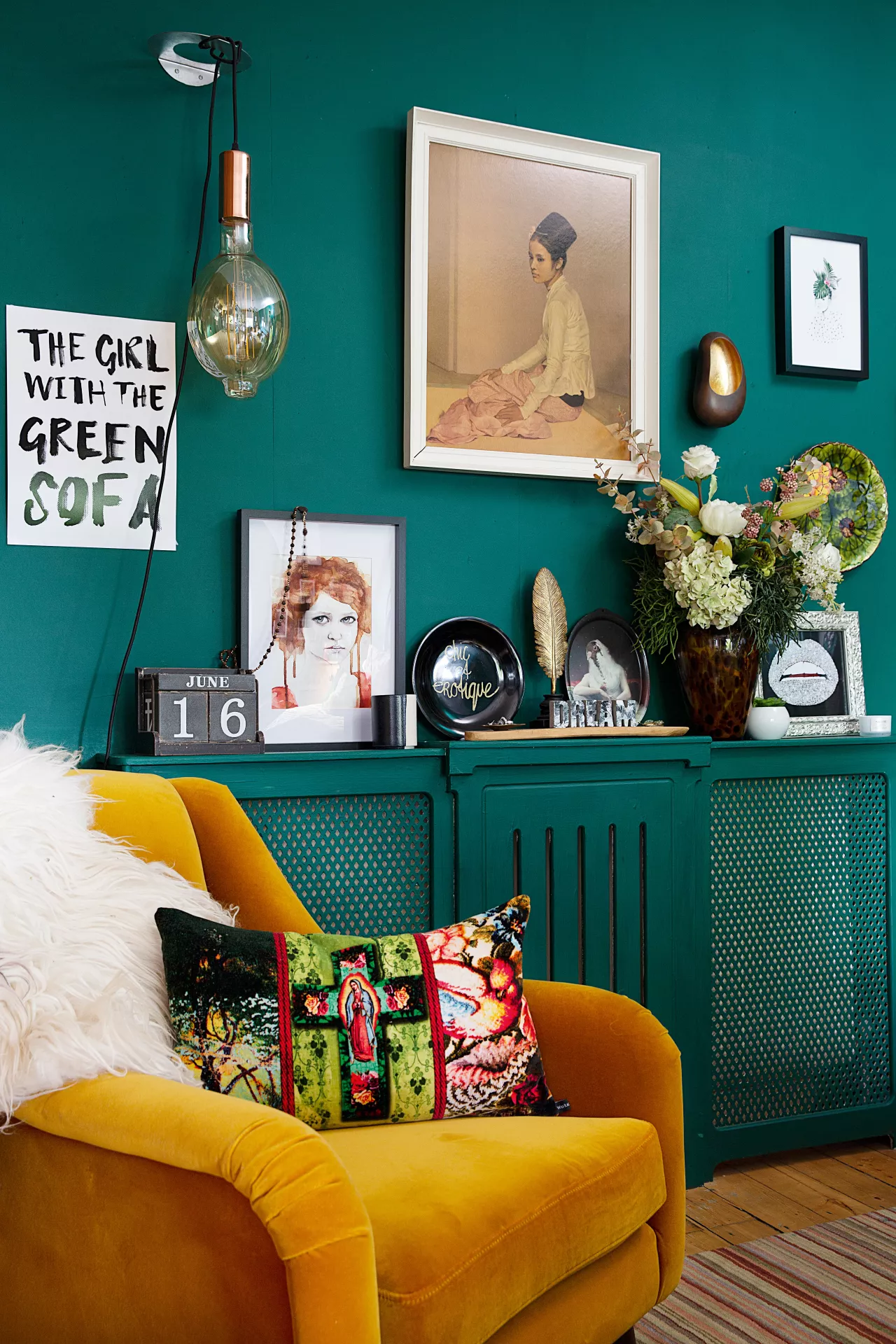 PHOTO: KATIE LEE
13. Mint Green and Blue
Who doesn't like a space that feels bright, clean, and tranquil? Mint green is a masterful way to add these characteristics to your home. When combined with blue, they can make for a lavish duo. Soft blush pink may be added to the color palette to lend coziness and a calming contrast to the space.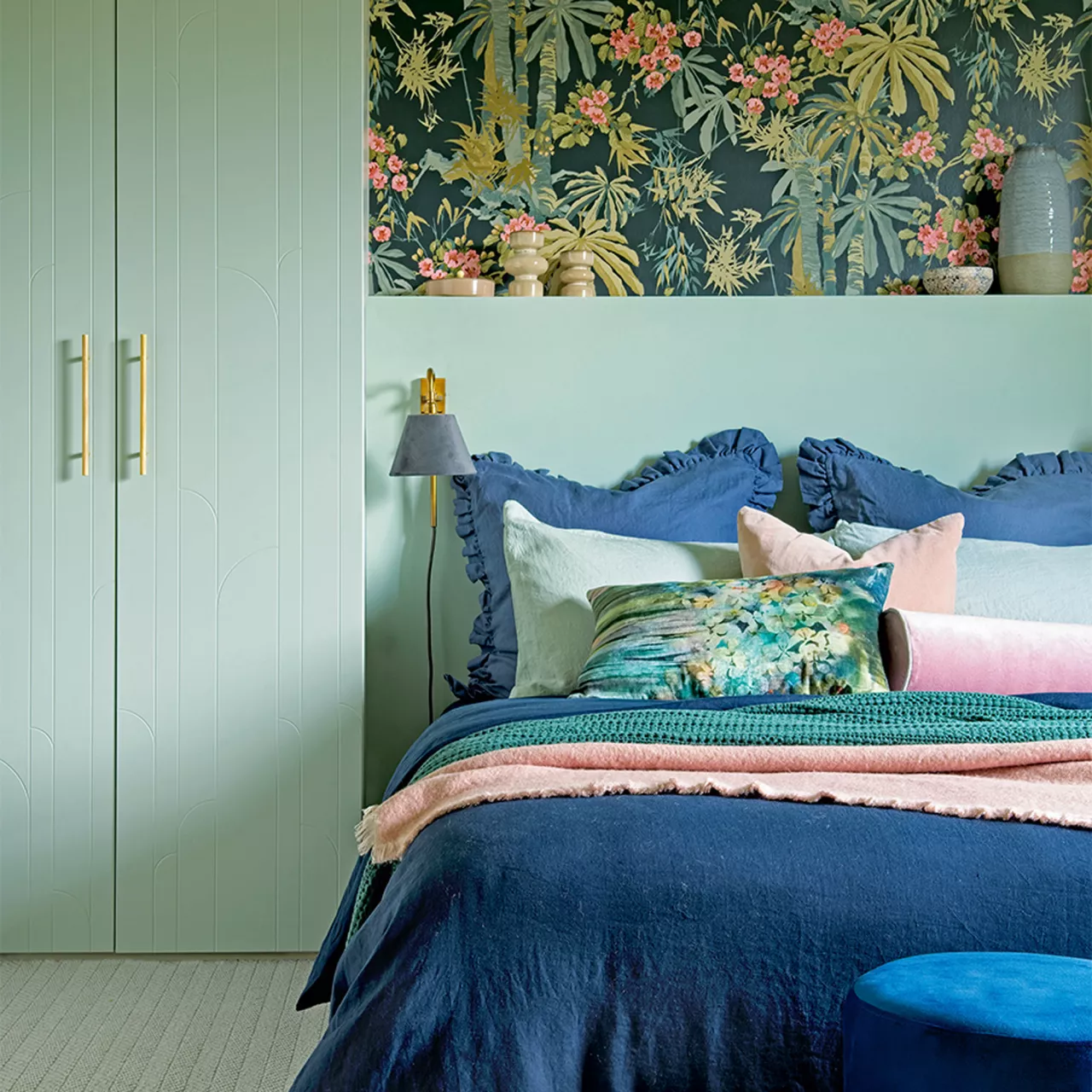 PHOTO: FUTURE PLC/DOMINIC BLACKMORE
14. Emerald Green and Blush Pink
It's no surprise that emerald is one of the most desirable shades of green. It lends opulence and luxurious touch to a space. Blush pink and emerald green might be an unbeatable color combination.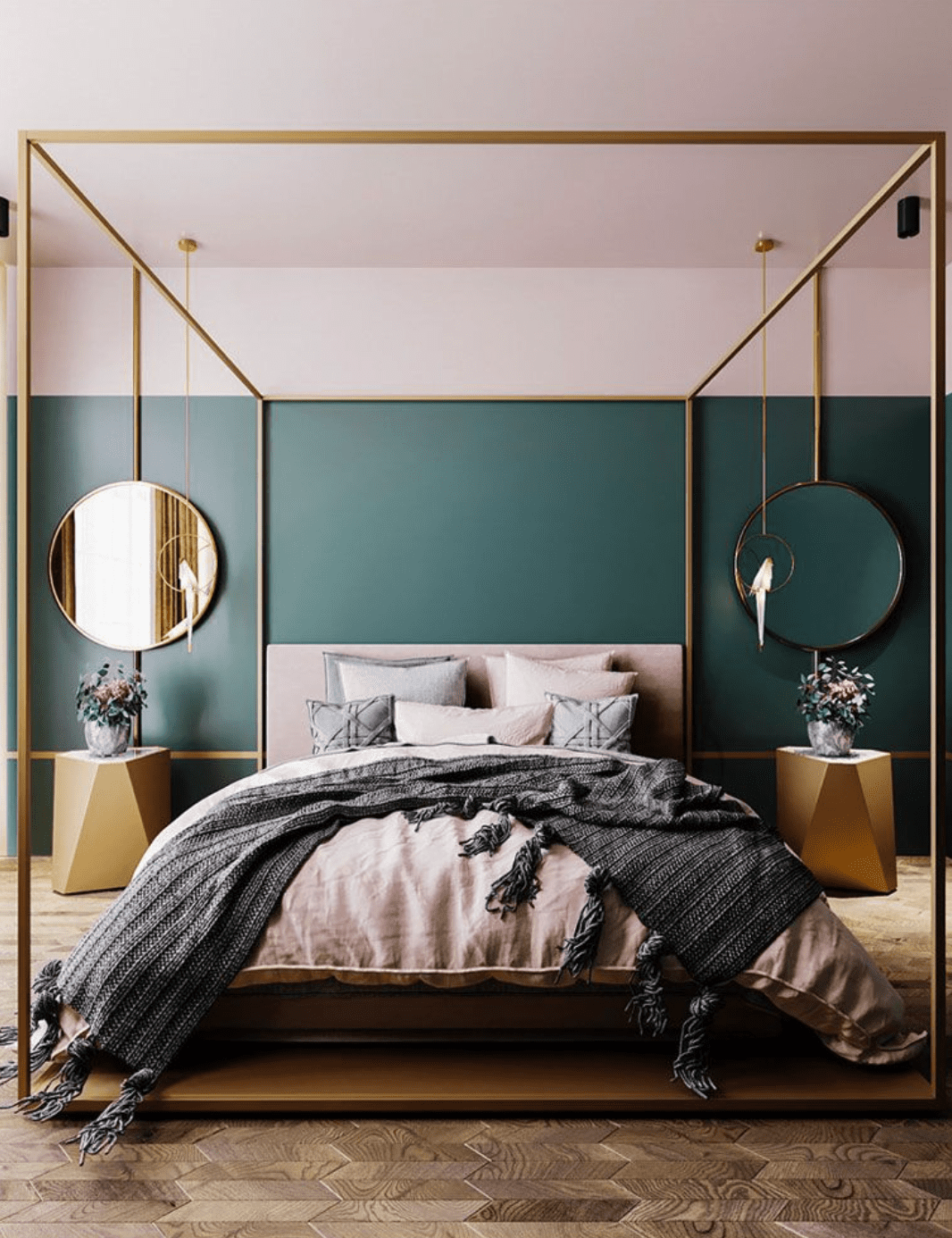 PHOTO: LITTLE GREENE HEIDI MARFITT
15. Dark Green and Turquoise
Green and turquoise are a two-color combination that may not be common, but this is the proof in the pudding that green will work brilliantly well with any color. This pair radiates elegance and sophistication. Gold-colored accents can help to elevate the luxurious feel of the space.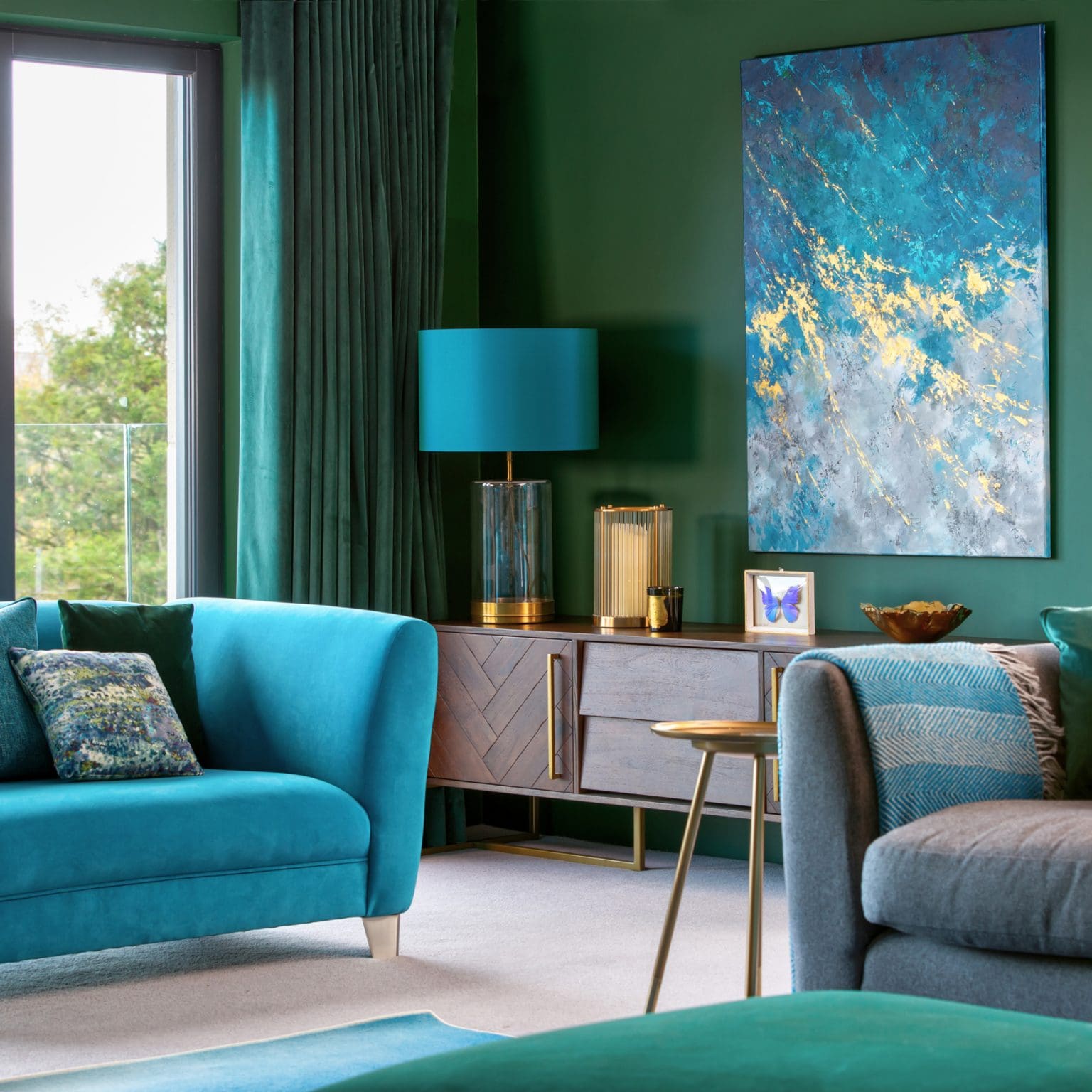 PHOTO: HEIDI MARFITT
16. Dark Green and Light Pink
Introduce a touch of light pink to your dark green color scheme to give it a delicate and calming effect. The color combinations of green and light pink are a fusion of elegance and modernity.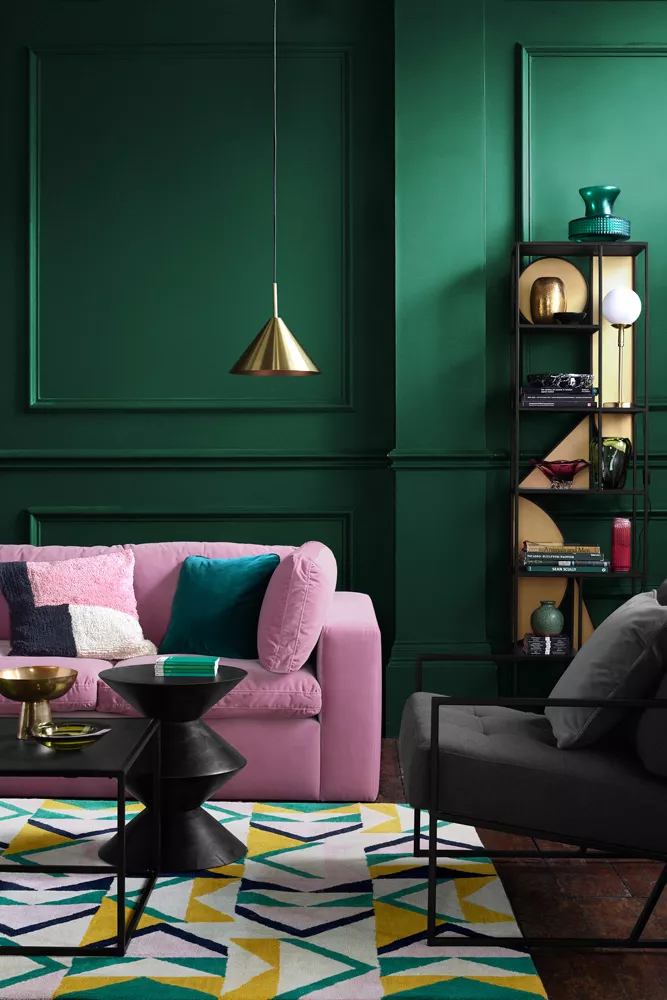 PHOTO: SWOON EDITIONS
17. Seafoam Green and Blush Pink
Seafoam green can lend a refined sense of style to any room. It is a wall paint color that feels tremendously soothing and relaxing. The most ideal color to suit this shade of green is blush pink.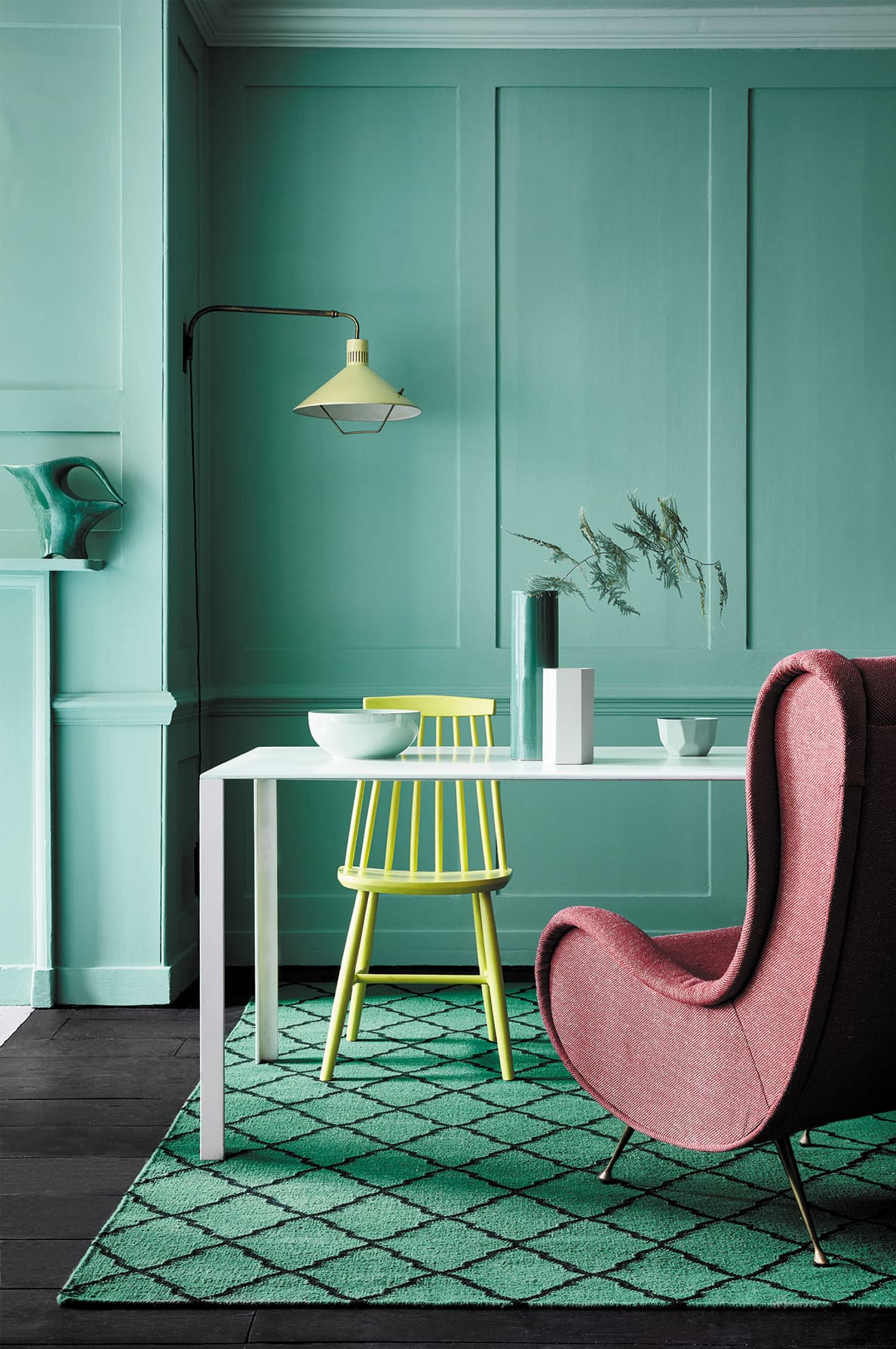 PHOTO: LITTLE GREENE
18. Dark Green and Dusty Peach
Color combinations of green and dusty pink create a laid-back and cozy environment. Dusty pink has a beige undertone which makes it a hip new neutral. It blends seamlessly and stylishly with dark green.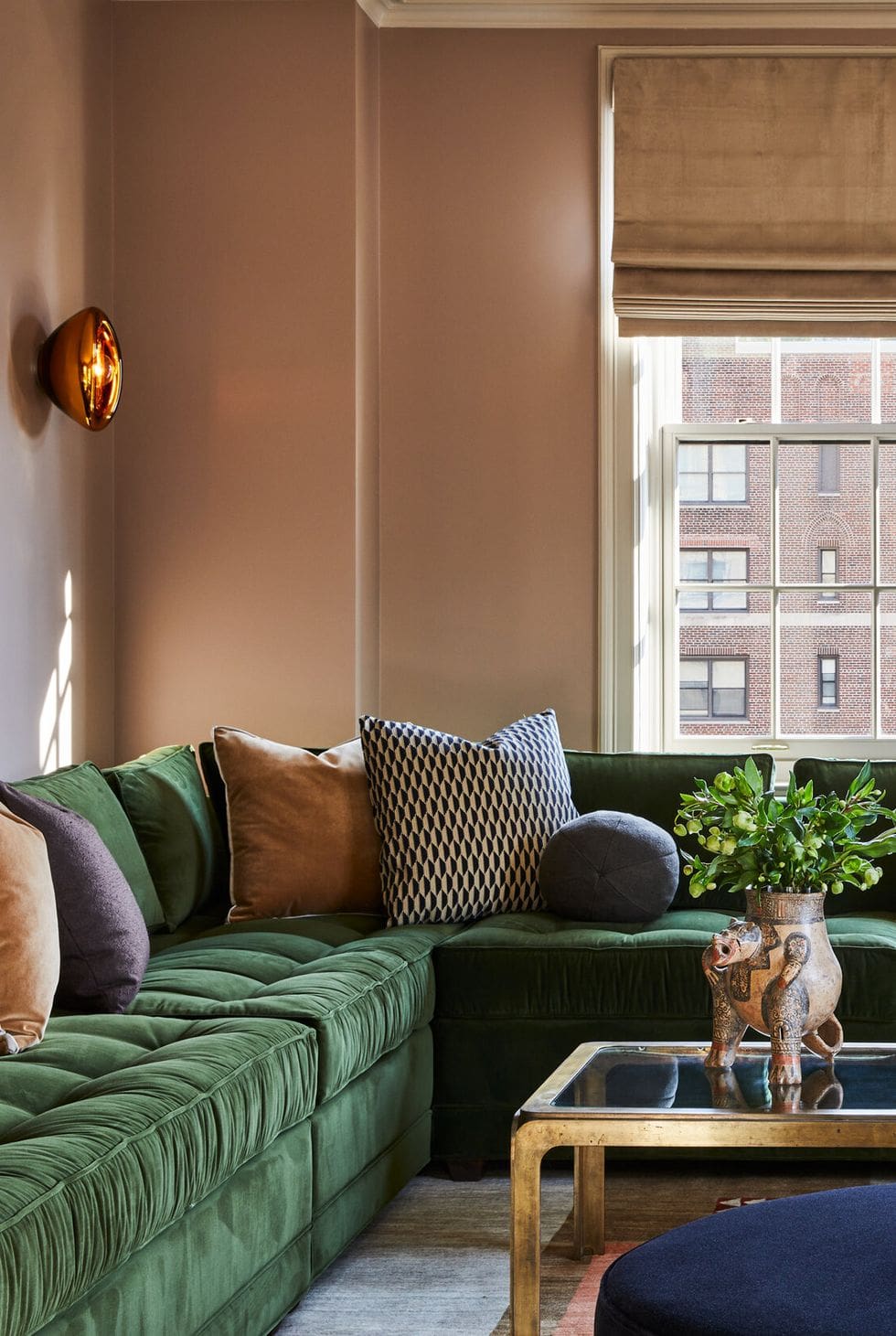 PHOTO: NICOLE FRANZEN
19. Emerald Green and Hot Pink
Just like emerald green, hot pink can make a bold style statement. Hot pink helps to ground green emerald and the green emerald makes the hot pink pop like never before— this makes them a great pair.
PHOTO: NORTHWOOD
20. Light Green and Cyan Blue
What makes cyan blue unique is its dynamic energy which can help add brighten up and add excitement to a color scheme. This color looks spectacular when paired with light green. The warmth and texture of natural wood can also help to add aesthetic value to the room.
PHOTO: PINTEREST
21. Emerald Green and Klein Blue
Emerald green and Klein blue is an unusual pair but can be used to create a refined moody scheme. These color combinations of green add a lot of unique personality to any room.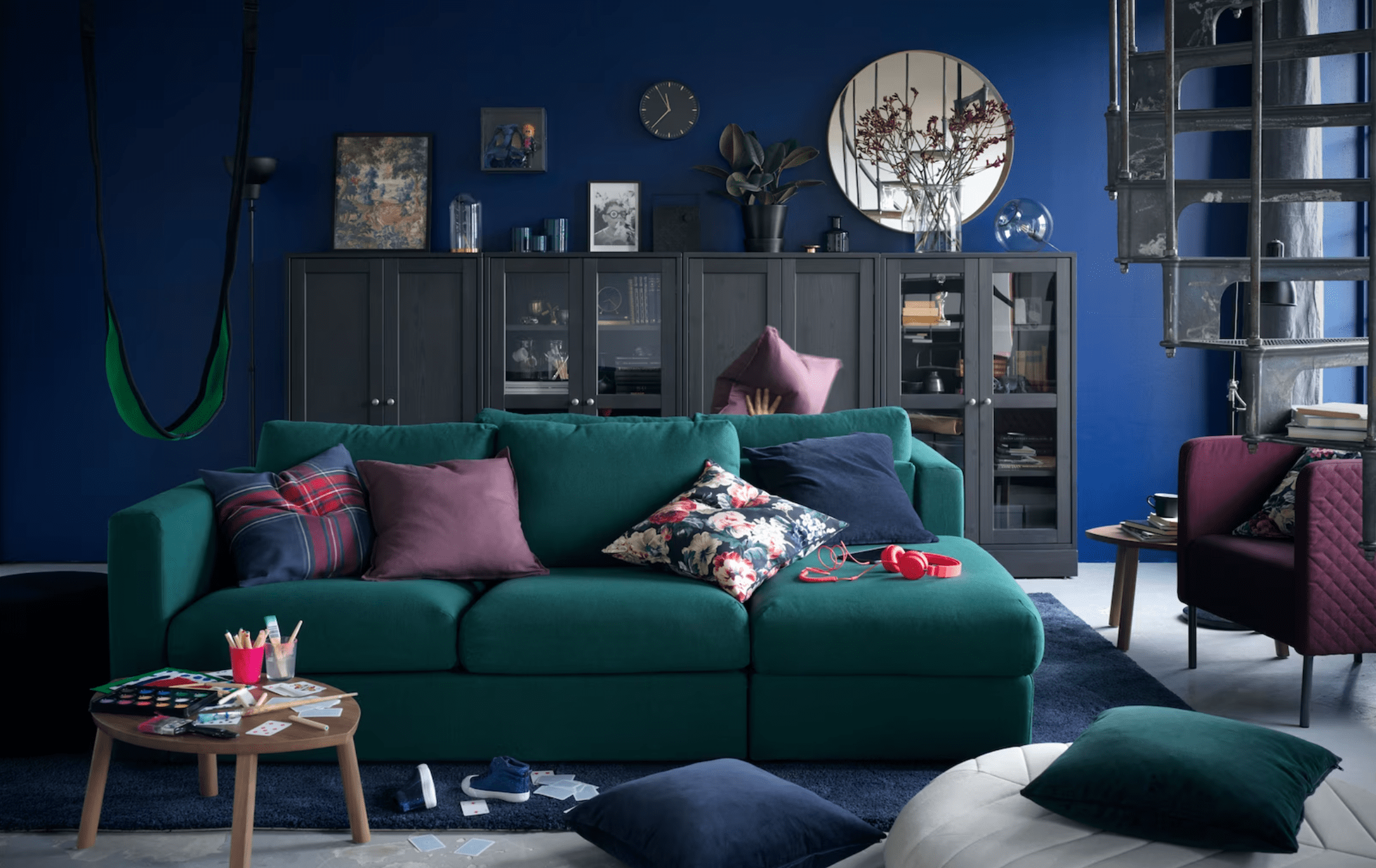 PHOTO: IKEA
22. Seafoam Green and Purple
Seafoam green and purple is an unexpected two-color combination you probably didn't see coming— but it can significantly brighten and transform a mundane room. These colors can easily curate a statement-making design.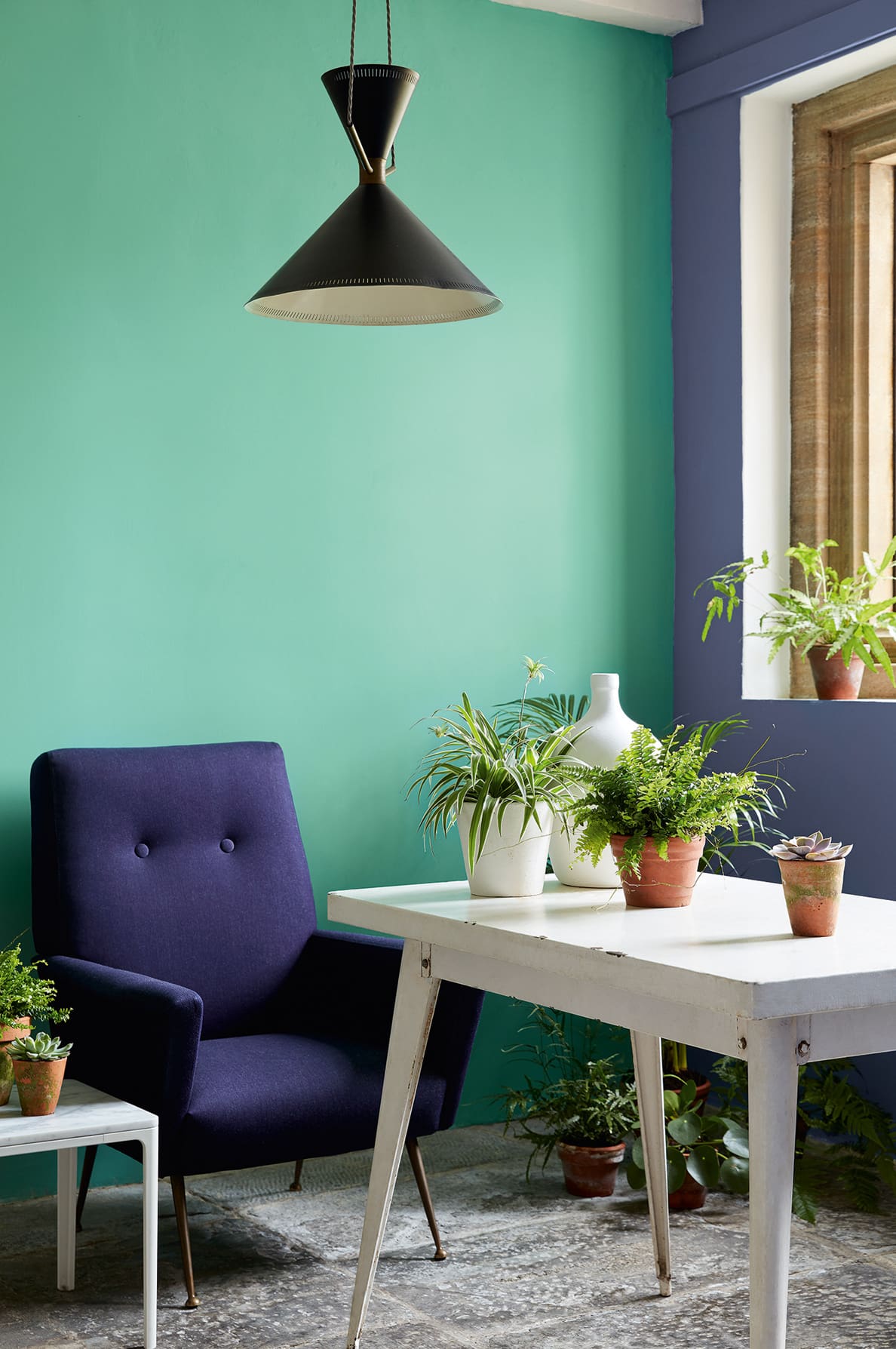 PHOTO: LITTLE GREENE
23. Green and Coral
Coral is a vibrant hue that can instantly add energy to a room. When paired with green, whether in a light or dark shade, it amplifies a room's overall aesthetics.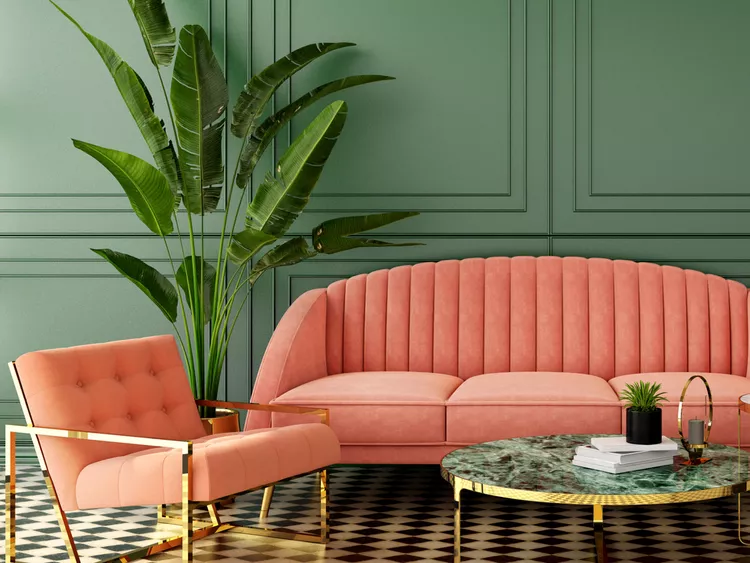 PHOTO: GETTY IMAGES
24. Green and Mustard Yellow
Mustard yellow can brighten up a space and make it feel lived-in and authentic. Consider using yellow where you want to draw attention and green, in darker shades, as a calming backdrop.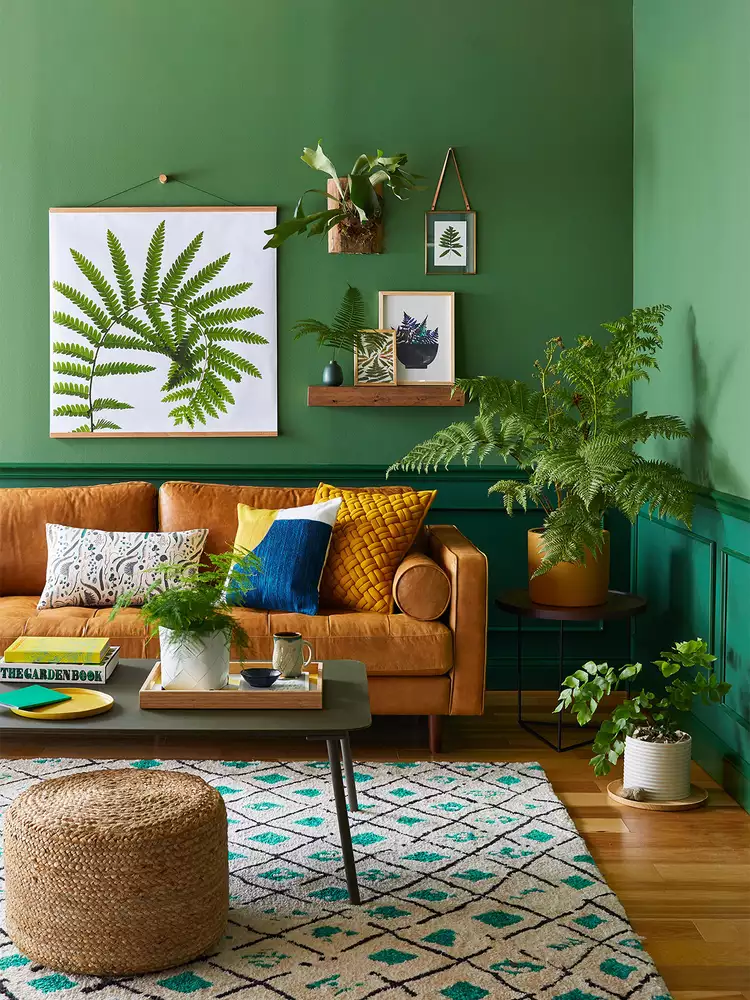 PHOTO: CARSON DOWNING
25. Moss Green and Dusty Rose
Moss green is a mid-to-dark-green hue, resembling the color of moss. When combined with dusty pink, it makes it feel fresh rather than kitschy.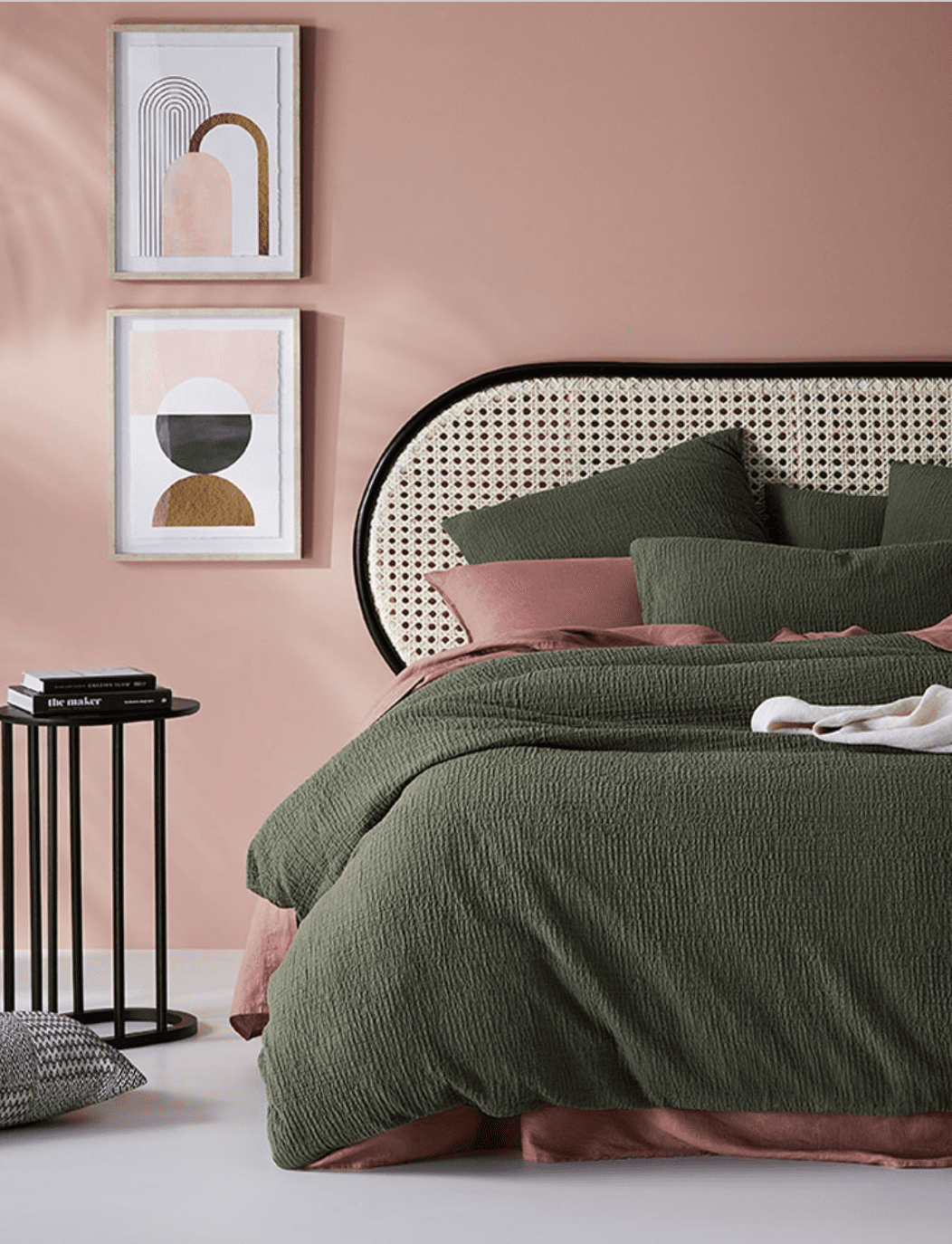 PHOTO: ADAIRS
26. Emerald Green and Burnt Orange
There are myriad color combinations of green to choose from but if you want a color scheme that is classic, elegant, and moody to choose from, then consider emerald green and burnt orange. Keep it interesting with yellow accents.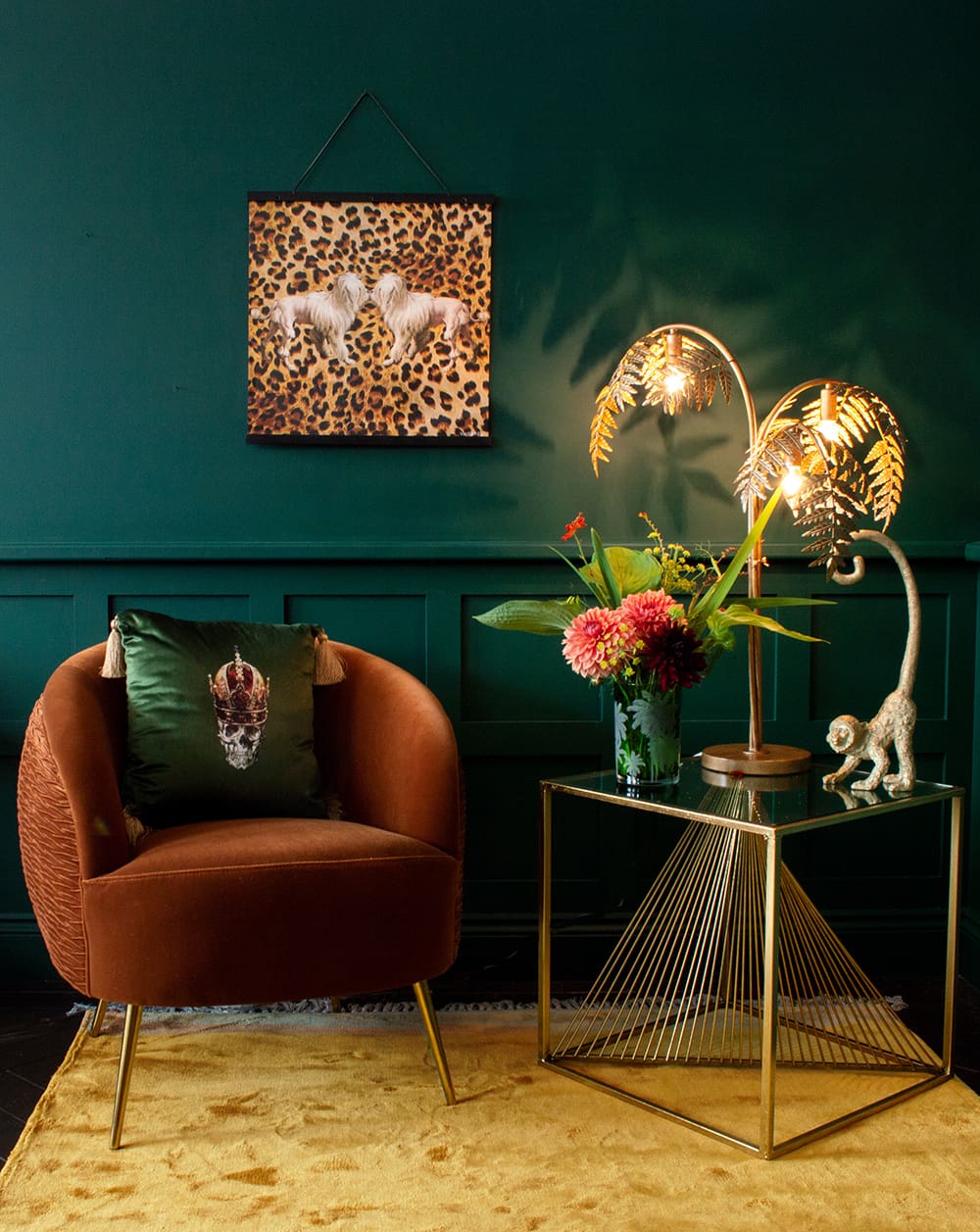 27. Green and Salmon Pink
This shade of pink is the dominant color in salmon and is seen as a color of hope, good health, and happiness. It is a delicate and crowding-pleasing hue that can be combined with green to make a space feel relaxing and chic.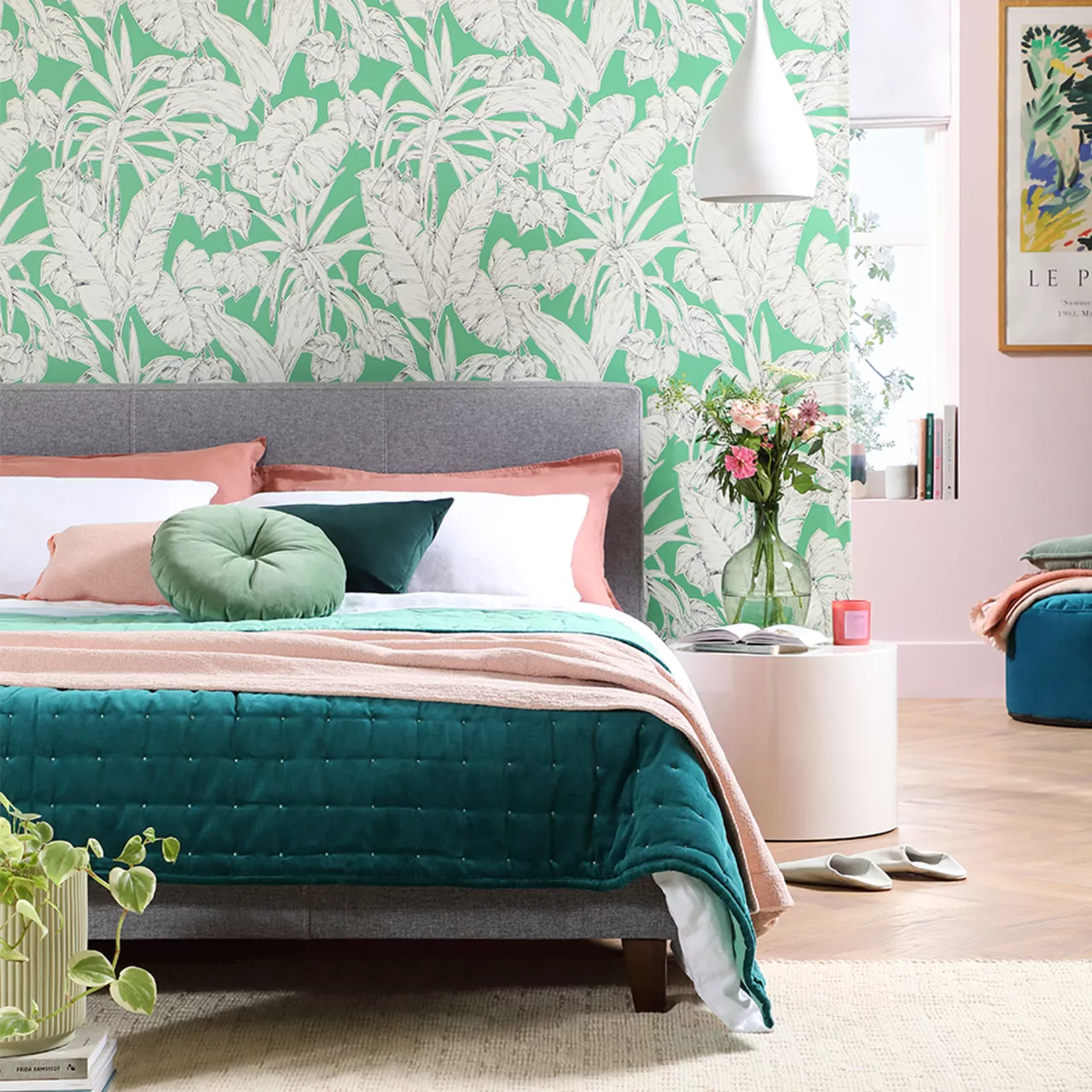 PHOTO: FURNITURE AND CHOICE
28. Light Green and Pale Pink
There are some color combinations of green that are best suited for minimalistic spaces, one of these are light green and pale pink. Both of these colors are easy on the eyes and allow natural light to flood the space.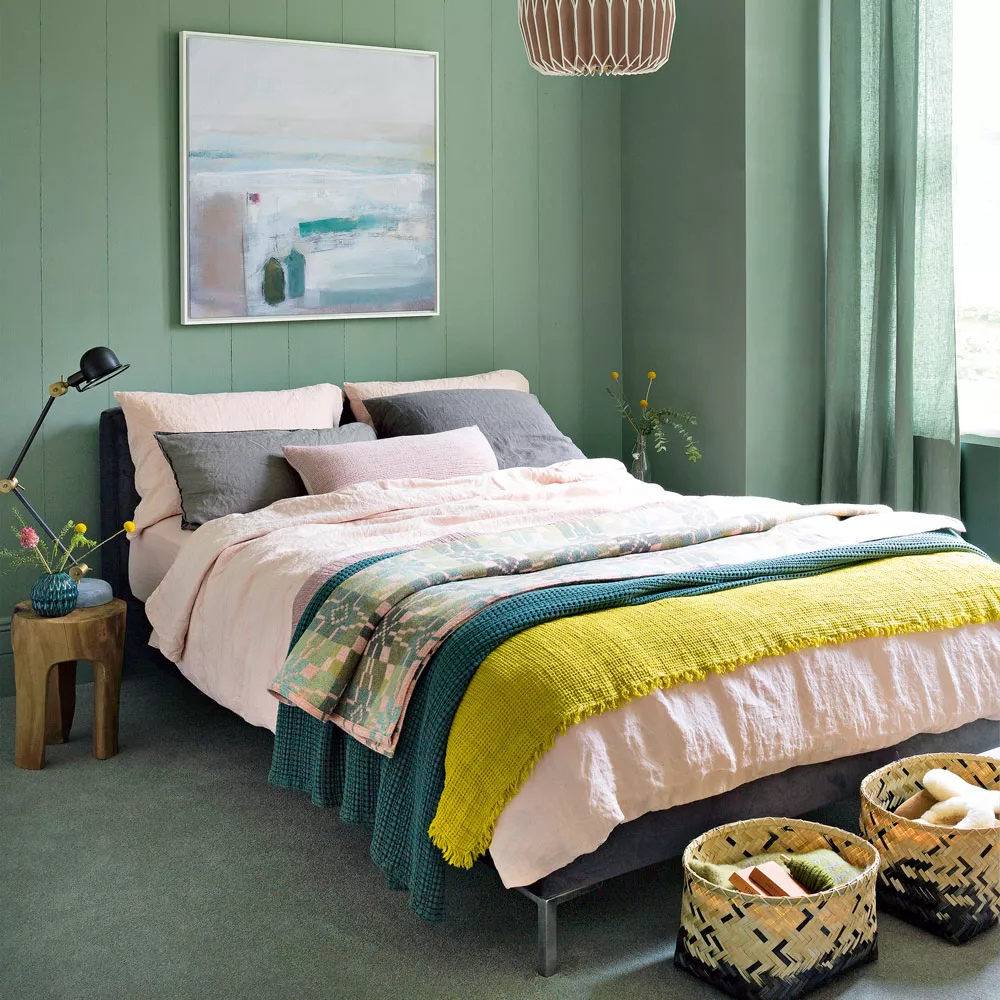 PHOTO: FUTURE PLC/DOMINIC BLACKMORE
29. Moss Green and Blush Pink
Blush pink can help to liven up and soften the moss green. Together, they create a soothing ambiance. The best approach to this scheme is to use green as the primary color and blush pink as the secondary or accent color.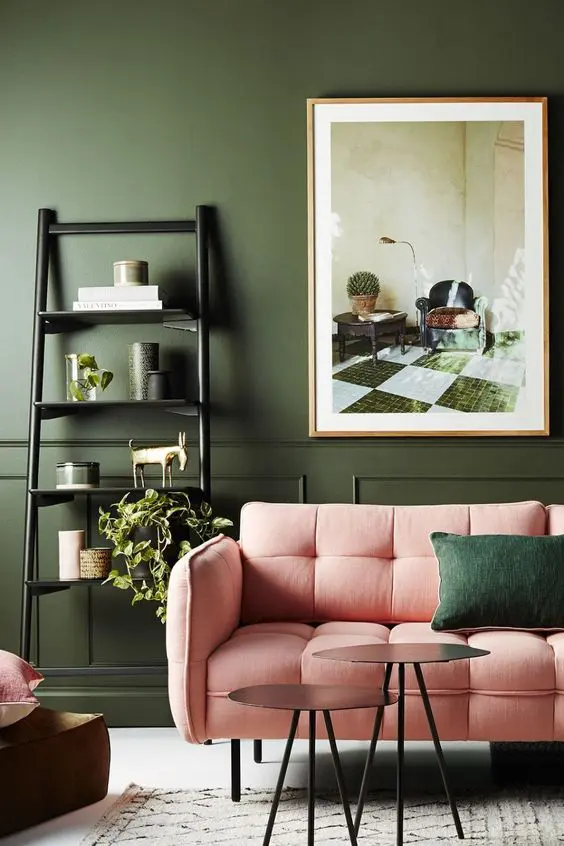 PHOTO: DECO DWELLING
30. Emerald Green and Brown
Brown is a characterful earthy neutral that work with all color scheme. Most natural wood tones are brown and we know that they add warmth and rustic charm to a space. Brown retains the same neutrality as black but it's warmer than black.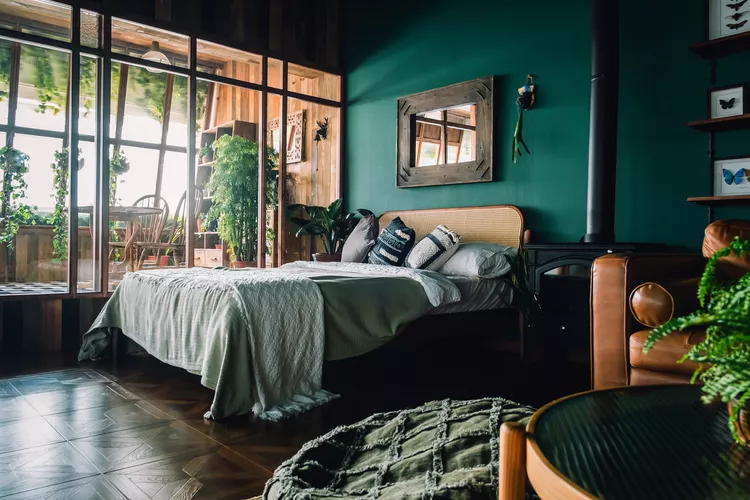 PHOTO: ASIAVISION / GETTY IMAGES
31. Emerald Green and Orange
Orange two color combination can pack a big punch. It is a designer's go-to for an instant touch of drama. Unsurprisingly, it is also a great pair of emerald green. If the vibrancy of orange is too strong for your space, use paler shades instead.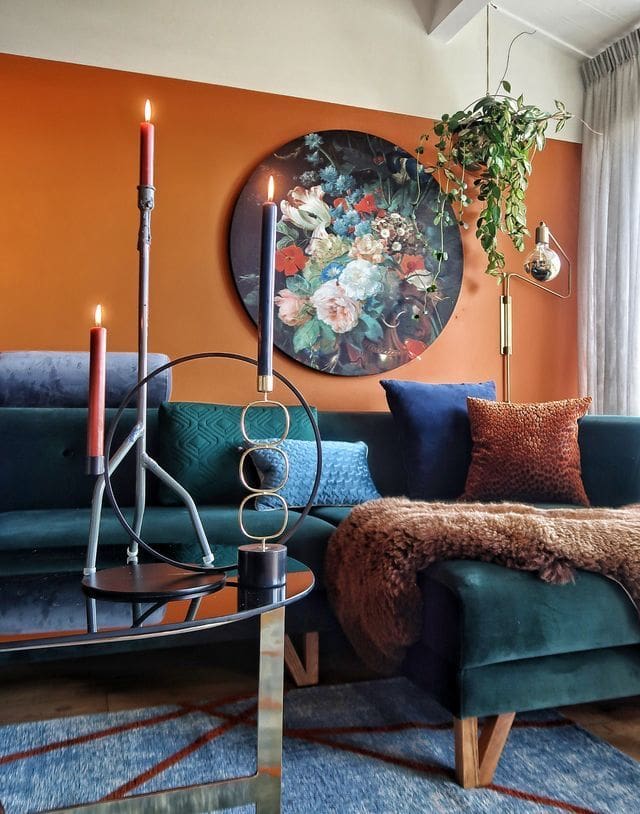 PHOTO: PINTEREST
32. Mint Green and Fuchsia
Want your home to also feel spring clean all year round? Mint green and fuchsia may just be the ideal two color combination for you. Mint green is a great hue for grounding vibrant colors like fuchsia.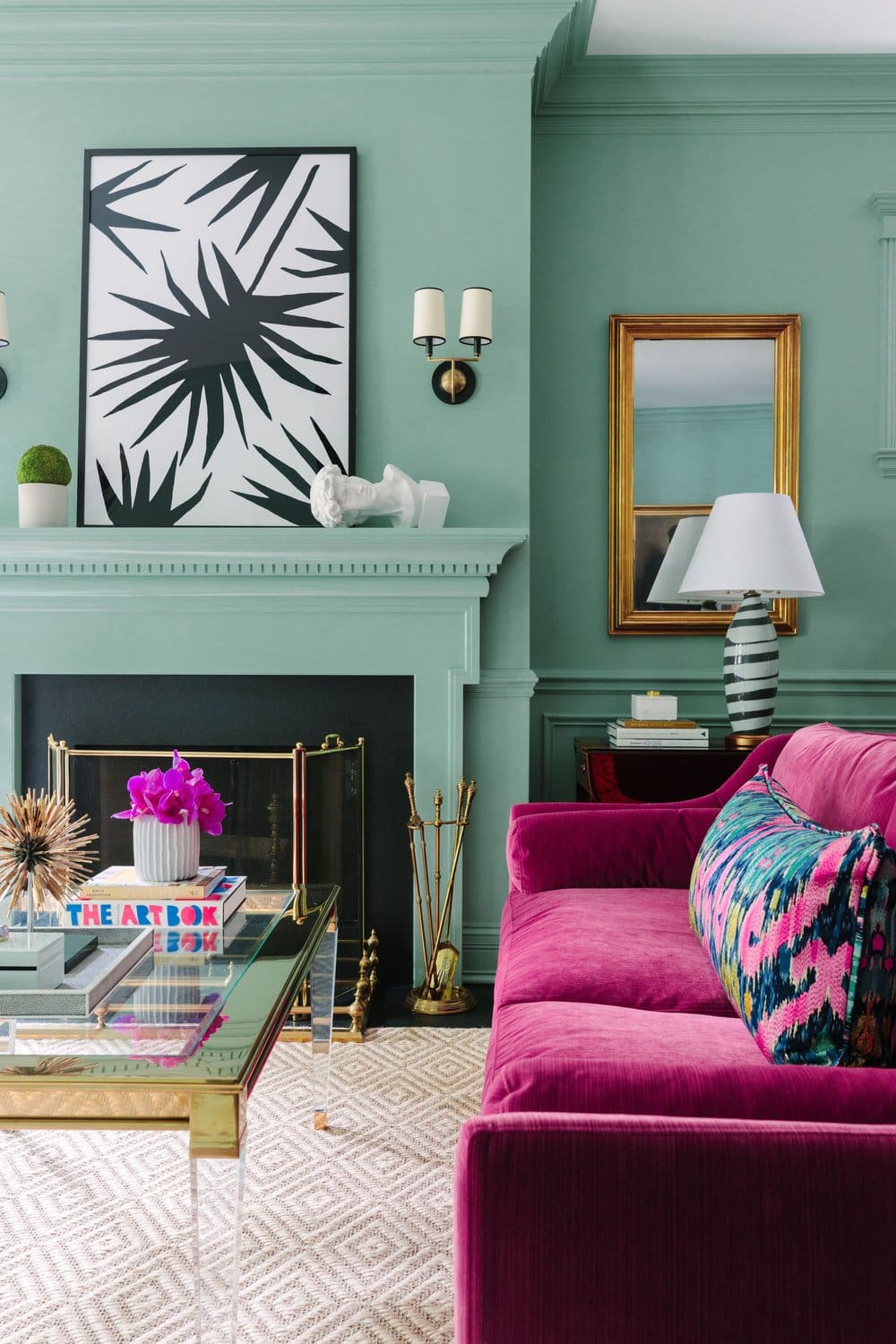 PHOTO: SARAH VAILE DESIGN
33. Light Green and Red
Red is green are a perfect contrast on the color wheel. Most people shy away from using red in interior spaces but it is a great accent color to maximize interest. For a daring and dramatic color scheme to endure throughout time, combine red and light green.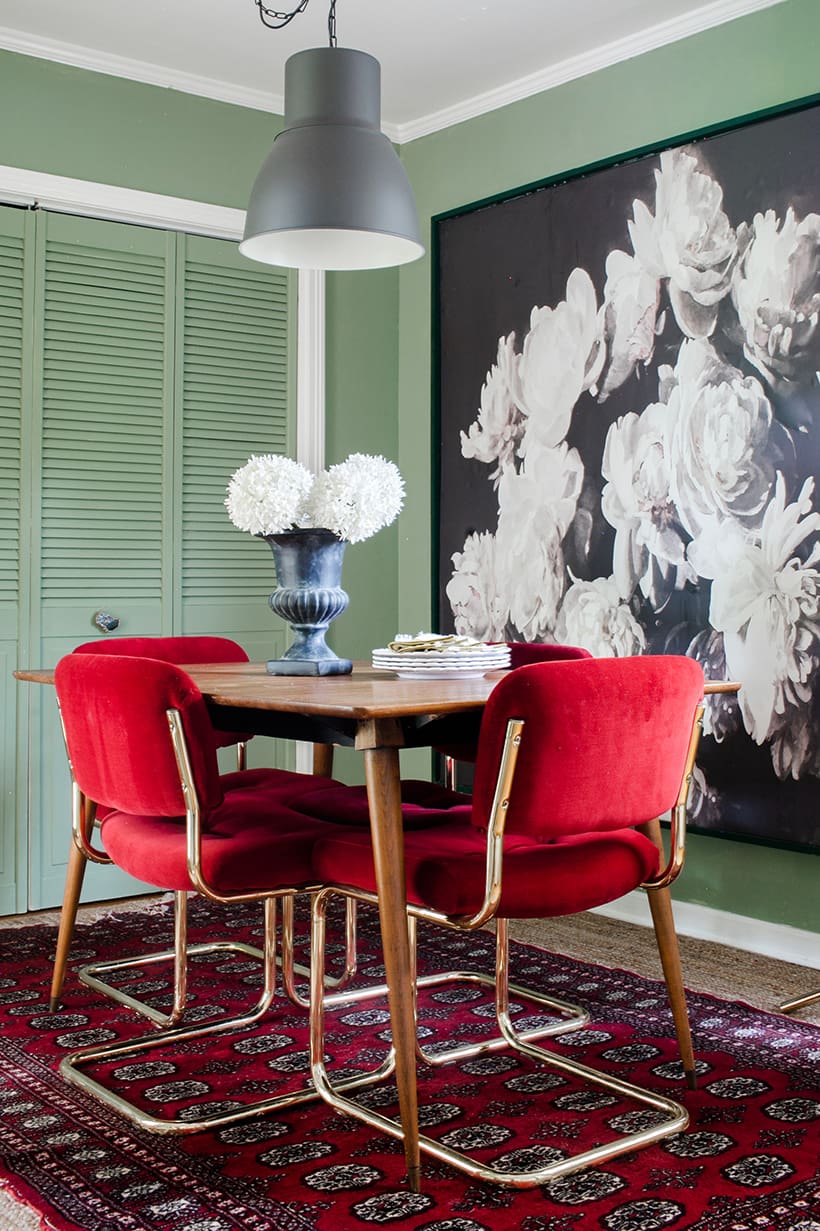 PHOTO: CAMILLE STYLES
34. Dark Green and Dark Blue
Pairing dark hues creates a moody scheme which gives a room a soothing and cozy ambiance. This color combination lends a lot of personality to any room.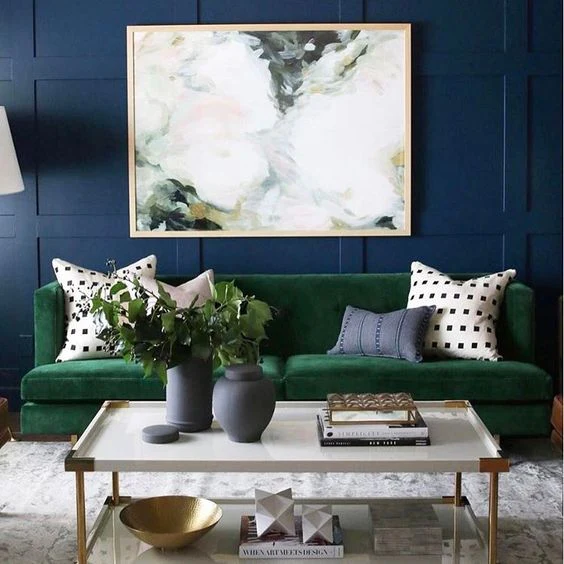 PHOTO: STUDIO MCGEE
35. Dark Green and Navy Blue
Strong associations exist between black and other dark colors such as navy blue and dark green. These hues convey majesty, mystery, drama, and elegance. Dark hues may provide warmth to a space, making a sterile space feel cozier.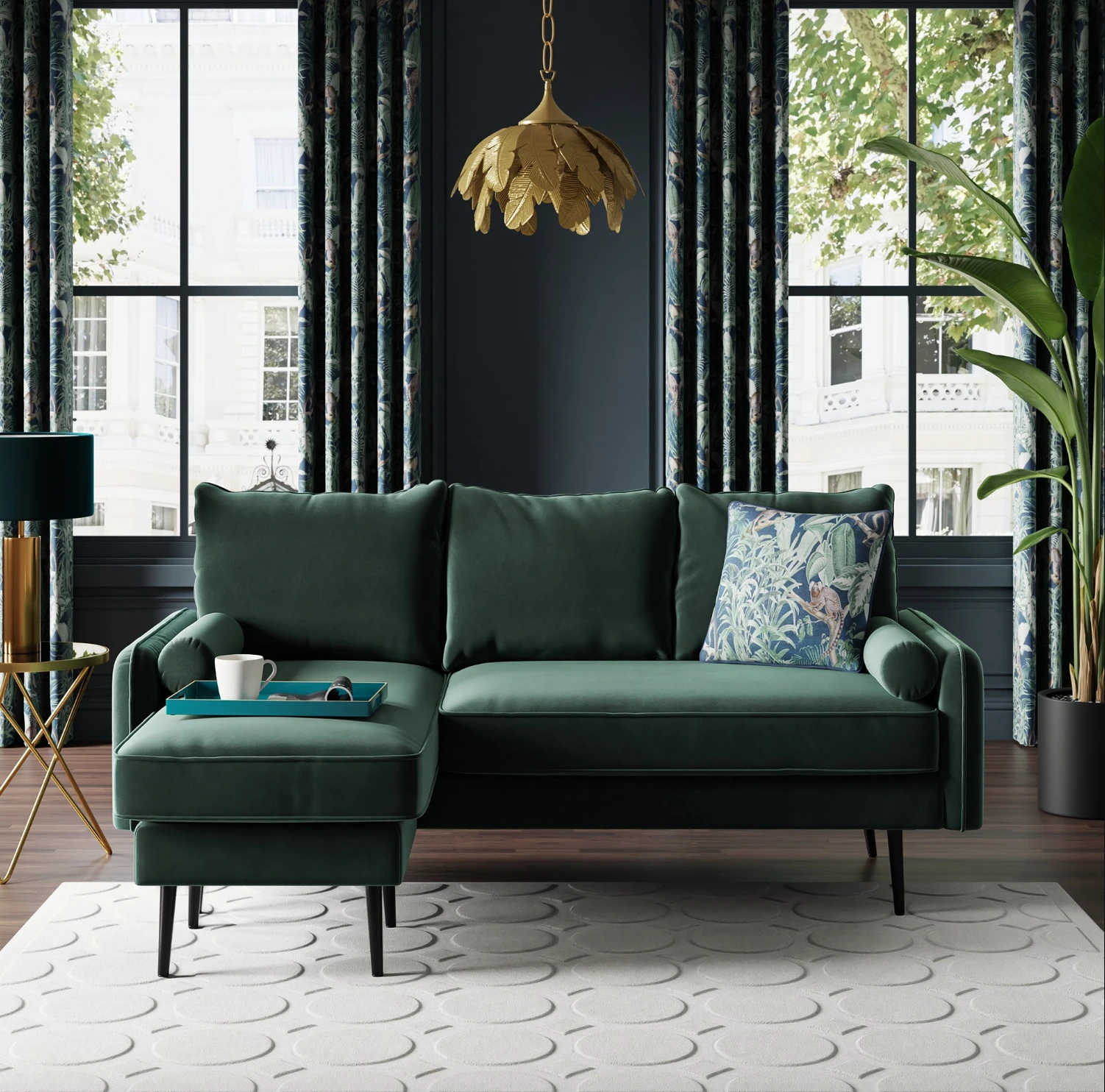 PHOTO: DUNELM 
36. Dark Green and Peach
Light peach pastels convey feelings of friendliness, warmth, and sweetness. Consider employing a peach and dark green color palette when designing the interior of your home to create a relaxing and welcoming atmosphere.
PHOTO: STACY ZARIN GOLDBERG
37. Dark Green and Light Steel Blue
Light steel blue is a muted, peaceful and cheerful shade of blue. This is one color combination of green that create a sophisticated moody scheme. Keep in mind that dark colors make a space feel smaller, so be weary if you have a small or poorly-lit space.
PHOTO: FURNITURE VILLAGE
38. Lime Green and Turquoise
Lime green is a daring yet impactful color choice for interior walls. It is great for  creating a sense of lighthearted fun. It will complement many other colors but when combined with turquoise, it can create a dream-like space.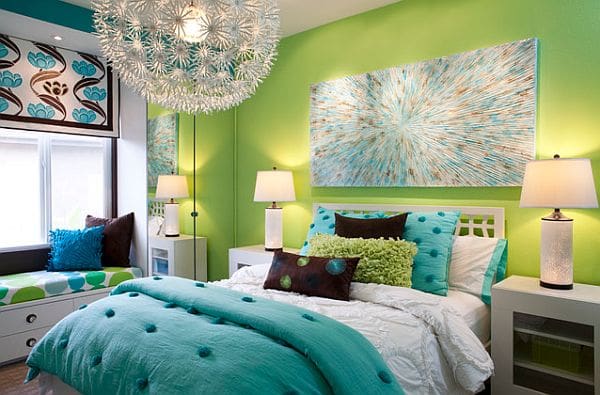 PHOTO: PINTEREST
39. Sage Green and Pale Pink
One of the color combinations of green that can create a minimal yet visually intriguing space is sage green and pale pink. Both of these of less saturated and calming hues that are great for any space in the home.
PHOTO: FUTURE PLC/COLIN POOLE
40. Pale Mint Green and Powder Blue
If you're a little shy about color, consider paler tones such as pale mint green and powder blue. This creates a harmonious, bright, minimalist, and visually cohesive look.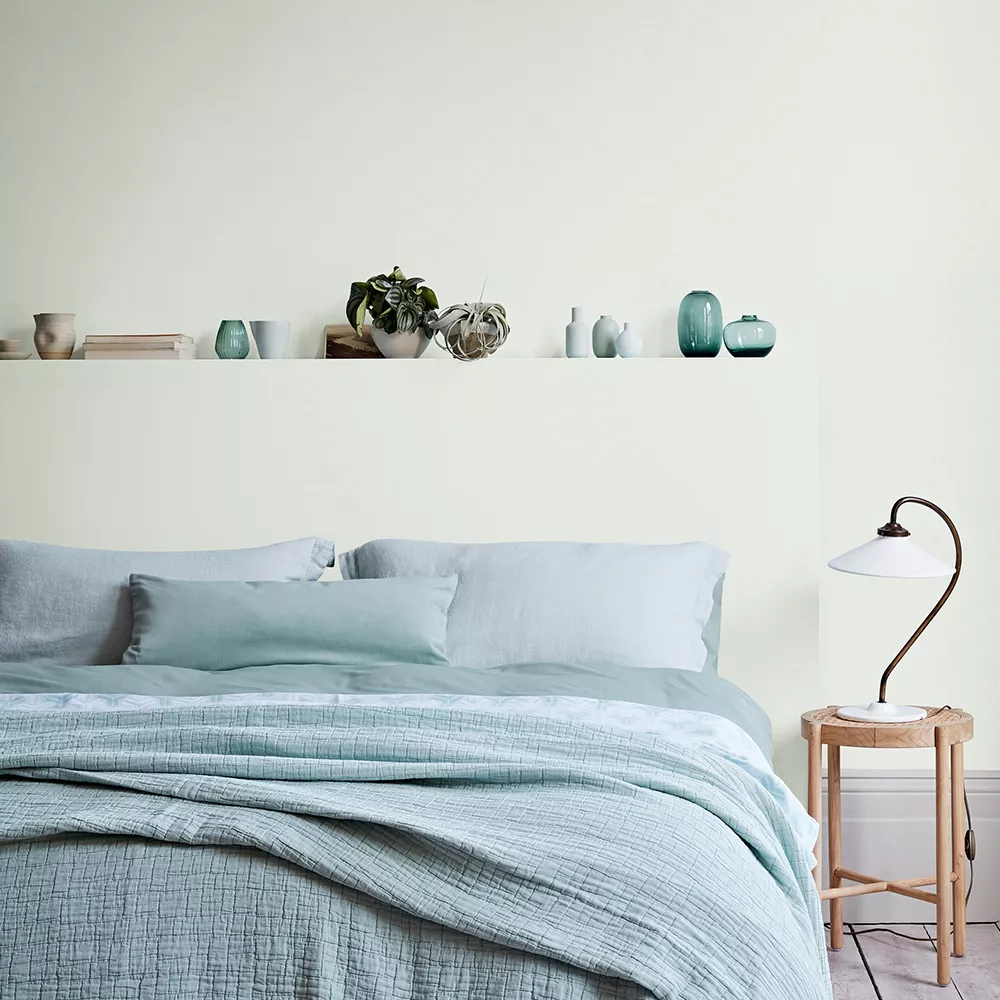 PHOTO: CROWN
41. Dark Green and Mint Green
For some people, the best color combinations of green are the simplest. Dark green and mint green will create a monochromatic look that is cohesive and inviting.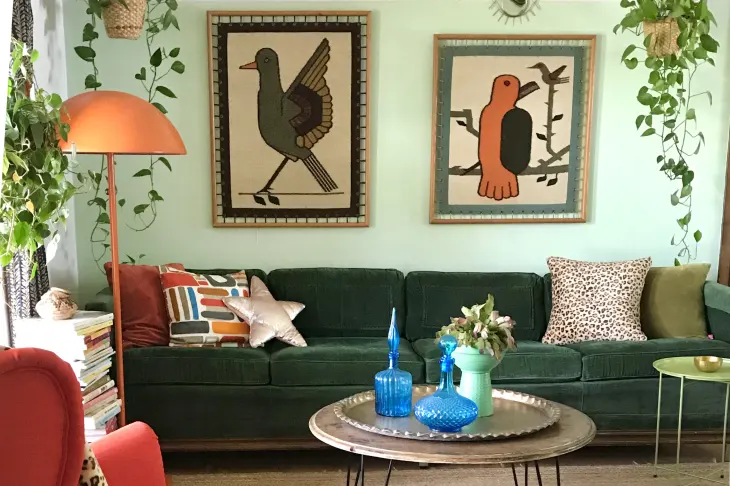 PHOTO: LILLY GARCIA
42. Green and Tan Bedroom
Tan is a commonly used neutral color in interior design because of its versatility. When paired with green, it can create a lively and enticing space.
PHOTO: PINTEREST
43. Pale Green and Lilac
Pale green and lilac is another soft two color combination that can brighten up a space while lending aesthetic beauty to it. It gives a spring-like freshness and a sense of visual calm.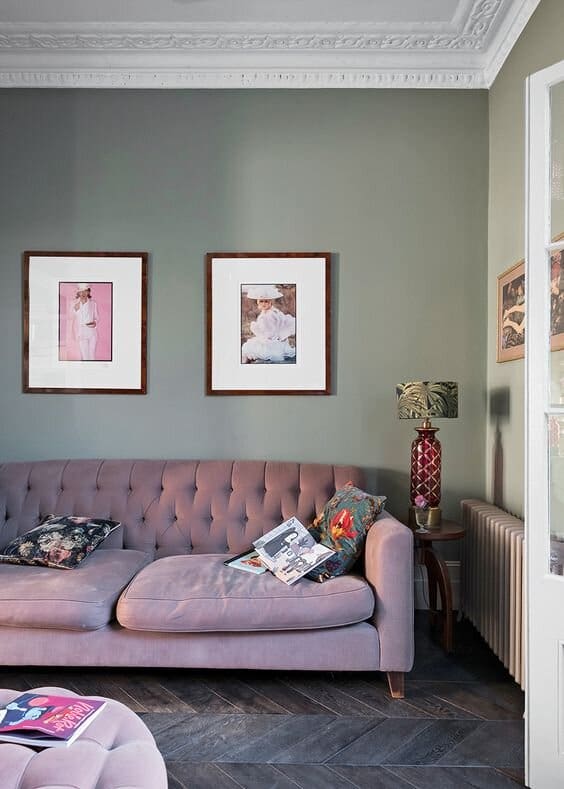 PHOTO: LIVING ETC
44. Dark Green and Grey
Grey is one is the most used neutral color in interior design for good reasons. It is very versatile and can create a relaxed atmosphere. Grey is often used as the primary color in a color scheme but it can also serve as an accent color against dark green.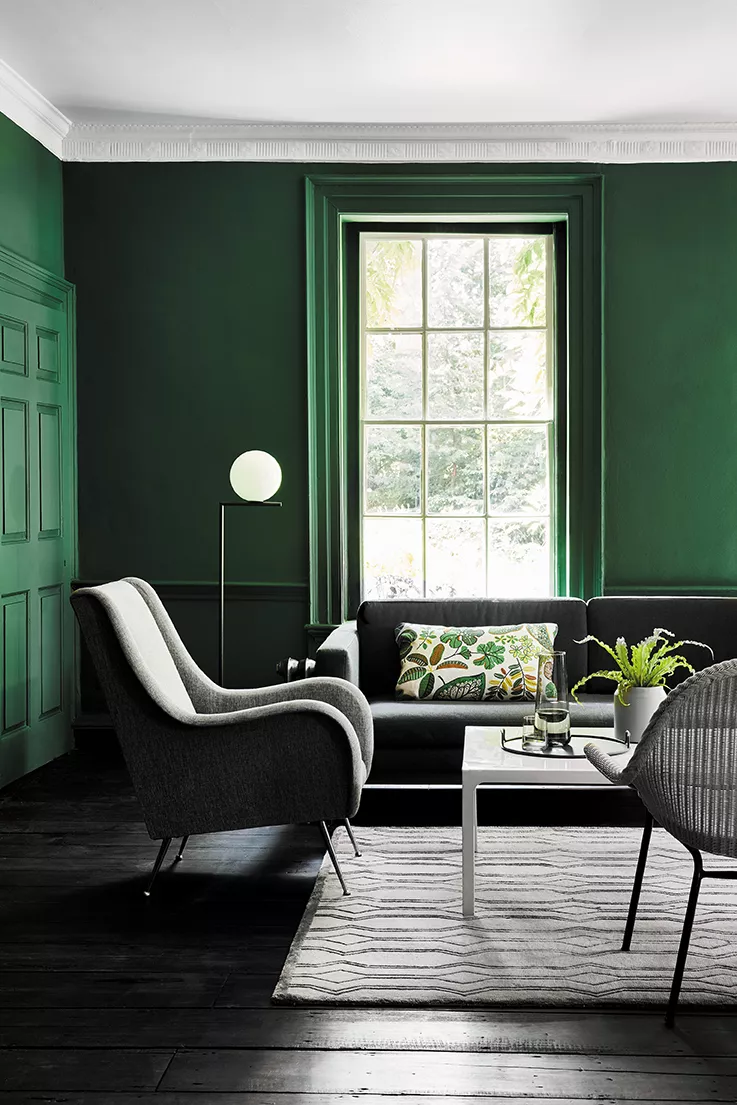 PHOTO: LITTLE GREENE
45. Sage Green and Orange
To imbue your space with color and personality, opt for a sage green and orange combination. This is one of the color combinations of green that is timeless and effortlessly chic.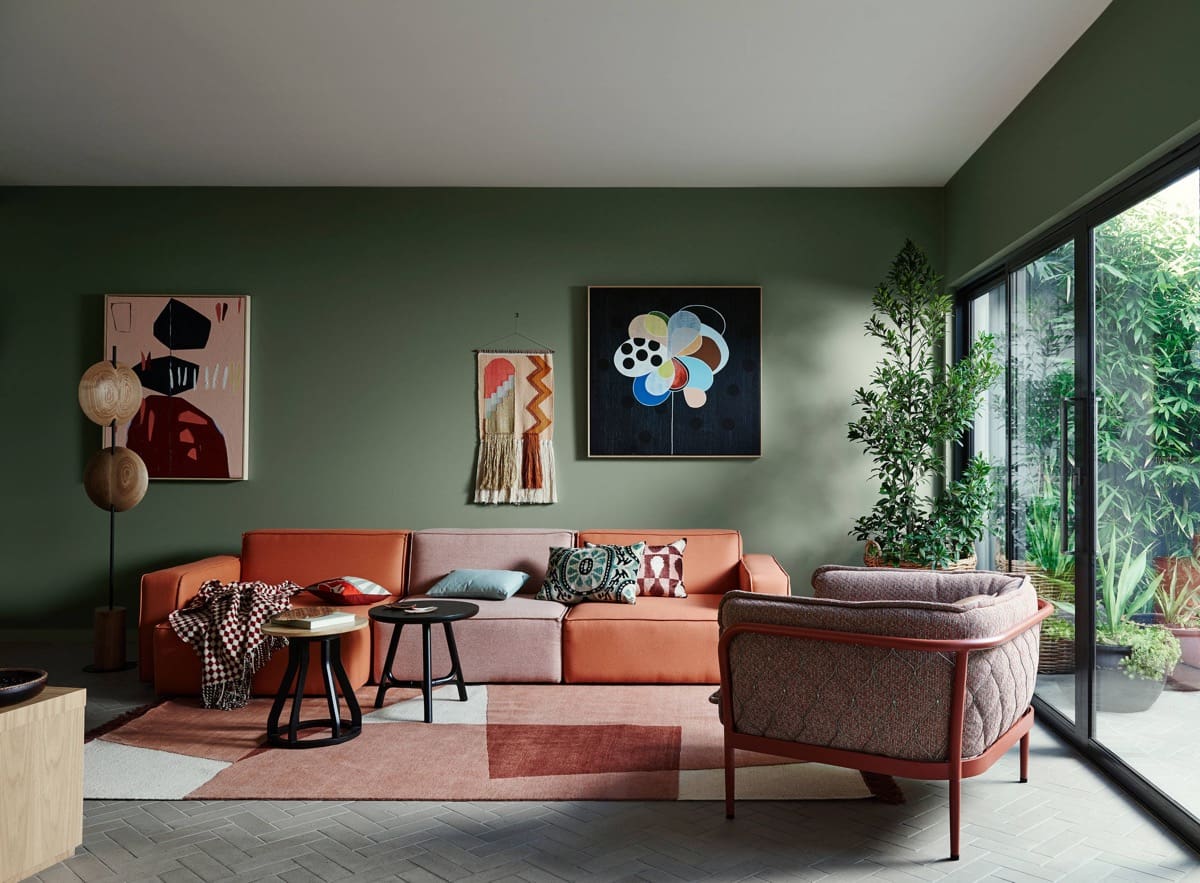 PHOTO: DULUX