32 False Ceiling Design For Living Room
False ceilings can instantly take a space from standard to luxury. Are you looking for an envy-inducing false ceiling design for living room? Get inspired by these incredible ideas! 
False ceilings, also known as dropped or suspended ceilings have become de rigueur in contemporary interior design. In layman's terms, false ceilings are artificial ceilings hung beneath the original ceiling.
They can instantly add lively sophistication and sleekness to a room. Not only are they visually appealing but they also help conceal ductwork, soundproof your space, and add more lighting options to the room.
The most common materials used in constructing false ceilings are gypsum, wood, POP (Plasters of Paris), metal, PVC (Polyvinyl chloride), and stained glass. There are a wide array of design options to choose from which can make it an arduous task.
But, not to worry! In this article, we've rounded up our 32 favorite false ceiling design for living room that will give a stylish flair to a bland and boring flat white ceilings.
Enjoy the read!
1. Tray False Ceiling Design
The tray-style false ceiling is a classic design that never goes out of style. What makes it so appealing is the effortless sophistication and perceived sense of height it gives to a space.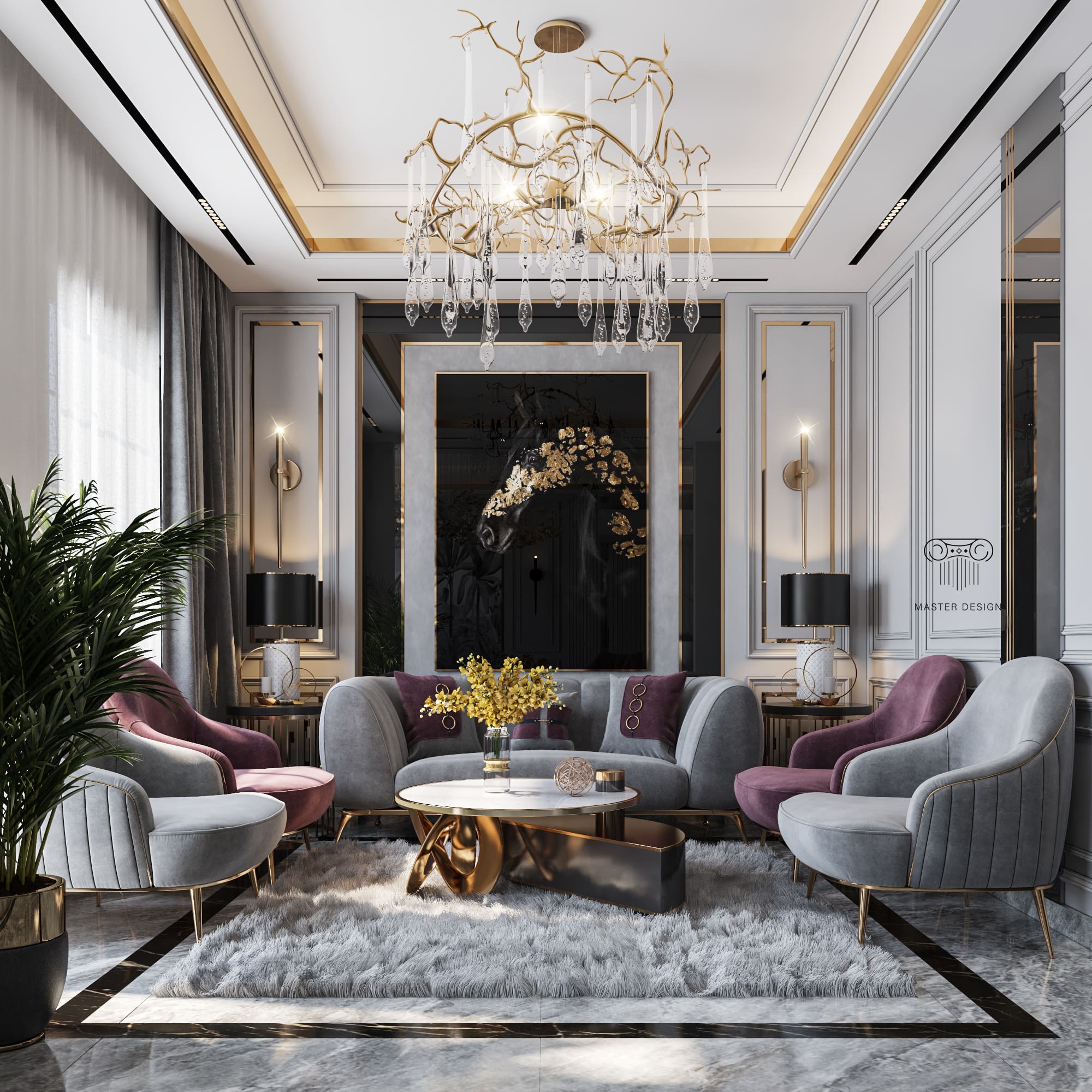 PHOTO: NOHA SAAD 
2. Irregular Octagon False Ceiling Design
An unconventional octagon design is one that will draw attention like no other shape. This false ceiling design is sure to infuse a new character and charm into your living room.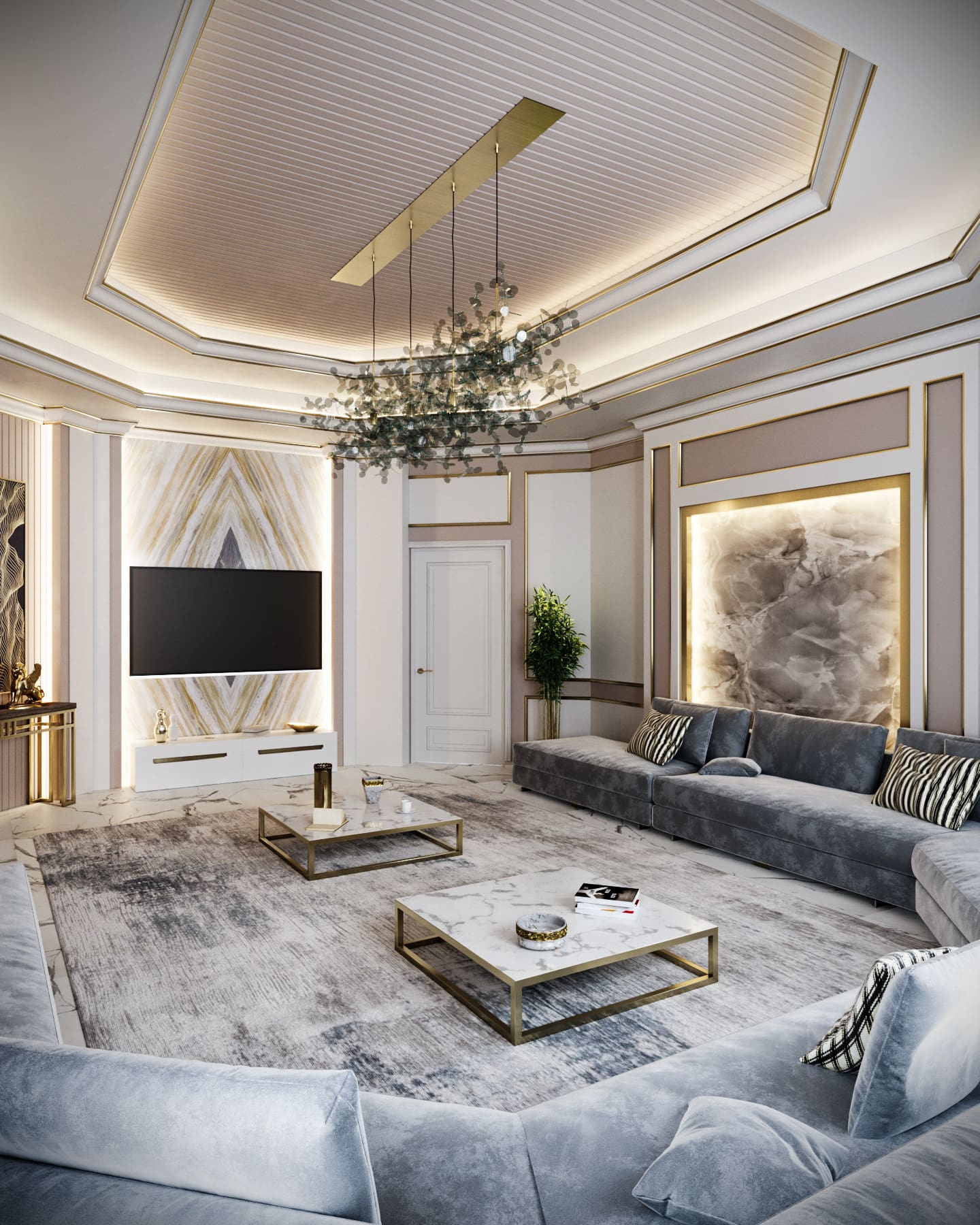 PHOTO: RENDER ACVIZ
3. Metallic False Ceiling Design
Metal is a highly durable false ceiling material that will not warp or crack over time. The sheen on metal has the ability to reflect light and make a space seem bigger and brighter than it is.
PHOTO: RUFIDA ELSAYED
4. Floor-to-Ceiling Painted Living Room
Painting the interior wall and false ceiling the same color lends a clean, streamlined look to a room. This is also a decorating technique to make a ceiling appear higher. The paint color choice can make and break the overall aesthetics, so, make a well-thought-out choice in that regard.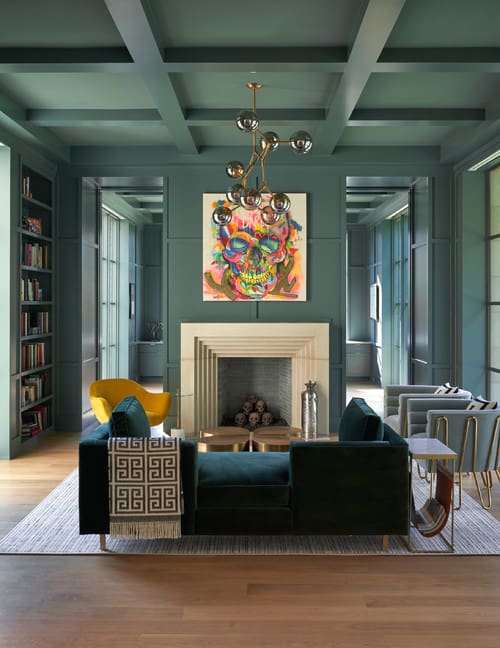 PHOTO: COATS HOME
5. Modern Minimal False Ceiling Design
From a design standpoint, simplicity is a key to modern elegance. A laid-back approach communicates simplicity to the eyes. Plus, with a minimal false ceiling design for living room, the space can be redesigned several times without a need to alter the ceiling.
PHOTO: MELASON HOMES & RENOVATIONS
6. Simple Square False Ceiling Design
Oftentimes, the shape and layout of the living room will determine the best false ceiling design for the space. If you're going for a simplistic tray-like design, you can opt for either a square or rectangular shape to complement your space.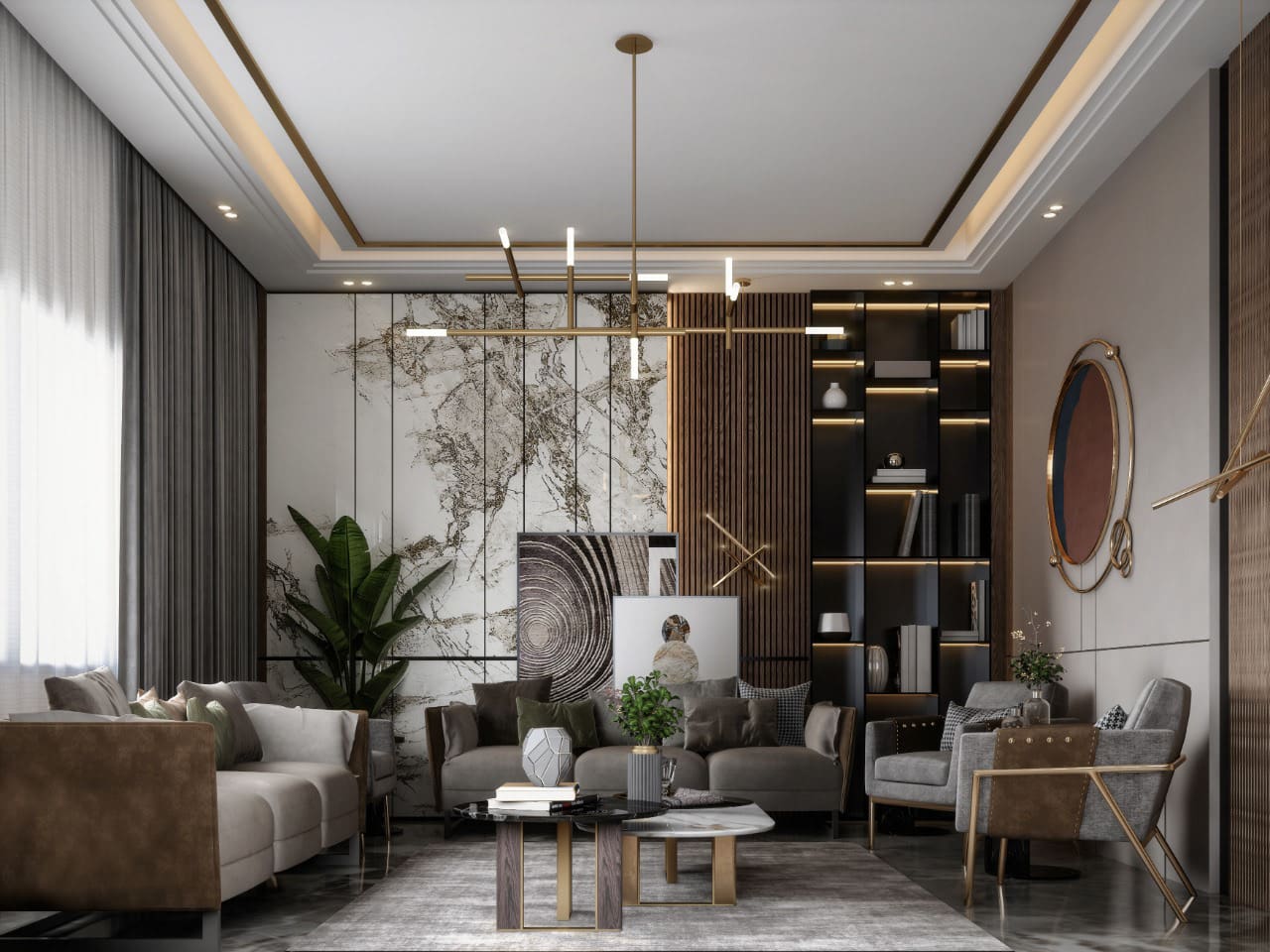 PHOTO: AMGED DRAZ 
7. Floor-to-Ceiling False Ceiling Design
 A great way to add zing to any modern living room is incorporating a POP false ceiling design that extends to the wall. This approach will lend drama and architectural interest to the space.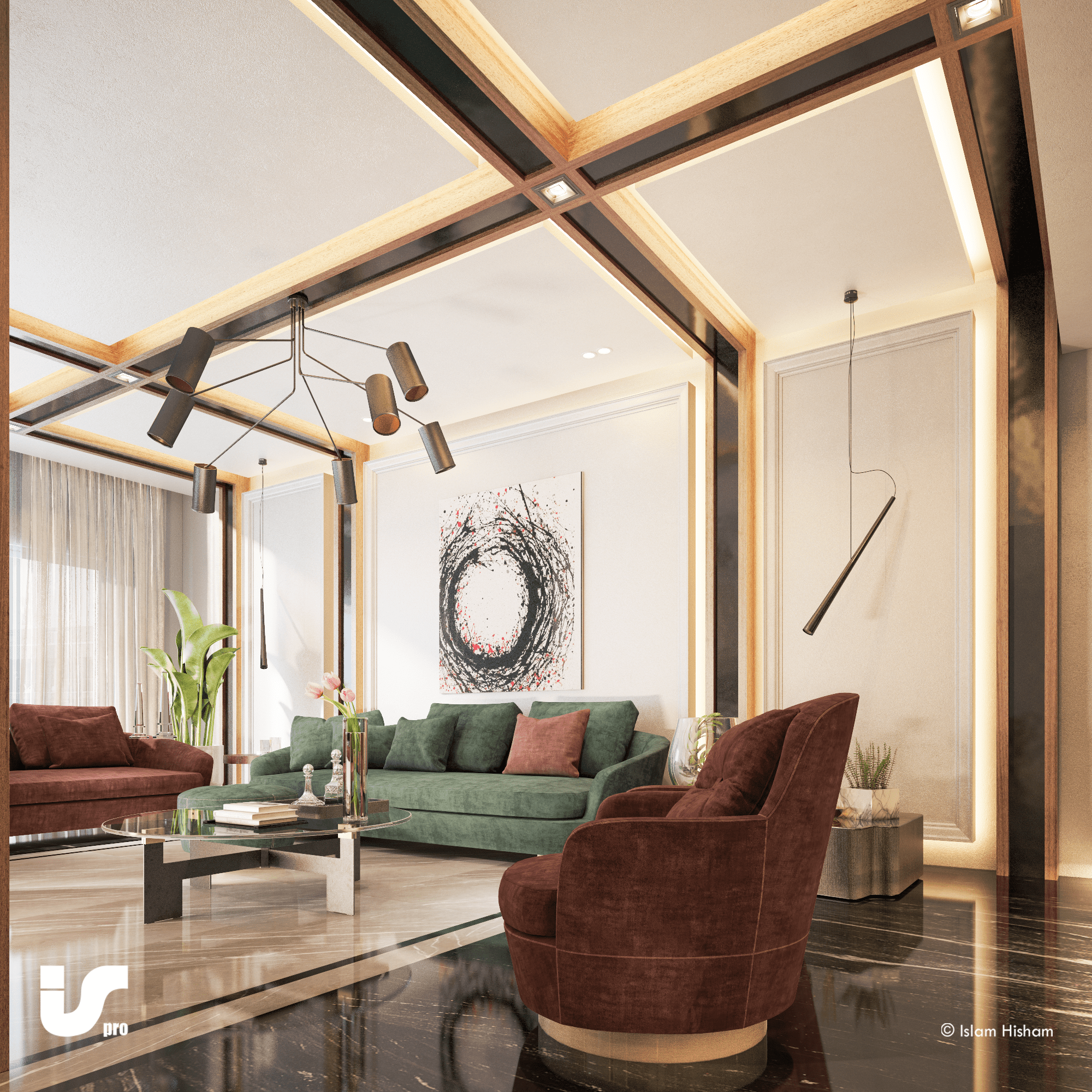 PHOTO: ISLAM HISHAM
8. Living Dining False Ceiling Design
If you have a rectangular living room, you can consider multiple squares to fit the space rather than the single conventional tray design. This false ceiling design style is especially suitable for open-plan and shared spaces. It also can be used to create a sense of partition between spaces.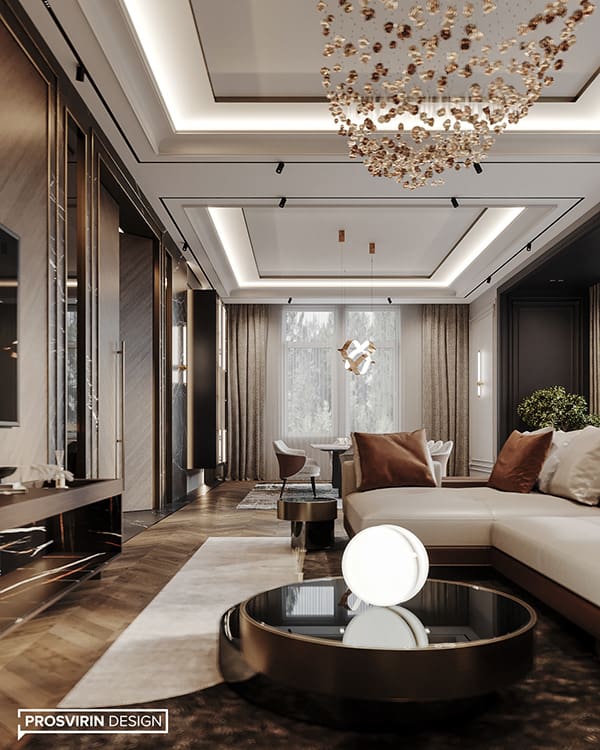 PHOTO: PROSVIRIN DESIGN
9. Victorian Plaster Ceiling Rose Design
There is a wide array of false ceiling design for living room that will add architectural interest to your space, and one of these is a Victorian plaster ceiling rose. Not only does it serves as an eye-catchy backdrop for your statement lighting but it can instantly elevate the aesthetics of your living room.
PHOTO: M.SERHAT SEZGIN
10. Victorian Plaster Coving Design
A coving is a decorative ceiling feature installed around all corners of the ceiling. Simply put, it borders between interior walls and ceilings. This plaster can be plainly or intricately designed. If you're looking to add an old-world look and architectural beauty to your living room, then a Victorian plaster coving should be on your radar.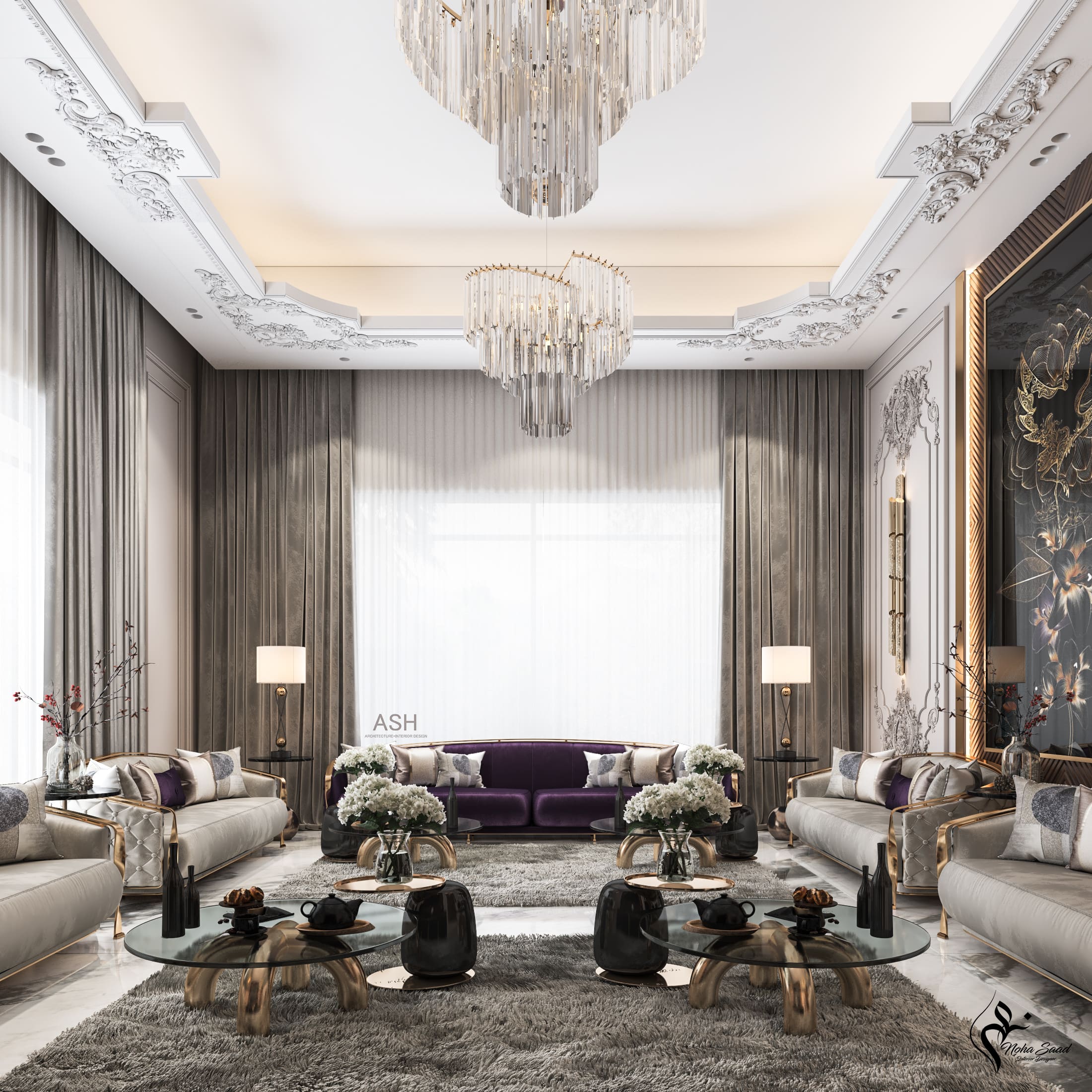 PHOTO: NOHA SAAD
11. Modern C0ffered False Ceiling Design
One of the popular false ceiling design for living room is a coffer. A coffered-style ceiling has a series of sunken panels. The panels are usually in a triangle, rectangle, or octagon shape. Not only does this ceiling style lend a timeless beauty to a space but also gives an illusion of height.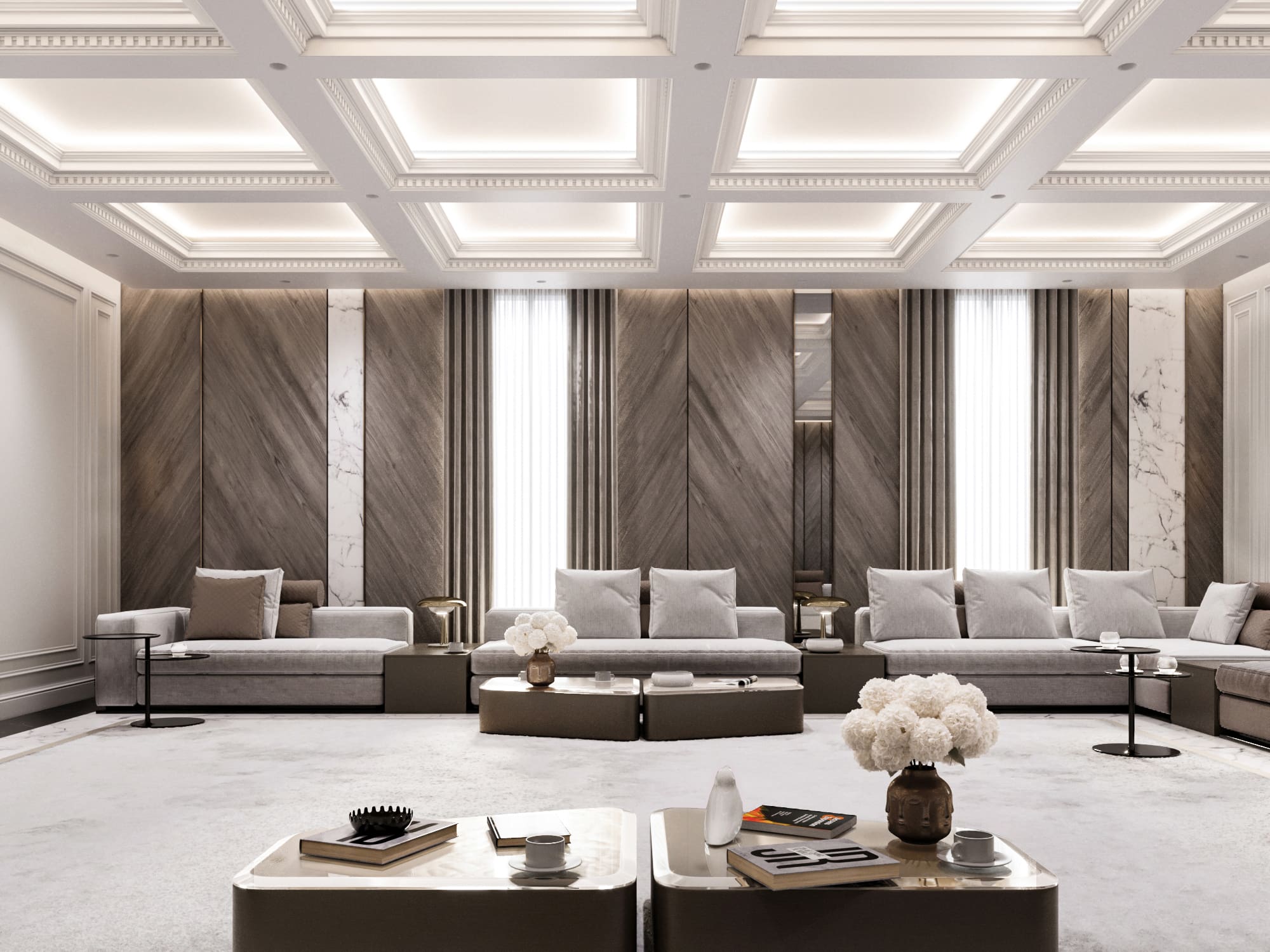 PHOTO: MAJLIS PROJECT
12. Victorian C0ffered False Ceiling Design
A Victorian-style coffered ceiling is detail orientated. It is considered dignified and formal. When considering false ceiling design styles to implement, is crucial to take your home style into consideration. For instance, if you have a modern-style home, it is best to stick with a modern-style coffer ceiling.
PHOTO: INTERNO HOME DESIGNS
13. Reflective Glass False Ceiling Design
A reflective glass false ceiling can give your modern home a chic and sophisticated appearance. This type of glass allows natural light to bounce around the room and as a result, makes it feel more open and brighter.
PHOTO: ASIM AZAQOZ
 14. Grande Circle False Ceiling Design
It can be a little tricky to choose a false ceiling design for living room if the space has an open plan. A simple yet masterful way to make a ceiling of this size the room's central showstopper is to opt for a grande circular false ceiling.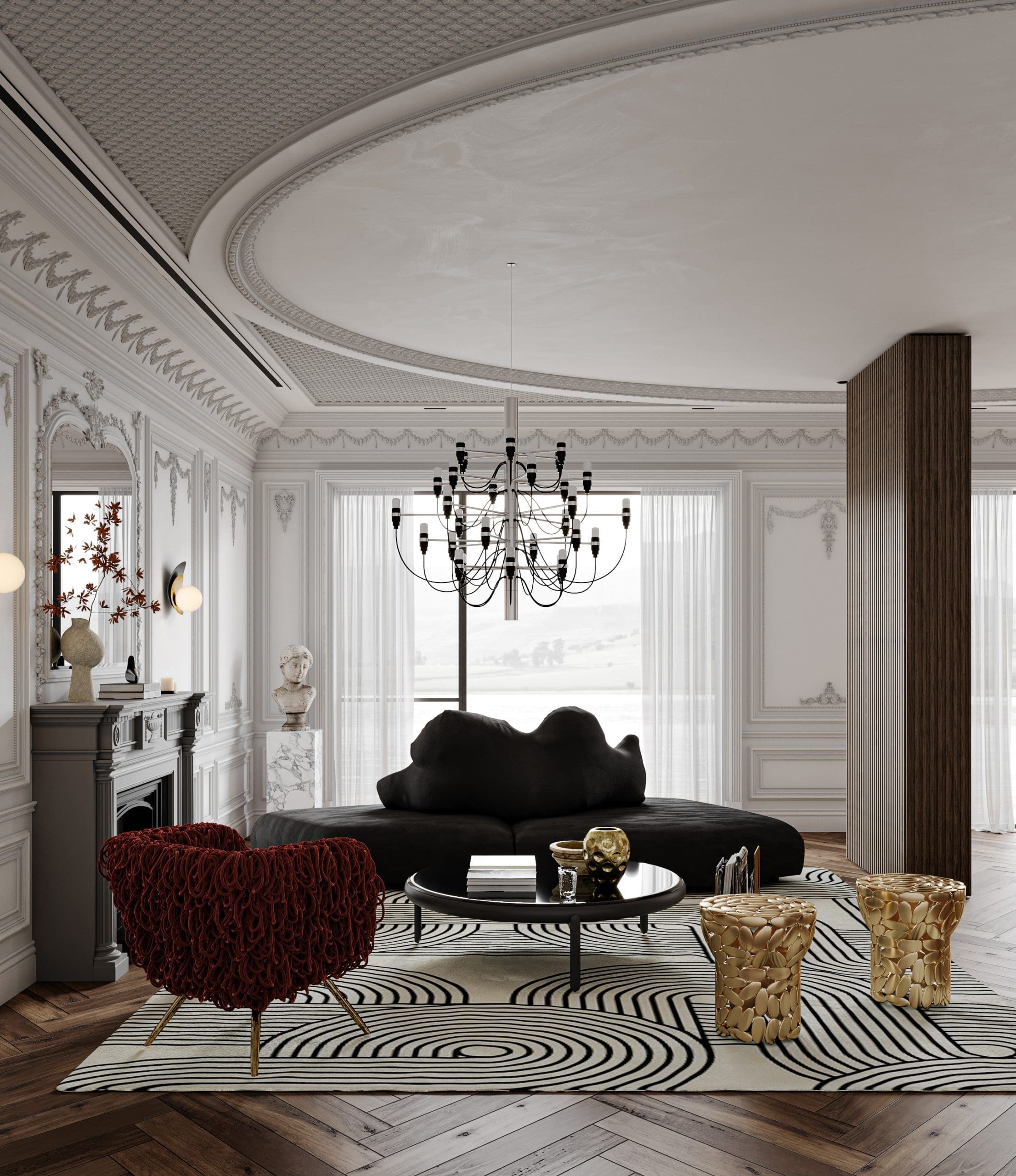 PHOTO: LINE DESIGN
15. Circle POP False Ceiling Design
The best thing about POP false ceilings is that even the most simplistic design is more impactful than the flat white conventional ceilings. A circular POP ceilings design is an easy-to-execute and less-intrusive style that you won't get bored of in years to come. Remember to use statement lighting to add more drama to the space.
PHOTO: SPARA ARCHITECTURE DESIGN
16. Mirror False Ceiling Design
Mirror, mirror on the ceiling! Stategic mirror placement is clever trick designers use to brighten up dark corners in a room. A mirror false ceiling design for living room is sure to give the finished look a modern and sophisticated edge.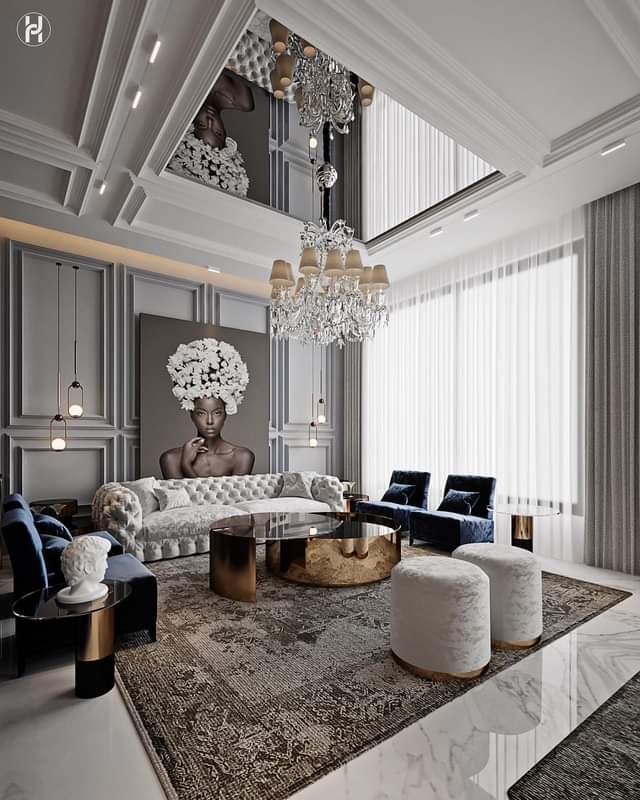 PHOTO: AHMED HUSSEIN DESIGN
17. Glossy Black False Ceiling Design
There is a timeless elegance in black that makes it ideal for any space. A glossy black false ceiling can instantly add a luxurious feel and polished aesthetic to a living room.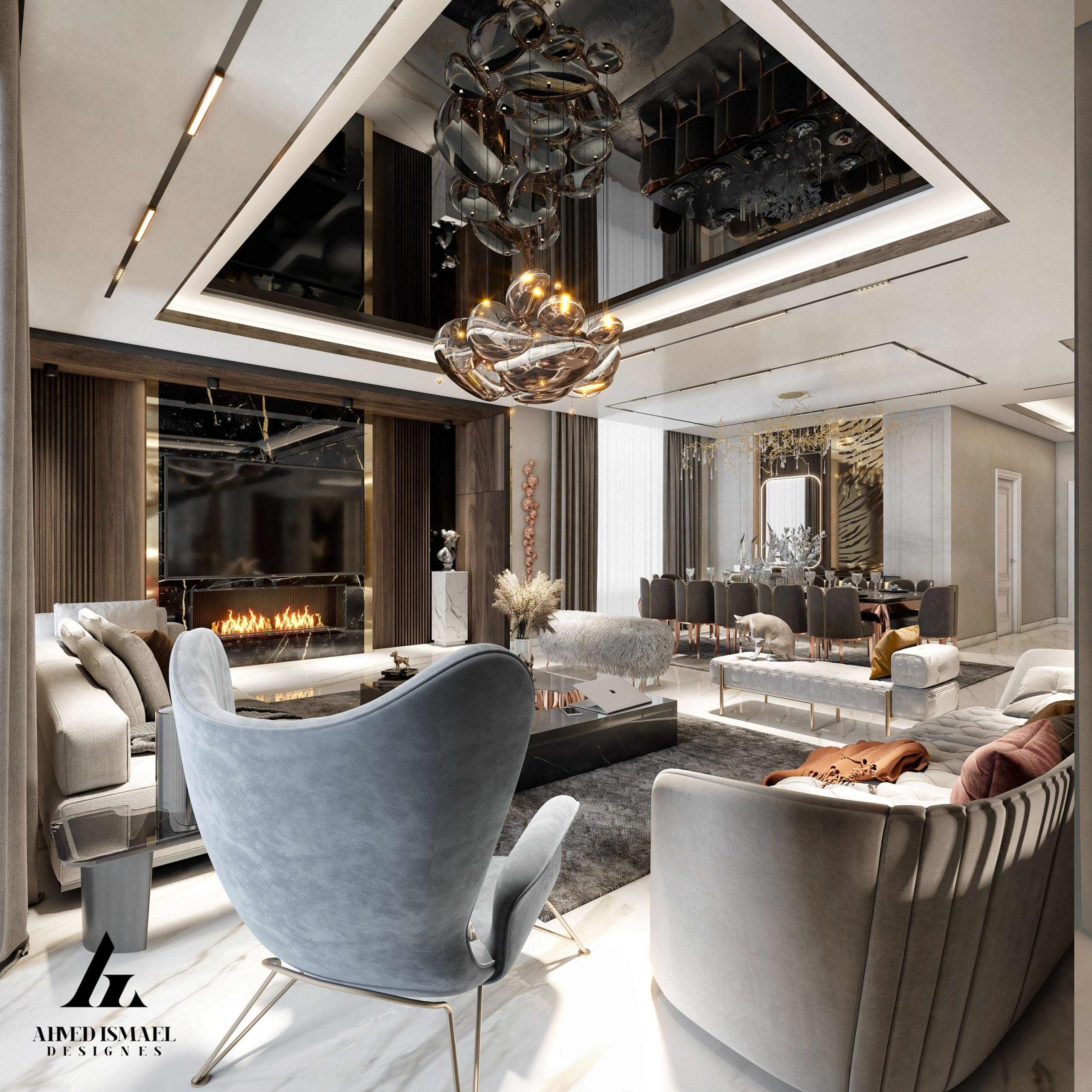 PHOTO: AHMED ISMEL DESIGN
18. Layered Circular Plaster Design
A layered false ceiling design creates visual interest and depth. While a circular false ceiling design makes a room appear grand and voluminous. When a circle design is layered, it creates a dramatic focal point and perception of more space.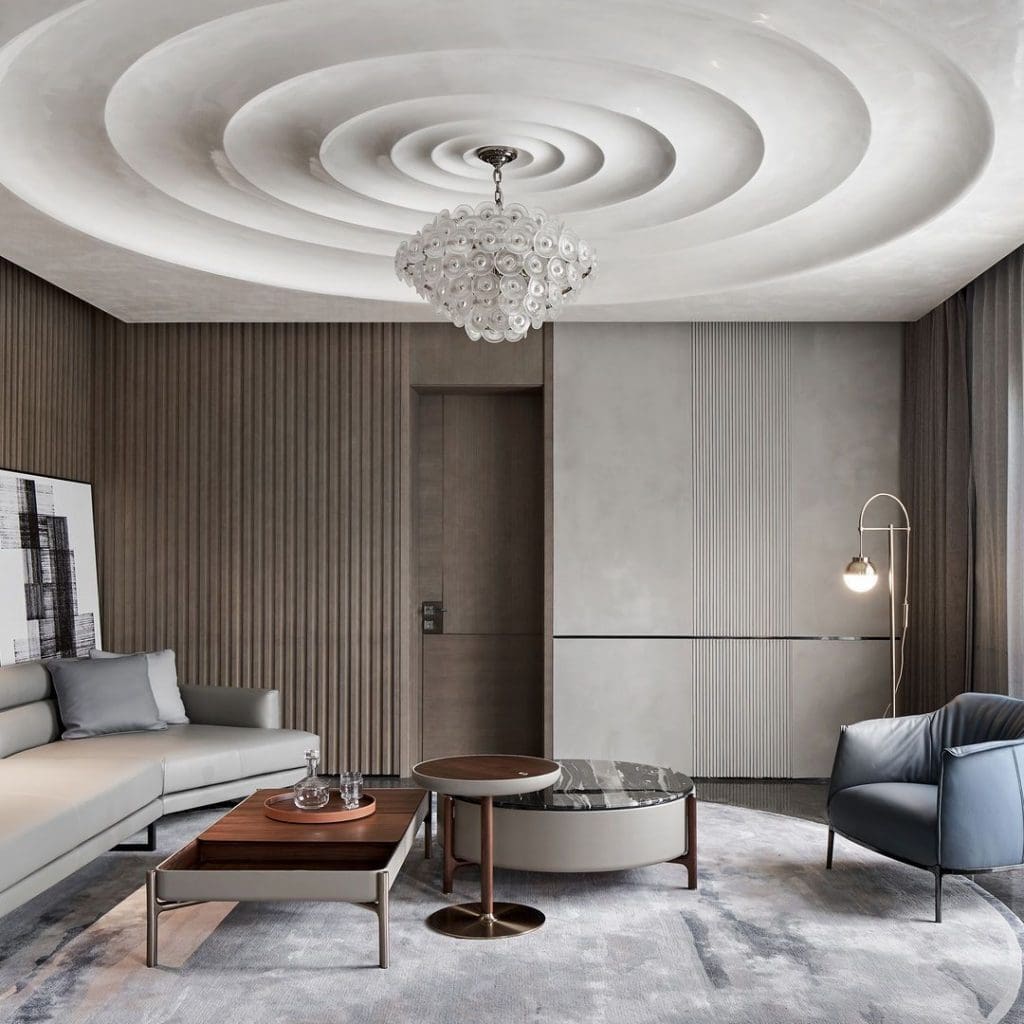 19. Dropped Wooden Boards False Ceiling Design
Wood is widely used in false ceilings as it adds the perfect hint of rusticity to a space. What makes wood a popular material in interior design is that it is highly durable, makes the space feel more connected to nature, lends an eye-catchy contrast, and infuses warmth in a space.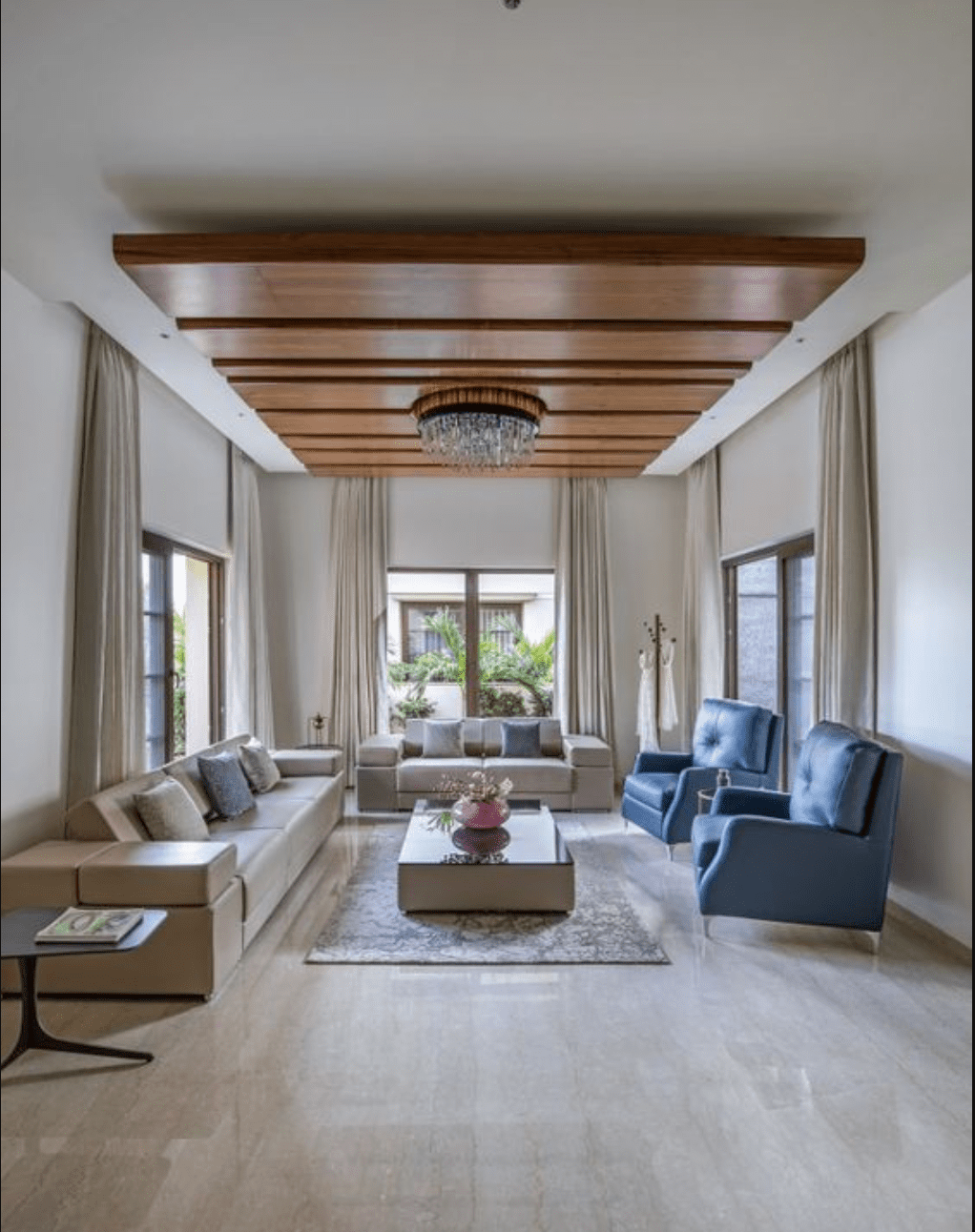 20. Wallpaper False Ceiling Design
A wallpaper is impactful on the ceiling just as it is on the wall. It is one of the most popular wall coverings for good reasons. Wallpaper is considered to be more durable than paint and there is a wide range of styles and textures available today.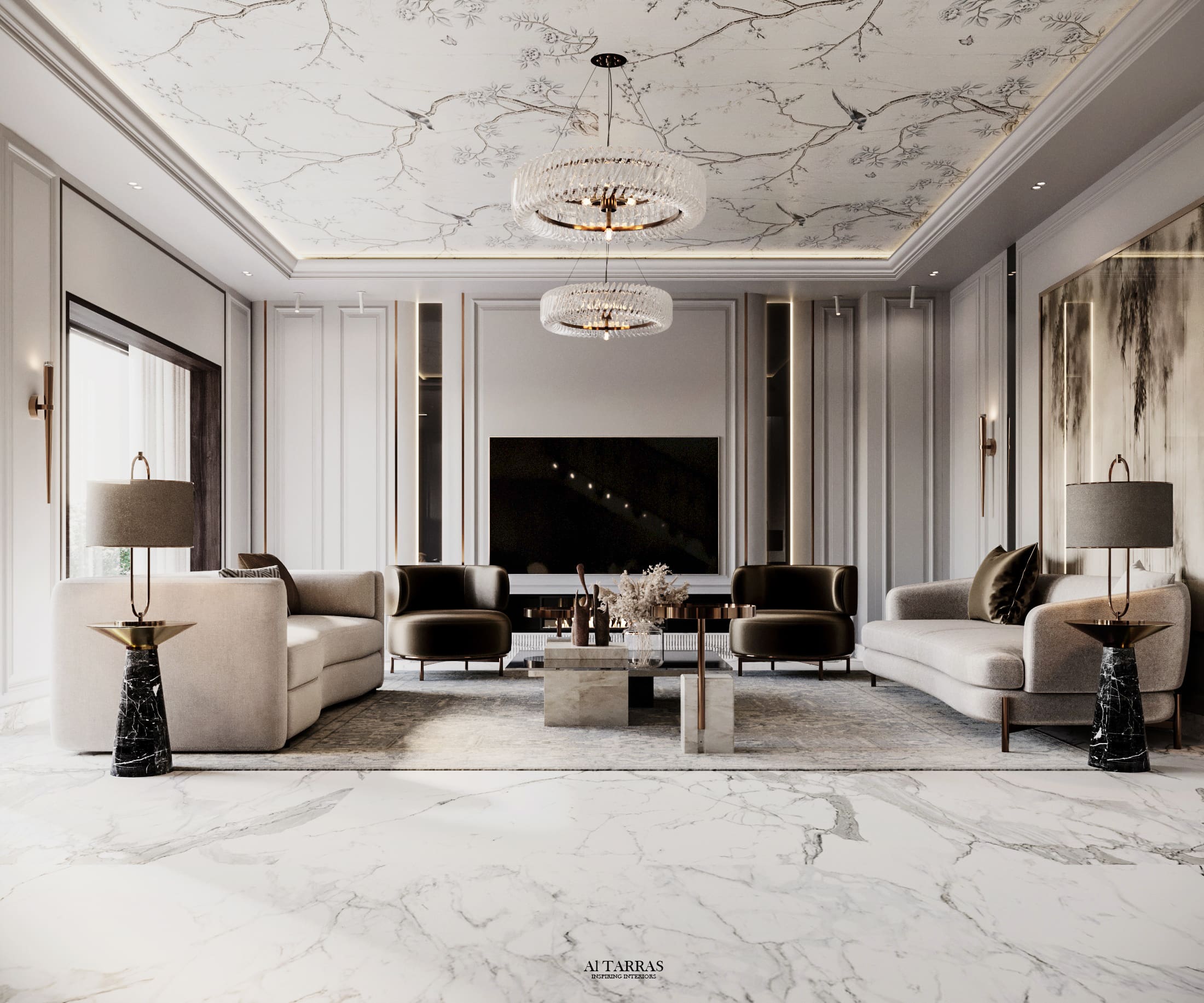 21. Multiple Squares False Ceiling Design
A simple way and visually interesting to liven up your bland ceiling is to install a POP false ceiling with multiple squares. This false ceiling design for living room creates a covered-style aesthetic. 
PHOTO: MAVI DETAY DESIGN
22. Geometric False Ceiling Design
The geometric design makes the biggest statement in contemporary interior design. Whether you choose opulent diamond patterns, traditional hexagons, or hip herringbone patterns, geometric patterns will make a real style statement— especially as a false ceiling design.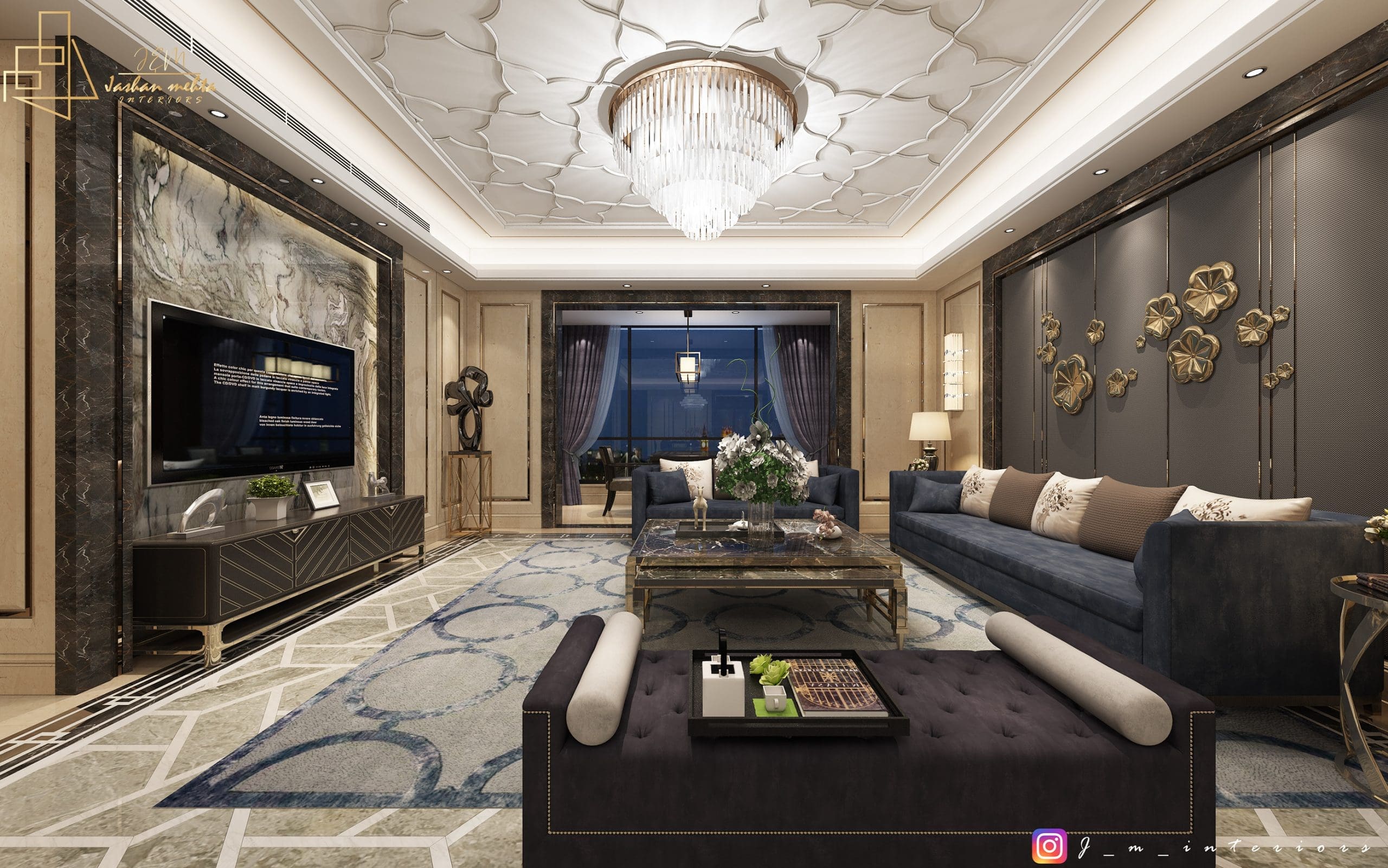 23. Flower Shaped False Ceiling Design
Unexpected shapes like that of a flower introduce a convivial touch and playful element to the space. A false ceiling design for living room like this is a great way to introduce character to your home.
24. Geometric Aesthetics— Ceiling, Floor, and Wall Design
Combining a geometric false ceiling, wall, and floor will create a cohesive and inviting look. This design style keeps the design in harmony. In addition, geometric shapes instantly offer visual interest without using frills or excessive ornamentation.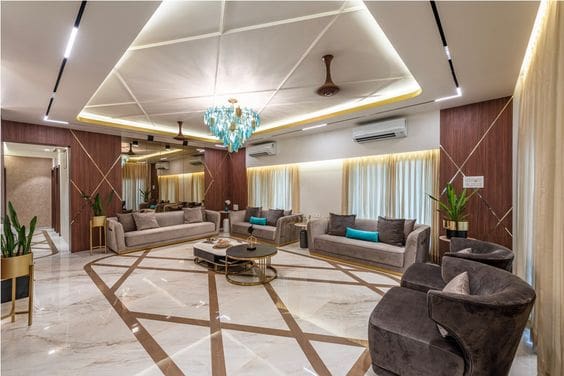 25. Black and Brown Painted Wood Ceiling Design
This ceiling two color combination can take a room from drab to fab. This design infuses warmth, character, and a beautiful contrast into the space.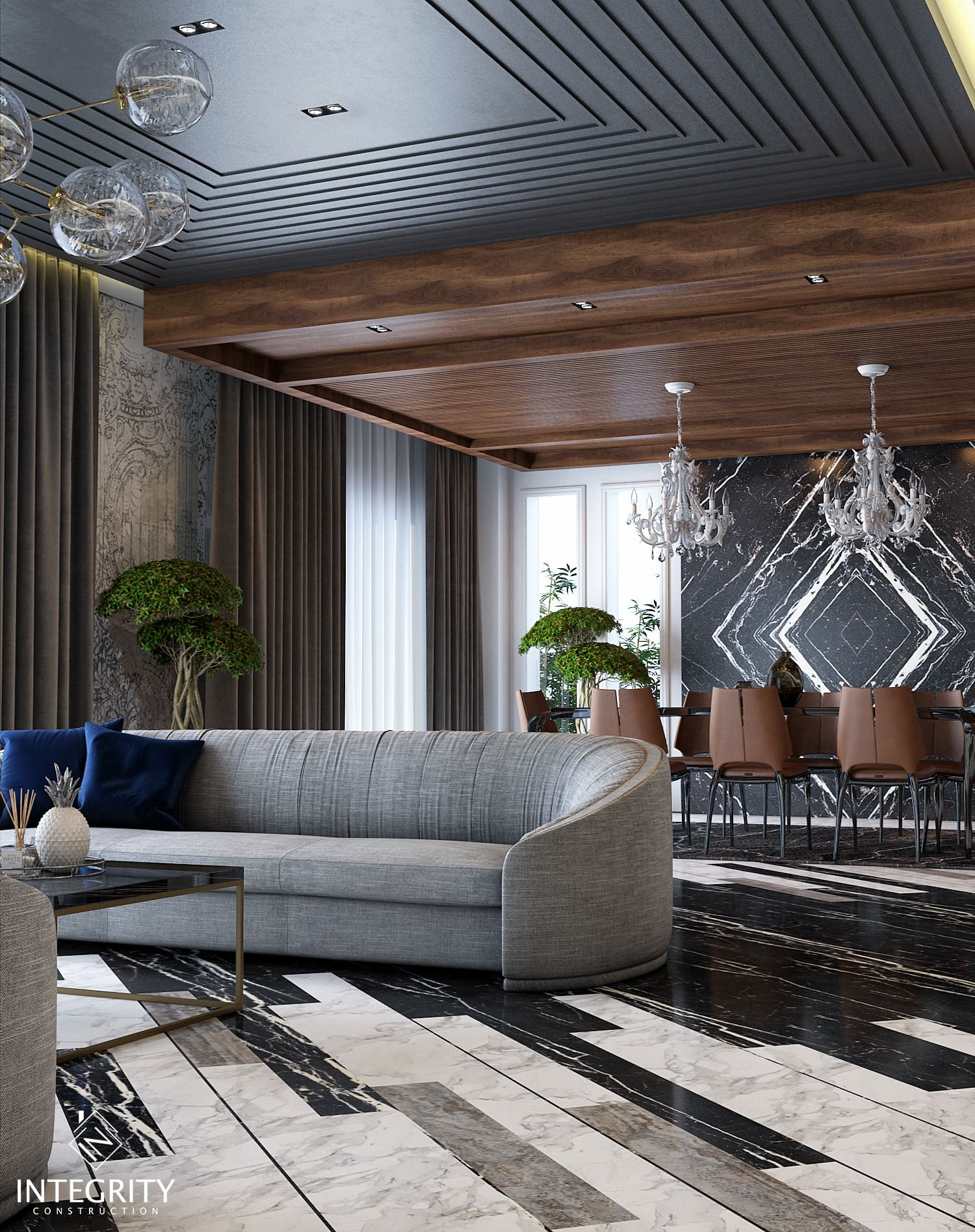 PHOTO: INTEGRITY CONSTRUCTION
26. Rectangle False Ceiling Design
The rectangle is the most popular false ceiling. It is a simple design that can embellish the beauty of any space. You can add your own unique twist to it by layering, altering, or injecting a hint of color into the design.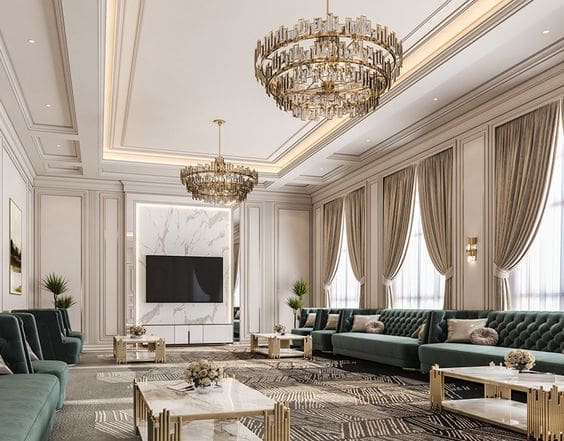 27. Uniquely Shaped False Ceiling Design
Unique shapes can help you create a room that is full of character and style. The only way to create a room that feels uniquely yours is to add your own twist to it instead of following fickle trends.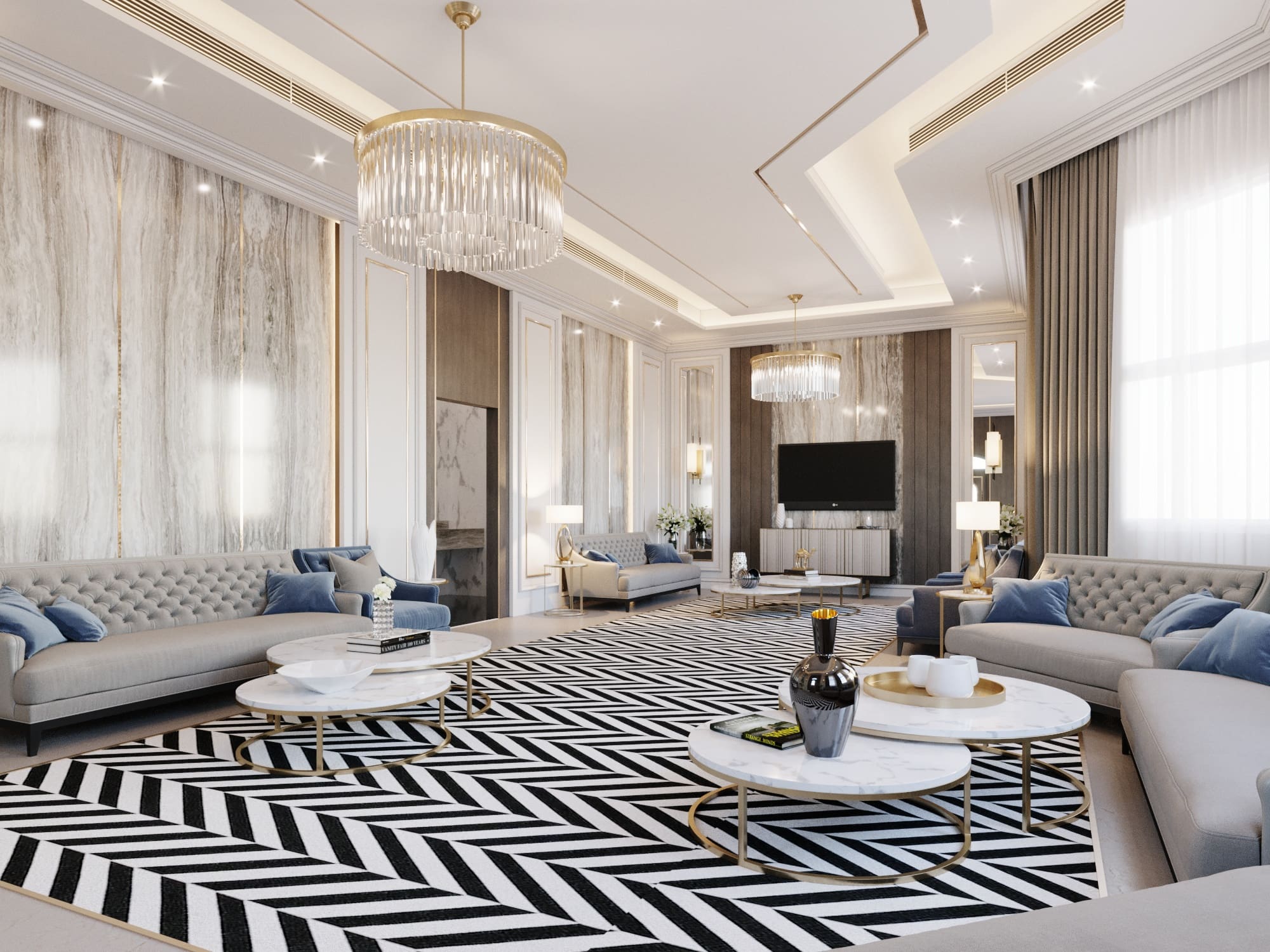 28. Exposed Wood Beams Ceiling
Exposed wood beams enhance the aesthetics of a room while also adding texture and dimension. These wooden beam ceilings are well-suited for both modern and rustic-style homes but are especially common in country and farmhouse-style homes.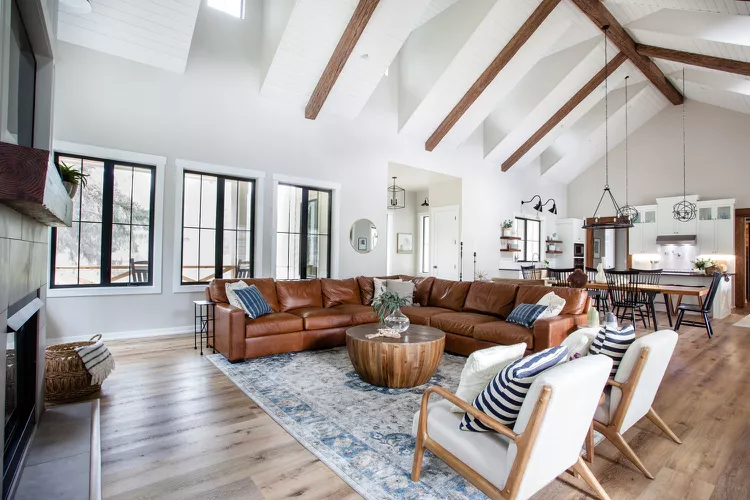 29. Rectangle False Ceiling with Wooden Edges
Combining wood and gypsum is not a technique. This pair is a fusion of modernity and rusticity. This design style brings a sense of tranquility and warmth into a room.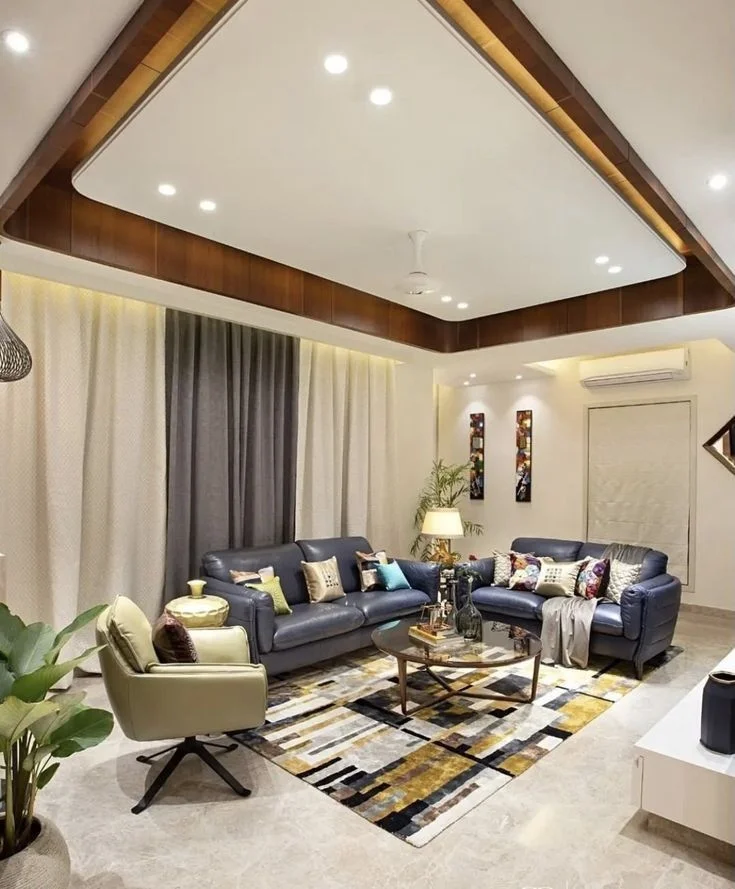 30. Mirrored Geometric False Ceiling Design
From practical to aesthetically pleasing, mirrors have a wealth of advantages when used in interior spaces. A geometric patterned mirror will not only allow natural light to flood the room but it will also add a refined sense of style to the space. It helps to accentuate the luxurious feel of the space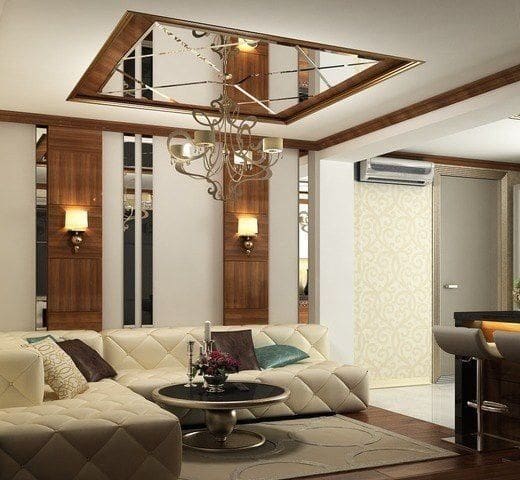 31. Rhombus False Ceiling Design
A rhombus false ceiling design for living room has an eye-catching aesthetic and depth. It can help bring dynamic design to any room. This design creates a classic-yet-modern aesthetic that will complement any design style.
32. Curved False Ceiling Design
If you want to create a space that is inviting and timeless, then look no further than a curved false ceiling design. A simple design like that can transform a boring space. To maximize interest, use some hidden ceiling LED lights. This design is sure to give your living room a sophisticated edge.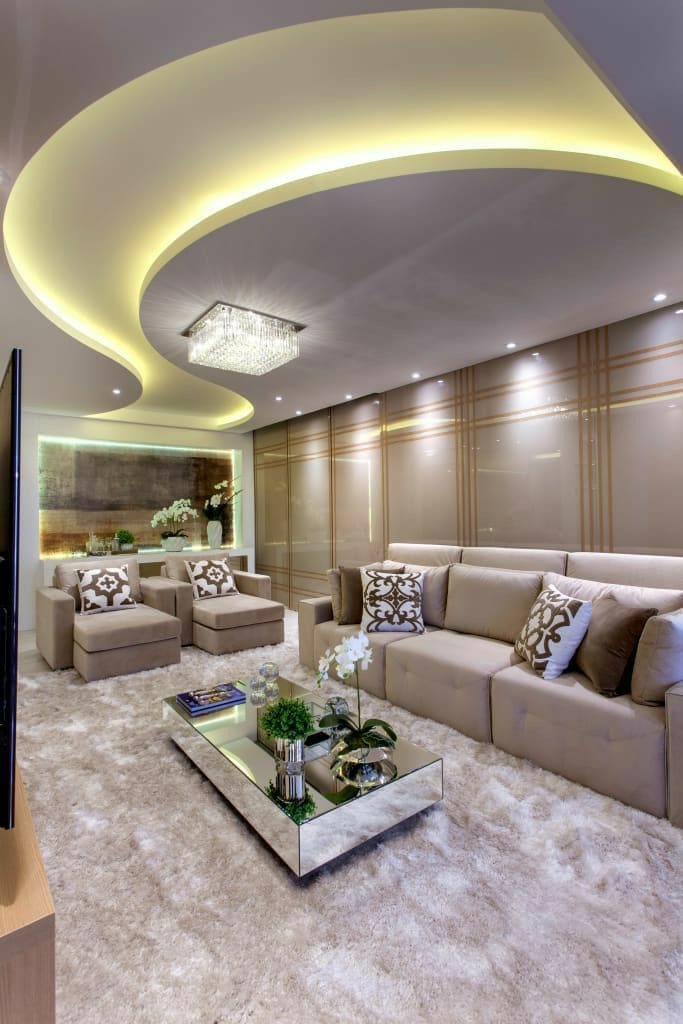 PHOTO: NANONI YAMO