20 Kitchen Partition Design Ideas
A practical and visually appealing kitchen partition design can make the biggest interior statement. It can improve privacy while injecting texture, color, and style into a space. 
An open-plan layout has become a standard for modern homes. It's no surprise that more and more homeowners are embracing plan layouts in recent times.
What makes this type of space so desirable is that it makes each space connected, allows natural light to flood the space, and makes it appear more spacious. Plus, open spaces create better traffic flow and are more ventilated than closed floor plans. So, it seems like open-plan living is here to stay for the foreseeable future.
In many homes, the kitchen and dining are often in a shared space, while other homes have the kitchen, dining, and living room in a single free-flowing space. No matter the layout, a partition or room divider can lend more privacy to each zone and some of these can be moved with ease, unlike walls.
In this article, we've gathered the best 20 kitchen partition ideas that are practical and will instantly add a strong sense of style to your space.
1. Brass Kitchen Divider
A brass or brass-colored kitchen partition design adds sophistication and a luxurious feel to a space— especially if you have some brass fixtures incorporated in your kitchen.
Brass against a refreshingly crisp white backdrop radiates elegance and squeaky clean appeal. Whether you want a minimalistic or dramatic approach, there are a plethora of brass partition designs to complement any space.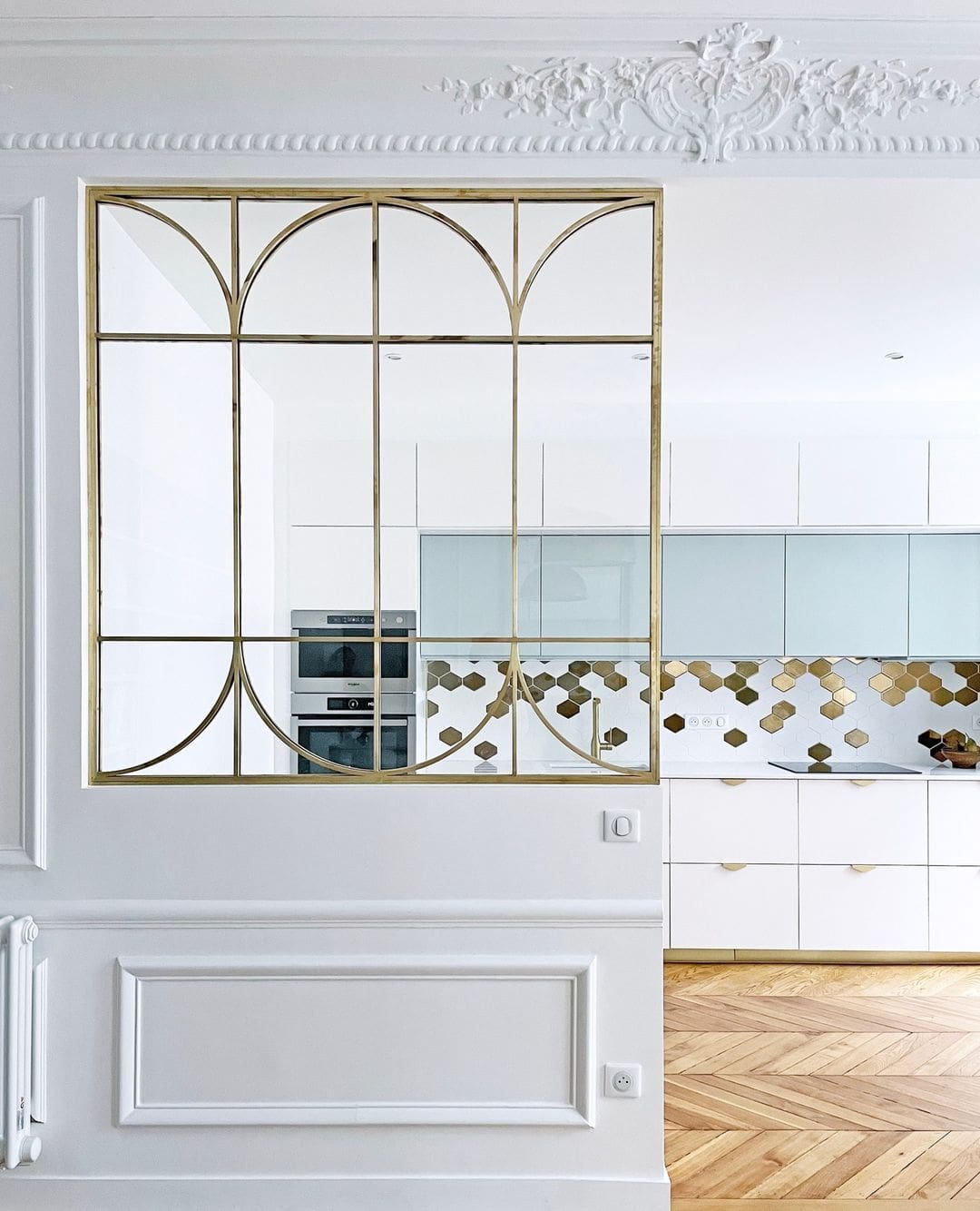 PHOTO:  JOANNA ZIELINSKA
2. Uniquely Carved Wood Kitchen Partition
There is some element of wood in every home. Wood is a popular material used for room partitions. Natural elements like wood bring a sense of tranquility and warmth to a space. A uniquely carved wooden kitchen partition design can imbue your open-plan space with style and personality.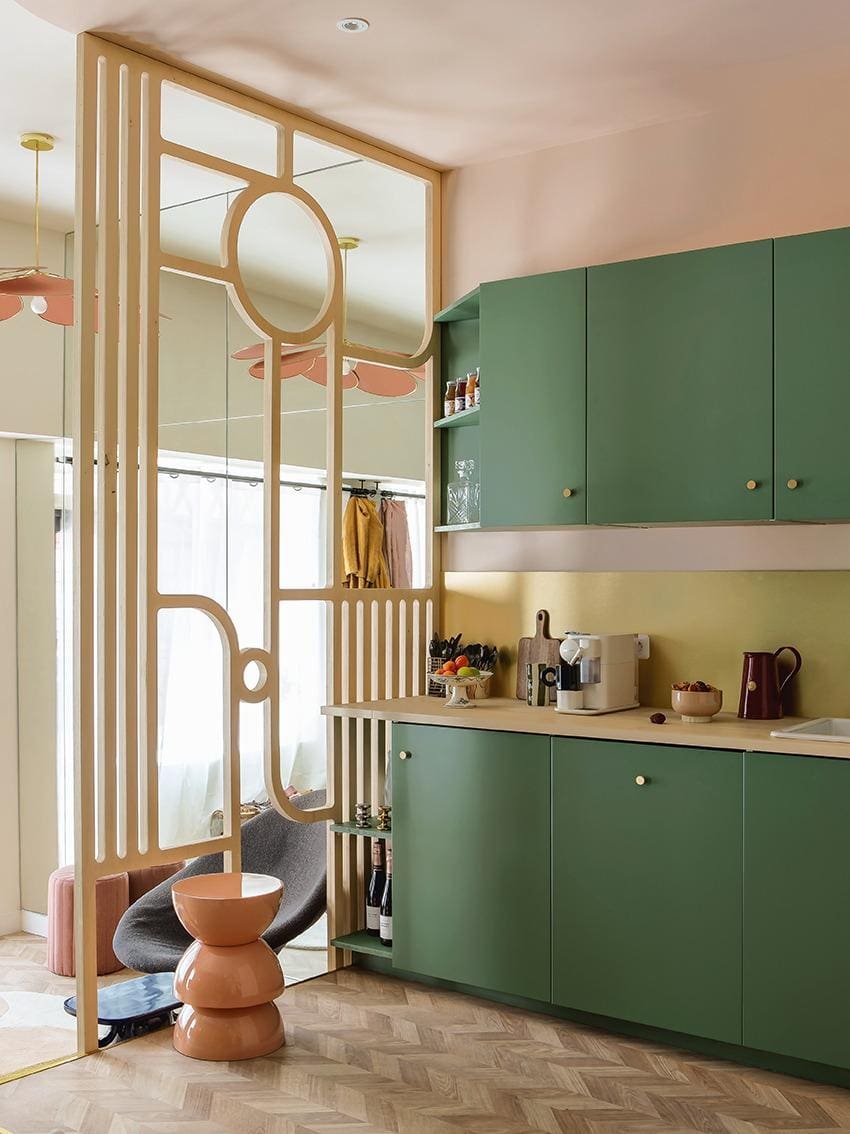 PHOTO: EMILIE DAUDIN 
3. Glass Panel with Wood Frame
What makes glass ideal for kitchen partitions is that it can help trap the aroma while cooking, and to some degree, prevent it from traveling to other sections.
Plus with a glass panel partition, the kitchen will feel enclosed without losing natural light. Glass also gives a space a sophisticated edge. A wood frame can help to improve the aesthetic quality of the glass.
PHOTO: SOPHIE LLOYDS
4. Shelf Kitchen Partition
The primary purpose of shelving is for storage but they also serve as a room divider. This addition can be multi-functional and add a dynamic element to the space. On a shelf-style divider, it is best to display items that are decorative and not used daily.
For instance, display cookbooks, small plants, vases, and figurines instead of cooking pans and tableware. Keep the decor at a minimum to avoid creating clutter, uses symmetrical placement to create balance, and combine textures and color contrasts.
PHOTO: FRENCH+TYE / FRENCHANDTYE
5. Wooden Pocket-Style Partition
A pocket-style room divider is a clever way to define a space in an open-plan setting. It creates a clear opening that enables easy movements around each part of this space.
Incorporating a double-sided pocket partition into your space is also an easy way to add architectural interest to it.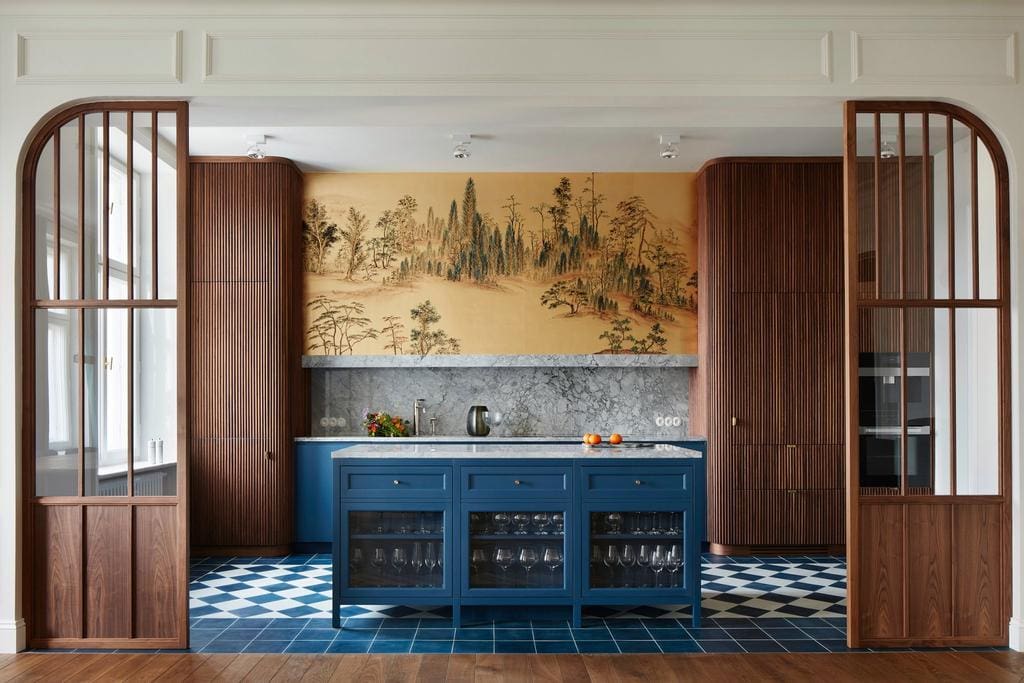 PHOTO: MARTHA CHPAPKA
6. Pocket Sliding Glass Doors
A pocket glass door is very common in contemporary homes. It lends sleekness to the space and enables a free flow of natural light. This type of door slides easily into the wall, taking up no extra space like conventional hinged doors will when open.
With this kitchen partition design, you can get both the feel of an enclosed place and an open-plan space with only a simple slide.
PHOTO: LIVSPACE
7.  Wrought Iron Kitchen Partition
Wrought iron is durable and secure metal, just like steel. This timeless material has been used for centuries to manufacture gates, fences, furniture, and other home decorations.
Wrought iron dividers are entirely handmade so they can be designed in many different ways to complement any interior style.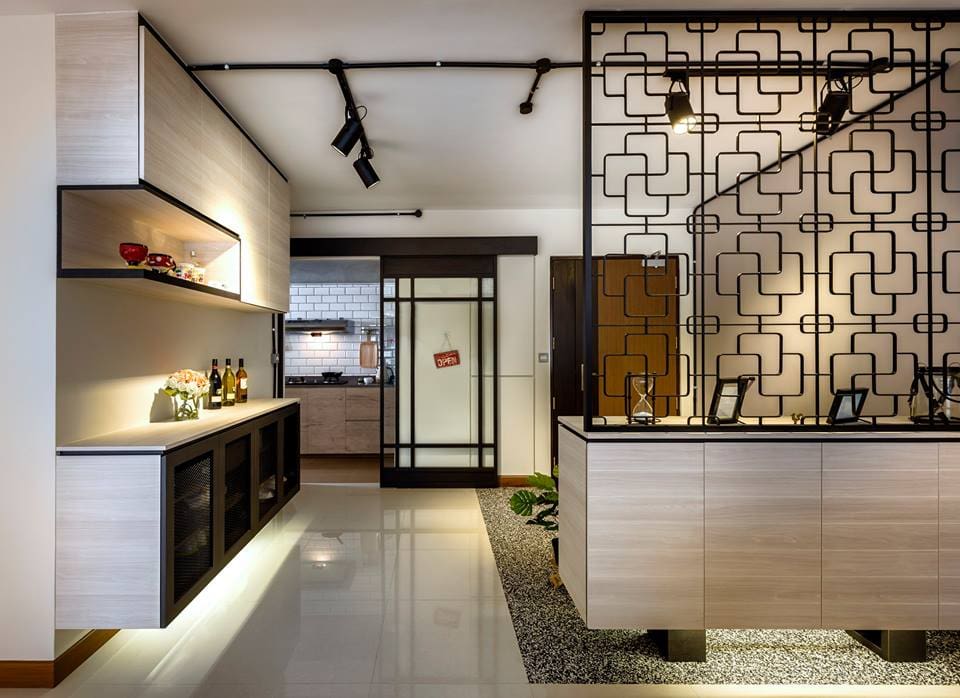 PHOTO: RENOPEDIA
8. Textured Glass Divider
Design-wise, consider texture to be as important as color and pattern. A textured or patterned glass divider can add a chic layer of texture and interest to the space. This type of decorative glass is great for boosting the privacy and aesthetic appeal of the space.
PHOTO: CASA DE VALENTINA
9. Black Framed Glass Panel
If you're looking to add a unique character to your kitchen open-plan space, then a black framed glass panel should be on your radar.
It gives a winning industrial look that satisfies instantly. An aluminum black frame paired with clear glass lends elegant and refined aesthetics to a space.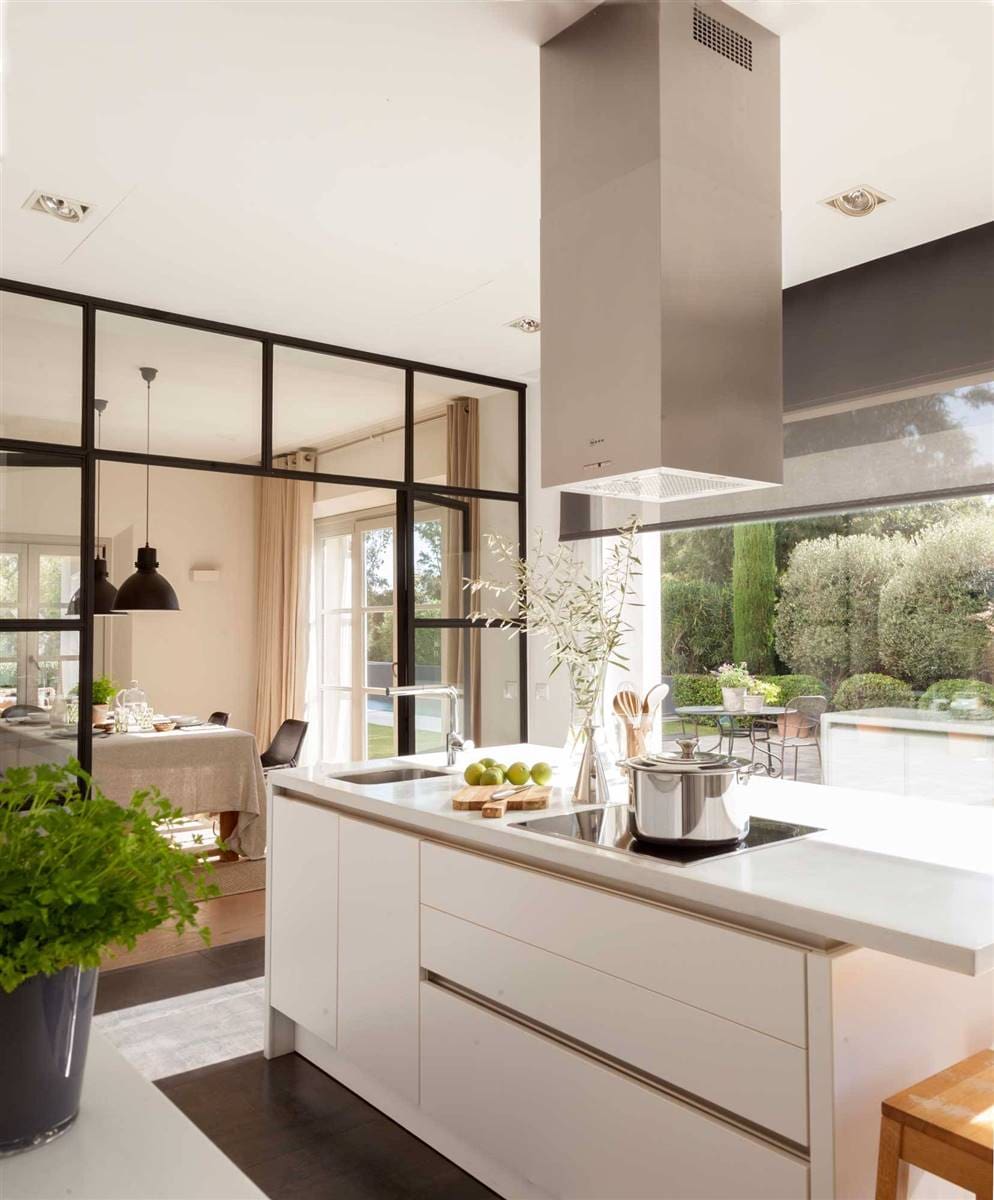 PHOTO: MARCELO CANTARELLA
10. White Framed Glass Panel
White has proved itself to be an enduring neutral. A glass panel with a white frame can your space that sophisticated modern country look. This kitchen partition design will make the space feel fresh and bright rather than kitschy and moody.
PHOTO: DEULONDER
11. Bamboo Kitchen Divider
What makes bamboo an ideal material for kitchen partitions is that it can withstand extreme changes in temperature and humidity.
Bamboo is a popularly used material in sustainable interior design because it helps decrease deforestation. This eco-friendly material also adds visual appeal and a beautiful accent to the interior.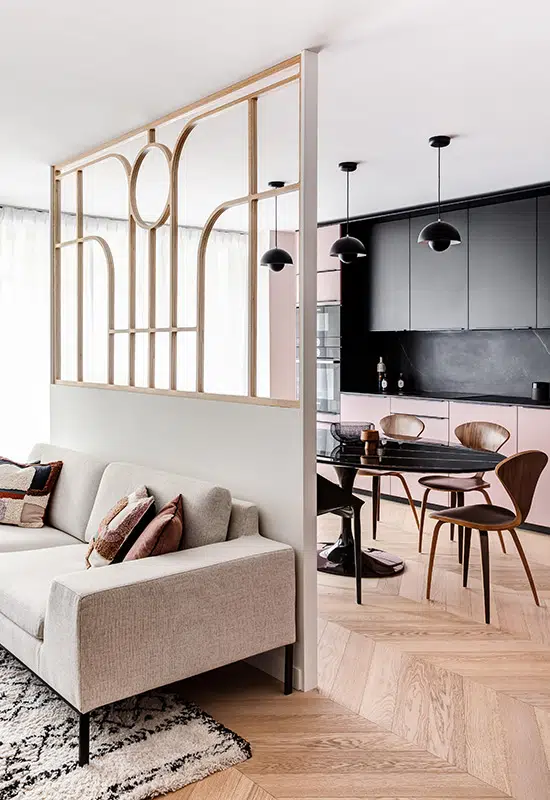 PHOTO: SOPHIE LLOYDS 
12. Frameless Glass Kitchen Partition
A frameless glass kitchen partition design is simply chic and adds a contemporary feel to a space. It usually has thicker glass than framed partitions which makes it a more expensive option.
Not only is this type of partition visually impressive, but it is also less intrusive and doesn't take too much attention away from the space.
PHOTO: BOHLE.COM 
13. Half Wall and Half Framed Glass
Hall walls are an excellent option for open spaces. It can define an area and enhance privacy in an open-plan space without making it feel closed off.
To add character and visual interest to a space, consider incorporating a half-framed glass on top of the half wall. This is an elegant and visually impressive kitchen partition design.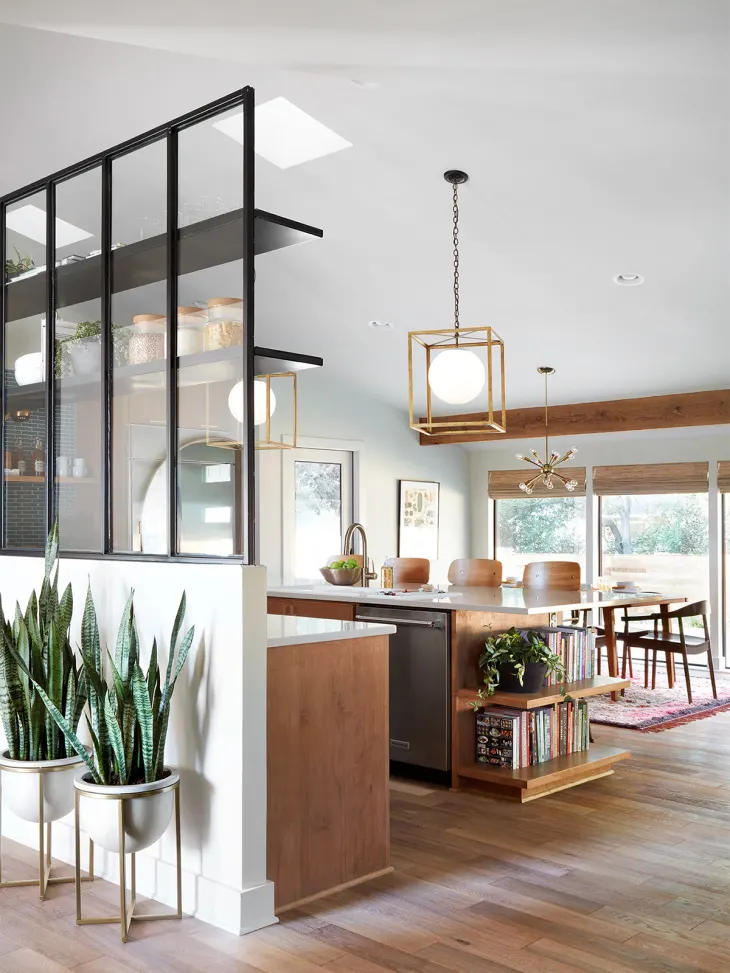 PHOTO: MAGNOLIA
14. Book Shelf Kitchen Partition
A bookshelf is the perfect practical way to divide shared spaces. It provides new storage space for your books and decor pieces while also enhancing privacy by separating spaces physically and visually.
Just like we would suggest for any other open shelving, keep clutter at bay! Plus, color-coordinating the books may help create a sense of cohesion.
PHOTO: MARÍA JESÚS GARCÍA
15. Reclaimed Wood Divider
Reclaimed wood is a wood with a past life. It fuses interior spaces with warmth, texture, and rustic charm which gives it an authentic lived-in feel.
The types of wood have a cornucopia of options to suit your aesthetic predilections and preferences— from oak to pine timber, it is an excellent material for kitchen partitions.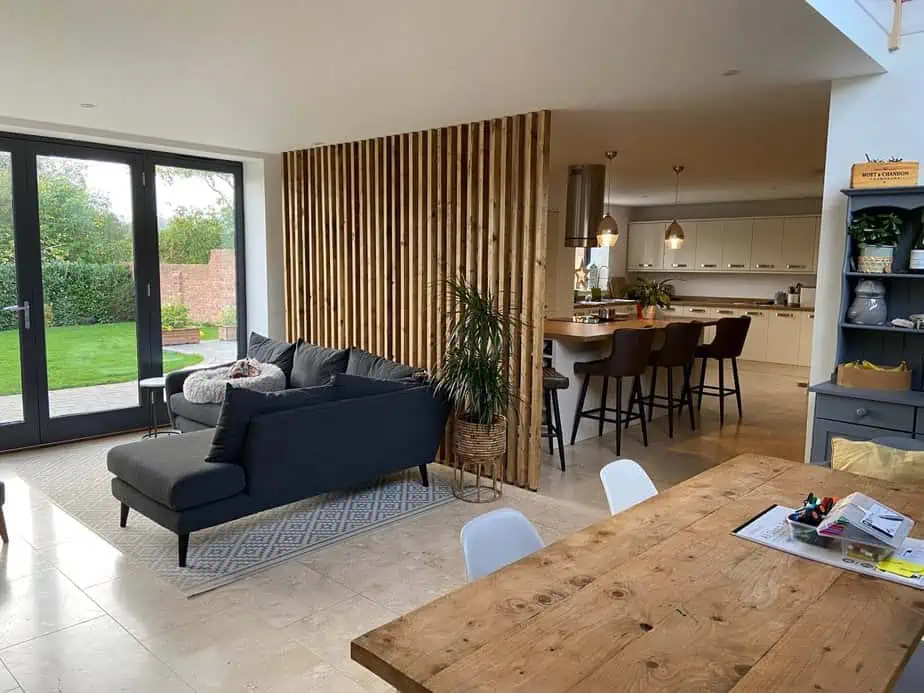 PHOTO: ROBERT ROSE
16. Bi-Fold Glass Doors
A multi-sectioned or bifold door works on a concertina principle— whereby it opens and closes by folding into one side of the frame rather than swinging in or out like traditional doors. It is popularly used in open-plan spaces, giving it a sophisticated feel but it is also an expensive option.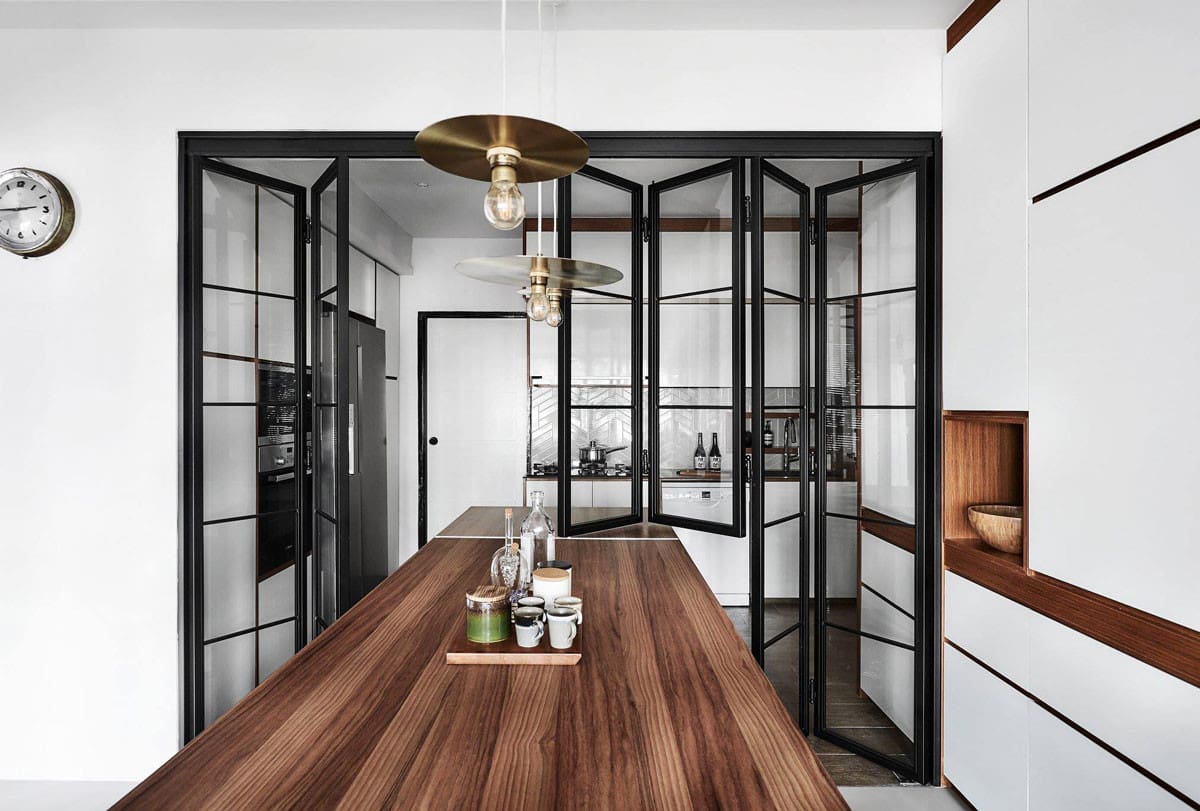 PHOTO: ICON INTERIOR DESIGN
17. Tinted Glass Partition
Any glass that has been treated with a substance, such as a film or coating, that lessens the transmission of light through it is referred to as tinted glass.
This type of glass partition provides more privacy than a clear glass partition. The subtle hint of color on this glass makes it makes a room feel unique, rich, and inviting.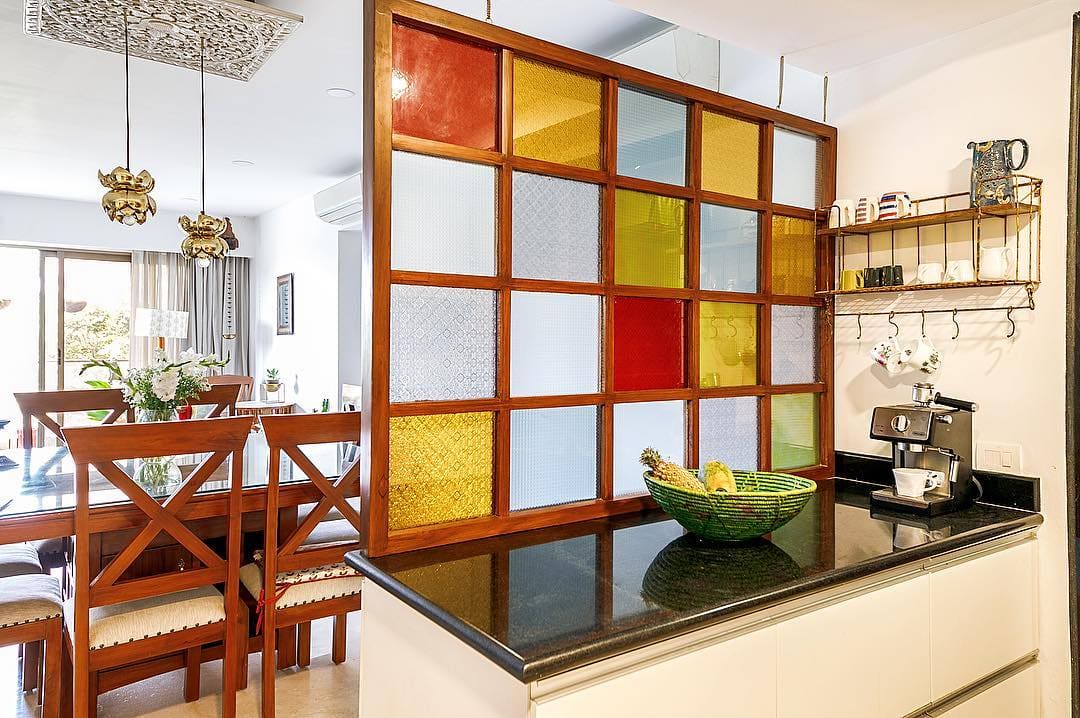 WEE SPACE INTERIORS
18. Vertical Wood Panels
Vertical wood panels have become a symbol of modernity and sophistication. It has the perfect hint of rusticity and polished aesthetic to a space. This kitchen partition design can also give a space a perceived sense of height.
PHOTO: WEE SPACE INTERIORS
19. Horizontal Wood Panels
Just like vertical wood panels make a space appear higher, horizontal wood panels add a perceived sense of more space. By its very nature, wood infuses warmth, character, and rustic elegance into a room.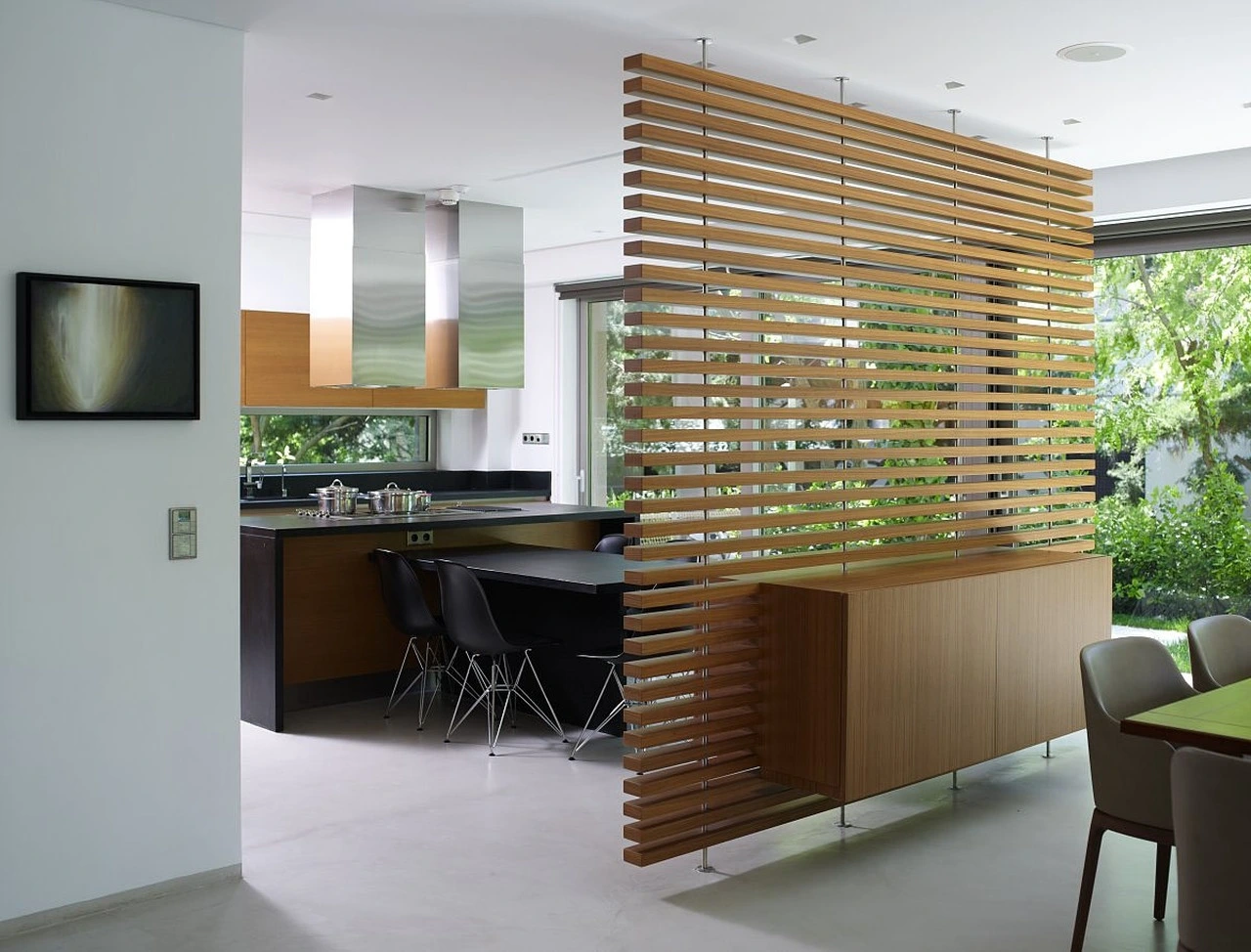 PHOTO: N KOUKOURAKIS & ASSOCIATES
20. Exposed Wood Beams
Exposes wood beams are popularly used in country and farmhouse-style homes. This kitchen partition design is given a space a rustic charm and country-chic appeal. Plus, it adds warmth and a sense of heft to the space.