18 Wooden False Ceiling Design Ideas
A well-thought-out wooden false ceiling design has the ability to infuse warmth and character into a room.
The beautiful thing about wood is that it is a great natural insulator that can also give a room a nice accent when used to form structural elements, false ceilings, and feature walls.
A false ceiling, also known as a suspended, or dropped ceiling is an artificial ceiling hung beneath the main ceiling of a room. There are several materials used to form this type of ceiling, such as wood, gypsum, plasters of Paris, and metal
A wooden false ceiling can instantly liven up a space a dull bland space. Whether you want to introduce an old-world or country-chic interior style or strike the perfect balance between modern and rustic themes, a wooden false ceiling may be just what you need.
In this article, we've gathered our 18 favorite wooden false ceiling design ideas to bring a strong sense of style and warmth to your home.
1. Statement Wooden Ceiling
A centrally placed wood slate ceiling design can serve as a focal point for the room and a refreshing backdrop for your statement lighting or ceiling fan.
This addition makes a space look elegant and refined. There are endless ways to make this design unique to you and also complement your home's existing interior.
PHOTO: PINTEREST
2. Boxed Wooden Ceiling Design
Creating a false ceiling in the shape of boxes is a clever way to add a surprise element to your home. The warmth and texture of the wood will make the space feel cozy while the design will create visually impressive aesthetics.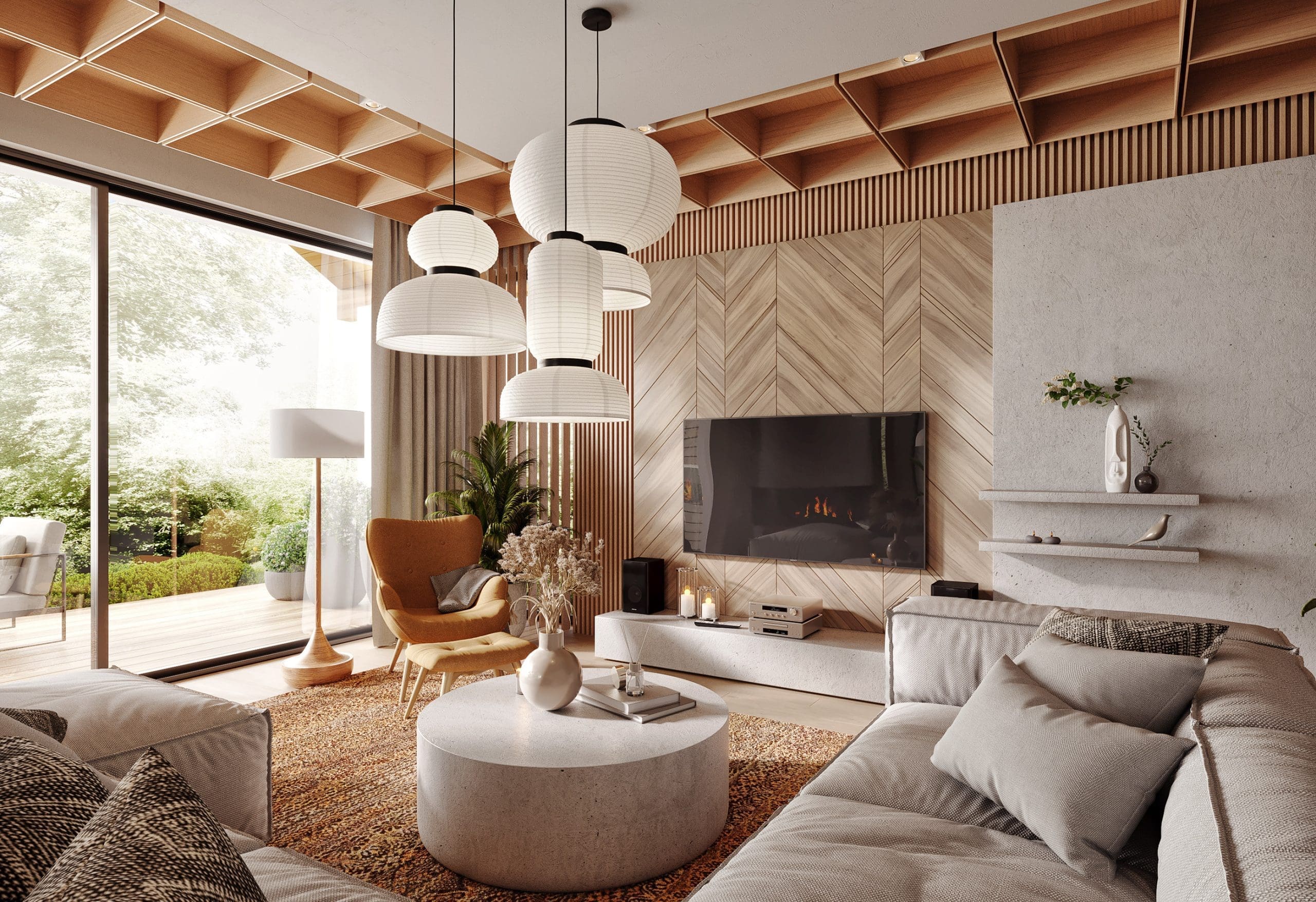 PHOTO: MARCIN MIERZYNSKI
3. Wooden Ceiling Coving
A coving is a decorative joint between an interior wall and ceiling. Plaster or polystyrene is typically used in constructing a coving but wood adds richness and a rustic charm to the space— plus it can hold up nicely over time.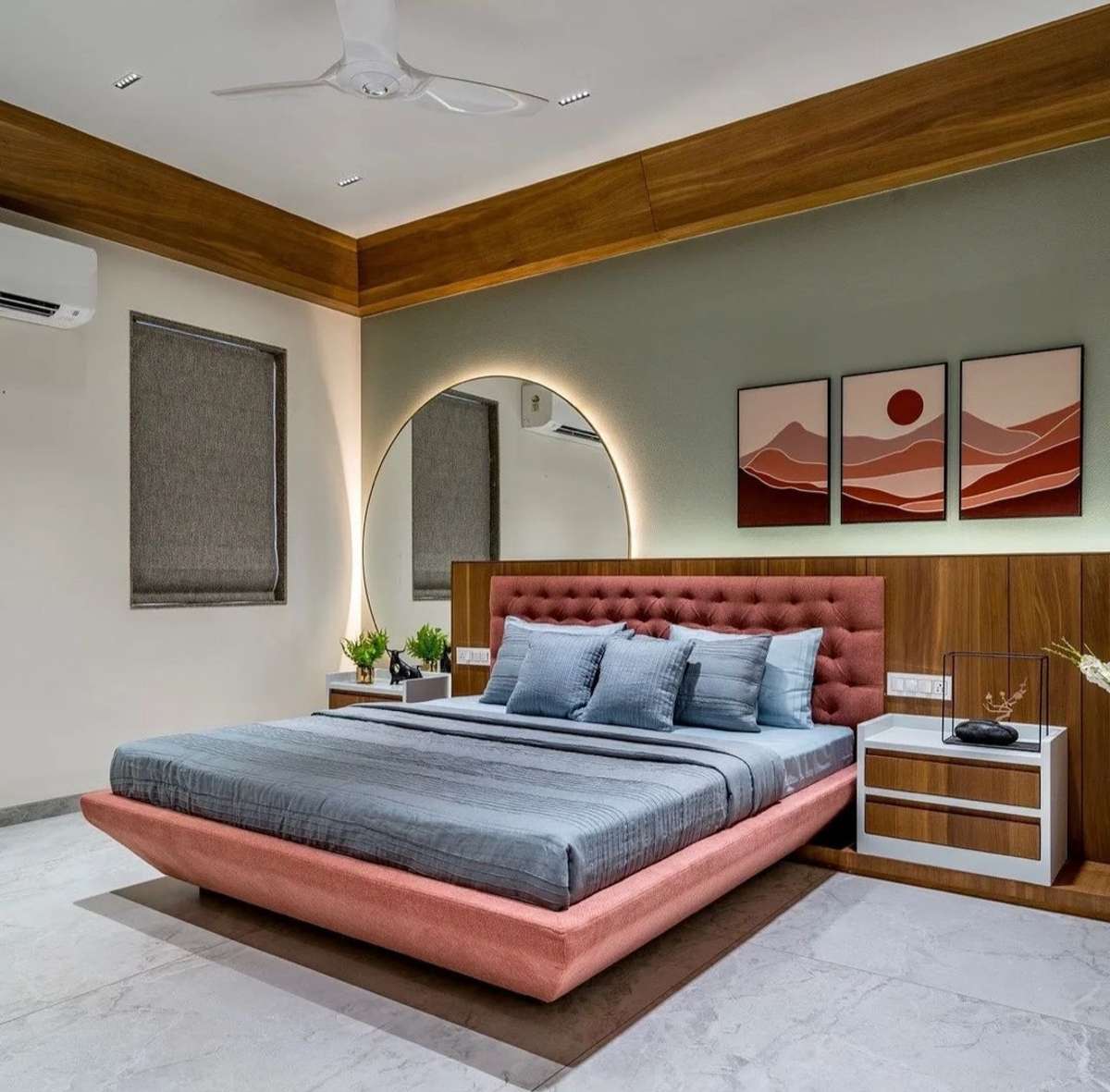 PHOTO: INCREATION ASSOCIATES
4. Vaulted Wood Beams
A vaulted wood beam is a self-supporting arch with exposed structural beams. This false ceiling design is favored for the dramatic sense of heft and strength it gives to a room. It is often seen in traditional rustic-chic and farmhouse-style homes.
There are various types of vaulted ceilings with their own unique design, some of these are barrel, cathedral, dome, arched, groin, and pitched brick.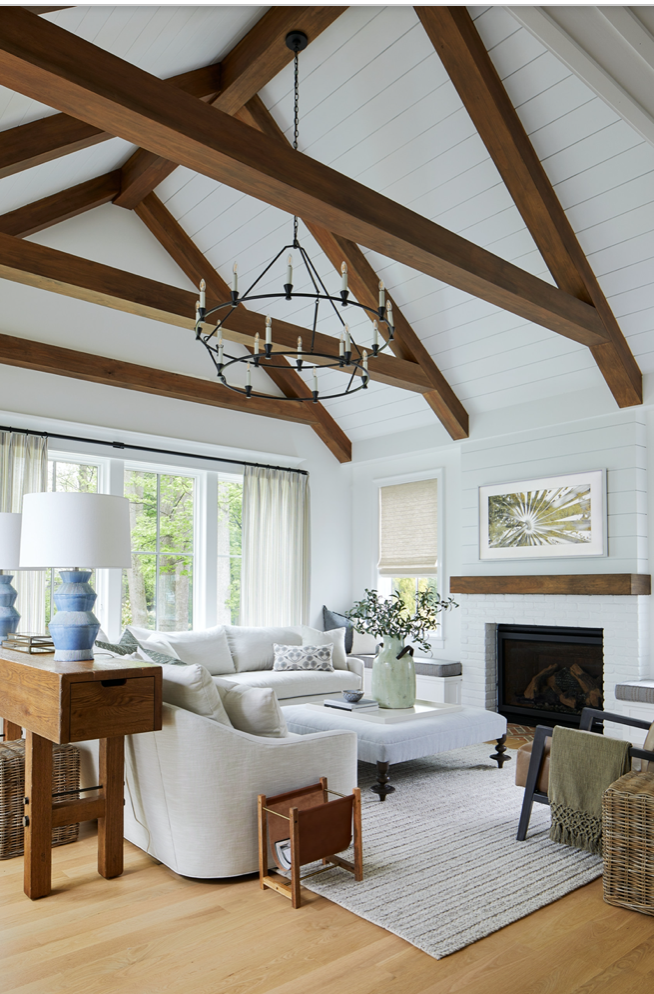 PHOTO: ELLIE MROZ DESIGN
5. Gypsum and Slat Wood Ceiling Panels
The combination of materials is not uncommon when it comes to designing false ceilings. In fact, the combination of textures, materials, and colors is strongly encouraged in interior design.
Gypsum board and wood slates make a great pair in contemporary spaces. This wooden false ceiling design is the perfect blend of modernity and rusticity.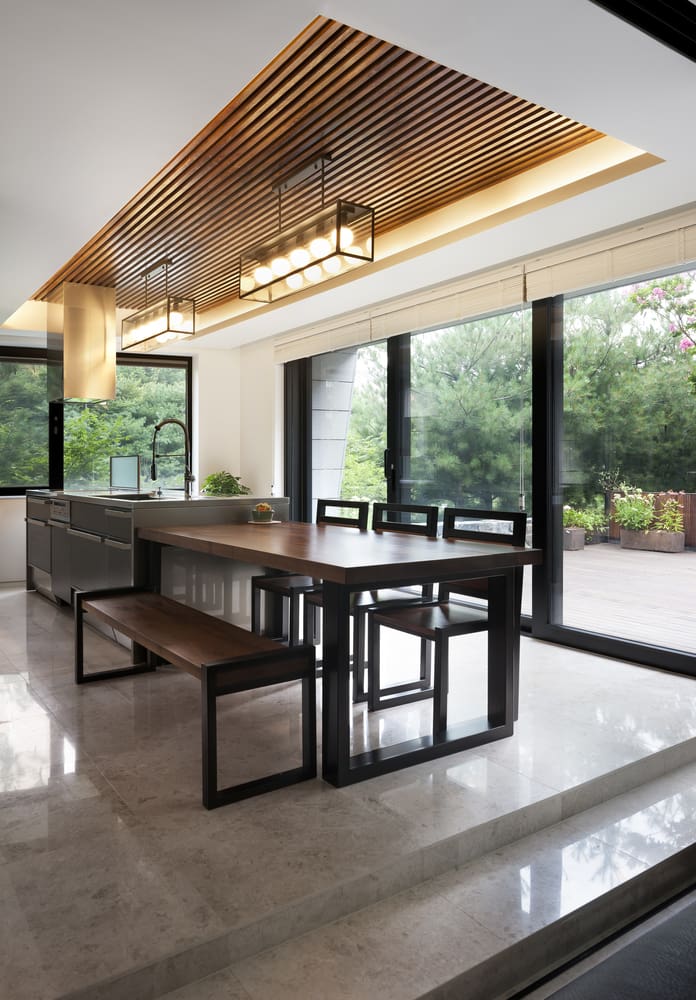 PHOTO: YONGIN DONGSANJAE / LEE.HAAN.ARCHITECTS
6. Cornered Wooden False Ceiling
False ceilings are useful in highlighting and drawing the eyes to certain areas in the room. Instead of incorporating a wooden design throughout the space, give the room a decorative flair by using add it to a specific corner. It is also a great way to create a sense of partition in an open-plan space.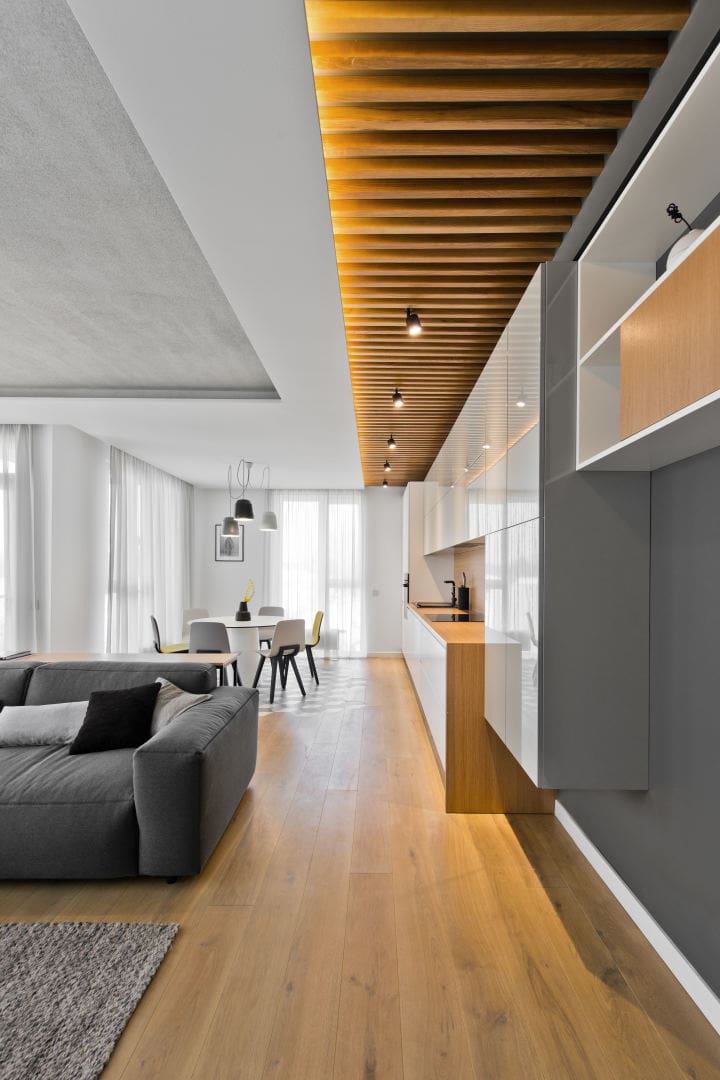 PHOTO: PINTEREST
7. Painted Wooden False Ceiling Design
A natural wood tone ceiling design is visually intriguing but what's even more striking is a painted ceiling. Not the basic stark white paint you may be thinking of but an exciting accent color that can curate a statement-making design.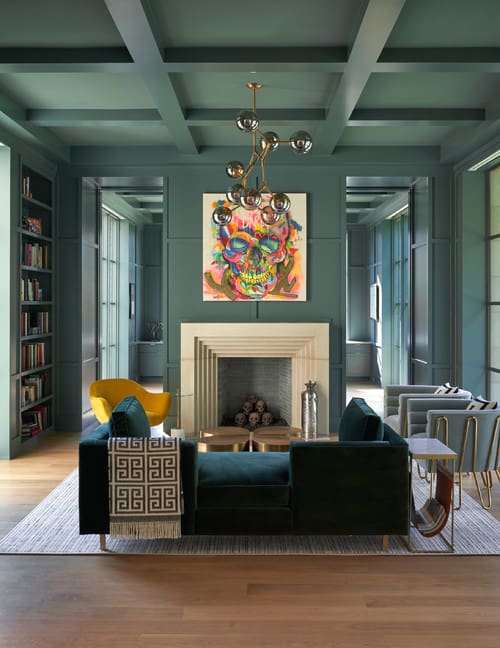 PHOTO: COATS HOME
8. Vertical Slated Wood Ceiling Panels
 Vertical wood slats have become a symbol of modernity and sophistication. Not only does it add texture, warmth, and aesthetic beauty to a space, but it can also add a perceived sense of height to the space.
It is enormously popular in contemporary homes, especially on interior walls. A floor-to-ceiling wood slate can instantly create a focal point and amplify the room's overall aesthetics.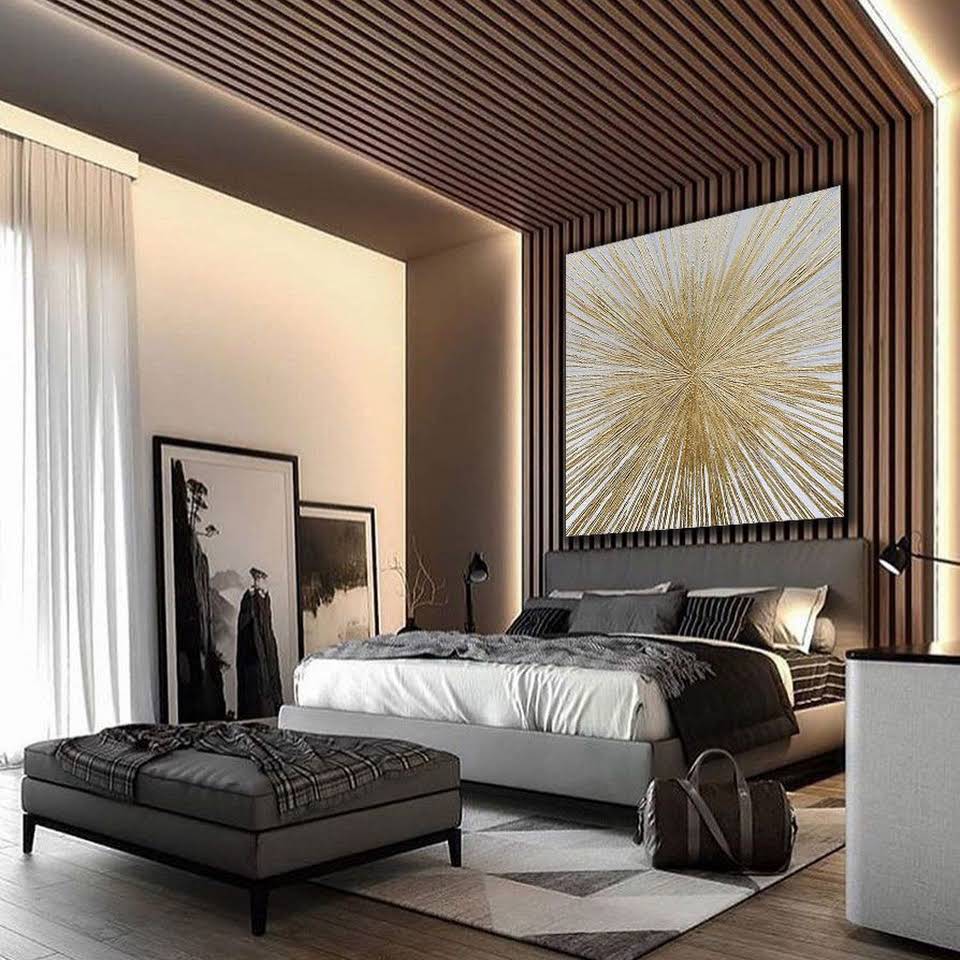 PHOTO: JAMAL KHAN DESIGN
9. PVC and Reclaimed Wood False Ceiling
PVC stands for Polyvinyl chloride and it is also a widely used false ceiling material. It is considerably cheaper than counterparts such as wood and POP (Plasters of Paris). On the other hand reclaimed wood is an old wood that has been repurposed. PVC and reclaimed wood together, can make a big interior statement.
PHOTO: BARRON DESIGNS
10. Black Wooden False Ceiling Design
Black is a timeless and highly versatile color that will work in interior settings. A black-painted wooden false ceiling can bring texture and laid-back elegance to a room like no other. Since black is neutral, you can easily redecorate your room around it, should you need to.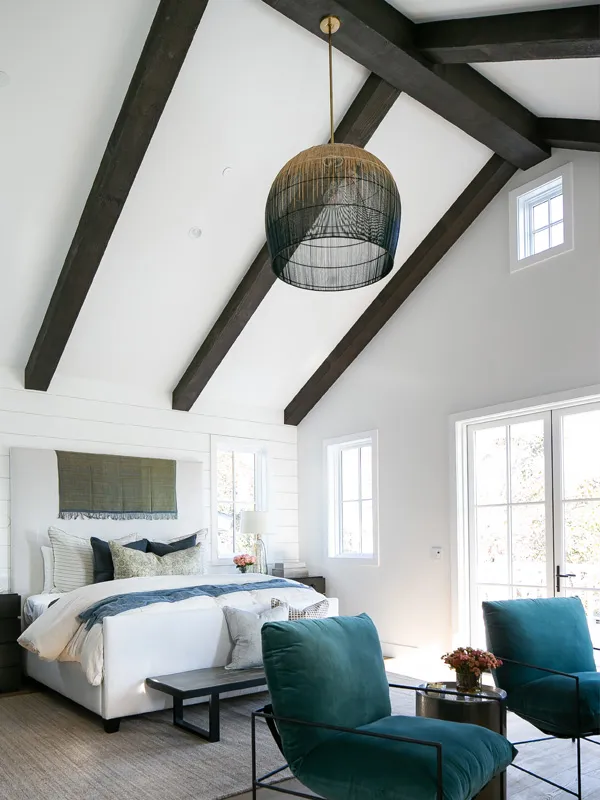 PHOTO: BLACKBAND DESIGN / RYAN GARVIN PHOTOGRAPHY
11. Horizontal Wooden False Ceiling
Just like vertical wood slates gives the perception of more height to a room, horizontal wooden slates add a perceived sense of space to a space. Horizontal can be the ideal option if you want to keep things classic while yet making a statement.
PHOTO: PINTEREST
12. Two Tone Wooden False Ceiling
The combination of tones and textures is an easy way to maximize interest in a room. This could be a pair of neutrals or a combo of cool and warm colors. In addition, consider what hues and tones already exist in your design color scheme and incorporate them in your wooden false ceiling.
PHOTO: LIZ RUSBY/ THE GRUBB CO. 
13. Gable Wooden False Ceiling Design
A wooden false ceiling can help to highlight architectural details such as a gable. This design can satisfy multiple levels and can bring a dynamic design to any room— particularly high-ceiling spaces.
PHOTO:  VERTICAL ARTS ARCHITECTURE
14. Grey Wooden False Ceiling
There are so many plain white ceilings in the world today, so why not add a refreshingly contemporary twist to yours? Grey is a tried-and-tested neutral that never tires. Painting your wooden false ceiling grey is a less intrusive way to give the entire space a cutting-edge look.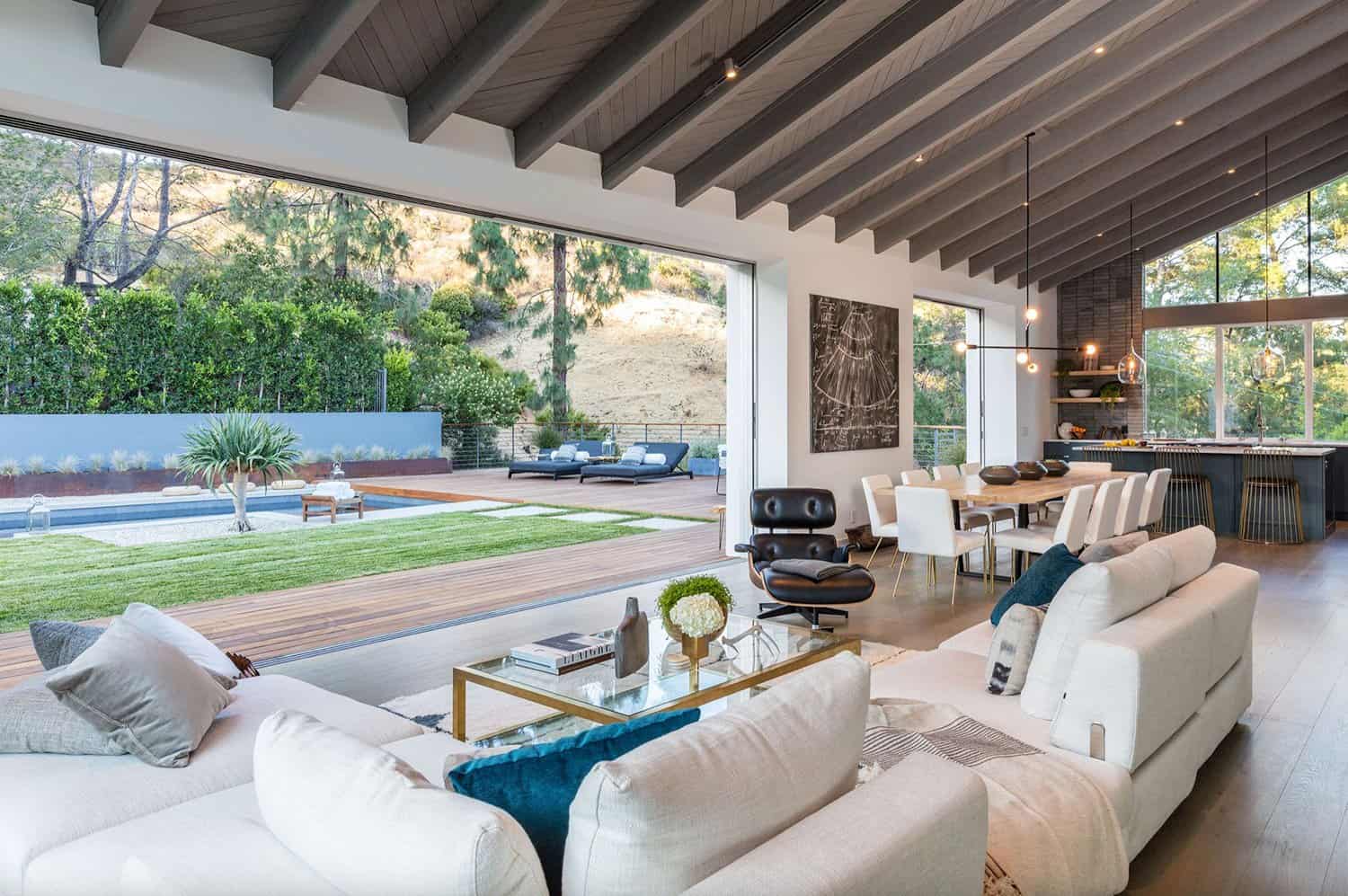 PHOTO: ONE KIND DESIGN
15. Red Cedar Wooden False Ceiling
What makes red cedar highly sought after is that is it one of the most durable woods on the planet. It has an immense visual appeal that is irresistible to homeowners and designers. Incorporating this rich material into your home will help to create a charming and polished vibe.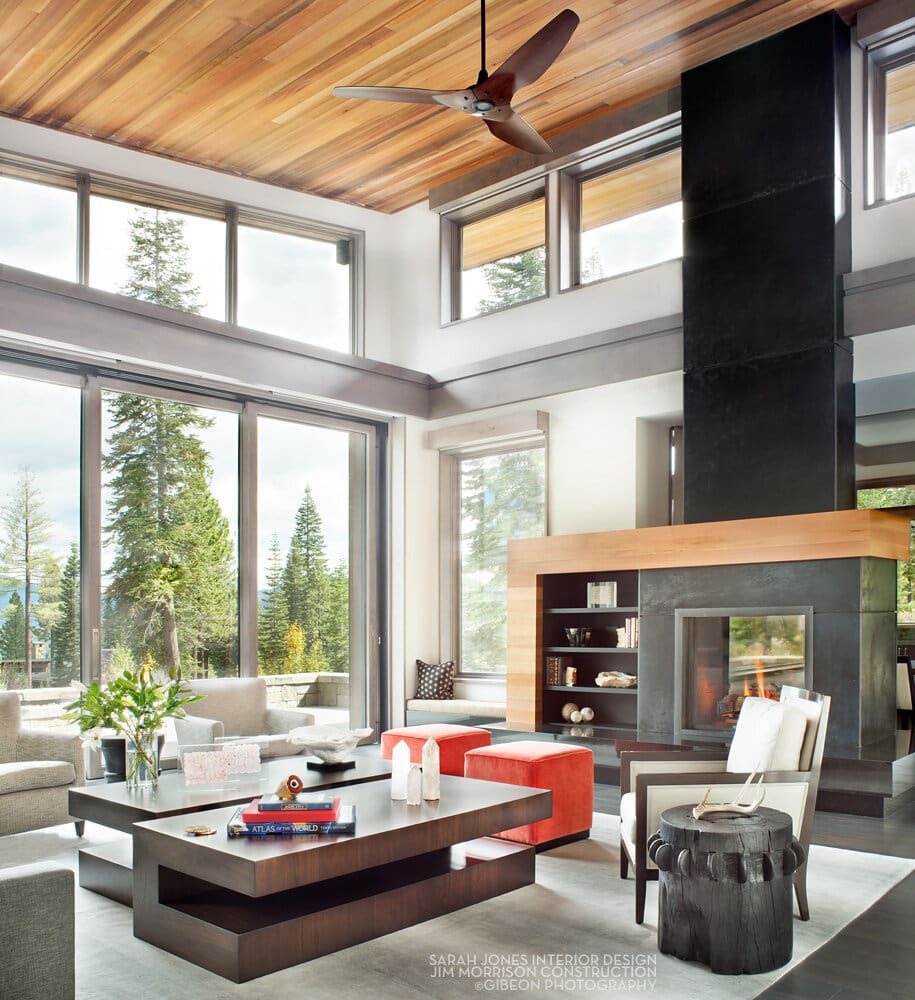 PHOTO: SARAH JONES DESIGN
16. Herringbone Wooden Ceiling
Herringbone wood has an enticing pattern that can also make a small space appear bigger than it is, especially smaller and narrower areas such as hallways, bathrooms, and powder rooms. It is popular for its visual appeal and ability to create visual depth and the illusion of space.
PHOTO: INFOKUS DESIGN
17. Coffered Wooden Ceiling
In architectural terms, the word coffer means indentation. A coffered ceiling is a type of ceiling that consists of a series of sunken panels in the shape of a square, rectangle, or octagon.
It is popularly seen in many traditional and mid-century homes but it dates back to ancient Greek and Roman when they were made of stones. It is a classic and elegant wood false ceiling design.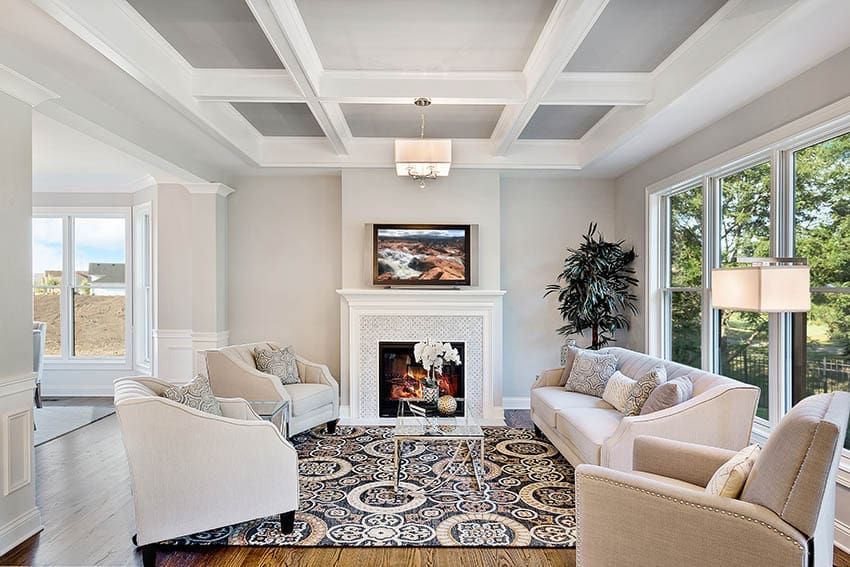 PHOTO: PINTEREST
18. Geometric Wood False Ceiling Design
Geometric patterns can make a real style statement in interior spaces, especially when used as a wooden false ceiling. This attention-grabbing pattern is a masterful way to bring a contemporary feel into your design.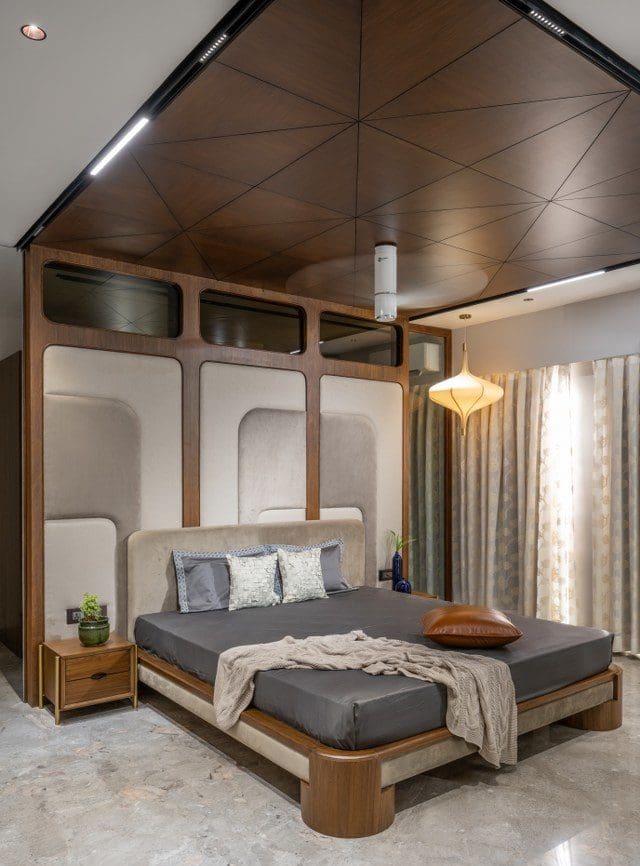 PHOTO: DE CAVES DESIGN