21 POP Ceiling Designs For Hall
The hall of a home or building sets expectations for the rest of the rooms. An attention-grabbing POP ceiling design adds a grand gesture and creates an inviting ambiance in the space. This will give your guests an unforgettable impression. If you're looking for some inspiration on POP ceiling designs for hall, you're just where you need to be! In this article, we've combined a list of 21 amazing pop ceiling designs that are perfect for halls and entryways.
But first, what is a POP ceiling?
POP stands for plasters in Paris. it is a popular material used for making false ceilings. It comes in quick-setting white dry powder form made of semi-dehydrated gypsum and needs to mix with water to form a paste. This paste is molded by a professional to create a variety of false ceilings such as T-bar, recessed, and suspended, to name a few.
POP false ceiling has been taking the world by storm over the past decades and it doesn't seem to be losing its touch anytime soon. This is because they are false ceiling endless design ideas that are sure to add architectural interest and depth to any space.
It is a worthwhile replacement for the traditional basic and flats ceilings. Both commercial and residential spaces are increasingly embracing the use of POP ceilings. These types of ceilings are not just economical, but they are very versatile in comparison with other types of false ceilings.
So, continue reading for 21 POP ceiling designs for hall that will accentuate your ceiling.
1. Color-Coordinated POP Ceiling Design
Plan white ceiling design is so overused. Why not add a twist to your hall by color-matching it to your existing color scheme? This will add charm and character to your hall.  Incorporate plenty of whites and a pop of color to tie the room together.
Keep things interesting with the creative use of light throughout the ceiling. This concept works better with neutral and natural colors rather than bold vibrant colors. So, consider your hall's color scheme to decide if this is the best option for you.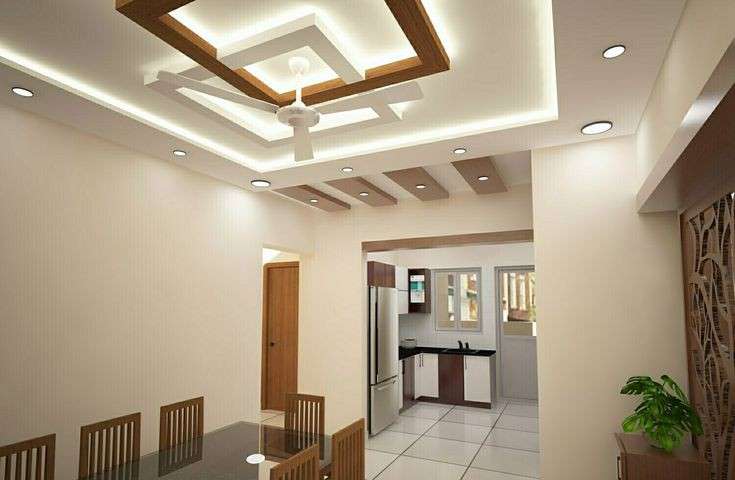 2. Multi-Colored Light POP Ceiling Design
Impress your guest with a POP design that gives a retro and stylish look. A great way to do so is by installing multi-colored LED lights on your POP ceiling. Lighting is a core element in interior design and it can transform a POP ceiling from simple to inviting. This doesn't have to be bold and overpowering. Incorporating muted colors can also give it a subtle and stylish touch.
3. Coffered POP Ceiling Design
Coffered ceiling design is a classic architectural detail that will make an impact on your POP ceiling. The coffered ceiling style has been around for millennia. This POP ceiling designs for hall is highly decorative and it creates an illusion of height. Historically, a coffered ceiling has been used by architects and interior designers to make a room more regal and grand.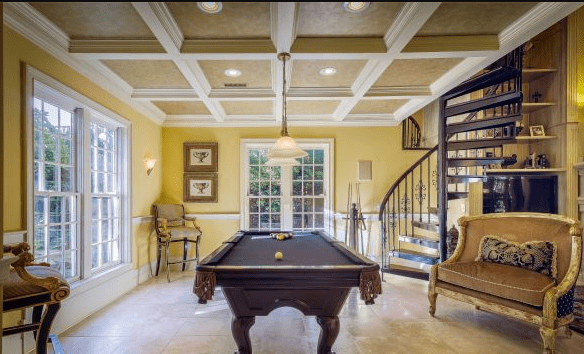 4. Spiral POP Ceiling Design
Spiral POP designs create a contemporary feel and give an illusion of space. Hence, this will make your hallway appear larger than it is. Plus, it tends to stand out better than square or rectangular POP ceiling designs. Although this spiral-style POP design may not work particularly well in a small hall. It, however, will add architectural intrigue to a modern grande hall.
5. Rectangle POP Ceiling Design
A rectangular-shaped POP ceiling designs for hall is a common design that can be incorporated into any hall. It is simple and less complicated to implement. You may want to consider this shape for a subtle yet stylish and contemporary feel in your hall. You can give it a more intriguing look by using creative lighting techniques such as mood LED lighting. Not only will this illuminate the space, but it will also add a pop of color and vibrancy.
6. Floor-to-Ceiling POP Design
Opt for floor-to-ceiling pop design to spark creativity and interest in your hallway. There are numerous ways to incorporate this idea, from minimal to maximal designs, this highly innovative POP ceiling design will make your hall visually pleasing to your guests. Plus, this POP design idea not only adds a contemporary feel to your hall but also it also injects some personality into it.
7. Square POP Design
A square-shaped POP ceiling is a common design that can be seen in many interiors today. For contemporary aesthetics, add concealed LED lights to add interest to the ceiling. You can decide to stick to one large square or have several squares. This depends on your hall structure and personal preference. Either way, this is a simplistic POP ceiling design for hall that is easy to implement.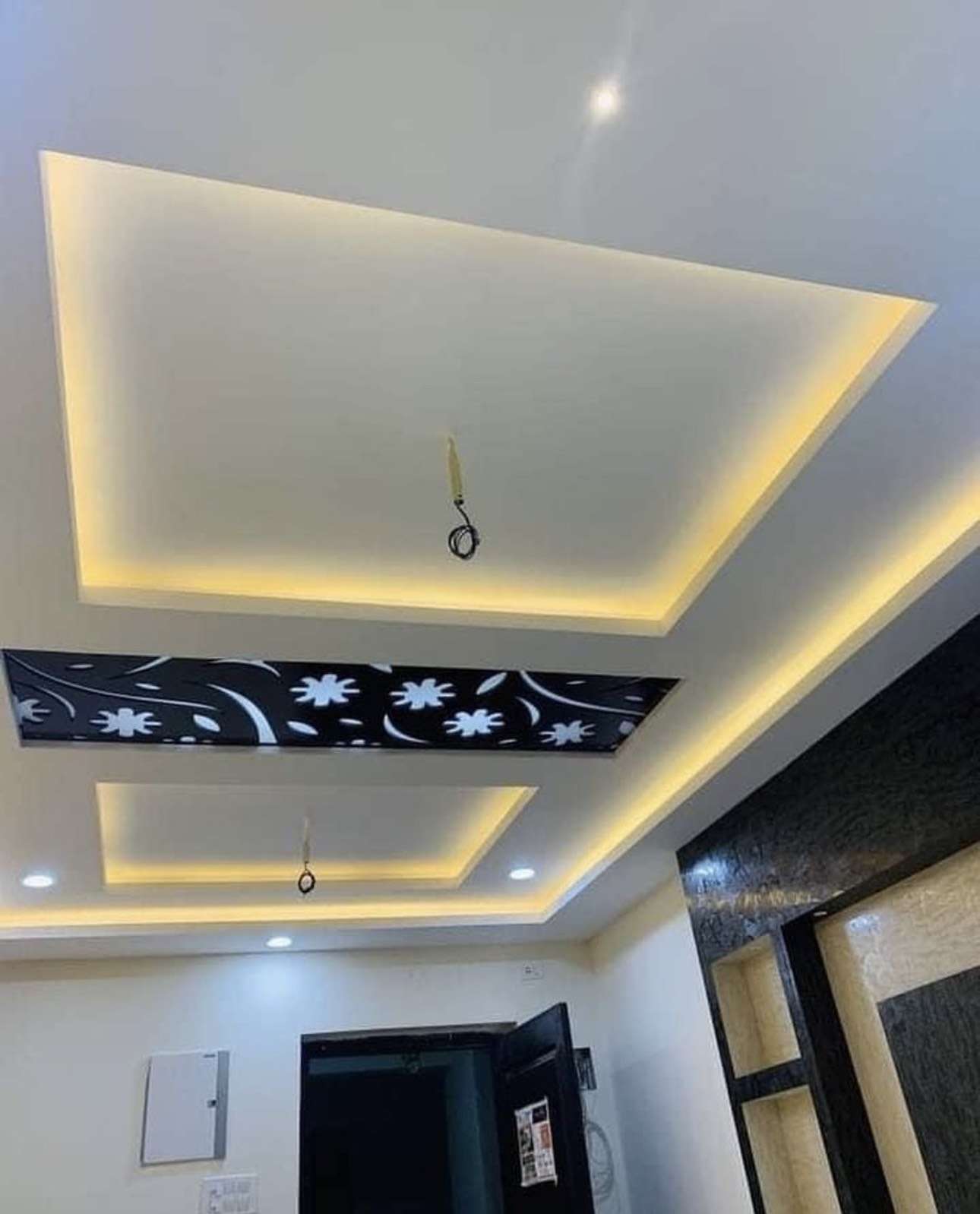 8. Wooden POP Design
A great way to add natural elements to your contemporary hall is by stylishly pairing your POP ceiling with wooden panels. This will create a warm and inviting ambiance for your guests. The wooden elements also add texture and a pop of earthy color to the space. This a surefire way to enhance the look of your hall.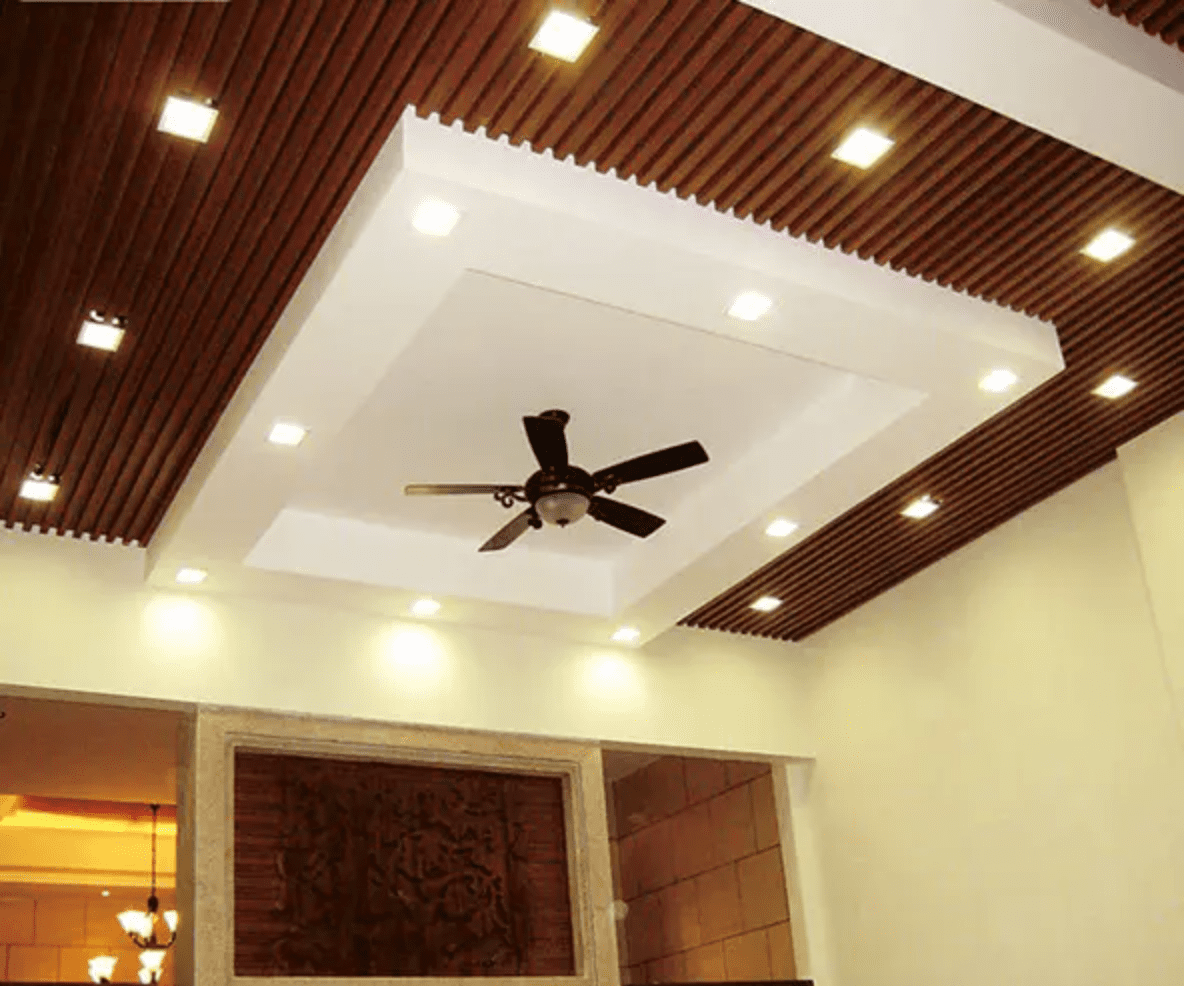 9. Maximalist POP Ceiling Design
Take it up a notch for a dramatic and attention-grabbing hall interior. POP ceiling design is a great way to add style and character to your space. This concept is ideal for commercial or large residential halls. Use unique POP shapes and incorporate bold and vibrant colors in your POP ceiling design. This dramatic approach will impress guests at the very first sight.
10. Unique Pattern POP Ceiling Design
Break the norm and go for something unique like this fan-shaped POP ceiling. This is ideal for creating an exquisite impression. This multi-layered fan POP ceiling gives uniqueness and style to the style. So, you can use this for your hall or something completely out of the ordinary. Feel free inject your personality into it.
11. Blocks POP Ceiling Design
First impressions matter! If you want a stylish yet modern POP ceiling designs for your hall, consider the blocks. This design style does not overwhelm the space, rather it gives it a contemporary and grande feel. Small LED light bulbs can be added to each block to maximize interest and add visible brightness.
12. Circle POP Ceiling Design
Circle-shaped POP ceiling design work so well in almost any room. Implementation is key! This look can transform your hall in a subtle way and enhance your guest's experience. You can opt for one circle design and a layered twist with several circles. Either way, this design is easy to pull off.
13. Multi-Layered POP Ceiling Design
By adding layers to your POP ceiling, you can make such an impressive difference than when it's on just one level. This also helps create an illusion of space and makes your hall feel more open and airy. Layering the lighting is also a great way to accentuate the POP ceiling and enhance the room overall.
14. Lighting-Focused POP Ceiling Design
Lighting is a key element in interior design. No matter how aesthetically pleasing your interior scheme is, it's your lighting that accentuates it. Instead of hanging up a grand chandelier on your hall ceiling, you can opt for lighting-focused POP ceiling designs for hall. This creates interest and depth in your hall.
15. Grandeur POP Ceiling Design
Looking to create a focal point in your hall with your POP design? Consider a grandeur design approach. This is the best way to maximize interest and spark conversations between your guests. One of the benefits of a POP ceiling is that it can be customized to suit your needs and the aesthetics of your space. So, go grande if your space can handle it!
16. Glass POP Ceiling Design
A less explored but intriguing POP ceiling design idea is glass. For a contemporary twist to the POP design, consider the use of glass. A POP ceiling with edgy lighting can make your hall feel spacious. This is a clever option for a contemporary and stylish design solution for your hall.
17. Geometric POP Ceiling Design
Over the past decade, we've seen a rise in the use of geometric elements in contemporary interior design. This adds a lot of character and visual appeal when incorporated into the POP ceiling design as well. This design can use be used to create ambiance and warmth in your hall, especially when you utilize clever lighting techniques.
18. Combo POP Ceiling Design
When it comes to POP ceiling designs for hall, there is no one approach. Instead of sticking with a particular style, you can incorporate a few in one ceiling. You can choose to combine different shapes, including wood and glass, or even add your own twist to the finishing touches.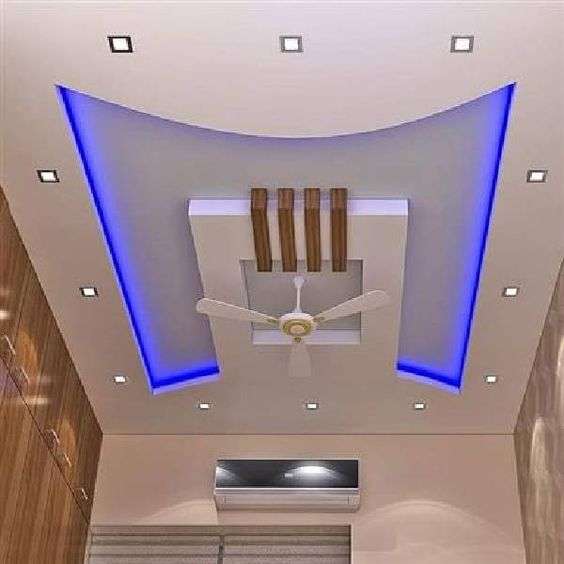 19. Artistic POP Ceiling Design
Elevate the aesthetics of your hall with an artistic twist to POP ceiling design. Rather than going for something basic and overused, let your creative juices flow! Gather inspiration from designs you like or come up with your own ideas. Remember, complex POP designs like this will require an expert in the field to execute.
20. Modern Minimalism POP Ceiling Design
Modern minimalism is not boring, it's a stylish way of keeping things simple. This is ideal for halls that require an interior change from time to time. With a less intrusive POP ceiling design style, there is no need for an update for years to come. Timelessness should be put into consideration when choosing POP designs for hall.
21. Pop of Color POP Ceiling Design
A POP ceiling design is, of course, a clever way to inject color into your hall. Most halls have a simplistic POP design that can be too basic and lacking interest. Add visual interest to your POP ceiling design by using a color from your interior color scheme. This can work well in any POP design and can transform a bare ceiling. This idea creates a style statement and can also be implemented in other places such as the living rooms and bedrooms.
There you have it, these are 21 POP ceiling designs for hall we think you'd find inspiring for your hall project. There are a lot of creative styles to consider when it comes to POP ceilings. Let us know if any design caught your attention in the comment section below.