21 Kitchen Island Lighting Ideas To Make a Statement
Lighting is an essential part of any interior design project. The lighting in your kitchen should be put into careful consideration if you want to create a cohesive and inviting kitchen. A kitchen island is a focal point of the kitchen and should be styled as such. It's where we do our meal prep, read, entertain guests, and even work. Hence, this is a highly functional space in the home but it can also be your home's central showstopper.
It is a rule of thumb in interior design to use creative lighting techniques to add interest and depth to a space. For a chic and stylish look, opt for statement-pending lighting above your kitchen island. Pendant lighting for kitchen islands tends to add warmth and visual appeal to the entire space.
Factors to consider when looking for the right kitchen island lighting is the size of your kitchen, your kitchen color scheme, and how the space will be used. If you're in looking for ideas on the perfect kitchen island pendant for you, then look no further!
In this article, we've compiled the 21 kitchen island lighting ideas to will make a statement in your kitchen. So, if you are looking for new ways to update your kitchen or if you are designing a kitchen from scratch, keep reading to gather some inspiration. Whether you have a modern style or farmhouse style, you will find kitchen island ideas that may be perfect for your home.
1. Keep Your Lighting Symmetrical
One of the most common ways to hang up lighting on the kitchen island is to keep it symmetrical. What makes this style so popular in many homes is that it creates a cohesive and timeless look. There are many pendant lighting of various shapes and styles that can be used to incorporate this look. Just remember to choose the color shade that complements the rest of your kitchen for a stylish and cohesive feel.
(Image credit: Jessica Weeth)
2. Embrace Trilogy Kitchen Island Lighting
If you want to add visual impact to your kitchen, opt for three-pendant lighting. This makes your kitchen full and character and is particularly useful for a kitchen with little natural light. Decorative pendants are design elements that never go out of style. Homeowners and interior designers use them to make a statement in the kitchen to give it the space a tasteful touch.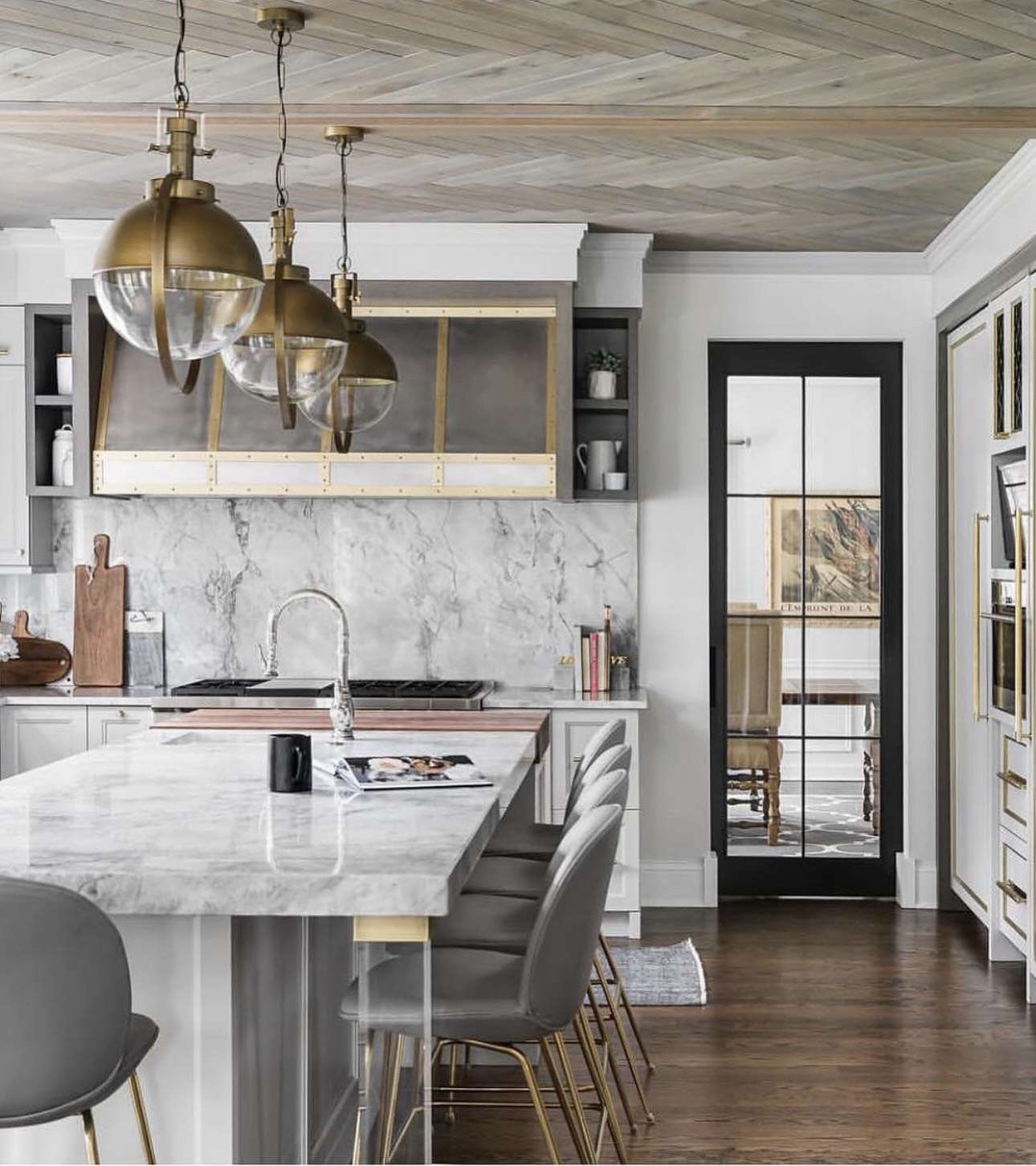 (Image credit: Ashley Stark)
3. Use Box Lantern Pendent to Create Interest
Lantern-style pendants are a classic lighting style that can inject personality into any home. The box-shaped pendant is a statement-making feature that borders on minimalism and style. If you opt for this style of kitchen island lighting, be sure to use creative lighting solutions throughout your kitchen as this style of lighting creates a softer light that is more decorative than functional.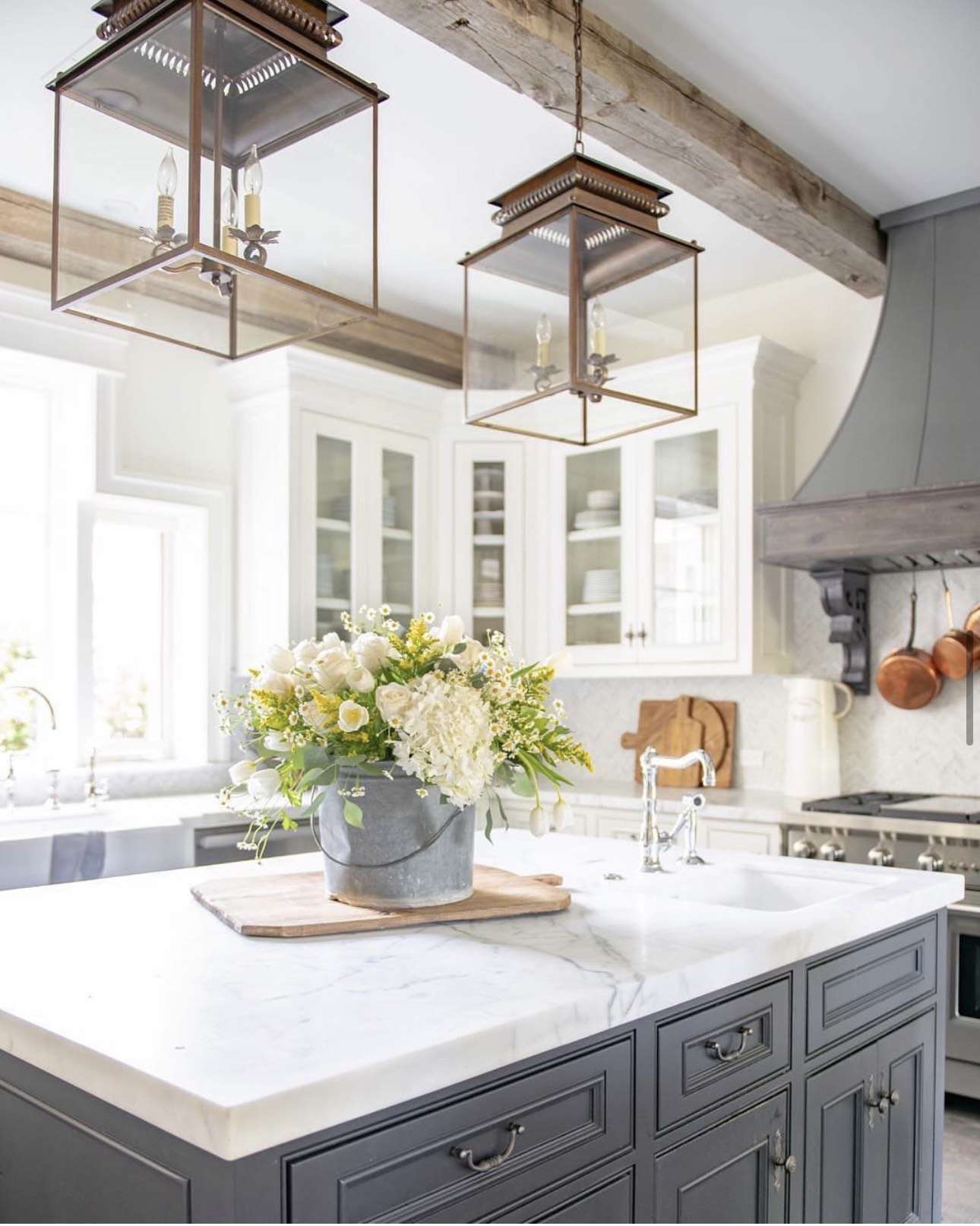 (Image credit: Sanctuary Home Decor)
4. Embrace Minimalism with Exposed Bulbs
Opt for a minimal look with exposed bulbs if your kitchen features bold color palettes to tie the room together. Most kitchens tend to feature a neutral palette, hence, the need to add a pop of color and make a statement with the lighting. If this isn't the case for your kitchen, then consider kitchen island lighting with a more subtle look like exposed bulbs.
(Image credit: Devol Designs)
5. Make Your Kitchen Stand with a Tear Drop Pendant 
Create a more dramatic look with uniquely shaped pendant lighting. This will create a stylish and modern feel to your kitchen. This is a great kitchen lighting idea for a contemporary minimal kitchen that needs character and charm. So give your kitchen island some personality with a stunning tear-drop pendant.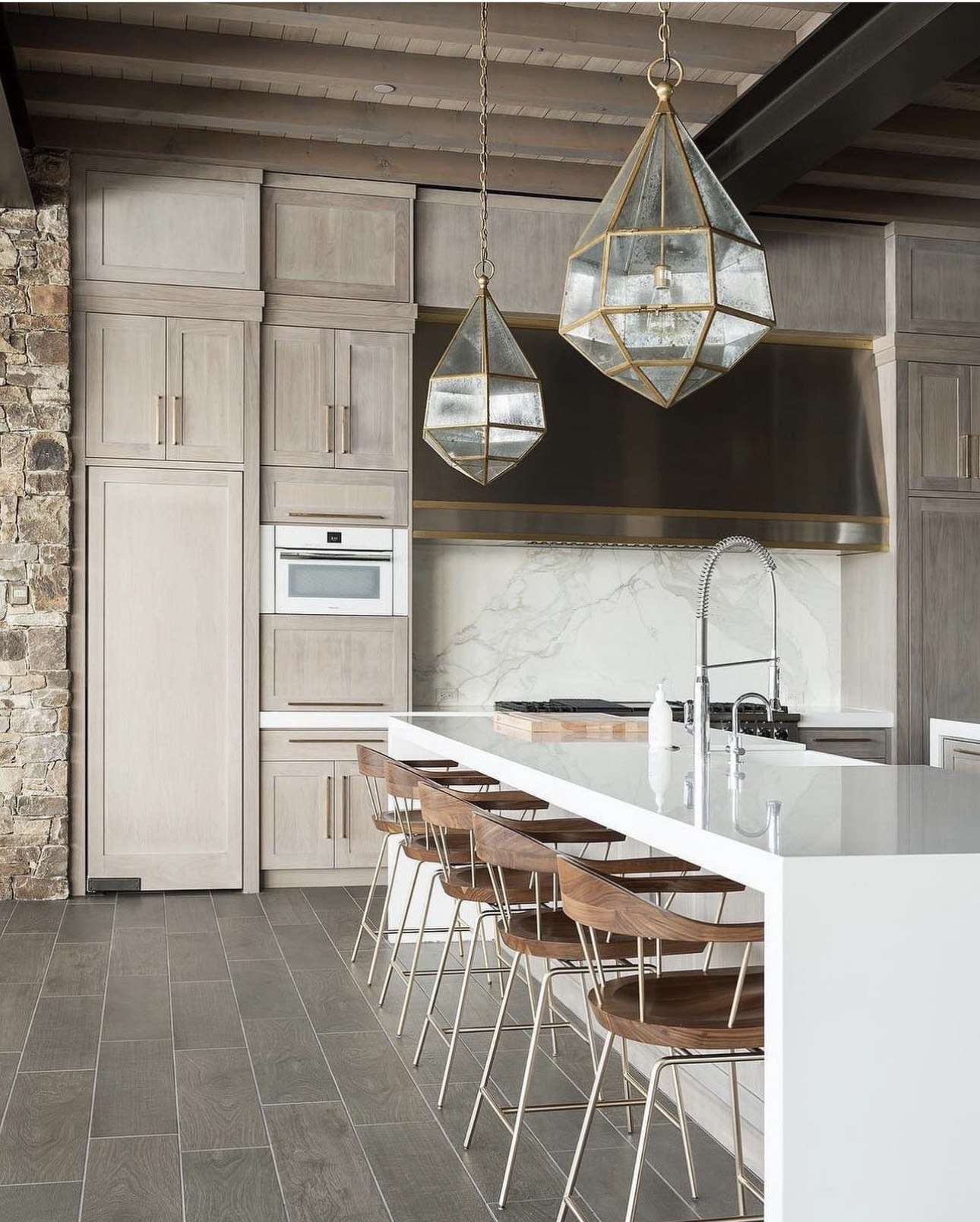 (Image credit: Paula Berg Design)
6. Use for Chandelier for a Stylish Look
A chandelier is a popular type of lighting that can be seen in most homes today. A chandelier can create a warm and inviting vibe while adding plenty of light to your kitchen's focal point. This is a great way to add a grand gesture to your kitchen because they are so many types of chandeliers available today. From minimal to dramatic, there is something out there that is ideal for your kitchen island.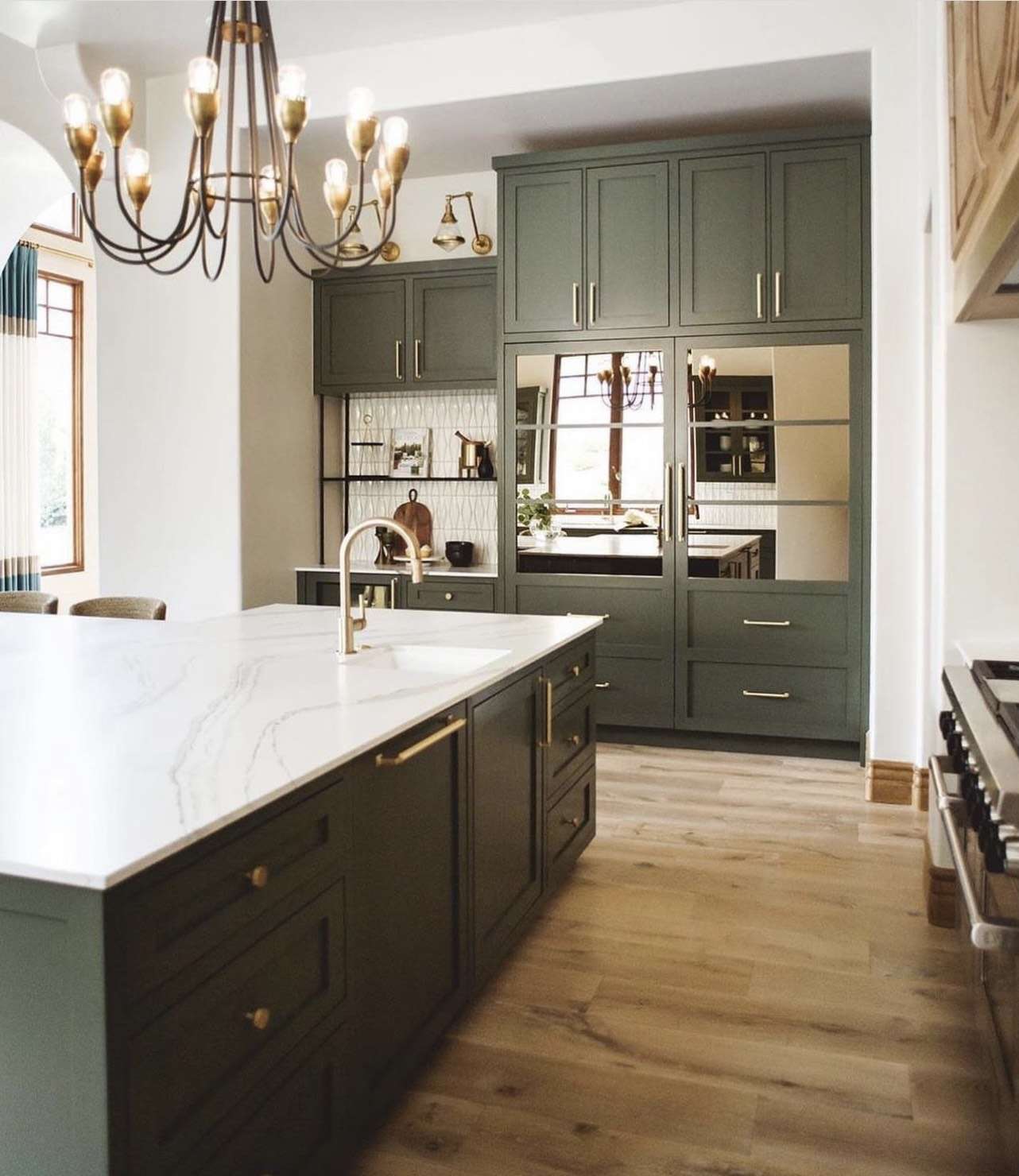 (Image credit: Savvy Interiors)
7. Opt for a Large Billard Pendant
A billiard pendant lighting never goes unnoticed or gets lost in a room. A great way to make a statement is by opting for a  stylish large billiard pendant. This will instantly add a contemporary feel and irresistible charm to your kitchen. This is also a very functional lighting solution as it will properly illuminate the kitchen island- making food prep a lot easier.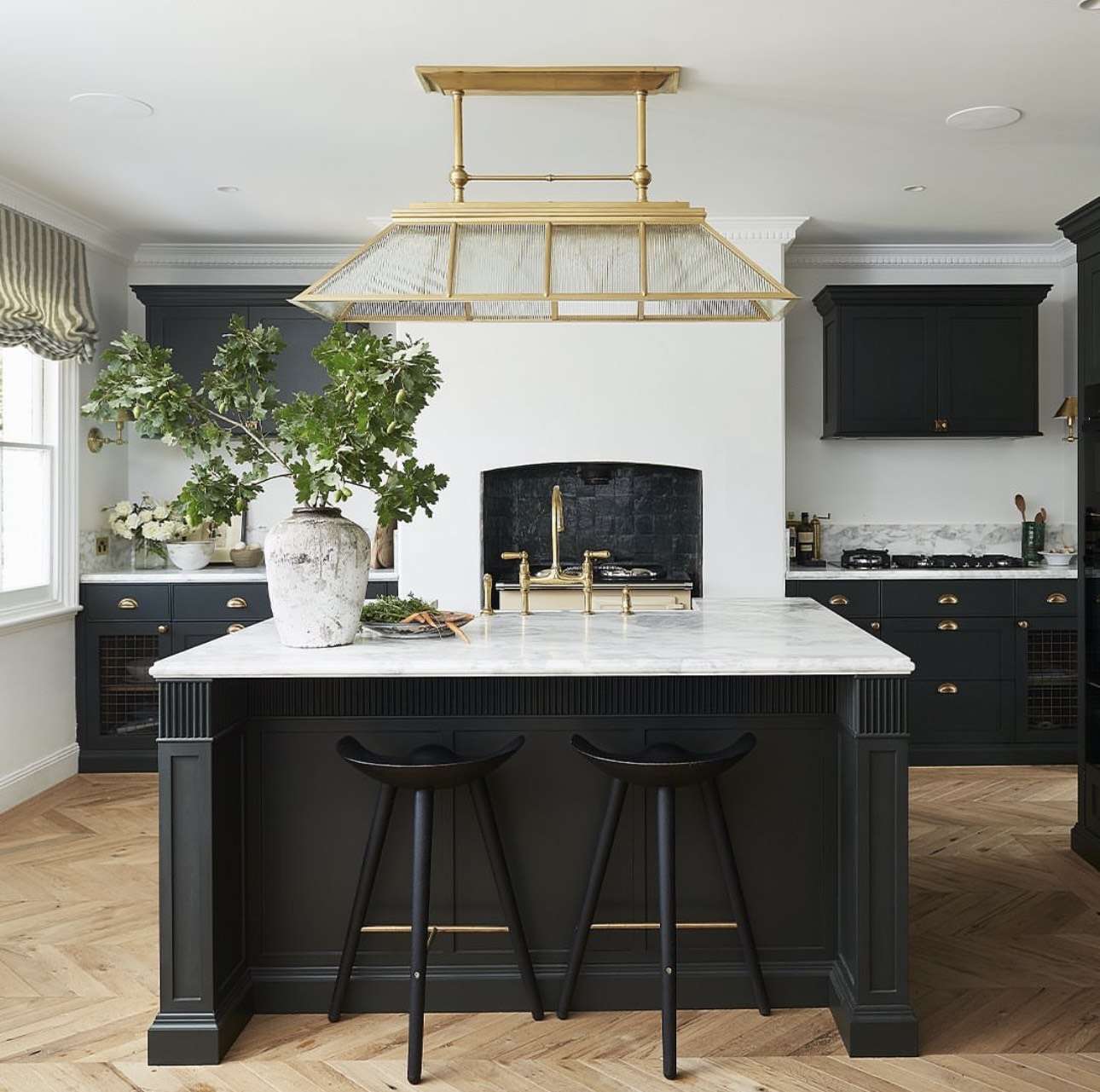 (Image credit: Steve Cordony)
8. Keep It Simple with White Globe Pendant Lighting
For a clean and effortless feel, opt for a pair of plain white globe pendant lighting. This creates a simple clean and practical finish for your kitchen. This lighting style is suited for a kitchen with a mix of neutrals and a pastel color palette or even a bold and eclectic kitchen design. This can also work well in both a small and big kitchen.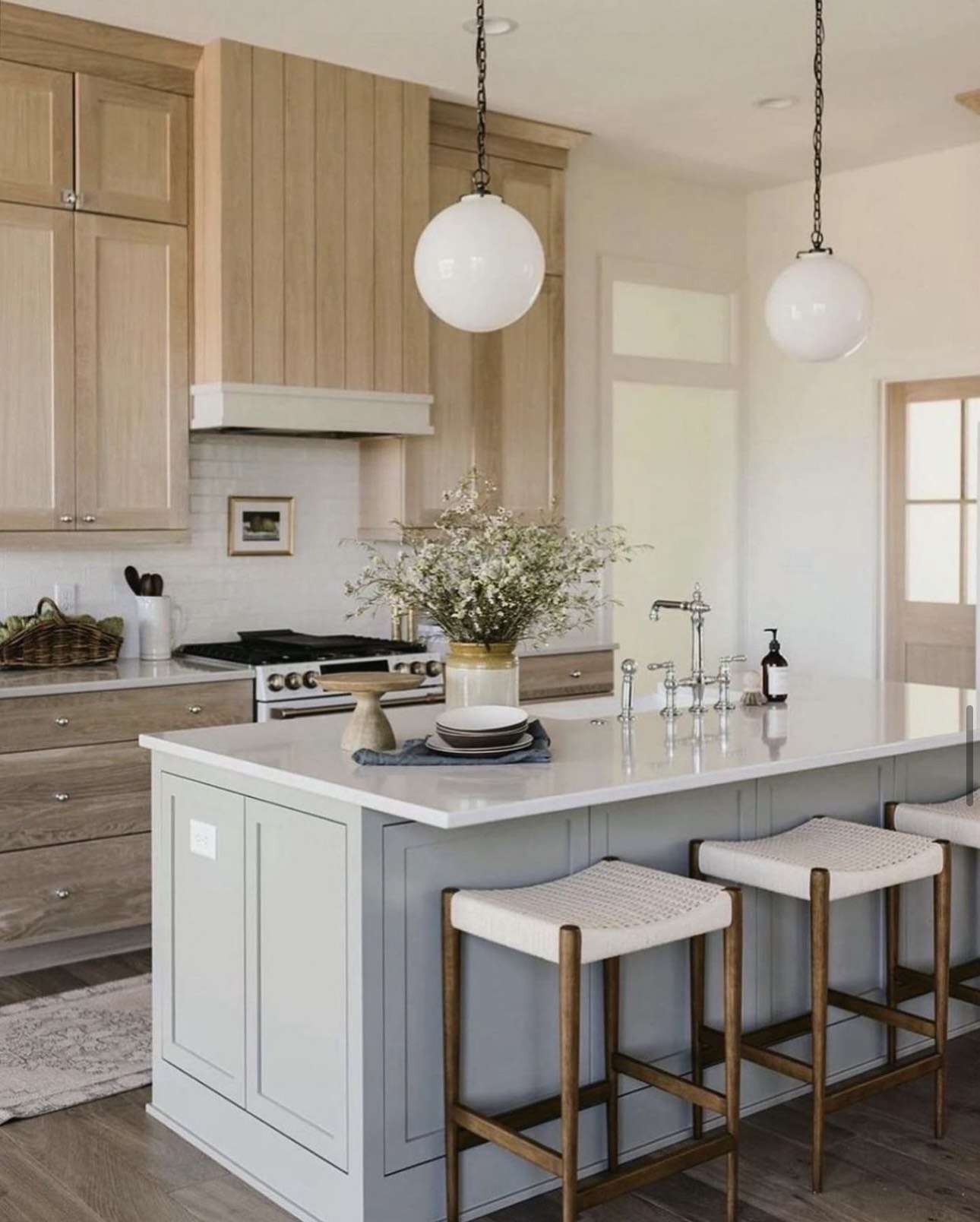 (Image credit: Lauren Konrad)
9. Use a Clear Glass Pendant for a Contemporary Feel
A contemporary kitchen with a lot of natural light does not necessarily need a pendant light that is over to top. So, if you looking for a kitchen island lighting idea on the minimal side, opt for clear glass-style pendants with a soft lighting bulb. This style of pendant lighting can work well with any contemporary kitchen, regardless of the size or color scheme.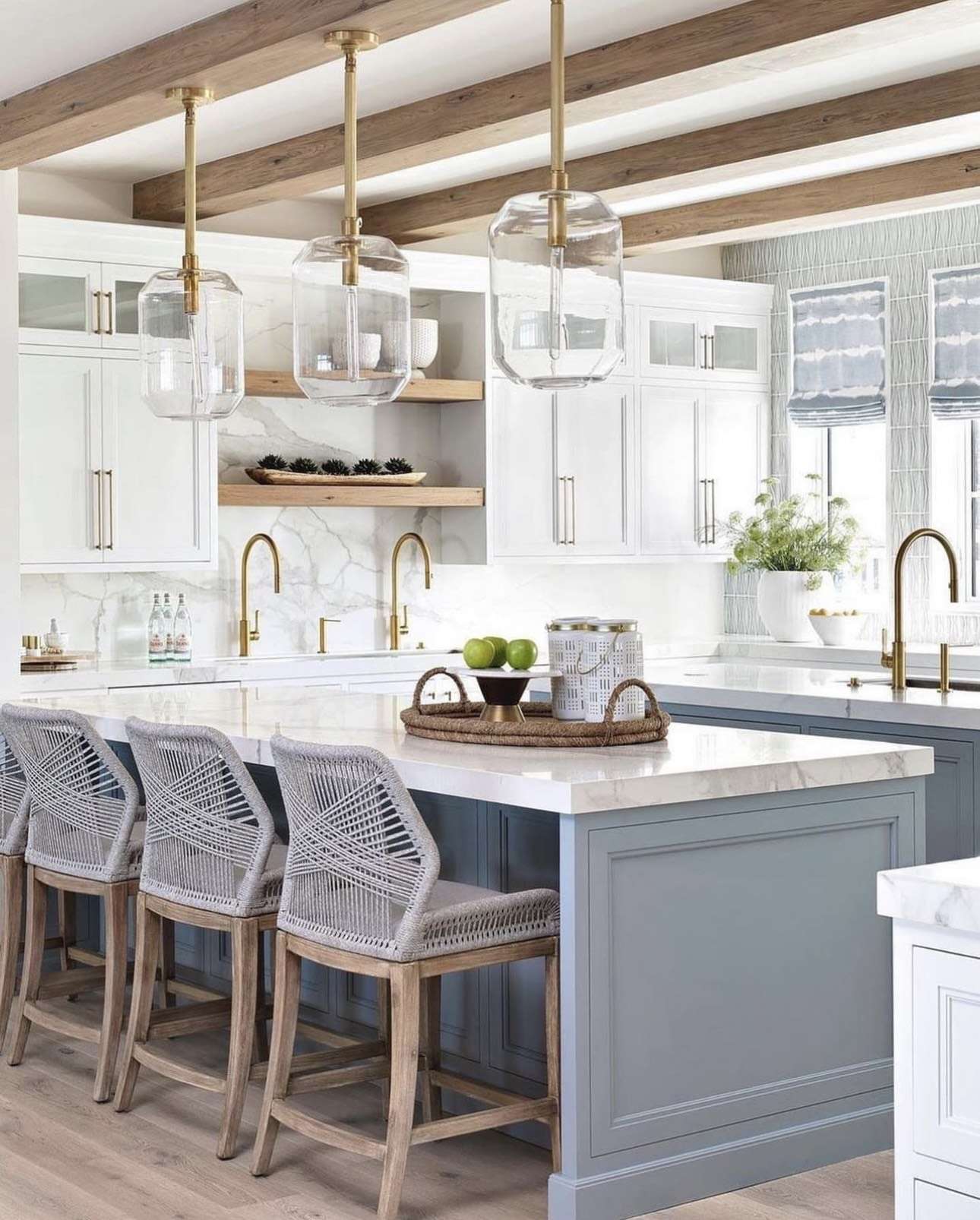 (Image credit: HW Interiors)
10. Make Your Space Fun with a Large Globe Pendant
Looking for the ultimate centerpiece for your kitchen? Consider hanging a large globe pendant to maximize interest. This instantly grabs the attention while illuminating the entire kitchen. It creates a fun and inviting atmosphere which makes it the perfect space to entertain guests or spend quality family time.
(Image credit: Rebecca Gibbs)
11. Glass Pendent with a Hint of Gold
There are so many minimal and less intrusive ways to incorporate style into your kitchen. One of which is opting for a clear glass pendant with gold highlights. This injects personality and style into your kitchen while maintaining an effortless look. This work even better if you have gold hardware in your kitchen to create a more cohesive look.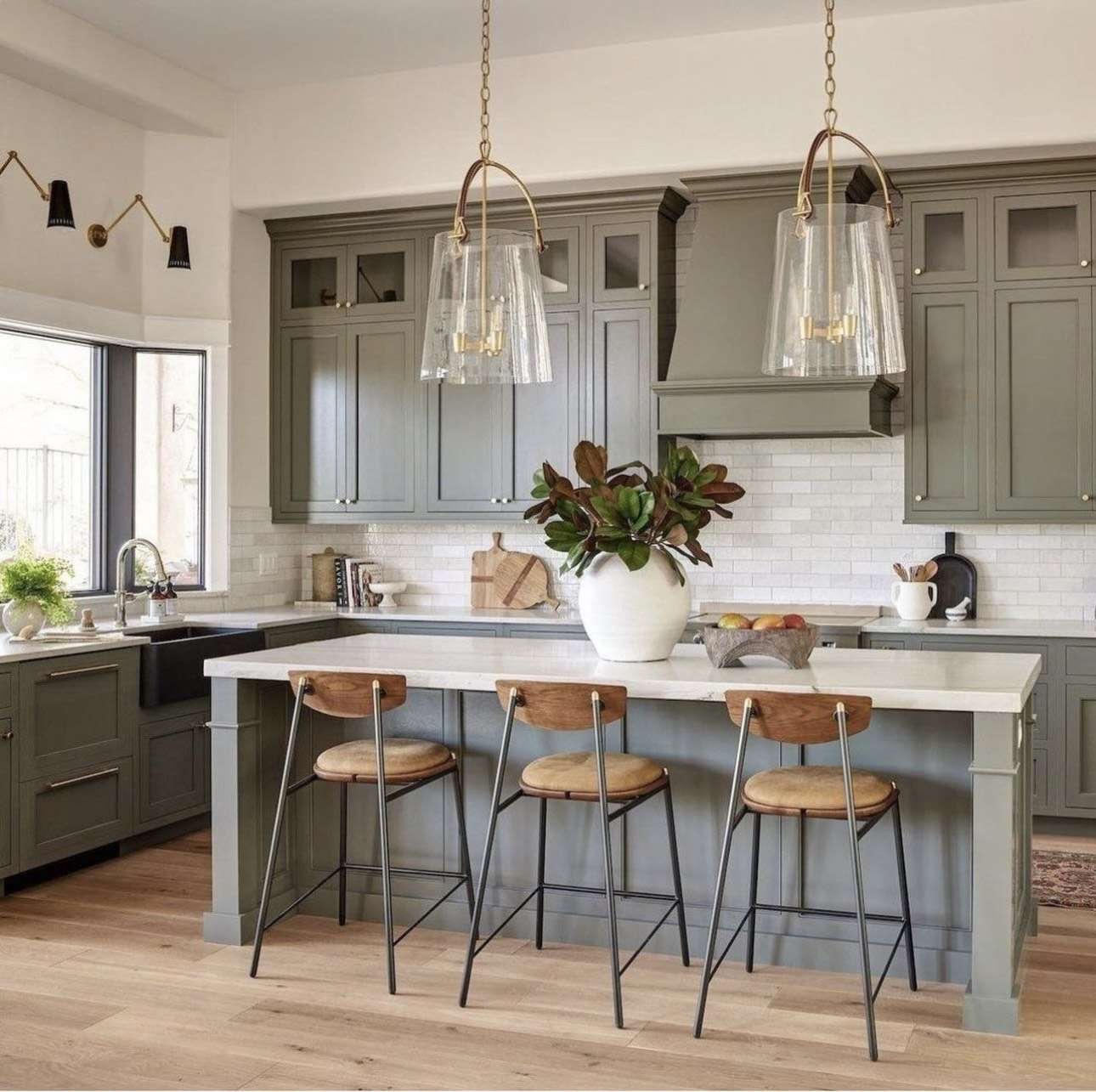 (Image credit: Lexi Westergard Design)
12. Stick to Neutral Colors
A great way to add pendant lighting to a kitchen with a bold color scheme is to stick to neutral or achromatic colors when shopping for your kitchen island lighting. Since your kitchen features bold colors, neutral pendant lighting like effortless clay-like material will give it a clean and timeless look.
(Image credit: Kelly Ladwig)
13.  Use a Wicker Pendant Light to Add Charm
A wicker pendant light can add charm and incorporate nature into your home. This skillfully woven pendant has been around for a long time for a good reason.  This is a clever approach that can be used in most homes. The attention-grabbing natural tone of the wicker creates a warm and inviting ambiance
(Image credit: Christina Lauren Design)
14. Match the Lighting Color with the Wall
Another approach to modern minimalism is maintaining a neutral palette throughout the kitchen. However, opt for a stylish pair of pendant lights to keep things interesting. While blending the pendants into the background may be too simplistic for many, it's a great way to keep things simple and inviting. So this may be ideal for you if you're looking to create a comfortably modern vibe.
(Image credit: Lauren Konrad)
15. Consider Small Golden Pendants
If you prefer small lighting for your kitchen island, consider adding two or three small pendants. This can add a stylish but subtle without overwhelming the space. Golden pendants matching gold kitchen hardware are a great way to incorporate them. Small golden pendants can call attention but will not steal it. This might be great for you if you're looking for a subtle approach to your kitchen island lighting.
(Image credit: Clear Cut & Co)
16. Hang Up in Statement-Making Pendants
Go big or go home with your statement lighting! To add character and glamour to a simplistic kitchen, invest in attention-grabbing pendant lighting. If your kitchen features clean lines and neutral colors, you can accentuate the space with a dramatic pendant light. This will make your kitchen especially grand if you have an abundance of natural light.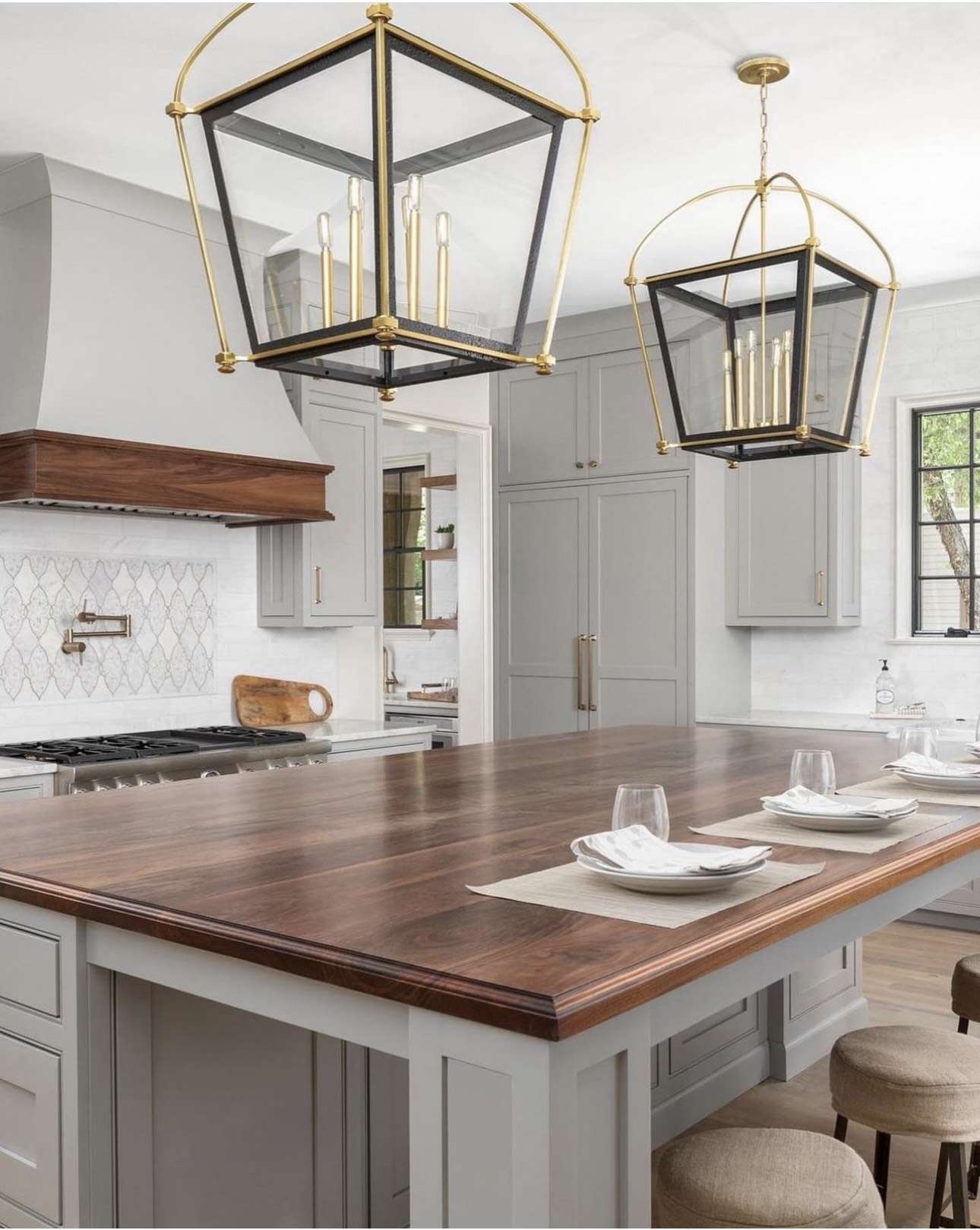 (Image credit: Joe Purvis)
17. Let Your Lighting Define Your Space
Letting your kitchen island lighting be a star of the show is a foolproof way to make a statement and illuminate your kitchen. To pull this off, you need one or two functional yet crowd-pleasing pendant lighting. Gold is a common color that most people embrace to give their home a chic and stylish home. However, make sure you find a space-defining lighting fixture that works for you.
(Image credit: Blanc Marine interiors)
18. Embrace a Black Dome Pendant Light
A black dome pendant light looks very eye-catchy and stylish, especially in a rustic farmhouse interior style. If you have black in your kitchen color theme, this kitchen island light idea might be worth considering. This look will inject personality and a decorative touch into your home.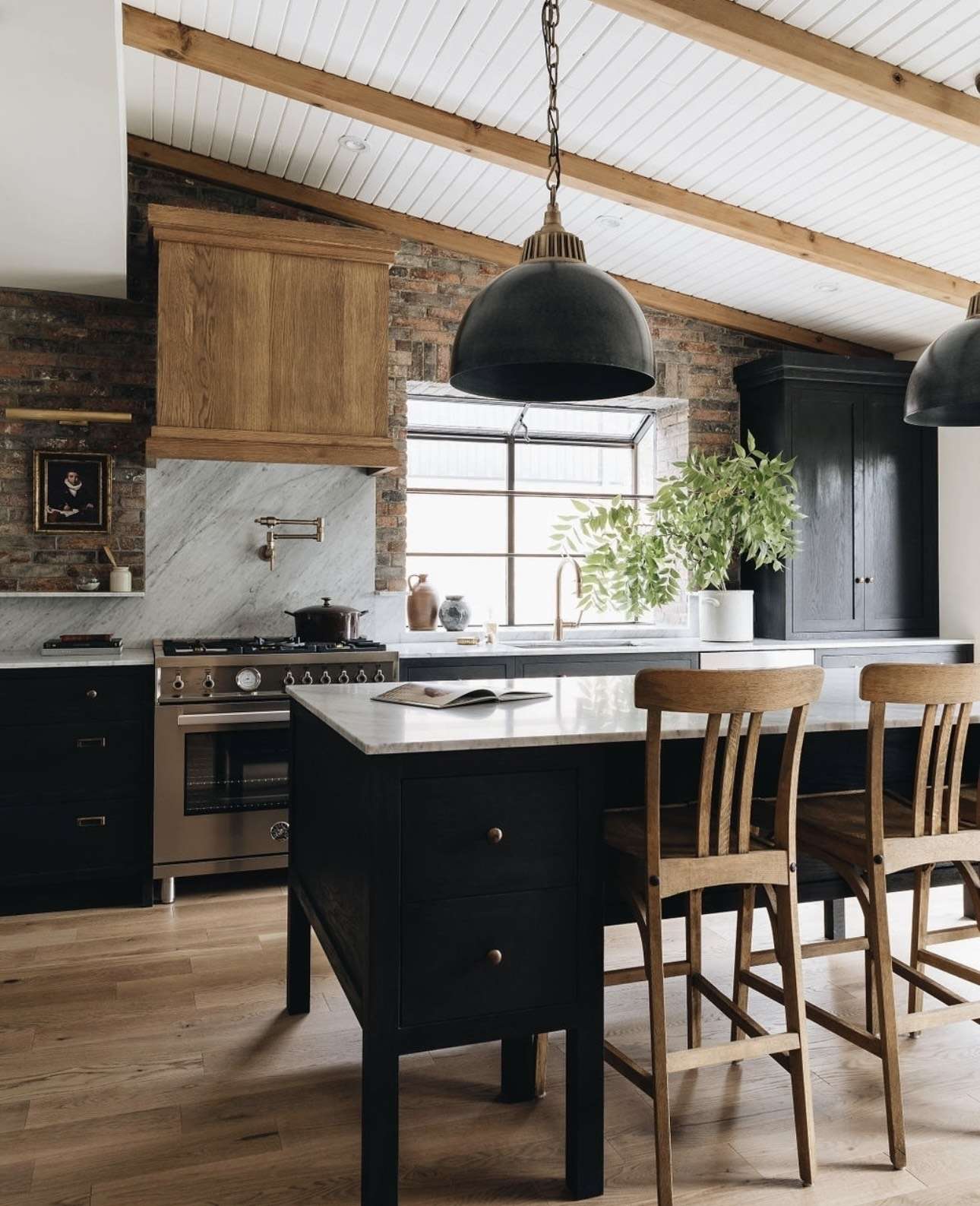 (Image credit: Blanc Marine interiors)
19. Consider an Asymmetrical Placement
Your kitchen island lighting does not have to be symmetrical. A disproportionate placement is a way to add character to a space. There are no set rules on how to incorporate kitchen island lighting into your home. Most people want a kitchen made of a magazine but nothing is quite like a kitchen created with one's own personal touches. So, add a bit of a twist in order to create a space that is uniquely yours.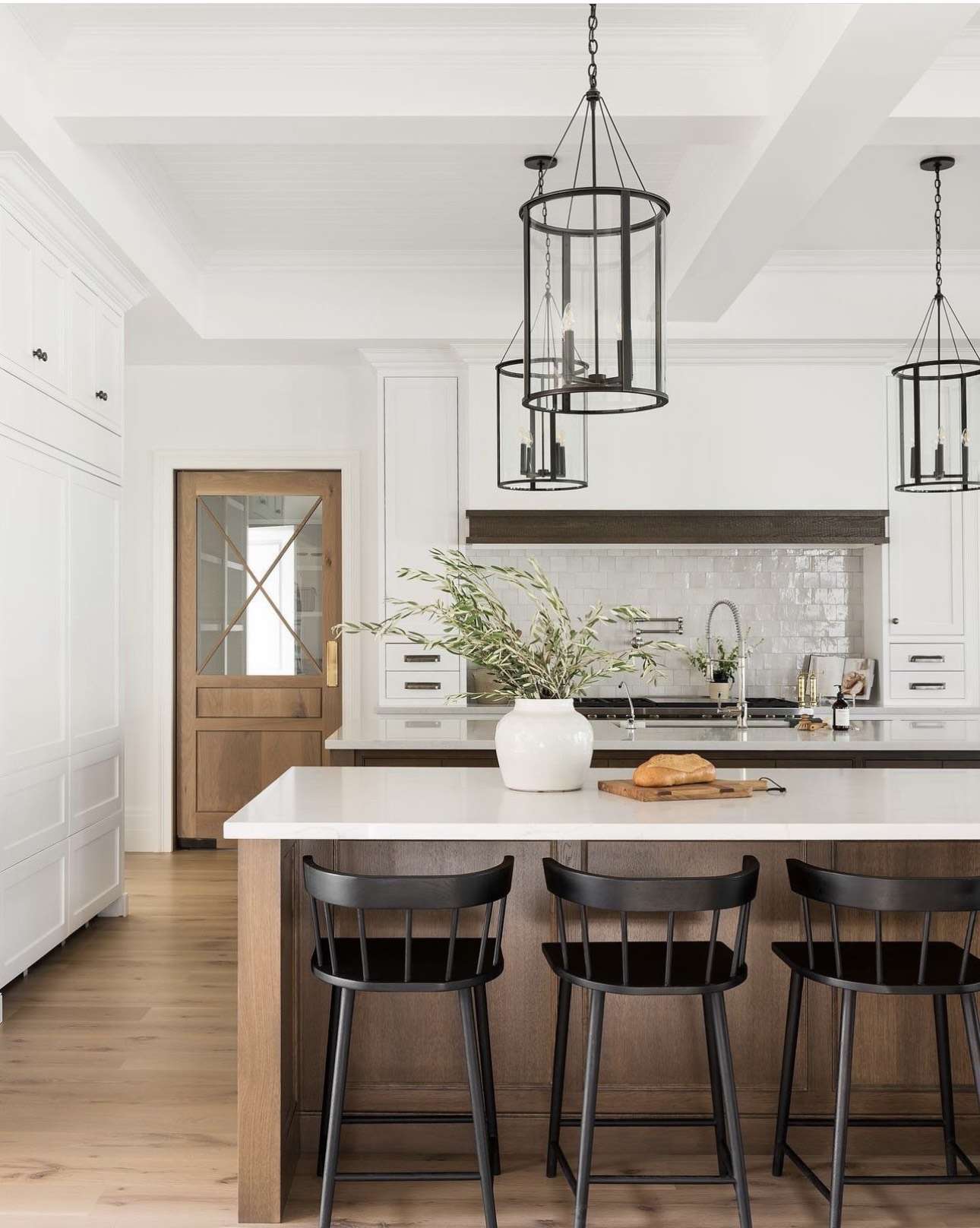 (Image credit: Studio McGee)
20. Add a Pop of Color with the Lighting
Kitchen island lighting can be a great way to add a pop of color to your kitchen. There are no set-in-stone color rules but we suggest you consider the existing color scheme of your kitchen. Make sure the lighting complements it to create a cohesive feel. You can also opt for multi-tone pendant lighting to create interest and depth.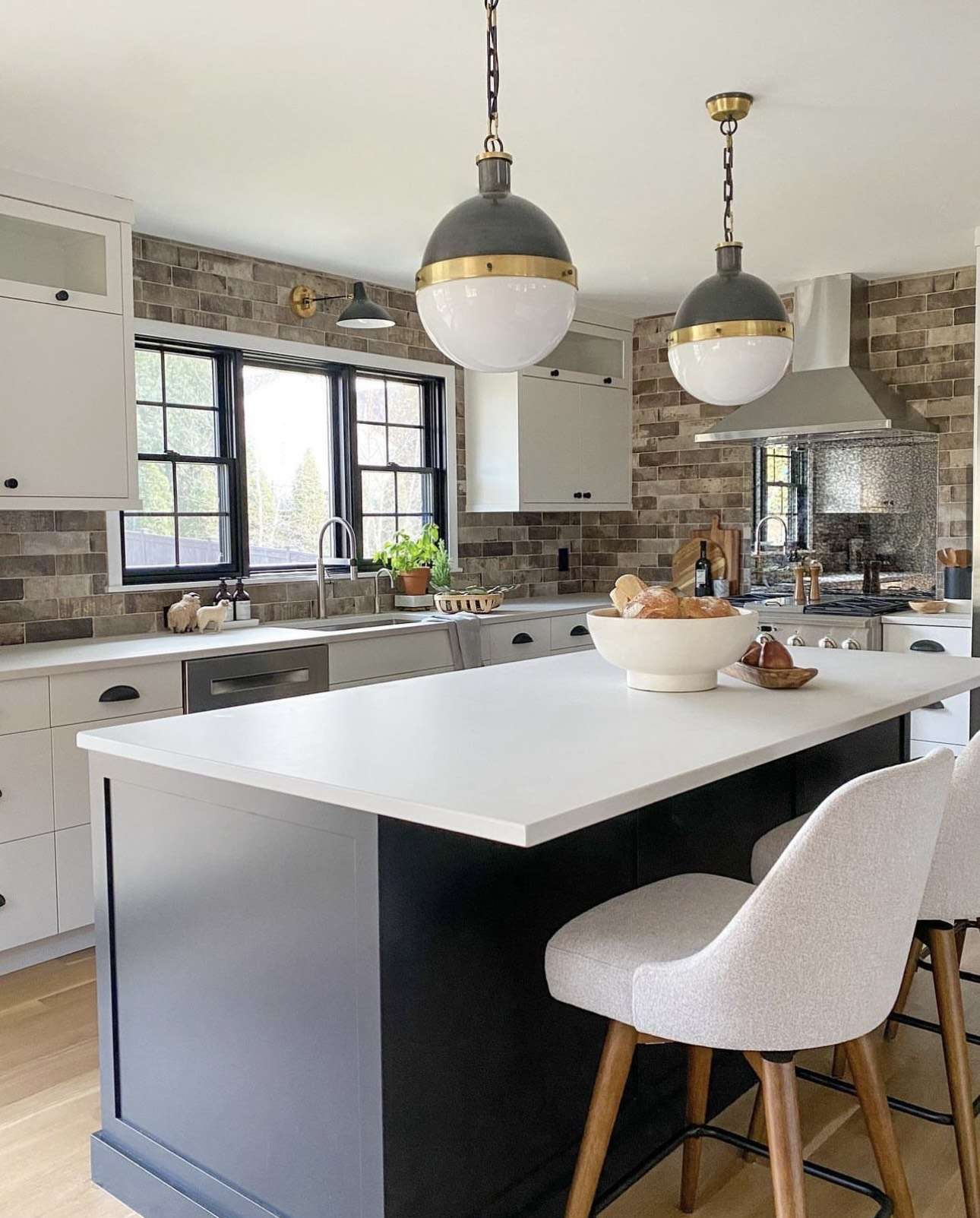 (Image credit: Katie Dean Designs)
21. Consider the Height of Your Lighting
The height of your kitchen island lighting can make a difference to the space. As a rule of thumb, your lighting should be  30-36 inches starting from the top of your kitchen island. When installing pendant lights, make sure they are at least 2 feet apart for a cohesive and balanced look.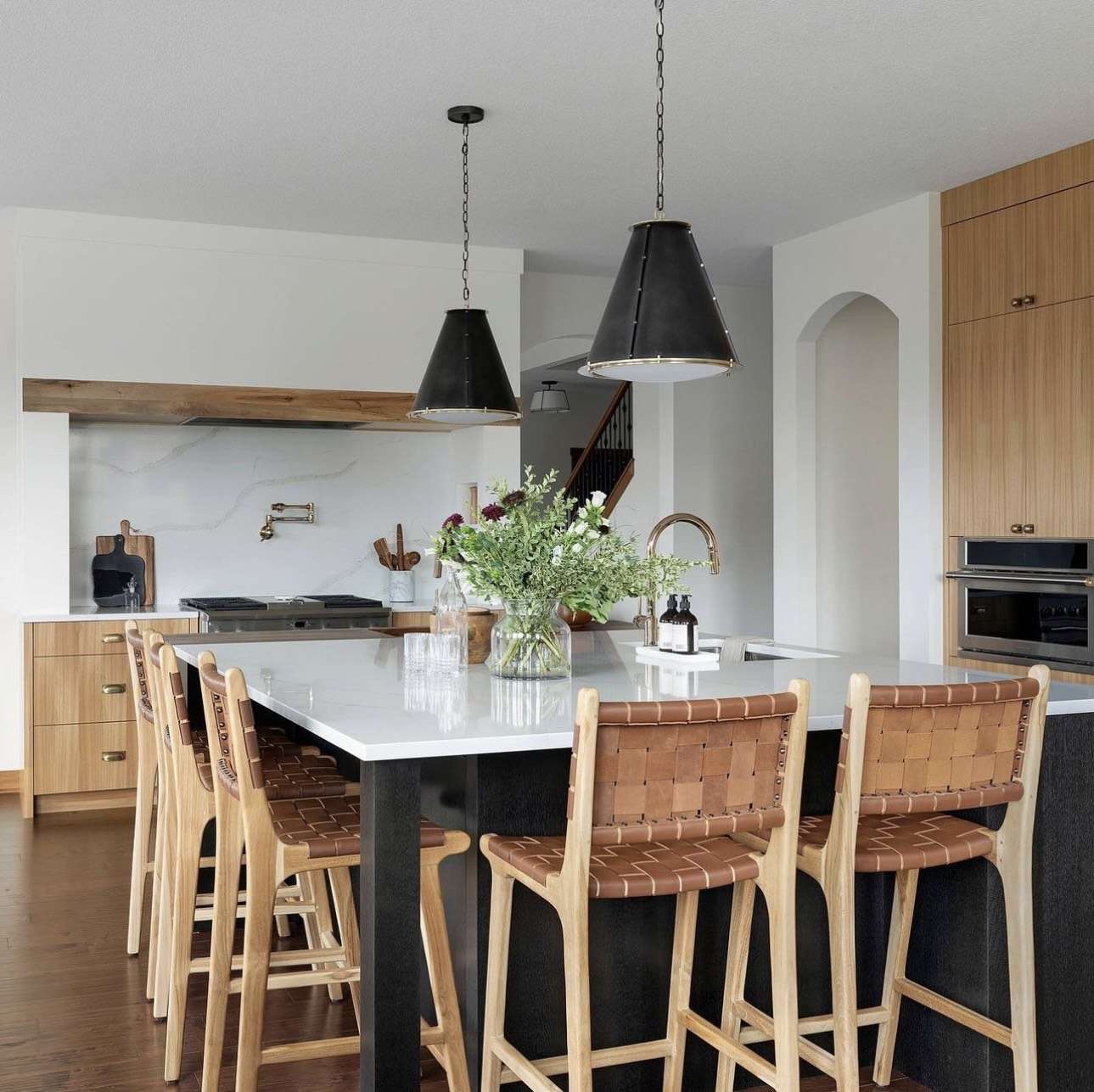 (Image credit: Katie Dean Designs)
How Many Lights are Needed for a Kitchen?
There is no definitive amount of lighting that is best for a kitchen island. There are a number of factors that come into play. Firstly, the size of your kitchen will determine how many lights you should install. Secondly, how much natural light you have in your kitchen will determine how much light you need. And finally, what tasks do you use the space for?
As a general rule, it's best to combine different light sources so you can adjust the mood depending on the task. Remember, avoid overwhelming your kitchen with more lighting fixtures than you need. Focus on brightening up dark corners and use reasonably sized lighting throughout your kitchen.