42 Simple POP Design For TV Wall
Want to introduce a strong sense of style and a contemporary feel to your home? Check out these simple POP design for TV wall!
POP is a quick-setting gypsum plaster made from Plaster of Paris Powder. This power is made from dehydrated gypsum found near Paris, hence why it is called Plaster of Paris. It is commonly used to coat interior walls and ceilings, as well as to make castes and statues.
POP is a durable and sturdy material that gives a decorative interior finish. Whether used as a false ceiling or wall design, this building material adds style and modern elegance to a space.
In this article, we have curated 42 simple POP design for TV wall to inspire your next remodel.
Without further ado, let's get started!
1. Moody POP Wall Color
Inject sophistication and a cozy ambiance into your home with dark-colored paint for your POP wall. Moody color schemes fusions elegance and modernity.
2. Ornamental Plaster Molding
A simple but stylish ornamental plaster molding can make an impact and elevate a mundane space. This is a subtle striking way to add style and artistic beauty to your home.
3. Simple POP Design For TV Wall
In minimalism, less is more. A simple POP design with in-built shelving to display decorative ornaments can make a strong and less-intrusive statement.
4. Elegant POP TV Wall
Curate a statement-making and sophisticated design with gold color accents. This is a masterful way to add a thoroughly modern and luxurious feel to your home.
5. Wall and Ceiling POP Design
If you're considering POP for your interior wall, you may also use POP to create a false ceiling. This combination can add dramatic and impactful flair to any design scheme.
6. Curved Simple POP TV Wall
Sometimes, simplicity can add laid-back luxe to a space when executed with style in mind. A half-curved POP wall can serve as the perfect backdrop for your TV.
7. Brick-Effect Wallpaper and POP
Brick is great for both traditional and modern interior spaces. They add a rustic feel and old-world accent to a space.
8. Circle Simple POP TV Wall
A circle POP wall usually commands more attention than a square or rectangular design. It is a fabulous way to introduce character into your TV wall.
9. Geometric Pattern POP TV Wall
Geometric patterns can add a refreshingly contemporary twist to simple POP design for TV wall. Geometric patterns and designs for interior walls compliments or improve the architectural geometry of the space.
10. Simple Half Wall POP Design For TV Wall
A simple flat POP half wall is a quick and easy way to elevate a dull bland tv wall. Create a squared space in the middle for TV placement and consider installing LED backlighting to make the space pop.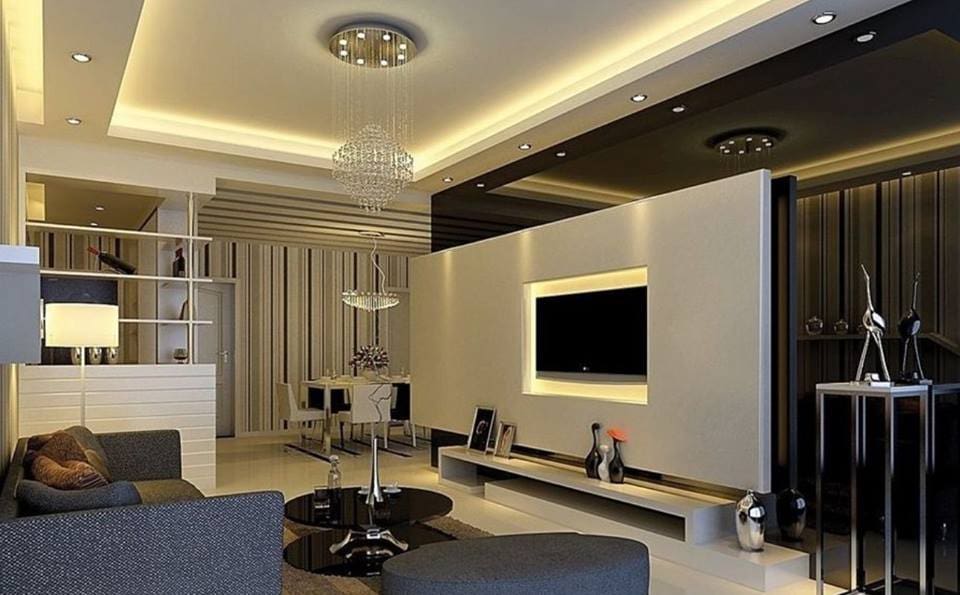 11. Two-Tone POP TV Wall
A two-tone accent wall can be impactful to the overall look of the space. A masterful way to do this is by combining a lighter color with a darker color, or two shades of the same color.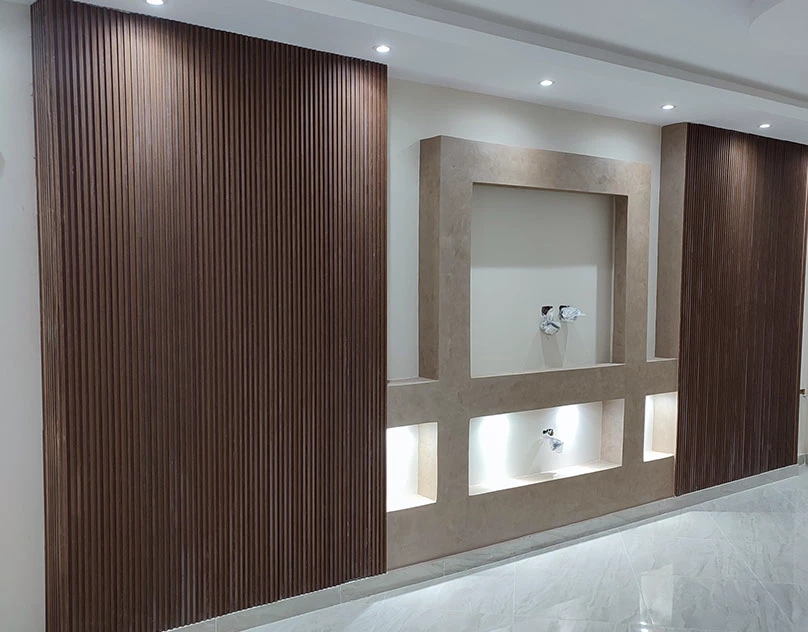 12. Textured Brick and POP
Not only does a textured wall help to hide imperfections, but it also creates dimensions and can easily elevate the aesthetics of the room.
13. Triangle and Square Wall Design
When it comes to designing a simple POP design for TV wall, combining shapes is a simple way to create a focal point that is sure to be the star of any living room.
14. Double Circle Wall Design
A layered double-circle design is simple but can make a big impact. Even better, use different textures and hues on each circle.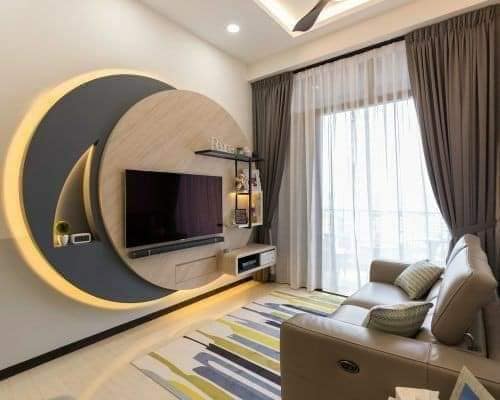 15. Characterful Black and White POP Wall
Black makes a timeless and elegant accent color. Rather than using start white POP, use black to add character and extra pizzazz to your POP TV wall.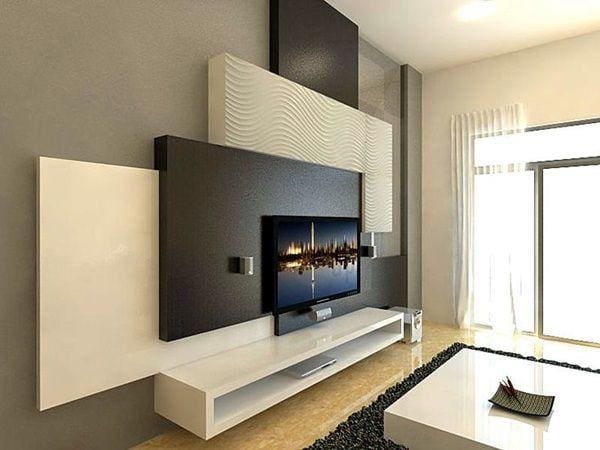 16. Partial Circle POP  Wall
Something simple like a partial POP cut-out cycle can add a grand gesture to your space. This also instantly adds depth to space. You can use this design to add some color to the space.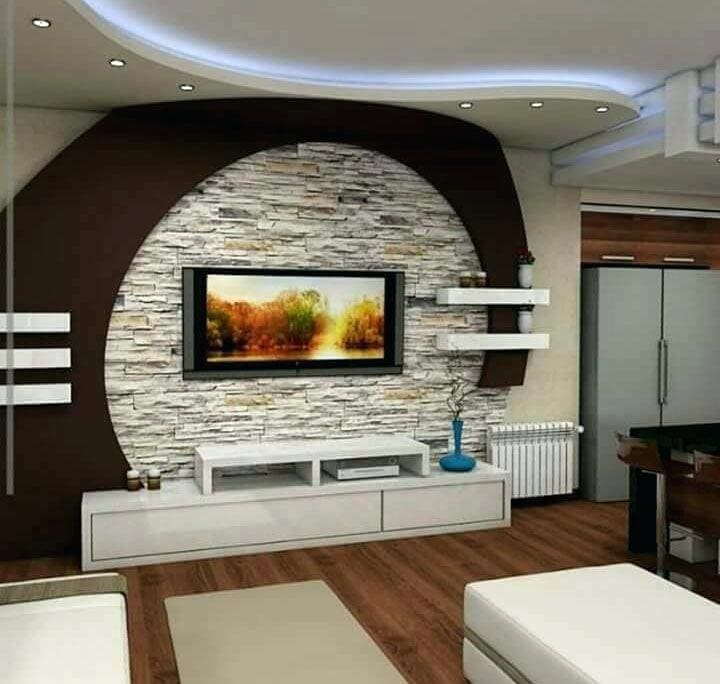 17. Burgundy POP TV Wall
Burgundy is a statement-making color in the red family. Using a burgundy POP TV wall can instantly add a big punch to the overall aesthetics and dry the eye to the wall.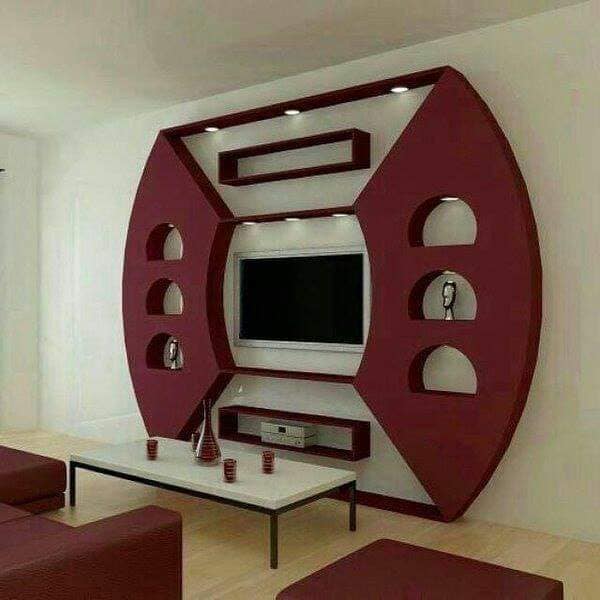 18. Playful POP TV Wall
 A playful element can make your space fun and inviting. This is also a clever POP wall idea for kids' rooms.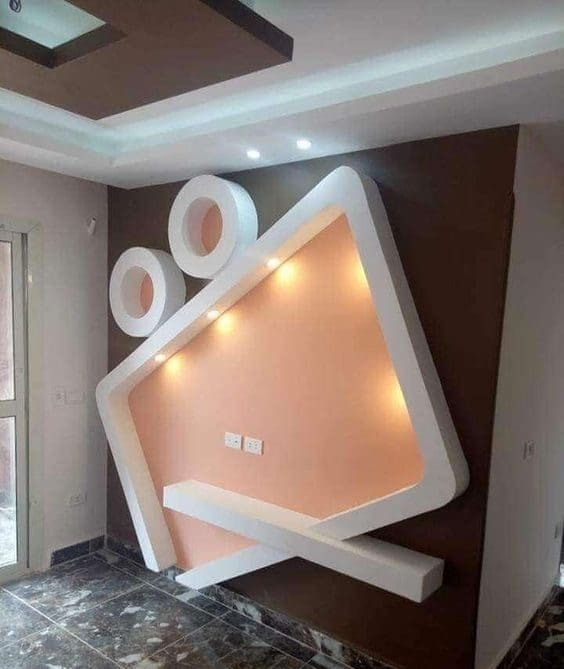 19. Rectangular POP TV Wall
The minimalistic design doesn't get more simple than this. A simple rectangle POP is classic, laid-back, and modern.
20. Shelving POP TV Wall
Designing a POP wall with shelving in mind is not a new technique. Open shelves can be used to display decor books, picture frames, and other decorative ornaments. These finishes can also elevate the aesthetics of the space.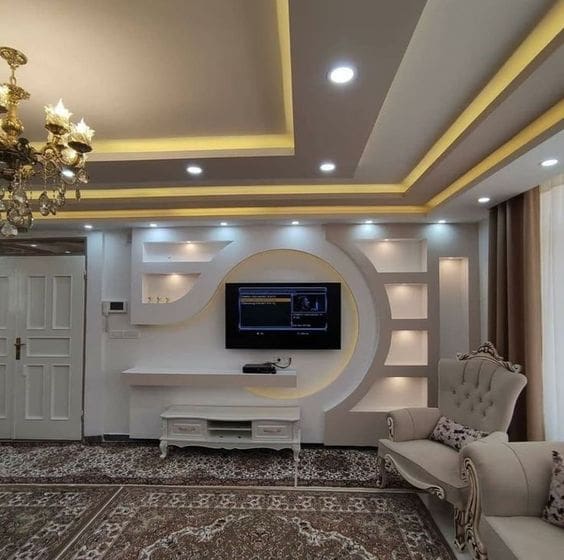 21. Bold Colored Backdrop
Using a bold-colored wall as a backdrop for your POP TV wall can serve as an accent wall which helps to create a dramatic focal point.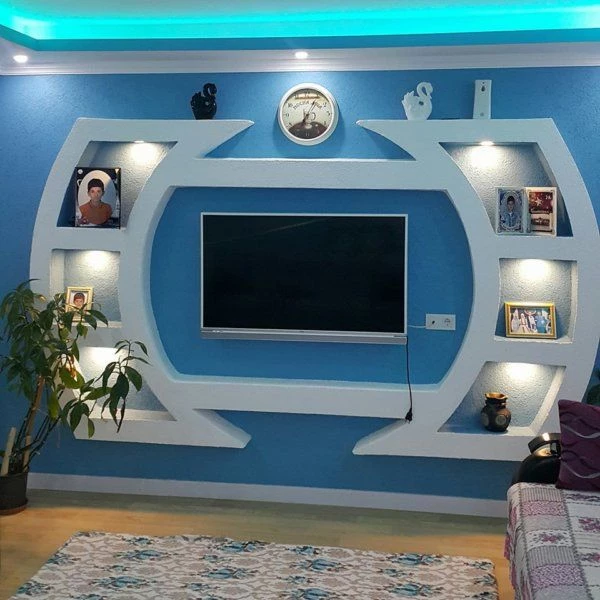 22. Simple Modern POP design for TV Wall
Modern POP designs help bring a subtle elegance and spectacular element to the otherwise minimalist scheme.
23. POP Wall Frames
A simple way to add style to your TV wall is by using POP to create wall frames. This adds dimension and visual intrigue to the space.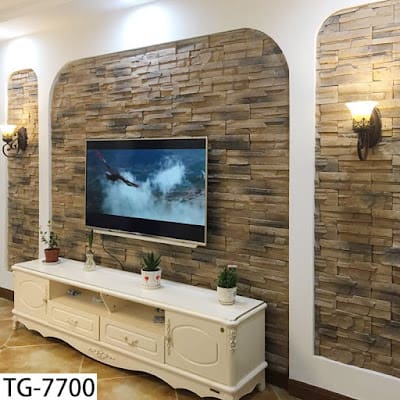 24. Brown and Beige POP TV Wall
Brown and beige are two color combinations that work brilliantly together. Plus, you can also design the entire room around this scheme.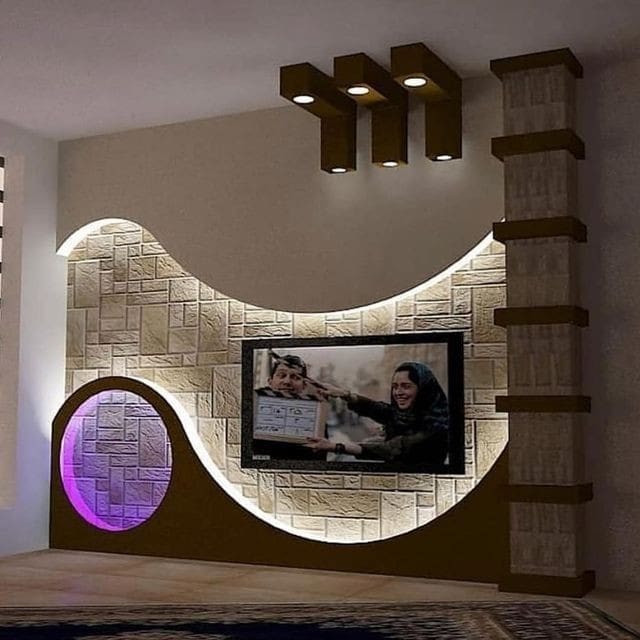 25. Oval POP TV Wall
With so many choices available, it can be tricky to choose a  statement-making but simple POP design for TV wall. An oval-shaped POP can add a major statement to your living room aesthetic.
26. White and Beige POP TV Wall
White and beige are a tried and true color combination that never fails to please. It is ideal for modern and minimalistic interior spaces.
27. Layered POP TV Wall Design
In interior design, layering is commonly used to add a dynamic element to a room.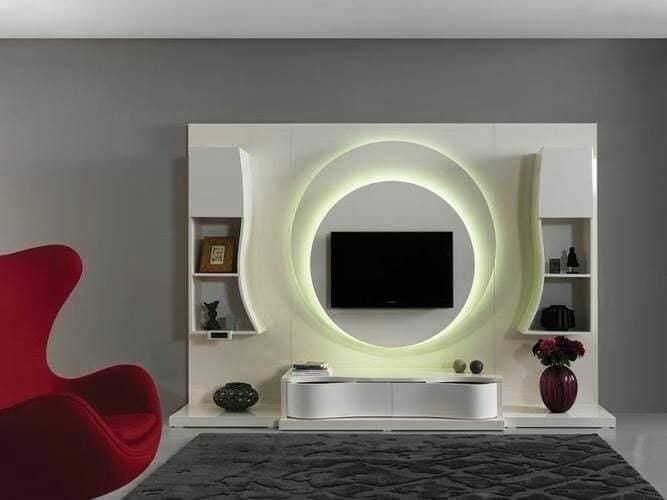 28. Floor-to-Ceiling Aesthetics
A clever design approach for a POP TV wall is simply extending the false ceiling to the wall. This form a highly stylish and cohesive overall look.
29. Brown Frames POP Wall
To make a room feel unique, rich, and characterful, use brown POP plasterboard to create frame-like shapes.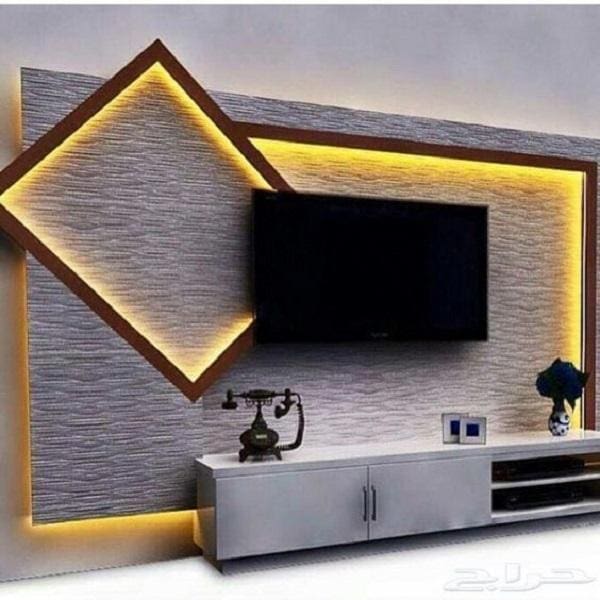 30. Green POP Wall Design
Green is one of the most popular interior wall colors since it's nature's most associable hue. This can serve as the ideal backdrop for your POP TV Wall.
31. Multi-Layered Circle
When designing a simple POP design for TV wall a room, splitting ornamental designs into layers aids in elevating the aesthetics and allows you to create a harmonious atmosphere.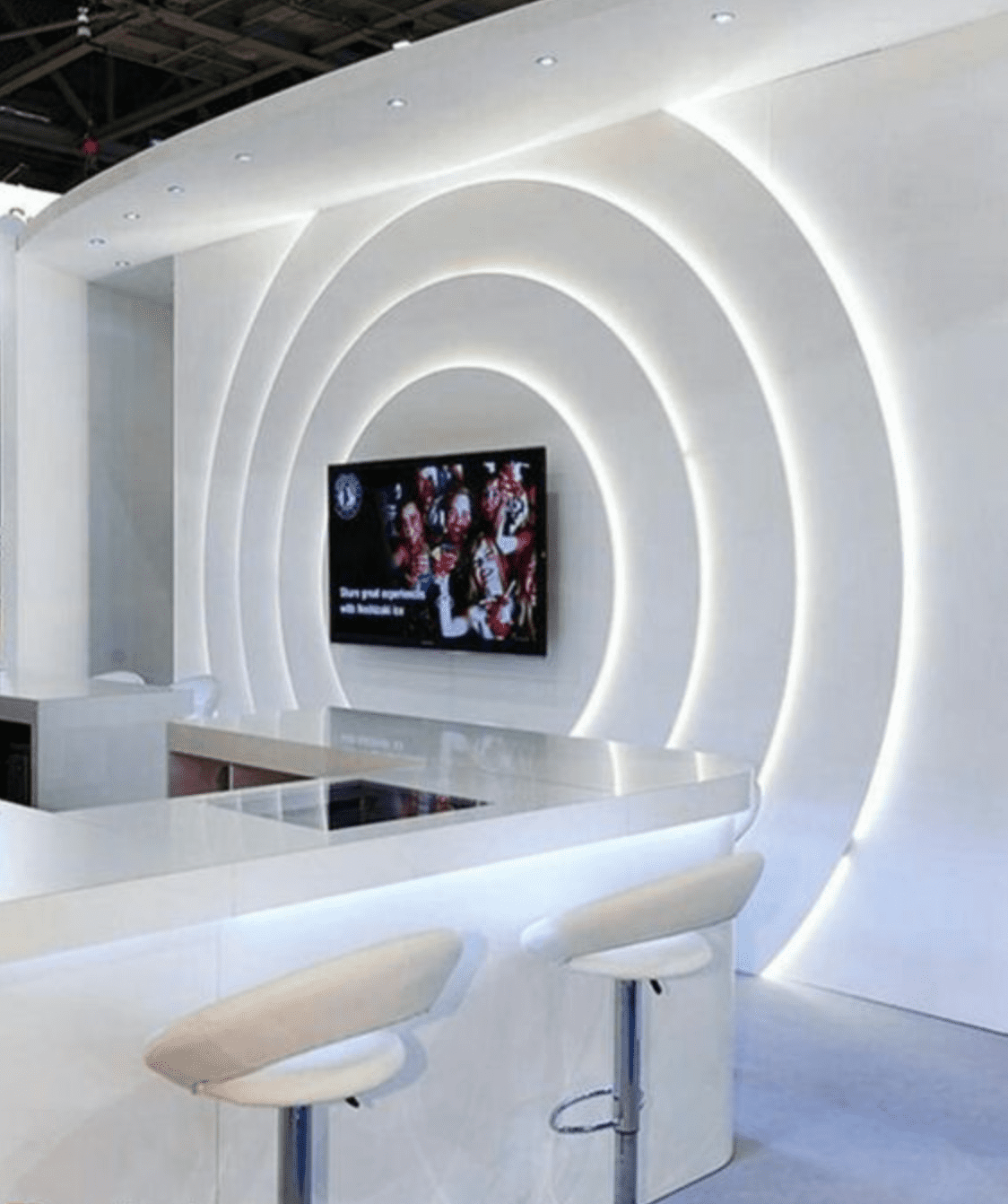 32. Two Neutral Tone POP Wall
Mix-matching neutrals and textures is a surefire way to add to the overall sophisticated look of the space.

33. Tear-Drop Shape POP Wall
A tear-drop POP design will add drama to any bland or boring wall. This will make the entire space pop like never before.

34. Circle POP Wall with Square Ceiling
These shapes go together like campfires & smores. Combining these designs for your false ceiling and TV wall will accentuate the luxurious feel of the space.

35. POP and Wood TV Wall
Wood can help to add warmth, character, and rustic beauty to space.

36. Unusual  POP TV Wall Design
Rather than going to a design that's overly used, consider something unusual that can give an exquisite look to the room.

37. Simple Boxed POP TV Wall Design
A minimal boxed POP wall is one of the most superb for TV wall. This simple design can add more interest and character to a room.

38. Vertical Lines POP Wall
Incorporating vertical lines into your simple POP TV design can help to create a sense of improved height in the room.

39. Triangular POP TV Wall Design
This shape can give your living space an inviting focal point and an impactful edge.

40. Tan and Cream POP TV Wall Design
Tan & beige both serve as a perfectly matched neutral base and can create endless possibilities for interior spaces.

41. C-Shaped POP TV Wall Design
Be unafraid to express your aesthetic! A C-shaped POP Wall can help to create a cutting-edge look.
42. U-Shaped POP TV Wall Design
Create a unique and striking impression with a U-shaped POP design. This is sure to add zing to the room.