50 Modern Two Colour Combination For Living Rooms
A well-thought-out color scheme can add eye-catching contrasts and depth to a space. Check out these 50 modern two colour combination for living rooms. 
A colour scheme is an essential aspect of interior design that can make or break the overall look of a space but choosing one is never an easy process.
The possibilities are endless when it comes to designing a contemporary living space that feels uniquely yours. After all, colour has a profound influence on the visual aesthetic and feel of the space.
Whether you prefer neutral and bold hues or warm and cool tones, the options are endless when it comes to selecting a colour palette for your living room. The relationship between various hues can be explored from the basic colour wheel.
Most times, it is easier to work with two colours than with multitudes as this can help create a more balanced look. This is often approached by choosing a base colour and then a complementary or contrasting accent colour to add a punch to it.
Are you looking for a colour scheme to give your space an impactful edge? These colour ideas can add lively sophistication to even the dullest of spaces.
Here are 50 incredible modern two colour combination for living rooms.
1. Dark Blue and Sage Green
Blue and green complement each other beautifully, just like any other neighbouring hues on the colour wheel. Sage green is a muted shade of green that is taking interior design by storm in recent times. It pairs perfectly with dark blue.
PHOTO: SOHO HOME
2. Burgundy and Orange
Burgundy and orange complement each other so well because this colour scheme exhibits characteristics of a monochromatic room. The combination of burgundy and muted orange brings out the red undertones that add great warmth to the space.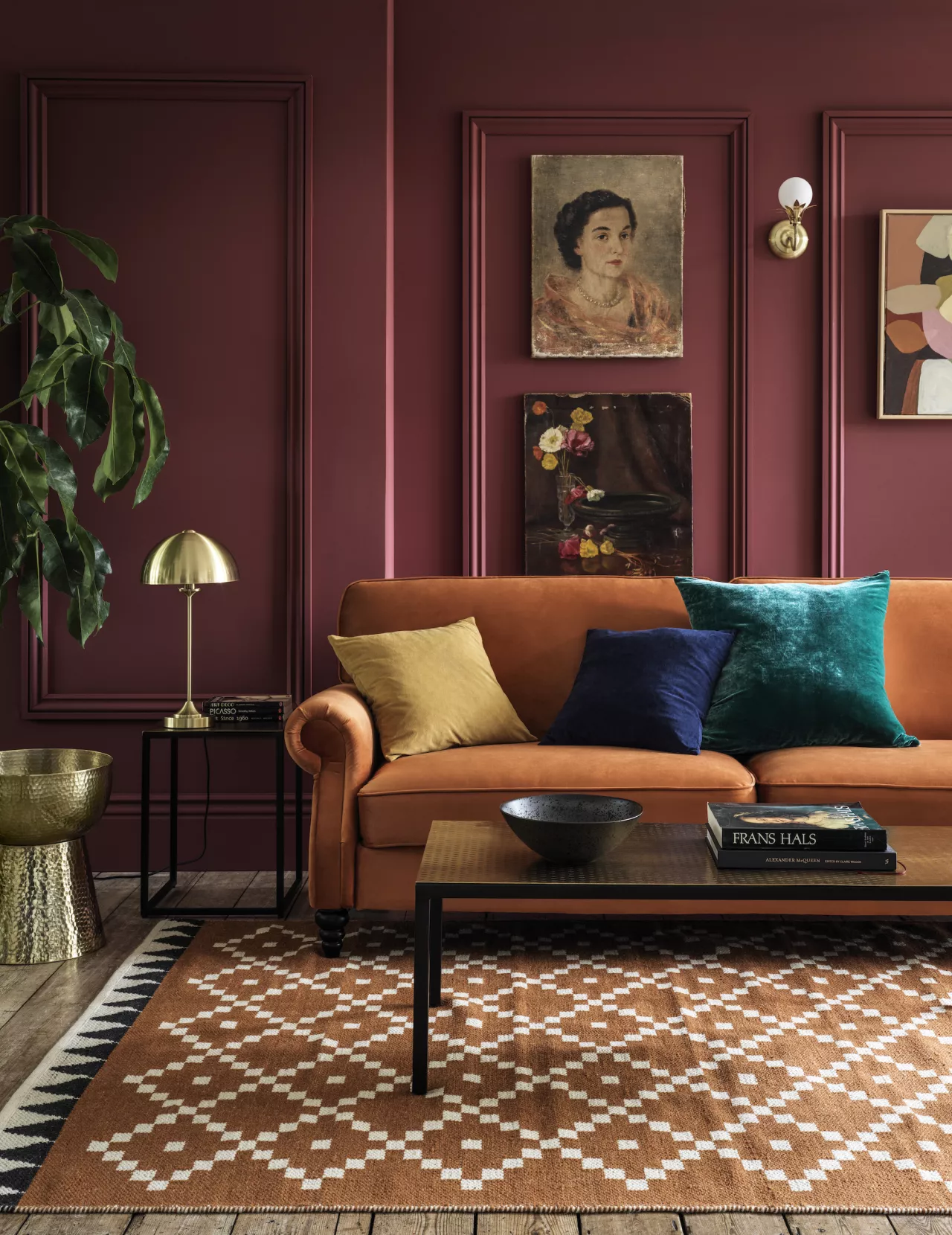 PHOTO: HABITAT
3. Green and Bold Pink
Green and pink work so well because they balance each other out perfectly. This color combination is a classic that does not fall short in modern interior schemes. Green is a versatile hue that keeps the space earthy and soothing while bold pink adds a striking accent.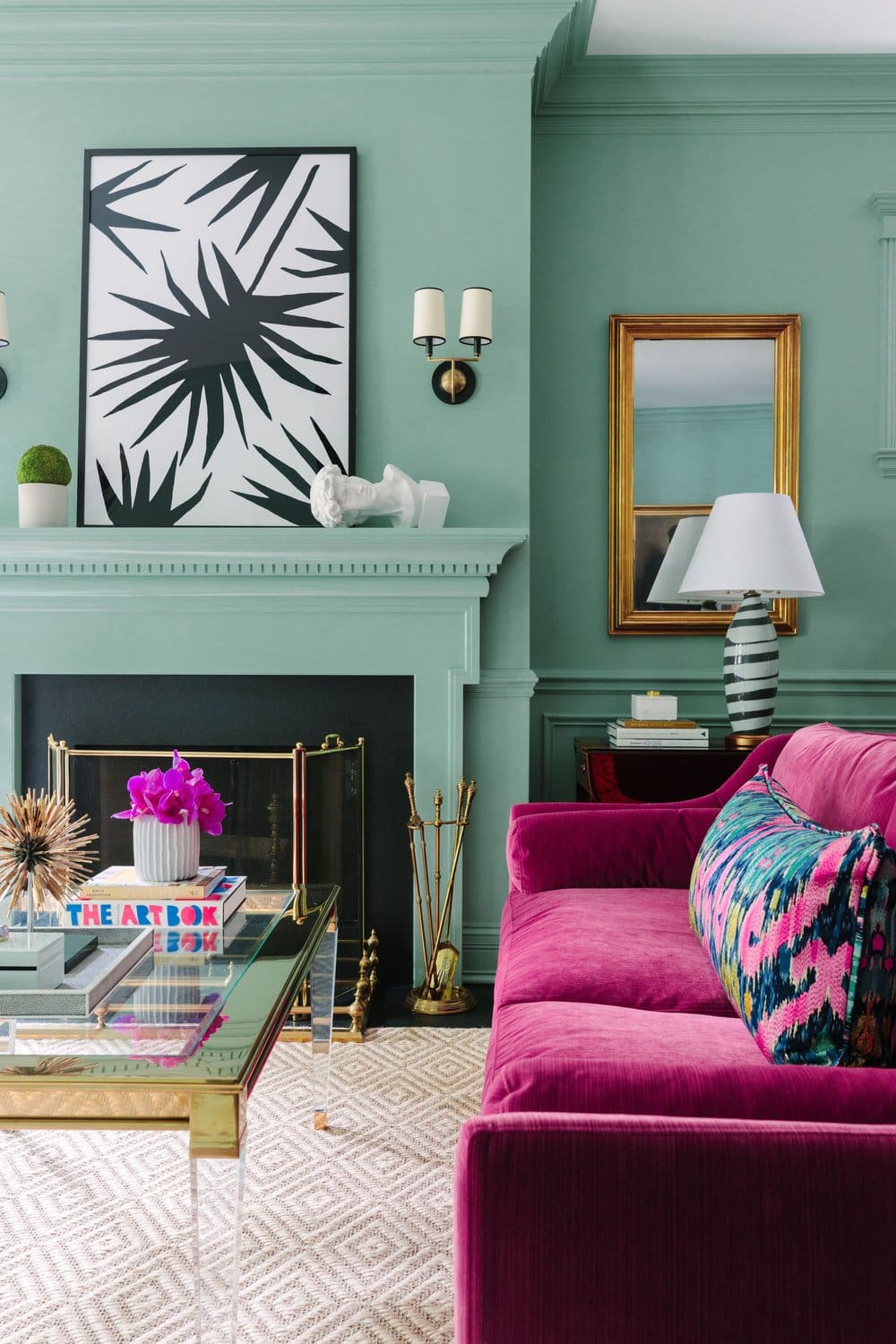 PHOTO: SARAH VAILE DESIGN
4. Green and Brown
This tried and tested combination never fails to please. Brown is a perfect complementary colour for green. They are both nature-inspired hues and will always work beautifully when paired together.
PHOTO: ETSY
5. Emerald Green and Blush Pink
Emerald green can revitalize and restore a modern space, fostering a sense of connection to nature and security. Emerald green doesn't always need to be enigmatic and moody. Blush pink can add freshness and liveliness to this sophisticated hue.
PHOTO: MY BESPOKE ROOM
6. Bright Blue and Yellow
Although yellow and blue are a classic colour combination that works brilliantly, an unusual pairing, like ocher and bright blue, puts a contemporary spin to this traditional combo.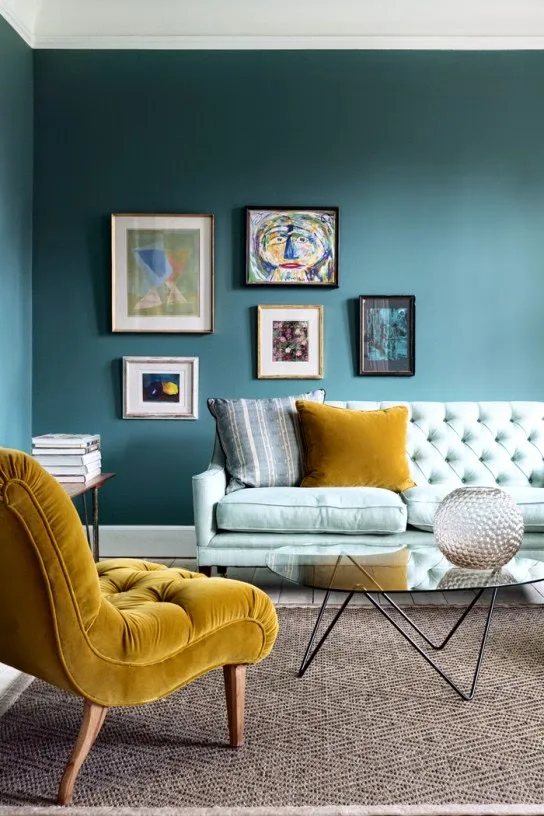 PHOTO: SABRINA CARDAR
7. Green and Coral
Coral and green go well together naturally since they are complementary colours. They both have the potential to be vivid and bright and are great for adding a dramatic impact to a space.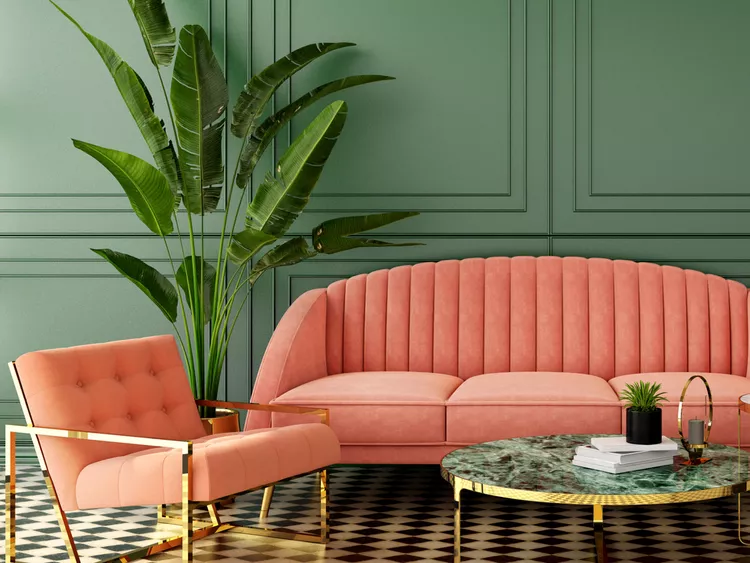 PHOTO: GETTY IMAGES
8. Blue and Brown
Blue and brown work well together in interior schemes. All tones of brown, especially dark chocolate brown, go well with any light shade of blue. Conversely, every light brown complements every shade of blue.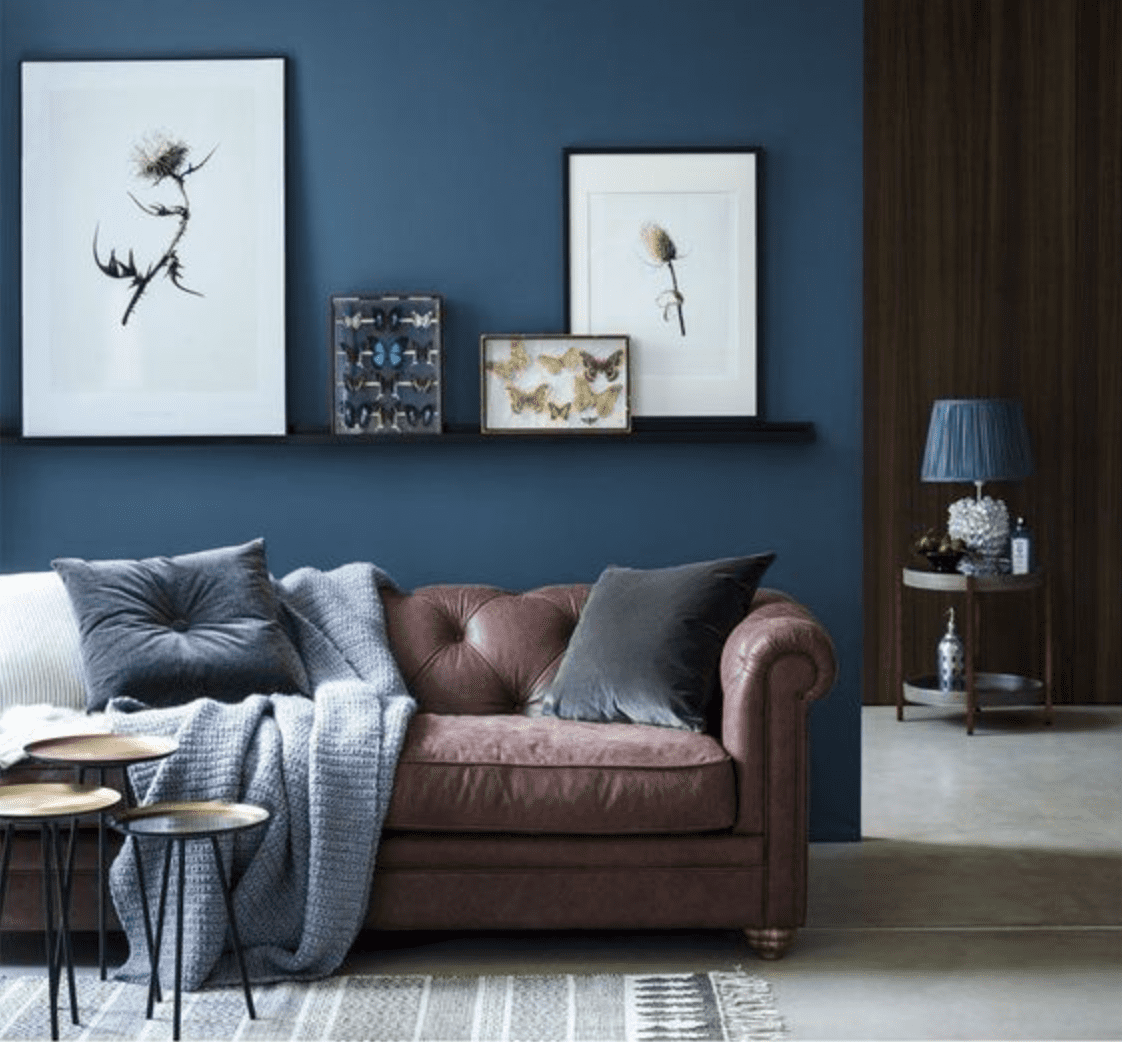 PHOTO: PINTEREST
9. Pink and Green
Pink and green is a common go-to for modern two colour combination for living rooms. It can fill your space with an air of spring-like freshness all year round.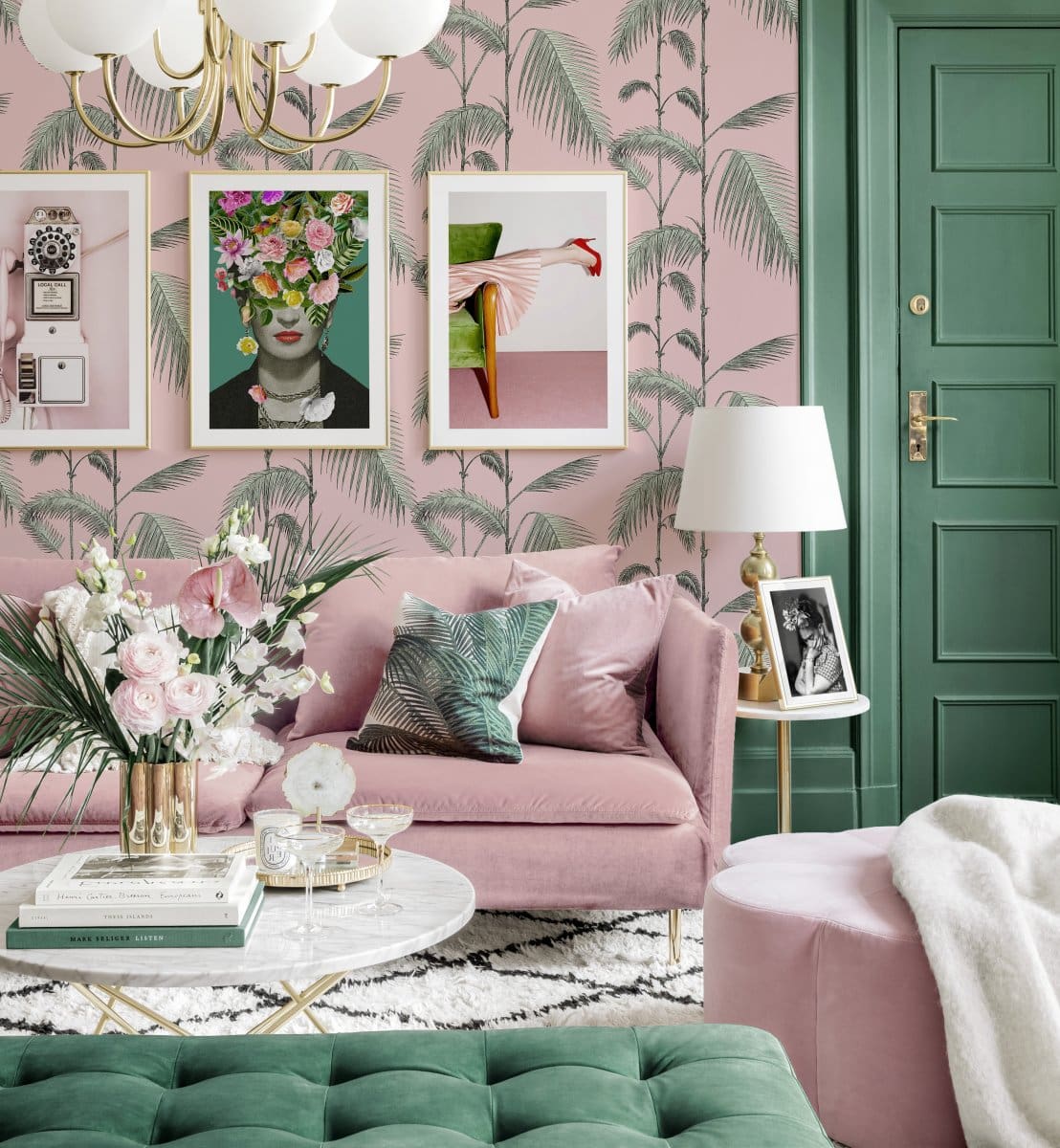 PHOTO: ETSY
10. Pink and Blue
Pink goes well with blue to create an opulent look in the living room. The heat from the pink's red colour warms the blue's coolness. When pink is paired with blue, its rosy appearance is muted.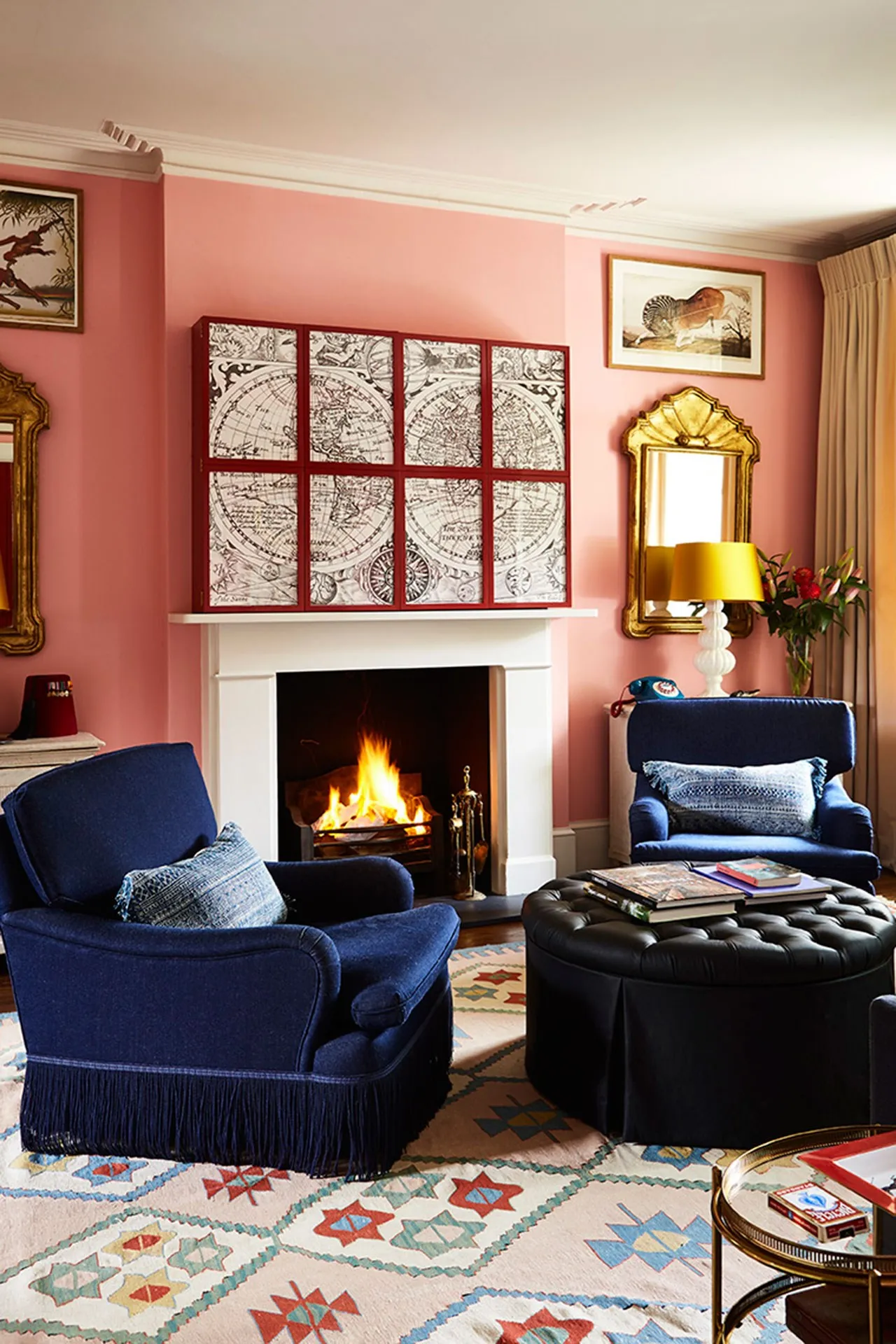 PHOTO: RACHEL WHITING
11. Emerald Green and Brown
The jewel-toned emerald green tends to look quite stylish and effortlessly chic when paired with brown.
PHOTO: ETSY
12. Red and Blue
Red and blue and two primary colours that can create a strong sense of style when paired together. They work well together when used in the same weight. It is a daring, eclectic, and impactful modern two colour combination for living rooms.
PHOTO: BJORN WALLANDER
13. Blue and Green
The colours blue and green work well together to create a relaxing and tranquil living room. Blue and green are a strong refreshing duo when paired.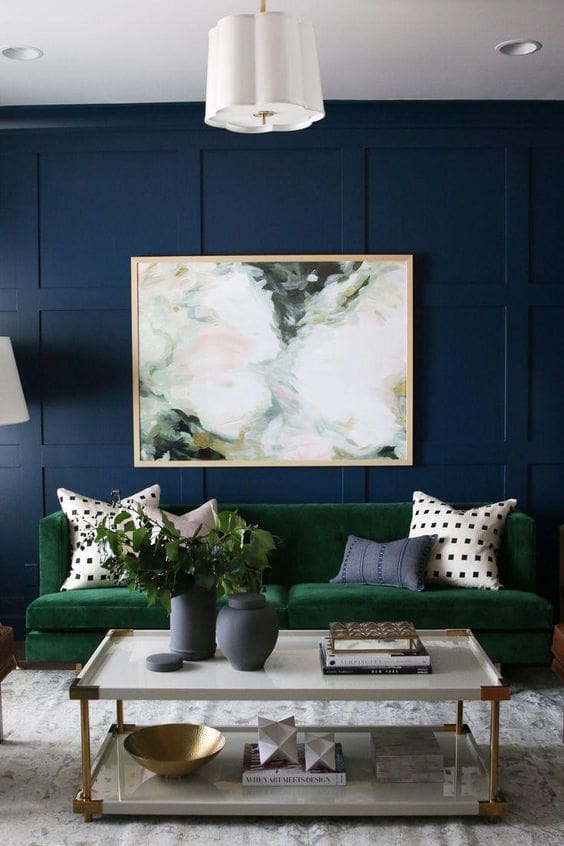 PHOTO: STUDIO MCGEE
14. Light Blue and Pink
For a luxurious look, light blue is fabulous when combined with pink. Blue is a fantastic contrast colour for pink, both in terms of its aesthetic value and its gender-specific connotations.
PHOTO: 2GL STUDIO
15. Purple and Blue
Purple boosts creativity and uplifts the mood in interior design, especially when mixed with blue.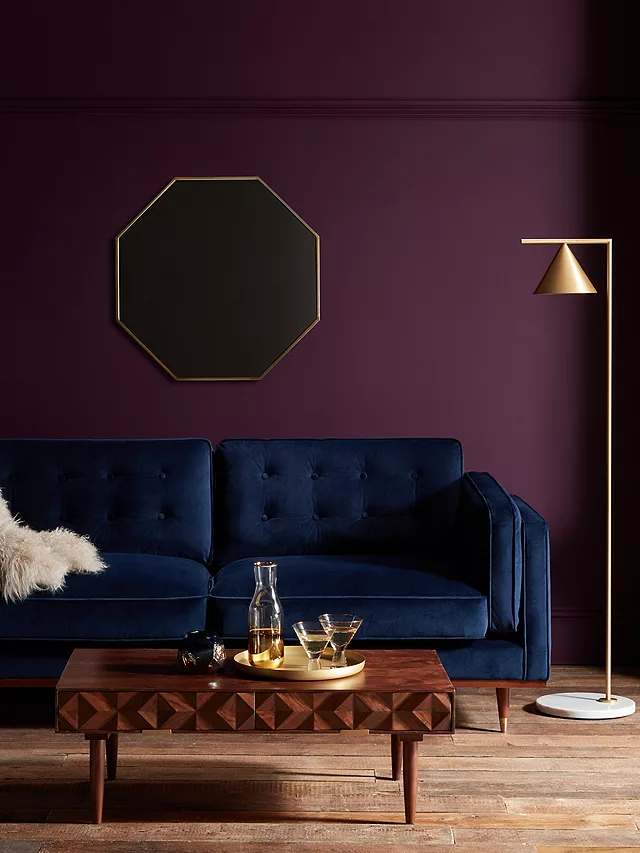 PHOTO: JOHN LEWIS
16. Grey and Light Blue
According to Vicki Foster, an interior designer at ScS, "Calming and understated in equal amounts, grey and light blue colour combination can make a living room feel more contemporary and clean cut, whereas darker shades (such as navy) blue give rooms more depth."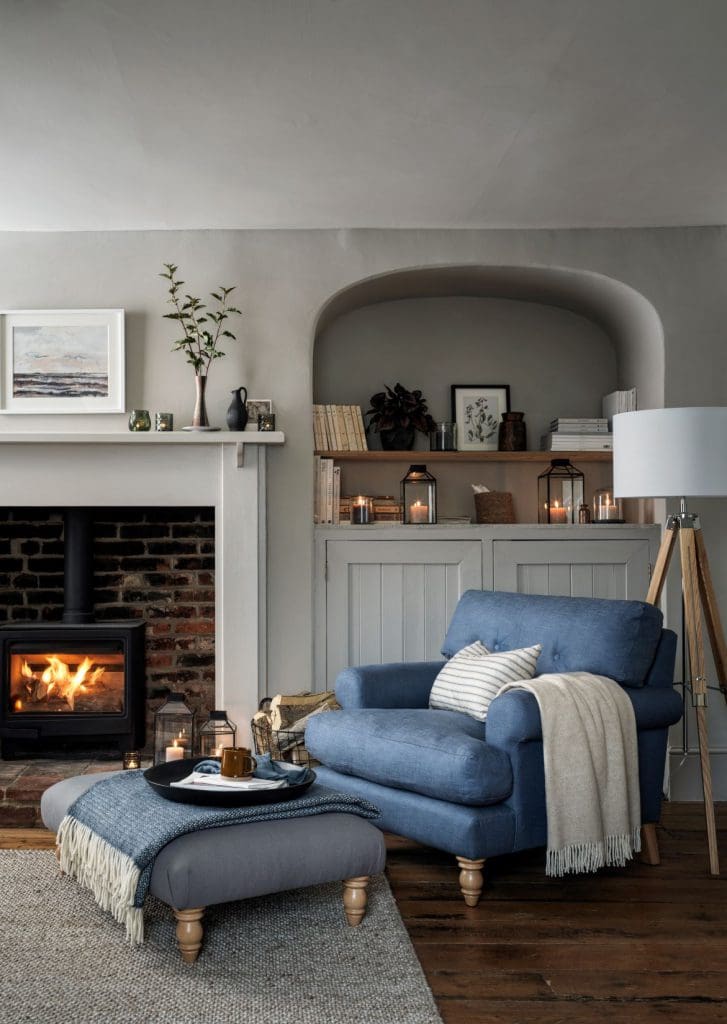 PHOTO: COTSWORLD
17. Yellow and Orange
The yellow and orange color combination creates a vibrant, colorful aesthetics and provides a characterful touch of sophistication to a space.
PHOTO: JOHN LEWIS
18. White and Brown
It's no news that white goes with just about every color. According to interior designers, most people prefer brown and white colour schemes to white and grey because brown is naturally warm. Pair any shade of brown paired with crisp white for a chic and modern look.
PHOTO: IDEAL HOME
19. Dark Blue and Raspberry Red
Dark blue and raspberry red is a classic and sophisticated colour combination. This pair may not appeal to everyone but it is a sure way to inject a strong sense of style and a dramatic flair in a modern living room.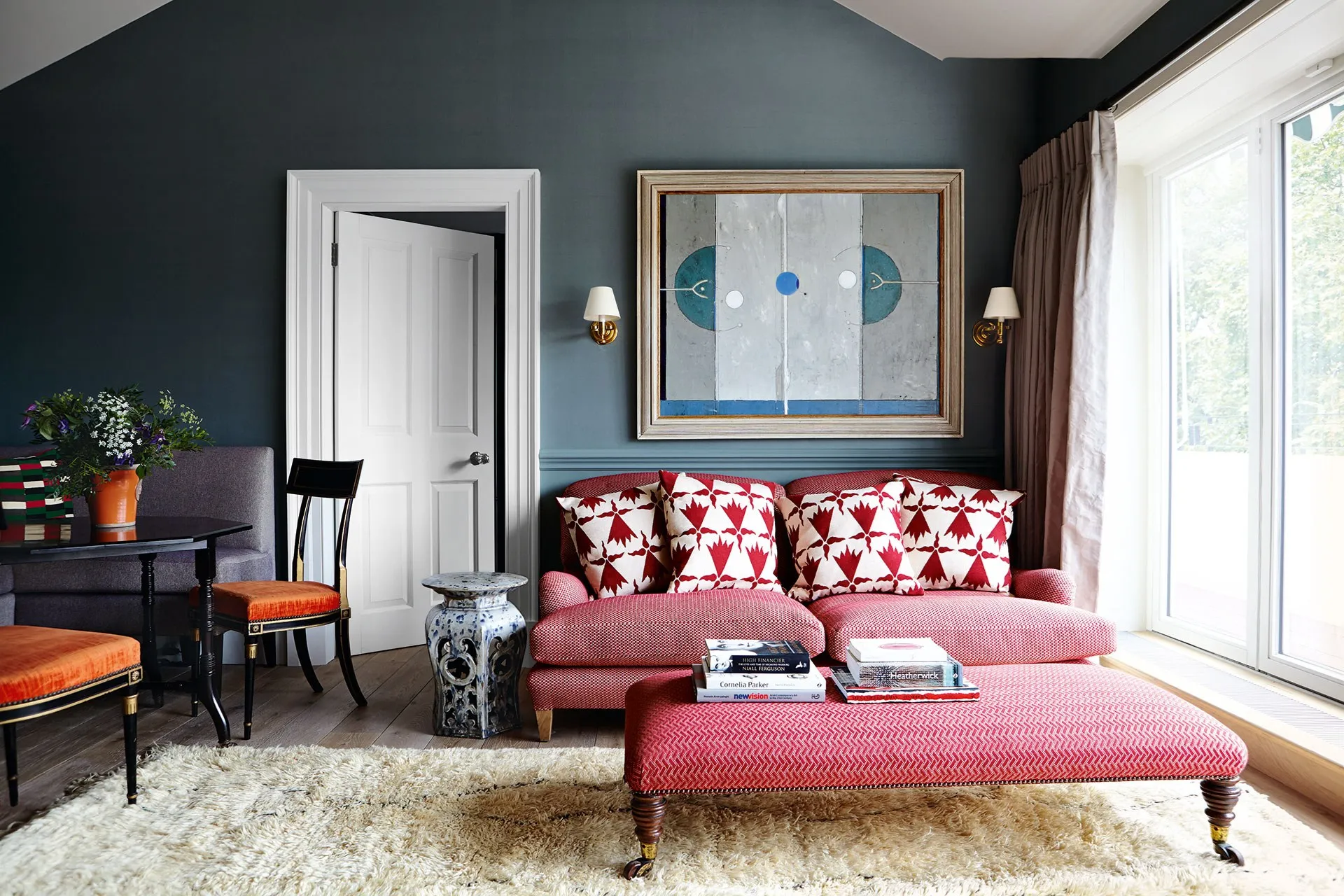 PHOTO: JAKE CURTIS
20. Grey and Dark Blue
This colour combination simultaneously softens and illuminates a living room. For more impact, bring in the dark blues through wall paint and the grey through furniture, artwork, lampshades, or a rug. Or vice versa for a more subtle approach.
PHOTO: JOHN LEWIS
21. Red and Beige
Even though red is a daring choice for any living room, it looks warm and timeless when combined with beige. Beige is a neutral common in modern homes. It has the ability town down any vibrant hue.
PHOTO: SIMS HILDITCH
22. Tan and Beige
The beige and tan combo is a fantastic choice if you're searching for modern two colour combination for living rooms that will blend with a woodsy, earthy mood and won't feel stark or uninteresting.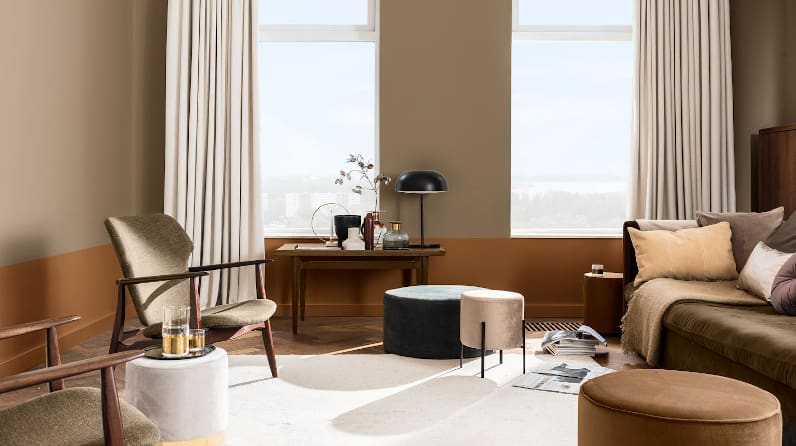 PHOTO: DULUX
23. Blue and Lime Green
Lime green adds an abundance of vibrancy to interior spaces. Lime green also goes with blue but may be too daring for many.
PHOTO: MICHAEL PARTENIO
24. Black and White
Monochromatic schemes are the most popular scheme for modern two colour combination for living rooms. Black and white are timeless hues. This two-tone colour scheme is one that interior designers frequently use to invigorate homes. Black and white have the advantage of being a versatile colour scheme that can look modern or classic depending on how it is styled.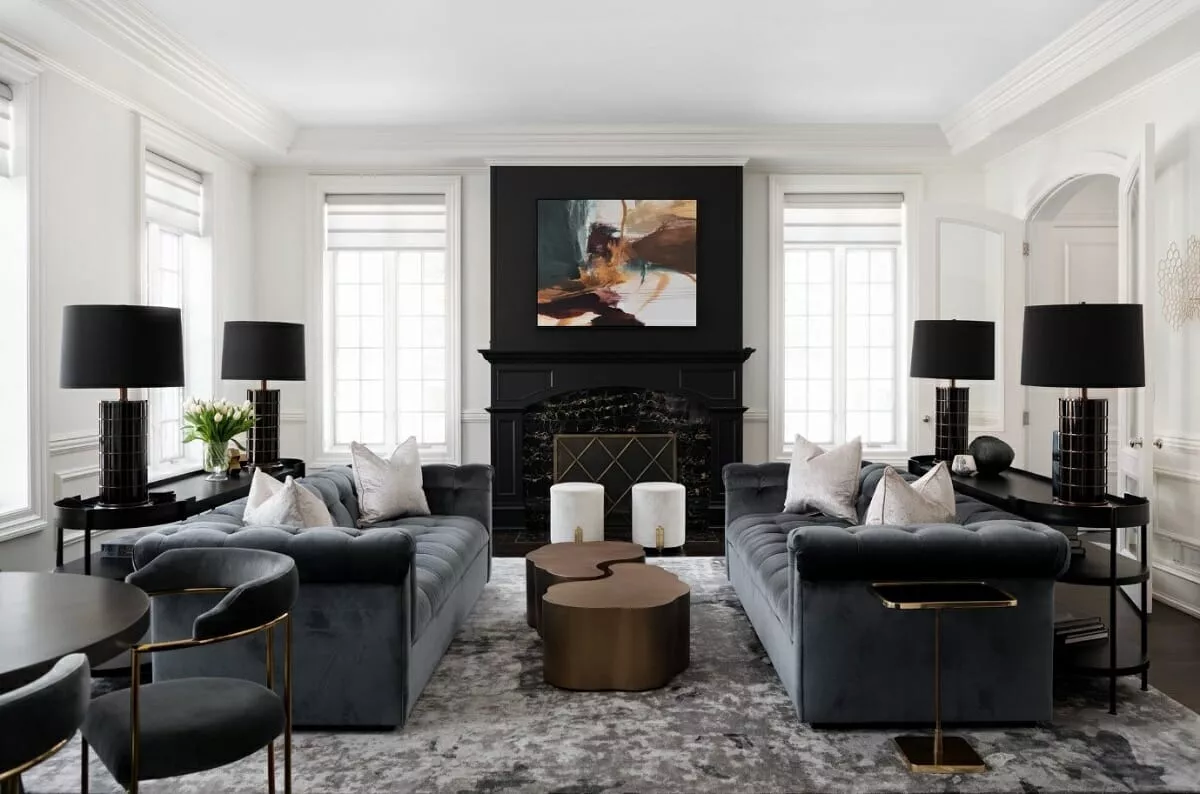 PHOTO: DECORILLA
25. Teal and Light Grey
Teal compliments grey perfectly as they can both have cool tones. Most grey hues go well with teal, which frequently reminds people of the ocean on a gloomy day. This colour scheme works better when teal is the accent colour and grey is the base colour.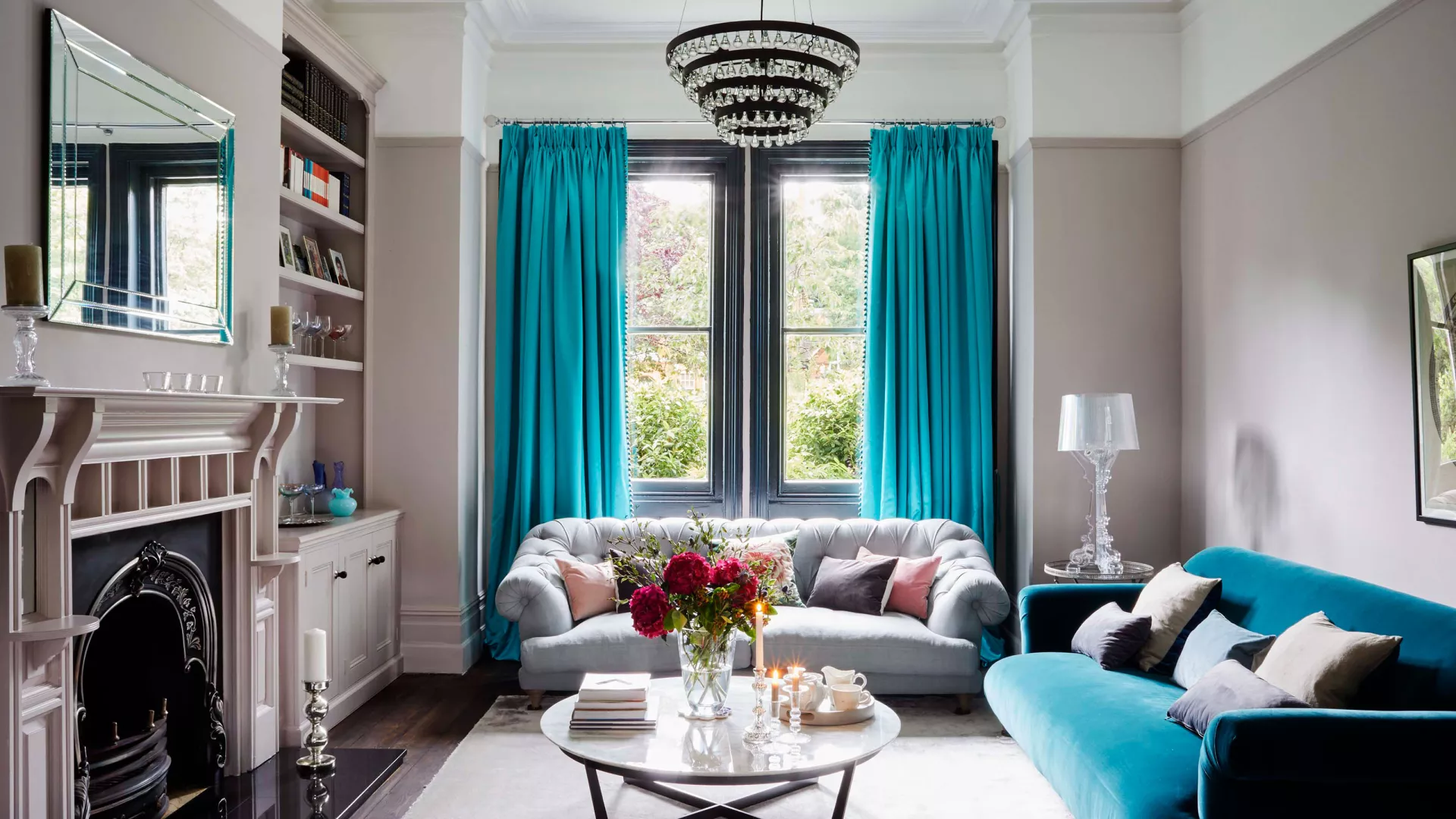 PHOTO: BRENT DARBY
25. Purple and Yellow
In interior design, the hues yellow and purple are often used together. It can create a balanced look that is full of character in a living room.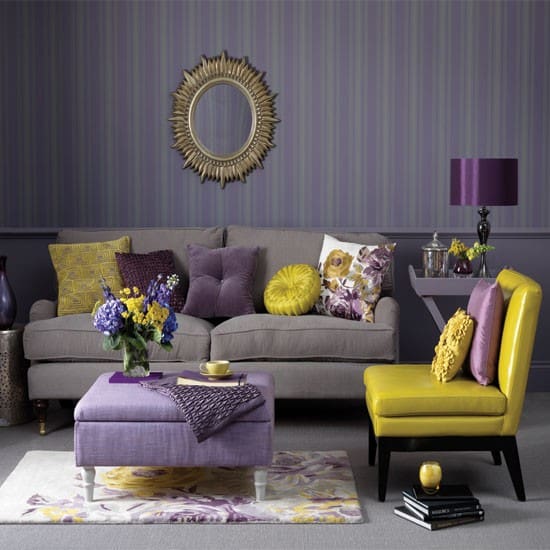 PHOTO: DECORPAD
27. Grey and Yellow
Grey can reduce the brilliance of yellows, while yellows can liven up cool-toned greys, so they go nicely together in a  modern living room.
PHOTO: SKONAHEM
28. Red and Yellow
Yellow in colour therapy evokes happiness. It is one of the most used accent colours for contemporary living rooms. The colour yellow is joyful, sunny, pleasant, and vibrant. It works great with red which is known to boost energy in a room.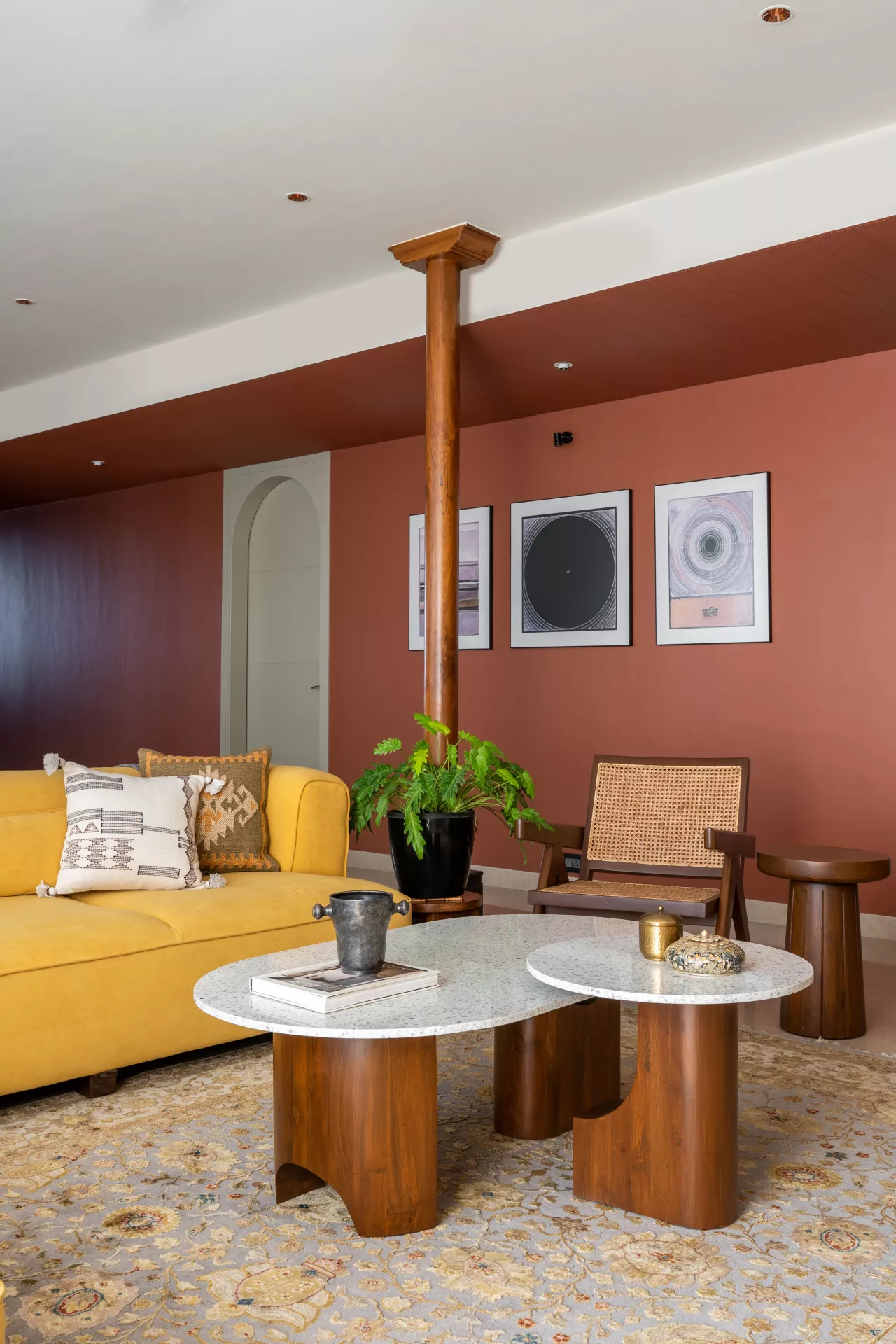 PHOTO: PINTEREST
29. Light Blue and Orange
Light blue and orange are two hues that demonstrate the adage that opposites attract since they work well together and invigorate a space.
PHOTO: LUCY WILLIAMS
30. Emerald Green and Mellon Yellow
The rich hues of Emeralds, which are more frequently associated with costly gemstones, are becoming more prominent in contemporary home design. When paired with melon yellow, it is a match made in interior design heaven.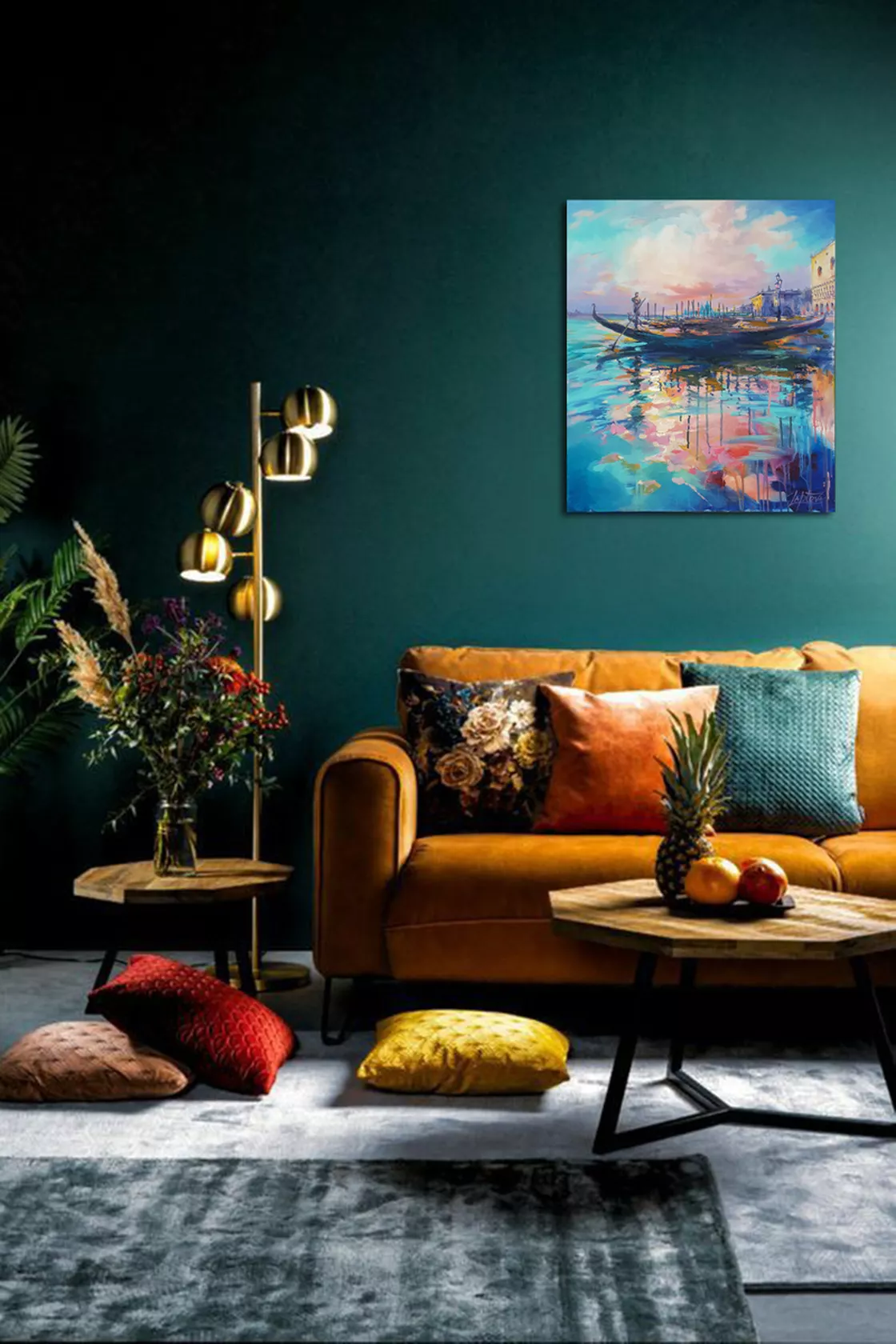 PHOTO: PINTEREST
31. Green and Orange
Green and orange go together like macaroni and cheese. Modern living a be chromatically enhanced and the senses stimulated by the use of green and orange. This work perfectly with muted green and any shade of orange.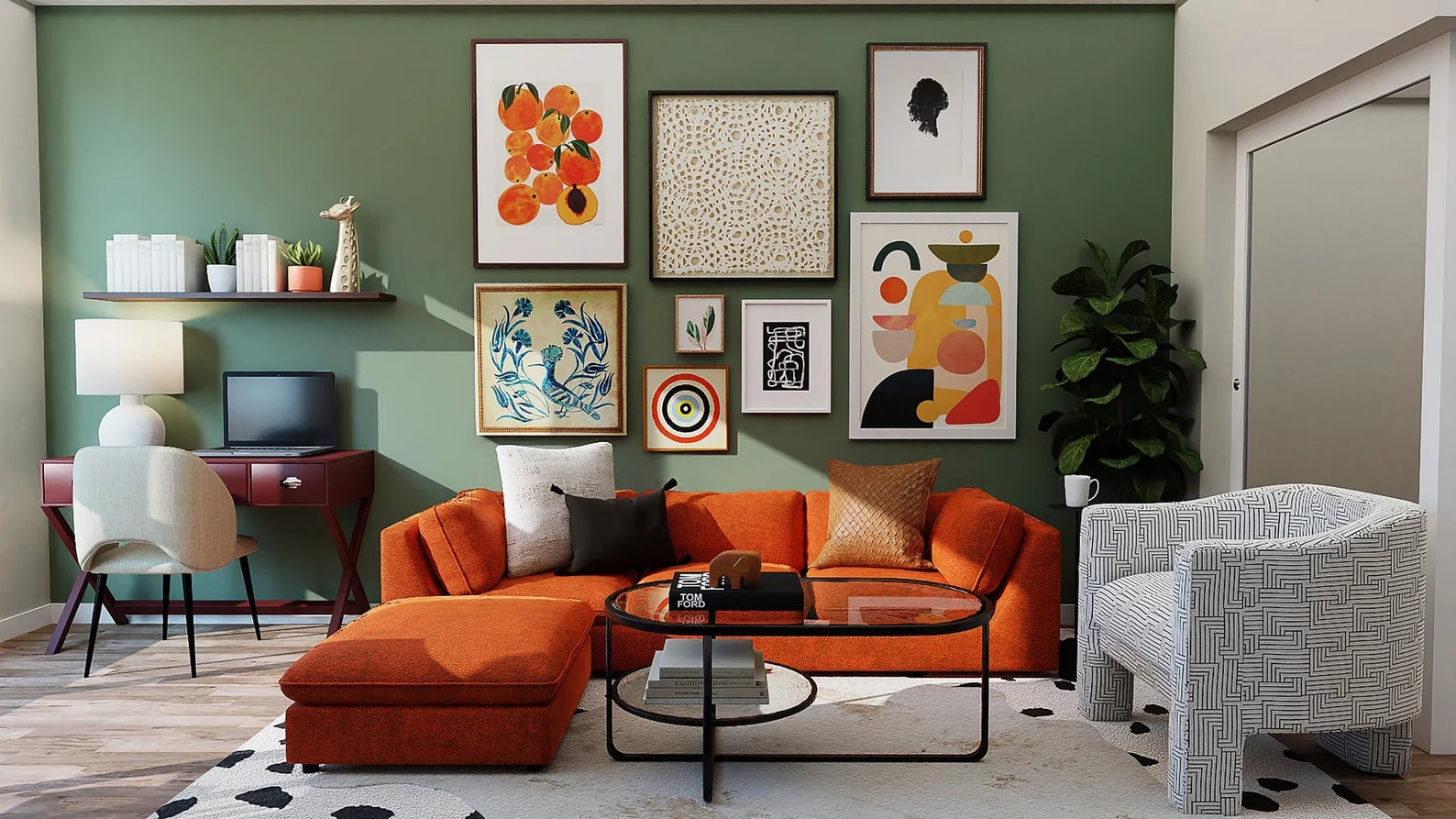 PHOTO: SHUTTERSTOCK
32. Pink and Purple
Purple is a fusion of cool blue and fiery red, the colour of royalty and creativity. The colour can give the living room an exotic feel, especially when paired with pink.
PHOTO: WAYFAIR
33. Red and Pink
Red and pink work well together to enhance a dull bland living spaces. They complement each other beautifully. To tone down the dramatic effect, add a bit of beige, white, or light blue.
PHOTO: ERIC PIASECKI
34. Orange and Navy Blue
Orange was designed to go with blue because complementary colours sit opposite each other, especially navy blue, with the warmth of orange counterbalancing the coolness of the navy blue.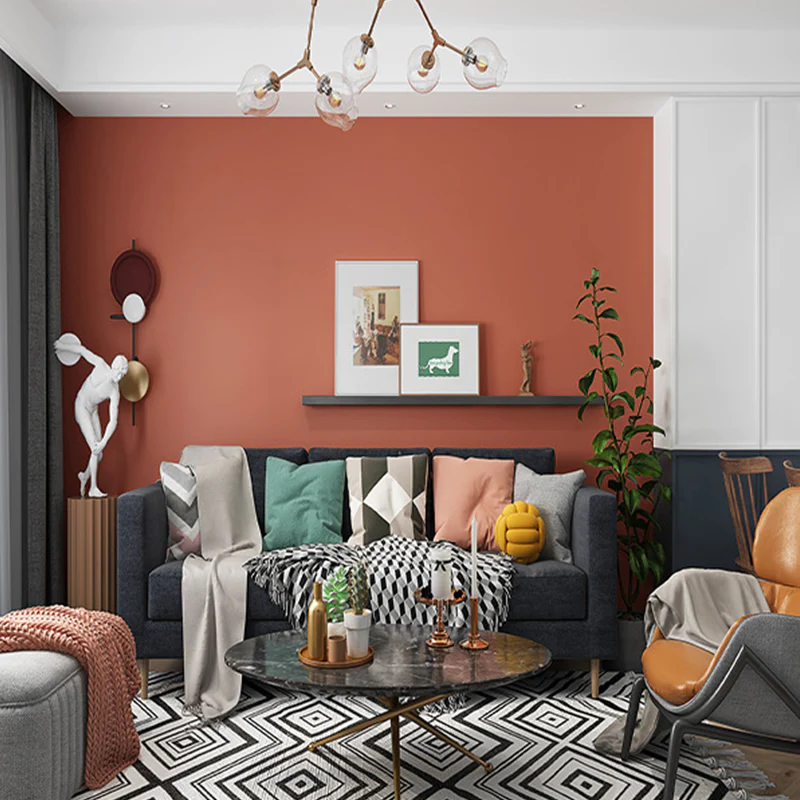 35. Pink and Yellow
Pay no mind to the misconception that pink and yellow are for kids' rooms. How you use these colours can have a huge impact on the mood you want to create. It may be tricky to execute but can convey a strong sense of style when done correctly.
PHOTO: SHUTTERSTOCK
36. Peacock Blue and Black
Most individuals don't choose peacock blue as their initial living room colour, but that's only because they aren't aware of it.
Vivacious colours frequently go well with peacock blue. Because it looks great with bold neutrals like black, white, or beige.
PHOTO: SOPHIE LLOYD
37. Orange and Beige
Given that it is a neutral colour, beige is versatile and simple to decorate with. Plus when paired with a bright orange hue, beige look fantastic instead of merely visually appealing.
PHOTO: SOHO HOME
38. White and Beige
An excellent way to incorporate soft, neutral colours into your living room is to pair white with beige. Both hues are well-liked options for designing a minimalist contemporary living space.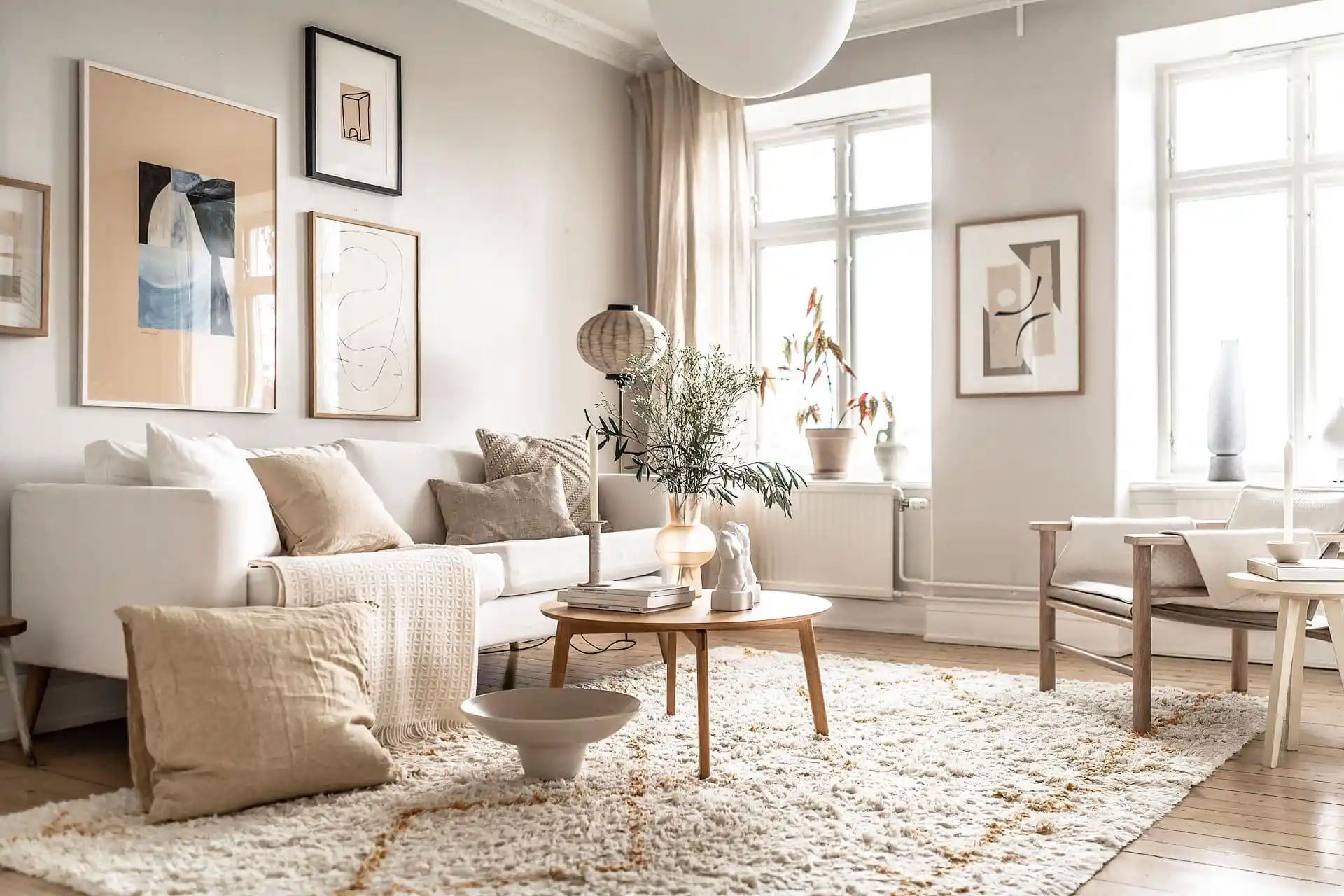 PHOTO: ALVHEM
39. Beige and Brown
A crowd-pleasing colour combination for modern living rooms is beige and brown. The hues are related since beige is merely a very light version of brown. When paired together, they create a monochromatic palette that feels both varied and lively.
PHOTO: IKEA
40. Blue and Brown
Given that cool tones in blues complement the warmer tones present in wood furniture, brown and blue go well together.
PHOTO: ALVHEM
41. Yellow and Beige
Beige is undoubtedly a warm colour, and yellow accents give it personality and a welcoming, cozy feeling of warmth.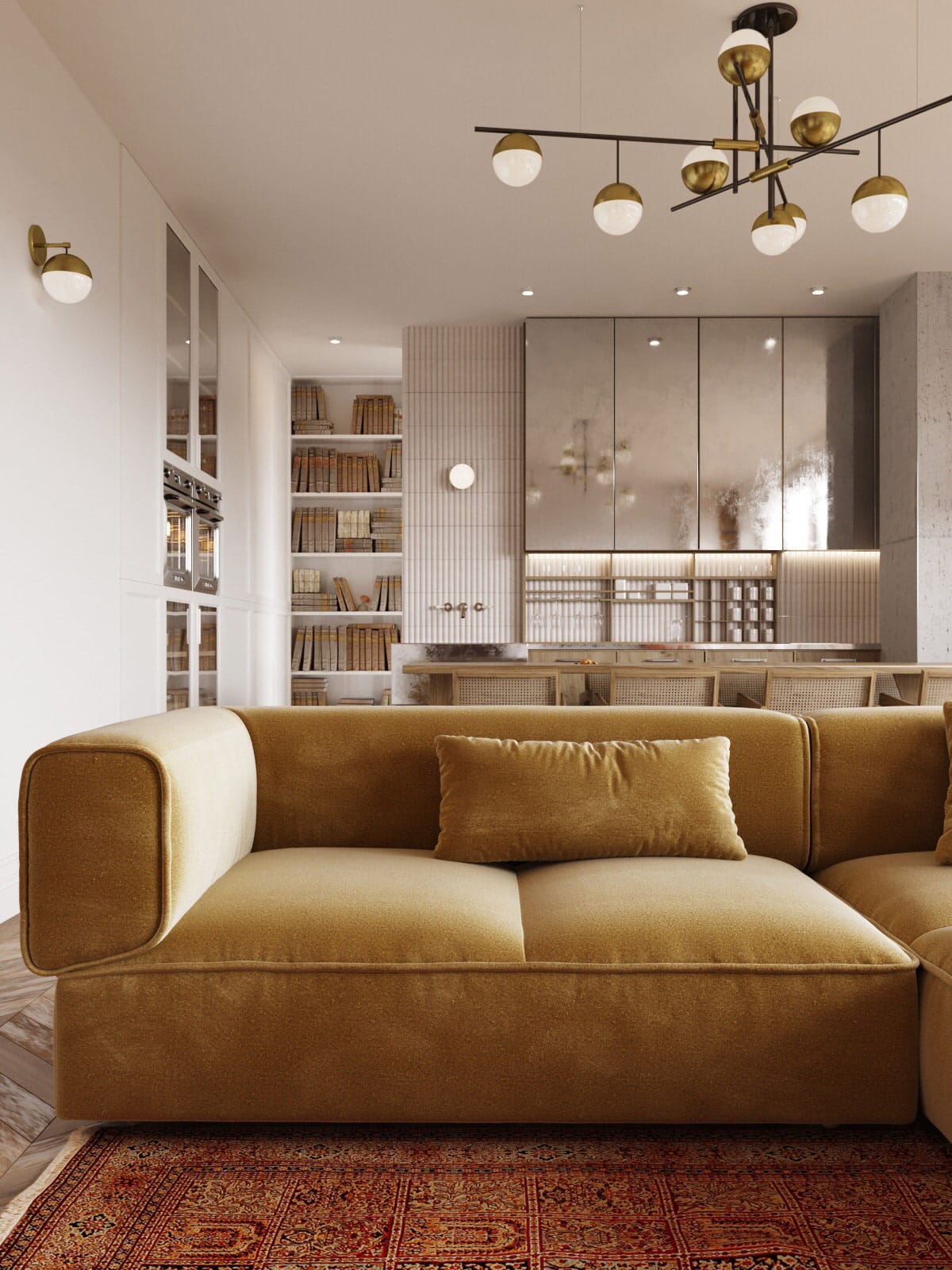 PHOTO: HOME-D
42. Grey and Blush Pink
Grey and pink are a sophisticated modern two colour combination for living rooms. Grey tends to be somewhat cool, thus pink's warmth is necessary to make the space feel warm and inviting.
PHOTO: IDEAL HOME
43. Brown and Dark Green
Due to their resemblance to colours found frequently in nature, brown and green make for an aesthetically pleasant pairing. The spectrum of colours and tones can be combined in an array of ways to create an effortlessly chic modern living room.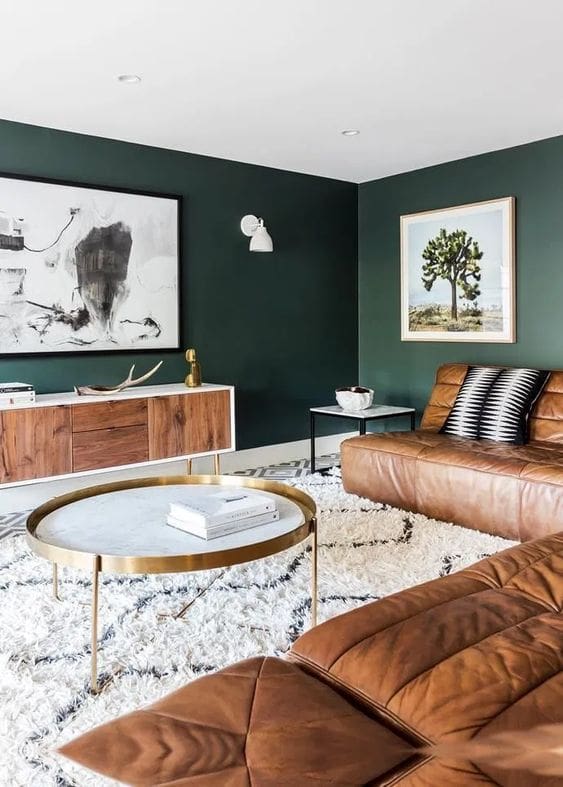 PHOTO: MELINA DIVANI
44. Yellow and Green
Just like brown and green, green and yellow also draws their inspiration from nature. This energizing pair, like those beautiful sunflowers on green branches, looks best in a setting that is bathed in lots of natural light.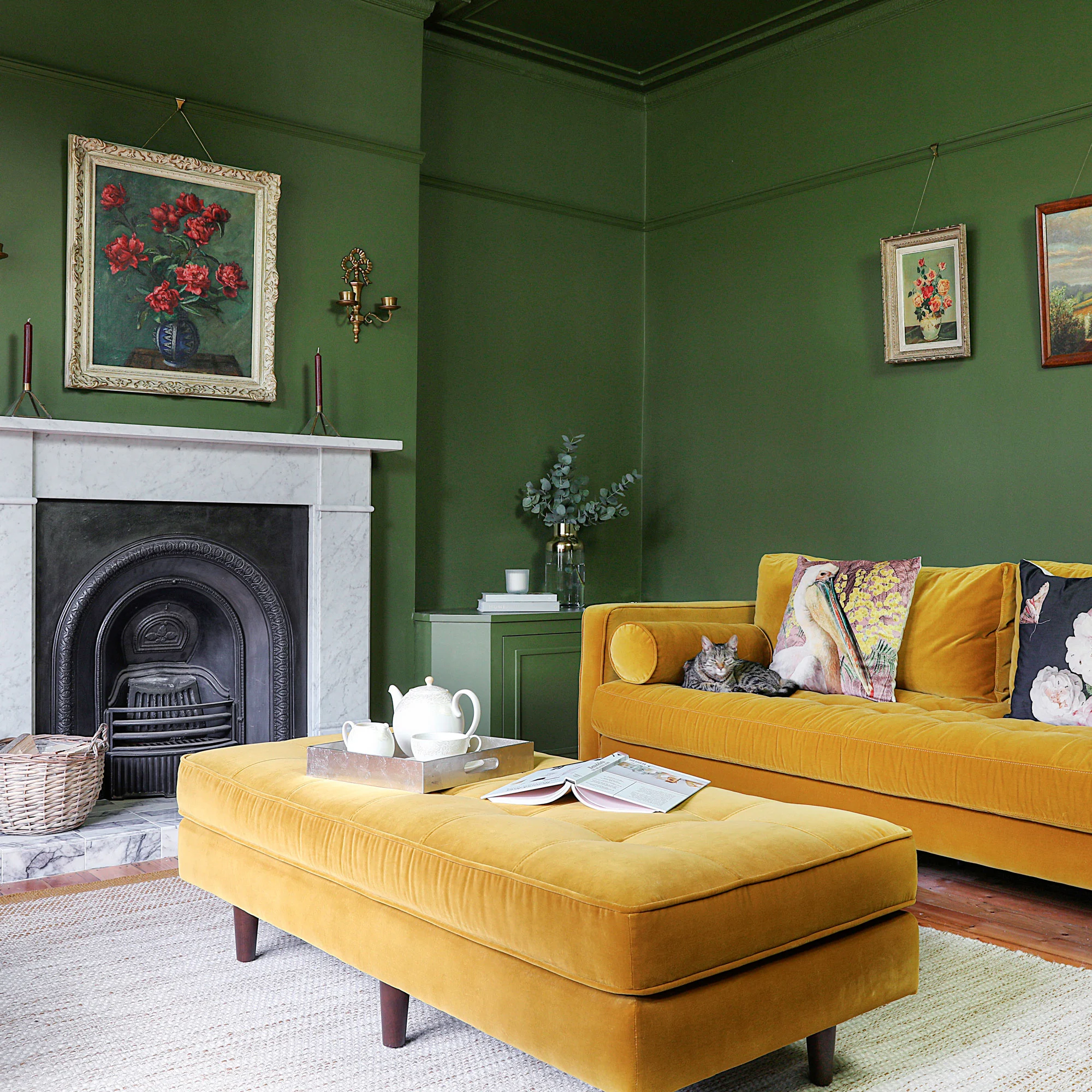 PHOTO: KAREN WILSON
45. Blue and Orange
Blue and orange are complementary hues because they sit opposite to each other on the colour wheel. The maximum level of contrast exists in complementary colours and this makes them more impactful.
PHOTO: HOUZZ
46. Sage Green and Navy Blue
When combined with navy blue blues, a rich sage green can appear playful and soothing. Sage green conveys softer qualities like harmony, passion, and tranquillity, whereas navy blue conveys opposite emotions like self-importance and authority.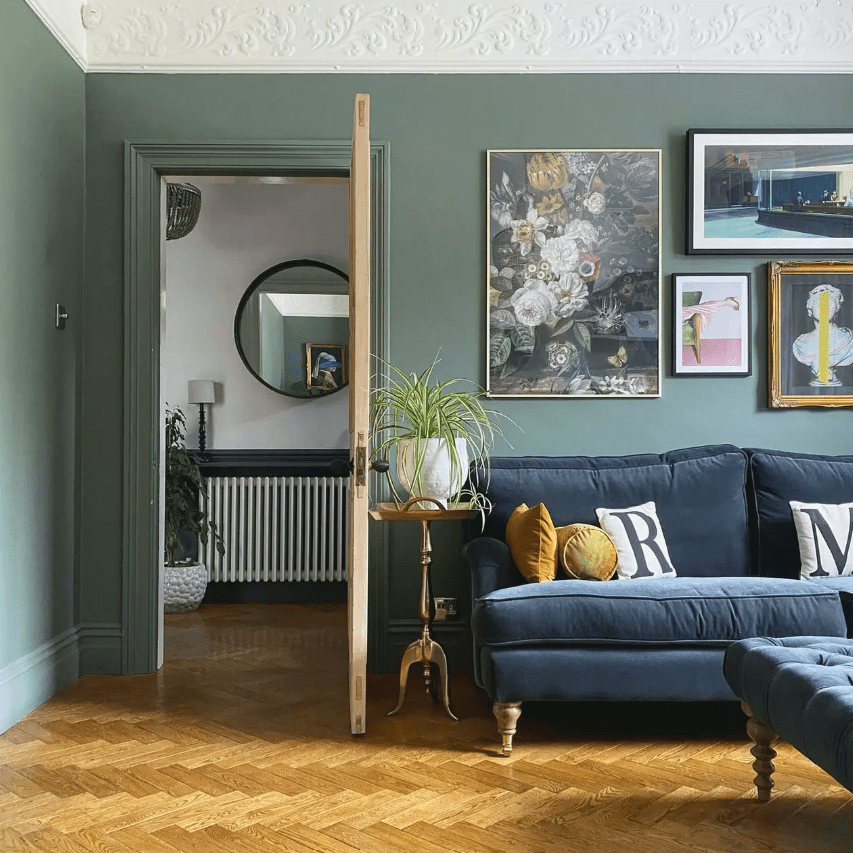 PHOTO: HOUZZ
47. Yellow and White
When paired with beige and used in the right shades, yellow does not overwhelm a space. Yellow is cherished because of its happy, upbeat, and optimistic psychological effects, which inspire optimism for what's to come.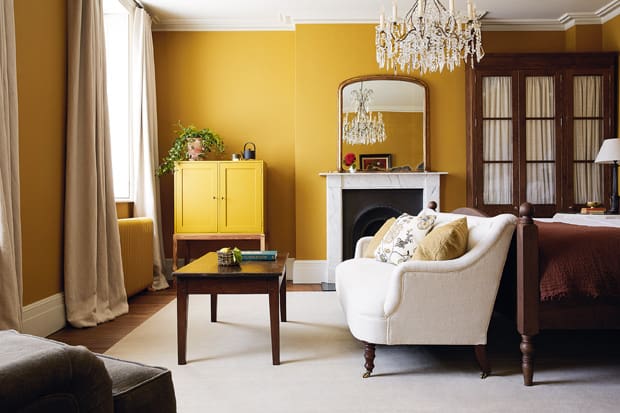 PHOTO: ROSE UNIACKE 
48. Navy Blue and Grey
Navy blue and grey are like two peas in a pod because they can flow into one another so flawlessly that you can hardly tell where the border between them is in a colour scheme.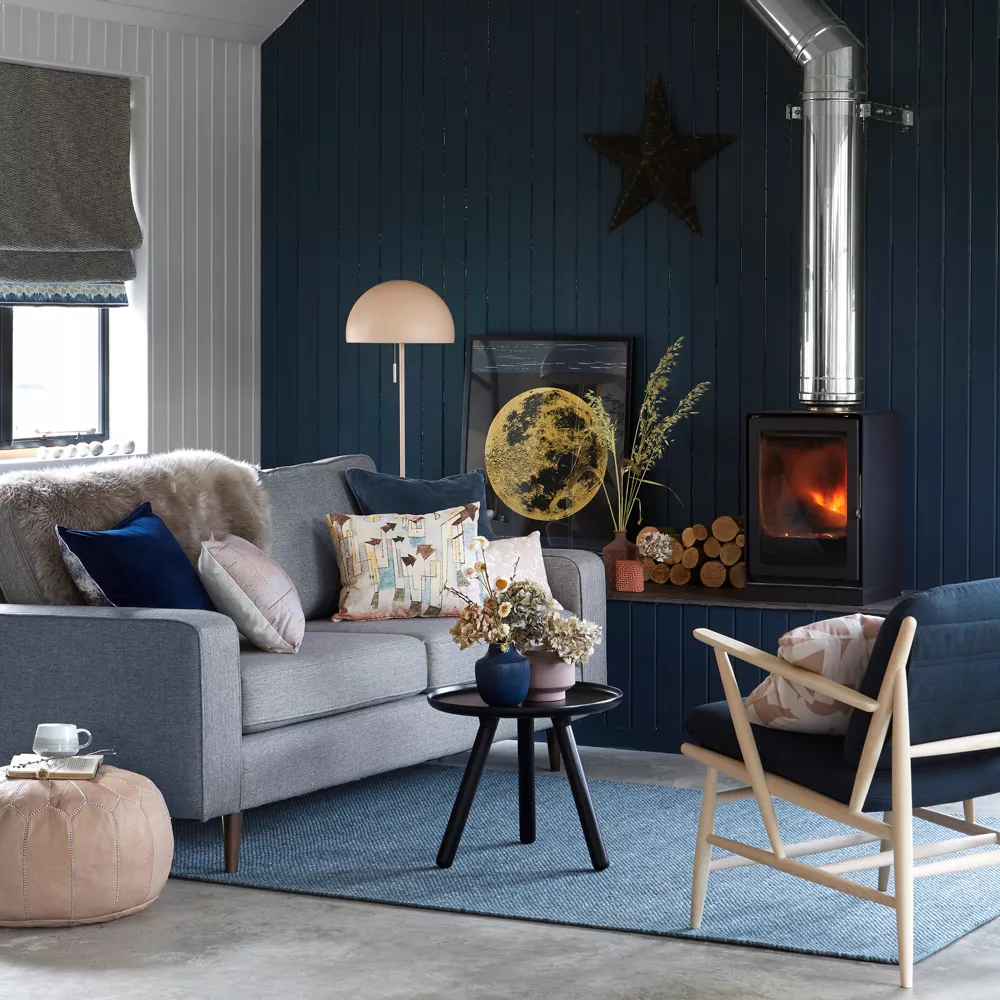 PHOTO: FUTURE PLC
49. Yellow & Dark Blue
The yellow and dark blue colour combination helps to break up the severity of the tone and fosters harmony. The right deep tone of blue can add steady neutrality to an environment, despite the fact that many believe that dark rooms can be unwelcoming.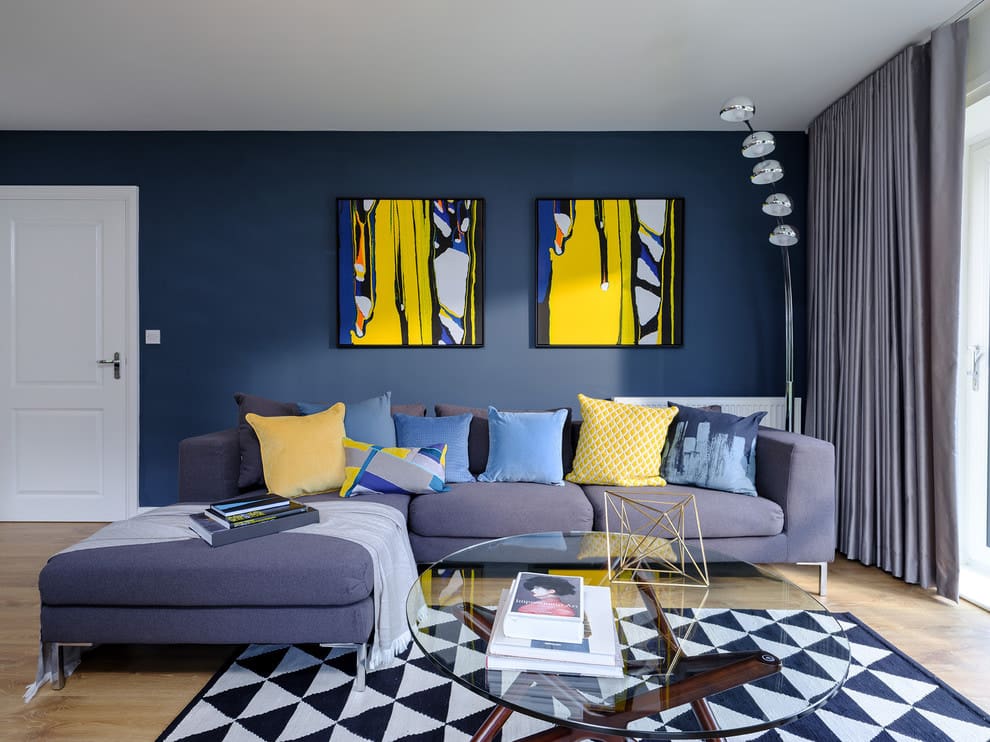 PHOTO: BEETROOTANDBLACK
50. Black and Beige
Black and blue are perfect for modern living rooms. Together, this dynamic pair strikes a balance between warm and cool tones to produce a visually appealing and welcoming design that will remain timeless.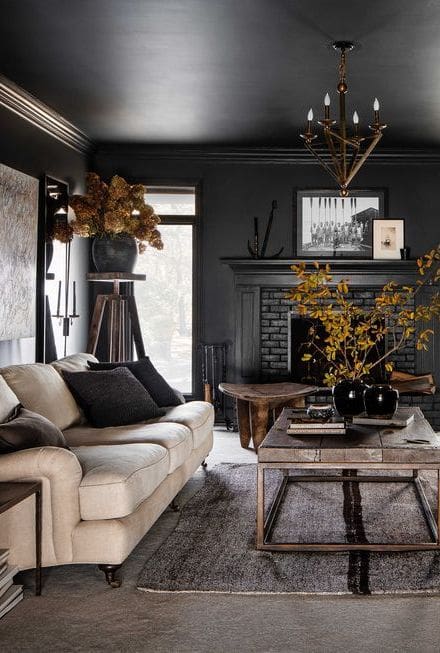 PHOTO: HARRIS KENJAR