28 Kitchen Feature Wall Ideas
 To add visual interest to an uninspiring and mundane kitchen, consider creating an accent wall. Check out these kitchen feature wall ideas to instantly elevate the aesthetics of your kitchen! 
How you style your kitchen will determine how you feel in it. It is crucial to strike a balance between functionality and visual appeal.
A feature wall, also known as an accent wall, is an interior wall that has a different paint color, texture, material, or style from the other walls. The purpose of this is to create a focal point and give an impactful edge to the space.
An accent wall has a profound influence on any interior space. It is the most transformative design trick that never tires.
If your kitchen is lacking interest or just needs that extra pizzazz, look no further than an accent wall to liven it up. This is also the most cost-effective and DIYable way to add stylish flair to your kitchen.
Here are 28 incredible kitchen accent wall design ideas that will transform your kitchen from drab to fab.
1. An oversized Artwork
By its very nature, an artwork is a statement-making piece that can embellish the look of any space. It is a decorative element will you find in most homes today.
They can add a punch to the color scheme, tell or story, and will add zing to any interior space. An oversized artwork makes a great kitchen accent wall as it makes a space feel luxurious and bigger than it is. They can also add energy, mood, and a sense of drama to the kitchen.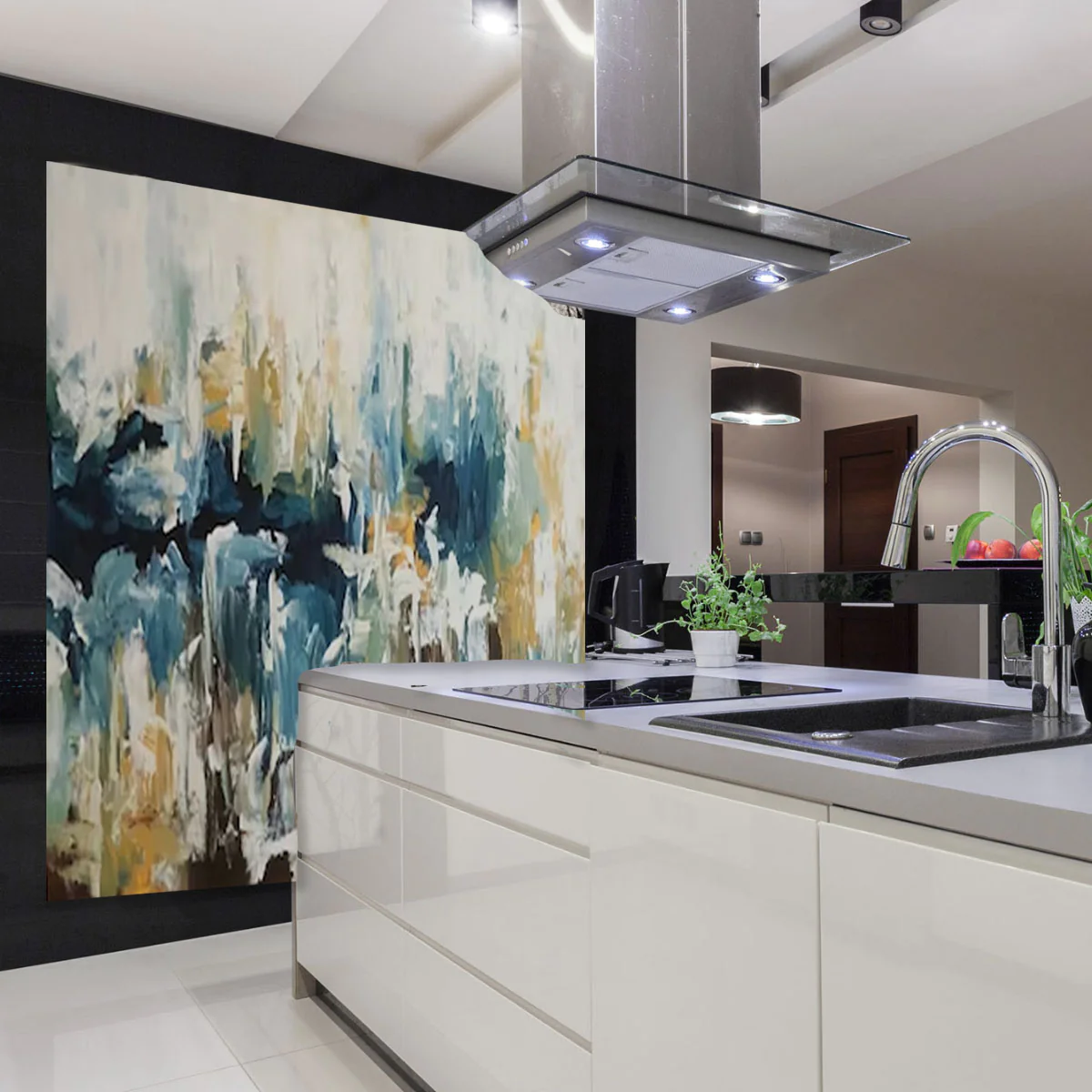 PHOTO: PINTEREST
2. Peacock Blue Breakfast Nook Wall
A breakfast nook is a practical addition to a kitchen. It is a casual eating corner in the kitchen that is great for having breakfast, entertaining, and even studying. Many would agree that the best thing about a breakfast nook is how cozy and snug they feel!
One of the ideal kitchen feature wall ideas is painting the break nook corner a different color. This helps the space feel more defined and enhances the feel of coziness.
PHOTO: EMILY HENDERSON
3. Contrasting Color Kitchen Accent Wall
The use of contrasting colors in interior design cannot be overemphasized because it helps create a striking and dynamic balance that makes a space visually interesting.
When choosing a color scheme for your kitchen, it is important to consider how the colors complement each other. A great accent wall color idea for your kitchen is a color that contrasts with the base color.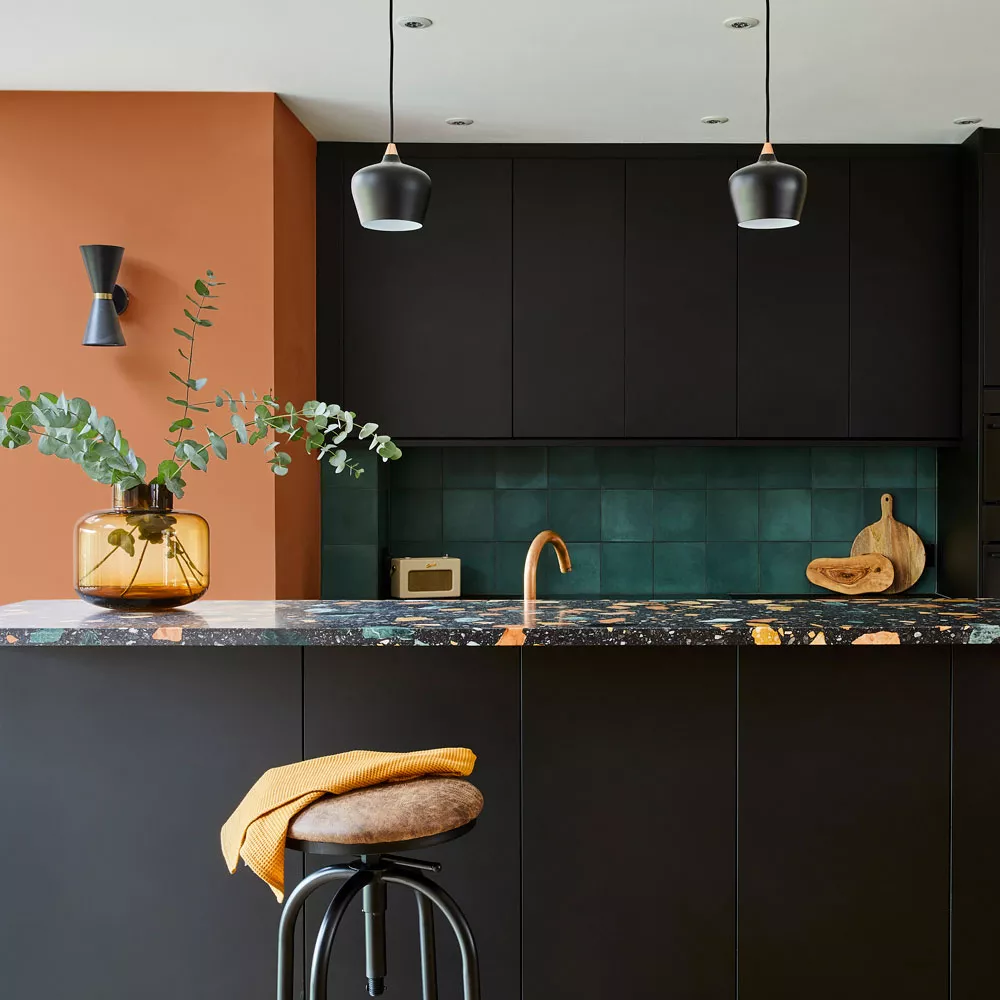 PHOTO: VALSPER
4. Carved Arch Feature Wall
A carved arch wall can help create architectural interest and a focal point in the kitchen. It is a non-intrusive and minimalist way to add some aesthetic flair to your home.
This is also a great dining room accent wall idea. To take things up a notch, consider painting the arc a different color.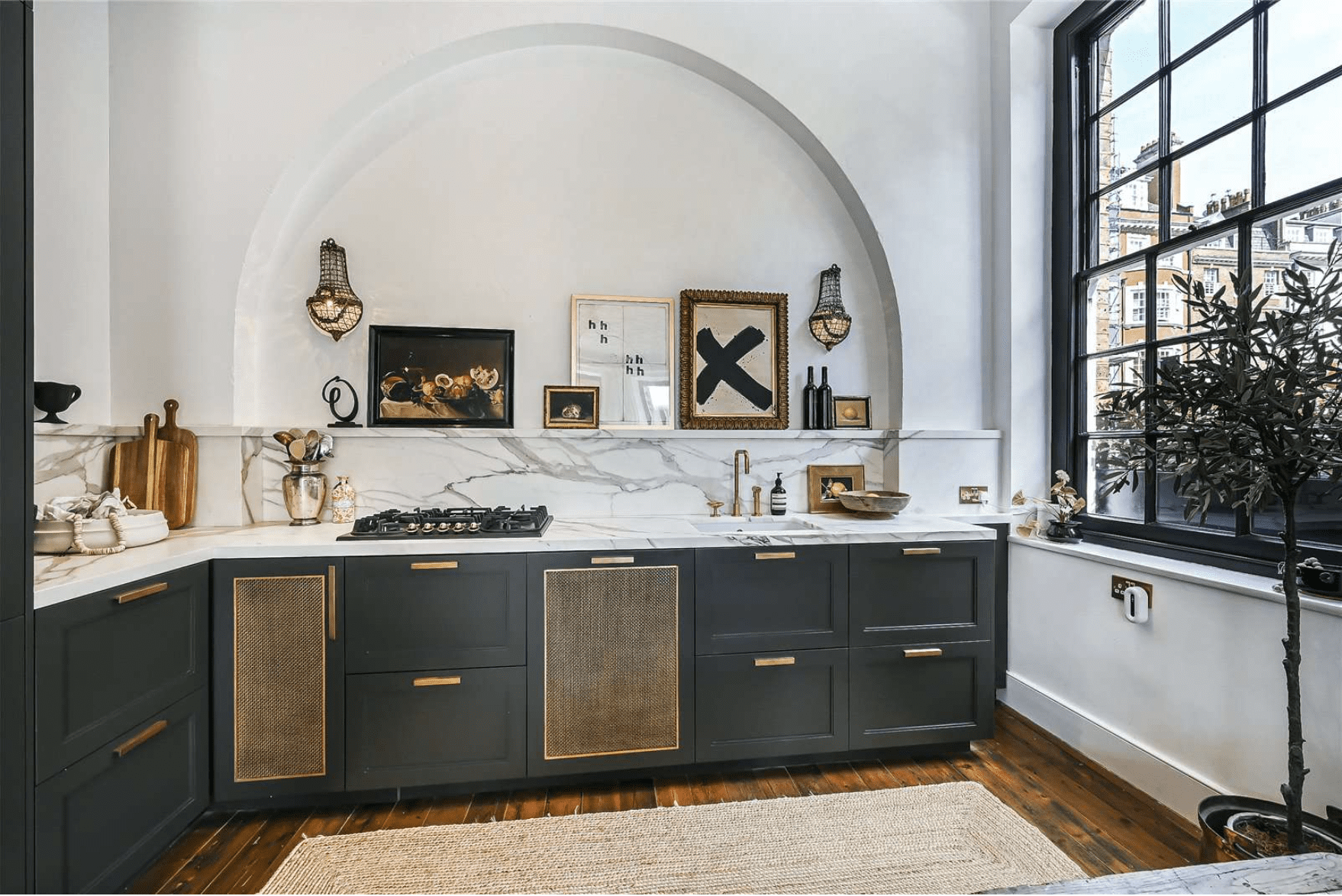 PHOTO: SAVILLIS
5. Green Scallop Tiles
Tile is also a great way to add accent to bathrooms and kitchens. A scallop tile, also known as fish scale tile, is an elegant tile pattern made up of soft looping curves. This wall tile, especially in green hues, will add drama and visual intrigue to any design scheme.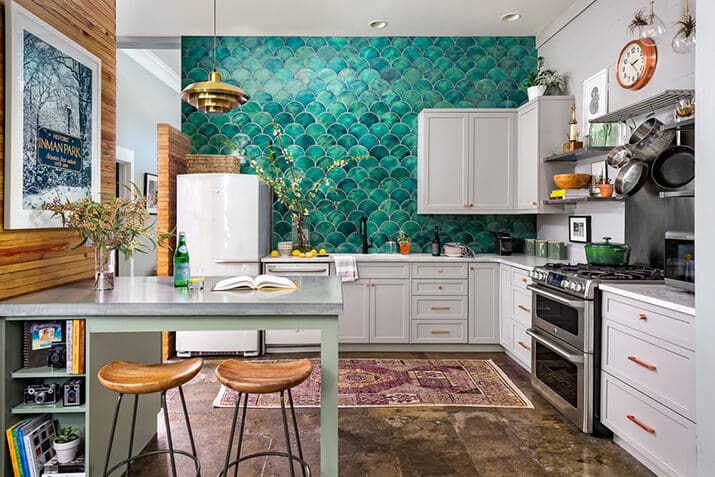 PHOTO: PINTEREST
6. Yellow Backsplash Wall
Yellow is a vibrant summery hue that conveys the feeling of happiness and fun. Unsurprisingly, yellow is one of the most popular accent colors that is suitable for any room in the home.
This sunset-like hue can instantly brighten up poorly lit spaces. Some of the most used shades for accents wall are mustard yellow, lemon yellow, and Tuscan sun.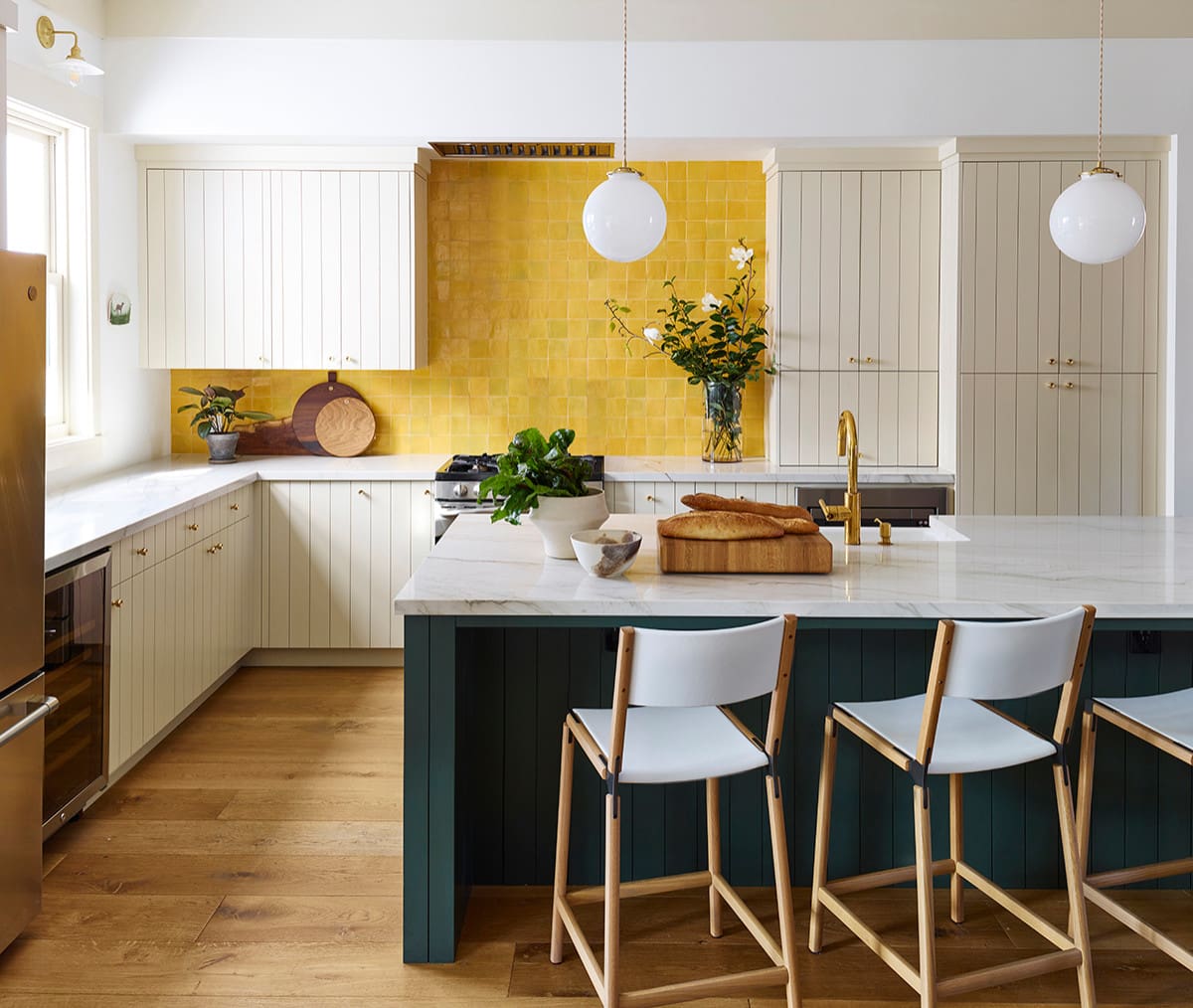 PHOTO: LANDED INTERIORS & HOMES
7. Colorful Kitchen Wall Decor Plates
Do you prefer an accent wall that is stylish and authentic? Colorful wall plates that give your kitchen a crowd-pleasing character and charm. This is a fun DIY project you will enjoy undertaking.
First, get varying plate sizes, prints, and colors. Secondly, map out where you want to hang them. Thirdly affix plate hangers, and attach the plates to the hangers. Finally, gently place them on the wall.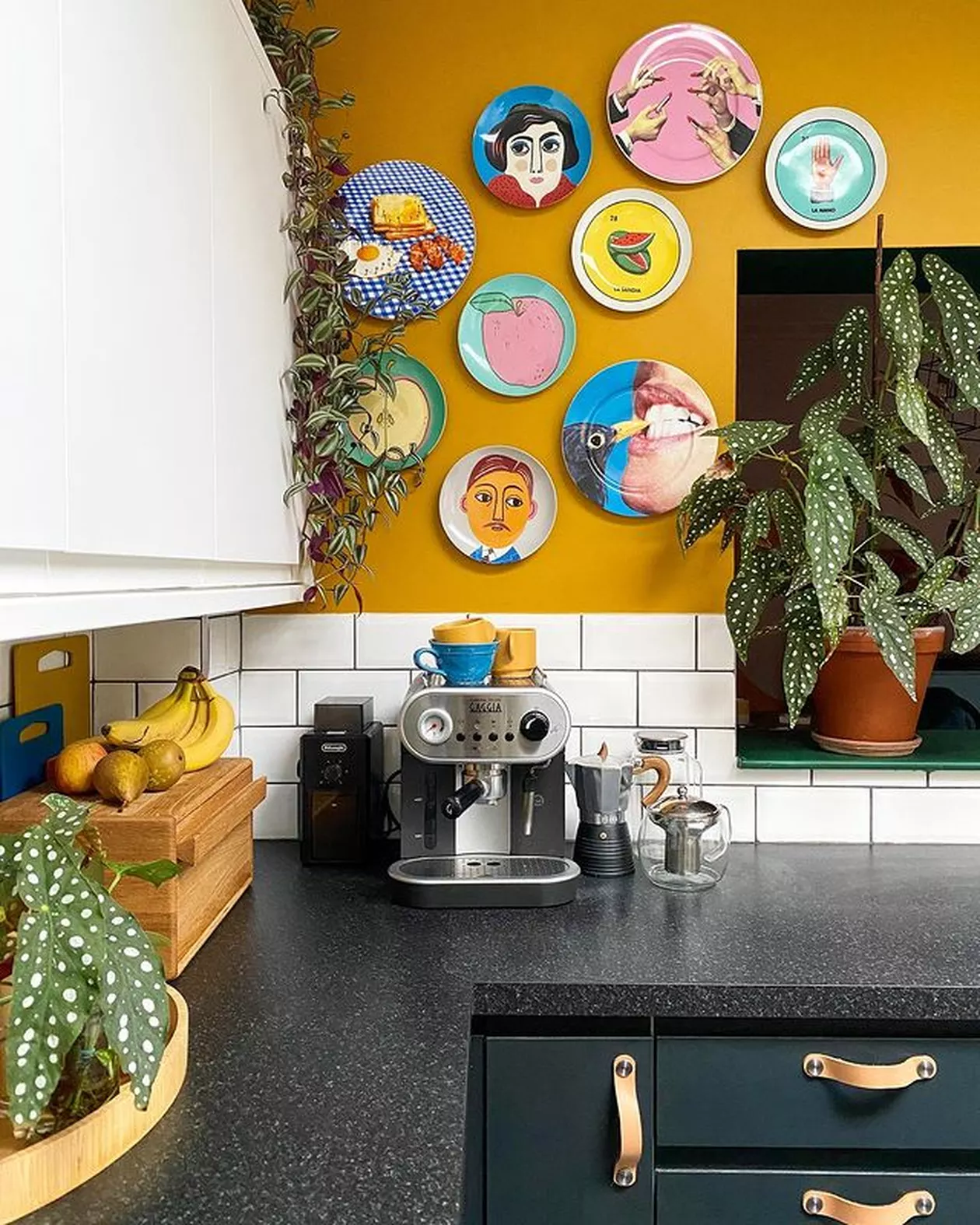 PHOTO: INSTAGRAM @THISTIMEINCOLOUR
8. Pink Tile Accent Wall
What makes pink a great accent wall color is that it is a versatile hue and can complement so many other colors. They are varying shades of pink, from lighter shades like blush pink and baby pink to darker shades like rosewood, rouge, and magenta. Pink backsplash tiles are a stunning addition to kitchens and bathrooms.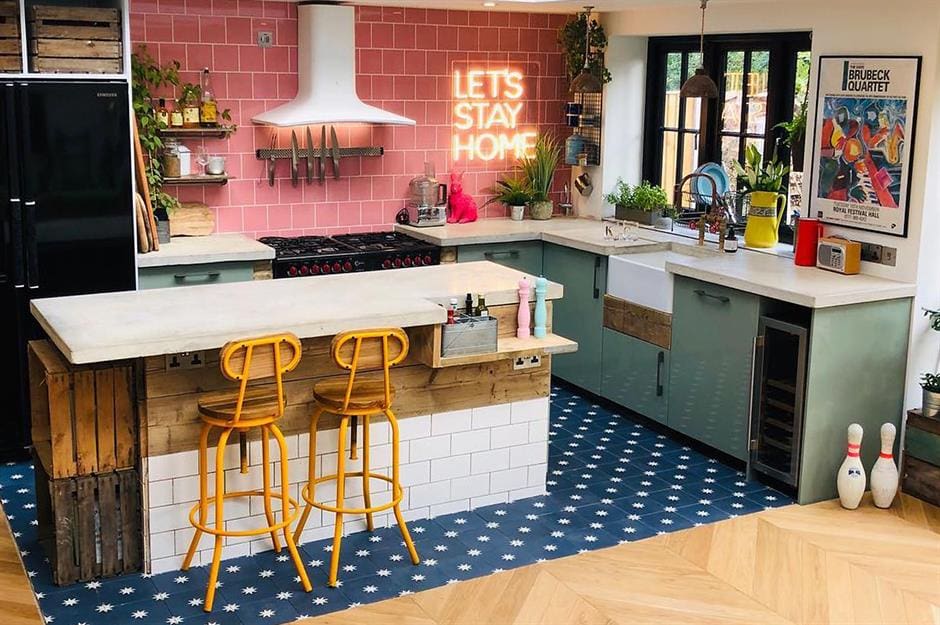 PHOTO: INSTAGRAM@KASIE_BARTON 
9. Nature-Inspired Wallpaper
There is a sense of calm and relaxation we feel when being surrounded by nature. Recent studies have shown that natural imagery significantly improves, cognitive function, reduces stress and boosts focus– no wonder nature-inspired wallpapers are so popular.
The decorative flair they give to the interior spaces is why they are so irresistible. This is one of the most transformative kitchen feature wall ideas.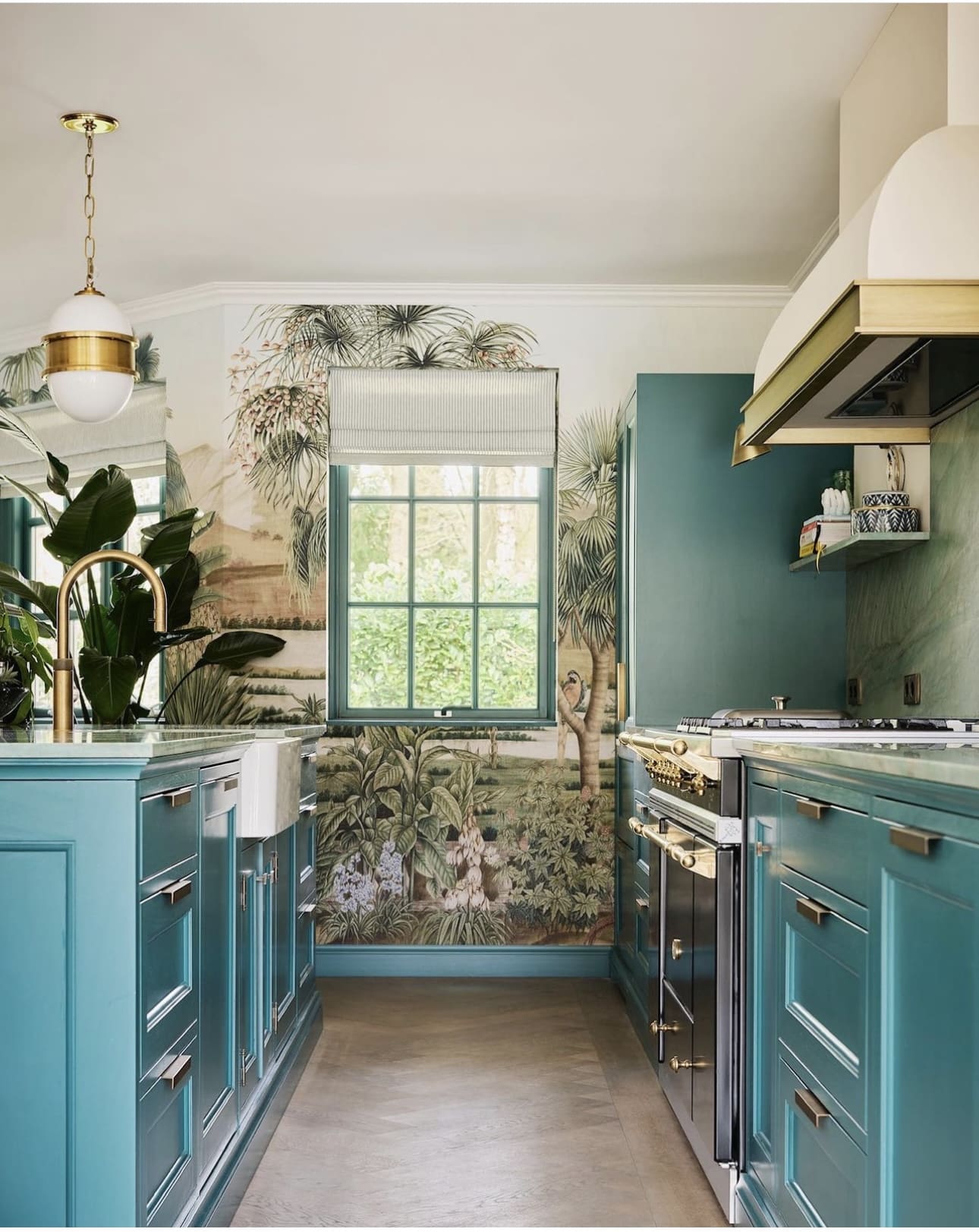 PHOTO: NICOLINE BEERKENS
10. Color Blocking Painted Shapes
Reignite a boring space with color-blocking painted shapes. This gives your kitchen a stylish and artistic flair. Color-blocking walls are a great way to use paint to add depth and interest, and, of course, inject color and personality into your kitchen.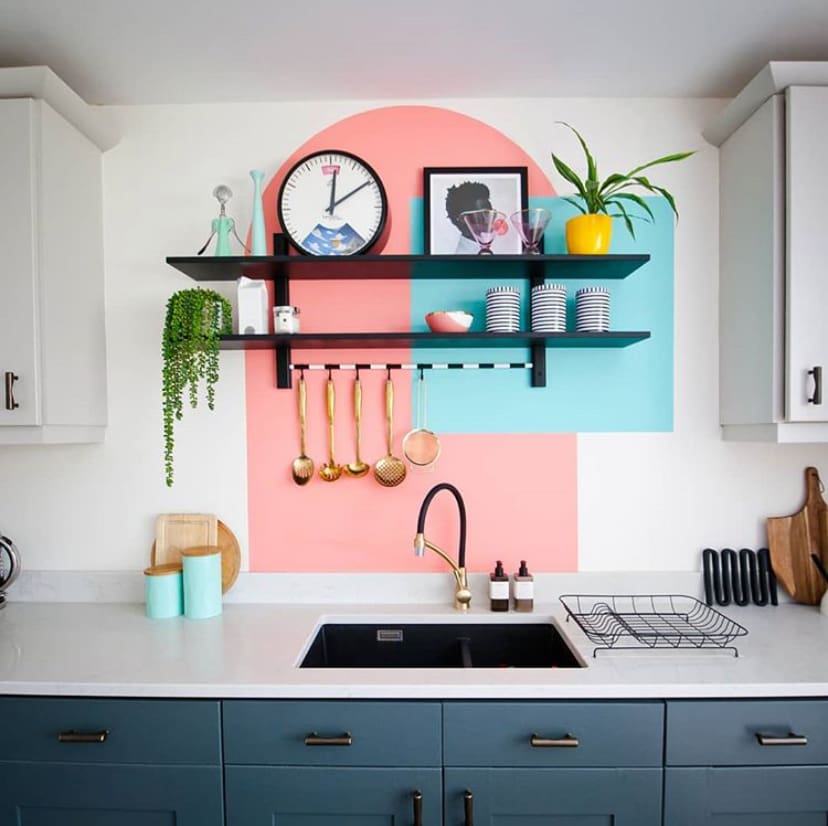 PHOTO: INSTAGRAM @OXFORDONE 
11. Black Kitchen Accent Wall
Black is the new neutral! It is a classic hue that can complement any other under the sun. Black accent walls are bang on-trend at the moment and it looks like it is here to stay for the foreseeable future. A black wall will add drama and sophistication to any kitchen design.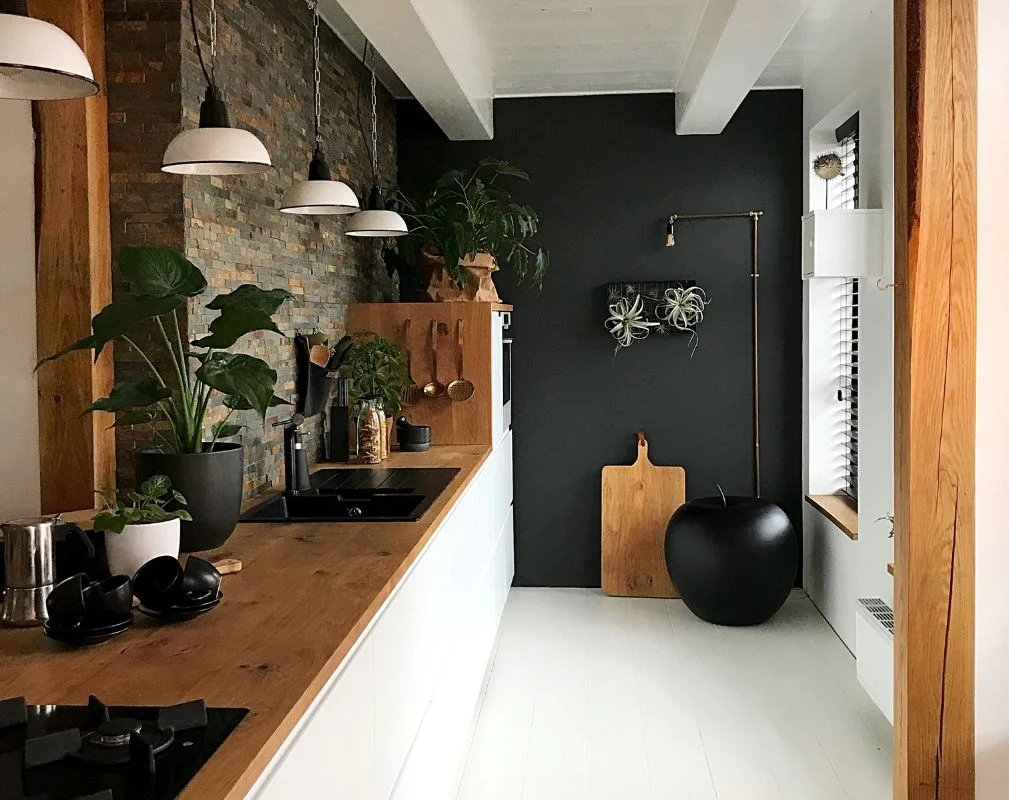 PHOTO: INSTAGRAM @JELLINADETMAR
12. Mural Feature Wall
A wall mural is one of the simplest and most effective methods to make a striking feature wall in the kitchen. A mural can instantly transform your kitchen into a sensational and attention-grabbing space. So if you're looking for something different and dramatic, a mural should be up your radar.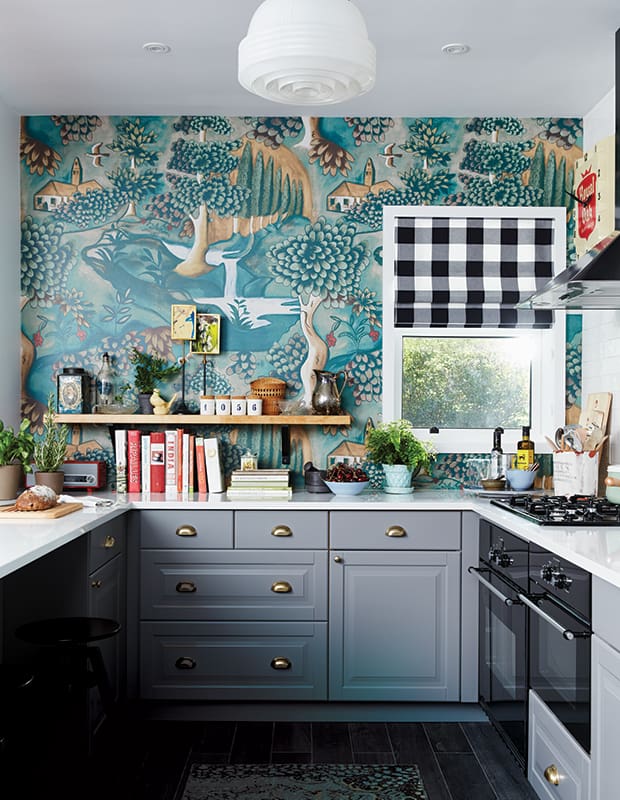 PHOTO: HOUSE & HOME
13. Lily Pad Hexagon Tiles
A Lily Pad accent wall adds chicness and style to your home. The beautiful patterned tile can make a space, especially a small like, appear larger than it is. It is suitable for both modern and traditional homes and perfect for adding a pop of color to your kitchen while also creating a design statement.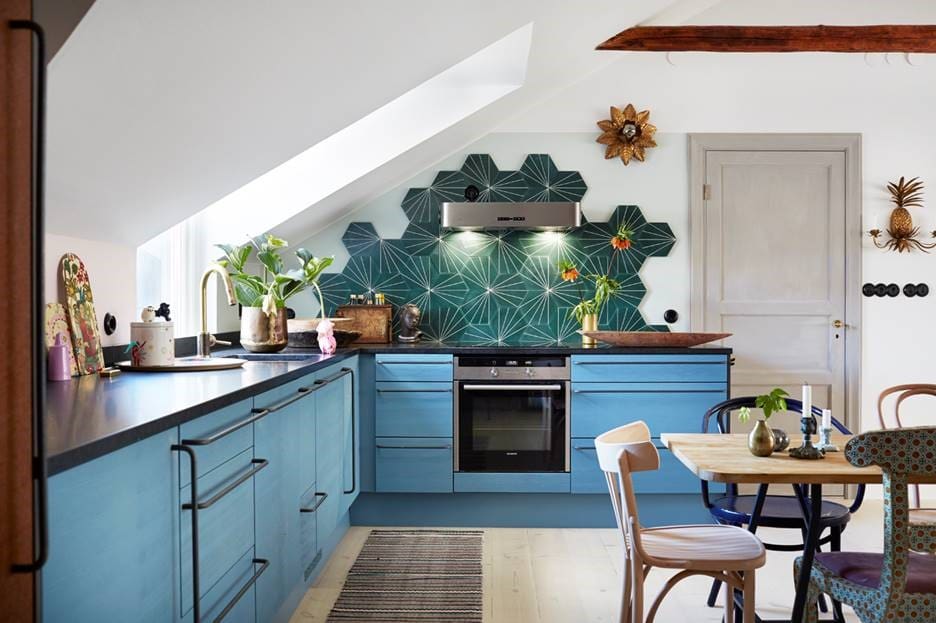 PHOTO: PINTEREST
14. Hand-Painted Wallpaper
A hand-painted wallpaper is one of the simplest ways to inject personality and creative flair into your house. Unlike ready-made wallpapers, a hand-painted wallpaper accent wall gives you the ability to achieve a tailored style and total customization. Although, it will cost more than store-bought wallpapers.
PHOTO: MARTHA CHRAPKA
15. Terrazo Backsplash With Matching Countertop
Whether you have a modern, minimalist, industrial, or rustic-style kitchen, a terrazzo feature wall can give it an impactful edge. What makes terrazzo a go-to choice for many is it that adds eye-catchiness to any kitchen when used as a backsplash countertop or both.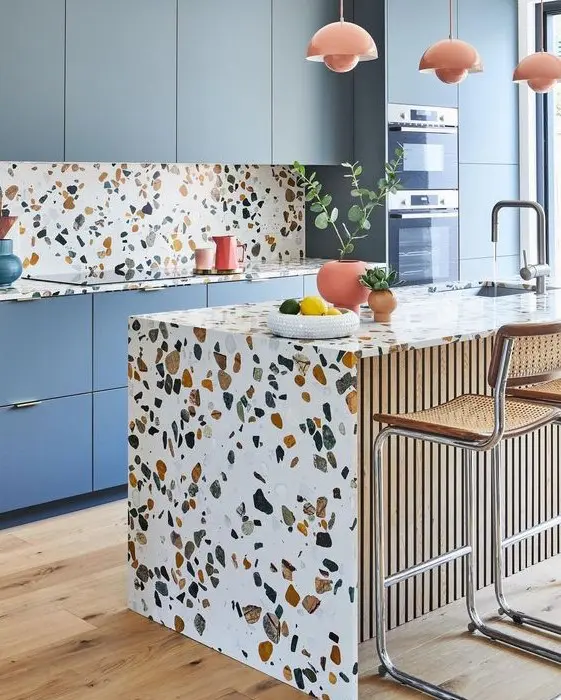 PHOTO: MARTHA CHRAPKA
16. Pale Lime Feature Wall
Lime green is a vivid and energizing color that works well in a variety of design schemes. Pale lime green is ideal for kitchen feature walls because it is eye-catching and sure to add zest to your kitchen.
PHOTO: KATE LEEDE & COMPANY STUDIO
17. Black Wall With Quotes
Chalkboards or blackboards are great and practical kitchen additions. A black wall with recipes, and inspiring or cheesy quotes gives the same visual effect. This of one of the best kitchen feature wall ideas that add character and a homey feel to your kitchen without overwhelming it.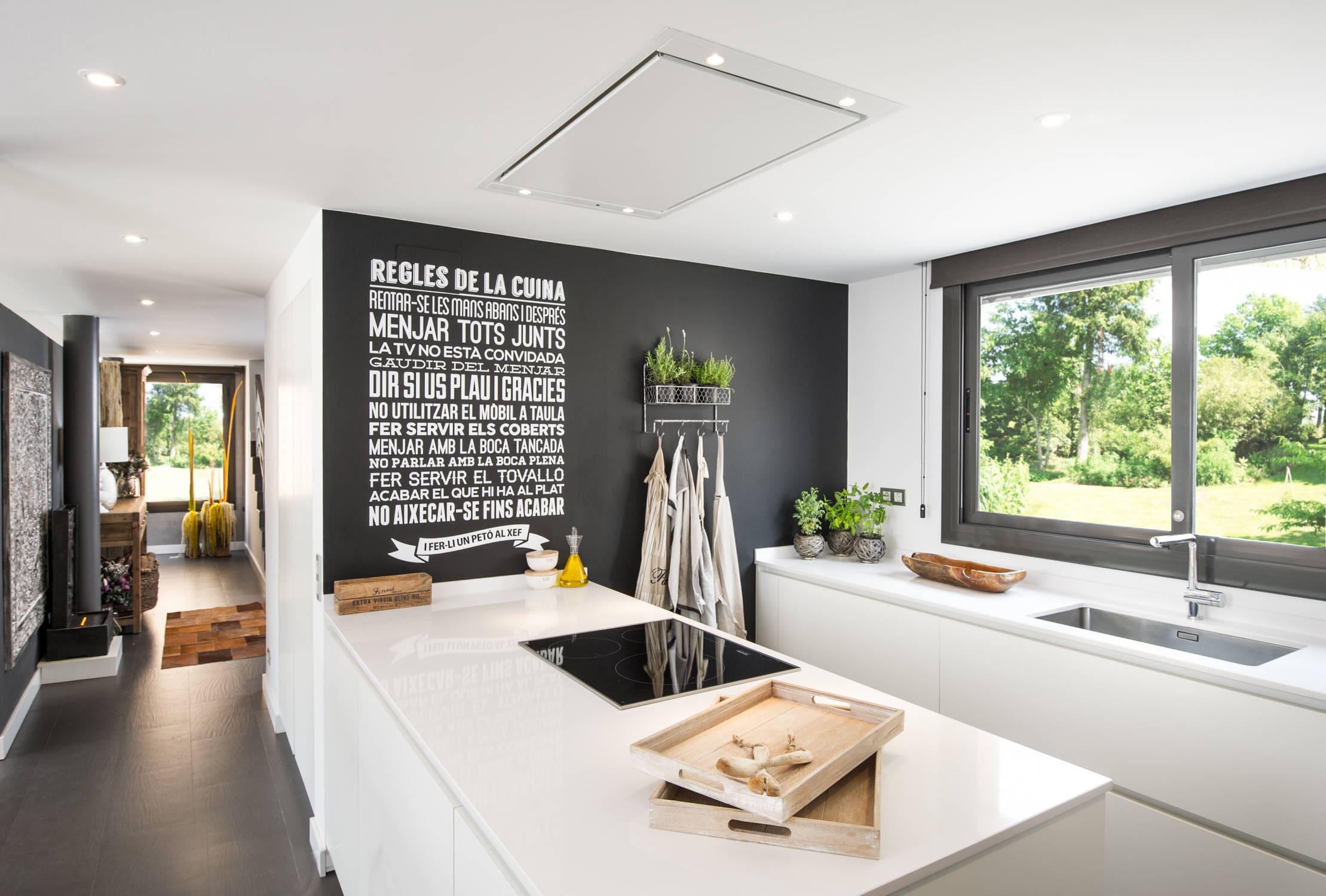 PHOTO: VIVE ESTUDIO
18. Moody Kitchen With Vertical Wall Panels
Vertical wall panels are popular in contemporay interior design. This type of wall paneling helps to heighten your interior walls while creating an illusion of space. They make a great accent wall, especially in their original wood tone which adds a warmth and rustic feel to modern interior spaces.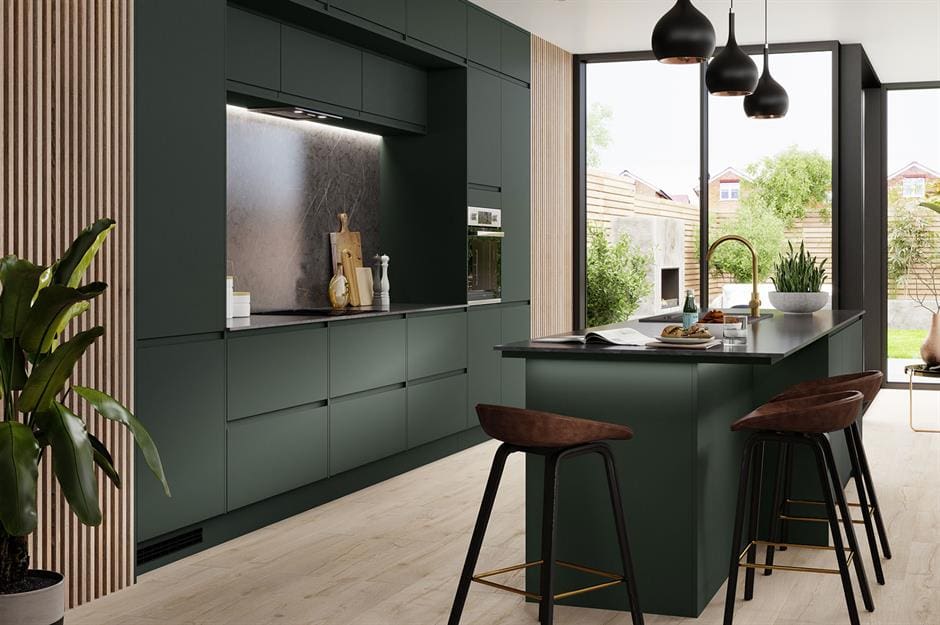 PHOTO: BENCHMARX KITCHENS
19. Reclaimed Wood Kitchen Accent Wall
Using reclaimed wood in interior spaces has several environmental benefits such as reducing landfill waste and the impact of deforestation. Reclaimed wood also adds warmth, a rustic feel, and beautiful contrast to a space.
PHOTO: ARCHITECT PRINEAS 
20. Half Painted Yellow Accent Wall
You don't have to go all the way when painting an accent wall. If you're a little color shy or want a subtle approach, consider painting half a wall. Some colors, like yellow, red, and orange, tend to be highly saturated and can dominate the space.
If you want to add the perfect warm accent to your kitchen without drawing too much attention, then a half-painted wall may be ideal for you.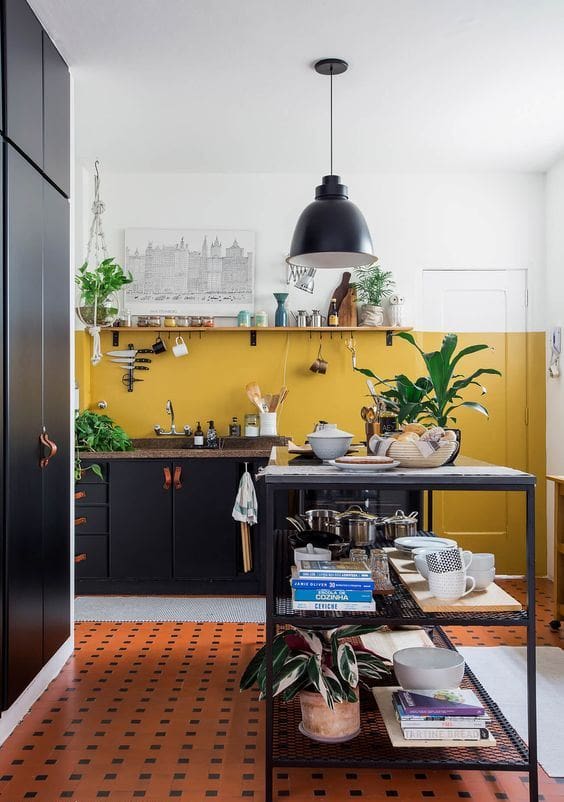 PHOTO: PINTEREST
21. Green Wood Panels
Since green is nature's most associable hue, opting for a green feature wall is the perfect way to bring some greenery into your kitchen. It is also a highly versatile color that complements a plethora of colors, especially all wood tones.
PHOTO: PINTEREST
22. Geometric Board and Batten Wall
Board and batten designs offer depth and texture to walls, making them a visually appealing design and perfect for a kitchen accent wall. This feature wall technique can bring a lot of character and a contemporary feel into a space
PHOTO: OLIVEANDJUNEHOME.COM
23. Floral Wallpaper
Floral wallpaper is an excellent feature wall idea to bring nature into your kitchen. It comes in an array of print styles to suit any space. Floral wallpaper is known to have soothing and calming energy.
PHOTO: MICHELLE BERWICK DESIGN 
24. Gallery Kitchen Feature Wall
Gallery walls are ever popular. What better way to inject personality, warmth, and character it your kitchen than a gallery wall? This accent wall will spark conservation among your guests.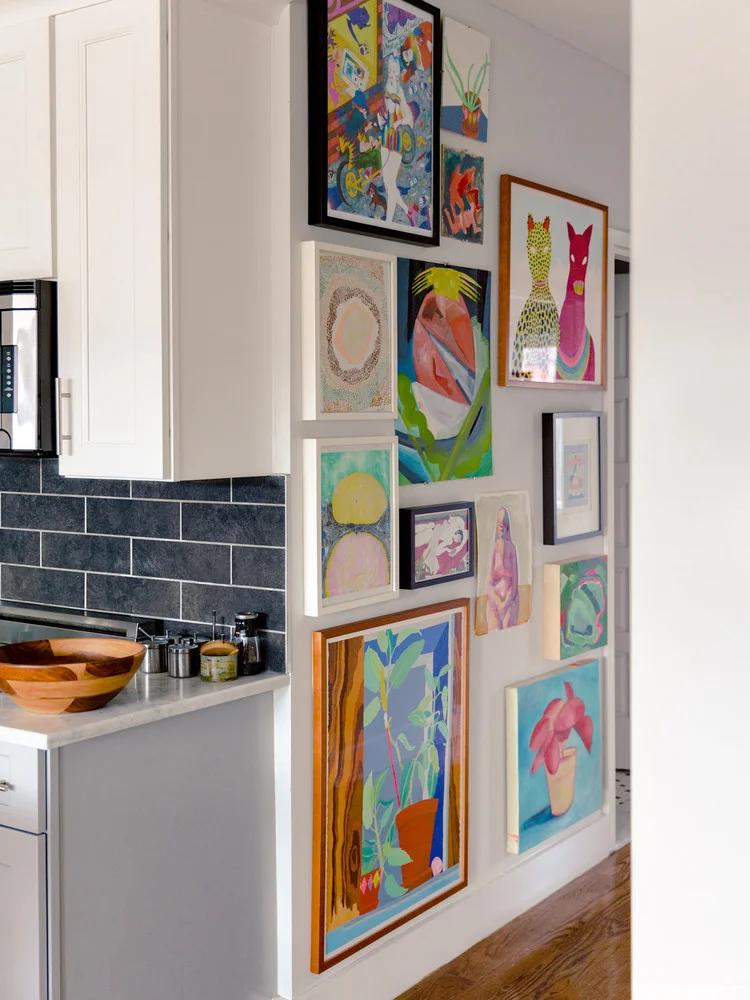 PHOTO: AARON BENGOCHEA
25. Cutting Board Gallery Wall
A great way to enhance the natural feel of the home is a create a gallery wall using cutting boards of varying sizes and tones. The cutting board gallery wall adds a unique character and the perfect warm accent to your kitchen.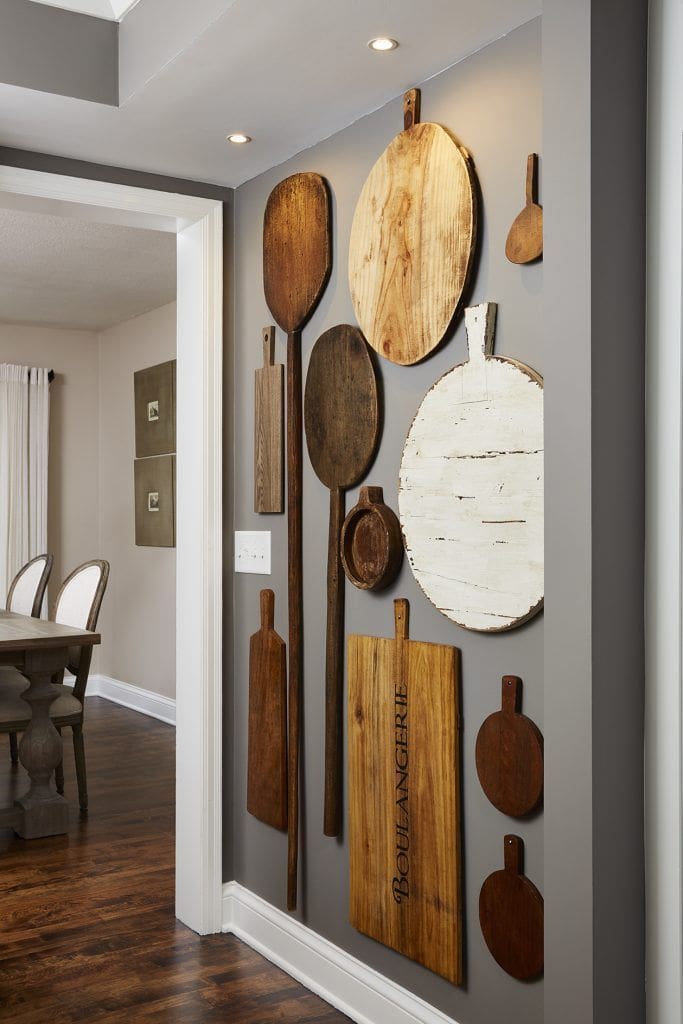 PHOTO: APARTMENT THERAPY
26. Marble Accent Wall
Marble is a stone that represents elegance, chicness, and timelessness. It is perfect for kitchens and bathrooms because it lends a light and airy feel to these spaces, and its unique beauty is unlike any other natural stone.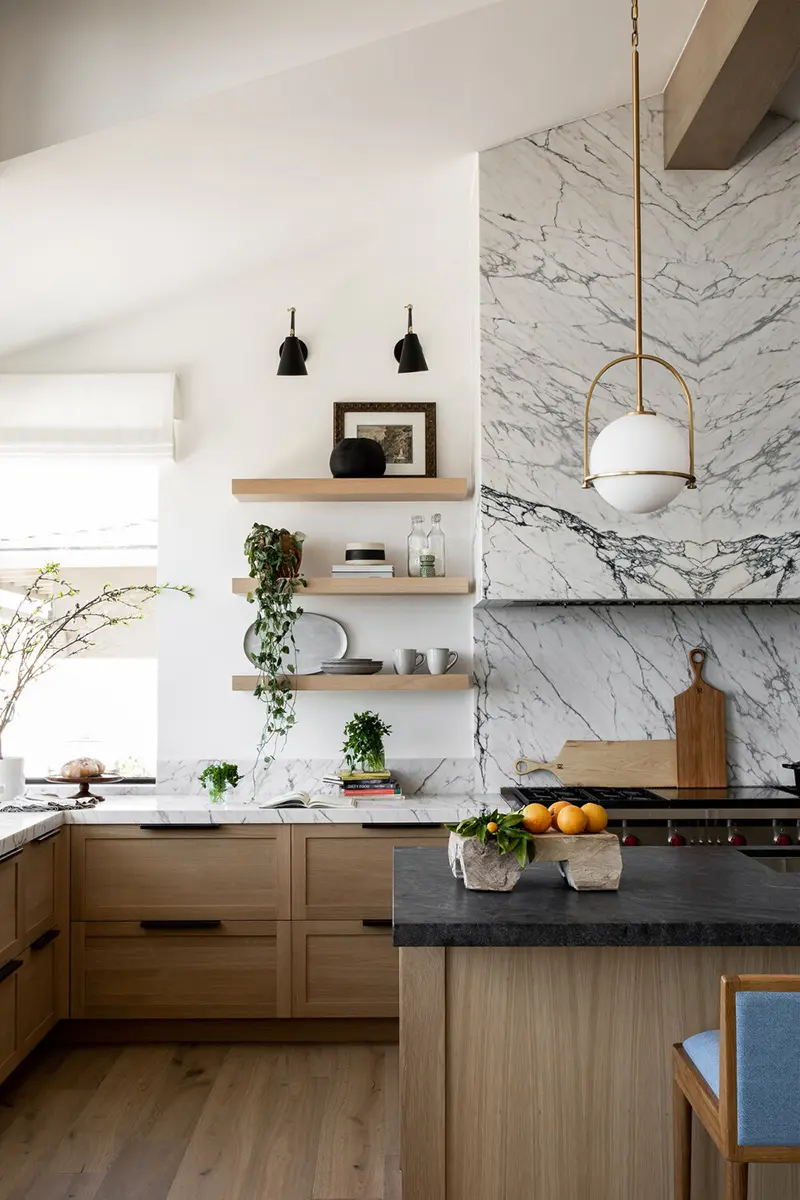 PHOTO: FRENCH FANCY
27. Exposed Brick Accent Wall
Exposed bricks can bring texture and a striking contrast to an otherwise dull kitchen. It can also serve to provide warmth to a space, especially when exposed to red brick, giving it a cozy vibe.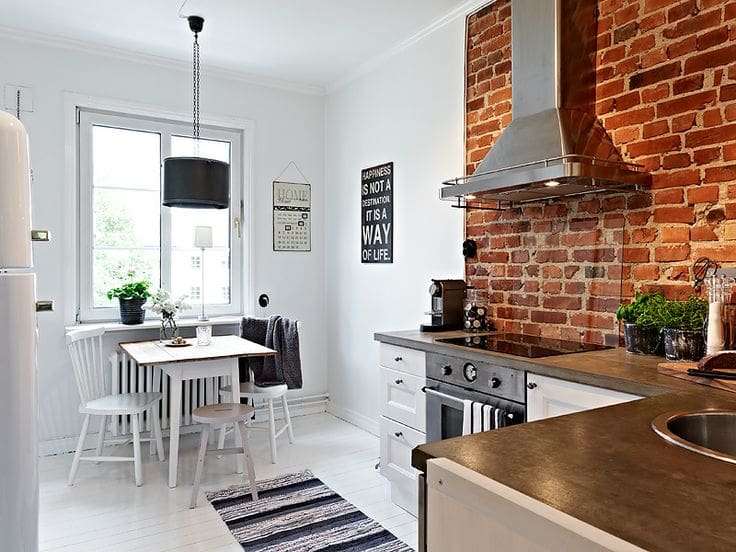 PHOTO: HOMEDIT.COM
28. Faded Lilac Kitchen Feature Wall
In color psychology, lilac is a calming and soothing hue that helps you relax. It is a muted soft shade of purple. Lilac has not been very popular in interior design for a long time but it seems to be making a comeback in a big way. Muted or pastel shades are great kitchen feature wall ideas as they do not overwhelm a space.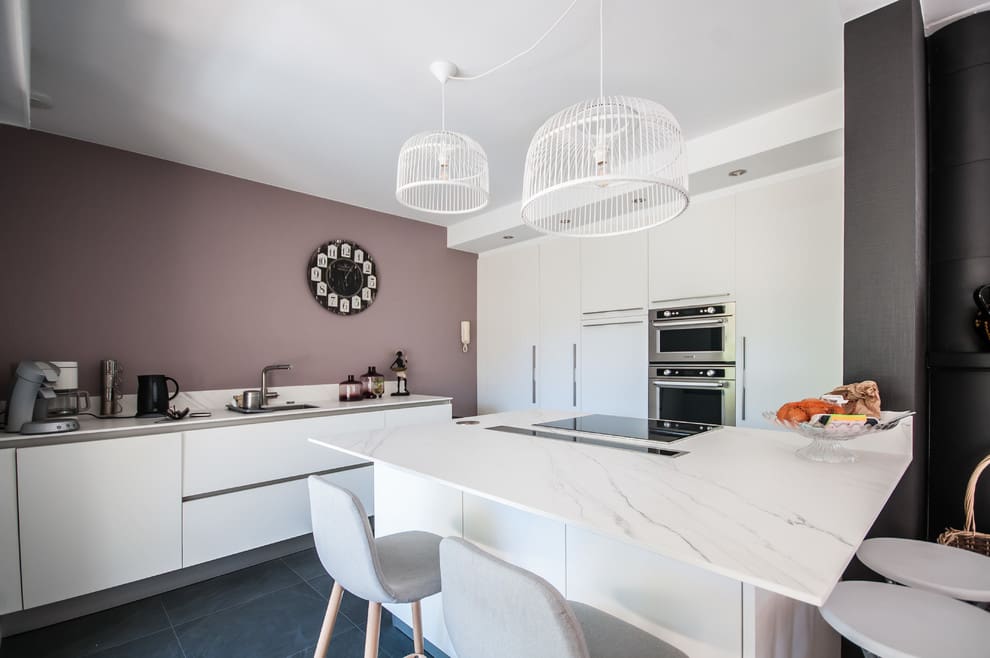 PHOTO: VOLUMES & COULEURS