25 Best Bathroom Backsplash Ideas
A bathroom backsplash helps to protect the wall against rot, mold, and mildew but can also add a stylish flair to a mundane space. Get inspired with these incredible 25 bathroom backsplash ideas!
A backsplash is a hard material covering part of a wall behind a sink or stove. The primary function of a backsplash is, of course,  to protect the wall from water splashes or moisture buildup in other to prevent costly water damage.
While the reason for installing one is usually practical, it is crucial to choose one that is visually appealing and complements your interior style. It is a minor upgrade that makes a big impact.
A backsplash is not a must-have but they are quite important unless don't have a sink that rests against a wall. It is also a minor upgrade that makes a big impact.
Most people think that the options are limited to tiles, but there is an array of options that are both aesthetically pleasing and functional.
There are endless kitchen backsplash ideas available today but very few bathroom backsplash ideas to draw inspiration from.
In this article, we've curated the 25 best bathroom backsplash ideas to transform your space from lackluster to highly stylish.
1. White Subway Tiles With Black Grout
Subway tiles are probably the most popular tiles for bathroom and kitchen backsplashes. It is called the subway because it was first used in new work subway stations in 1904.
It is simple, timeless, and can complement any bathroom style. The white tile with black grout is the most desirable for many because it conceals grime and stains better than subway tiles with lighter grouts.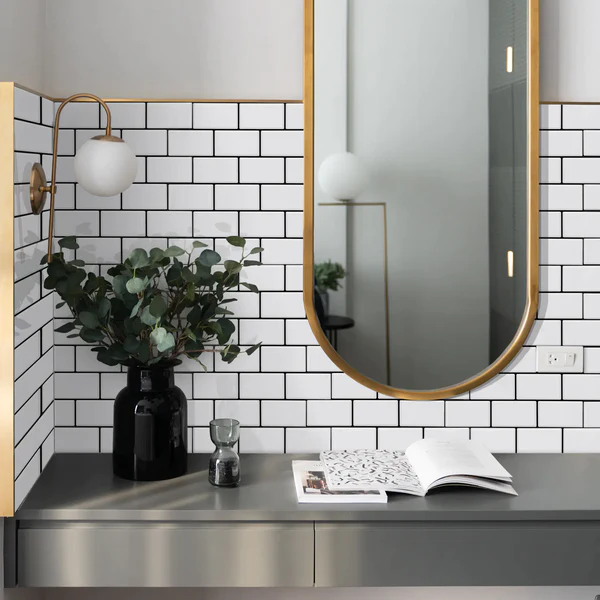 PHOTO: PINTEREST
2. White Subway Tiles With White Grout
If you prefer a fresher, seamless, and all-white look, oft for a subway tile with white grout. It is a neutral and classic combination.
White subway tiles with white grouts give a more sanitary look than subway tiles with darker grouts. It is ideal for minimalist bathrooms.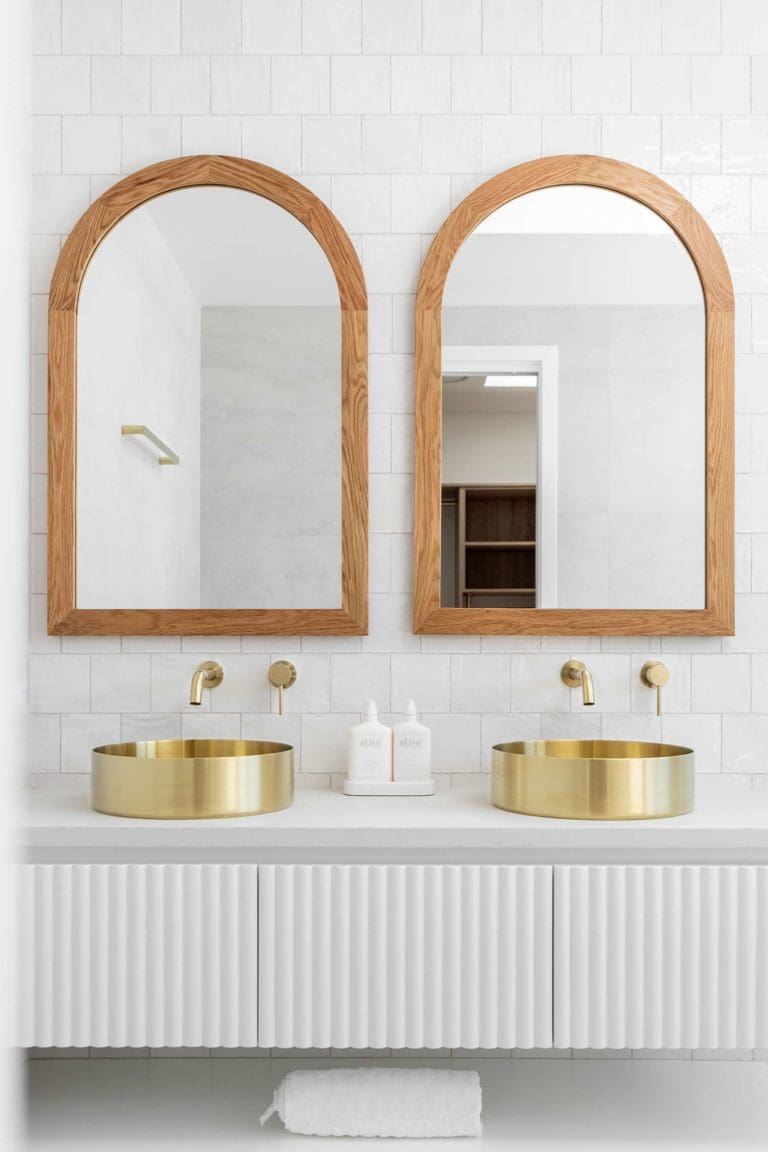 PHOTO: HABITATS STUDIO ARCHITECTS
3. Geometric Tile
The geometric pattern is used quite often in interior designs because of its stylistic advantage. It is sure to add an extra zing to any contemporary bathroom.
Geometric tiles come in a plethora of designs, whether you like the timeless hexagon or the chic diamond pattern, there are styles to suit your fulfill your aesthetic as well as budgetary needs.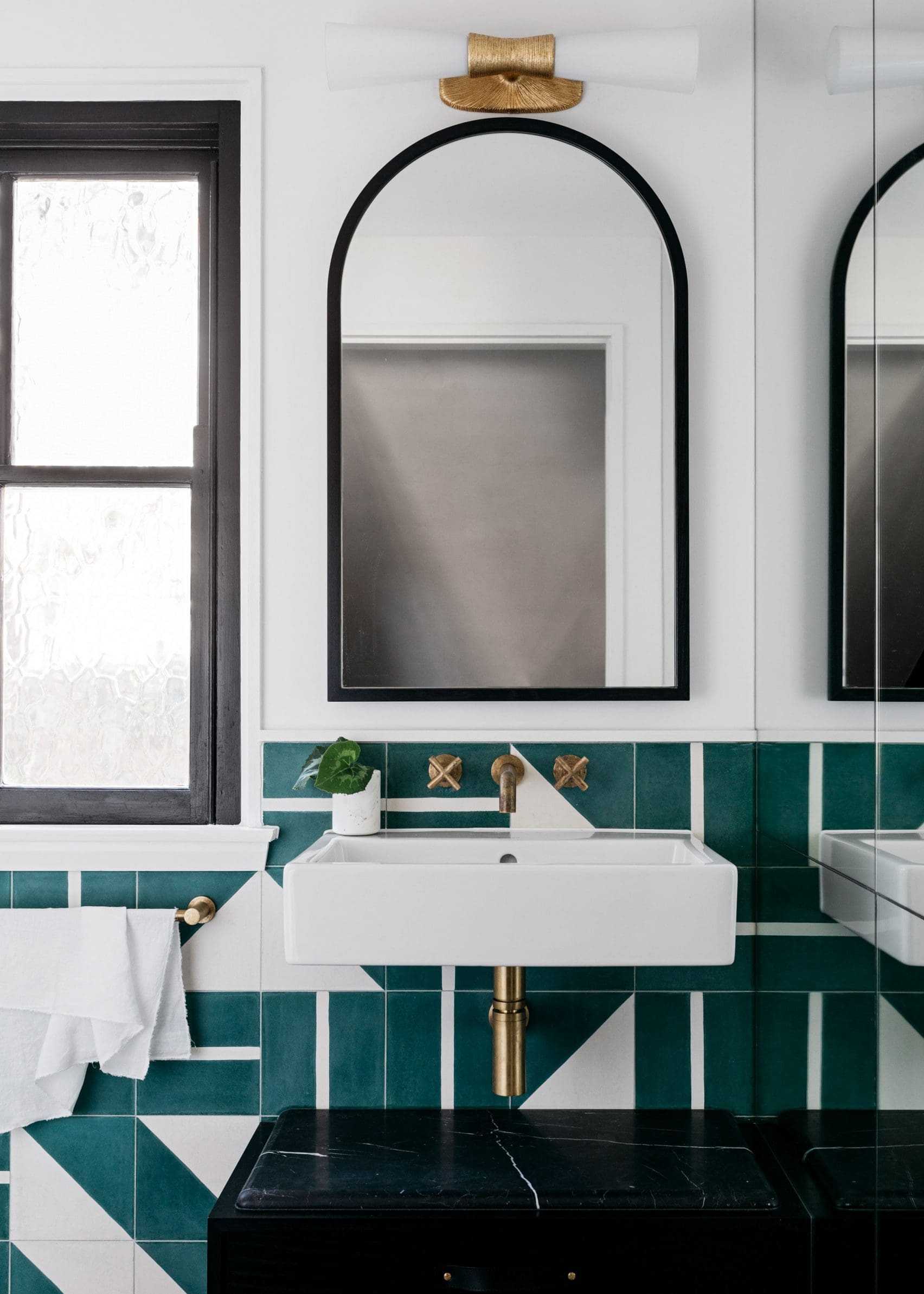 PHOTO: PINTEREST
4. Marble Bathroom Backsplash
Want to make a statement in your bathroom, consider a marble backsplash. Marble is known for its sleekness and luxuriously smooth feel.
It blends effortlessly well with so many different bathroom styles that can feel contemporary and traditional at the same time. Look no further than marble to add an understated elegance to your space.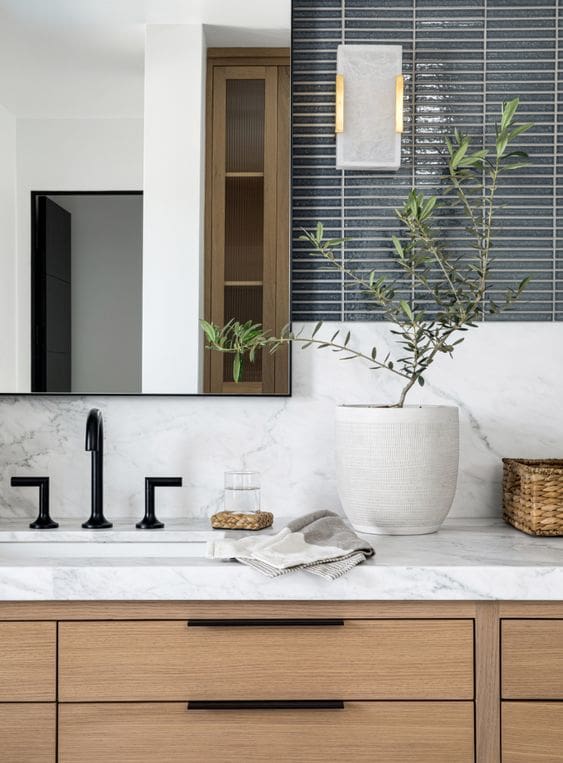 PHOTO: PINTEREST
5. Mosaic Tile
A mosaic tile is an alluring type of tile that is comprised of many small pieces of different tiles. It is a stylish and statement-making addition to any bathroom.
Using a mosaic tile for your bathroom backsplash is a cost-effective and simple way to bring that wow factor into your bathroom.
PHOTO: AMAZON
6. Glazed Tile
For a long time, glazed has been misconstrued to mean glossy or shiny. In the design world, a glazed tile refers to a porcelain or ceramic tile that has been coated with enamel or liquid glass.
There is also a misconception that matt tiles are unglazed. A glazed tile can have a beautiful glossy sheen or a matt finish. What makes glazed tile the most preferred is that the protective coating shields the tile from bacteria and staining.
PHOTO: PINTEREST
7. Kit Kat Tile
The Kit Kat tile, named after the chocolate favorite, are rectangular-shaped tiles that can give an impactful edge to the bathroom when used as a backsplash.
It is bang-on-trend at the moment and also popularly referred to as finger mosaic tiles. Kit Kat tiles are available in a variety of designs and can be installed vertically or horizontally.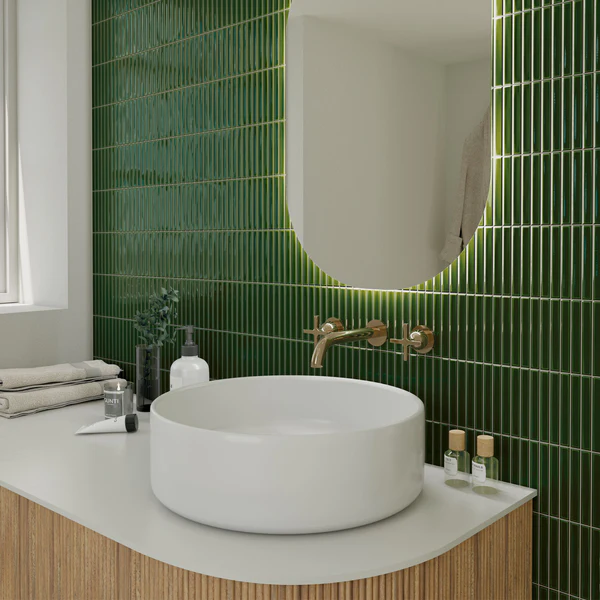 PHOTO: PINTEREST
8.  Herringbone Tile
A pattern known as "herringbone" has a distinctive rectangular V-shaped weave. Herringbone tiles are generally great for drawing interest in an area.
It is also a classic tile pattern that never goes out of style. If you're looking for a backsplash that provides laid-back luxe, herringbone is the way to go.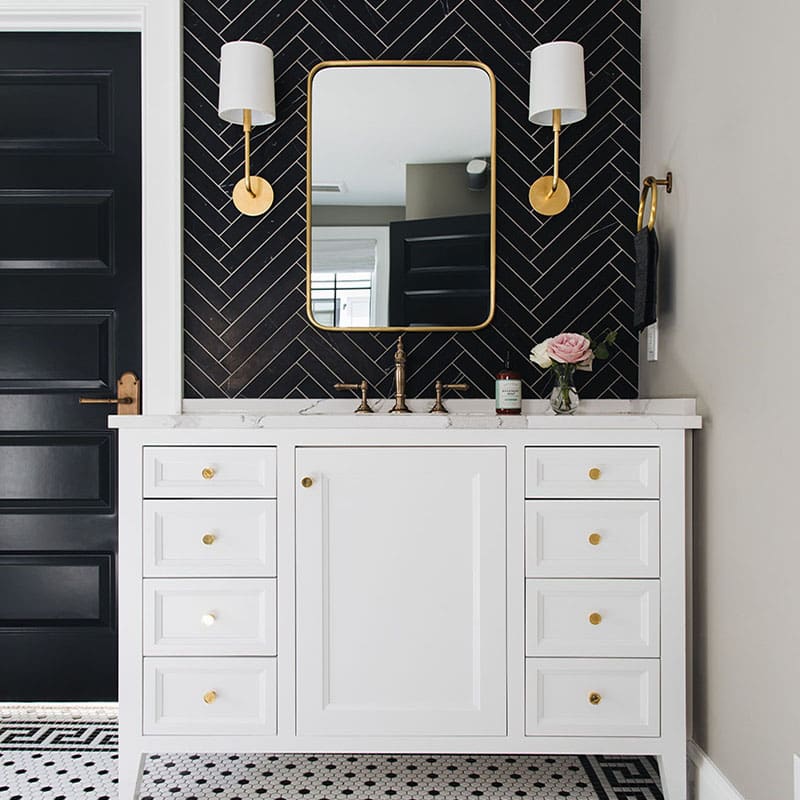 PHOTO: WYMA PROPERTIES
9. Rich Stained Marble Tile with Gold Trim
A marble and gold trim backsplash creates opulence, elegance, and style. It is particularly one of the best bathroom backsplash ideas to add that extra pizazz to a contemporary bathroom.
Just like other metals, gold's reflective surface brightens up a space while adding a touch of sparkle and lively sophistication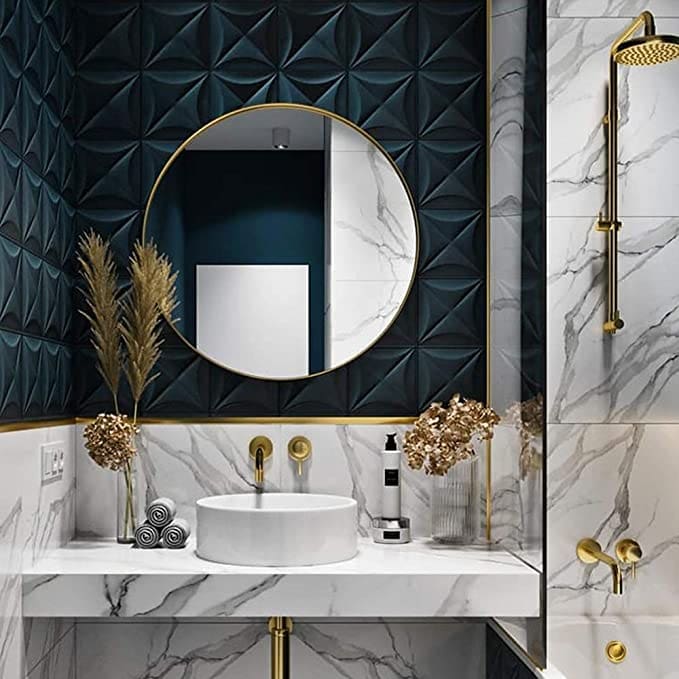 PHOTO: PINTEREST
10. Ocean Blue Brick Effect Tile
It's no surprise that blue is one of the most popular bathroom accent wall colors. Ocean blue color coveys tranquility and relaxation. It is one of the most ideal colors for bathroom backsplashes.
Brick tiles mimic the look of real brick stone. This combination creates a calming effect in a bathroom.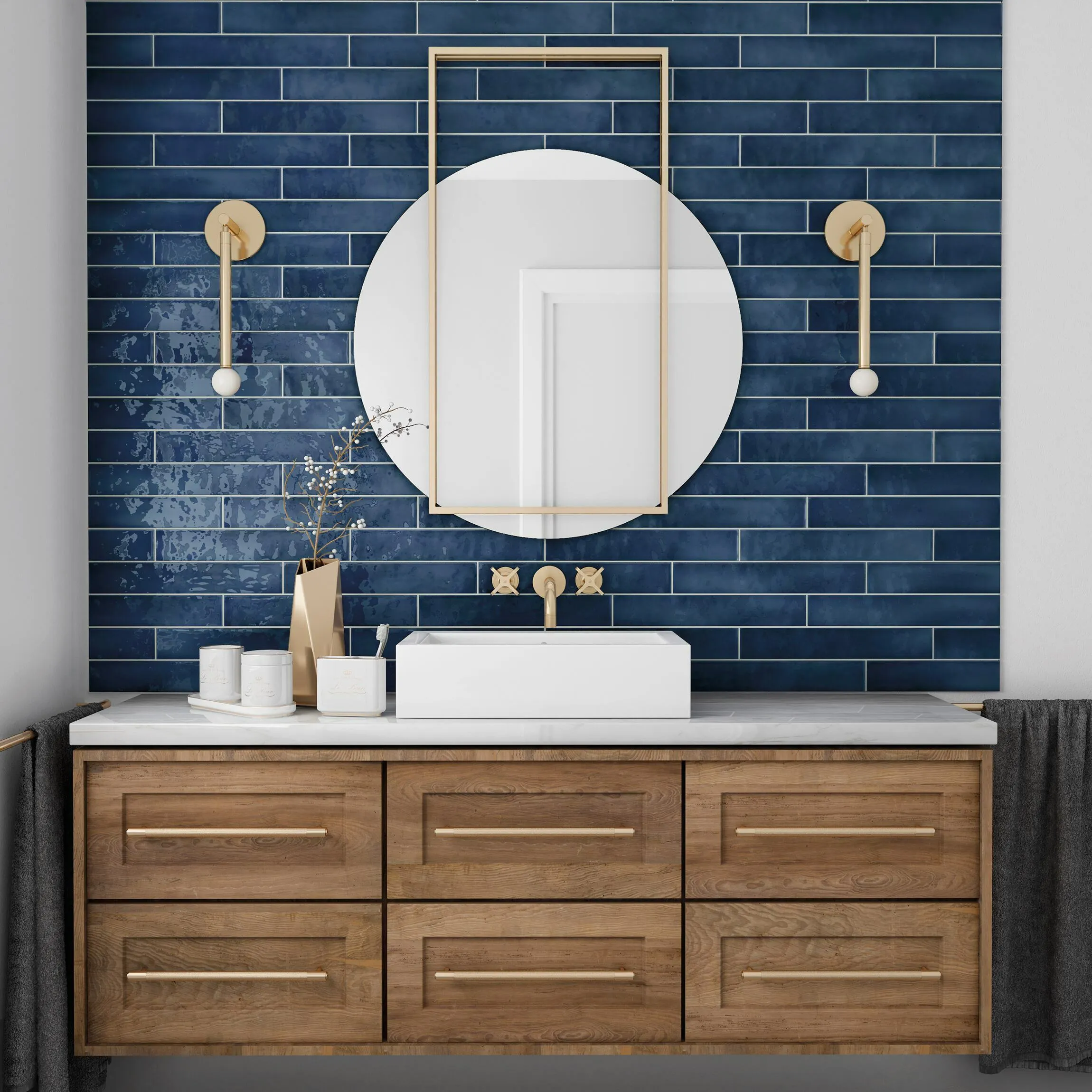 PHOTO: PINTEREST
11. Nature-Inspired Wallpaper
Natural elements have the ability to create a sense of calm and relaxation, which is why nature-inspired wallpapers are so popular in the first place. This one is one of the most ideal bathroom backsplash ideas to create a fun, dramatic, and lively atmosphere.
PHOTO: PINTEREST
12. Scallop Tile
Are you bored of the standard, overused subway backsplash tile? Consider the scallop tile to add an unexpected aesthetic to your bathroom. No matter the color, this beautiful fish-scale pattern made up of looping, soft curves can instantly transform a dull bland bathroom.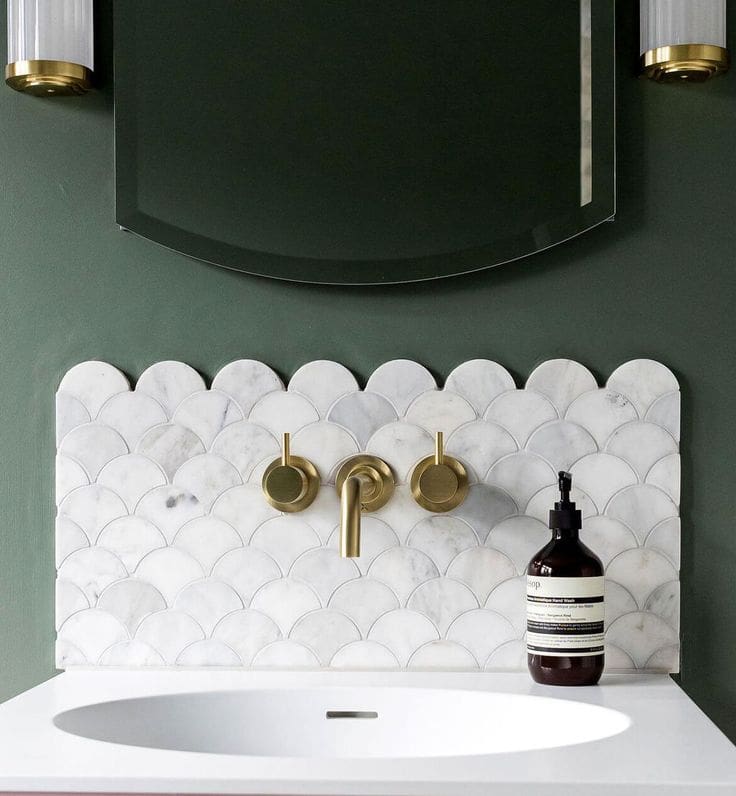 PHOTO: PINTEREST
13. Pickett Ceramic Tile
A picket tile is a ceramic tile pattern that is getting increasingly popular over the last decade. It is a hexagon-shaped tile, resembling the ever-popular picket fence, hence the name. A pickett ceramic tile is a tried and true elegant alternative to the subway tile.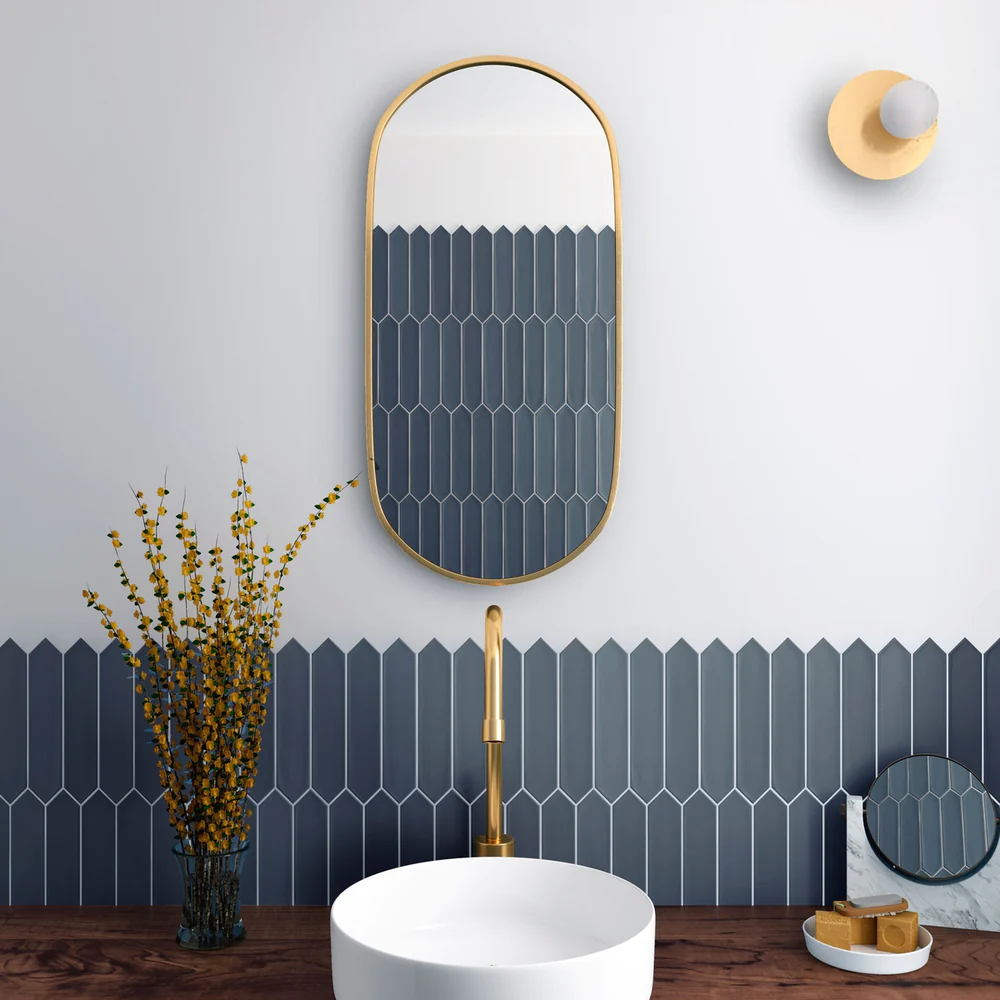 PHOTO: PINTEREST
14. Matching Backsplash and Floor Tile
In contemporary bathrooms, using the same tile on the floor and backsplash offers a smooth and cohesive look. This approach also is known to make a space feel bigger and more open.
Although, this may depend on individual preference and the style of the tile because some tile patterns and colors may overwhelm the space when used on the wall and floor.
PHOTO: LUCAS ALLEN
15. Terrazzo Tile
Terrazzo tiles are created by incorporating granite, marble, glass, or quartz pieces into a cement binder. A stylish terrazzo tile is a great option for bathroom backsplash because of its exceptional resistance to wear and tear and durability.
PHOTO: PINTEREST
16. Exposed Concrete
Concrete is common all over the world, and they are well-known for its durability, minimalist, and clean aesthetic. The exposed concrete is great for a bathroom backsplash because it creates a sense of spaciousness and nature.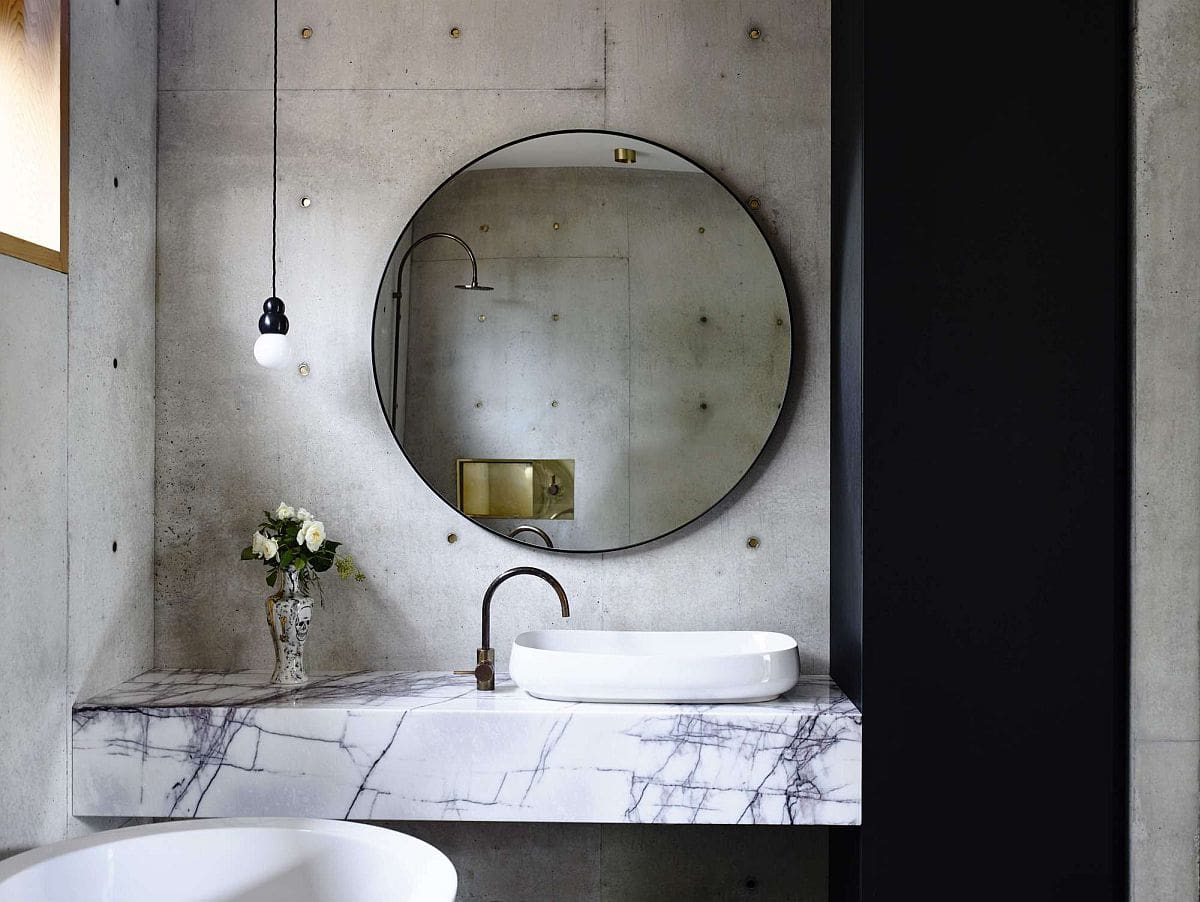 PHOTO: PINTEREST
17. Vertical Wood Panels
Vertical wood panels are a popular feature in contemporary homes. It adds warmth and a comfortably modern feel to a space.
Wood panels also serve as an eye-catchy accent wall which creates a focal point in the bathroom. By arranging the wooden panels vertically across the bathroom vanity, your bathroom will feel higher than it actually is.
PHOTO: PINTEREST
18. Green Feather Tile
The feather or peacock tile is a tile pattern that adds an unexpected aesthetic to a bathroom used as a backsplash. Green is nature's most associated hue that is ideal for interior spaces.
Muted hues such as sage green, mint green, and light green create a subtle liveliness and freshness to a space.  While darker shades such as dark green, emerald, and forest green create moo, impact, and drama in a space.
PHOTO: INSTAGRAM @ANKA.DESIGNSTUDIO 
19. Fiesta Patterned Tile
The fiesta patterned tile is known to add a distinctive character and charm to even the smallest of places, such as a bathroom or kitchen splashback. It will give your bathroom an exotic touch with visually intriguing colors and patterns.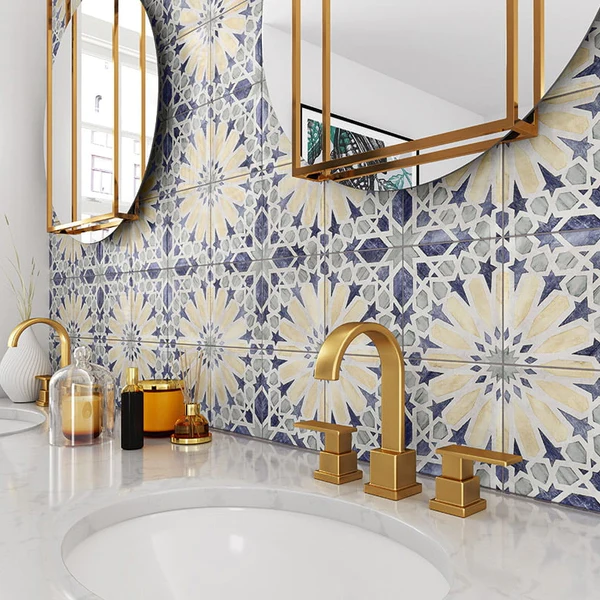 PHOTO: PINTEREST
2o. Acrylic Wall Panel
The primary advantage of employing acrylic panels and splashback in your bathroom is that they provide a smooth, durable, and watertight finish at a low cost. It also creates a feeling of modern luxury.  This is a striking accent wall idea that should be on your radar.
PHOTO: PINTEREST
21. Arc Lemon Tile
Lemon yellow is a statement-making accent color. Is your bathroom lacking interest and style? Get your hands on these arc lemon tiles to elevate the aesthetics of your bathroom. This is one of the bathroom backsplash ideas that packs a big punch.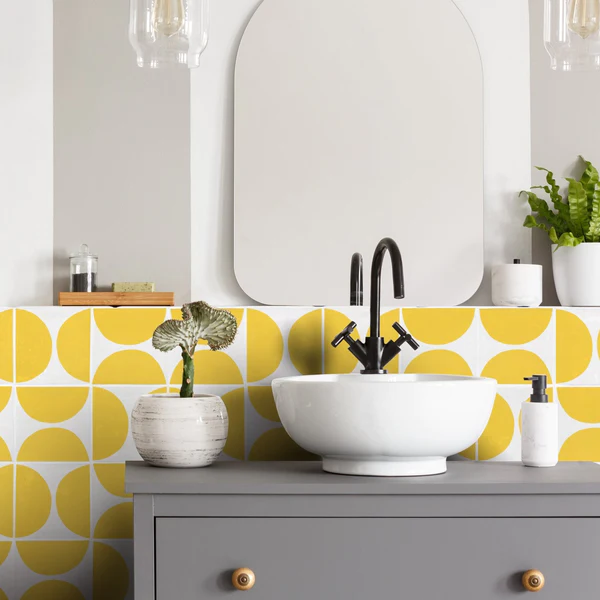 PHOTO: PINTEREST
22. Botanical Wallpaper
Botanical wallpaper is wallpaper with images of plants, flowers, leaves, and other natural features. It is one of the best ways to bring nature into your space. It creates real impact and a sense of visual calm.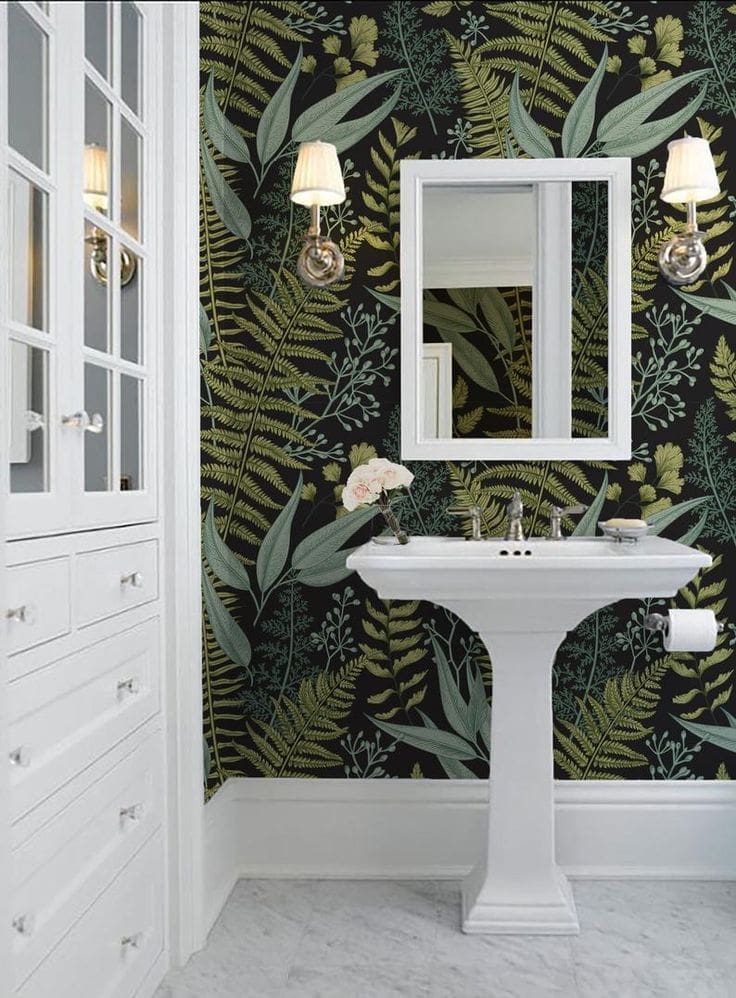 PHOTO: HUDSON VALLEY
23. Wood Backsplash
A wood backsplash is a great way to inject a rustic feel and warmth into your home. It creates a seamless and dramatic atmosphere. What makes wood a great bathroom backsplash material is that is very versatile and can complement both modern and traditional interior styles.
PHOTO: JBB STUDIO
24. Green Zellige Tile
Zellige is a hand-crafted Morrocan tile made from very unique natural clay. Installing Zellige backsplash tiles is a great way to inject personality and style into your bathroom. It adds effortless rustic elegance to modern interior space.
PHOTO: STUDIO DIY
25. Exposed Bricks
Exposed bricks can bring texture and rustic charm to an otherwise mundane space. If your bathroom is in need of some warmth,  an exposed brick backsplash can help give it a cozy vibe, especially when in a red hue.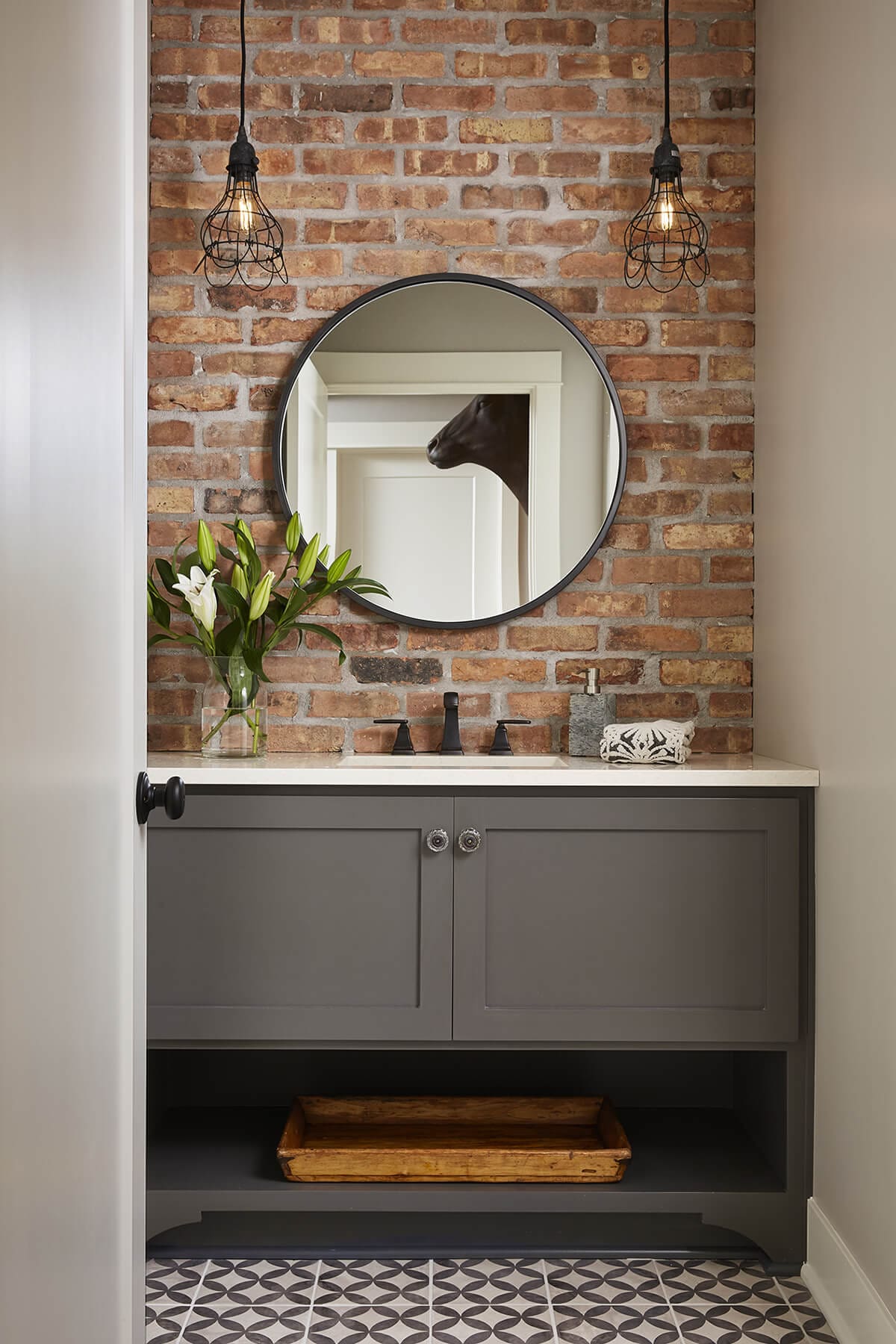 PHOTO: PINTEREST