45 Creative Nugget Couch Ideas
Playtime just got a whole lot better! Check out these 45 Creative nugget couch ideas to get your kids' creative juices flowing.  
The nugget couch is a multi-functional piece of furniture that has grown increasingly popular over the past years. This play couch is made of four foam pieces that can be configured as both furniture and a toy.
It's no surprise why kiddies of all age groups cannot get enough of this invention. The nugget couch inspires creativity and imagination which pays positive dividends to children in many ways. It can also be used to decorate kids' rooms.
They come in an array of colors that can be mix matched to suit your kids' preferences. This squishy couch isn't only for kids, they are just as good for adults. After all, everyone deserves comfort.
Looking for clever nugget couch configuration ideas? You're in the right place! In this article, we've curated 45 creative nugget couch ideas to entertain your little crumb crunchers.
1. The Tea Party
Tea time is a happy time! It is a retro fun birthday party or play date idea for kids or young teenagers. Take tea party decoration to a whole new level with a nugget couch.
2. The Coffee Shop
The possibilities are endless when it comes to kids' playtime. The coffee shop nugget couch configuration helps your kids explore their business-savvy side. Remember to ask for friends and family discounts!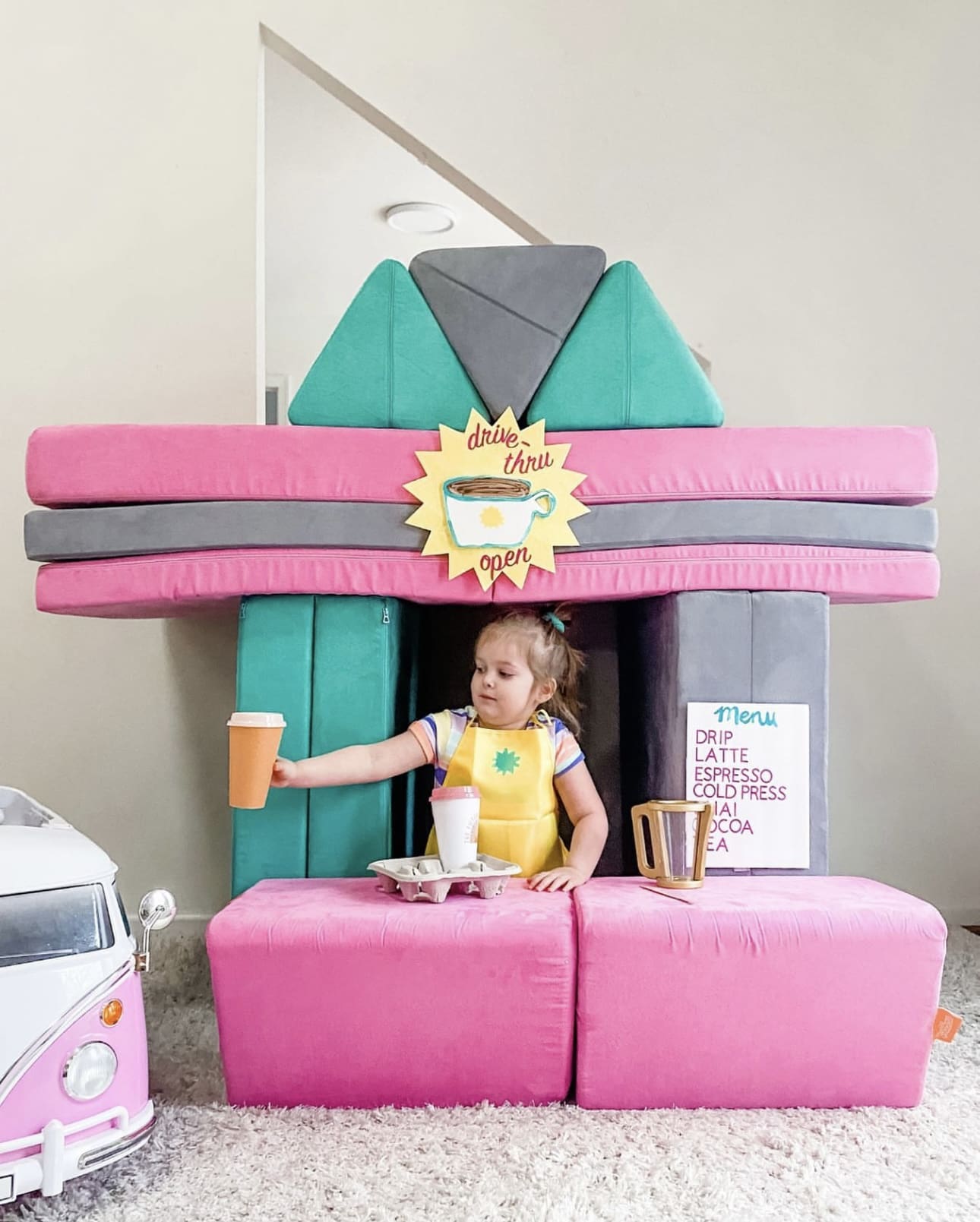 3. The Stage
If talent night isn't a thing in your home, then this is the right time to start! Create a stage with nugget couch foams. Attach flat plates in the form of foam using clear tape to create a speaker in front of the stage.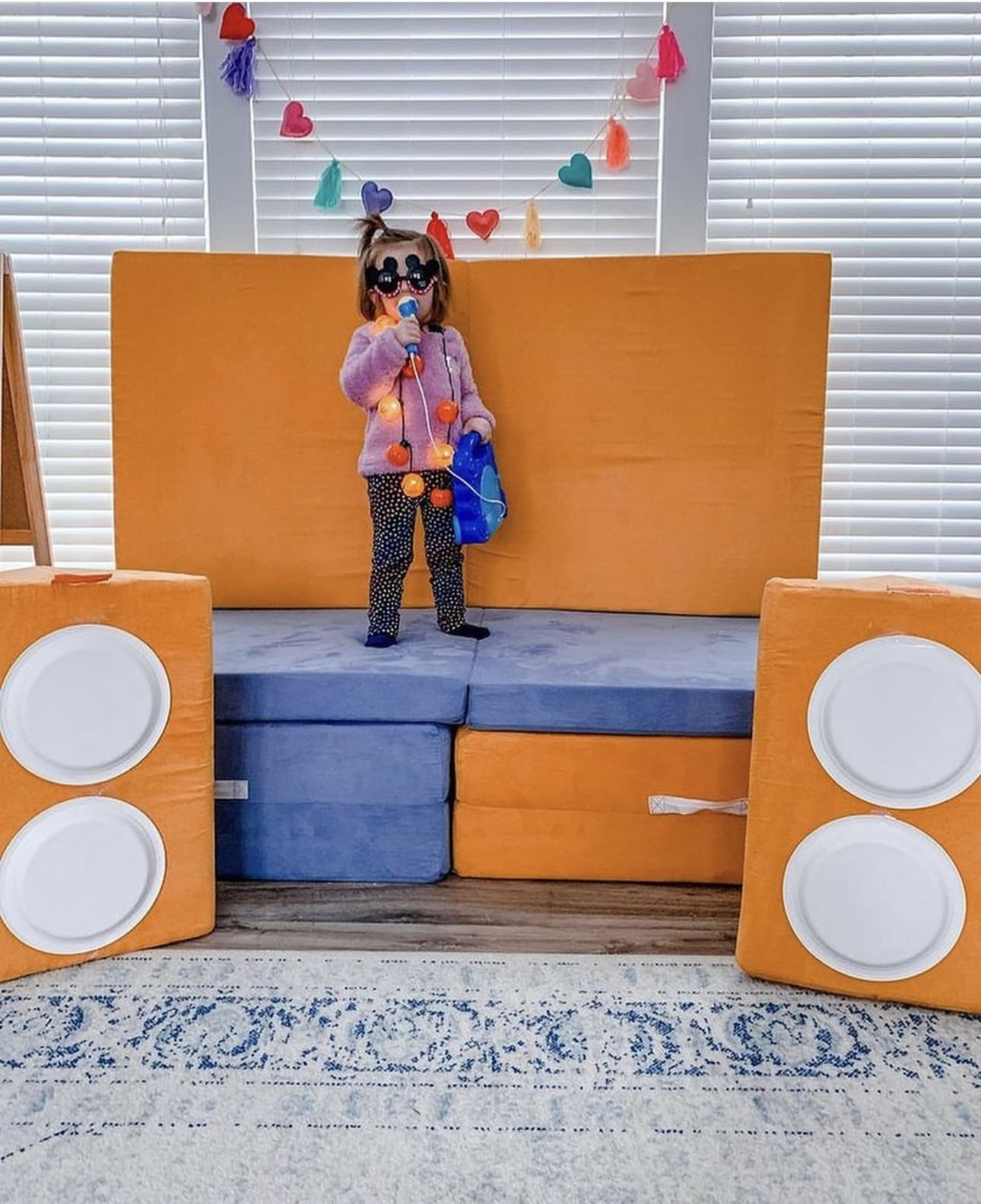 4. The Volcano
It's no surprise why volcanos are intriguing to kids, even adults find them magical. This volcano configuration can be created using two nugget couches.
5. The Mountain
Wake up your kids, it's adventure time! This beautiful mountain play couch is easy to configure and suitable for kids aged 8 and under, especially as an obstacle course.

6. The Pyramid
Take your kids to an imaginary world of Egypt with this configuration. A pyramid is easy to create. It is a triangle structure that was built in ancient Egypt as a monument to the pharaohs. Don't forget to pose for a selfie!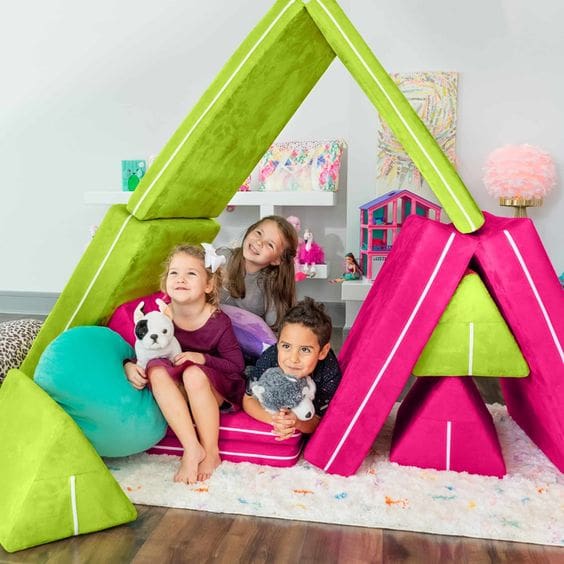 7. The Tree House
The fact that treehouses are the stuff of fantasies is the main factor in why they form the ideal children's playhouse. This is especially great if the weather is unfavorable outdoors or the kiddos just don't have a treehouse and will like to experience one safely.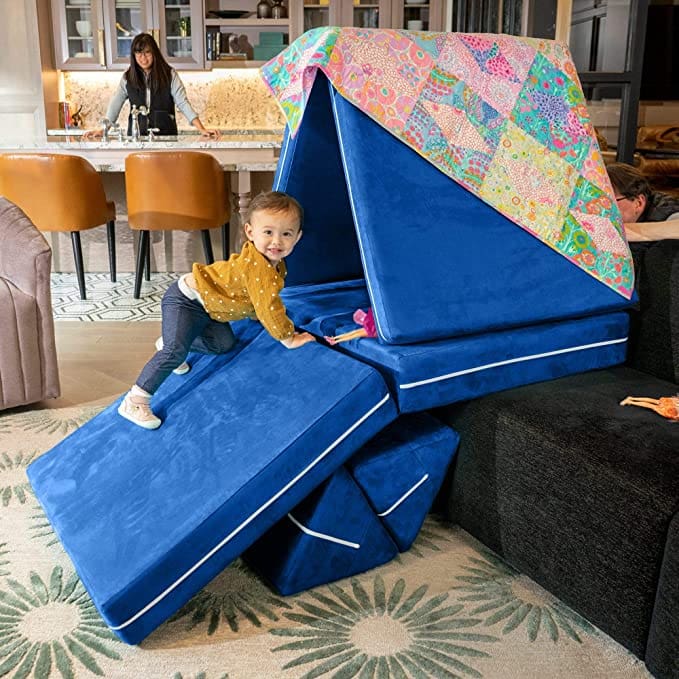 8. The Campsite
Camping is great a adventure for kids as they can explore freely when camping, which fosters creativity and relaxation. This is probably one of the easiest nugget couch ideas and even better, it can be created with just one nugget couch.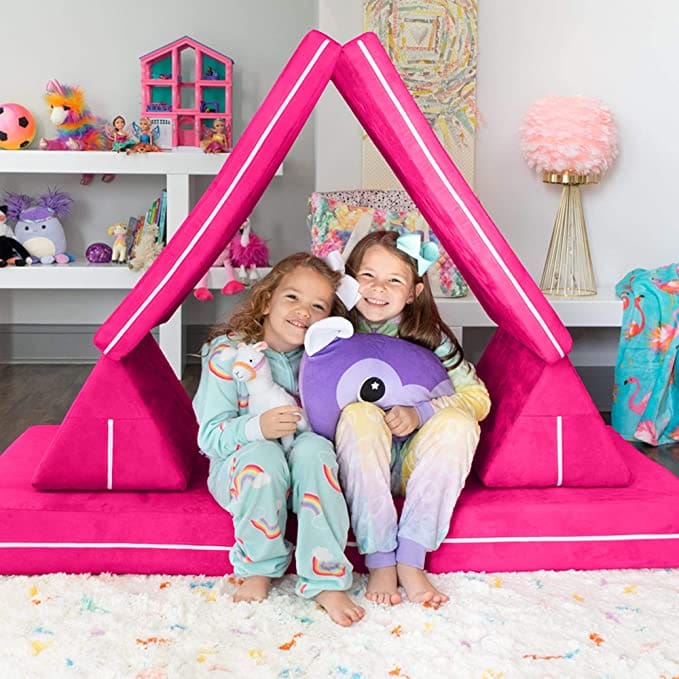 9. The Rainbow
The primary colors we adored as children are all present in a rainbow, and seeing one is typically a pleasant surprise. A rainbow invokes feelings of cheerfulness, peace, and love.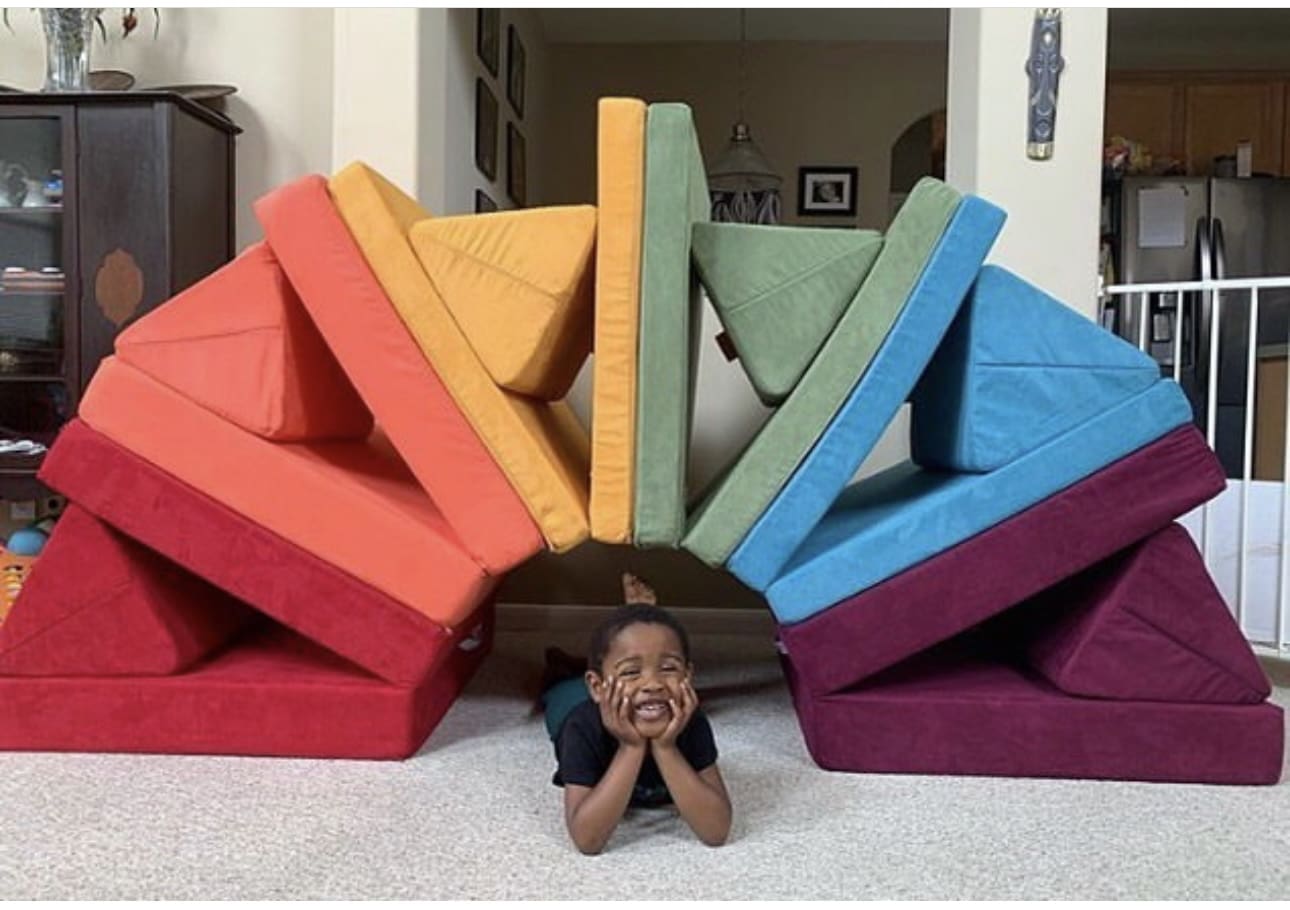 10. The Twin Bed
A twin-bed configuration is practical and exciting for kids. The creative play couch twin bed can foster their imagination and give them a safe place to sleep.

11. The Big Pile
Kids tend to love stacked sofa chairs as it makes them feel in control of their environment.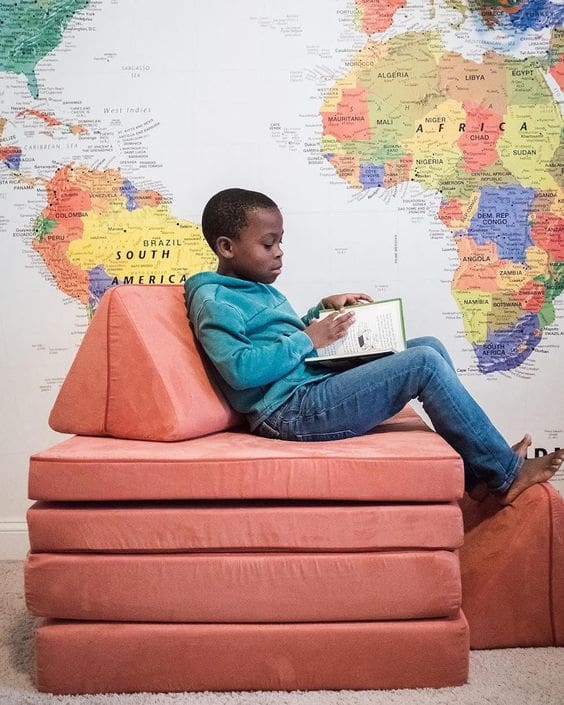 12. The Trampoline
They are no denying that trampolines are fun are great exercise for kids. So why not create one with a nugget couch? At the top of each hour, 5-10 minute energy burns may help keep them calm.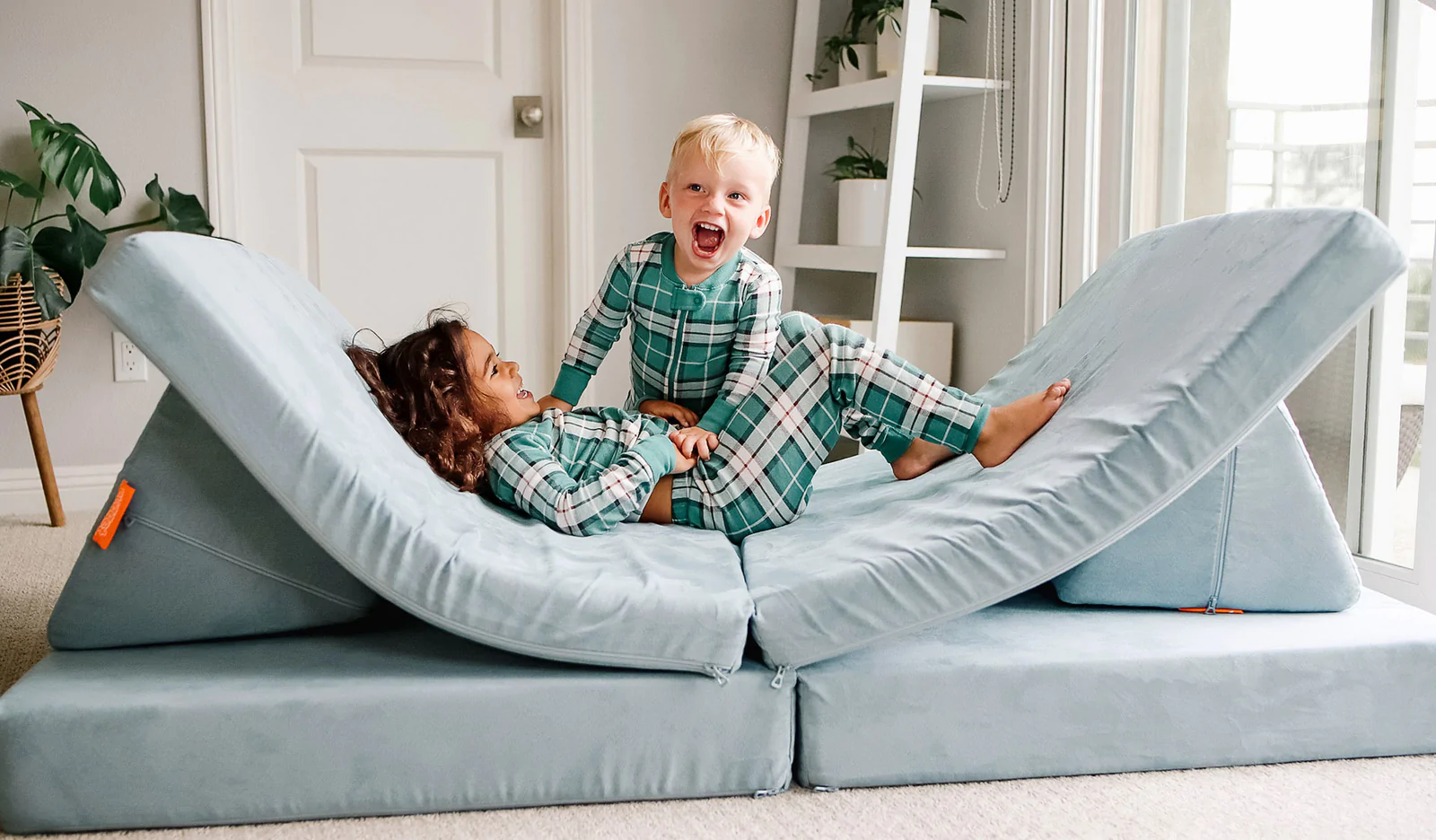 13. The Bed
The best thing about a nugget sofa is that it can be configured for many purposes, especially serving a bed.  This can help foster regular siestas.

15. The Sun Lounger
Being a child is hard work! Let your little ones unwind indoors while daydreaming of summertime with this sun lounger nuggets couch configuration idea.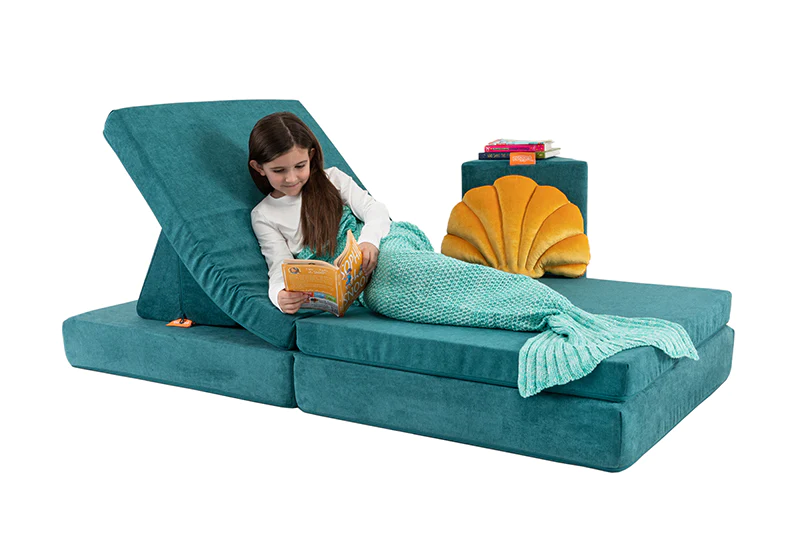 14. The  Car
This is probably one of the simplest yet invigorating nugget couch ideas. It is the ultimate playground for little kids and required just one couch. Hop in for a ride!
16. The Space Pod
Children's inherent sense of wonder and curiosity is fostered when they are taught about space. The idea of being in space fascinates a lot of kids.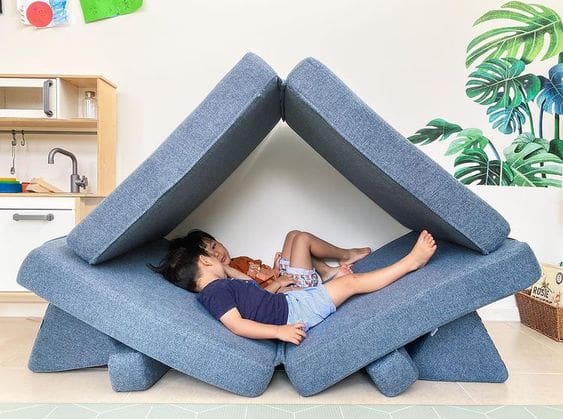 17. The Rocket
Play couches are full of endless possibilities.  This is a great playhouse/toy if your kid loves everything about space.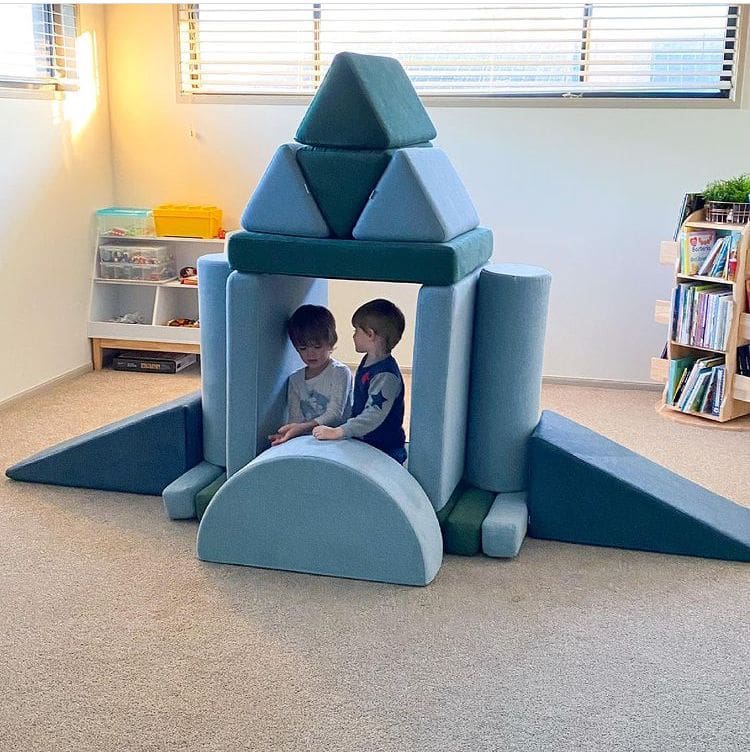 18. The Stall
The market is open at 10:00 on weekends. Get your shopping list ready and remember to leave them a review.

19. The Christmas Tree
Ho ho ho. Christmas is the favorite time of the year for both kids and adults and it's not just about the presents. Decorating for the most exciting holiday helps your kids to explore their creative sides.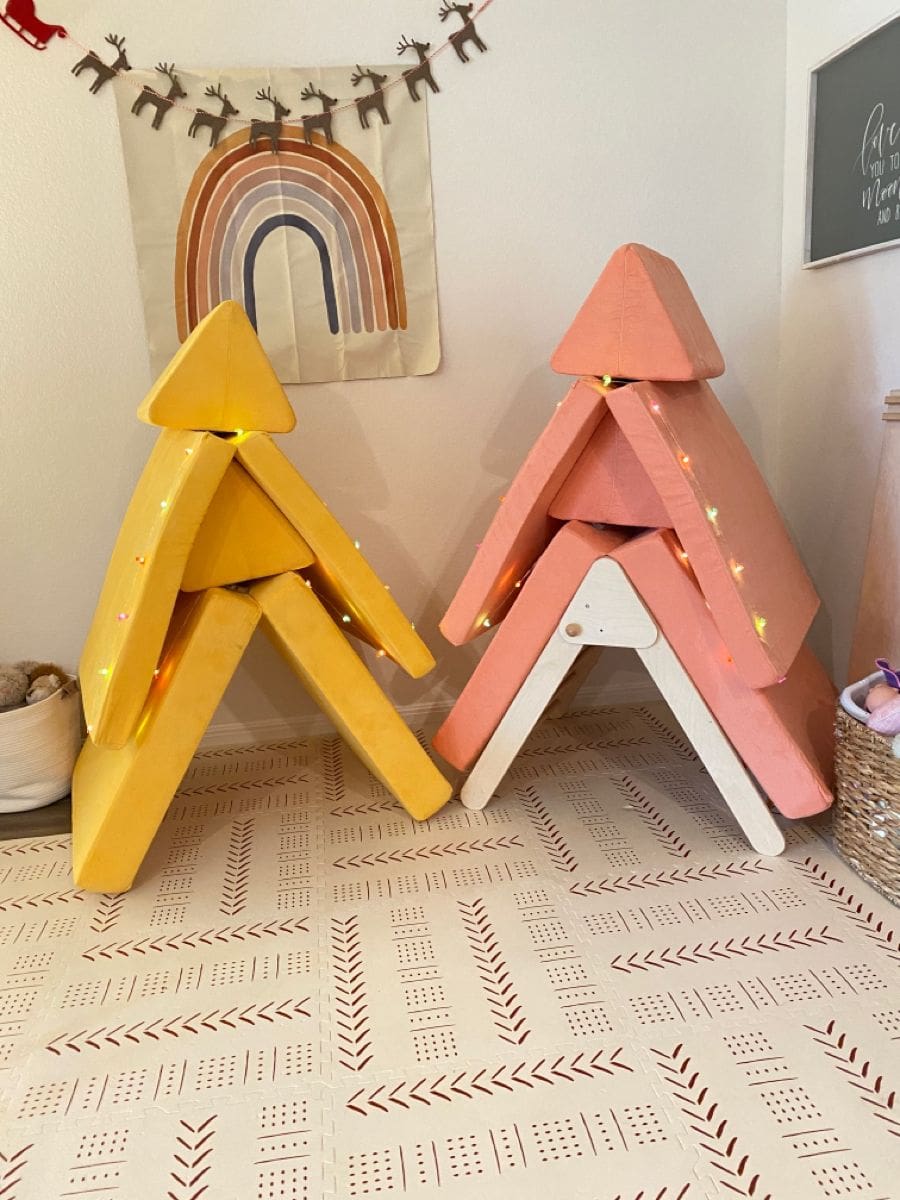 20. The Stairways
Get your little ones something like a nugget couch stairway to burn out all that energy indoors!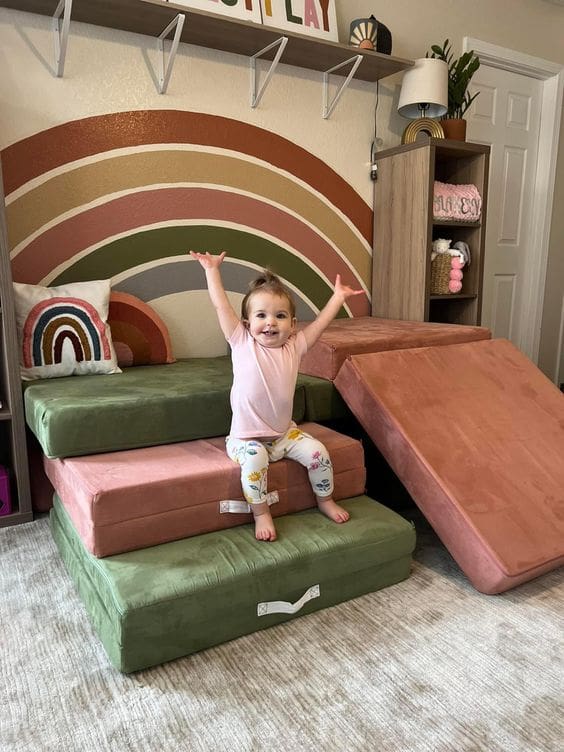 21. The Castle
Play castles are popular with children mostly because they provide safe fun and invoke feelings of royalty.

22. The Truck
Vehicle toys are the most exciting for kids. They get the ultimate thrill from driving a toy car. Imagination and creativity are crucial in your little one's childhood. They can use this to develop their creativity and discover new things.

23. The Dresser
Is your kids' room looking a bit bland?  Add an exciting element to it with this nugget couch dresser furniture.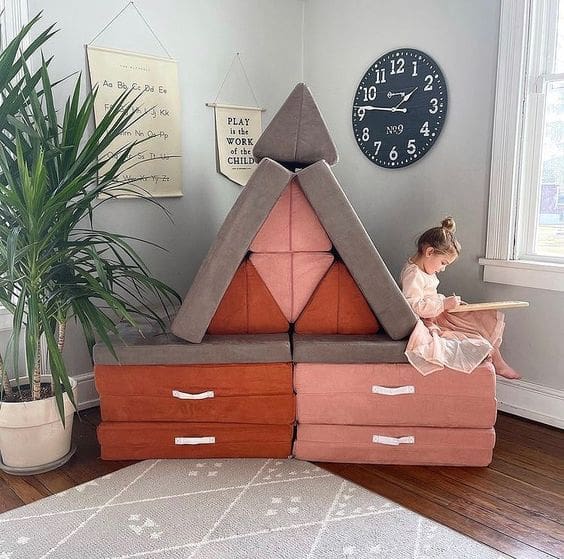 24. The Train
Perhaps a ride on their very own Hogwarts Express? Let their imaginations run wild! This creative toy train can significantly improve their mood and boost creativity.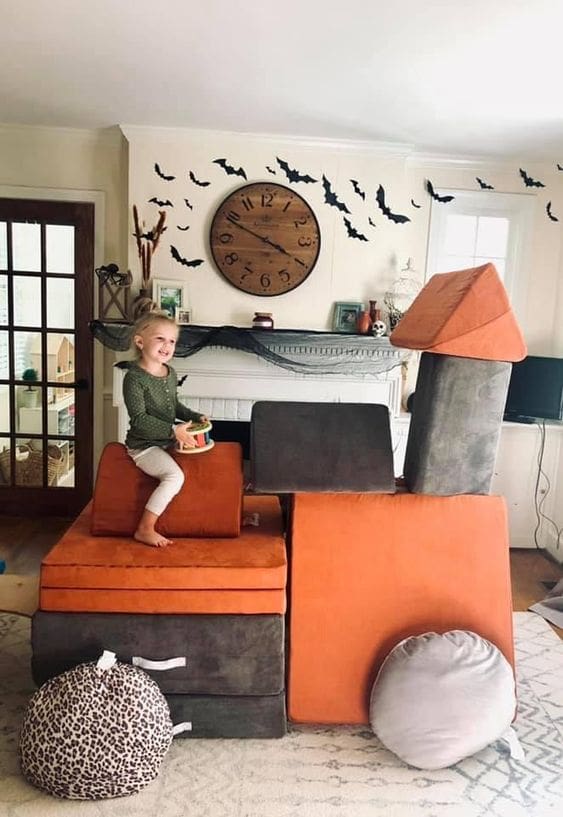 25. The Dining
Want your little ones to enjoy lunchtime? This is another practical nugget couch idea that is also very easy to configure.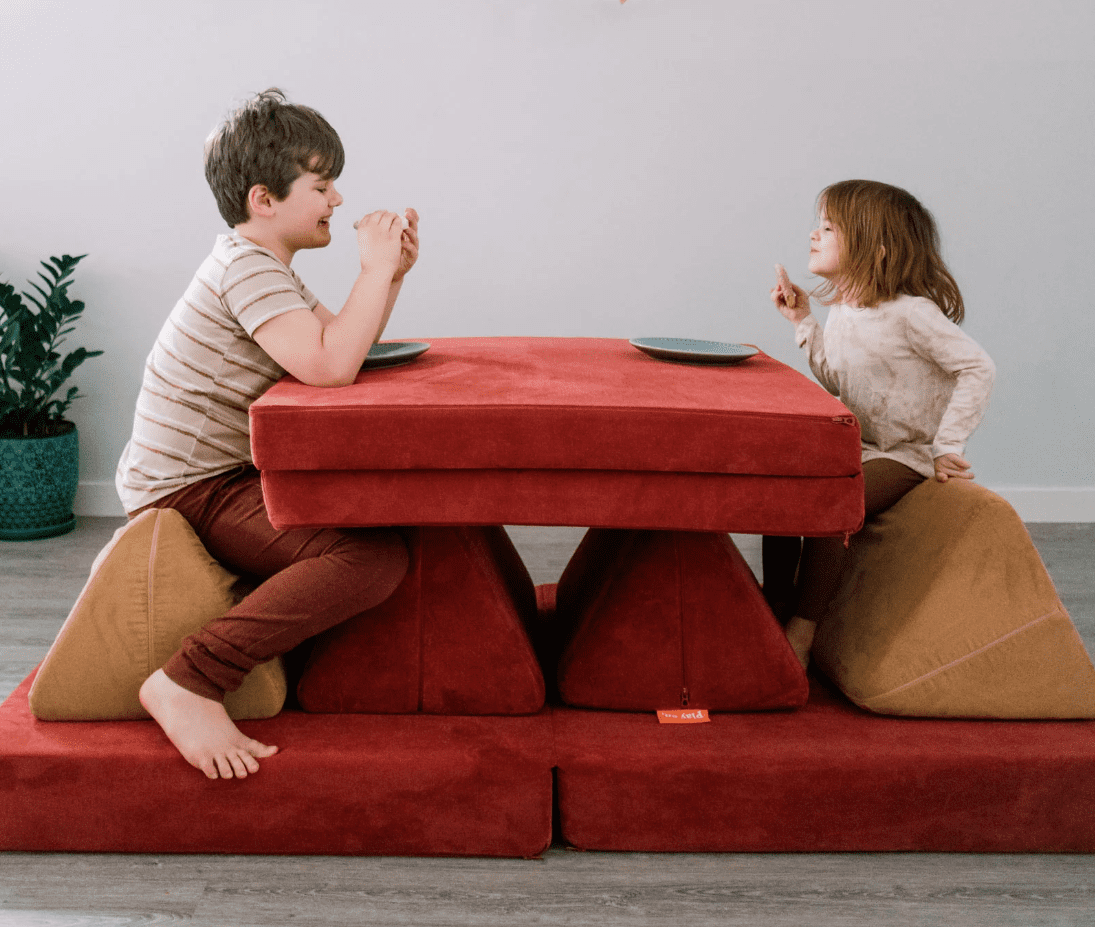 26. The Monster
Is it spooky season yet?  Your youngster can develop their ability to think creatively through creative nugget couch ideas. It enables them to take their ideas and desires and make them come true.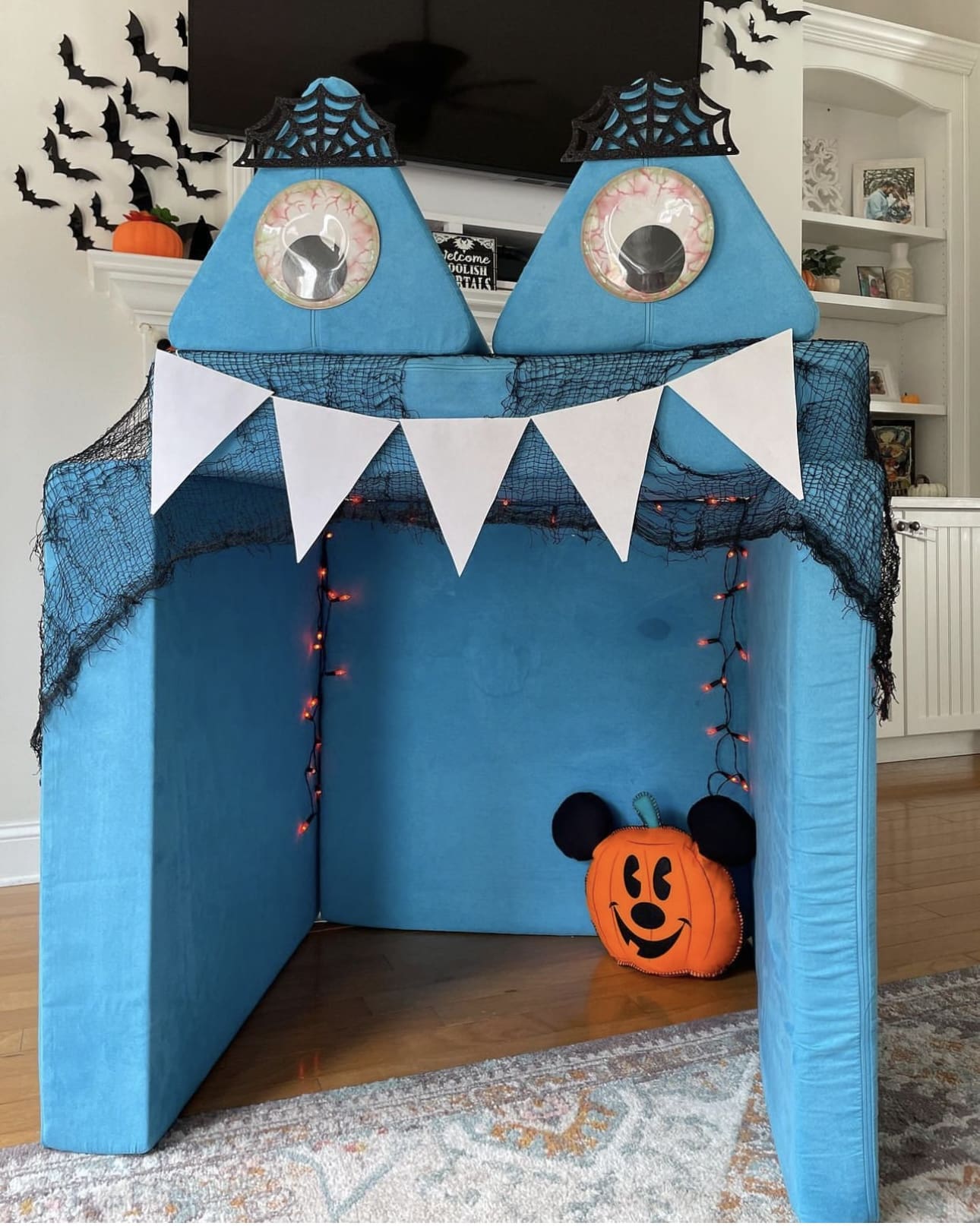 27. The Rocket 2
A nugget couch is a great way for kids to engage in activities, express themselves, and discover new interests.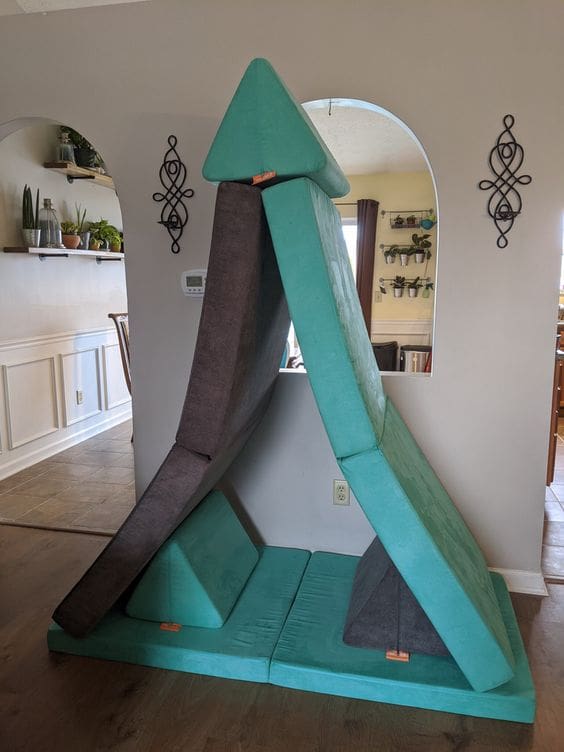 28. The Basketball Court
What's more fun than an indoor basketball court? All you need is a nugget couch sofa, a mini plastic hoop, and a basketball. This will help keep them active and competitive in the comfort of their own home.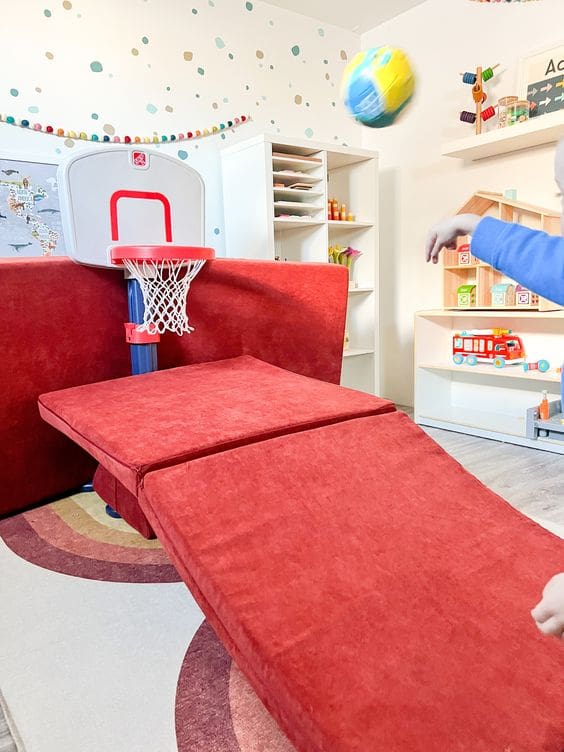 29. The Hextagon
A two-dimensional shape having six sides and six angles is what is called a hexagon. Your kids will love this play in this hexagon playhouse definitely! To make it more interesting, create a fort-like roof.

30. The Apartment
Kids love to have their own home and are self-sufficient– oh if only they know the bills accompanied by this responsibility in the real world. Create an apartment playhouse using a nugget couch to help foster their problem-solving skills and cognitive abilities.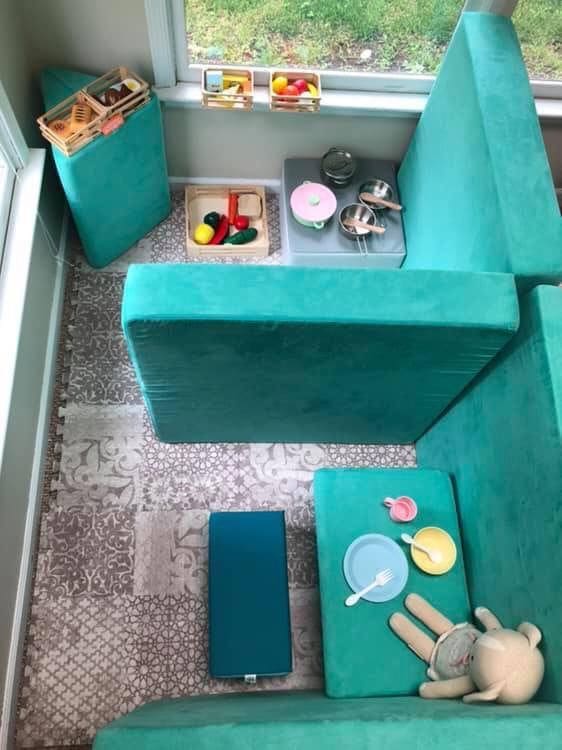 31. The Diner Booth
Young children should engage in imaginative play and harmless adult-like scenarios since it not only develops character but also enables the parent to understand how their children perceive the world.

32. The Slide
Kids find slides to be stimulating and energizing. As a result, kids will climb just about anything to utilize a slide, so why not create a safe one with a nugget couch? This helps them acquire balance, coordination, and spatial awareness.

33. The Playhouse
A nugget coach playhouse is a safe way to give your kids' childhoods more fantasy. They are likely to remember this fun structure and the memories it brings for a lifetime.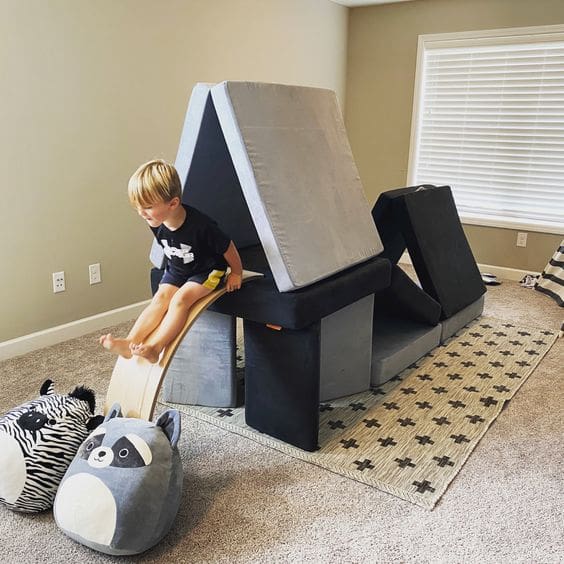 34. The Sofa
The common practical and common nugget couch idea is the sofa. This is the primary function of a nugget coach. It is comfortable, sturdy, and soft.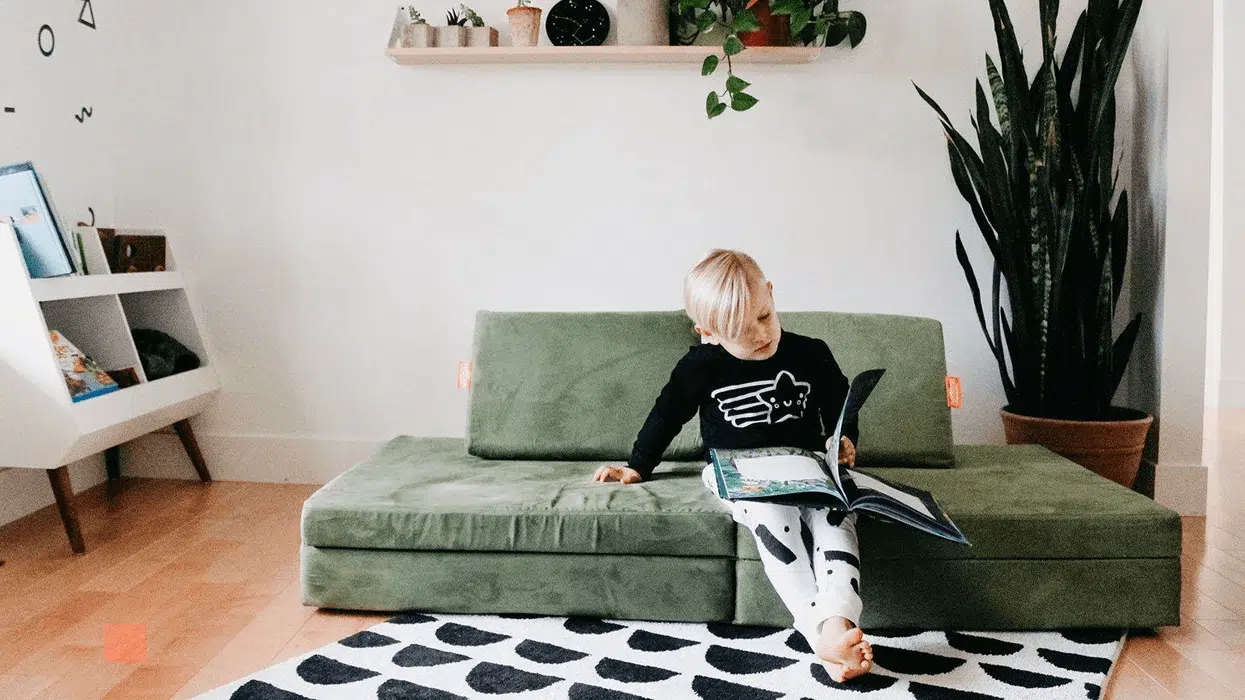 35. The Space Pod 2
A play space pod enables youngsters to be creative, include others, and have fun while fostering their social, emotional, and physical development.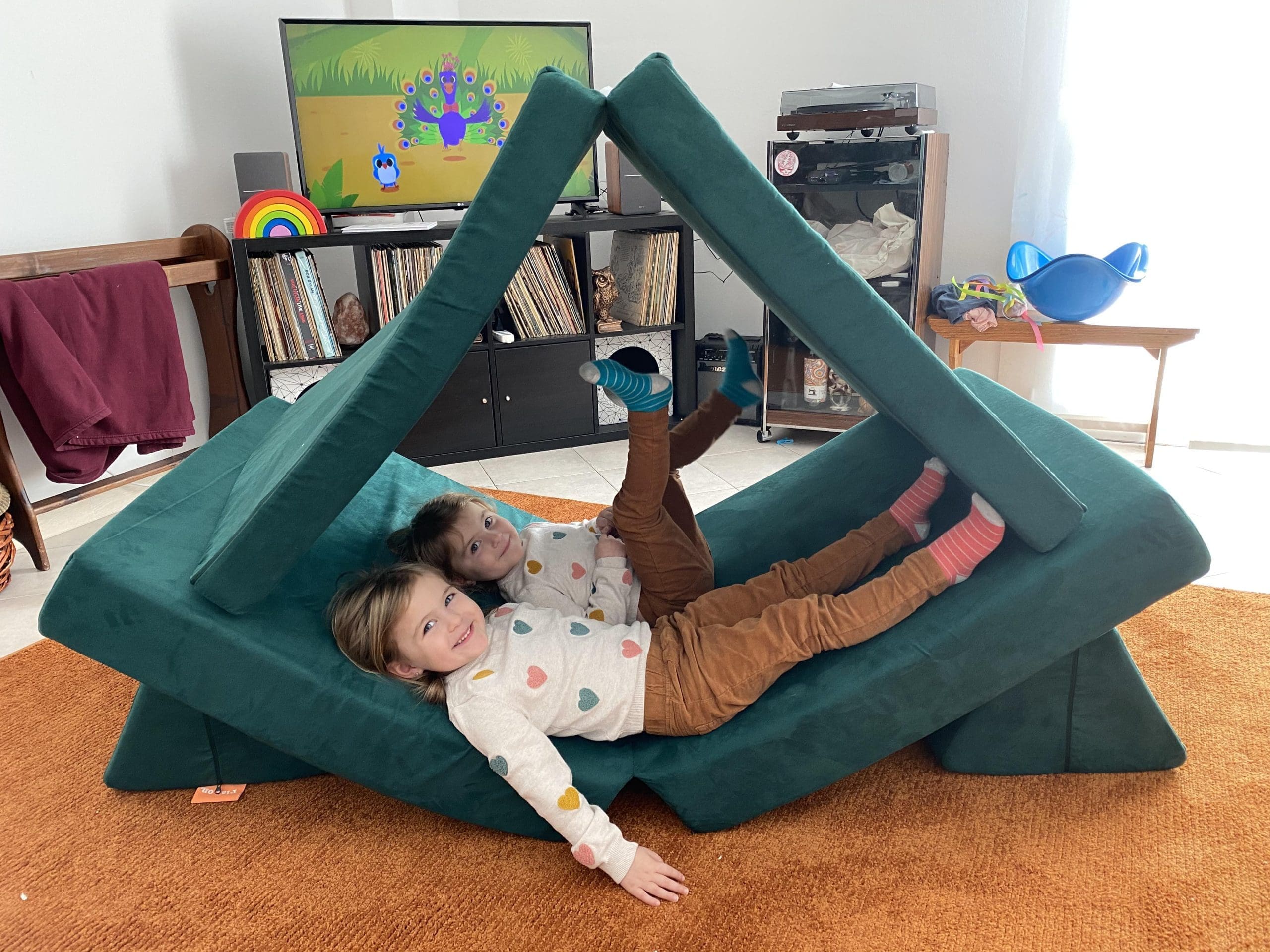 36. The House
Your children will be able to express themselves by letting their ideas and creativity run wild if you create a nugget couch house.

37. The Twin Fort
A fort helps kids to relax. When a child constructs a fort with a nugget couch, they are creating a safe space that is uniquely their own, which is ideal for playtime.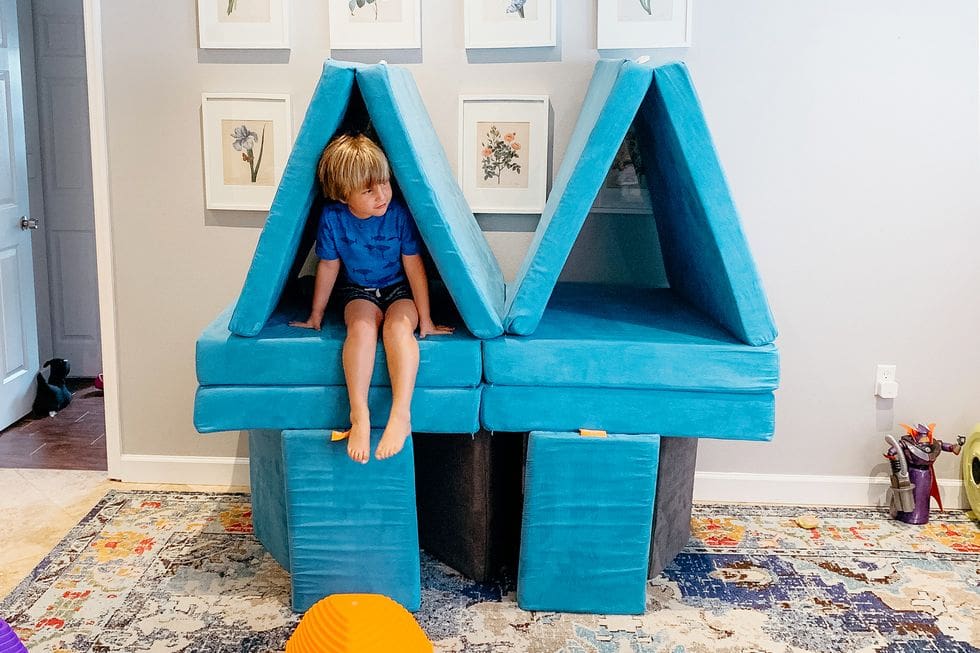 38. The Golf Course
Indoor golfing? Sign me up! Golf is a fantastic sport for kids to learn since it encourages movement, hand-eye coordination, and mental concentration.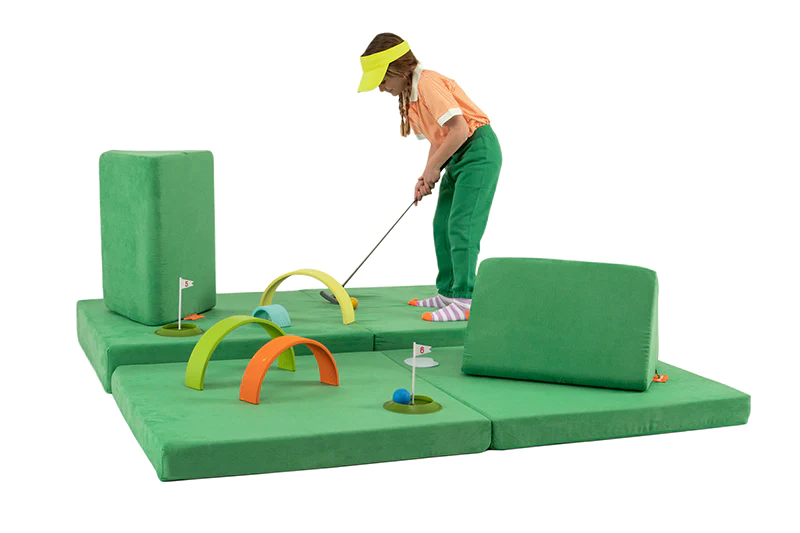 39. The Obstacle Course
Children that engage in indoor obstacle courses learn how to go around barriers and solve difficulties.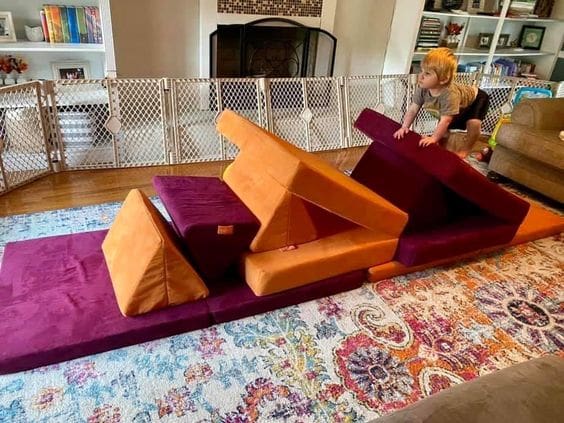 40. The Throne
Long live the King and Queen. This is a great nugget couch idea, especially to make them feel like extra special on their birthdays.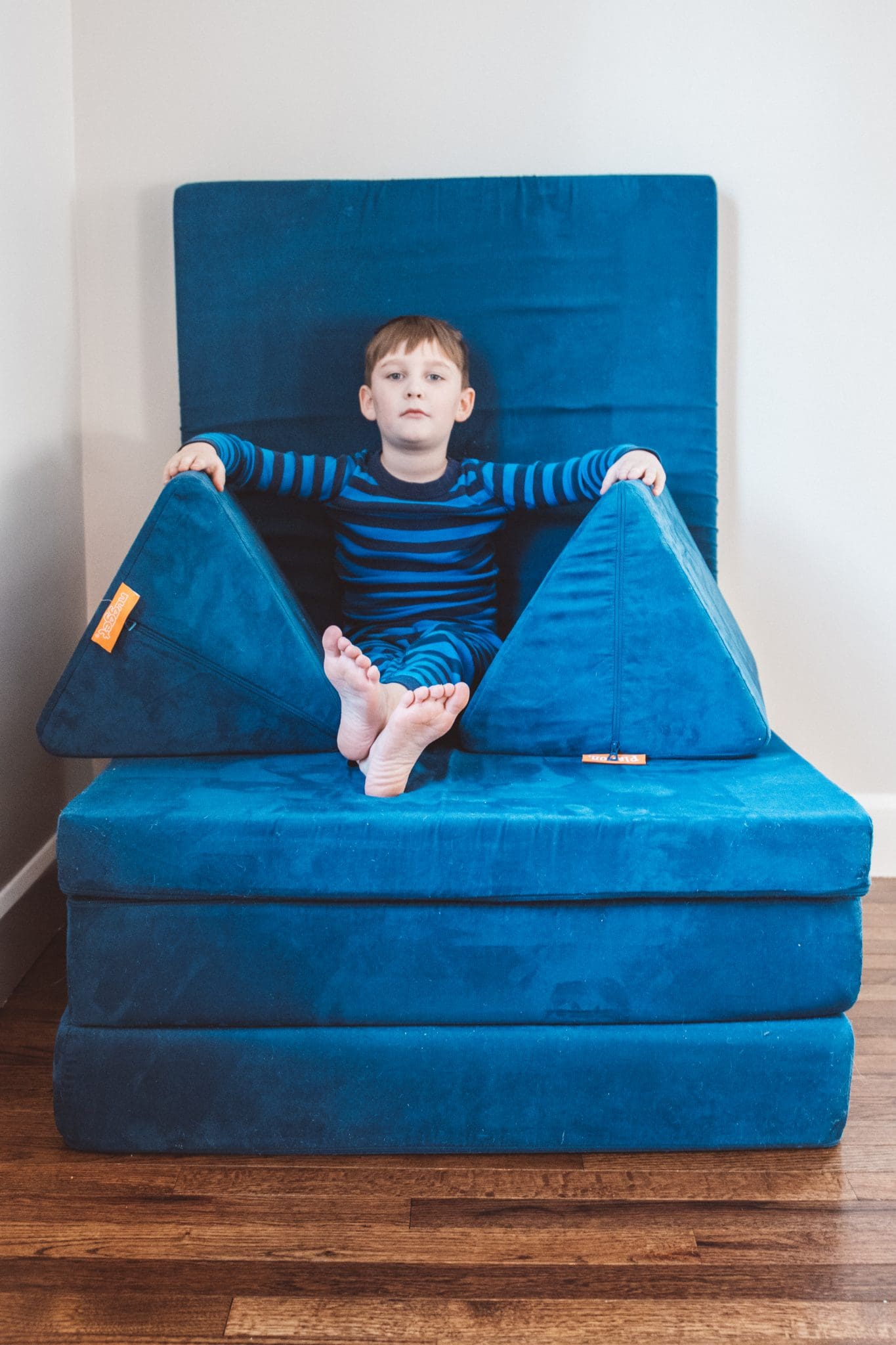 41. The Ramp
Playing with ramps helps kids improve their fine and gross motor abilities as they build, roll, and push.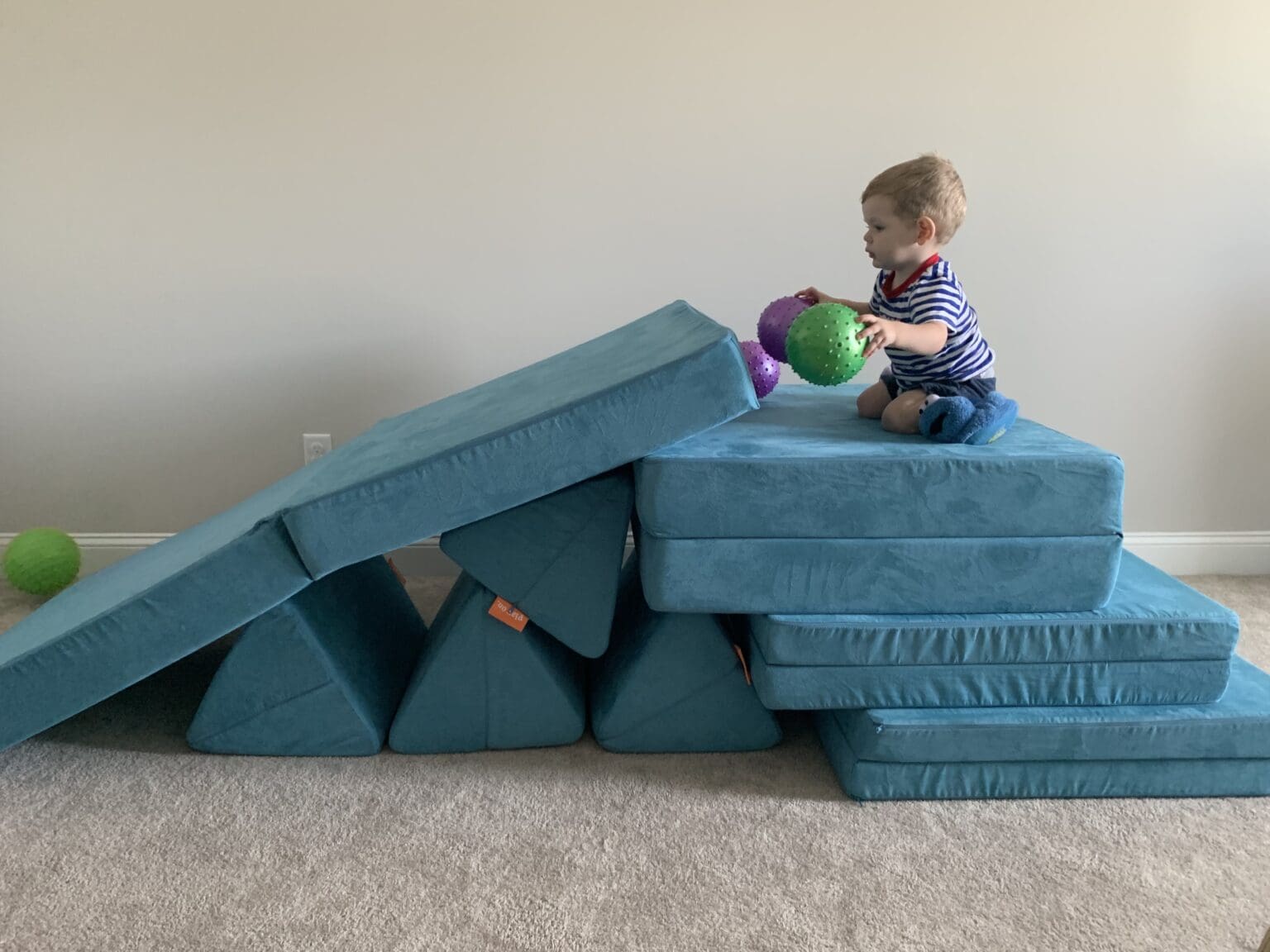 42. The Restaurant
Give your kids the feeling of eating out without actually eating out. Be the chef for the day, give them a menu, and serve them delicious food. Don't forget to make them pay– in dishwashing and cleaning up!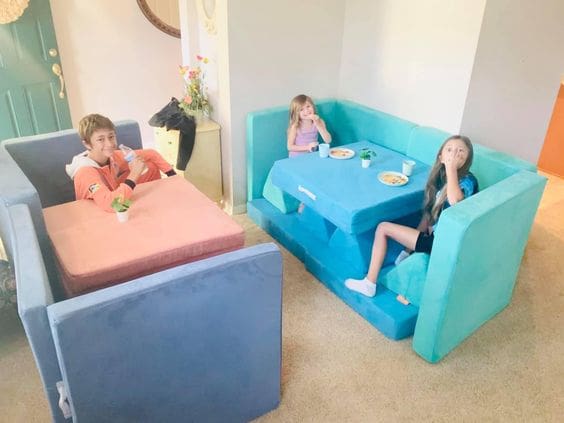 43. The Horse
A horse toy made from a nugget couch sparks the imagination.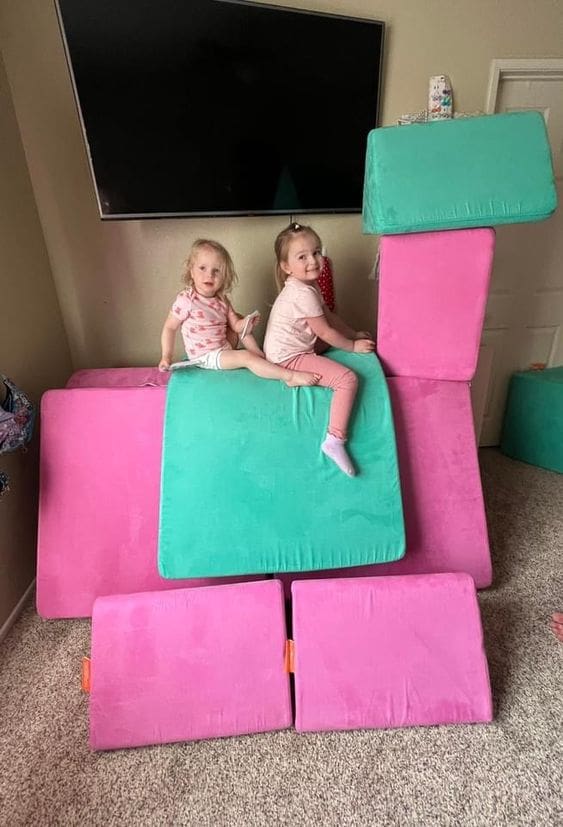 44. The Bridge
Kids love bridge climbing due to the fact that climbing is naturally beneficial for kids' cognitive development, spatial awareness, muscle growth, and problem-solving abilities.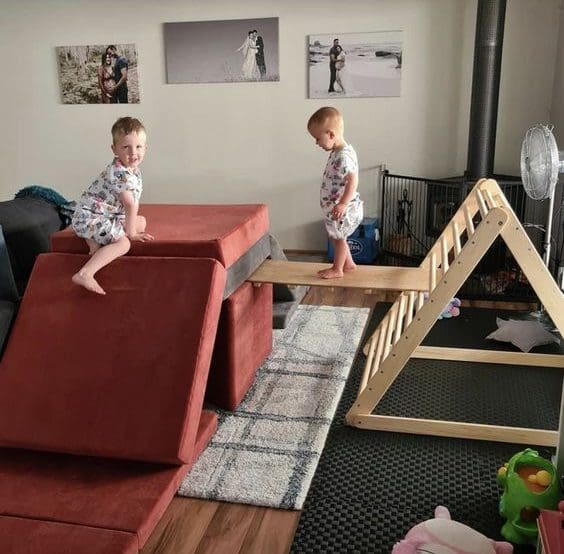 45. The Tent
Kids love tents because they provide a unique space for them to play. Tents are also ideal for role-playing games.