Inexpensive Ways to Update Old Kitchen Cabinets
Are you looking for an inexpensive way to update your kitchen cabinets? Interior home painting can go well beyond just the color on your walls. One of the best ways to add visual aesthetics and increase the value of your home is to update the kitchen. An inexpensive way to update your kitchen is to paint the life back into the cabinets. Painting your cabinets can have a profound impact on the overall look of your kitchen. This can transform a kitchen from dull and dreary to a bright and cheery space. Here, we've put together inexpensive ways to help your transform and update old kitchen cabinets.
Updating kitchen cabinets: Get in there and paint!
When choosing a color, remember paint can be as personal or as neutral as you choose. A good question to ask yourself before initiating a home painting project is, "Who will this be for".  Are you painting for yourself or for someone else? Is your main objective to personalize your space in a way that makes you feel good, or are you doing this to attract a new owner?
Lighter, neutral tones will appeal on a broader scale. However, a bold color tone may better appeal to you. If you're updating or cleaning your kitchen cabinets for yourself, don't be afraid to express your own personal style. If you decide to go with fire-engine red, just remember to pass it by the other members of your household first!
You've now selected your color and are ready to roll up your sleeves. You're on your way to updated kitchen cabinets in just a few simple steps. First, you will need to carefully remove each door from the hinge. Second, scrub those cabinets clean being sure to remove all traces of grease and grime. Third, sand off the existing finish.
Be sure to wipe the doors clean of all dust before proceeding. Next, prime the doors just as you would add primer to your walls. Finally, you need to paint those doors. Be sure to sand the doors between paint applications. If both sides will be painted, make sure each side is dried completely before moving on to the next side.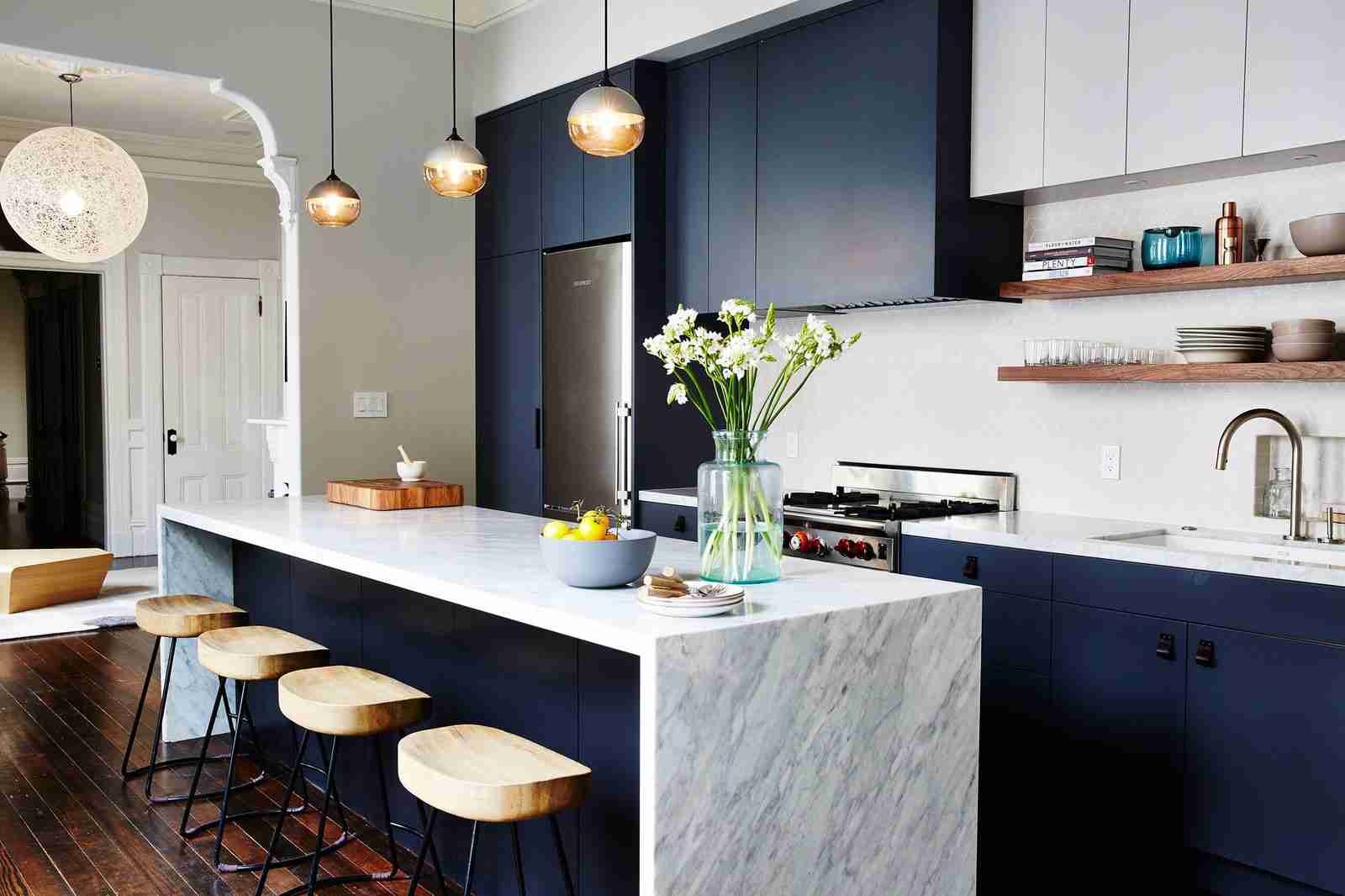 Photo: Architectural Digest
And there you have it – updated kitchen cabinets with no more than a few tools and a can of paint. Don't think you can handle this as a DIY project? The professionals at Home Painters Toronto are ready to help make your project happen.
Updating kitchen cabinets: Don't forget to accessorize
After you have put some thought into the exterior of the cabinets, you may want to think about the interior and surrounding space. It's always a good idea to make your cabinets more functional. Do you have space for a Lazy Susan? How about installing a pull-out shelf? Under-cabinet lighting is a great way to brighten up the space. What about those expensive wine glasses you own but hardly ever get to use? Does a glass door or open shelving sound like a good way to display those little treasures?
Have you ever been frustrated with your kitchen at some point? Now is a good time to look at those grievances and see if you can resolve some issues! If making this kitchen cabinet updates on your own doesn't seem possible, do not worry. The handyman services at Home Painting Toronto are available to assist you.
You now have your freshly painted cabinets back in place and hanging on the hinges. It is now time to add some finishing touches and really bring those cabinets to life! Cabinet door hardware can be as neutral or as personal as you choose. When choosing pulls and knobs, the choices are endless.
Will you go with something simple and functional, or dazzling and eye-catching? If you selected a neutral cabinet door color, maybe this is the time to go with something that is going to bedazzle. If you selected a bold cabinet door color, perhaps this is the time to hold back with something more traditional.

Photo:

Nikolas Koenig

/ Courtesy: Architectural Digest
Updating kitchen cabinets: Go for it
Updating kitchen cabinets can be inexpensive but can have a profound effect on the overall look of your kitchen. Paint color can be personal or neutral – the objective of your renovation will dictate which direction you should go. Just follow these simple steps to the new kitchen you have been dreaming of. If you think this is too much to take on as a DIY project, don't worry!
The professionals at Home Painters Toronto are here to assist – from selecting and applying paint to completing repairs and alterations. Think beyond the walls with your home painting. Updating kitchen cabinets with paint is inexpensive and well worth the investment.
Are you getting out of Ideas? The Homezz covers just about every subject that is related to our homes. This includes decorating, cleaning, organizing, and more. Discover incredible decorating tips and home improvement hacks to help you live your home lives to the fullest today.