10 Fantastic Patio Awning Ideas
Patio awnings are a practical and stylish addition to any home or outdoor space. Transform your garden space into a comfortably chic oasis with these incredible patio awning ideas. 
A patio is a paved outdoor living space where we unwind, dine, and entertain. If you're fortunate enough to have a patio, it makes sense to want to make the most of it in other to enjoy the beauty of summertime.
One of the most crucial aspects to consider when designing one is how it is going to be shaded. Patio awnings are roof-like sheets of canvas or other materials designed to protect the space from the sun's UV rays and rain showers.
Not only are patio awing highly functional, but they can also instantly elevate the overall aesthetics of your outdoor space.
Are you looking to invest in one but don't know where to start or the best type of patio awning for your home? We've got you covered!
Here are 10 fantastic patio awning ideas that will prepare your space for a summer of outdoor entertaining.
1. Retractable Patio Awnings
If you're in the market for patio awnings, you may have heard about retractable awnings. These types of awnings are so popular for a good reason.
Just as the name implies, they can be drawn back in when not in use. For instance, in cooler months or when you're away on a vacation, you can simply fold it away till when you plan to use it again.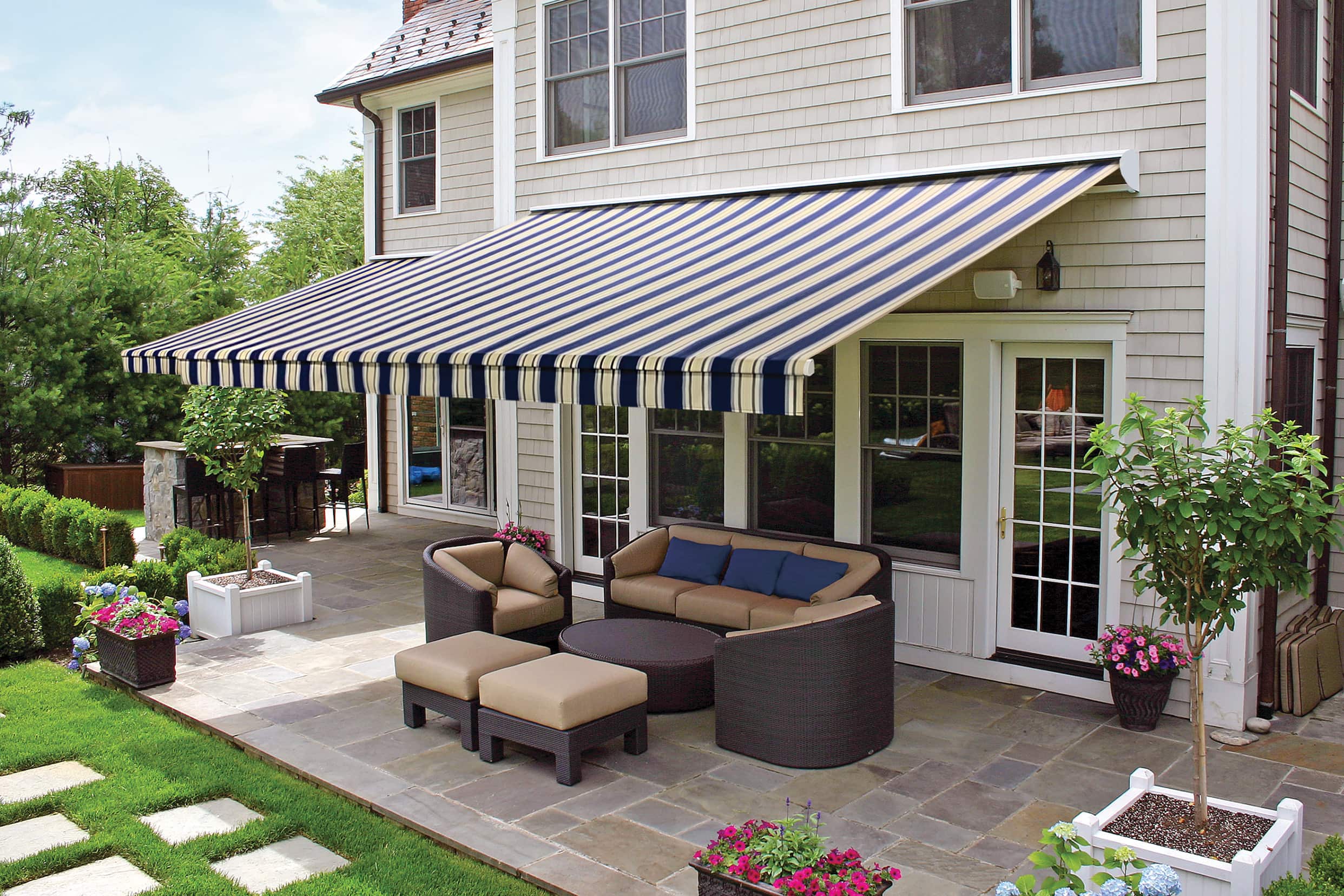 2. Freestanding Patio Awnings
Some patios or deckings are attached to the main building while some are further away from the building. That's where a freestanding patio awning comes in.
This type of patio awning is not mounted on a wall. If you want to make a sizable covered space that is not connected to the building walls, a freestanding awning is an ideal solution.

3. Compact Patio Awning
If you have a small patio, the compact, room-saving awning system with lateral guide tracks may be ideal. This slender and lightweight garden canopy is convenient and offers maximum weather resistance.
4. Vertical Patio Awning
The vertical awning is the ideal defense against the sun's damaging rays and prying eyes on the patio.
While most types of patio awnings provide roof-like shades, a vertical patio awning acts like a window and can provide a room-like environment.
A vertical patio awning can be used to enhance privacy and control how much light is let into the patio.
5. Polycarbonate Patio Awning
A polycarbonate patio awning is a non-retractable shade structure constructed using panels made out of a thermoplastic polymer known as Lexan. The panels can be clear, transparent, or opaque, and they can be colored as well.
This type of patio awning can withstand severe weather and heat. Although, some polycarbonate roofs fall short in terms of low maintenance and require some care in order to get rid of moss and grime.
6. Pergola Patio Awning
A pergola patio awning is an outdoor structure made of support posts or columns that hold up a grid of beams and rafters for the roof.
Although there are many different types and sizes of pergolas, they all serve the same main function– to shield the patio from UV radiation and severe weather. What makes them so popular is their visual appeal and that they work great for any home type.
7. Motorized Patio Awning
A motorized patio awning is perfect if you get want a pleasant and convenient outdoor space. It merely takes the push of a button, as opposed to manual awnings that require you to crank a handle for extension and retraction.

8. Yellow Patio Awning
It is no news that yellow is considered a happy sunny color that can turn a space from drab to fun and inviting. A yellow patio awning can brighten up your outdoor space with stylish protection from the sun.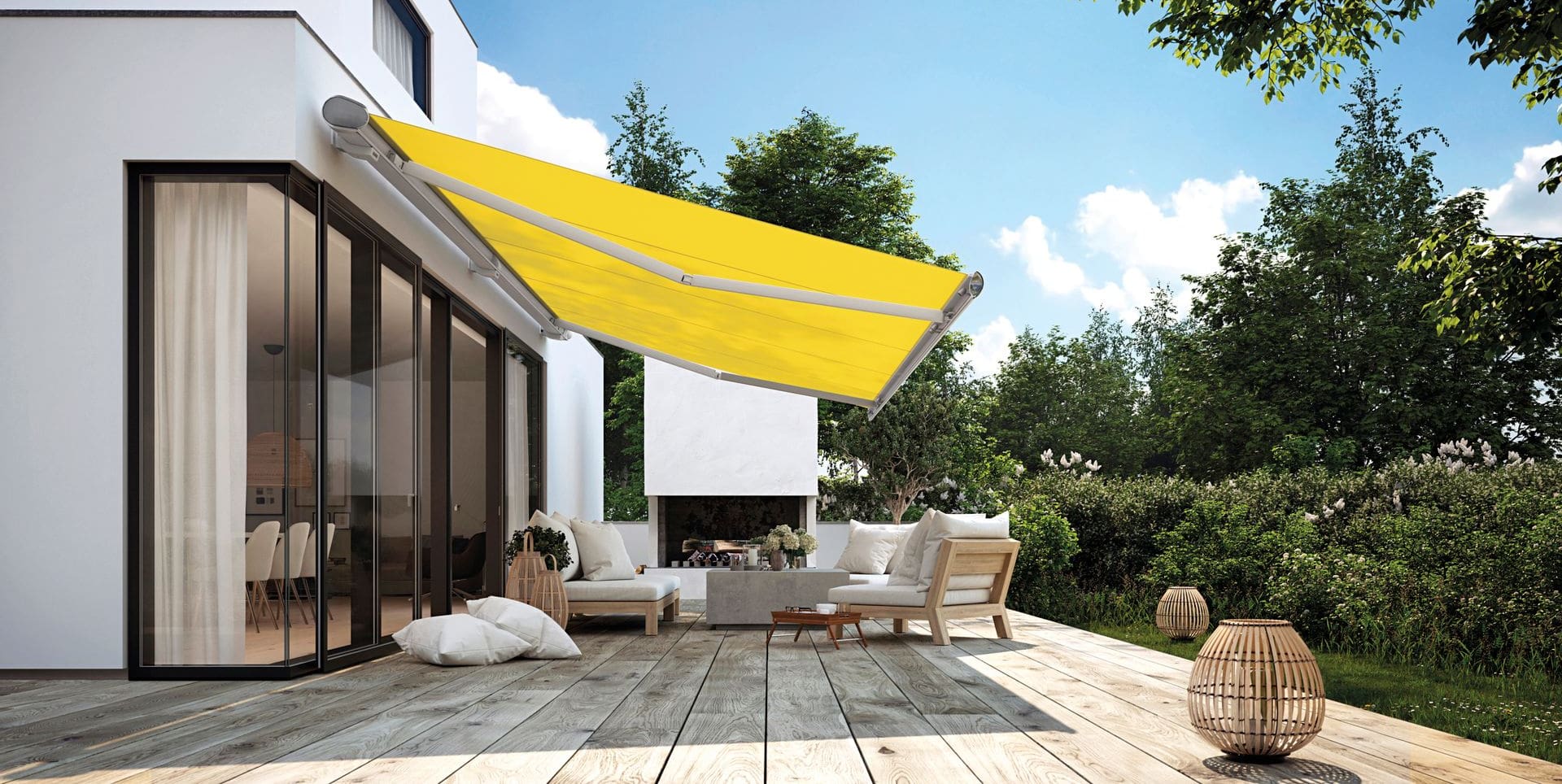 9. Glass Patio Awning
Glass's ability to be both transparent and translucent has the added benefit of adding chicness and a contemporary feel to a space. The primary purpose of glass awnings includes UV protection and weather protection for substrates.
10. Side Patio Awning
Because of their strong wind resistance, side patio awning screens let you enjoy a sunny day even on windy days. They shield you from excess sun, passing sprinklers from your neighbor, light sideways rain, and other approaching lateral water showers.