16 Rectangular Living Room Layout Ideas
Whether you just moved in into your new home or simply want to switch things up, these savvy rectangular living room layout ideas are sure to help you create a comfortable and inviting space. 
The living room is a multi-functional space where we spend the most time unwinding and entertaining guests. For some homes, it doubles as a workspace, a playroom for kids, a dining room, and even a space to sleep.
As a rule of thumb, it's best to start right with the basics when designing a living room. Most people assume this is to the color scheme but the layout planning comes first.
Layout planning is the foundation of every room design project that can make or break the overall aesthetics and practicality.
Designing a layout appropriate for your space helps you to map out space for furniture placement and other decorative elements. It's crucial to first consider how you use the living room because your layout will be strongly influenced by this.
Living rooms come in all shapes and sizes. Rectangular living rooms tend to be the most tricky to design, especially in new builds.
The key to nailing this is to make sure the layout is spot-on in terms of aesthetics and practicality.
There is a myriad of functional and visually appealing ways to style this type of room without creating a long hallway-like look.
In this article, we'll be sharing 16 rectangular living room layout ideas.
Let's help you get it right!
1. Create a Focal Point
A focal point is the design feature that makes a statement and draws the eye into a room. It is one of the most crucial aspects of interior design as it steals the most attention. Without a focal point in place, a living room design would be bland and interesting.
When planning a layout for a rectangular living room, decide where and what will be the center of attention. There are many ways to create a focal point.
You can opt for an eye catchy piece of artwork or an accent wall– painting one wall a different color from the others. A focal point can also be a piece of furniture, fireplace, or statement lighting, among other things.
PHOTO: ROBERT MCKINLEY STUDIO
2. Place the Accent Chairs Adjacent to the Sofa
Design experts claim that of the most workable layouts for a rectangular living room is placing a sofa adjacent to the chair sofa. This creates a clean and organized appearance.
One misconception people have is that accent chairs need to match one another or the sofa- absolutely not! Using varying types of furniture creates mood, impact, and a bit of drama. 
PHOTO: STAPRANS DESIGN
3. Opt for Exposed Leg Furniture
A rectangular living room can often feel cramped. Furniture with exposed legs is the most ideal for a space like this. They make a living room feel more open and spacious.
Additionally, furniture with exposed legs will require less cleaning and easy care than those without legs since they will not accumulate as much dust and filth.
PHOTO: AMETHYST HOME
4. Keep the Sofa Away From the Wall
There is a good reason why interior designers advise against pushing your furniture, especially the sofa, up against the wall. You may be tempted to do so if you have a small or rectangular living room but it only makes it look cramped.
There should be at least a little gap to make the space feel and look open. We recommended you place the sofa at least 6-12″ from the wall.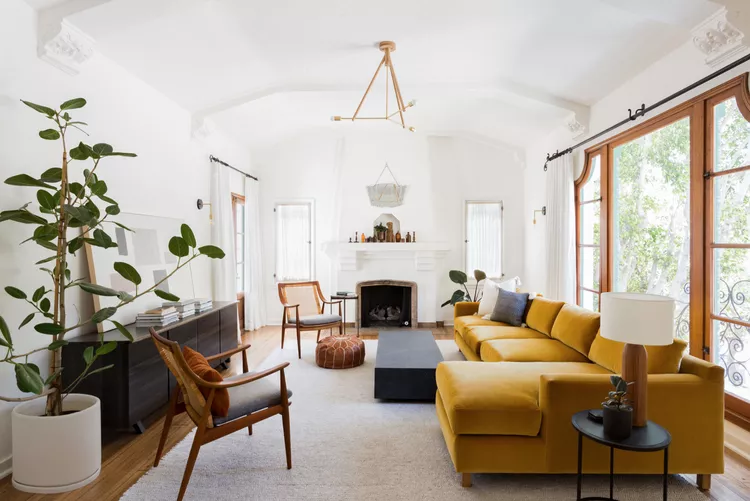 PHOTO: AMY BARTLAM
5. Consider the Wall Features
The placement of your wall features should also be put into consideration when designing a rectangular living room layout. Firstly, make sure it is not too high or too low as this is the most common mistake people make.
Secondly, map out the area where your artwork or any wall feature will be placed– ideally at eye level. To establish a focal point, hang the largest, most imposing pieces first. Finally, depending on your interior plan, you can opt for one large piece of artwork or multiple small pieces.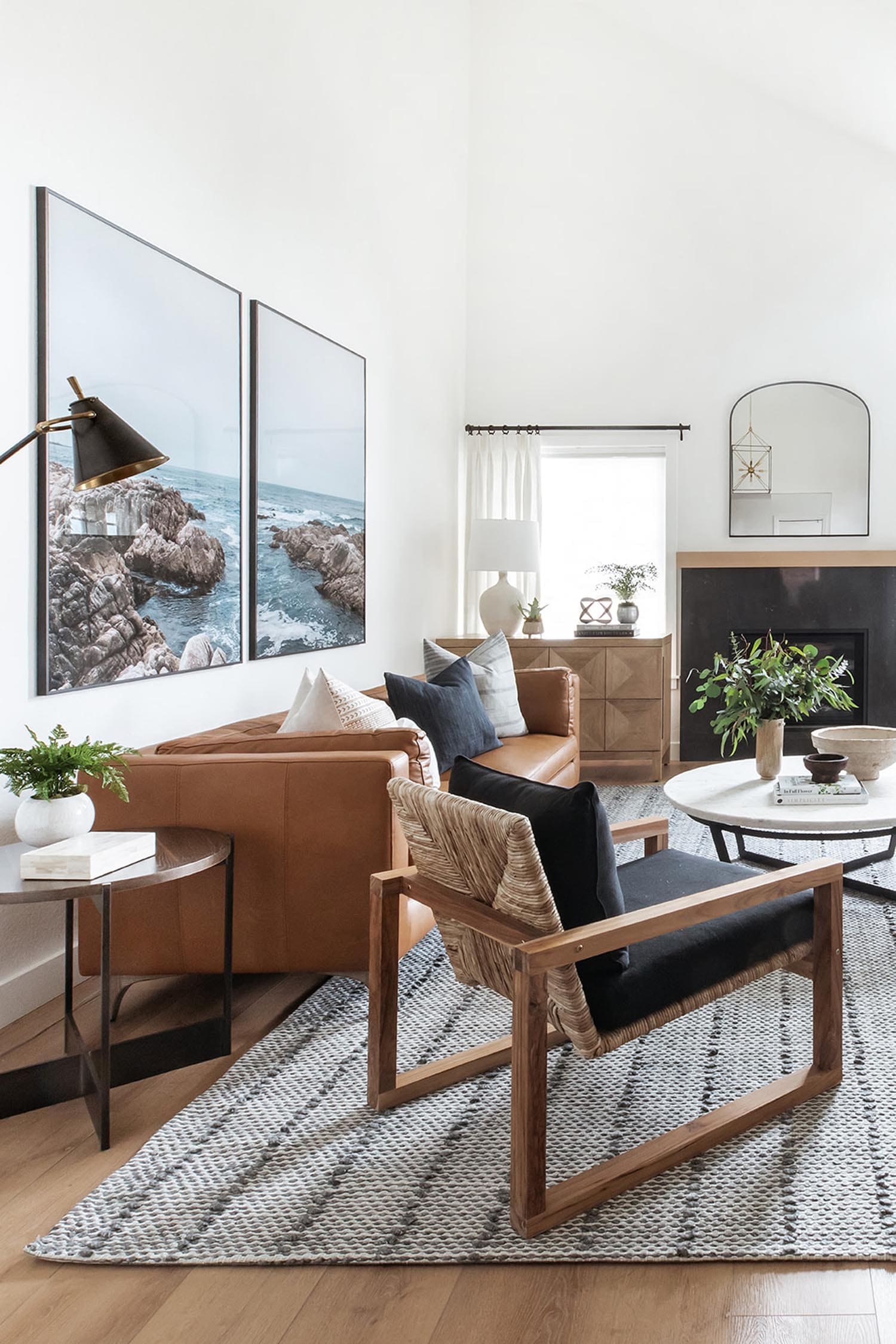 PHOTO: LINDSAY BROOKE
6. Consider the Visual Weight of the Space
An element's ability to draw the eye is measured by its visual weight. There are many ways to add and balance visual weight in the living room.
The size of the furniture, contrast colors, texture combination, or shape of an element can influence the weight. The key to creating visual balance is dispersing elements evenly throughout the space.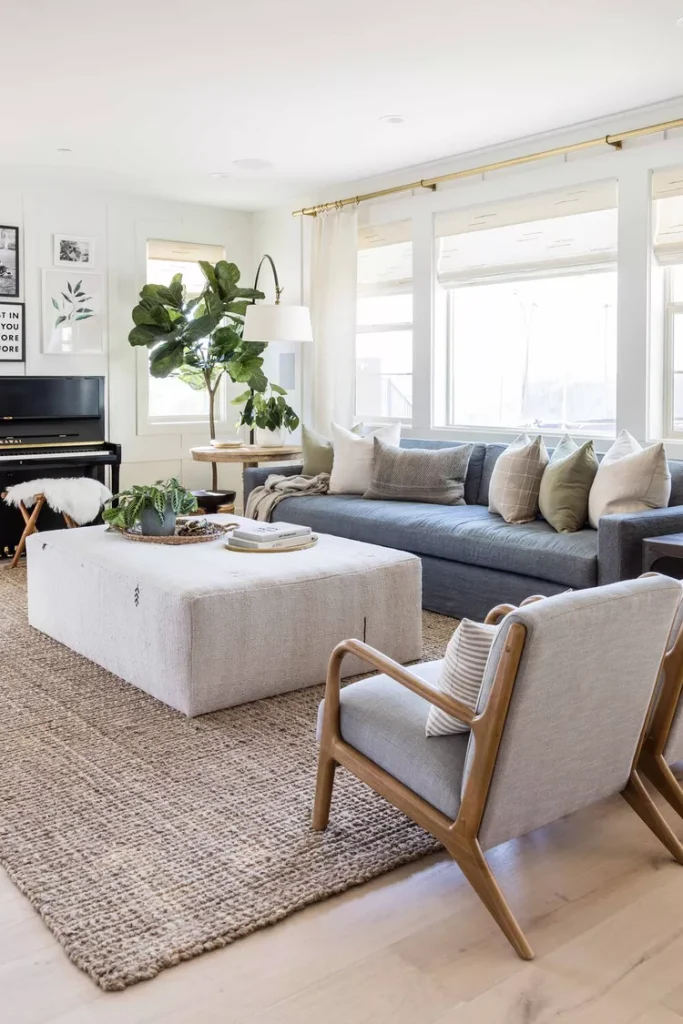 PHOTO: PURE SALT INTERIORS
7. Use Symmetrical Placement
Assuming a central axis as the starting point, symmetry occurs when both sides of a composition mirror one another.
If you use a symmetrical placement as the foundation of your living room layout, you will create a space that is both stunning, organized, and visually appealing.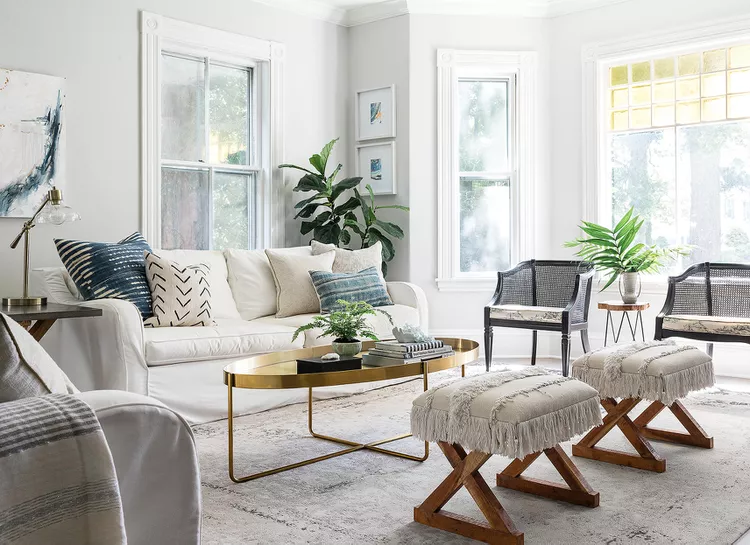 PHOTO: JOYELLE WEST
8. Let the Natural Light Flow In
No design element compares to natural light. When planning a rectangular living room layout, think of ways to take advantage of natural light. An interior space is energized, has a better mood, and has better lighting thanks to the interaction of natural light.
Keep the windows free from any obstruction that might block the light from flowing in and consider using neutral drapes or window blinds. Simply put, natural light can make the living room feel more open, bright, and spacious.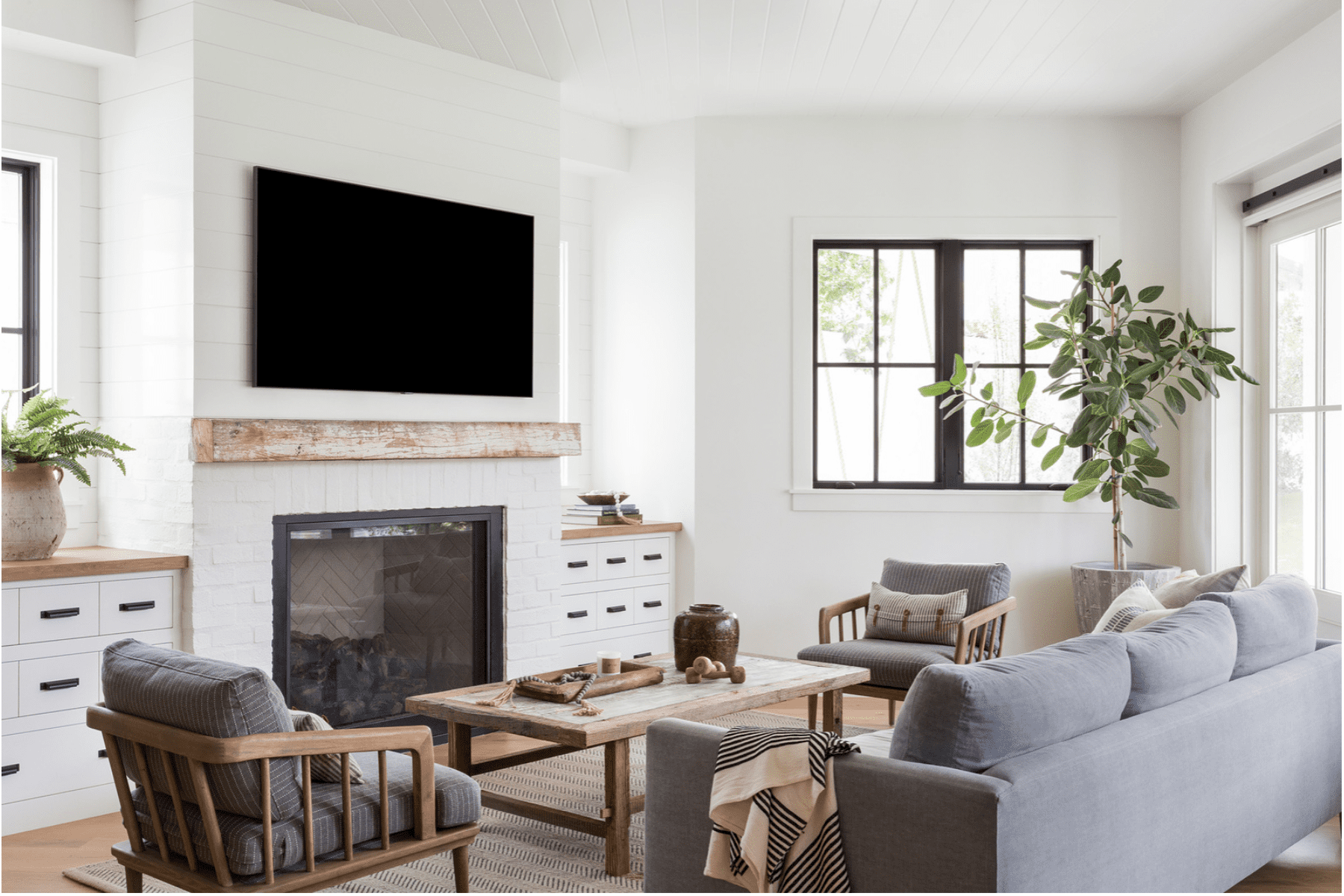 PHOTO: AMY BARTLAM
9. Invest in an L-Shaped Sofa
Other than the fact that they are comfortable, cozy, and visually appealing, L-shaped sofas take up less space than two standard sofas.
How you use your living room will determine the best furniture type for the space. If you live alone, have a small household, or have a narrow rectangular living room layout, then a standard straight sofa may be ideal for the space.
PHOTO: AMY BARTLAM
10. Lighten Up the Room with a Skylight
A skylight can be added to a rectangular living room layout to maximize space and make it appear larger than it is.
Even on a cloudy day, a skylight can bring an enormous amount of natural light to your living room. A skylight truly does make a big significant difference, especially if you have limited windows in the room.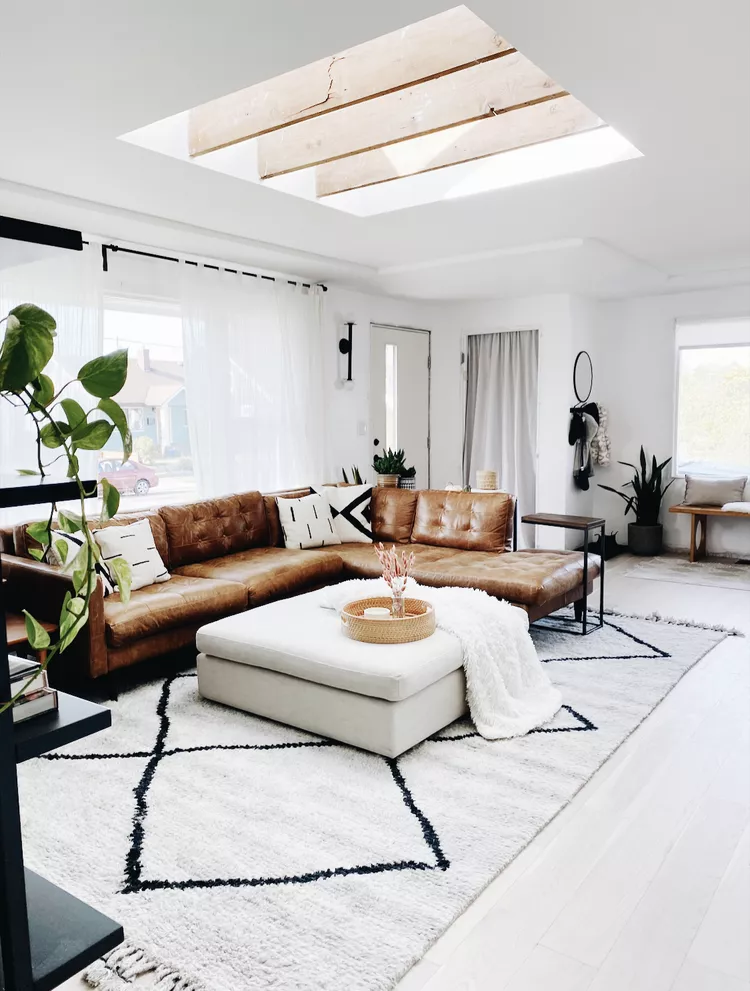 PHOTO: ARBOR & CO.
11. Layer Your Center Rug
A rug may drastically alter how a room feels and appears, going beyond simply finishing off the design.
Layering rugs can embellish the look of the space, bring a room's components together in perfect harmony, and can also be used as a statement-making piece.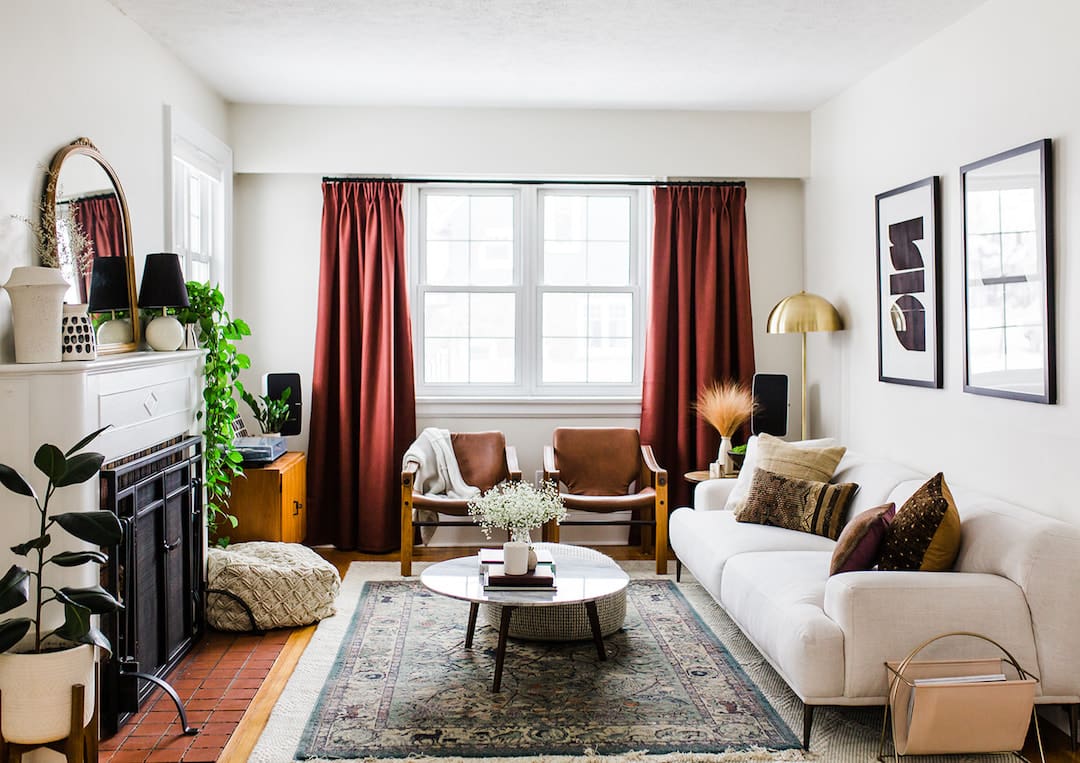 PHOTO: CHANTELLE WATT
12. Use Varying Accent Chairs
A finely crafted accent chair can enhance your living room. What's even more practical and gives the room an aesthetic flair is using two different accent chairs. Although some small spaces only call for one accent chair or even none at all.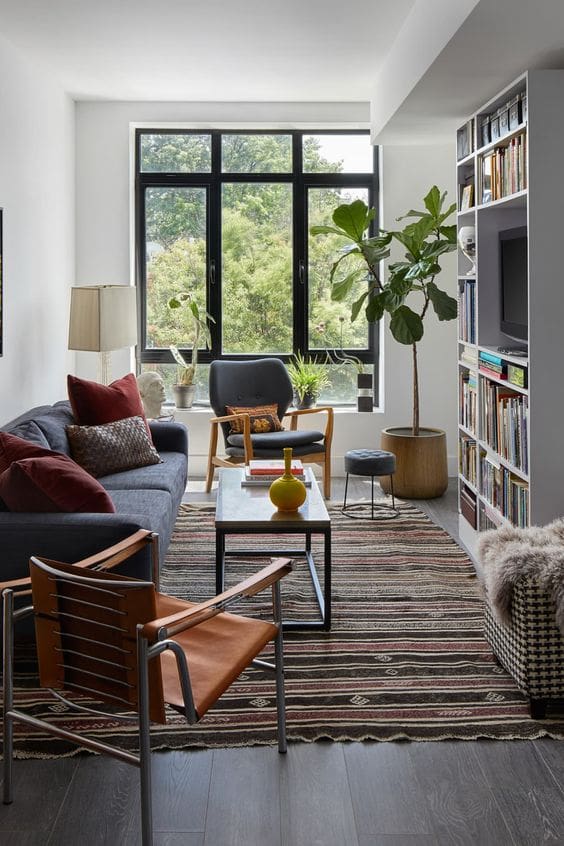 PHOTO: WYATT MANGUM 
13. Place End Tables Beside the Sofa
The fundamental objective of an end table is to make sure that essentials are at arms reach. If the placement is ideal, end tables can enhance the practicality of the space when stylishly positioned at the far end of a sofa– or both ends.
It is a versatile piece of furniture and can be moved easily from one place to the other. Due to the fact that it's small and practical, it works perfectly in a rectangular living room.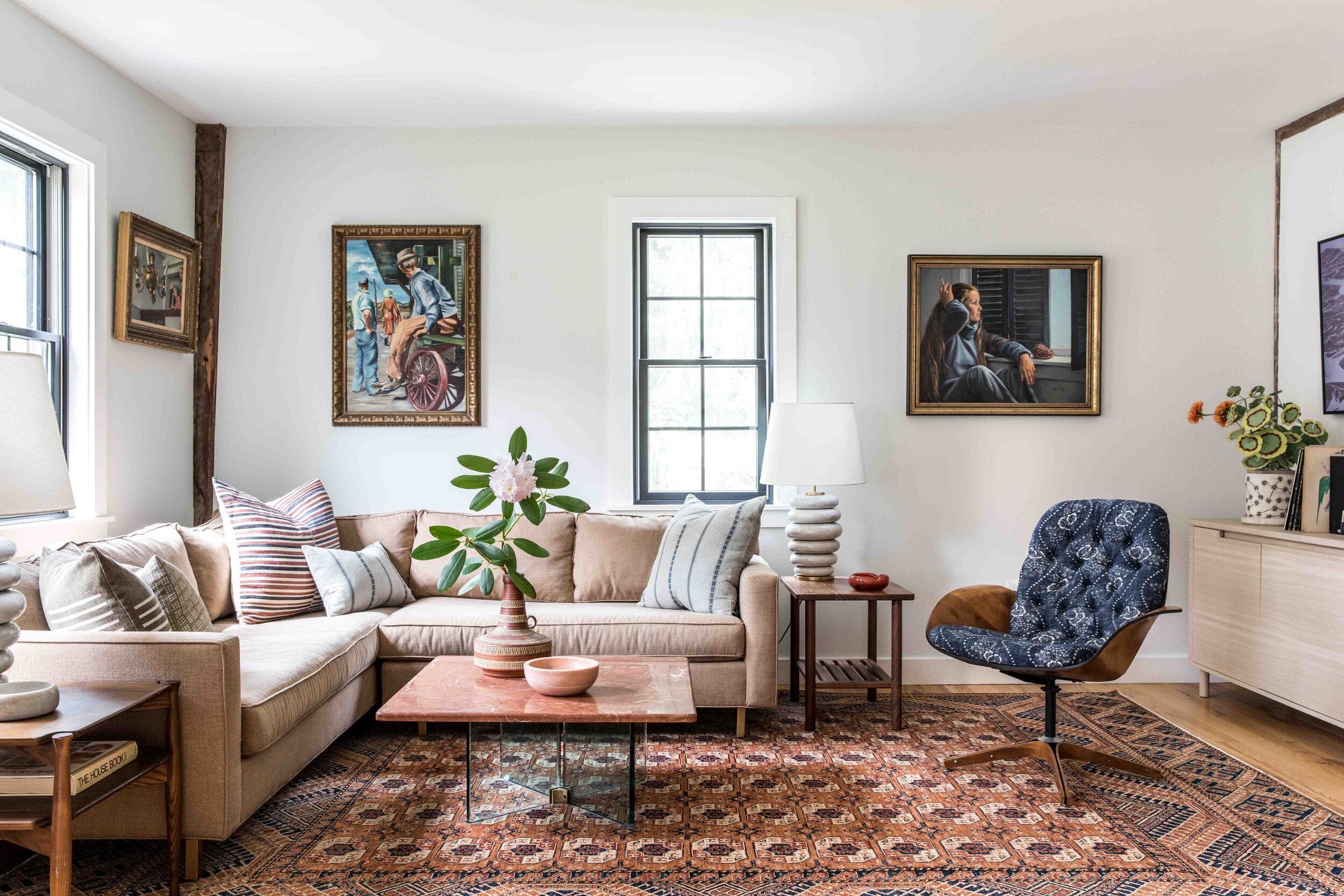 PHOTO: TYLER KARU DESIGN + INTERIORS
14. Use a Mirror to Reflect Light
One of the oldest tricks in the book is the use of mirrors to brighten up and create an illusion of space in a small room.
A well-positioned mirror can instantly transform any room. It is a particularly impactful element to consider when planning a rectangular living room layout.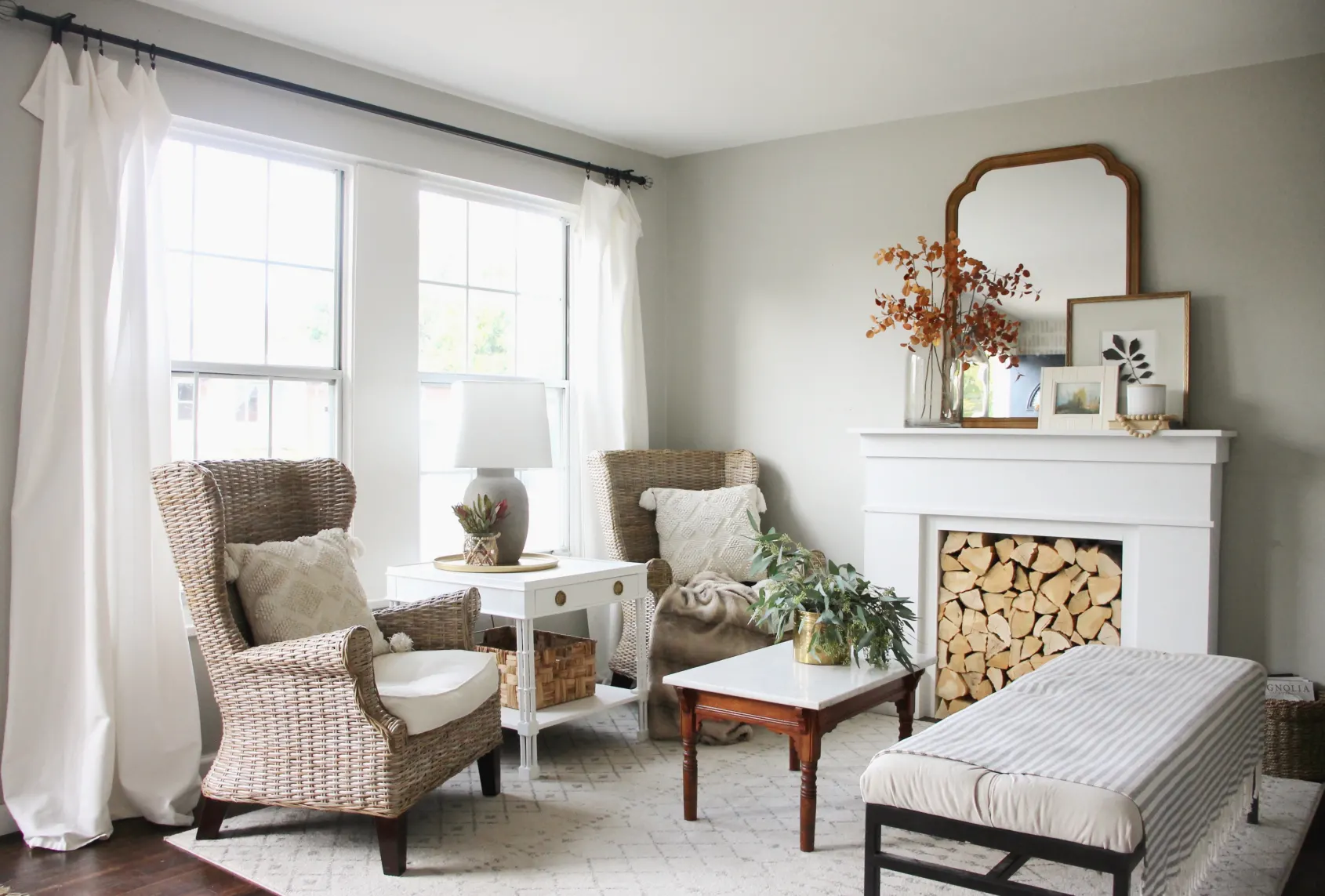 PHOTO: LESLIE JARRET
15. Choose the Right Furniture Proportion
As a design principle, the size of the furniture should be appropriate for the size and shape of the room. Designing a living room that is both visually interesting and functional requires careful consideration of the furniture proportion.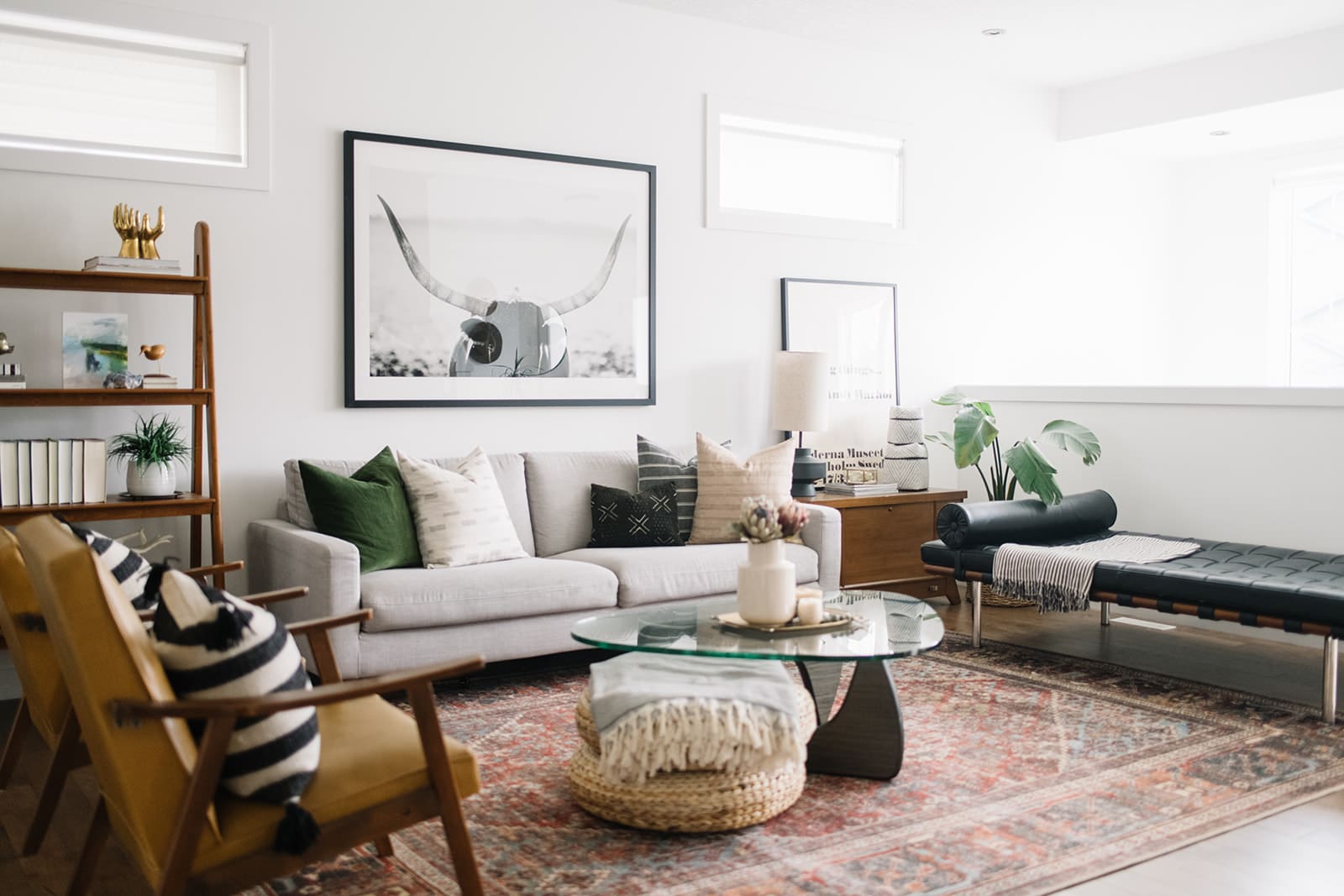 PHOTO: 204 PARK 
16. Keep the Layout Simple
The foundation of minimalism is the idea that interior space should be kept clean, practical, and orderly. Simple layouts have more advantages than complex ones.
If the layout is uncomplicated, it can easily adapt to future changes. Avoid placing distractive and unnecessary elements that can overwhelm the space. By keeping the rectangular living room layout simple, it will feel comfortable and there will be more legroom to move around.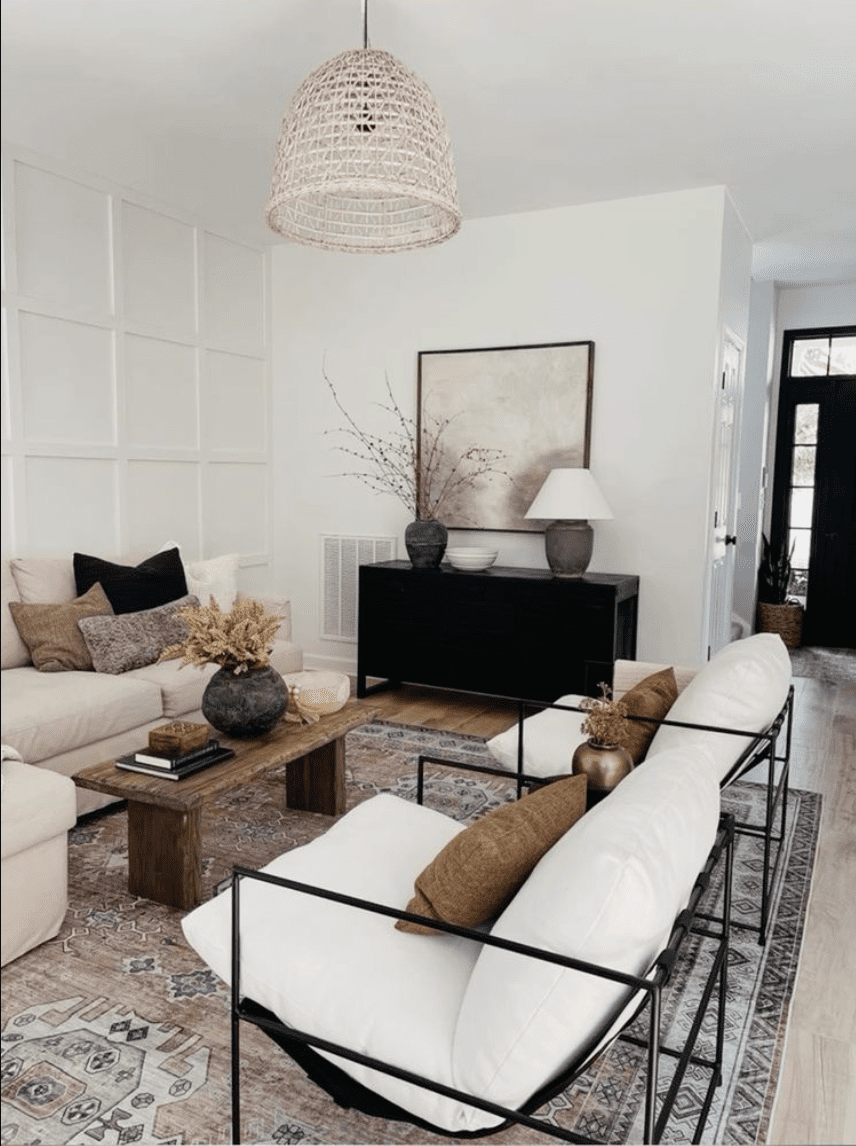 PHOTO: SCENIC HILL DESIGN