28 Kitchen Backsplash Ideas With White Cabinets
Minor kitchen upgrades such as backsplash replacement can make a big impact. These 28 kitchen backsplash ideas with white cabinets can instantly add a touch of pizzazz to the space. 
The kitchen backsplash is crucial for preventing stains, grease, and water from damaging your wall. The surfaces often affected by these are behind the stove or sink. A backsplash is easy to clean and keeps your kitchen looking tidy at all times.
Practicality asides, a backsplash is a great way to add a pop of color and visual appeal to your kitchen. They come in an array of patterns, colors, and materials to suit any kitchen style or color scheme.
You may have seen the traditional white tile backsplash in many homes today. While neutral hues, such as white and gray, dominate the kitchen backsplash trends in recent times, they are myriad backsplash ideas that are practical, timeless, and elevate the aesthetics of the kitchen.
Whether you decide to make a statement with it or go for a more subtle look, a backsplash is a great addition to any kitchen. They can be installed at full height leading up to the ceiling or halfway. Installing a high backsplash can make your kitchen appear bigger and look more cohesive.
Looking for backsplash ideas for white cabinets? You're in the right place! 
White is a timeless backdrop. Most homeowners prefer white kitchen cabinets as it is a classic choice and will not require repainting or replacing every few years.
If you have a white kitchen cabinet or planning to get one, it makes sense to seek out a backsplash that adds a chic layer of interest to your kitchen.
Here are 28 kitchen backsplash ideas with white cabinets to spruce up your kitchen.
1. Geometric Tile
Geometric tiles are designed using geometric shapes such as triangles, octagons, diamonds, hexagons, polygons, and many more. This type of tile is eye-catchy and very versatile.
Geometric patterns are not just an addition to the design, they are the design! This tried-and-true pattern is often seen increasingly in contemporary interior spaces, from wallpapers to rugs, they add a stylish flair to a space.
PHOTO: HOUZZ
2. Yellow Tile
White in itself will complement any color but there's just an undeniable beauty of a white and yellow combination.  Yellow is a warm and welcoming hue that livens up any space. Yellow conveys the feeling of happiness, fun, and optimism.
Yellow tile backsplash on a white cabinet can instantly infuse energy and warmth into the kitchen. This timeless and summery combination is especially great for brightening poorly-lit kitchens.
PHOTO: BRAD KNIPSTEIN 
3. Emerald Green Tile
Emerald green backsplash tiles are a popular option for luxurious kitchens because it is a regal color that embodies grandeur and sophistication. It adds a grand gesture and understated elegance when paired with a white kitchen cabinet.
Color trends come and go, but the allure of emerald green is timeless. This tile color idea will also conceal stains better than most.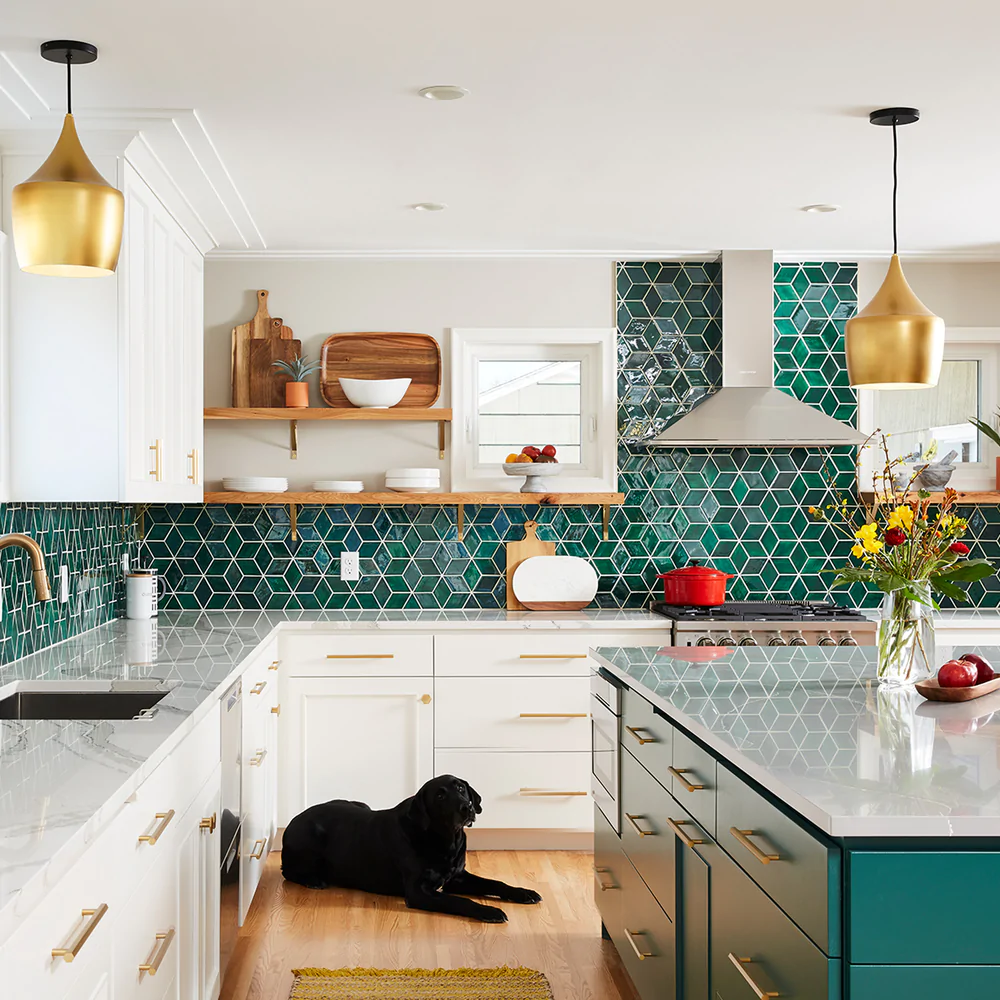 PHOTO: MERCURY MOSAICS
4. Checkerboard Tile
The checkerboard backsplash tile pattern is timeless and refined as well as appealing and versatile. Checkerboard tiles are regaining traction in mainstream design in recent times but they have been around for centuries and never lost their appeal.
PHOTO: ANNIE SCHLECHTER
5. Green Tile
Looking for the best kitchen backsplash ideas with white cabinets? Then look no further than green tiles. Depending on the style and shade you choose, green tiles can provide a varied appearance. Green is a color of nature and it's one of the most refreshing and claiming hues for interior space.
The cool, fresh appearance of light pastel green tiles contributes to the calming and tranquil atmosphere. Whereas, deeper green tiles are ideal for drawing attention and accentuating a kitchen backsplash.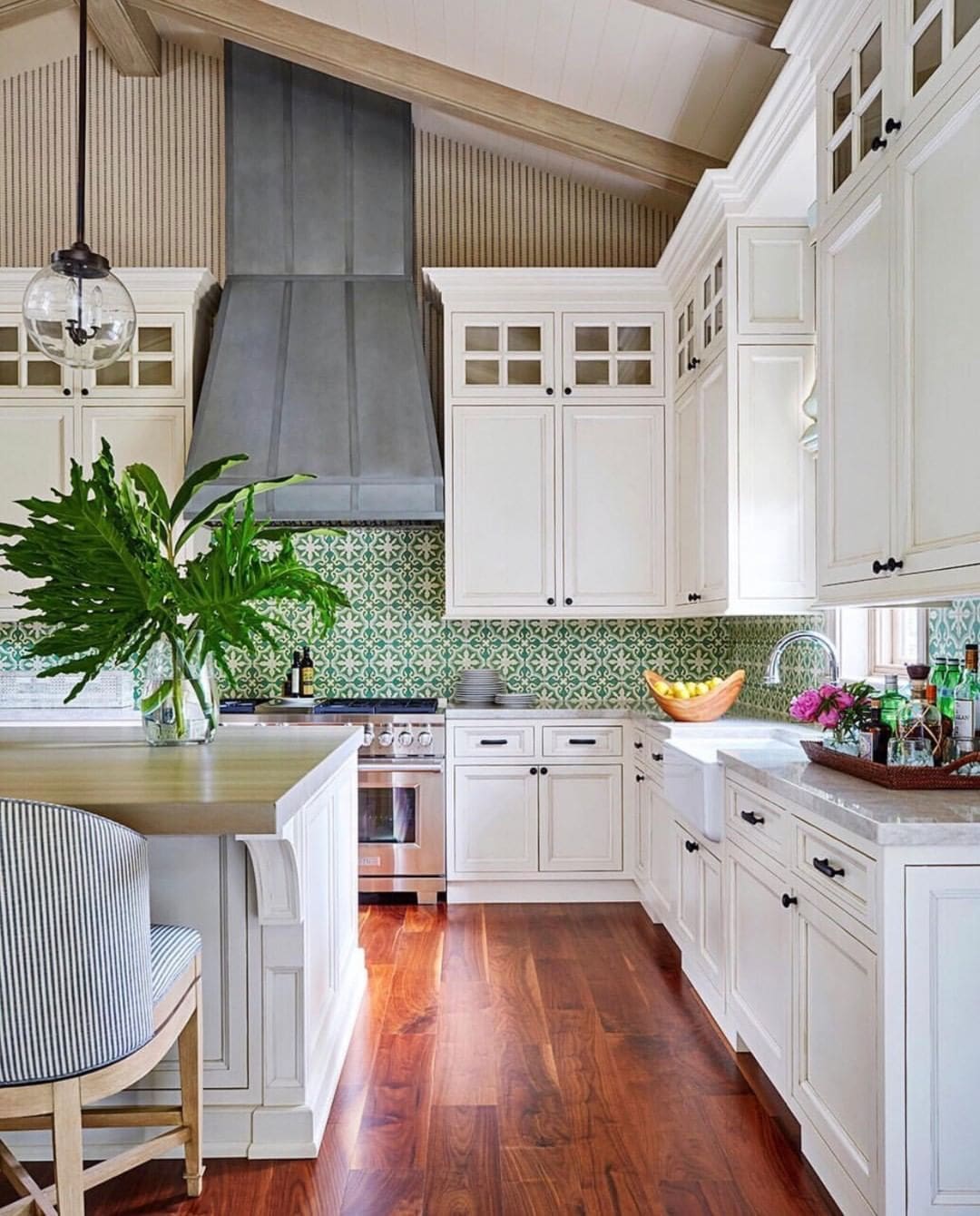 PHOTO: KEMBLE INTERIORS
6. Bright Blue Tile
It's no surprise why designers love to use light blue in interior spaces. This subtle shade of blue promotes relaxation and purity. It also has a calming effect on the body and mind. Bright blue backsplash tile makes a kitchen feel airy and fresh.
PHOTO: HOUZZ
7. Mosaic Tile
A mosaic tile is a tile created using small, colored pieces of stone, glass, or ceramic. This is one of the most common backsplash ideas for white cabinets because it holds more visual appeal than other types of tiles.
Despite the fact that mosaic tiles are a classic design trend that dates back centuries, modern homes still benefit from its alluring beauty.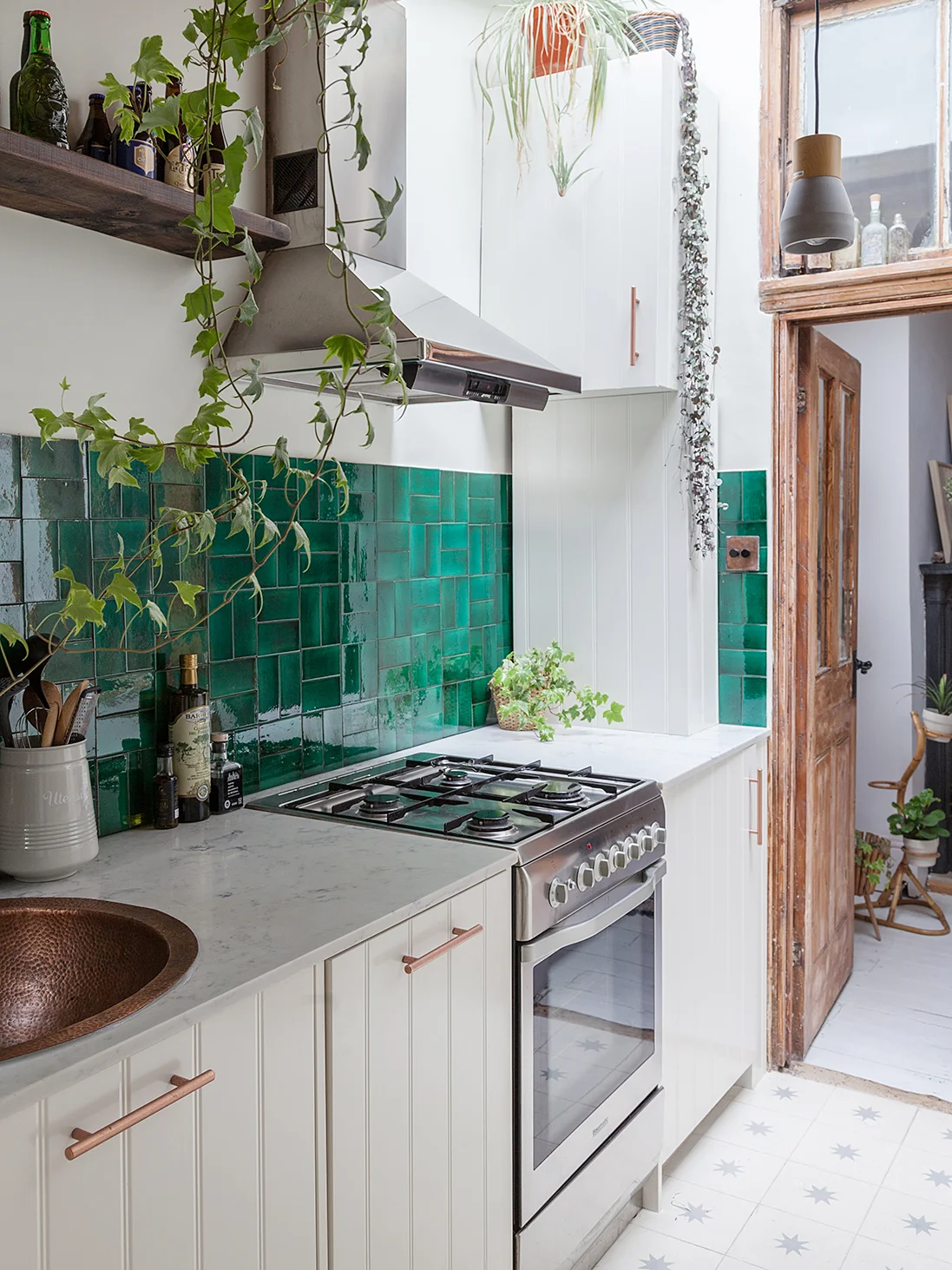 PHOTO: EMILIE FORNET INTERIORS
8. Herringbone Tile With Dark Grout
The design pattern "herringbone" refers to an arrangement of rectangular tiles used for floors and walls that resembles the zigzag pattern on the bones of a herring fish.
This tile pattern is a staple in contemporary interior design. Dark grout never goes out of style and creates an eye-catching appeal when paired with a herringbone tile.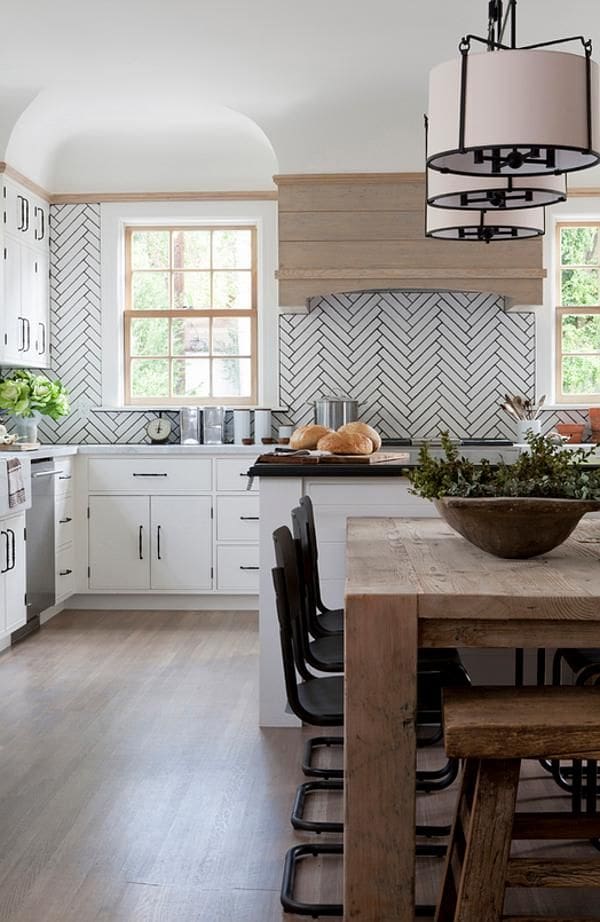 PHOTO: SIMON DESIGN
9. Metallic Gold Backsplash
This is one of the most glamorous and statement-making kitchen backsplash ideas with white cabinets.
Gold is a warm hue that can add a touch of sophistication, depth, and richness to the kitchen. A metallic gold backsplash also reflects light and is great for brightening up dark spaces.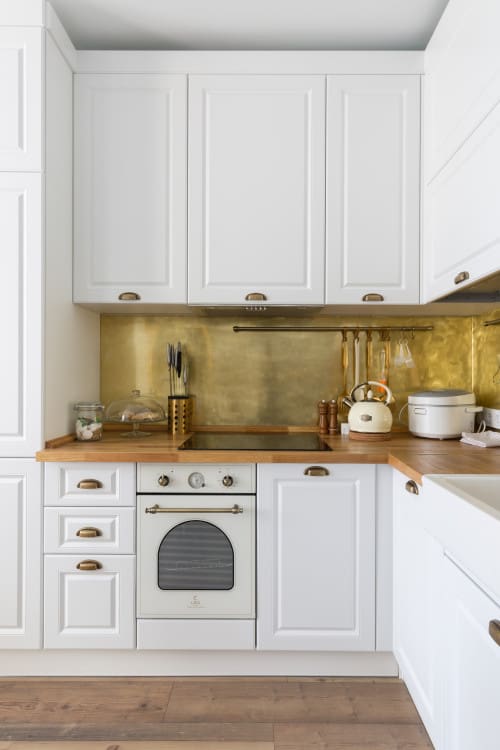 PHOTO: HOUZZ
10. Monochrome Tile
Unsurprisingly, monochrome tiles have been a mainstay of interior design for the longest time. The strong and complementing strength of black and white or other monochrome palettes makes it easy to create a focal point in a neutral environment or act as a support for bold finishes.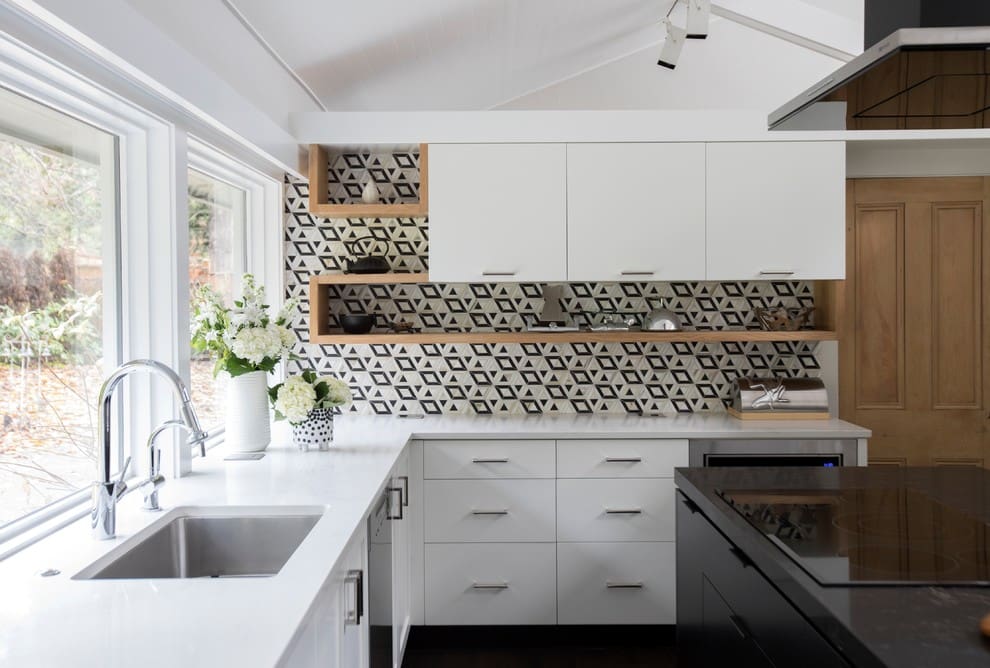 PHOTO: KENDALL ANSELL INTERIORS
11. Wood Backsplash
Wood makes a great backsplash as it adds an instant warm and rustic feel to the kitchen. This may help to explain why shiplap, beadboard, and even barnwood backsplashes are more common than ever.
If you're concerned about the durability of wood as a backsplash, you may be pleased to know that wood is a highly resilient material that's why it's used for furniture, kitchen countertops, flooring, and many more.
When properly sealed and maintained, it can last for decades and even centuries. Plus, wood adds a perfect warm accent to a space.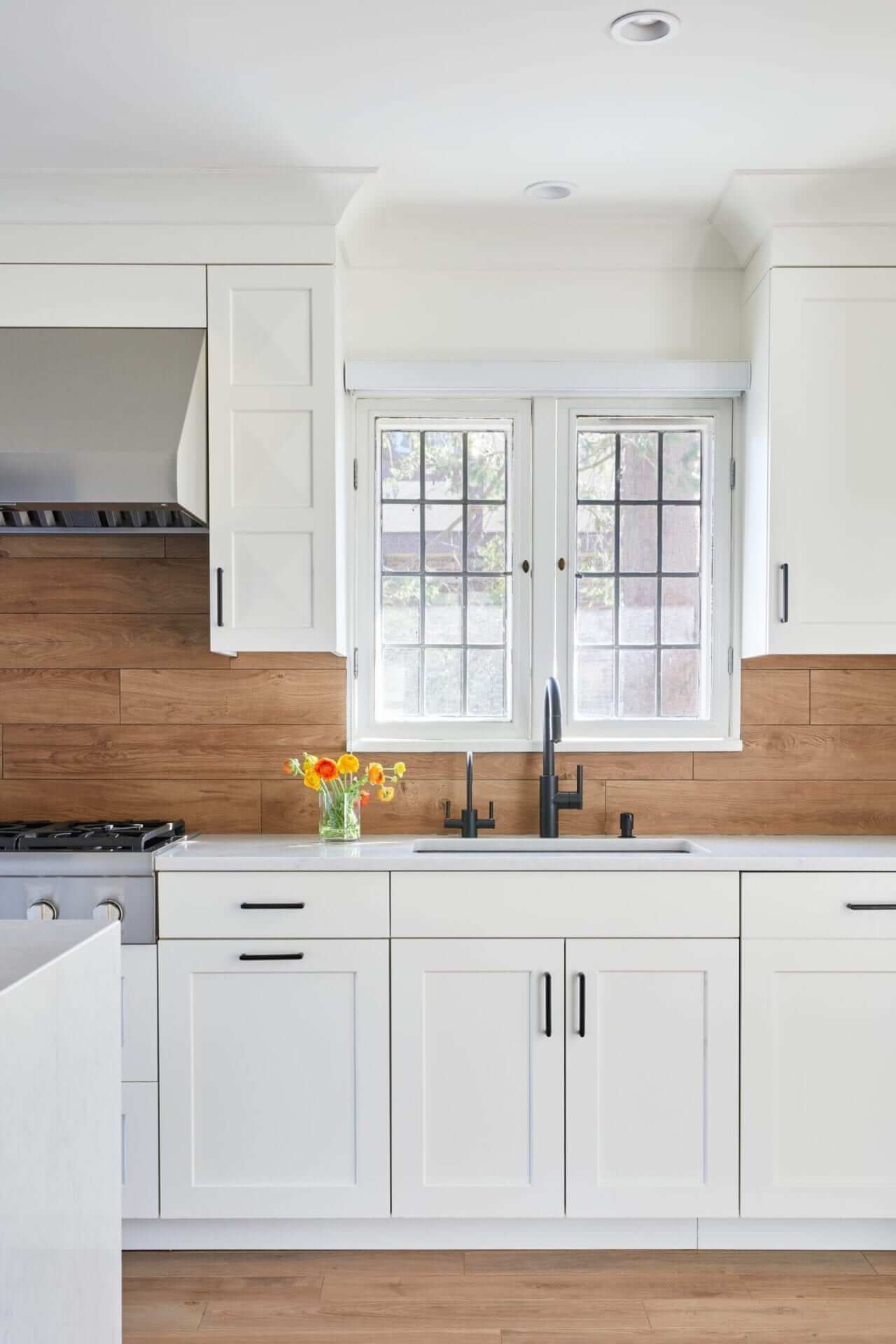 PHOTO: BILLOTA KITCHEN & HOME
12. Mix-Match Backsplash
A stylish and authentic approach is to use two types of materials. This adds interest and character to the overall kitchen aesthetics.
For instance, use a subway tile for the areas more prone to stain like behind the stove for easy maintenance, and wood panels for areas less prone to stain.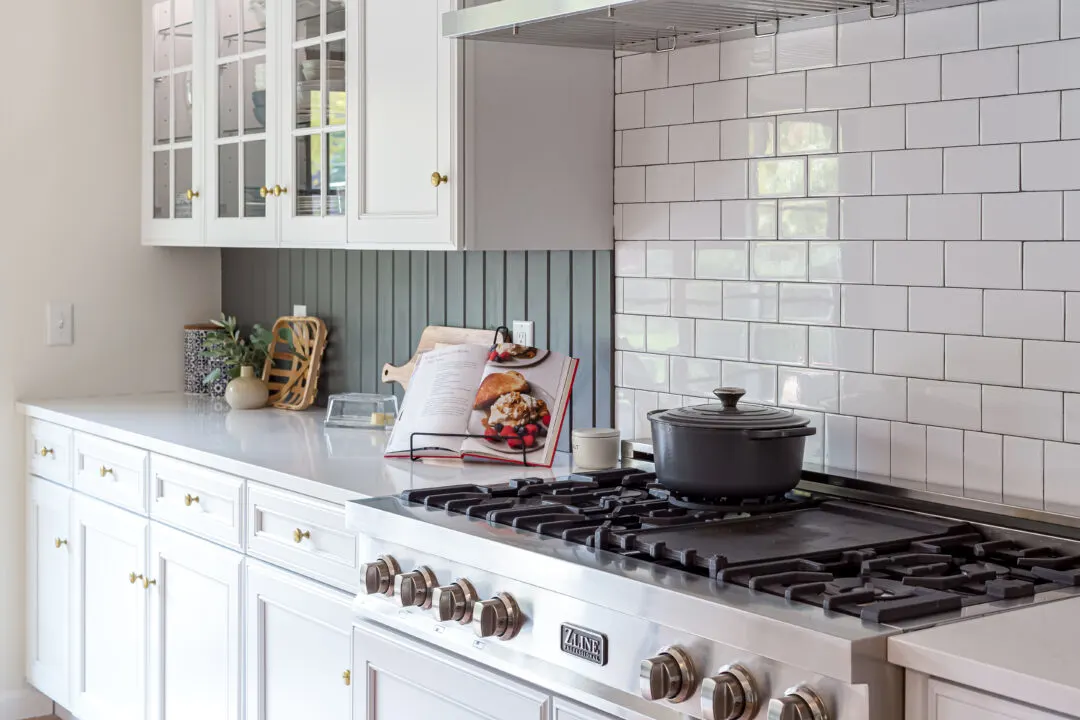 PHOTO: BUILDING BLUE BIRD
13. Glass Backsplash
Glass adds a contemporary feel and sleekness to a space. Due to its non-porous qualities and stain resistance, glass is a perfect material for kitchen backsplashes.
Additionally, they are not susceptible to bacteria and germs because of this! Although, glass smears and accumulates duct easily, so, it is a high-maintenance option.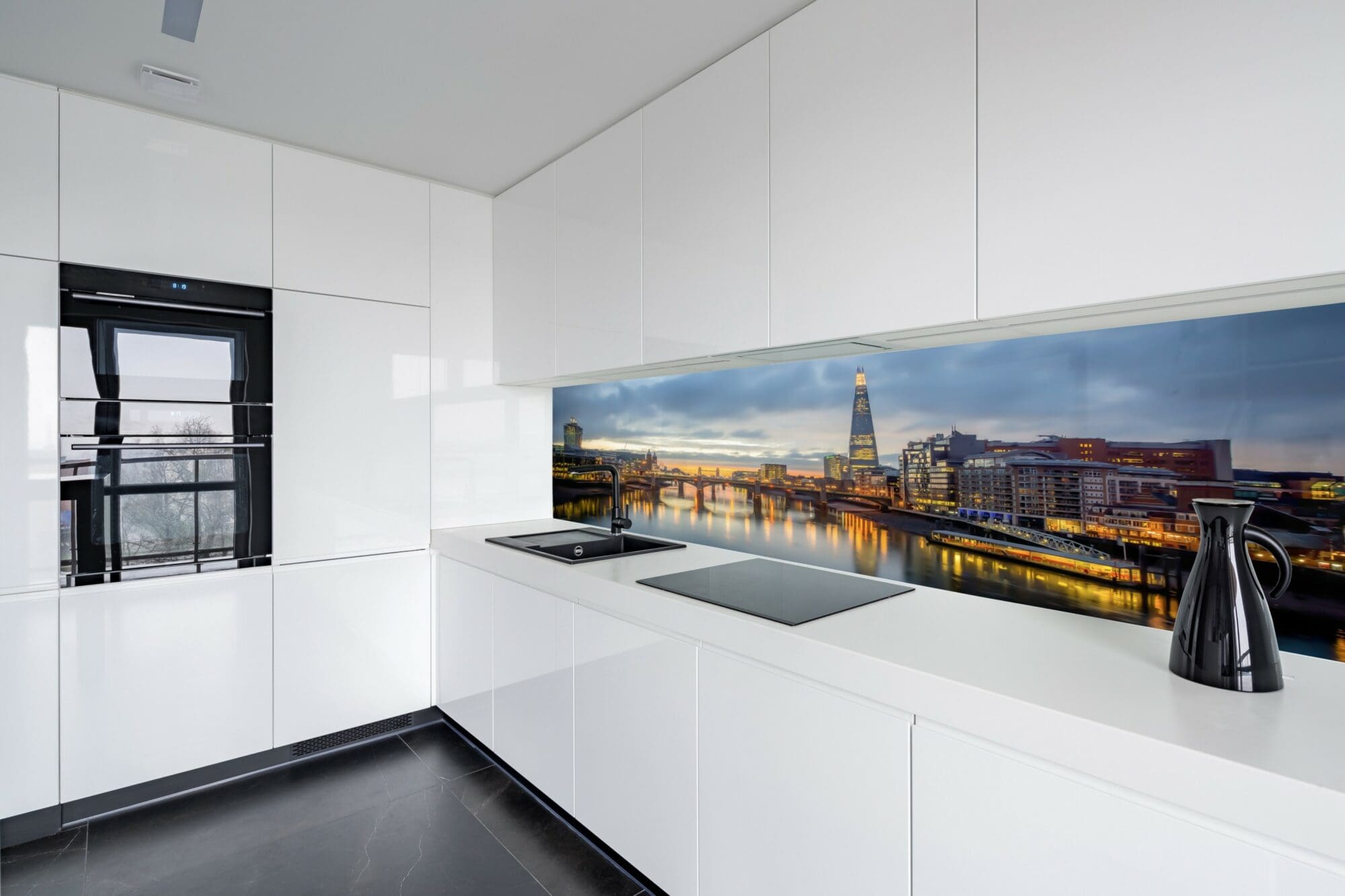 PHOTO: PINTEREST
14. Wood Panels
For backsplash ideas for white cabinets that are easier to install and work with, wood paneling is an appealing option. It is also ideal for adding a horizontal or vertical aspect to the kitchen.
Wood paneling is an affordable and DIY-able option if you want to give your kitchen a facelift with a limited budget. Wainscoting is one type of pre-made wood panel that comes in many layouts. 
PHOTO: THEGRIT AND POLISH 
15. Blue Hexagon Tile
A hexagon is a shape with 6 vertices and 6 angles also. It makes for a great tile pattern.
Boundaries are defined without being too rigid thanks to the novel shape of hexagonal tiles. It has the ability to create a highly functional space that is both appealing and calming, especially when in blue.
PHOTO: FIRECLAY TILE 
16. Mini Chevron Tile
Mini chevron tile patterns can add character to a space without detracting from its aesthetic. It is subtle yet impactful as a kitchen backsplash.
A mini chevron tile pattern can use both as a statement-making addition or a minimalist element.
PHOTO: DECORATED LIFE
17. Brick Backsplash
Brick is a fabulous material for a kitchen backsplash. It has a beautiful appearance that exudes a comfortable, rustic charm.
Plus, it is also robust, tough, and long-lasting. Brick veneer or real brick backsplashes are two options to consider with their own sets of benefits.
PHOTO: PINTEREST
18. Black Square Tile
Black square tile is one of the most popular and simplistic backsplash ideas for white cabinets. Black backsplashes are often associated with contemporary design, but they go well with many other interior styles.
It looks stylish when combined with white kitchen cabinets and lends a fresh touch to a rustic kitchen, in addition to looking effortless chic in a minimalist kitchen.
PHOTO: HOUZZ
19. Light Grey Herringbone Tile
Light grey makes a great replacement for white thanks to its gentle and muted tone. Grey backsplash tile is frequently set in herringbone or subway patterns and can have a glazed finish that adds a subtle shine to the kitchen.
PHOTO: FIRECLAY TILES
20. Glossy Herringbone Tile
Glossy herringbone tiles reflect light, enabling it to bounce about the space. It makes small and poorly-lit areas appear bigger than they truly are. Glossy tiles are one of the most ideal kitchen backsplash ideas with white cabinets.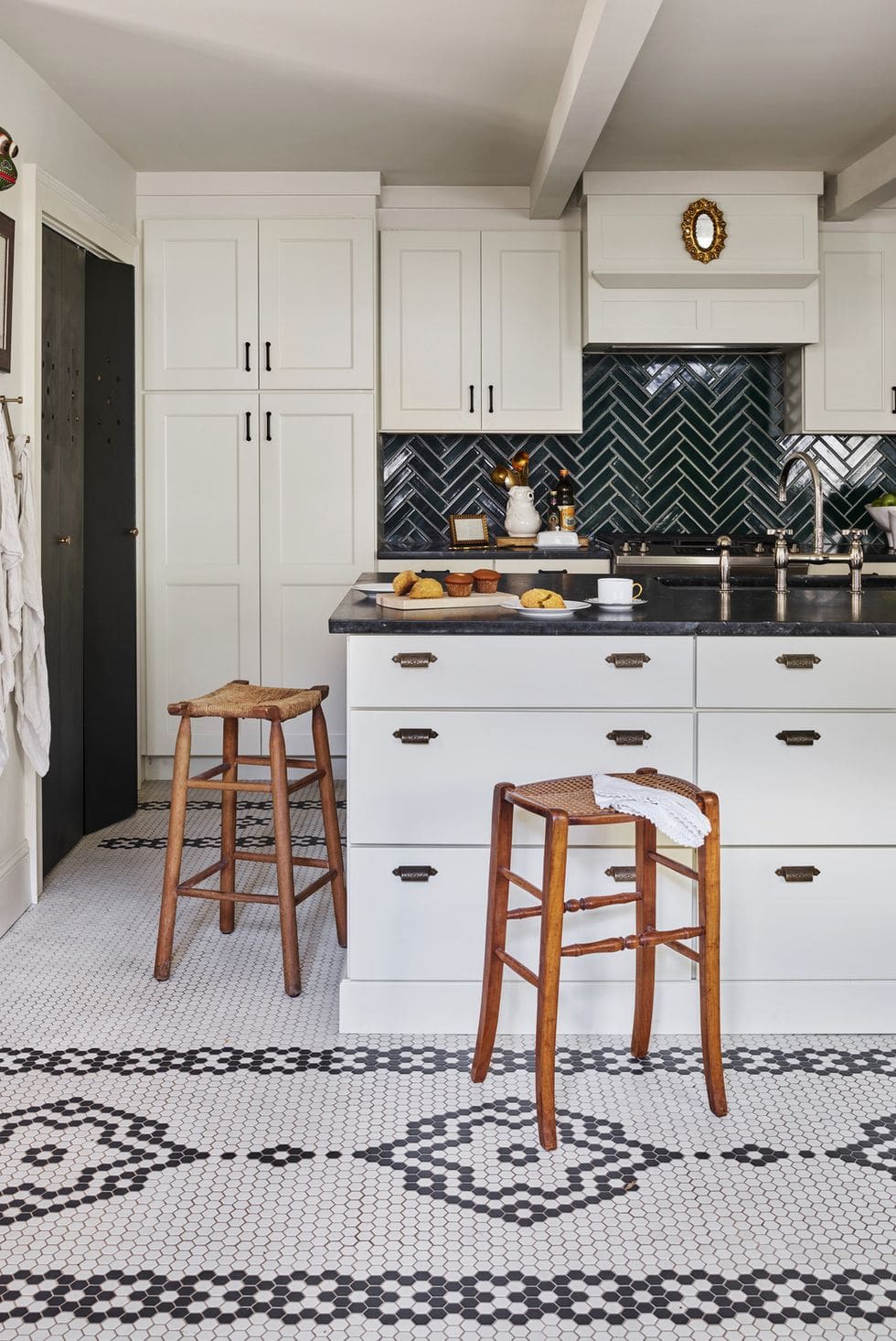 PHOTO: EMILY J. FOLLOWILL
21. Dark Blue Tile
Due to their resemblance to the colors and freshness of the water, blue tiles are frequently used in interior spaces or homes near the ocean. Dark blue backsplash tiles elevate the design of the kitchen by injecting a classic hue into the color scheme.
PHOTO: CRAVEN DUNNILL JACKFIELD 
22. Natural Stone Backsplash
Natural stone is a visually appealing and highly durable material for a backsplash. A kitchen backsplash made of natural stone is more than capable of withstanding daily use, and it requires little maintenance.
To clean up spills and splatters that are expected to happen in the kitchen, simply the area with a damp cloth.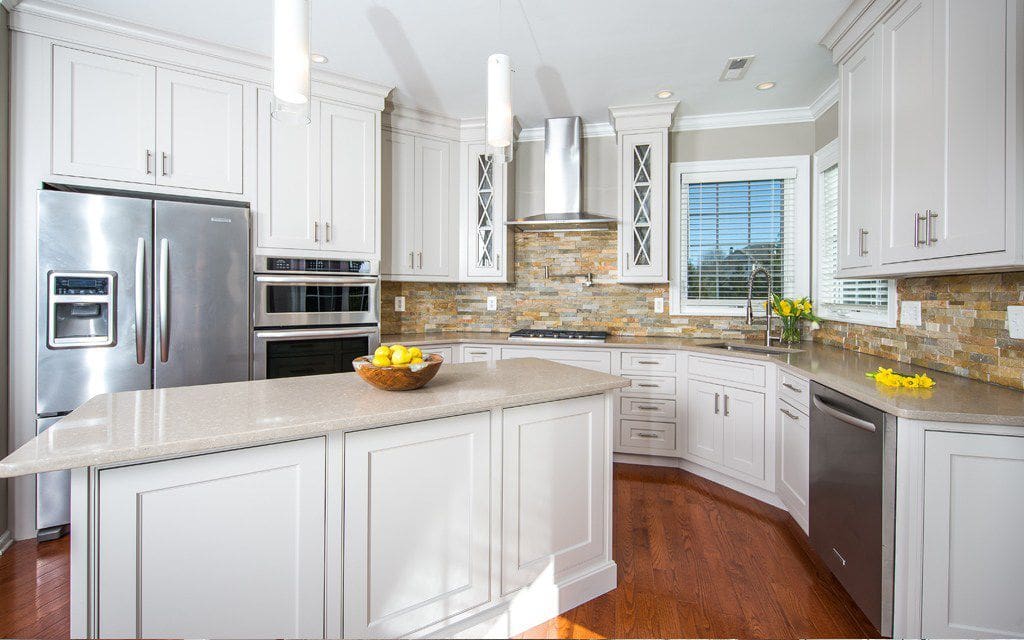 PHOTO: DESIGNS BY DANICA 
23. Metal Backsplash
Light is reflected and absorbed by a metal backsplash. This gives the surrounding area the appearance of being larger than it actually is. Metal tile backsplashes only need to be cleaned with soap and water to keep them looking sparkling.
PHOTO: CAPITAL BUILDERS HOUSTON
24. Marble Backsplash
Marble is one of the most ideal kitchen backsplash ideas with white cabinets for contemporary spaces. It adds effortless chicness and elegance to a kitchen.
It gives any space a light and airy feel, and no other natural stone can match its alluring beauty. In a modern, all-white kitchen, marble creates a beautiful contrast and sleekness.
PHOTO: MARY WADSWORTH
25. Concrete Backsplash
Concrete tile backsplashes are more water-resistant and easier to clean than backsplashes made of other materials. A concrete backsplash goes beyond being just practical and is an exceptionally characterful and stylish way to make a statement in the kitchen.
PHOTO: PINTEREST
26. Black Concrete Backsplash
A black concrete backsplash is a fantastic way to give your kitchen design a fresh, edgy, contemporary look. Concrete is also quite trendy right now for luxurious modern kitchens.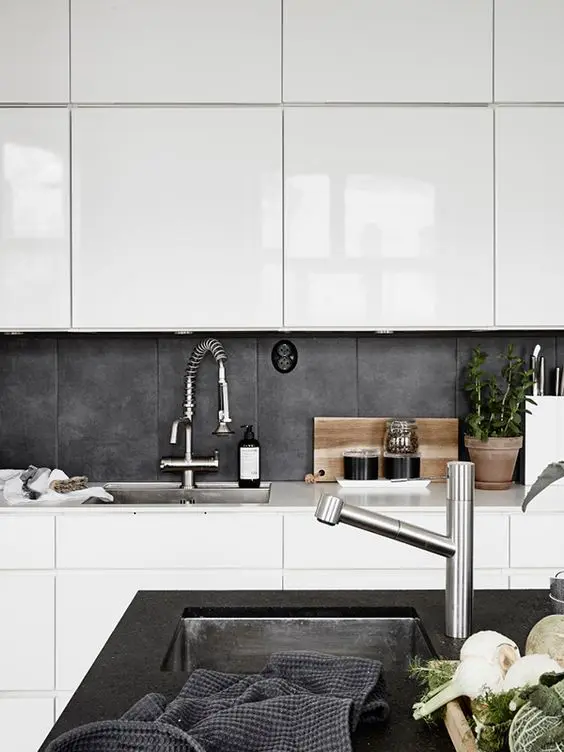 PHOTO: PINTEREST
27. Sage Green Tile
Sage green is the new neutral! Sage green is a gentle and soothing grayish-green that may add life to a space while yet being calming and very versatile.
This nature-inspired hue is a great kitchen backsplash idea. As a fairly light color, it doesn't dominate; instead, it makes the space feel more open and airy.
PHOTO: HOUSE OF CHAIS
28. Scalloped Tile
Scallop tiles have a very delicate quality to them, producing an attractive pattern of looping, supple curves. Scallop-shaped tiles will add drama and a stylish flair to any design scheme as they drift into contemporary kitchens and bathrooms.
PHOTO: PINTEREST