30 Incredible Dark Green Wall Ideas
Color trends come and go but some colors are ever-GREEN. Check out these incredible dark green wall ideas for every room!  
A color scheme can make or break the overall aesthetics of a room. Choosing the right colors for a space is crucial in interior design. A clever color palette can create mood, add stylish flair and bring cohesion to a room.
Green is an extremely versatile hue that can be seen in most homes today. Green convey a sense of peace, tranquility, and harmony.
Whether through the color scheme or plants, there's no denying that this nature's most associable hue is calming and invigorating.
Dark green is a shade of green that timeless and brings an understated elegance into interior spaces. This color works beautifully for every room in a home.
In this article, we've curated 30 dark green wall ideas to add lively sophistication to your home.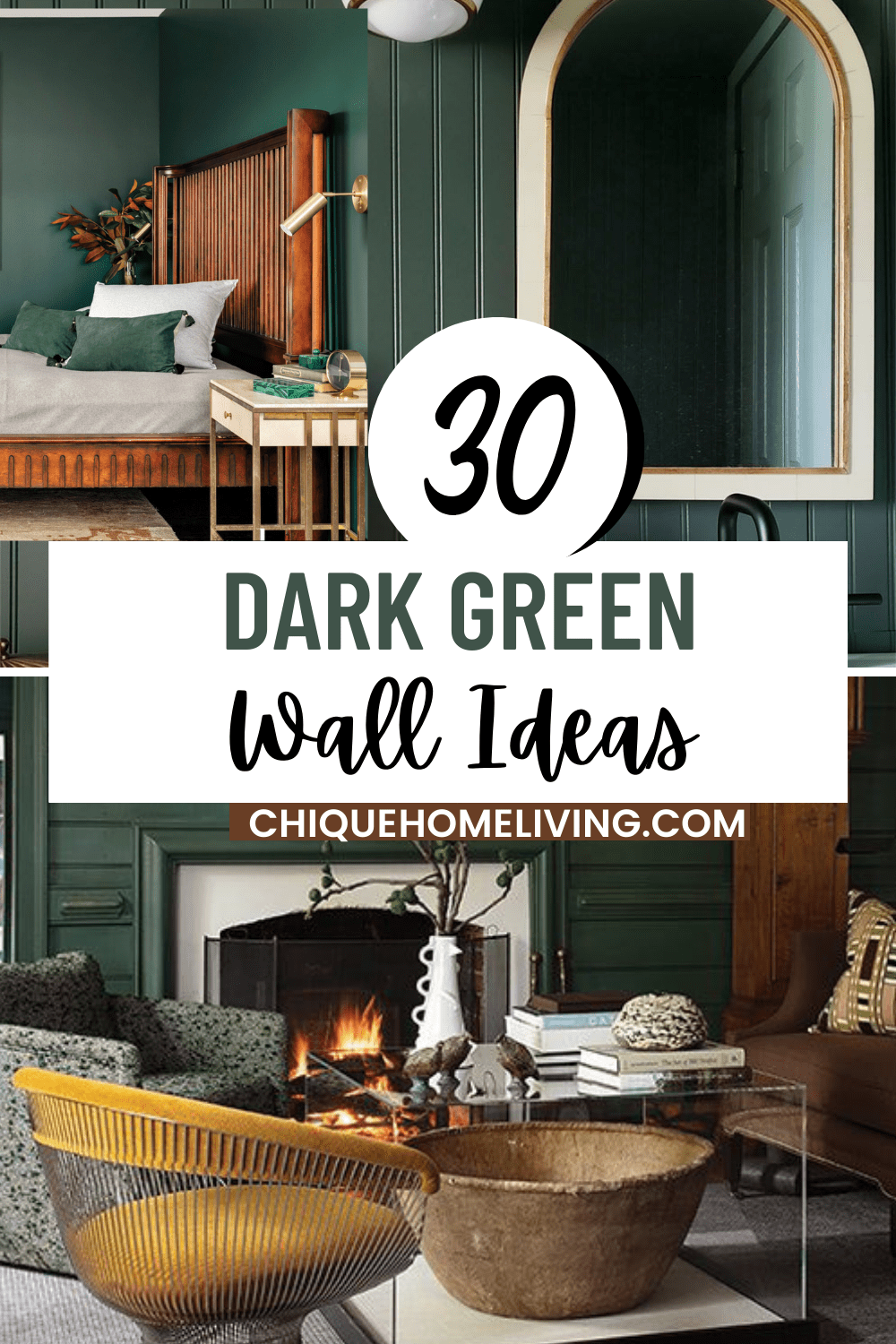 1. Emerald Green Bedroom
Elegance is the name of the game! Emerald green is a rich-tone green ideal for creating a sophisticated, polished, and energetic interior.
This rich and opulent shade of green is inherently cozy and promotes relaxation, hence, suitable for living rooms and bedrooms.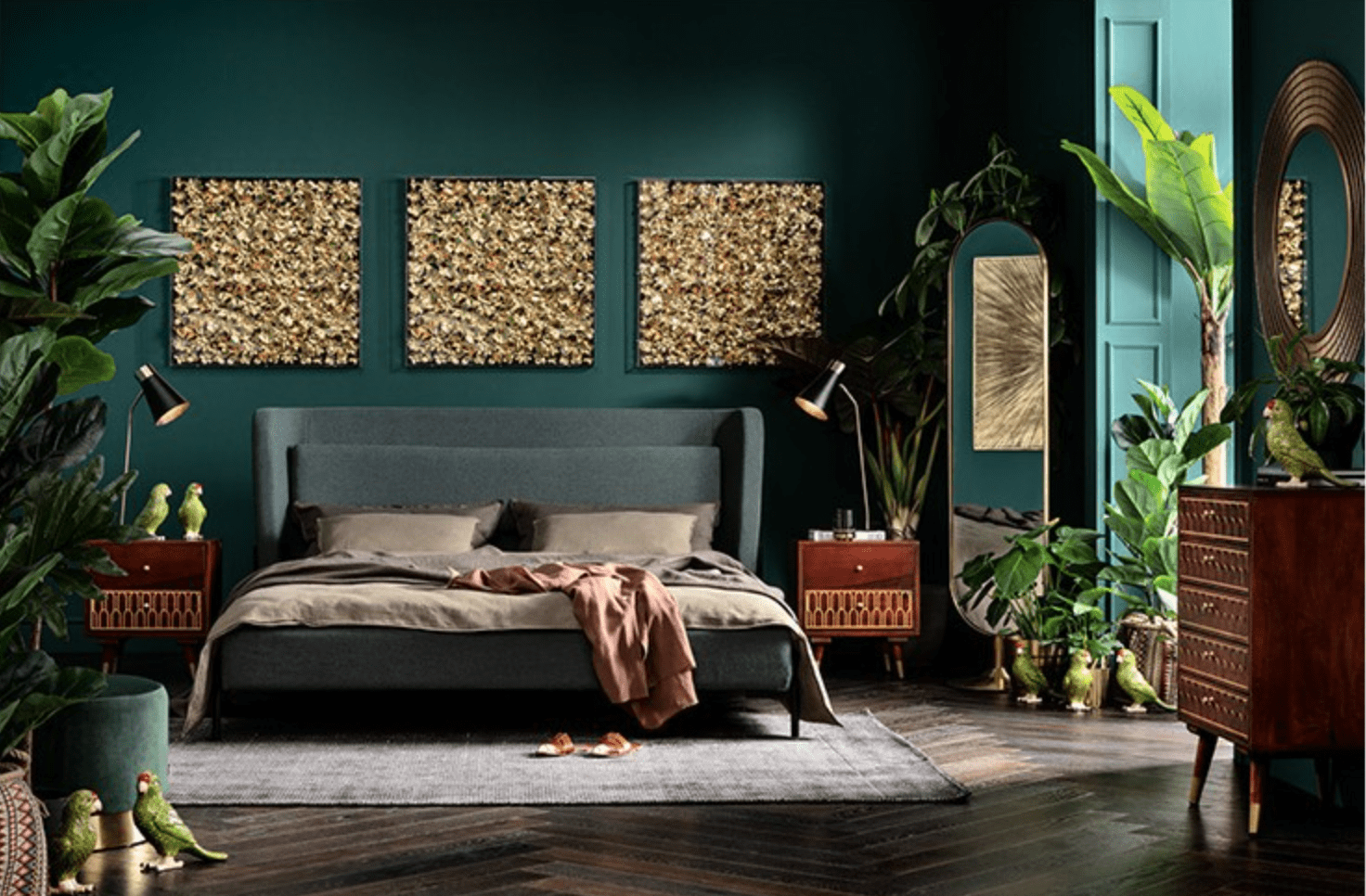 PHOTO: KARE DESIGN
2. Glossy Dark Green Wall Paint
Glossy interior paint is known to radiate a subtle shine and reflect light. It is often more suited for trim and wood paneling. Glamorous glossy dark green wall paint is often seen in living rooms and dining rooms.
It is more durable in comparison to matte paints and the smooth surface helps to prevent dirt build-up –making it easier to clean.
PHOTO: WEST ELM
3. Blush Pink and Dark Green Living Room
There is an array of colors that works brilliantly with dark green but when combined with blush pink, it is a pair made in interior design heaven.
This two-color combination can instantly take any space from drab to fab. Other colors that are just divine when paired with dark green are burnt orange, brown, and mustard yellow.
PHOTO: NATHAN JAC
4. Half Painted Bathroom Wall
There are too many dull bland bathrooms in the world today, don't add to it! To create more interest and a sense of drama in your bathroom, consider a half-painted dark green wall and use wallpaper in the upper half.
This you the benefit of using a bold color and characterful wallpaper without overwhelming the space. For a less-intrusive look, you can simply paint the upper half white.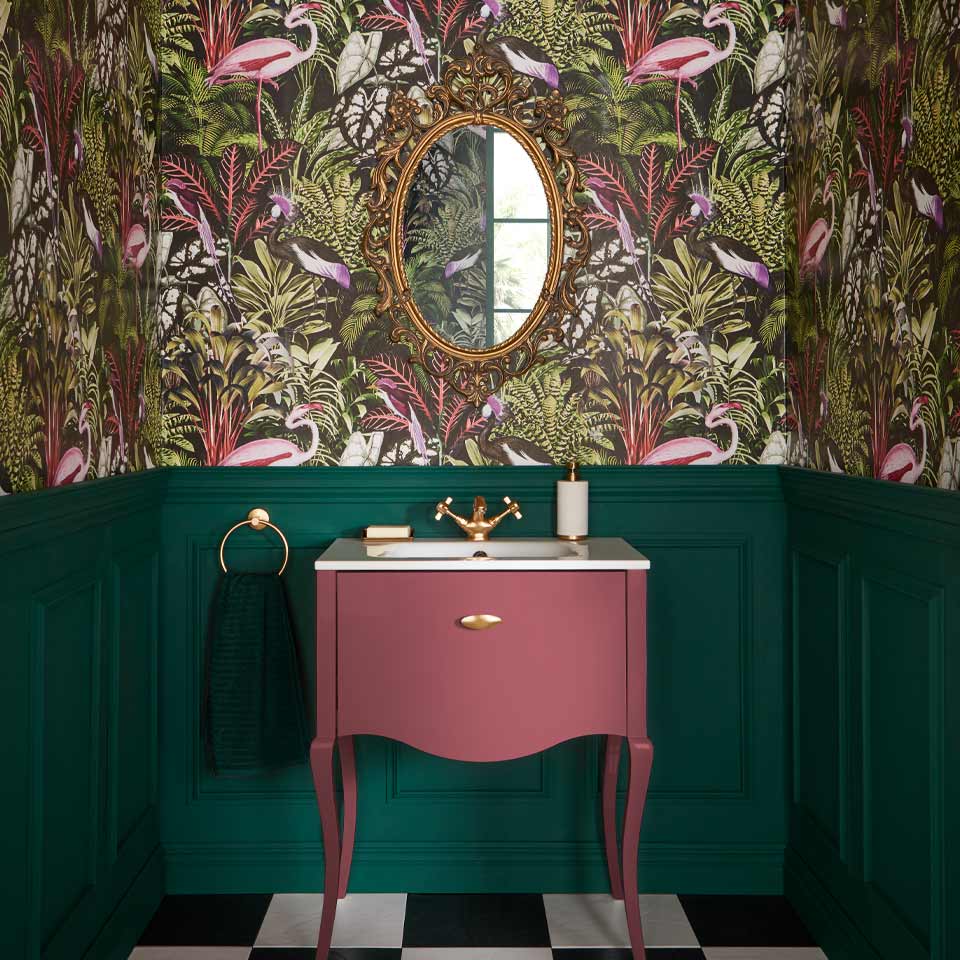 PHOTO: GRAHAM BROWN
5. Dark Green and Yellow Living Room
Yellow is a cheerful, summery, and welcoming hue. Dark green creates a moody ambiance and a yellow combination helps create balance.
This color scheme conjures up images of leaves, flowers, and florals right away. When used paired using the right tones, it can give an impactful edge to any room in the home.
PHOTO: TROUVA
6. Tropical Green Living Room
At any time of year, the tropical interior style instantly infuses a space with a sense of excitement and comfort.
A tropical theme is a design approach that draws inspiration from nature and emphasizes relaxation, unwinding, and resort-style luxury. Dark green is the perfect backdrop to create a style, alongside other nature-inspired colors and elements.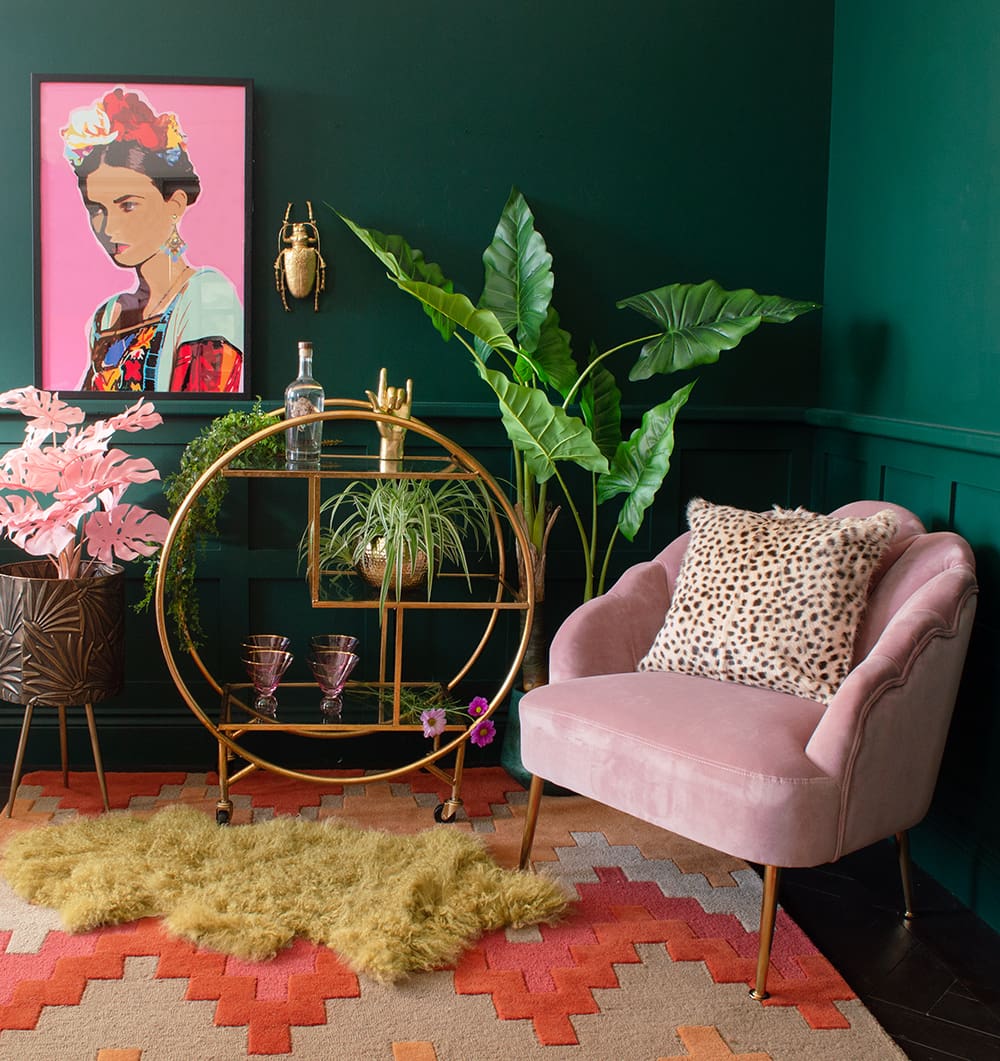 PHOTO: AUDENZA
7. Dark Green Living Room Wallpaper
Wallpaper is a characterful alternative to painted walls. All wallpapers have the ability to give a room beauty and richness. They come in an array of colors, patterns, and textures.
If you want to incorporate dark green in a room without paint, this is the way to go. Plus, wallpapers are more durable than painted walls.
PHOTO: ETSY
8. Moody Dark Green Kitchen
There is an undeniable elegance in moody spaces. A dark kitchen has a cozy, luxurious, inviting atmosphere. A deep and rich hue such as dark green is one of the best ways to create a moody kitchen.
Think about how many shades of dark colors you'll use to balance and beauty of the kitchen. If the walls are dark green and the cabinets neutral, it will not create this look. 
The moody look should feature varying dark tones. This kitchen style is best suited for big kitchens with a good amount of light.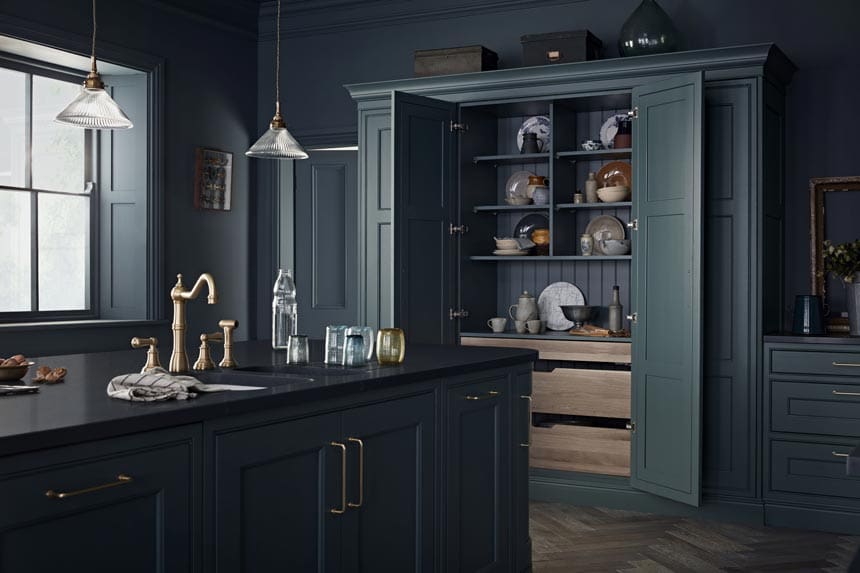 PHOTO: KITCHENMAKERS
9. Dark Green Bathroom Wall Paneling
Wall paneling is a simple technique to give interior walls texture, depth, and intrigue. Generally, bathroom wall panels are less expensive, easier to maintain, and will last longer than tiles.
PHOTO: CLARE
10. Moody Dark Green Study
Moody hues, especially dark green, promote relaxation and focus. A home study or office space is one of the best places to use a moody scheme. For a tranquil environment ideal for studying and working, opt for dark green walls or rich wood paneling.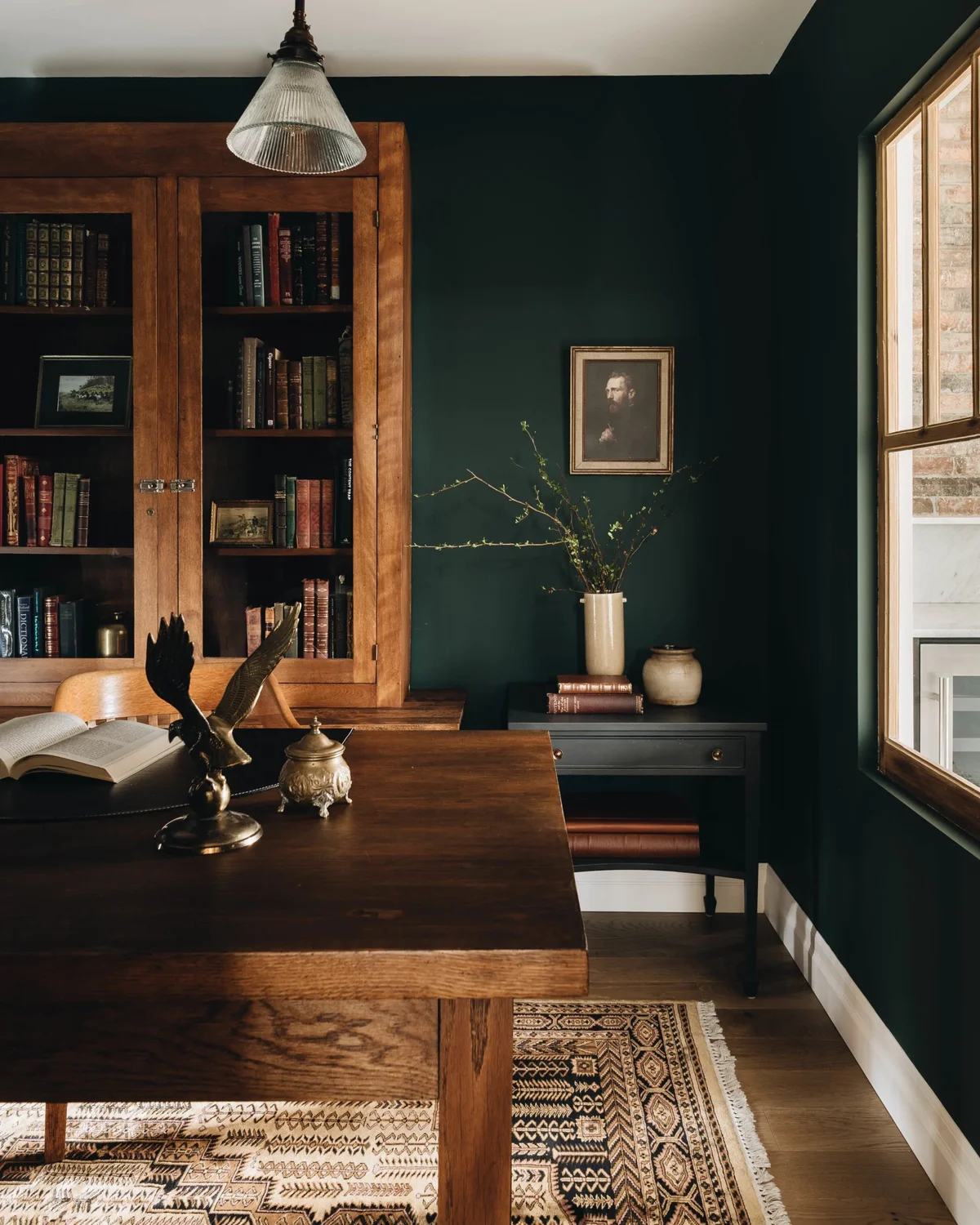 PHOTO: EYESWOON
11. Rustic Dark Green Living Room
Earthy tones, a blend of organic elements, and aged rough materials are characteristics of a rustic interior design style. The very best rustic interiors strike the ideal blend between rugged and cozy. A dark green wall creates a cozy and relaxing atmosphere and is perfect for rustic spaces.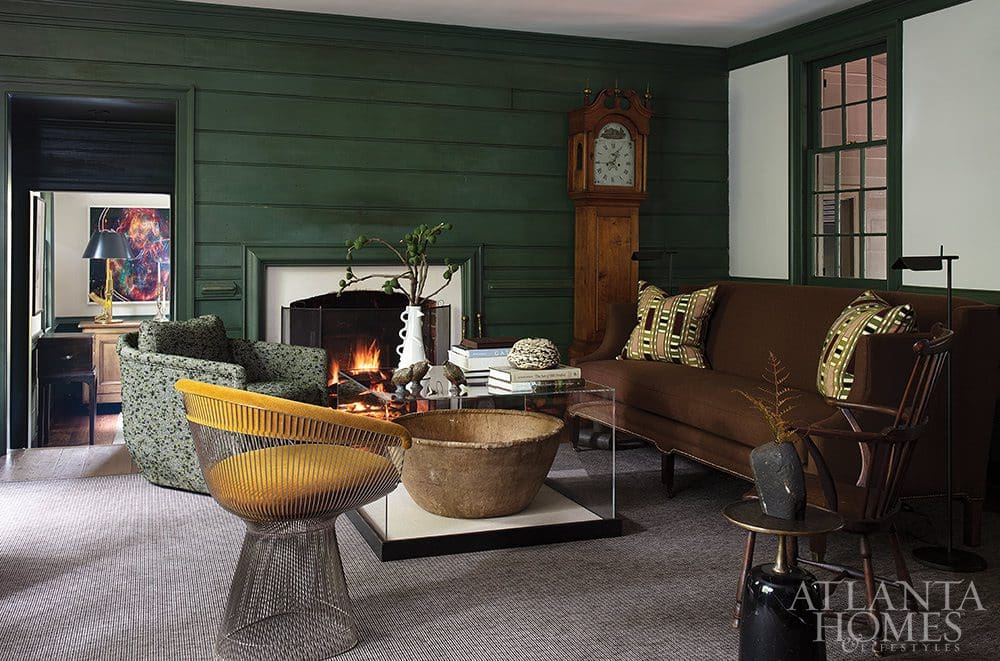 PHOTO: ATLANTA HOMES MAG
12. Moody Green Master Bathroom
Bathrooms are a fantastic place to use green since it is a soothing, natural color that symbolizes rejuvenation. Moody dark green creates an elegance and comfortable chicness that is ideal for master bathrooms.
PHOTO: KILZ
13. Bohemian Green Bedroom
The Bohemian interior style is perfect for those who want their home full of life, and elements from different cultures. This style embraces imaginative, freewheeling, and unorthodox decor, which runs counter to modern perceptions.
PHOTO: PINTEREST
14. Gold and Dark Green Bathroom Wallpaper
While green wallpaper creates a calming oasis, gold & dark green wallpaper instantly adds style and elegance to a bathroom. It is the perfect contrast to add mood, impact, and drama to a space.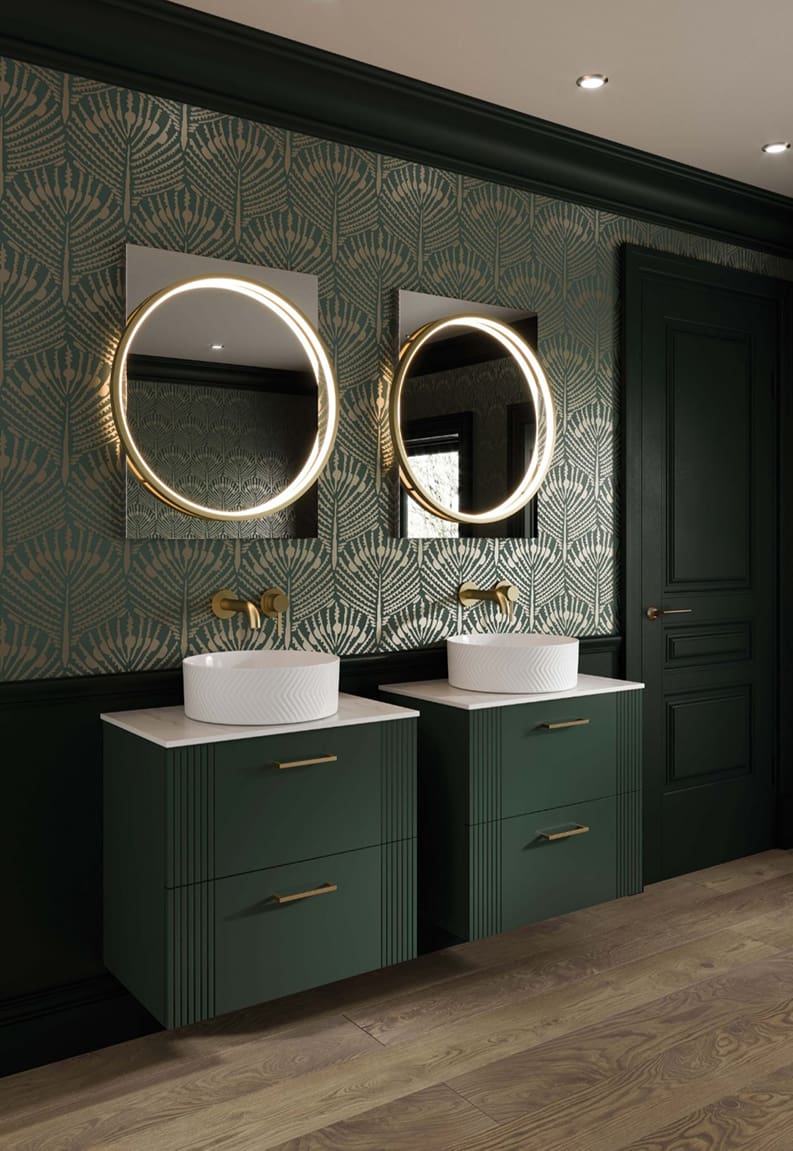 PHOTO: PINTEREST
15. Elegant  Green Dining Room
Dark tones of green are a great choice for dining room walls. They provide a chic, sophisticated warmth and are naturally soothing and relaxing. For more impact, opt for dark green dining chairs to match the wall.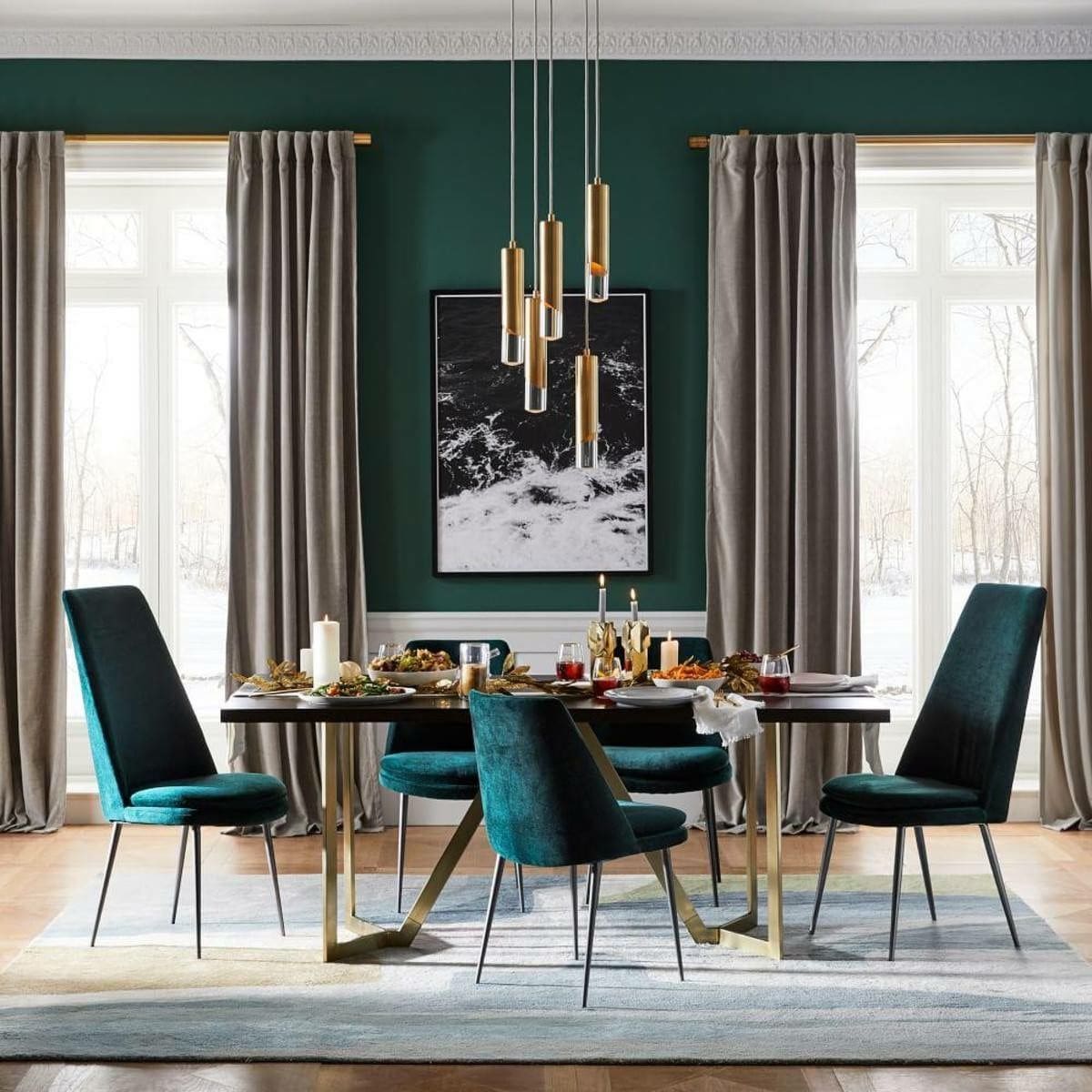 PHOTO: COSYWORLD
16. Cozy Dark Green Bedroom
Green is known to be one of the most restful colors for the eyes. When employed in the correct way, dark forest green, a hue with strong ties to nature, can really help to create that cozy feeling in the bedroom. It has strong ties to nature and is subtly reassuring and upbeat.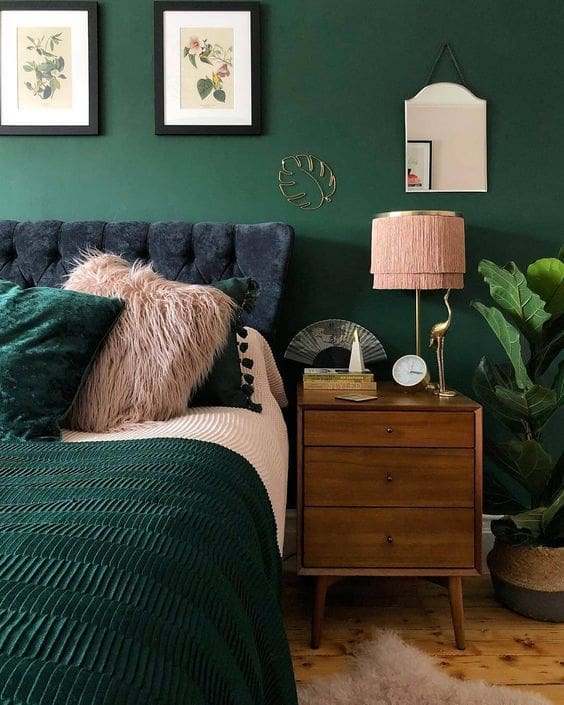 PHOTO: HARRISON NATE
17. Nature-Inspired Green Home Office
Being surrounded by nature helps us disconnect from our routine and mundane lives. A nature-inspired home office space can help you create the ultimate focus-orientated space.
You'd be surprised by how much productivity it can increase in you by adding a feeling of a refreshing wave.
PHOTO: JESSICA BRIGHAM
18. Dark Green Dining Room Accent Wall
An accent wall, also known as a feature wall, helps to create depth, interest, and a focal point in interior spaces, especially the dining room. It is also a cost-effective way to instantly spruce up boring rooms.
PHOTO: DENIS GLUSHANIN, ILYA SHUBOCHKIN & MARINA DONSKIKH
19. Green Vertical Wall Panels
One of the simplest foolproof methods to heighten your walls and create openness in a smaller space is using vertical paneling. Your interior walls will get dimension and visual interest thanks to this small feature. This is also a great accent wall idea for any room in the room.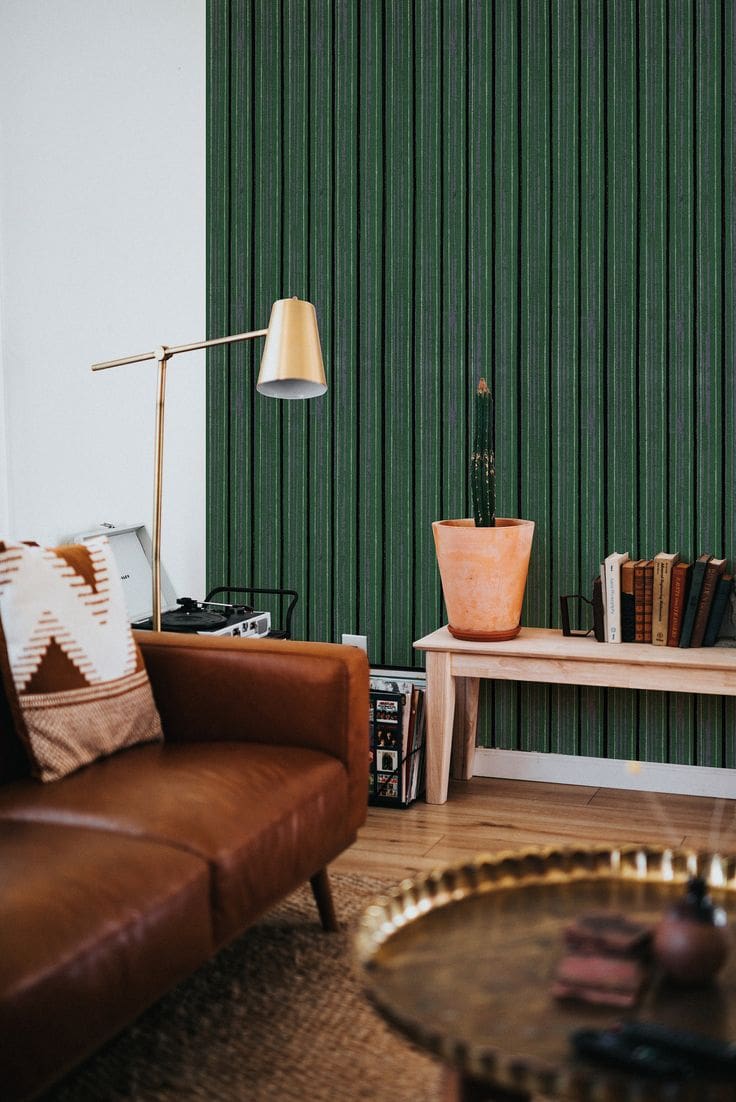 PHOTO: ETSY
20. Textured Green Bedroom Wall Paint
The addition of textured paint to the walls gives the wall surface more dimension, vitality, and charm. Additionally, paint texture can create surfaces that are resistant to domestic usage pressures and disguise imperfections.
PHOTO: HARRISON NATE
21. Nursery with Dark Green Board and Bathen Wall
Dark green is not the first color that comes to mind when thinking of colors appealing to babies.
Be reminded that it is a very serene, calming, and natural hue. Dark green color will help babies sleep better than highly saturated and unrelaxed hues.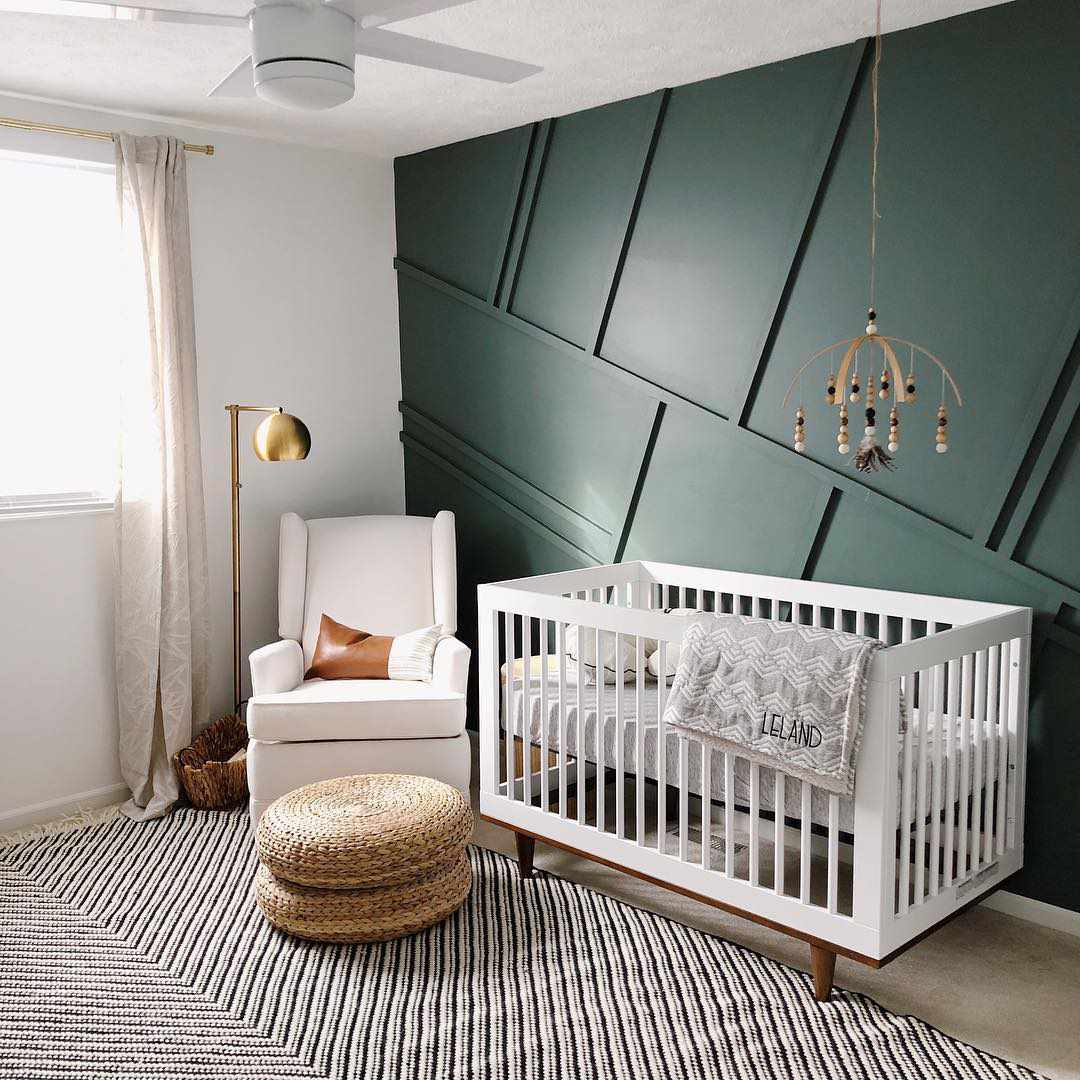 PHOTO: INSTAGRAM @MYCHILDHOODCOLONIAL
22. Upholstered Wall Mounted Headboard
Upholstered wall mounted headboards have the benefit of providing visual appeal alongside excellent support and stability. They come in a variety of fabrics and styles capable of suiting any bed or interior style. Dark green wall mounted headboard can create a comfortably modern feel in the bedroom.
PHOTO: SUNA INTERIOR DESIGN
23. Contemporary Dark Green Bedroom
A contemporary interior style is characterized by minimalism, subdued sophistication, purposeful use of texture, and clean lines. A dark green wall is perfect for a contemporary bedroom. Paired with white, and yellow accents, it makes a striking combination.
PHOTO: ANNA ANGIEL INTERIORS
24. Dark Green Bedroom Board and Batten Wall
A style of wood paneling known as board and batten uses broad planks that are nailed side by side, usually vertically. Although it works for just about any space in the home, it is mostly used in the living room, bedroom, and dining room.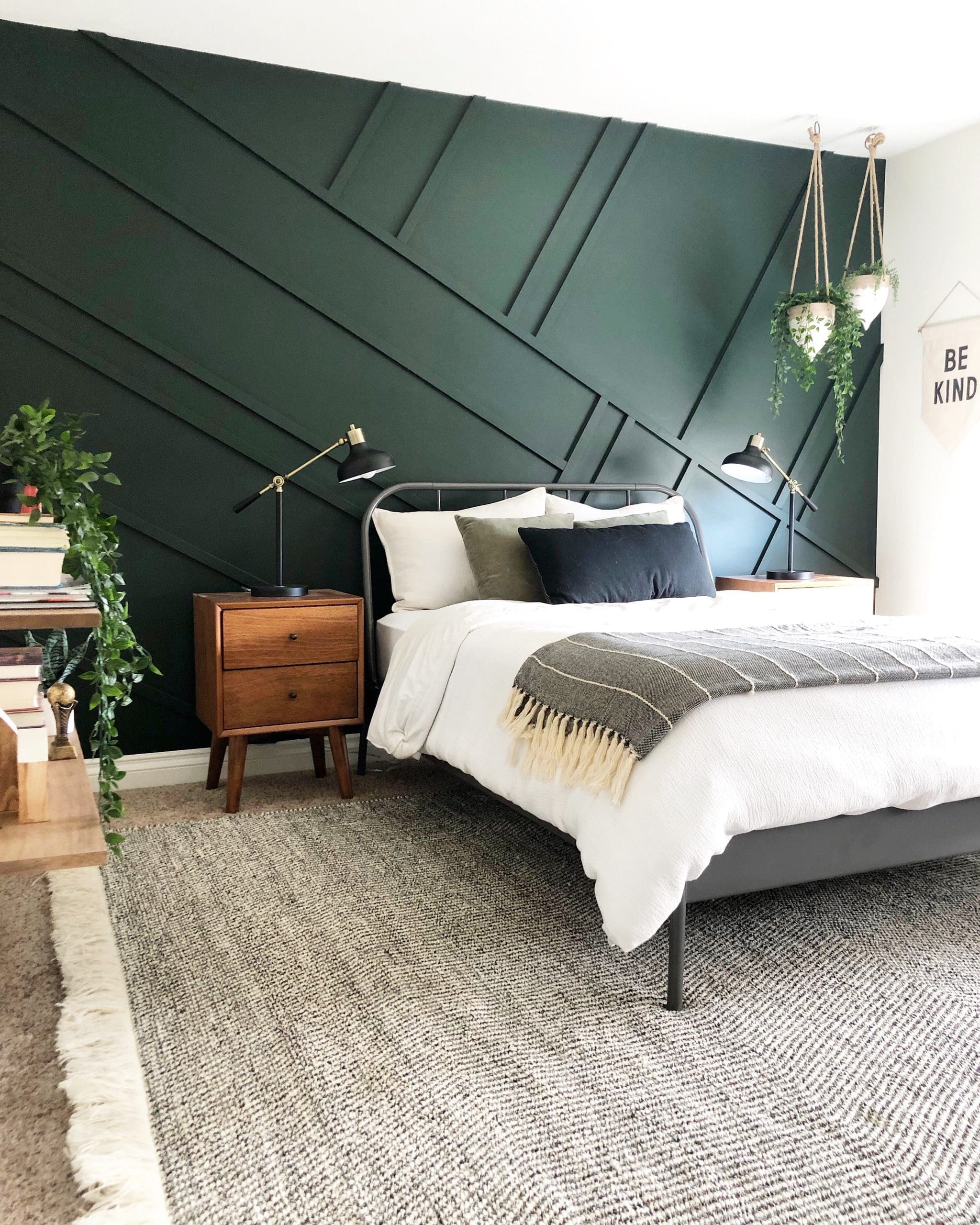 PHOTO: ANGELA ROSE
25. Dark Green Bathroom Tile
Tiles are a great way to incorporate dark green in your bathroom. This will give an impactful edge and elegance to your space. Emerald or forest green tiles will instantly give your bathroom a moody and dramatic feel.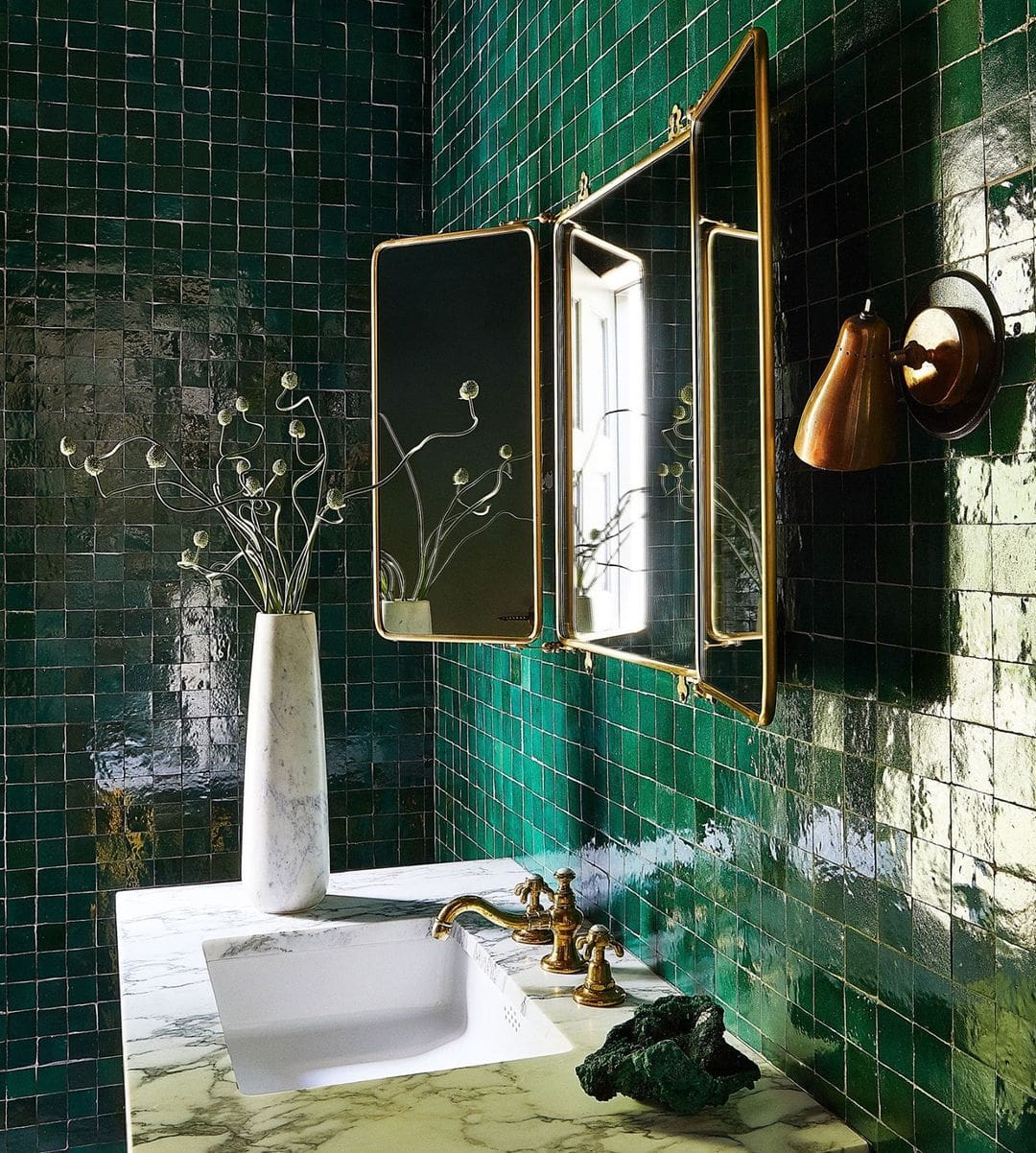 PHOTO: ARCHITECTURAL DIGEST
26. Olive Green Living Room
What shade of green can compare to olive in the living room? Umm, not many! Olive green is a crowd-pleasing color that brightens up a room while also keeping it elegant and cozy. What makes it stand out is that it's fairly vivid while still having that visual intrigue.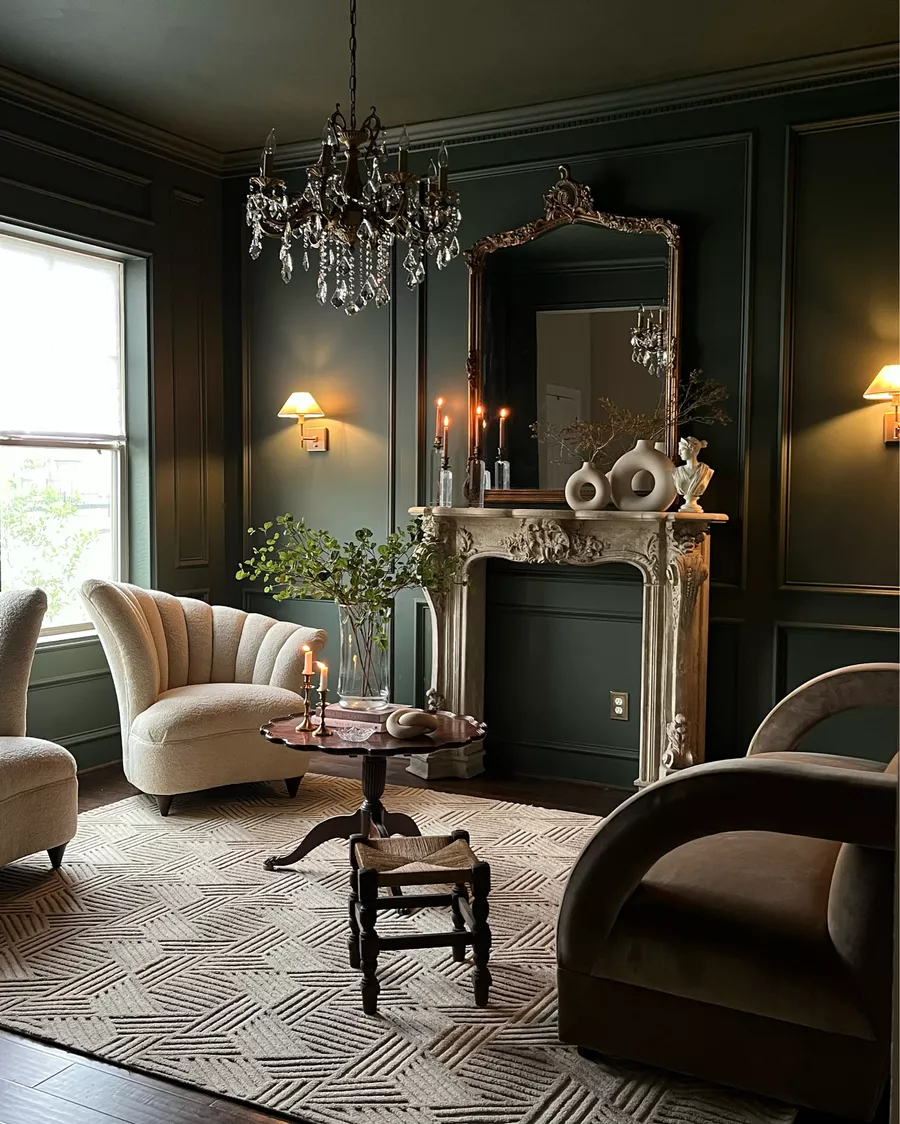 PHOTO: ARCERI INTERIORS
27. Dark Green Living Room Wall and Ceiling
It is an unconventional approach but there are good reasons to paint your wall and ceiling the same color. This painting technique helps make the room cozier and the ceiling higher than it actually is. It also prevents the space from appearing and feeling choppy.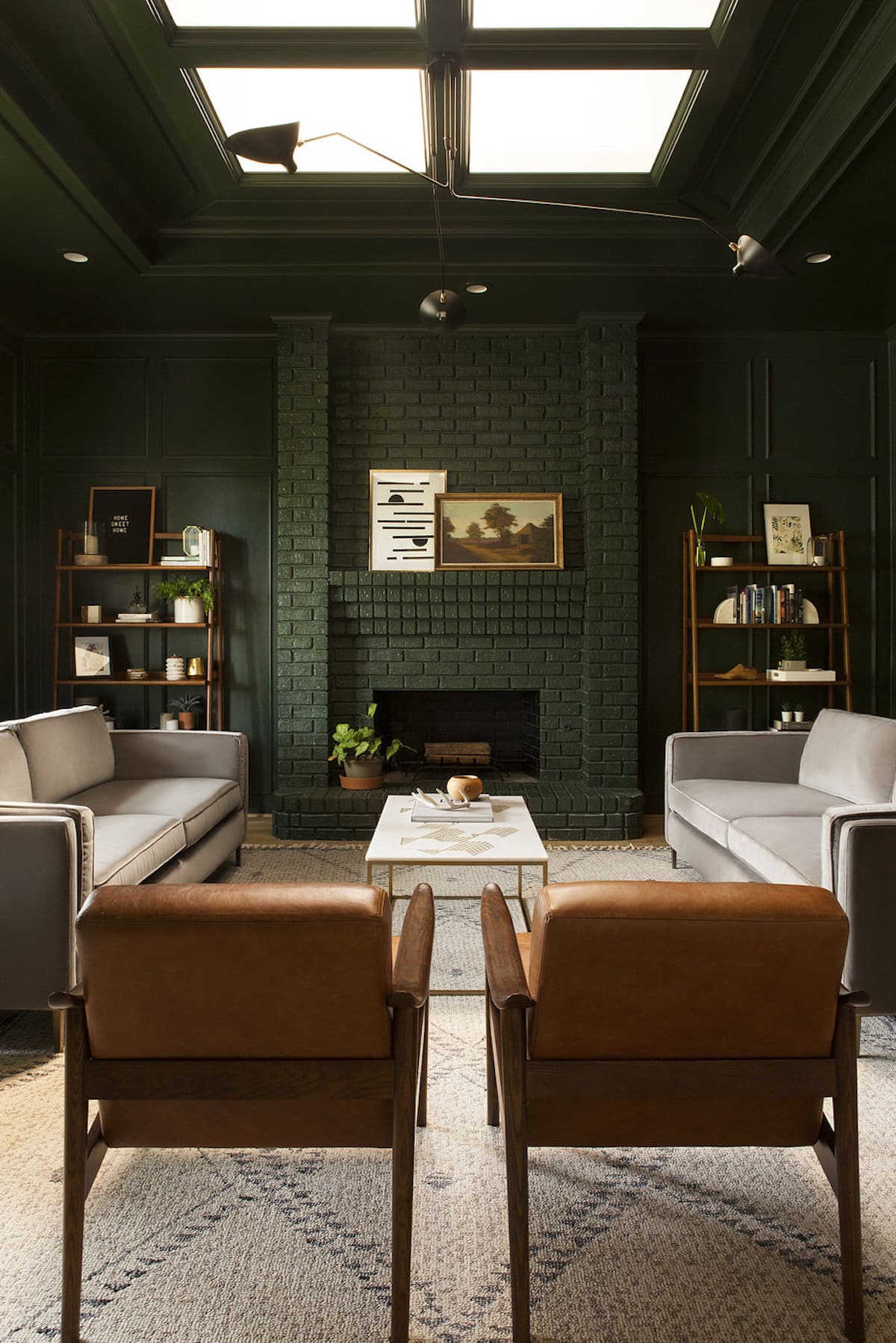 PHOTO: SARAH FULTZ
28. Dark Green Brick Kitchen Wall
A painted brick wall adds character, texture, and style to the kitchen while giving your kitchen a colorful boost. Brick walls give interior spaces, especially the kitchen, an industrial, warm, and natural feel.
PHOTO: INSTAGRAM @LESINGE_JULIEN_EL_JULIAN
29. Dark Green Entry Way
Dark green is an excellent color for an entryway since it creates a welcoming and calming ambiance. Plus, it can be used in a variety of ways and can make your guests feel relaxed and welcomed.
PHOTO: STEPHANIE HALL
30. Dark Green Fireplace Accent Wall
A fireplace accent wall helps to highlight the architectural detail and create a focal point. It can spruce up the look of a living room and reignite a boring living room. Dark green is a versatile hue that can be used as a great accent wall color for this purpose.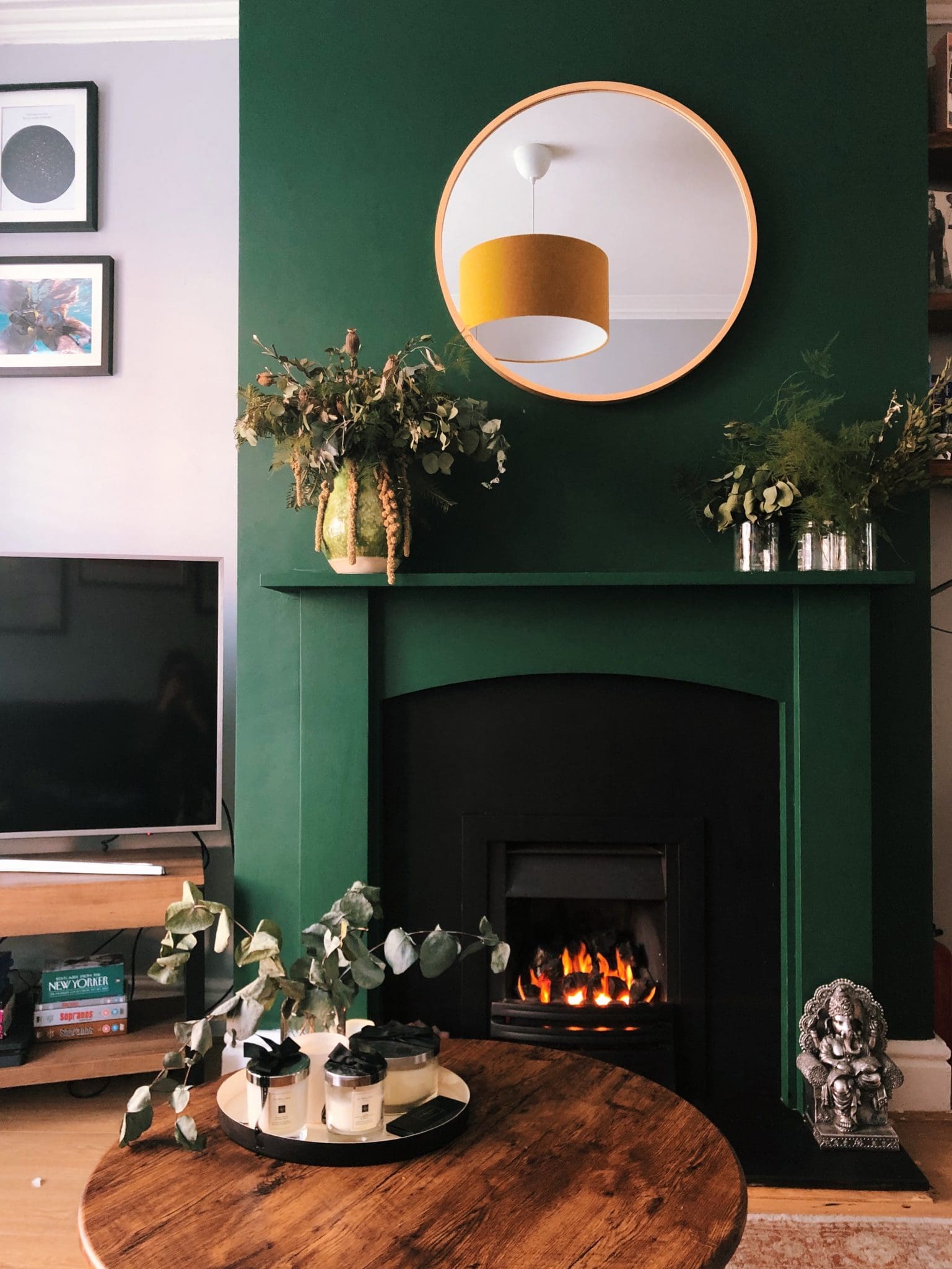 PHOTO: EMERALD TERRACE