20 Best Artificial Grass Around Pool Ideas
Sunbathing by the poolside is about to get a whole lot better. Get inspired to create the perfect outdoor sanctuary with these incredible artificial grass around pool ideas!
According to swimming pool statistics for 2023, there are approximately 10.4 million residential swimming pools in the United States. While this number may seem remarkably high, this only makes up for about 8% of homes in the US.
This report also found that swimming pools can boost the value of a home by up to 7%. It is not surprising that homeowners are increasingly installing in-ground pools in their outdoor spaces.
Not only are they benefitting from the practicalities of owning one but they are also significantly bumping up their property value.
The average cost of installing an in-ground pool is $35,000 — but the total cost may vary depending on pool size and other add-ons.
Pools and pavings also can be customized to fulfill your personal preferences and aesthetic predilections.
The growing paving preference for many homeowners is artificial turf. This is due to the fact that they are low maintenance and can infuse natural beauty into a backyard. Plus, this type of floor covering has been gaining a lot of traction in recent years.
In this article, we curated the 20 best artificial grass around pool ideas to inspire your pool surrounding design.
We'll also be discussing the best artificial grass for pool areas and how to choose to right one for your space.
But, before we jump into it, let's explore the pros and cons of synthetic turf for pool areas!
Pros of Using Artificial Grass
● Aesthetic Beauty: The visual appeal of artificial lawns is what makes them overwhelmingly sought after. The luscious green hue can transform an uninspiring outdoor space in an instant.
● Low Maintenance: Unlike natural lawn that needs regular watering and care, synthetic lawns require significantly less maintenance. This makes it perfect for old people and homeowners with busy schedules.
● Durability: Fake grass can withstand heavy traffic and is expected to last anywhere for 8-20 years (depending on the type and installation).
● Weather-Resistance: Artificial grass is not susceptible to extreme weather conditions. Come rain, come sunshine, it stays pretty much the same!
● Cost-Effectiveness: While you may cough up hundreds or thousands of bucks for initial installations, it is still less expensive than a real lawn. No frequent watering means a low water bill. There will also be no maintenance cost on fertilizers and weeding.
● Healthy-Looking All Year Round: Dead grass appears unsightly. Fake lawns look the same in all seasons.
● Wide Variety: There are lots are options to explore and some are impressively realistic looking.
Cons of Using Artificial Grass
● Expensive & Complex Installation: The upfront cost of fake grass is one of the biggest drawbacks for most people.
● Not Eco-Friendly: Artificial grass is made from polyethylene which is not the best at being biodegradable.
● Hot in Extreme Heat: This type of grass can absorb heat in summer times which can make it uncomfortable to walk on with bare feet.
Is Artificial Grass Good for Pool Areas?
Absolutely! Synthetic does not attract mud like real grass since there is no soil on the surface. This will keep the swimming pool area clean at tidy at all times. It is quite difficult to achieve a perfect-looking lawn. In terms of visual appeal, synthetic grass has an almost unbeatable advantage.
There are more customization and design options when using synthetic grass for your pool area than a real one. Plus, it can also be combined with other materials like limestone, wood, gravel, plant beds, and many more.
Mowing real lawns creates grass clippings that often go into the pool. Fake lawn keeps your pool water clean and it feels better to relax on than hard surfaces. In addition to this, you can walk on artificial grass with wet feet after swimming as the surface is not slippery.
Best Artificial Grass Around Pool Ideas
To elevate the aesthetics of your old or new swimming pool, here are some beautiful ideas for landscape design:
1. Diamond Style Pool Paving
A great way to add an eye-catching and modern appeal to your pool area is to go for a diamond-patterned design. This is created with both limestone paving and artificial turf. It is incredibly easy to maintain.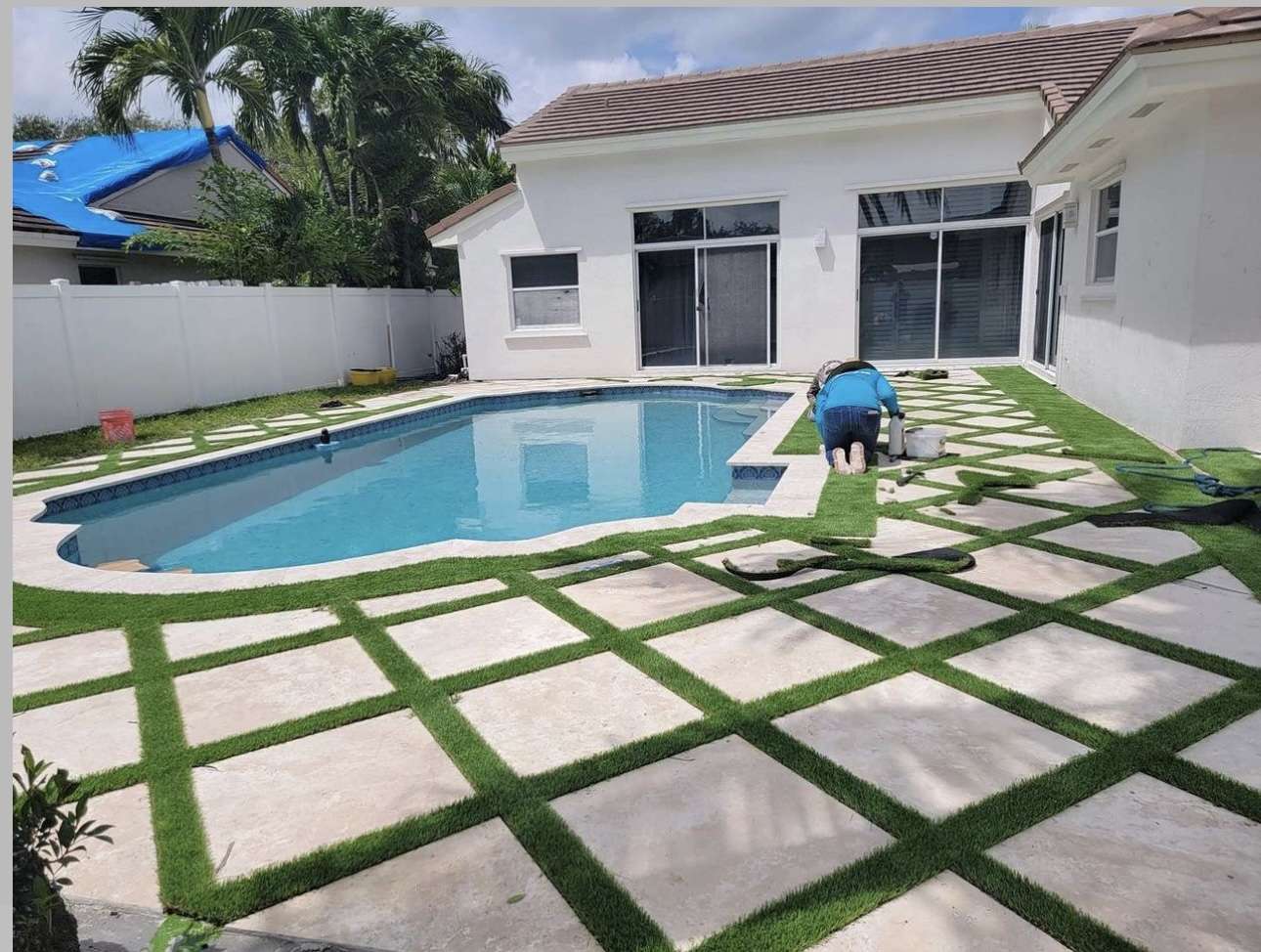 PHOTO CREDIT: MONSTER GRASS
2. Small Plunge Pool
This stunning Zen plunge pool is elevated with a wooden deck and artificial grass. This is the perfect inspo for an earthy and sophisticated appearance.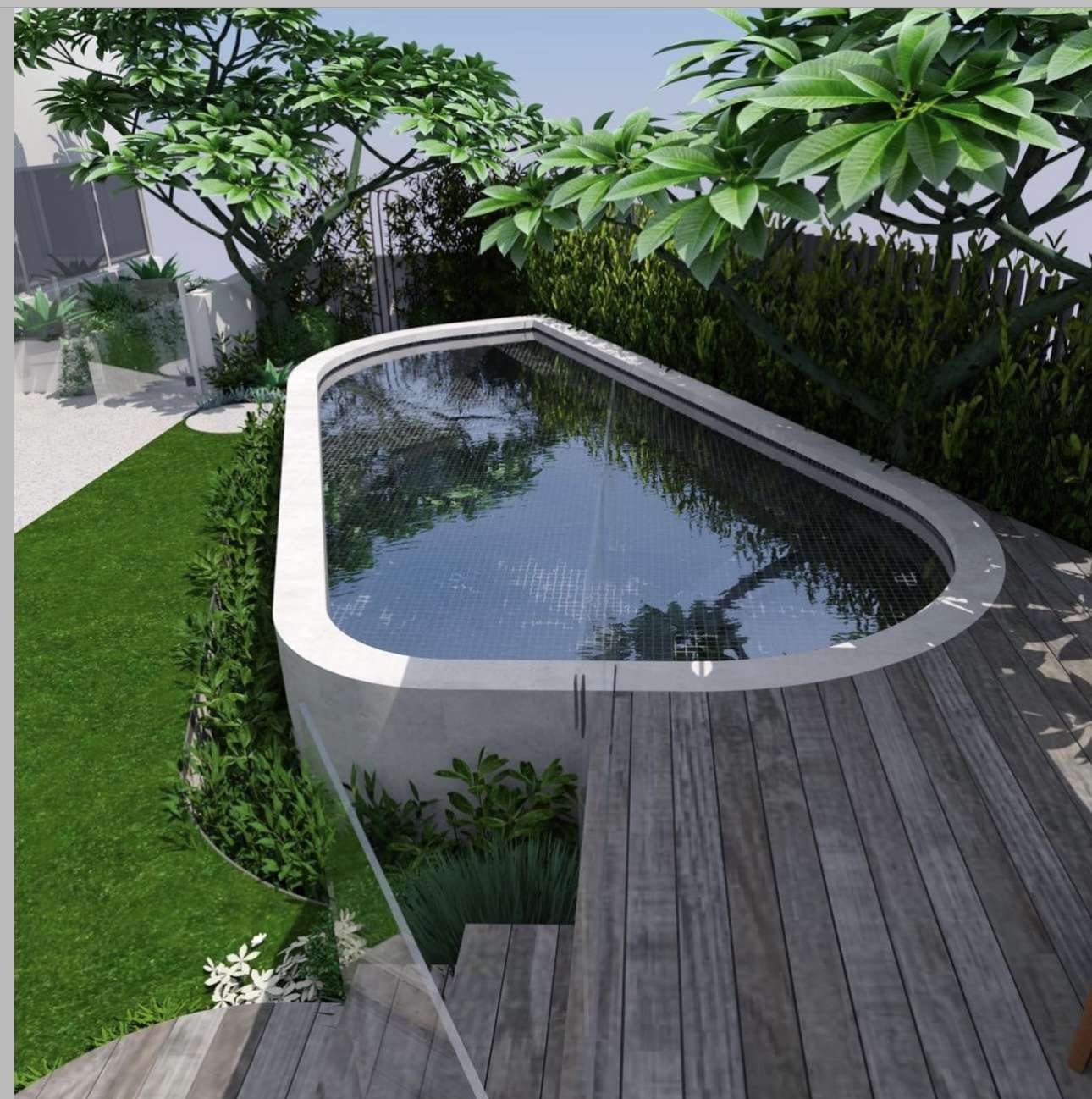 PHOTO CREDIT: PERTH LANDSCAPE DESIGNS
3. Checkered Pattern Pool Paving
The simplicity and versatility of the checkerboard pattern are why it never goes out of style. The checkerboard is a ubiquitous fun motif for contemporary design, providing a strong sense of style in an otherwise dull rigid world.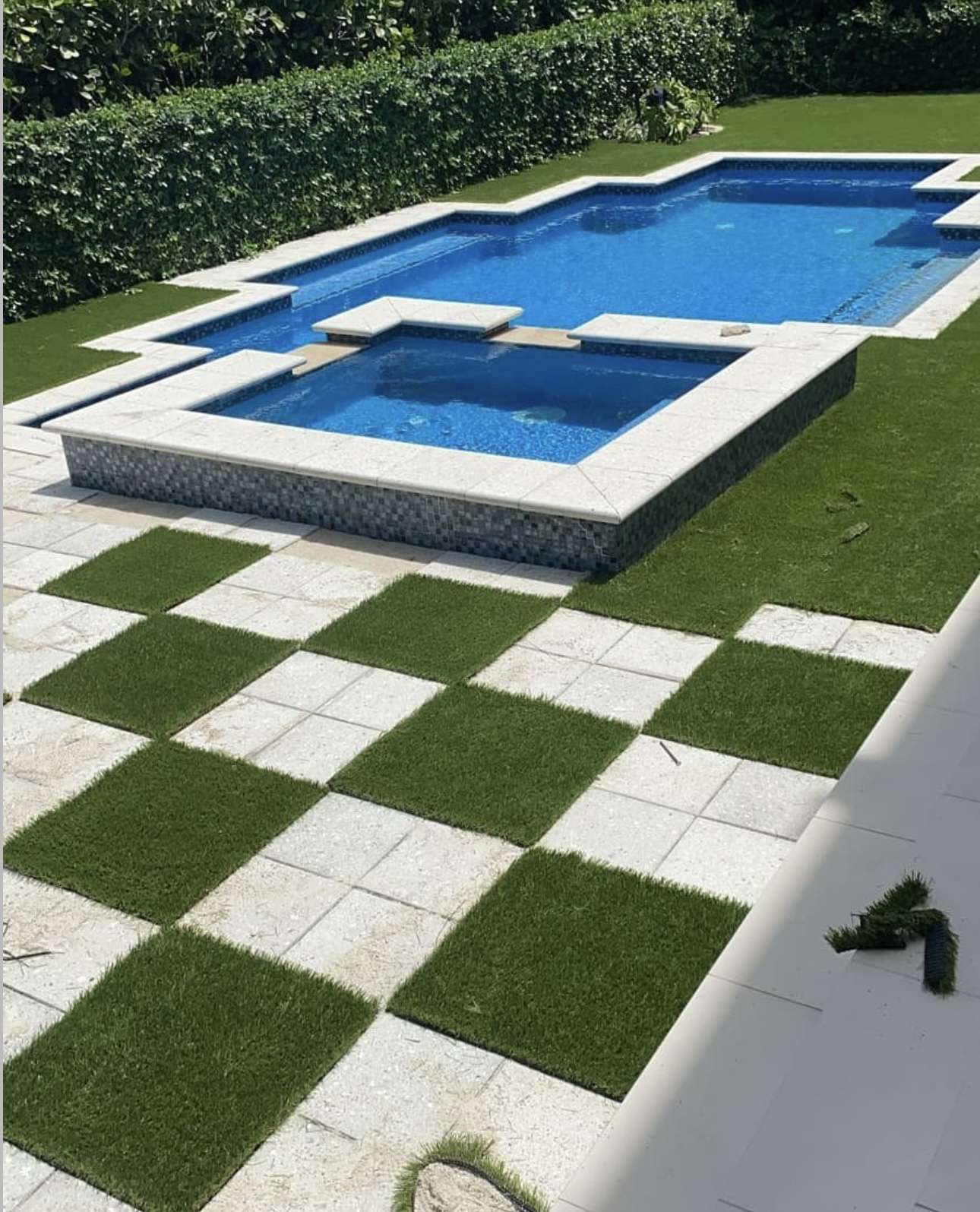 PHOTO CREDIT: MONSTER GRASS
4. Artificial Turf for Rectangular Pool
As expected, the best way to lay artificial grass in your pool surroundings is to follow the layout of your space. Not all design style is suitable for every space. Work with what you have!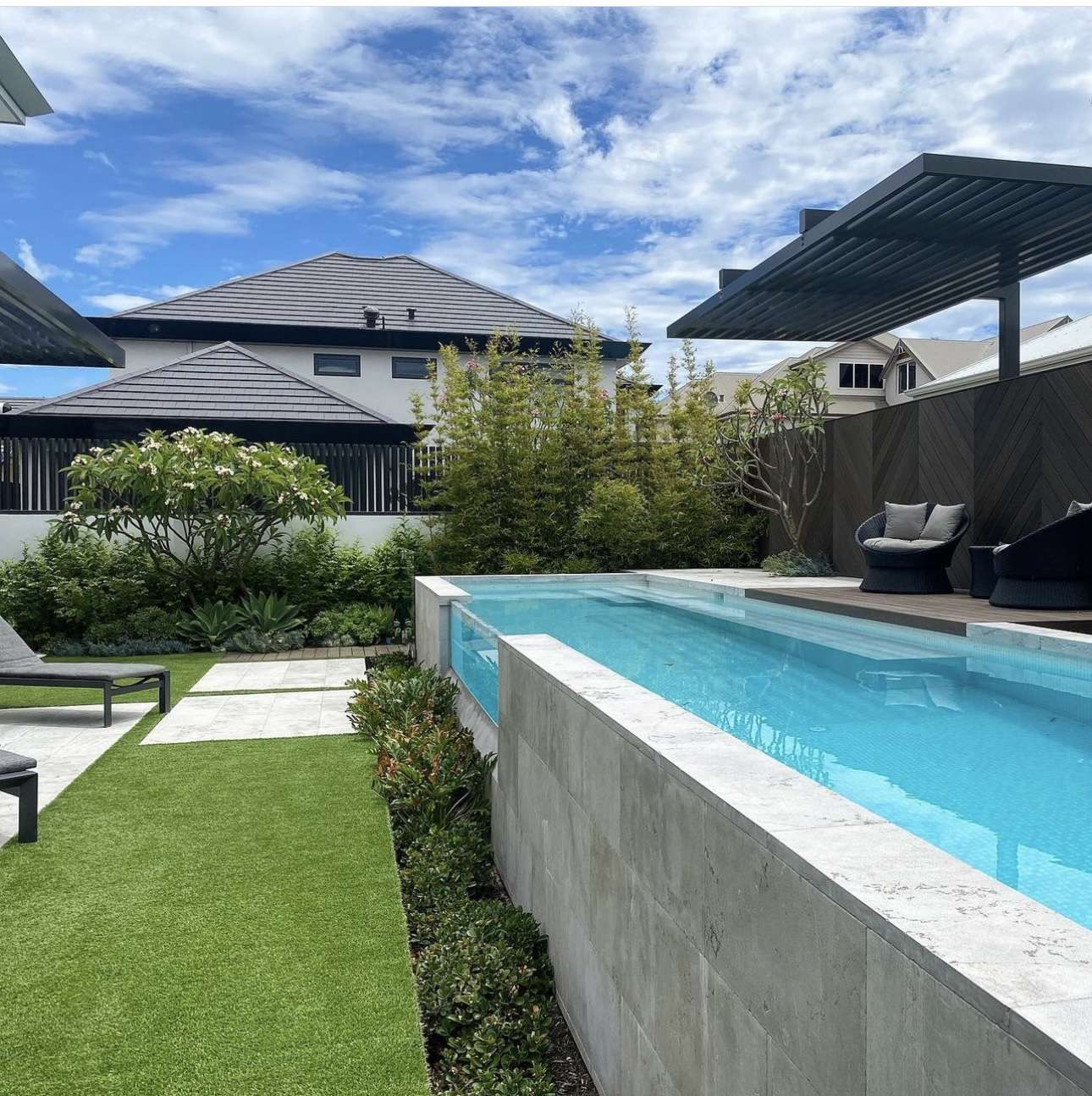 PHOTO CREDIT: PERTH LANDSCAPE DESIGNS
5. Contemporary Pool Paving
The luscious green look of artificial grass is fantastic for designing contemporary spaces. Combine this element with bright-colored pavers and bring in comfortable outdoor seating.
PHOTO CREDIT: PERTH LANDSCAPE DESIGNS
6. Small Backyard Pool Area
A high-quality artificial turf can bring character and an eye-catching dynamic to a small yard. This can be installed on your existing landscape and even applied to concrete.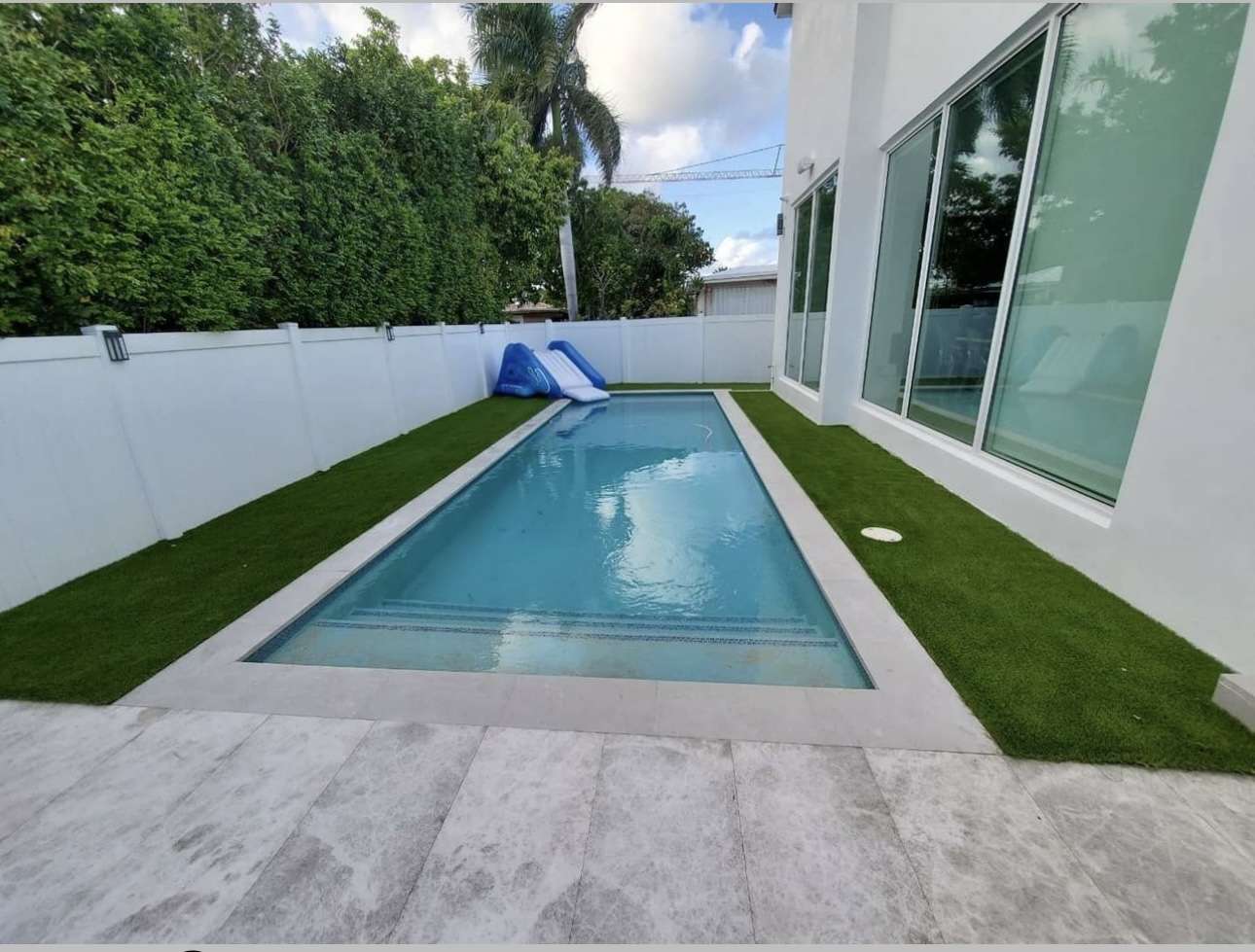 PHOTO CREDIT: MONSTER GRASS
7. Tiny Pool With Synthetic Turf and Step Stone
Stepping stones are perfect for all pool surroundings because they provide an anti-skid walking surface.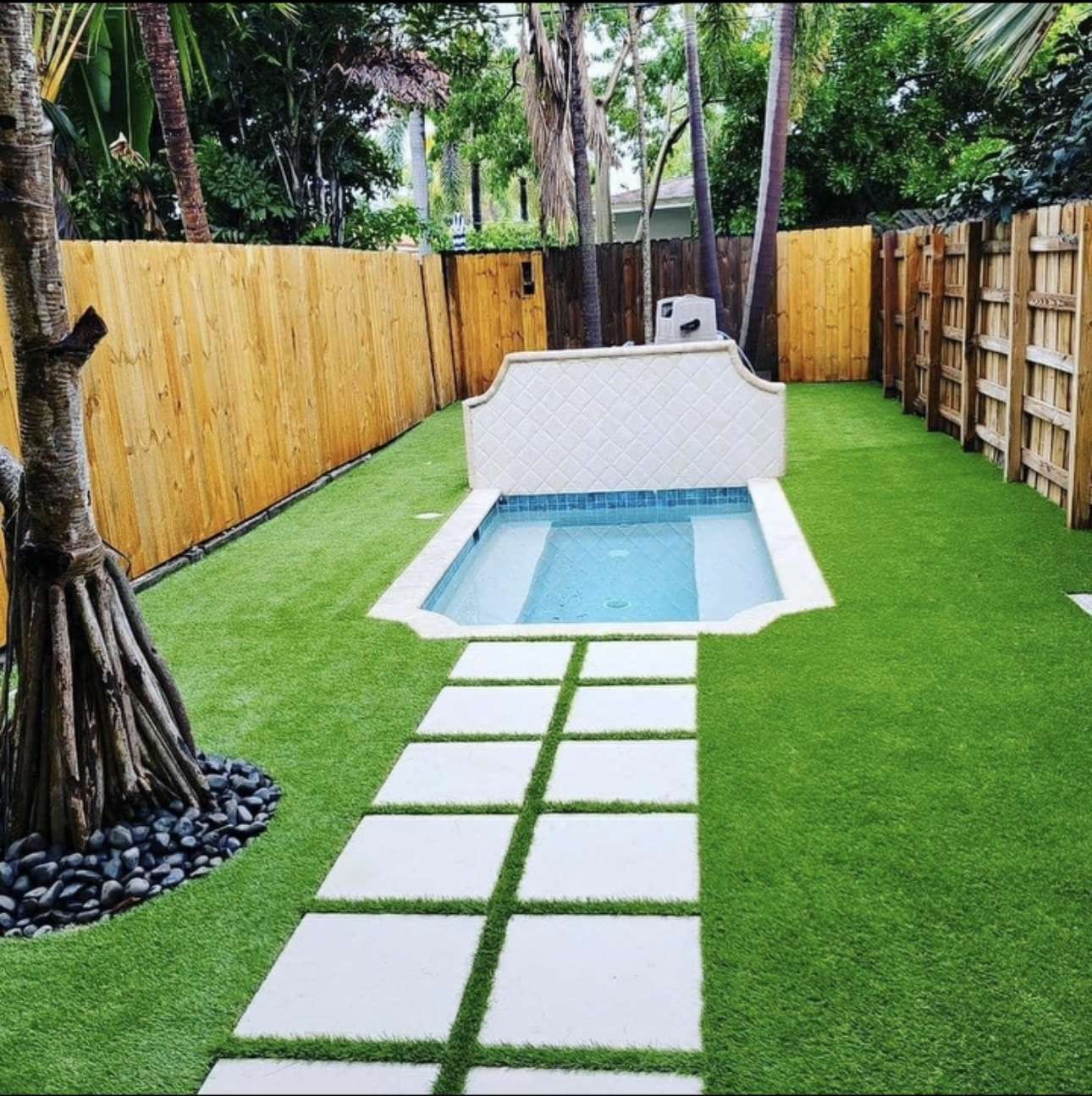 PHOTO CREDIT: MONSTER GRASS
8. Large Pool With Fake Grass
You can choose to cover the entire pool area with grass or you can simply use it to make a style statement in your backyard. This is particularly great for environments with little to no greenery.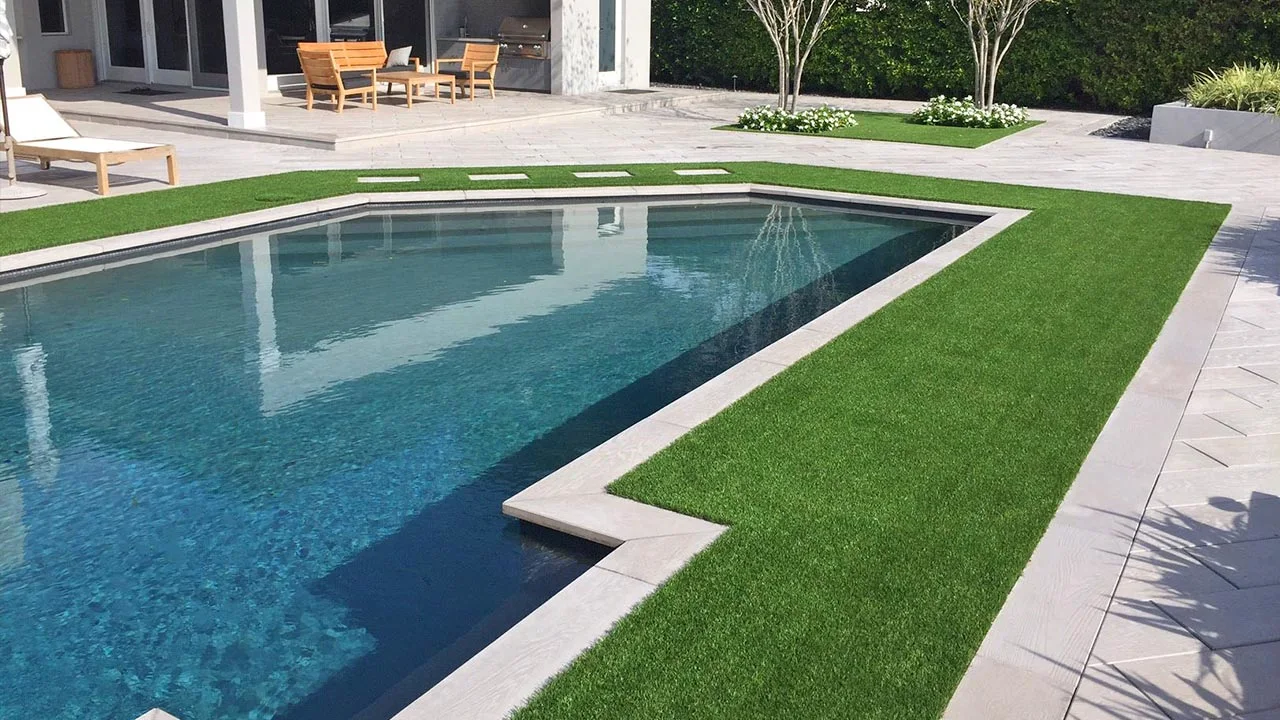 PHOTO CREDIT: DURA LAWN
9. Backyard Pool With Raised Pavement
This clever pool design incorporates a raised paving with fake turf and a wall water feature, giving it a luxurious Zen feel.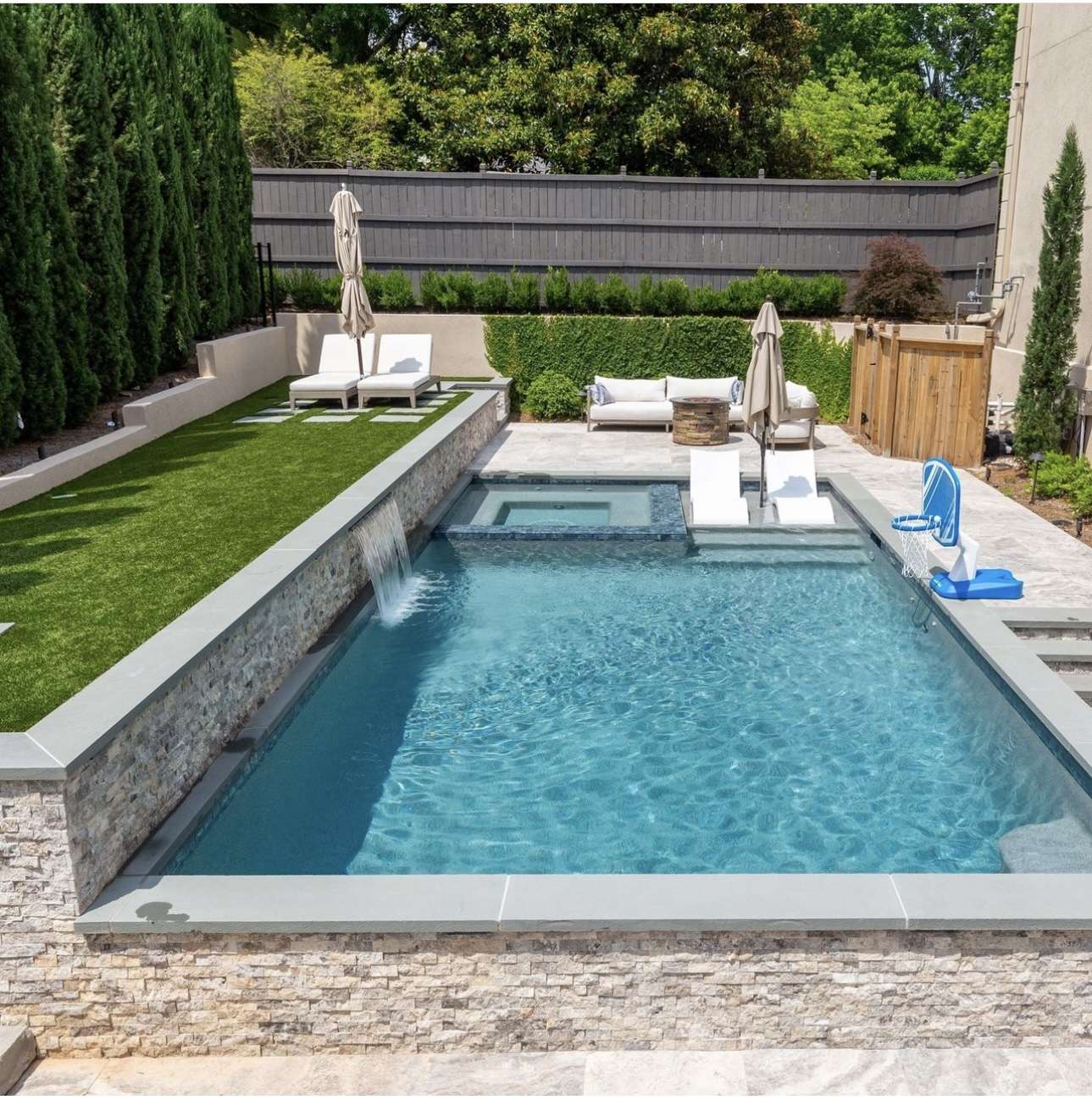 PHOTO CREDIT: SWIMMING POOL COM
10. Artificial Turf and Gravel Paving
Gravel is another commonly used material for backyard landscaping. What makes this decorative stone an excellent choice for pool areas is that it does not retain water, which keeps your space puddle-free.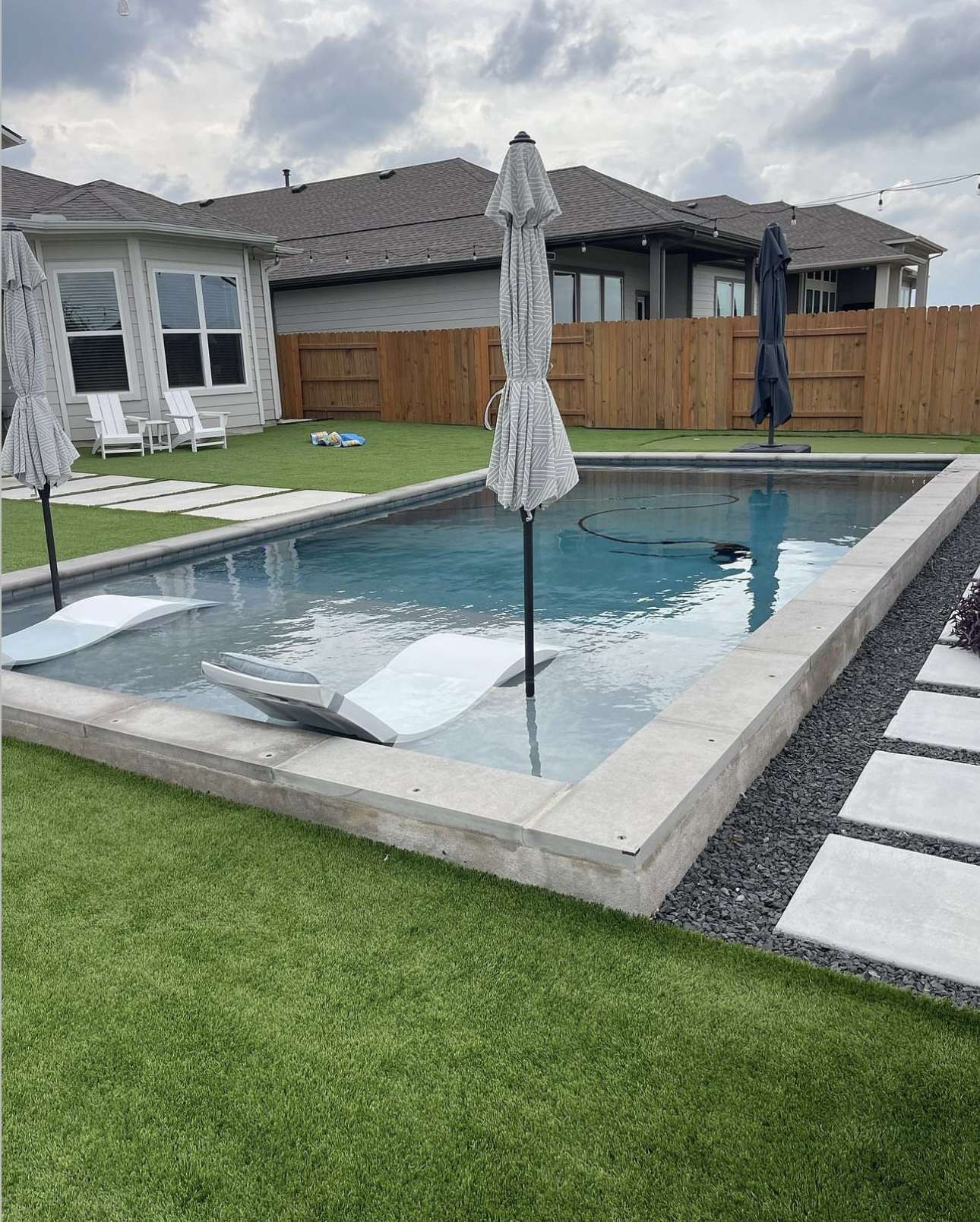 PHOTO CREDIT: BRIGHTEN POOLS
11. Geometric Paving Design
For a stunning visual effect, use geometric patterns. Geometric patterns use shapes and lines repeatedly to create eye-catching and visually striking designs. Fake turf also helps to balance slippery surfaces like concrete.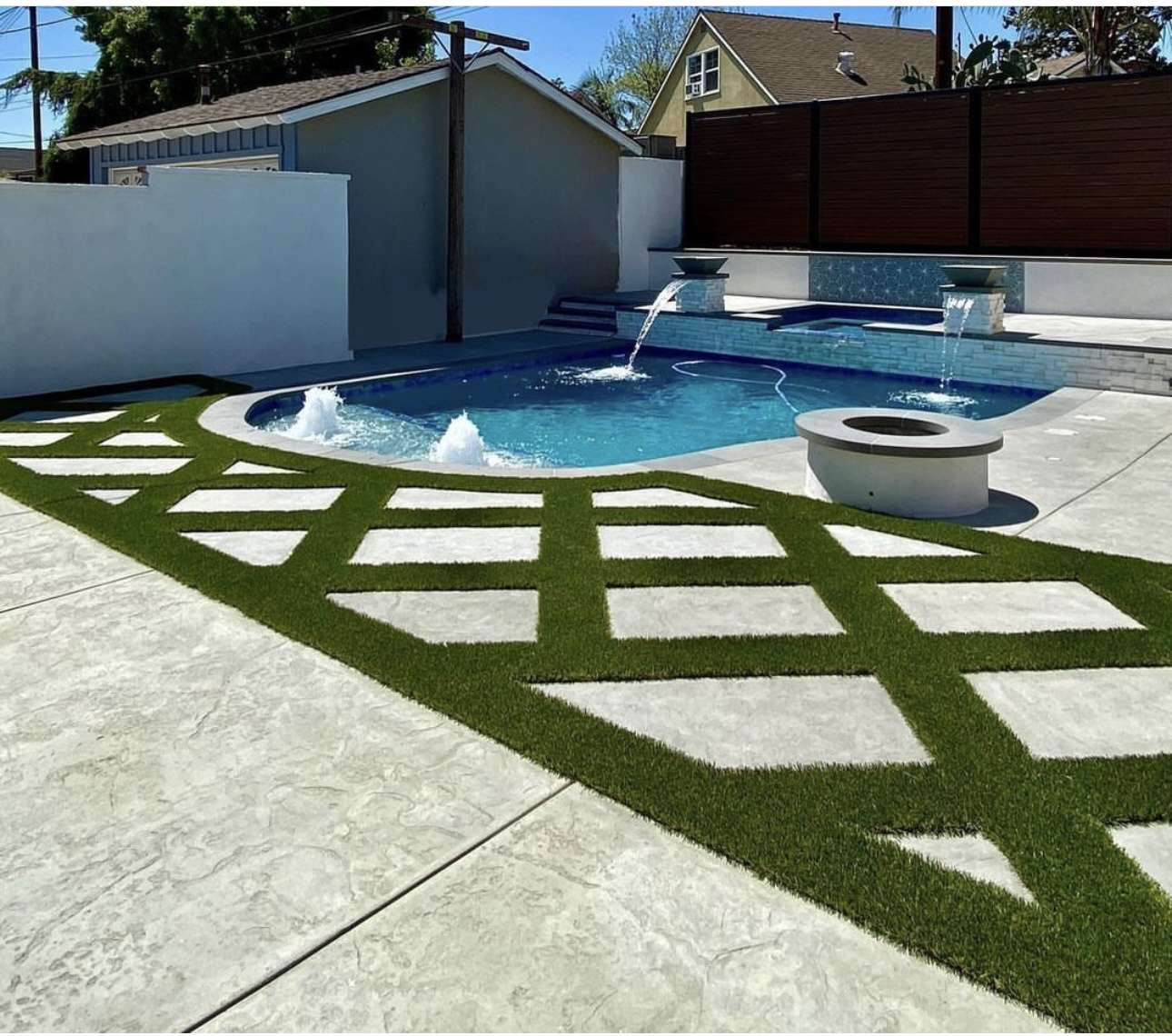 PHOTO CREDIT: BP CONSTRUCTION
12. Irregular-Shaped Modern Pool
Use irregular shapes to add a charismatic touch to your backyard. These can create a bold yet simple statement.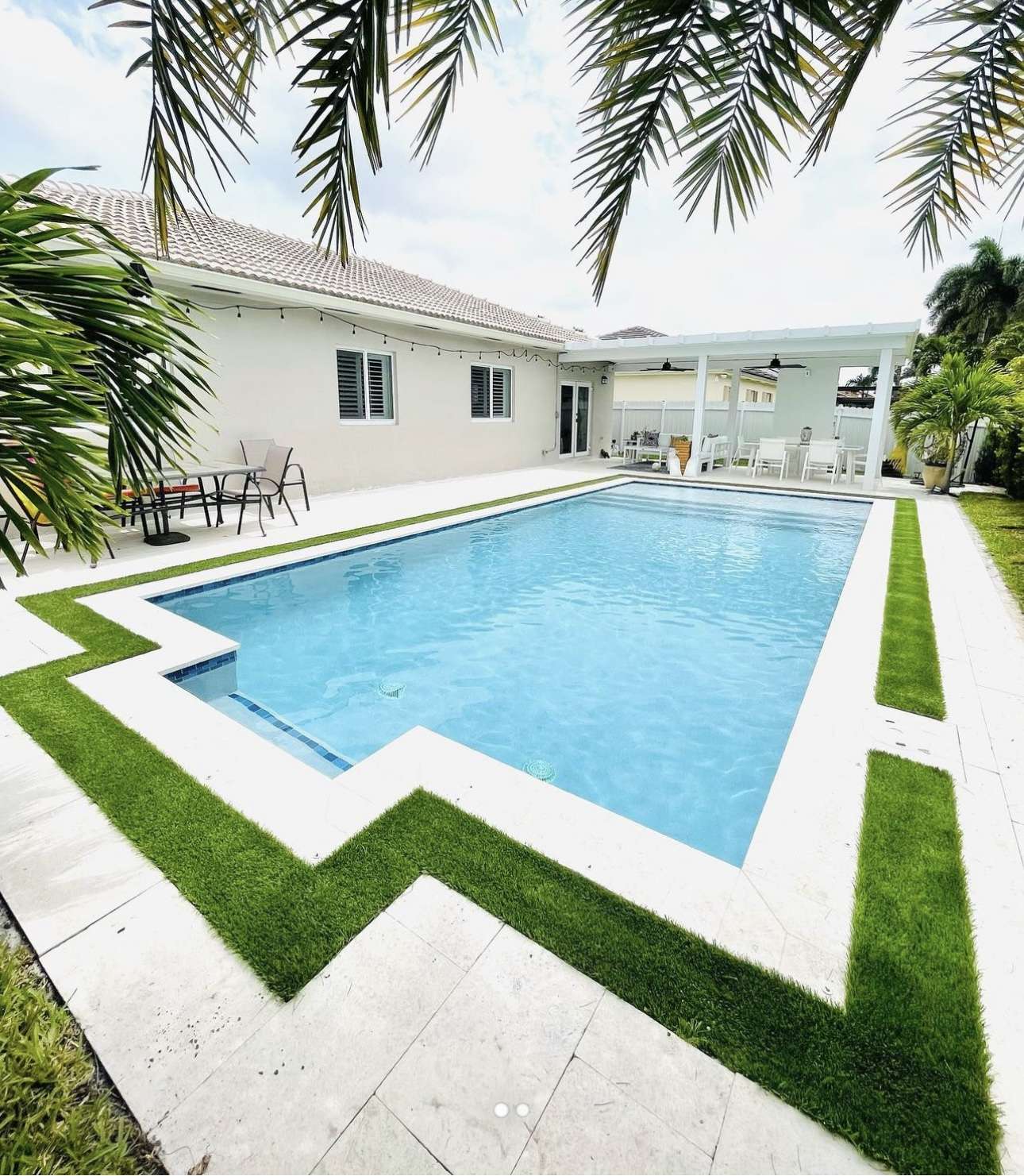 PHOTO CREDIT: OLYMPUS TURF
13. Villa Pool Design With Fake Grass
Get inspired by this charming and sophisticated villa backyard design. Find ways to incorporate plants and trees for an earthy and more natural appeal.
PHOTO CREDIT: CLAFFEY POOLS
14. Puddle-Shaped Pool Design
Install artificial turf around your pool in a way that complements your pool's shape and design.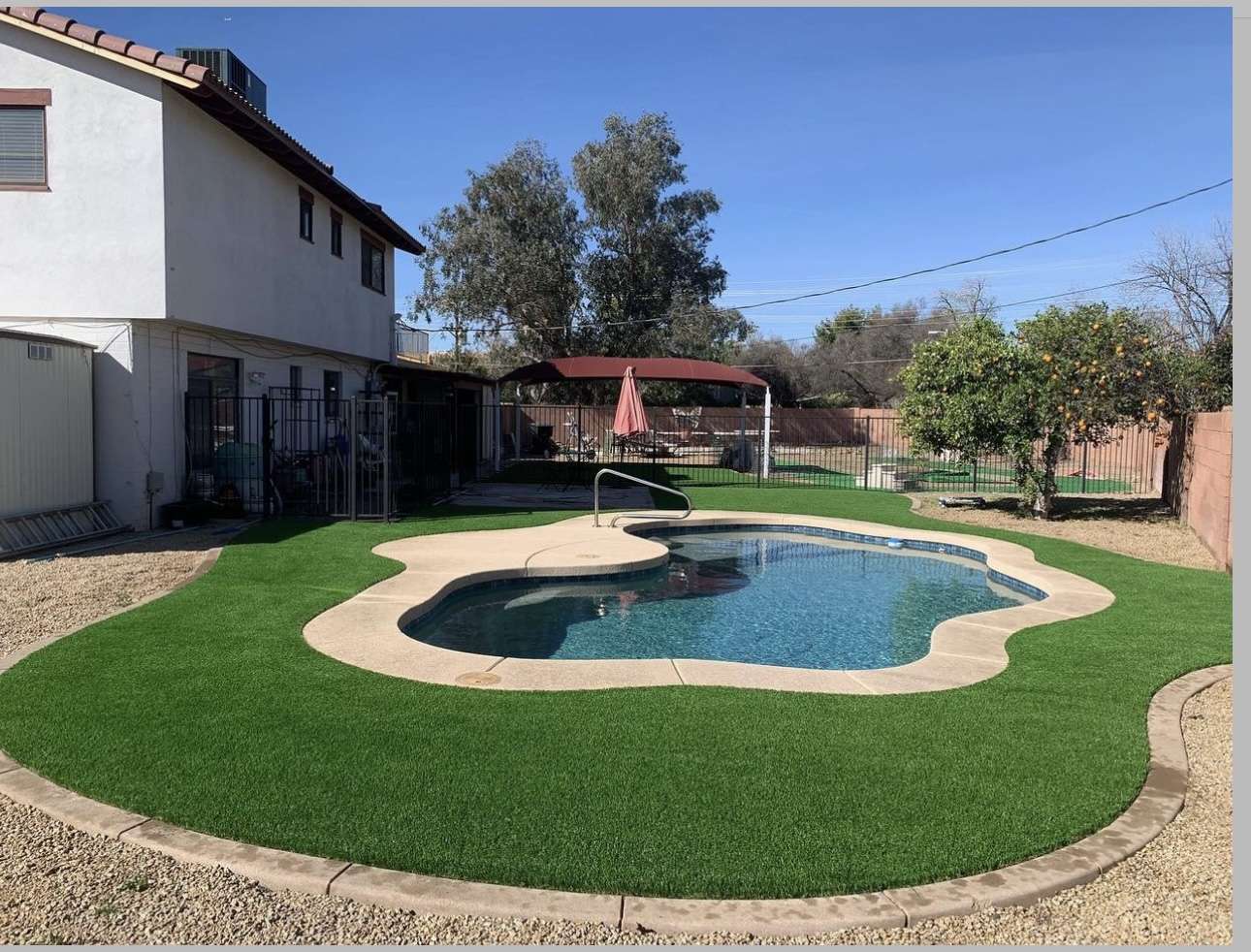 PHOTO CREDIT: PARADISE GREENS & TURF
15. Pool Paving With Lime Stone and Synthetic Turf
Limestone is one of the most widely used outdoor floor covering for both modern and traditional properties. Combine it with artificial turf for a beautiful green appeal.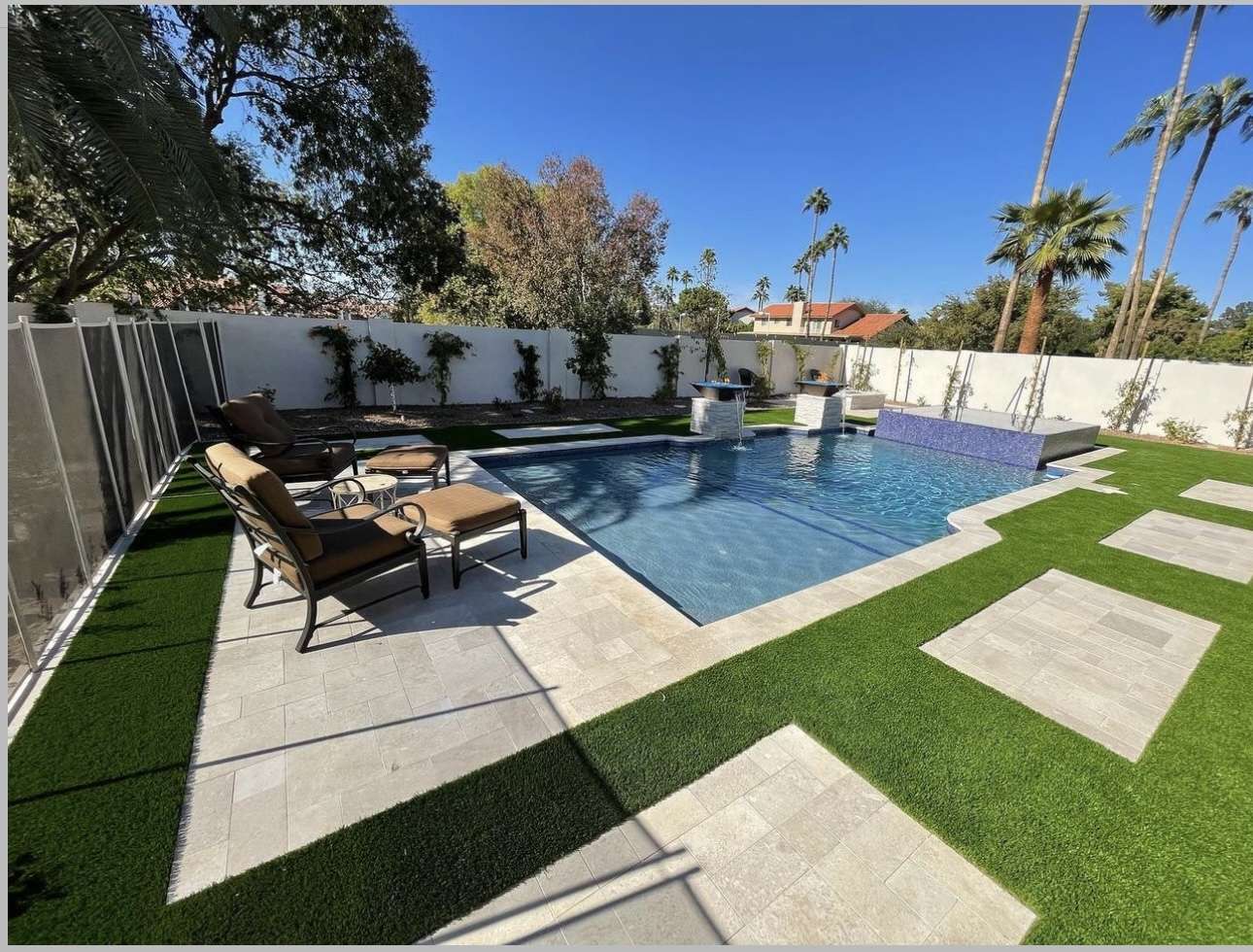 PHOTO CREDIT: PARADISE GREENS & TURF
16. Unique Pool Landscaping Design
Instead of following fickle trends that faded over time, embrace a design that reflects your property's original character.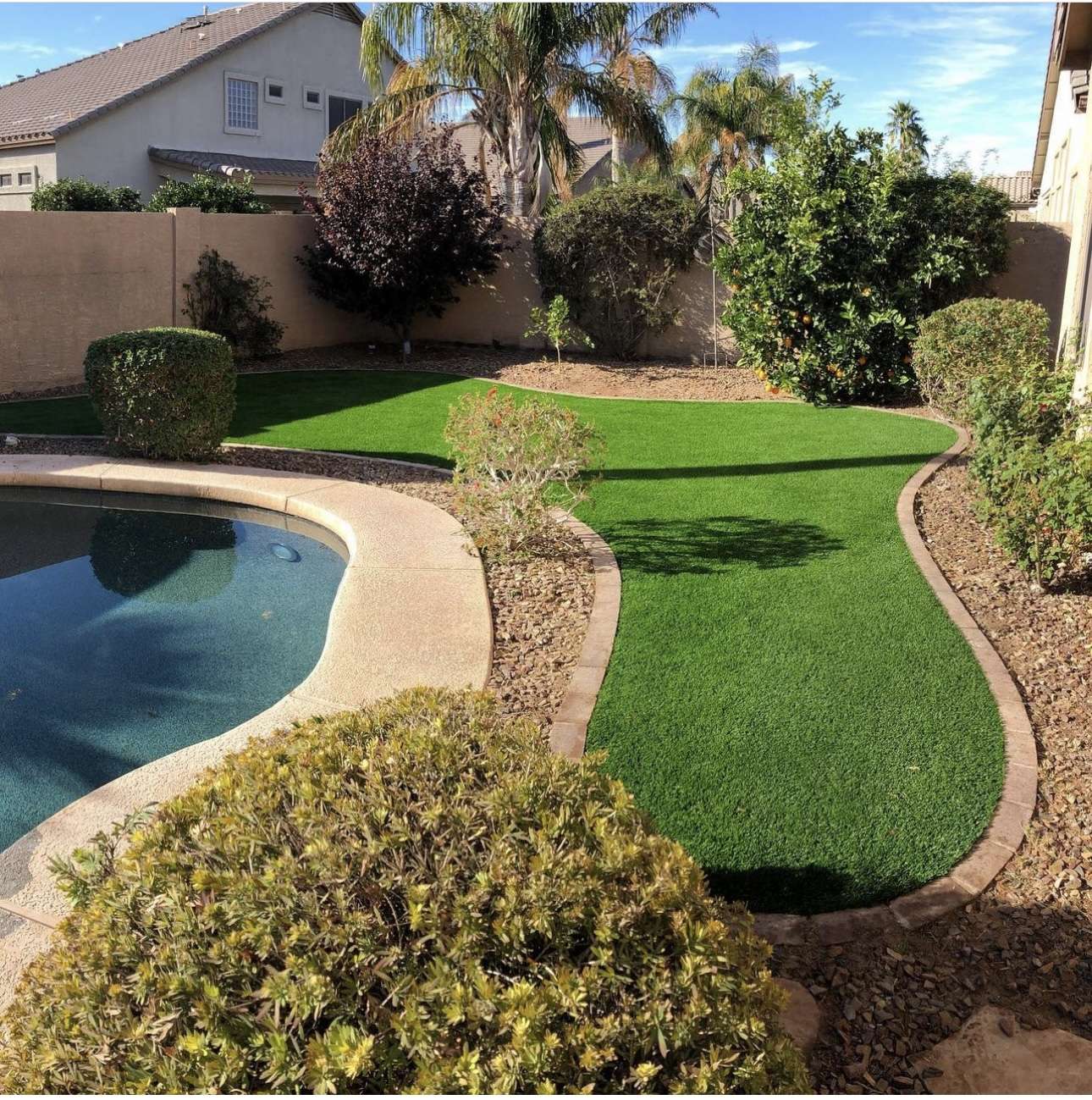 PHOTO CREDIT: PARADISE GREENS & TURF
17. Synthetic Turf and Wood Pathway
Wood pavers are commonly used by homeowners for their natural beauty and warmth. Plus they appear more visually impressive than regular concrete slabs.
The only problem with having them around the pool is that they are prone to water damage. Instead, use them as pathways in the pool surrounding and in combination with an artificial lawn.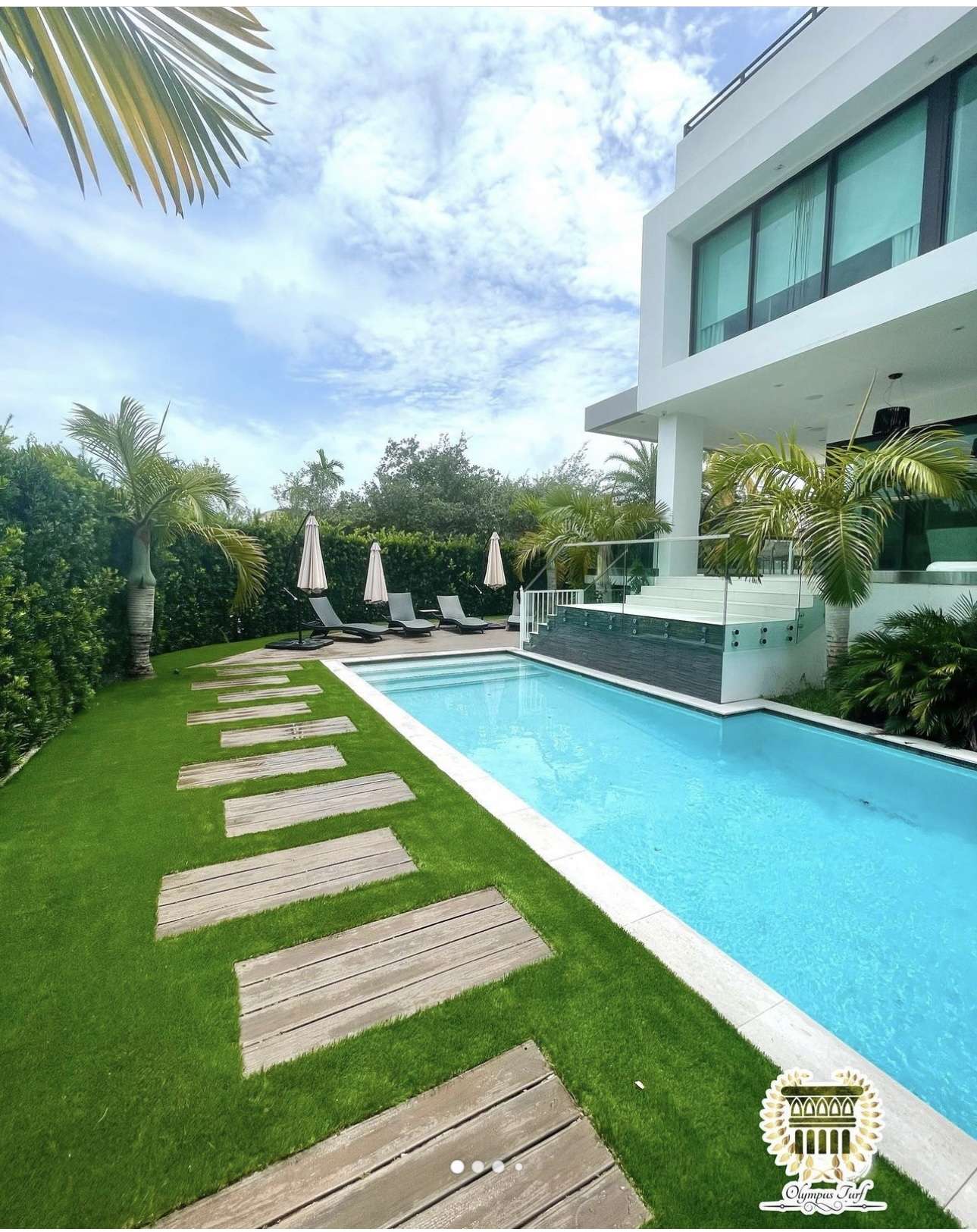 PHOTO CREDIT: OLYMPUS TURF
18. Sloped Pool With Synthetic Lawn
If you're looking for landscaping ideas for a sloppy backyard, this design should be on your radar. It eludes an effortlessly chic appeal.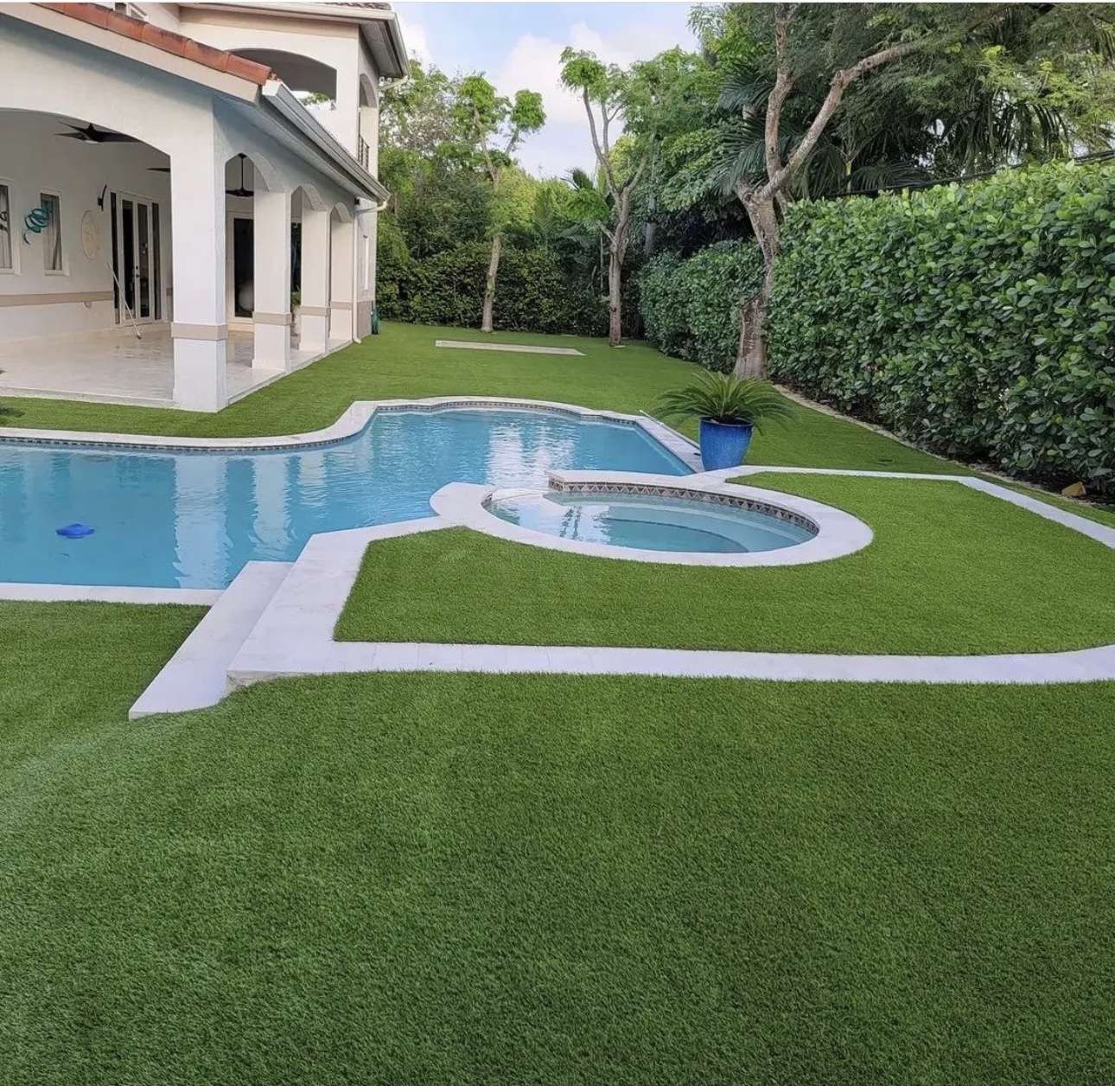 PHOTO CREDIT: MONSTER GRASS
19. Pool Area With Artificial Turf and Decorative Stones
Decorative stones are an ever-popular choice for elevating the look and feel of outdoor spaces. This is a great way to add a natural element to a yard with synthetic turf.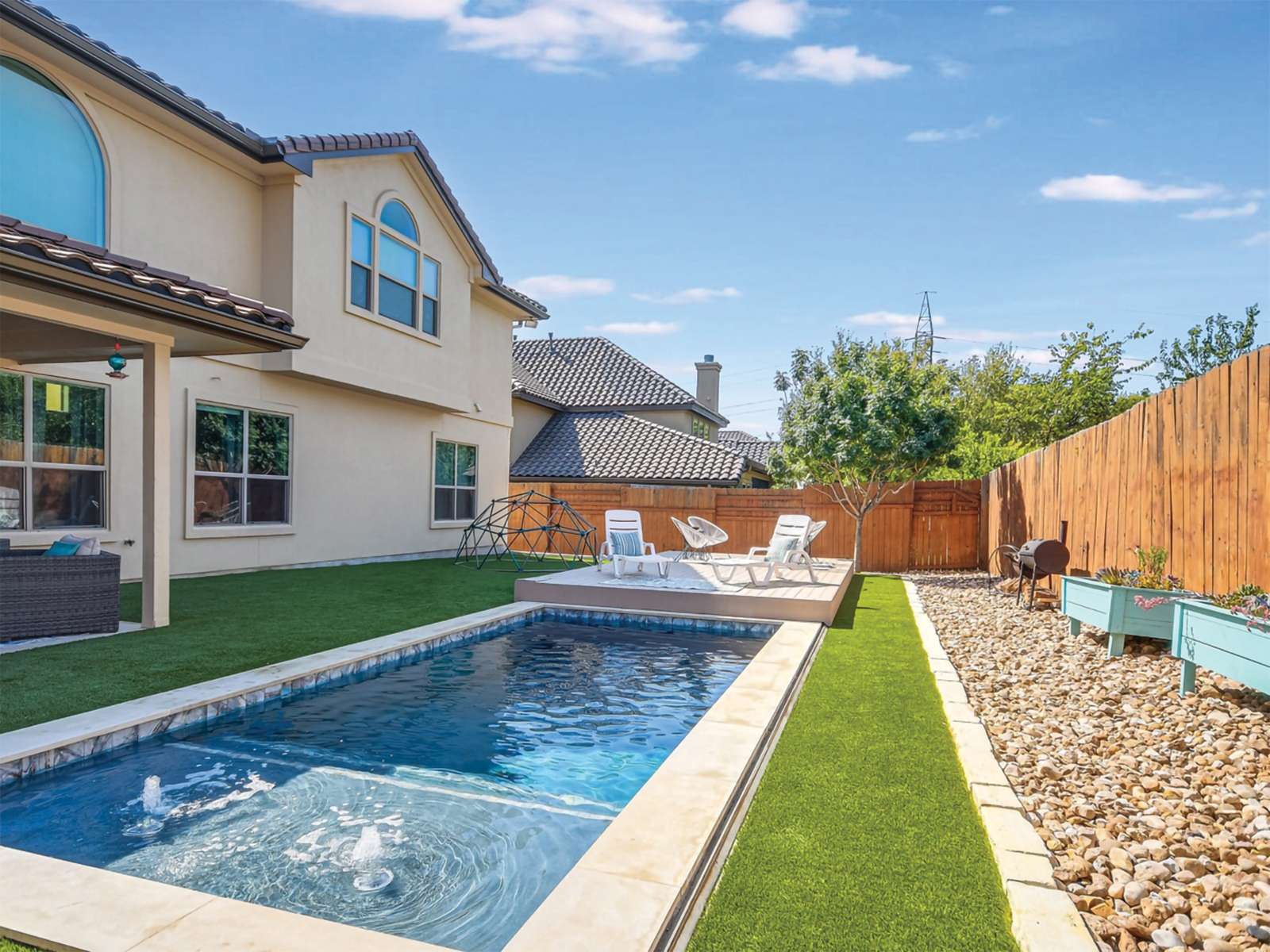 PHOTO CREDIT: TEXAS TINY POOLS
20. Pool Paving With Fake Grass and Sunloungers
You don't have to cover a large portion of your space when installing fake turf. Consider using it to make subtle style statements or a pop of color to the space.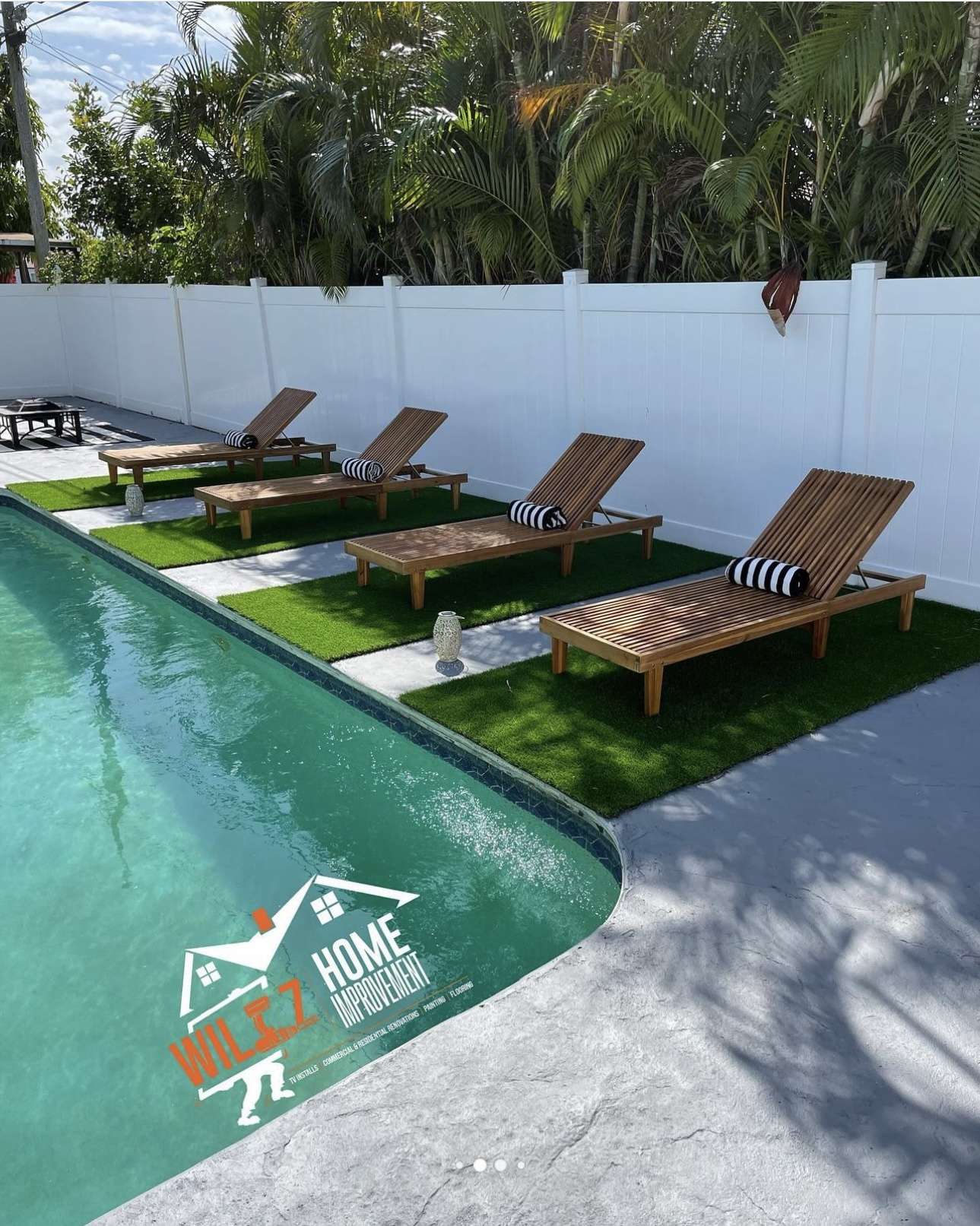 PHOTO CREDIT: WILIZ HOME IMPROVEMENT
What is the Best Artificial Grass for Pool Areas
There are many different brands to consider when buying artificial grass. These turfs also have a variety of colors, designs, thicknesses, and feel. We suggest you go for a design that looks the most realistic.
Some are bright green while others have paler shades of green. The latter is often better. A dull and less shiny artificial grass will blend better with the natural environment.
According to Experts at Angi, the top 5 brands for buying artificial grass for pool areas are AstroTurf, TrafficMaster, SunVilla, SYNlawn, and XGrass.
How to Choose the Best Artificial Grass for Pool Areas
The key to getting the perfect grass for your outdoor space is by collecting samples. Compare the look and feel of a bunch of options before making the final decision.
When it comes to yarns, the common types are:
● Polyethylene: Durable, realistic appearance but prone to UV damage.
● Polypropylene: Least expensive, softest texture but least durable and prone to flattening over time.
● Nylon: Best in terms of durability and UV resistance, but the most pricey and hardest texture.
It is also important to consider the fiber's quality, thickness, rigidity, height, and width. Premium quality fibers are not prone to flattening and appear more realistic.
In general, the quality turfs are often the most pricey. If the price sounds too good to be true, then it probably is! Consult an expert to help determine the best one for your needs and budget. The average cost of artificial grass around a pool is $5 to $20 per square foot (including the turf and installation).
Finally, the installation process is just as important as finding the perfect product. Find an experienced installer so it can last you for a long time. If you're confident in your DIY skills, then you may as well give it a go.
This article has tips for installing artificial turf that can help prepare you for the project.
More Content You May Like
● Glass Pool Fencing and Its Benefits
● How To Clean A Wood Fence Without Pressure Washing
● Shipping Container Pool and It's Advantages
Pin for Later!