Shipping Container Pool and It's Advantages
Unlike traditional pools, a shipping container pool can be installed in any terrain, as long as it is not unleveled. They can also be installed in holes.
The reason containers are currently being used as swimming pools is because they are made of corrugated steel and come with internal and external coatings that help prevent moisture, fungus, and bacteria. The real use of a container, as its name suggests, is to contain perishable and non-perishable goods. Due to this, containers can be convenient in terms of cost, construction time, durability, and ease of maintenance.
In the case of containers, they should always be in good condition to be used. They must have proper waterproofing and be well taken care of. Paint maintenance is another point to consider when building a shipping container pool. The container pool cost will vary depending on the size and construction materials. Keep reading to learn more.
What is a shipping container pool?
Containers are nothing more than spacious rectangles to store merchandise in port areas. A Canadian pool company looked at the similarities between containers and pools and tried to merge both concepts to create what we know as container pools.
These pools have a modular design and are fast, easy, and cheaper to install. They can be installed on the ground, partially below ground with retaining walls, or entirely underground.
These water tanks can measure from 2.4 to 12 meters and have different advantages that make them stand out. For instance, a container can house a Jacuzzi and a pool. They can also increase the water temperature to 30 degrees in one hour even in extreme conditions of -10 ° C outside.
On top of that, these smart pools allow you to control the temperature, water pressure and lighting through an application.

Advantages and benefits of a shipping container pool
Shipping containers are designed to support a large amount of weight, because they are made of very strong and durable materials, such as steel, aluminum, or fiberglass reinforced plywood. With proper maintenance, these tanks can last a long time supporting the weight of water and are unlikely to corrode quickly.
These containers have a lining that makes burial possible and gives them the look of a swimming pool. You can also cover them with other materials like treated wood, which adds a modern Nordic touch.
On the other hand, some coatings that involve fiberglass and paint treatment offer greater resistance.
With this initiative, you're being more eco-friendly. You're helping to reduce the production of carbon footprint, which comes out from the manufacturing of cargo containers.
These pools give shipping containers a different mode of use. Industrial containers or cargo containers, as they're commonly known, are used for this kind of pools. They are no longer rectangular boxes that carry heavy goods across the sea.
We can say that there is currently a fairly large stock of these containers, which is quite interesting. Most are made of steel, although some are manufactured with aluminum and fiberglass-reinforced plywood. Because of their resistance, they are ideal to hold as much water as a swimming pool, as long as it is maintained and cleaned with anti-corrosion products. Most of these tanks are waterproof and designed to store and transport merchandise over long distances.
Easy to install and remove
How can containers turn into swimming pools? Start by putting a container in a leveled terrain. Next, cover the surface with limestone if necessary. You might as well add anticorrosive paint to prevent eventual oxidation in the structure.
A shipping container pool is only one piece, one container, so it is easy to install and remove. Since most are large units, a large vehicle like a truck is necessary to take it to the place where it is to be installed. Let's say that a container swimming pool is like a modular house, allowing that this type of house is also built with the same materials.
Can be buried or decorated with other materials
These pools can be inserted in a hole in the garden like prefabricated pools. You can also put them on the ground and decorate them with wood to transform your home exteriors.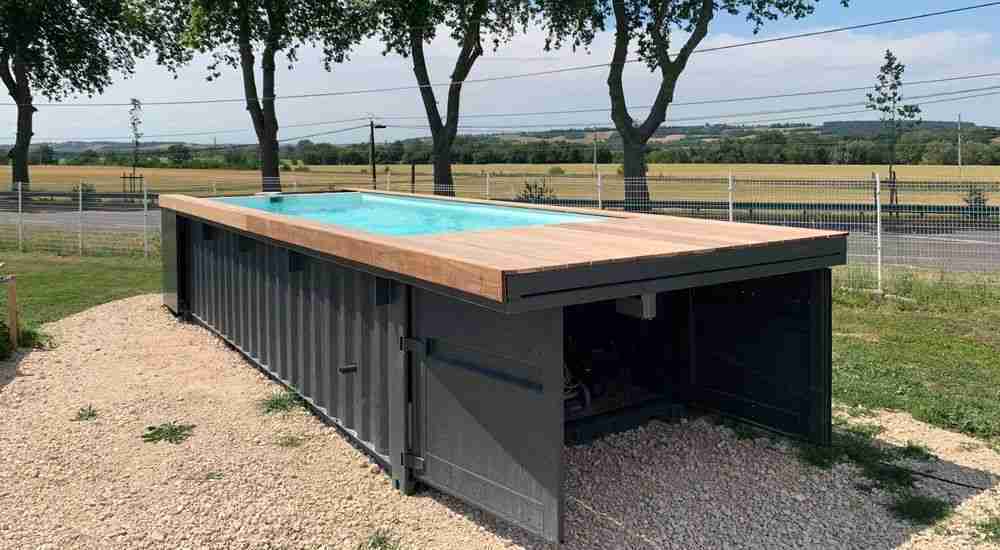 Great to decorate any garden or patio
As mentioned above, a shipping container swimming pool can be buried or placed on the ground with the desired coating. In both cases, you can choose the design of your preference. You can choose a Nordic style with wood cladding or a more modernist one that requires digging and inserting the container.
There is a wealth of companies offering this product right now. As for the shipping container pool cost, some Canadian companies sell container pools of different sizes for around 24,000 euros. But prices may vary.
Providers are striving to give a more pleasant experience with the inclusion of new technologies. Today, a shipping container pool can feature a filtering system that keeps the water clean and ready for bathing. It is also capable of heating the water up to 30 degrees in a matter of an hour. In other words, a shipping container swimming pool can be even installed in extremely cold places.
The fact that shipping container pools are designed for all types of houses and climatic conditions makes them a great and sustainable invention. Their creators define them as a game-changing invention that helps to reduce the carbon footprint produced in the construction of more containers. A shipping container pool minimizes costs, given that it is a prefabricated resource.
Nonetheless, it is important to consider that, like any type of structure, these pools need proper maintenance to prevent corrosion issues, leaks, and contamination in the long run.
Before you buy
It is important to have expert advice a company that specialized in structural engineering and pool planning To reuse cargo containers as swimming pools. The water to fill up a shipping container pool is very heavy. Ensure that the container has a strong base and reinforced corners. The contractor will make sure that the shipping container is strong and durable enough before starting the construction of the shipping container pool.