20 Gate Paint Color Ideas
Are you looking for incredible gate paint color ideas to enhance your curl appeal or garden? Get your painting tools ready for an enchanting paint color for gate! 
Every now and again, outdoor spaces need some rejuvenation. If your gate is looking worn and out and unsightly, a fresh coat of paint can give it a new life and refreshing feel. Even if your gate is in pristine condition, retouching it with an alluring paint color contributes to the appeal of the entire space. 
Your options are by no means limited to neutral colors. There are a plethora of options to fulfill aesthetic predilections and preferences. Plus, gate repainting is an inexpensive and easy outdoor project that you can undertake yourself.
Keep in mind that not all gates require painting. Gate materials such as wood, wrought iron, and steel will benefit from a fresh coat of paint while composite and PVC (polyvinyl chloride) gates are not designed to be painted.
In this article, we've put together our 20 favorite gate paint color ideas that are sure to amplify the overall aesthetics of your garden or front yard.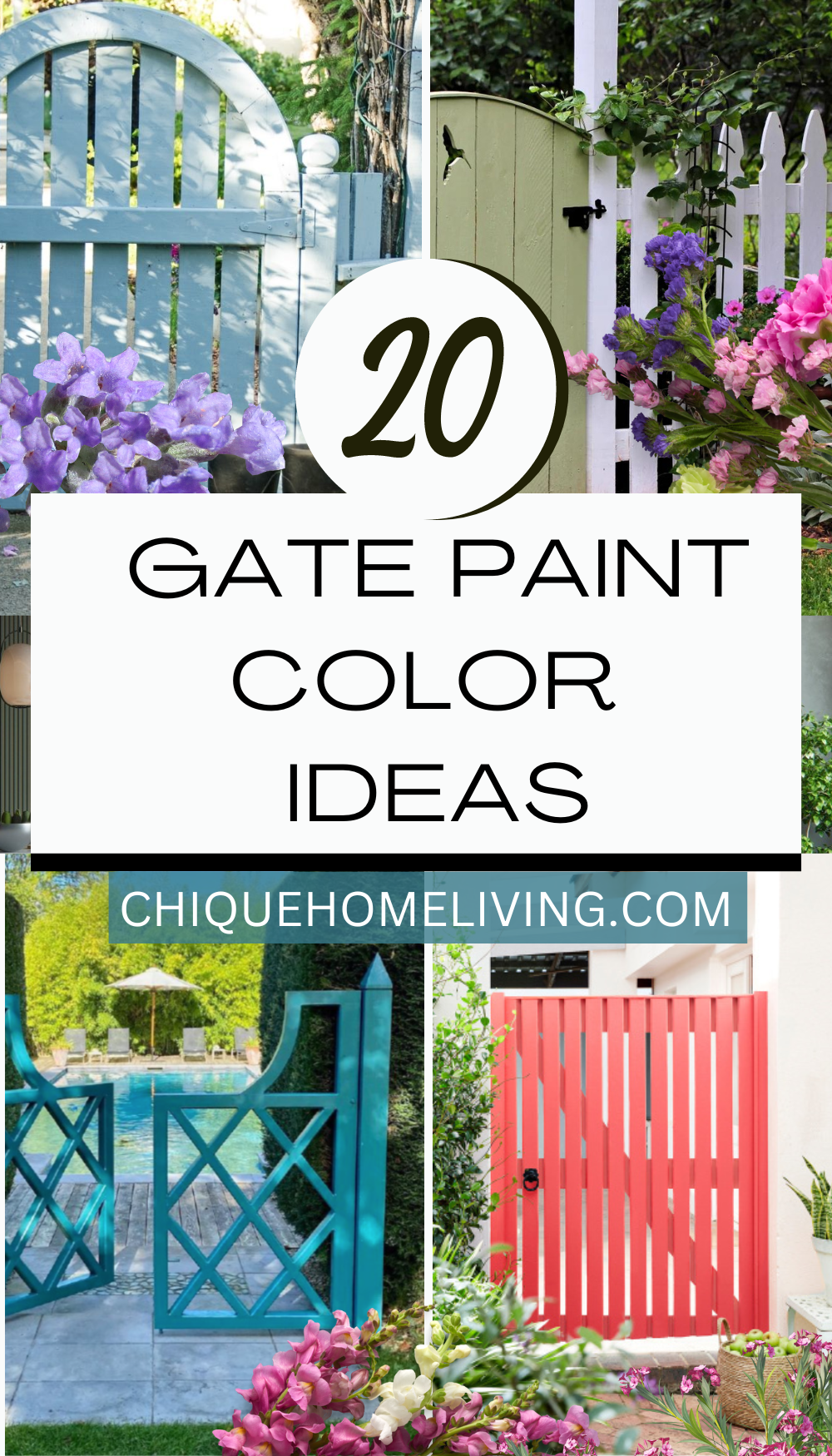 1. Sage Green
What gate paint color goes with white fences? The color 'green' itself has no rivals. Sage green and a soothing and elegant shade of green that can bump up your outdoor aesthetic.
It pairs beautifully with crisp white fences. Green, especially a muted shade, is also a good idea for both indoor and outside spaces because it will complement every other color.
PHOTO: CINDY COGHILL
2. Pastel Blue
The colors that are reminiscent of spring are those pastel tones. There is a freshness and serenity about pastel blue that makes it so irresistible.
Since pastel blue is less saturated, it is easy on the eyes and promotes relaxation and peaceful vibes. This shade of blue will give your outdoor area a lush and refreshing look.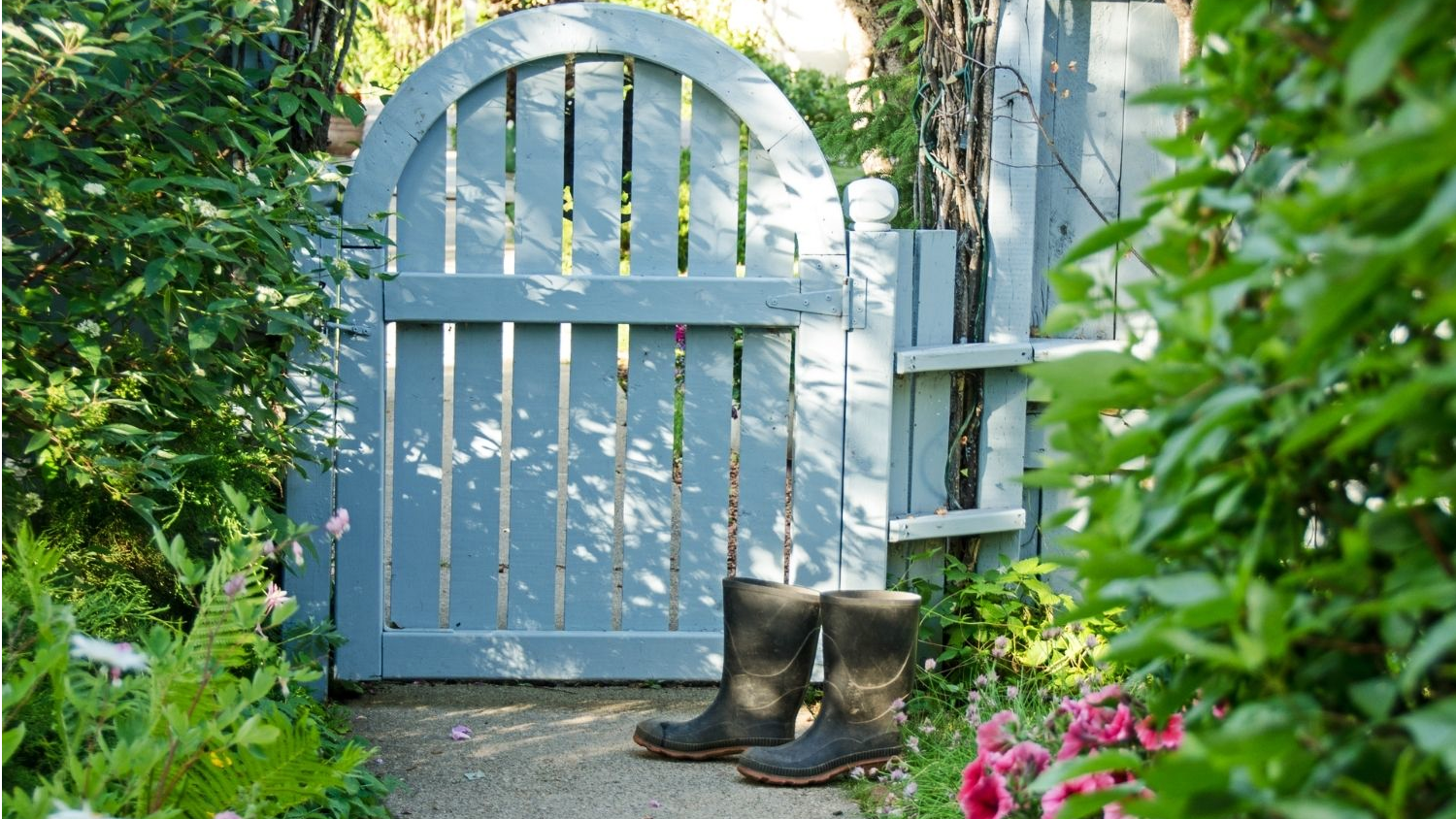 PHOTO: GARDEN DESIGN
3. Stone Blue
If you're looking for a gate paint color that looks quite like a neutral but isn't, then stone blue should be up your radar. This lively and timeless greyish blue can give your outdoor space a minimalistic look while also adding visual interest to it.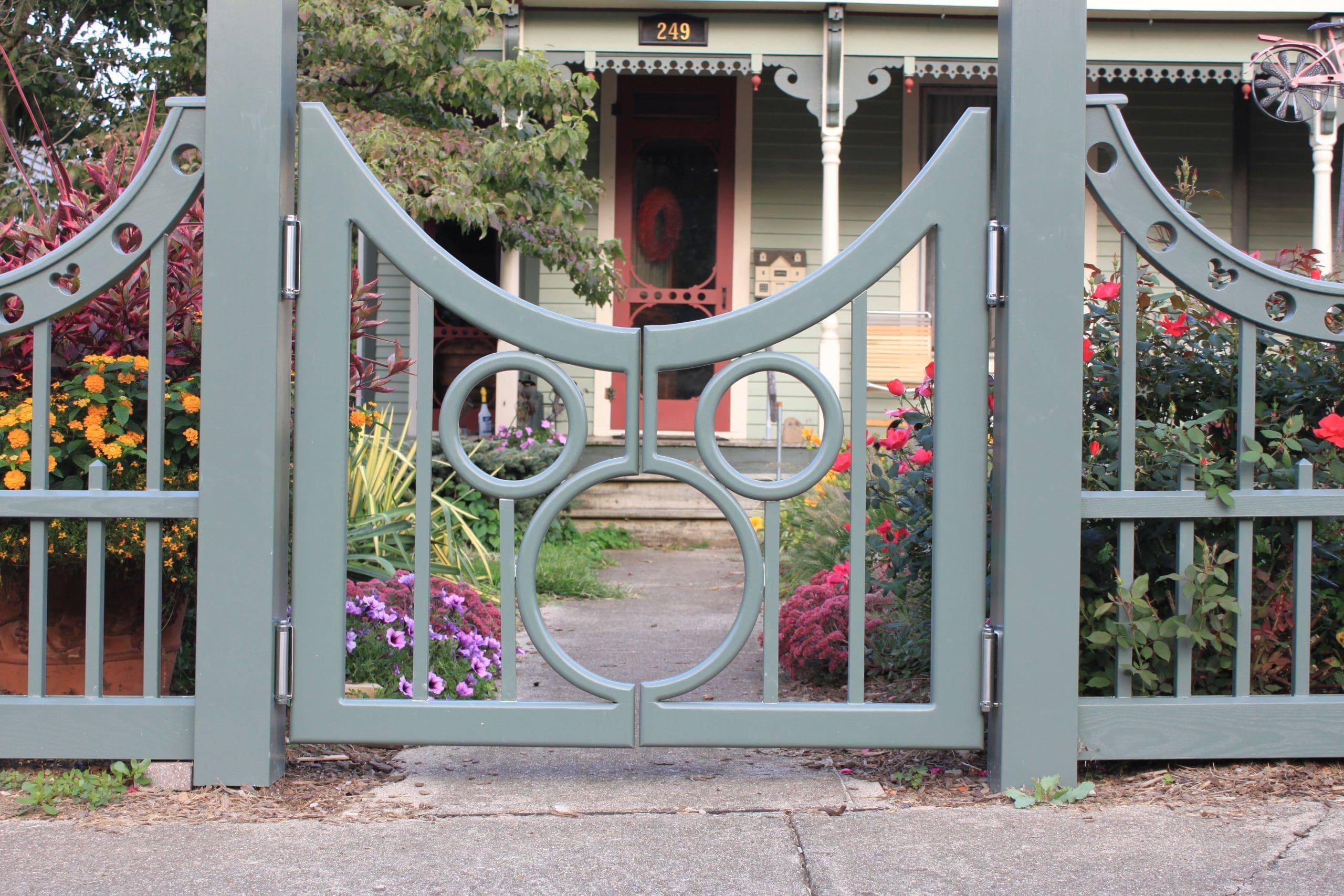 PHOTO: SUSAN MURPHY SMITH
4. Lime Green
For a dramatic transformation, go for a bold and daring color like lime green. The lime green color will lend an energizing vitality and convivial touch to your garden that just oozes enthusiasm, much like the fruit for which it was called. If maximalism is your thing, this gate paint color may be perfect for you.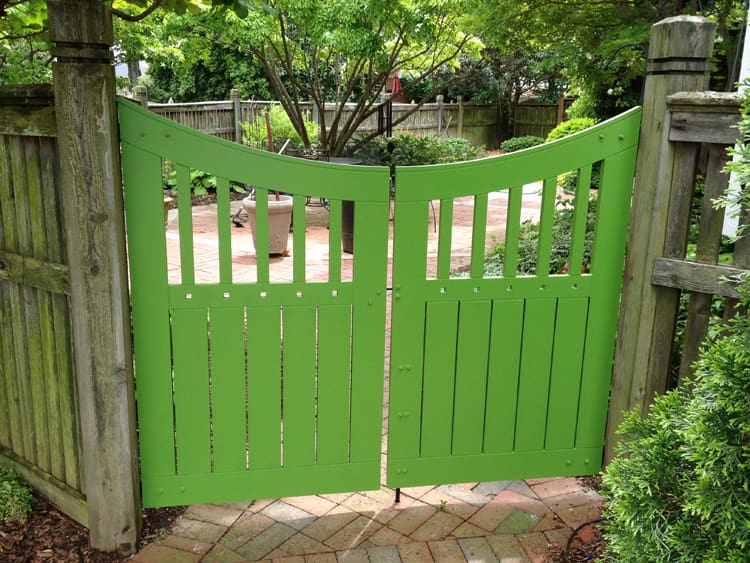 PHOTO: VINICIUS ROSA
5. Beige
Neutral color fences are popular for their elegant and minimalist look. Beige is a great alternative to white as it will conceal stains better whilst giving the same overall aesthetics. It can be paired beautifully with any color and will pop against a lush green garden. Beige is also suited for both traditional and modern home types.
6. Olive Green
For a sophisticated and aesthetically pleasing look, consider olive green. It blends seamlessly with the greenery in a garden and curates a statement-making design.
This gate paint color looks especially sophisticated when paired against a white-painted fence. The rich olive green paint color for gate has two undeniable advantages: versatility and elegance.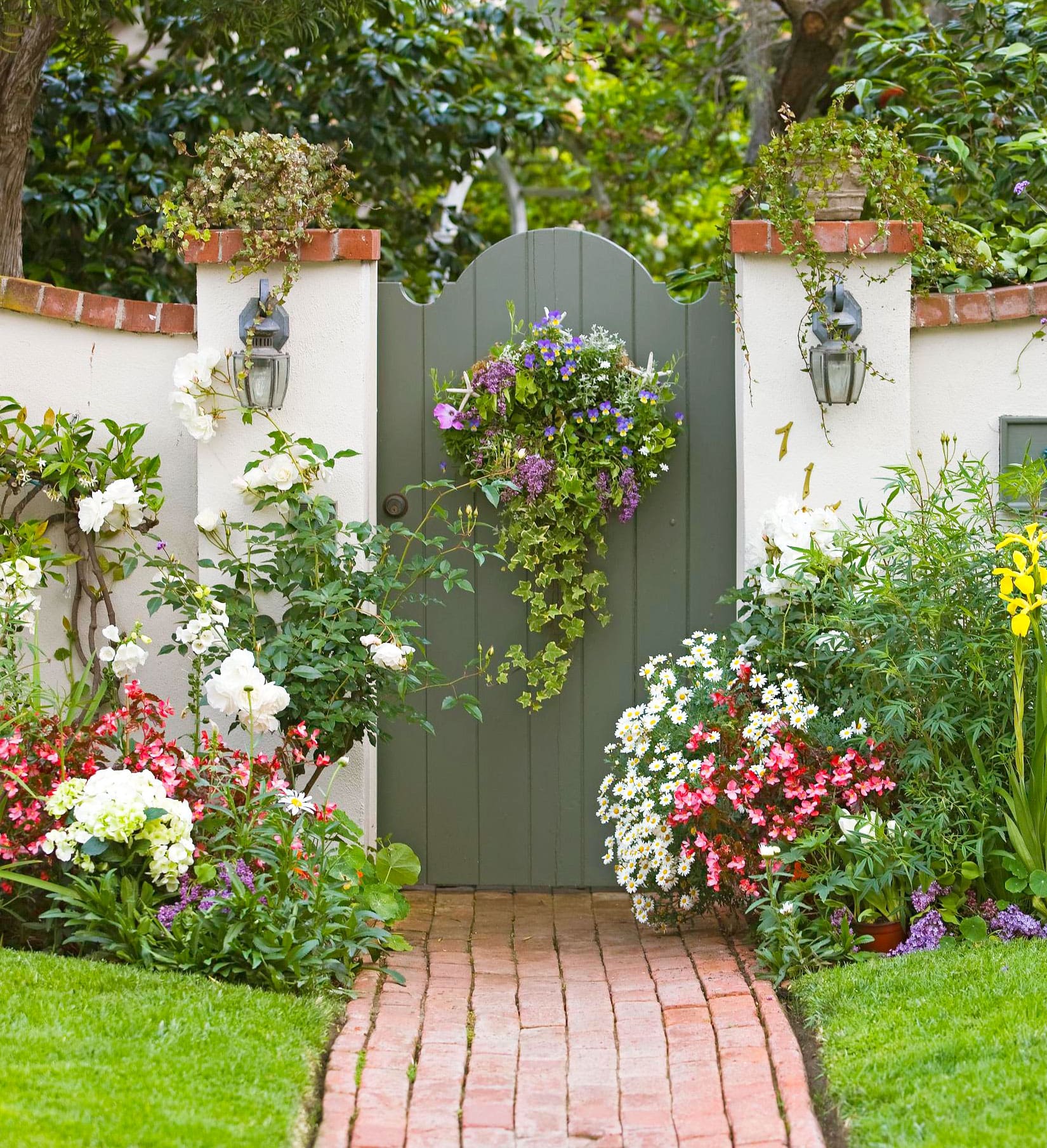 PHOTO: MIDWEST LIVING
7. Navy Blue
The color navy blue was a great color choice to add a subtle striking aesthetic to an outdoor space. The Navy blue color is experiencing a burst of popularity in modern outdoor spaces, especially front doors.
What makes it highly sort after is that it adds a hint of drama to an exterior without being too overwhelming.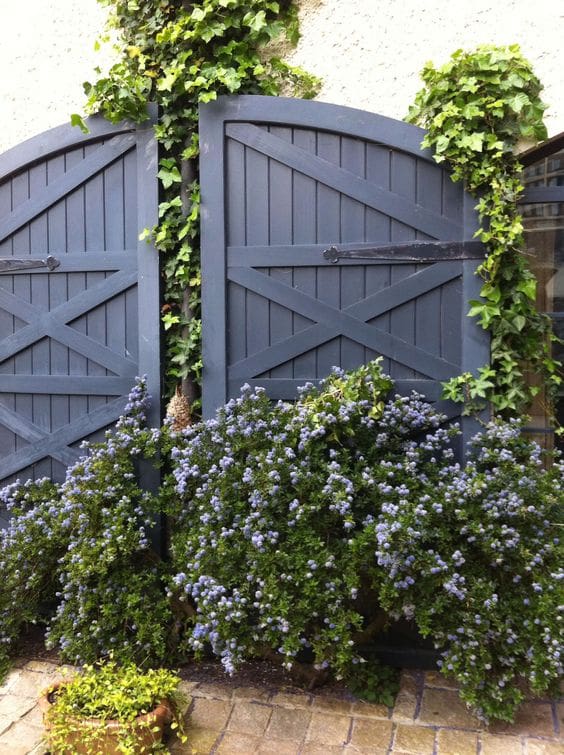 PHOTO: GROWING SPACES
8. Charcoal Black
There are good reasons why black is one of the most popular fencing and gate paint colors. Black is a timeless and versatile color that pairs well with every other color. It is also suited for both modern-style and classic gates. Although, black and dark-colored paints can make your garden feel smaller than it is.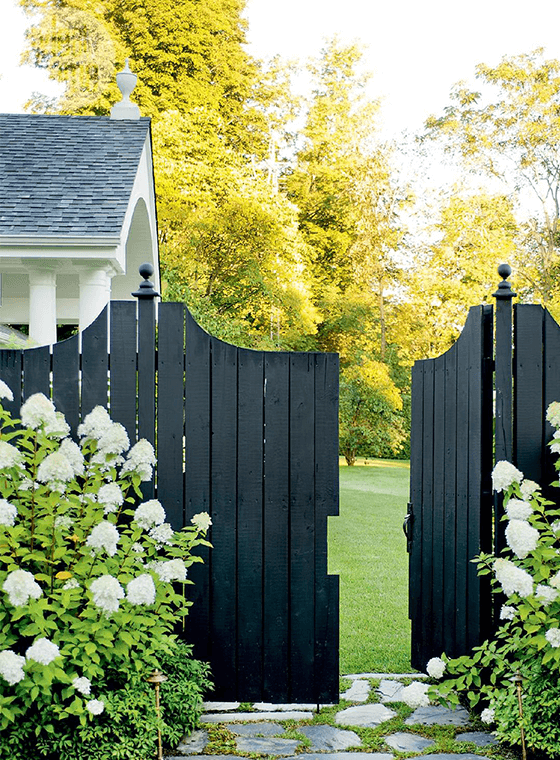 PHOTO: STYLE AT HOME
9. Rose Pink
Add a playful and feminine touch to your outdoor space with a rose-pink fence. This shade of pink lends freshness and brightens up a garden. Rose pink will contrast beautifully with the greenery in the garden. There is a surprise element in this paint color for gate that gives the space an impactful edge.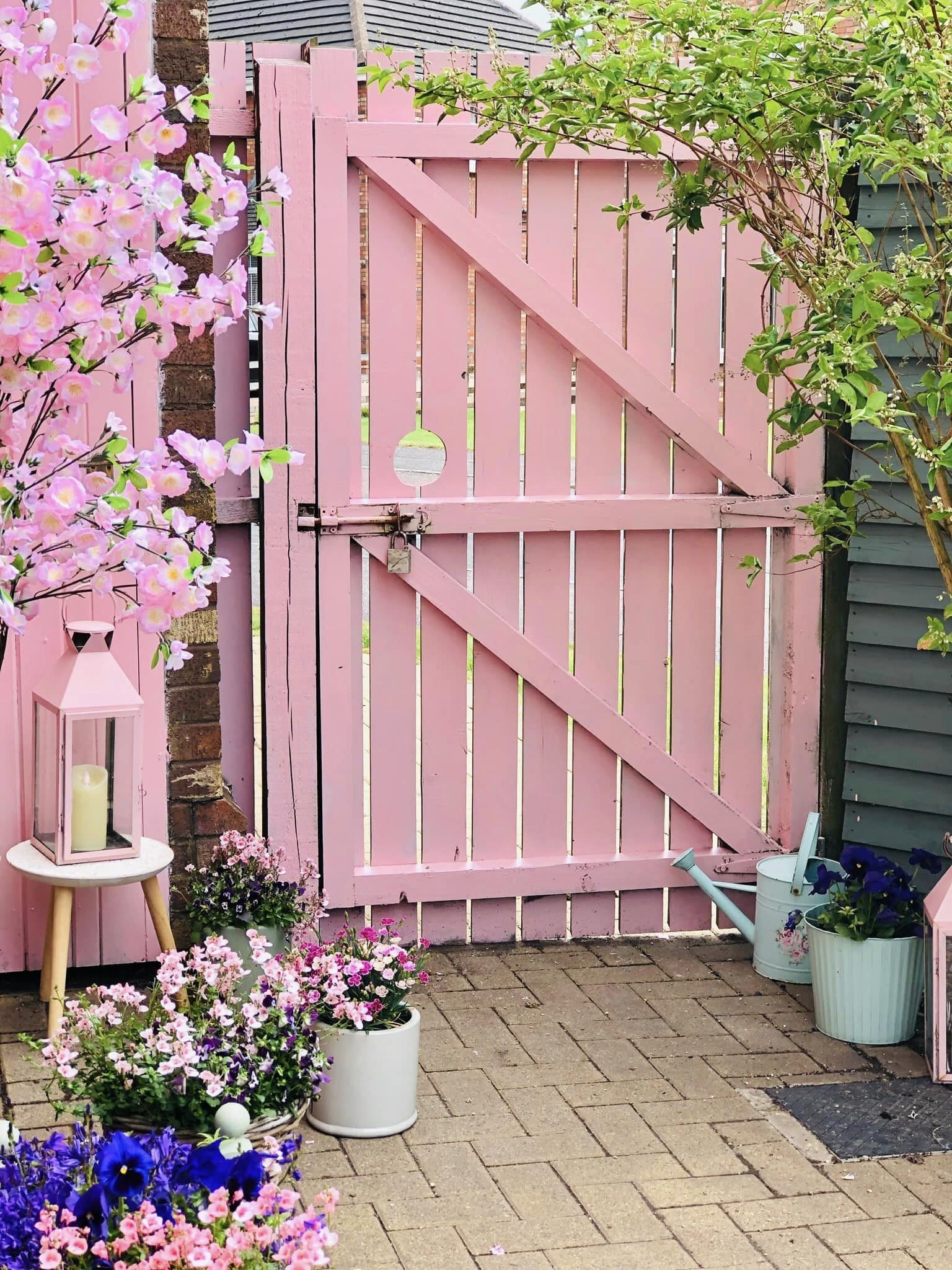 PHOTO: THE VINTAGE ROOM
10. Maroon
Do you want to make your outdoor gate stand out? The color 'Maroon' can make your outdoor space pop like never before. Maroon is a rich and sophisticated older cousin of red that gives the feeling of luxury and drama. It strikes the right balance between red and purple. So, consider this hue for gate paint color to add excitement to the space.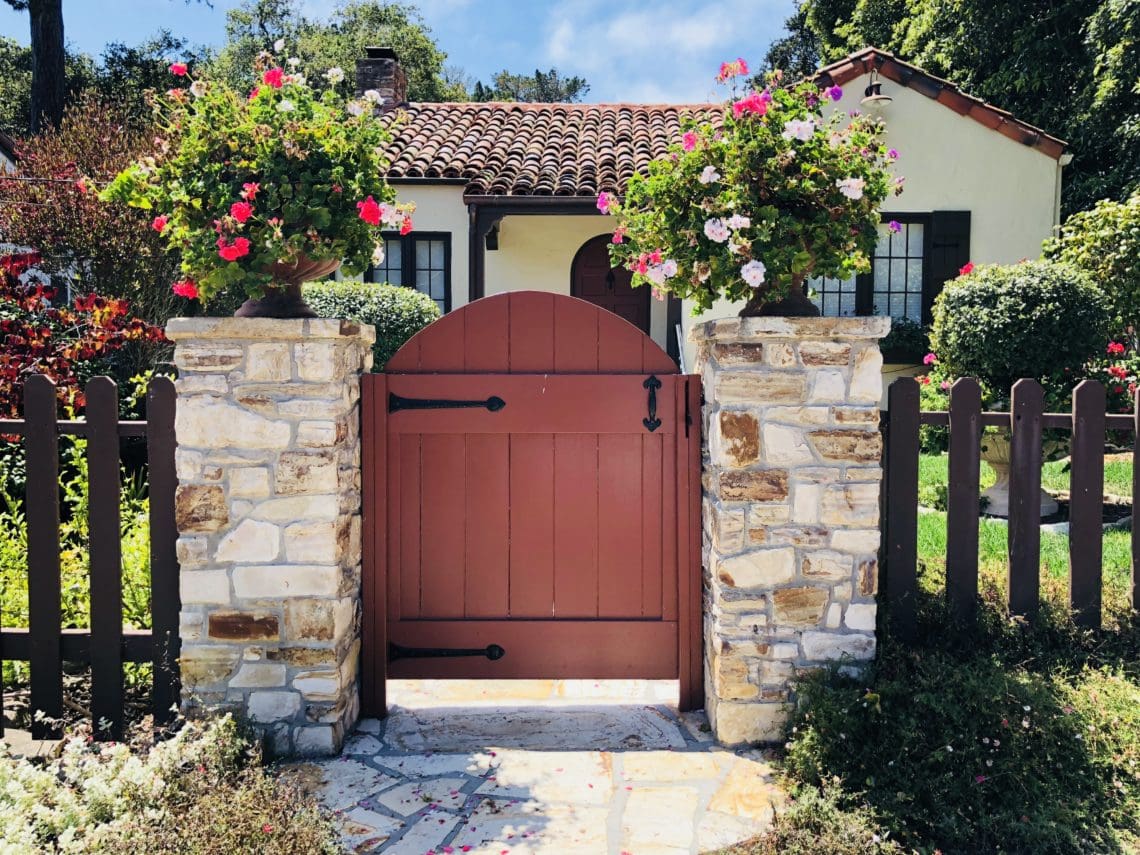 PHOTO: MONTEREY FARM GIRL
11. Midnight Purple
Midnight purple draws attention and make can make a real style statement in your outdoors. It simply just stands out, elegantly. If you're looking for vibrant and invigorating gate paint color, then look no further than midnight blue.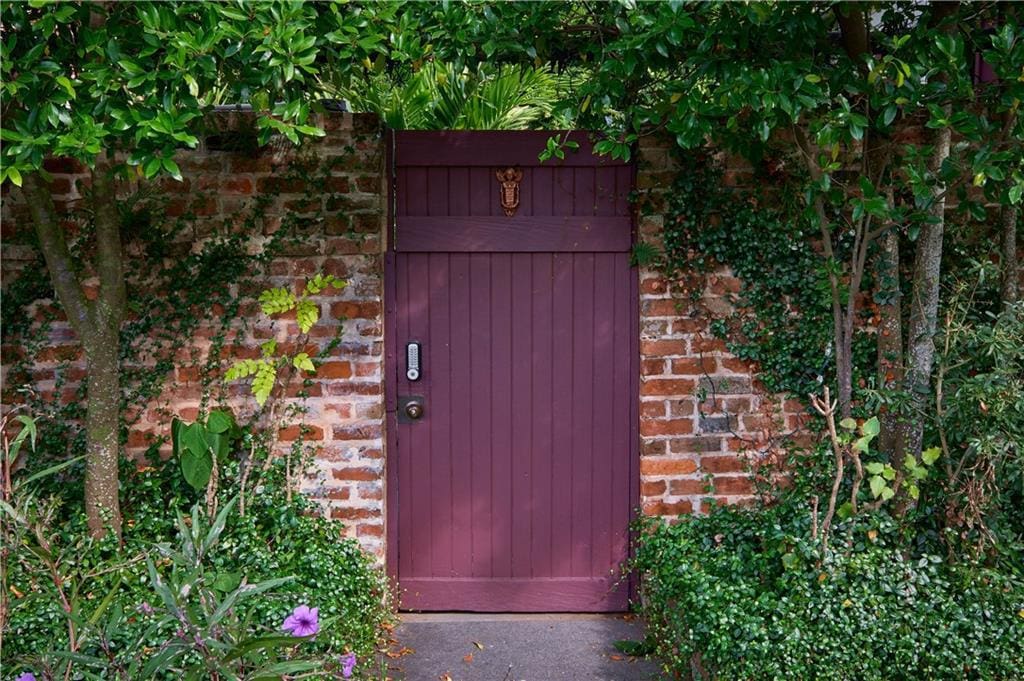 PHOTO: REDFIN
12. Red
In China, there is a belief that red brings good luck and favor. Feng shui experts believe that a red front door will pull Chi energy into the home, hence many use red front doors or front-yard gates. Red is popularly used to make bold statements and drama in design. There is no accent color that draws attention quite like red.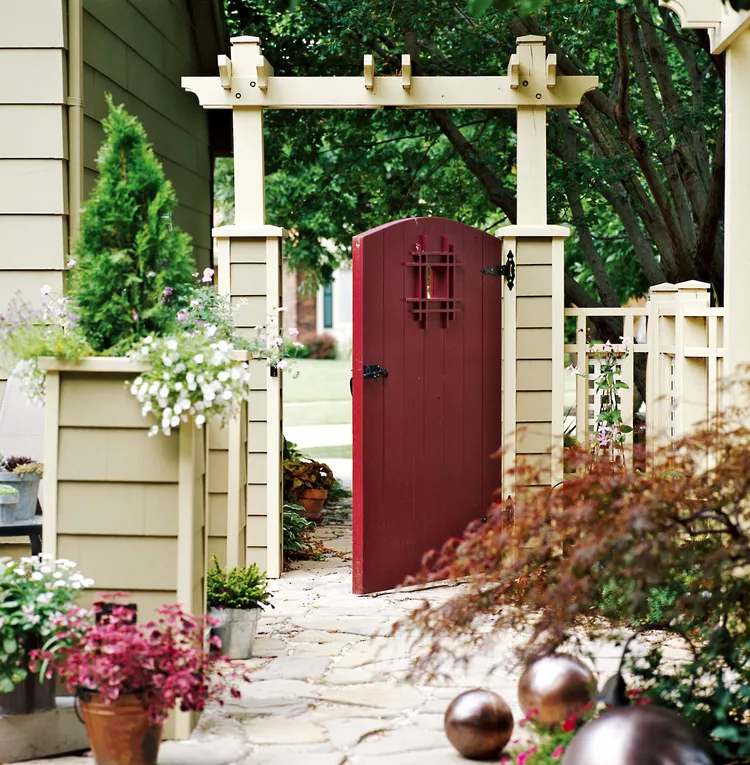 PHOTO: ANDY LYONS
13. White
White is a traditional fencing and gate color which has an iconic status in America. It signifies the American dream and peaceful living. There are speculations about why the first picket fences were white-painted.
Some claim it was a sign of privilege and wealth. It may not be too far from the actual fact about most luxury homes today have white gates and fences. Design-wise, it is a timeless, clean, and sophisticated gate paint color.
PHOTO: LISSYPARKER.COM
14. Bluish-Grey
The shade 'Bluish Grey' also known as 'livid' is a member of the pastel sky blue color family. This refreshing blue has a low saturation and medium brightness which make it ideal for outdoor spaces. This hue is a fusion of elegance and modernity.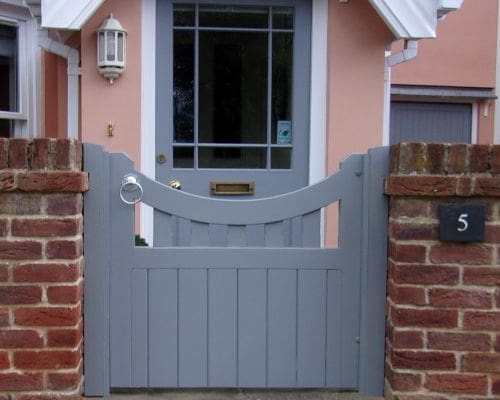 PHOTO: COUNTRYSIDE GATES
15. Dark Green
The color 'green' is reminiscent of nature and it blends seamlessly with outdoor greenery. Dark green looks especially appealing when paired with white fencing. It is one is the most popular gate colors, alongside white, black, blue, and grey.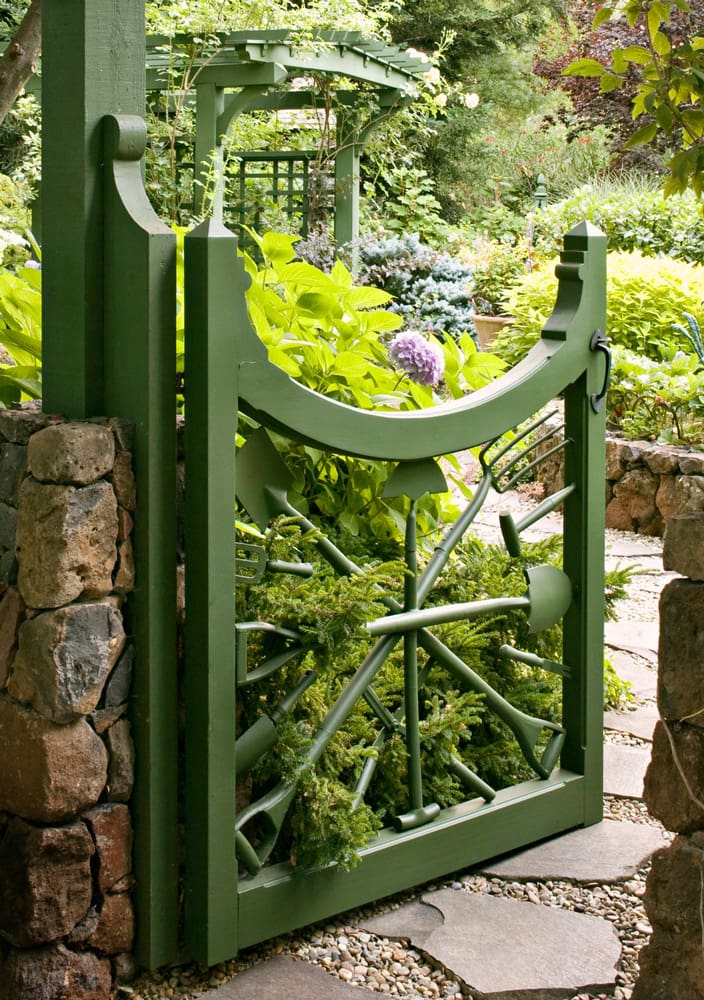 PHOTO: MIDWEST LIVING
16. Cyan
If you want to create a relaxing retreat in your backyard, cyan may be for you. Cyan is a highly saturated green-blue that resembles the color of a tropical ocean. Add pink flowering perennials for a refreshing summer retreat garden.
PHOTO: PINTEREST
17. Lavender
 Lavender is possibly the most intriguing paint color for outdoor gate. Since it is the color of lavender flowers, it adds a unique floral touch to an outdoor space. This eye-catchy gate paint color can instantly bring your dull bland garden back to life.
PHOTO: KAY ELLEN
18. Coral
The color 'Coral' is an unusual gate paint color choice but it can work, exceptionally well. Coral is such a vibrant and invigorating color that packs a big punch. Plus, this color can help to enhance the beauty of the summer blooms in your front yard or backyard.
PHOTO: LITTLE GREENE
19. Pastel Mint Green
Pastel mint green puts a contemporary twist on traditional greens. Similar to sage green, a pastel mint green is calming shade of green that can serve as the perfect backdrop for plants. This paint color for gate can add a beautiful and refreshing accent to your yard, especially when paired with white fences.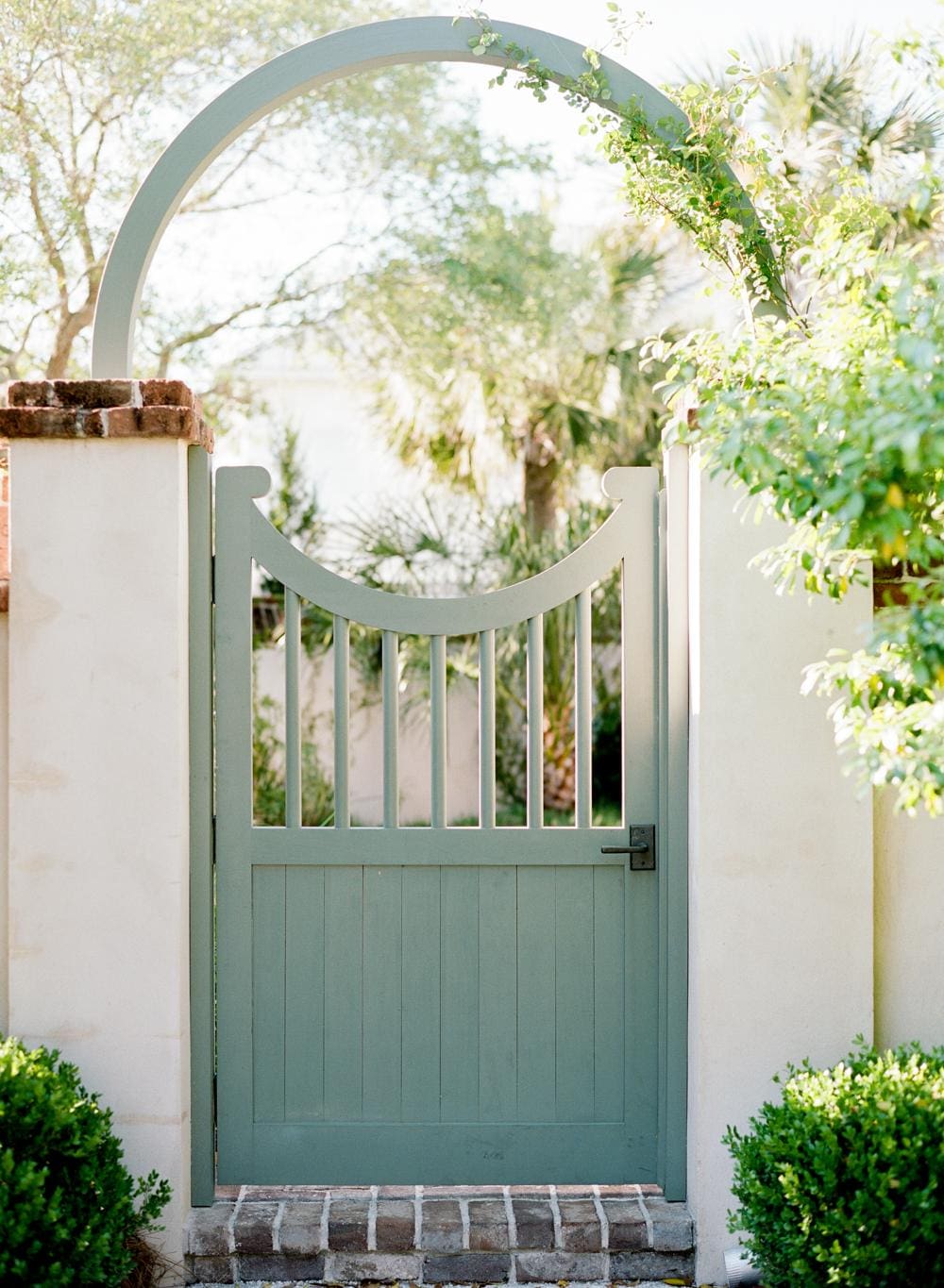 PHOTO: MARNI ROTHCHILD 
20. Steel Blue Gate
There are many shades of blue that will add sophistication and richness to outdoor spaces but steel blue is a shade like no other. Steel blue works well in any style of home and will complement a wide array of colors. This hue is the perfect balance of soft and energetic.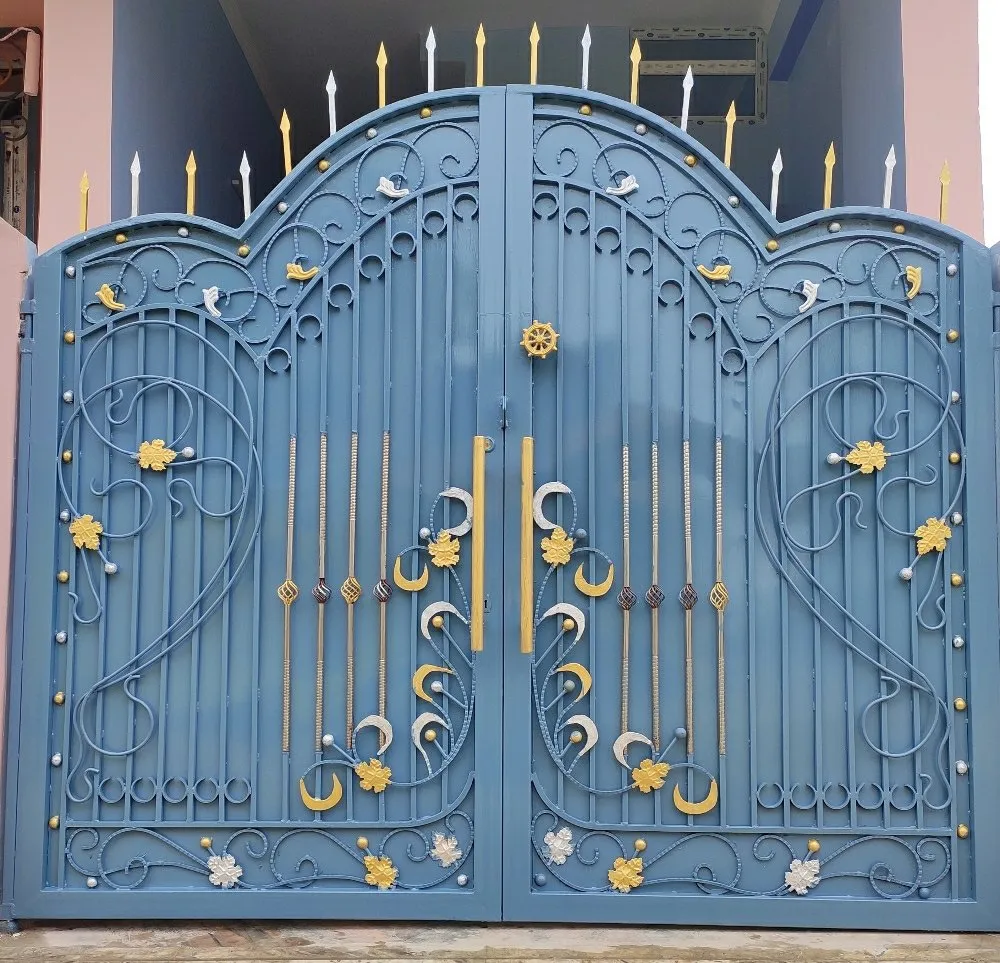 PHOTO: TRADE INDIA