5 Incredible Patio Design Ideas
Patios have become increasingly popular among homeowners today, who see them as an extension of the interior. You could use your patio to host guests, spend quality time with your family or squeeze in some alone time after a long day at work. Therefore, you want your patio to be as welcoming and beautiful as the rest of your home. This article will look into some simple garden patio designs you should try to elevate your outdoor space.
Plant a vertical garden
If you don't have much real estate or wonder what you can do with a blank wall, you could consider planting a vertical garden. A living wall takes up very little space and can serve as an aesthetically pleasing backdrop for pictures.
Another added advantage of planting a vertical garden is that it improves your air quality and attracts wildlife to your patio, such as insects.
(Image credit: Future / Alun Callender)
Incorporate natural elements
Research reveals that exposure to nature is good for our overall well-being and health. Therefore, it would be best to have some natural elements on your patio to help elevate your outdoor space.
However, it would be wise to consider the plants that will suit your patio carefully. For instance, white flowering plants can light up a dull area and add depth to your patio at night. Evergreen plants also give your patio year-round color and vibrancy.
(Image credit: Kate Gould)
Install appropriate patio flooring
The right flooring choice can make your patio wider, especially when someone is looking at it from the home's interior. For instance, it would be best to build a paver with grout in a similar color to make the area look grand.
You could also look into outdoor porcelain tiles, which are low maintenance, durable, and can withstand harsh elements such as snow. These tiles are also anti-slip and scratch-resistant, making them a perfect choice for your patio.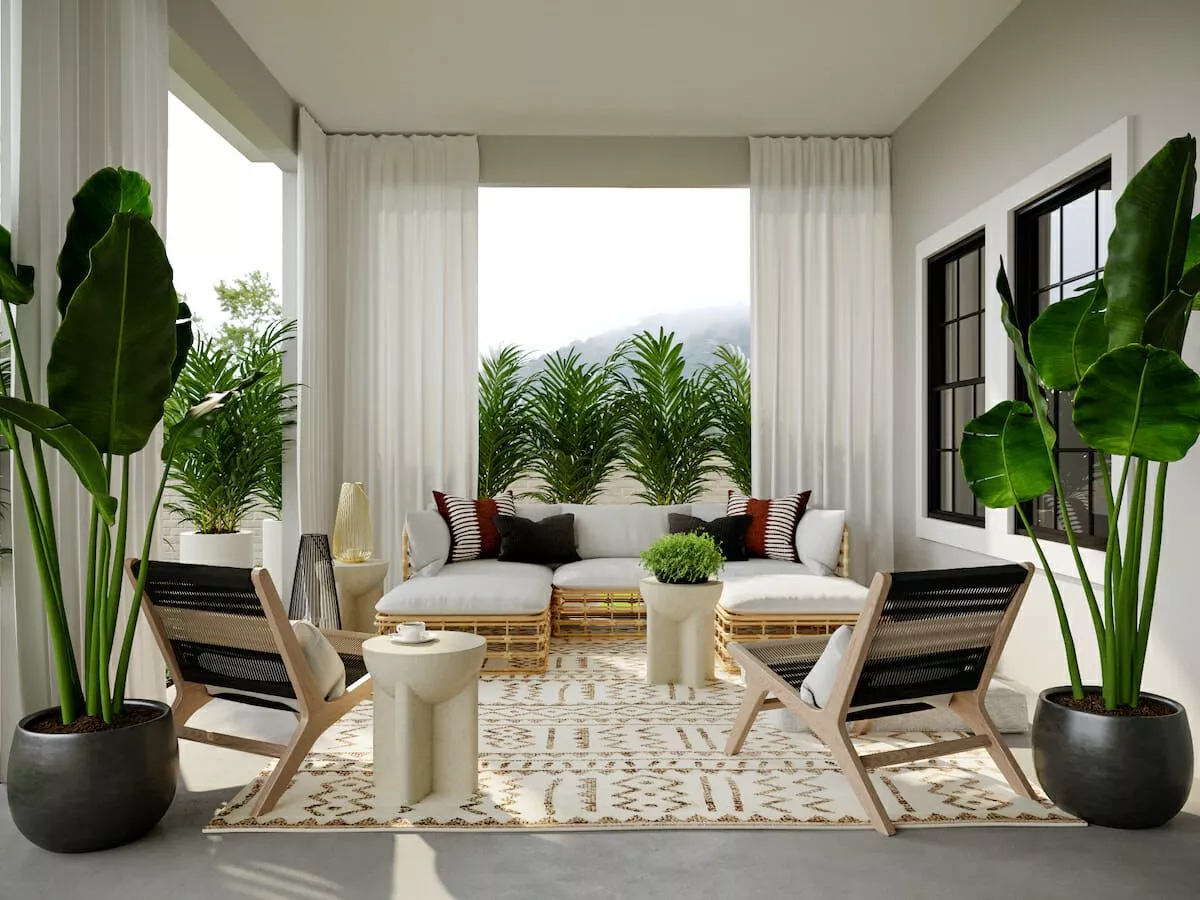 (Image credit: Decorilla)
Add an outdoor dining area
Lunch and dinner times don't always have to be confined to your home's interior. You could set up an elaborate dining area on your patio to congregate with your family members or host guests.
The right furniture and table linen can make your patio look and feel like an extension of your indoor dining room. However, it would be wise to select furniture that withstands harsh weather elements such as sun and heavy rain.
(Image credit: Amir Schlezinger)
Build a multi-level terrace
If your patio looks a bit bland, you can add dimension and height by adding terraces. We suggest planting some greenery to soften your patio and give it a natural feel. Since the steps might be hard to navigate during nighttime, it would help to incorporate some outdoor lighting to increase safety and elevate the visual appeal of your patio.
(Image credit: Harrington Porter)
In Conclusion
In a nutshell, the best way to spruce up your patio would be to design it the same way you would your home's interior. Ensure that you choose cohesive colors that complement one another to prevent your outdoor space from looking chaotic.