15 Stunning Window Flower Boxes To Spruce Up your Home
Undoubtedly, decorating with flower boxes is an amazing way to change the looks of home exteriors. Flower boxes have been perennially used in home exteriors serving decorative purposes. When installing flower boxes, it is also important to choose the right flowers or plants to match the box design. Most people use annual flowers, perennials, begonias, nasturtiums, and lush succulents, although there's no rule for the selection. Window flower boxes are generally installed below window frames.
All this is required is your creative juices, a wooden box, or some boards or even plastic to get this home looking highly stylish. Some of these materials you may already have in your home or can also be bought from improvement stores.
In this article, we'll reveal 15 stunning window flower boxes that can surely spruce up your home and garden.
1. Classic White Style Flower Box
To embrace minimalism, why not opt for a classic white window box? These flower boxes work wonders when put under very wide window boards. For this floral home exterior design, boxes can be 80 inches long, and end caps 71/4 long by 71 inches wide.
In order to accentuate the wall colors (especially if they are white), install metal brackets painted the same color. Flowers like perennial calibrachoas are more appropriate for this design.
2. PVC Flower Boxes
PVC (polyvinyl chloride) flower boxes comprise grids of lattice across the front and sides. For these window boxes, use plastic and cedar, which are naturally weather-resistant. This weather-defying flower box is sure to add an aesthetically pleasing look to your space.
(Image credit: Pretty Handy Girl)
3. Rustic Flower Boxes
Do you have a farmhouse-style home? If it's your case, then a rustic window box may be your choice. What makes this flower box special is the location, as it is always near or just beneath the batten and shutters.
Ideally, place a poplars trim atop the board, which can be of the same material as the shutters. Rustic flower boxes add a classic touch that other boxes cannot offer. Look for pre-aged wooden panels when purchasing, as these do not require treatment or staining.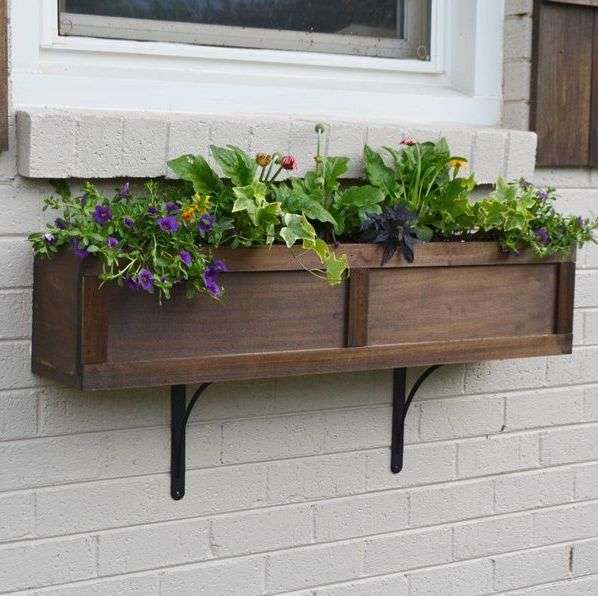 (Image credit: Beneath My Heart)
4. Picket-Fence Flower Boxes
This style is like a combination of a flower box and a picket fence.
You will create a box that resembles a white picket fence and place it just below the window. Utilize a jigsaw to sharpen the wood and don't do anything to the window. Just cut the ends of each board and put them one next to the other. Ensure to put a strong base for the soil and plants. Or else, add pickets to a regular box. Both options work.
Cedar is great for this as it will not need painting. But if you want to paint your cedar window box, paint it white to give it the appearance of a picket fence.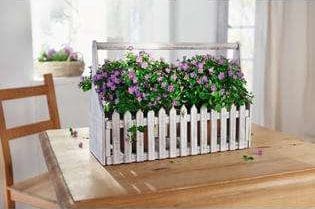 (Image credit: Pinterest)
5. Cedar Window Flower Boxes
A plastic liner and a pack of cedar boards do the trick to build cedar window boxes. You can leverage useful fence boards to build these flower boxes. Next, use a plastic liner for the soil and plants. This design needs no painting, leave it natural or paint it any color if you find it necessary.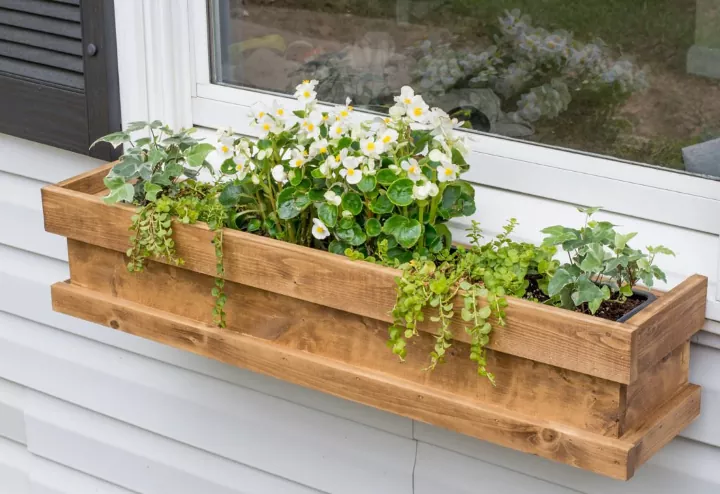 (Image credit: Home Talk)
6. Dog-Eared Picket Fence Flower Boxes
The difference between these flower boxes and the picket fence-like flower boxes is in the shape of the board ends, which are shaped like dog ears. The box will serve as a fence pot attached to the window. Use cedar boards.
A jigsaw helps create the dog ears. Cedar is pretty manageable and can be cut to shape and size. Ideally, construct your dog-eared fence-style box with wood pieces not wider than 6 inches. These flower boxes are suitable for very long windows.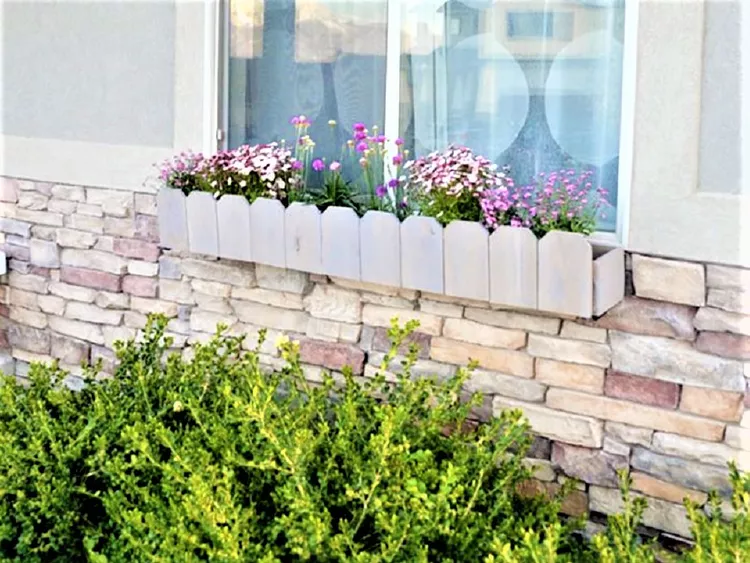 (Image credit: Make It & Love It)
7. Wooden Plank Window Flower Box
For this design, you need a wooden plank of at least 8 or 12 pickets and a mesh to keep the soil in place. Since wooden planks facilitate drainage, leave a small gap between each board.
Attach the pallet to the window and use a mesh for the soil. Fill the flower box with sand and plant some flowers in it. The mesh will go unnoticed once filled up with soil.
8. Neatly Trimmed Flower Boxes
Adding a neatly trimmed window box is a cost-effective solution. You just need a bead of glue, a few brad nails, and whitewood common boards to create these flower boxes.
The boards can be 8 inches long and a strip of pine primed finger-jointed base cap will decorate the box. The trim is attached to the window with brad nails.
(Image credit: She Holds Dearly)
9. Curved Window Flower Boxes
Curves transform and add charm to your flower boxes. To make your flower box curve, take a pencil and draw where to cut. Disconnect the flower box from the window and do this task more calmly.
Finally, put the box back when the board has been cut. This is a good technique to eliminate rigid lines from unaesthetic flower boxes.
(Image credit: Rosa María Fernández Rz / Getty Images)
10. Window Flower Boxes With Corbels
This is another flower box that looks better when fashioned with plants. These flower boxes are made from hefty corbels that hold up to 160 pounds of soil and plants. Screw the box into the wall with heavy lag bolts to support the weight properly.
(Image credit: Pinterest)
11. Geometric Patterned Flower Boxes
Geometric patterns are unique design style that involves the collection of shapes to create a cohesive look. To achieve this, glue colorful wooden stripes to the flower box. This method is applied to almost any square flower box.
Use wooden panels of different colors, but in case you don't have any, paint the boards first and then attach them to the box. When doing this, you can either take down the box or install the wooden stripes softly and carefully while the box is on. It all depends on your dexterity.
(Image credit: Addicted 2 Decorating)
12. Wrought Iron Window Flower Boxes
For a bold look, utilize a wrought iron flower box to give a nautical sensation to your home. Do not put too many flowers in the style of flower boxes. Instead, focus on putting simple and visually pleasing. Create your box with shells, anchors, and old skeletons to inject character into it.
(Image credit: Decorative Garden Antiques)
13. Rattan Window Flower Boxes
A rattan window flower box adds texture, style, and intrigue to your home. These charming flower boxes are sturdy and designed to add character and interest to your window.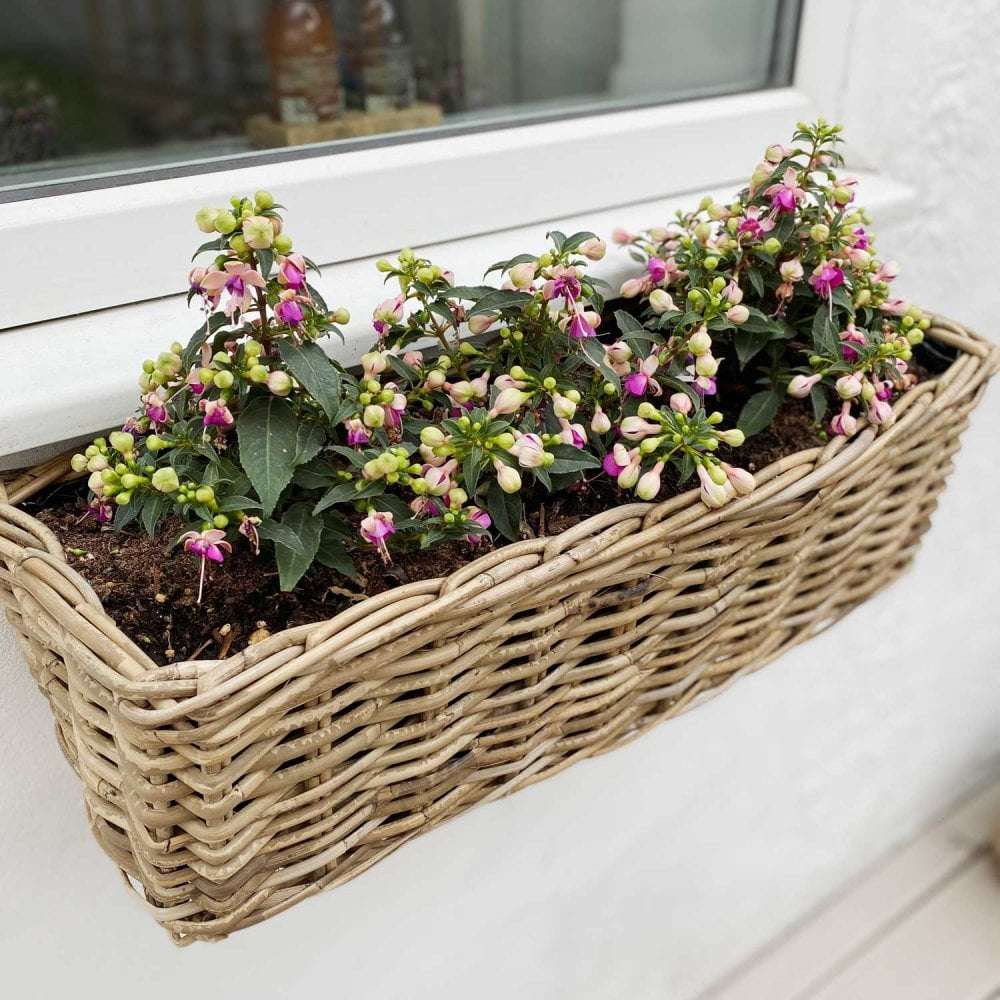 (Image credit: Pinterest)
14. Tin-Coated Steel Window Boxes
Add some flare to your home with a tin-coated stainless steel window box! What's great about this type of box is that they don't look bulky. They are lightweight, durable, and easy to install. This can also be used to grow herbs.
(Image credit: Pinterest)
15. Twig Window Flower Boxes
For an unconventional and eco-friendly approach, consider a twig window box. The wig box below was created using plywood frames and debris collected from Hurricane Sandy. This is a surefire way to add visual intrigue to your home's exterior.
(Image credit: Julie Houston)
What Is The Best Flower Box For Home Exterior?
Most of the flower boxes mentioned above will fit most home exterior styles. They will give a different touch and charm. As you can see, you can also modify existing flower boxes by adding wooden stripes or curves to them. Some may require a mesh to keep the sand in place. Make sure to use the right kind of flowers to make your flower box vibrant and beautiful.