20 Concrete Patio Ideas On A Budget
Ready to transform your backyard? These 20 concrete patio ideas on a budget will take your outdoor space from drab to fab in no time! 
Did you know that patios are one of the most in-demand features in the U.S. real estate market? A recent study shows that 63% of the 1.1 million single-family homes built since 2021 have a patio.
A patio can improve an outdoor space as it creates a welcoming atmosphere and adds to the overall sophisticated look of the space. This feature can instantly bump up the value of your home while enhancing its visual appeal.
Patios are highly functional as it helps create a relaxing space where we spend quality time and even have dinner with loved ones. They are various types of patios including concrete, flagstone, gravel, and brick, to name a few.
Concrete is the most cost-effective patio paving option. It is also long-lasting and easy to maintain. For decades, this tried-and-tested mixture of cement and sand has remained homeowners' favorite. Concrete is also a very versatile material, that can be molded to create a patio of any size or shape.
Even if you have financial constraints, there is an array of concrete patio ideas on a budget that will elevate the look of your outdoor space.
 Here are the 20 concrete patio ideas that are sure to fulfill your aesthetic as well as budgetary needs.
1. White Concrete Patio Slabs
White is classic and timeless color. Using white concrete patio slabs in your outdoor space inevitably makes it feel more modern, brighter, open, and bigger.
This is a common design principle same holds true for smaller interior spaces in the same way that it does for paver patios and pool decks outside.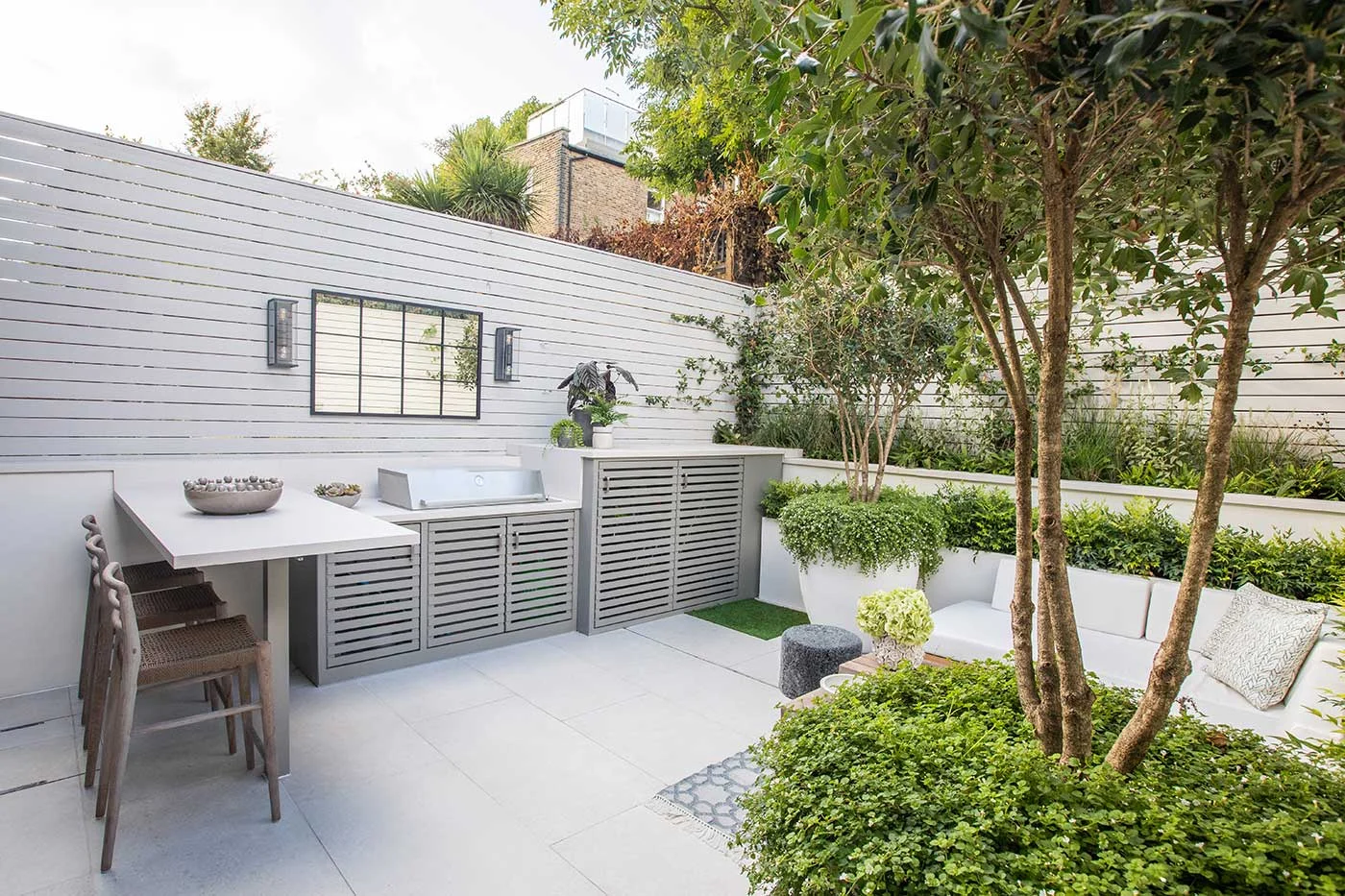 PHOTO: THE GARDEN BUILDERS
2. Ground Level Concrete Patio
There are two options when it comes to patio levels, it can be raised or made flat -the same level as the house. You need the proper patio material, which can be readily built on a slope and still look great, to produce a flat patio. This patio style is great for one-story houses.
A patio at ground level distinguishes outdoor living areas and allowed easy accessibility. It also offers a lovely spot to place furniture, potted plants, and even a barbecue for entertaining friends and family.
PHOTO: MORSE LANDSCAPES
3. Raised Concrete Patio
The style of a home will play a major role in determining what level the concrete patio should be. A raised deck is the best option for a house where the primary living area is on the second floor or multi-story home.
Adding a raised concrete patio to your outdoor space, alongside trees and other landscaping elements is a fantastic way to elevate its aesthetic appeal.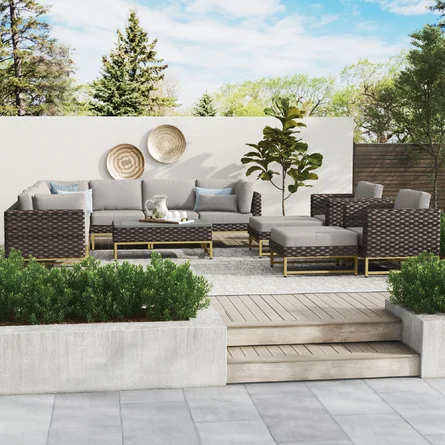 PHOTO: JOSS & MAIN
4. Concrete Pavers and Artificial Turf Patio
A great way to add charm and a contemporary feel to your outdoor area is by pairing concrete pavers and artificial turf.
Artificial turf and concrete are both long-lasting, timeless, easy to maintain, and adaptable. This design approach will make a major impact in a mundane outdoor space.
PHOTO: COSTA CHRIST
5. Concrete Raised Garden Bed
Raised beds made of concrete or asphalt are ideal for growing plants on.
This is so that the soil and plant roots cannot come into contact with the surface since the beds have a base layer of gravel.
PHOTO: INSTAGRAM @CARLYSHOMEIDEAS
6. Circle Concrete Patio
There are several shapes to consider, depending on the style of your garden. Arguably, a circled patio stands out from the rest. It is a surefire way to enhance the potential of your outdoor space.
They can also be used as standalone spaces like a barbeque corner, dining, and patio furniture or just simply added as aesthetic elements to already-existing patios.
PHOTO: AKI LANDSCAPING AND GARDEN ROOMS
7. Square Concrete Patio
This and rectangle are the most common choices as are less complex and fit the majority of outdoor spaces. Although not the most inventive, this design is less expensive and more practical.
Square patios with their 90-degree angles and straight edges go nicely with both traditional and modern outdoor spaces.
PHOTO: PINTEREST
8. Rectangle Concrete Patio
Similar to square, rectangle work for most garden styles.  Rectangular-shaped concrete patios are mostly featured in sleek, minimalist outdoor designs. This is especially ideal for dining-type patios or placing sunloungers.
PHOTO: MEGHAN BIERLE O'BRIEN 
9. Two-Tone Concrete Pavers
Two-tone concrete pavers create more visual interest than one. Using a two-tone neutrals paver will space the space depth and style without detracting from the rest of the space. It still lets furniture and other elements serve as the main focal points.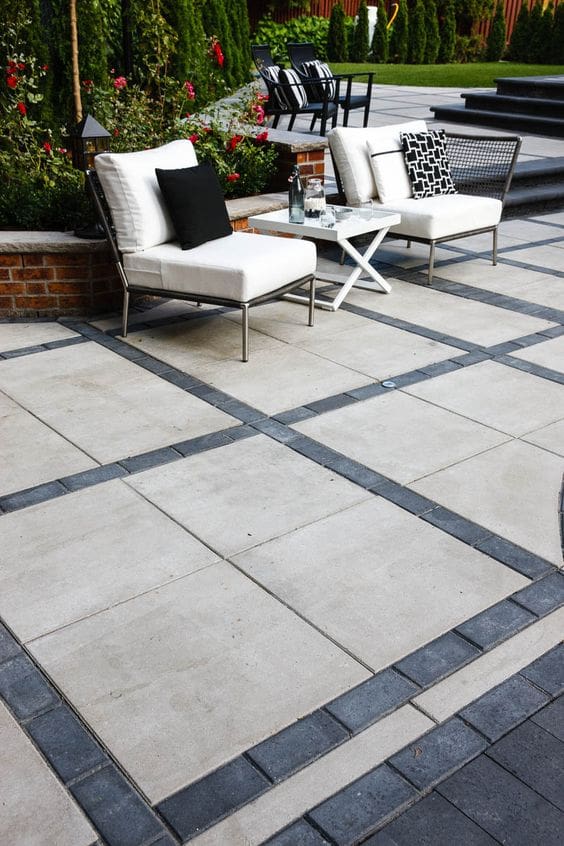 PHOTO: PINTEREST
10. Concrete, Pebble, And Wood Patio
Patios are versatile. You can mix-match various natural materials, like concrete, pebble, and wood to maximize interest.
Similar to art, combining different materials can an understated beauty to otherwise boring outdoor spaces.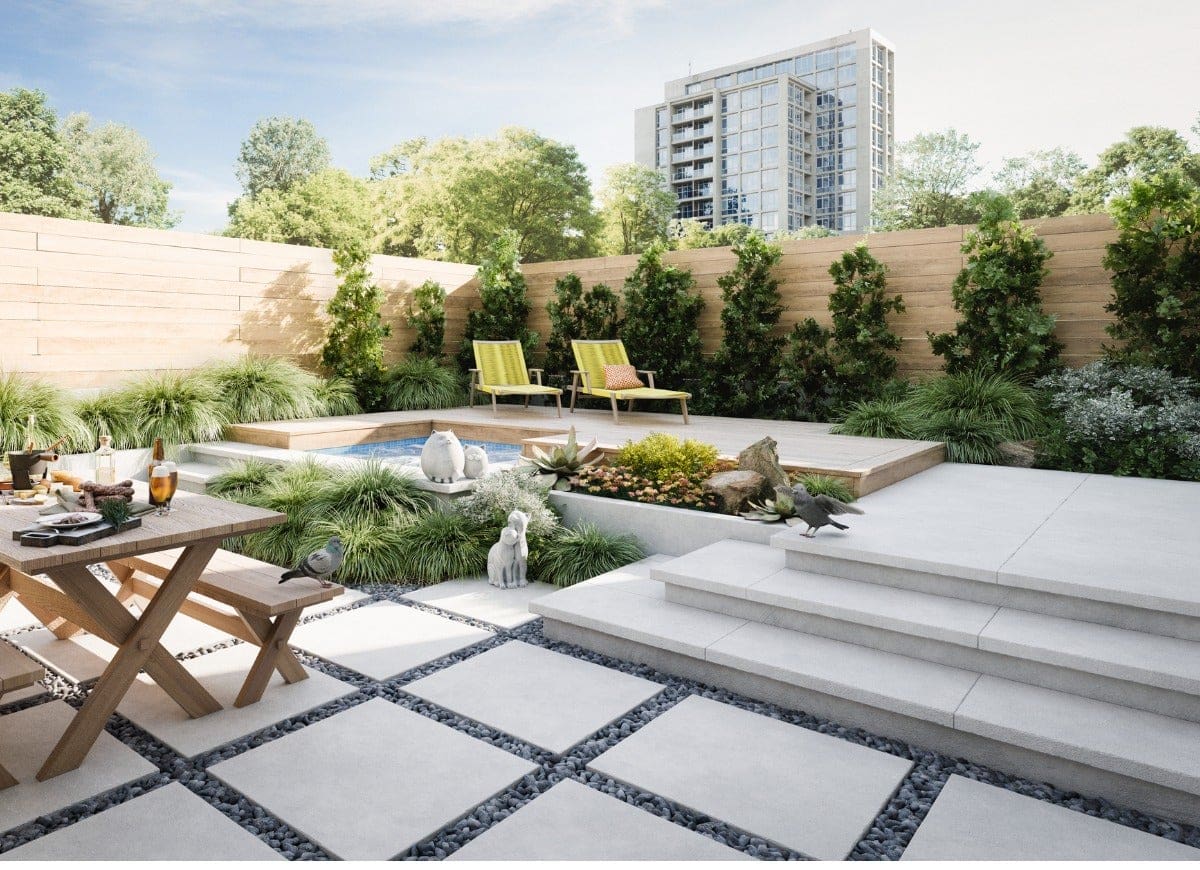 PHOTO: ISTOCKPHOTO
11. Diamond Pattern Concrete Patio
A common concrete stamping technique used in patios and landscaping and even interior spaces is the diamond pattern.
Why is diamond-cut concrete so popular?  Other than its aesthetic appeal, it allows you to play with finishes and patterns.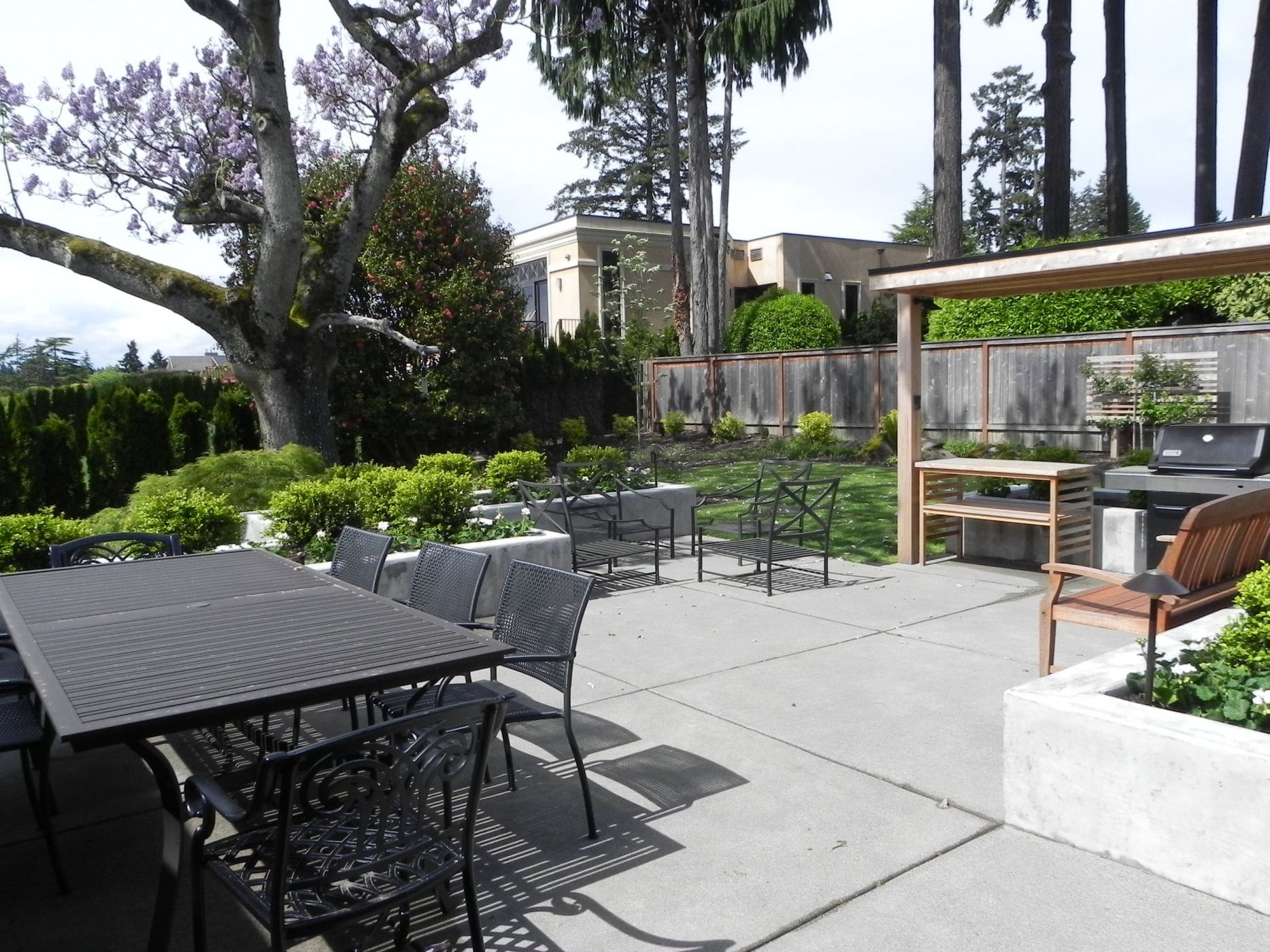 PHOTO: SUBLIM GARDEN DESIGN
12. Concrete And Red Brick
Concrete and brick complement each other. In addition to breaking up an expansive space, mixed materials add more visual interest than a single material. Combining these materials helps to add contrast and stylistic advantage to a patio.
PHOTO: ISTOCKPHOTO
13. Concrete Patio With Pebble Stone Border
In addition to adding natural beauty to the garden, pebbles used as protective coatings in gardens have a very significant function.
Unlike larger cobbles, which are more likely to provide spaces for weeds to grow through, pebbles make it harder for weeds to protrude and they also protect the soil underneath from bugs and erosion.
PHOTO: SHUTTERSTOCK
14. Stamped Concrete Patio
A type of concrete known as stamped concrete has been textured or imprinted to imitate the pattern of brick, porcelain, flagstone, tile, or an array of other materials.
The customization technique is what makes the use of concrete for the patio versatile. This means that you can still get the appearance of other materials while also having the affordability and durability of concrete.
PHOTO: SUBLIM GARDEN DESIGN
15. Multi-Level Concrete Patio
A multi-level patio is a practical technique that increases the depth and size of your outdoor living area and provides sophisticated settings for lounge, dining, and hot tubs area.
Since the patio can adapt to the terrain and make the most of the area, a multi-level concrete patio is especially ideal for people whose yards have a steep slope.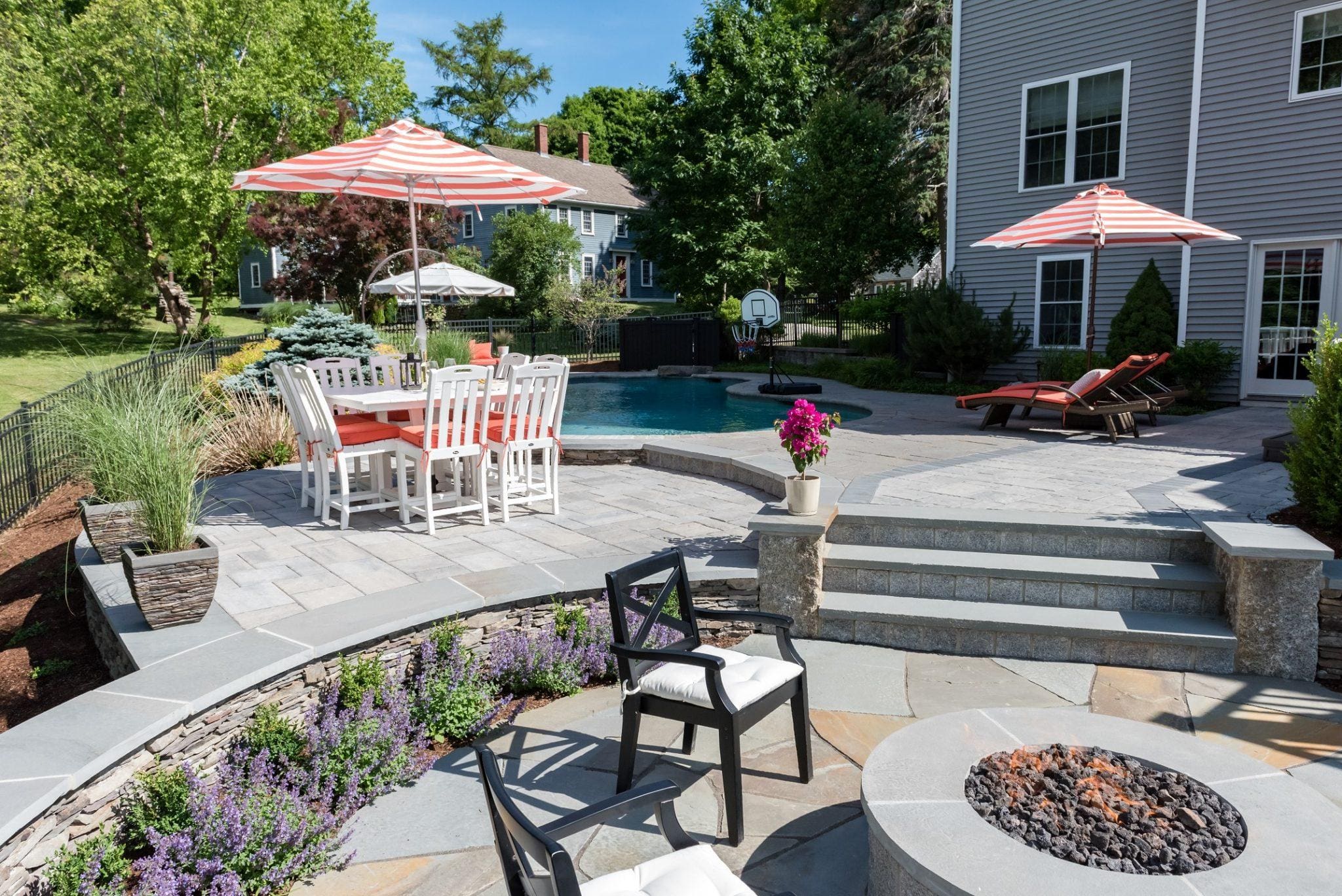 PHOTO: ALMOSTMAKESPERFECT.COM
16. Concrete Patio With Built-In Seating
These built-in seating have unmatchable aesthetics and are incredibly strong and ideally suited for enduring the abrasion and wear of tough urban environments. They are built to last for decades!
PHOTO: MICHELE LEE WILLSON 
17. Concrete Plant Box
Why use concrete plant boxes? When it's chilly outside, the mass of concrete will serve as insulation in other to keep the soil around the plants warm. In addition, the thick walls act as a barrier to stop plant water leaks that could cause damage to the patio, or even the planter directly.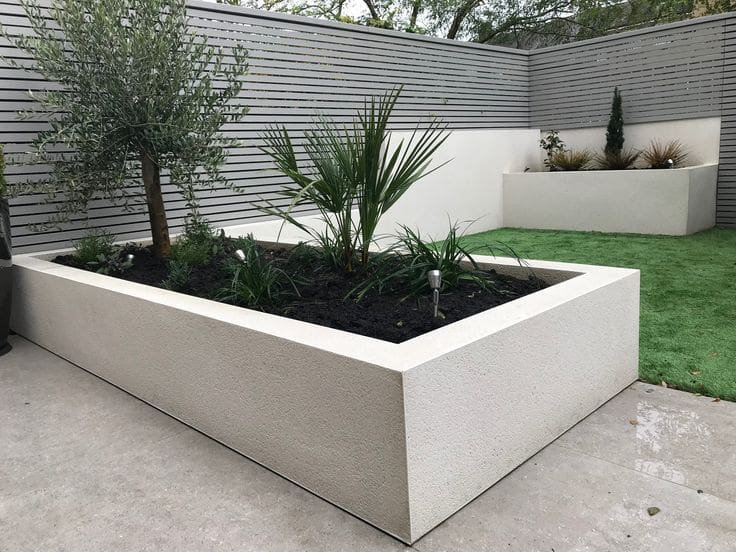 PHOTO: PINTEREST
18. Curved Concrete Patio
The curve is used to add interest in landscaping. The biophilic design movement, which aims to incorporate nature into our constructed world, heavily relies on curves.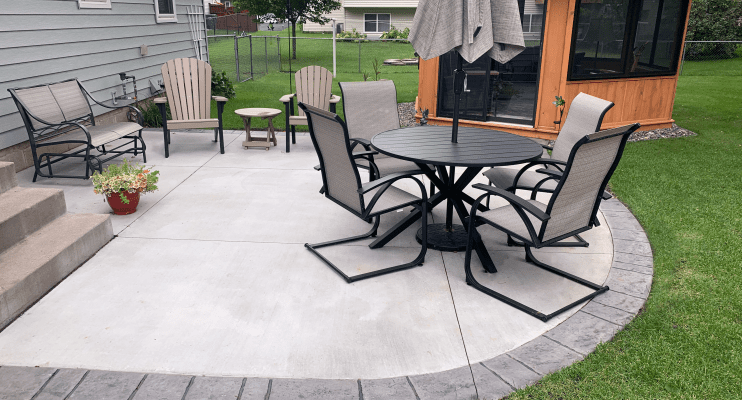 PHOTO: SHUTTERSTOCK
19. Save Money With Concrete Outdoor Furniture
Concrete is a highly durable material that can last for decades. Investing in concrete outdoor furniture will save you money in the run long as it will not get damaged or need replacing like wood or wrought iron furniture that is susceptible to weather damage and rust.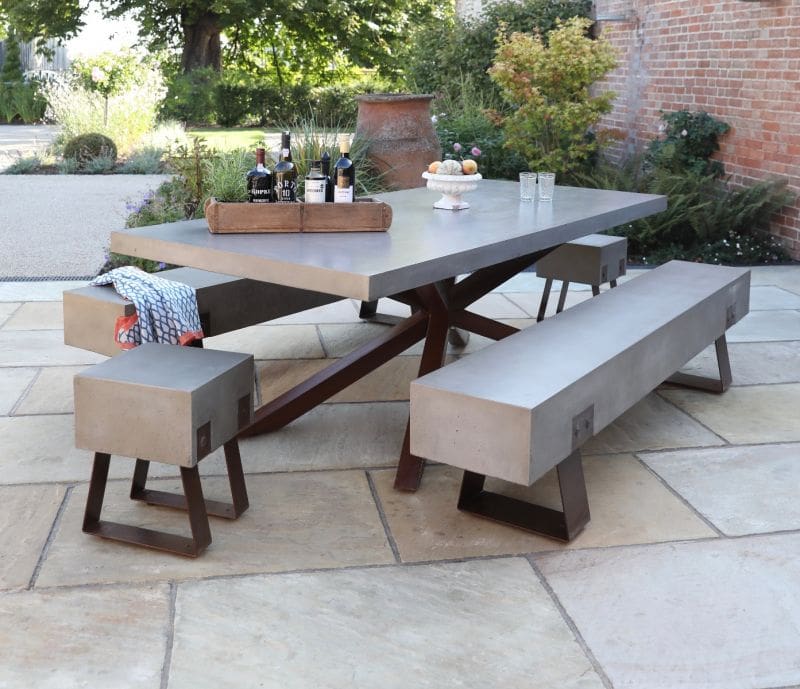 PHOTO: JO ALEXANDER
20. Concrete Patio Firepit
In addition to improving their beauty, fire pits made of composite concrete also guarantee their durability.
Nowadays, concrete fire pits are very popular and widely available in various styles but not all concrete is created equal. Before investing in one, make sure to inquire about the concrete's durability.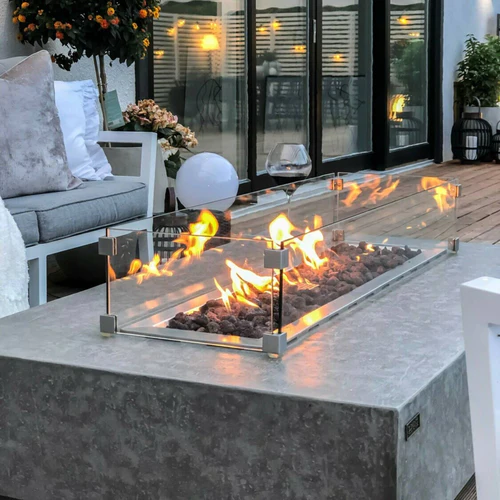 PHOTO: ISTOCKPHOTO