30 Green Accent Wall Ideas For Every Room
Are you wondering if a green accent wall is right for your space? You're in the right place!
An accent wall, also known as a feature wall can make a major impact and elevates the aesthetics of even the most mundane room.
This type of wall is created by painting a single wall within a room differently than others. Although, other than paint, other materials such as wallpaper, wood, plastic, mural, or bricks can also be used to create an accent wall.
An accent wall is usually created with an accent color. An accent color is usually the most vibrant hue in the color scheme and is used to give an impactful edge to a color scheme.
As a rule of thumb, only 10% of a room's design should be covered by the accent color. About 30% should be covered by the secondary color and 60%, by the main color. This is referred to as the 60-30-10 rule which helps formulate a color palette for a space.
There are so many accent wall color ideas for interior space which makes it tricky to choose from. Green is a great choice for interior spaces as its a color of nature that conveys a sense of peace, refreshment, and harmony.
In this article, we've compiled 30 stunning green accent wall ideas for every room. No matter the style of your home, these ideas are sure to take your space from drab to fab!
1. Sage Green Dining Room Geometric Batten Wall Paneling
Sage green is trendy in the interior design world today and it looks like it's here to stay for the foreseeable future. Sage is a muted and less saturated shade of green, so it has the ability to create a relaxing atmosphere in any space in the home. Board and batten wall paneling create a rustic and chic space especially when designed in a geometric pattern.
PHOTO: ERIKA CONNER
2. Green Accent Partition Wall
Partition walls are great for dividing open living spaces. A great way to accentuate your space is to paint your partition wall green. Whether you choose a dark and moody green or muted shades of green, you can easily create mood, impact, and drama with a partition wall.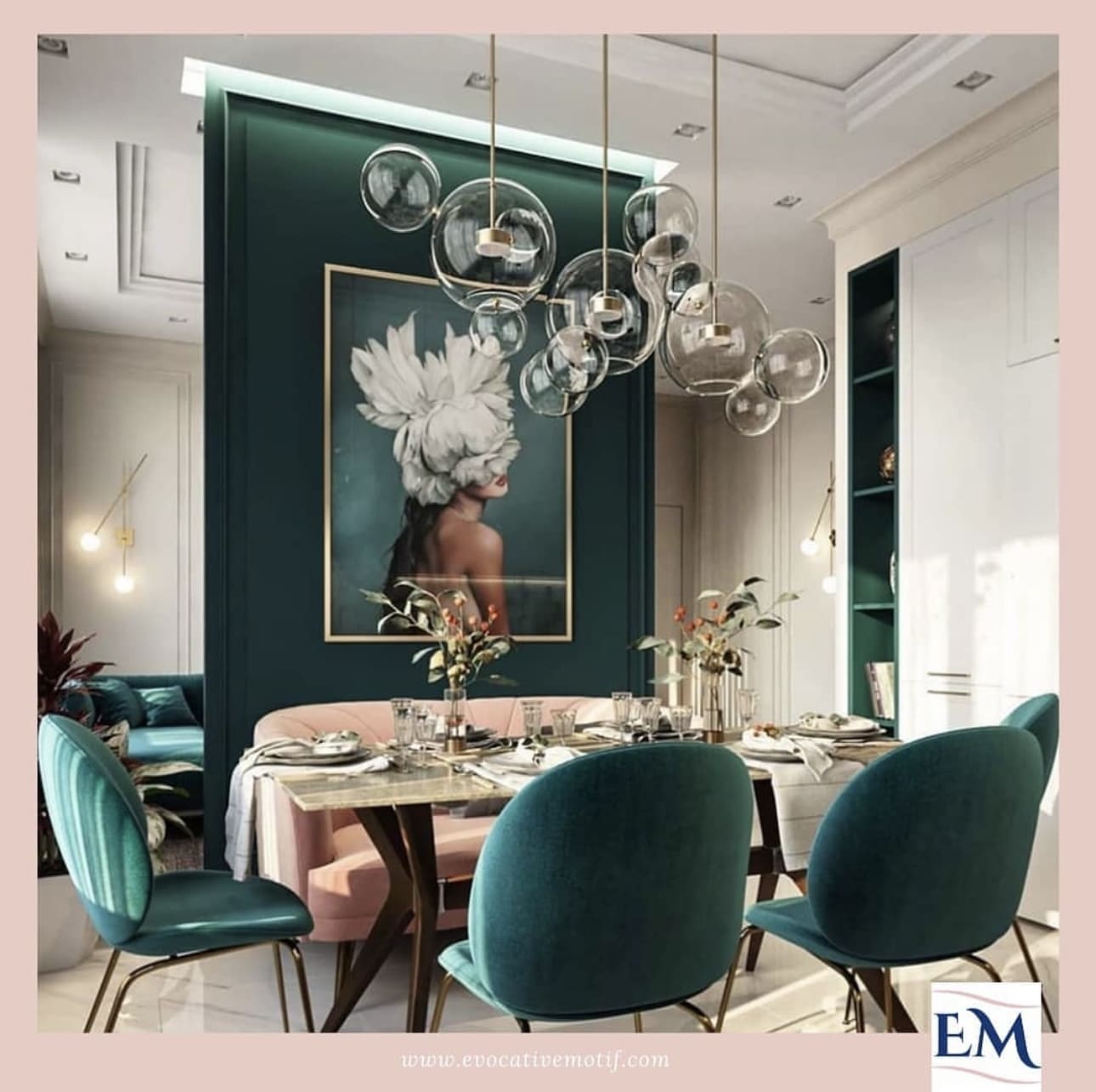 PHOTO: EVOCATIVE MOTIF
3. Green Dining Room Accent Wall
A green accent wall is ideal for the dining room because it can help in defining the space and draw attention to architectural elements and focal points. There are many walls to style a dining room accent wall. You can hang up a mirror to reflect natural light and brighten up the space or an eye-catchy piece of art.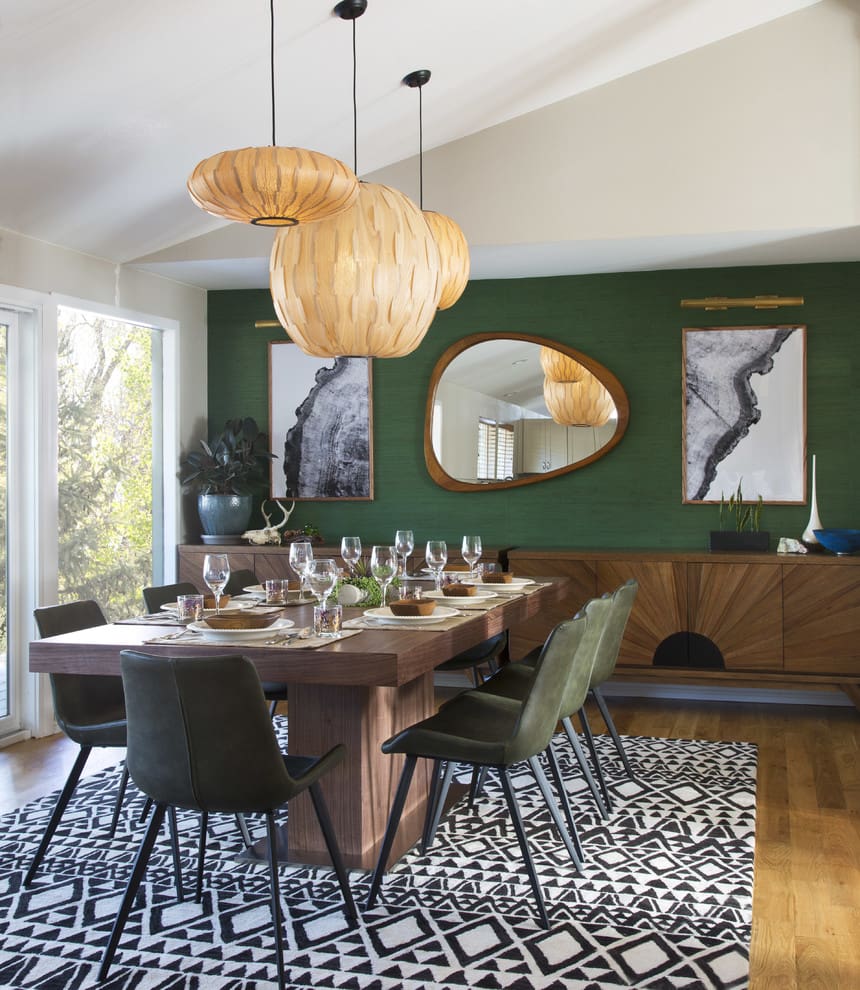 PHOTO: HOUZZ
4. Emerald Green Living Room Accent Wall
Designers and homeowners alike take advantage of emerald green because of its adaptability and capacity to complement an array of hues, styles, and furnishings. Emerald green also has the ability to create a space that is concurrently cozy, calming, and welcoming.
PHOTO: GETTY IMAGES
5. Dark Green Bedroom Accent Wall
Drak green is calming and earthy color while also being elegant and contemporary. It is, therefore, a particularly suitable color for the bedroom. A dark green room can be decorated in a variety of ways. It is also a very adaptable hue that works great with a myriad of colors such as orange, pink, yellow, and white.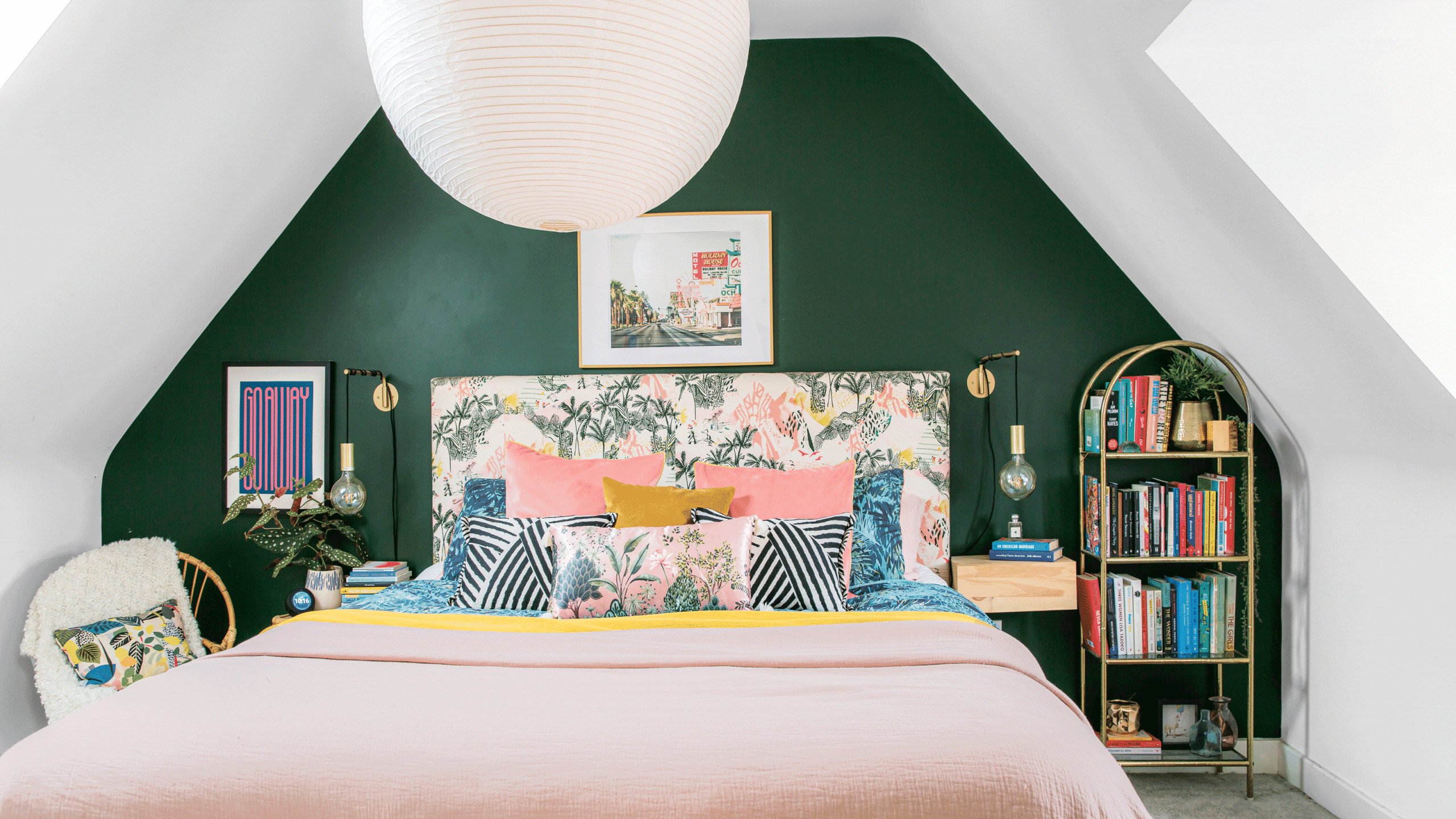 PHOTO: FUTURE PLC
6. Emerald Green Bathroom Accent Wall
Emerald green is a chic and contemporary color. This gemstone hue is particularly well-suited for bathroom walls. An emerald green accent wall can instantly elevate the aesthetics of a dull bathroom.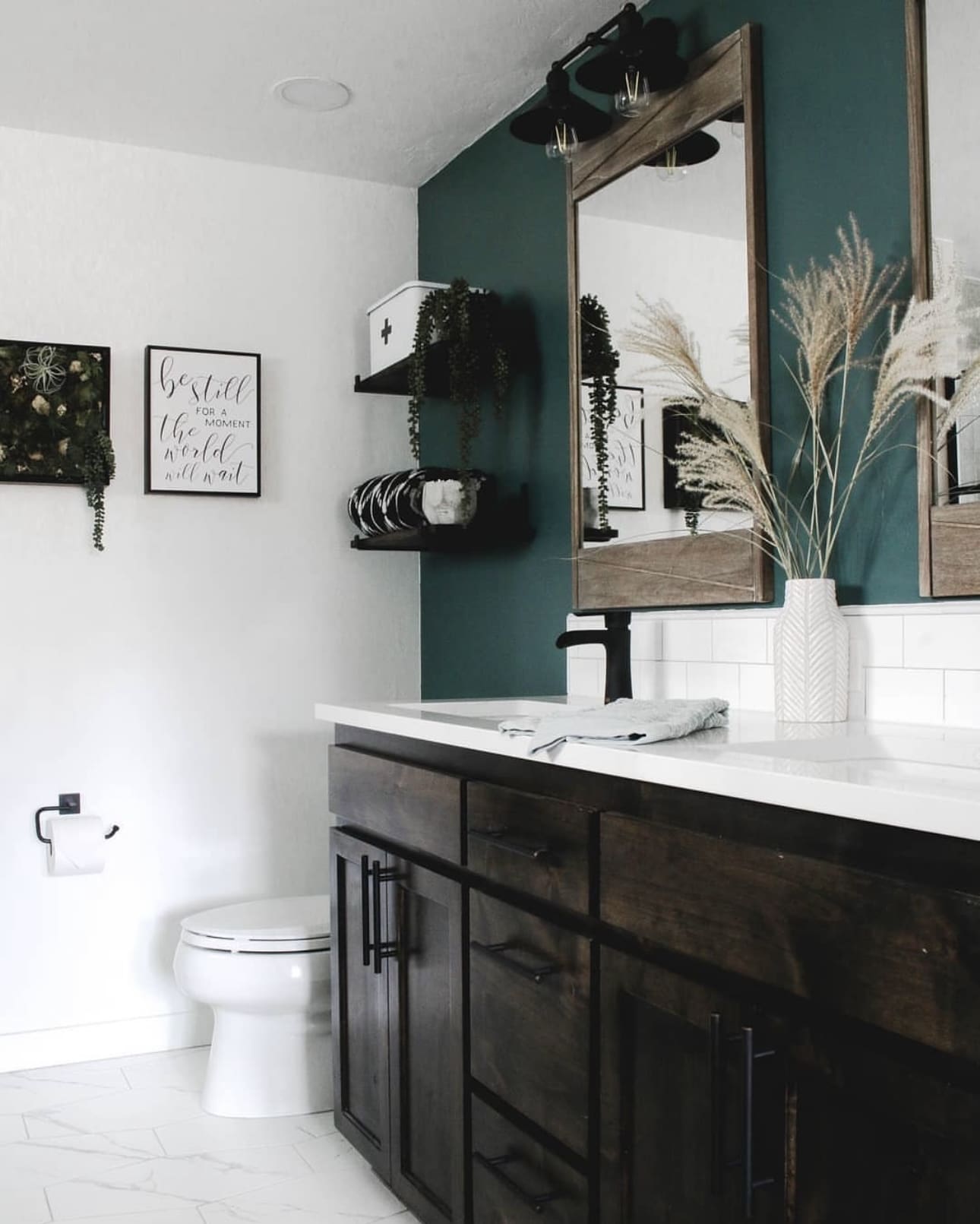 PHOTO: INSTAGRAM@JBK _NTERIORS
7. Green Kitchen Accent Wall
Since green is the color of nature, it is the ideal choice to bring the outdoors into a kitchen. Colors that are drawn from nature such as green creates a serene, visually interesting, and organic-looking kitchen. A great accent wall will make a kitchen feel fresh, soothing, and airy.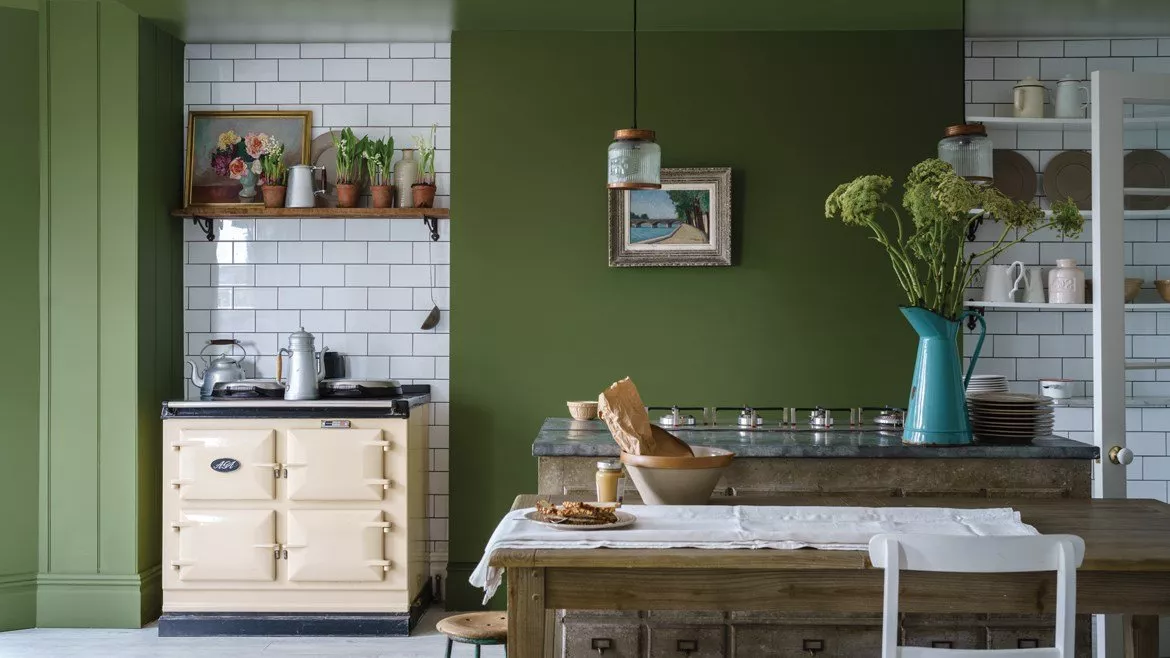 PHOTO: FARROW & BELL
8. Bold Green Bedroom Accent Wall
Green, which is regarded as the most relaxing color, has a calming impact and is said to aid in stress reduction. Bold green can be used to create drama and mood when used as an accent wall color in the bedroom.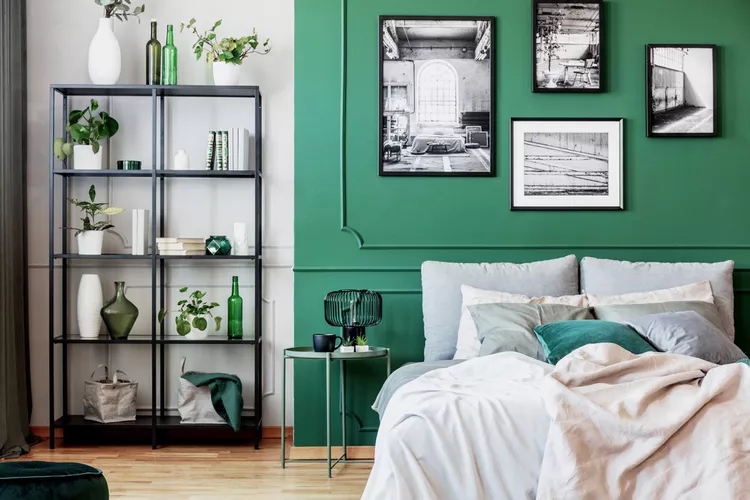 PHOTO: GETTY IMAGES
9. Green Brick Accent Wall
Brick accent walls may not be as common as conventional flat surface walls but they are useful in creating a cutting-edge look in interior spaces. They also add texture, warmth, and a rustic feel to a space. If you want to add charm and visual interest to your existing earthly-toned brick wall, simply paint it green!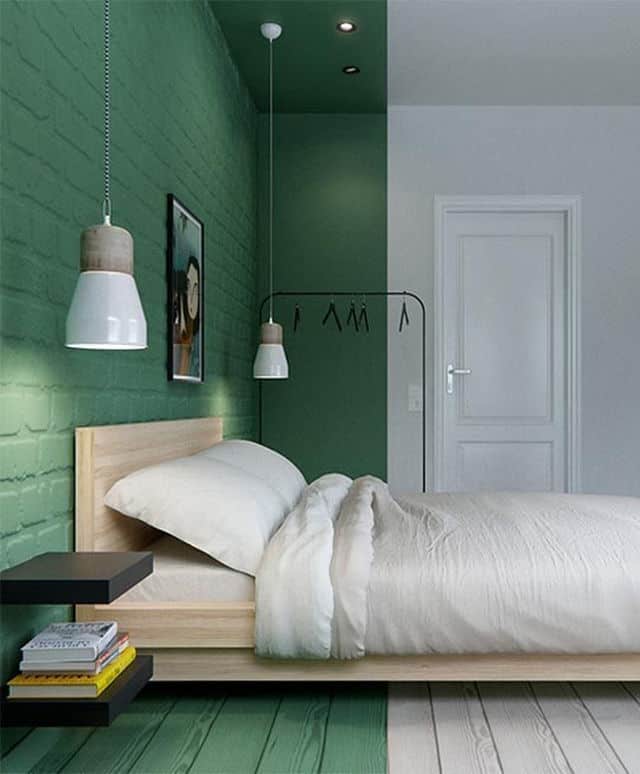 PHOTO: APARTMENT THERAPY
10. Creative Batten Wall Paneling
Arguably, batten wood paneling is more intriguing than a flat surface wall. It helps to create a comfortably modern feel. Instead of going for the convention brick-shaped batten wall paneling, opt for something unique and unexpected, especially when decorating kids' rooms.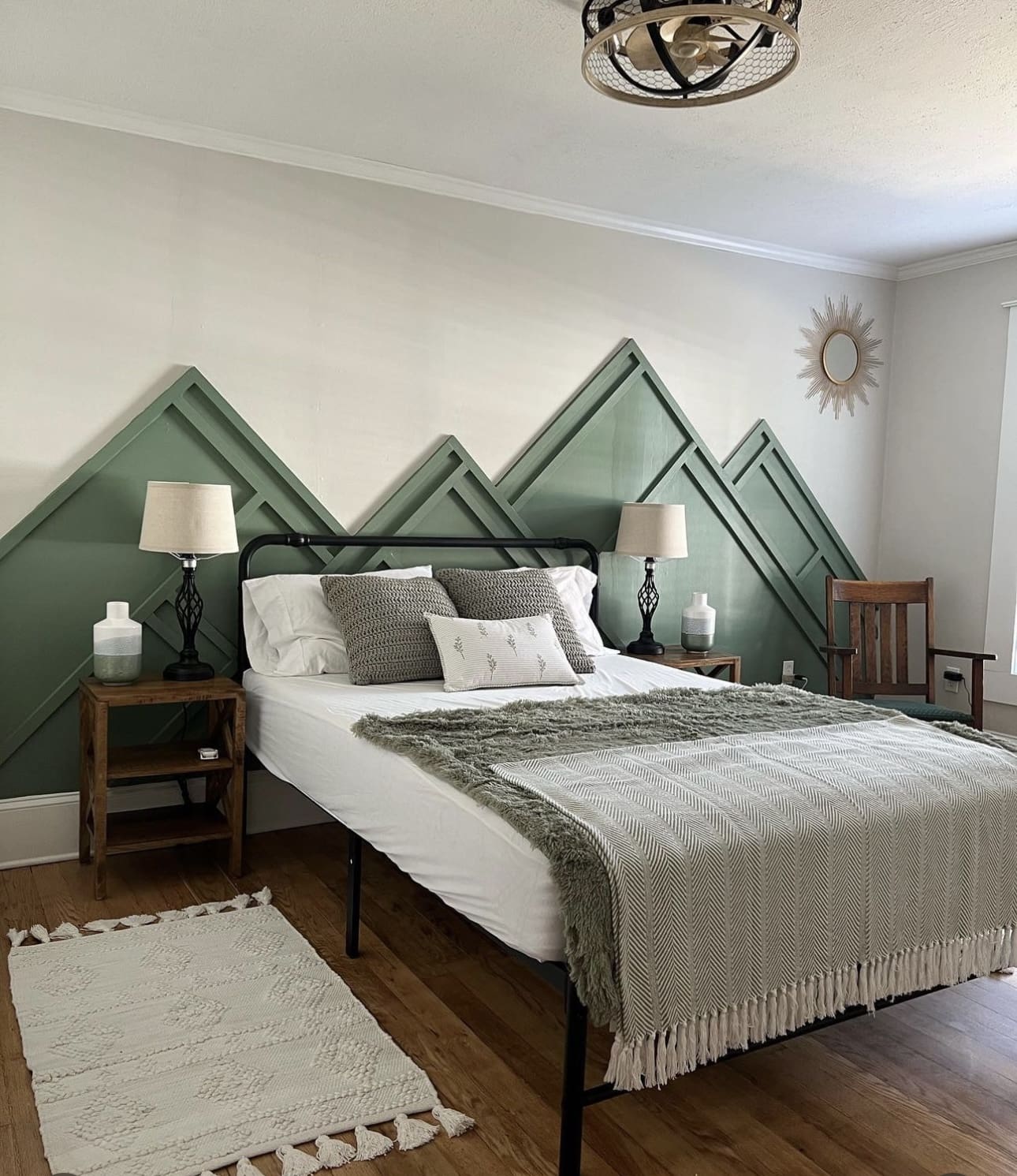 PHOTO: REHAB 2 FAB DESIGNS
11. Half Green Nursery Accent Wall
Compared to walls painted in one color, half-painted walls allow you to bring more intrigue and vibrancy to a place, improving how its visual appeal and feel. While one half is green, you can paint the other half white, a different shade of green, or a contrasting color.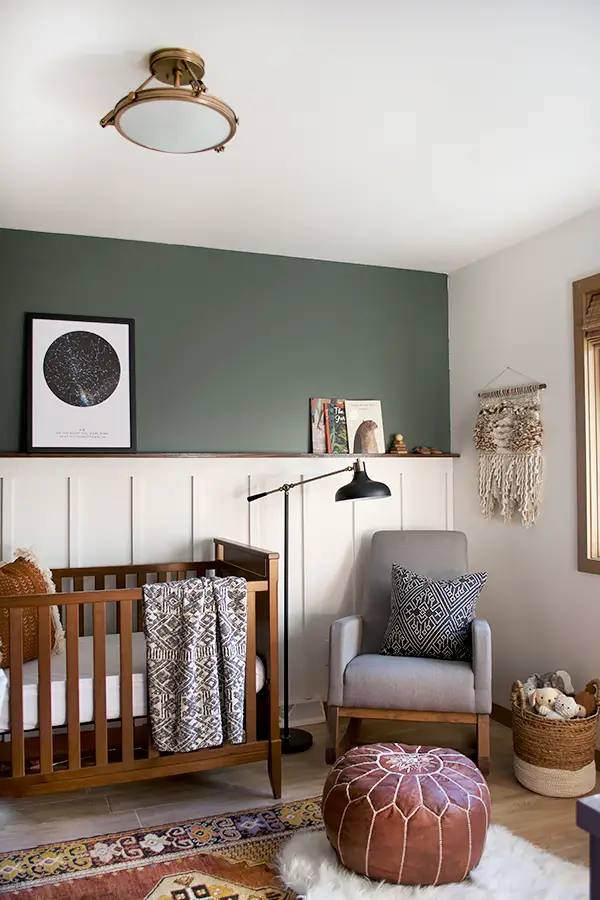 PHOTO: BREPURPOSED DESIGN
12. Illusive HeadBoard Green Accent Wall
Painting the wall behind your bed (especially the shape and positioning of a headboard) is a beautiful way to add some personality to the bedroom and will instantly create a focal point. This also helps to create a fun atmosphere. This way, the bed looks bigger and more defined.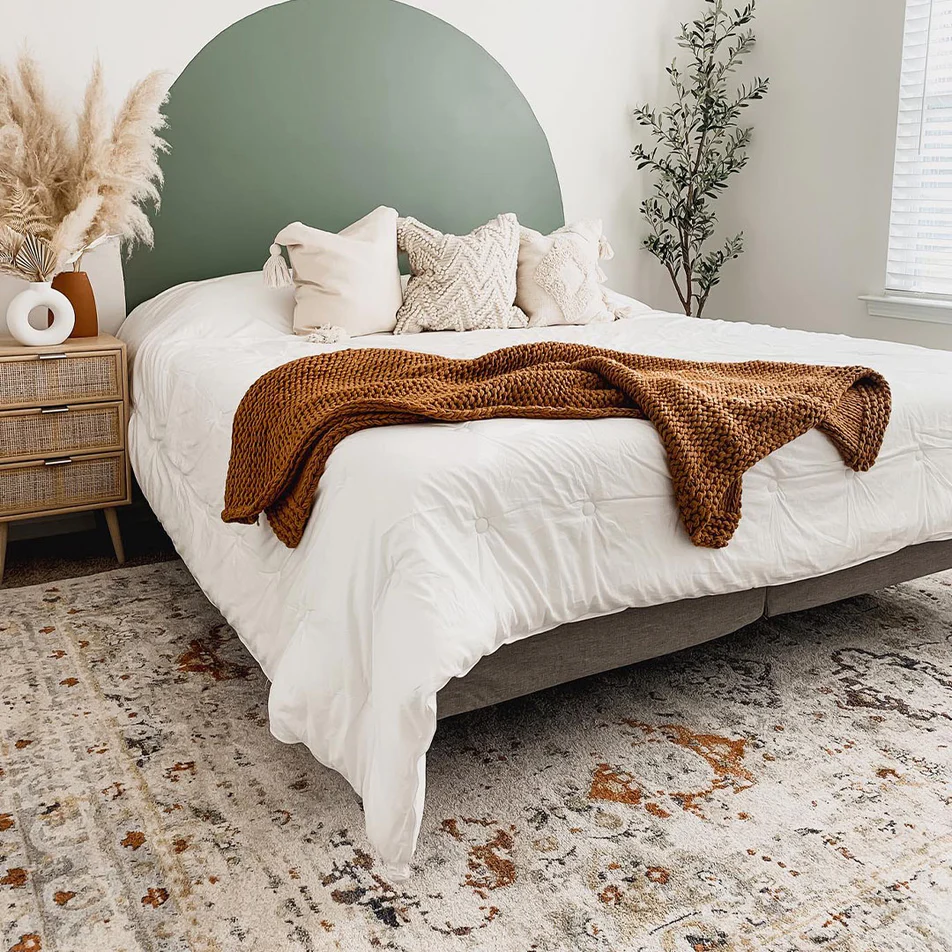 PHOTO: WELL WOVEN
13. Tropical Green Accent Wallpaper
A tropical bedroom theme can make your bedroom feel like a relaxing oasis where you feel like you're on a never-ending vacation. What's more relaxing than being in a setting that feels like an island paradise after a long tiring day? Adding tropical green accent wallpaper will add greenery and make your bedroom feel like a relaxing retreat.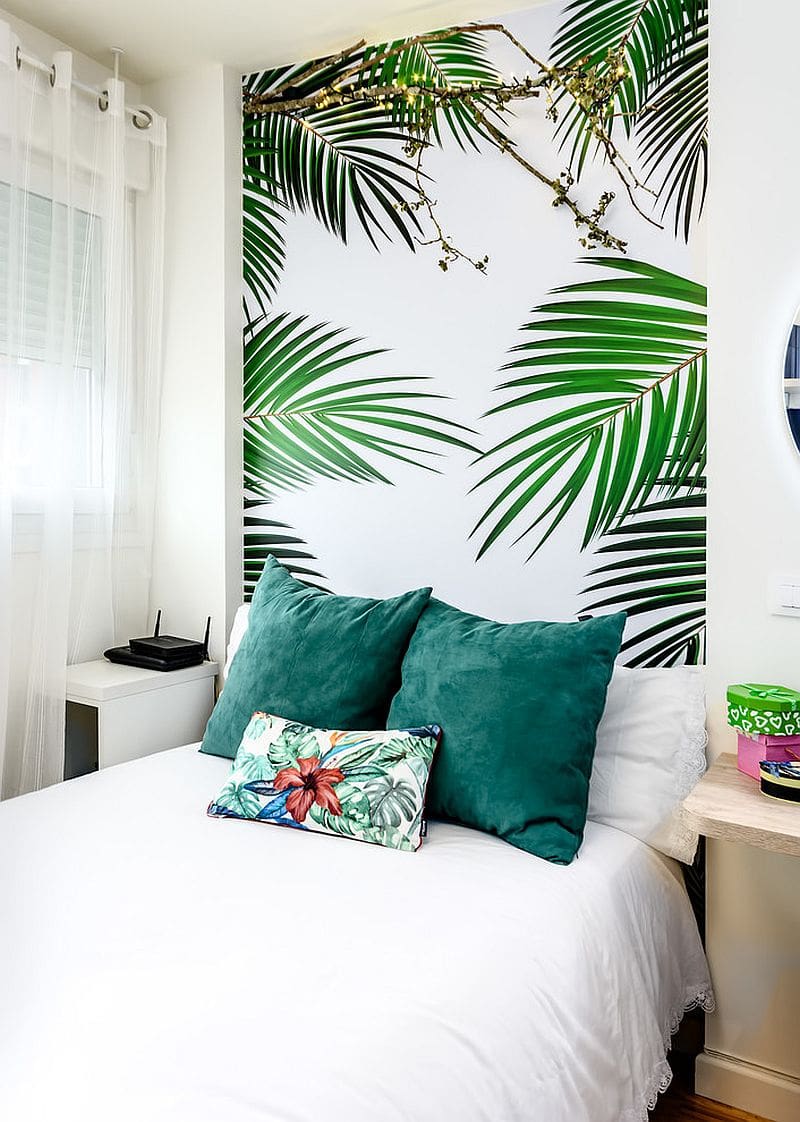 PHOTO: PINTEREST
14. Textured Green Accent Wall
Textured paints give your walls depth and texture. It is a green way to a green accent wall crisps. Additionally, textured walls can conceal flaws and produce tough surfaces that are significantly more durable than smooth surface walls.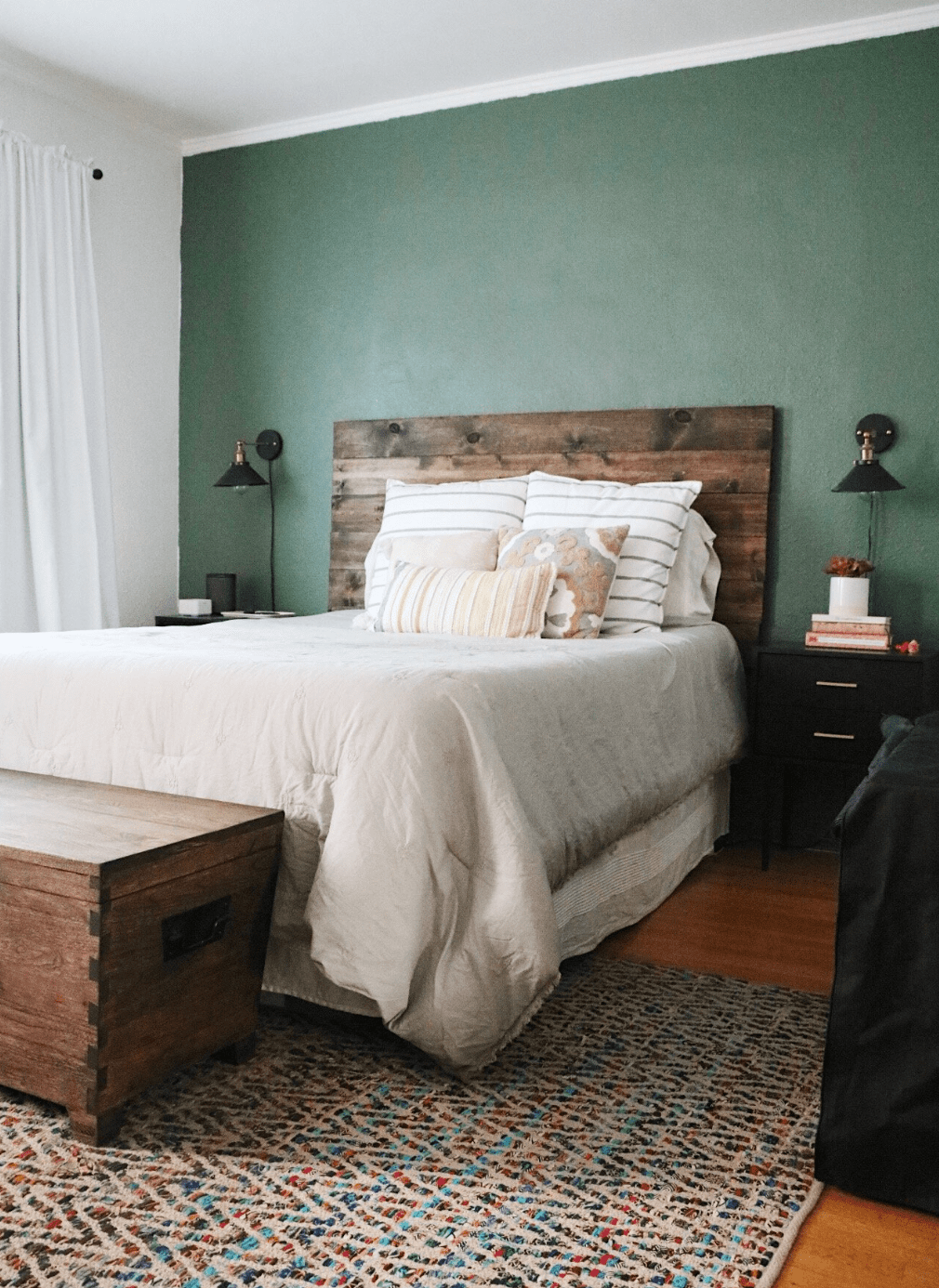 PHOTO: DIY DARLING
15. Sage Bedroom Green Accent Wall
Since sage green is muted shade of green, it is the most ideal for a relaxing space such as a bedroom. What could soften a bedroom more effectively than an earthly serene and calming color? This versatile hue, with its silvery-gray undertones, is the perfect choice to add a sophisticated twist to traditional greens and creates a cozy, peaceful atmosphere in the bedroom.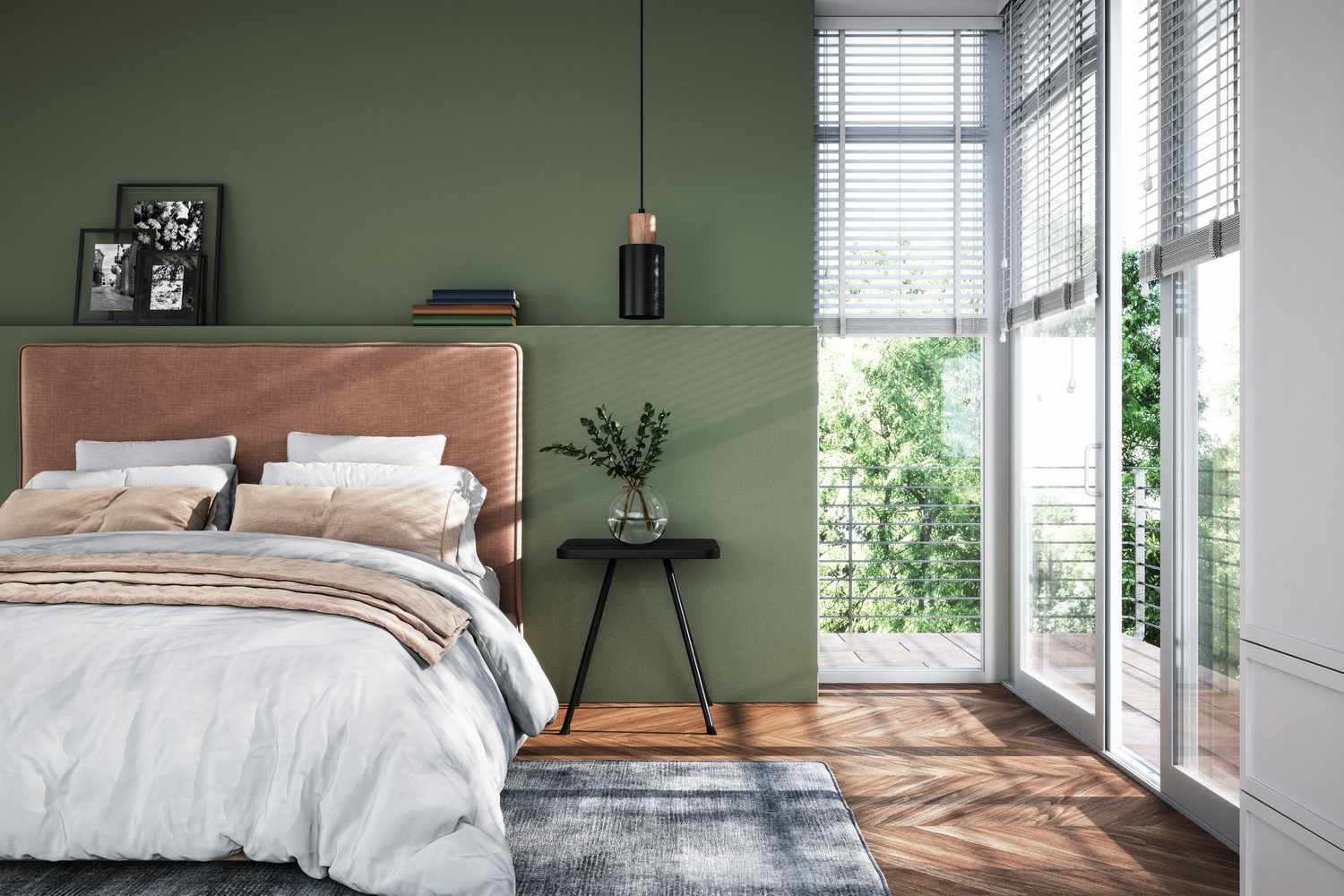 PHOTO: CREATIVA STUDIO/GETTY IMAGES
16. Leafy Bedroom Accent Wallpaper
Any interior design can benefit from the use of leafy wallpaper to bring the outdoors in. Although botanical themes and nature-inspired patterns have always been popular in wallpaper, most contemporary wallpaper designs tend to focus more on leaves and not flowers. What's great about these types of wallpapers is that they come in an array of designs and patterns that are perfect for creating accent walls.
PHOTO: DESIGNLOVESDETAIL.COM
 17. Two-Sided Green Accent Wall
Accent walls are usually created on one wall in a room but if your accent color is muted, you can totally get away with more than one wall. If your accent color is a bold hue, painting more than one wall will overwhelm the space. A bright sage green shade will create a cutting-edge two-sided wall that does not detract from anything else.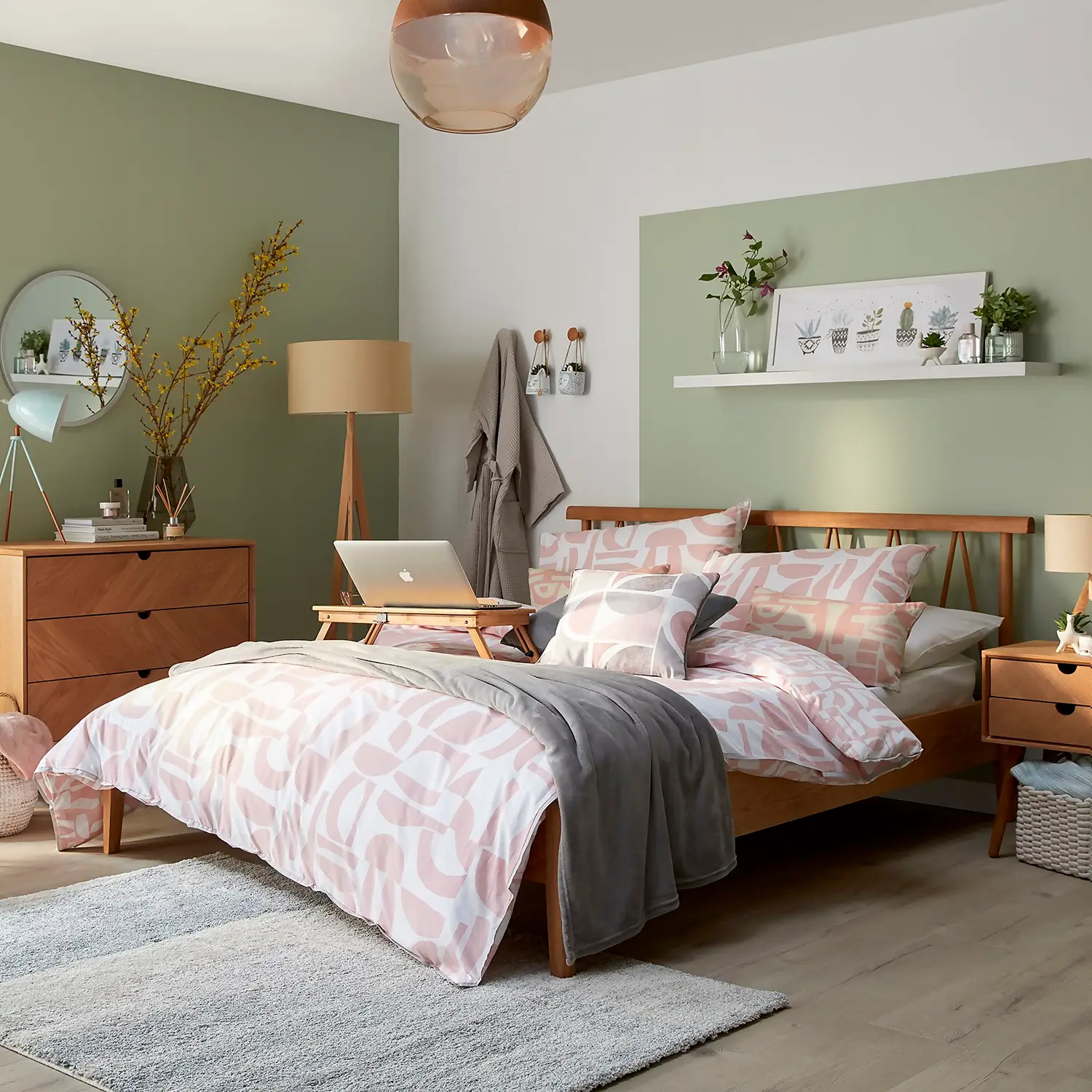 PHOTO: PINTEREST
18. Intricate Living Room Batten Wall Paneling
To create an attention-grabbing accent wall in your living room, you should be comfortable with designs that stand out. An intricate bathroom wall paneling can put a contemporary spin and add character to a living room in a way only a few other design elements can.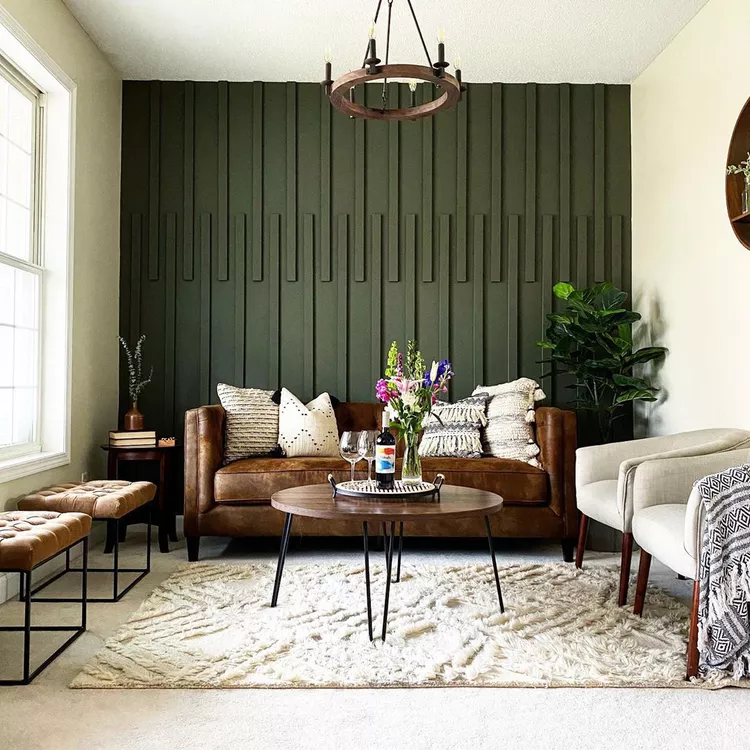 PHOTO: INSTAGRAM@MAI_HAPPY_HOME
19. Dark Green Paneled Bathroom Accent Wall
Choosing a dark green accent wall for your bathroom will create an effect that is dark and moody but also elegant and characterful. This works great when combines with a white wall or white tiles to balance out space.
PHOTO: LONE FOX
20. Sage Green Nursery Geometric Batten Wall Paneling
A nursey interior design should be highly functional and stylish and the primary purpose of one is to create a safe, relaxing, and welcoming space for the baby. Sage green is a restful shade that embellishes the beauty of any space. Geometric batten wall paneling helps to create depth and detail to elevate the room.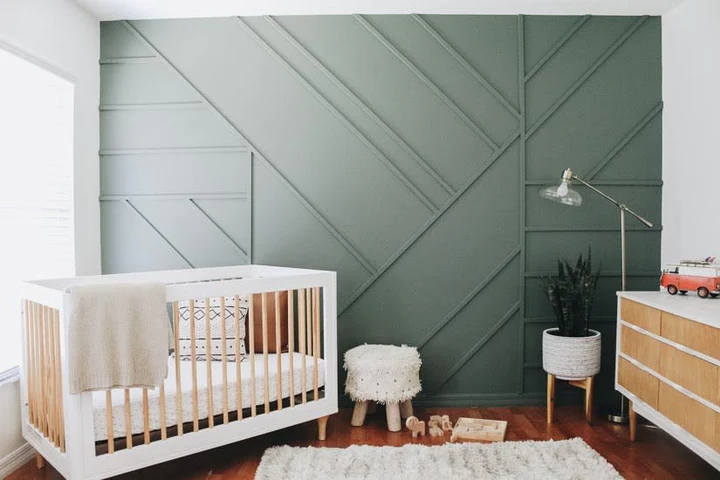 PHOTO: CLARE
21. Marine Green Bedroom Accent Wall
Marine Green is predominantly a member of the green family of colors. Its hue is a blend of green and cyan colors. The serenity, peace, and tranquility of blue and the balance and growth of green are both radiated by marine green. Using the color as an accent color for the bedroom creates a relaxing and cozy atmosphere.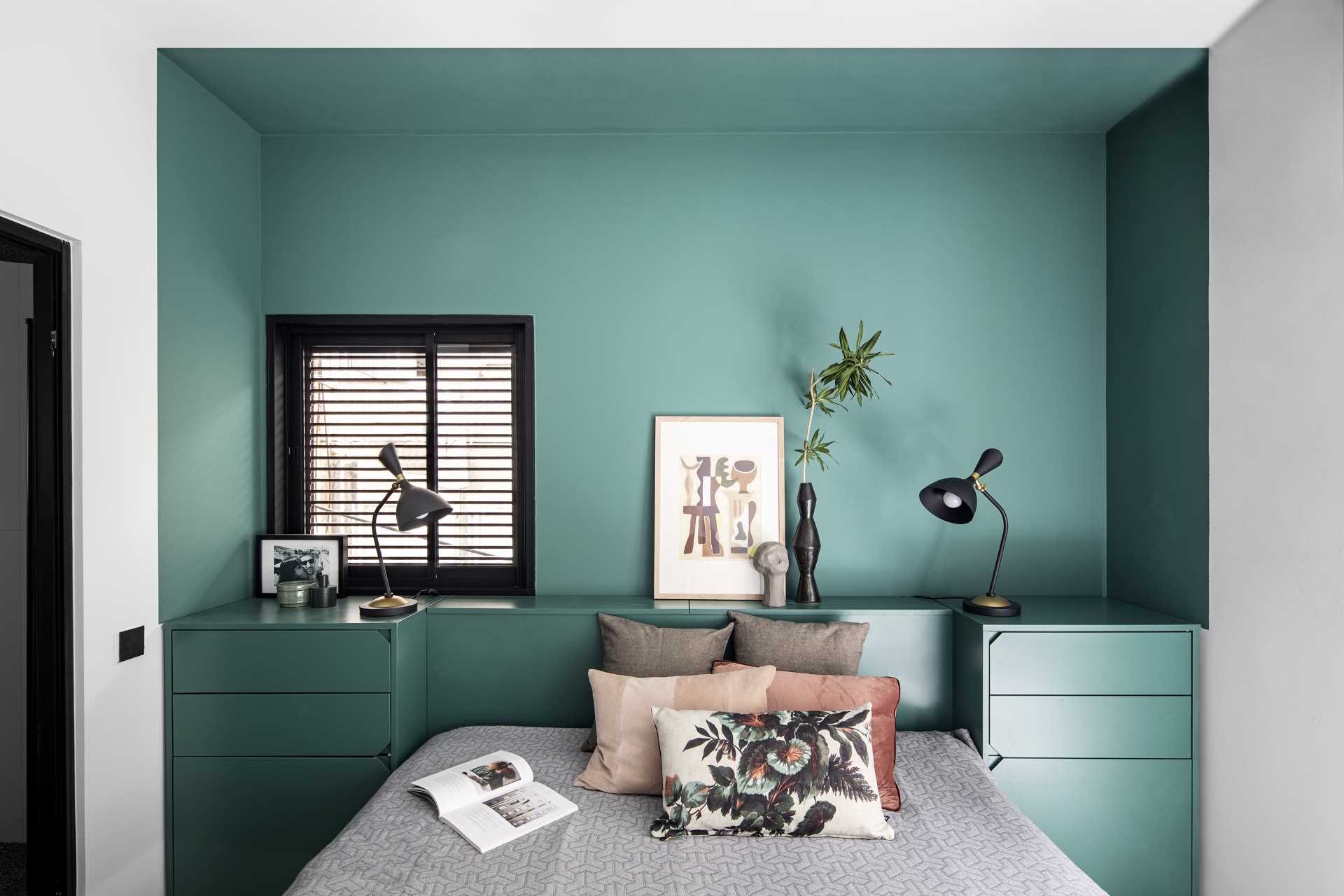 PHOTO: WE ARCHITECTS ISRAEL
22. Half Sage Green Nursey Batten Wall Paneling
A half-half horizontal wall is ideal for the task if you don't one the accent color to dominate or simply want to liven up the room without going all the way. This batten wall paneling style is mostly seen in bedrooms as its dividing line echoes the headboard's height excellently.
PHOTO: VANESSA LENTINE
23. Green Geometric Bedroom Batten Wall Paneling
If you want something more detailed to give your home a strong sense of style, the geometric panel molding may be perfect for you. These molding strips' fine details have a pleasing look and form delicate shadow lines that add genuine visual interest.
PHOTO: ANGELA ROSE HOME
24. Sage Green And Wood Paneling Living Room Accent Wall
While a sage green accent wall can a visual interest in your living room, pairing it with a vertical wood paneling can instantly transform the room into something more opulent and sophisticated, rustic, and inviting.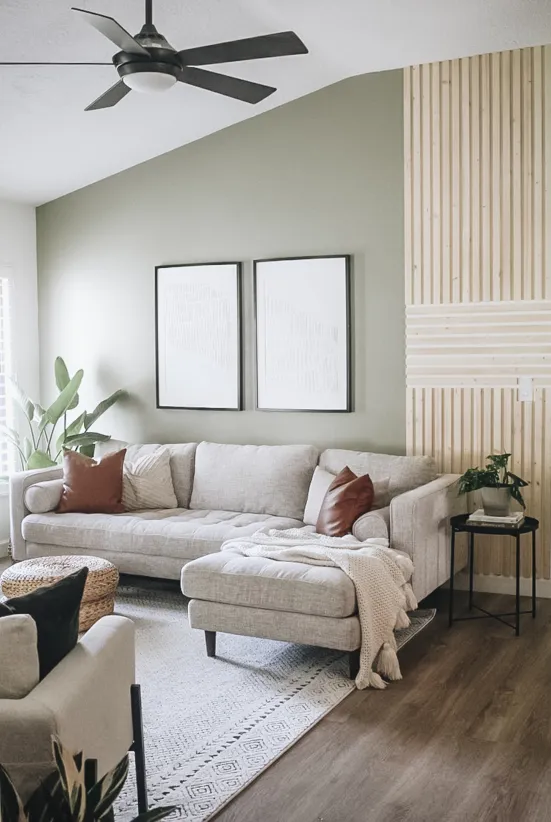 PHOTO: WITHIN THE GROVE
25. Sage Green And Wood Paneling Bedroom Accent Wall
Looking to add a stylish and contemporary feel to your bedroom? Consider using vertical wooden wall panels. Other than the aesthetic side of things, it helps to create a harmonious and relaxing environment.
PHOTO: LUSOPHILE
26. Sage Green And Wood Paneling Dining Room Accent Wall
A dining room's aesthetics and ambiance can be drastically improved by incorporating a green accent wall when paired with wood paneling. It is a great way to add depth and dimension to your dining room.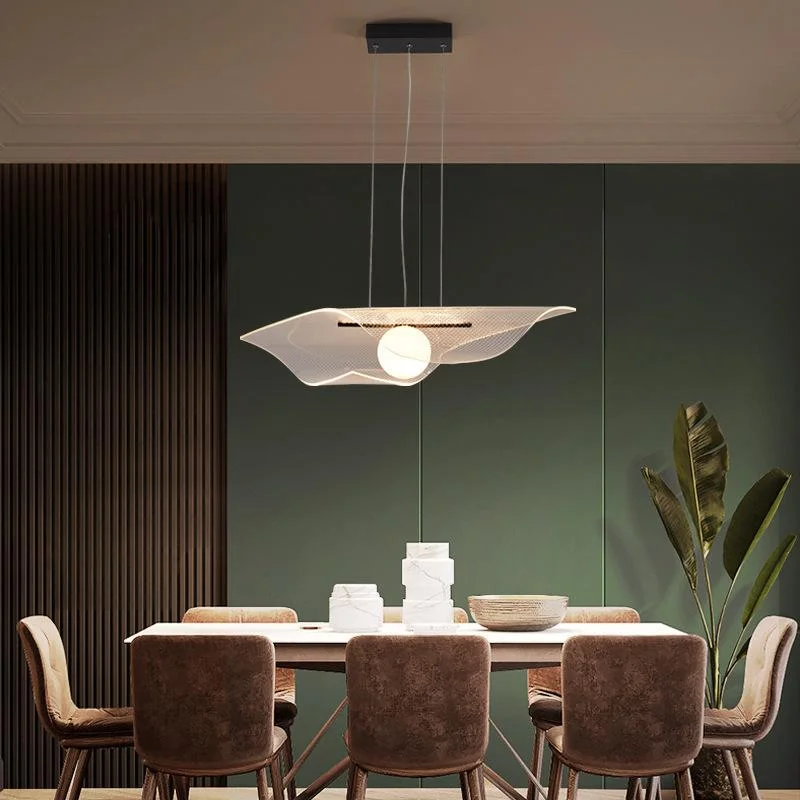 PHOTO: LAMPS WELL
27. Emerald Bedroom Green Accent Wall
Emerald green is a warm hue that is rooted in nature and has a rich tone. When combined with contemporary greys, clean whites, and gold accents, an emerald green accent paint will give a bedroom an elegant, luxurious, and hotel-like feel.
PHOTO: WAYFAIR
28. Lime Green Accent Wall
Want to explore the dramatic side of green? The lime green accent wall creates a lively atmosphere, drama, and impact. It is a daring yet young and dynamic accent color idea. It might not be for everyone or every home due to its intensive vibrancy but it's an option to consider if you want a green of stands out in interior design.
PHOTO: APARTMENT THERAPY
29. Painted Green Arch Accent Wall
Want to revitalize a dated space or give a room a little more aesthetic interest? You may accomplish both by painting an arch with a green accent color. It's a brilliant approach to zone your area and establish an intriguing focal point, in addition to allowing you to experiment with a two-color combination.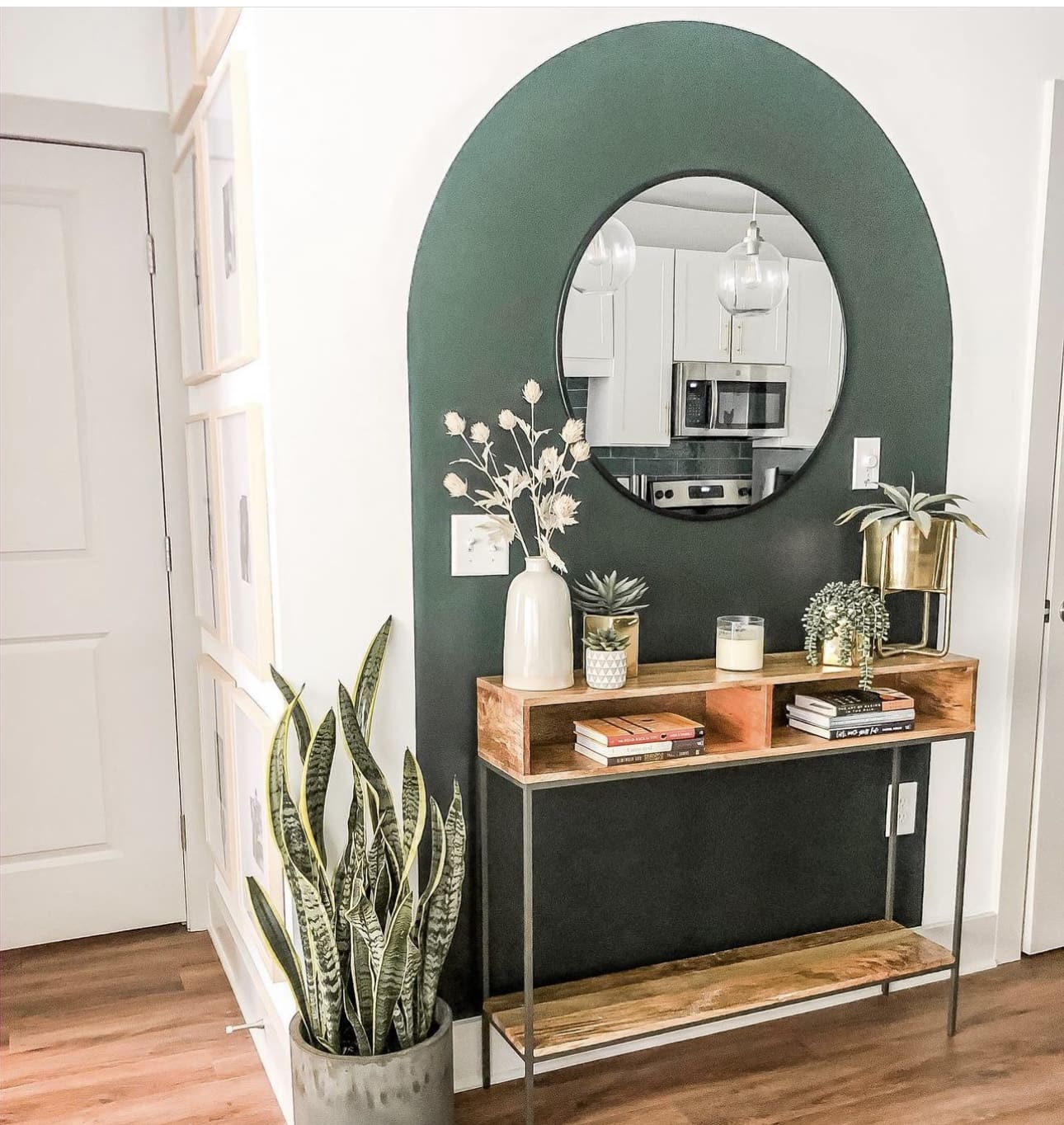 PHOTO: BK DESIGNS
 30. Half Sage Green Bedroom Batten Wall Paneling
Wood panels were originally used in interior spaces primarily for enhancing acoustics but now they are used to make a space visually appealing. Half batten wall paneling is a tried-and-true way to add punch to a color scheme and accentuate the room.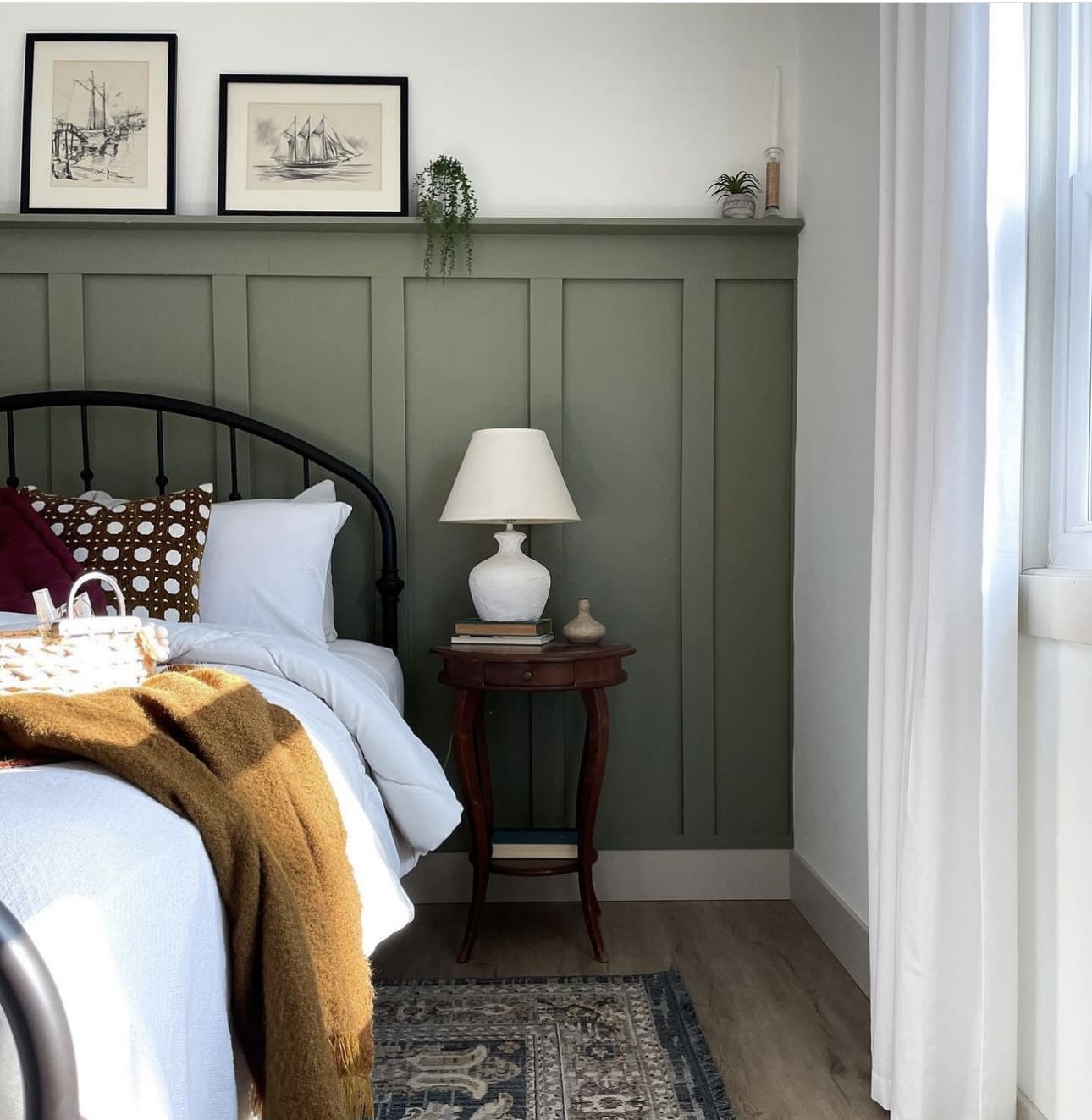 PHOTO: INSTAGRAM @__UNTAPPED_POTENTIAL__
Enjoyed this post? Read here for 12 Black Accent Wall Ideas To Transform Your Home.