25 Lemon Yellow Colour Wall Paint Ideas
Dull bland wall paint colours are overrated. If you're looking for new wall paint ideas or if you want to enhance your existing walls then you're in the right place!
The lemon yellow colour wall paint is known to have hues that are similar to those of the fruit.
This shade of yellow is so vibrant and cherished that even on the most gloomy day, your home will feel like it's sunny. It has a yellow undertone and it's simply hard to resist.
It is also easy on the eye and can instantly add warmth to any room.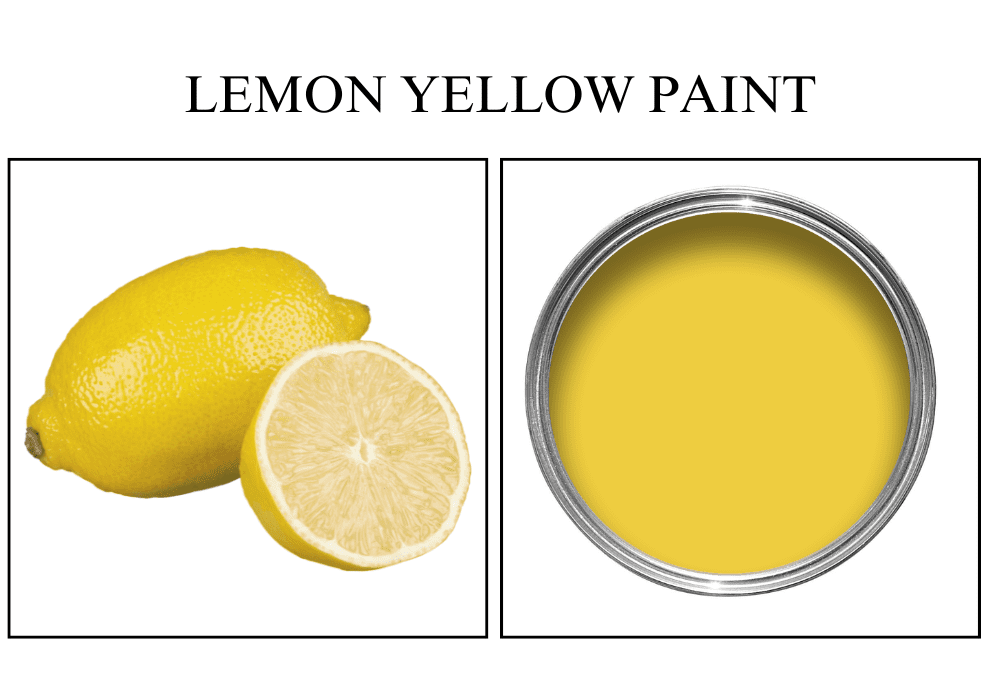 Variations between "lemon" hues and the fruit's true colour can be significant, including vibrant hues and creamy tones reflective of lemon tarts and sweets.
This colour can help brighten up dark spaces, accentuate dull rooms, and enhance a colour scheme. What makes this colour perfect for interior spaces is how well it complements so many other hues, including blue, brown, green, black, orange, pink, and white.
Are you looking for stylish ways to incorporate this crowd-pleasing colour into your home?
Here are 25 lemon yellow wall paint colour ideas that will majorly and stylishly impact your interior space.
1. Living Room Lemon Yellow Colour Wall
Not surprisingly, the living room is usually the most visually appealing room in the home. It is the room people spend the most time and entertain guests. A lemon yellow colour wall paint can significantly liven up and elevate the look of the space.
There is a plethora of this energetic and cheerful hue to consider for the living room. Pale lemon yellow can bring a sunny feel to a space without overwhelming it and vibrant yellow can add a focal point and drama to the space.
PHOTO: ARCHITECTURAL DIGEST
2. Lemon Yellow Entryway Accent Wall
Lemon yellow infuses a dark, poorly lit area with a sense of freshness and light. It's an easy method to add brightness to an interior space, especially in a narrow entryway.
Happy and optimistic are two emotions a lemon yellow entryway will make a guest feel as soon as they enter your home. This shade of yellow is versatile and may give a place a boost of vitality while also promoting calmness and relaxation.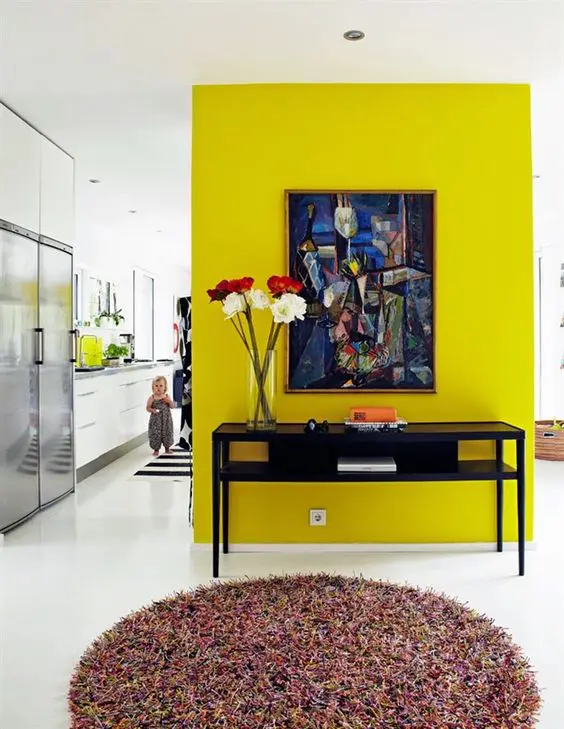 PHOTO: ARCHITECTURAL DIGEST
3. Ombre Lemon Yellow Wall
Instead of simply painting your interior wall the old-school way, do something groovy like an ombre wall. This dreamy, water-coloured look is produced by the use of palettes of graduating hues that slowly change in layers from light to dark.
What happens when you apply it to your walls? A very cutting-edge, original, and striking appearance- pretty cool huh?
PHOTO: HISTORIAS DE CASA
4. Lemon Yellow Ceiling
Bright lemon yellow ceilings can provide a cheerful, bright atmosphere and visually enliven a room.
The warm sweaters of the interior world are cozy rooms. A room instantly feels cozier and more inviting with a lemon yellow ceiling. There are also various shades of yellow that looks great on a ceiling.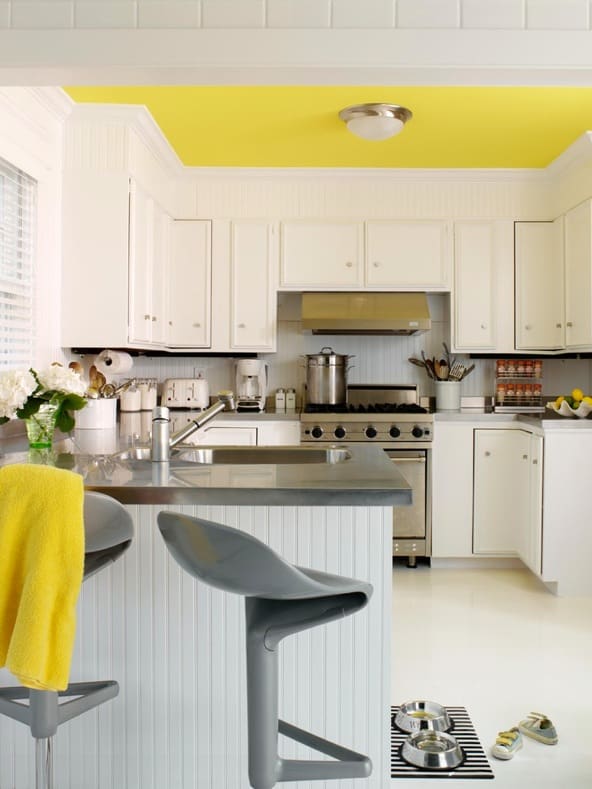 PHOTO: HOMED IT
5. Lemon Yellow And Grey Wall
Grey is a great colour combination as it reduces the vibrancy of lemon yellows, and on the other hand- yellows can liven up cool-toned greys, so they complement each other perfectly.
To get the desired result, it's important to choose the appropriate shade of each hue that balances one another.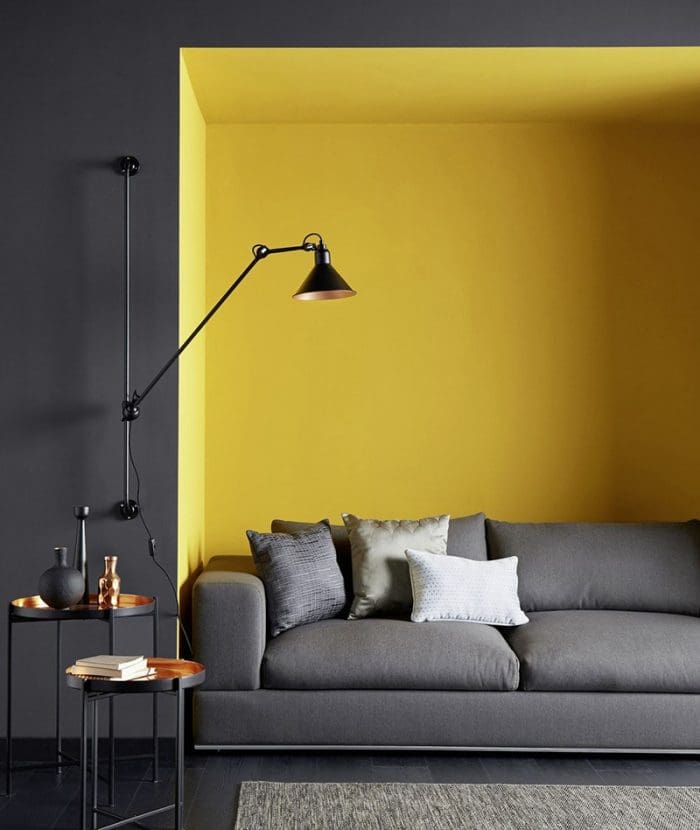 6. Lemon Yellow, Teal, And Green Colour Scheme
Most people avoid most yellowish colour for their interior walls because they find it difficult to formulate an aesthetically pleasing colour scheme using this hue. Lemon yellow interior walls, whether pale or vibrant, are actually very easy to style.
Teal and green and visually interesting hues that work great with lemon yellow. Another three-colour scheme that can add a stronger sense of style to inspire spaces is lemon yellow, red, and blue.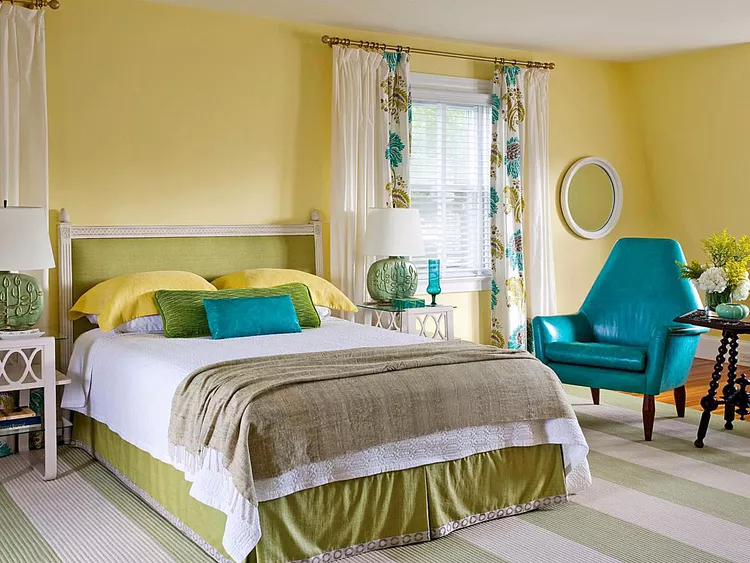 PHOTO: HGTV
7. Summery Breakfast Nook
This shade of yellow creates a summery vike due to its sun-like hue. Just like this breakfast nook, to create a space that feels like summer, use a pastel shade of lemon yellow wall paint.
Imbue your space with pastel colours, flowery patterned throws, and fresh flowers to tie the room together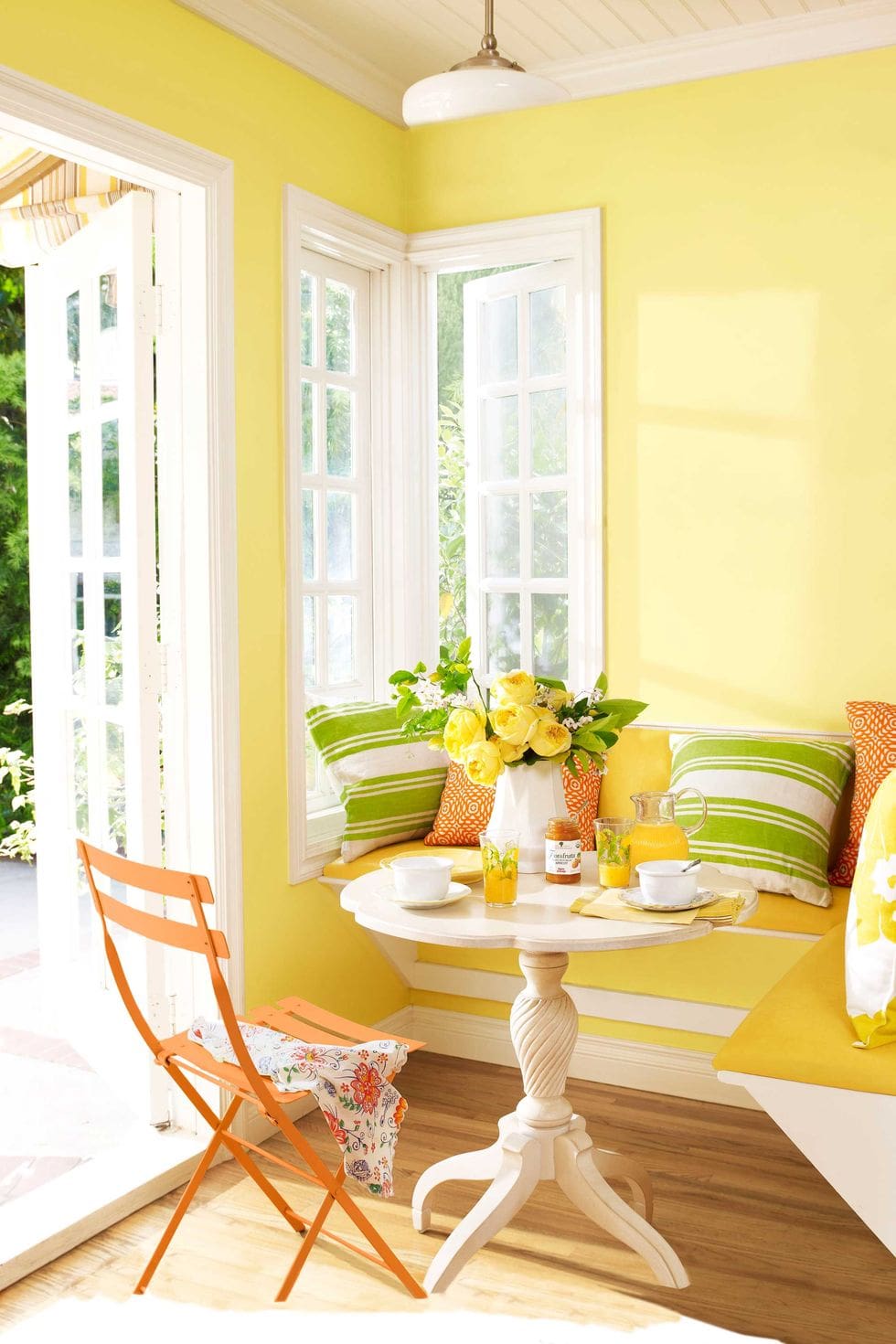 PHOTO: COUNTRY LIVING
8. Faded Lemon Yellow Wall Paint
The faded shade is a subtle and less intrusive lemon yellow paint colour. A faded shade is a less saturated variation of the same hue.
This is when a colour has been mixed with white to reduce vibrancy while maintaining a high brightness value.
PHOTO: BETTER HOMES & GARDEN
9. Textured Yellow Colour Wall Paint
Regular paint and wallpaper cannot provide the same exquisite impression of nature as textured wall paint can. Although quite unconventional for modern spaces, a great way to use lemon yellow paint on your interior wall is by making it textured.
Texture can instantly elevate a room and help mask any imperfection. The drywall's ordinarily flat surface is given depth and dimension by a paint of this nature.
PHOTO: OOH_FOOD/FLICKR
10. Matching Kitchen Cabinet
What makes lemon yellow ideal for the kitchen is that it can maximize daylight and interest. This is great for small kitchens that don't get much light as bright colours make a small kitchen look bigger and more open.
This cheerful shade of yellow is best for the kitchen when combined with white or black hues. Kitchen cabinets can unify the entire aesthetic of a kitchen's design.  A lemon yellow kitchen cabinet can give your kitchen an add instant warmth and impactful edge.
11. Lemon Yellow Batten Wall Paneling
Since batten wall paneling gives distinctive decorative detail and visual interest to an otherwise plain wall, it is now mostly used to style interior spaces rather than its original purpose of insulating old spaces.
It combines molding and varying-sized plywood boards to produce a stylish, textured appearance. A lemon yellow board and batten wall can give your interior wall depth and a stylistic advantage.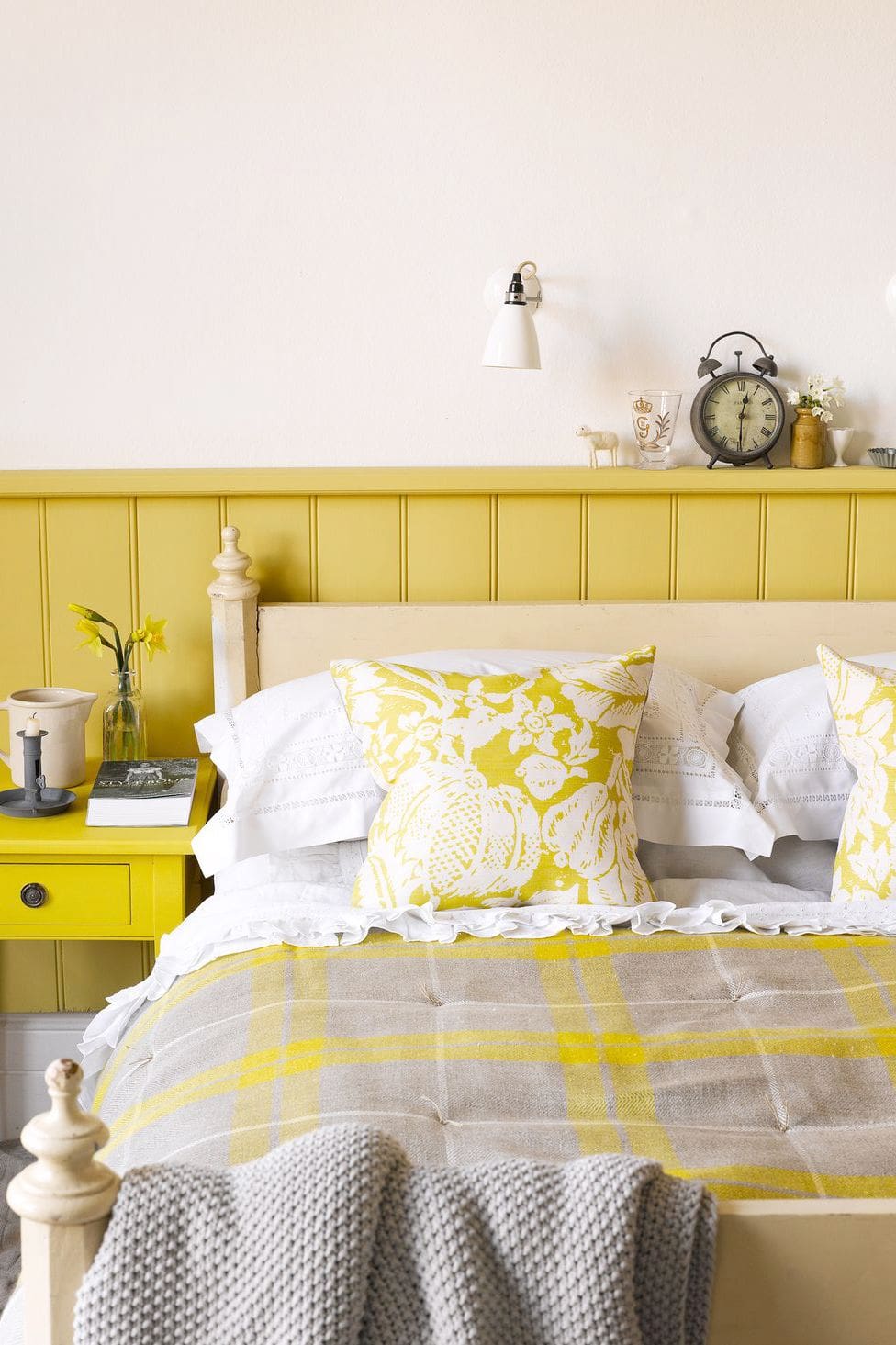 PHOTO: CATHERINE GRATWICKE 
12. Lemon Yellow Kitchen Accent Wall
Accent walls are impactful in interior spaces. Its primary purpose is to draw attention to a part of a room that could otherwise go unnoticed. It serves as a visual cue and offers interior spaces some extra visual flair.
A lemon yellow kitchen accent wall can instantly transform and elevate the aesthetics of a bland neutral kitchen.
PHOTO: TINY BERMEO 
13. Bathroom Lemon Yellow Accent Wall
A bathroom is most often the room in a home that features tiring dull neutral colours.
A lemon yellow bathroom accent wall lets you add some visual interest that will not overwhelm the entire bathroom or rather be a cherry on top of a showstopping bathroom.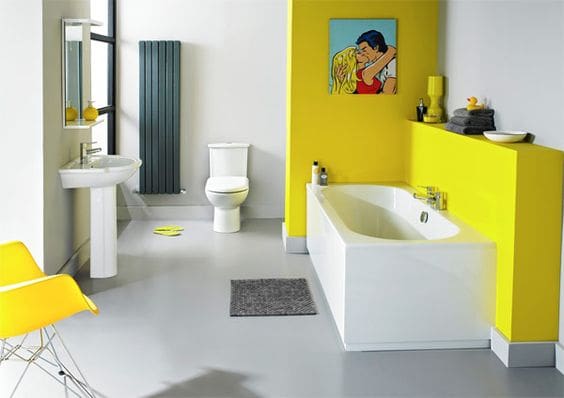 PHOTO: TINY BERMEO 
14. Half Painted Lemon Yellow Wall
Colour shy? No problem! Just like an accent wall, a half-painted lemon yellow wall and half-neutral painted is ideal if you like this hue but don't want to go all out.
Painting a wall in two distinct colours not only gives a room a lovely wainscoting look but also adds visual interest- superb!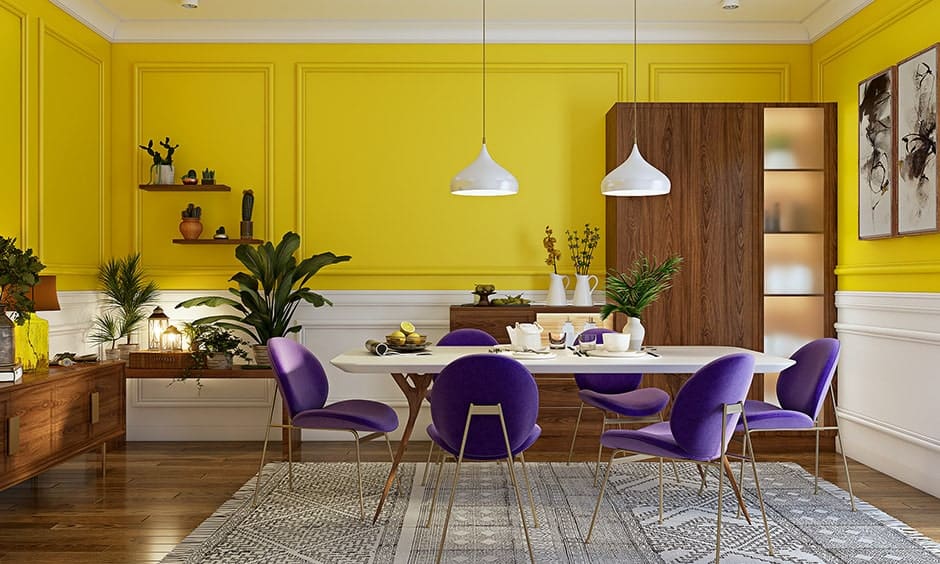 PHOTO: DESIGN CAFE
15. Pastel Lemon Yellow Colour Wall Paint
Avoid using highly saturated yellow shades if you want to design a relaxing space, like the bedroom. Use calming pastel colours to create a tranquil oasis where you can get a good night's rest. Along with neutral hues, pastels can serve as a fantastic base.
When a small room is accented with lighter hues, like a pastel colour scheme, the space tends to appear and feel much larger than its real size. In a pastel environment, the natural light bounces around more easily, and the entire appearance is airy and light.
PHOTO: HOMED IT 
16. Floor-To-Ceiling Lemon Yellow Colour Wall
The seamless transition from the walls to the ceiling is intended to direct your attention upward, thus creating making the space feel larger, especially in spaces with low ceilings.
A lemon yellow wall paint from floor to ceiling adds a unique accent and character to the space.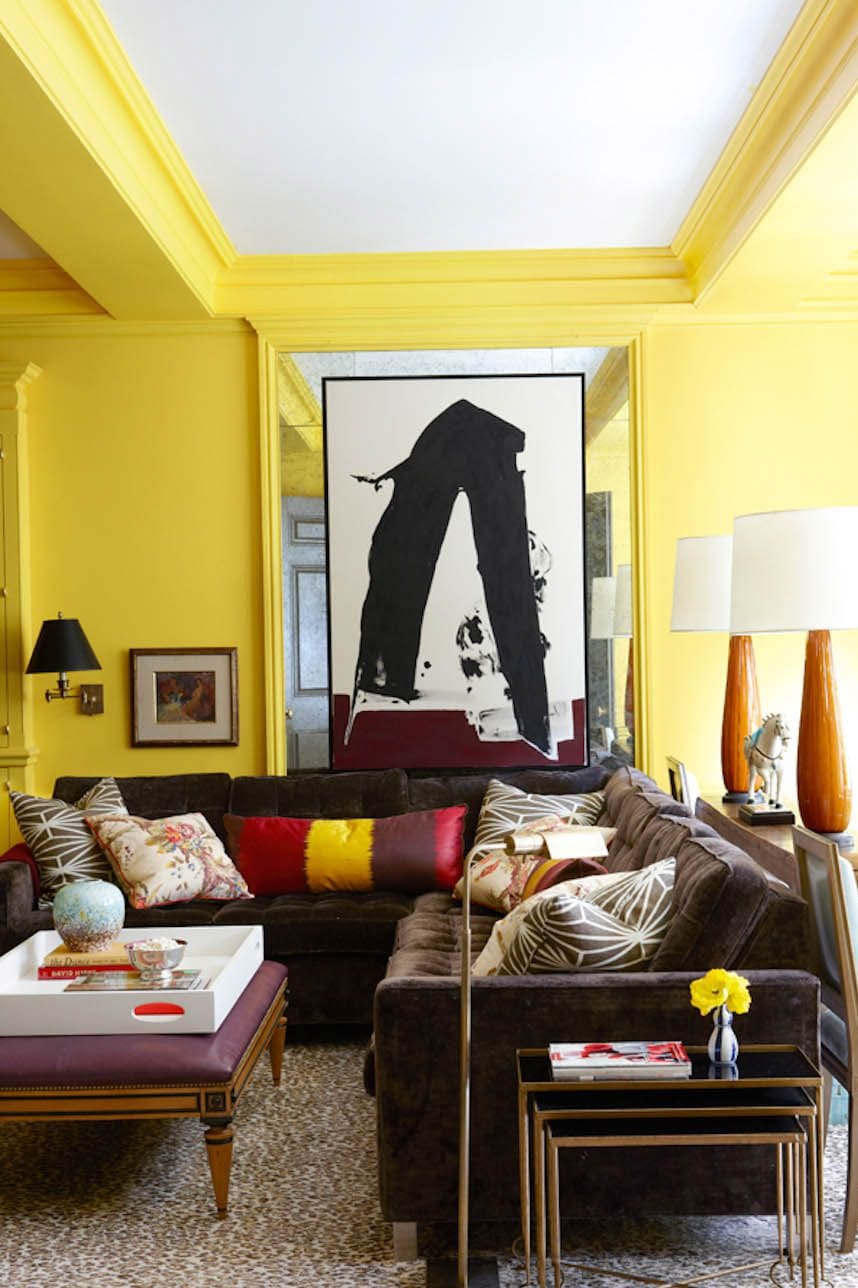 PHOTO: MELANIE ACEVEDO 
17. Lemon Yellow Horizontal Wall Paint Stripes
To enhance the visual appeal and feel of the room, use lemon yellow horizontal stripes. While vertical stripes can make interior walls appear loftier, horizontal stripes make a room look wider.
Read this article for more wall paint design ideas with tape.

18. Bohemian Living Room With Lemon Yellow Wall
Bohemian design, sometimes referred to as boho design, is a type of interior design that delights in vibrant hues, fun textures, and eye-catching patterns.
The Bohemian approach is ideal for people who want to create a home that is full of life, varying cultures, and interests.
Although, there are no rules for this interior style, a lemon yellow wall can serve as a base colour, and then accessorize with fiery orange, saturated purple, and electric blue
19. Lemon Yellow Through and Through
Why use just one paint colour for the wall and ceiling? This is a stylistic approach that can add a sense of drama to a space.
Other than its ability to maximize interest, it can also make the ceiling look higher. This is also referred to as a monochromatic colour scheme.
PHOTO: HOUZZ
20. Lemon Yellow Wall With White Kitchen Cabinets
White is a classic colour that brightens up a space and complements every other colour. A subtle way to incorporate lemon yellow walls in your kitchen is to pair them with white kitchen cabinets.
White kitchen cabinets also feel clean and fresh, and airy. Lemon yellow is an excellent wall paint choice since it will instantly provide a welcoming atmosphere to kitchens that seem chilly and don't get much natural light.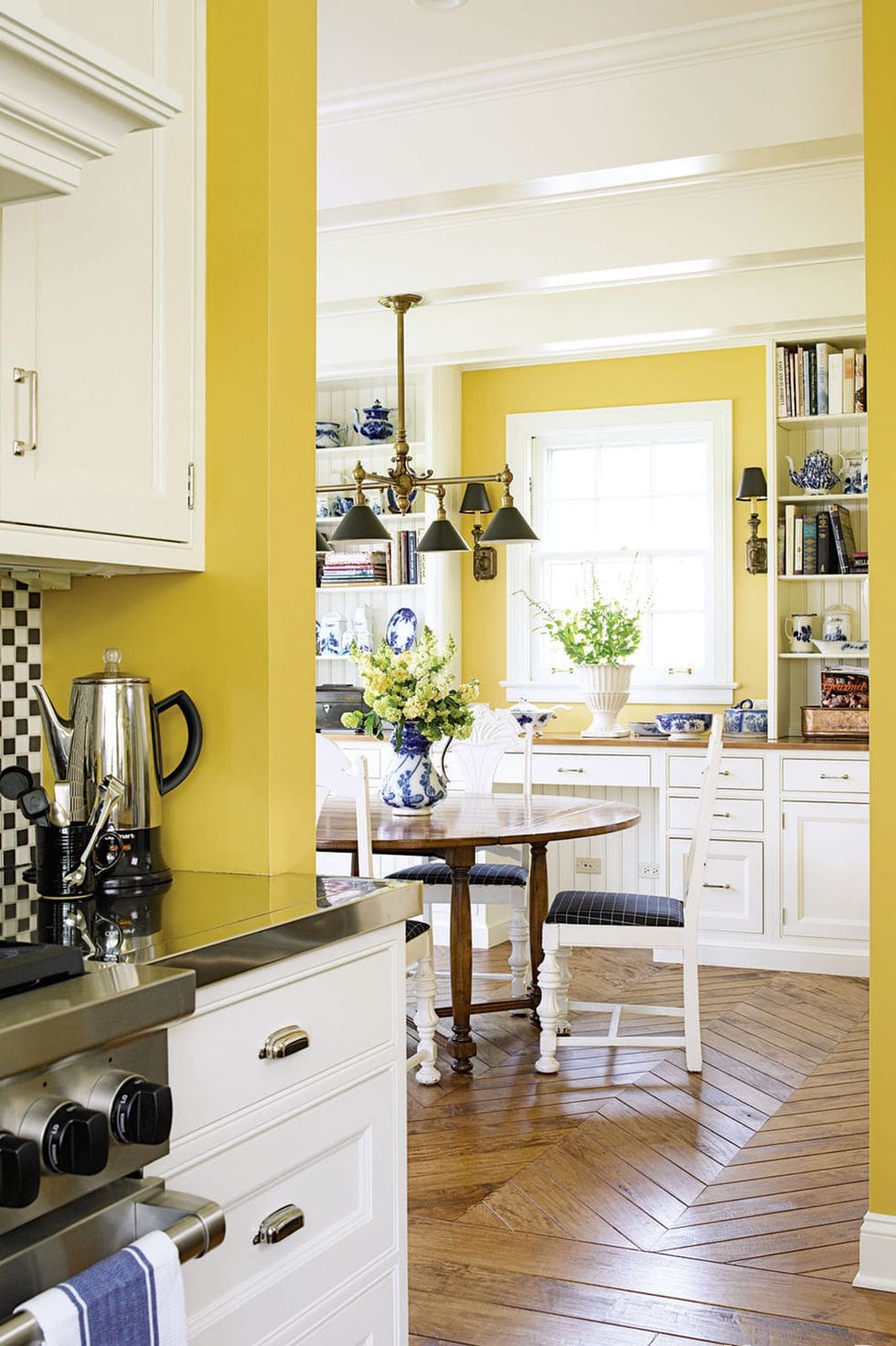 PHOTO: ELLEN MCDERMOTT
21. Lemon Yellow Living Room Wallpaper
Do you want to use lemon yellow for your interior wall without using paint? Use wallpaper! Paint generally are less durable than wallpaper.
A wallpaper will hold up to the majority of scenarios much better than paint, which might crack and peel due to moisture or unintentional impacts. Wallpapers also have a myriad of colours, prints, and textures to choose from.
PHOTO: ARCHITECTURAL DIGEST
22. Large Mirror on Lemon Yellow Wall
A great way to style and tone down a lemon yellow wall is to hang up a large mirror. By adding mirrors, you may create a sense of space within by having light and images bounce off them from various angles.
Mirrors work best when placed in pairs on either side of a window or doorway to reflect the other side of the space and provide a sense of harmony and balance.
PHOTO: NGOC MINH NGO 
23. Lemon Yellow Colour Wall With Blue Walls
Elegance is the name of the game! Lemon yellow and blue walls can instantly elevate a room from drab to fab.
Yellow brings warmth and coziness to a space while blue is relaxing and lively, when used together, they strike the ideal balance in interior spaces.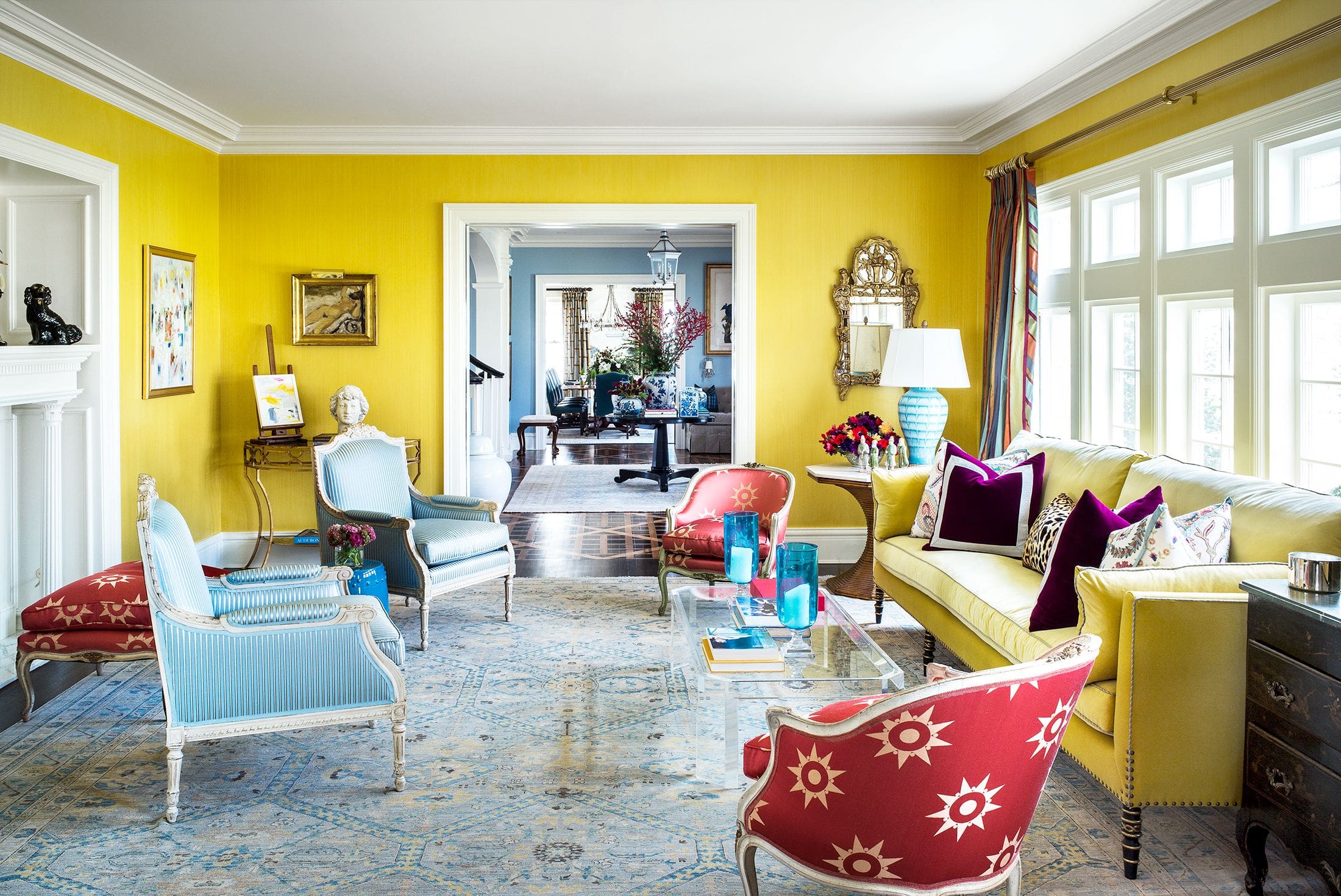 PHOTO: PAUL RAESIDE
24. Lemon Yellow Wall With Matching Furniture
The colour of your walls and furniture should ideally match each other. Accent chairs do not necessarily have to match each other or match every colour and hue in the room, but the room will be visually more interesting if they match your accent wall. The flow with the hues will help tie the room together.
PHOTO: CARPET RIGHT
25. Lemon Yellow on Kids' Room Wall
One of the most popular colours for a gender-neutral kids' room is yellow, which is typically connected with positive emotions.
Any space that has yellow in it feels cheerful and lively. Lemon yellow is a great accent colour for kids' rooms. According to some studies, kids who study or work in yellow spaces are more focused and have improved memory.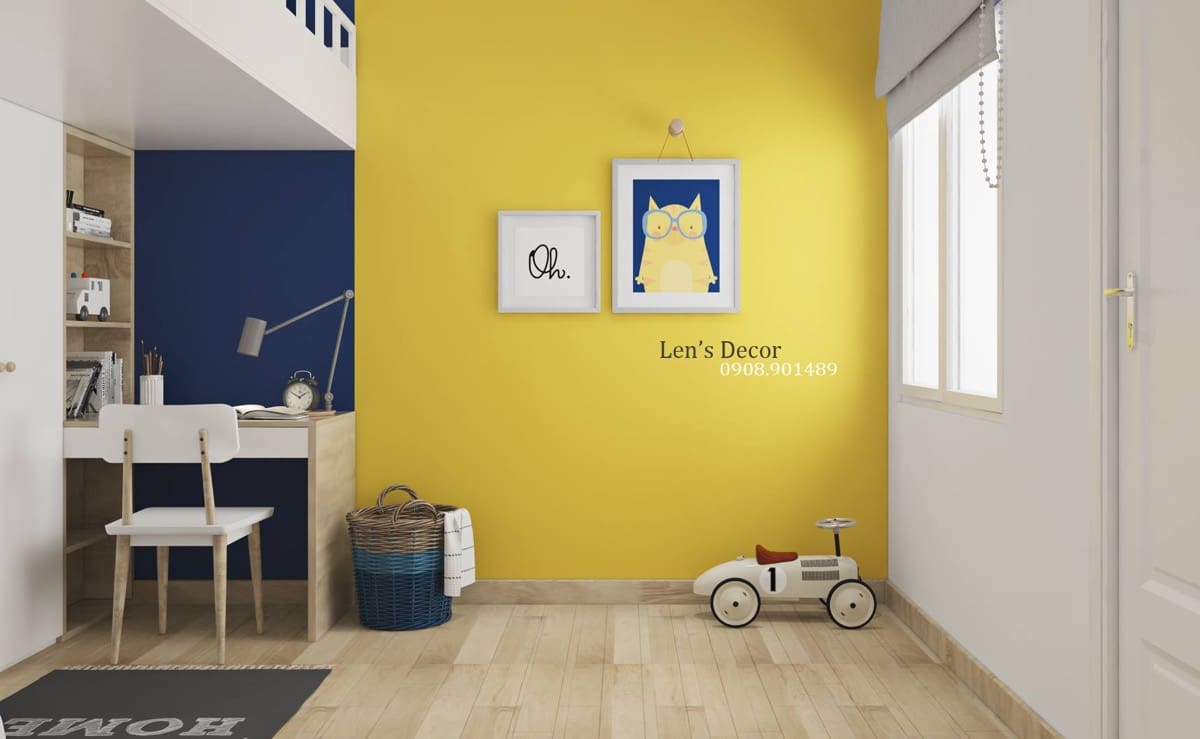 PHOTO: LEN'S DECOR