14 Dining Room Accent Wall Ideas
Sayonara to your outdated and boring dining room! Let's be honest, dining rooms aren't the easiest room to decorate. When it comes to the dining room, most people think of dining furniture, tableware, and a statement frame. Yeah pretty boring- duh. There are so many ways to add style and charm to your dining room. One of the most simple yet clever ways is to create a dining room accent wall.
An accent wall will instantly elevate the aesthetics of the room, making it visually interesting. In this article, we'll be outlining 14 dining room accent wall ideas that will take your dining room from plain to chic and inviting. So whether you looking to spruce up your outdated dining room or decorate one new one from scratch, these ideas will inspire you.
1. Opt For White Wall Panels
Wall panels are a great way to add style, texture, and depth to a space. If your dining room features dark color walls, lighten up the space with a white wood panel accent wall. This type of dining accent wall does not require much styling. Add a sideboard as decorative furniture and store a mirror to reflect light. A white wall panel is a simple way of adding a decorative and modern touch to your dining room.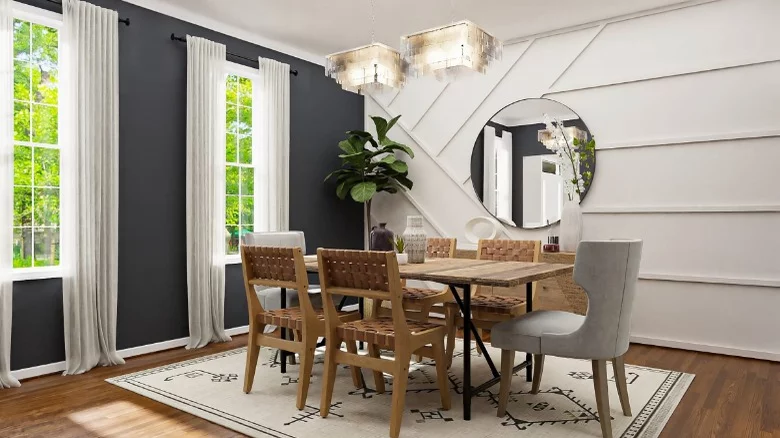 (Image source: Unsplash/Spacejoy)
2. Display A Large Artwork
Artwork can be a statement-making centerpiece that can add texture, style, and ambiance to a room. For an artwork to serve as a dining room accent wall, it needs to be very big in size. Think about the style of the artwork and how it complements your dining room. It should feature clean lines and neutral colors to tie the room together. Remember, this will be the show-stealer and will intrigue your guests.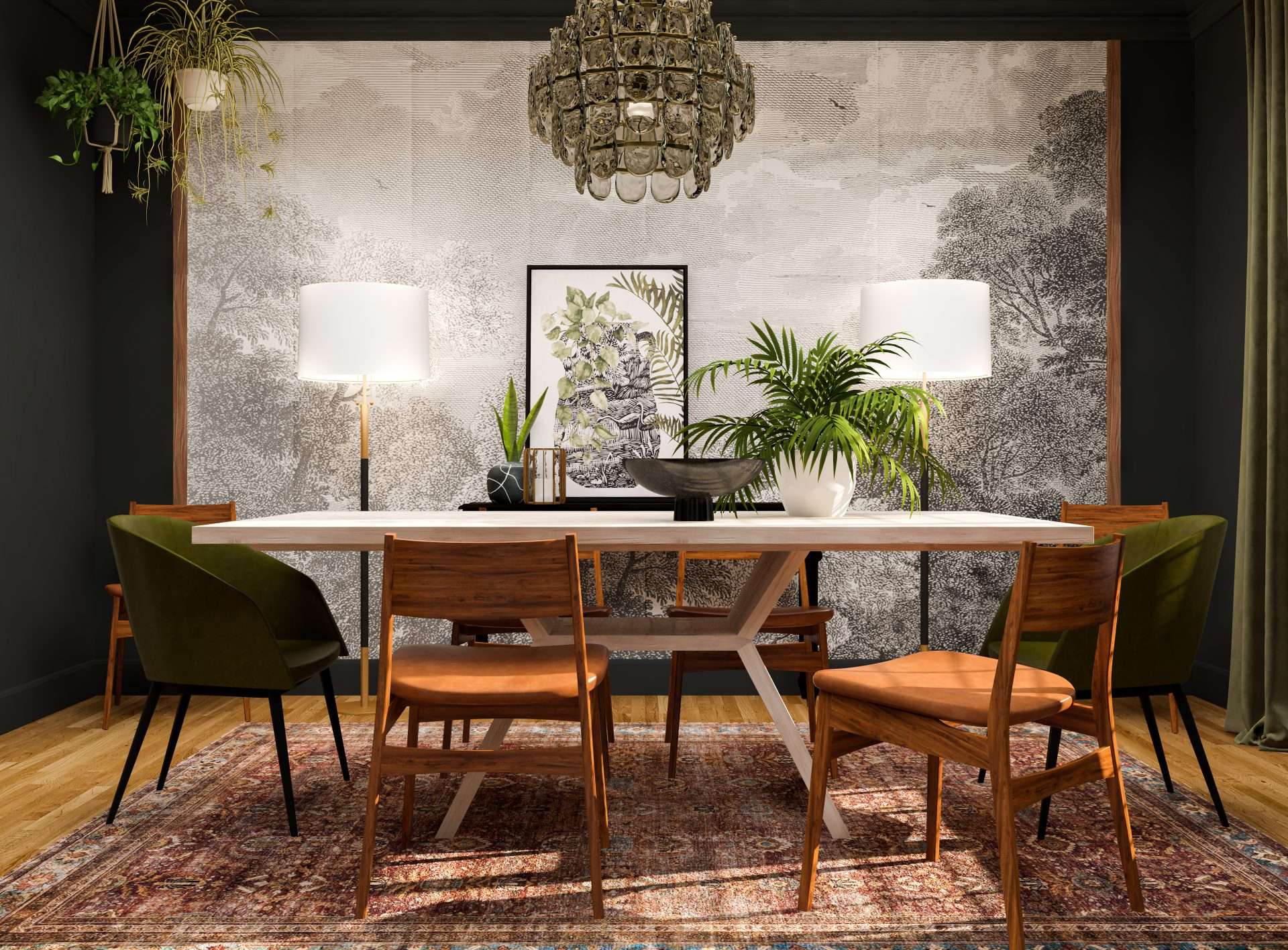 3. Opt For A Geometric Accent Wall
For a timeless and chic approach, consider a geometric accent wall for your dining room. A geometric pattern can be two or three-dimensional. It has played a big role in interior design in recent years. Geometric patterns can be seen in wallpapers, tiles, rugs, canvas, and other design elements today. Interior designs are continually embracing and using this pattern sparingly in mid-century and contemporary homes. Fundamentally, a geometric pattern is an effortless way to maximize interest in your dining room.
(Image source: Christian Benini)
4.  Add Some Personality With A Mural Accent Wall
Wall murals are common design elements used to draw interest. Opt for a wall mural for your dining room accent wall. This is a great way to inject some personality into your dining room. Whether you have a modern, traditional, farmhouse, or Scandinavian interior design style, you will find a suitable wallpaper design for you. If you want to evoke character and visual intrigue in your dining room, this might be the best ideal for you.
(Image source: Davide Lovatti)
5. Think Outside The Box With A Ceiling Wallpaper
Take things up a notch by incorporating ceiling wallpaper. But is an unconventional take but it can add a unique character and feel to your dining room You can use a bright color for a retro stylish look or you can opt for a crowd-pleasing palette such as neutral or earthy tones to keep things simple. A ceiling wallpaper is great for an open-plan dining area as it separates the dining room from the other surrounding areas. This is a dining room accent wall idea that will maximize interest and your space and leave your guest impressed.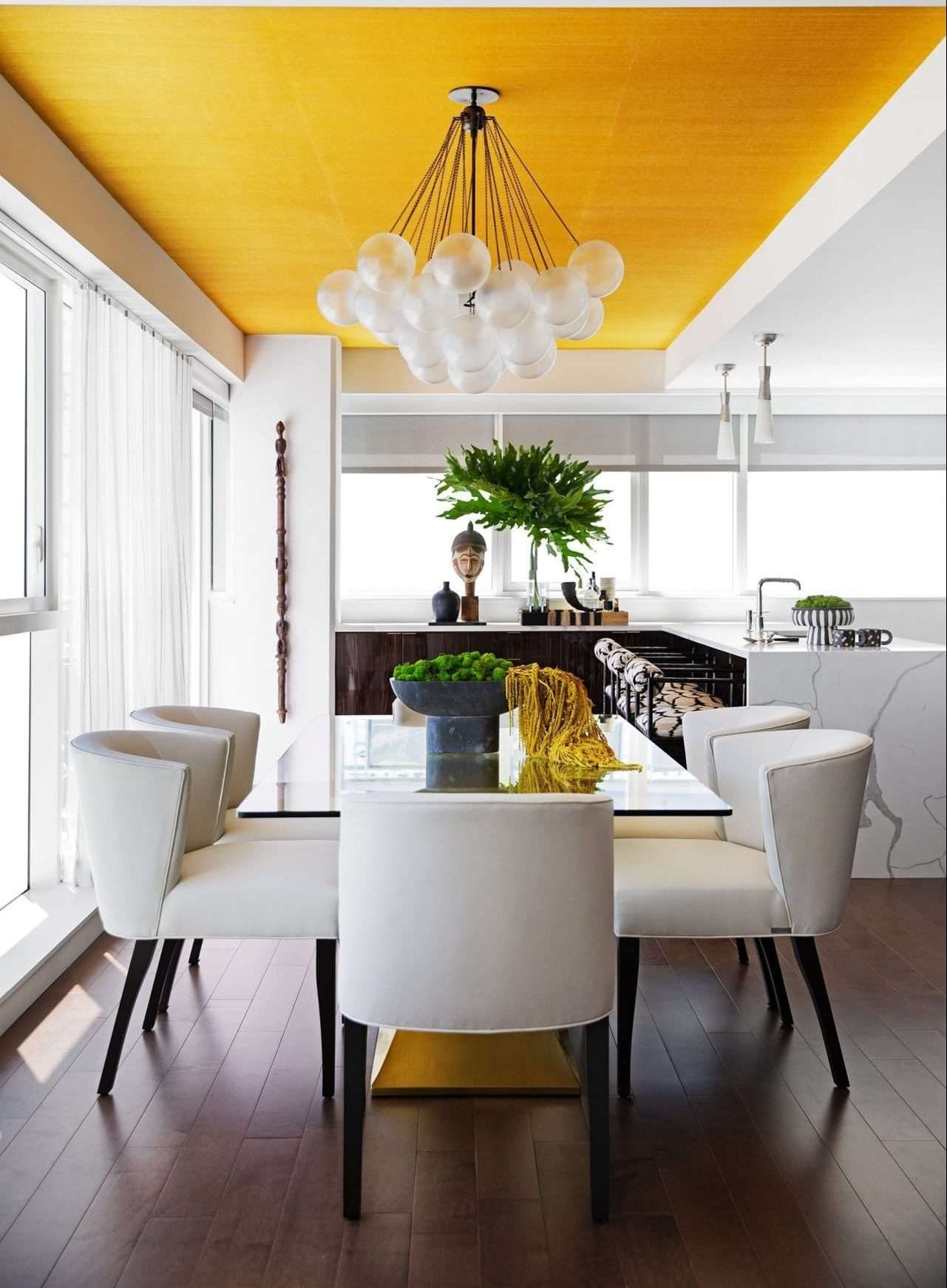 (Image source: Halden Interiors)
6. Embrace A Reclaimed Brick Accent Wall
Any well-decorated dining room is aesthetically pleasing and welcoming. Use earthly elements such as reclaimed brick to add charm to your dining room. This dining room accent wall is subtle and it allows creative freedom for the room. Bricks come in so many patterns and colors, be sure to choose one that complements your interior scheme. Plus, reclaimed brick is an eco-friendly option as it is brick rescued from old buildings and re-purposed for good use.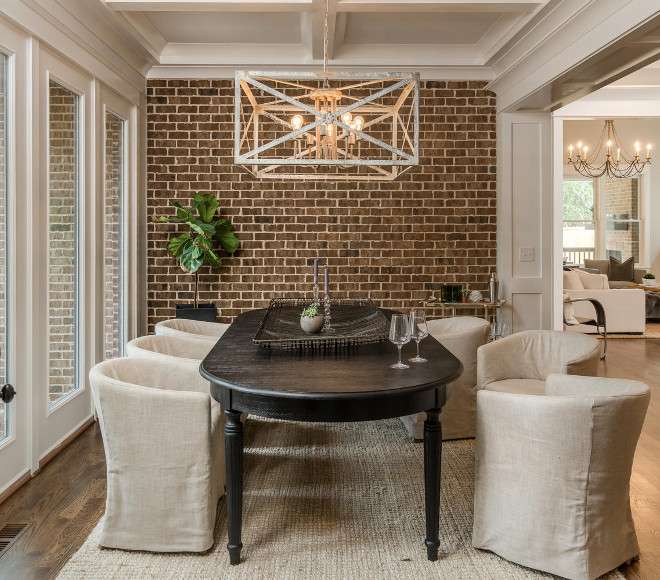 (Image source: Garrett Buell Photography)
7. Paint A Portion Of The Wall To Create Visual Interest
When it comes to accent walls, you make the rules and take the unusual route. Instead of painting one side of the wall, you can paint the top or the bottom. This is a great way to add a pop of color without overwhelming the space. To keep things minimal and tie the room together, paint the other portion white.
(Image source: CM Natural Designs)
8. Use A Mirror To Create An Illusion Of Space
One of the oldest tricks in interior design is the use of a mirror to make a small space look bigger. Mirrors reflect light, hence creating an illusion of space. They can also be used as accent walls for small dining rooms. Not only does an oversized mirror make a small space feel bigger, but it also adds depth and interest to the space.
(Image source: Pintrest)
9. Add Glamor With A Metallic Wallpaper Accent Wall
Add a grand gesture to your dining room with metallic wallpaper. This is ideal for adding a glamorous touch to your space. There are many metallic tones you can opt for such as gold, silver, platinum, nickel, and bronze. Metallic wallpaper has been utilized by homeowners for a long time and there can be seen in many homes today. This dining room accent wall style is usually suited for mid-century and traditional home interior styles.
(Image source: Halden Interiors)
10. Choose A Floral Wallpaper Accent Wall
Floral patterned wallpaper can create visual interest in dull areas. In interior design, floral patterns can be small or big flowers, delicate and leafy with different hues. Floral wallpaper is a great way to add a grandeur feel to the dining room. As a rule of thumb, to maintain symmetry, use big flower patterns for grande areas and small prints for small areas.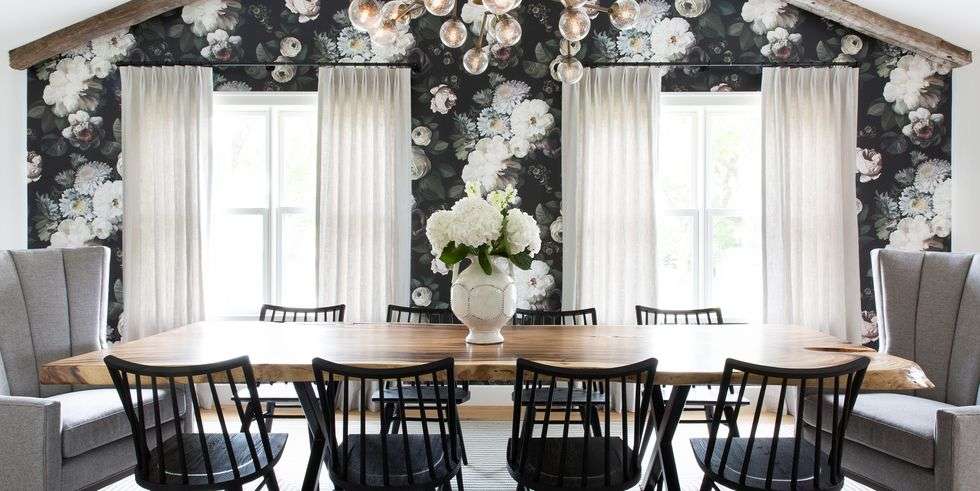 (Image source: Molly Culver)
11. Incorporate Art In Your Dining Room Accent Wall
Looking for the ultimate conversation starter? Considering an artistic accent wall for your dining room. This is a surefire way to add charm and personality to your space. You can choose to draw places, people, or things that inspire you. Incorporating art in your dining room adds visual intrigue and depth that will sparkle a conversation among your guests. This also helps you create a space that reflects your personality and style.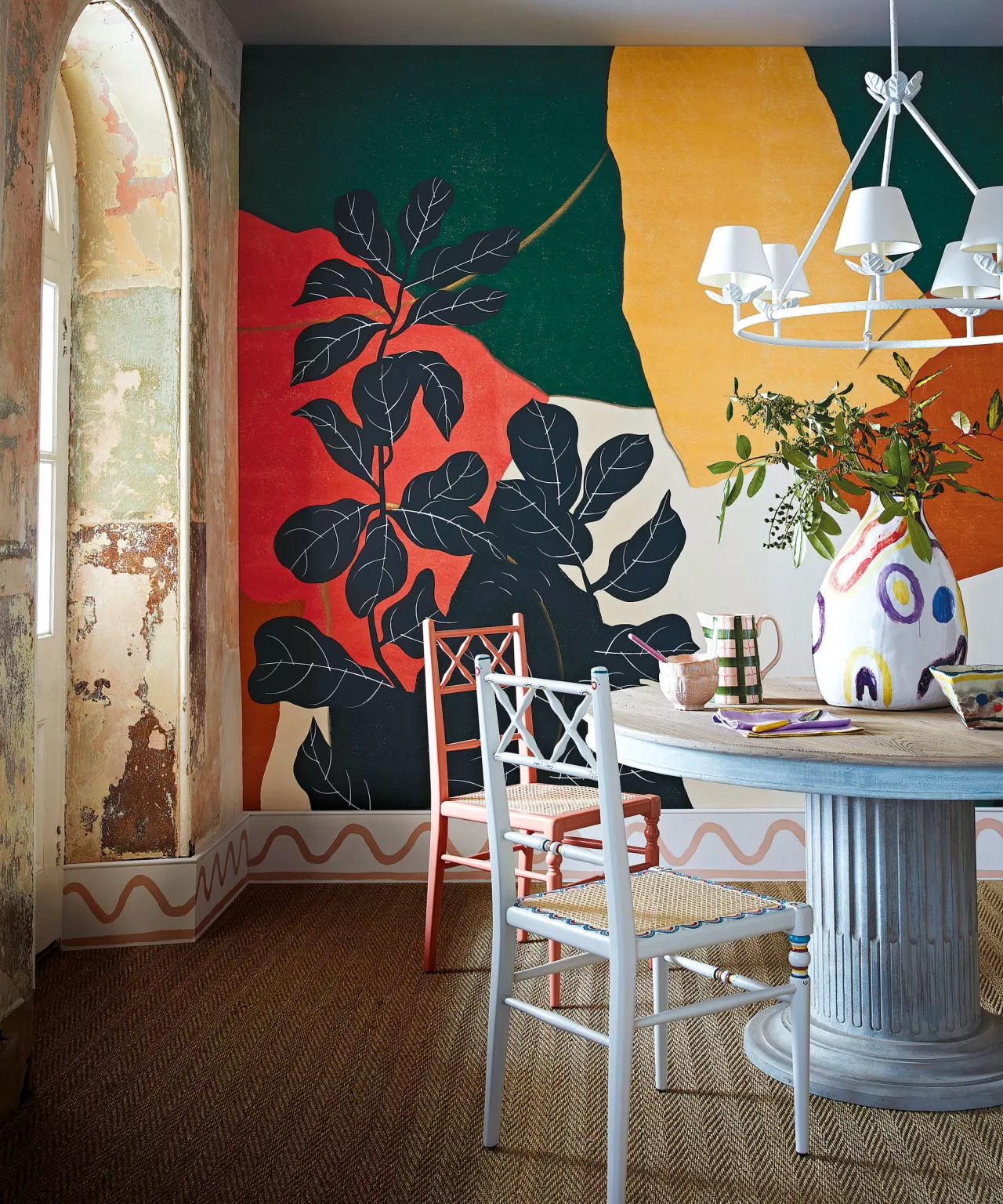 (Image credit: Jon Day Photography)
12. Opt For Decorative Wood Strip Panels
Interior wall paneling can add dimension, style, and interest to your dining room. For contemporary styling personified in every way, style your bare dining room wall with decorative wood strip panels. To create a warm and inviting ambiance, opt for a Scandi-inspired shade. This is a great solution for a contemporary dining room that lacks interest.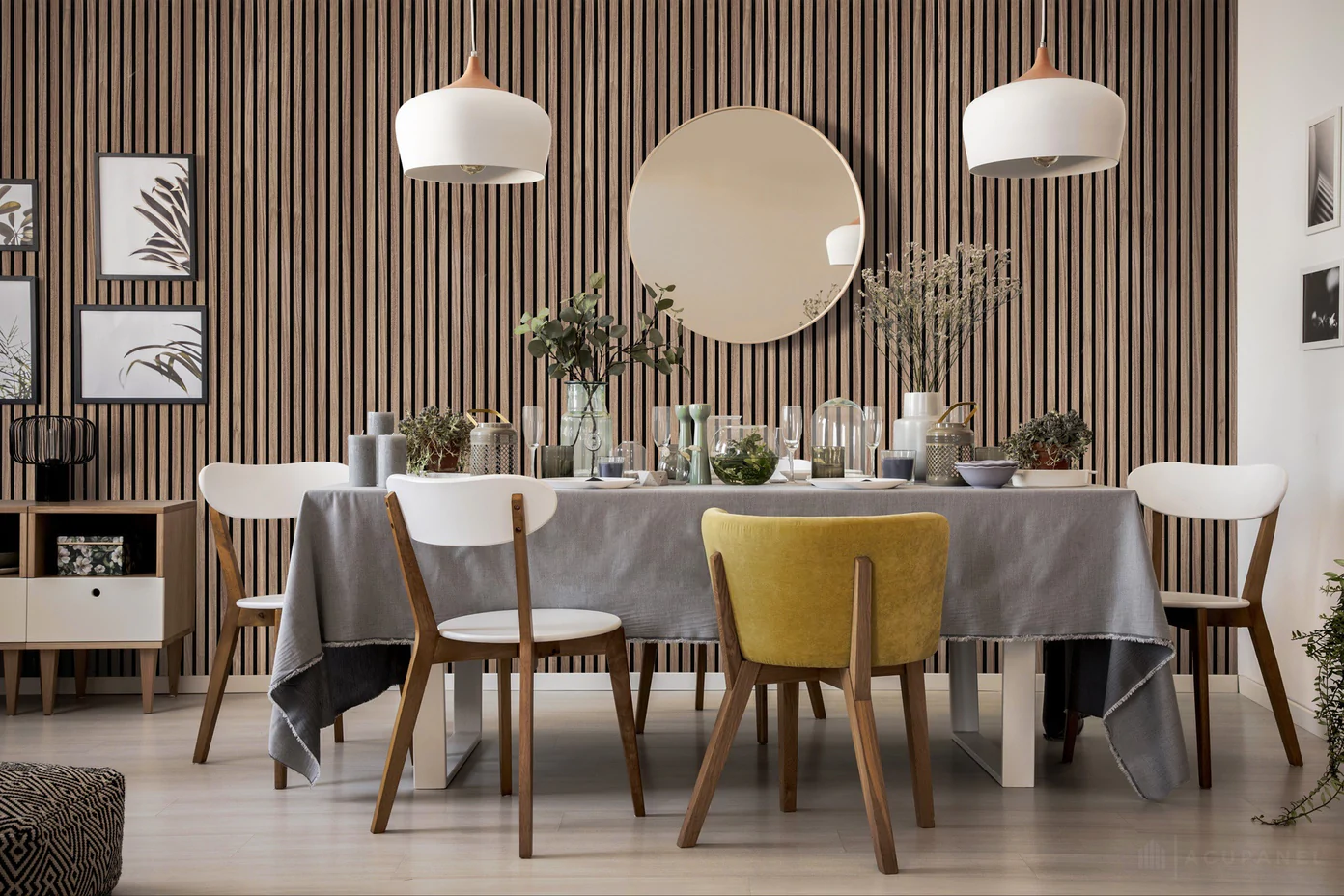 (Image credit: The Wood Veneer Hub)
13. Spark Some Interest With A Black Accent Wall
For an unusually stylish twist, opt for a black dining room accent wall. This is easy to pull off and makes work in almost any dining room. Black accent walls are making a comeback and they add character and a grandeur outlook to a room. Play on the theme by incorporating black in your dining room furniture and statement lighting.
(Image credit: Studio1408)
14. Use A Wine Display To Make It Welcoming
If your budget allows, use a wine display as an accent wall. If you entertain guests in this area very often, a wine display can create a warm and inviting vibe. A wine display also gives a grandeur look to your dining room. This can be quite expensive to implement but if you and your guests are wine lovers, then this could be the best creative accent wall idea for you.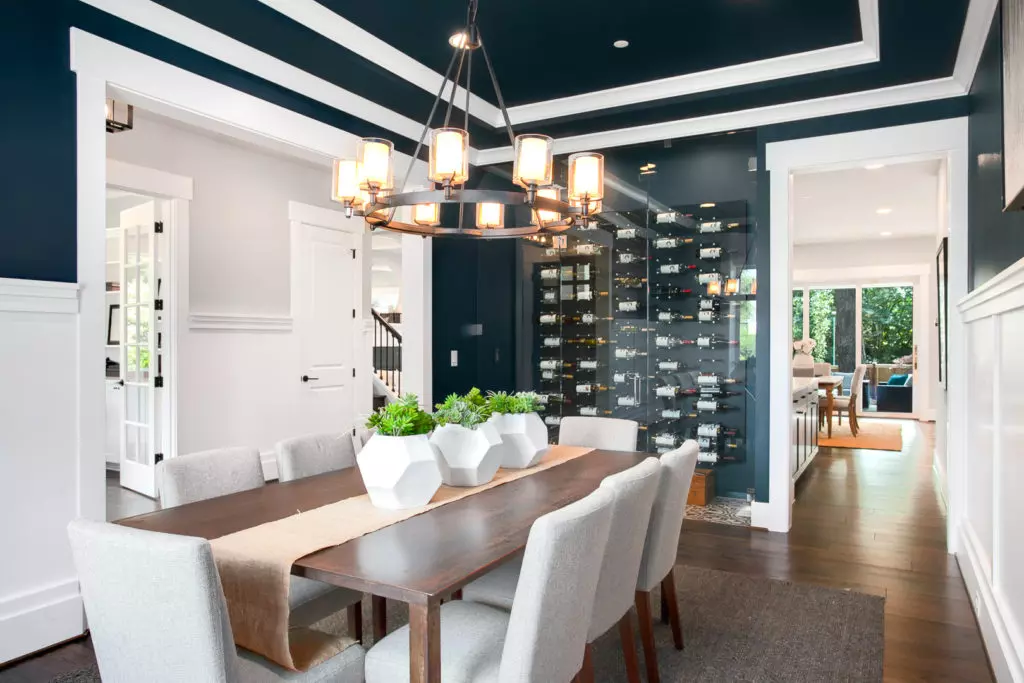 (Image credit: Rhino Wine Cellars)
Final Words
They are so many ways to add character and style to your dining room, an accent wall is a surefire way to do so. Remember, implementation is key! We hope some of these ideas inspire you to put your bare dining room wall to decorative use. You can borrow some ideas here and also add your own unique twist do it. If there are more design ideas you'd like to read here, let us know in the comment section below.
If you enjoyed this post, also check out these 12 Wall Paint Design Ideas with Tape.