The Living Room: The Embodiment of Class and Right Placement
The living room is probably the first thing you like to decorate when you buy a new house. We all love when our friend or anybody visiting our home drop by a compliment, appreciating the décor of the living room. In your house, it's the first place which leaves an impression of you and your style.
It showcases your personality and gives a glimpse of your lifestyle. For a living room to be captivating, it has to be comfortable, cozy, and stylish. From a piece of decent furniture to classic lighting, every intricate detail makes your living room beautiful.
Also, make sure to keep your living room tidy, otherwise all your efforts and investment in giving it "the look" will go in vain. Living rooms are like magnifying glasses, which offer a sneak peek of the interiors of your house.
The living room is a reflection of your style. It's also the place to exhibit your creativity and design aesthetic by experimenting with color palettes, patterns, textures, old wooden boxes, or old cloth. Let's, not waste time and directly jump into some fascinating ideas to beautify your living room.
The rich texture of the living room
A specific texture on the walls, floor, curtains, and sofas can make your living room warm and delightful. The furnishing with textured fabric gives a quintessential appearance. Natural, handwoven material in a rich textured living room can make it look even more gorgeous.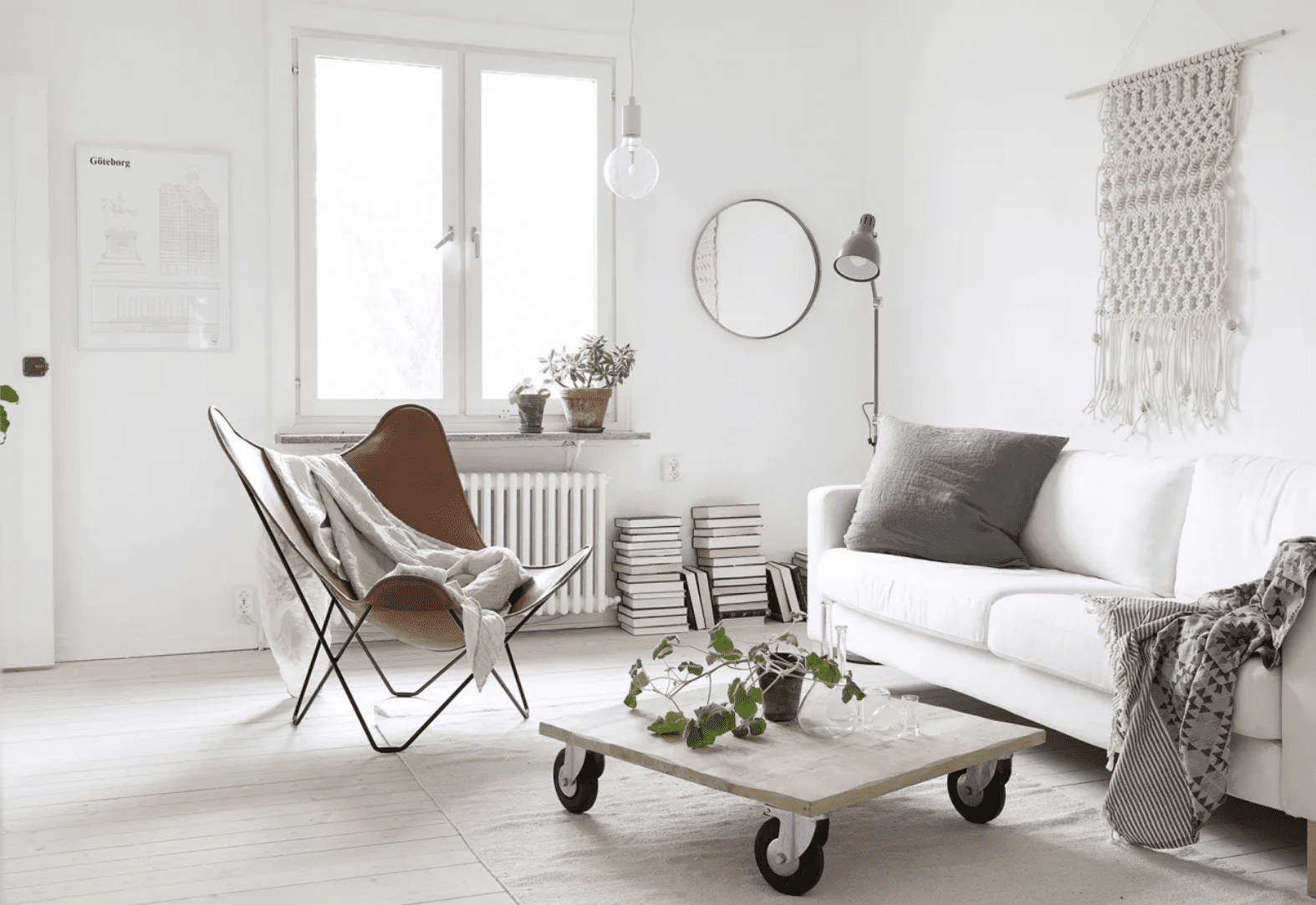 Photo credit: IDF Studio
Elements of nature
Take up eco-friendly materials and garnish your living room with artificial plants. The greenery will give your room a natural look. You can put vases of green plants near the windows. Layer the furnishing in such a way that sunlight can enter your living room.
Large glass windows with greenery and sunlight will give a fantastic look. Sitting there and enjoying nature while sipping a coffee or reading a book is going to provide a serene vibe. You can also add subtle lighting, giving your living room a vibrant yet peaceful look with moonlight seeping through the window.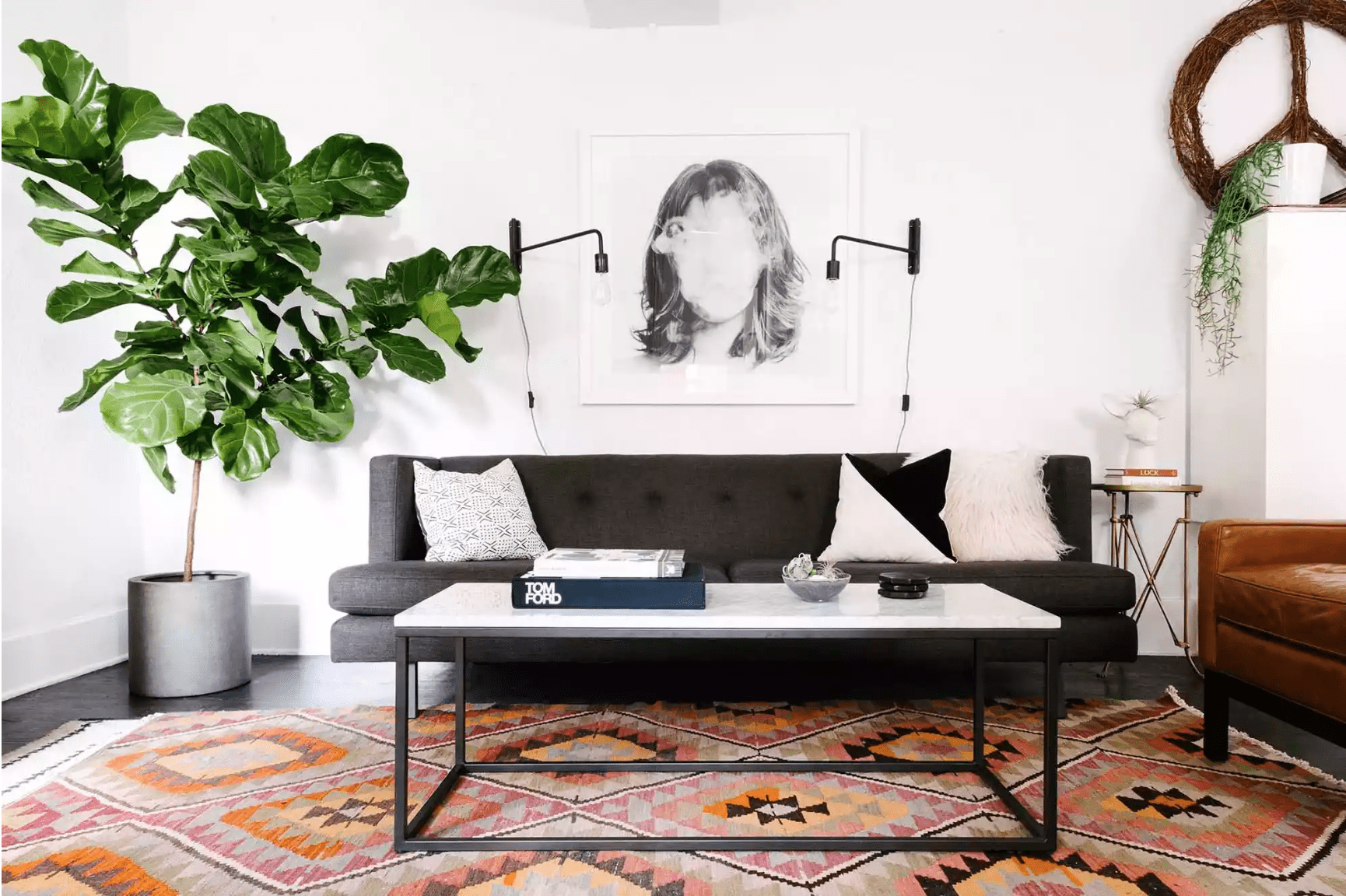 Photo credit: Havenly
Ethnic effect
You can place a colorful regional painting against a monochrome sofa cover and wall. You can play with colors of cushions and rugs. It's one of the best combinations you can ever lay your eyes on. They give you an ethnic feel and a lively look. The painting in itself speaks volumes, as it no longer remains just a piece of décor; it becomes a meaningful segment of your living room.
Photo credit: Haley Weidenbaum
Abstract elements
Abstract paintings, details, and décor pieces are my absolute favorite. I find them quite thought-provoking. You can pair an item of solid wood furniture with any other neutral color to give an edge to the look. Don't overdo with too many décor pieces, embrace the presence of less and more valuable pieces like dropdown lights, standalone art pieces, or bold geometrical color cushions.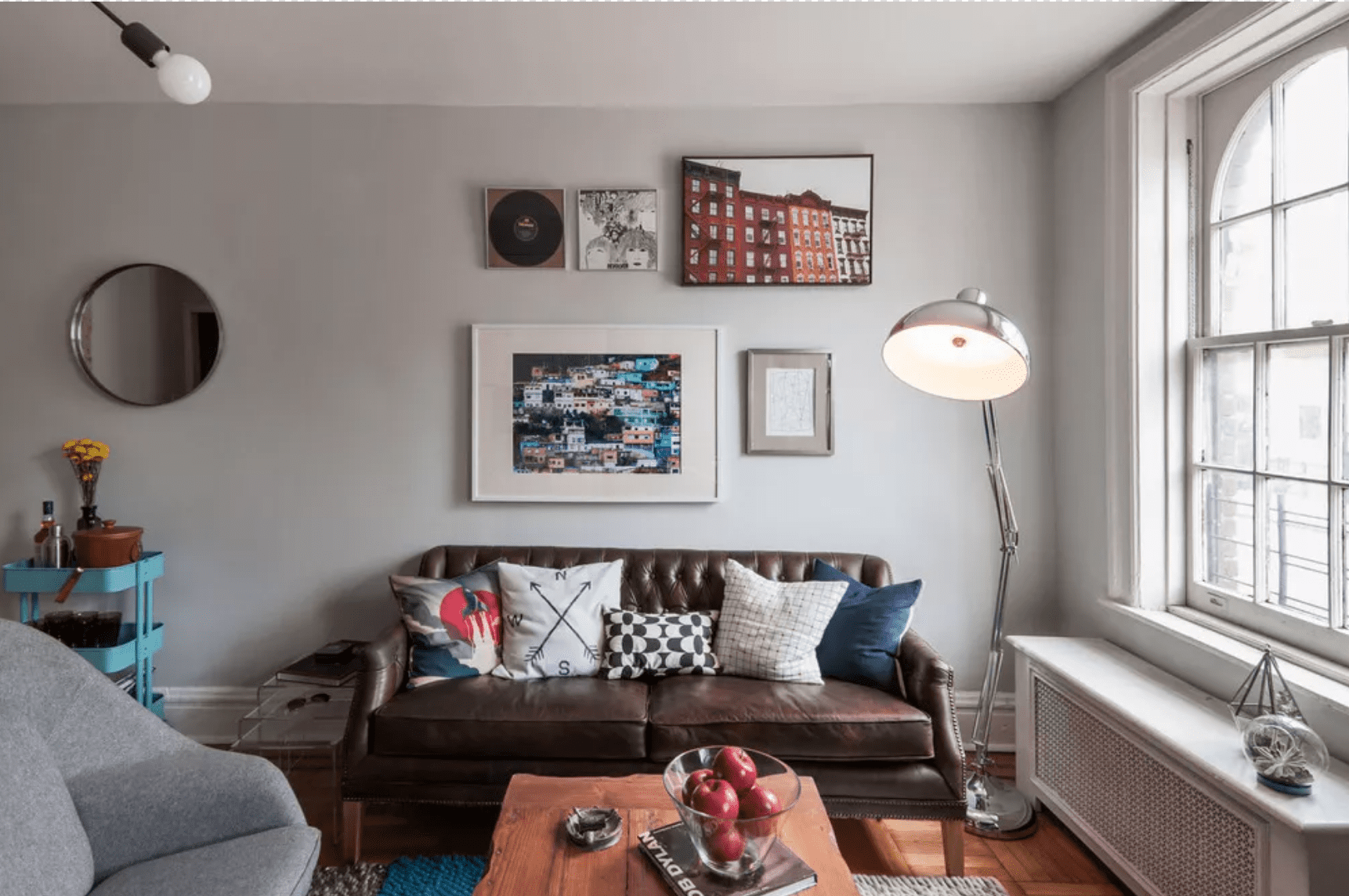 Photo credit: Labl Studio
Unusual and one-of-a-kind coffee tables
Side tables can play many roles, like a coffee table, or some trivial items. Make sure the size of the sofa and the coffee table are relatively similar to each other. The right height can make a lot of difference; it can be used for multiple purposes like a serving counter, or a place to keep an enticing flower vase.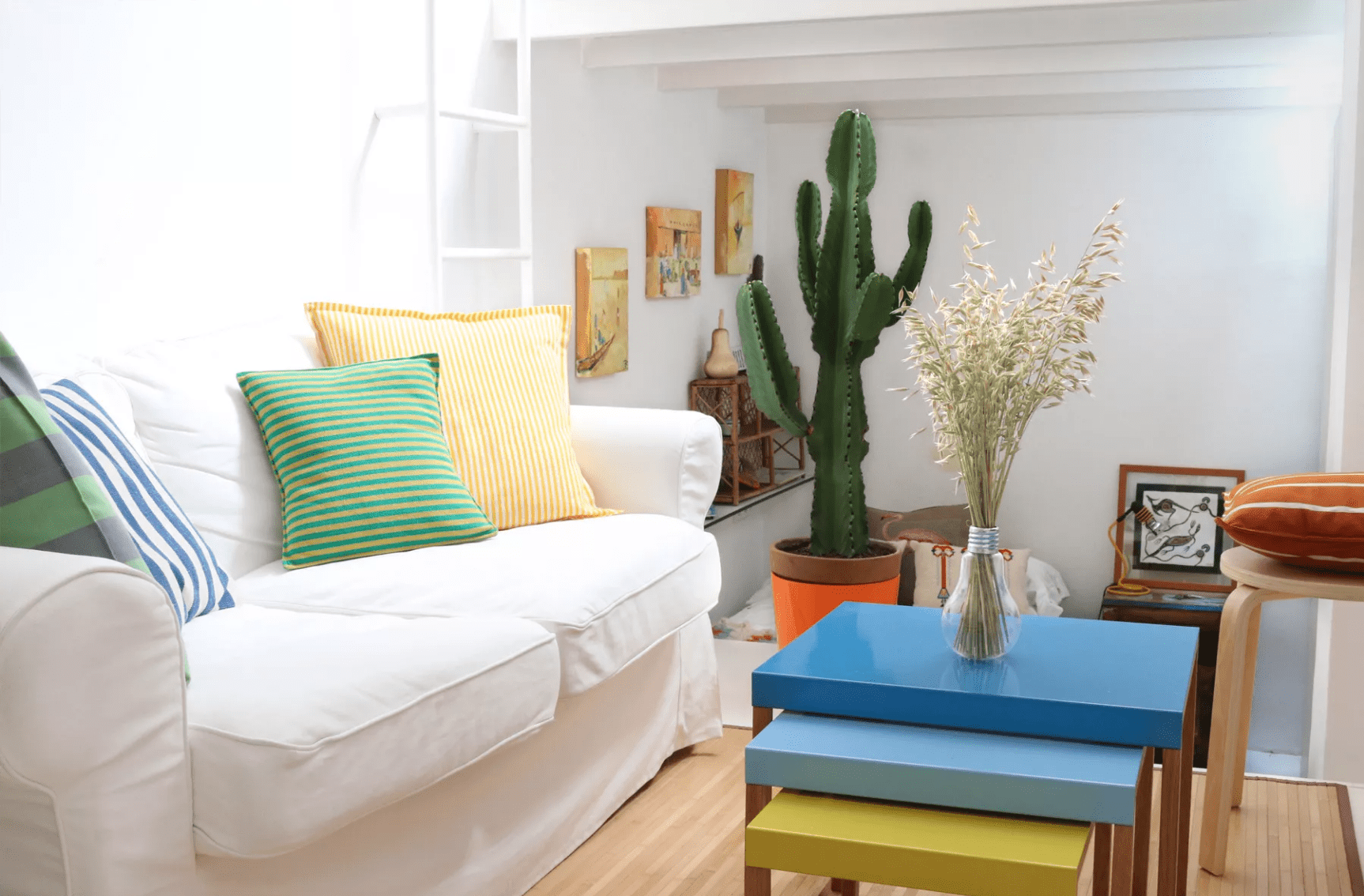 Photo credit: Haus Modelle
The positioning of all the rooms in your house plays a vital role in deciding the vibe and ensuring the spread of positivity at your place. Starting from your bedroom to the kitchen, living room, doors, windows, everything when put together determines your house's aura. It is believed that the kitchen is one of those places in our home, which can help us in acquiring excellent health and increase our motivation.
Listed below are significant factors that one should contemplate while designing their kitchen, few guidelines Vastu for kitchen:
1. As per Vastu Shastra, the creator of fire- Agni- predominates in the home's southeast direction, which means ideally, your kitchen should be placed in the southeast direction. Northwest direction will also work. Still, do not construct your kitchen in the north, northeast, or southwest direction as it will ruin relationships between your beloved ones. All the equipment representing fire like the gas stove, cylinders, toaster, microwave, and other kitchen appliances should also be kept in the southeast direction. The required items should be placed in such a way that the person faces east while cooking.
2. The washbasins and cooking range should not be parallel or in the same range. Water and fire are opposing elements, and they might cause an adverse influence on the person's behavior. Washbasin, water pipes, and kitchen drain should be placed in the north or northeast direction. It is necessary to keep the right balance between fire and water elements. You will flourish in the matter of good health and wealth.
3. The refrigerator and grains' storage should be in the southwest direction as these positions promote peace, good luck, and prosperity.
Let's talk about some Vastu Shastra fundamentals for doors and windows-
The entrance should face east, west, or north. It would be best if you did not build the door in the south direction to persuade negative energy.
Don't position plants or any statues just outside the entrance as it causes a hindrance for the positive energy.
Prefer teakwood material for your door and windows (both with the same material), as it brings good luck.
All the windows should have symmetrical shapes and balanced heights as irregular shapes are deemed as unlucky.
The doors should always be off-centered but also not in the extreme corners. The doors should be adequately oiled so that they can open and close swiftly. Cracked doors or creaking sounds tend to cause trouble and quarrels between the family members.
It is indispensable to consider the cross-ventilation factor while fitting the doors and the windows. They should be located so that maximum light and air can pass through the house. It is recommended to position the doors and windows opposite to each other.
Your house should have an even number of doors and windows like 2, 4, 6, 8, etc. but not 10.