Why Choose High Gloss Kitchen Cabinets?
Kitchens! Who doesn't want to make them prime points in their houses, after all, it's a jewel in the crown! But the jewel needs to shine. Is a dull jewel, even a jewel? Ask yourself, would you wear a diamond necklace that didn't shine? Or a gold bracelet that radiated somber in the air? Then why compromise with your kitchen cabinets? Are you in a dilemma between choosing matt or high gloss kitchen cabinets? You're in the right place! 
Say yes to the reflective beauty, and manage all the ifs and buts'…
High-gloss kitchen cabinets bring shiny glory into our kitchens. The gleam-satiny gloss has been famous since the 1970s and has never gotten out of the trend so far. Reason? It's visually appealing.
Here's the simple philosophy (a no-no, we aren't Aristotling): 'All that glitters is not gold. Some are high-gloss vintage kitchen cabinets.' And that makes everyone go awestruck! Yes…! Even your armchair-critic relatives and friends who repeat the same old apothegms such as 'you should have done this..' or 'dude, your kitchen doesn't have the feels of..'
Enjoy the kitchen double the size of your actual space…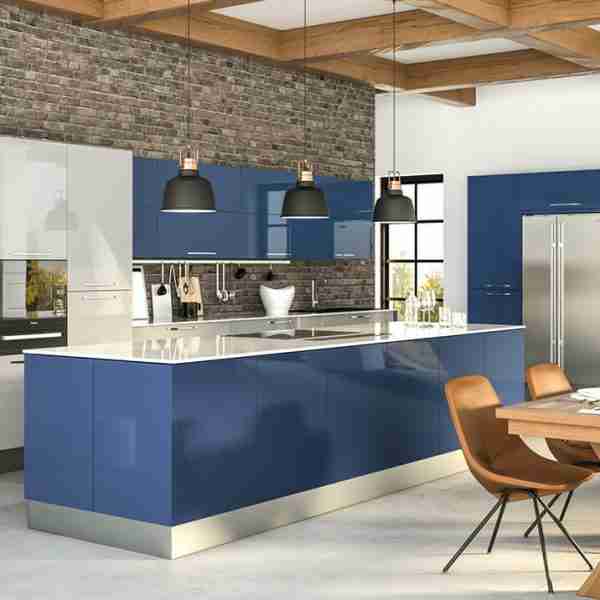 Feeling compressed in your kitchen space— as if the walls are moving towards you? No, you're not part of a vampire's diary book. It's your dull kitchen selection, which is suffocating you, not literally, but psychologically!
But what do you do if you want to feel flying in your 'not-so-spacious kitchen?' Again, you retort to high-gloss kitchen cabinets with drawers! Their reflective properties make your space feel bigger, almost double the actual size. So, it's one good way to make the best part of your home look bigger, without actually having it big.
The cabinet handles are annoying. Flat cabinet fronts need glossy touch…
Minimalism! The word that's making round-about across the globe! If you're a fan of minimalistic flat cabinet fronts with no additional handles— glossy finish kitchen cabinets make the best choice.
High-gloss kitchen cabinet is a subtle way of saying— no handle, no drama! Plain, elegant, and aesthetically— oversimplified.
And there's a feeling of cleanliness with glossy kitchens…
Many people recommend mat finish kitchen cabinets because 'specks of dust and fingerprints are not noticeable.' Visually, it's correct! But factually it's wrong! Picking a matt finish over a high-gloss finish because of 'less dust-noticeability' is like putting your head down on the ground like an ostrich. The dust is still there, just that it's not visible.
Moreover, we think noticeable fingerprints and dust in lustrous-glossy sheets are a blessing in disguise. They help us keep up with health hygiene practices! Ask yourself, what would you have? A kitchen cabinet with invisible dust and bacteria or a cabinet that signals and shouts silently 'clean the goddamn place?'
Considering the kind of hygiene we should practice in our kitchens, high-gloss kitchen cabinets are the real definition of cleanliness!
Noooo! 'I don't want to spend the entire day cleaning my kitchen cabinet.'
While we're hell-bent on proving how glossy-kitchen manages your hygiene, you must be already feeling tired in your boots. And rightly so! You don't have enough hands to keep massaging your kitchen the entire day. Frankly, no one does. We hate rubbing our hands around too!
But high-gloss kitchens are not so hard on us. In fact, they're comfortable to rub and clean. You don't have to squeeze anything with your hand. Pick up a non-scratch microfiber cloth and apply it with soft hands. And Dang! You're done even before you thought you started. So, your kitchen is on point if you're a young homeowner.
You have hundreds of colors to play around with. Glossy sheets are fun to experiment with!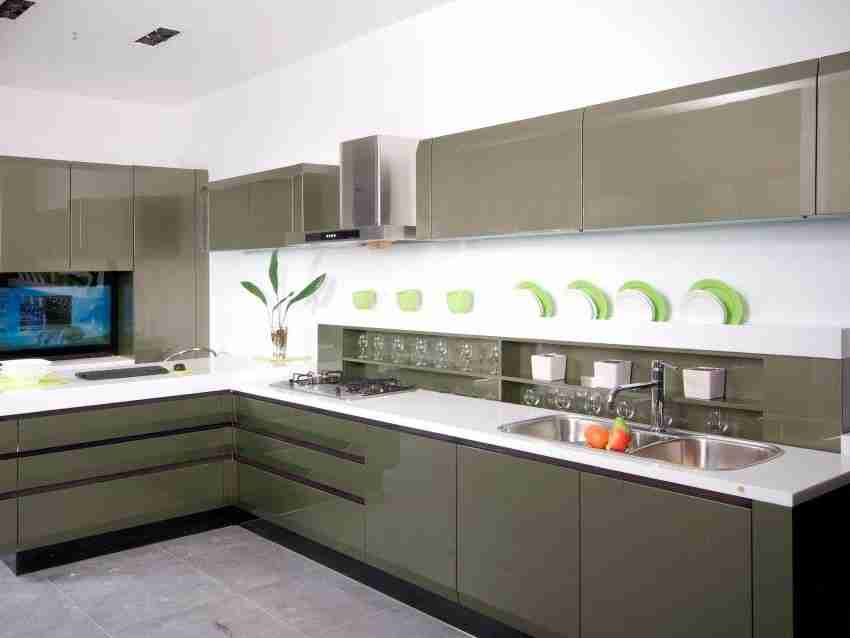 Other finishes limit your creative competency! Either you have to find an extraordinary design (which is rare) or feel settled with the common choice. But a glossy finish comes in various color schemes and pallets. 
You can experiment with any color you like and have your place sing— 'heaven's kitchen.' If you're all topsy-turvy and can't decide the perfect fit for your kitchen, go for the safest white-glossy cabinet that powers more than 80% of the glossy sculleries. However, other bright colors are as good as they get as they instill captivating appeals to your kitchenette too.
And Personalization is the thing that you don't want to miss…
We don't build our dreamy kitchens every day! It's a once or twice-a-lifetime experience, and we wish to have absolute control over our kitchen design. The sleek, attractive, and colorful high-gloss kitchens also come in various materials.
Keeping your house's budget and architectural theme in mind, you can further play around with these materials and personalize and tailor its look. 
Mixing matt and high-gloss kitchen cabinets could still give a vibrant look
Not feeling convinced to use high-gloss kitchen cabinets? Fret not! We're not following a rule book. 'A' doesn't have to be 'A.' You can blend matt and high-gloss kitchen finishes to break the contemporary standards of the kitchen. 
Generally, the glossy cabinets at higher cabinets reflect more light than the ones at the lower level. If you're too much concerned with clouds of dust, scratches, and fingerprints— have your cabinet divided into two halves. The upper half is covered in a glossy finish, while the lower half is in a matt finish. It will give you the right balance that you've been wanting. 
'Glossifying' your kitchen with Country Kitchen Online!
Wish that your kitchen is right on the money? Need experientialists and experimentalists to help boast vintage kitchen cabinets? Country kitchen online is your wholesale kitchen cabinets partner that gets you kissing every corner of your galley. Cover your cabinets in sheen-luster surfaces and become an epitome of design amid plenty of kitchen cabinets online.