Why Choose A High Arc Kitchen Faucet For Your Kitchen?
When people choose their faucets, they don't pay much attention to the size of the arc. The main benefit of the high-arc kitchen faucet is that you get more space in the sink for washing. The faucet has become an essential fixture in the kitchen. The right kitchen tap not only helps to ease your work in the kitchen but also saves the time it takes to wash dishes while adding a visual aesthetic.
When most people buy a faucet, they find the process quite daunting and stressful. This is because they don't know the difference between faucets like touch vs touchless faucets, high arc vs low arc faucets, single vs two-handle faucets, faucets that pull out vs pull-down faucets, and many more.
They also do not take into consideration the advantages or disadvantages of each type of faucet. In this guide, you will get to know the pros and cons of a high arc faucet so you can decide whether this faucet is right for your kitchen or not.
What are high arc faucets?
These taps are large in size and look like commercial taps. With the change in technology, companies are making more such taps as they are easier to use, and also there is more space in the sink to wash dishes. A high arc faucet is visible from any corner of the kitchen.
The normal size of these taps is considered to be 10 inches. Taps around or above it are placed in the category of high arch faucets. The main part of this tap is its neck. The longest part of the tap is the same.
While purchasing the high arc faucet, you should keep in mind that the size of the faucet should match the size of the sink and countertop. If the size of your sink is small, a high arc tap will not look good in it and can ruin the interior of your kitchen.
These taps also have the pull-down or pull-out function, so this tap is a great choice for large sinks. Due to the pull function, it can reach any corner of the sink even after having a high height.
High arc faucet buying guide
1. Style
When most people buy a faucet, they first look at its design and style and this is also an important aspect. The style of the faucet should match the interior of your kitchen. Nowadays, many types of finishes have started coming in the tap like matte black, polished chrome, oil-rubbed bronze, and many more. Due to this the interior of your kitchen is whatever, you will get a perfect tap for your kitchen.
While looking at the design of the tap, it should be kept in mind that the finish of the tap should not be such that it can start to look like an old one within a few months. A polished chrome finish is one of those finishes that look like a new one for a longer time period.
2. Material
Material is a hidden feature of tap and most people do not pay attention to it. Brass is used in good quality taps so that the tap can work without any problems in the kitchen for a long time. Due to the brass material, there is no rust in the tap and there is also no leakage problem.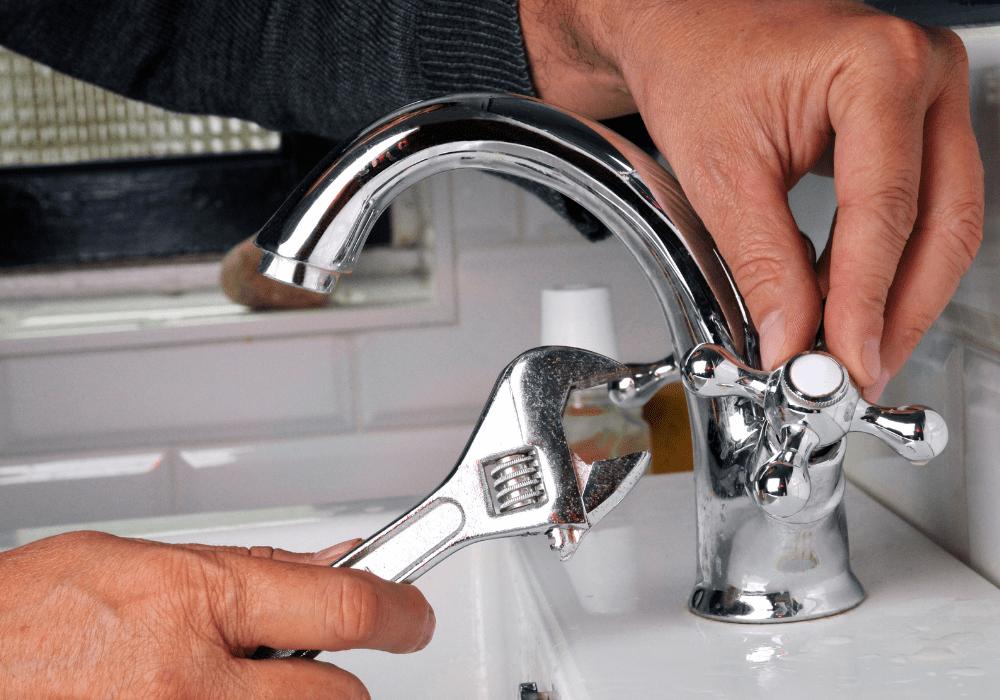 3. Cartridge
The cartridge plays an important role in the faucet leakage problem. A low-quality cartridge gets damaged in a few months or within a year. A ceramic disc cartridge is a good choice for a high-arc faucet. These types of cartridges are reliable and work for many years without giving any leakage problems.
4. Price
Another important factor while buying a faucet. For the high arch, faucet prices may be higher for big brands faucets like Moen, Pfister, and Delta but if you give more time searching for a faucet on a budget then you get to know that there are some companies that are offering high arc faucets in the budget like danze. Danze kitchen faucets are within budget and the quality of the faucets is good.
5. Installation
Nowadays the installation of a faucet is not hard. All faucet comes with an installation manual so if you have little knowledge of faucet installation then you can easily install any high-arc faucet. Self-installation saves you money. Maybe some faucets need a plumber for installation so it would be great to call a kitchen plumbing service near me for faucet installation.
Pros of high arc faucets
The main advantage of a high arc faucet is the length of the spout. Due to the long spout high arc faucet flows water with high pressure. In all high-arc faucets, water pressure is high so you don't get any difficulty while washing dishes.
The high arc faucet looks like a commercial-style kitchen faucet due to its pull-down spout function. This is the primary reason why this type of faucet is loved by people. The Pull-down spout is able to reach any area of the sink. Whether you have a big or small sink pull-out high arc faucet no area of the sink is far from the reach of the faucet. With a pull-down spout option if your sink is full of dishes then you can take the spout on the countertop to fill a pot or other utensils.
Cons of high arc faucet
The main disadvantage of a high arc faucet is that due to its long spout, this faucet is not suitable for all kitchens. Those kitchens have small size sinks or kitchen size is small and if you install this faucet in the kitchen then maybe the interior of the kitchen will be ruined.
Also, if your sink is below any shelf or cabinet then before purchasing major the gap between sink and cabinet otherwise you would be stuck with the wrong faucet.
Final words
A high arc faucet is popular among people due to its better cleaning experience. For a kitchen, this faucet is a good choice and after installing the faucet you feel like you are using a commercial faucet in your home kitchen. Every company has a different price range so you can decide which price range is suitable for you.