28+ Best Olive Green Paint Colors
Choosing the right paint color is often more overwhelming than the painting task itself. Before buying any olive green paint, check out these olive green paint colors and see how they compare.
A fresh coat of paint can give a tired and boring room a new life. The first step to take for any paint project is to determine what paint color is right for the space. The second and most crucial step is selecting the right shade of that specific color.
Every hue you can imagine has various shades and tones. In interior design, shade is just as important as color. The third step is finding the retailer that has the shade and quality that fulfills your needs.
Olive green is a soothing and invigorating shade of green that is making a strong comeback in the interior world today. This color can lend easy elegance and a relaxing feel to a room. The olive green color is a dark yellowish-green color that is reminiscent of the color of olive fruits.
There are a plethora of olive green paints out there so it can be a bit of a challenge trying to find the shades that meet your aesthetic preferences.
In this article, we've curated 28+ incredible olive green paint colors that will make you want to remodel immediately.
These olive green paint colors have been selected from the world's best paint retailers. So, no matter where you reside, you will find that most or some of these are accessible to you. 
Pin this post to save for later!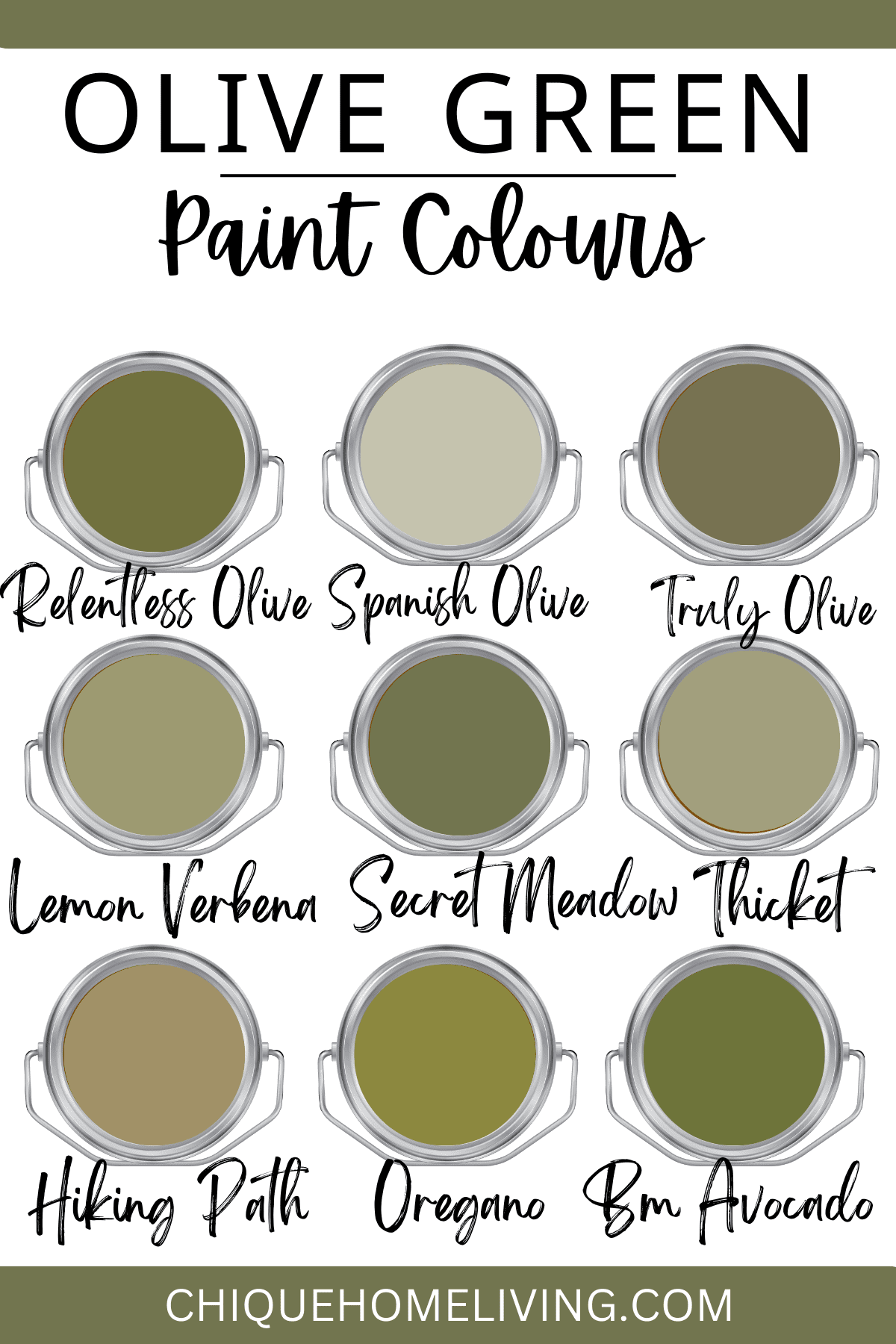 1. Sherwin Williams Relentless Olive (6425)
The Relentless Olive green paint color is rich and earthly. It is a medium-to-dark shade of green that has a warm yellow undertone. Relentless Olive can make a bold yet comforting statement in a room. As far as colors go, this is as close to nature as one can get. The colors that go with Sherwin William's Relentless Olive are Queen Anne's Lace and Gossamer Veil.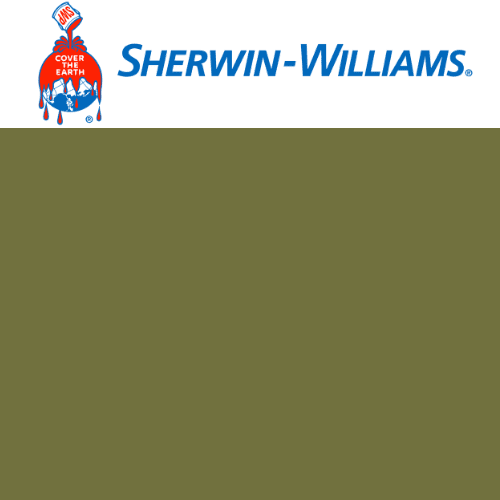 2. Benjamin Moore Spanish Olive (1509)
The Spanish Olive is a faded shade of olive that can serve as a neutral color. This olive green paint is a light green shade with a gray and pale yellow undertone. Spanish Olive is great for minimalist rooms because of its refreshing feel and timeless appeal. It can create a serene and neutral aesthetic. The colors that go with Benjamin Moore's Spanish Olive are Mountain Peak White, Cloud White, and Ashland Slate.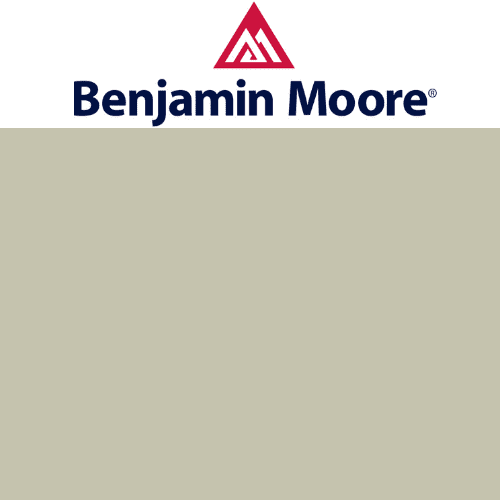 3. Behr Truly Olive (S350-6)
This Mediterranean green evokes the visions of bucolic hillsides clothed with orchards. Truly Olive is a dark green shade with a warm yellow undertone. It will make a great addition to a moody color palette. The colors that go with Behr's Truly Olive are Chanoyu, Sweet Molasses, Tsunami, Dark Navy, and Deep Viridian.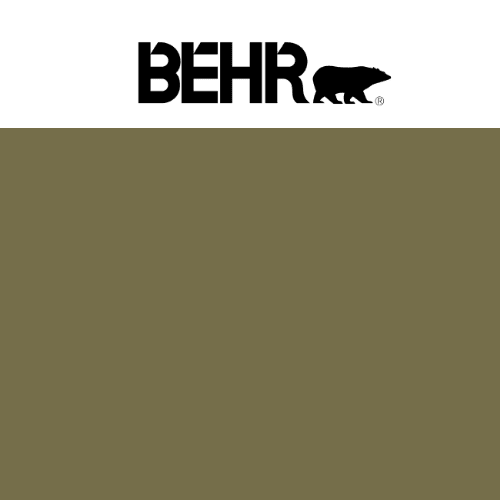 4. Benjamin Moore Tate Olive (HC-112)
The Tate Olive is a rich and grounded mid-tone green with a subtle warmth. This olive green paint has a distinctive beauty that makes it suitable for any room. Plus, it is a timeless green that can be used in both traditional and contemporary spaces. The colors that go with Benjamin Moore's Tate Olive are Morrel, Cliffside Gray, and Natural Wicker.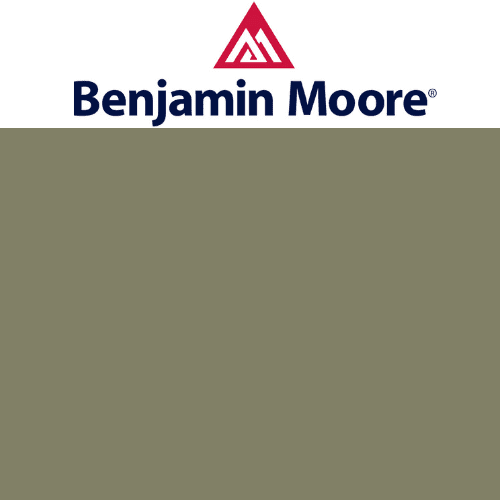 5. Little Greene Olive Colour (72)
The Olive Colour is a warm dark green shade that is sure to stand the test of time. It pairs beautifully with warm white paint. The colors that go with Little Greene's Olive Colour are Silent White, Portland Stone, First White, Arras, Apple, and Dock Blue.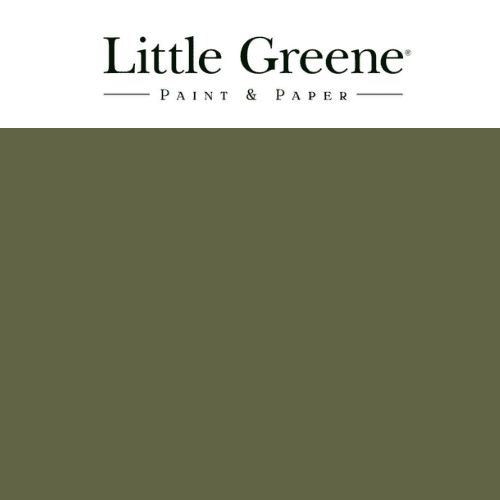 6. Sherwin Williams Lemon Verbena (SW 7726) 
The Lemon Verbena is a classic medium-tone green color that is easy on the eyes and can work brilliantly well in any setting. The colors that go with Sherwin William's Lemon Verbena are Alabaster, Lux Blue, Peppercorn, and Useful Gray.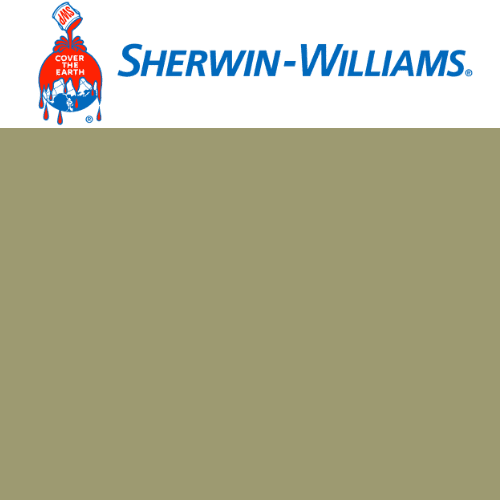 7. Benjamin Moore Olive Tree (392)
The Olive Tree is a yellowish-green with subtle golden undertones. This olive green paint can instantly infuse warmth and a dramatic flair to a room. Due to its high vibrancy, it might not be ideal for some spaces but when used as an accent wall color, it can add zest and liveliness to the room. The colors that go with Benjamin Moore's Olive Tree are Ancient Ivory, French Beret, Sandy White, and Simple White.
8. Farrow & Ball Olive (No. 13)
Originally used in paneled rooms, Olive by Farrow & Ball is a mid-tone earthly green that can enliven any space. Although, it is best suited for moody spaces which can help bring out the richness of this sophisticated shade of olive green. The colors that go with Farrow & Ball's Olive are Lime White, Mouse Back, Railings, and Porphyry Pink.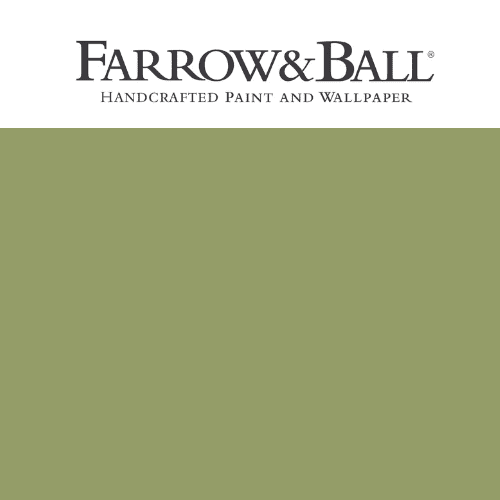 9. Sherwin Williams Baby Bok Choy (9037)
Baby Bok Choy is light and yellowish olive green paint that is perfect for all interior spaces. It is especially striking when paired with beige, off-white, or similar neutrals. The colors that go with Sherwin William's Baby Bok Choy are Restrained Gold, Creamy, and Queen Anne's Lace.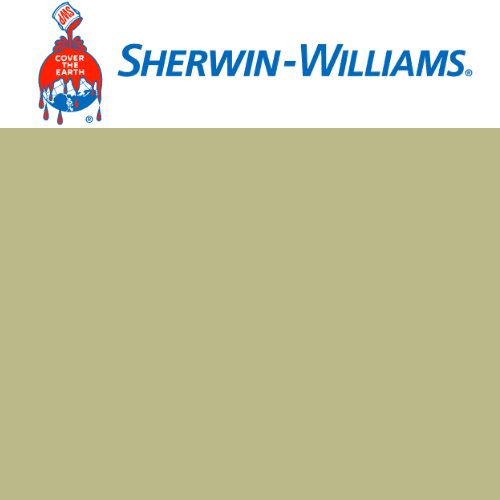 10. Behr Olive Shade (S330-7)
The Olive Shade is an earthy and muddy dark green shade with a hint of yellow undertone. This calming olive green tone offers a powerful grounding effect and can really warm up a room. The colors that go with Behr's Olive  Shade are Silky White, Cherry Cola, Tornado Season, Blue Blood, Mild Mint, and Red Clover.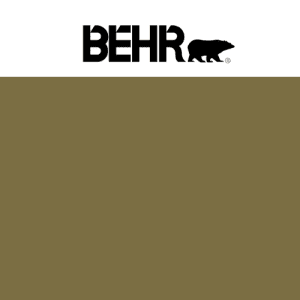 Pin this post to save for later!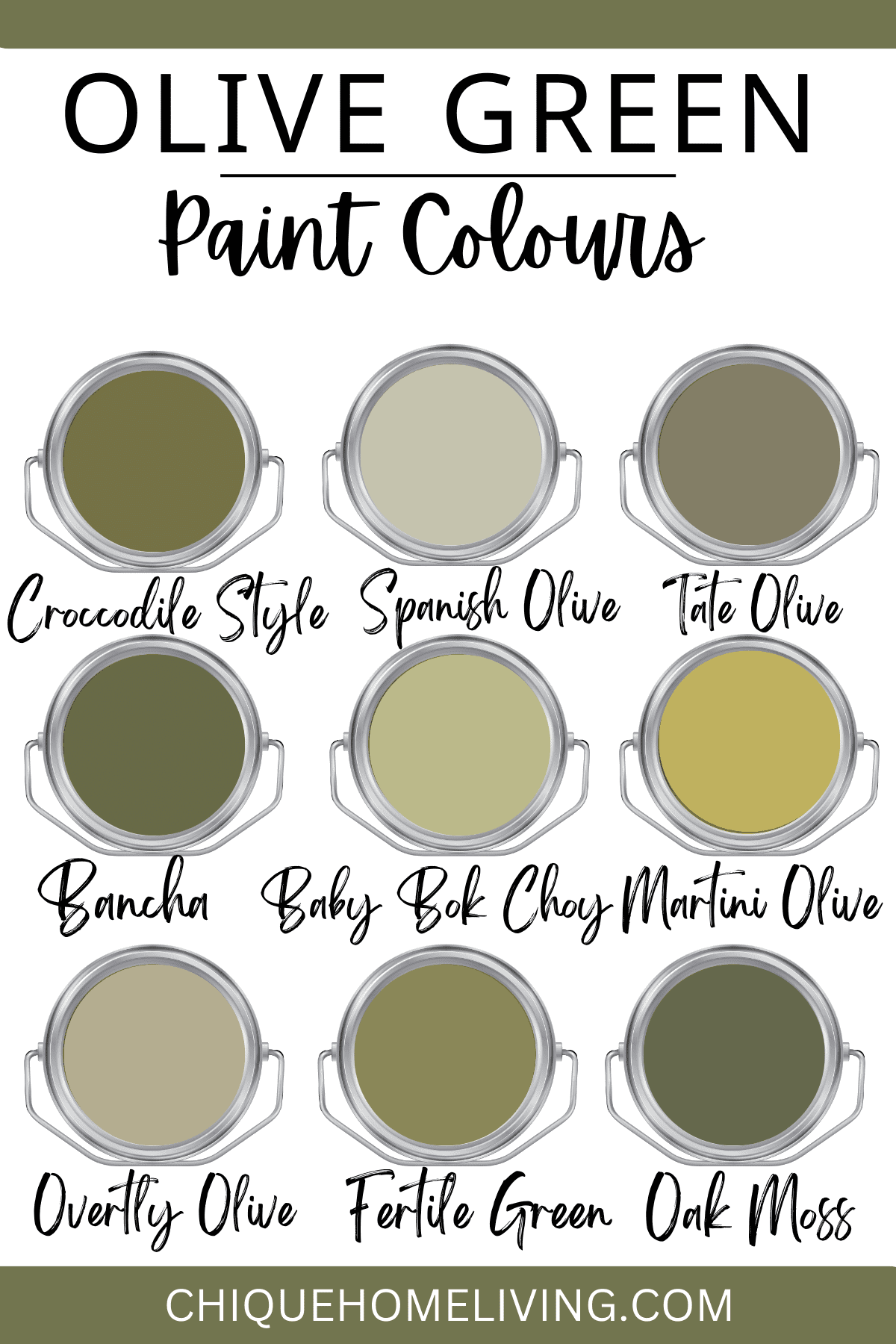 11. Benjamin Moore Martini Olive (CSP-890)
The vibrant and rich Martini Olive can make a room pop never before. This yellowish-green shade can lend a dramatic and convivial touch to a room. The colors that go with Benjamin Moore's Martini Olive are Newburg Green, Crisp Linen, and Cloud White.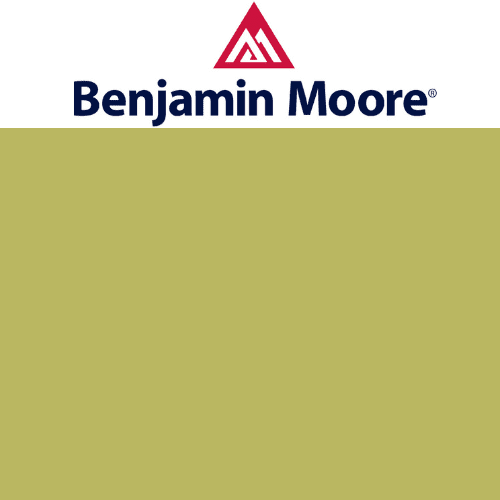 12. Behr Secret Meadow (S360-6)
The deep, rich, timeless, and grassland-inspired green, Secret Meadow invokes a subtle feeling of warmth and freshness. This olive green paint gives a truly organic feel to any room and it embodies bringing the outside in. The colors that go with Behr's Secret Meadow are  Morrocan Ruby, Seedling, Tsunami, Falling Snow, and Black Sapphire.
13. Sherwin Williams Basque Green (6426)
Basque Green is a rich medium-to-dark green shade with a yellow undertone. Its distinctive color is what makes it ideal for a living room or bedroom whose design style is equally free-spirited. The colors that go with Sherwin William's Basque Green are Dirty Martini, Queen's Anne's Lace, and Cachet Cream.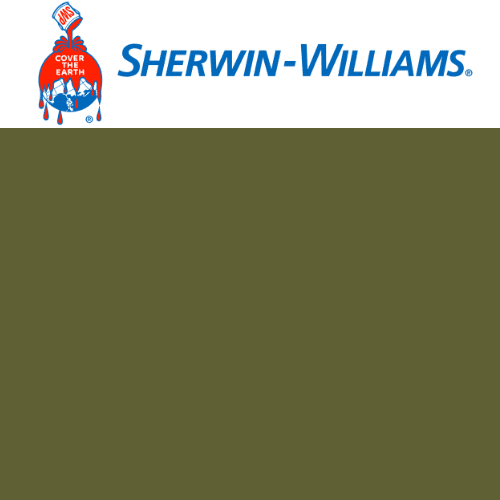 14. Farrow and Bell Bancha (No. 298)
Bancha is a mid-century modern green shade that can elevate the aesthetics of any room. It is a kind of olive green shade that is very versatile and easy to work with. Bacha is a brilliant color for creating a virtually impressive design that feels calm and serene, particularly when paired with dusty pinks and browns. The colors that go with Farrow & Ball's Bancha are Sulking Room Pink, Lime white, Purbeck Stone, and Ralings.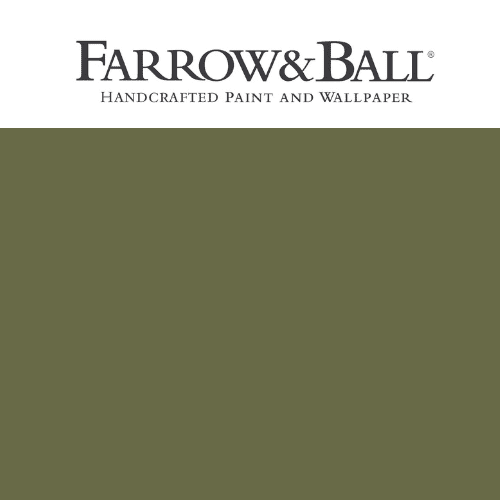 15. Benjamin Moore Thicket (AF-405)
The Thicket is rich yet soothing olive green with a tinge yellow undertone. It appears just like a warm sage green and creates a tranquil and relaxing atmosphere. The colors that go with Benjamin Moore's Thicket are Spa, Hazelnut Cream, Sparrow, and Soft Pumpkin.
Check out the sage green color paints as well.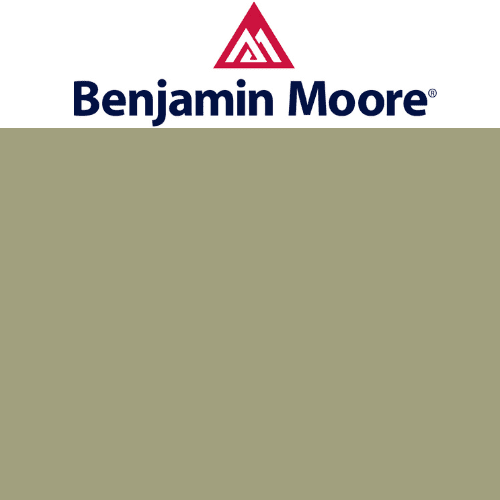 16. Dulux Overtly Olive
The Overtly Olive is muted green shade that gives a creamy and refined aesthetic to a room. This paint color can make a room look effortlessly beautiful, renewed, and clean. The colors that go with Dulux's Overtly Olive are Citrus Zing, Warm Graphite, Bone China, and Sorbet.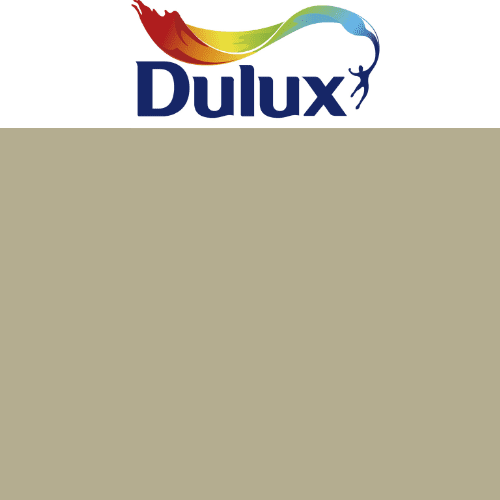 17. Benjamin Moore Oregano (2147-10)
The Oregano is a rich, vibrant, and herbaceous green with golden undertones. The Color is sure to demand attention, so use it sparingly. The colors that go with Benjamin Moore's Oregano are Dragon's Breathe, White Chocolate, and Silver Fox.
18. Dulux
Olive Tree
Due to its rich deep yellowish-green color and subdued tones, Olive Tree was a popular choice for Georgian residences. It is sophisticated and refined. The colors that go with Dulux's Olive Tree are Lead Grey, Powder Color, Green Marl, and Cornish Clay.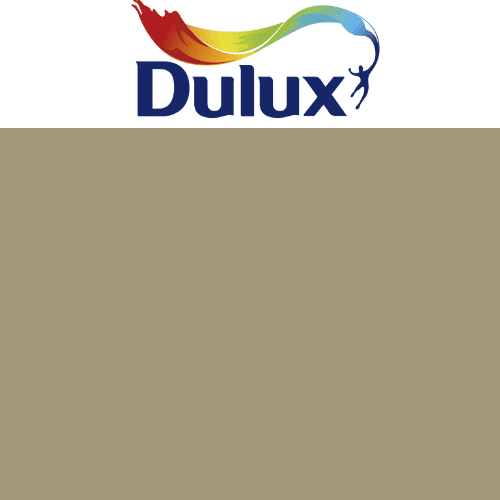 19. Benjamin Moore Avocado (2145-10)
Avocado is an eye-catchy shade of green that will work brilliantly for any room. The golden undertones give this deep green a beautiful sunbaked glow. The colors that go with Benjamin Moore's Avocado are Icicle, Heads Over Heels, Gray Mirage, and Chantilly Lace.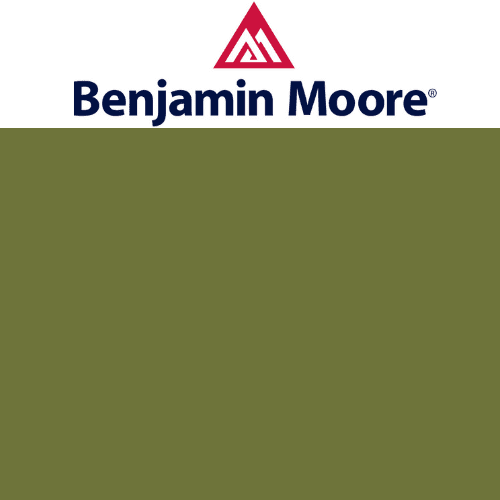 20. Behr Classic Avocado (M340-7)
Striking a balance between serene and stimulating, the Classic Avocado is in a league of its own. This olive green paint imparts a sophisticated, refined, and dramatic vibe. The colors that go with Behr's Classic Avocado Floating Lily, Dark Crimson, Tsunami, and Lap of Luxury.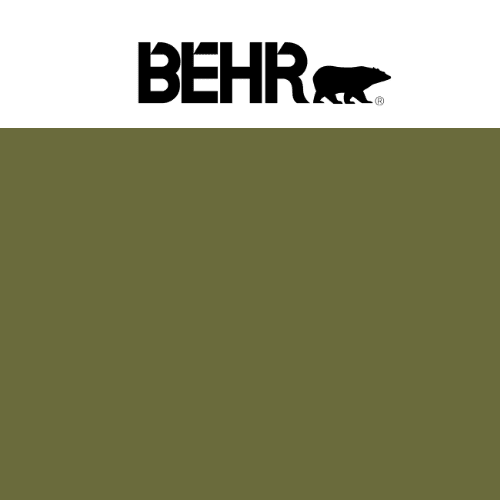 Pin this post to save for later!
21. PGG Oakmoss (PPG1122-7)
Oakmoss is a  rich dark yet subdued, toad green with an ivy undertone. This olive green paint combines beautifully with light neutrals such as beige and ivory. This color will add elegance and style to any room. The colors that go with PGG's Oakmoss are Sourdough, Magic Dust, and Horseradish.
22. Dulux
Olive Grove
The Olive Grove is an energetic, distinctive, and versatile shade of dark green that works brilliantly for any room. The colors that go with Dulux's Olive Grove are Sorbet, Fossil Hunting, Lemon Spirit, and Calming Meadow.
23. Benjamin Moore Hiking Path (524)
Hiking Path is deep olive green invigorated with golden undertones. It is highly sophisticated and brings a sense of tranquility and warmth to a room. The colors that go with Benjamin Moore's Hiking Path are Simply White, Witchy Hour, Muskoka Trail, and White Dove.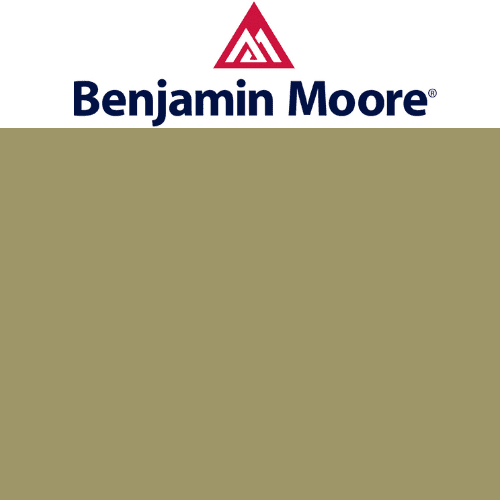 24. Valspar Dusty Olive (6005-4A)
The Dusty Olive is a muted green with a grey and slight yellow undertone. This olive green paint can be used to create a room that feels tremendously soothing and relaxing. The colors that go with Valspar's Dusty Olive are Statuesque, Tempered Sage, and Veranda Yellow.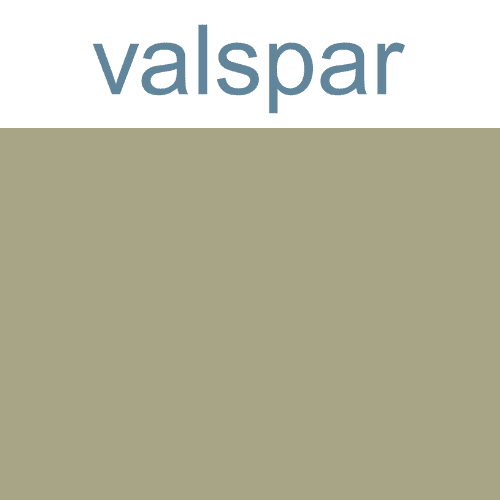 25. Behr Fresh Olive (PPU9-4)
Just as the name implies Fresh Olive can lend freshness and a strong sense of style to a room. It is a warm light-medium green with a gray and yellow undertone. The colors that go with Behr's Fresh Olive are Berry Crush, Morning Tea, and Night Blooming Jasmine.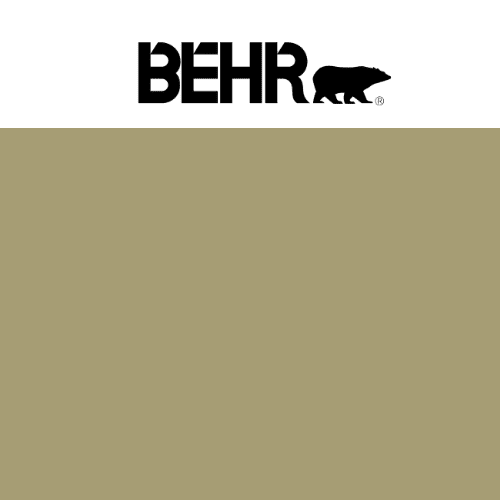 26. Valspar Crocodile Style (V095-5)
The Crocodile Style is an alluring medium-to-dark green hue that communicates simplicity to the eye. This olive green paint will look astonishing in any room in a home. The colors that go with Valspar's Crocodile Style are Staw Hat, Subtle Glow, and Santa's Beard.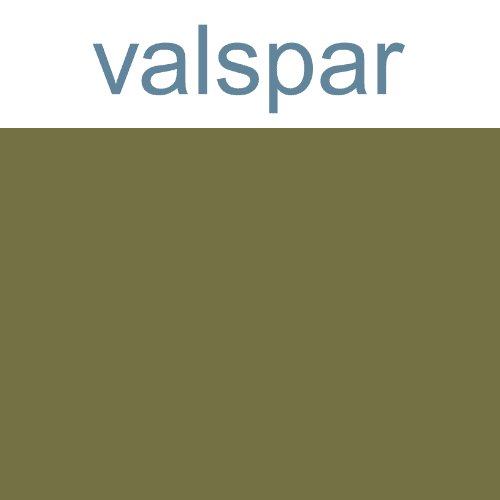 27. Behr Wahed Olive (S350-3)
With its reflection of the rich, smooth, and sweet flavor of green olives, Washed Olive is reminiscent of a lavish picnic in an Italian field. It may be muted but it packs a big punch. The colors that go with Behr's Washed Olive are Cherry Juice, White Wool, Snowboard, Cottage Hill, and Vintage Ribbon.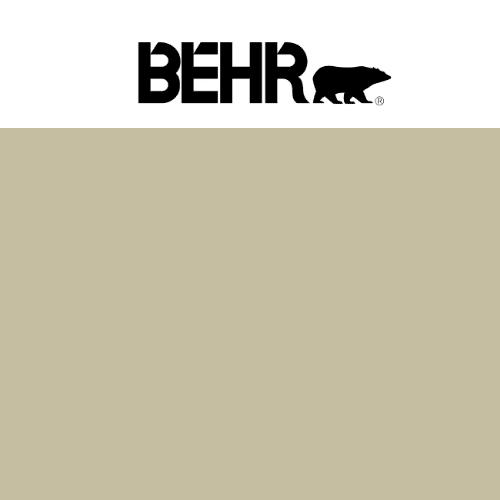 28. PGG Olive Green (1113-7)
Olive Green is a dark and moody grassy green with a foliage undertone. This olive green paint color is perfect for a kitchen base or island cabinet, especially when paired with marble, brushed silver, or gold hardware. The colors that go with PPG's Olive Green are Sourdough, Magic Dust, and Horseradish.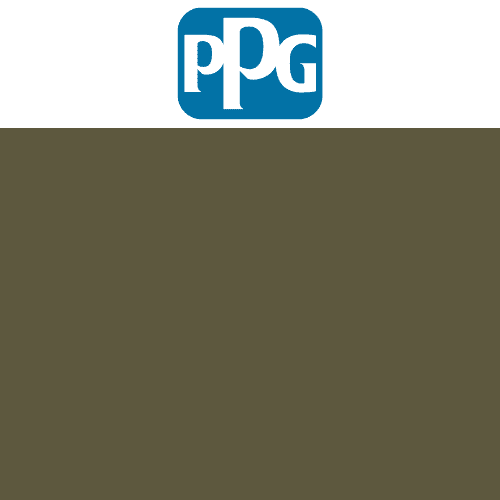 29. Behr Fertile Green (S340-6)
Like a verdant crop field, Fertile Green is an earthy dark green that infuses a natural warmth into a home. The colors that go with Behr's Fertile Green are Forbidden Red, Seedling, Snowy Pine, Superior Blue, and Purple Prince.
30. Valspar Summer's End (6005-4C)
Summer's End is rich and dark green that can lend a refreshing contemporary feel to a room. It works great as a feature wall for any room. The colors that go with Valspar Summer's End are Du Jour, Gardenia, and Bricks Olive.
Olive Green Color Code
There are many shades of olive green but some of the most popular olive green color hex codes are #BAB86C, #6D712E, #556b2f, #808000, #81864A, #808000, and #B5B35C.
Colors that go with Olive Green
After selecting your olive green paint, the next step is to choose the right colors that goes with it. Since green itself is a very versatile color, there are a wide array of colors that complements olive green.
The best colors that go with olive green are white, beige, dusty pink, brown, burnt orange, pale orange, mint blue, mustard, navy blue, black, burgundy, and tan. To formulate the best color scheme, you must consider the mood you aim to set for the room.
For instance, do you want it to be dark and moody, bright and airy, or fun and dramatic? Putting this into consideration will allow you to select the right coordinating colors.
Pin this post to save for later!