40 Modern Black Kitchen Ideas
Some call it "gloomy", but we call it "chic and moody". Check out these modern black kitchen ideas that will inspire you to remodel. 
Black is having a major moment in contemporary interior designs and we love to see it! This classic hue creates mood, impact, and drama in interior spaces.
White is usually to go-to for kitchen designs but it can appear cold, predictable, and boring. Just like white and grey, black is a neutral color that never goes out of style. It evokes character modernity, and sophistication. In addition to this, black is one of the most versatile colors that complement every other color under the sun.
Daring design techniques make the most impact. Using black as your kitchen's primary color can instantly add an understated elegance and sticking impression. A modern black kitchen is not the easiest to pull off, even the most talented designer put careful consideration into it.
Not to worry, as there are myriad ways to approach this. Here are the 40 black modern kitchen ideas that will give your kitchen a sophisticated edge.

1. Black Modern Kitchen with White Walls
The color scheme is a crucial aspect of any design project. How moody do you want your kitchen to feel?
If you want a subtle approach, consider painting the walls white and installing black kitchen cabinets. This way, the kitchen still feels bright and airy while retaining a sense of drama and elegance.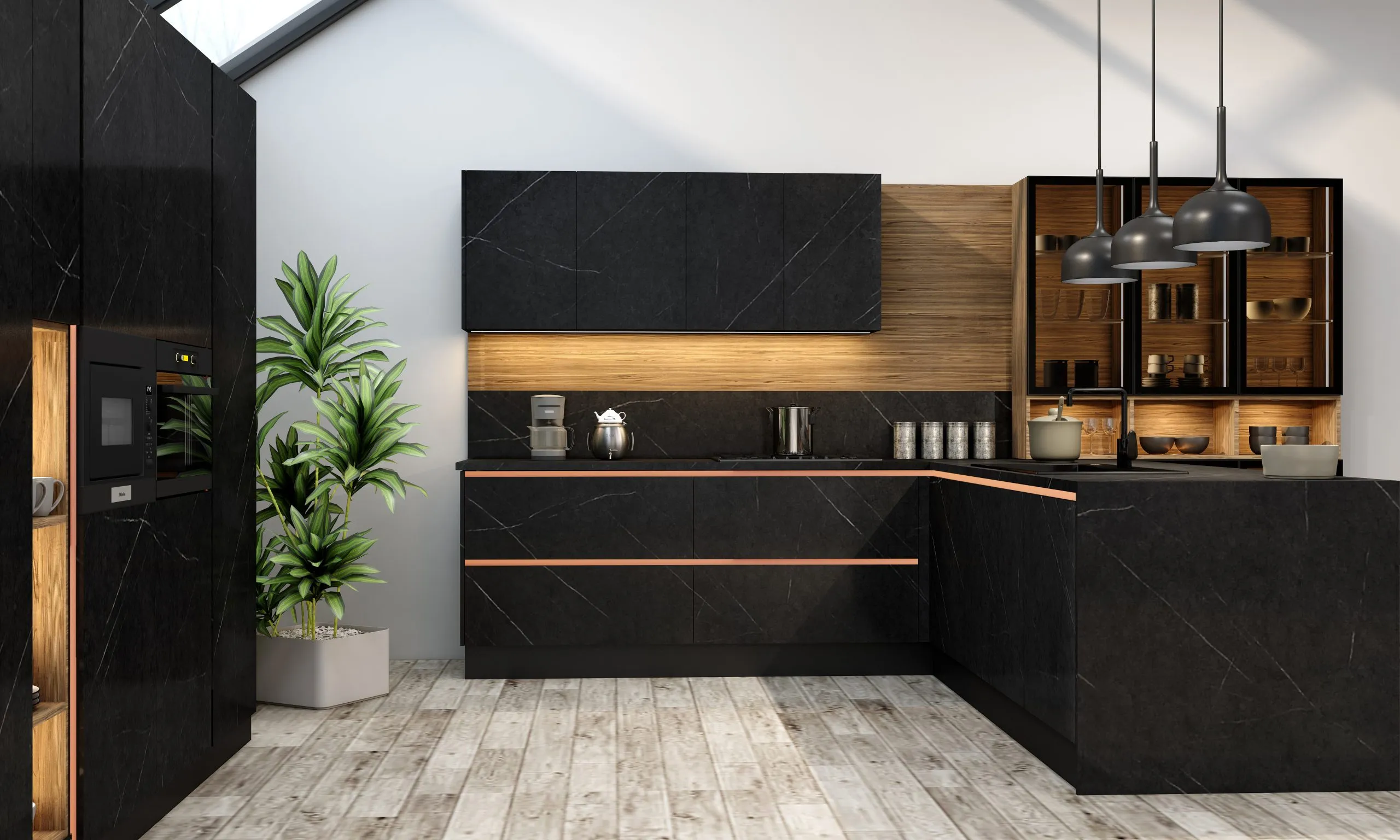 PHOTO: INSPIRED ELEMENTS
2. Black Modern Kitchen with Black Walls
To add extra pizzazz to the kitchen, paint the walls black, and use black cabinets, backsplash, and countertops. The moody approach creates a feeling of modern luxury.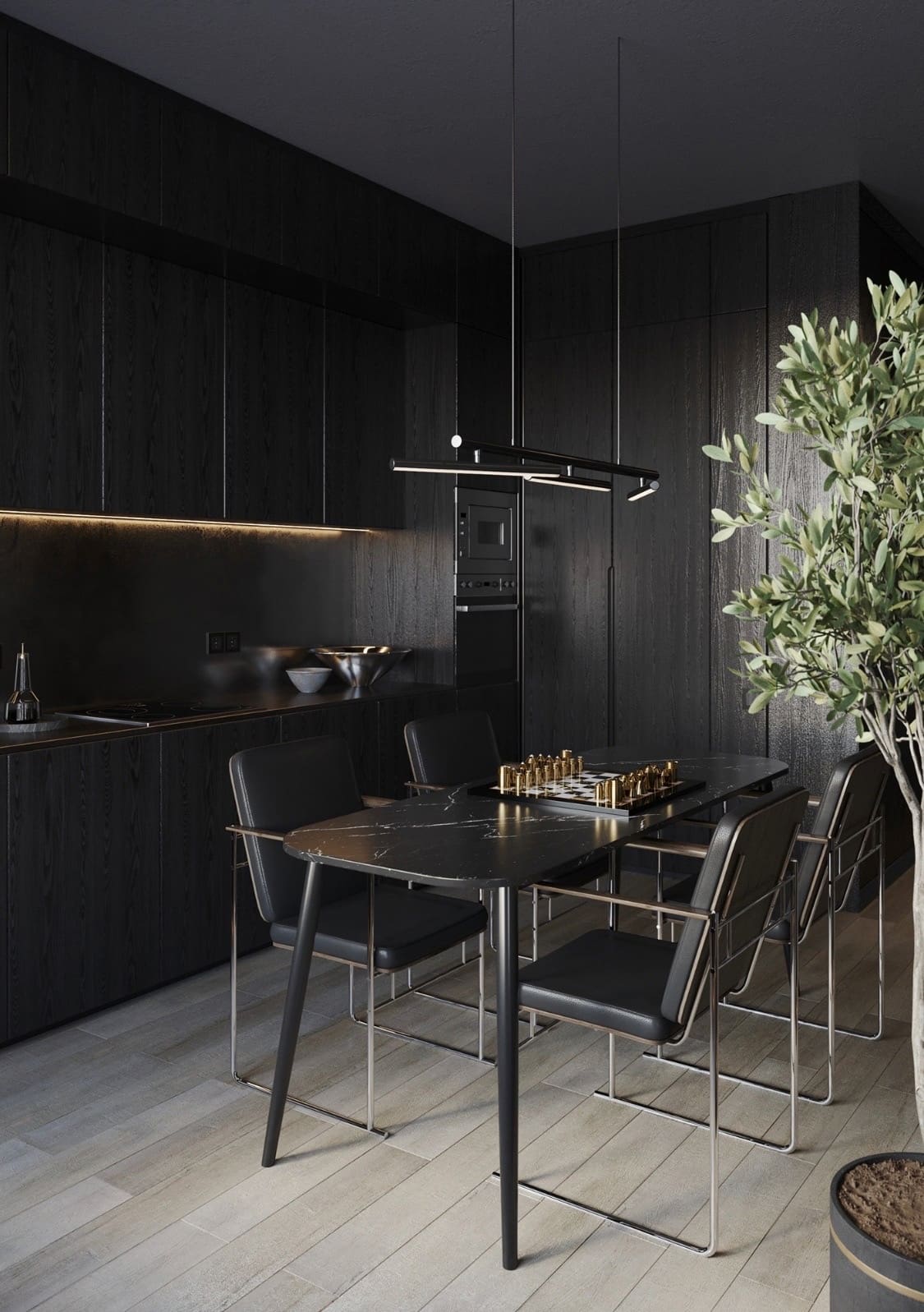 PHOTO: EGOR CHERNOV
3. Modern Kitchen with Reclaimed Wood
Reclaimed wood is wood with a past. It adds a rustic feel and provides contrast to a space.
Plus, since reclaimed wood is decades old and has stood the test of time, it is more durable than new wood. So add charm and visual interest to your kitchen with reclaimed wood.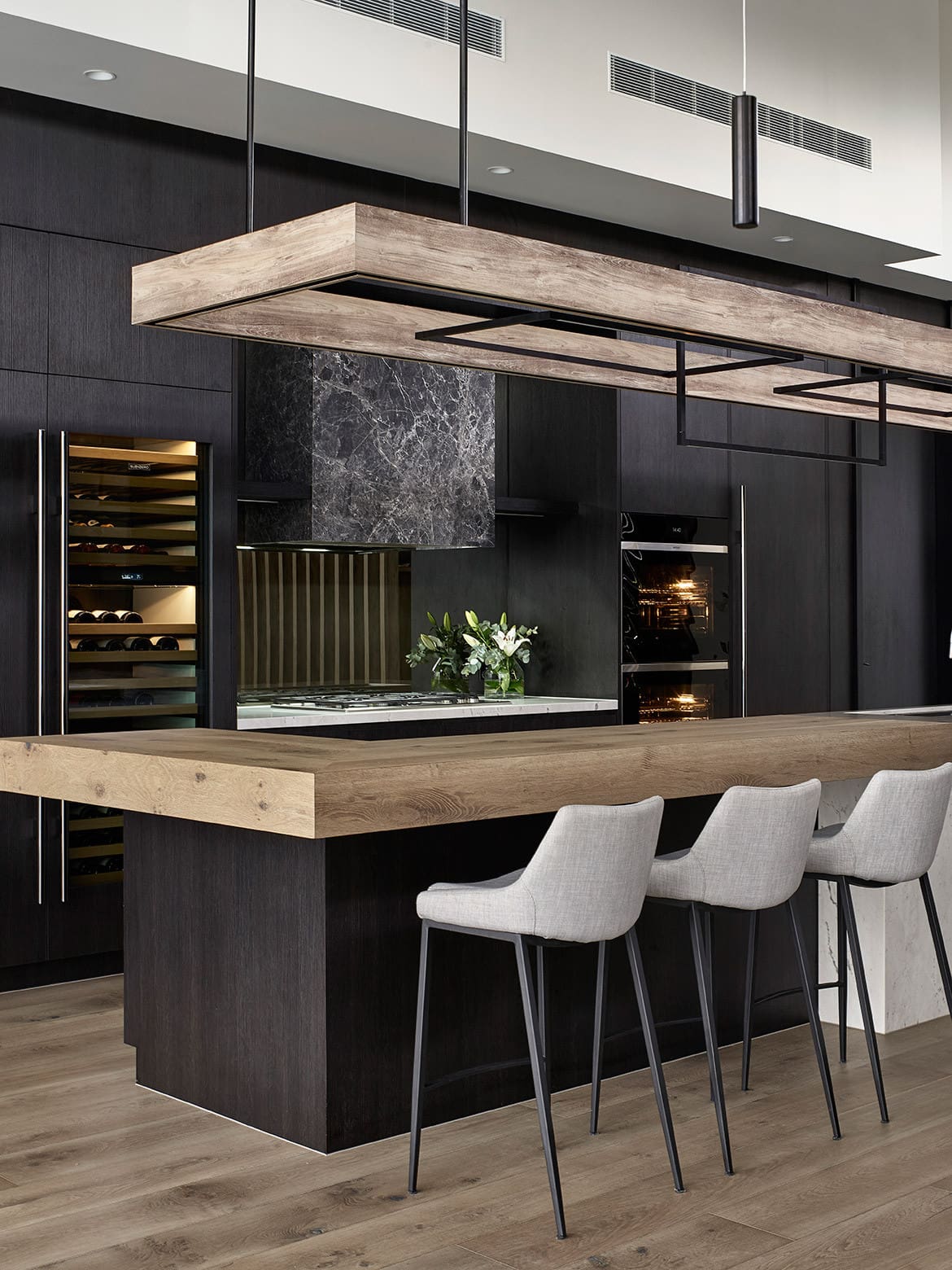 PHOTO: MAKER + MAY
4. Modern Black Kitchen with Accent Wall
An accent wall can instantly elevate a dull bland space. The purpose of an accent wall is to create a focal point and give the space a stylish flair that it may be lacking.
This is done by painting a wall differently from the others or using a different wall covering. For a black kitchen, you can choose to have a neutral or bold color accent wall. You can also choose a black accent wall and neutral base walls.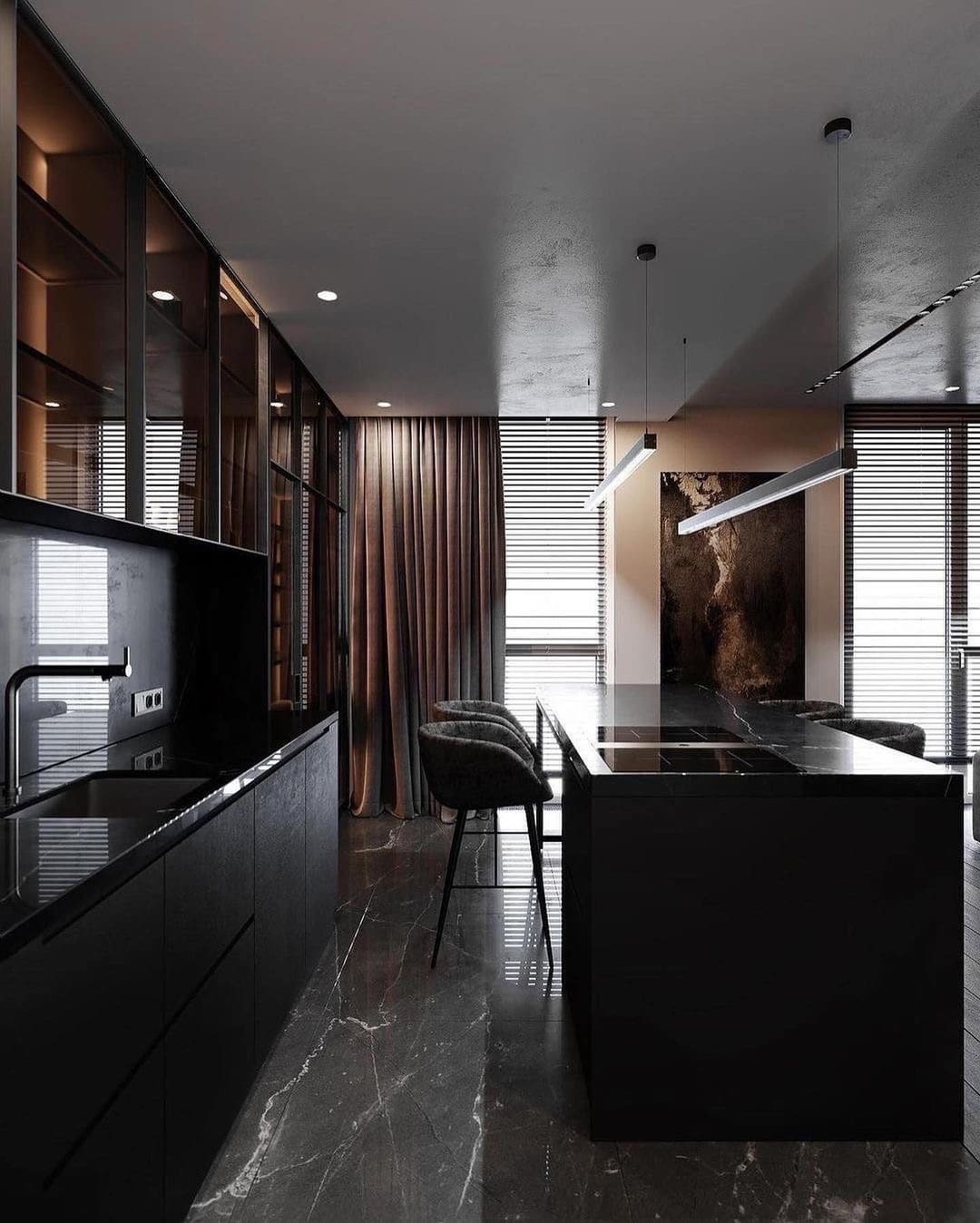 PHOTO: LOFT MAGAZINE
5. Achromatic Modern Black Kitchen
Achromatic color schemes are popular among interior designers because they make rooms appear clean and uncomplicated. This means using no other color, other than black, white, or grey.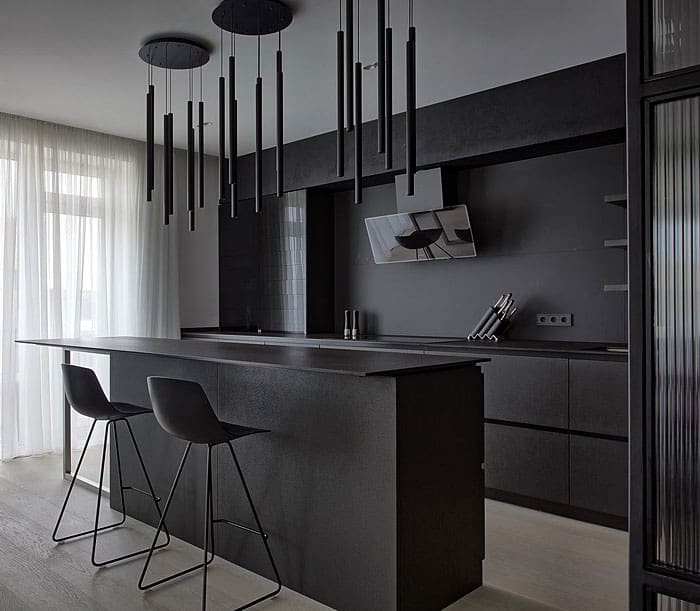 PHOTO: ANOVA.AU
6. Monochrome Modern Black Kitchen
A monochromatic color scheme is a one-color design technique made up of varying tones of the same hue. It helps to create a harmonious, clean, and visually cohesive look.
PHOTO: DWELL
7. Black Loft Kitchen with an Accent Color
Accent colors are used to add a punch to the color scheme, draw attention to a color, or liven up an otherwise monochromatic space.
Make sure your accent color does not overwhelm the space. As a rule of thumb, only  10-30% of the room should be the accent color.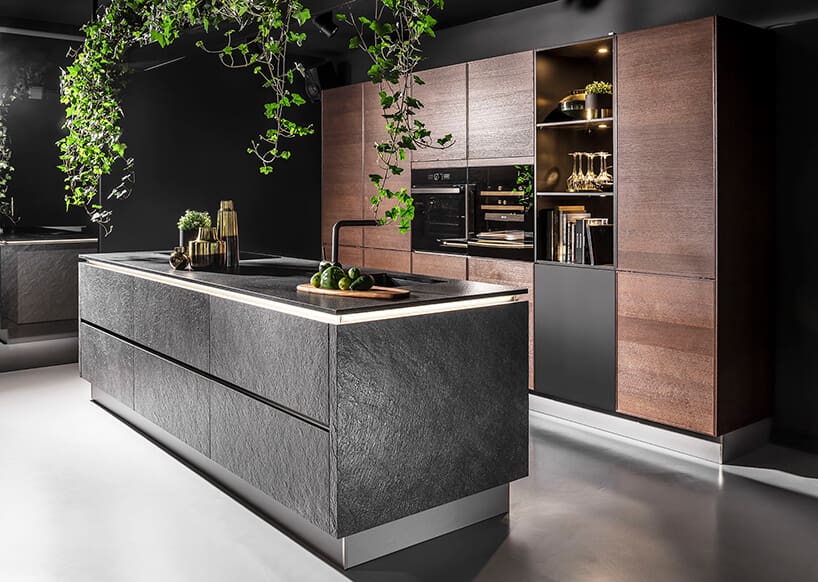 PHOTO: SAS INTERIORS AND KITCHENS
8. Black and Grey Modern Kitchen
Black and grey is a tried-and-true color scheme that works every time. This color combination can create a cutting-edge look in a modern black kitchen. A grey and black palette is ideal for a contemporay kitchen design. 
PHOTO: OMAR DARWISH 
9. Modern Industrial Black Kitchen
Exposed features, wide areas, and deceptively simple décor are the characteristics of an industrial kitchen.
Modern industrial kitchens contain all of the essential components of a traditional industrial kitchen such as a dark and moody aesthetic but tend to be more minimal.
PHOTO: SERGEY MAKHNO ARCHITECS
10. Comfortably Modern Black Kitchen
The comfortable modernist is one of the popular styles people embrace when opting for a black kitchen. It is clean, minimalistic, and easy on the eyes.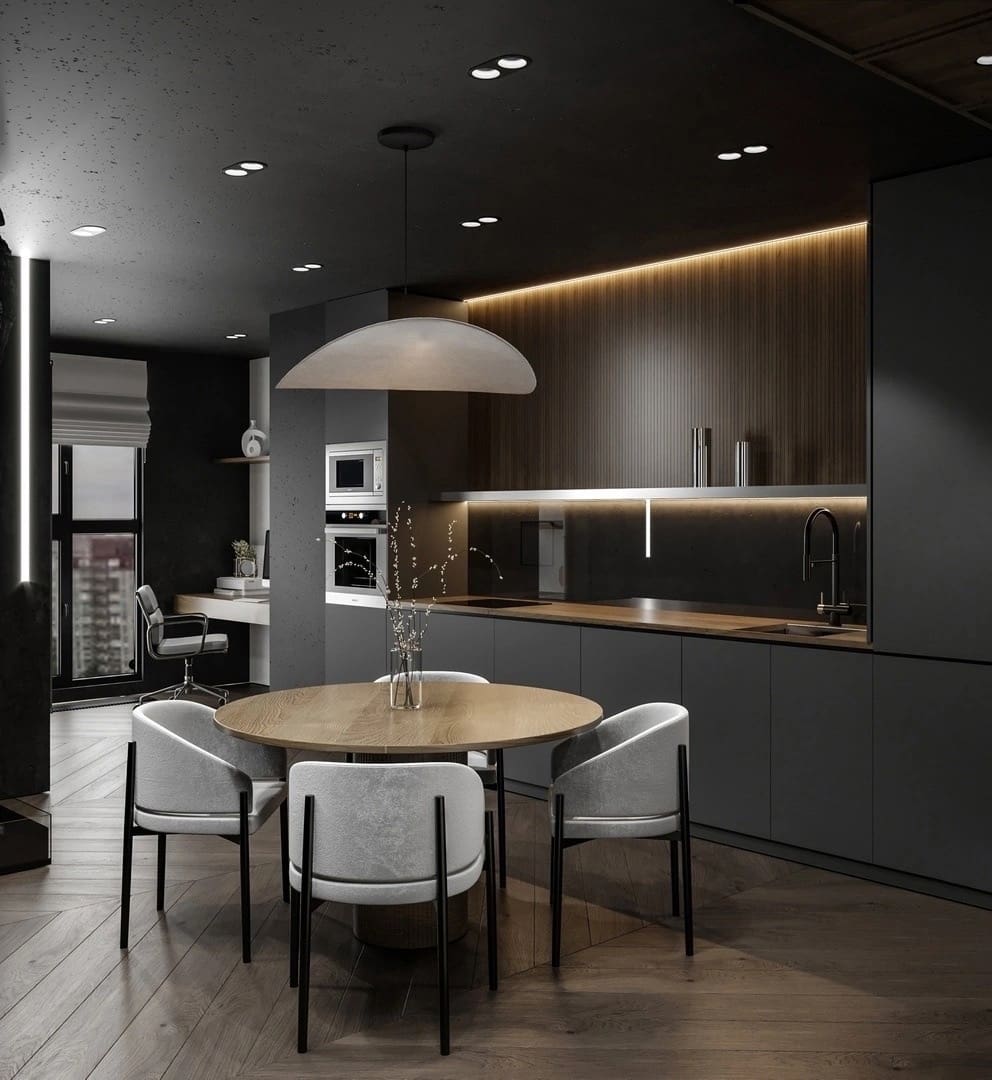 PHOTO: RIS-DESIGN DESIGN STUDIO
11. Modern Black and Brown Kitchen
Black and brown are two colors commonly used in interior design but pairing both together may seem like an odd choice. The combination of natural wood tone brown and black brown creates a visually appealing, warm, and inviting contemporary kitchen.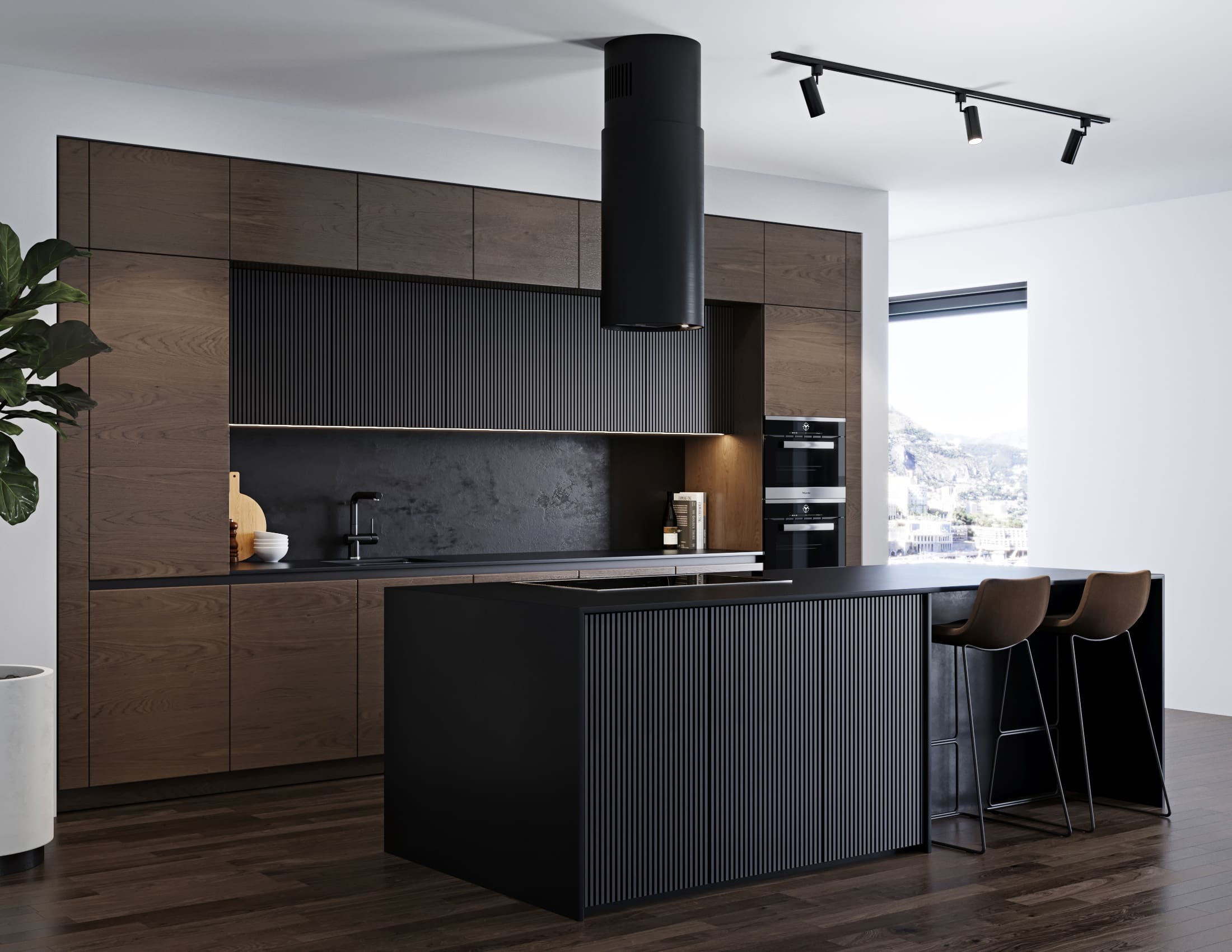 PHOTO: ELMAR ISAYEV
12. Apartment Modern Black Kitchen
Black apartment kitchens are rare but black can provide a stylish flair and a sense of visual calm. Black is known to absorb light, which can make a small kitchen look even smaller and more congested but this isn't always the case.
It really depends on how natural light flows into the room. If you have an abundance of natural light in your apartment, you can totally embrace the moody vibe.
PHOTO: ELEMENTS STUDIO
13. Modern Black Kitchen with Glass Cabinet
Glass is a popular and fantastic finish for modern kitchen cabinets. Glazed cabinets not only break up the monotony of repeating, solid-facing doors, especially in large kitchens, but they also reflect and maximize the flow of light into darker places.
PHOTO: UW KEUKEN
14. Modern Wooden Ceiling Panels
You may have seen this wood vertical wood paneling often in contemporary homes. It is a great way to add an eye-catchy contrast and sleekness to a modern black kitchen.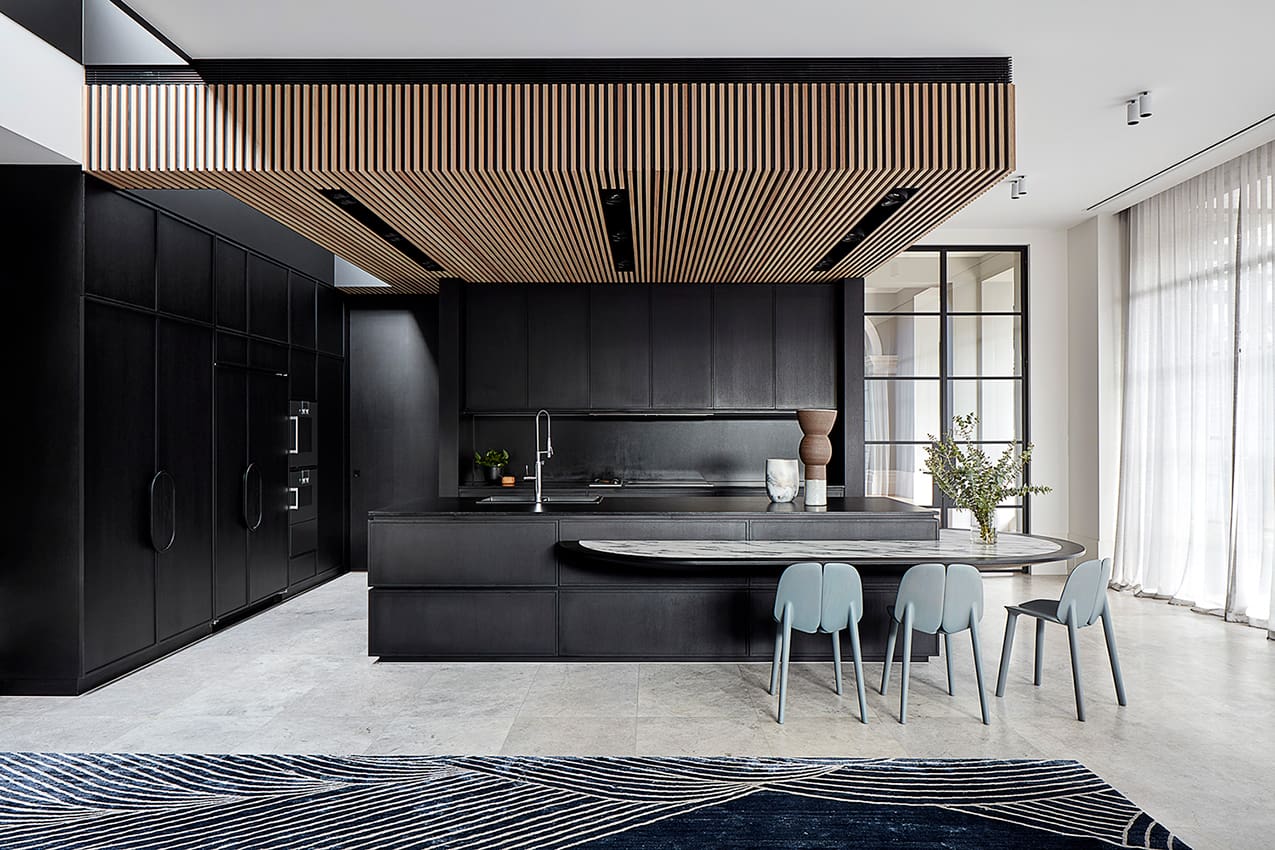 PHOTO: CHRISTOPHER ELLIOT DESIGN
15. Rich Stained Black Marble
The question shouldn't be "Why use rich stained black marble"? it should be WHY NOT?  Marble is chic material prevalent in contemporary interior design.
Whether used as a countertop or backsplash, rich stained marble adds elegance and chicness to a modern kitchen.
PHOTO: LUXE REMODEL
16. Natural Stone Modern Black Kitchen
Natural stone has unmatched durability, charm, and a sense of nature. Because of its natural qualities, it is more resistant to degradation and less vulnerable to damage than other materials.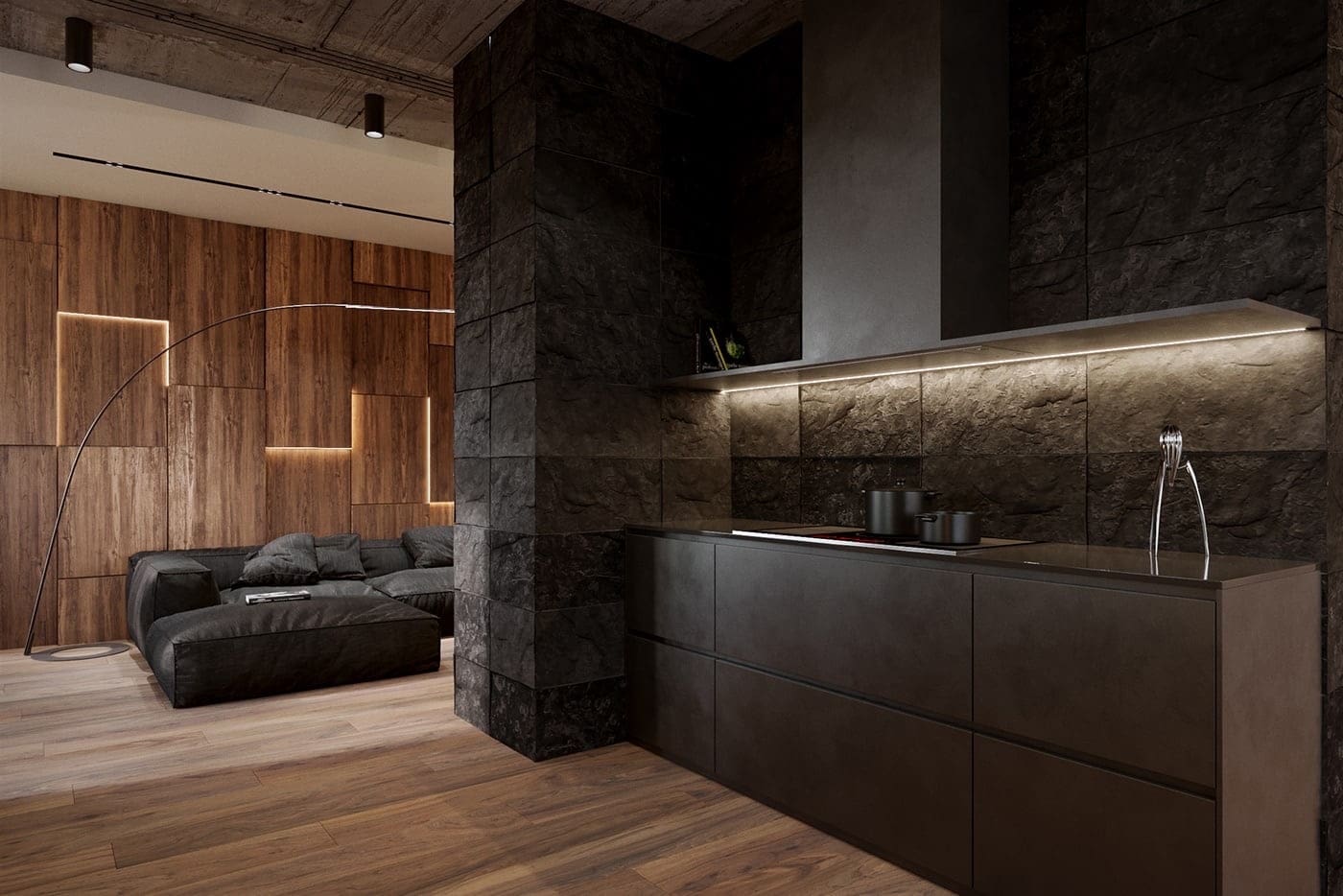 PHOTO: TARAS KAMINSKIY & VERONIKA MULIEIEVA
17. Modern Kitchen with Black Window Blind
To maintain cohesiveness, use a black blind. Black blinds are a sophisticated window covering to a black modern kitchen. It enhances the coziness and drama of the space.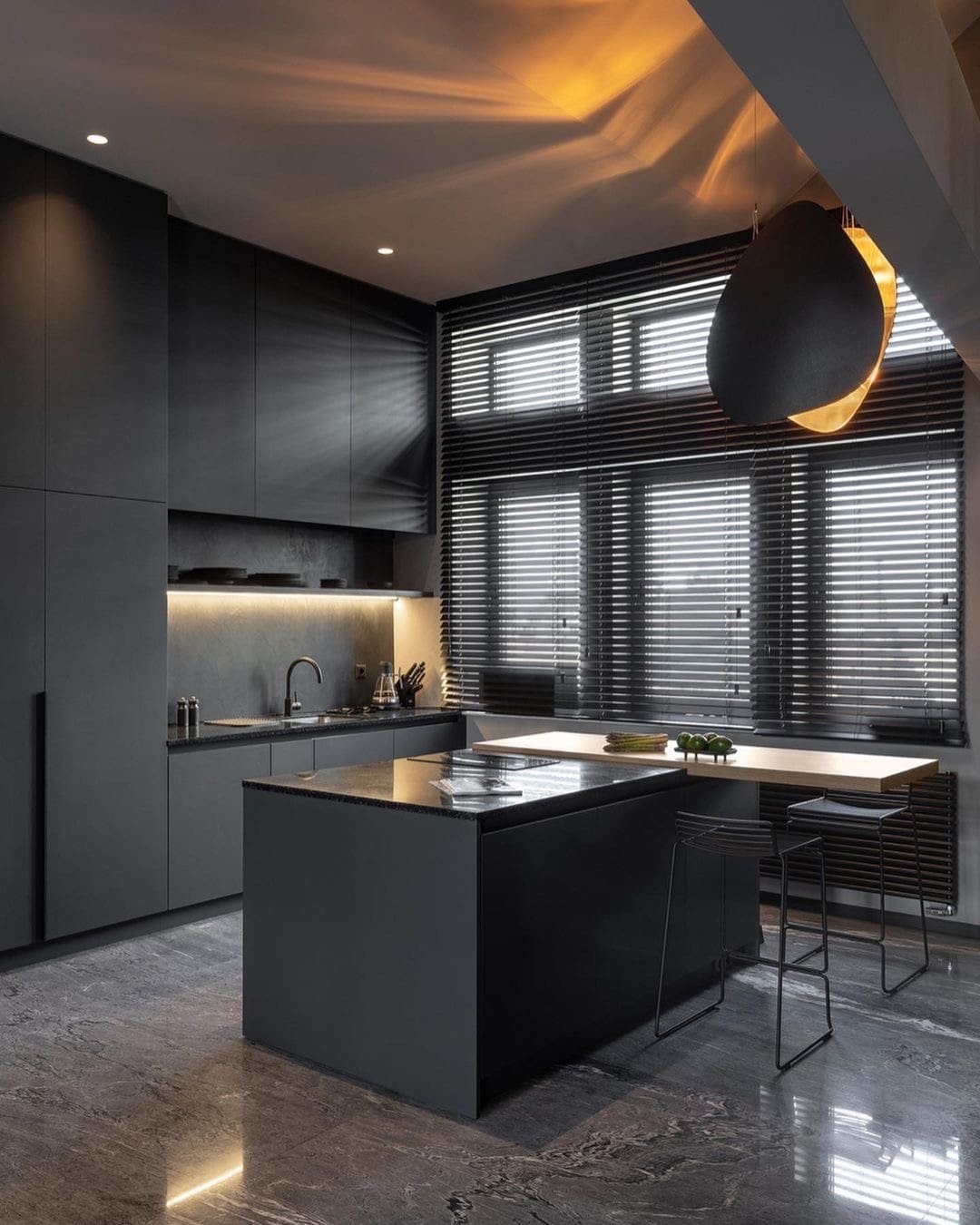 PHOTO: ALEKSANDR KUPINSKIY & ELENA SEDOVA
18. Ultra-Modern Black Kitchen
An ultra-modern kitchen is spacious, sleek, sophisticated, and luxurious-looking. Black is the perfect dominating color scheme for ultra-modern kitchens because it adds a wealth of glamour and elegance to a space.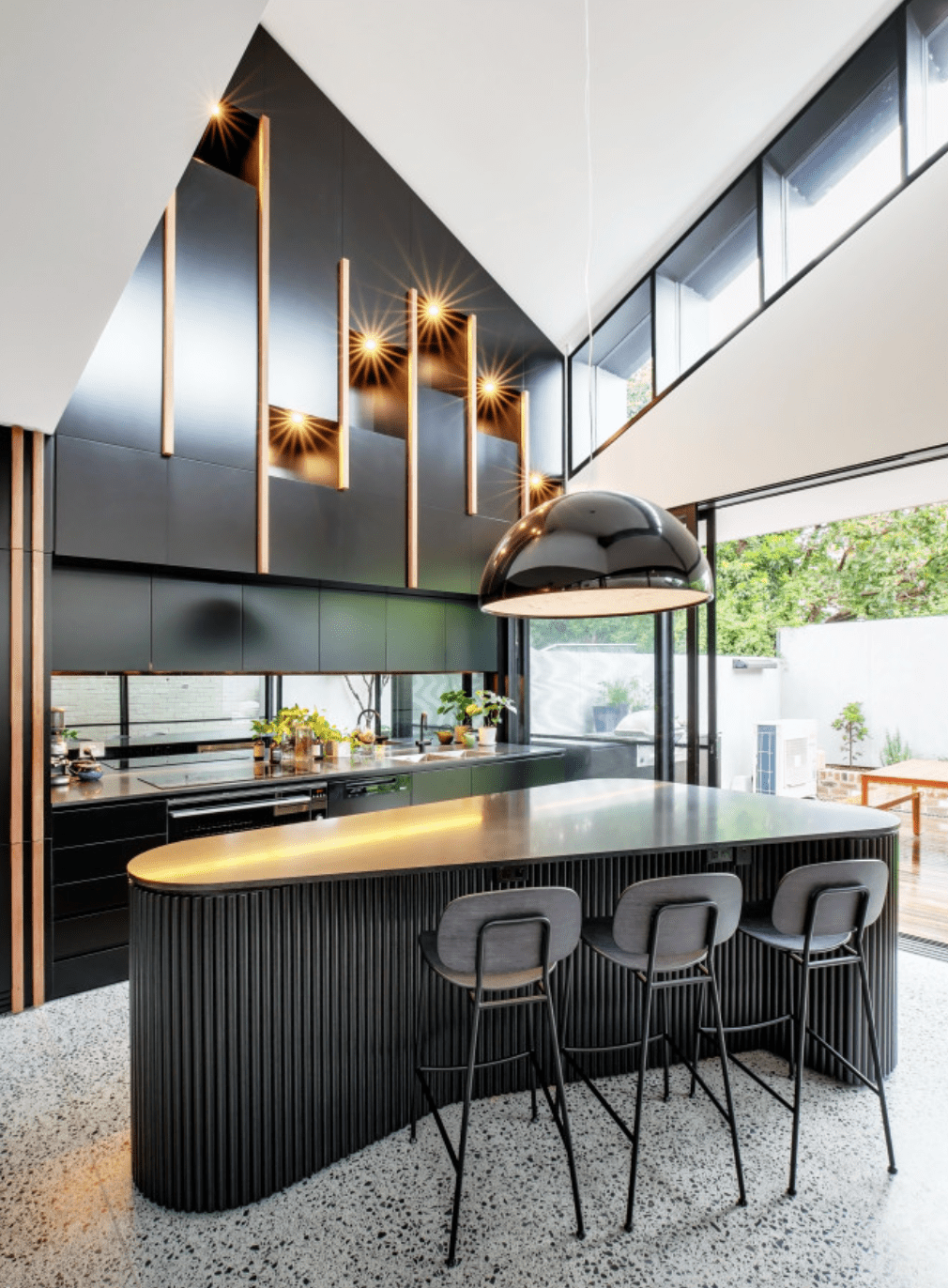 PHOTO: HBH JOINERY
 19. Black Modern Loft Kitchen
Ideas for a loft-style kitchen focus on maximizing the incredibly useful interior areas while exhibiting design originality. No matter the size of your loft kitchen, you can add black to add character and elegance to it.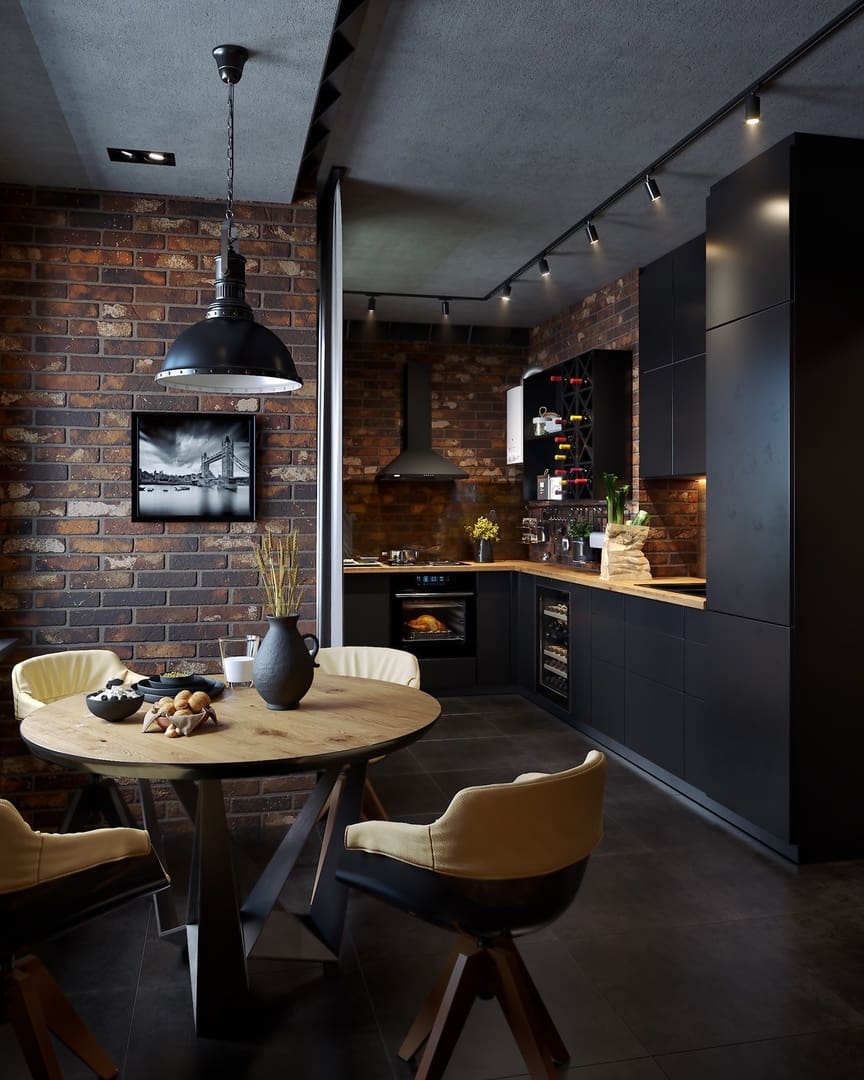 PHOTO: LOFT MAGAZINE
20. Black and Wood Tone Modern Kitchen
You can balance out all that black by adding warm wood tones of any hue or type. This provides and nice color accent and embellishes the beauty of the space.
PHOTO: ABITARE STUDIO
21. Modern Black Kitchen Statement Lighting
Statement lighting is a great way to create a focal point in a simplistic modern kitchen. There is an array of eye-catchy kitchen island statement lighting available today. Use this fixture to brighten up and add a grand gesture to your modern black kitchen.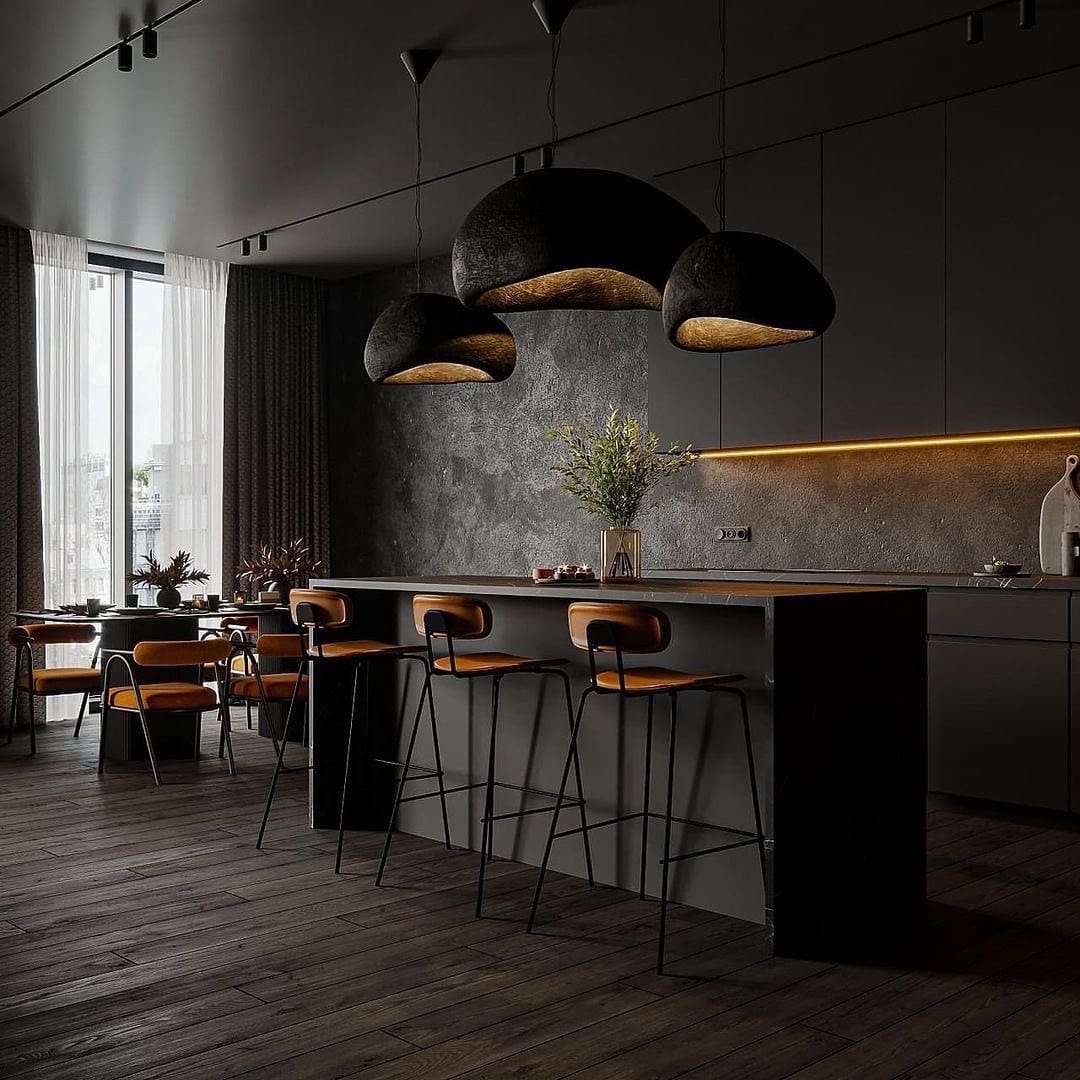 PHOTO: ALINA SHEVELEVA 
22. Matt Modern Black Kitchen
Matt is the most common cabinet finish for modern kitchens for good reasons. Firstly, it looks effortlessly chic. Secondly, the matt surfaces won't easily display flaws, smudges, stains, or fingerprints as opposed to a high gloss kitchen cabinet finish.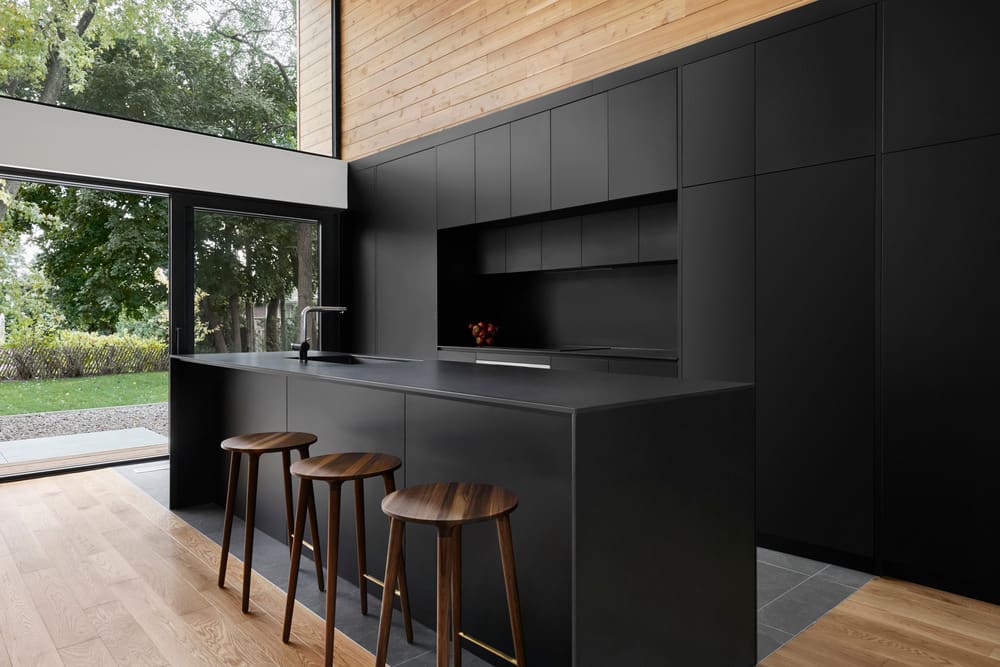 PHOTO: ANNIE FAFARD/ MXMA ARCHITECTURE & DESIGN 
23. Semi-Gloss Modern Black Kitchen
The semi-gloss finish is a balance between high gloss and matt. It radiates an unproblematic and subtle shine. The semi-gloss finish help reflect light which may be particularly ideal for modern black kitchens.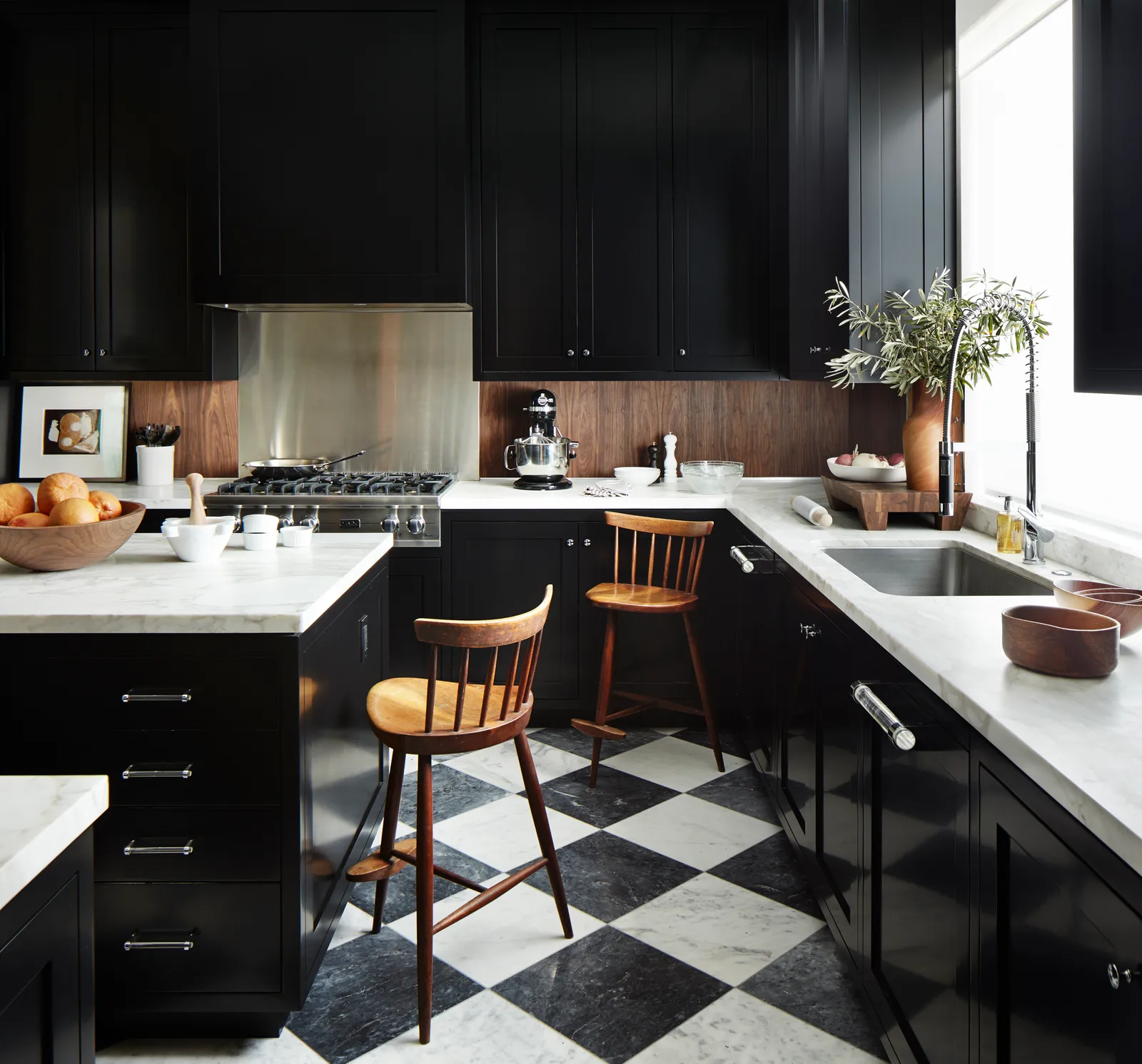 PHOTO: LAURA RESEN
 24. Modern Kitchen with Marble Island
Due to its durability and timeless beauty, marble makes a great material for a kitchen island. It's a fantastic way to bring refinement and style to a contemporary kitchen.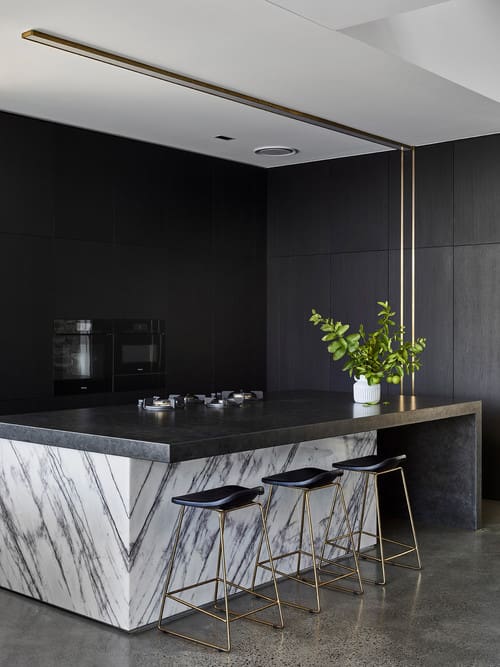 PHOTO: ACCORD HOMES 
25. Bright and Airy Modern Black Kitchen
Black kitchens don't have to be moody. If you like the visual appeal of black but want a bright atmosphere,  use natural light to your advantage. Black kitchens with an abundance of natural light are visually bright and airy.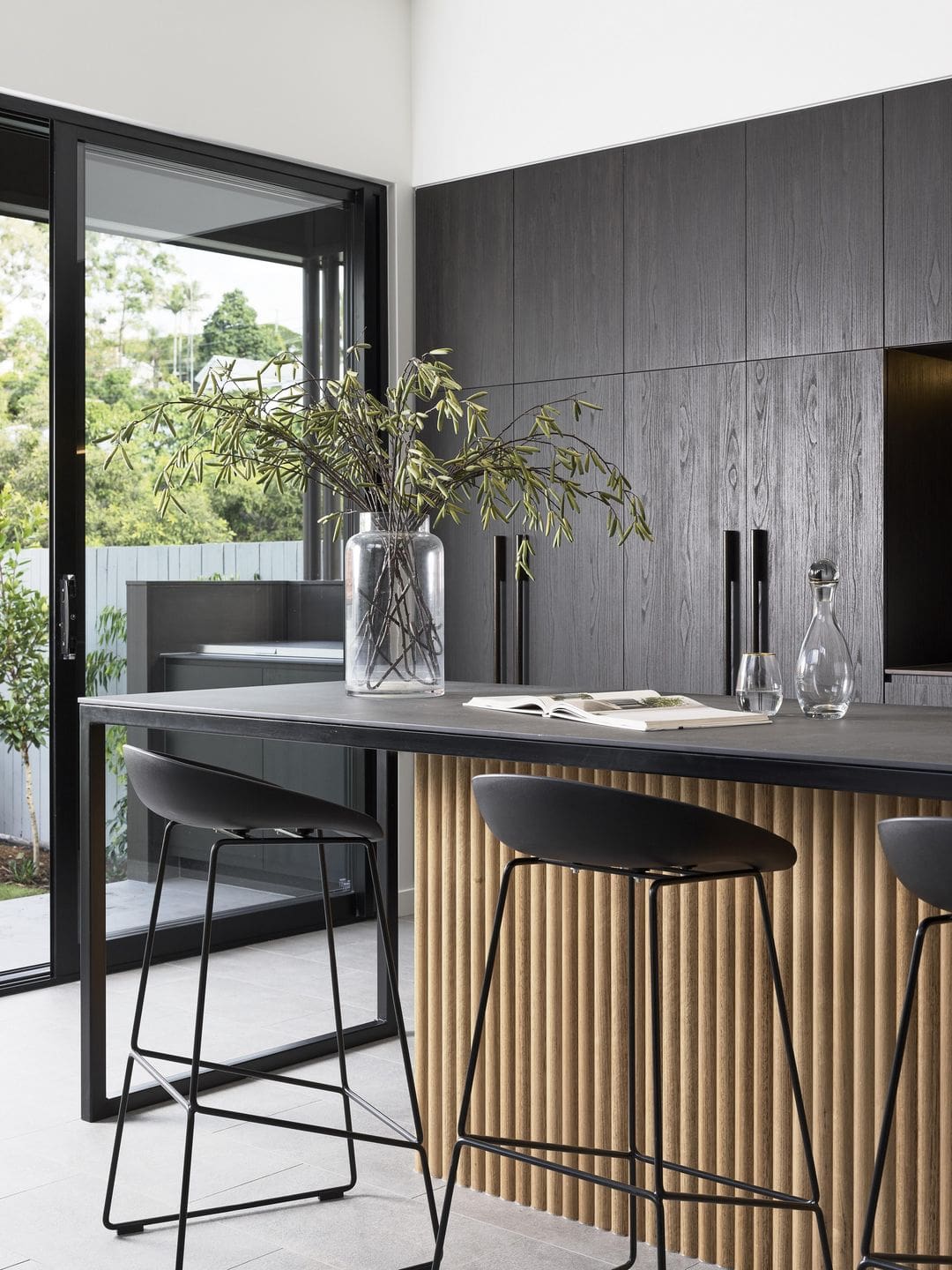 PHOTO: JOE ADSETT ARCHITECTS 
26. Aluminum Black Kitchen Cabinet
Why are aluminum kitchen cabinets getting increasingly popular in recent times? It holds the same aesthetic appeal as other cabinet materials while being more durable, odorless, nonflammable, noncorrosive, and lightweight.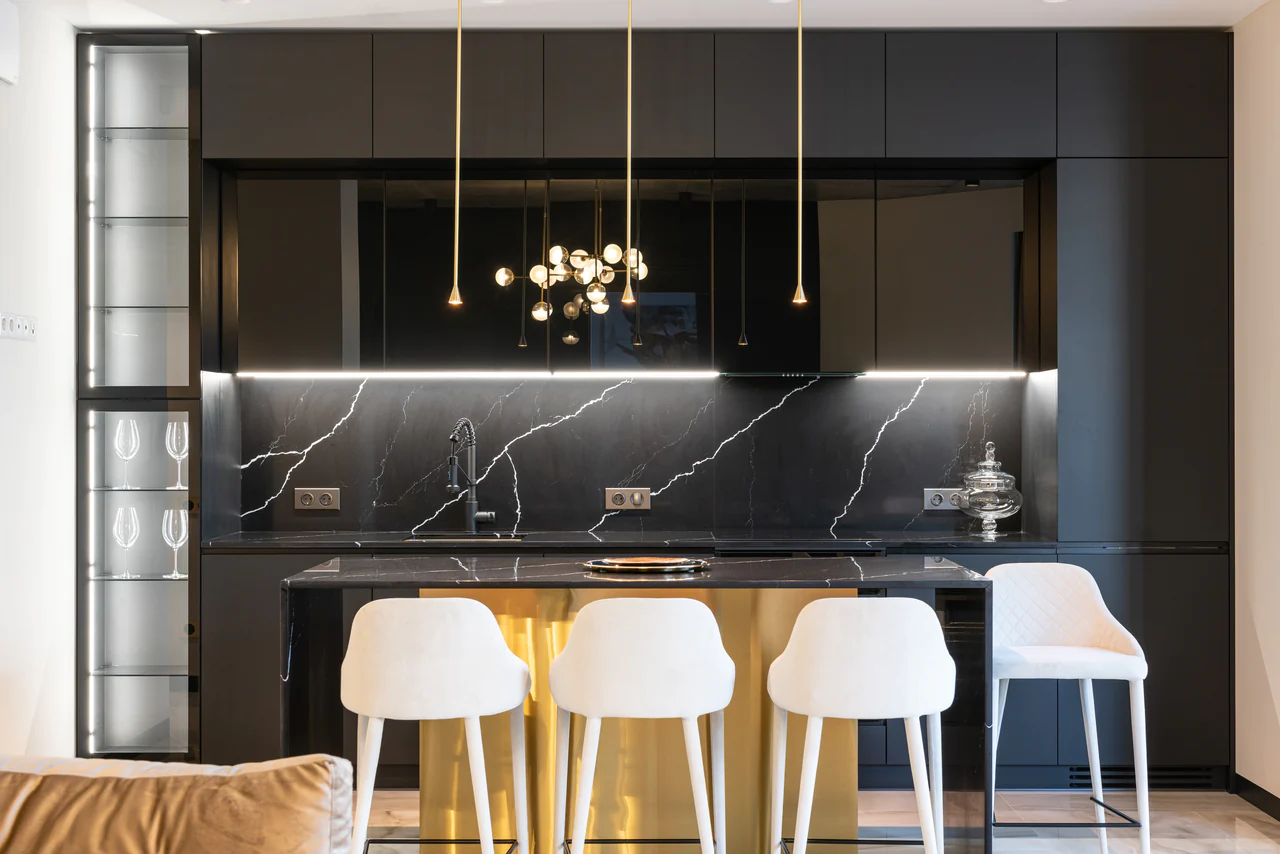 PHOTO: PHOTO: LOFT MAGAZINE
27. Black Geometric Backsplash Tiles
By infusing personality and depth into the space, geometric tiles will give any modern kitchen backsplash a pleasant boost. Whether you want eye-catchy diamond patterns, timeless herringbone patterns, or sleek hexagons, geometric backsplash tiles will make an impact in your kitchen.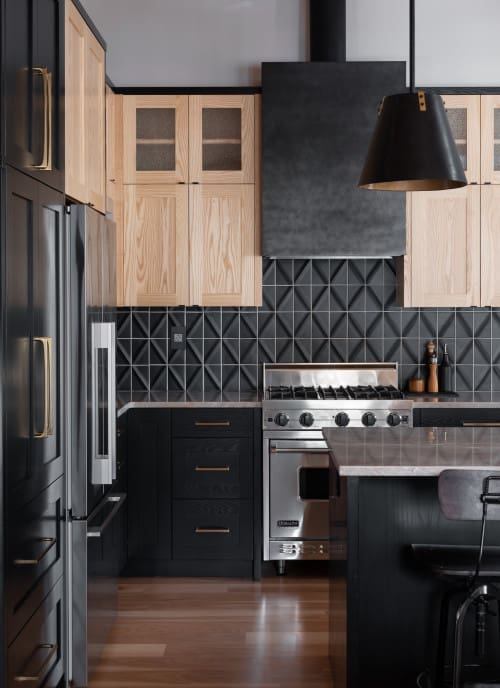 PHOTO: KNIGHT CUSTOM HOMES
28. Modern Kitchen with Black False Ceiling
False ceilings provide a sleek and visually appealing appearance. Did you know that a false kitchen ceiling has the ability to trap air between the real ceiling and the false ceiling, which keeps the kitchen cool? A practical and stylish to incorporate black into your kitchen is through a false ceiling.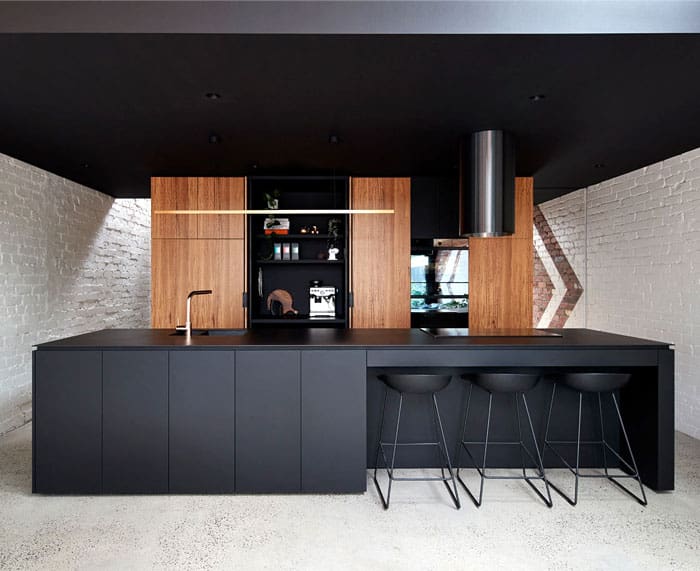 PHOTO: AFORARCHITECTURE.COM
29. Modern Kitchen with Black Wall Tiles
Black wall tiles can create either a striking or subdued look, depending on the type of tiles. Black tiles are a practical option for busy kitchens because they conceal stains better and are easy to clean and maintain.
PHOTO: RATIONALE
30. Black Marble Effect Porcelain Tiles
For the longest time, marble has given elegance and grandeur to interior spaces. The marble-like appearance of porcelain tiles gives you the same sophisticated look on a smaller budget.
Porcelain tiles that mimic marble are hardy, long-lasting, unalterable over time, and simple to wash and clean.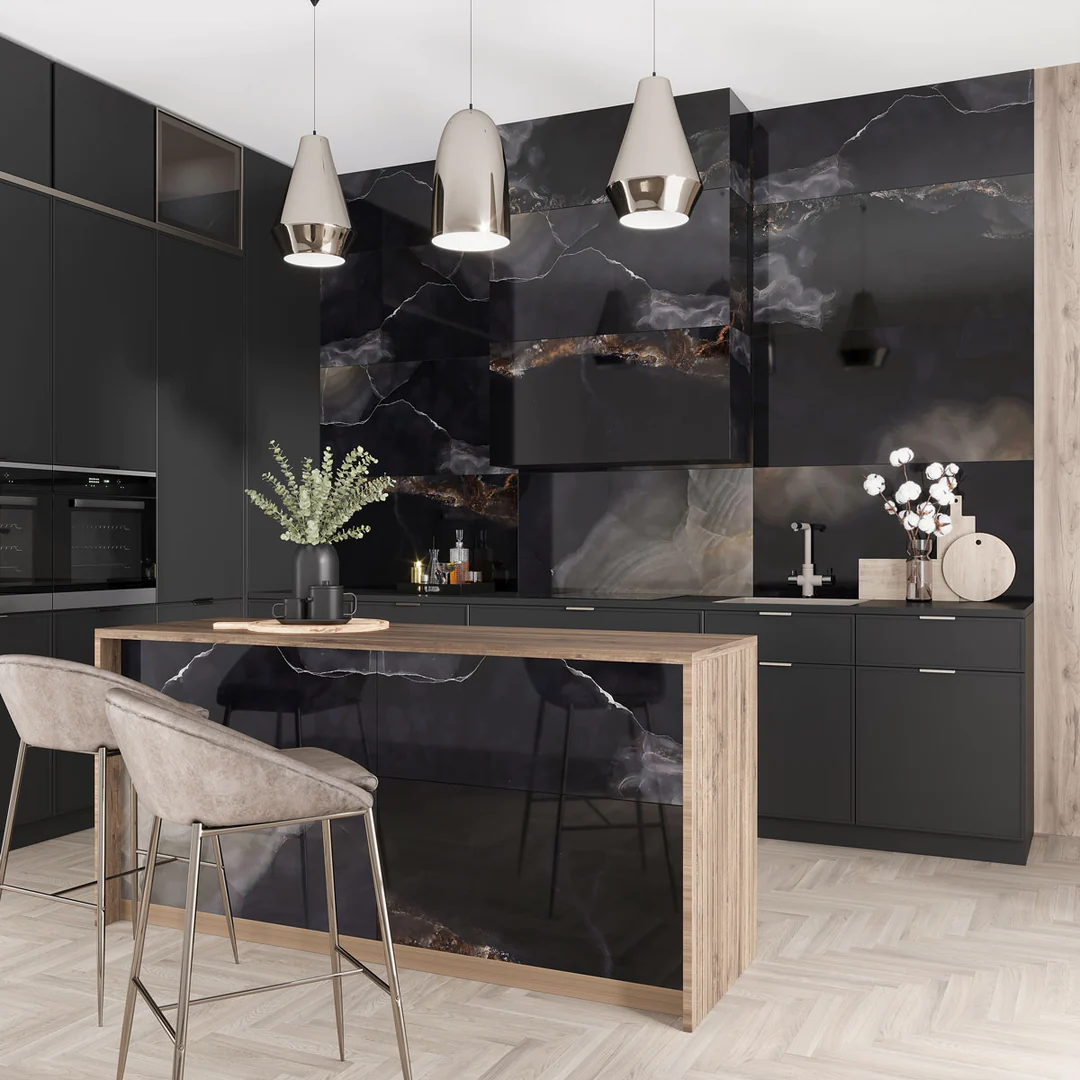 PHOTO: TILE CLUB
31. Black Kitchen Island with Extended Table
An extended kitchen island is a practical and stylish way to maximize your space. The wood-tone table extension provides contrast and a seating area for dining and entertaining.
PHOTO: HOWEN
32. Black Kitchen with White Kitchen Island Worktop
A white kitchen island worktop is a great way to brighten up your black modern kitchen. It goes without saying that white is frequently connected to cleanliness and freshness, which is one of the reasons this hue is appealing for worktops.
PHOTO: PARKES INTERIORS
33. Modern Vertical Wood Paneling
Wood paneling has evolved significantly over time. Modern wood paneling can provide texture, contrast, and interest to a kitchen that may otherwise be plain.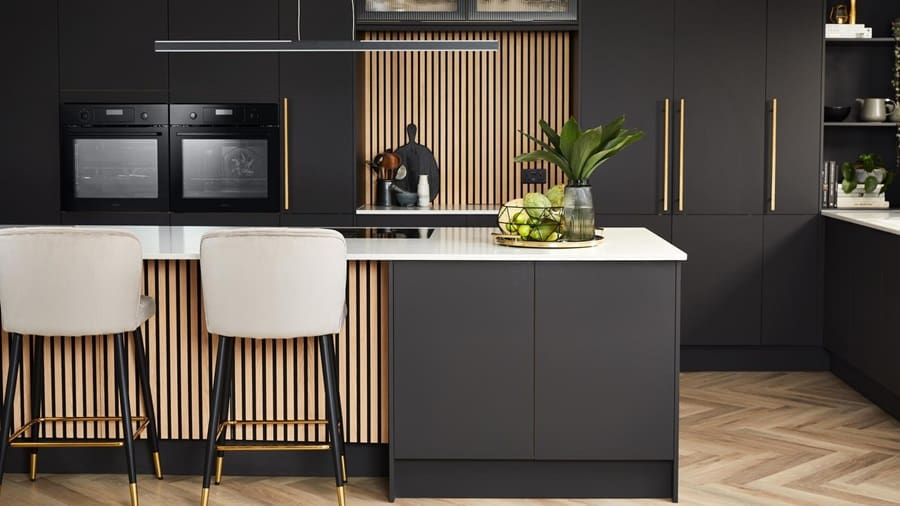 PHOTO: HOWEN
34. Modern Kitchen with Walk-In Pantry
If you have the space for it, include a walk-in pantry in your kitchen design plan. Food supplies and appliances can be organized and stored neatly in a walk-in pantry, making it easy to find items you need it. A see-through glass pantry door adds a stylish modern twist to this storage solution.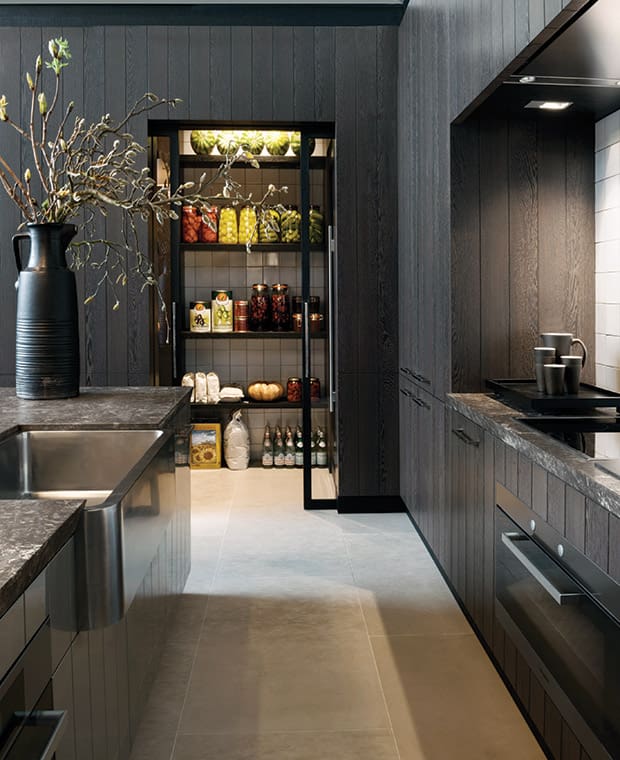 PHOTO: HOUSE & HOME
35. Black Modern with Wood Backsplash
The choice of wood as a backsplash is unusual because many people are concerned about it deteriorating or decomposing over time.
You may be pleased to know that wood can be a fantastic kitchen splashback with the proper treatment, such as a varnish or a coat that is water-resistant. Wood backsplash adds a beautiful contrast and charm when used in a black kitchen.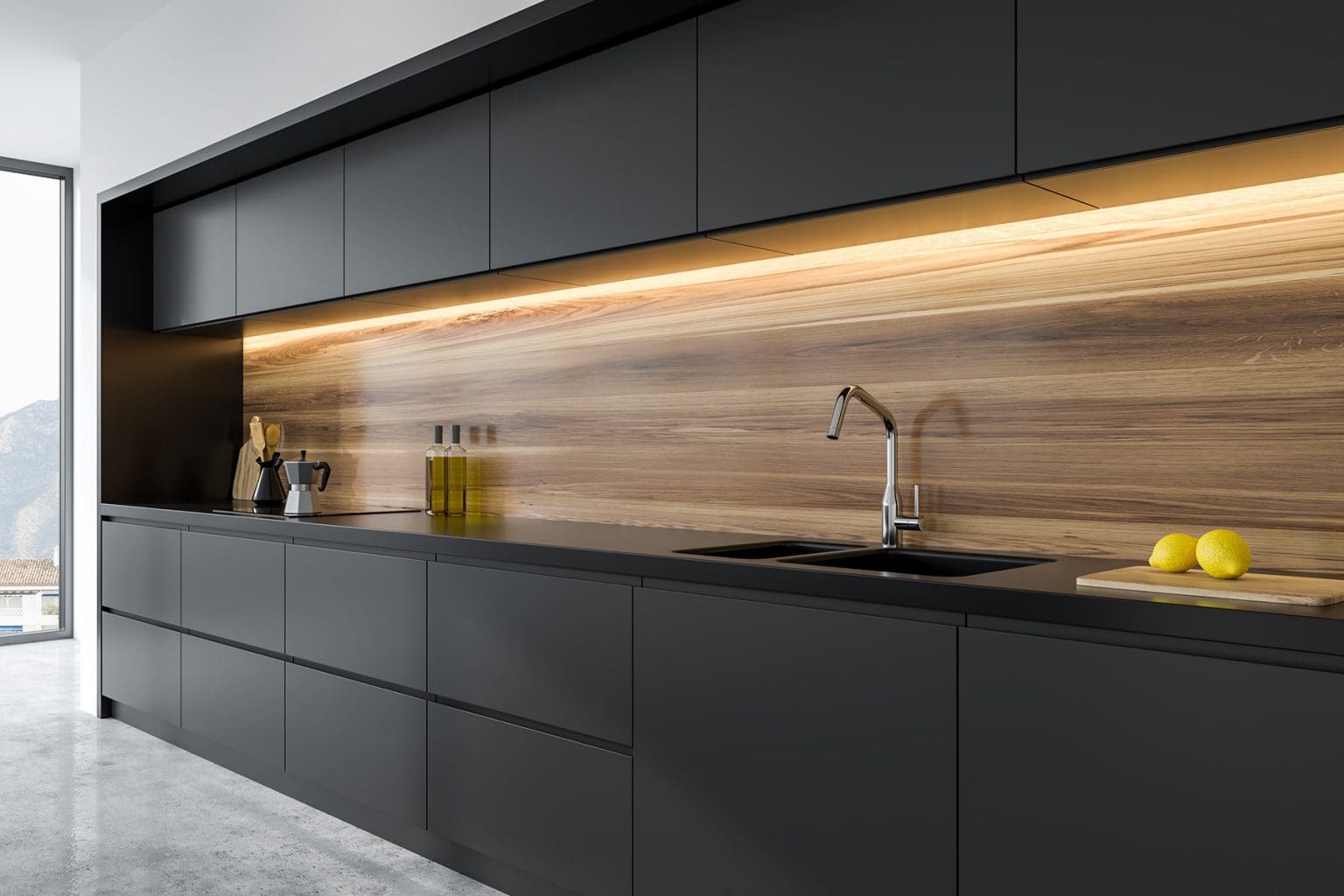 PHOTO: GETTY IMAGES
36. Handleless Modern Kitchen Cabinet
You may have already noticed from this article that a handleless kitchen cabinet takes the cakes for modern kitchens. It offers offer a sleek and contemporary look.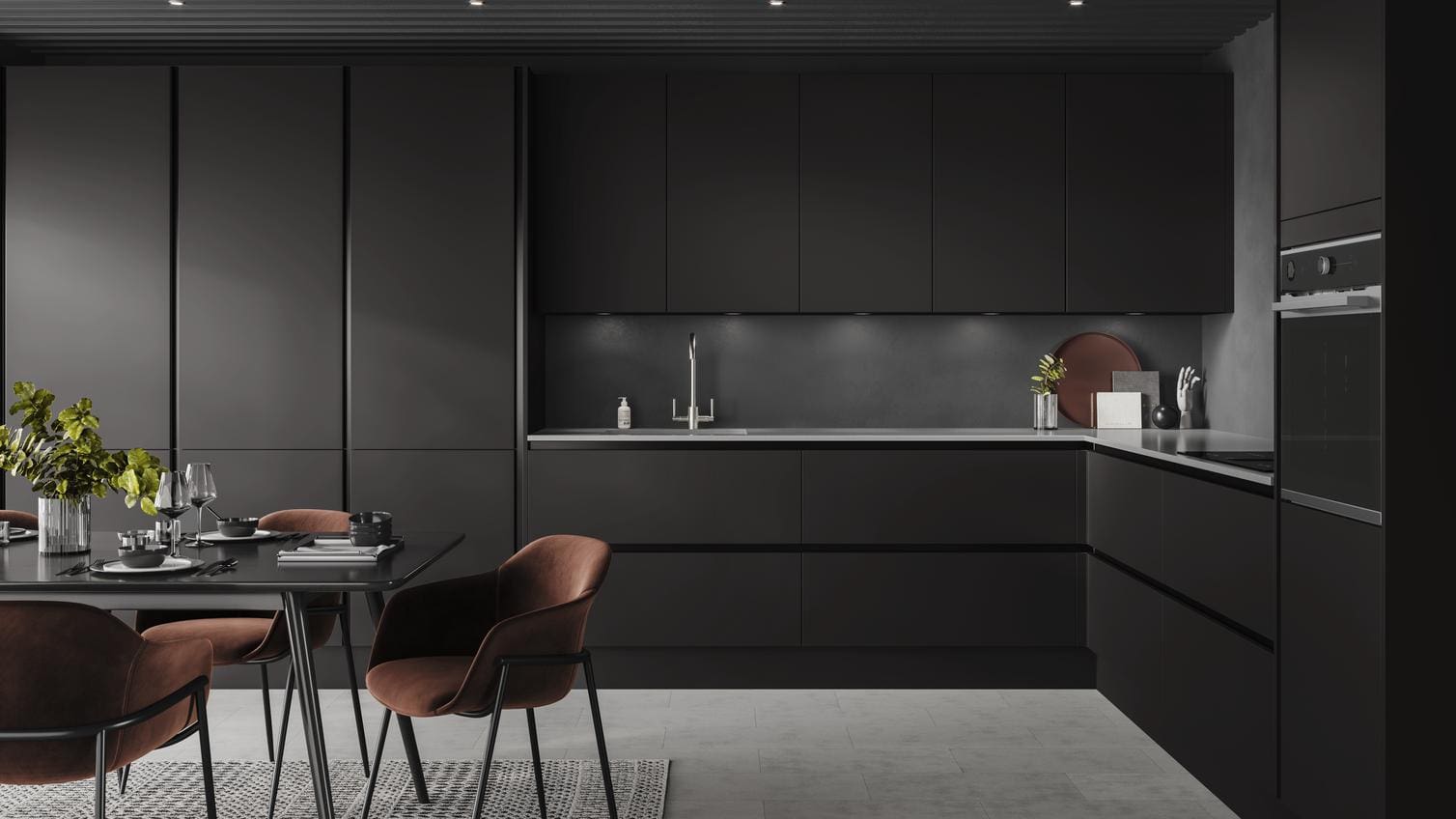 PHOTO: HOWEN
37.  Tetradic Color Scheme
Four colors are used in a tetradic color scheme, organized into two complementary pairings. These color choices are bold and fun. Although, since these combinations can easily become overwhelming, they should strike a balance.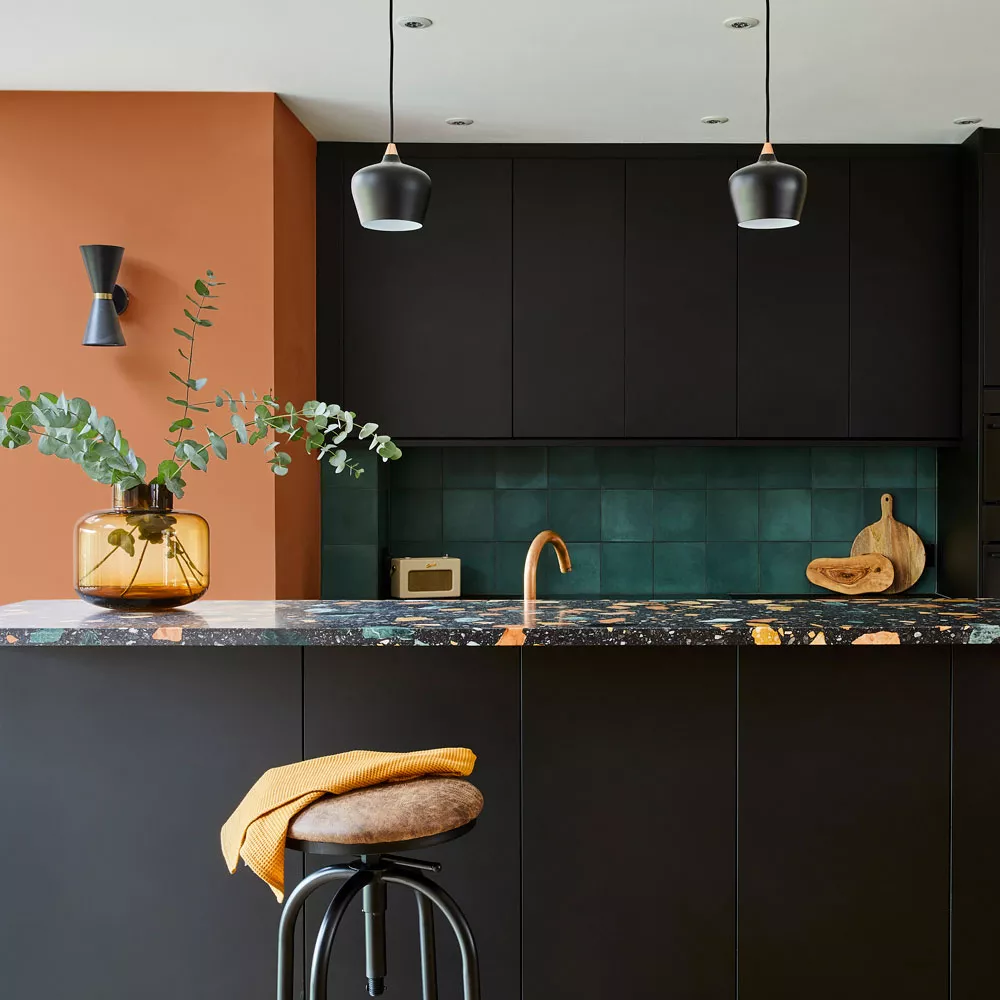 PHOTO: VALSPAR
38. Modern Kitchen with Copper Fixtures
Due to its inherent antimicrobial qualities, copper is a very practical material for your kitchen. It is the ideal material for your washbasin, tap, and worktop since it prevents bacteria more effectively than stainless steel. Copper also makes a great accent for a modern black kitchen.
PHOTO: HOWEN
39. Modern Kitchen with Under Cabinet Lighting
Under cabinet lighting is a practical method to enhance the ambiance of your black kitchen and provide more light so you can work more efficiently. Other than the practicality of it, it adds warmth and visual appeal to the space.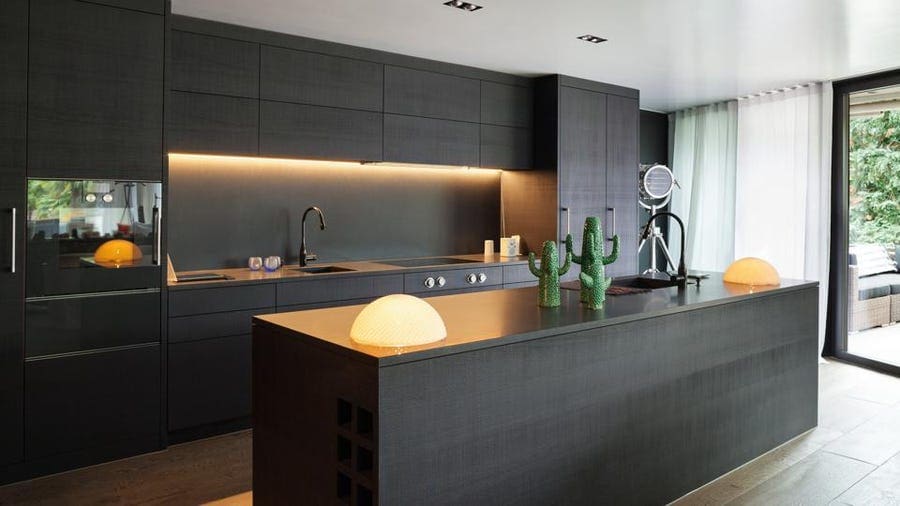 PHOTO: GETTY IMAGES
40. Black Kitchen with Navy Blue Walls
If you want a moody color palette but don't want to go all the way when with black, consider a navy blue and black color combination. This is a timeless and refreshing combo.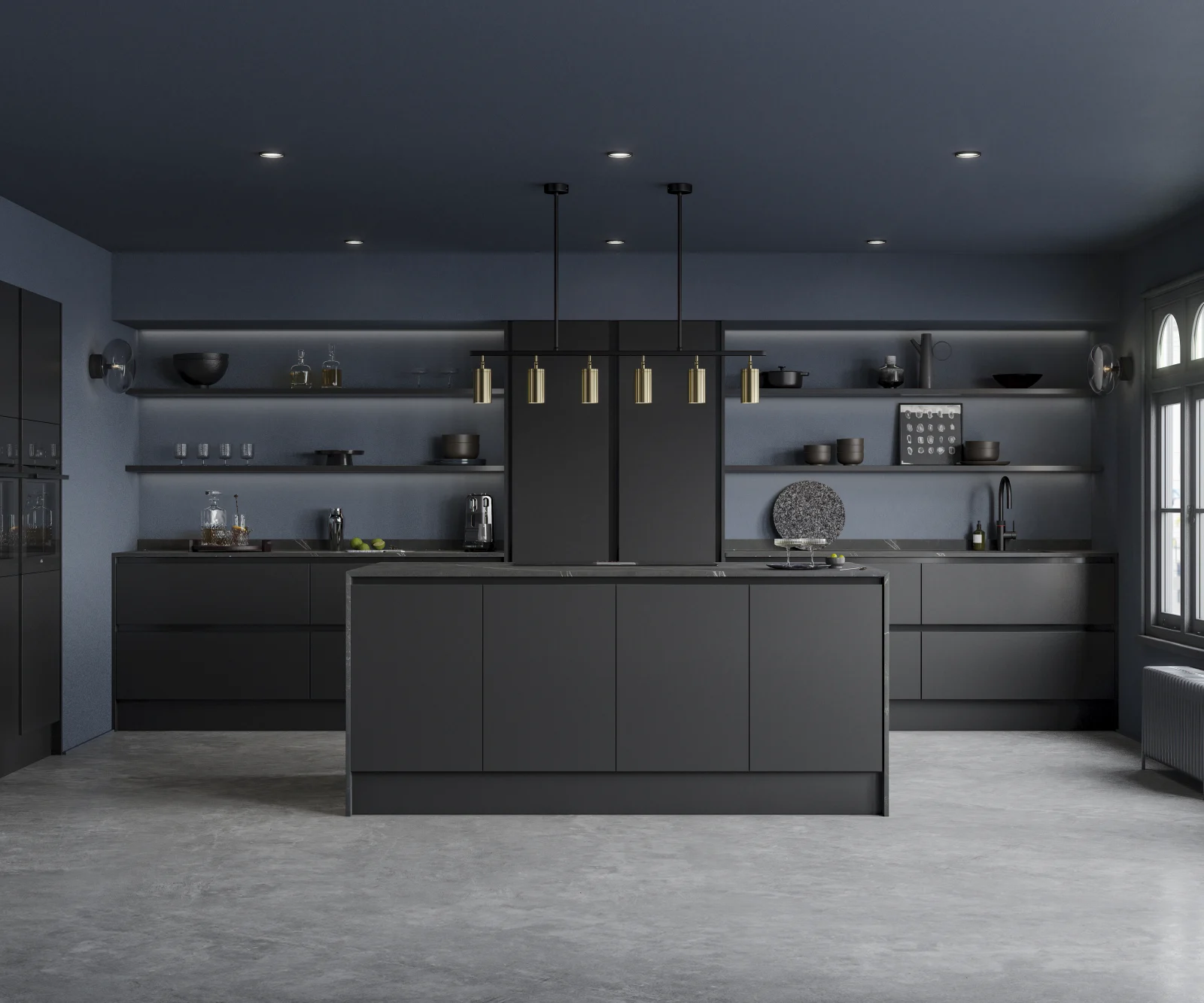 PHOTO: MAGNET.COM