35 Exterior Brick Paint Color Ideas
Are your exterior brick walls looking shabby and worn out? Check out these incredible exterior brick paint color ideas to give your home a new look! 
Most people tend to put a lot of thought into decorating their home's interior spaces and have little regard for the exterior. The home exterior is the first thing people see, so it makes sense to make it visually appealing.
There are easy ways to make an impact without updating the whole façade. Painting your exterior walls is one of the quickest and simplest ways to enhance your home's curb appeal and increase your home value. This can instantly transform your home from drab to fab. Color adds character and style to a space and it's known to influence human emotions.
Brickwork is a popular exterior wall for a myriad of reasons. It gives texture and a rustic feel to a space. Brick is a tough material and does not deteriorate easily like other materials. However, over time, exposed bricks start to show some signs of wear and tear due to being exposed to moisture and high temperature.
A painted brick wall, in the right color, can add an understated elegance and charm to a home.
So, if you want to freshen up your tired old brick walls, get inspired by these 35 exterior brick paint color ideas. From bold to muted hues, you will find some ideas to suit your preference.
1. Dark Blue
Dark blue is a widely used exterior paint color that is suitable for any home type. This shade is blue is laid-back but still eye-catchy.
It is also a timeless color, so you don't have to worry about it going out of trend. A dark blue brick wall with white trims is make a sophisticated exterior wall.
PHOTO: HOUZZ
2. Chalk White
White is the most classic and versatile color for both interior and exterior walls. It is great for modern structures as it gives a clean, elegant, and chic look.
Plus, some natural bricks come in off-white colors, so painting your brick wall with chalk-white paint still creates a natural and effortless look. The noteworthy drawback of white exterior paint is that it is prone to stain.
PHOTO: PAUL BATES ARCHITECTS
3. Light Green
Green is nature's most associable hue. It is great for exterior walls just as it is for interior walls. What makes this shade of green so popular is that it is earthly, muted, and very versatile.
Front door colors that are best suited with light green painted brick walls are Fuschia, lavender, and violet.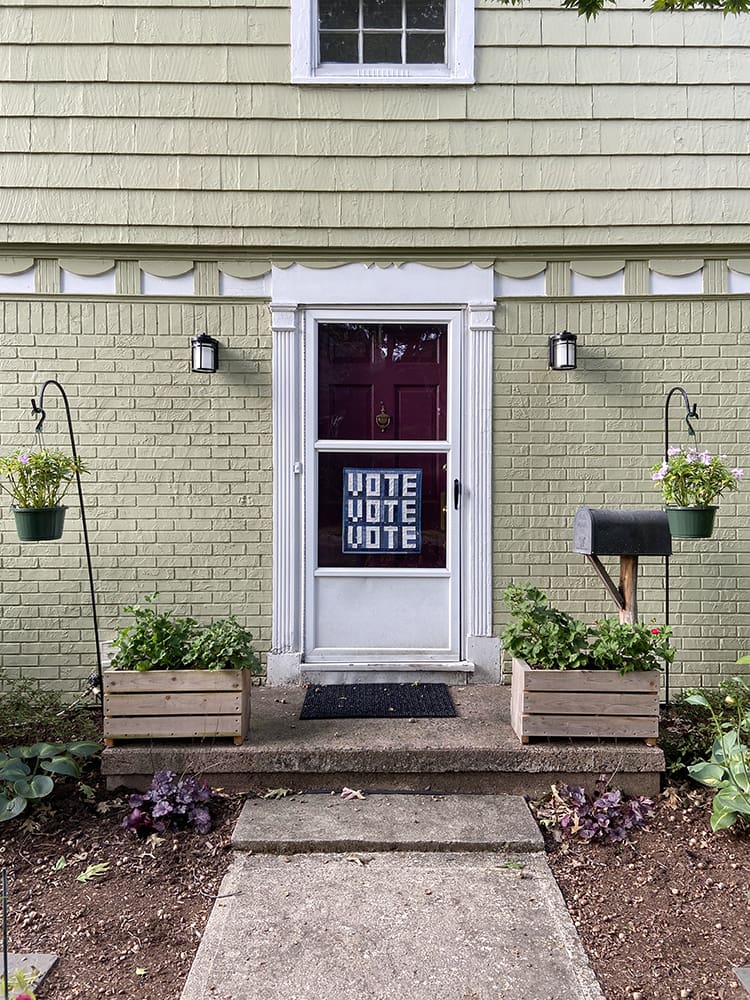 PHOTO: JENNY BAKER
4. Pastel Blue
Pastel colors are less saturated, calming, and easy on the eye. Pastel blue evokes tranquillity, freshness, and a spring-like vibe. This subtle shade of blue is a great way to inject some color into your home's exterior without overwhelming the space.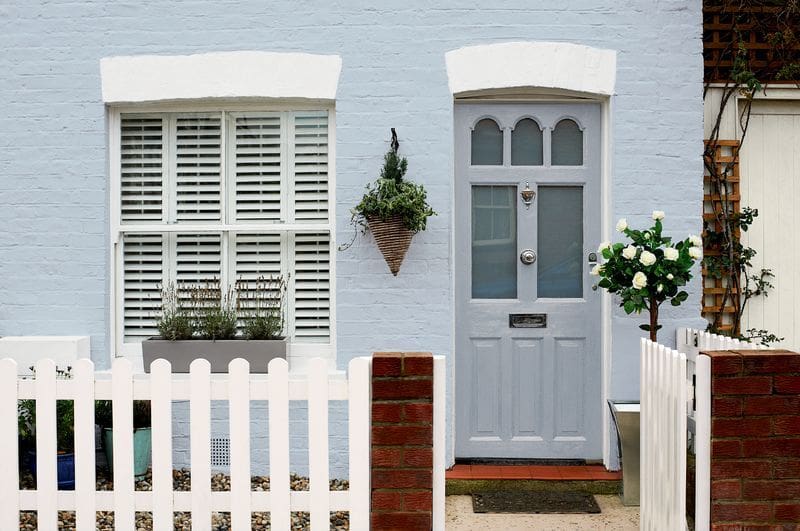 PHOTO: DULUX
5. Coral
Muted colors aren't for everyone. Give your exterior brick walls a generous dose of coral to make a statement. Coral is a tasteful color that never goes unnoticed. Use a crisp white or deep blue front door to give it a spectacular contrast.
PHOTO: RUE RODIER
6. Steel Grey
It's no surprise that grey is the most popular exterior wall color. Some may argue that grey is boring- duh. This hue is chic, contemporary versatile, and neutral. Steel is a cool gray color that can instantly refresh any home exterior.
PHOTO: EDWARD EVERETT (RETT) PEEK JR
7. Bold Yellow
Bold yellow is the ultimate statement-making color. It sets your home apart from the neighbors– in a good way. This highly saturated shade of yellow invokes a feeling of happiness and optimism.
Even on a gloomy winter day, your home will feel summery and welcoming from the outside. However, wary of yellow as is it known to have a very high fade rate when used on exterior walls due to UV radiation.
PHOTO: RUE RODIER
8. Bold Blue
Bold blue is one of the exterior brick paint color ideas that you've probably seen many times already. This tried and true color adds a grand gesture and elegance to your home. Use a red front door for that perfect contrast.
PHOTO: CERTAPRO PAINTERS
9. Dark Green
Dark green is an earthly shade that combines sophistication, tranquility, and nature. This shade of green is often associated with growth and rejuvenation.
Not only does it help your home feel connected to nature, is incredibly versatile, and goes with just about any hue on the color wheel.
PHOTO: HOUZZ
10. Mustard Yellow
Most people shy away from yellow when it comes to contemporay homes but before writing it off your exterior wall paint option, consider mustard yellow. It is a darker, toasty, rich shade of yellow with irresistible undertones that can either seem earthy and mellow or powerful and inviting.
PHOTO: RUE RODIER
11. Sage Green
Sage green is the color on everyone's mind in recent times. This nature-inspired hue takes the cake when it comes to the most visually interesting neutrals. This is the perfect muted shade of green to help revamp dull bland brick exterior walls.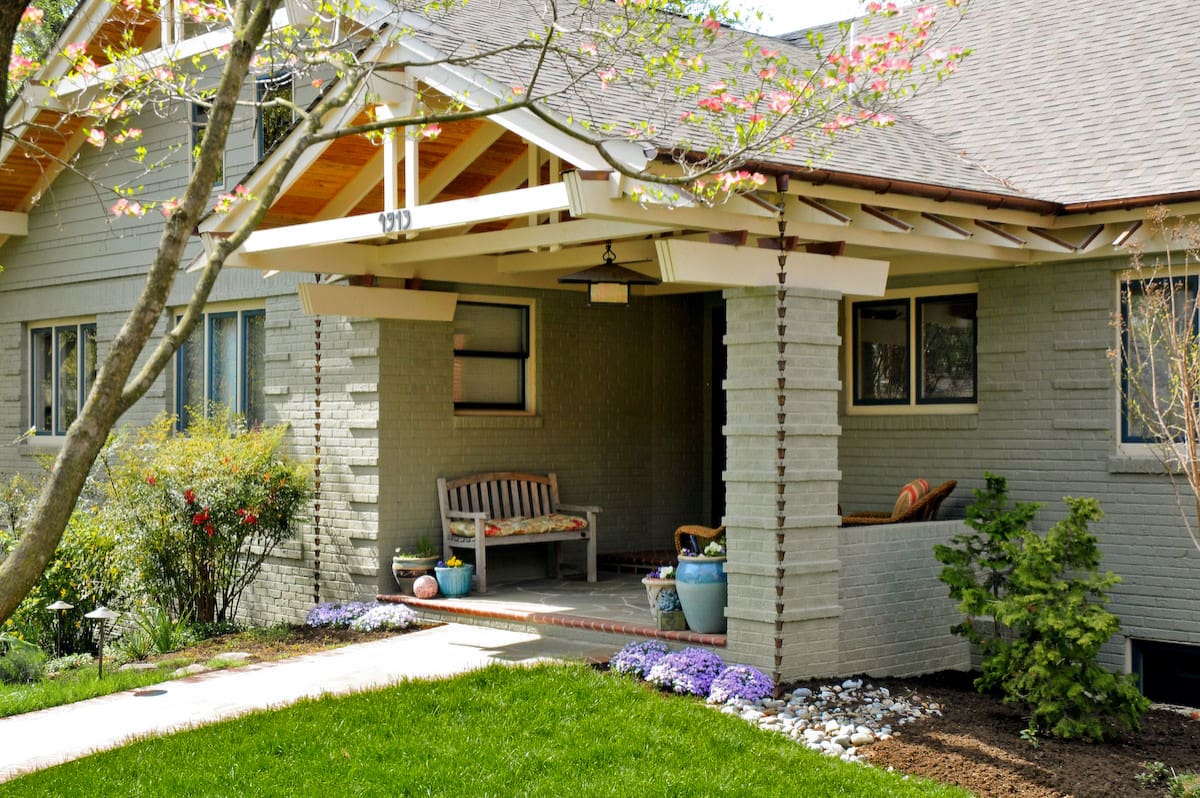 PHOTO: JAMES CUMMING
12. Cool Blue
The cool blue is a timeless addition to exterior brick walls. When combined with white, created a soft and sophisticated feel to the structure.  It is also especially ideal for houses close to water because it can help to highlight the area's natural beauty.
PHOTO: HOUZZ
13. Mint Green
Naturally, mint green is one of the ideal exterior brick paint color ideas for a number of reasons. It is a visual calm hue.
According to studies, the color green has a relaxing and soothing impact on the brain. It is not the most popular choice but this makes it a beautiful statement color that will set your home apart from others.
PHOTO: HOUZZ
14. Bright Pink
Bright pink can be used in both interior and exterior settings as it is proven to promote positivity and relaxation. This color lends richness and character to dull interior walls.
PHOTO: DANS LE LAKEHOUSE
15. Turqiouse
Ever wonder why homeowners are drawn to turquoise time and time again? It is inherently a calming hue. Great for both interior and exterior walls. The best-suited colors that work brilliantly with turquoise are white, cream, light brown, pink, yellow, and lilac.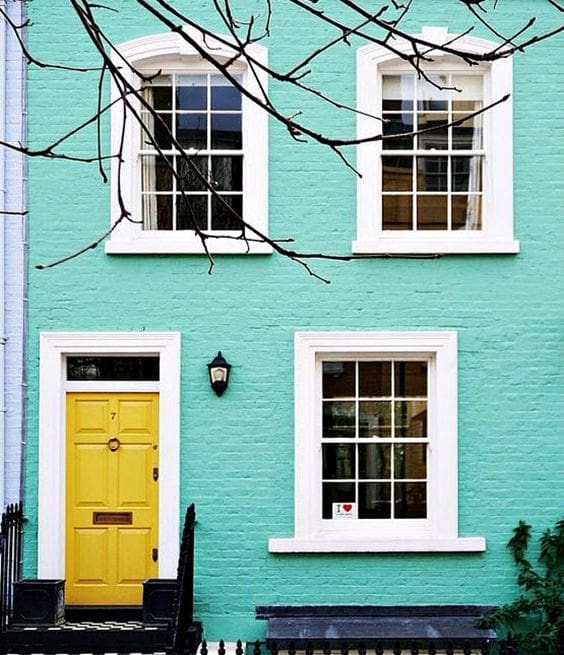 PHOTO: DANS LE LAKEHOUSE
16. Antique Rosewood
Antique rosewood is a sophisticated yet inviting color that evokes warmth and elegance. It is a hue of the red family, similar to burgundy but less saturated and muted.
It is a combination of pink, red, and brown colors. It is one of the most appealing exterior brick paint color ideas because some natural bricks come in a similar shade.
PHOTO: RUE RODIER
17. Lilac
Lilac is a muted, pale shade of purple, resembling the color of most lilac flowers. Lilac conveys a feeling of happiness and eases tension.
Looking to elevate your brick exterior walls in a way in which your neighbors and passers-by would wish they lived there? This crowd-pleasing hue might just make your dreams come true.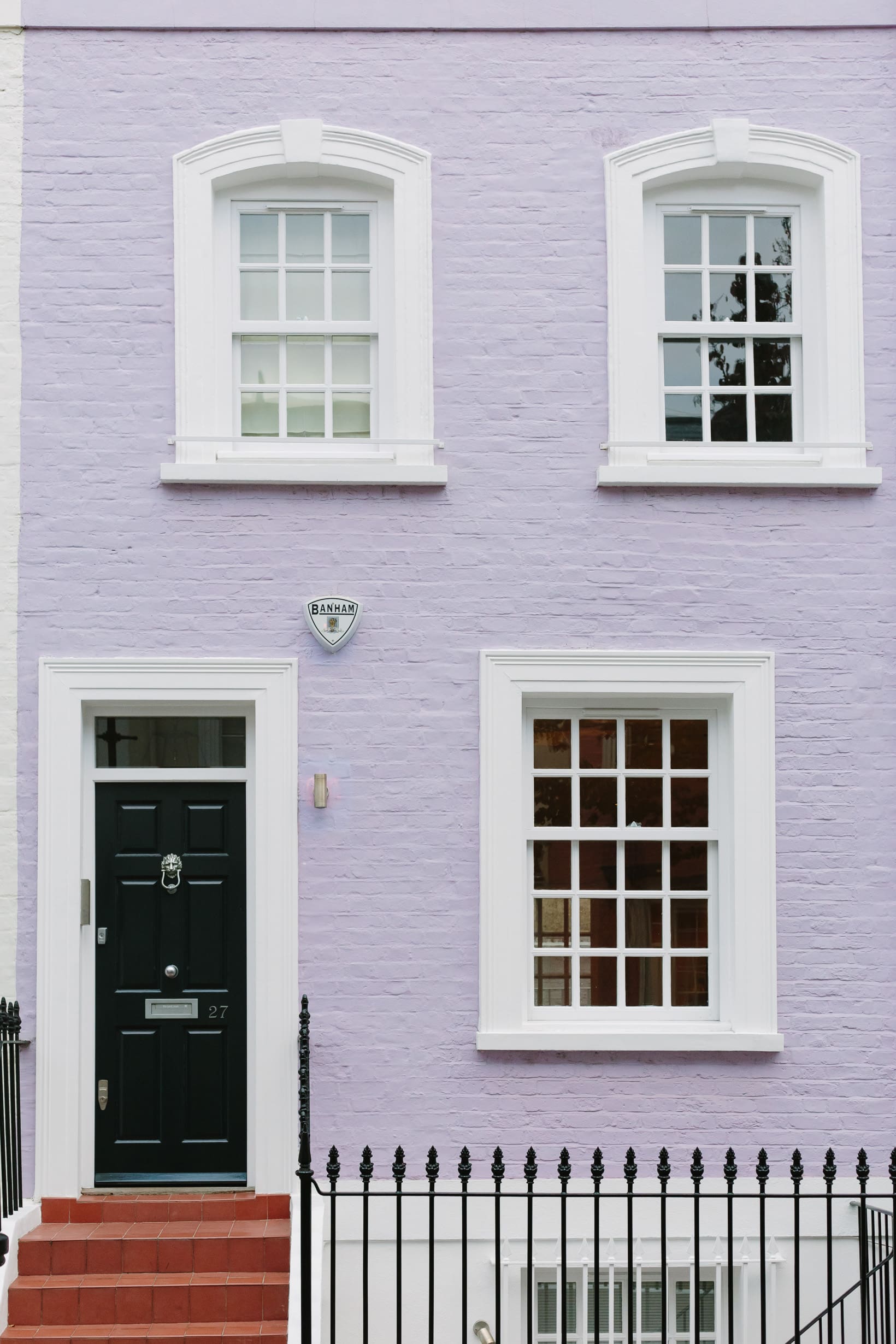 PHOTO: DANS LE LAKEHOUSE
18. Mauvelous
Mauvelous is a pleasant, subdued, mid-tone fuchsia purple with a magenta undertone. This hue creates a sense of visual calm and sophistication. The ideal front door color for a mauvelous exterior wall is forest green and navy blue.
PHOTO: MYLANDS 
19. Beige
Beige is one of the most common neutrals for both interior and exterior walls. It's often used as a warm alternative to white paint. Beige is incredibly versatile and will beautifully complement any other color.
Whether you have a modern, traditional Victorian, or Colonial home, this brick wall paint color will irresistible charm to the exterior.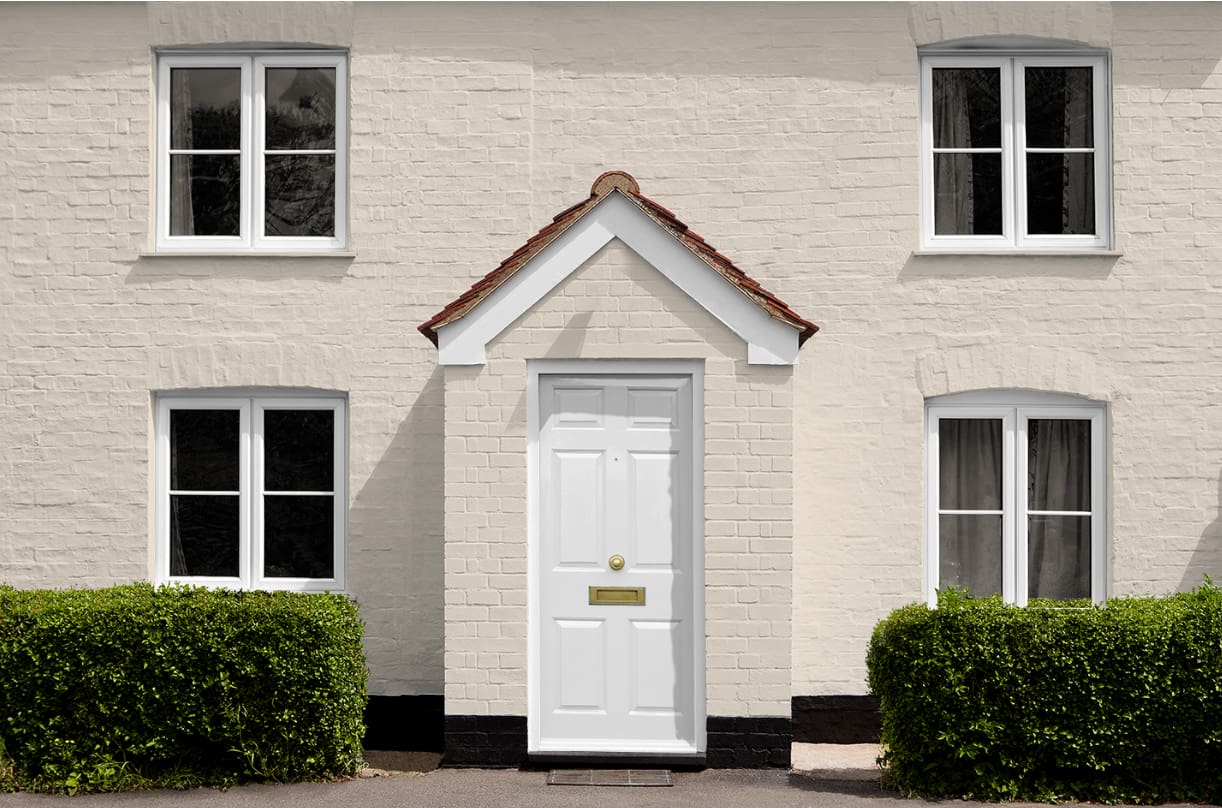 PHOTO: HOUZZ
20. Bold Pink
Bold pink does not need convincing, it's really not for everyone. However, there is denying that it creates a striking impression. Bold pink is daring, loud, and unapologetic.
If you're looking for exterior brick paint color ideas to add extra pizzazz to your home exterior, look no further than a vibrant bold shade of pink.
PHOTO: RUE RODIER
21. Peacock Blue
Peacock blue is a deeper, more vivid shade of blue with a greenish undertone. It's often mistaken as a dark teal,  but these are two different colors.
Teal has a more green undertone while peacock blue has a more blue undertone and only a tinge of green.  This is quite a unique and inviting exterior brick paint color.
PHOTO: HOUZZ
22. Navy Blue
Navy blue is regarded as a classy neutral when it comes to exterior brick paint color ideas. It enhances the drama of your façade without being overwhelming or excessive. Navy blue is also a timeless exterior wall color.
PHOTO: SCOUT & NIMBLE
23. Faded Yellow
Faded yellow is ideal if you like the color yellow but are a bit color shy. It is a less saturated and subtle shade of yellow. Consider painting your exterior brick wall muted yellow to give it a cheerful feel and enhance its curb appeal.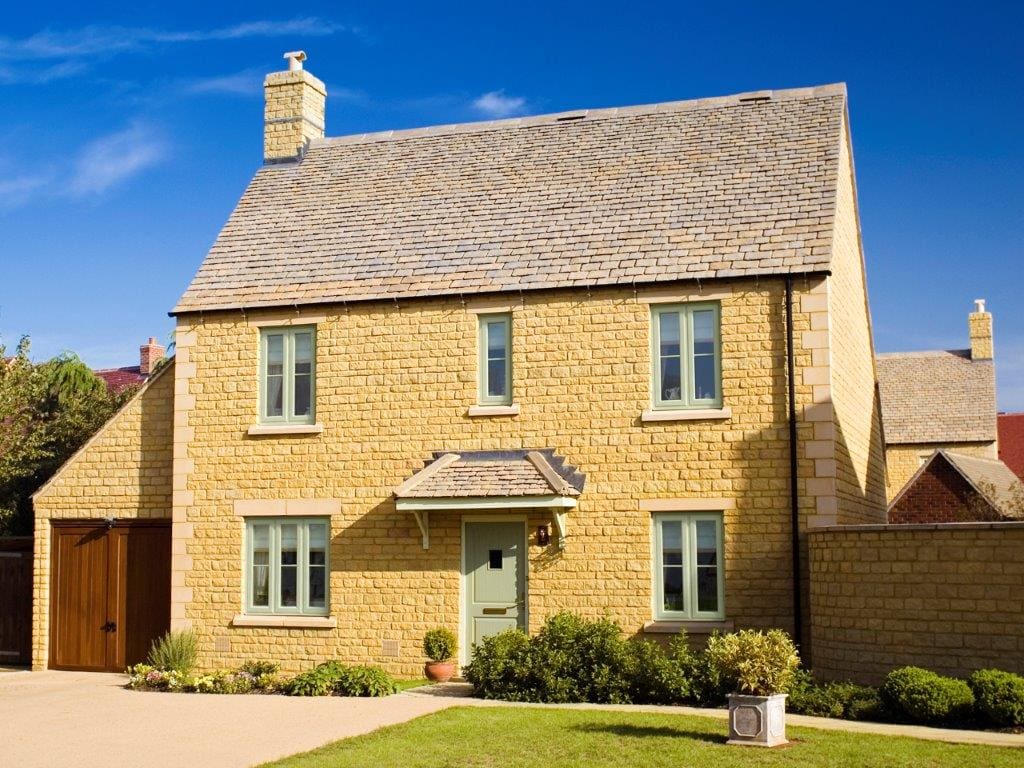 PHOTO: HOUZZ
24. Air Force Blue
Air Force blue, also known as RAF blue is another shade of blue that is effortlessly chic for brick exterior walls. It is a rich and deep blue tone that is best paired with crisp white.
The color was inspired by the light blue uniforms that the newly founded British Royal Air Force was given in 1920, which had a significant impact on the way that several other air forces across the world designed their uniforms.
PHOTO: HOUZZ
25. Olive Green
Like unripe green olives, olive green paint has a dark yellow-green hue. It is an earthy, muted, and smokey hue. Olive green is one of the ideal exterior brick paint color ideas for houses that needs a botanical boost.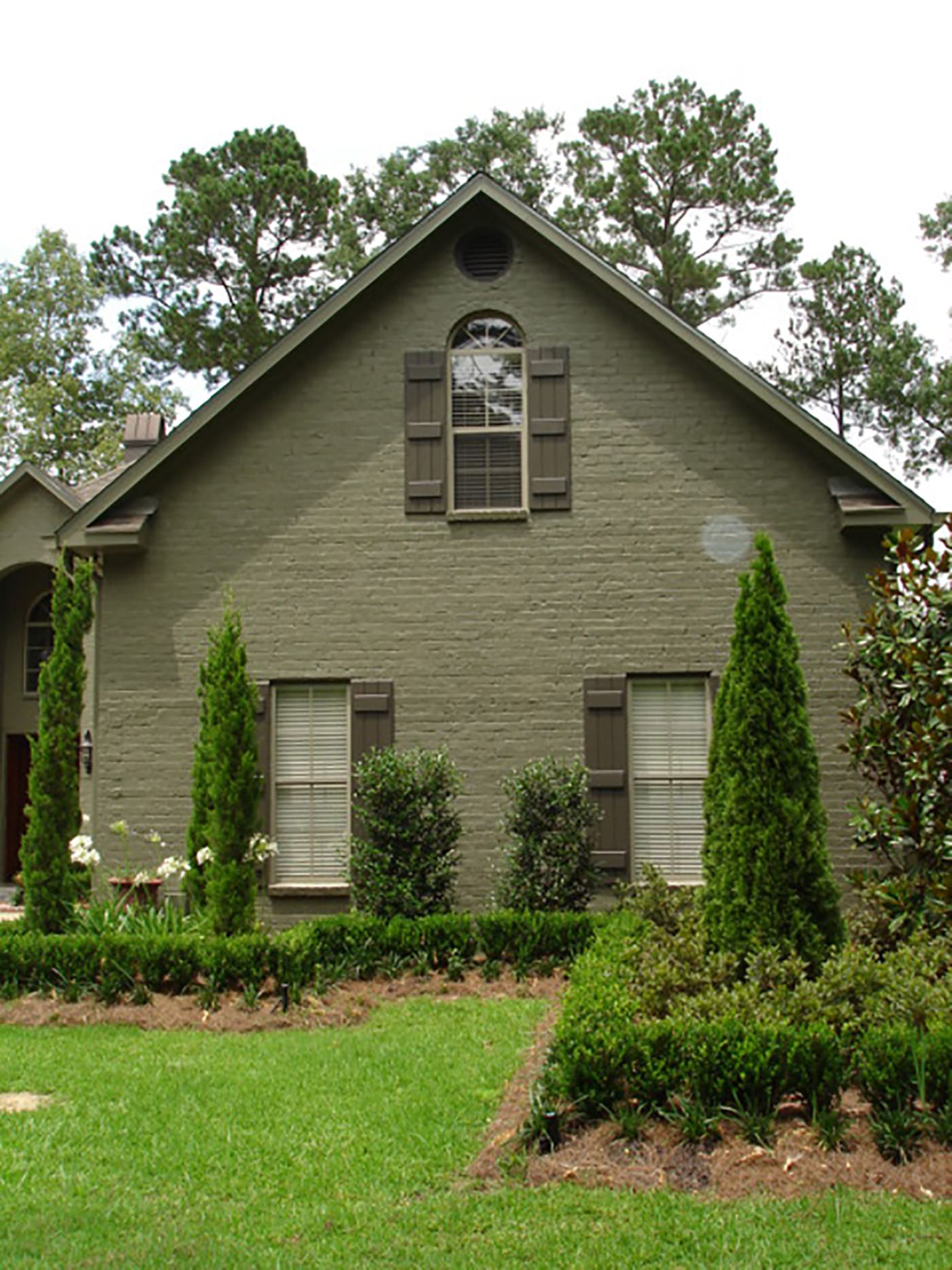 PHOTO: ELLEN KENNON
26. Dusty Black
Although it may seem too dramatic to paint your exterior brick black, but black is a timeless and practical color. According to HGTV host and interior designer Brian Patrick Flynn, painting your exterior wall black is a great way to add interest to a house that lacks architectural character.
PHOTO: RUE RODIER
27.  Bunglehouse Blue
Blue comes in many shades but Sherwin William's Bunglehouse blue creates a unique and striking impression. It is another incredible exterior brick paint color to add a stylish flair to your home.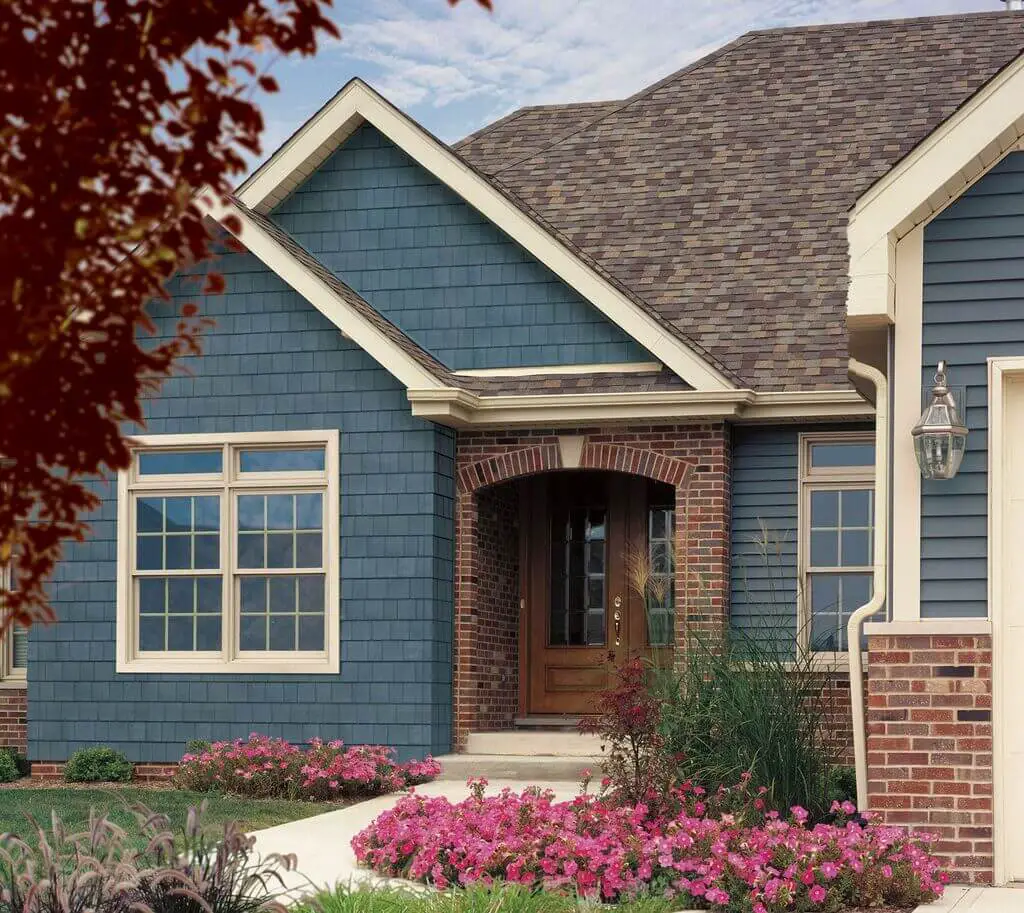 PHOTO: HOUZZ
28. Blue Stone
Blue stone is a warm and timeless shade of blue that is named after the indigo pigment, which was frequently imported in lumps in the 18th century. When paired with white vinyl siding, it feels both unique and inviting.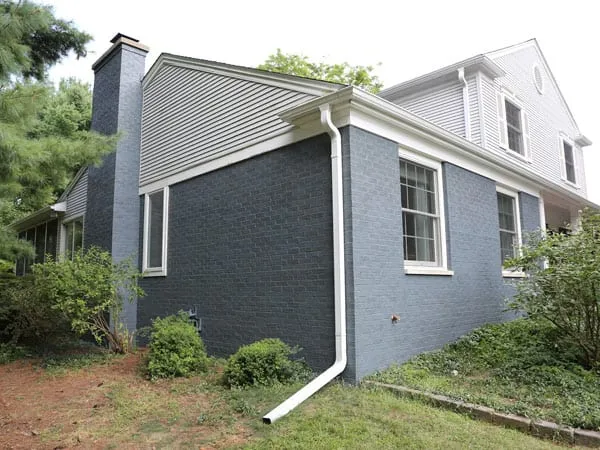 PHOTO: HOUZZ
29. Scarlet Red
Scarlet is a vibrant red hue with a slight orange tinge. It is a superb exterior brick paint color but it's also very daring. If you're making to add a grand gesture to your home exterior, this may be ideal for you.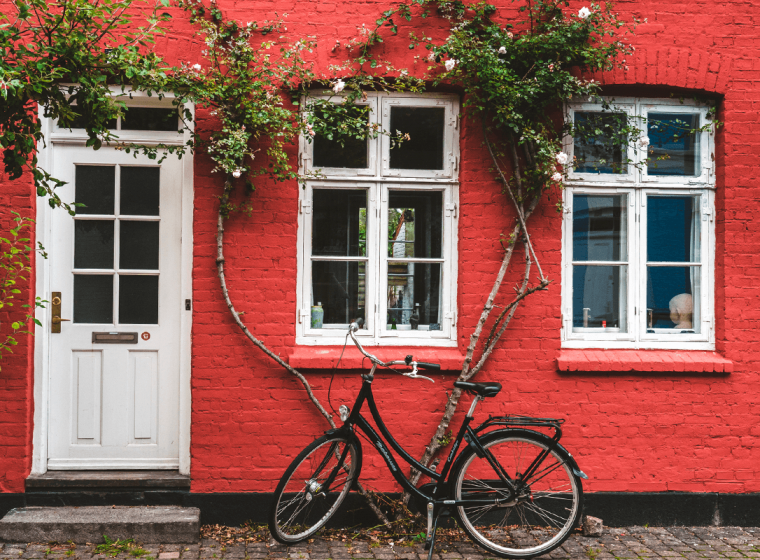 PHOTO: HOUZZ
30. Powder Blue
Powder Blue is a very soft, pale shade of blue. It is perfect for both interior and exterior walls. The color is named after a sort of powdered cobalt used to produce dyes and launder textiles.
If you prefer brilliantly saturated tones or delicate pastels, powder blue will help create a bright, invigorating look.
PHOTO: BECKI OWENS
31. Rose Vale
Rose Vale is in the red color spectrum but it's visually described as dark pink. It is a mixture of both red and pink. It may seem like a daring option for exterior walls, but in truth, the rose vale color is so muted that it may even serves as a neutral.
PHOTO: HOUZZ
32. Monochrome
A clever option to consider when choosing an exterior brick paint color is to use varying tones to provide contrast or a monochromatic scheme. This also helps to add dimension and character to the structure.
PHOTO: HOUZZ
33. Toasted Oatmeal
Toasted oatmeal is a pale grey, orange-white with a golden sunny undertone. It is one of the most effortlessly chic yet unique exterior brick paint color ideas. It is best paired with dark green.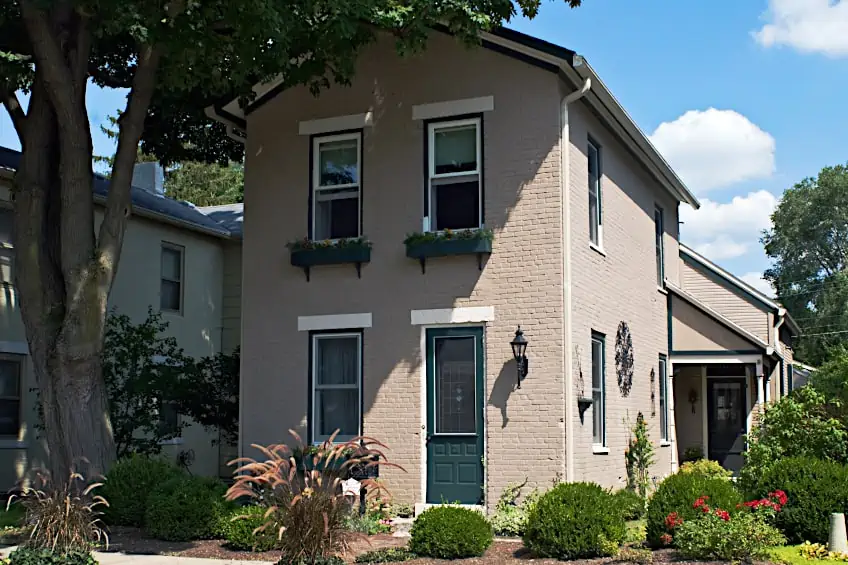 PHOTO: HOUZZ
34. Light Grey
Unsurprisingly, most modern houses have light grey exterior walls.  It has become a homeowner's favorite because of its ability to provide a clean and polished finish that serves as the perfect backdrop for the building's other accent colors.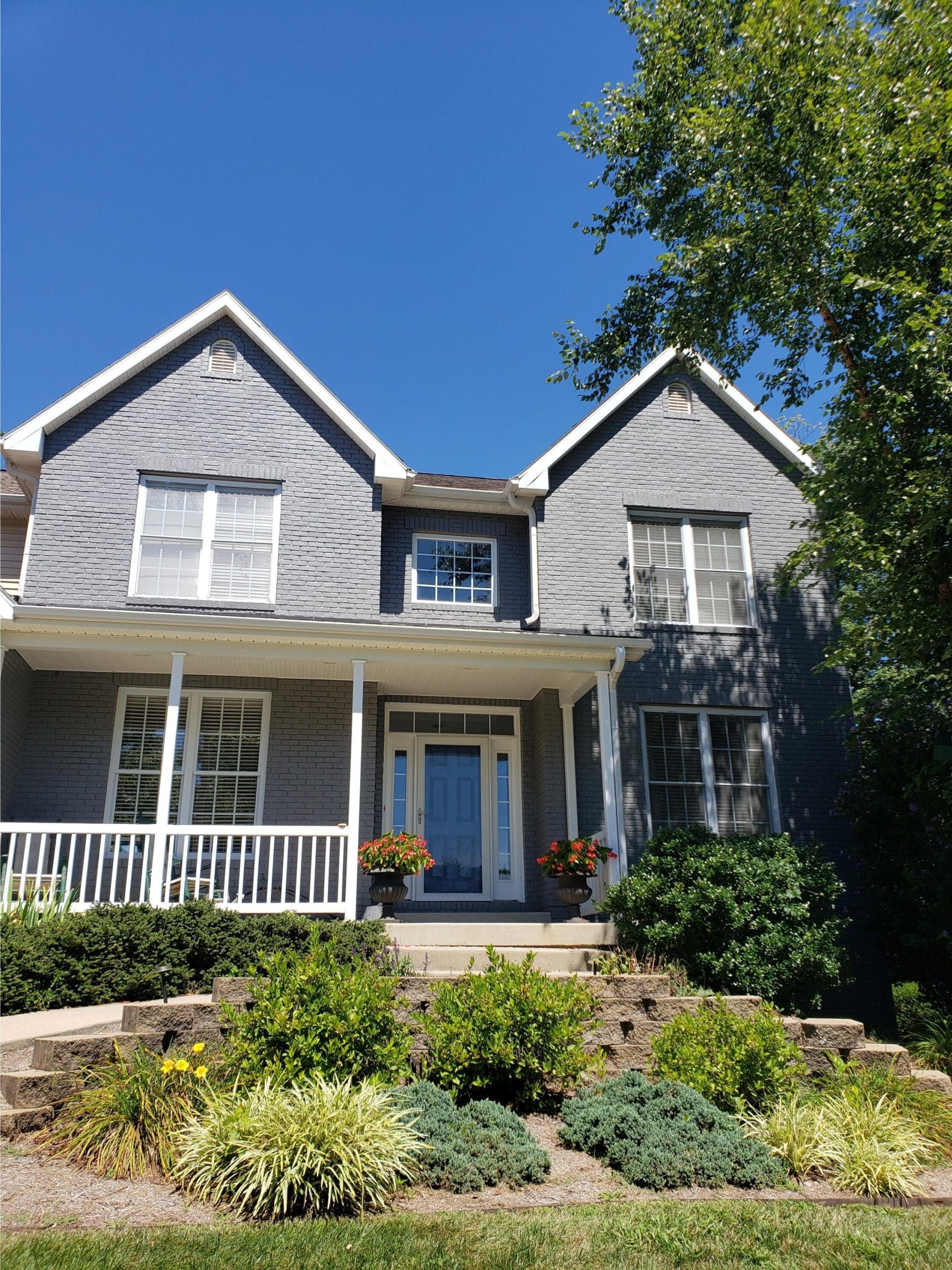 PHOTO: REARDON PAINTING
35. Dark Grey
Dark grey is a great exterior brick paint color idea it is both classic and eye-catching. A deep, rich, and dark grey paint is great for adding elegance and dramatic effect. It is perfect for contemporary homes.
PHOTO: HOUZZ