28 Best Wall Colors For Hall
Is your hallway lacking style and interest? Be inspired by our 28 best wall colors for hall!
The hallway or entryway to a home or building is the first place people see. This liminal space doesn't usually make the front cover of a magazine but it is an important space in the home as it sets the tone for the rest of the interior.
The hallway of often the least decorated space in most homes. Although, many would agree that it is a challenging space to decorate, even for design experts, because it is usually a narrow space lacking natural light.
There is a myriad of ways to make a hall aesthetically pleasing and welcoming. Painting the wall is the easiest way to do so. A single-painted wall can instantly elevate the look of a room.
There are an array of interior paint colors available today but not all colors may be suited for a hall. In this article, you'll find the 28 best wall colors for hall that are impactful and effortlessly chic.

1. Chalk White
White is a classic color that never goes out of style. It has the ability to brighten up dark spaces which makes it perfect for the hallway. Other than its timelessness and aesthetic appeal, white is a versatile hue that complements every other color.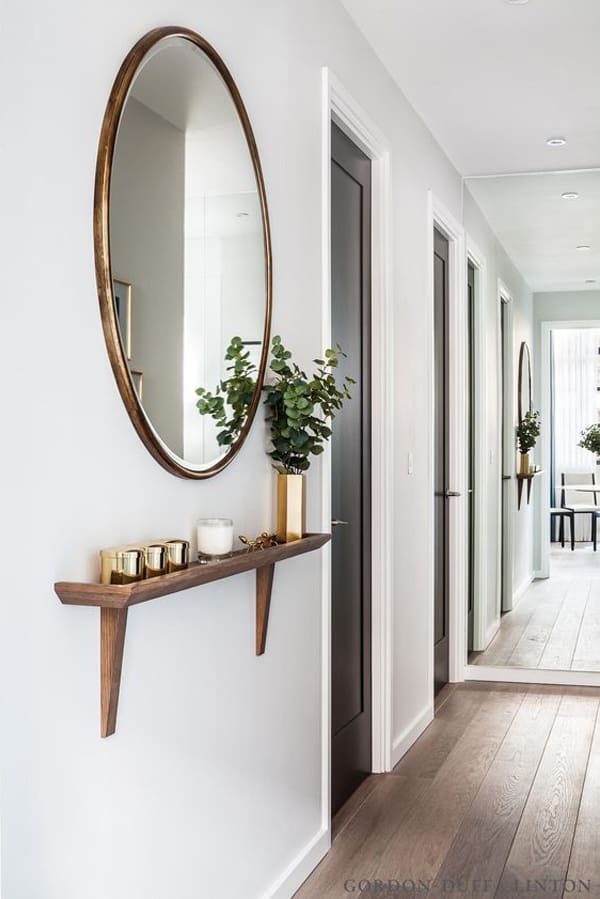 PHOTO: GORDON DUFF LINTON
2. Pastel Blue + White
Pastel blue is a muted calming shade of blue. It is the ideal wall color for hall because of its relaxing and inviting qualities. Pastel hues have low saturation while maintaining a high brightness value which makes them easy on the eye.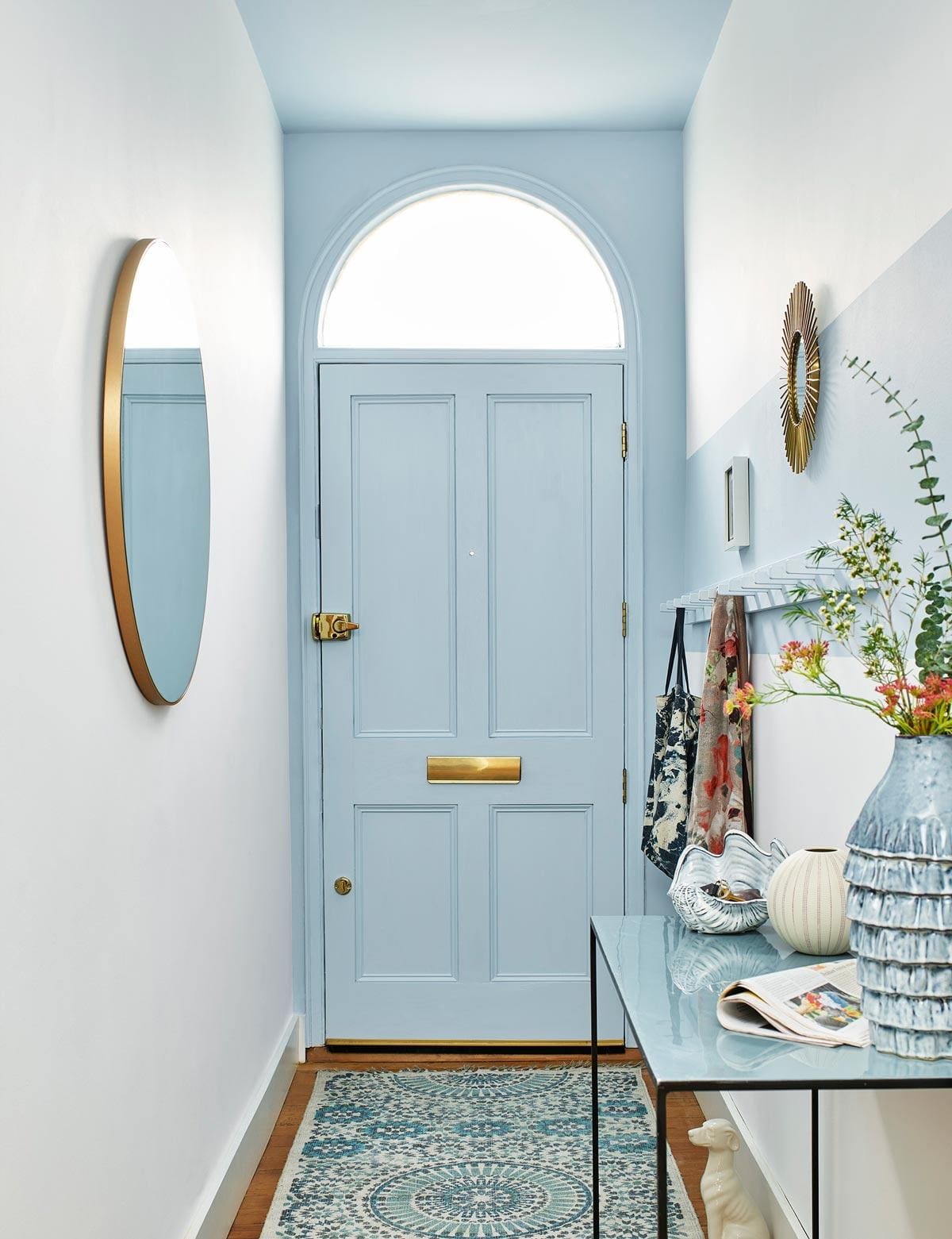 PHOTO: DULUX
3. Niagra Blue
Niagra blue is a distinctive, eye-catchy, and versatile shade of blue that can instantly elevate a room. It can be used to create a fresh and modern interior. It is named after Niagra Falls and it's ideal for bringing a sense of calm, nature, and tranquility to your home.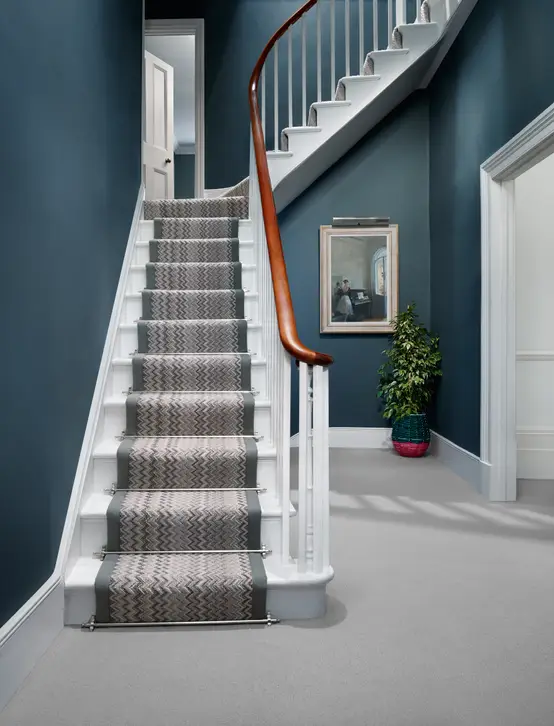 PHOTO: HOMIFY 
 4. Williamsburg Wythe Blue + Palace Pearl
Williamsburg Wythe Blue is one of Benjamin Moore's raving colors. It is a rich shade of blue with a green undertone. This tried and true muted gray-green-blue enhances the natural feel of the home. When paired with palace pearl, which is formulated by mixing white, black, and Prussian blue pigments, they create an understated elegance.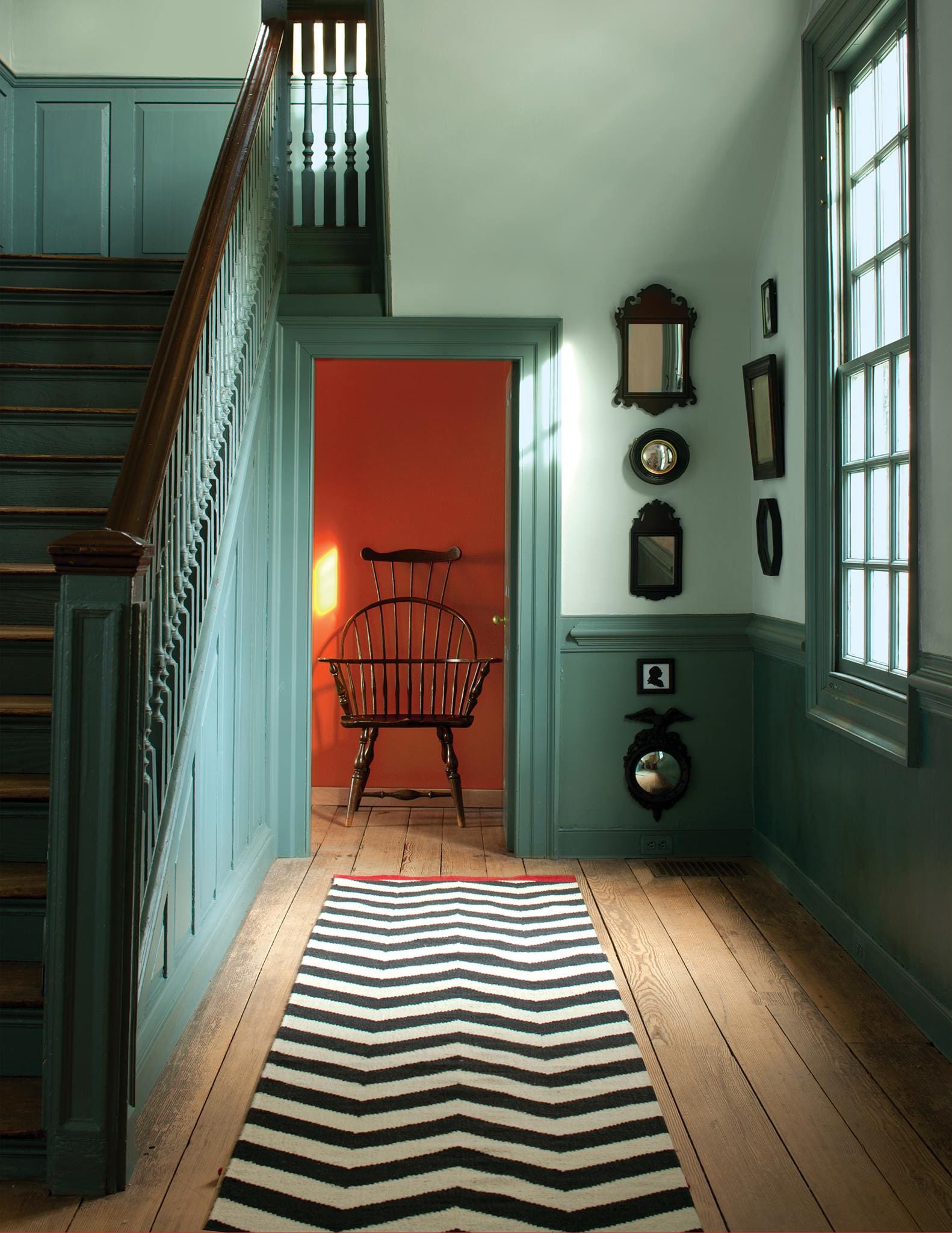 PHOTO: BENJAMIN MOORE 
5. Mustard Yellow
Mustard yellow is and is an invigorating shade of yellow that great wall color for hall because it is warming, vibrant, and cheerful. It can be used as a solo color or paired with white. Mustard yellow is a statement-making hue that emits a warm glow.
PHOTO: INTERIORS BY COLOR
6. Pastel Blue
As mentioned earlier, pastel blue and white is a brilliant hallway color combination but pastel blue on its own can bring harmony and style to a hall. It can give an impactful edge to a space without overwhelming it. A calming and muted shade like pastel blue is also ideal for bedrooms and bathrooms.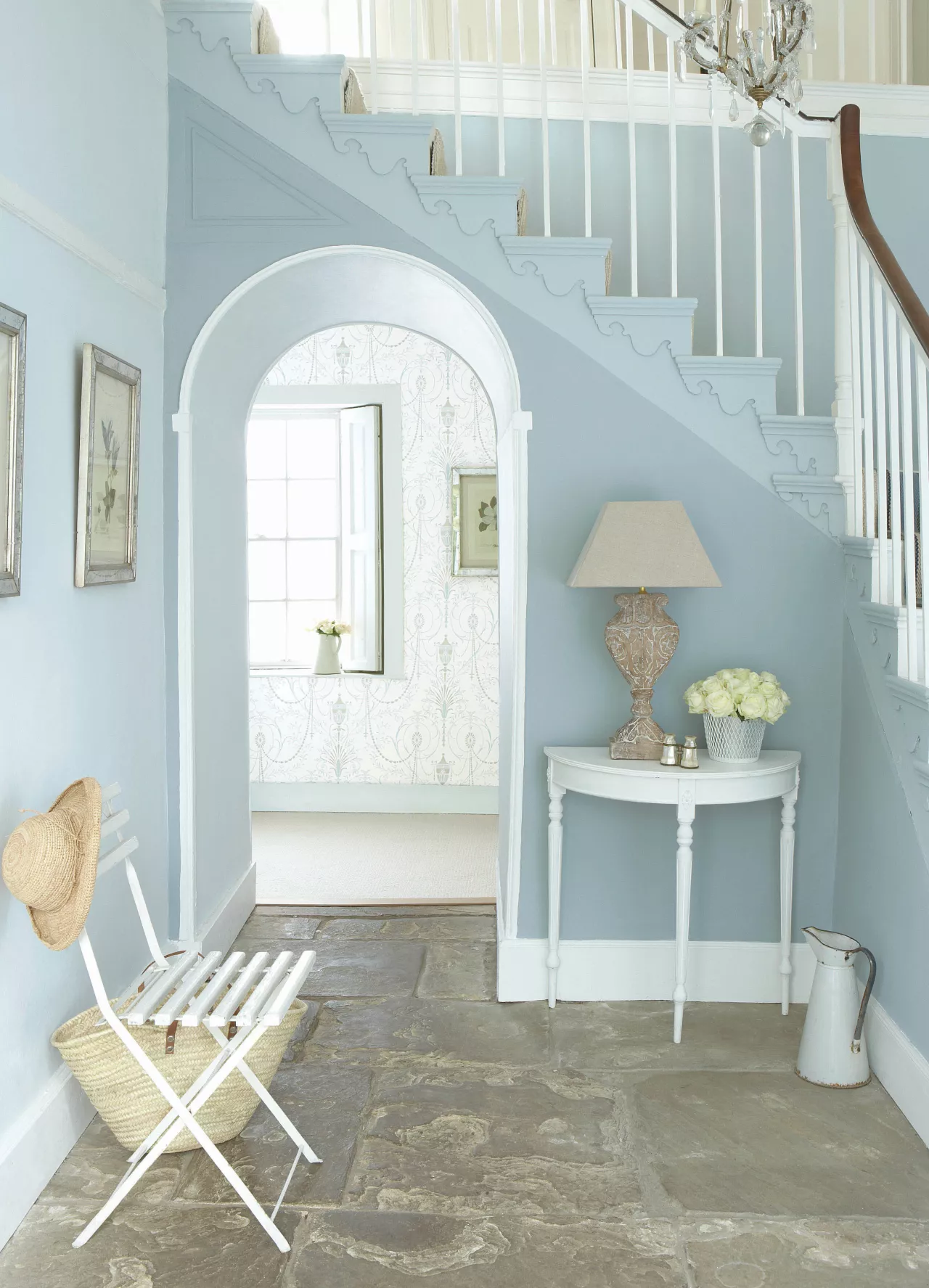 PHOTO: LITTLE GREEN
7. Dark Green
Dark green is great for creating moody, elegant, and lively spaces. Hallways are not created equally. Some benefits from a dark and moody color scheme. To create a mysterious and dynamic atmosphere in your hallway, consider a dark green wall.
PHOTO: BILL INGRAM
8. Bright Yellow
Yellow is a cheerful, fun, and summery color. Bright yellow walls will instantly brighten up even the darkest hallway. It adds warmth and visual intrigue to a space. This sun-like hue is also known to evoke strong feelings in people.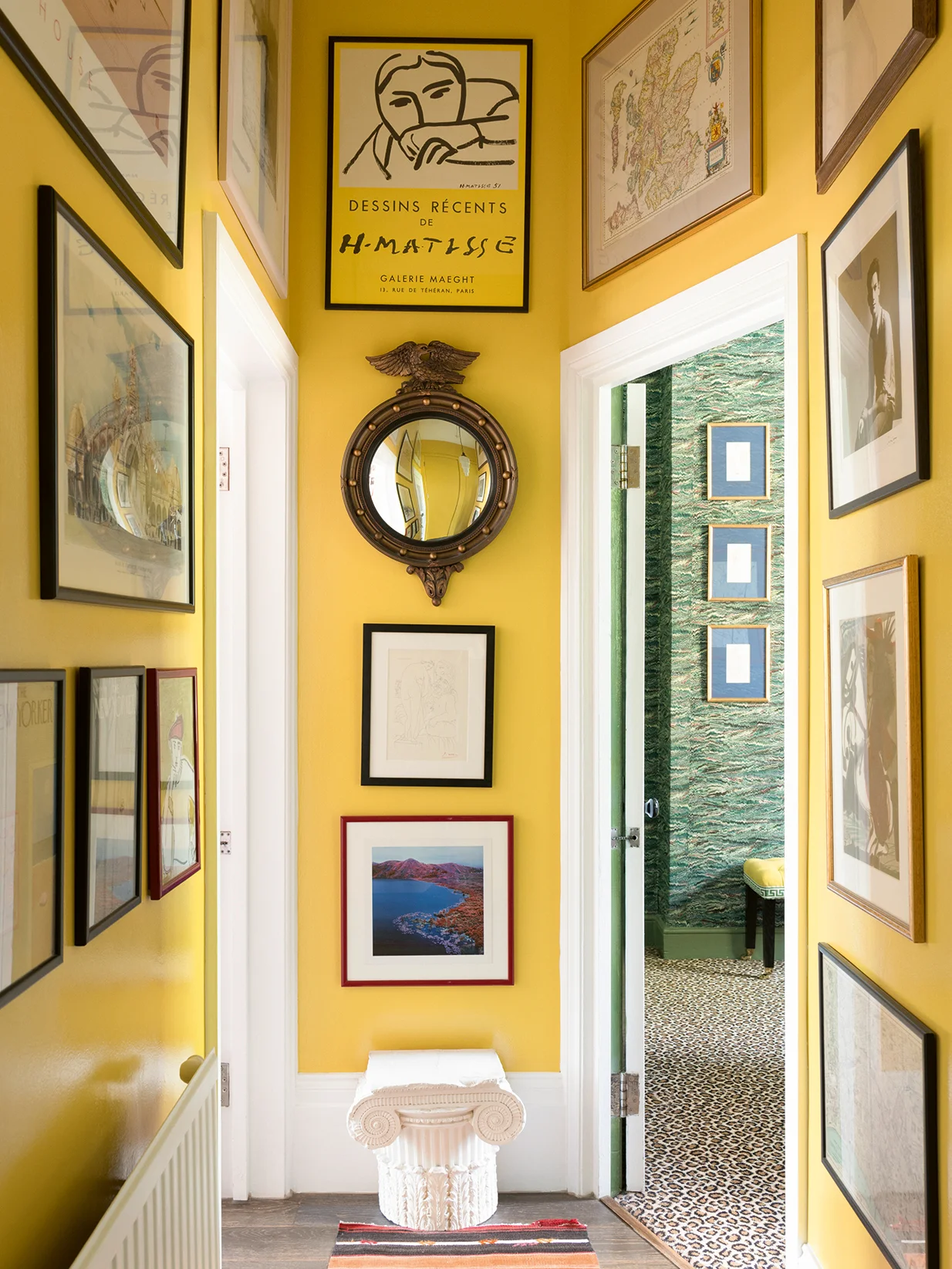 PHOTO: LUKE EDWARD
9. Sage Green
Everyone has been talking about sage green lately. It's no surprise why this hue is taken the interior world by storm. Sage green is a muted shade of green with a gray undertone. This nature-inspired color is suited for the hallway because it creates a visual sense of calm and a harmonious atmosphere.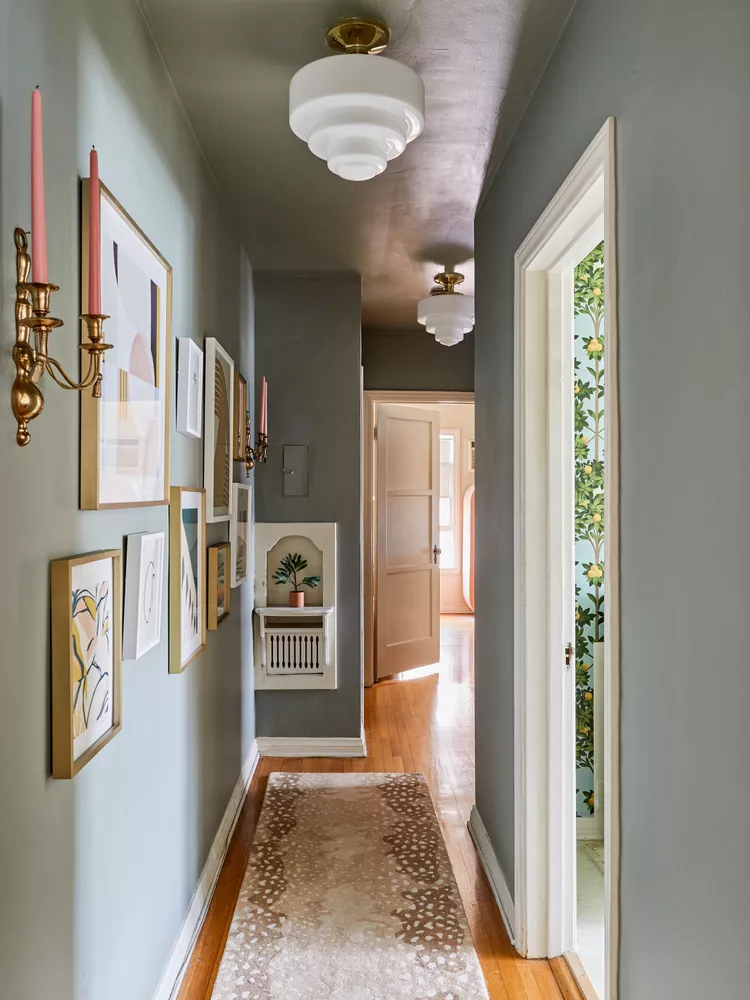 PHOTO: EMILY HENDERSON 
10. Sky Blue
Sky blue is a polished, airy, and soothing shade of blue. It is cheerful and sophisticated at the same time. It is ideal for small and poorly lit rooms like the hallway or bathroom to prevent a boxed-in feel. Sky blue is simply understated and visually intriguing!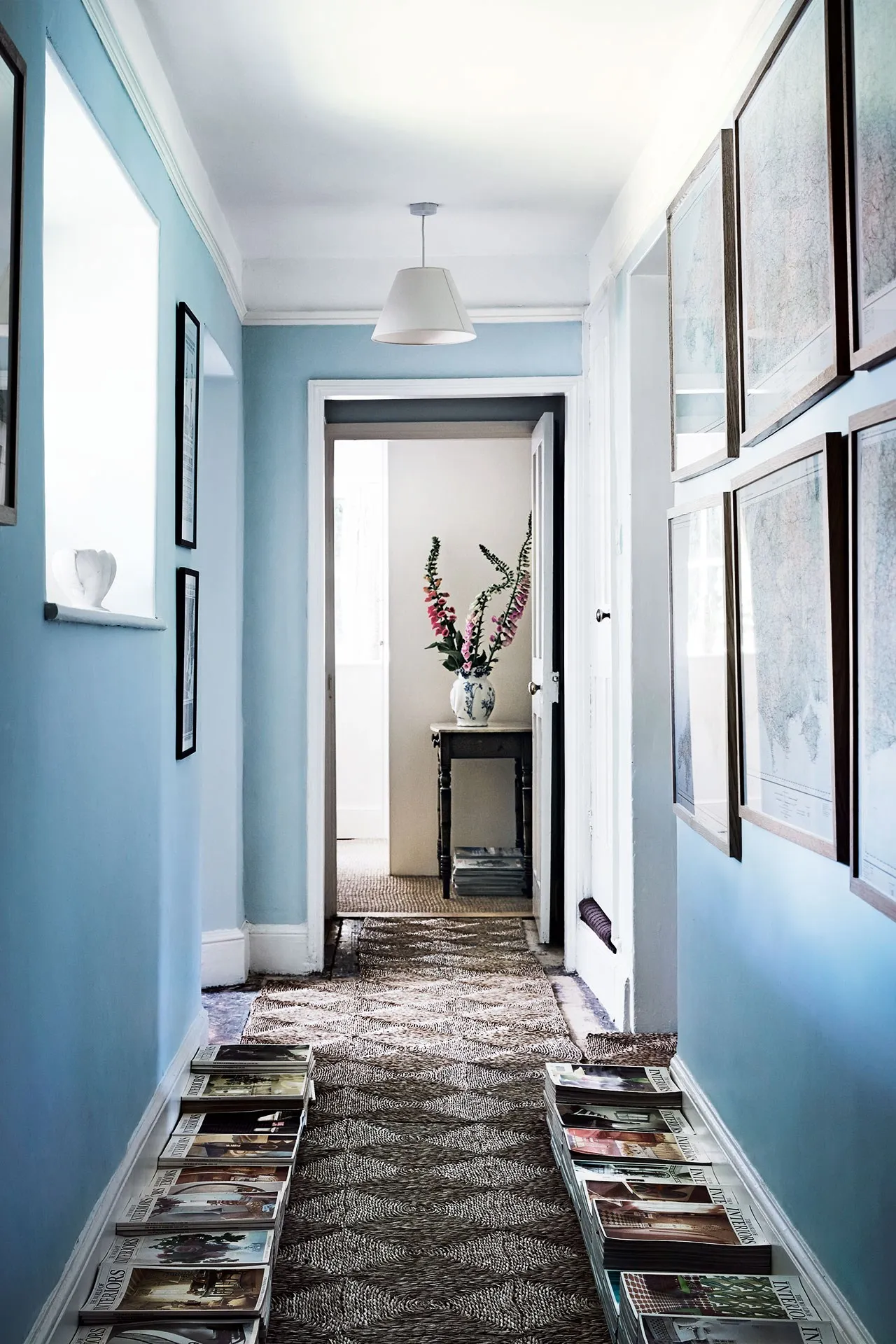 PHOTO: SHARYN CAIRNS
11. Burgundy Wine + Taupe
Burgundy is a reddish-brown shade that gives a unique accent to interior spaces. It is a great choice tone-on-tone color combination and goes well with taupe. This pair creates a timeless, elegant, and sophisticated design.
PHOTO: PAINT & PAPER LIBRARY
12. Bright Green
Bright green makes a space feel fresh and earthy. It induces tranquility and relaxation, just like being out in nature. Bright green is a versatile hue that has the ability to make your hallway feel welcoming and grounded.
PHOTO: CALIMIA HOME
13. Spanish Pink
Soft pink hues convey a sense of coziness and calm, while the vibrant shades of pink spark cheerfulness and joy. Spanish pink is a wonderfully warm color. It creates a playful, fun, vibrant and soft, and delicate aesthetic.
PHOTO: MEGAN MCKEAN
14. Tan Brown
Tan brown is a warm neutral that can be used in any interior space. It works especially well in hallways. Tan brown exudes warmth and is immediately welcoming. Plus, neutral colors like this are timeless and adaptable.
PHOTO: BENJAMIN MOORE
15. Emerald Green
Rich in tone and rooted in nature, emerald green conveys a sense of elegance and opulence. This sophisticated shade of green also has the ability to create a space that is cozy, calming, and inviting.
PHOTO: JEROME GALLAND
16. Pale Pink
Opt for a pale powdered pink to create a relaxing and cozy hallway. In case you're wondering if pink is a wall color for hall that's too feminine, this shade of pink isn't! Pale pink walls that are not too sweet will help the hallway feel light and homey.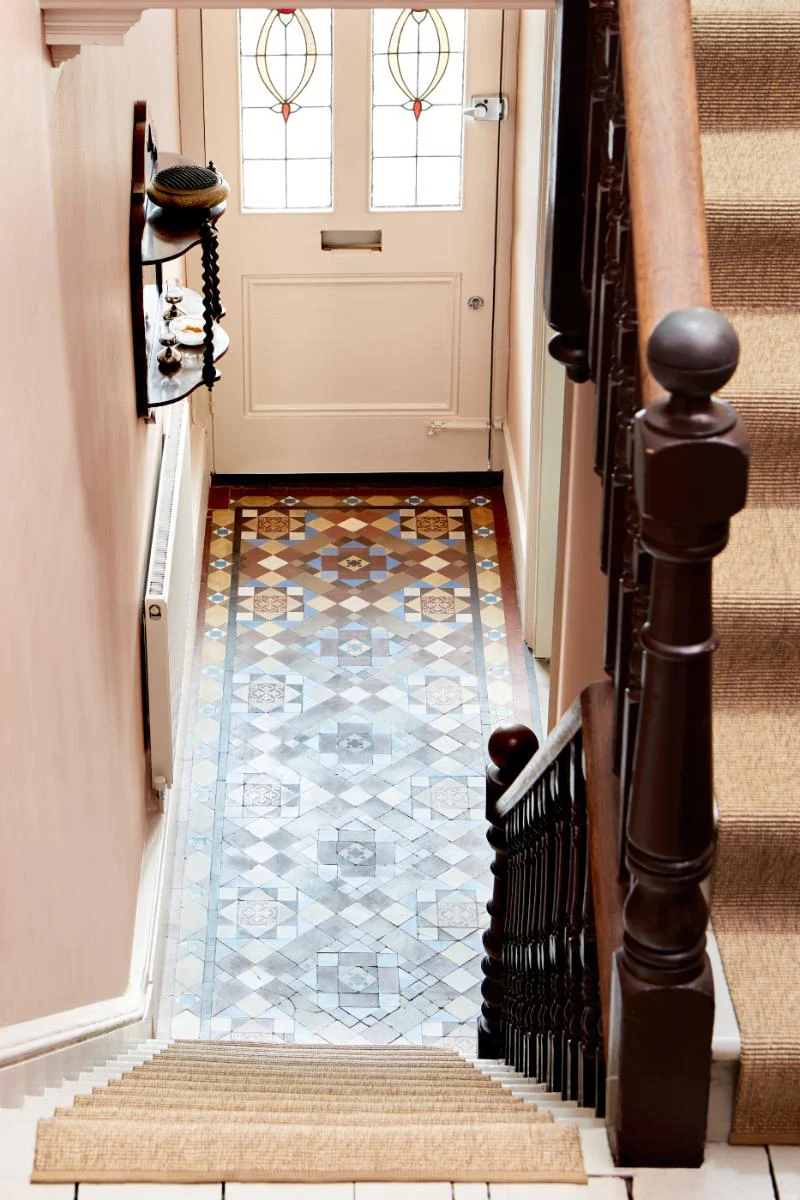 PHOTO: MYLANDS
17. Mint Green
Mint green is an incredibly fresh and timeless color that is perfect for a hallway. Mint green can be a subtle and lively hue that inspires cleanliness and exudes a welcoming sense of freshness and openness.
PHOTO: CROWN PAINTS
18. Taupe
Taupe is refreshing neutral that can elevate the aesthetics of any space. The darker shades of taupe give a sense of intimacy and coziness and the lighter shades of taupe makes a small room more open and spacious.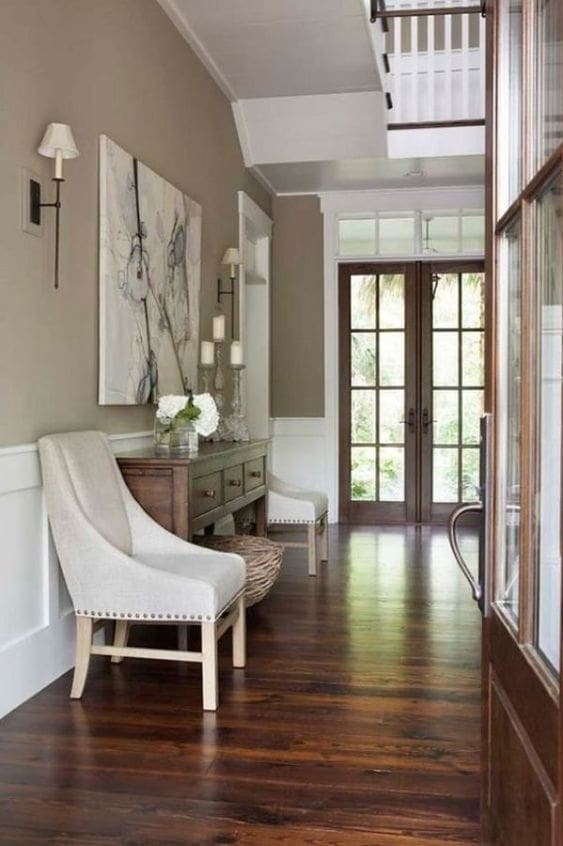 PHOTO: PINTEREST
19. Dark Blue
When used in interior design, blue is thought of as a soothing and peaceful color. Blue has a wide spectrum of shades, and depending on the tone chosen, it can significantly impact the mood of the space. Dark blue is great for a hallway as it will create a mood that is classic and chic.
PHOTO: PINTEREST
20. Olive Green
Green is an excellent color choice for a hallway, but the shade you opt for makes a big difference. Olive green is a muted, earthy, and visually appealing shade of green. It can give an organic and natural flair to an entryway. Olive green works great for any room in the home.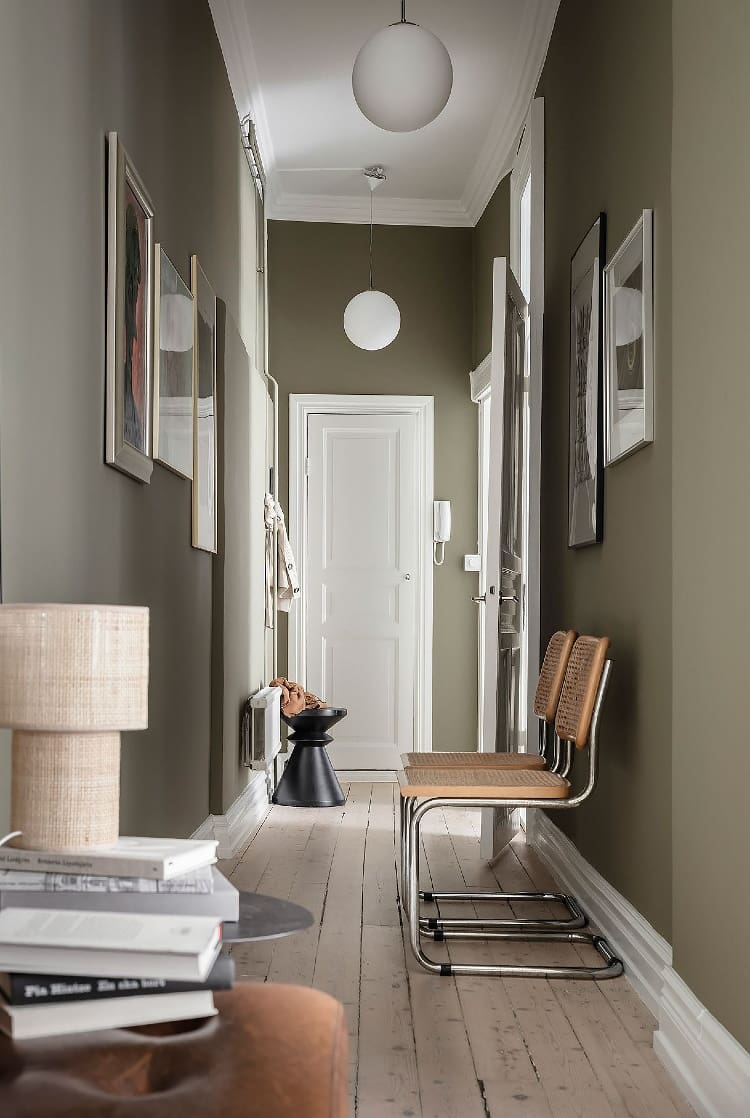 PHOTO: ALVHEM
21. Light Grey
It's no surprise that why grey is the go-to neutral for designers and homeowners. Due to its versatility and the wide range of shades that are available, grey is one of the most popular color choices in interior design.
PHOTO: CARPETRIGHT
22. Navy Blue
Navy blue never goes out of style. Navy wall paint shades are popular among interior designers because they instantly add style and sophistication to interior spaces. This elegant shade of blue adds calmness and a modern feel to a hall.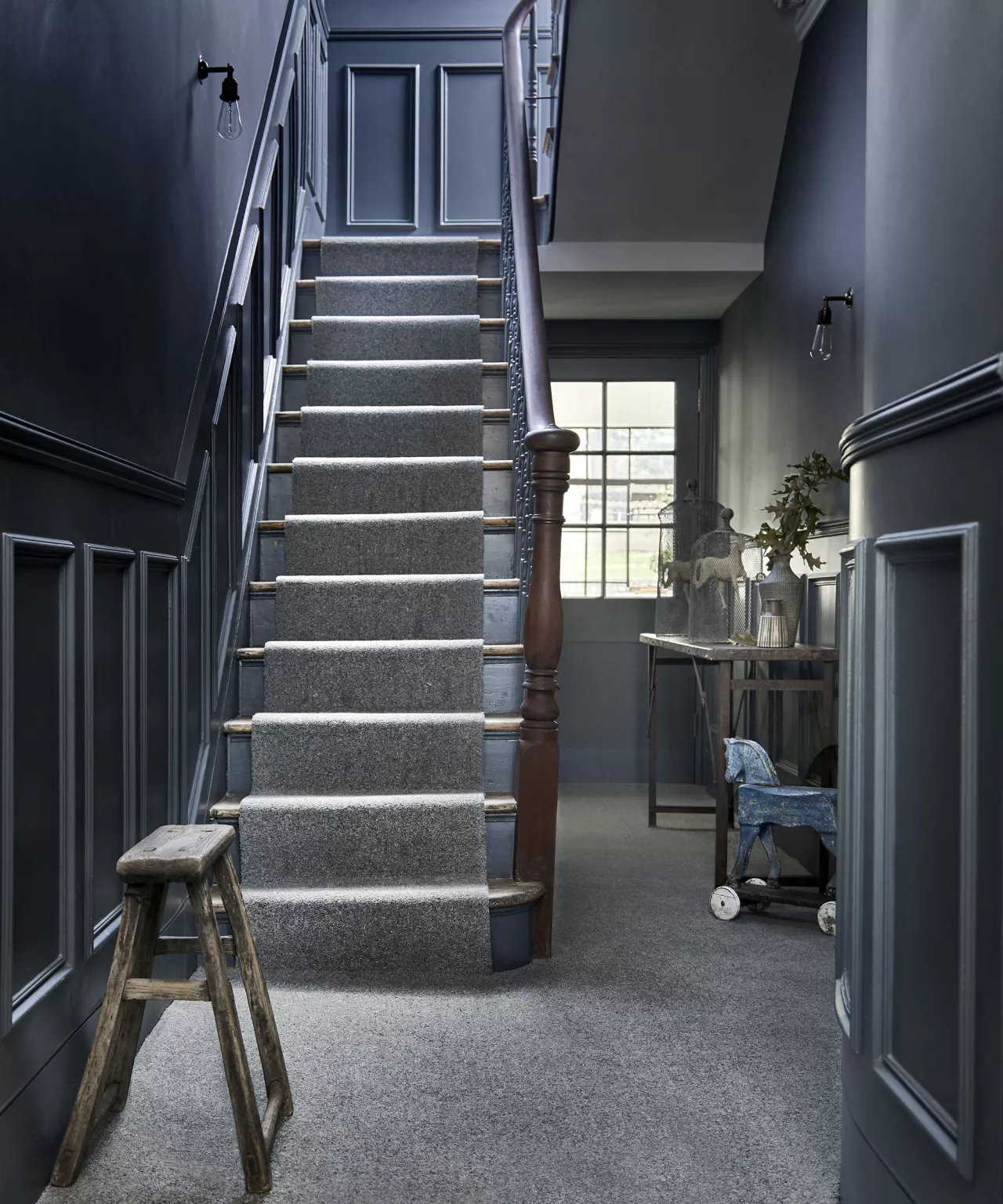 PHOTO: CARPETRIGHT
23. Red + White
Red is a daring and intense color that can evoke character in space. When paired it white, it creates the perfect balance so the space doesn't feel overwhelming. Due to its high vibrancy, red is commonly used as an accent wall color rather than a base color.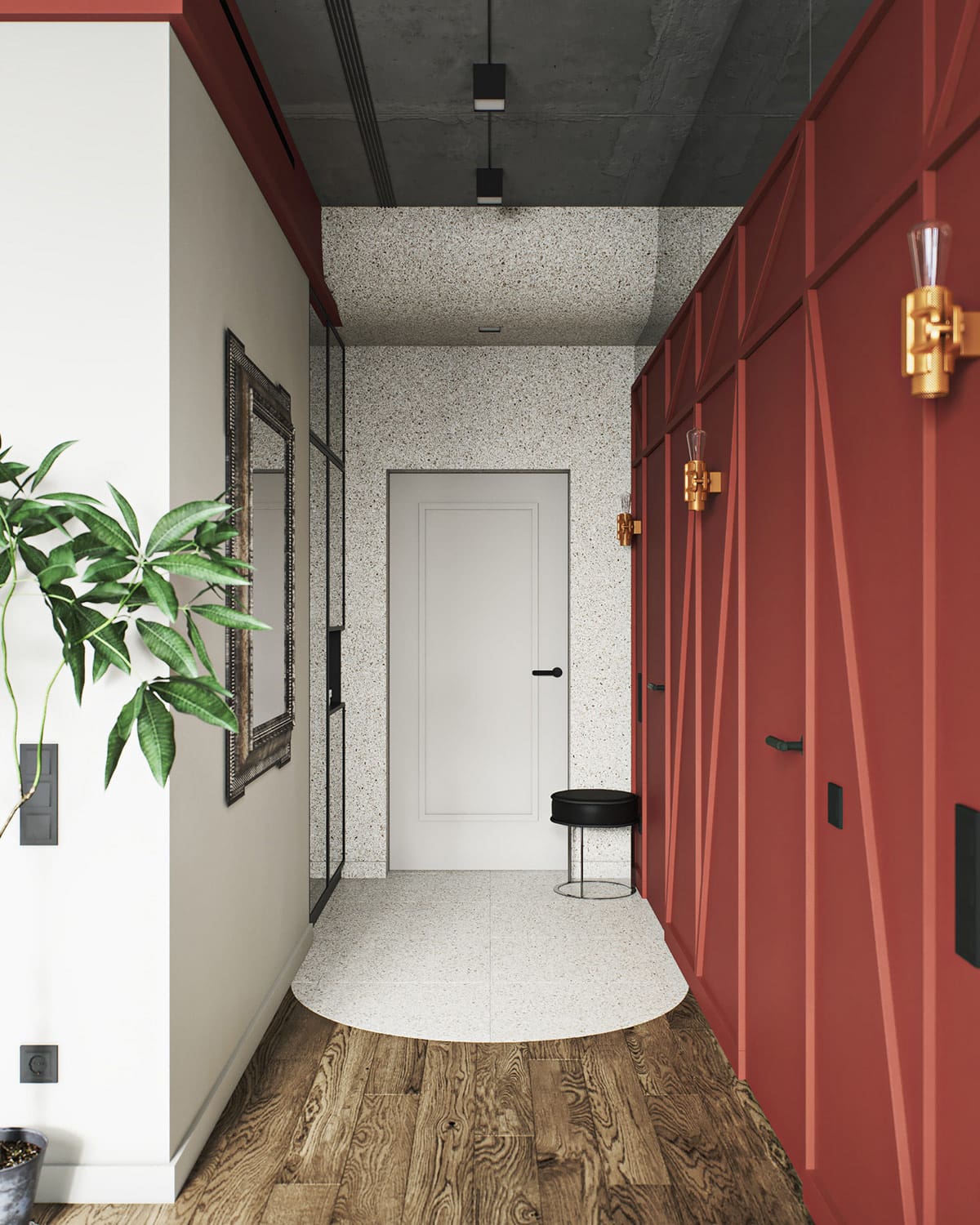 PHOTO: PINTEREST
 24. Purple + Lilac
Lilac is a pale, soft shade of purple with a pinkish tinge, so naturally, it goes well with purple to create a monochromatic color scheme. This color combination can have a soothing effect on interior spaces.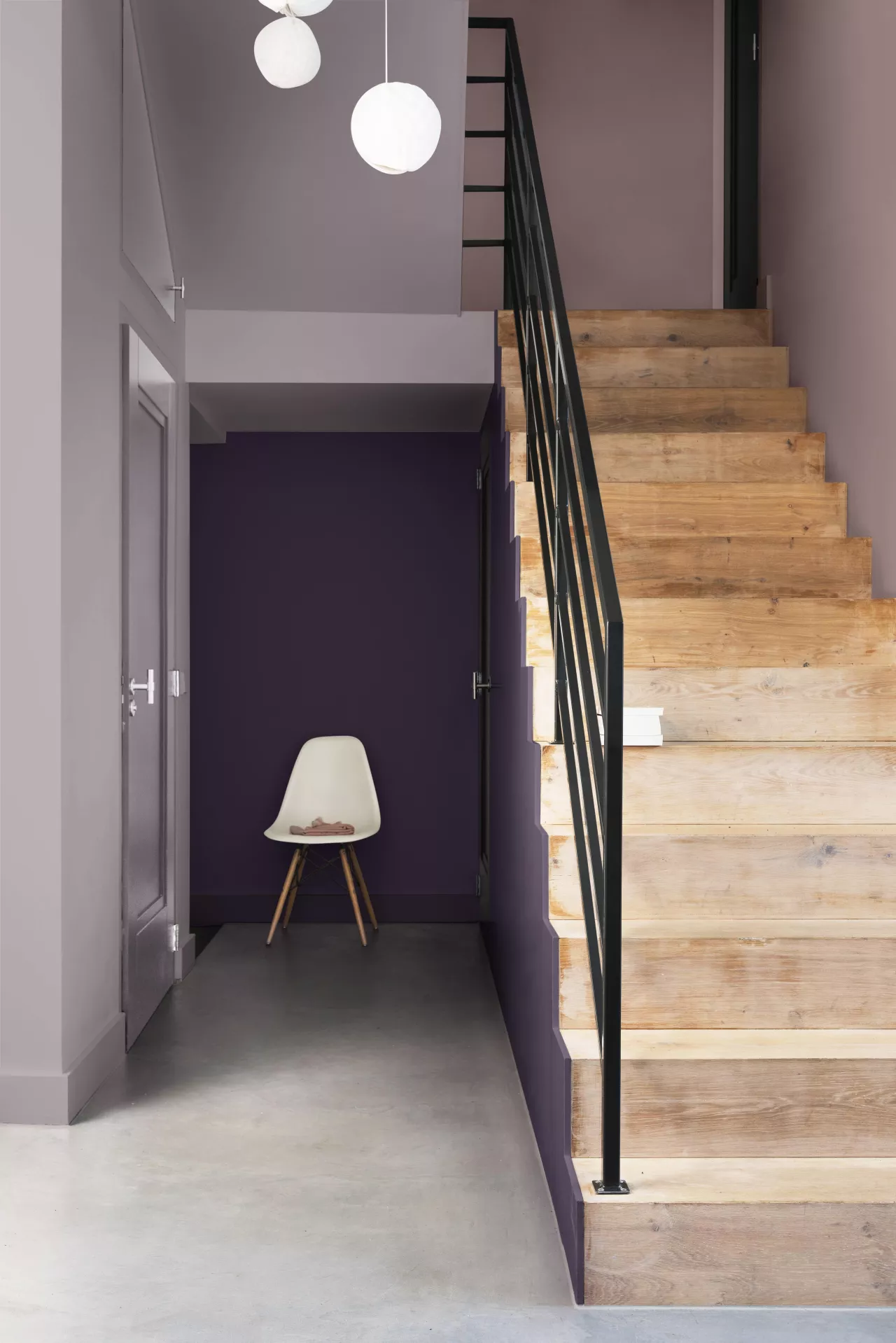 PHOTO: DULUX
25. Charcoal Black
Charcoal black is considered a neutral shade but many may find it too boring. While it can add mood, impact, and drama to space, it also absorbs light which can make a small feel smaller. This is why it's not the most popular wall color for hall.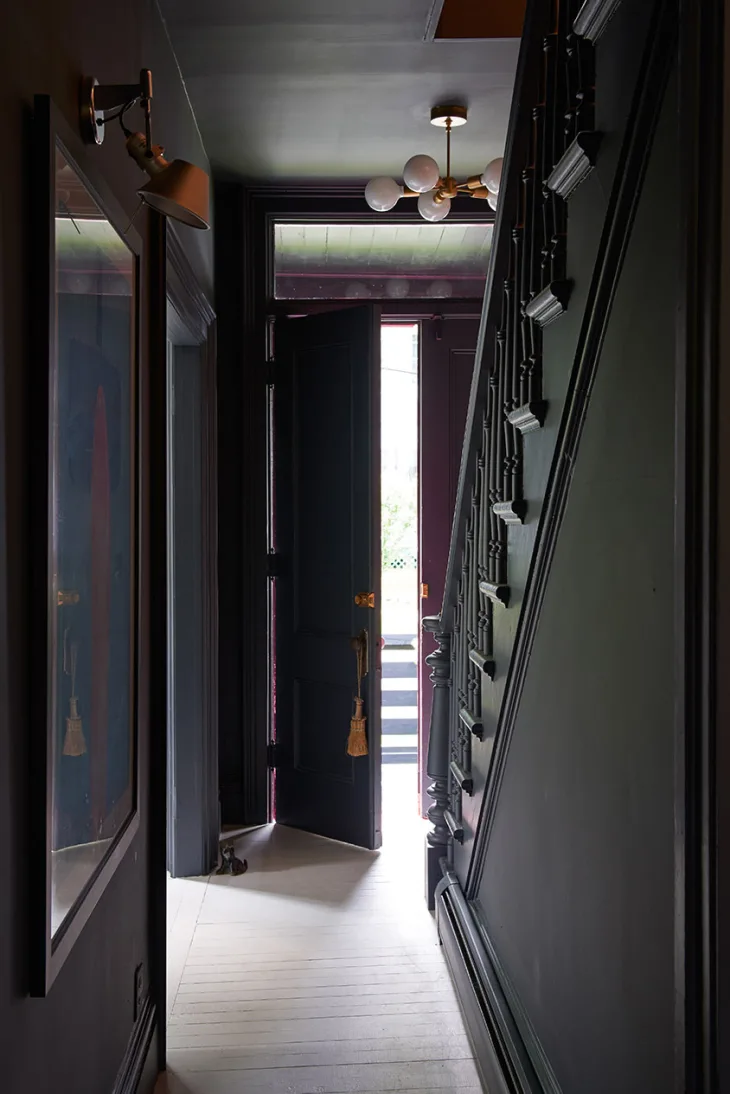 PHOTO: LONNY
26. Aqua Blue
There are a few calming color choices in interior design that are always in vogue. The paint colors of the aqua blue family look stunning when combined with white. These colors seem relaxing, inviting, and incredibly welcoming in the hallway.
PHOTO: MICHELLE BITTER DESIGNS
27. Rosy Tan
The color Rose Tan is pinky-peach. The warm tan undertones give an interior wall depth and sophistication. This dusty hue of pink, which resembles a powdery blush, can subtly and naturally enhance any room.
28. Coral + Turquoise Blue
Coral is a bright and vibrant color that looks especially beautiful when paired with turquoise blue and white. This color combination is timeless, and striking, and can make a big statement in a space.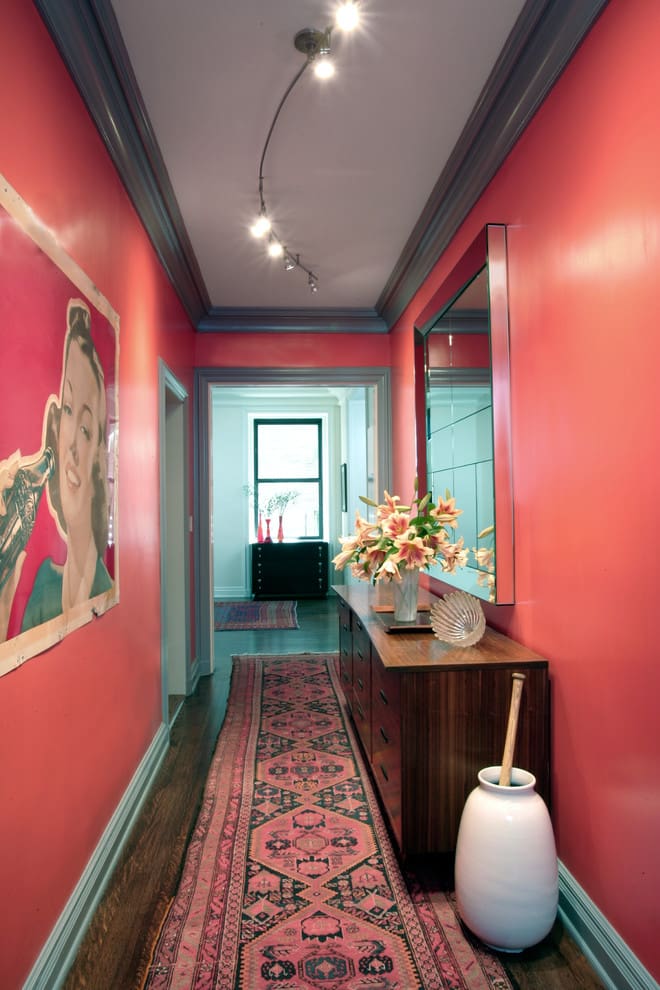 PHOTO: HOUZZ