17 Garage Man Cave Ideas that Will Definitely Surprise You
Although homeowners like garages and bars, they look to combine both livable spaces. People are seeking new garage man cave ideas to remodel this home's interior setting. Garage man cave ideas, however, are not exclusive to men; women can also create their garage cave. These are garage woman caves.
The reason for converting a garage into a space for working out or playing video games is precisely the lack of space for a real garage in the home. Garage man caves are commonly constructed in basements.
We hope these garage man cave ideas help maximize the design and functionality of these spaces.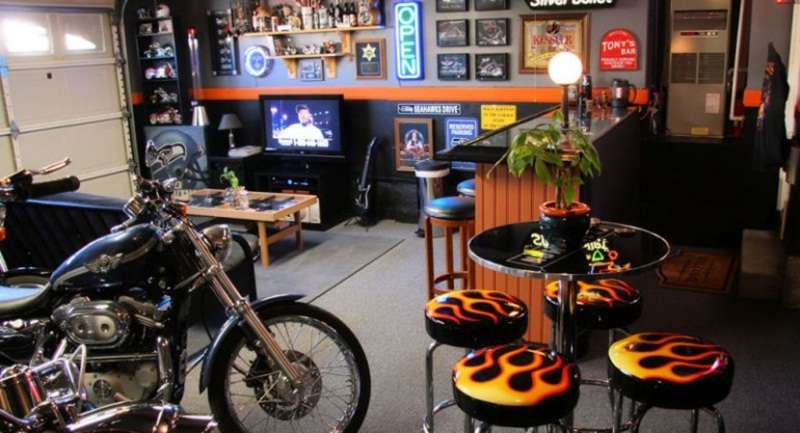 1. Movie Theater
You can turn a garage into a movie theater, for sure. You just need to add some reclining chairs, armchairs, couches, and a massive TV or a projector. Equip the room with the necessary items for this to style your movie theater. This is one of the most recommended garage man cave ideas.
2. Man Cave Golf Simulators
If you have enough money, make a golf simulator from your garage. You just require a golf simulator. This garage man cave idea is good for those who like golf and do not have time to go to the links. Remember, you won't have enough space to practice your swing like in the park. A simulator is just intended for virtual practices.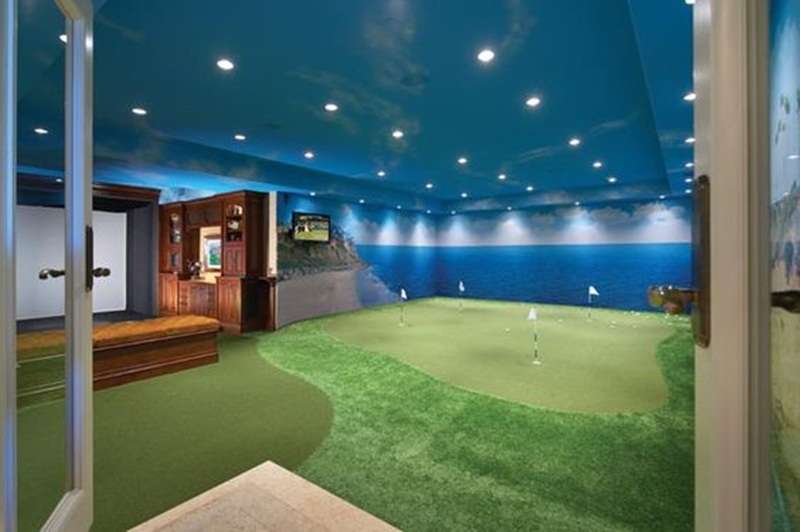 3. Electric Fireplace
A fireplace costs a lot of money, especially if it is built from scratch. Today, the installation of an electric fireplace is deemed one of the best garage man cave ideas. One reason is that it is easy and secondly, you don't need the expertise to install it. Plus, electric fireplaces require little maintenance.
4. Beer Tap
As we explained, it is possible to build a bar inside a garage man cave, but a bar without a beer tap is not a bar. Installing a beer tap is simple. Be creative and put it in a place that embellishes the garage man cave design and people can drink.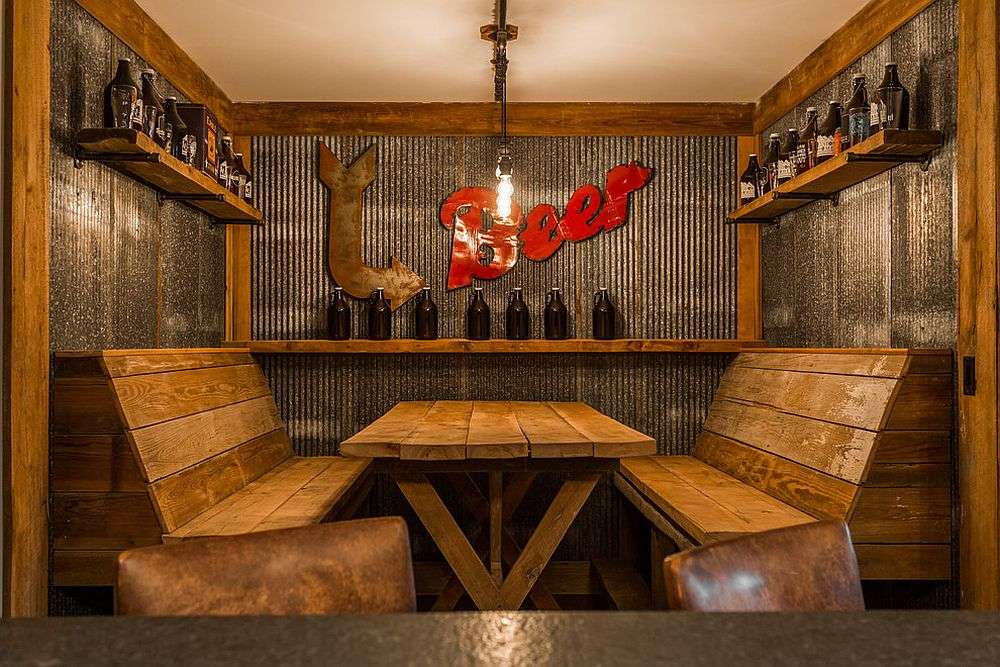 Image courtesy of G&G Custom Homes
5. Wine Dispenser
We talked about a beer tap, and now we'll be moving toward the wine dispenser, which fulfills almost the same purpose as the beer tap. It is one of the best garage man cave ideas for creating a minibar. Don't worry, the wine will not spoil.
6. Wine Wall
Another option you can consider is a wine wall, which will transform the man cave and provide quality wine at the same time. It is an alternative to wine dispensers.
7. Custom Neon Sign
You are probably familiar with neon signs. You can incorporate some of them into your garage man cave, but they should be custom neon signs. It should be a sign that describes your personality and gives the vibe you are looking for.
8. Murphy Bed
Although most garage man cave ideas are related to entertainment, some garage man caves have beds and chairs for unwinding. Install a Murphy bed and a TV can transform this room into a lounge or an improvised guest room. A Murphy bed gives you the option to store items and accessories.
9. Arcade Games
Many garage man cave ideas provide an antique touch. A vintage console or a Nintendo or Super Nintendo console can create a gaming desk. Add arcade games and a wine dispenser to kick it up a notch!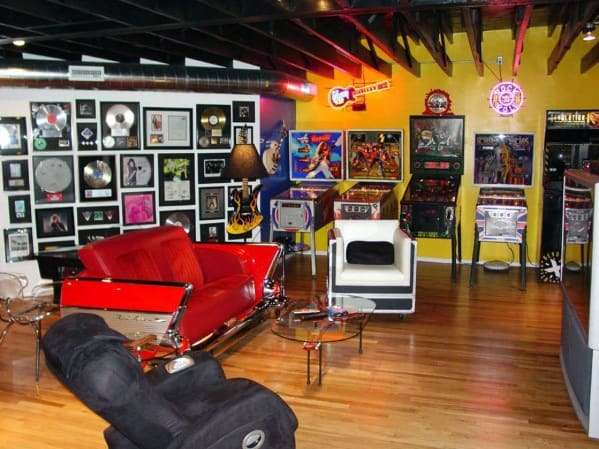 Image Courtesy of Homedit
10. Poker Night
One of the garage man cave ideas people like the most is the poker table. A garage man cave that has a Super Nintendo, a beer tap, a Murphy bed, and a poker table would be great and won't take up too much space. A great place to have a poker night!
11. Workstation
A workstation can fit into a garage man cave. Do you do woodworking? Why not try with a workstation? This is one of the best garage man cave ideas for working carpentry. Others make a drawing workstation from their garage. You have plenty of alternatives, indeed.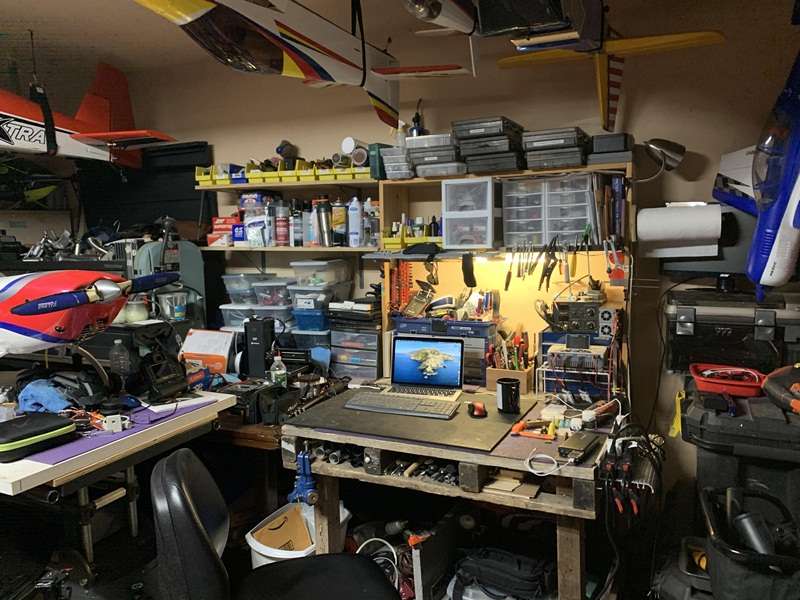 12. Sunday Sports Spot
Do you like watching sports in the afternoon? Are you fond of the afternoons of sports? A Sunday sports spot is among the garage man cave ideas. Things you may require are a plush recliner, a TV, and Roku.
Image courtesy of Decoist
13. Music Studio
A garage can double as a music studio because it's insulating. Just add soundproof panels and a stage set-up to complete your garage music studio. The sound you make won't be heard outside. It is among the most popular garage man cave ideas because of its classic and professional vibe.
Image courtesy of Decoist
14. Gamers Paradise
Replace your empty with a gamer paradise. Pick up a gaming seat, a PS4 or PS5, and a sound system, and gear up to have fun. Do not forget about the TV or the projector. Put sound speakers and woofers around the room. The garage will be always silent if you use headphones. A gamer paradise is discreet and does not let the exterior sound in.
Image courtesy of Decoist
15. Vehicle Lover Retreat
A vehicle lover retreat is likewise considered one of the coolest garage man cave ideas you've ever thought of. The only things you may need are a workbench and accessories related to cars and motorcycles. Include stools, a television, and shelving. This space can also be dedicated to motorcycles.
16. Rustic Lodge
A rustic lodge in a garage is a small country and farmhouse-like space, which displays skin rugs and mounted trophies. It has hardwood and the walls are brown or beige. Leather garage cave chairs add the rustic touch you are looking for.
17. Football Man Cave
Football is a popular sport that can be the theme of a garage man cave. In the end, who doesn't like this sport?
Decorate your garage with the shirts and polo of your favorite football team. You will also need a TV and a projector. If you don't have a TV, install a huge screen and ROKU or DirecTV to watch the games. Put chairs and reclining chairs, so your friends sit back.
Summary
There are other garage man cave ideas we didn't mention here, some of which are collector caves, private man caves, and pubs. So what are you waiting for? Let your creative flow by designing your own man cave that is perfect for relaxation as well as storing your man toys.