30+ Best Dark Green Paints
The key to finding the perfect green paint for your project is to compare a variety of shades. Check out the best dark green paint anywhere in the world here! 
A fresh coat of paint is a foolproof way to bring dull bland surfaces back to life. Are your interior and exterior walls looking tired or worn out? Or are you considering getting rid of your unsightly furniture? Instead of buying new furniture, you can repaint your existing furniture for significantly less price and only a few hours of labor.
Whether you're planning to remodel your home or design a new one from scratch, the color scheme is a crucial aspect that can make or break the overall aesthetics. Most people think of their preferred color scheme but pay little mind to the different shades they come in. The shade is just as important as color because the wrong shade can easily throw off your design vision.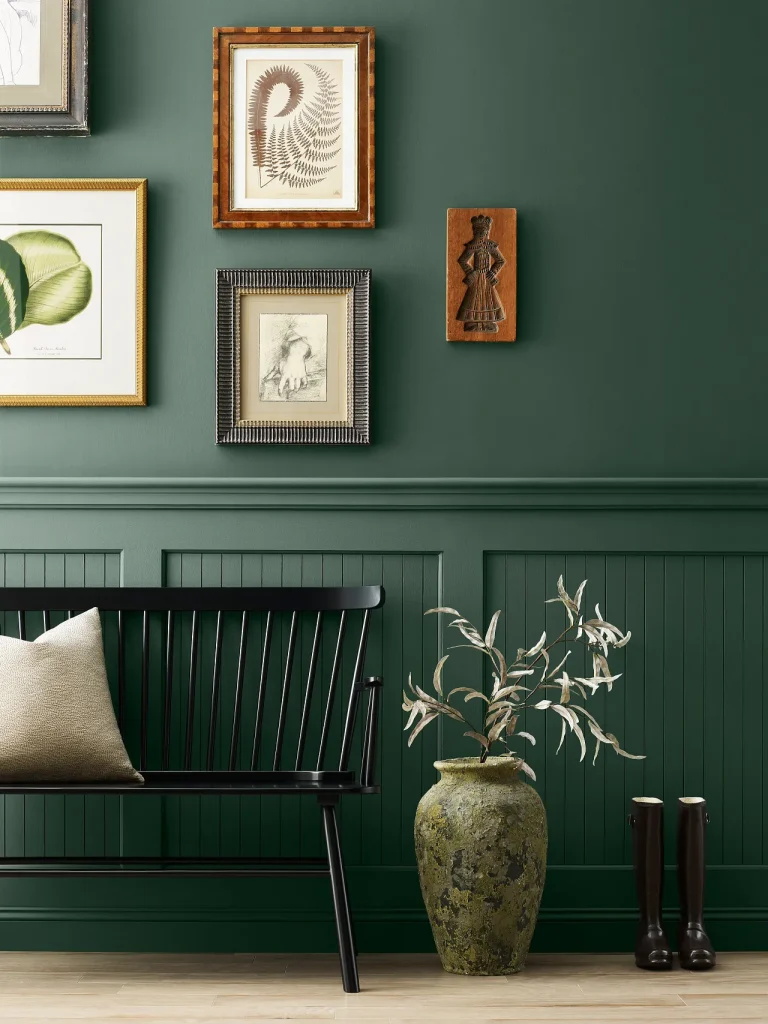 (Billiard Green SW 0016,
Courtesy Sherwin Williams
).
Green is nature's most associable hue and one of the most versatile colors on the spectrum. This crowd-pleasing color is also strongly associated with growth, renewal, life, prosperity, health, and peace.
There are a plethora of green shades to consider for a paint job. Some shades are rich and vibrant while some are dark and moody. Choosing paint colors can be nerve-wracking but don't fret. We've got you covered!
In this article, we have curated the best 30+ dark green paints so that you can compare them and choose the right one that fulfills your aesthetic predilections and preferences.
These dark green paint colors and their coordinating colors have been selected from the best paint retailers around the world, so no matter where are reside, most or some will be accessible to you. 
Pin these ideas to save for later!


1. Sherwin Williams Rookwood Dark Green (2816)
The Rookwood Green is a dark grayish chartreuse green color that can introduce new energy in a room. It is warm dark green with low vibrancy, making it perfect for the bedroom as it will aid relaxation and rejuvenation. This energizing color can also be considered an olive green. The best colors that go with Sherwin Williams's Rookwood Dark Green are Grecian Ivory and Red Barn.
2. Benjamin Moore Hunter Green (2041-10)
Hunter Green is a timeless, rich, and visually appealing shade of dark green. It can instantly lend elegance and opulence to a space. This dark green wall paint makes a striking accent wall and is suitable for any room in a home. The colors that go brilliantly with Benjamin Moore's Hunter Green are Old Praire, Simply White, and Grant Biege.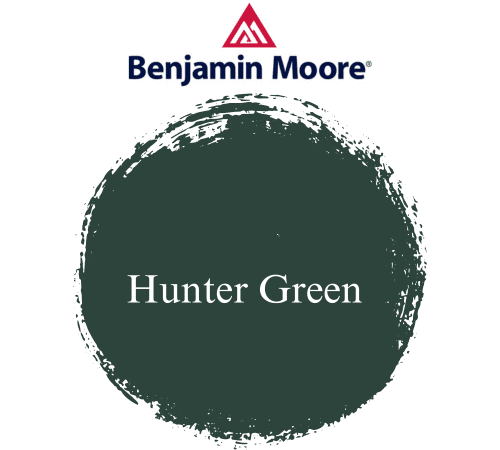 3. Sherwin Williams Rosemary (SW 6187)
The Rosemary is a contemporary take on a dark green hue. It is a deep organic green with a cool gray undertone. This dark green paint lends a soothing and relaxing ambiance to a room. The best colors to pair with Sherwin Williams's Rosemary are Ethereal White, Deep Forest Brown, and Oyster White.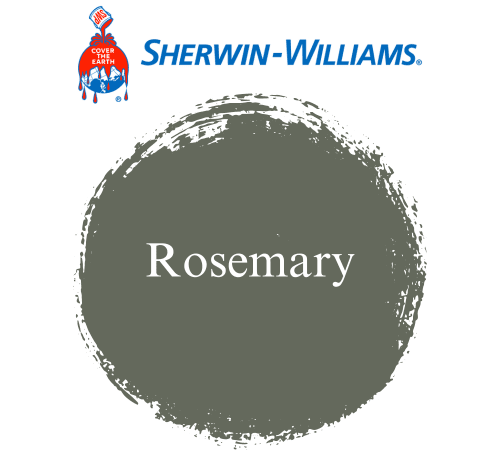 4. Benjamin Moore Forest Green (2047-10)
It's no surprise why Forest Green is overwhelmingly popular. This alluring and rich dark green with a blue undertone gives the room a grounding yet sophisticated effect. It can be considered a dark teal. This energizing color looks especially ravishing on kitchen cabinets. The best complimentary colors for Benjamin Moore's Forest Green are Chantilly Lace, Steam, Charmeuse, and Silver Half Dollar.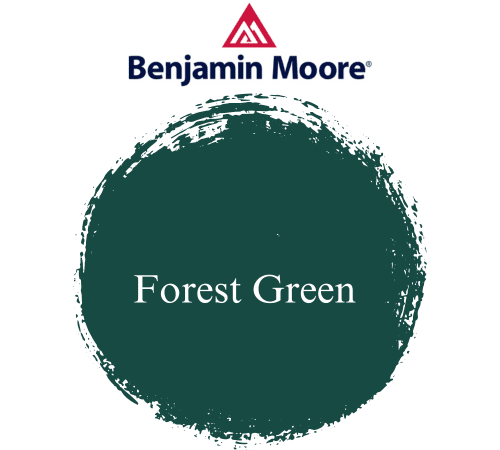 5. Little Green Dark Brunswick Green

(88)

In the Victorian era, Dark Brunswick was frequently used for railings and front doors. It is a rich and invigorating shade of green that offers a powerful grounding effect. The best colors that go with Little Greene's Dark Brunswick Green are Green Stone Pale, Aquamarine Deep, and Middle Buff.
6. Sherwin Williams Pewter Green (SW 6208)
Pewter Green is a muted grayish-dark green paint color that has grown in popularity over the last few years. This calming paint color looks like dark gray or dark sage green at first glance. It lends an organic and comforting feel to a space. The most suitable colors to pair with Sherwin Wiliams's Pewter Green are Spare White, Silvermist, and Shoji White.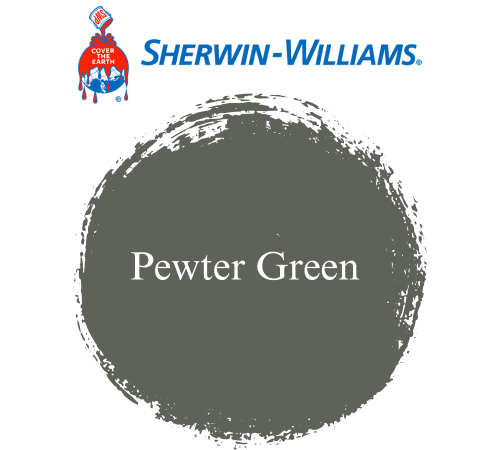 7. Farrow & Ball Beverly (No.310)
The beautiful, richly pigmented,  and uncomplicated Beverly is a dark green paint color like no other. It is a clean and refreshing mid-to-dark green color with a gray undertone. The best colors that go with Farrow & Ball's Beverly are Calke Green, Shaded White, and High School White.
8. Benjamin Moore Black Forest Green (HC-187)
Black Forest Green is one of the moodiest dark green colors one can find. This blackened shade of green is full of character and can make a big and bold statement in any space. The complementary colors for Benjamin Moore's Black Forest Green are Ashwood, November Rain, Creekside Green, and Clarksville Gray.
9. Sherwin Williams Shade-Grown (6188)
Shade-Grown is a muddy gray-green color that infuses a sense of nature and tranquility into a space. This dark green paint can give a classic aesthetic without being overwhelming. The colors that go best with Sherwin Williams's Shade-Grown are
10. Behr Royal Orchid (PPU11-01)
The enchanting Royal Orchid is a mid-to-dark green paint color that embodies richness, tranquility, and nature. This dark green color will add an eye-catchy appeal to any room or furniture. For a dynamic contrast, pair Behr's Royal Orchid with Chocolate Therapy, Deep Merlot, and Starless Night.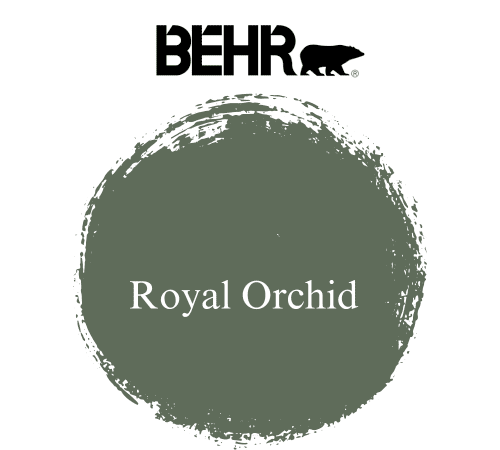 11. Sherwin Williams Isle of Pines (6461)
Isle of Pines is a rich and energetic blue-tinged green paint color. This majestic and enigmatic dark green shade can create a bold yet simple statement in a room. The best-coordinating colors for Sherwin Williams's Isle of Pines are Dapper Tan, Pure White, and Fleeting Green.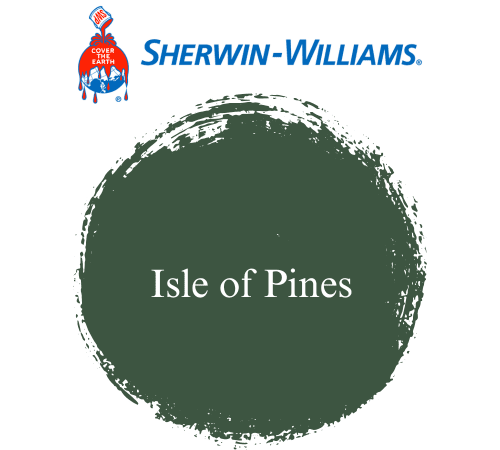 12. Little Greene

Mid Azure Green (96)

Invigorating and eye-catchy, this deep teal green paint color will make a bold statement like no other. The jewel-toned Mid-Azure Green can lend an air of sophistication and timelessness to your space. The best colors that go with Little Greene's Mid Azure are  Carmine, Royal Navy, Urban Grey, and Linen Wash.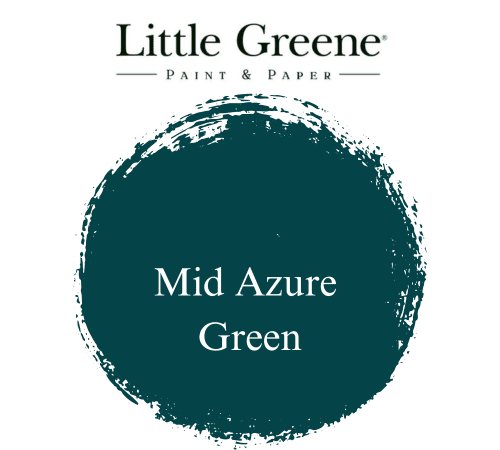 13. Farrow & Ball Studio Green (No.93)
The Studio Green appears like a dark gray or even black color, but in a well-lit room or on exterior surfaces, the hint of green will be more apparent. It is mysterious yet rejuvenating. Farrow & Balls' Studio Green pairs brilliantly with Raddichio, Card Room Green, Preference Red, and Calke Green.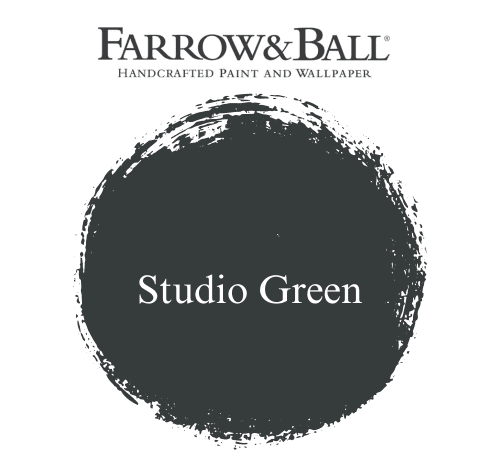 14. Sherwin Williams Billiard Green (0016)
Billard Green is a medium-dark shade of green that evokes notions of calmness and serenity. This visually appealing dark green paint color can inject a refined sense of style into any room in the home. The complementary colors for Sherwin Willams's Billiard are San Antonio Sage and Half Caff.
15. PGG Dark Green Velvet (PPG1136-7)
Dark Green Velvet is a beautiful dark emerald aqua-green with a tinge of blue undertone. This dark green paint color can help to create a space that feels tremendously soothing and relaxing. It is also an excellent choice for kitchen cabinets. The colors that go with PGG's Dark Green Velvet are Sourdough and Magic Dust.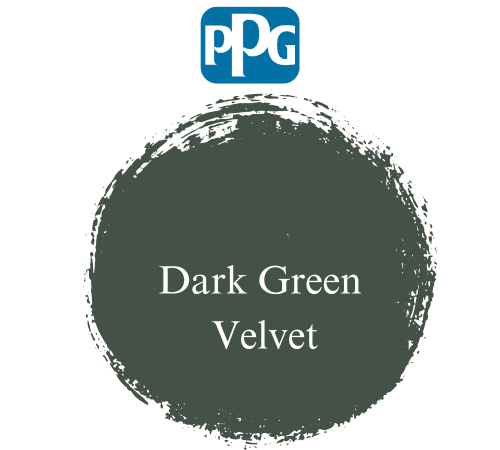 16. Benjamin Moore Absolute Green (2043-10)
Rich, invigorating, and dark, the Absolute Green is a deep teal hue that can add a major statement to your home's aesthetic. It is rich yet understated. The complementary colors for Benjamin Moore's Absolute Green are Steam, Silver Marlin, and Jute.
17. Behr Laurel Garland (N390-6)
Laurel Garden is a muddy and muted green that can introduce strength, depth, and nature to your home. The best thing about this dark green paint is that it can create a classic aesthetic without feeling too punchy. The complementary colors for Behr's Laurel Garland are Blackout, Deep Merlot, and Ink Black.
18. Valsper Canadian Fir (5004-4c)
 If you want a dark green with a streamlined or minimalist feel, the Canadian Fir may be perfect for you. This crowd-pleasing dark green wall paint can bring a sense of tranquility and warmth to a room. It is also the ideal shade of paint for kitchen cabinets. For a modern look, combine it with off-white walls. The best-coordinating colors for Valspar's Canadian Fir are Blizzard Fog, Mish Mosh, and Peacock House.
19. Benjamin Moore Marine Aqua (2052-20)
Marine Aqua is an astonishing emerald paint color with teal depth. This dark green paint color has an elegant feel about it. Its bold and vibrant appearance can help to bring spaces to life. The colors that go with Benjamin Moore's Marine Aqua are Moonlight White, White Heron, and Horizon Gray.
20. Sherwin Williams Dard Hunter Green (SW 0041)
Inspired by nature, Dard Hunter is a botanical shade of green that helps to bring the richness of the outdoors in. The best-coordinating colors for Sherwin Williams's Dard Hunter Green are Whole Wheat and Thatch Brown.
21. Benjamin Moore Essex Green (HC-188)
Inspired by America's historic landmarks, Essex Green is a very dark green that can add an instant touch of drama to space. If you're looking for a rich and characterful dark green paint color, this should be up your radar. The colors that can help to bring out the beauty of Benjamin Essex Green are Monterey White, Simply White, and Overcast.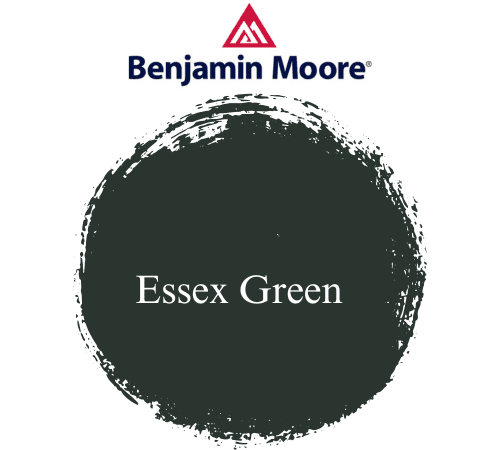 22. Valspar Wilderness (6009-5)
Wilderness is a vibrant and sophisticated dark green paint color. This energetic paint color works brilliantly when paired with stonewashed fabrics and exposed woods. The colors that work best with Valspar's Wilderness are Blizzard Fog, Kiss of Mint, and Lazy Sun.
23. Little Greene Three Farm Green (306)
The Three Farm Green was first found in the Standen House, which was designed by William Morris and Philip Webb. This deep green paint can make a bold impact on a room while giving it a refreshing feel. The colors that go with Little Greene Three Farm Green are Air Force Blue, Canton, Boxington, Green Stone, and Linen Wash.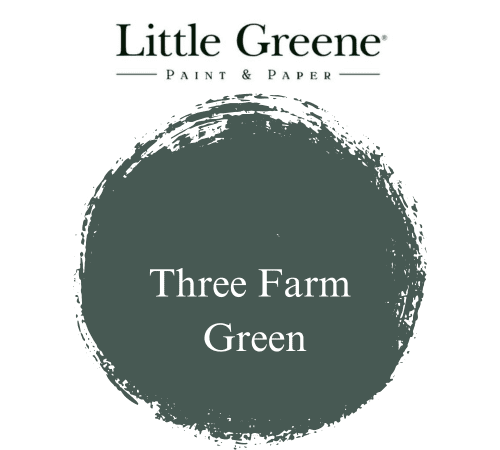 24. Benjamin Moore Sherwood Forest (2048-10)
Sherwood Forest is an enchanting deep emerald green that conveys a sense of drama, sophistication, and visual calm. It would make a visually appealing accent wall. The best-coordinating colors for Benjamin Moore's Sherwood Forest are Chantilly Lace, Decorator's White, and Gossamer Blue.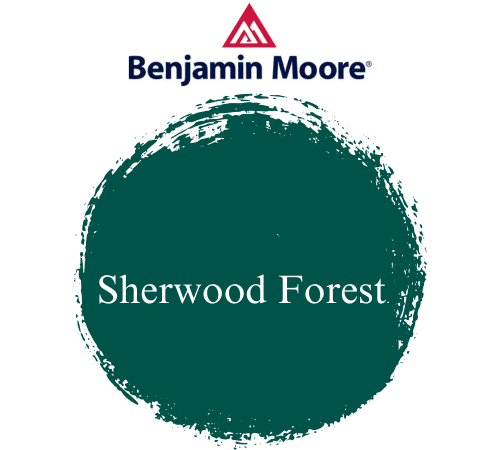 25. Sherwin Williams Ripe Olive (SW 6209)
Ripe Olive is a rich, grounded, and statement-making dark green paint with a blue-gray undertone.  This color can serve as a neutral and can help to enliven a minimalist room. The colors that go with Sherwin Williams Ripe Olive are Spare White, Oyster White, and Green Onyx.
26. Behr Vibe Leaf (N400-7)
Vine Leaf is a deep and virtually intriguing garden-inspired green paint. Despite it being vibrant and bold, it also has a soothing and calming feel to it. To make Behr's Vibe Leaf pop like never before, pair it with Baronial Brown, Medieval Wine, Ultra Pure White, and Brook Green.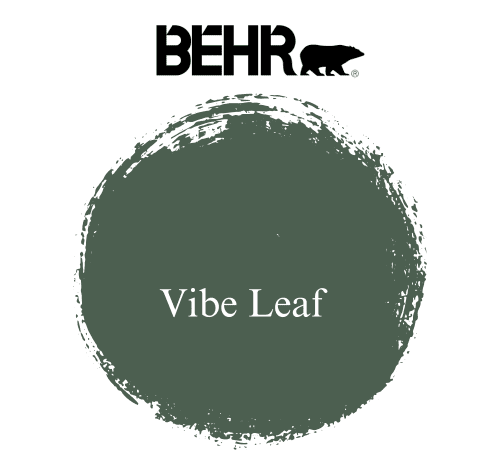 27. Dulux Highland Green
Rich and mesmerizing, Highland Green is a designer's dream. It has a distinctive beauty that is sure to grab attention. The coordinating color for Dulux's Highland Green is Cornflower White, Copper Blush, Ballerina Dance, and Dove Slate.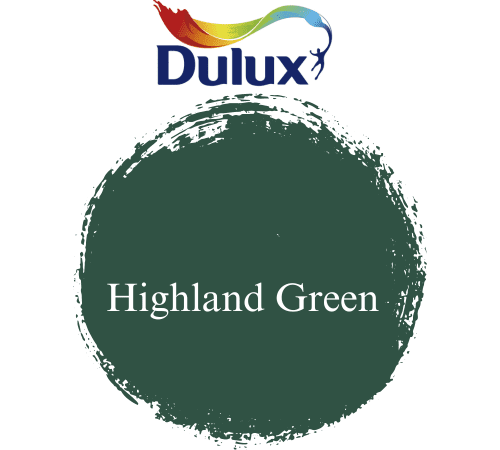 28. Benjamin Moore Narragansett Green (HC-157)
Narragansett Green is blackened teal that exudes a strong feeling of architectural relevance and history. It has prominent blue undertones which make it appear a lot bluer than green. The colors that complement Benjamin Moore's Narragansett Green are Swiss Coffe, Manchester Tan, Tranquil Blue, and Ice White.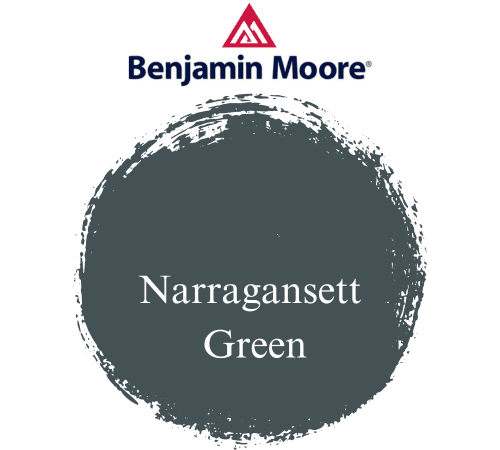 29. Sherwin Williams Courtyard (SW 6440)
Courtyard is rich and elegant dark blue paint that can revitalize and redefine your space. It can lend sophistication to your space without making it feel too punchy. The colors that go with Sherwin Williams's Courtyard are Spanish White, Origami White, and Fawn Brindle.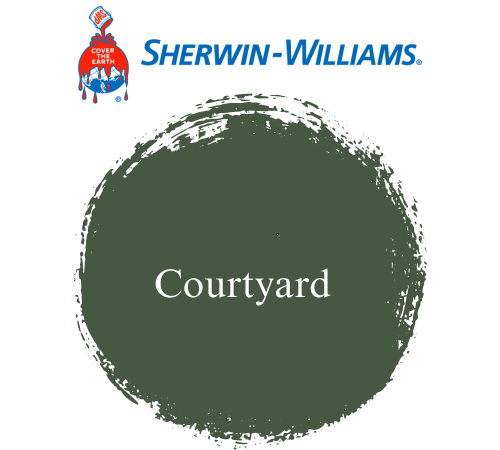 30. Behr Trailing Vine (S390-7)
Trailing Vine is a deep, rich classic green that embodies the beauty of nature, tranquility, and strength. It is such a calm and earthy color and can be used for any room in the home. The colors that complement Behr's Trailing Vine are Chocolate Therapy, Deep Merlot, and Very Navy.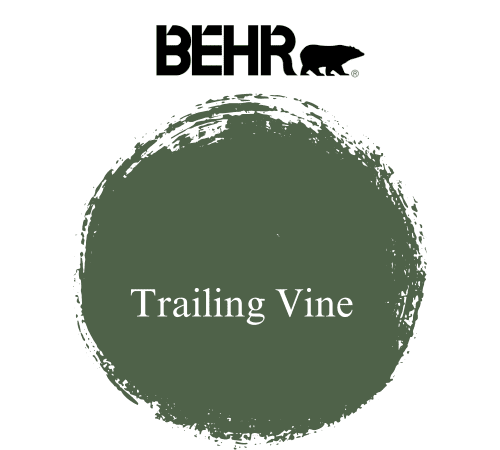 31. Sherwin Williams
Greenfield (6439

)

Greenfield is warm and mid-to-dark dill green that strikes the perfect balance between serene and stimulating. This dark green paint can give a room real zest and energy. The colors that go with Sherwin Williams's Greenfield are Spanish White, Navajo White, and Mannered Gold.
What Colors go with Dark Green
Dark green is the most versatile shade of green so it will pair brilliantly with a wide range of colours. The best colors that go with dark green are Pale Light Greens, Blush Pink, Mustard Yellow, Magenta, Navy Blue, Salmon, Chocolate Brown, Light Gray, Bold Yellow, Tan, and Beige.
The key to nailing any color scheme is to stay true to your individual design style, look for inspiration, aim for contrast, and follow the 60-30-10 rule( 60% of the room should have your main color, 30% should have your secondary,  and 10% for the accent color).