Food and humor go hand in hand. These funny food quotes will have you rolling on with floor with laughter!
If you're a lover of finger-licking good food and like to indulge every now and again, you'll find this article post really amusing and it may probably make you hungry. According to entrepreneur Malcolm Forbes, "Food is fuel to the soul" and he's not wrong!
If you're looking for funny food quotes to share on social media or with your food buddies, you're in good company. In this blog post, we've curated 150 best funny quotes that true food lovers can relate to.
FUNNY FOOD QUOTES TO MAKE YOUR LAUGH
1. "I couldn't, even if I fried. "— Unknown
2. "A party without cake is really just a meeting."— Julia Child
3. "You can't make everyone happy, you're not pizza."— Unknown
4.  I'm on a seafood diet, I see food and I eat it."— Unknown
5. "A balanced diet is a cookie in each hand."— Barbara Johnson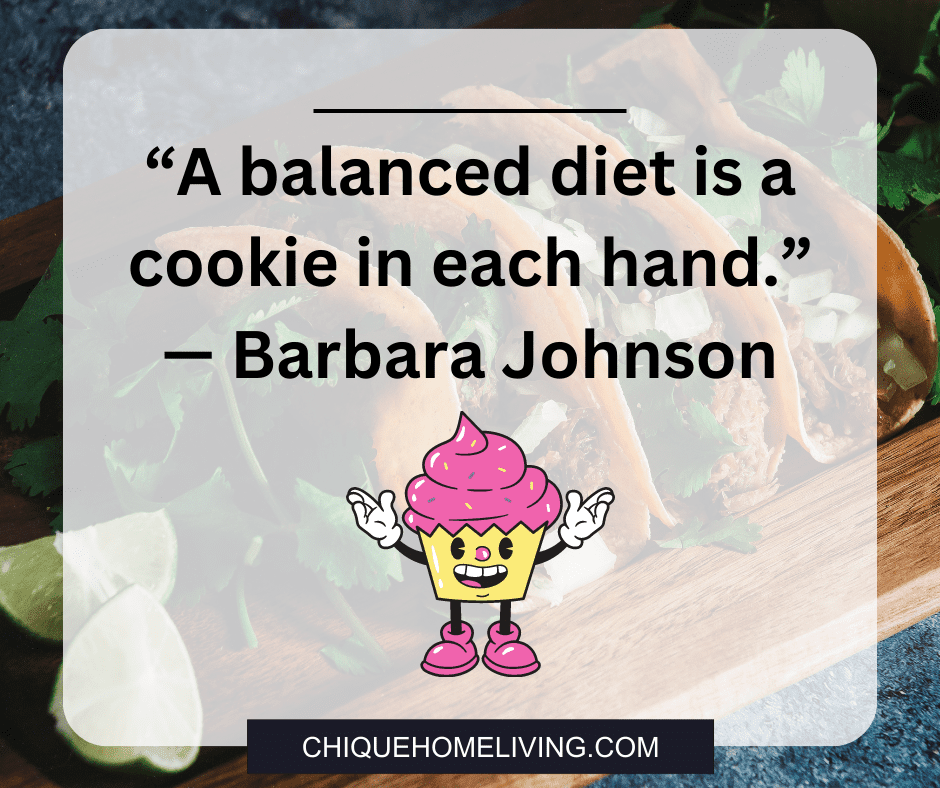 Funny Food Quotes
6. "Anyone who says that money cannot buy happiness has clearly never spent their money on pizza."― Andrew W.K.
7. Time is money, money is power, power is pizza, and pizza is knowledge, let's go!" ― Aubrey Plaza
8. "There's no "we" in ice cream." ― Unknown
9. "I cook with wine. Sometimes, I even add it to the food." ―W.C. Fields
10. "My mind says 'abs' but my heart says 'cheese fries'." ― Unknown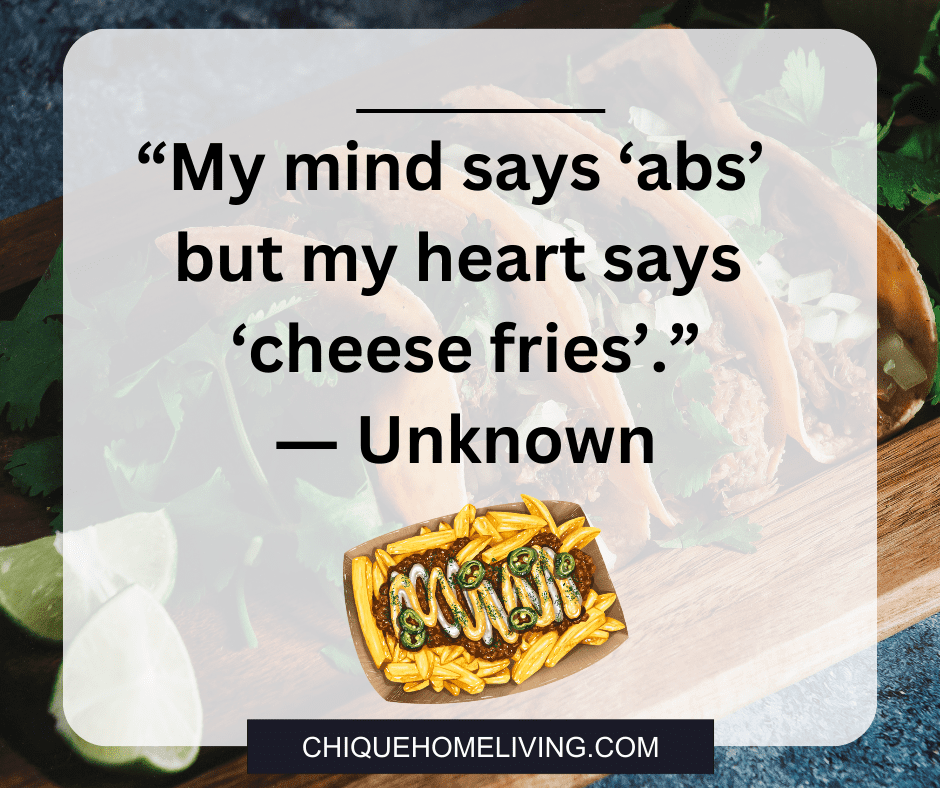 Funny Food Quotes
11. "I just don't want to look back and think I could've eaten that." ― Unknown
12. Vegetables are a must on a diet. I suggest carrot cake, zucchini bread, and pumpkin pie." ―Jim Davis
13. "I won't be impressed with technology until I can download food." ― Unknown
14. "The only thing I like better than talking about food is eating" – John Walters
15. "I just want someone to look at me the way I look at food." – Unknown
Funny Food Quotes
16. "My mom made me two dishes: take it or leave it" – Stephen Wright
17. "Life expectancy would grow by leaps and bounds if green vegetables smelled as good as bacon." –Doug Larson
18. "I'm sorry for what I said when I was hungry"– Unknown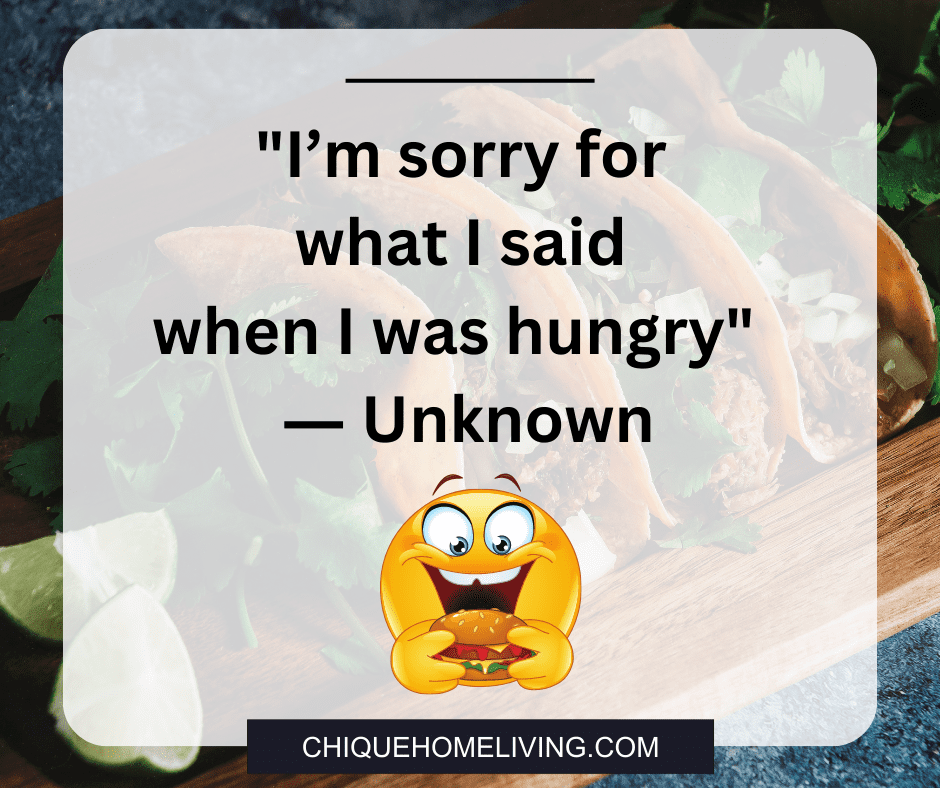 Funny Food Quotes
19. "Food is my drug of choice." –Barbara Grizzuti Harrison
20. "You don't need a silver fork to eat good food." –Paul Prudhomme
21. "How can a nation be great if its bread tastes like Kleenex? "– Julia Child
22. "I think of dieting, then I eat pizza." –Lara Stone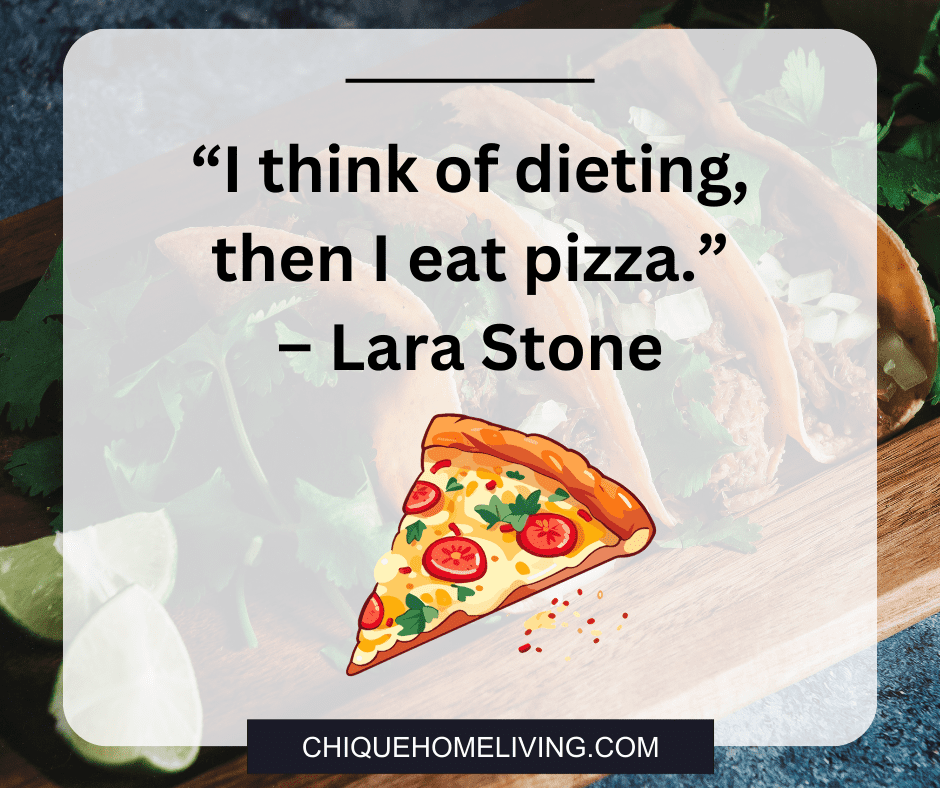 Funny Food Quotes
23. "Fries before guys… and pretty much everything else." –Unknown
24. "I followed my heart and it led me into the fridge."– Unknown
25. I eat cake because it's somebody's birthday somewhere." – Unknown
26. "When I ponder my mind I consistently find It is glued on food." –Ogden Nash
27. "He who does not mind his belly, will hardly mind anything else." –Samuel Johnson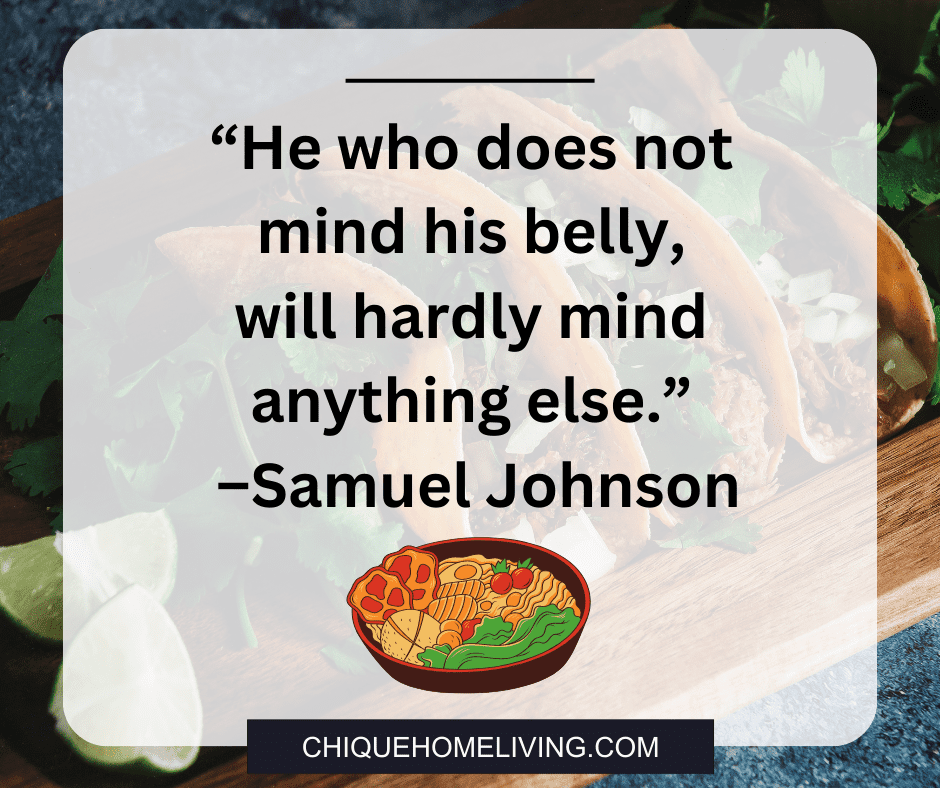 Funny Food Quotes
28. "Popcorn for breakfast! Why not? It's a grain. It's like, like, grits, but with high self-esteem." –James Patterson
29.  "I like food. I like eating. And I don't want to deprive myself of good food." – Sarah Michelle Gellar
30. "My weaknesses have always been food and men – in that order." – Dolly Parton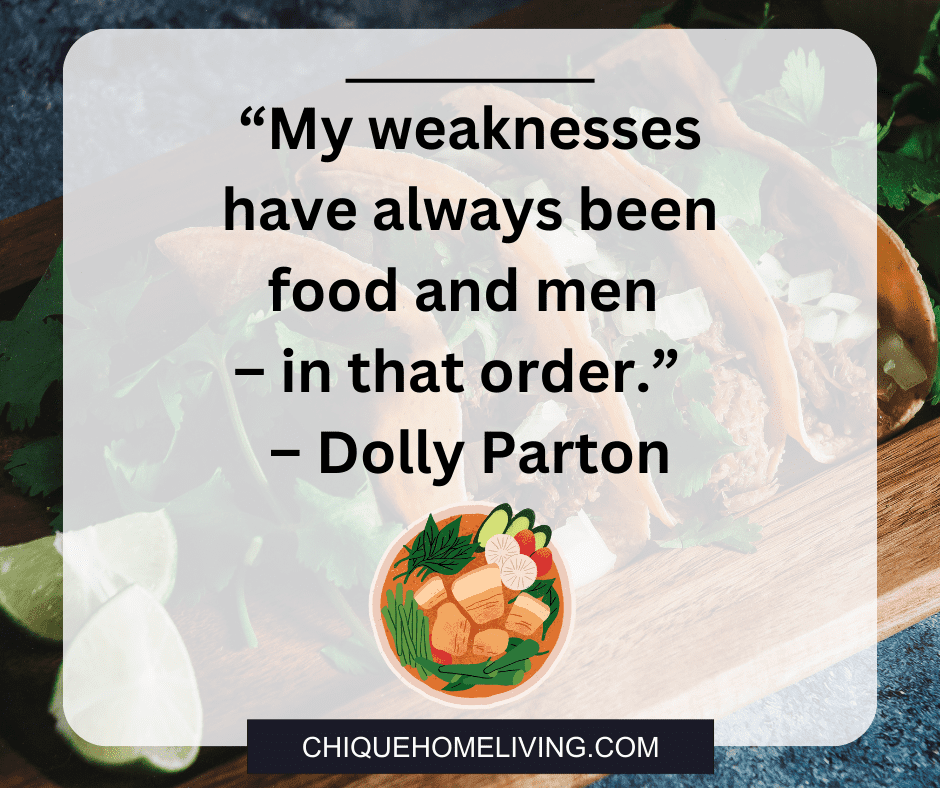 Funny Food Quotes
31. "I'm pretty sure that eating chocolate keeps wrinkles away because I have never seen a 10-year-old with a Hershey bar and crows feet." –Amy Neftzger
32. "People who love to eat are always the best people."  –Julia Child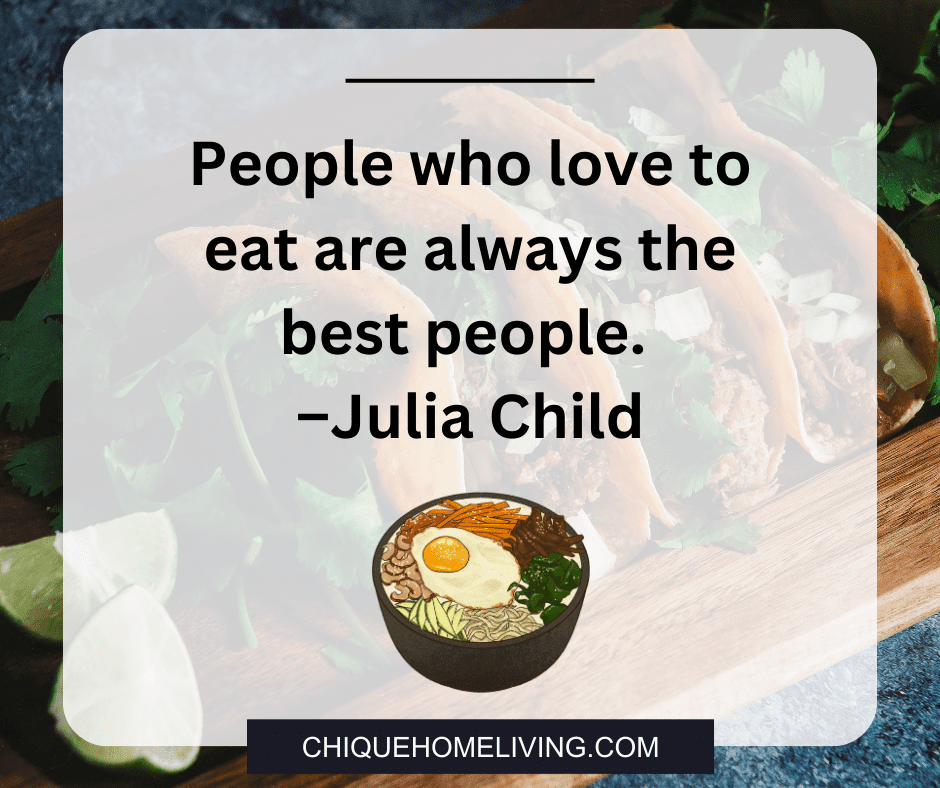 Funny Food Quotes
You may also enjoy our article on:
33. "After a good dinner, one can forgive anybody, even one's own relatives." – Oscar Wilde
34. "Sometimes the greatest meals on vacations are the ones you find when Plan A falls through." –Anthony Bourdain
35. "Skinny people are easy to kidnap, stay safe and eat cake." –Unknown
36. "I don't eat lobsters, shrimp, or crawfish because I don't eat anything that looks like I should step on it."  – George Carlin
37. Donut kill my vibe. – Unknown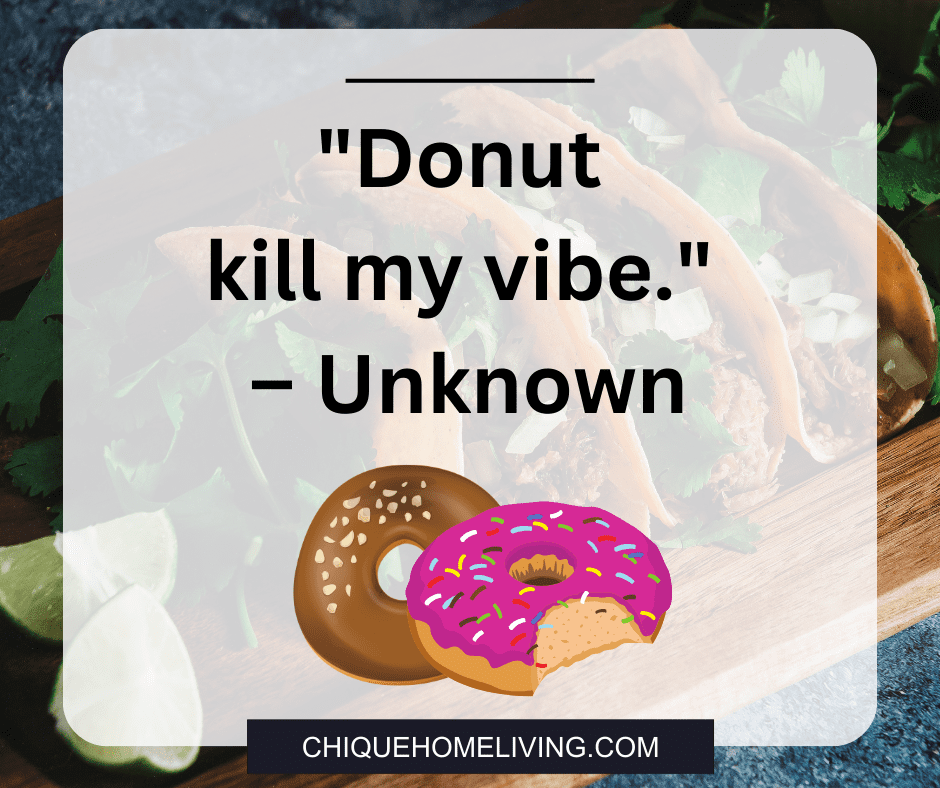 Funny Food Quotes
38. "When I ponder my mind I consistently find It is glued on food." –Ogden Nash
39. "Pull up a chair. Take a taste. Come join us. Life is so endlessly delicious." –Ruth Reichl
40.  "I only have fries for you." –Unknown
Funny Food Quotes
41. "Do not mistake my appetite for apathy." –Unknown
42.  "Eating rice cakes is like chewing on a foam coffee cup, only less filling." —Dave Barry 
43. "We eat junk because it's cheap and it lights up the pleasure centers of our brains." –Linda Tirado
44. "Keep your friends close, your enemies closer, and the junk food as far away as possible." –Krista Scott-Dixon
45. "Whoever snuck the "s" in the "fast food" was an extremely clever businessman." –Rajesh Menon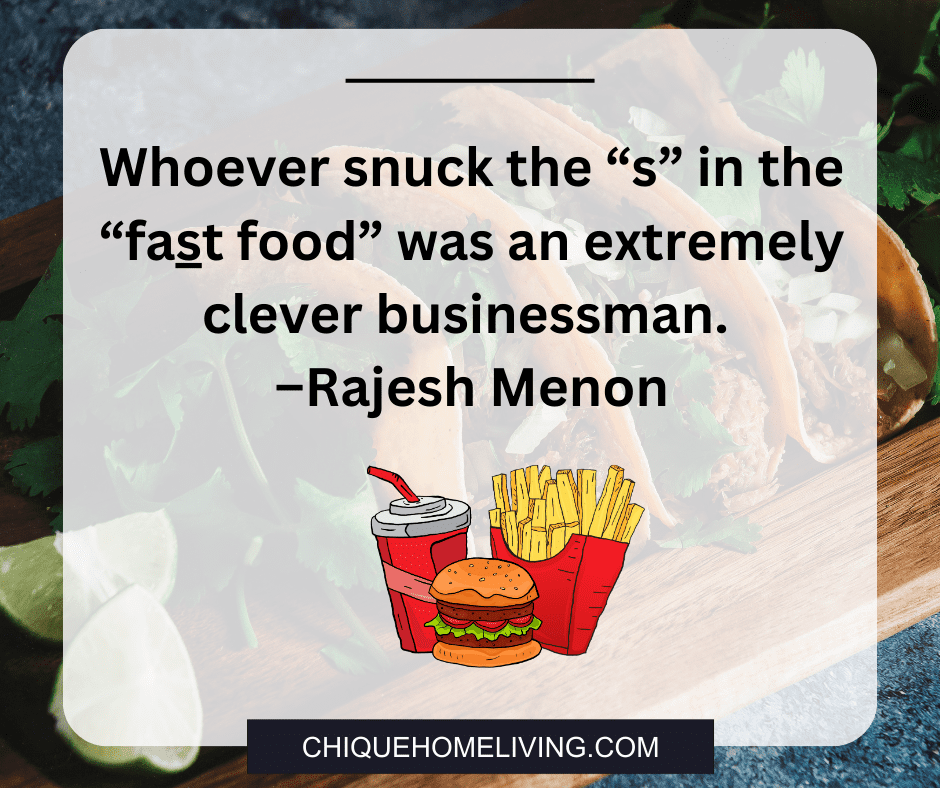 Funny Food Quotes
47. "Man is the only animal that can remain on friendly terms with the victims he intends to eat until he eats 'em." – Unknown
48. "You can't buy happiness but you can buy cupcakes, and that's kinda the same thing." – Unknown
49. "Carbs are the answer, no matter the question." – Unknown
Funny Food Quotes

50. "Part of the secret to success in life is to eat what you like and let the food fight it out inside"– Unknown

51. "You can't be sad when you're holding a cupcake."– Unknown
Funny Food Quotes
52. "If we're not willing to settle for junk living, we certainly shouldn't settle for junk food."– Sally Edwards
53. "I had a dream last nite, I was eating a ten-pound marshmallow. I woke up this morn and the pillow was gone."– Unknown
54. "I had plans to work out and have a nice body for people to look at, but then I realized I like food more than I like people." –Rajesh Menon
55. "Don't try to tell me that being hungry is not an emotion because I feel that stuff in my soul all the time." – Unknown
56. "Junk food is television for tongues."– Mokokoma Mokhonoana
57. "Not all superheroes wear capes…the pizza guy for example"– Unknown
Funny Food Quotes
58. "I like hashtags because they look like waffles." – Unknown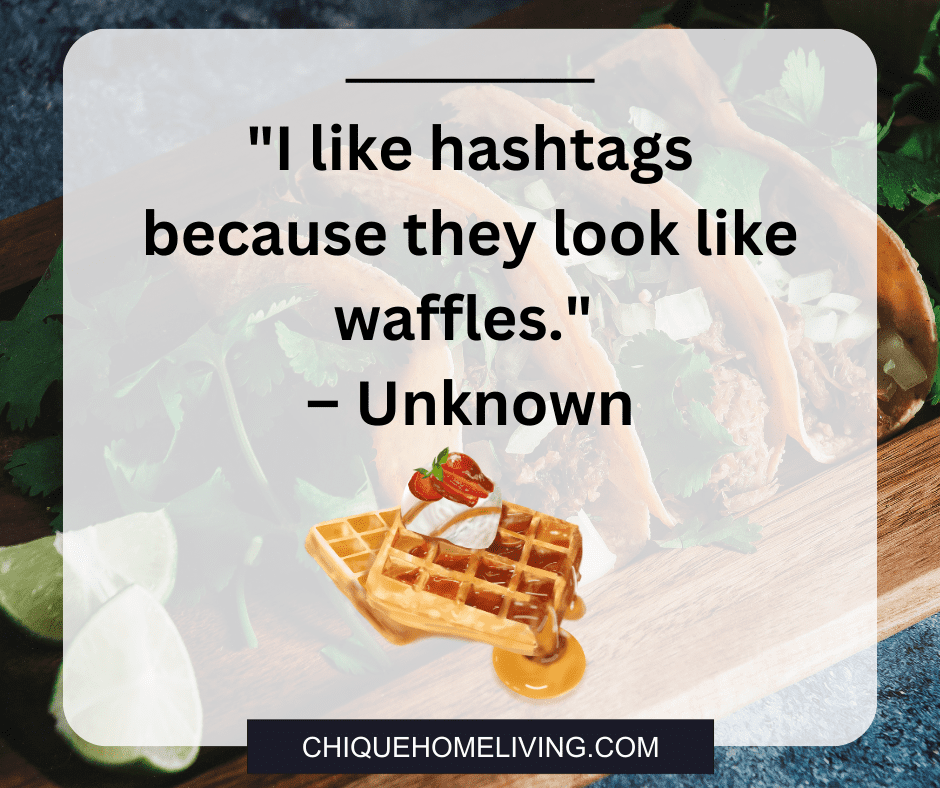 Funny Food Quotes

59. "Wait. Why am I thinking about Krispy Kremes? We're supposed to be exercising." Meg Cabot 

60. "My friend thinks he is smart. he said Onions are the only food that can make us cry, so I threw a coconut at him". – Unknown

61. "There is no such thing as junk food, but there are junk diets." –Elizabeth Whelan

62. "I wish exercise was as easy as eating." – Unknown

63. "He who fully unwraps shawarma completely before eating it cannot keep a secret." – Unknown
Funny Food Quotes
64. "The trouble with eating Italian food is that five or six days later, you're hungry again." – George Miller 
65. "Practice safe eating — always use condiments".–Lynda Montgomery
66. "My heart says chocolate and wine but my jeans say, for the love of god woman eat a salad"–Unknown
67. "Maybe hot chocolate wants to be called beautiful chocolate at least one time." –Unknown
Funny Food Quotes
68. There's just so much to eat in life. How can we possibly get around to tasting it if we don't take every opportunity we're given? –Unknown
69. "We are suffering from a condition called donut stupor" – Unknown
70. "Happiness is finding three olives in your martini when you're hungry." –Johnny Carson
71. "All sorrows are less with bread." –Miguel de Cervantes
72. "Our toaster has two settings: too soon or too late". –Sam Levenson" 
Funny Food Quotes
73. "You better cut the pizza in four pieces, because I'm not hungry enough to eat six."–Yogi Berra 
74. "They say, you are what you eat, but I don't remember eating a sexy beast this morning." – Unknown
75. "How do I stop eating Chips and Salsa? Do they run out, do I die or what?" – Unknown
76. "Health food may be good for the conscience but Oreos taste a hell of a lot better." –Robert Redford
77. "Laughter is brightest where food is best." –Irish Proverb
78."Life is uncertain. Eat dessert first."– Ernestine Ulmer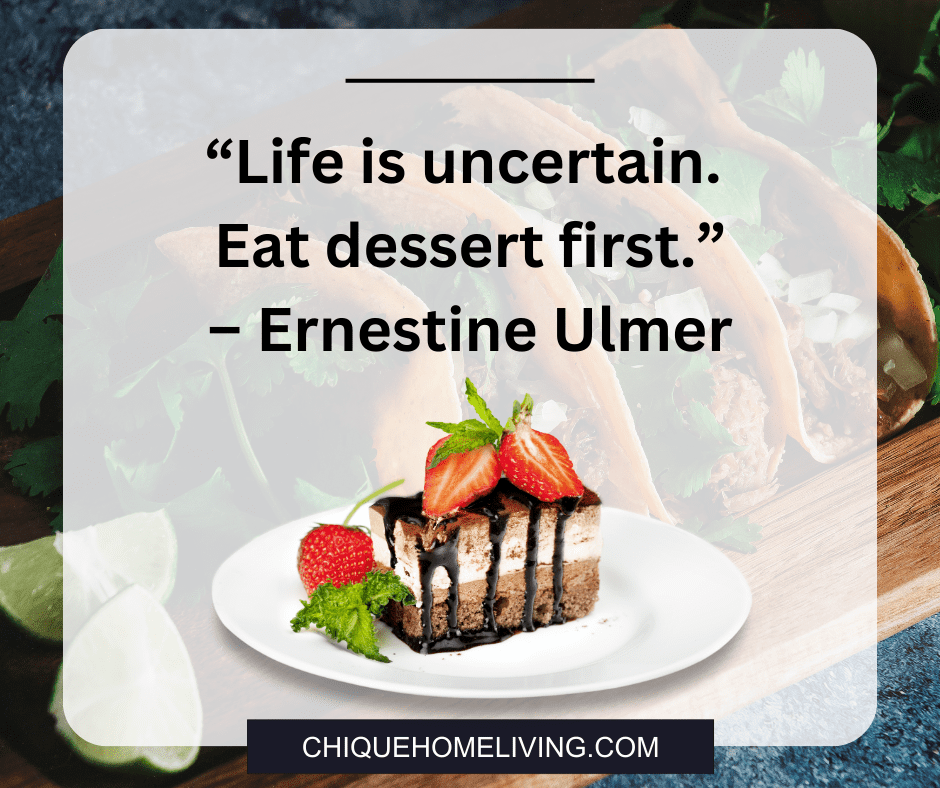 Funny Food Quotes
79."I know once people get connected to real food, they never change back."– Alice Waters
80. "My doctor told me I had to stop throwing intimate dinners for four unless there are three other people."– Orson Welles
81."All happiness depends on a leisurely breakfast."– John Gunther
82."The main facts in human life are five: birth, food, sleep, love, and death."– E.M. Forster
83."The best comfort food will always be greens, cornbread, and fried chicken."– Maya Angelou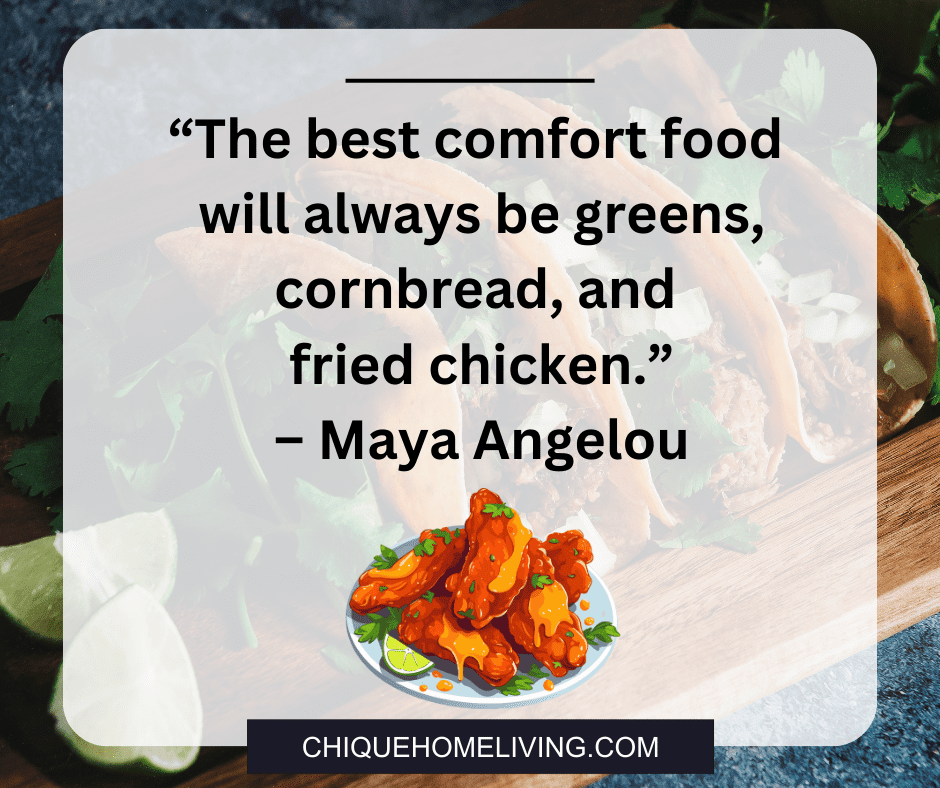 Funny Food Quotes
84."Life is too short for self-hatred and celery sticks."– Marilyn Wann
85."Great food is like great sex. The more you have the more you want."– Gael Greene
86."Ice cream is exquisite. What a pity it isn't illegal."– Voltaire
87. "Only the pure in heart can make a good soup."– Ludwig van Beethoven
88. "Life expectancy would grow by leaps and bounds if green vegetables smelled as good as bacon."
– Dough Larson
89."The only time to eat diet food is while you're waiting for the steak to cook."–Julia Child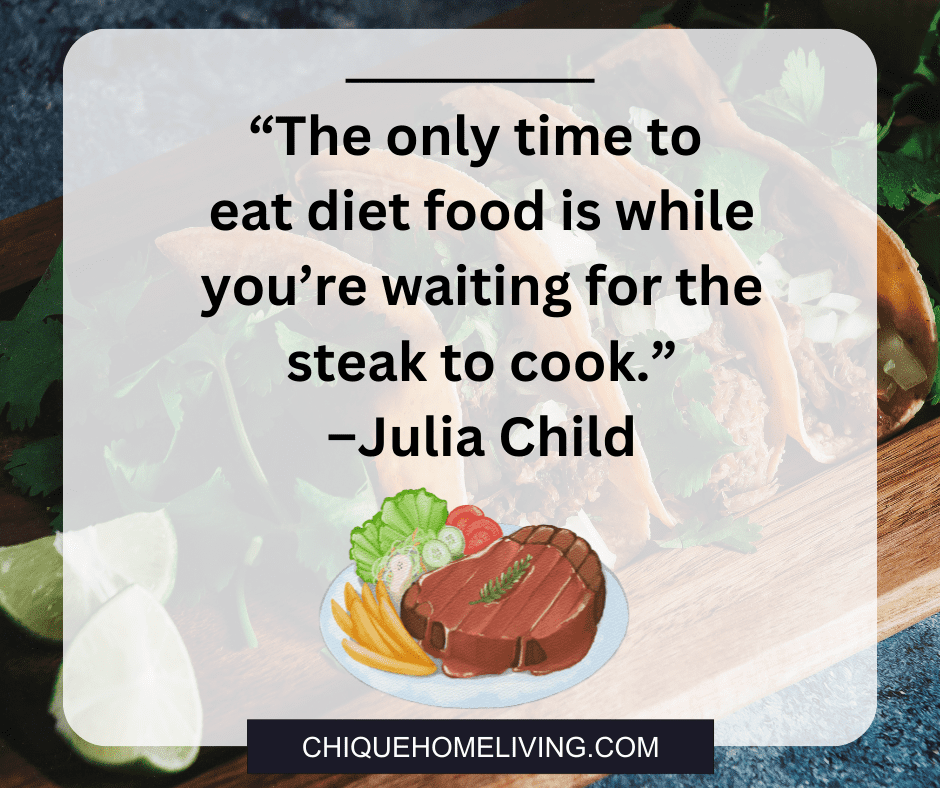 Funny Food Quotes
You may also enjoy our articles on:
185+ Monthsary Messages For Him And Her
90."The belly rules the mind."– Spanish Proverb
91. "With enough butter, anything is good."–Julia Child
92. "A waffle is like a pancake with a syrup trap."–Mitch Hedberg
93. "Well, food's always the way to anybody's heart, I think, guy or girl."– Josh Hutcherson
94. "It is hard to imagine a civilization without onions."–Julia Child
95."I am not a glutton – I am an explorer of food."– Erma Bombeck
96."Strength is the capacity to break a chocolate bar into four pieces with your bare hands – and then eat just one of the pieces."– Judith Viorst
97. "The secret of food lies in memory – of thinking and then knowing what the taste of cinnamon or steak is."– Jerry Saltz
98.  "It's so beautifully arranged on the plate, you know someone's fingers have been all over it." –Julia Child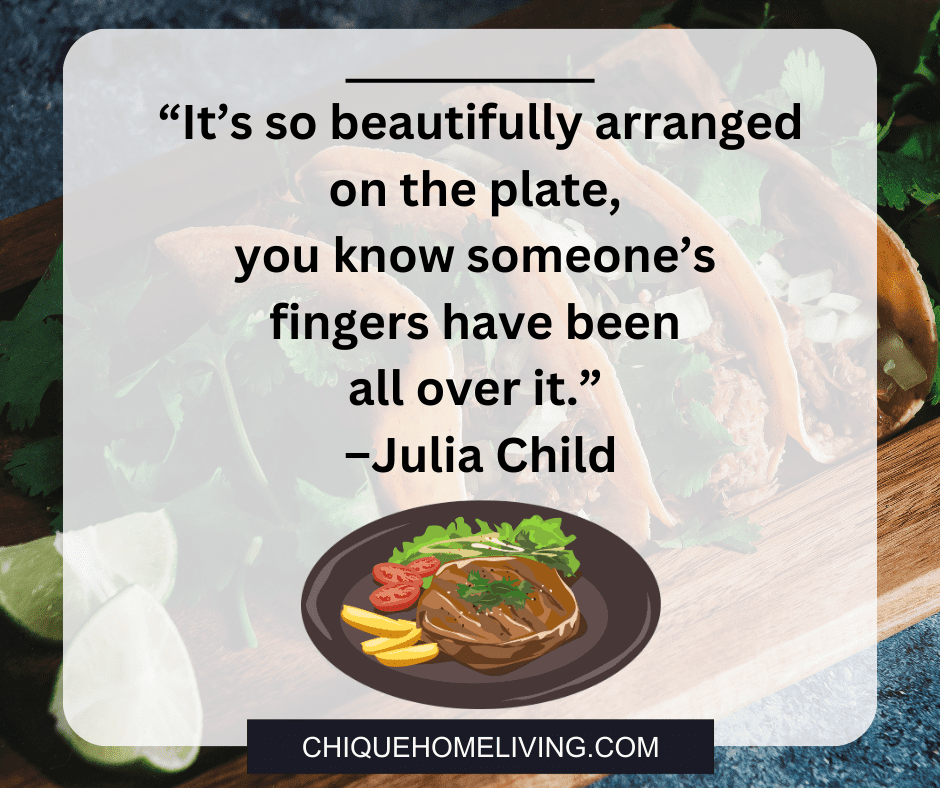 Funny Food Quotes
99."All you need is love. But a little chocolate now and then doesn't hurt."– Charles M. Shulz
100. "Always remember: If you drop the lamb, just pick it up. Who's going to know?"– Julia Child
101. "Anything is good if it's made of chocolate."– Jo Brand
102. "I only drink Champagne on two occasions, when I am in love and when I am not."– Coco Chanel
103. "Winter blues are cured every time with a potato gratin paired with a roast chicken." –Alex Guarnaschelli 
104. "Always serve too much hot fudge sauce on hot fudge sundaes. It makes people overjoyed and puts them in your debt." Judith Olney
105."Let food be thy medicine and medicine be thy food."–Hippocrates
106. "I believe in red meat. I've often said: red meat and gin." –Julia Child
Funny Food Quotes
107. "It's difficult to think anything but pleasant thoughts while eating a homegrown tomato." –Lewis Grizzard
108."So long as you have food in your mouth you have solved all questions for the time being." –Franz Kafka
109. "One cannot think well, love well, sleep well if one has not dined well." –Virginia Woolf
110. A crust eaten in peace is better than a banquet partaken in anxiety." –Aesop
111. "Tell me what to eat, and I will tell you what you are." –Anthelme Brillat-Savarin
112. "Seize the moment. Remember all those women on the Titanic who waved off the dessert cart." –Erma Bombeck
113. "There's not a better feeling in the world than a warm pizza on your lap." –Kevin James
114. "Fat gives things flavor." –Julia Child
115. "If you can't feed a hundred people, then just feed one." –Mother Teresa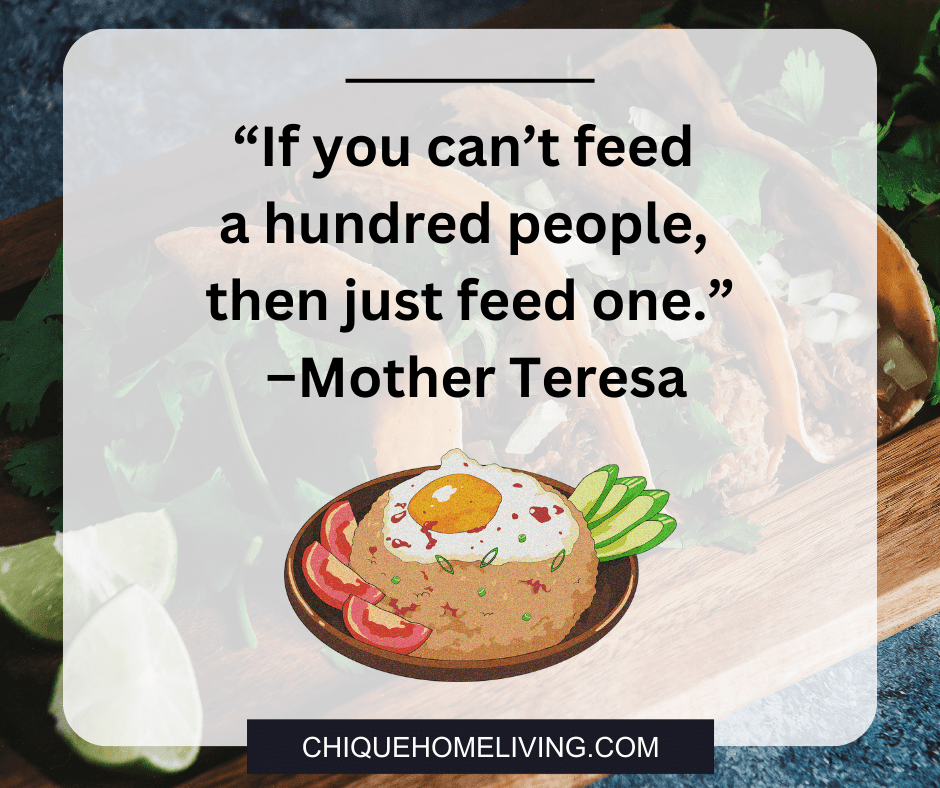 Funny Food Quotes

116. "Primarily I'm a meat man, although once in a while I toy with a few vegetables." –Nat King Cole

117. "I won't eat any cereal that doesn't turn the milk purple." –Bill Watterson

118. "Large, naked, raw carrots are acceptable as food only to those who live in hutches eagerly awaiting Easter." –Fran Lebowitz

119. "Every day is National Doughnut Day if you put your mind to it." –Unknown
Funny Food Quotes
You may also enjoy our articles on:
150 Dance Quotes That Are Inspirational And Funny
120. "Let's face it, a nice creamy chocolate cake does a lot for a lot of people; it does for me." –Audrey Hepburn
121. "Everything you see I owe to spaghetti." –Sophia Loren
122. "Like religion, politics, and family planning, cereal is not a topic to be brought up in public. It's too controversial." –Erma Bombeck
123. "Spaghetti can be eaten most successfully if you inhale it like a vacuum cleaner." –Sophia Loren
124. "My number one elixir for anxiety? Comfort food." –Katie Lee
125. "You can tell a lot about a fellow's character by his way of eating jellybeans." –Ronald Reagan
126. "You know, food is such – it's a hug for people." –Rachael Ray
127. "It's okay to eat fish because they don't have any feelings." –Kurt Cobain
128. "Never eat more than you can lift." –Miss Piggy
129. "One of the very nicest things about life is the way we must regularly stop whatever it is we are doing and devote our attention to eating." –Luciano Pavarotti
130. "Wine and cheese are ageless companions, like aspirin and aches, or June and moon, or good people and noble ventures." –M. F. K. Fisher
131. "The key to my heart looks a whole lot like a plate of pasta." –Unknown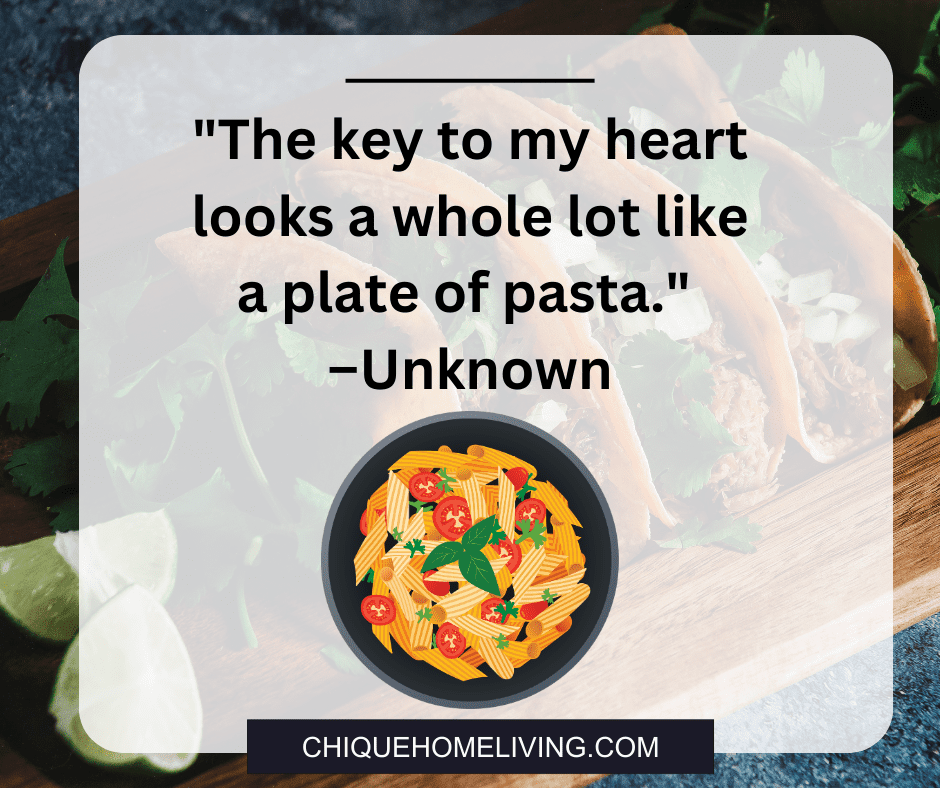 Funny Food Quotes
132. "I eat steak primarily. That's pretty much what my diet consists of. Sometimes I supplement that with other steaks." –Jocko Willink
133. "Older people shouldn't eat health food, they need all the preservatives they can get." –Robert Orben
134. "If someone else is paying for it, food just tastes a lot better." –Gilbert Gottfried
135. "He was a bold man that first ate an oyster." –Jonathan Swift
136. "I'm at the age where food has taken the place of sex in my life. In fact, I've just had a mirror put over my kitchen table." –Rodney Dangerfield
137. "I think about food literally all day every day. It's a thing." –Taylor Swift
138.  "Home is wherever I'm with food." –Unknown
Funny Food Quotes

139. "I need healthy options around, or else if I get hungry, I'll go straight for a cookie." –Christina Tosi

140. "Age and glasses of wine should never be counted." –Unknown

141. "Only dull people are brilliant at breakfast."–Oscar Wilde

142. "First we eat, then we do everything else." –M.F.K. Fisher

143. "Promises and pie-crust are made to be broken." –Jonathan Swift

144. "An onion can make people cry but there's never been a vegetable that can make people laugh." –Will Rogers

145. "Life is too short, and I'm Italian. I'd much rather eat pasta and drink wine than be a size 0." –Sophia Bush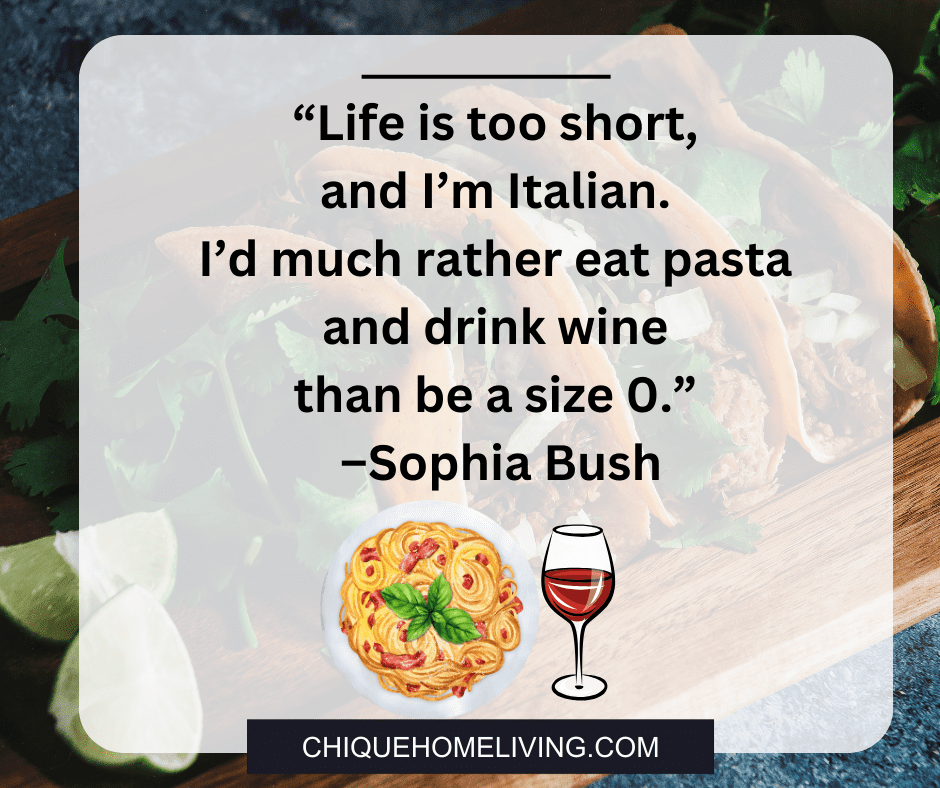 Funny Food Quotes
146. "Where there is cake, there is hope. And there is always cake." –Dean Koontz
147."Ask not what you can do for your country. Ask what's for lunch." –Orson Welles
148. "You can be miserable before you have a cookie and you can be miserable after you eat a cookie but you can't be miserable while you are eating a cookie."– Ina Garten
149. "Training is everything. The peach was once a bitter almond; cauliflower is nothing but cabbage with a college education." –Mark Twain
150. "I love you like a fat kid loves cake." –Scott Adams
Funny Food Quotes
Pin this post to save for later!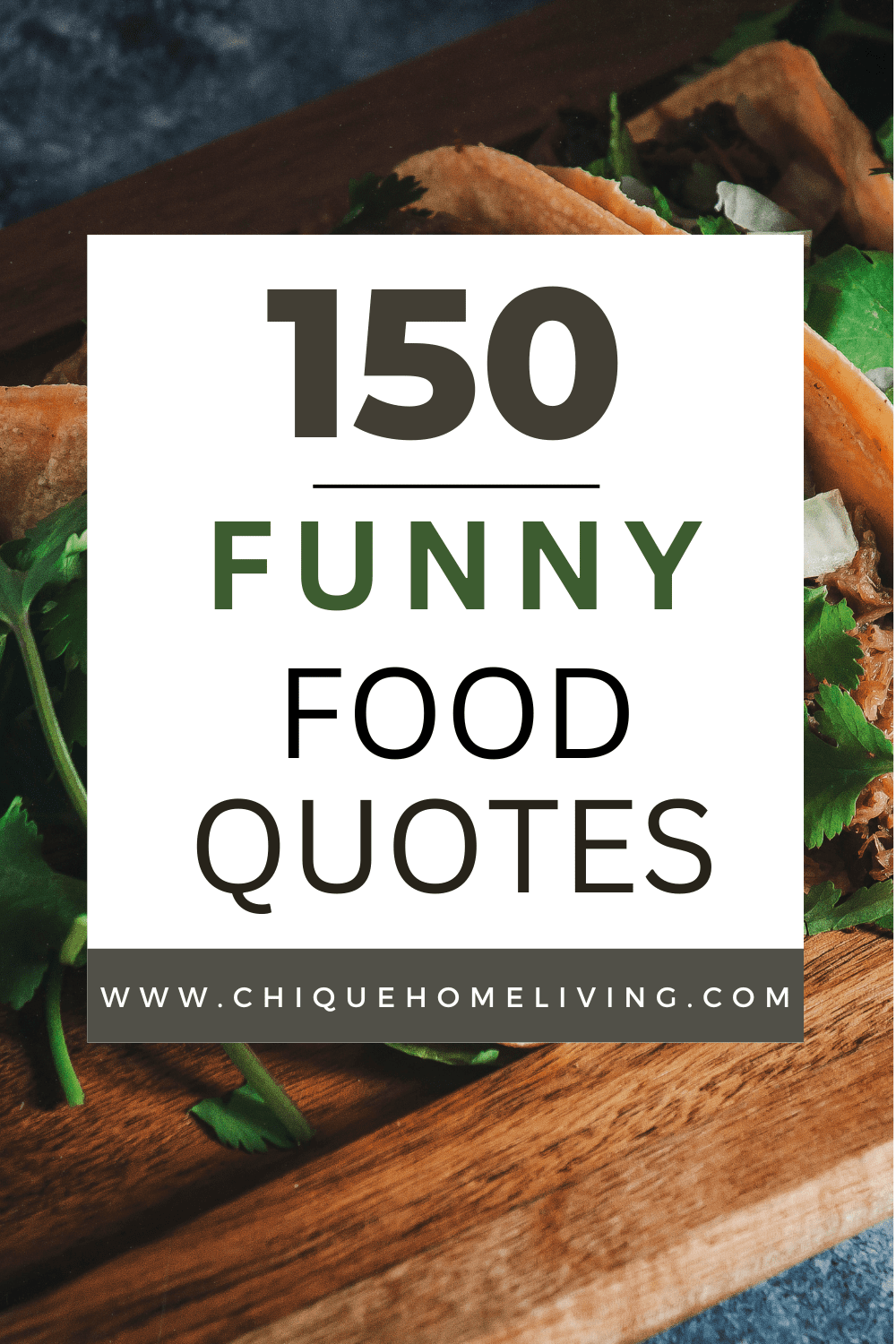 You may also enjoy our articles on:
120 Kitchen Quotes (Plus Free Printables)
 120 Nothing Is Permanent Quotes
150+ Inspirational Basketball Quotes