150 Inspirational Art Quotes
Humans are artistic in nature and life is just one big art performance. Check out these art quotes that are sure to inspire you and give you a  whole new perspective on art. 
Art is myriad ways in which people express their creativity and imagination. For instance, painting, writing, photography, poetry, architecture, and theatre, are some forms of art. Art is embedded in our DNA and it gives us the ability to mold and shape our creative ideas. Everyone was born with our gift of art. Successful artists are only people who found their passion and niche.
Art creation can be a hobby and can also be a very fulfilling career. Did you know that the Salvator Mundi by Leonardo da Vinci was sold for a whopping  $450.3 million? Making it the most expensive artwork ever sold. In July of 2021, scientists reportedly discovered what is said the be the oldest work of art in human history, a bone caving made by Neanderthals about 51,000 years ago.
Here are 150 art quotes we've curated just to inspire you. This list includes quotes from famous artists, book writers, entertainers, and many more.
Inspirational Art Quotes
1. "Everything you can imagine is real." ― Pablo Picasso
2. "Art enables us to find ourselves and lose ourselves at the same time."― Thomas Merton, No Man Is an Island
3. "There is nothing more truly artistic than to love people."― Vincent Van Gogh
4. "Art is the lie that enables us to realize the truth."― Pablo Picasso
5. "Learn the rules like a pro, so you can break them like an artist."― Pablo Picasso
ART QUOTES
6. "Painting is poetry that is seen rather than felt, and poetry is painting that is felt rather than seen." ― Leonardo da Vinci
7. "Art is not what you see, but what you make others see."― Edgar Degas
8. "The first mistake of art is to assume that it's serious."― Lester Bangs
9. "A painter should begin every canvas with a wash of black, because all things in nature are dark except where exposed by the light."― Leonardo da Vinci
10. "The human body is the best work of art."― Jess C. Scott
ART QUOTES
11. "Closed in a room, my imagination becomes the universe, and the rest of the world is missing out."― Criss Jami, Diotima, Battery, Electric Personality
12. "A picture is a secret about a secret, the more it tells you the less you know."― Diane Arbus
13. "Every child is an artist. The problem is how to remain an artist once he grows up."― Pablo Picasso
14. "The role of the artist is to ask questions, not answer them."― Anton Pavlovich Chekhov
15. "Art and love are the same thing: It's the process of seeing yourself in things that are not you."― Chuck Klosterman, Killing Yourself to Live: 85% of a True Story
16. "Every portrait that is painted with feeling is a portrait of the artist, not of the sitter."― Oscar Wilde, The Picture of Dorian Gray
17. "The painter has the Universe in his mind and hands."― Leonardo da Vinci
18. "The most beautiful experience we can have is the mysterious. It is the fundamental emotion that stands at the cradle of true art and true science." ― Albert Einstein, The World As I See It
19. "The aim of art is to represent not the outward appearance of things, but their inward significance."― Aristotle
20. Art should comfort the disturbed and disturb the comfortable."― Banksy
21. "Art is the stored honey of the human soul." – Theodore Dreiser
ART QUOTES
You may also enjoy our article on: Dance Quotes That Are Inspirational And Funny
22. "I dream my painting and I paint my dream."― Vincent Willem van Gogh
23. "The noblest pleasure is the joy of understanding."― Leonardo da Vinci
24. "And now, I'm just trying to change the world, one sequin at a time."― Lady Gaga
25. "If you ask me what I came to do in this world, I, an artist, will answer you: I am here to live out loud."― Émile Zola
26. "Like any artist without an art form, she became dangerous."― Toni Morrison, Sula
27. "Painting is easy when you don't know how, but very difficult when you do." – Edgar Degas
28. "One can have no smaller or greater mastery than mastery of oneself."― Leonardo da Vinci
29. "Art washes away from the soul the dust of everyday life."― Pablo Picasso
30. "Art is to console those who are broken by life."― Vincent van Gogh
31.  "Creativity takes courage. "― Henri Matisse
32. "Life doesn't imitate art, it imitates bad television."― Woody Allen
33. "The chief enemy of creativity is good sense."― Pablo Picasso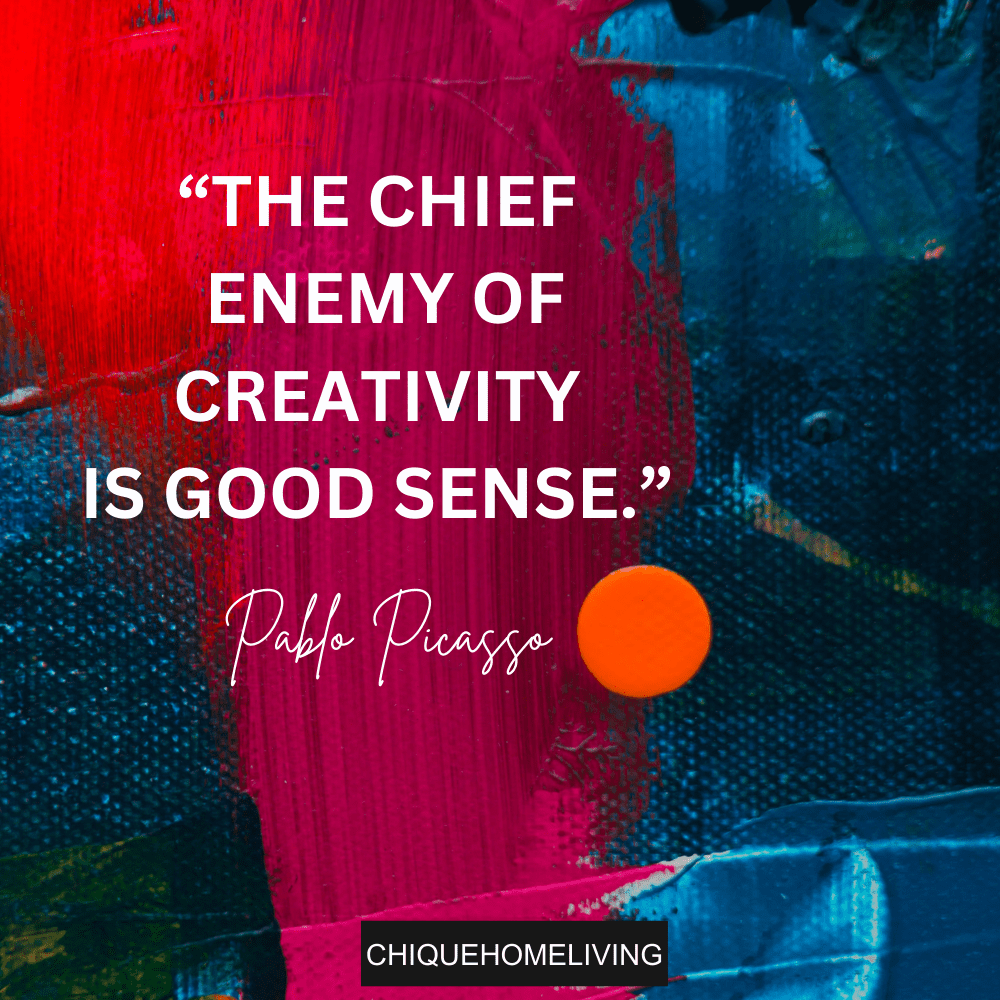 ART QUOTES
34. "Art is the only serious thing in the world. And the artist is the only person who is never serious."― Oscar Wilde
35. "Only put off until tomorrow what you are willing to die having left undone"― Pablo Picasso
36. "Art is the proper task of life. "― Friedrich Nietzsche
37. "…and then, I have nature and art and poetry, and if that is not enough, what is enough?"― Vincent Willem van Gogh
38. "I am a museum full of art but you had your eyes shut."― Rupi Kaur, Milk and Honey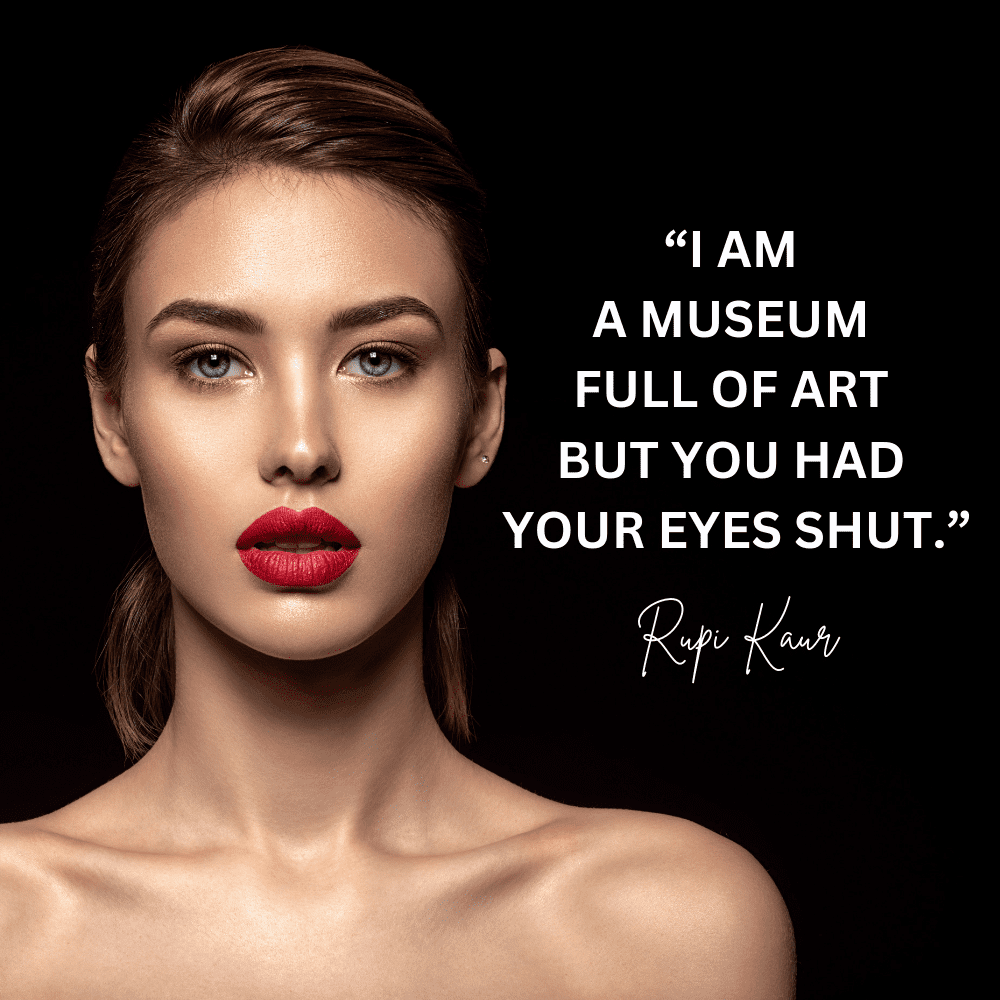 ART QUOTES
You may also enjoy our article on: 165 Sad Love Quotes
39. "What I like about photographs is that they capture a moment that's gone forever, impossible to reproduce."― Karl Lagerfeld
40. "When I was a child my mother said to me, 'If you become a soldier, you'll be a general. If you become a monk, you'll be the pope.' Instead I became a painter and wound up as Picasso."― Pablo Picasso
41. Art without emotion its like chocolate cake without sugar. It makes you gag."― Laurie Halse Anderson, Speak
42. "A man should hear a little music, read a little poetry, and see a fine picture every day of his life, in order that worldly cares may not obliterate the sense of the beautiful which God has implanted in the human soul." ― Johann Wolfgang von Goethe
43. "Art is a collaboration between God and the artist, and the less the artist does the better." – Andre Gide
44. "I think of art as the highest level of creativity. To me, it is one of the greatest sources of enjoyment." – David Rockefeller
45. "We have art in order not to die of the truth."― Friedrich Nietzsche
46. "Great art picks up where nature ends." – Marc Chagall
47. "The job of the artist is always to deepen the mystery." – Francis Bacon
ART QUOTES
48. "Every artist was first an amateur." – Ralph Waldo Emerson
49. "When words become unclear, I shall focus with photographs. When images become inadequate, I shall be content with silence."― Ansel Adams
50. "I don't paint dreams or nightmares, I paint my own reality."― Frida Kahlo
51. "Art, like morality, consists of drawing the line somewhere."― G.K. Chesterton, Orthodoxy
52. "Paradoxically though it may seem, it is none the less true that life imitates art far more than art imitates life."― Oscar Wilde
53. "Nature is a haunted house–but Art–is a house that tries to be haunted."― Emily Dickinson, The Complete Poems of Emily Dickinson
54. "A work of art which isn't based on feeling isn't art at all." – Paul Cézanne
55. Originality is nothing but judicious imitation." – Voltaire
56. "To practice any art, no matter how well or how badly, is a way to make your soul grow, for heaven's sake. So do it." – Kurt Vonnegut
57. "Life is art. Art is life. I never separate it." – Ai Weiwei
58. "If I could say it in words there would be no reason to paint." – Edward Hopper
ART QUOTES
59. "The position of the artist is humble. He is essentially a channel." – Piet Mondrian
60. "An artist's only concern is to shoot for some kind of perfection, and on his own terms, not anyone else's."― J.D. Salinger, Franny and Zooey
61. "The world is an art and God is the artist." – Anonymous
62. "Life is a blank canvas, and you need to throw all the paint on it you can."― Danny Kaye
63. "If people knew how hard I worked to get my mastery, it wouldn't seem so wonderful at all." – Michelangelo
64. "Painting is a means of self-enlightenment." – John Olsen
65. "Those who do not want to imitate anything, produce nothing." – Salvador Dali
66. "I never paint dreams or nightmares. I paint my own reality." – Frida Kahl
67. "If I create from the heart, nearly everything works; if from the head, almost nothing." – Marc Chagall
68. "An artist cannot fail; it is a success to be one." – Charles Horton Cooley
ART QUOTES
69. "Nothing is original. Steal from anywhere that resonates with inspiration or fuels your imagination. Devour old films, new films, music, books, paintings, photographs, poems, dreams, random conversations, architecture, bridges, street signs, trees, clouds, bodies of water, light, and shadows." — Jim Jarmusch
70. "You use a glass mirror to see your face; you use works of art to see your soul."― George Bernard Shaw, Back to Methuselah
71. "The Earth is Art, The Photographer is only a Witness "― Yann Arthus-Bertrand, Earth from Above
72. "Creativity is magic. Don't examine it too closely." – Edward Albee
73. "A good artist has less time than ideas." – Martin Kippenberger
74. "The greater the artist, the greater the doubt. Perfect confidence is granted to the less talented as a consolation prize."― Robert Hughes, Modernism's Patriarch (Time Magazine, June 10, 1996)
75. "To be an artist is to believe in life." – Henry Moore
76. "Art is what you can get away with."― Andy Warhol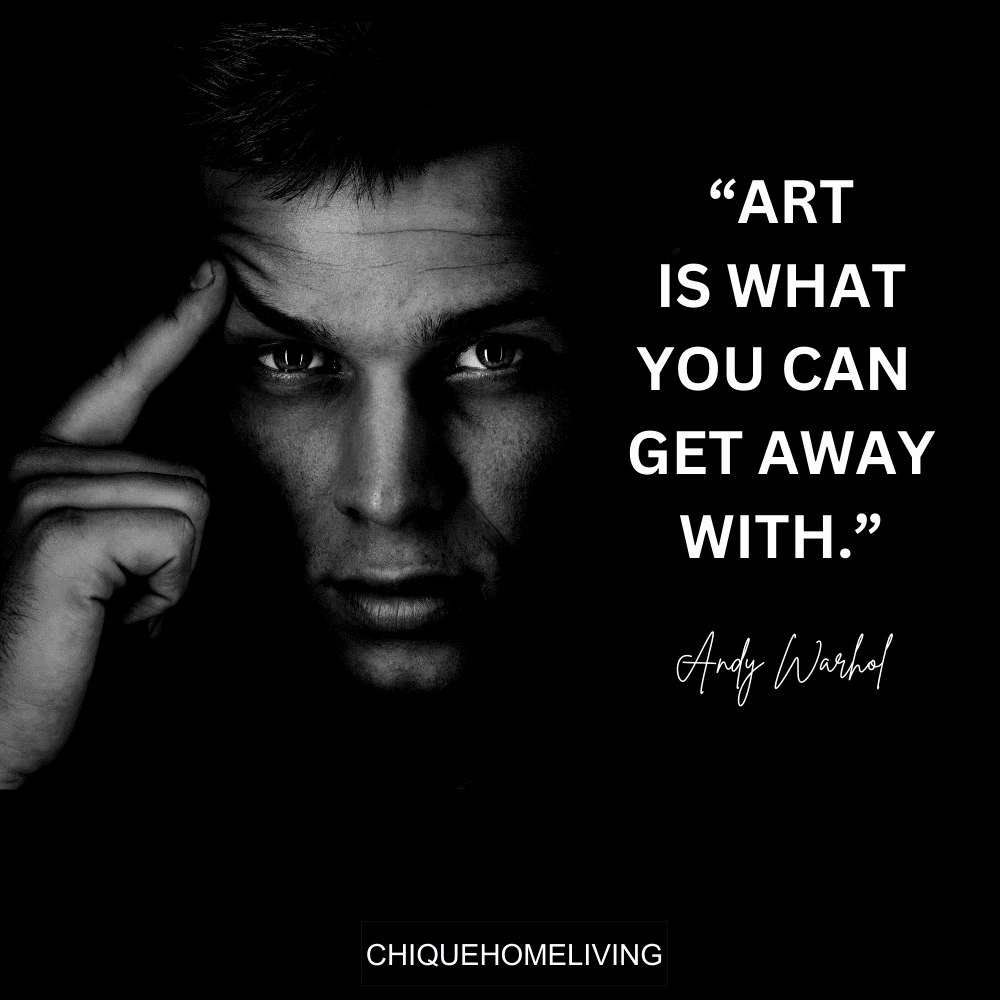 ART QUOTES
77. "Don't be an art critic, but paint, there lies salvation." – Paul Cézanne
78. "The artist is nothing without the gift, but the gift is nothing without work."― Émile Zola
79. "An artist is not paid for his labor but for his vision." – James McNeill Whistler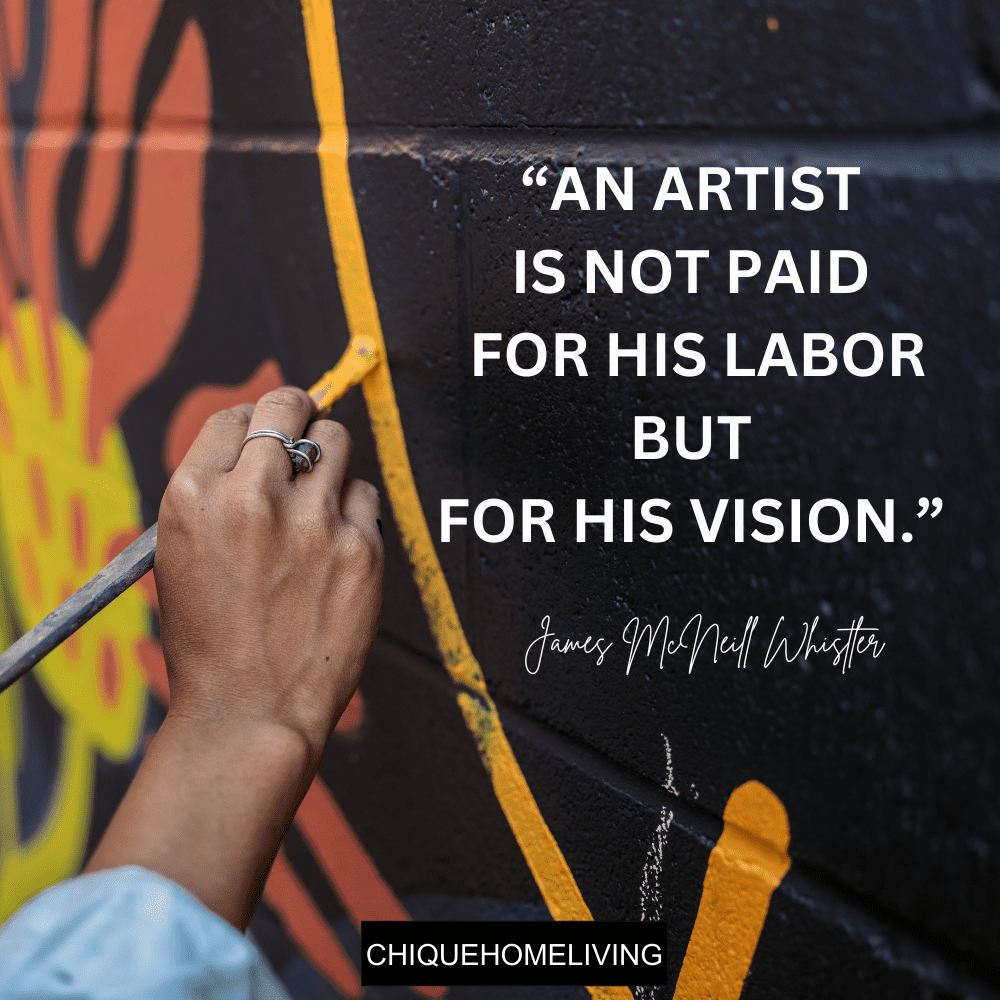 ART QUOTES
80. "Every good painter paints what he is." – Jackson Pollock
81. "I would rather die of passion than of boredom." – Vincent van Gogh
82."Art must be an expression of love or it is nothing." – Marc Chagall
83. "I paint for myself. I don't know how to do anything else, anyway. Also, I have to earn my living, and occupy myself." – Francis Bacon
84. "I invent nothing, I rediscover." – Auguste Rodin
85. "If being an egomaniac means I believe in what I do and in my art or music, then in that respect you can call me that… I believe in what I do, and I'll say it." –John Lenon
86. "The artist's job is not to succumb to despair but to find an antidote for the emptiness of existence."― Woody Allen, Midnight in Paris: The Shooting Script
87. "In art, the hand can never execute anything higher than the heart can imagine." – Ralph Waldo Emerson
88. The art of art, the glory of expression and the sunshine of the light of letters, is simplicity."― Walt Whitman
89. "Every human is an artist. The dream of your life is to make beautiful art."― Don Miguel Ruiz, The Four Agreements
90. "Have no fear of perfection, you'll never reach it." – Salvador Dali
91."Imagination is the beginning of creation. You imagine what you desire, you will what you imagine, and at last, you create what you will." – George Bernard Shaw
92. "The world doesn't make sense, so why should I paint pictures that do?"― Pablo Picasso
ART QUOTES
93. "The worst enemy to creativity is self-doubt." ― Sylvia Plath
94. "There is no 'right' way to make art. The only wrong is in not trying, not doing. Don't put barriers up that aren't there — just get to work and make something." — Lisa Golightly
95. "Routine kills creative thought." — Scarlett Thomas
96. "Creativity is more than just being different. Anybody can plan weird; that's easy. What's hard is to be as simple as Bach. Making the simple, awesomely simple, that's creativity." – Charles Mingus
97. "I like to pretend that my art has nothing to do with me." — Roy Lichtenstein
98. "Draw the art you want to see, start the business you want to run, play the music you want to hear, write the books you want to read, build the products you want to use – do the work you want to see done."― Austin Kleon, Steal Like an Artist: 10 Things Nobody Told You About Being Creative
99. Art is the only way to run away without leaving home."
100. "Creativity is contagious, pass it on." – Albert Einstein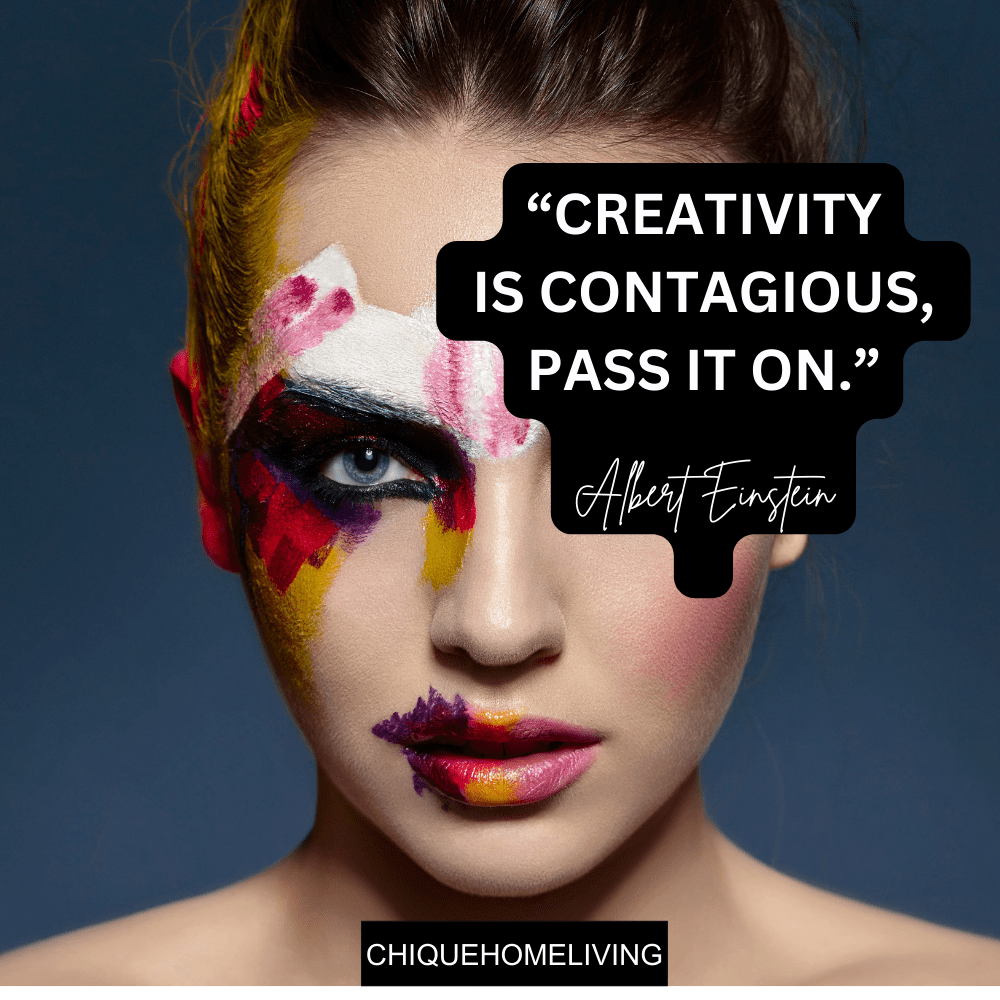 ART QUOTES
You may also enjoy our article on:
101."There is no must in art because art is free." – Wassily Kandinsky
102. "Love art in yourself, and not yourself in art."― Constantin Stanislavski, My Life In Art
103. "Inspiration does exist, but it must find you working." – Pablo Picasso
104. "Art is the child of nature in whom we trace the features of the mothers face."― Henry Wadsworth Longfellow
105. "There is no abstract art. You must always start with something. Afterward, you can remove all traces of reality." – Pablo Picasso
106. "Painting is poetry that is seen rather than felt, and poetry is painting that is felt rather than seen." – Leonardo da Vinci
107. "Art never responds to the wish to make it democratic; it is not for everybody; it is only for those who are willing to undergo the effort needed to understand it."― Flannery O'Connor, Mystery and Manners: Occasional Prose
108. "Self-consciousness is the enemy of all art, be it acting, writing, painting, or living itself, which is the greatest art of all."― Ray Bradbury
109. "In the haunted house of life, art is the only stair that doesn't creak."― Tom Robbins
110. "Modern paintings are like women, you'll never enjoy them if you try to understand them."― Freddie Mercury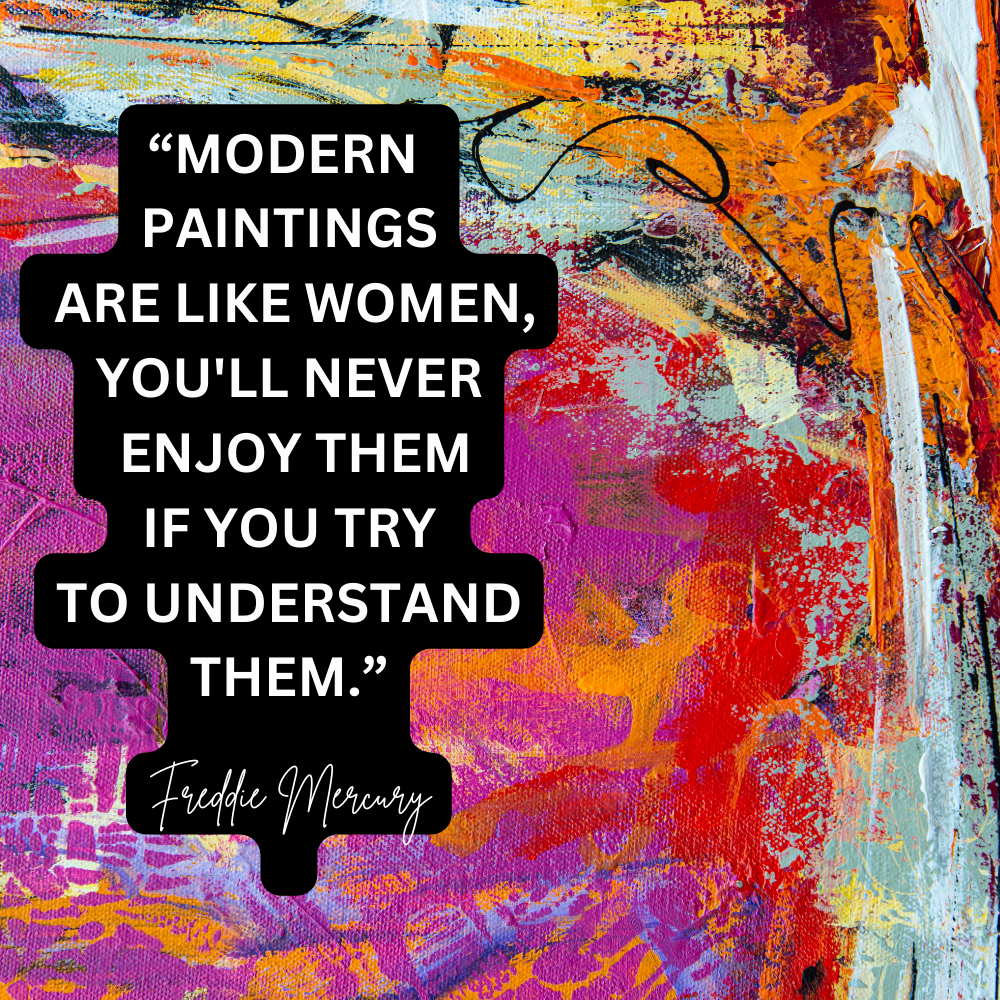 ART QUOTES
111. "A picture is worth a thousand words."― Napoleon Bonaparte
112. "Art is not a thing, it is a way." – Elbert Hubbard
113. "There's no retirement for an artist, it's your way of living so there's no end to it." – Henry Moore
114. "The object of the artist is the creation of the beautiful. What the beautiful is is another question."― James Joyce, A Portrait of the Artist as a Young Man
115. "Give me a museum and I'll fill it."― Pablo Picasso
116. "Art is a line around your thoughts." – Gustav Klimt
117. "We all know that Art is not truth. Art is a lie that makes us realize truth at least the truth that is given us to understand. The artist must know the manner whereby to convince others of the truthfulness of his lies."― Pablo Picasso
118. "An artist is somebody who produces things that people don't need to have."― Andy Warhol
ART QUOTES
119. "The artist must possess the courageous soul that dares and defies"
― Kate Chopin, The Awakening and Selected Stories
120. "Artists are people driven by the tension between the desire to communicate and the desire to hide."― Donald Woods Winnicott
121. "An artist never really finishes his work; he merely abandons it." – Paul Valéry
122. "There are no rules. That is how art is born, how breakthroughs happen. Go against the rules or ignore the rules. That is what invention is about." – Helen Frankenthaler
123. "Life is the art of drawing without an eraser." – John W. Gardner
ART QUOTES
124. "The art of art, the glory of expression and the sunshine of the light of letters, is simplicity." – Walt Whitman
125. "For art to exist, for any sort of aesthetic activity or perception to exist, a certain physiological precondition is indispensable: intoxication."― Friedrich Nietzsche
126. "No great artist ever sees things as they really are. If he did, he would cease to be an artist." – Oscar Wilde
127.  "In art as in love, instinct is enough."― Anatole France
128. "What art offers is space – a certain breathing room for the spirit."― John Updike
129. "Without magic, there is no art. Without art, there is no idealism. Without idealism, there is no integrity. Without integrity, there is nothing but production."― Raymond Chandler
130. "A blank canvas…has unlimited possibilities."― Stephanie Perkins, Isla and the Happily Ever After
ART QUOTES
131. "Creativity is an act of defiance."― Twyla Tharp
132. "To be an artist means never to avert one's eyes."― Akira Kurosawa
133."Art is making something out of nothing, and selling it."― Frank Zappa
134."Don't think about making art, just get it done. Let everyone else decide if it's good or bad, whether they love it or hate it. While they are deciding, make even more art." – Andy Warhol
135. "Artistic talent is a gift from God and whoever discovers it in himself has a certain obligation: to know that he cannot waste this talent, but must develop it."― Pope John Paul II
136. "Treat a work of art like a prince: let it speak to you first."― Arthur Schopenhauer
137. "Interpretation is the revenge of the intellectual upon art. "― Susan Sontag
138. "I don't want life to imitate art. I want life to be art."― Carrie Fisher
139. "Color is my daylong obsession, joy, and torment."― Claude Monet
ART QUOTES
140. "If the artist has outer and inner eyes for nature, nature rewards him by giving him inspiration." – Wassily Kandinsky
141. "Without art, the crudeness of reality would make the world unbearable."― George Bernard Shaw
142. "A writer should have the precision of a poet and the imagination of a scientist."― Vladimir Nabokov
143. "Take your broken heart, make it into art."― Carrie Fisher
144. "I make art, sometimes I make true art, and sometimes it fills the empty places in my life. Some of them. Not all."― Neil Gaiman, The Ocean at the End of the Lane
145. "The principles of true art is not to portray, but to evoke." – Jerzy Kosinski
146. "The beautiful, which is perhaps inseparable from art, is not after all tied to the subject, but to the pictorial representation. In this way and in no other does art overcome the ugly without avoiding it." – Paul Klee
147. "The most important thing about art is to work. Nothing else matters except sitting down every day and trying."
― Steven Pressfield, The War of Art: Winning the Inner Creative Battle
148. "Art evokes the mystery without which the world would not exist." – René Magritte
ART QUOTES
149. "There is no abstract art. You must always start with something. Afterward you can remove all traces of reality."― Pablo Picasso
150. "Art is the most intense mode of individualism that the world has known."
― Oscar Wilde, The Soul of Man Under Socialism