How To Remove Scratches From Glass: 10 Tips
If you are looking to learn how to remove scratches from glass, it is important you know there are various types of glass that are used for tons of applications. Due to this, it is impossible to determine one method for cleaning all types of glass. In this article, we'll go over different methods to delve into how to remove scratches from the glass on windshields, tables, and windows. Also, remember that while some scratches can be repaired, others may not, or require specialized equipment such as polishers or sanders.
If your glass table or any other glass surface has been scratched and you don't want to change the entire piece, there are some tricks to remove, disguise, and eliminate scratches using toothpaste, Vaseline, glass wax, or a polisher.
Let's read some of the best tricks to have an idea about how to remove scratches from glass properly.
1. Toothpaste
Wondering how to remove scratches from glass that is still clean? This time, apply toothpaste to the scratched surface and spread it evenly with a clean cloth. Wait for the paste to dry and remove the excess product with a dry cloth. This is one of the best tricks to hide a scratched surface.
This homemade trick is highly recommended for glass-ceramic hobs and glass tables or glass doors that do not have very deep or pronounced scratches.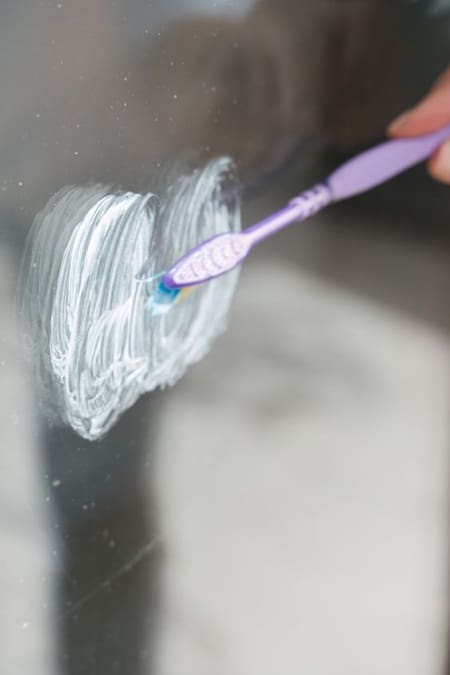 2.  Crystal Wax
This wax, which you can easily find in drugstores, supermarkets, or DIY stores, is very effective in solving this type of problem, especially in large crystals.
If you are not sure about how to remove scratches from glass with crystal wax, spread the wax on the glass and, with a chamois, polish the area until the product permeates.
You can apply this wax several times and if it is helpless after the first use, polish the glass over and over with a dry lint-free cloth.
3. Ammonia
Ammonia helps to eliminate or hide scratches. To do this, mix water with a little ammonia and, with the help of a little microfiber cloth, apply it to the damaged surface in a circular motion. Finally, scrub the surface to dry it.
4. Vaseline And Baking Soda
If you mix these two products, cover the scratch and scrub for removal.
The formula combines a small spoonful of Vaseline with one spoonful of baking soda to create a paste. Next, apply this paste to the damaged surface in the opposite direction of the scratch so the mixture can do the job.
Vaseline is useful to hide scratches on mobile phones, tablets, and laptops.
5.  A Polisher
It is one of the most complex and expensive options. To find out how to remove scratches from glass with a polisher, make a scratch disappear, polish the entire surface completely, and in the case of a large glass, this can take longer.
6. White Clay
Make a paste of white clay and oil. To make an effective glass polish, mix a teaspoon of oil (whatever you have on hand) with a teaspoon of white clay. It should be like a paste. Once done, apply to a white cloth and rub over scratches and scuffs.
7.  Borax
Use a piece of felt with a mixture of borax and water. The felt has special features that would help remove surface scratches. For use, take a piece of felt cloth and soak it in a mixture of one teaspoon of water and one teaspoon of borax.
Apply the mixture to the surface and scrub it until the scratch begins to blend with the borax mixture. Also, if you wish, you can combine the aforementioned tips, and instead of using a white cloth, use a piece of felt cloth.
8. Nail Polish
If you have tested almost everything and still know have no clue about how to remove scratches from glass, then try nail polish. Simply apply clear nail polish to the scratch on the glass. Then let it dry completely. To finish, remove with nail polish remover. You will see how the scratch magically disappears.
Lastly, apply a little white vinegar on the surface to give it more shine and renew the beauty of the glass.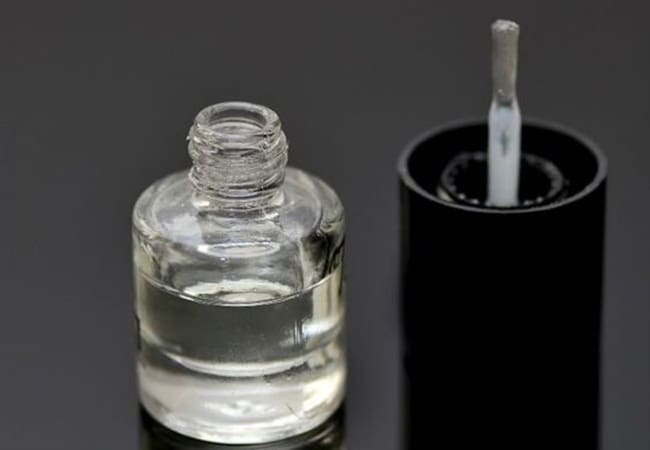 9.  Iron Oxide
Using iron oxide applied with an astrakhan pad can be useful at the moment of researching how to remove scratches from glass. Moisten the pad with the rust and apply to scratched glass in circular motions until the scratches are gone. Finally, remove the iron oxide with another clean cloth.
10.   A Tangerine Glass Cleaner
Make a homemade mint and tangerine glass cleaner and your glasses will be impeccable and with a pleasant aroma that will perfume the rooms of your house.
Summary
In short, in order to know how to remove scratches from glass, you have homemade solutions, such as toothpaste, crystal wax or Vaseline, and baking soda if the stains are not hard to get rid of. If the problem gets worse, go to a professional to put an end to the scratches. Remember, for those heavily affected surfaces, these tricks may not help at all.