9 Genuis Backyard Deck Ideas On A Budget
There's nothing quite refreshing like spending warm summer days in a well-relaxed and visually appealing backyard. If you are seeking to increase your home value and spruce up your outdoor living space exponentially, you will need some backyard deck ideas on a budget- especially if you don't have a big budget to spend on a backyard deck renovation.
Decking is one crucial element in designing outdoor spaces that transforms the look of any backyard, so why not opt for the best deck design? Most decks are only made of mainly two materials, which are wood and composite. However, not too common but there are some made with PVC (polyvinyl chloride) and aluminum.
Regarding the design, homeowners choose as per their preferences, budget, and the desired level of maintenance. Wood and composite decking have their individual perks and drawbacks. Hardwood decking is environmentally friendly as opposed to plastic.
Although composite decking tends to last longer than wood. Whatever material you decide on, make sure you research the pros and cons of wood and composite decking materials.
You don't need to break the bank to create a stylish and inviting backyard. Here are 11 backyard deck ideas on a budget that can help you create the perfect backyard.
1. Invest in a Backyard Deck with In-Built Bench
One of the backyard ideas on a budget is adding a deck with build-it seating all around, so the guests can sit and relax. This design is ideal for family reunions and parties, mainly if there's a pool in it.
Building a bench seating deck in the backyard is not actually expensive, as it depends on the number of seats you add and the design. These incorporated benches should be preferably made of wood and cotton cushions. It is always best to pick conventional-styled bench seating. This means that you don't have to buy garden furniture which can be very expensive.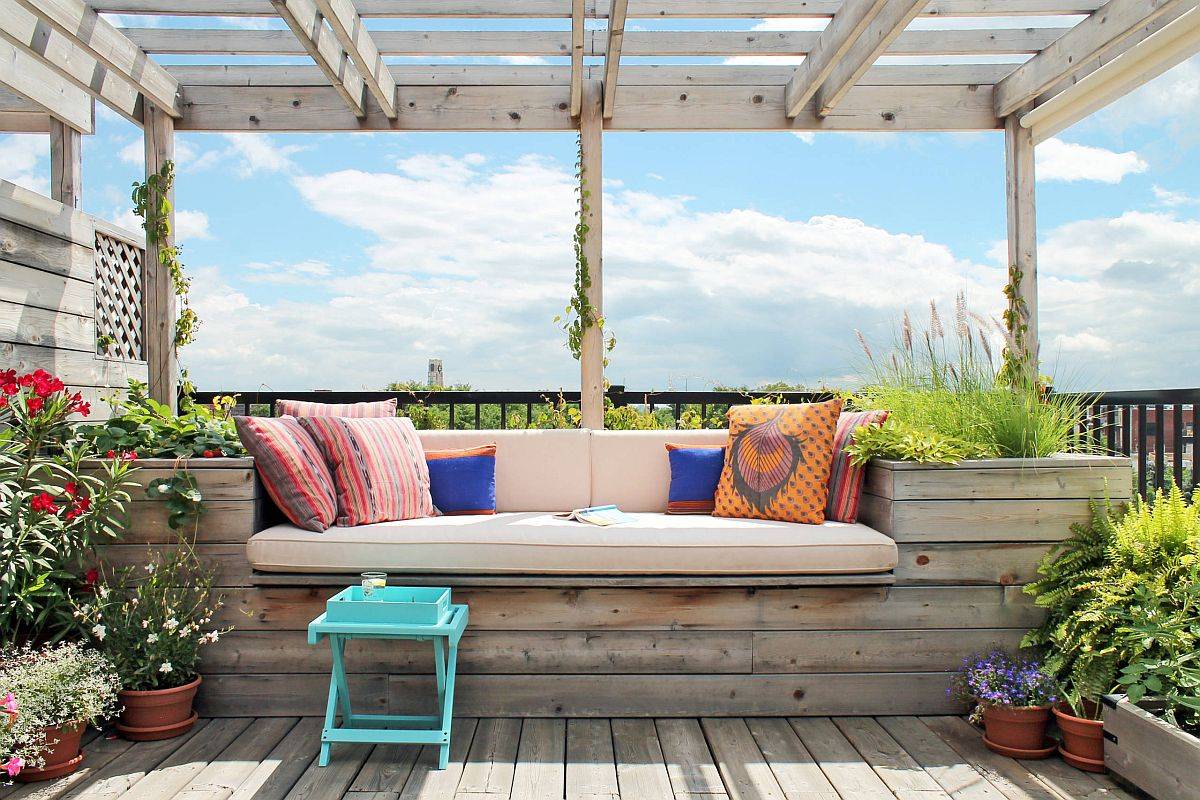 (Image source: Laura Garner Design)
2. Opt for a Backyard Deck Made of Cedar
A cedar deck offers two advantages that are difficult to find in other backyard decks: functionality and solidness. This type of deck also looks great with a Jacuzzi or a pool. The water will not be hot as the deck will be covered. You won't have to deal with the rain either. Other cedar backyard decks can be roofless or without a pergola or something that protects them from rainfall, like the one below.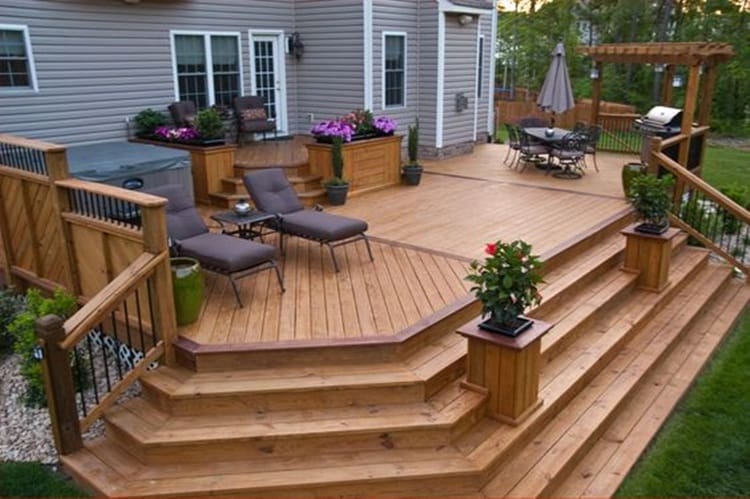 Cedar Decking
3. Spruce Up Your Old Deck by Staining It 
If you have an old deck, replace it or remodel it by adding waterproof material to it. You can add a special coating to your old and worn-out deck to make it look new and improve its resistance.
If you want to spend less, revamp your old deck, but do not replace the entire structure. Also, consider installing railings to surround the deck. Deck staining makes the decks more secure and comfy.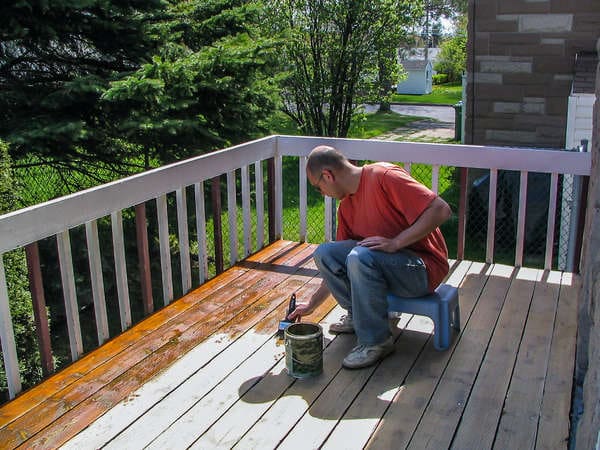 Deck Staining Process
4. Add a Natural Warmth and Feel with Wood Decking
Wooden decks are some of the most popular backyard ideas on a budget because it is not expensive compared to composite and is suited to both small and big spaces. This is the type of decking material that is great for areas you usually use to create a dreamy oasis and disconnect yourself from the world.
Wooden deckings are versatile and allow users to move from one place to the other without dealing with the lack of space. In other words, they do not take up too much space in those backyards. It is a very simple deck yet highly durable and great for high-traffic areas.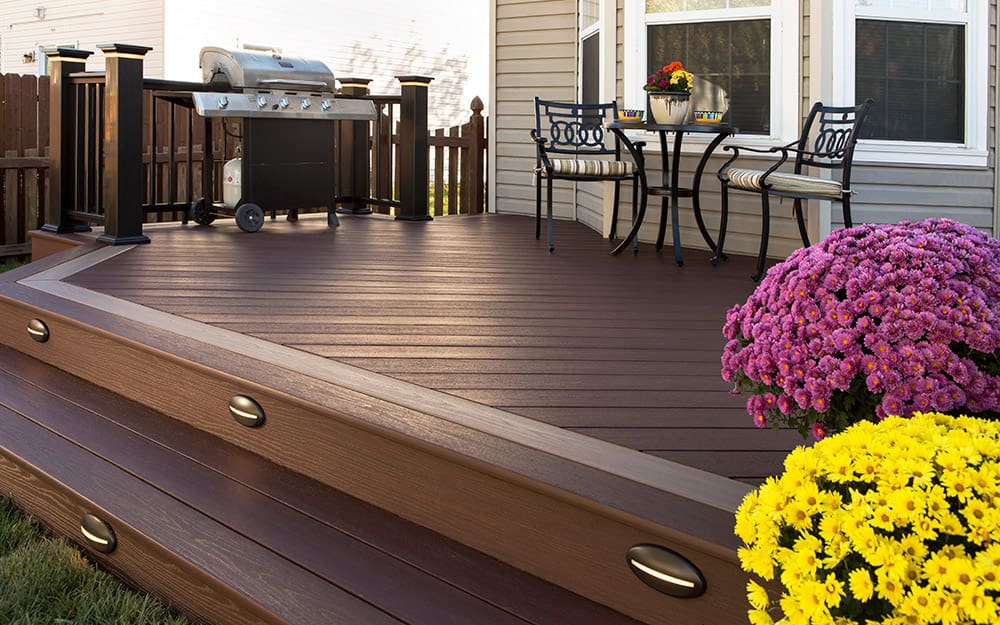 5. Tiered-Wood Deck
While some back deck ideas on a budget on this list consist of a pergola, this deck uses the free space in the backyard for other uses. It features built-in lights and is arguably a conventional design.
You need a vast area of your backyard to harness this back deck idea. To build this deck, you don't know so much experience or knowledge about construction. Just start by removing the rocks around the area and smoothing out any high spots.
For this decoration, it is important to choose stained wood and galvanized and heavy-duty elements.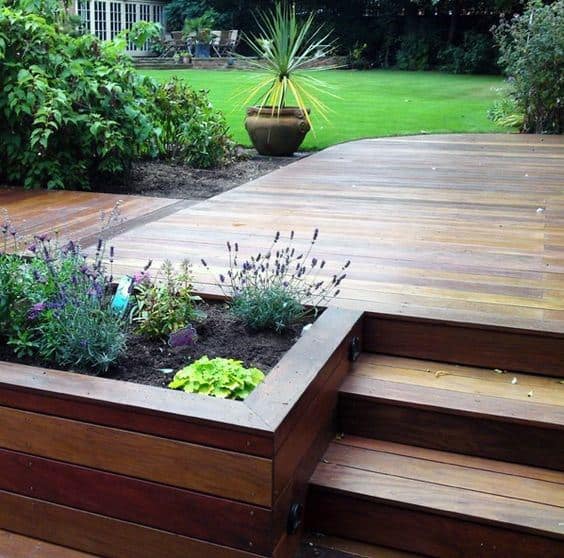 6. Refresh the Existing Deck by Painting it 
Maybe you need nothing but to paint your old and deteriorated backyard deck another color to bring it back to life. This time, use your imagination and stain your backyard deck if possible. There are no backyard deck ideas on a budget that can limit you here.
That coat of paint can be accompanied by rugs, colorful umbrellas, and seat cushions. Some colors you can use are white, purple, yellow, and white, which merge with the natural color of the wood.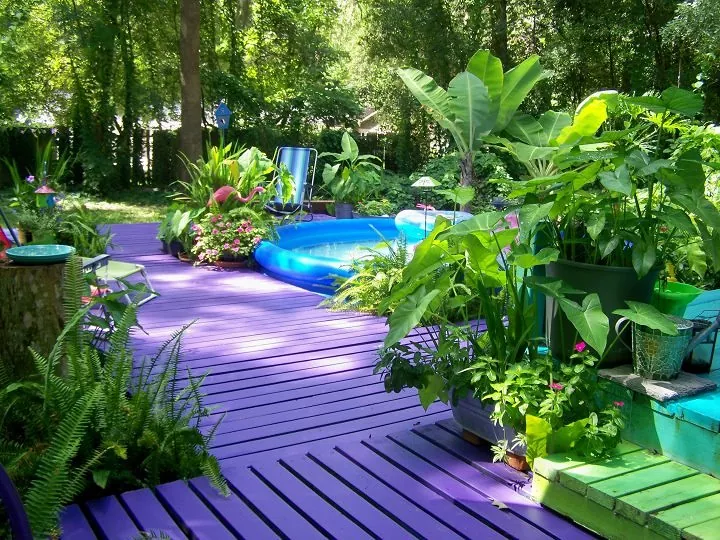 (Image source: Home Talk)
7. Invest in Covered Decks 
Covered decks are most compatible with rustic home designs and country styles. It is one of the most popular backyard deck ideas on a budget for homeowners who live near a river or mountains or want to have a scenic view of these areas from their homes. Covered decks are, however, secure, added to the fact that they offer a natural feel. The types of wood mostly used for these constructions are cedar, redwood, and pressure-treated.

8. Consider Ground-Level Decks
Ground-level decks are higher than other decks. They are easy to build and are suitable for backyards that are full of trees and plants, as they don't occupy the areas where they are and grow. This is among the eco-friendly backyard deck ideas on a budget you can try. Preferably, put this deck among the trees and plants, so the plants can grow freely.
9. Refresh Your Decking by Refinishing
Simply refinish the wood where it needs sprucing up in order to add an extra layer of freshness and durability. Refinish your deck with sealants and stains. Mix colors but do not change the look of the existing deck fully, just make some modifications and add a large furniture piece if necessary.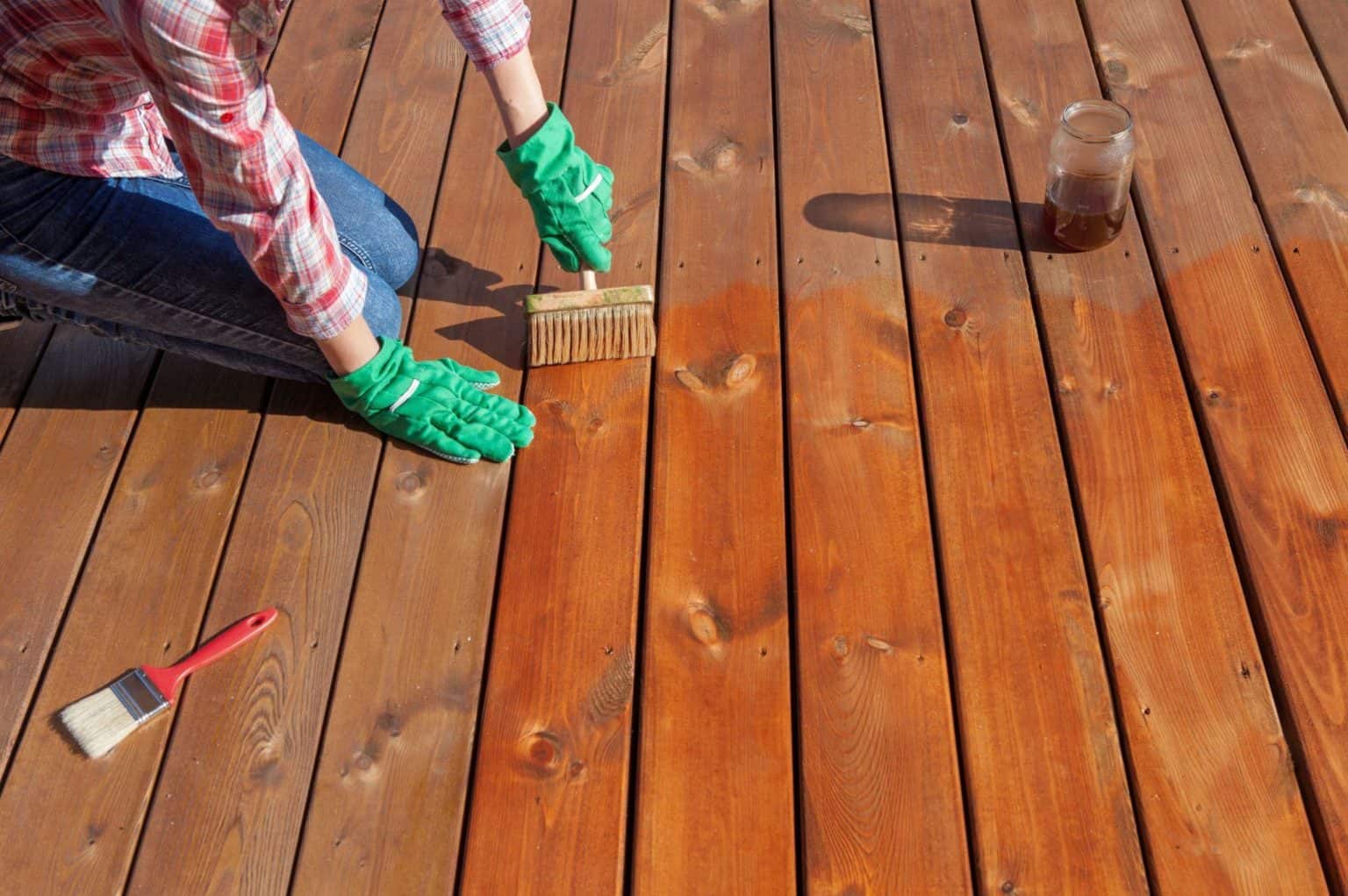 How Much Is A Backyard Deck?
The price of the backyard deck will depend on the type of wood or diverse materials you use, the quality of the lumber yard, and the location. To be exact, you can spend around $0.75 to $1.25/linear foot for 5/4×6 ACQ treated decking.
Convert your backyard deck into a place where you can unwind, and take a nap, but also in an area to have parties as comfortably as possible.